Maho Beach St Maarten – Beach Break
Phillipsburg, St. Maarten
3.5 of 5  Anchors
Highlights: A 747 jumbo jet flies right over your head, a mere fifty to sixty feet above you. Enough said! A pleasantly surprising beach and crystal clear water make for a unique "beach break" that is a once-in-a-life-time, only-in-the-Caribbean experience.
What's Missing: The beach is small and crowded. Depending on the time of day you visit, you will be crammed like sardines next to mostly island travelers on holiday or fellow cruisers. Bring towels and stake out beachfront real estate ASAP!
Main Takeaway: You need to experience this unique beach opportunity firsthand during one of your trips to St. Maarten. Our private guide, Bernard's Tours, is highly recommended, but there are many ways you can get to this beach which is adjacent to Princess Juliana International Airport. The Sunset Beach Bar serves up food and cocktails and houses the display board with the expected daily arrivals and departures so you can prepare to experience the thrill. Get those cameras ready for the many photo-ops at Maho Beach St. Maarten!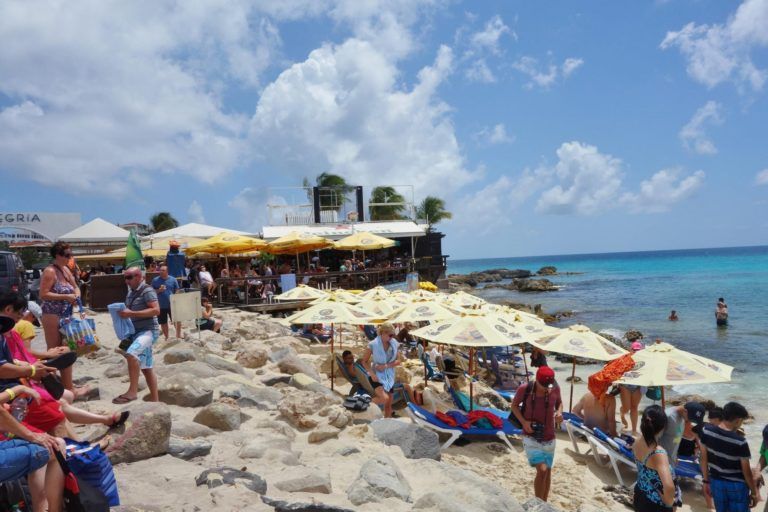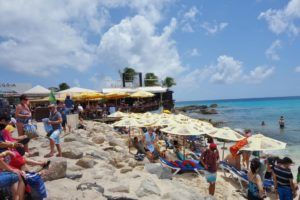 ---
Deciding to Go to Maho Beach St Maarten

St. Maarten appears on many cruise itineraries, and its piers can handle the large cruise ships we tend to frequent, so needless to say we have been to St. Maarten before. During our visit on Independence of the Seas in 2014, we wanted to experience something new and different.

We had read great reviews about the world famous Maho Beach which is adjacent to the Princess Juliana International Airport. The location of this beach makes for an exciting and unique opportunity to view large planes landing and taking off, literally right above you.  You would never find anything like this in the United States, so leave it to the good folks of St. Maarten to turn this remote beach into a major tourist attraction.
Booking a Private Tour
Since Maho Beach was not a guaranteed stop on any excursions offered by Royal Caribbean International during our sailing in 2014, we decided to book through a local tour operator. After some internet research, we decided to book a private tour through Bernard's Tours. This tour guide was highly recommend and had secure payment and tour arrangement options.
Royal Caribbean's Independence of the Seas
Remember, this is St. Maarten, so there is not a constant flow of planes coming and going like a metro airport in the United States. Most of the planes that do land are rather small (they are still exciting to watch), but only a few large planes land each day.   I did not want to chance missing the largest plane, the KLM 747, fly directly over my head. This I knew was scheduled to happen around noon, thus this private tour was the best option for us.
Let's Get This Excursion Started Already
The arrangement with Bernard was to meet up at 9:30am for a scheduled departure from the port at 10:00am. The trip over to the beach should only take about 25 minutes, so it would ensure that we would be there in plenty of time to witness the KLM.
The Princess and I were off the ship and doing our normal picture taking and browsing of port shops by 9:00am. After 30 minutes or so, I made my way over to the meeting point agreed upon in the email confirmation. Thus, in front of the St. Maarten information center is where I found Bernard, who was appropriately wearing a Bernard's Tours polo shirt.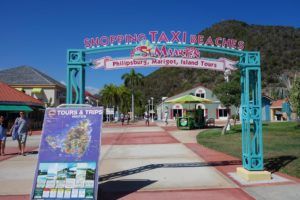 I introduced myself, and he said he knew who I was given the time and my request for the Maho Beach Break. He was still coordinating a couple of other groups doing some of his other tours, so he asked if we could come back in 30 minutes or so.
Around 10am, I approached Bernard letting him know we were getting anxious to get to the beach, so off we went. We exited the port through the back area, not exactly what I was expecting, and entered his private SUV.  I guess we were going to get an island tour by the owner of the tour company himself!
Impromptu Island Tour
During our drive to Maho Beach, Bernard gave a narrated overview of the island's history and culture. It was great to be able to ask him questions, learn about the history of St. Maarten, and inquire about the creation of his company.
Salt Pickers Monument in St. Maarten
The tour of the island brought us by attractions you would normally find on cruise sponsored excursions including the Salt Pickers Monument erected in memory of those working the salt mines, which was one of the island's primary occupations until the 1940s. This is located in a square next to other official buildings including the University of St. Maarten and the government complex.
To get to the other side of the island, the tour took us up and over the hills on a winding road. At the top, Bernard pulled over and suggested I get out and take some pictures of the surrounding resorts, port area, and Simpson Bay below. Figuring Bernard was not going to drive away with The Princess, I got out and did my best to capture the beauty of the location (you can be the judge).
View of Simpson Bay
After getting back in the car, we headed down to the resort area. He drove us by all of the resorts, shops, and casinos that surround the bay leading to the airport. We hit some traffic as a bridge was up to let some of the private yachts enter and exit the bay, adding some extra minutes to our travel time.
Claim Your Spot Before it's Too Late
Our drop off/pick up place for the Maho Beach Break was the Sunset Beach Bar and Grill. The road in and out of this area, which is directly behind the airport's runway, is very narrow and jam packed with cars, buses, and pedestrians.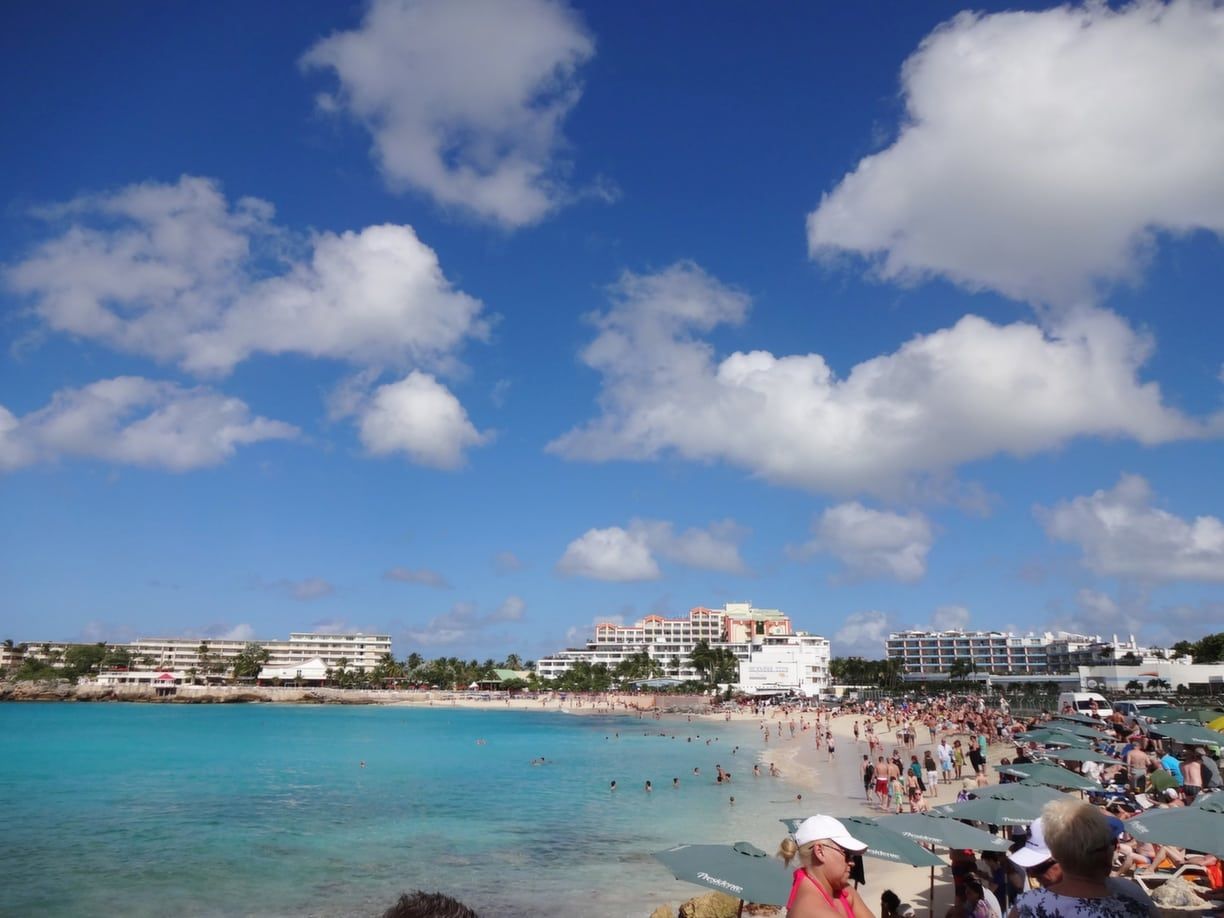 We could see right away that the beach was quite busy already. When Bernard dropped us off, I asked what time he would pick us up and his laid back Caribbean response was "anytime you want". He obviously did not know how overly organized and schedule-oriented we are; we needed a defined time and location.
the schedule board (not for this actual day)
He advised that I look at the board to see when the KLM 747 was to arrive. It was scheduled for around 12:40pm. There was also a Copa Airlines and Delta flight expected before 1:00pm. The Princess and I agreed that getting picked up around 1:00pm would work as the KLM was what we came here to see.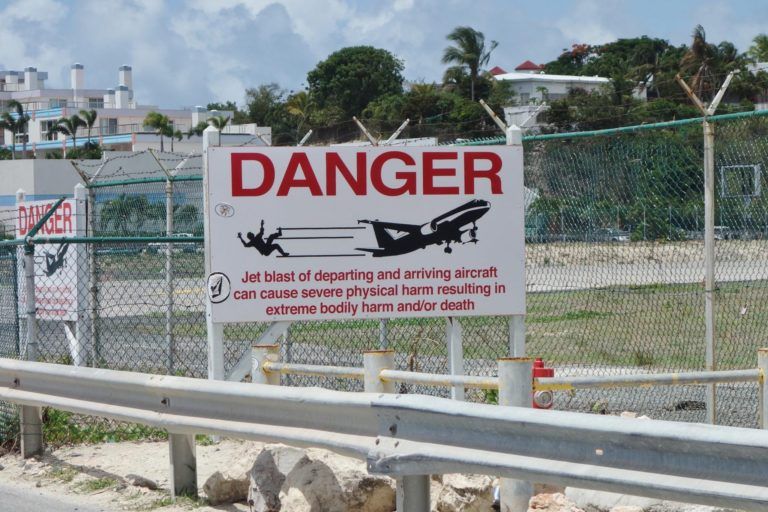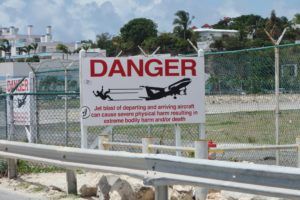 It was only a little after 11:00am, and the Sunset Beach Bar was already packed! We knew we needed to stake out our spot on the beach now, so I changed into my swim trunks in the restroom at the bar, then we headed over to the beach.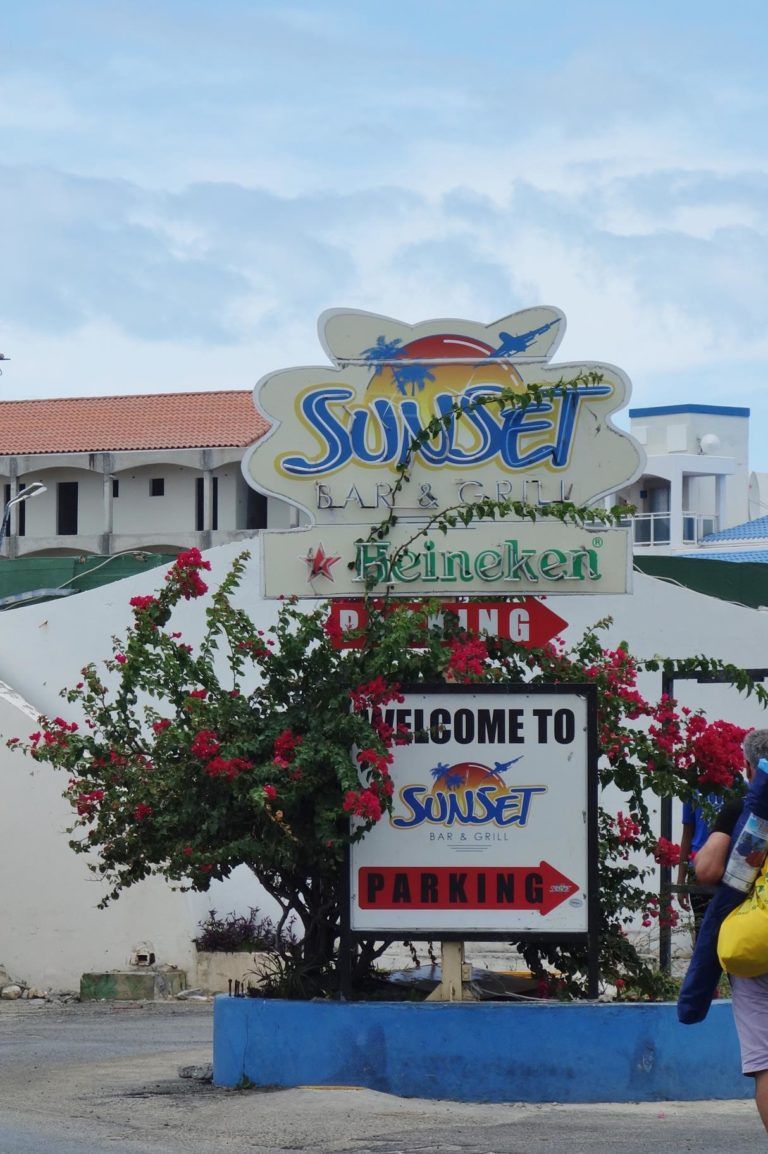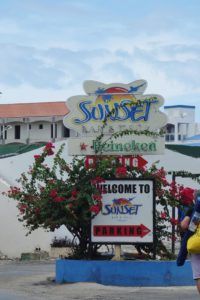 Luckily, we were able to grab a decent spot right across from the runway, placed our towels down, and prepared for aviation magic.  It was also very hot, in the upper 80s, with no clouds and no breeze!
Now Arriving at Maho Beach St Maarten…
It did not take long for us to be able to experience the planes landing and taking off. These smaller propeller planes come mostly from local islands. While they are still cool to watch, after seeing one or two of them, it's not that big of a deal.

At the same time, more and more people began to crowd the beach awaiting the larger planes slated to arrive in the near future. People were getting a bit rude and pushy trying to find space near us. We were already pretty close to the street, and people were squeezing in from all directions. People were jumping in front of us while trying to line up photos of the incoming planes making it tough for the Princess at her 5'4 stature to capture any good shots.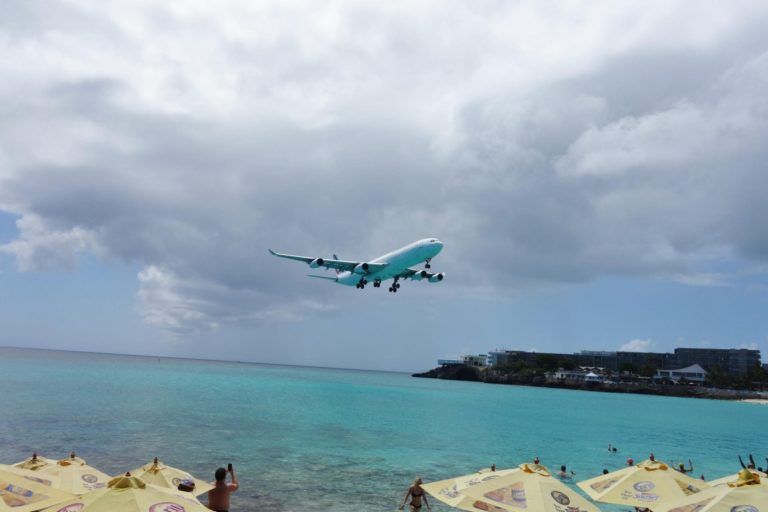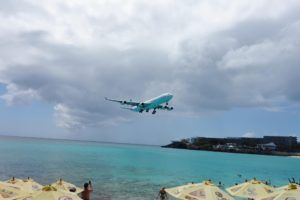 Unless you have a really good camera, or are a pro at taking distance/action shots, it is very difficult to time the photos to get the larger planes right overhead. Not to mention, you want to see the planes, not just experience them through a camera lens. We eventually found that we could capture better shots from a side profile versus trying to time them directly overhead.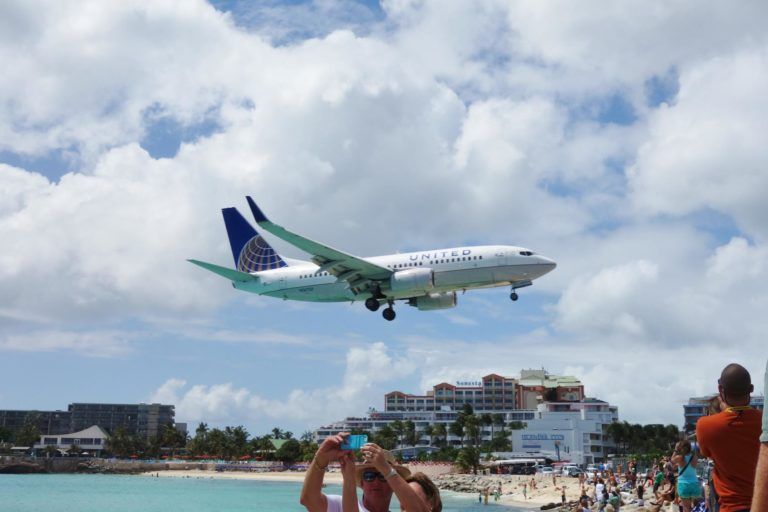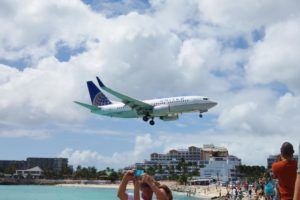 The beach, besides being overflowing with spectators, was clean with clear waters. So, between the plane viewings, I decided to take a quick dip in the water which was quite refreshing given the heat.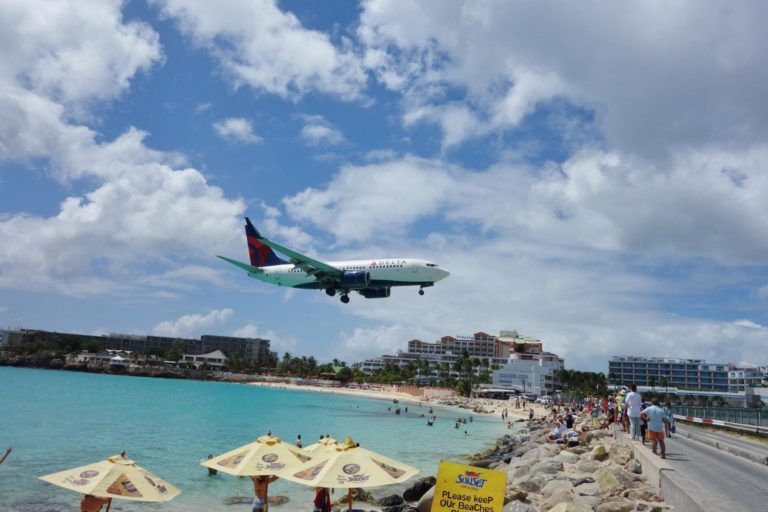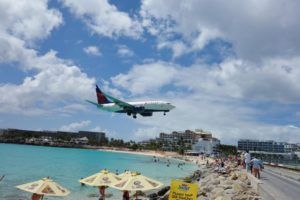 By about 12pm, the beach was swarming with taxis and tours that come just to watch the KLM plane land. Before the arrival of the KLM, a Copa Air jet and a Delta Airlines jet, both moderately sized, flew in overhead, and we were able to capture a few shots.  It's almost too difficult to put into words, but the roar and the wind from the planes just overhead is something you will never experience anywhere else.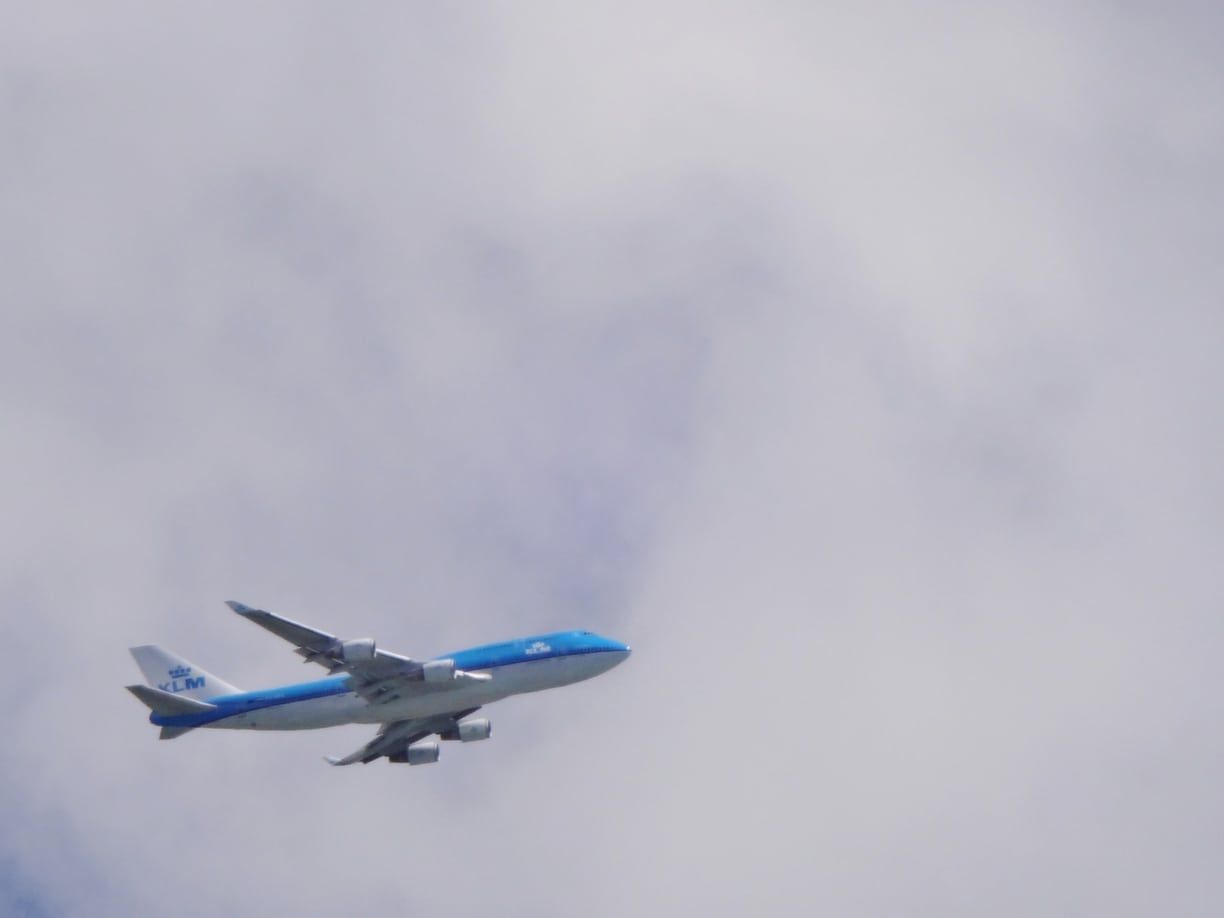 It was about time now that the KLM would make her appearance, so we secured all our belongings, readied the camera, and braced for the moment. The KLM747 was spotted making her way from the north side of the island, coming over the mountains and heading east and south, passing the airport, before turning around to land.
Our Shot of the KLM Landing
Trying to distinguish between the blue plane and blue sky made the picture taking all the more difficult, but we were able to witness this massive plane fly right over us and land, while grabbing a few decent photos.
Though it is warned against, there are some vacationers who choose to hang on to the fence adjacent to the runway to experience the blowback from the turbo jet engines as planes take off. We did not want to risk injury or hang around for the KLM to take off again.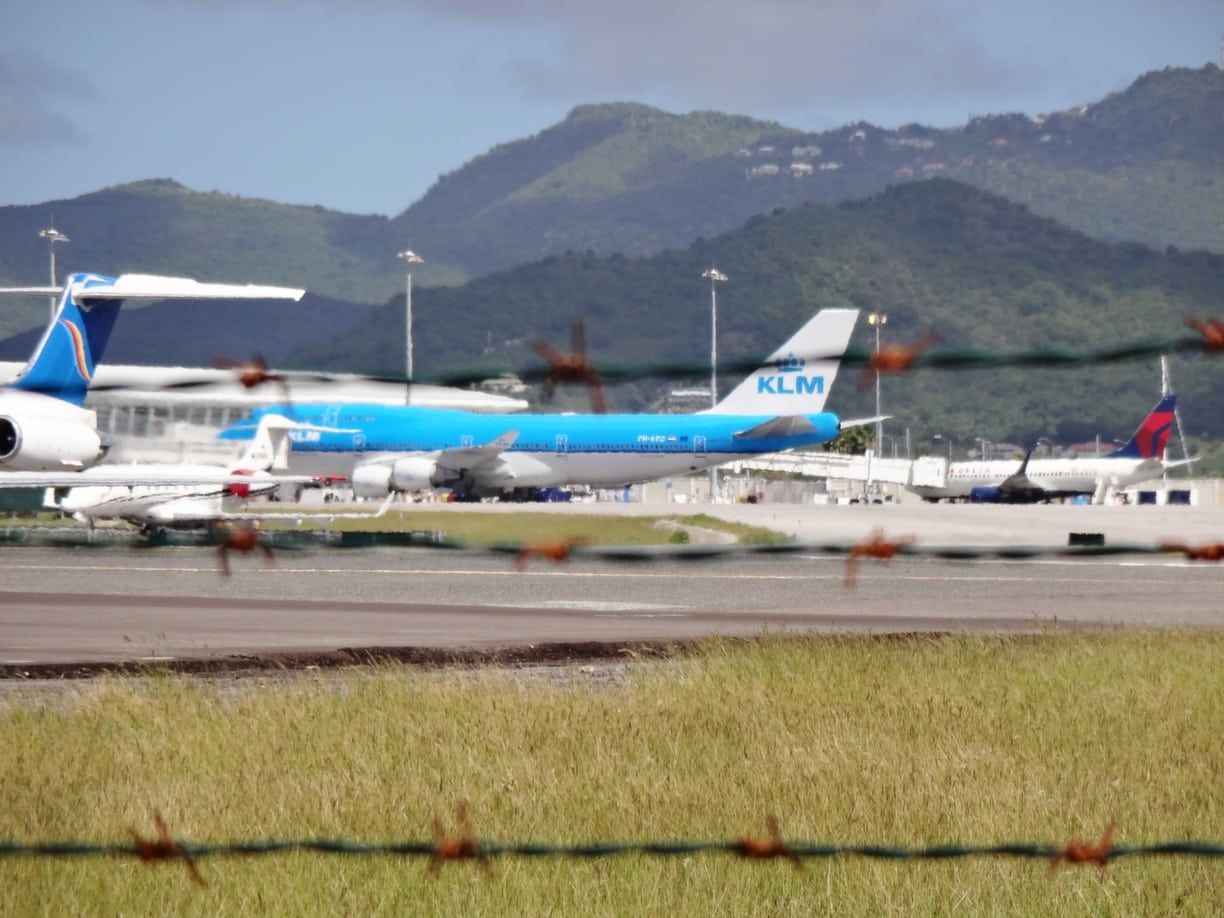 With the excitement over and the heat getting to us, we started to head back to the Sunset Beach Bar and Grill. It just so happened that Bernard was already at the bar. He spotted us and asked if we saw the KLM and if we had a good time. With a big yes on both accounts, I indicated that we were ready to head back. Instead of driving us himself, he actually flagged down and squeezed us into another small tour van that was going back to the ship, making sure to tell us NOT to pay the driver any additional money. So we were loaded up with other cruisers and headed back to our ship.
We Were Ready to "Take Off", Just like this Plane!
During the ride back, we were able to speak with some fellow passengers who had booked the van through another excursion company and came down solely to see the KLM747. Chatting up these folks for the 25 minute or so ride back to the boat, we were at the port shortly after 1:30pm. With a customary stop to buy a new t-shirt and some other souvenirs, our private tour was over, and I was able to check Maho Beach off my bucket list.
If you are looking for a more intimate St. Maarten experience, we would definitely recommend checking out Bernard's Tours. We will certainly consider another tour with him during our future visits to St. Maarten.
Comments
Have you experienced Maho Beach St Maarten during one of your visits to the island? What is your favorite thing to do while visiting the island? Drop us an anchor below to tell us about your visit to this lovely island and help your fellow cruisers plan their next visit to St. Maarten.