From ancient ruins, to shopping and dining, to beach breaks, Cozumel is home to every type of shore excursion you can imagine. During our recent visit to Cozumel on Oasis of the Seas, we decided to purchase a day pass to Chankanaab Adventure Beach Park, giving us the flexibility to do as much or as little as we wanted.
Chankanaab Adventure Beach Park
We purchased our tickets through a third party excursion company, but you can also purchase them through the cruise line or directly from the park and even save a few bucks. With our receipt in hand, we disembarked from our cruise ship right when we docked and headed toward the taxi stand to catch a ride.
Chankanaab Adventure Beach Park Review
Getting to Chankanaab Adventure Beach Park
There are several cruise ship piers in Cozumel, but Royal Caribbean docks at the International Pier. The taxi stand is located a short walk away from the cruise ships, through the shops. Near the taxi queue, there is a board with pricing to the more popular tourist destinations. The price listed for Chankanaab Adventure Beach Park was $12 USD.
Chankanaab Adventure Beach Park – Oasis of the Seas at International Pier
We waited in line for only a few minutes to get a taxi and made sure to confirm the cost of the trip with our driver before taking off. The park is approximately three miles from the pier, and the total ride time was around 10 minutes given some traffic. On the way to Chankanaab, we passed the shopping district and Discover Mexico- another popular cruise ship excursion in Cozumel. Being among the first off our ship, the park was relatively quiet upon our arrival.
Exploring Chankanaab Adventure Beach Park
At the gate, we exchanged our vouchers for wristbands to enter the park. We were told that we could get a discount for the buffet if we purchased it before going inside. The pre-admission cost was about $15.50 USD, but once inside the buffet was $18. Some vouchers/excursions include the buffet, and others do not. Our voucher did not include a meal, nor did we opt to purchase one. If you are unsure about lunch at the park, don't worry. Besides the buffet, there are two seaside restaurants and the Dolphin Cove restaurant where you can purchase food. El Bucanero and Blue Lagoon offer beach side service if you prefer just to grab a snack while relaxing.
Entrance to Chankanaab Adventure Beach Park
Chankanaab Adventure Beach Park is open from 8am to 4pm local time. When you arrive by cruise ship, be sure to coordinate your watch with ship time. Keep in mind ship time and local time might be different. Taxis are readily available at the entrance, but be sure to always give yourself ample time to return to your ship. You don't want to miss the boat!
Before you officially enter the park, there is the Dolphin Discovery Center. Here, they offer several different packages from swims and encounters with dolphins, sea lions, and manatees. If you are thinking about one of these excursions, keep in mind that Dolphin Discovery packages DO include admission to the park also.
Dolphin Discovery Chankanaab Adventure Beach Park
Passing the Dolphin Discovery Center, which also includes a restaurant, you are at the official entrance to the park. Of course, the staff will hit you up for a Welcome photo, which is available for purchase upon exiting the park for the day.
Chankanaab Adventure Beach Park
There are many attractions throughout the park, and while it is not overly large, you do want to make sure you have a sense of where everything is so you can make the most of your day at Chankanaab. Do review the map of the grounds to help with your planning.
Chankanaab Adventure Beach Park Map
Right when you enter, you will see a booth for the zip lines off to the left. There are several packages you can purchase on their website ahead of time, or you can get tickets at the park. These tickets are first come, first serve, so if you are visiting during busy season you might want to plan ahead. The in person prices were comparable to those online, but perhaps you could negotiate prices down if they are not busy.
Chankanaab Adventure Beach Park – Entrance to Ziplines
Near the entrance, there is also a small area for the Tequila tasting. This is another activity where you might want to "negotiate" the price. It was relatively quiet the day we visited the park, so when I inquired about price, I was told there was no charge. But, the Princess would not agree to tequila at 10 am, and we never made it back later in the day. I was told there were 9 "small samples" from four different brands of tequila.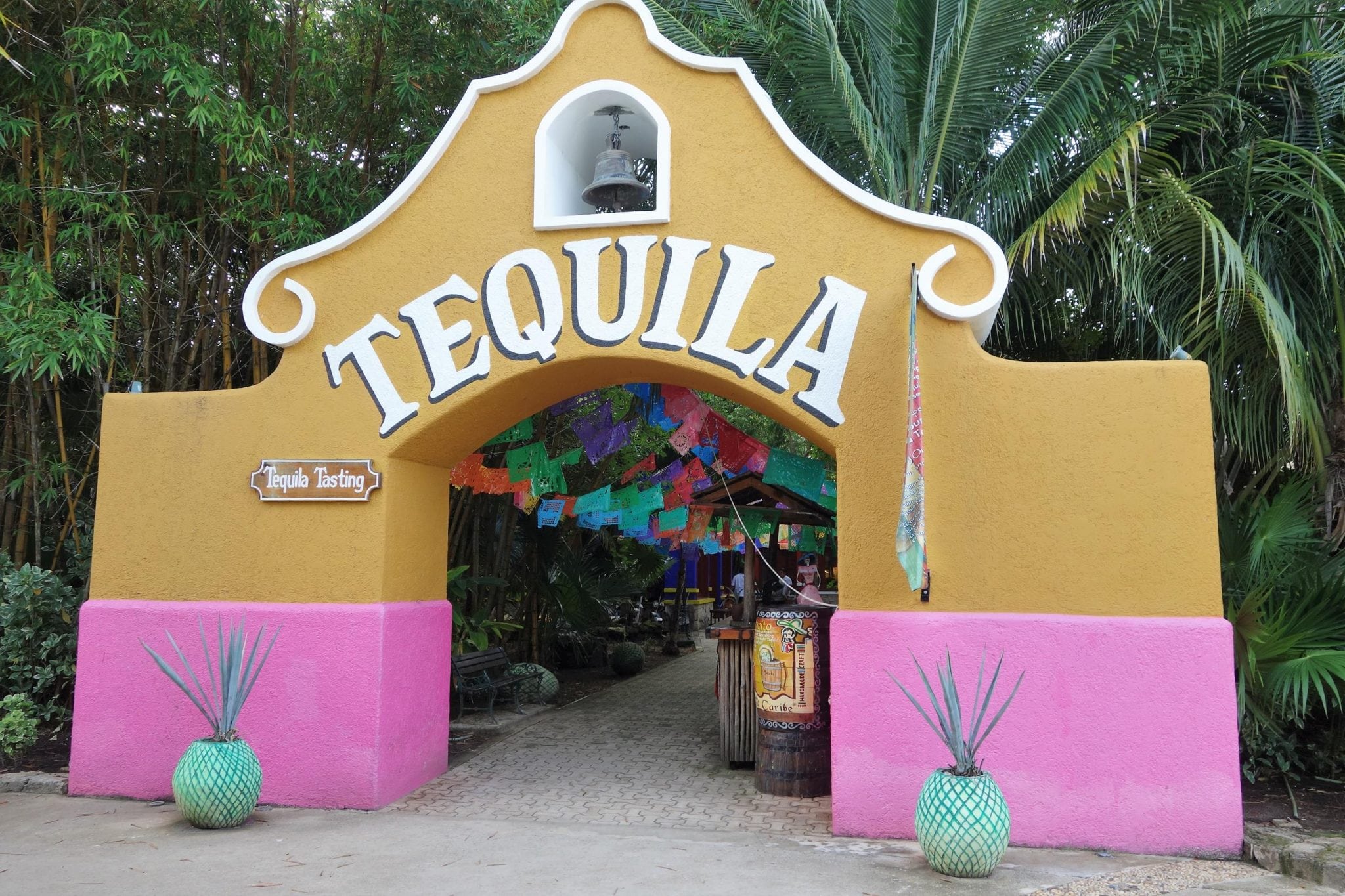 Right across from the tequila tasting area is the Sea Lion Show entrance. This 20 minute show features sea lions performing various "tricks"- think Sea World style show. This is included in the cost of admission, so we recommend you check it out.
Chankanaab Adventure Beach Park
During our day at the park, the sea lion show was offered at 10:30am, 12:30pm, and 2:30pm local time. We planned to attend the 12:30pm show (1:30pm ship time), so we could exit the park following the show. The show did fill in with guests and was entertaining for kids and adults alike. You can get some great close-up shots of the animals too.
Chankanaab Adventure Beach Park
In addition to the sea lion show, the $21 cover charge includes some other exhibits that are worth checking out also.
As you continue toward the beach area, you come across the Mayan Ruins and Botanical Gardens. These replica statues are scattered throughout a walking path that also includes a traditional Mayan house exhibit. If you are not planning to visit actual ruins during your stop in Cozumel, you can still gain a bit of history and culture during your day at the beach by exploring these lush grounds. We did take a trek through this area early in the morning and were not prepared for how long the trail actually was. Do bring bug spray! We ended up rushing through this exhibit because we were getting bitten alive by mosquitoes.
Chankanaab Adventure Beach Park
Continuing further into the park, there is a lagoon which houses a very rare inlet coral reef. Be sure to grab some photos and check out the fish and coral in this unique natural wonder.
Chankanaab Adventure Beach Park Lagoon
Towards the back of the park, there is also a rather new Crocodile Exhibit. These guys are a must see. You can get up close and personal with some really large crocs. Again, go early to avoid the crowds as we were the only ones at the exhibit in the morning. Similar to a zoo exhibit, there is a board providing information about these impressive reptiles, along with two natural habitats.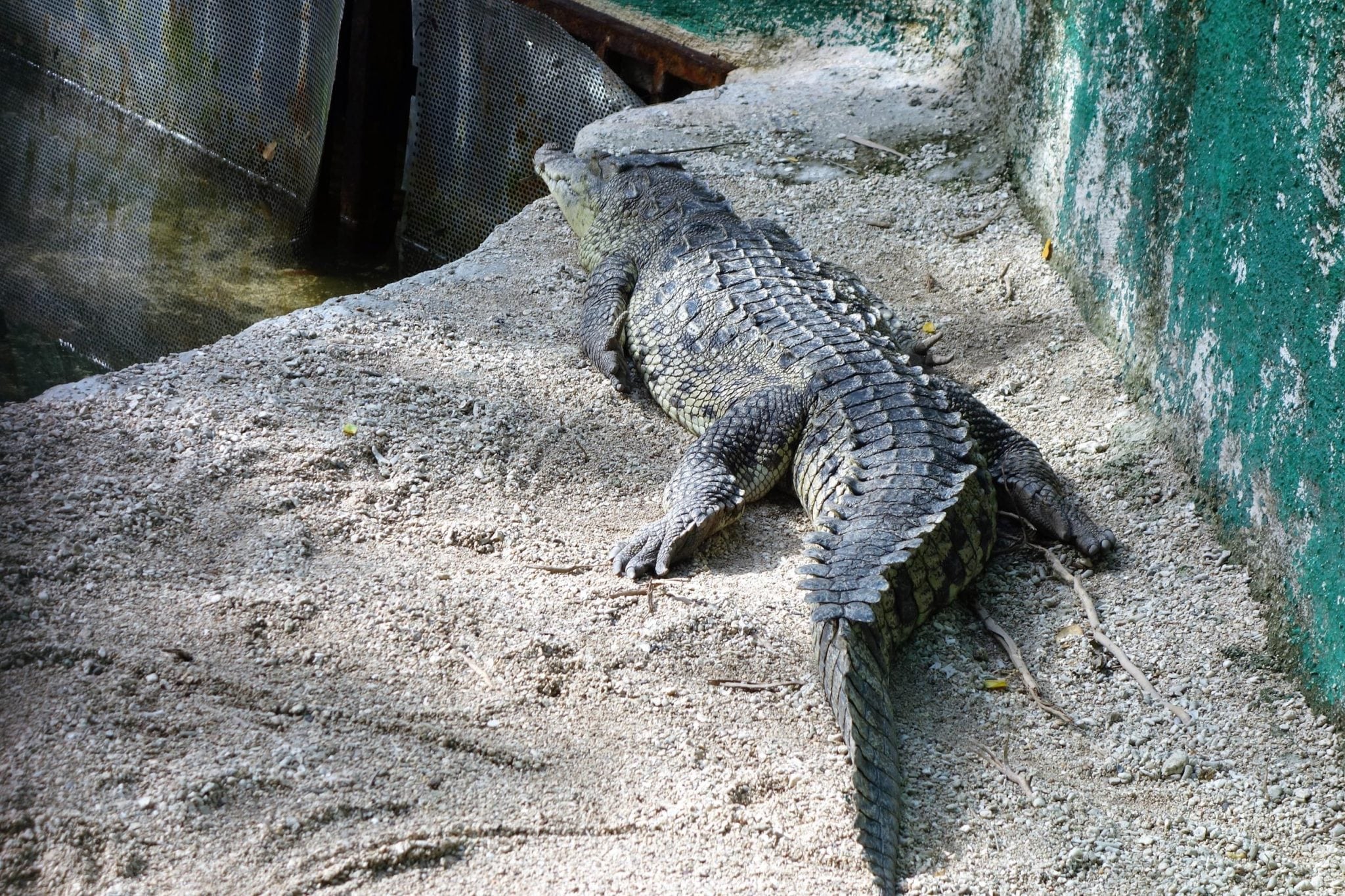 Along the beach, there are straw umbrellas and lounge chairs which are included in the price of admission. You do need to get to the beach early to secure one of these precious commodities. If you don't feel comfortable leaving your belongings here while you roam the grounds, you can rent a locker for $5.00 which gives you access to your stuff all day.
Our Oasis for the Day at Chankanaab Adventure Beach Park
Meaning "little sea", Chankanaab Adventure Beach Park offers you hours of enjoyment in the crystal clear waters of this natural lagoon. There is a dedicated inlet swimming area that is great for the kids and a much larger coastline where you can swim or snorkel.
"Beach" – Chankanaab Adventure Beach Park
Multiple dive shops are located at the far end of the beach where you can rent equipment to get closer to the marine life. Snorkel, scuba diving, and Snuba packages are available. The snorkeling is advertised as $15, but you can easily negotiate it down to $10 like I did. You can also bring your own gear to snorkel free of charge.
One of Several Equipment Rentals at Chankanaab Adventure Beach Park
I couldn't resist snorkeling given the great reviews I had read online. Along with seeing an abundance of fish very close to the coastline, there are "sunken" statues throughout the snorkeling area. While they are not ancient artifacts, they are still pretty cool to discover during your swim. The snorkeling area is fairly large so you are not on top of other swimmers, but the current can get a bit rough. I did overhear a few not so strong swimmers say they needed to inflate the life jackets. Of course, the Princess wanted no part of this so stayed onshore during my escapades.
Getting Ready to Snorkel Chankanaab Adventure Beach Park
If you want to explore the area but not get wet, glass bottom kayaks can be rented for $35 an hour per two people.
Chankanaab Adventure Beach Park
After exploring the grounds, snorkeling, and partaking in the other adventures, you are bound to work up a thirst. There are bar servers walking up and down the beach that are happy to take your drink or snack order. We ended up getting a round of drinks from El Bucanero. Prices on the menu are quoted in USD and Pesos. The menu (page 1 and page 2) was pretty typical, and the prices were reasonable.
Chankanaab Adventure Beach Park
The other beachfront restaurant, Blue Lagoon, offers a similar menu (page 1 and page 2), as well as the buffet.
Chankanaab Adventure Beach Park – Blue Lagoon Restaurant
A more recent addition to the park is the Natural Spa. During our visit, they were running two for one specials, with 20 minute massages for two starting at $35. An hour long massage for two was advertised at just $105- a fraction of the cost that you would pay onboard your cruise, and also much cheaper than the prices quoted online.
Chankanaab Adventure Beach Park
Final Thoughts on Chankanaab Adventure Beach Park
Spending a good portion of the day at Chankanaab, we were able to see most of the included attractions, grab a drink, snorkel in the crystal clear waters, and relax in the Caribbean sun. Whether you are looking to relax on the beach, enjoy nature and the wildlife, or live life to the extreme, the variety of options at Chankanaab Adventure Beach Park are sure to please every member of your family. If you are there as part of the Dolphin Discovery, having access to the beach and additional amenities is just an added bonus. Though not an all inclusive beach option, the prices were reasonable. We would definitely return to this beach park again in the future to try out some of the additional attractions and enjoy the natural beauty and wonder of this national park.
Comments
Have you visited Chankanaab Adventure Beach Park? What are some of your favorite things to do when in Cozumel, Mexico? Drop us an anchor below to share your adventures ashore.