St. Maarten Island Tour Review
Highlight: This was our second St. Maarten Island Tour with Bernard's Tours.  This time around, instead of getting a private tour with Bernard himself, we were escorted around the island by one of his guides, the Mailman. Being both our driver and tour guide, the Mailman was was top notch; he was laid back, informative, funny, and most of all, he went out of his way to make sure everyone on the tour was having a great time. Including our party of four, our tour group was about 12 passengers. With such a small group,  the shore excursion felt like a private tour where we were able to ask questions and get a local's perspective on the island and culture, as well as learn a little bit about our friendly and knowledgeable guide.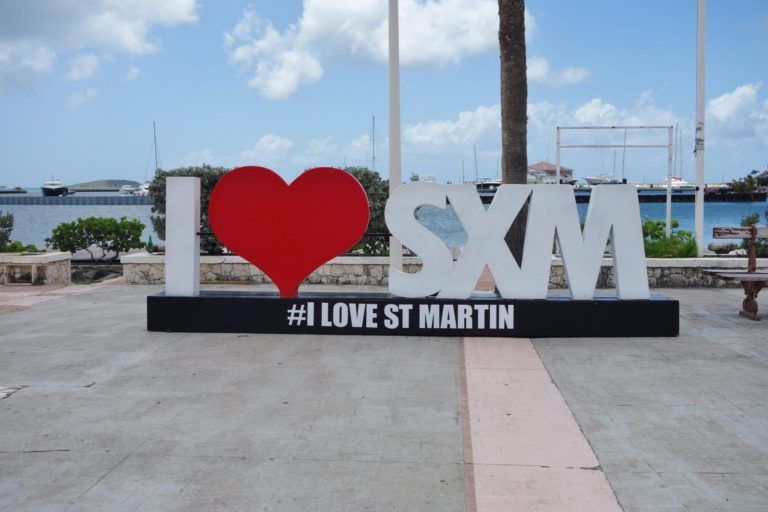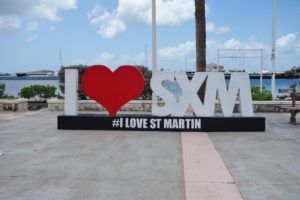 What's Missing: You get to see a lot of the attractions in both the Dutch and French sides of the island with this approximately 6 hour tour. However, if you are looking to do more shopping and exploration in either the French capital of Marigot or the Dutch city of Philipsburg, then you might be a little disappointed. Our 30 minute stop in Marigot was just long enough to grab a few photos and a French baguette sandwich. Our tour also did not officially stop in downtown Philipsburg; instead we were bused back to the port at the end of the tour.
Downtown Marigot, St Martin
Main Takeaway: Hitting all of the island highlights, with great customer service and a personalized level of detail that you will not find on some of the "larger" tours, we highly recommend a  St. Maarten Island Tour with this company.  Traveling with family that had never been to St. Maarten, we were able to check a number of items off our "must see list". Arranging the tour with Bernard's can be done online. The company accepts PayPal for deposits, and Bernard himself is very responsive to email inquiries, so you can feel confident booking with the company.
Looking forward to our Next Time in St. Maarten
Is There Anyone Else Here?
We have been to St. Maarten a few times in the past as this port is a popular stop on many cruise ships. During our last visit to the island, we did a private tour to Maho Beach with Bernard's Tours to see the planes landing and taking off from Princess Julianna International Airport. While we loved that experience, this time around we were traveling with family who had never been to the island.
Looking at sightseeing tours offered through the cruise line and private tour operators, we decided to book with Bernard's Tours, the SXM II Tour, which stopped at popular attractions on both the French side and Dutch side of the island. The smallest island divided into two countries, our shipped docked in St. Maarten on the Dutch side, in Philipsburg. The tour would be taking us to some well-known sites on this side of the island, as well as traveling to St. Martin, the French side of the island.
One of the Six Border Crossings on the Island
Our cruise itinerary had to be adjusted due to Hurricane Danny, which meant our original arrival time in St. Maarten had been moved up by 30 minutes. I spoke with Bernard the day before due to the time change, who indicated he was going to try to get the tour started early, so we should disembark as soon as the ship arrived at the port.
St. Maarten Island Tour Review- A Quiet Cruise Port
So, we were off the ship right after she was cleared by local officials. The first thing that caught our attention was the quiet and partially abandoned port. Later, we would find out that many island inhabitants were preparing for the impending hurricane, and with no other ships scheduled to be in St. Maarten that day, many of the merchants had opted to stay closed.
We took a few quick pictures of this empty port and headed off to locate our meeting place for the shore excursion. It was a little difficult following Bernard's instructions to find his meeting place. The instructions had us looking for a "white tent" in the parking lot near the port exit. Roaming around this desolate area, we finally found our check-in point, but there was no white tent!
On the Hunt for a White Tent
Checking in with the representative and making our final payment, we proceeded to wait for the rest of the tour party to arrive to get the tour started.
Getting the Tour Started
Being among the first travelers to our meeting point meant we had to wait for everyone else to show up. Our tour did not end up leaving early as hoped because there were a few stragglers who did not find the check-in point until right around 9:30am, our original meeting time. Once all members of our group had finally arrived, it was time to get this 6 hour tour of the entire island started.
Time to Get the Tour Started!
All of us were loaded into a medium sized tour van with plenty of seats and large windows providing great views of the island. Here, we were introduced to our driver and tour guide for the day, the Mailman, who outlined our route through both sides of the island before leaving the parking lot. We booked the SXM II tour, which had a number of photo stops for 10-15 minutes and three major stops including the famous Orient Beach, Maho Beach, and the French capital of Marigot.
St Maarten Island Tour Review – Island Map
One good thing about St. Maarten (among many others) is that the island does not have an open container law. That meant our friend the Mailman was traveling with a few coolers-containing beer, soda, water, and his homemade rum punch. I would sample this drink later in the day, and it was definitely not "punch with some rum" but rather "rum with a punch"!
Quick Trip Through Philipsburg
With our schedule laid out, and refreshments completely packed, it was time to explore this island. While we had already seen many of these stops, our family had not. We wanted them to have a great experience while visiting the island, so we chose a St. Maarten Island Tour as we believe it is one of the best things to do in St. Maarten on a cruise, especially for first timers.
Departing the port, the Mailman provided some information on the development of the cruise port and the two jetties that can now handle up to eight docked cruise ships. During the busy time of year, St. Maarten can actually see over 10 ships in port on a given day. Being the only ship in port during this tour, we were very spoiled!
Adventure of the Seas in St. Maarten
During our drive through Philipsburg, our guide described the history of the island. The original inhabitants of the island were the Carib and Arawak Indians. Since the "discovery" of St. Maarten by European explorers, various countries have switched occupation of the island.
The current French and Dutch setup was established with the Treaty of Concordia in 1648. A legend arose that the island was divided by the two countries with a race between a Dutch and French representative starting at separate ends of the island. Although this folklore makes for a good story, it is not historically accurate. Either way, on November 11th of each year, a ceremony is held where French and Dutch representatives re-sign the treaty maintaining the separation and two countries on the 37 square mile island.
St Maarten Island Tour Review – Salt Miners Statue
For a time, salt mining was a major industry in St. Maarten, and there are still remnants of that history in Philipsburg. Today, tourism is the number one industry on the island, and local officials are working on finding ways to get even more travelers to the island, including plans to extend the cruise port to a potential third jetty.
A Roadside Photo Stop
As we learned about both colonial rule and modern day St. Maarten, the van arrived at our first photo op, the French and Dutch border near Oyster Pond. This picturesque harbor hosts many boats that individuals can rent to travel to the nearby islands.
St Maarten Island Tour Review – Oyster Pond
Perhaps one day the Princess and I will captain our own vessel?
After a few pictures, we were on to our next stop, the Coralita Lookout Point (also known as the Rotary Lookout Point). En route, the Mailman described the different types of sea life we might be able to interact with as a local, named Calvin, normally hangs around the point to help travelers make the most out of this photo stop.
When we pulled up to the vantage point, there was no Calvin. According to the Mailman, Calvin's absence was probably due to him getting too many tips the day before and spending all of that cash at a local tavern!
St Maarten Island Tour Review – A View from the Lookout Point
At this lookout point, there is a wooden platform that is about two stories above sea level, offering you views along the Atlantic coast of the island, with St. Barth's off in the distance. The Princess did not want to get out of the air conditioned van to make the trek up the platform, so I was in charge of pictures at this stop. Ten minutes or so was plenty of time to grab pictures and experience the scenery before moving on.
St Maarten Island Tour Review – Lookout Selfie!
According to our guide, we would be making an "alternative stop" to see some iguanas as the iguana farm was under construction. So, it was a bit of a surprise when a few miles down the road, the van pulled up to a group of iguanas alongside of the road. Iguanas were everywhere, all different sizes and variations in color.
St Maarten Island Tour Review – Roadside Iguanas
I was surprised when the Princess grabbed the camera and decided to exit the van.  Surely, she would be afraid of them, but she was not; she wanted to make sure she got some close up shots of these lizards.
This Iguana is Looking at You!
Going Back in Time…and to the Beach
Spending our allotted time admiring the iguanas, it was back into the van for the continuation of the tour. Our next stop was going to be Orient Beach.  But on our way there, we drove through the "French Quarter" of the island where original structures from the first French settlers dating back to the 17th century still stand. It was amazing to hear that it was not uncommon to have 10 or more family members living in these tiny homes.
St Maarten Island Tour Review – Historic Home
The drive to Orient Beach seemed quick. Upon arrival, we first did a drive-by of Club Orient, which is the "naturalist resort", and then drove to one of the dozens of other resorts that line the beach.
Entrance to La Playa
We were dropped off at La Playa Resort where we would be able to use the facilities. La Playa offered a deal to our tour group- $10 for two lounge chairs with an umbrella, two rum punches, and access to WiFi. Not bad- so, we paid the $10 and grabbed some seats to enjoy this famous beach for the next 60 minutes.
La Playa Beach Front Chairs and Bar
On the premises, there was a well stocked main bar, a beachfront bar, and a restaurant if you wanted to grab a bite to eat or a round of drinks while visiting. Since we had the drink package on the ship, our one free rum punch would do for now.
St Maarten Island Tour Review – Orient Beach
Since we were only here for an hour, I decided to just dip my toes in the water, which was cool and refreshing. Surprisingly, there was a lot of seaweed, which the Mailman explained was a problem that many of the neighboring islands were also experiencing.  It didn't matter though, we were on vacation and spent most of our time just relaxing in the sun, tanning, and sipping on free rum punch. What more could you want?
Before we knew it,  our time was up. As we entered the bus, other travelers were getting refreshments, so it was now finally time to try this rum punch. The Dixie cup sized portion was plenty because this was definitely a drink you had to sip slowly!
Exploring Marigot, for a Few Minutes
During the 20 minute or so drive from Orient Beach to Marigot, we drove by some resorts and vacation homes and a shipwrecked boat near the coast which was the result of Hurricane Lenny in 1999.
Shipwreck in Marigot Bay
We also learned that the movie Speed 2 was filmed in Marigot. The movie company actually built up a large section of the waterfront for the movie's final scene, and much of that foundation still remains today as an open air market.
Having never visited Marigot before, we were eager to see what the French capital had to offer.
St Maarten Island Tour Review – Famous Sarafina Bakery
Arriving near the open air market, we were given only 30 minutes to explore and grab a bite to eat. With its French heritage, everyone made a b-line to Sarafina's, a well-known French bakery offering over 100 items including desserts, sandwiches, bread, and more. I grabbed a quick bite, and The Princess and I rushed off to take pictures of the area while our family continued to enjoy lunch.
St Maarten Island Tour Review – City of Marigot
With limited time, we were able to grab some shots of the city harbor and Fort Luis towering above the city and made a quick browse through the markets. Next time in St. Maarten, we will spend more time exploring Marigot.
Fort Luis Above Marigot
Final Destination…Maho Beach (Again)
Marigot is not far from the French/Dutch border so as we traveled to our final stop at Maho Beach, adjacent to the Princess Juliana International Airport, we drove by the Border Obelisk, which was erected on the 300th year anniversary of the signing of the treaty that established the two country island. Too bad we were only able to grab a picture through the bus window.
Another Border Crossing
At Maho Beach, we were given about 45 minutes. Upon arrival, we checked the board at the Sunset Bar and Grill, which lists the plane arrivals and departures for the given day, only to find out that the largest plane, a KLM 747, had already landed. During our time at Maho Beach, we were able to experience 727 planes from American Airlines and Delta land.
Delta plane Landing over Maho Beach
Given the time of year of this visit (August) compared to our last stop at Maho Beach (January) , we did note that there were overall less planes landing and departing and the beach shoreline was much rockier.
Currently, plans are in the works to extend the runway and relocate the beach and the Sunset Bar and Grill as part of an airport expansion. Rumor has it that a viewing pier will be built so more visitors can experience the thrill of the planes landing, and the longer runway will allow for even bigger jets to land and take off.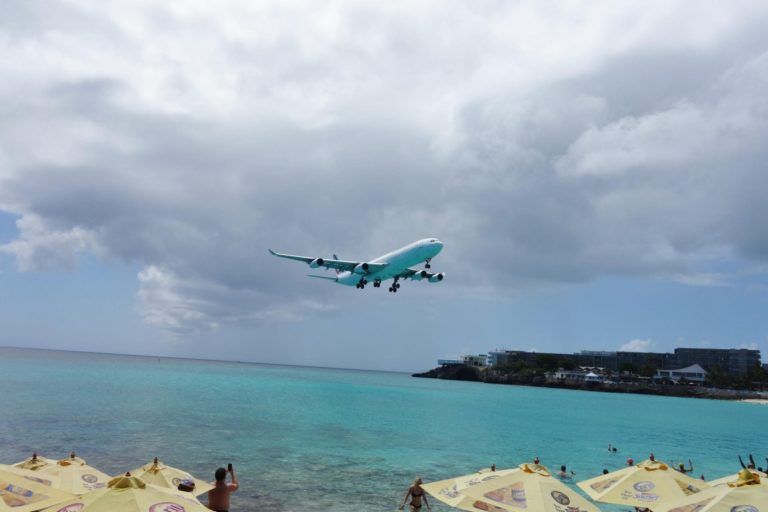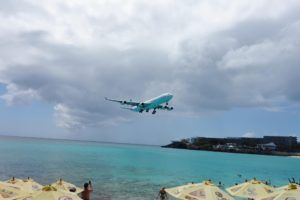 With the final stop of our St. Maarten Island Tour complete, there was no other option than to return to the port. During our travels back to the ship, the Mailman did have one more trick up his sleeve-a photo op at the top of Cole Bay Hill. Little did we know, this "spot" was literally a small driveway, barely the width and length of the van.
Adventure of the Seas in St. Maarten
Although not an ideal location for multiple passengers to stand and take photos, it does provide fantastic vistas of the area and the cruise ships. Being the only ship in port this day, we got an amazing bird's eye view of Adventure of the Seas waiting for our return.
The remaining drive through the Dutch side was uneventful. I think all of us had a complete day and had absorbed a lot of culture, fun, and sun during this extensive tour. Ending the tour in the same parking lot in which we started, still without a white tent, it was time to say goodbye to the Mailman.
We made a quick stop at one of the only shops open to get our customary island ornament for our vacation tree and then headed back to the ship having another successful day in St. Maarten, thanks to our St. Maarten Island Tour with Bernard's. If you are looking for other ideas on what to do in St. Maarten on a cruise, be sure to check out our other recommendations.
Comments
What are your favorite things to do in St. Maarten on a cruise? Have you taken a St. Maarten Island Tour? Drop us an anchor below to let us know about your experiences on this island. Help your fellow travelers make the most of their time in St. Maarten!