Perhaps one of the most elusive perks are cabin upgrades. Some cruisers claim to regularly receive stateroom upgrades when cruising. Others have sailed multiple times with no such luck. Well, getting a cabin upgrade on a cruise is not entirely up to chance. There are several ways you can increase your odds of getting a better stateroom category on your next trip. Here are our 9 expert tips to help you score a cabin upgrade on your next cruise. 
9 Expert Tips to Score a Cruise Cabin Upgrade
Similar to a hotel, cruise ships offer a variety of different accommodations. These cabins (or staterooms) differ in terms of location on the ship, dimensions, amenities, and other features. The most common selections include inside cabins, outside (or Oceanview), balcony, and a range of different types of suites.
Of course, as rooms get larger or feature more amenities, the costs increase.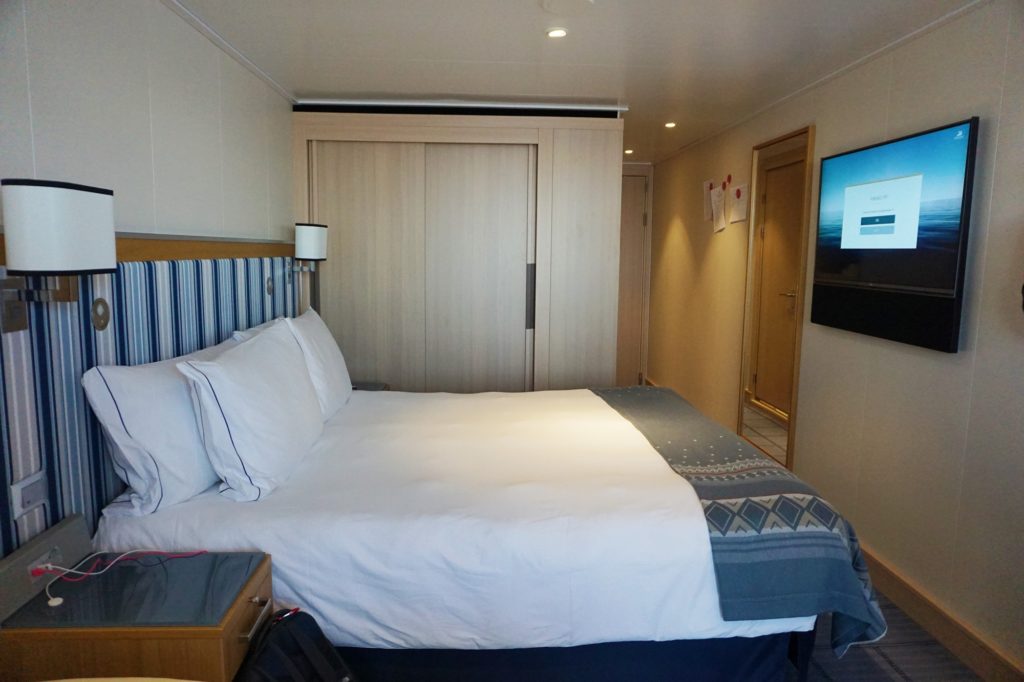 Distinct from hotels, cruise lines generally allow cruisers to pick their exact cabin prior to cruising. In doing so, you will know precisely on what deck the room is located as well as all of its features.
Within different cabin categories, there are often several subcategories, based on the cabin's location. More desirable cabins within a category (mid-ship and upper decks) cost more than similarly outfitted rooms on lower decks or all the way forward or aft on the ship. This means that there can even be a big discrepancy in pricing for rooms in the same category.
So, it is much easier to get a cabin upgrade to a better subcategory than going from one category to another. For instance, you are more likely to be moved from a lower deck balcony to a higher deck balcony.
Still, that doesn't mean you can't get upgraded across categories. We have successfully upgraded to much better cabin locations. In addition, we have been upgraded from an inside cabin to a balcony cabin, so it is possible.
Yet, you need to be realistic.
Related Post: Best New Cruise Ships for 2021
Look for a Promotion
One of the easiest ways to score a cabin upgrade is to take advantage of a cruise line sale or promotion.
Often, cruise lines run discounts where they offer a category (or two) upgrade for certain room types. Given the different tiers within a category, these promotions often allow cruisers to get more desirable room locations at a reduced cost.
So, this might mean that you can get a mid-ship balcony for the same price as a forward balcony. This (usually) doesn't mean you can go from an inside cabin on deck 1 to a balcony cabin on deck 8.
Although, it is still possible that some of these cruise line promotions will put cruisers into a better room across categories. Some cruise lines do offer sales with upgrades from an outside view stateroom to a balcony cabin. Keeping your eye out for these promotions is a simple and easy way to secure a free cruise cabin upgrade.
Monitor Current Cruise Fares
We tend to book our cruises far in advance. We generally book 12 months (or more) in advance, especially for new ships. When you book early, you can often score some of the lowest prices for popular cabin categories. This is especially true on new and popular ships.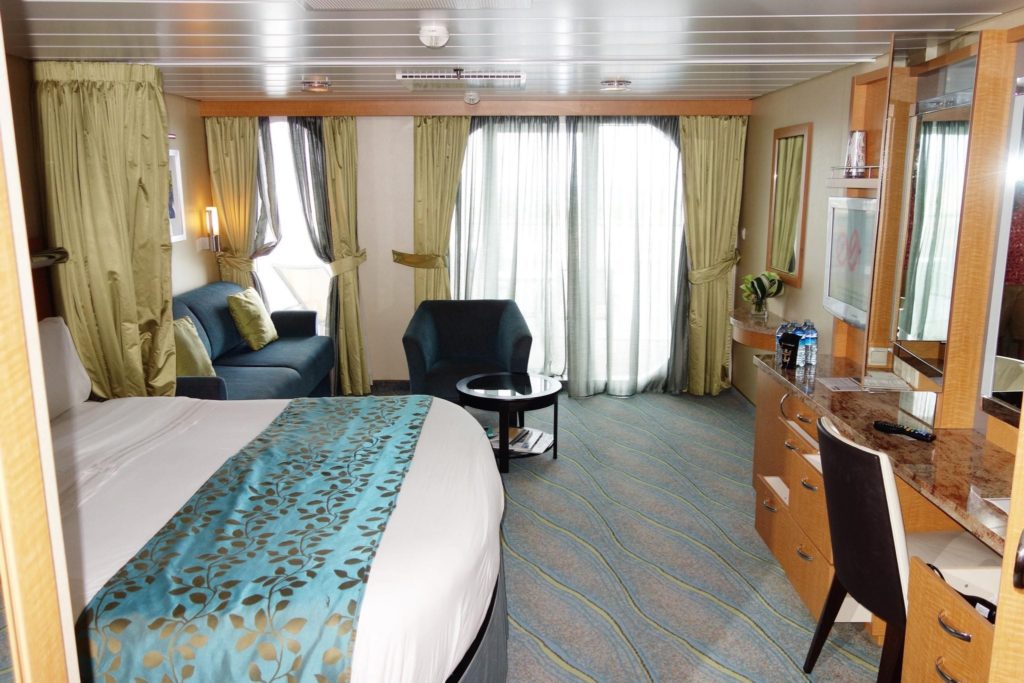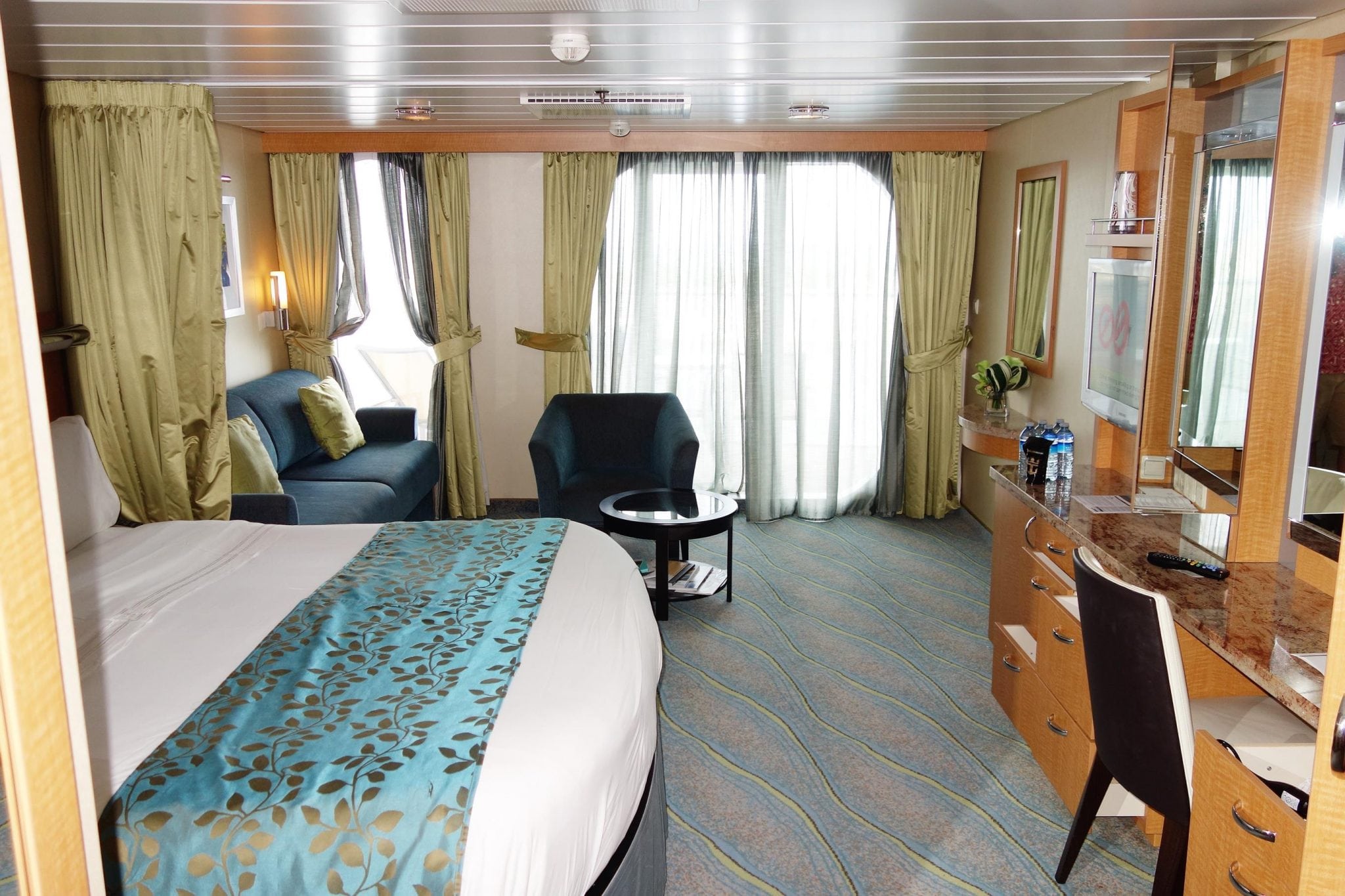 Odds are, the prices for various room categories will increase over time. That is not a guarantee, but it is often the case.
Normally, cruise lines will honor promotions or price changes up to the day of final payment. Typically, this final payment window is around 90 days prior to sailing.
Why does this matter?
If the price dips for certain cabin categories, you can try to take advantage of the new pricing. So, you could get a new and better cabin for no additional costs. 
For instance, say you booked an ocean view cabin for $1000 per person. Then, you find a promotion in which balcony cabins on the same cruise are now going for $1000. This might make you feel a bit cheated.
Well, the simplest thing to do is to contact the cruise line to get the new rate for a better cabin.
Cruise line cancellation and change policies do vary by brand. So, you will want to check the fine print on your initial booking. Most times, you will be able to book the better room for the lower price. Of course, you could also keep the same room for the new sale pricing if you'd prefer a lower cost vs. an upgrade.
Related Post: Expert Tips: How to Save Money on a Cruise
Book a Guaranteed Room
While we stated that cruise lines let you choose your exact cabin type and location, they also offer what is known as a "guaranteed rate". For popular cabin categories, cruise lines offer the chance to pay a lower fare to ensure you get a room in that particular category. The tradeoff with a guaranteed room is that you do not get to select the exact room number and location.
In theory, the cruise line can give you the lowest tiered room in that category. These are often located on lower decks in the back or front of the ship.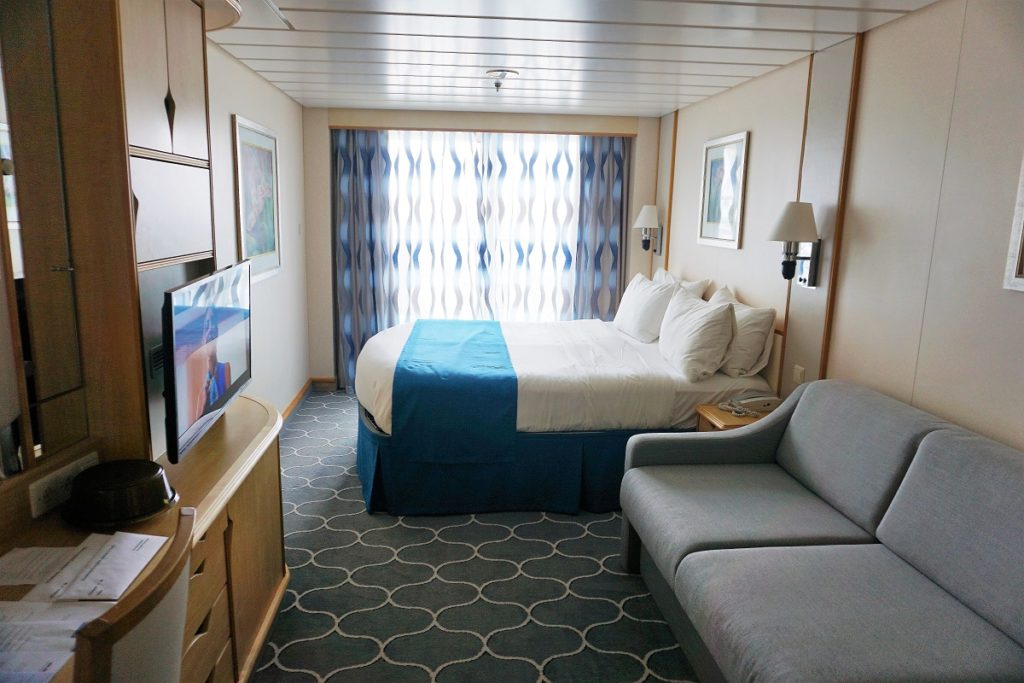 However, in many instances, we have been rewarded with mid-ship balcony cabins on ideal decks. These subcategory rooms are always more expensive than the lowest tiered balcony stateroom. So, taking the guaranteed rate was a cheap way to get a cruise cabin upgrade within the same category.
Now, it is possible that you can get bumped entirely from one category to another for a guaranteed rate. Though, that has never happened to us.
Loyalty Status
Once you take your first cruise, you will likely be hooked. That is what happened to us after taking our initial voyage together on Royal Caribbean's Legend of the Seas back in 2007. So, regardless of which cruise line(s) you frequent, you should definitely sign up for the loyalty program. There are associated perks!
Pay attention to your inbox, as you will receive special discounts and promotions from these loyalty programs.
As you work your way up a brand's loyalty program, you will be entitled to several onboard and booking benefits. Among some of the freebies are discounts on cabins, as well as past cruiser rates on select voyages and ships.  
In addition, frequent cruisers will receive "reduced rate" upgrades after a set number of sailings. So, being loyal to a particular cruise line can earn you free cruise cabin upgrades.
Travel Reward Programs and Points
Outside of the cruise lines' specific loyalty programs, there are other clubs and reward programs that can also provide you with benefits on a cruise. For example, we both have cruise line credit cards that earn points for our two favorite cruise lines.
You can redeem these points for several different onboard experiences. Along with free companion fare and onboard credit, cabin upgrades are normally one of them. Often, we redeem our free cruise points for a short cruise. Then, we spend a few hundred dollars to upgrade to a better room category.  But, you can still use these rewards to simply upgrade an existing reservation.
Other programs can offer similar perks. You will want to check the terms and conditions of any program before you decide to become a member. Both of our credit cards have no annual fees. Further, while the rewards are pretty typical for non-cruise purchases (the equivalent of 1% back), we do get better bonuses for purchases with the cruise line.
Personally, we are skeptical of any payment plan or other program that advertises great savings but charges fees or requires regular payments into a "travel account".
You will need to do your own research to determine if these types of rewards programs are right for you.
Enter an Auction for a Cruise Cabin Upgrade
While not free, a more recent development among major cruise lines are cruise cabin upgrade auctions. Yes, it is exactly what it sounds like. These programs allow cruisers the option to put a bid in for a better cabin.
The exact terms and conditions for these programs vary slightly across the cruise lines. Still, most cruise lines, such as Royal Caribbean and Norwegian Cruise Line, offer these types of programs.
Normally, your bid is for two people for the entire duration of the cruise. Some allow you to bid on multiple room categories at once to increase your odds of getting a better cabin. You will not get charged anything unless your bid is accepted. However, if your bid is accepted, you usually are not allowed to decline at that point.
Now, most programs do have a minimum bid requirement. So, you can't bid a dollar and expect to get moved from an outside cabin to a mini-suite. Yet, some strategic bidding can certainly help you rack up substantial savings.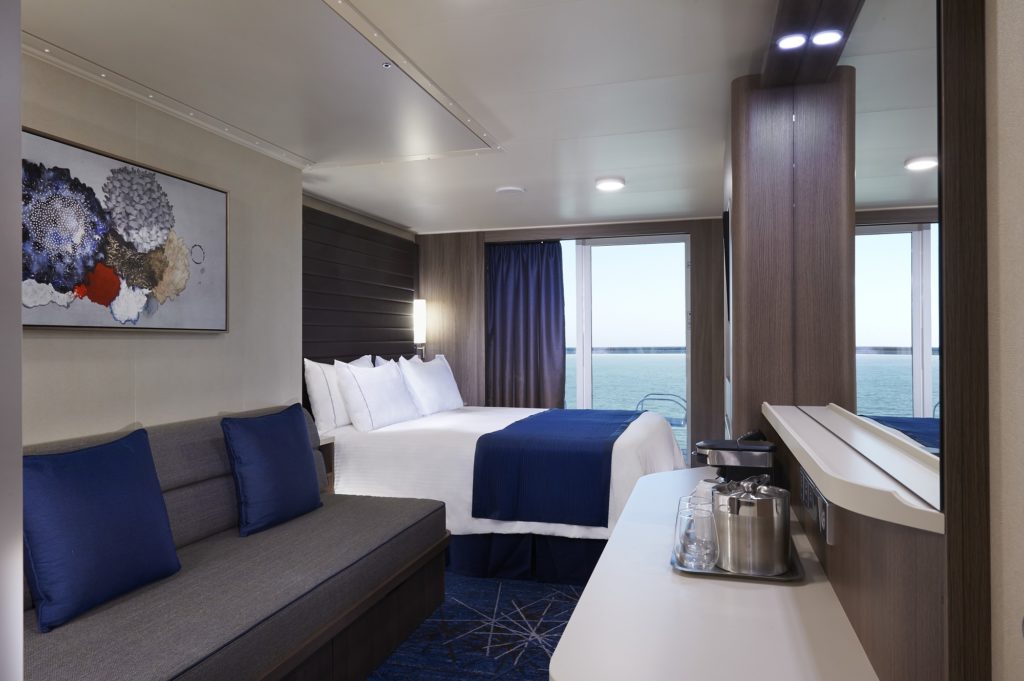 These auctions are also not guaranteed for all sailings and all ships.
We have taken advantage of these programs in the past with great success.
For our Norwegian Bliss Alaska cruise, we originally booked an inside cabin. This cabin category was priced over a thousand dollars less per person than our preferred balcony stateroom.
Of course, the Princess was not ready to cruise on this brand new ship in Alaska in an inside cabin. So, when Norwegian Cruise Line offered us the chance to bid for an upgrade, we jumped at the opportunity.
With a bid that was merely $5 more than the per person minimum requirement, we received an upgrade from an inside cabin to a mid-ship balcony stateroom. This cruise cabin upgrade easily saved us close to $1200 off the published rate for that room category.
Use a Travel Agent
There are several great reasons to use a certified cruise travel agent to help with your cruise vacation planning process. Even seasoned cruisers like ourselves often rely on these experts for the best promotions and costs savings.
Often times, travel agents can provide additional perks that are not promoted by the cruise line. These can often add up to hundreds of dollars in value. Additional add-ons such as onboard credit, free gratuities, or free beverage packages are some of the typical offerings.
Cruise cabin upgrades are also possible with travel agents.
Travel agents might be able to offer special group rates. Or, travel agents might be able to offer additional perks that make paying for a more expensive cabin a wash.
On several trips, we have used a travel agent to get deals that include everything from close to $800 worth of onboard credit to free gratuities and more.
So, while we paid for the higher room category, we earned additional perks that had more value than the cost to upgrade our room category. When you add up how much the cruise lines charge for additional amenities, like drink packages, internet, or gratuities, you often save more money paying for the higher room category needed to qualify for the perks. That is if these perks are of value to you.
Related Post: Major Cruise Mistakes and How to Avoid Them
Sail Off-Season
Taking a cruise during non-peak times is great for several reasons. Fewer crowds (and less kids), cheaper rates, and the greater likelihood of a cabin upgrade.
If you cruise during the "off season", the odds are in you favor that you might be able to improve your cabin. This is especially true if you book a guaranteed room. These off-peak cruises will also be included in sales and promotions more frequently.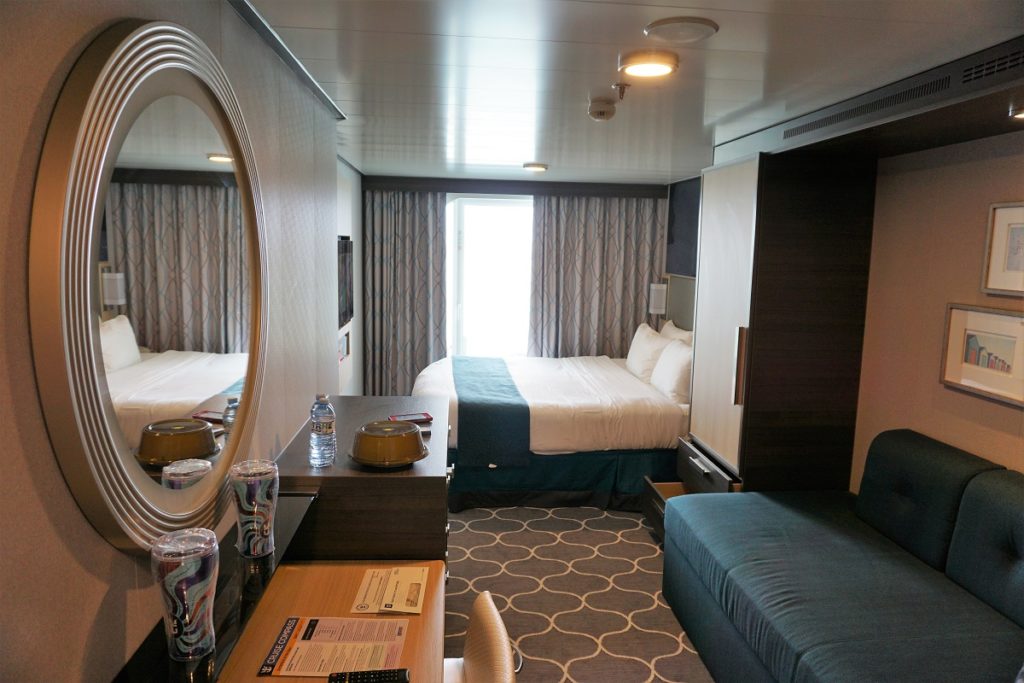 Typically, cruise ships tend to be the most empty in January and September when sailing from U.S. ports.
Given the reduced passenger capacity these times of year, some lines might simply upgrade repeat cruisers a subcategory or two for no additional cost. Or, you might be able to score an even better upgrade for a small fee with the pre-cruise auctions.
Ask Onboard
If all else fails, you can always inquire onboard about a possible cabin upgrade. Now, it is completely up to the hotel director's staff to offer you an upgrade, if there are available cabins. Many popular cruise ships sail at close to full capacity, especially during peak times. So, it is possible that the best cabins are already snagged by paying customers. But, travel plans change, people miss connector flights, or issues do arise that result in passengers not making it onboard the ship.
So, waiting until you are onboard to inquire about a cabin upgrade is totally reasonable. Note, the cruise line may also request a fee or cabin differential for the upgrade. Of course, you can always turn down the offer if you don't want to pay the specified price for the upgrade.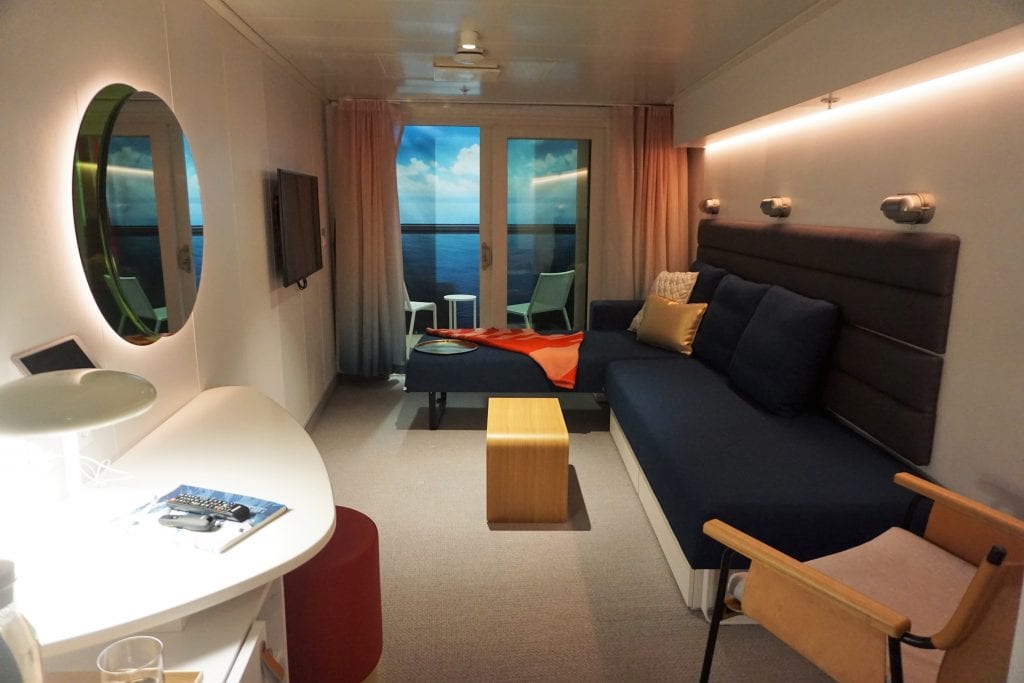 Some avid travelers suggest waiting until the first port of call to inquire about a cabin upgrade. The rationale goes that any individuals that did not embark on Day 1 of the cruise might still make it to the ship at its first port of call. After that particular day, any of the unoccupied cabins will most likely remain open for the remainder of the trip.
Comments
Have you ever gotten a cruise cabin upgrade? Do you have any suggestions on how to make this happen? Drop us an anchor below with your cruise tips for scoring a better stateroom on a cruise ship.