Although I have been to Alaska several times, I never turn down the opportunity for a return visit. With so much nature and scenery to enjoy, Alaska never gets old. And with so many areas to explore, Alaska always remains fresh. Remembering my last Alaska expedition cruise from many years ago, I was definitely ready to do another.
This time, I would sail on the National Geographic Venture celebrating its 40th anniversary of cruising Alaska. Lindblad Expeditions partners with the National Geographic Society to give guests the ultimate small ship adventure. We would explore the Inside Passage of British Columbia and Alaska.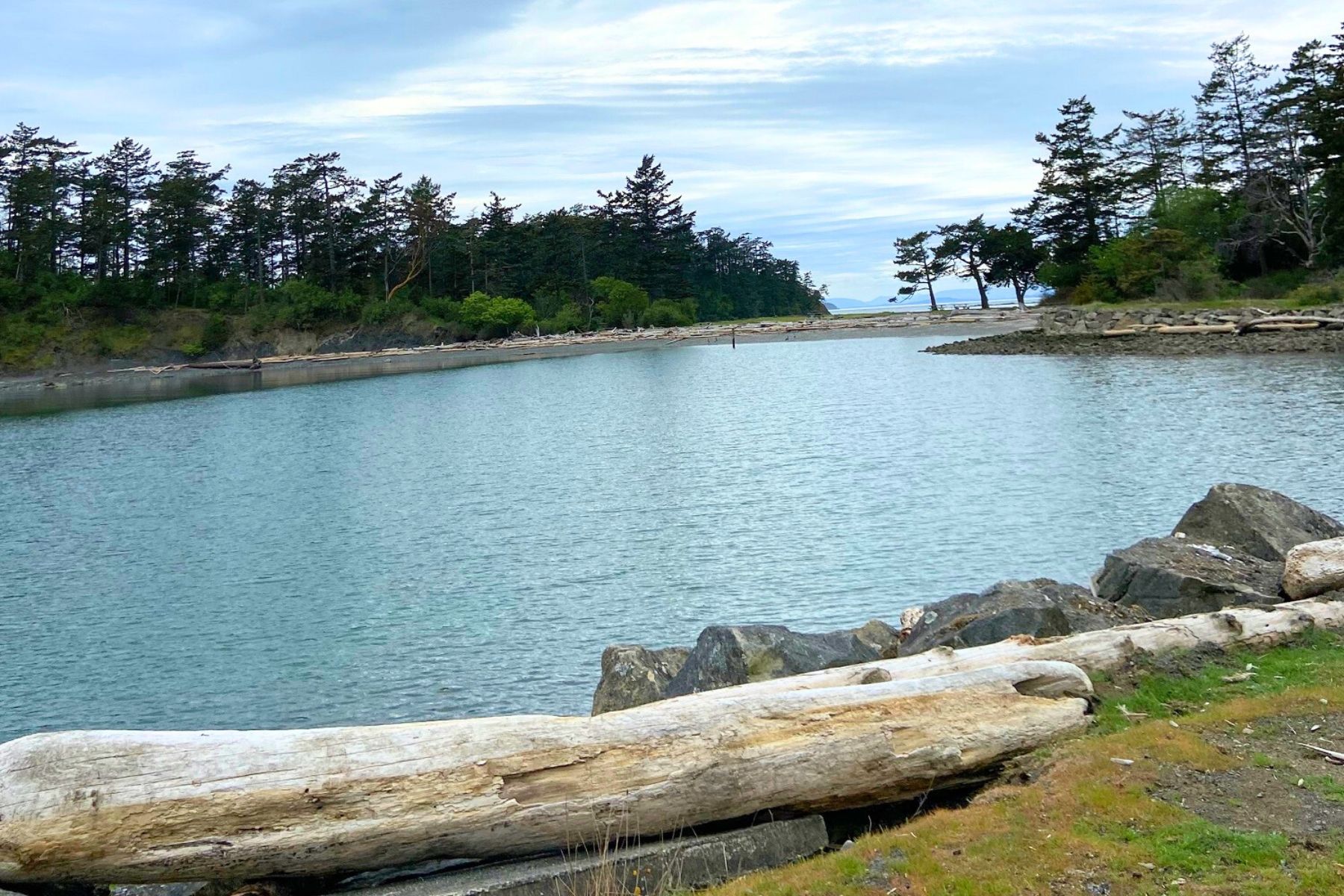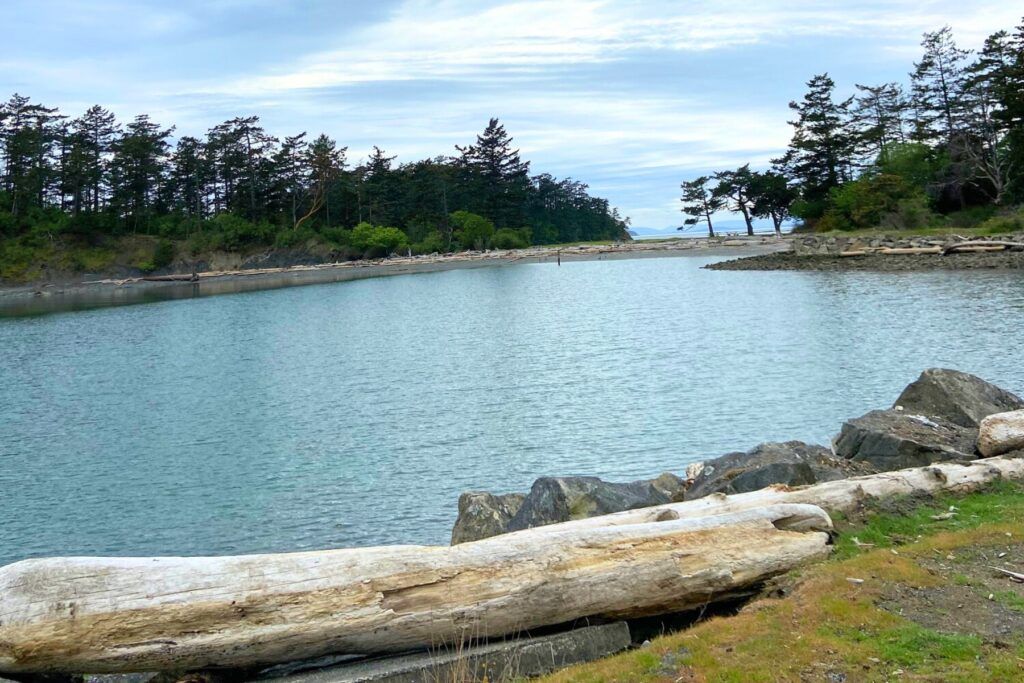 EXCLUSIVE SAVINGS: Get Deals When Booking Your Next Cruise!
Experiencing the Last Frontier on an Alaska Expedition Cruise
Planning for an Alaska Expedition Cruise
Knowing the challenges of air travel, we arrived in our embarkation port of Seattle a day early for our 14-day adventure. For this Alaska expedition cruise, we would board in Seattle and end in Sitka. Having previously visited Sitka a few times, we opted to fly home immediately after the cruise.
For those who haven't visited Sitka, it's a beautiful town surrounded by mountains and forest – and of course, water. It's definitely worth spending a few days in Sitka for further exploration.
Packing for an Alaska Expedition Cruise
Taking the right gear is especially important on an Alaska expedition cruise as activities take place in all sorts of weather. Remember the adage that there is no bad weather, just bad gear. Quick drying waterproof and breathable clothes are highly recommended.
Fortunately, Lindblad provides a packing list for each of its itineraries. Never being fond of reading instructions, I didn't look at the list until a few days prior to departure. When I saw the mandatory requirement for high muck boots due to wet landings from zodiacs, I scrambled to get a pair of these knee-high impermeables that would keep my feet dry.
I did scan the rest of the packing list and had already packed everything else on it. Don't be like me; read the packing list and be prepared.
There are no dressy nights on National Geographic Venture, so no need for fancy clothes or shoes. In fact, it's perfectly acceptable to wear your outdoor gear and hiking boots to dinner.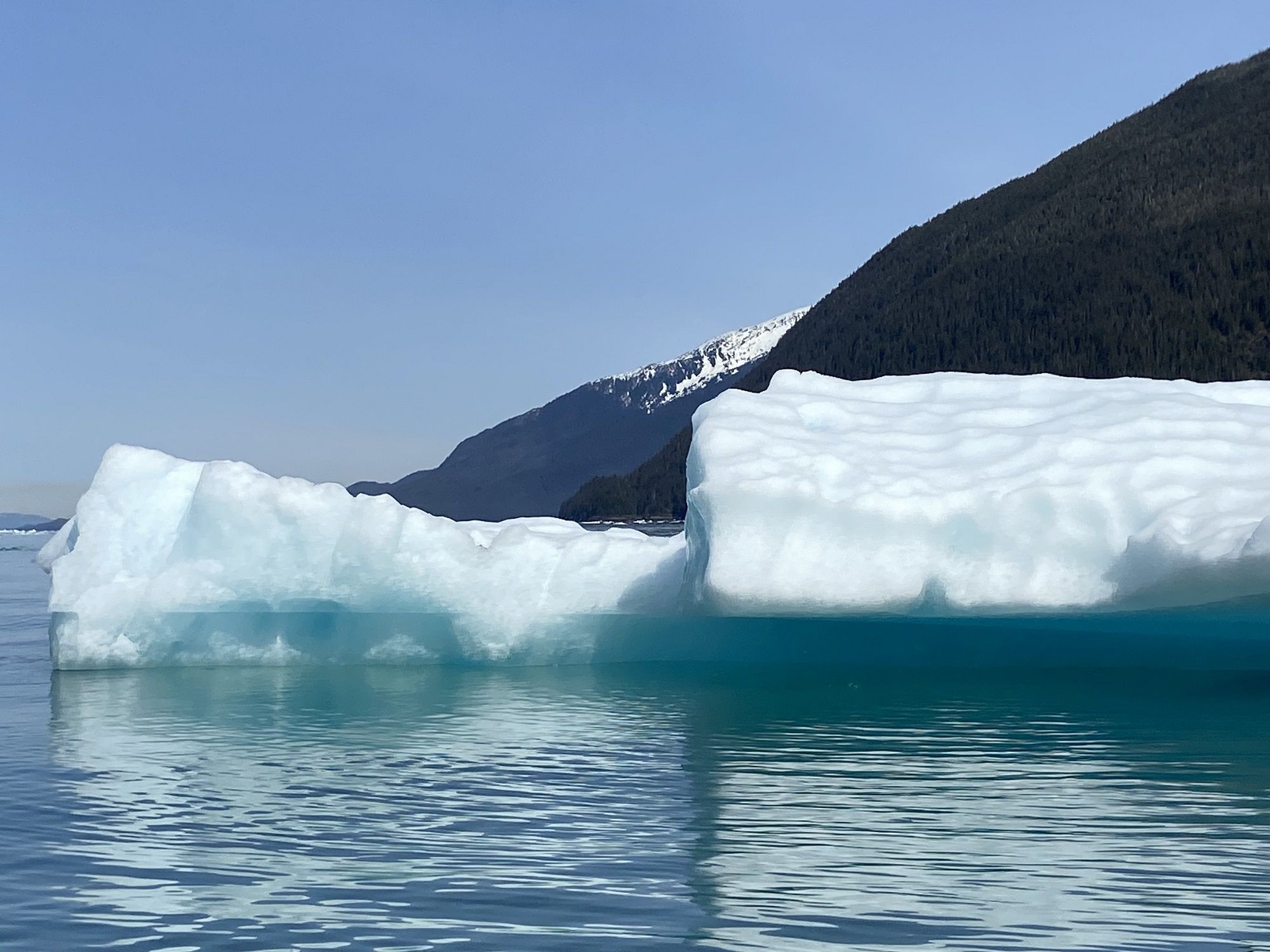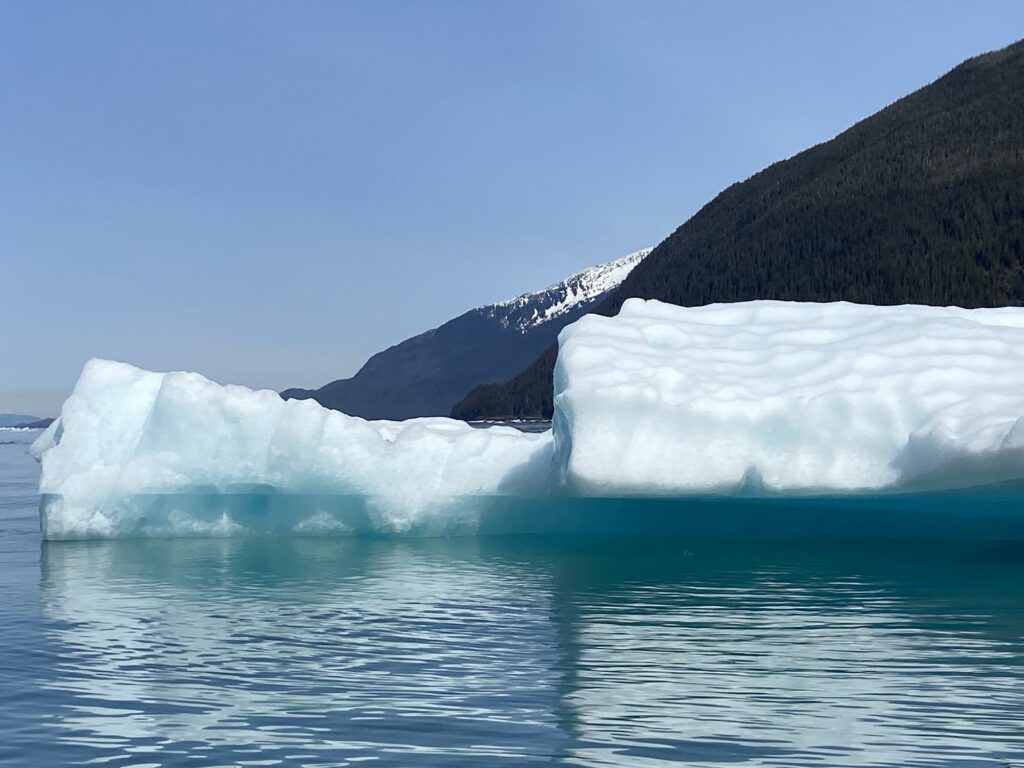 My Alaska Expedition Cruise Itinerary
Starting in Seattle, we explored the Inside Passage of British Columbia and Alaska slowly heading to our final destination of Sitka. We explored the San Juan Islands before reaching our largest port, Victoria, B.C. Our next town was Alert Bay followed by Petersburg, Bartlett Cove and finally Sitka.
In between Seattle and Sitka, we explored small islands like Sucia in the San Juan Islands. Other stops included remote communities not accessible to larger ships.The Inside Passage took us through the Tongass National Forest, Glacier Bay National Park, Endicott Arm, and Margerie Glacier, just to name a few of the iconic Alaska landmarks.
At least twice, we sailed very narrow waterways including Wrangell Narrows and Sergius Narrows. That was one of the times that the ship's bridge closed so that the captain could give his full attention to navigating. In our daylight passage of Wrangell, we could see land on both sides of the ship and increase our chances of catching a closer view of wildlife.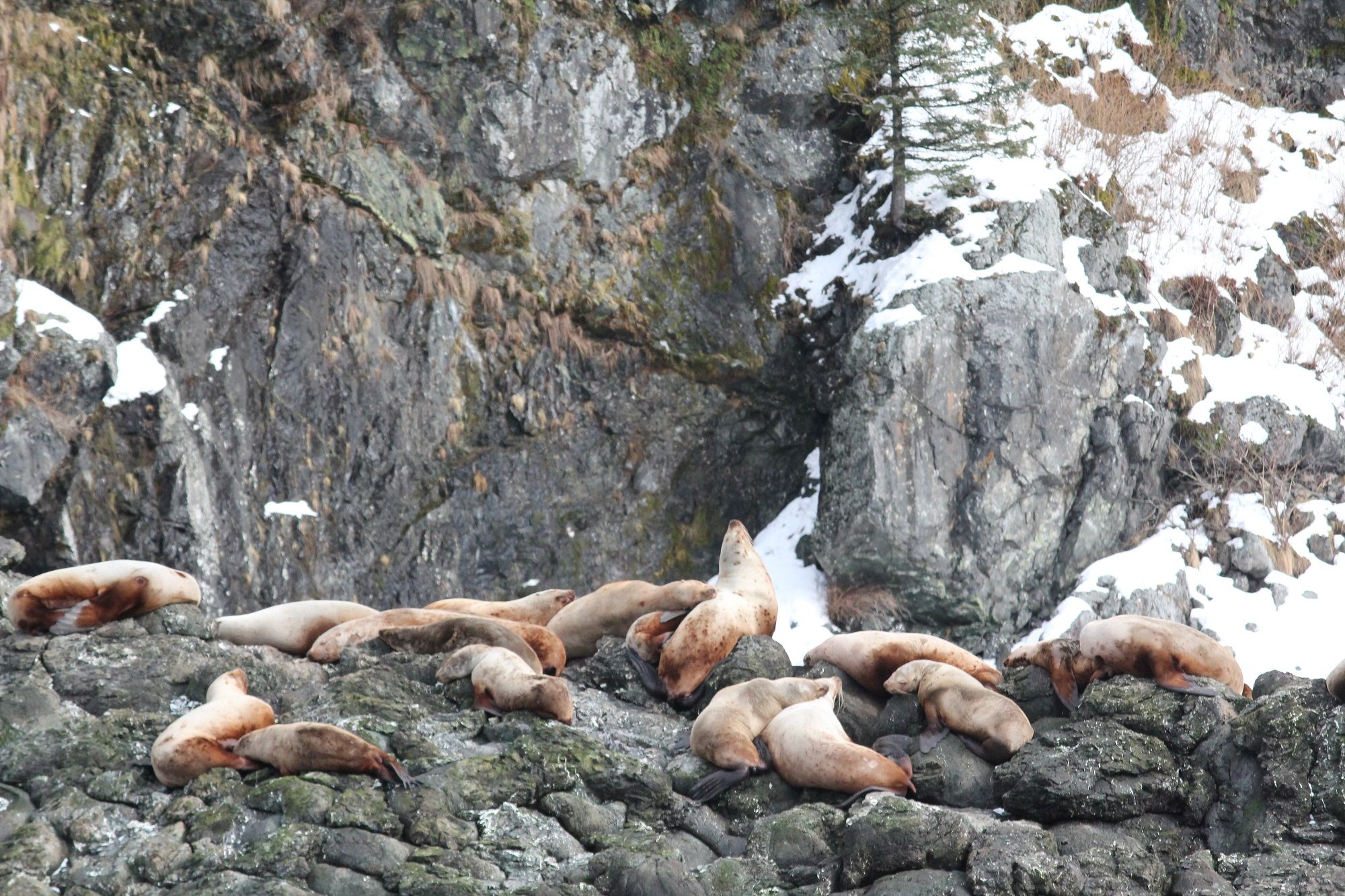 One thing to keep in mind is that the itinerary is a general guideline only. Wildlife spotting takes priority over a rigid schedule. So, if we should spot a pod of whales or see bears along the shoreline, the ship slows down or stops. Guests head to the bow or the Sun Deck to watch the show or attempt to see whatever has been spotted.
In one case, somebody with a very powerful scope could see bears that many of us with less powerful equipment weren't able to view. Still, it was fun to attempt to find the spotted animal. The captain would even position the ship for optimal viewing.
The same happened with zodiac excursions. Each zodiac captain carries a radio to alert other zodiacs of any wildlife spottings. We often changed course in search of catching a glimpse of whatever somebody had spotted. In the case of whales, we did the same thing. The boat would try to guess the path of the whale and either wait or go in pursuit.
Types of Activities on an Alaska Expedition Cruise
In between ports, we took zodiacs to explore fjords, hike in the woods, or kayak. Some guests did stand- up paddleboarding (SUP) while others remained on the ship and enjoyed the view. Our expedition leaders led us on zodiac excursions in search of whales, bears, birds, other wildlife, and waterfalls.
Often, we engaged in both morning and afternoon activities. Hiking with an expedition leader who interpreted the area offered different levels of physical exertion. The fastest, aerobic hikes covered more territory in a quicker time, but with little interpretation along the way. Slower-paced hikes included more interpretation of the area.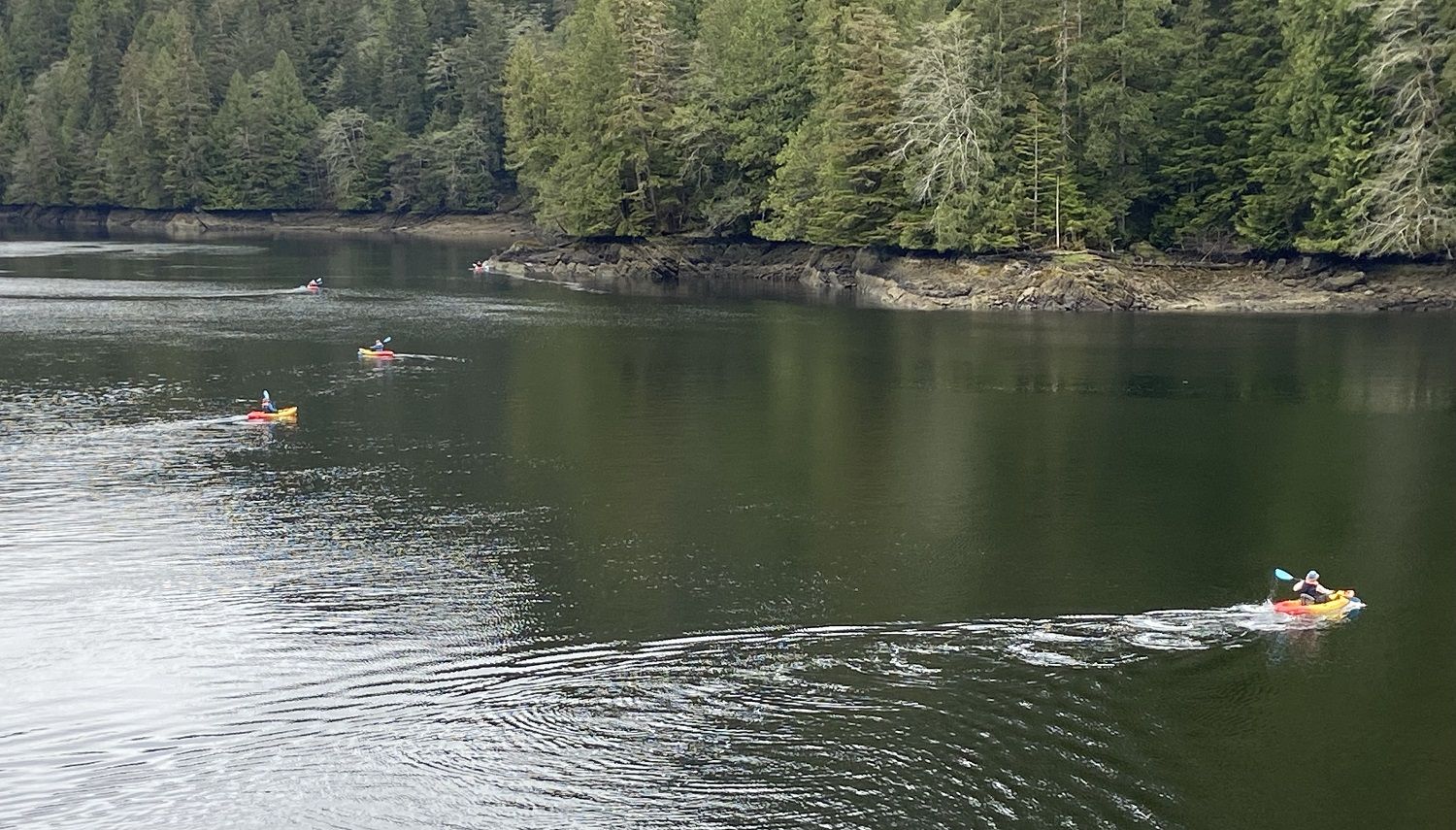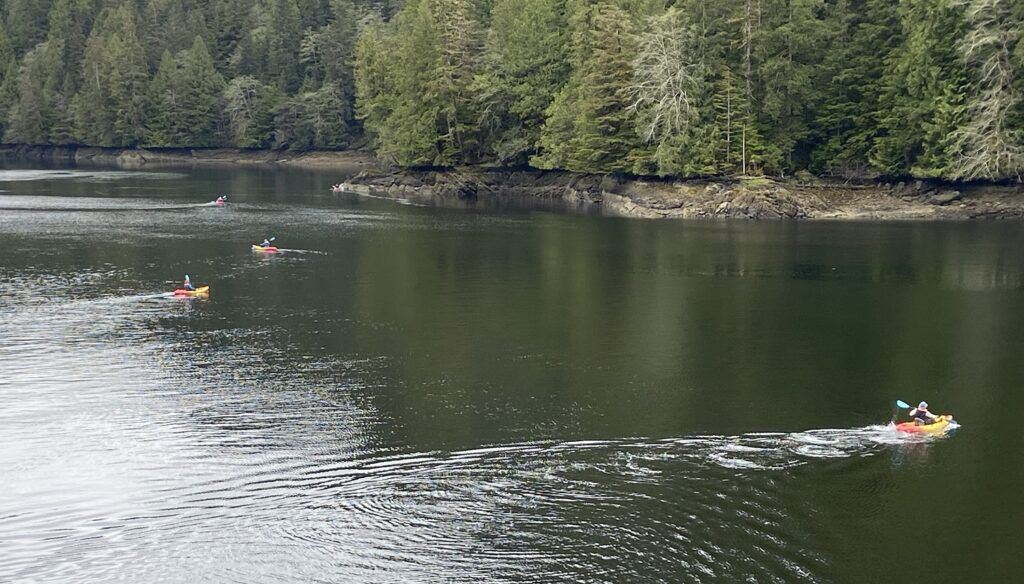 Kayaking and SUP took place in sheltered areas with a support boat nearby. Both single and tandem kayaks are available to guests who may paddle independently exploring a designated safe area.
Lindblad Expeditions' partnership with the National Geographic Society makes these cruises special. Evening activities involved lectures by experts in their fields. On our particular cruise, we had experts who studied octopuses (he said that octopi is not a correct term), whales, birds, ecology, and more.
These experts engaged the older demographic on this sailing without being condescending nor overly academic. In fact, most of them had a sense of humor that kept this captive audience coming back for more.
Did you know that the octopus has a brain in each of its arms? Or that whales have specific fluke patterns that identify them? Did you know that the sea otter is the only marine mammal not reliant on a layer of thick blubber to keep it warm?
SCORE EXCLUSIVE RATES ON YOUR NEXT CRUISE!
National Geographic Venture
With a capacity of just 100, the National Geographic Venture is a small ship. Basically, the lounge is the only common area for public gathering. This is where lectures and socializing take place. This area also includes a small library, games, a bar, and access to the bow where naturalists search for wildlife. With windows everywhere, it's a convenient spot for watching the passing scenery and wildlife.
During the day, snacks are provided along with a choice of beverage options, like coffee, tea, hot chocolate, and more. The freshly baked cookies proved a popular snack. During the late afternoon cocktail hour, hors d'oeuvres and drinks lure guests to this gathering place. At this time, the expedition leaders did a recap of the day's activities.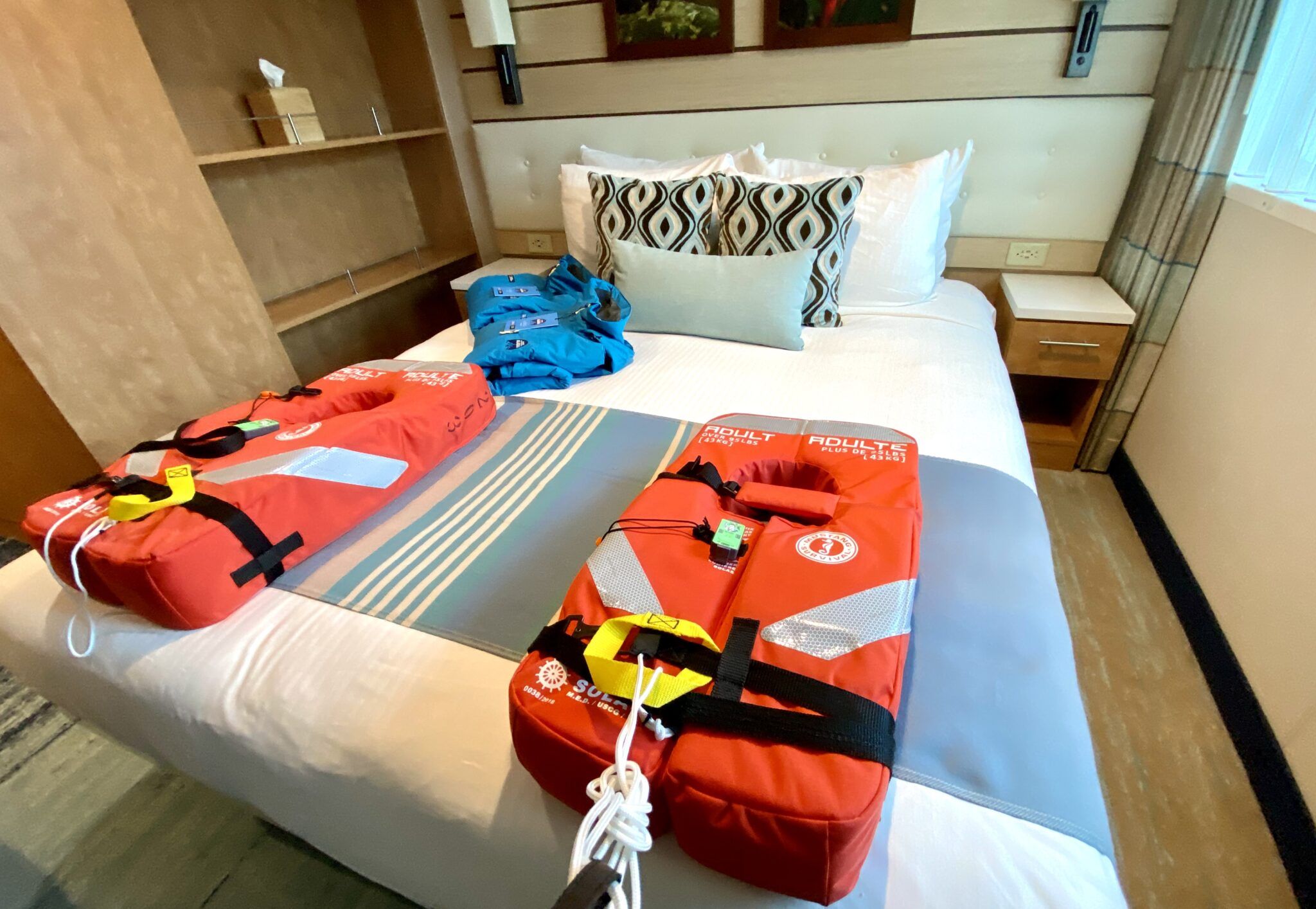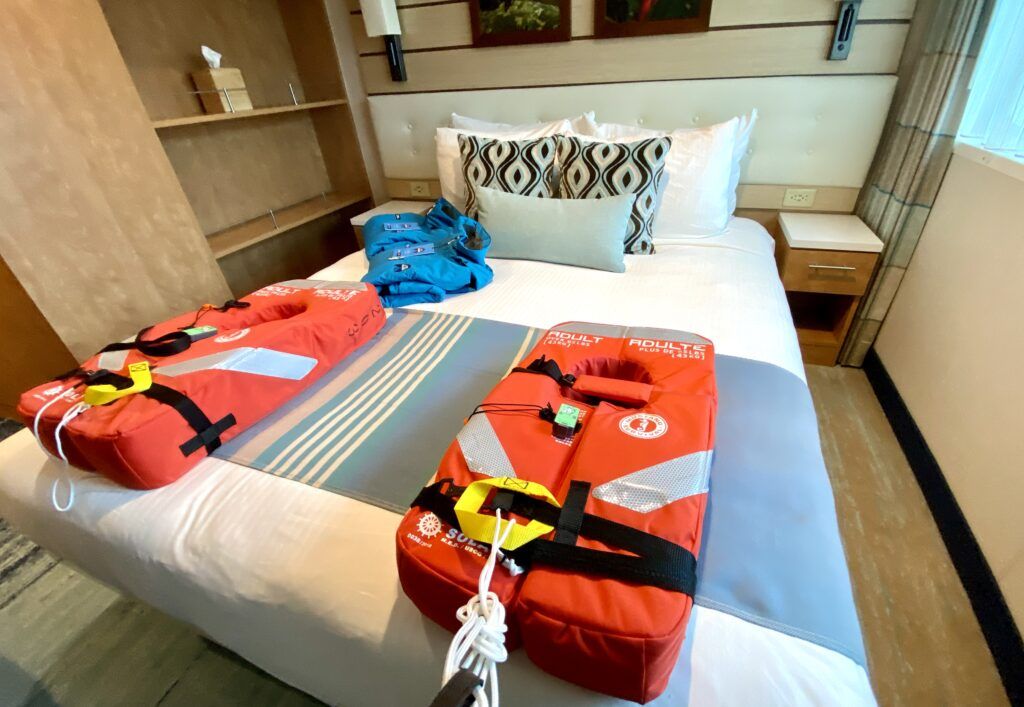 Staterooms
The 50 staterooms on Venture all have some type of view – porthole, window, or sliding glass door. Those sliding doors lead to small balconies. Most of the rooms are doubles with a few having connecting doors. A few rooms accommodate three people, with a sofa serving as the extra bed. These rooms also have larger bathrooms. In the double rooms, there is a small desk with the only chair in the room for seating.
One nice feature was the outlets and USB ports on both sides of the bed. On one wall, shelves provided extra space for storing gear or clothing. The closet had adequate hanging space with two lower drawers below. On a cooler cruise like ours, we found it difficult to store heavier clothing in this small space. The aforementioned shelves were much appreciated.
Of note, there are no televisions in the staterooms. Starlink satellite internet service is available, but we found it sketchy at best. The ship does sail in remote areas, but we wrongly assumed that this new internet service would be more dependable.
Dining
Meals are served at fixed times in a pleasant dining room surrounded by windows so that guests need not miss out on wildlife while dining.
The menu here offered a small selection of meat, fish, and vegetarian options. Breakfast is buffet-style, but most other meals feature a small menu unless the schedule warrants a buffet.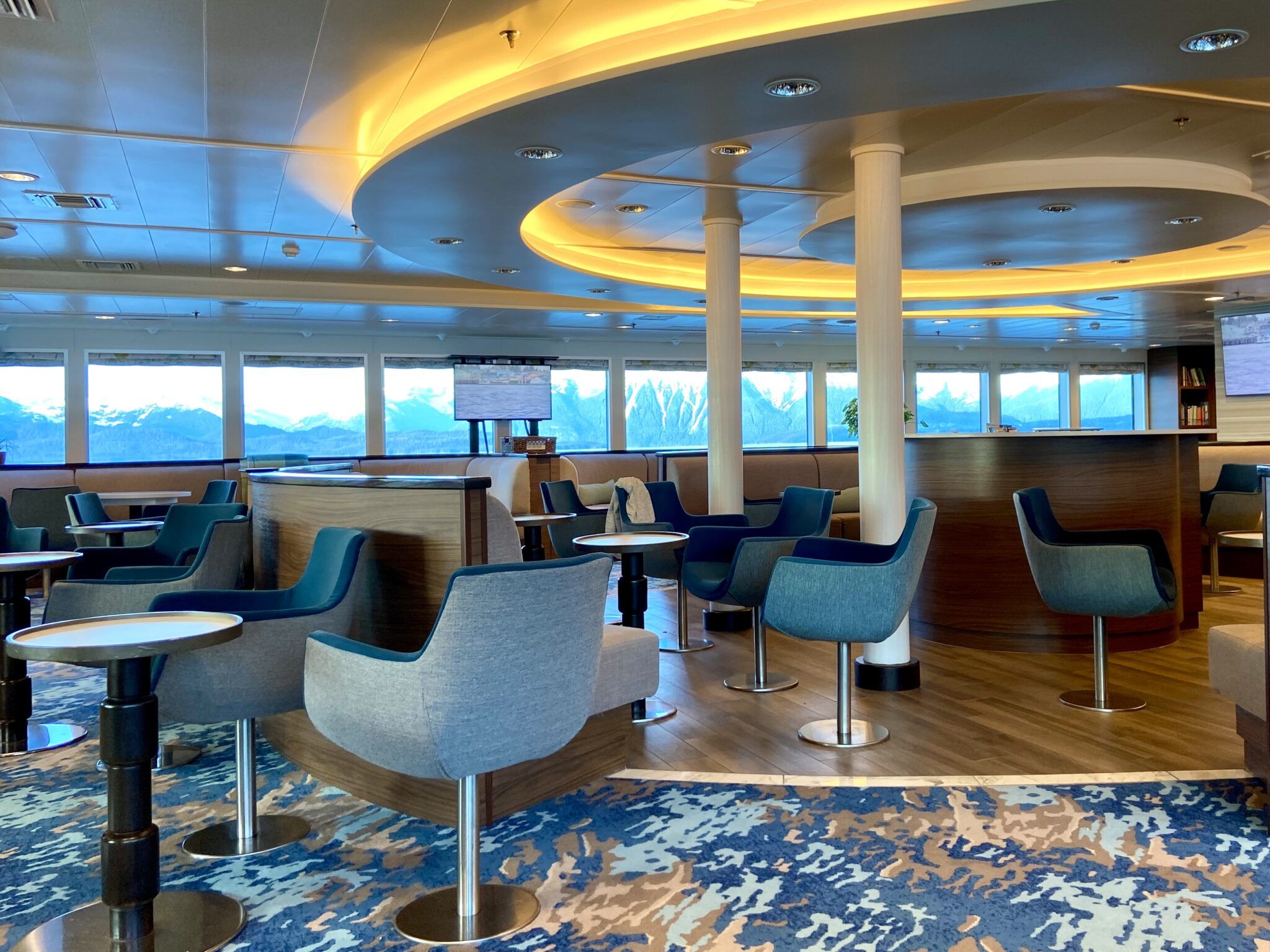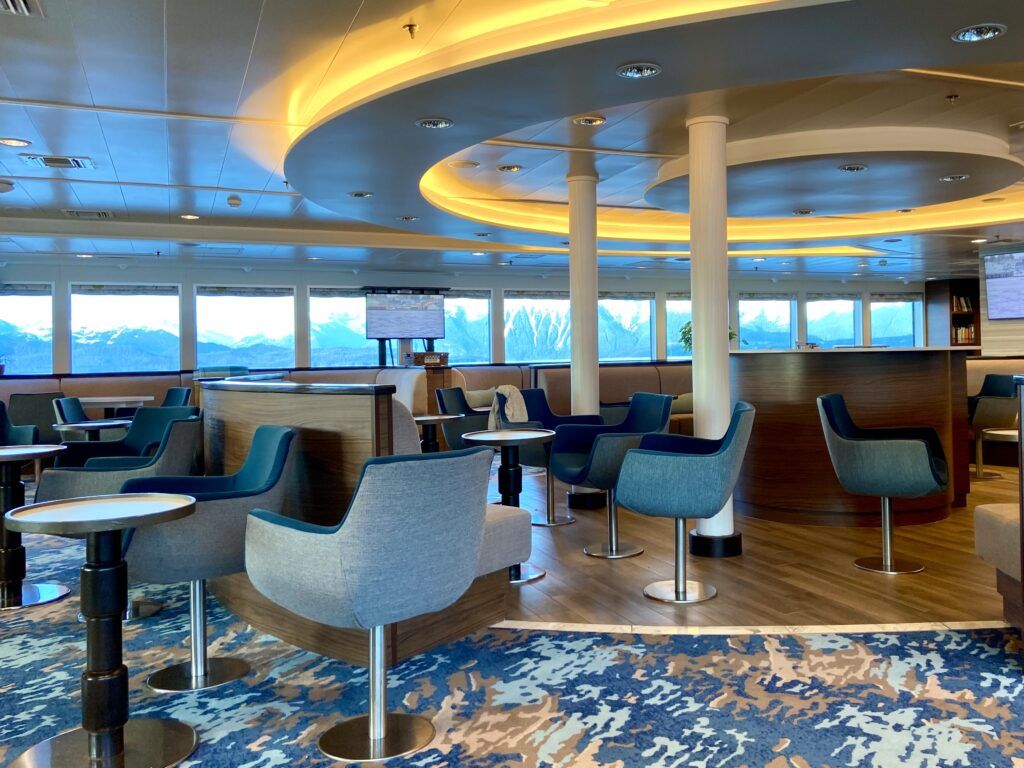 How Does an Alaska Expedition Cruise Vary from a Mainstream Cruise?
No expedition cruises are exactly alike, but there are some common features. Always do your research in advance to know what to expect.
Expedition cruises typically use smaller ships so that they can access places that a large ship could never navigate. A smaller ships means fewer passengers.
Guests are of a more mature age demographic in general.
The cost of an Alaska expedition cruise usually is significantly higher than on a large mainstream ship.
Naturalists and expedition leaders are always available to share their expertise and give lectures in their areas of expertise.
The entertainment on an Alaska expedition cruise is the local nature and culture. In addition to lectures, there may be movies about a topic relevant to the region, culture, or past or current events. Don't expect large – or small– production shows.
Nature dominates most itineraries, so don't expect beach days or unlimited shopping opportunities.
Dining times are often fixed, but seating is open. Menus may be rather limited, but often include options for those with dietary concerns.
Expedition ships usually have a special area for their exploration equipment. Kayaks, stand-up paddles boards, and zodiacs are some of the onboard options for water exploration. Hiking poles may also be available. A platform or stairs are fairly typical options for boarding the water vessels. Zodiacs are often used to reach smaller destinations and may require a wet landing.
Fellow guests are well-traveled and often very loyal to a particular brand.
Some shore excursions may be included in the fare.
Many expedition ships have open-bridge policies allowing guests to talk with the captain and crew.
Often there are photographers aboard who willingly share their expertise with guests. At the end of the cruise, they might even share a photographic memory of the trip with all guests.
Cabins and public spaces on expedition ships may not be accessible. Be sure to check with your travel advisor when planning your trip.
An expedition cruise is on the bucket list for many and should definitely be something to experience.
I highly recommend trying at least one. As for me, I will continue to enjoy traditional mainstream and small expedition ships. Even though both offer a different experience, they each play an important role in the cruise world.
BOOK NOW: Get the Latest Cruise Deals!
Comments
Would you consider taking an Alaska expedition cruise? Do you prefer smaller or larger vessels when cruising regions like Alaska? Drop us an anchor below to share your expedition cruise reviews.