As our second cruise of 2017, we are looking forward to our next voyage on Norwegian Cruise Line. After sailing on Norwegian Escape in 2016, we can't wait to sail on Norwegian Getaway. Currently the second largest ship in the fleet, Getaway has its own unique charm and venues that we are excited to test out. Here are the Top Reasons We're Excited to Cruise on Norwegian Getaway.
Top Reasons We're Excited to Cruise on Norwegian Getaway
Chillin Out in the Ice Bar
One venue on Norwegian Getaway that the Princess and I are eager to visit is the Svedka Ice Bar. This lounge, kept at a cool 17 degree temperature, features Miami style decor and specialty cocktails. It is one of the coolest places on the ship- quite literally, right down to the seats themselves. We look forward to uncovering what icy experiences await us in this one of a kind bar at sea.
Excited to Cruise on Norwegian Getaway
Tackling the Sports Deck
While we did conquer the Plank and other obstacles of the ropes course on Norwegian Escape, it was a challenge to say the least. This time around on Norwegian Getaway, we are ready to take on the outdoor sports deck, along with a few new obstacles. Will we come out victorious or suffer a defeat? You will have to come back and read our full day-by-day review to find out.
Excited to Cruise on Norwegian Getaway
Nights in Spice H20
One of our favorite venues on Norwegian Escape was Spice H20. From the daytime adults only serenity to the nighttime outdoor parties, we can't wait to head back to Spice H20 on Norwegian Getaway. We expect the same pizzazz from the nightly events including the 80's Dance Party, the Glow Party, and the Caribbean Party. What better way to end an evening?
Excited to Cruise on Norwegian Getaway
New Restaurants
While several of the restaurants on Norwegian Getaway are similar to those found on other NCL ships, there are two notable exceptions. Shanghai Noodle Bar, a complimentary casual eatery, is on the top of our list. Both fans of Asian influenced cuisine, we are ready to devour the tasty offerings. Also, we have heard rave reviews of Ocean Blue, and I look forward to seeing if the lunchtime lobster roll can live up to a New Englander's expectations.
Excited to Cruise on Norwegian Getaway
Main Theater Shows
Two signature shows are currently scheduled for our sailing. We saw Million Dollar Quartet, a musical featuring 1950's rock from Elvis Presley, Jerry Lee Lewis, Carl Perkins, and Johnny Cash, on Norwegian Escape; however, Burn the Floor, a fast-paced, eclectic dance show, is new to us. We are sure this main theater production will spice things up during the cruise.
Excited to Cruise on Norwegian Getaway
Days and Nights Along the Waterfront
More ships are adding outdoor spaces, the Waterfront on Norwegian Getaway is no exception. Whether it is a day time stroll, an al fresco dinner seaside, or an evening cocktail, we gravitate toward this open air promenade. We can't wait to enjoy the open spaces and cool breezes away from the pool deck. The Waterfront better be prepared for DB and the Princess.
Excited to Cruise on Norwegian Gateway
Dueling Piano Bar
While many cruise ships offer nightly piano music, none of them live up to the energy of the Howl at the Moon dueling piano bar. The sing-a-long classics, comedic commentary, and crowd engagement give this venue an electrifying aura that can't be topped. We are ready to howl along with our fellow cruisers on Norwegian Getaway.
Excited to Cruise on Norwegian Gateway
More Margaritaville
We are looking for our lost shaker of salt….and have found it again at Jimmy Buffett's Margaritaville at Sea. Not only are the wide selection of margaritas and boat drinks tempting, but the casual comfort food is worthy of the small up-charge too. The Volcano Nachos and Cheeseburger in Paradise have our mouths watering already.
Excited to Cruise on Norwegian Getaway
Illusionarium
Part magic, part dinner, and a completely good time. The Illusionarium dinner show on Norwegian Getaway is an additional entertainment option that we have booked for our cruise. We are really looking forward to experiencing the show, as the Brat Pack Supper Club on Norwegian Escape was some of the best onboard entertainment we have seen on a cruise.
Excited to Cruise on Norwegian Gateway
Visiting Harvest Caye, Belize
The cruise line's newest private island, Harvest Caye, is reason alone to book a Western Caribbean cruise on Norwegian Getaway. With two zip lines, a massive pool with swim-up bar, and a Landshark Bar and Grill, this private island might just be the best cruise line owned destination in the entire Caribbean. We will do our best to test out as much as possible during our stop at the island.
Excited to Cruise on Norwegian Gateway
Comments
Have you sailed on Norwegian Getaway? What was your favorite part of the cruise? Drop us an anchor below to share your cruise highlights from this ship.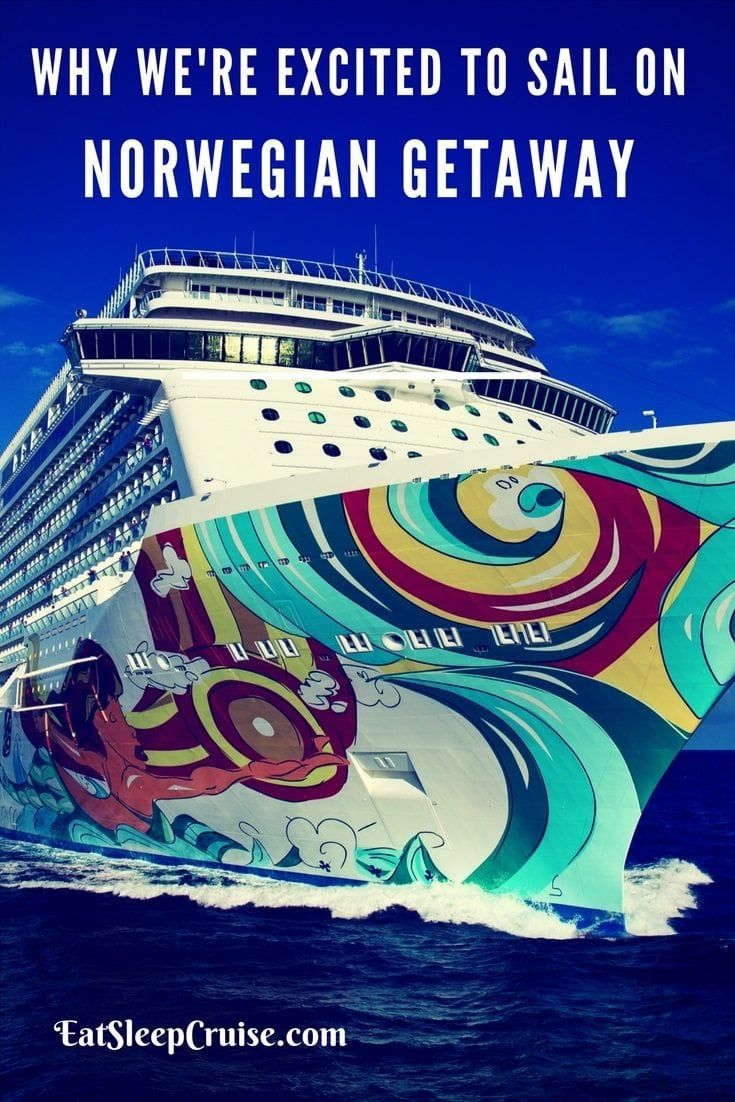 Note: All photos courtesy of Norwegian Cruise Line