Among the specialty restaurants on Harmony of the Seas is 150 Central Park. From executive chef Michael Schwartz, this recently revamped establishment offers a more traditional multi-course menu that tempts your taste buds with a mix of Italian, French, and American cuisine and cooking styles. When we were invited to dine here on our recent cruise, we were delighted to test the new menu. Did this restaurant live up to our lofty expectations? Find out in our 150 Central Park Harmony of the Seas review. And yes, we took plenty of food porn photos!

150 Central Park Harmony of the Seas Review
Located on deck 8 in the middle of the ship, 150 Central Park is the ideal location for a refined and upscale dining experience. Our reservation at this restaurant was for 6:00pm, a tad on the early side, so when we arrived a few minutes early, we were not surprised that the restaurant was relatively quiet.
150 Central Park Harmony of the Seas Review
We were greeted and seated right away at a table for two next to a window. Unlike Jamie's Italian and Chops Grille, the restaurant does not have any al fresco seating. After witnessing the level of detail and preparation that goes into each dish, we can see why this restaurant prefers its guests to enjoy the eclectic menu in the comfy interior. With a refined decor and understated elegance, we got cozy as the waiter brought over a bottle of red wine for us to begin this culinary journey.
150 Central Park Harmony of the Seas Review
Right from our waiter's welcome and introduction to the restaurant, we could tell that this restaurant was all about precision. When 150 Central Park first debuted on other Oasis-class ships, it offered a tasting menu, but just a few months ago, it switched to a more traditional menu offering several courses (one of the reasons the Princess was agreeable to dine here). From the description of the new menu and the mixture of culinary styles, each dish would be accompanied by a short narrative. The juicy details were just as mouthwatering as the meals themselves.
The culinary experience started with the bread and unsalted butter. Paired with the warm dinner rolls was a selection of six different salts, from countries including France, Australia, and the U.S. Varying in intensity and flavor, the salt sampler added a unique twist to the traditional bread and butter. Of course we tried them all, with my favorite being a smoky salt from Washington state.
150 Central Park Harmony of the Seas Review
As you probably expected, the Princess went rather bland and stayed within her comfort zone. For a starter, she ordered the Orange, Radish, and Fennel Salad. It was a light and balanced salad topped with a mild dressing and generous shavings of Parmigiano cheese.
150 Central Park Harmony of the Seas Review
Even though this was toward the end of our cruise, I found room to try two of the starters. The first was the Lobster Gnocchi. These potato dumpling pastas were delicate and soft, perhaps some of the best I have ever sampled. With just the right amount of rich butter sauce, the gnocchi were topped with a few pieces of succulent lobster.
150 Central Park Harmony of the Seas Review
Next, I went with the Tuna Tartare, which is made table side. Describing the preparation of this "Asian style" starter, our waiter added generous amounts of garlic, ginger, and various other spices to the raw tuna, mixing it together to create a flavorful combination. Although the consistency was definitely not what I was expecting, the shrimp chips were the perfect crunchy holder for this raw appetizer. While there was plenty to share, the Princess is not a fan of seafood, so I was left to eat them all.
150 Central Park Harmony of the Seas Review
One nice touch at the restaurant was the Maitre D'. He would routinely come around throughout the courses, speaking with guests and making us feel welcomed. He functioned almost like the head waiter in the main dining room, and it was apparent he wanted all restaurant goers to have an exceptional dining experience.
For dinner, I went with the Braised Beef Short Ribs. Tender and delicate, the ribs were savory and rich, falling apart as I cut into them. While the waiter indicated that the dish came with a sample of the sweet potato puree, it was barely enough for one forkful. It didn't matter though as this entree was all about the beef. These ribs alone would have been worth the cover charge.
150 Central Park Harmony of the Seas Review
The Free Range Organic Chicken was the Princess' choice. It was well-prepared, with just a hint of the red wine jus, and a small side of whipped Yukon gold potatoes. While she is not one to gloat over food in general, she did find the chicken to her liking.
150 Central Park Harmony of the Seas Review
As we were finishing up our entrees, we started to get a bit concerned with the length of our dinner. Having a show at 8:30pm, it was approaching 8pm already, and we still needed to order dessert. Once our waiter came over to clear our plates, we had to rush to order dessert. So, we did what any rational person would do, order basically every dessert! I skipped the coffee tonight, thinking that would save some time. Unfortunately, the desserts took a solid 10 or so minutes to arrive. Too bad, as we could have easily stuck around and savored these desserts a bit longer.
150 Central Park Harmony of the Seas Review
The Warm Doughnuts were fresh with a light coating of sugar and served with a side of lemon curd and chocolate sauce. I could not help but do a double dip. Being a chocolate feign, I also found the Bittersweet Chocolate Bourbon Tart to be an excellent way to finish off our dining experience. The crust was buttery and the tart decadent, but it was a bit too much chocolate for the Princess. The Basil Panna Cotta, which was finished table side, was our least favorite of the desserts. To be fair, given the sweet and overstated flavors of the first two desserts, if was difficult to give an unbiased review of the final option in our dessert trio.
Final Thoughts
150 Central Park on Harmony of the Seas is a nice departure from the traditional specialty restaurants found on most Royal Caribbean ships. Some may miss the tasting menu previously offered at this restaurant, but we preferred the new options and more traditional dining arrangement. Our waiter was diligent and informative, and the Maitre D' was one of the friendliest and engaging that we have met on a cruise ship. Our starters and entrees were fresh and exquisitely prepared, and the dessert was even more decadent, though we wish we had more time to enjoy it.
Dinner was quite lengthy, so make sure you square away enough time to dive into the menu and sample the varying flavors that make this restaurant stand out. While a bit on the pricey side for a specialty restaurant, there were no restrictions to how many starters or entrees you could order (at least there was no mention of additional charges). If you are a frequent Royal Caribbean cruiser, you should consider giving 150 Central Park a try; we know we will be back.
Comments
Have you dined at 150 Central Park? What is your favorite specialty restaurant on the Oasis class? Drop us an anchor below to share your tasty tidbits with other cruisers.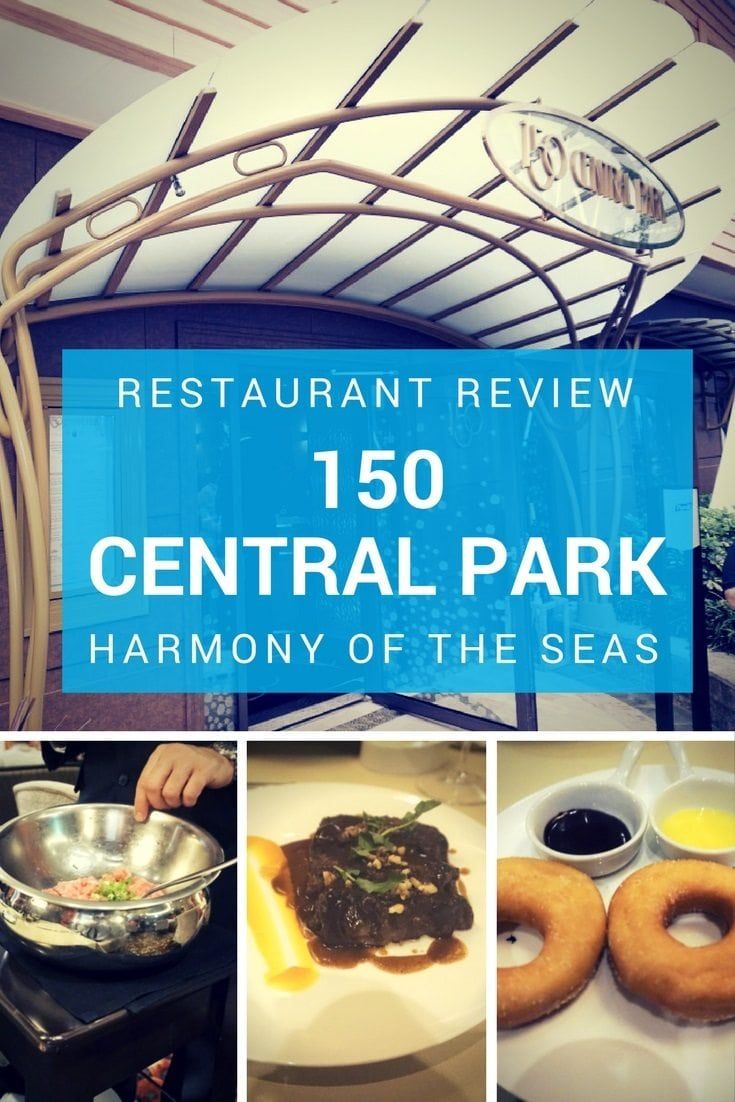 Disclaimer: We were invited to dine at 150 Central Park by Royal Caribbean, but all opinions in this post are our own.