In the days of cruising past, travelers would embark on their cruise vacations and leave the world at home behind. In the rare case of emergency, all cruise ships offered landlines which you could use to make a call for several dollars a minute. For more routine check-ins, cruisers would wait until their next port of call and whip out an international calling card (Do you remember those things?) to use a pay phone on shore.
How quickly things change! Now, almost everyone is tied to a smartphone device, allowing us to not only talk to anyone but giving us access to texting, email, social media, the internet, and even streaming of movies and music. The days of the "unconnected cruise" are officially over.

While some bemoan the advent of digital technology onboard cruise ships, most travelers embrace this revolution. Now, we can escape on vacation without being completely detached from the world. We can keep up with the news, check in with family, reply to emails, or make everyone back home jealous on social media. Further, cruise lines themselves are also shifting to more digital approaches with smartphone apps that can perform various functions to enhance the cruising experience.
With that in mind, we have put together our top tips for using your smartphone on a cruise ship.
10 Tips for Using Your Smartphone on a Cruise Ship (2021)
Confirm Your Current Plan's Coverage
Before setting sail, check with your mobile provider to see what your coverage area includes for both calling and the internet. You may be surprised what locations are already in your coverage map. The coverage area may give you enough usage that you won't need to upgrade your plan. If you will need to use voice or data beyond this coverage area, you may want to consider an international plan with your cell phone provider. Plans vary but can include international texts, data, and voice. These plans can save you a ton of money in the long run.
Keep in mind that this coverage applies while ashore at your ports of call. International cell phone plans do NOT include usage while at sea on the cruise ship. However, some carriers do offer specific cruise ship plans, so be sure to inquire.

Download Any Apps You Need Prior to Leaving
Don't waste your time or money downloading cruise line apps or games you want for the trip once at sea. You should do this before embarkation. Most cruise lines now offer an onboard app that is complimentary. This app can be used without purchasing a cruise ship WiFi plan and allows you to view daily activities, make reservations, and more. Newer technologies will allow for QR menus, mobile ordering, virtual queues, and other contactless options.
Even if you do choose to purchase a cruise ship internet plan, connectivity and speeds will vary based on the cruise line, the ship's infrastructure, the type of plan you purchase, and your geographical location. So, there is no guarantee that you will be able to download these apps using cruise ship WiFi.
Put Your Phone in Airplane Mode
Even if you are not actively using your phone to make calls or send text messages, smartphones have auto software updates, app updates, push notifications, and more that all use data. So, when using your smartphone on a cruise ship, we suggest you switch it into airplane mode immediately after embarking on the ship.
Once your cruise ship sails away from the port, you will begin to incur a barrage of roaming fees for such data usage even if you aren't actively using your phone. You can still use the ship's WiFi while you are in airplane mode. You can also take your phone out of airplane mode when docked at a port of call if you want to use your cellular coverage at that time.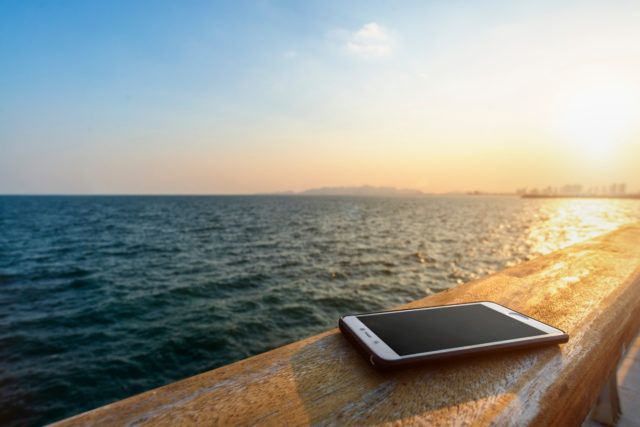 Choose Your Cruise Ship Internet Plan Wisely
Many cruise lines now offer a variety of internet packages based on the duration of your trip and online needs that will work with any smartphone. For instance, Carnival Cruise Line offers an inexpensive "social media" internet package for $8 a day. This plan allows for access to popular social media sites, giving you the digital fix you need without breaking the bank. Other cruise ship internet options include everything from plans for a set number of minutes to unlimited internet access for the duration of your cruise. Even these unlimited plans vary in price and capabilities, with the "premium" options often including the ability to stream movies and music.
Tip: There is the potential to save money on such packages by being a member of loyalty programs. Further, you can sometimes score an internet package for free when timed with cruise line sales or travel agent promotions. If not completely free, many cruise lines offer discounts if these plans are purchased pre-cruise.
Use WiFi Calling and Texting Options
Most smartphones now have the capabilities to use VoIP or FaceTime for calls. By using WiFi connection instead of cellular signal, you can stay in touch with family and friends back home without paying roaming charges. You do need a rather strong internet signal for a high quality call though. Depending on your location and internet speed, this option may be a bit choppy, but it's worth a shot!
If you have purchased a cruise ship internet package, you can also use the WhatsApp app, Facebook messenger, or iMessage to communicate via "text" as all of these use data and not cellular coverage. Cruise line apps often include a messaging feature as well (sometimes for free or sometimes for a small charge). This will allow you to easily communicate with others on the ship.

Check for WiFi Hotspots While Ashore
Even if you do not want to spend the money required for using your smartphone on a cruise ship, it doesn't mean that you have to disconnect for the entire vacation. You might be able to get internet access at restaurants, cafes, and even beaches while ashore at ports of call.
Many beach resorts and hotels that offer day passes now include access to WiFi as part of the package price. So, you could score some time to check your email, post some vacation photos on social media, or get caught up on the news while on a shore excursion. Since many of these networks are public, you should be cautious about which sites you visit while connected (see below).
Be Smart About What Networks and Sites You Access
Whether you are on the ship or at a port of call, the WiFi you are using is public. Unless it is absolutely necessary, we recommend never accessing private accounts, such as bank accounts or credit cards. Further, when searching for WiFi hotspots, you should be extra cautious about which networks you choose, only signing on to connections you can confirm belong to a reputable company or retailer. Nothing would be worse than having your personal data or identity snatched while you are trying to access the web.

Be Prepared for Slower Internet Speeds
The internet on cruise ships has come a long way in a very short period of time. Using your smartphone on a cruise ship is a convenience that didn't exist ten years ago. That being said, the internet speeds are slower than the broadband and LTE speeds you are used to back home. Further, not all cruise ship WiFi will allow for streaming.
While speeds are getting faster, cruise ship internet ultimately depends on satellite connections and geographical location. The ship's distance offshore as well as interference from landscapes and weather can all cause variable internet speeds. The infrastructure on the cruise ships themselves also play a role, with older ships often having slower connection speeds. Royal Caribbean's VOOM internet and Princess Cruises' MedallionNet both claim to be the best at sea; however, you shouldn't plan on it being as reliable as your internet back home.
Bring Your Smartphone Accessories
Nothing is worse than traveling with your smartphone or other mobile devices then realizing that you don't have all your accessories. So, make sure you pack all necessary power cords, back up power, and charging stations. You will inevitably spend long days ashore and will want to ensure you stay fully charged. Further, power outlets are very limited in cruise ship cabins. In terms of organization, we really like this portable bag for keeping all our accessories in one place.
Making sure your smartphone is protected during your cruise is also a good idea. When going to the beach or relaxing near the pool, consider getting a waterproof case to help prevent irrevocable damage to your precious cargo.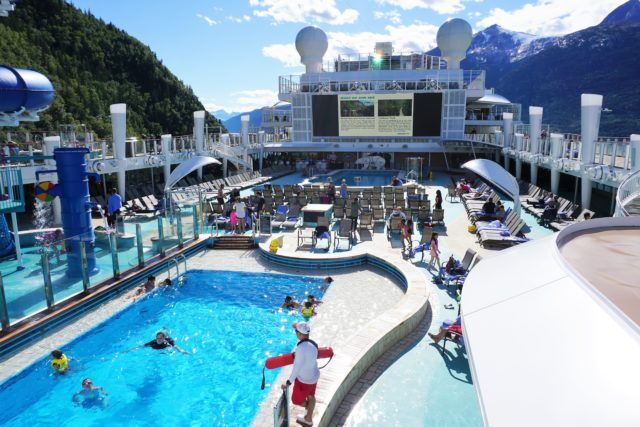 And Finally, Don't Become Tied to Your Device
The modern convenience of using a smartphone on a cruise ship is truly a great improvement and welcomed luxury. But, you are still on vacation to explore new destinations, meet new people, and have some fun and relaxation. Endless scrolling on your smartphone is NOT the way to spend your vacation. Don't let the technological advancements in the cruise industry deter your ability to relax, socialize with fellow cruisers, and explore the history and culture of your ports of call. Post a few pictures to make everyone back home jealous then log off to enjoy your vacation.
Comments
Do you have any tips on how to best use your smartphone at sea? Do you purchase an internet package while on a cruise? Drop an anchor below to share your experiences on staying connected while on a cruise ship.