Celebrity Cruises brand new ship, Celebrity Apex, was due to launch 581 days ago. Amid delays due to the pandemic, this ship was officially named by Godmother Reshma Saujani on Tuesday. Finally kicking off her inaugural Caribbean season, this 130K gross ton ship offers many of the same venues and amenities of sister ship, Celebrity Edge. Still, there are a few new and distinct offerings that help elevate Celebrity Apex. We were guests of Celebrity Cruises on a 2-day sailing and want to share our first impressions of Celebrity Apex after a busy weekend onboard this new vessel.
Disclaimer: We were guests of Celebrity Cruises on this sailing, but as always, all opinions are our own.
First Impressions of Celebrity Apex
Design Aesthetic on Celebrity Apex
At first glance, the interior and exterior spaces on Celebrity Apex might look familiar. Yet, if you dig a little deeper, you will see many of the nuances and unique design elements that set Apex apart.
First, you will notice an abundance of art installations throughout the ship. It starts with the hallmark "heart" sculpture near the Resort Pool. From there, a keen eye can find many distinct works of art.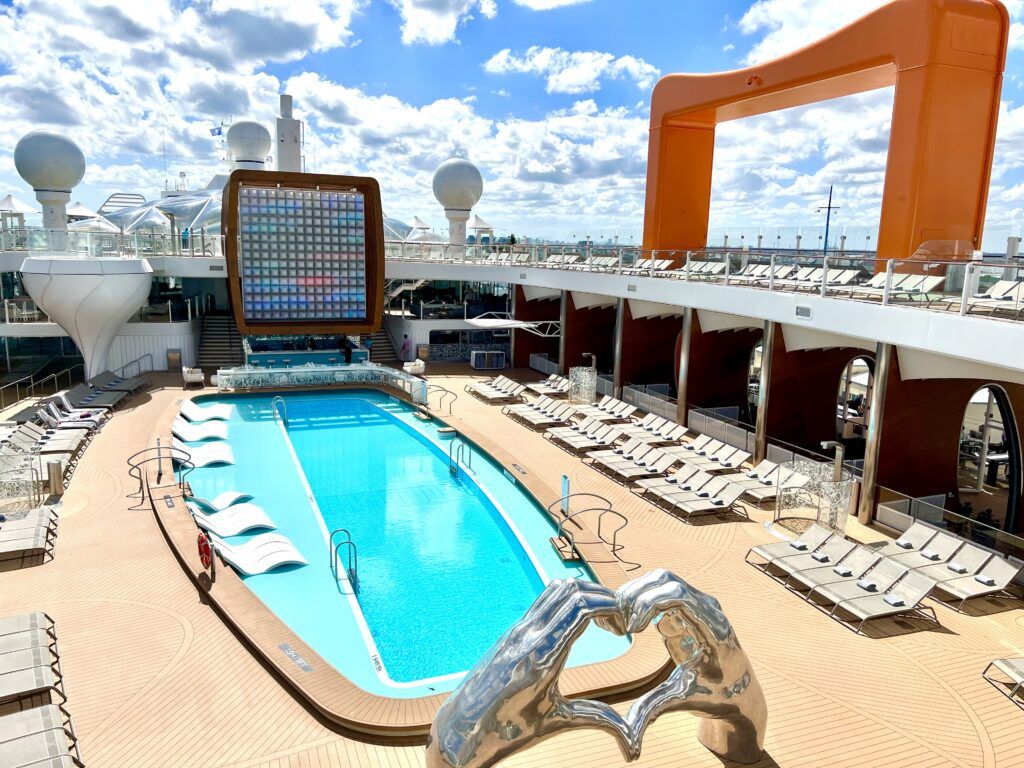 From the more tranquil entrance at Eden to various other sculptures, Celebrity Apex certainly has her own character. This new vessel seems even more luxurious than her predecessor.
While the color palette and overall design of the four complimentary restaurants are the same, the restaurants feel more open and inviting on Celebrity Apex. Similarly, other venues like Eden somehow feel roomier as well.
Yet, the ship's overall layout has remained unchanged.
Among our favorite areas on Celebrity Apex are the Rooftop Garden and the Martini Bar located in the Grand Plaza.
EXCLUSIVE: Score Exclusive Deals on Celebrity Apex!
Dining on Celebrity Apex
On a two-night cruise, it is tough to get a complete picture of the food and beverage options on a ship, but we tried our best.
During our trip, sampled lunch at Luminae, the restaurant exclusively reserved for suites, and the Oceanview Café. For dinner, we dined at one of the complimentary restaurants, Normandie, and the new Le Petit Chef and Family.
The food quality and selections on Celebrity Apex were similar to our previous experiences with Celebrity Cruises, which have always been top notch.
Some standouts for me included the lobster roll and bread pudding from Luminae as well as the Asian and Mexican selections in the buffet. The Princess also really enjoys the baked brie from Normandie. Further, the seasonal pecan pie with cinnamon ice cream was the perfect sweet treat to end our meal in this complimentary venue.
On Celebrity Apex, Le Petit Chef held in Le Grand Bistro features a different show than Celebrity Edge. Le Petit Chef and Family follows this miniature chef through the "seasons" of life.
We both enjoyed the "show" better than Le Petit Chef and Friends on Celebrity Edge. Although, we liked the previous menu better. Still, the filet was cooked to my liking and the chocolate brownie dessert was better than the matcha cake on Celebrity Edge.
The restaurant at Eden also features a new menu. Though, we didn't get a chance to sample it.
Related Post: What's Included on Celebrity Cruises
Bars and Lounges on Celebrity Apex
When it comes to bars and lounges, all of your Celebrity Cruises favorites can be found on Celebrity Apex.
Of course, there is the popular martini bar showcased in the Grand Plaza. You can't miss the talented bartenders, signature cocktail list, and chandelier shows at this venue.
Other popular bars and lounges include the Eden bar, the outdoor Sunset Bar, and Café al Bacio. In addition, Celebrity Apex features a new addition to the bar line up, the Craft Social.
Replacing the casino bar, this lounge is home to large televisions, beers and cocktails on tap, an extensive beer list, and small bites (a la carte pricing). The Craft Social was extremely popular during our cruise.
Luckily, we were able to participate in a food and beverage sampling of the cocktails, small bites, and beers. This event was a great opportunity to experience all the Craft Social has to offer.
Trust us, you will want to spend some time at this venue!
Related Post: Guide to Celebrity Cruises Drink Packages
Celebrity Apex Entertainment
Celebrity Apex features all brand new entertainment that is exclusive to the ship. These shows occur in various venues including the main theater, the Club, and Eden. During our sailing, we were able to catch four of these new performances, but there were others that we just didn't have enough time to see.
In the main theater, we were able to experience both Rockumentary on night 1 and Crystallize on night 2.
Rockumentary is a lively and high-energy take on the traditional cruise revue show. This performance showcases rock music from the 1960's to early 1980's. It includes a live rock band and a set that is reminiscent of a stadium-style rock show. It featured music from the likes of Elton John, Jimi Hendrix, Clearance Clearwater, and even Bruce Springsteen.
The second show, Crystallize, made greater use of the ship's technologically advanced theater. Incorporating pop music, a violinist, and dazzling special effects, alongside a talented cast of dancers, singers, and acrobatic performers, this show made the entire theater come to life. Certainly, this is a show you do not want to miss on Celebrity Apex!
Further, Celebrity Apex utilizes The Club for more intimate entertainment offerings. Of course, this multi-deck venue is also home to events like trivia and games, like Deal or No Deal.
On our sailing, The Club hosted late night comedy and a circus variety show Caravan on night 1. This 30-minute production featured strength and balance acts, dancing, and two vocalists. On night 2, this venue featured Soultown, with a night of soul and motown music.
The "black-box" setup of The Club makes it the perfect venue for these types of shows. Just be sure to arrive early to secure the best seats.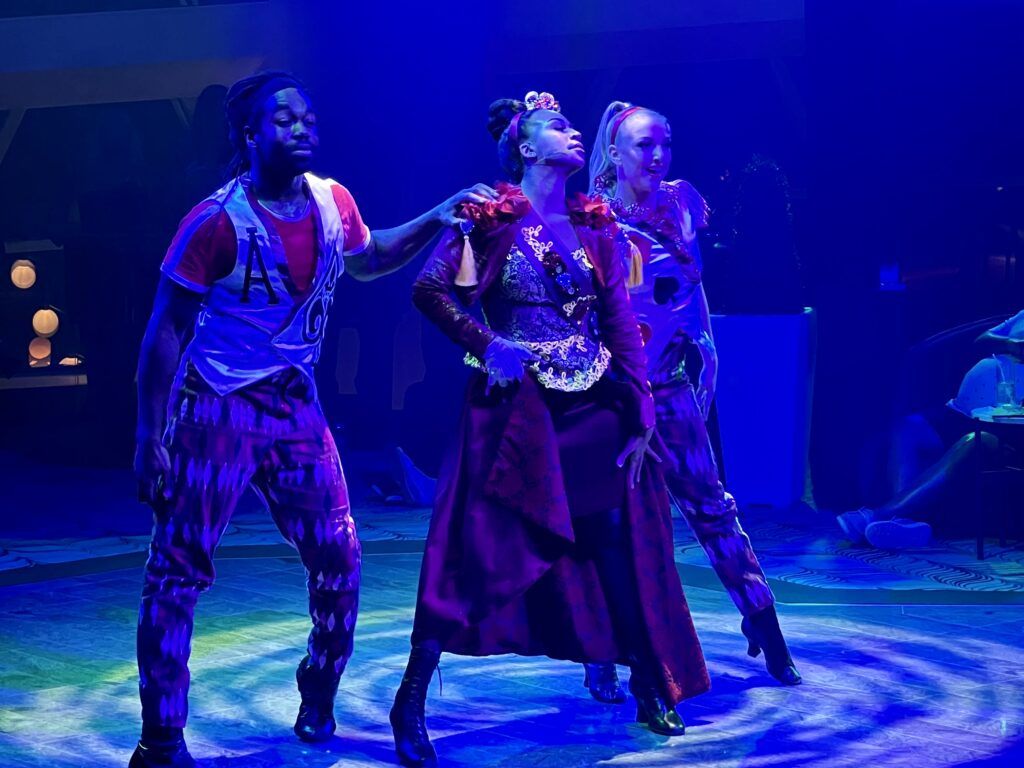 Finally, Eden is also home to a new nighttime show, Night of Dreams. Unlike early iterations of entertainment in Eden, this show is a structured production with only minimal audience participation. While still a bit "different", this Alice in Wonderland like performance is an improvement for us.
Though, the setup of the venue is not optimal for viewing.
Overall First Impressions of Celebrity Apex
We made sure to do, see, and eat as much as we could during this weekend cruise on Celebrity Apex.
After two days onboard this beautiful ship, we were more than impressed. As huge fans of the Edge Class, we are happy to report that the newest iteration is even sleeker, tastier, and more entertaining!
Celebrity Apex is the perfect mega-ship for those looking for an upscale cruise experience. The ship offers a traditional take on cruising with elevated dining and entertainment.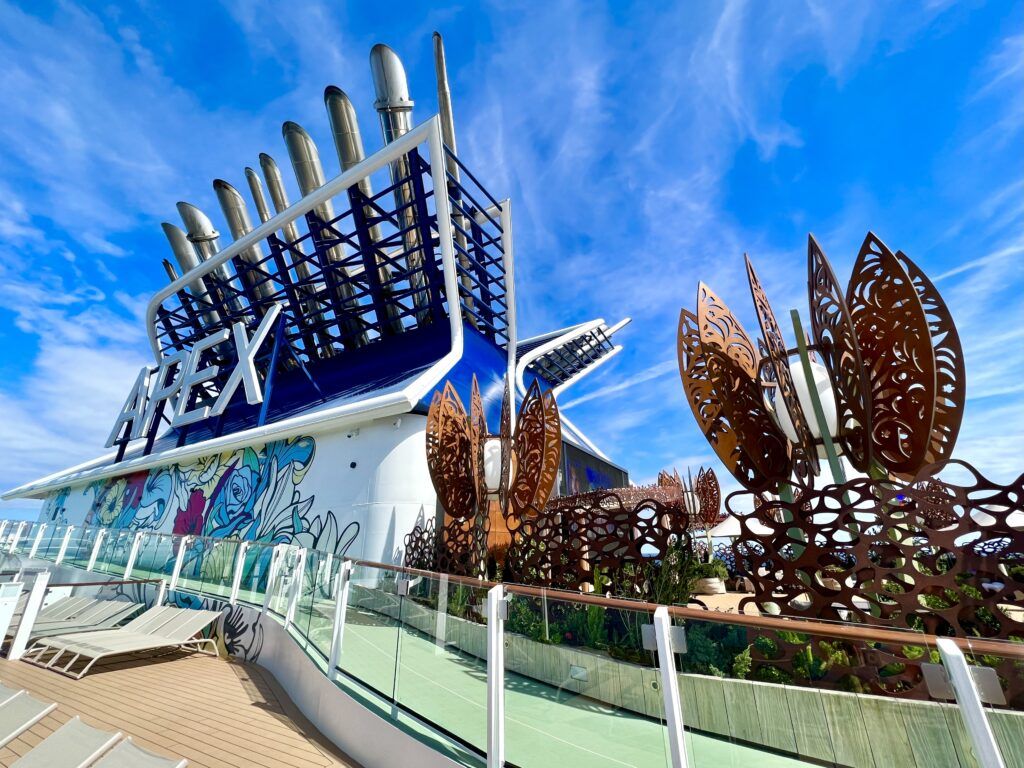 With the Celebrity Always Included pricing structure, cruises on Celebrity Apex provide a more all-inclusive feel for a great vacation value.
If you opt for a suite, the Retreat offers an even more luxurious experience with a private pool, sun deck, bar, lounge, and posh accommodations. We just loved our Sky Suite.
Given our first impressions of Celebrity Apex on this preview cruise, we can't wait to sail on a full 7-day itinerary sometime soon!
Comments
Do you agree with our first impressions of Celebrity Apex? Do you have plans to sail on this new Celebrity Cruises' ship? Drop us an anchor below to share what you love about Celebrity's Edge Class.