We are back from our recent trip on one of Carnival Cruise Line's largest cruise ships, Carnival Panorama, which is now sailing to the Mexican Riviera from Long Beach, CA. Being our first time sailing with the brand, we were pleasantly surprised by all of the dining options and food quality. Now, we want to share with you the most up to date information for every restaurant on the ship. Feel free to share this Carnival Panorama Dining Guide and Restaurant Menus; we just ask that you credit Eat Sleep Cruise as the source when posting elsewhere.
Carnival Panorama Dining Guide and Restaurant Menus- Complimentary Restaurants
Main Dining Room (Decks 3 and 4)
There are two main dining rooms on Carnival Panorama, the Vista Restaurant located aft on decks 3 and 4 and the Horizon Restaurant located more mid-ship on deck 3. The main dining room serves breakfast on port days in the Vista Restaurant from 7 or 8 am to 9 or 10 am depending on your arrival time in port. Items on the menu include your typical sit down breakfast options like eggs your way, omelets, pancakes, and more.
The main dining room also serves an amazing Sea Day Brunch on sea days also in the Vista Restaurant from 8:30 am to 1 pm. Here, you can order your favorite breakfast or lunch options including the tasty skillet cake, 12 hour french toast, steak and eggs, fried chicken, or even a burger.
Dinner on Carnival Panorama consists of three options in the MDR depending on your preferences. There is early seating at 5:45 pm, late seating at 8:15 pm, or Your Time Dining where you can walk up to get a table anytime between 5:15 and 9 pm.
Related Post: Everything Included on Carnival Cruise Line
The menu selections change each evening with a list of standard options available every night. However, the menu is the same each evening regardless of which dining option you choose. On Carnival Panorama, lobster is served on the first formal night of the cruise in the MDR.
Dinner Menus: Kids Menu | Night 1 | Night 2 | Night 3 | Night 4 | Night 5 | Night 6 | Night 7 | Wine List
Lido Marketplace (Deck 10)
The Lido Marketplace is Carnival Cruise Line's version of the typical cruise ship buffet. The cruise ship's casual buffet is open for breakfast, lunch, and dinner and offers a variety of food options. Breakfast is typically served from 7 or 730 am to 12 pm with an omelet station located here as well. Lunch is typically served from 12 pm to 2:30 or 3:30 pm depending on the port of call, and dinner is available from 6 – 9:30 pm.
The items served in the buffet rotate regularly but usually include several hot food stations, a cold cuts station, continental breakfast items and cereal, a carving station, a cake station, and more.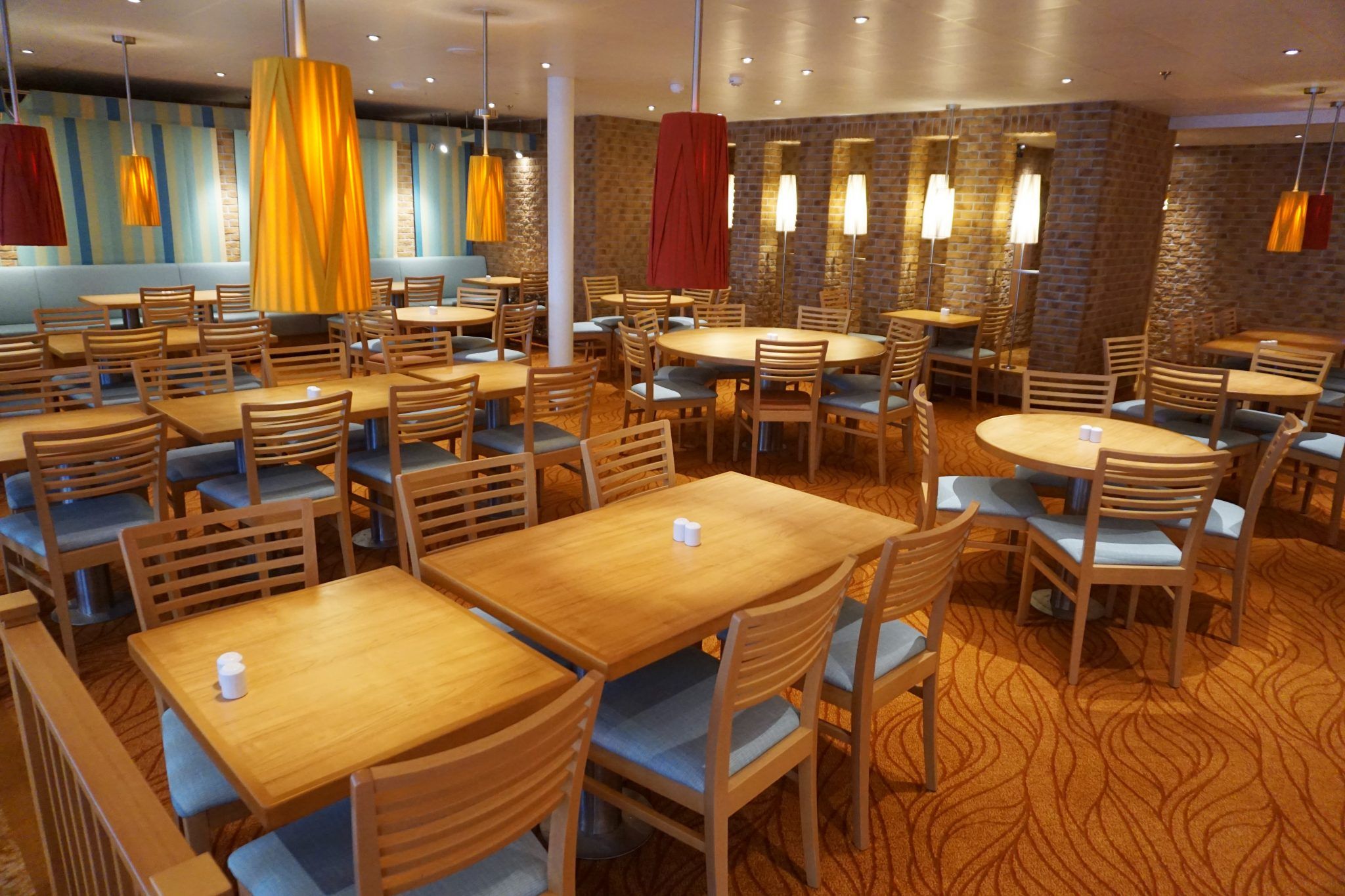 There is also the Carnival Deli located in the Lido Marketplace which serves up some great made to order sandwiches and is open daily 11 am – 11 pm. Late night snacks are also available from 11:30 pm – 1 am.
Guy's Burger Joint (Deck 10)
Located on the Lido Deck, Guy's Burger Joint serves up some of the best burgers at sea. In partnership with Guy Fieri, this poolside shack features custom burgers and fries with a toppings bar located nearby for you to customize your meal to perfection. Guy's Burger Joint is open every day from 12 to 6 pm for you to satisfy all your burger cravings. How many can you eat in just one week?
BlueIguana Cantina (Deck 10)
Also located on the Lido Deck, BlueIguana Cantina serves up Mexican favorites for both breakfast and lunch. You can customize your breakfast or lunch burrito any way you like as they are freshly prepared just for you, and there is even a salsa bar located nearby. If you'd prefer tacos or a tortilla bowl, you can get those also at the BlueIguana Cantina. This venue is open daily from 7 or 7:30 am – 10:30 am for breakfast and 12 to 2:30 or 3:30 pm for lunch.
Breakfast 1| Breakfast 2 | Lunch 1 | Lunch 2
Related Post: Carnival Panorama Ship Scorecard Review
Pizzeria del Capitano (Deck 10)
If you are a pizza lover like me, Pizzeria del Capitano will be your place to go 24 hours a day on Carnival Panorama. This pizza counter is located aft on deck 10 near the Tides pool. There are five different pizza offerings that are constantly being prepared throughout the day.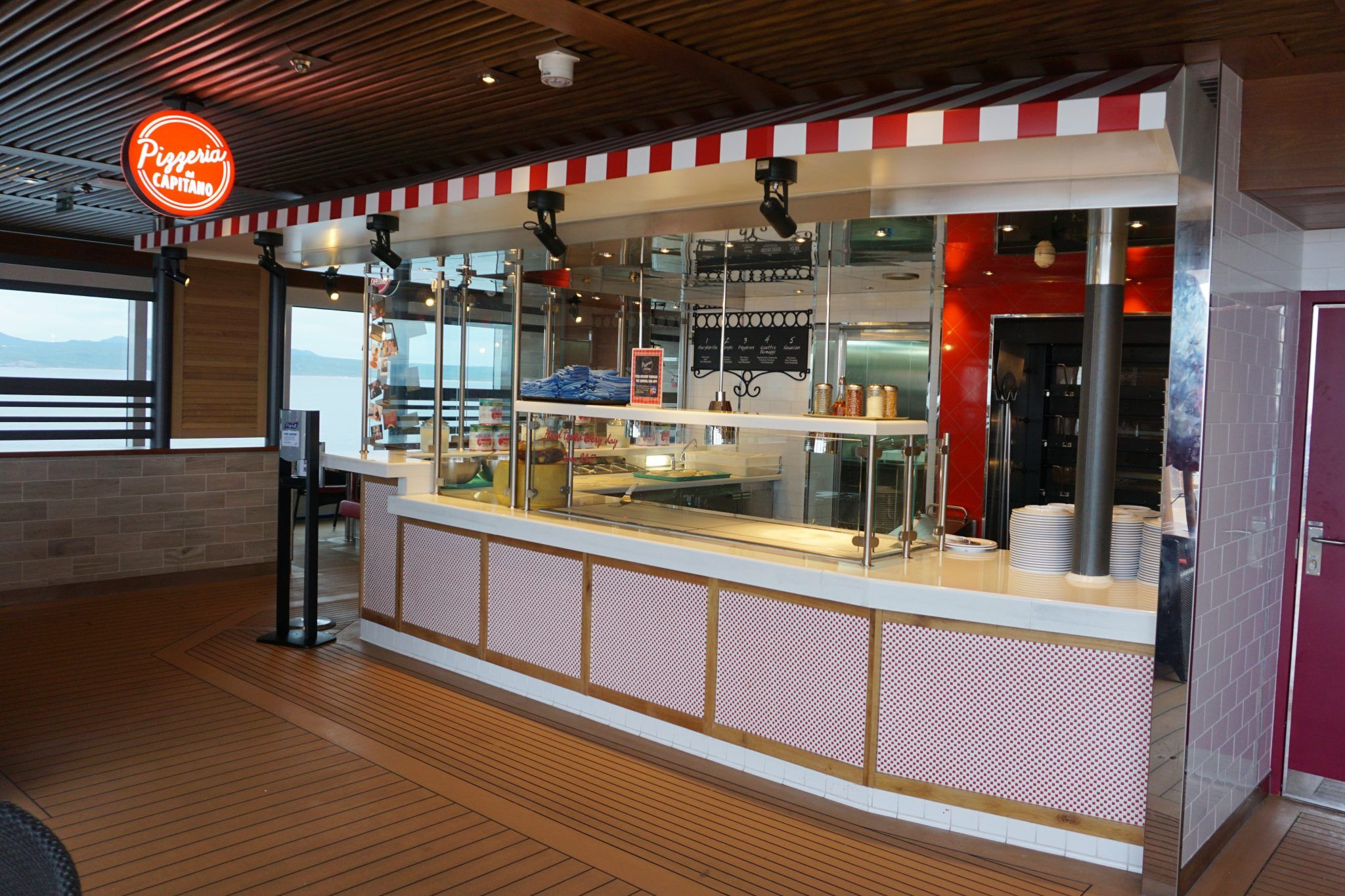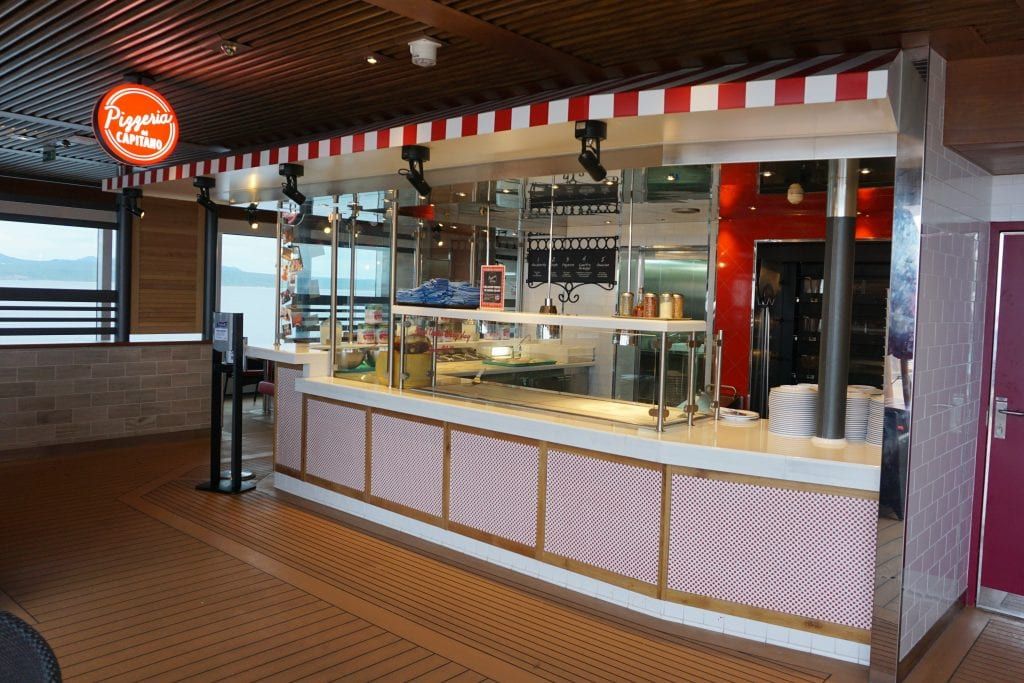 So, you can grab a personal pizza for lunch or maybe a late night snack whenever you want. Just don't be surprised to find a small line here any time of day. You can even get delivery via the Carnival Hub app for a small fee.
Captain's Pasta Bar (Deck 11)
Who says cruise ships don't offer a variety of complimentary dining options? On Carnival Panorama, you can test out some of the items at Cucina del Capitano for no additional fee during lunch. That's right, this restaurant serves a complimentary pasta bar for lunch from 12 – 2:30 pm.
Captain's Pasta Bar Lunch Menu
BOOK NOW: Carnival Cruise Deals for 2022!
Mongolian Wok (Deck 11)
JiJi Asian Kitchen also serves a complimentary lunch called the Mongolian Wok. Cruisers can enjoy customized noodle dishes from 12 – 2:30 pm at this restaurant. Choose your noodles, sauce, and protein, then sit back and relax while the dish is made to order.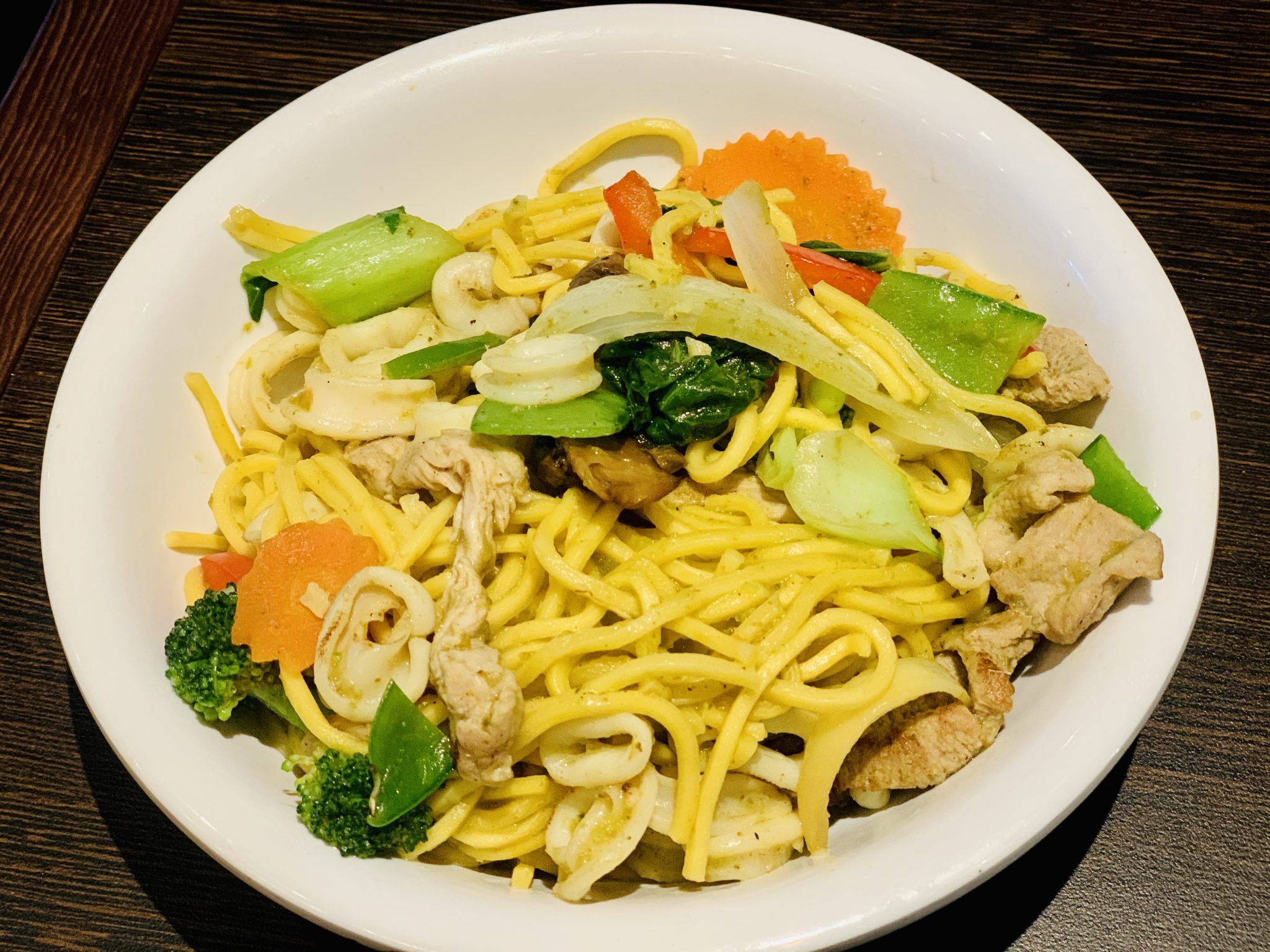 Related Post: Guide to Carnival Drink Packages
Ocean Plaza (Deck 5)
Located on deck 5, the Ocean Plaza hosts a variety of games, trivia, and music throughout the day. The Ocean Plaza also offers continental breakfast items and a "light lunch" selection as a quick alternative to the many other dining options located around the ship. Believe us, you will never have to go far to find some food!
Fresh Creations (Deck 15)
Serenity is the adult only retreat located on deck 15. This private oasis offers umbrellas, padded loungers, two hot tubs, a bar, and even some healthy lunch options at the Fresh Creations salad bar. The salad bar is open from 12 – 2:30 pm on sea days so you don't have to give up your comfy slice of paradise when you get hungry.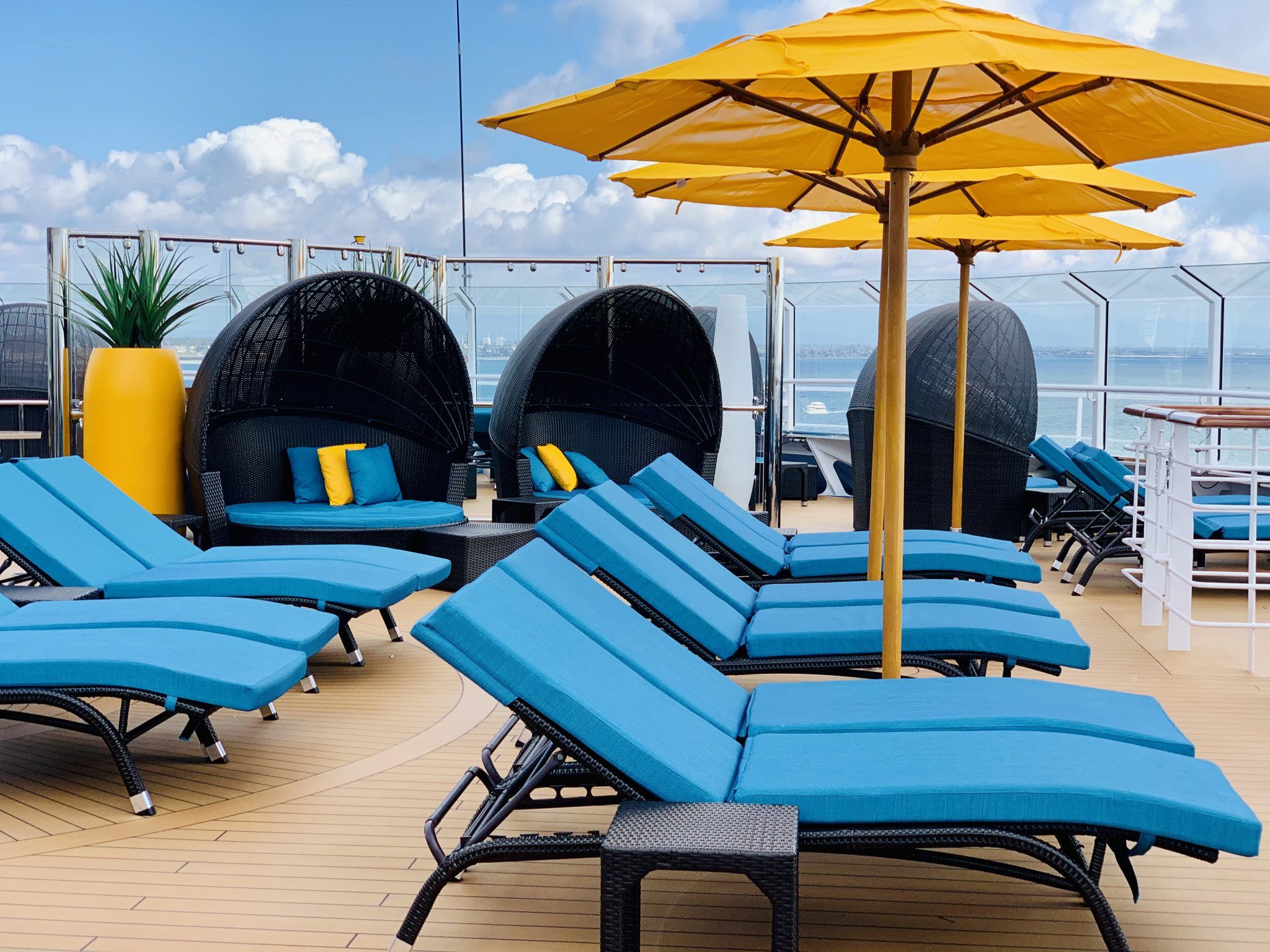 Guy's Pig & Anchor Smokehouse (Deck 5)
While Guy's Pig & Anchor Smokehouse is an up-charge venue for dinner, you can sample some items off the menu in a complimentary buffet style lunch on sea days. This venue is open from 12 – 2:30 pm and is located outside the main restaurant on the waterfront. Here, you will have your choice of pork, chicken, beef, or sausage along with some custom sides and award winning sauces.
Carnival Panorama Dining Guide and Restaurant Menus- Specialty Restaurants
Guy's Pig & Anchor Smokehouse | Brewhouse (Deck 5)
For dinner, Guy's Pig & Anchor turns into an a la carte table service venue. This restaurant serves dinner daily from 5:30 pm – 10:30 pm. So, whether you want to stop in for a few snacks while you watch a game or listen to some live music or you want a full dinner experience, you are bound to enjoy all the delicious offerings. With items like trash can nachos, chicken wings, meats straight off the smoker, and flavorful desserts, what's not to love?
Guy's Pig & Anchor Smokehouse Dinner Menu: Starters | Entrees | Sides & Dessert | Drink Menu
Related Post: Top Foods on Carnival Cruise Line
Bonsai Teppanyaki (Deck 5)
This Japanese-style hibachi steakhouse is a specialty restaurant that offers a multi-course menu with a flat fee price of $32. This restaurant is open for lunch on sea days from 12 – 1:45 pm or for dinner nightly 5:30 to 9 pm. Entree selections range from chicken, filet, lobster tail, salmon, and shrimp. All meals also include soup or salad, fried rice, stir fried vegetables, and dessert. Whenever we have dined at a teppanyaki restaurant, the food is always as good as the culinary show! This venue is very small so make sure to secure reservations early.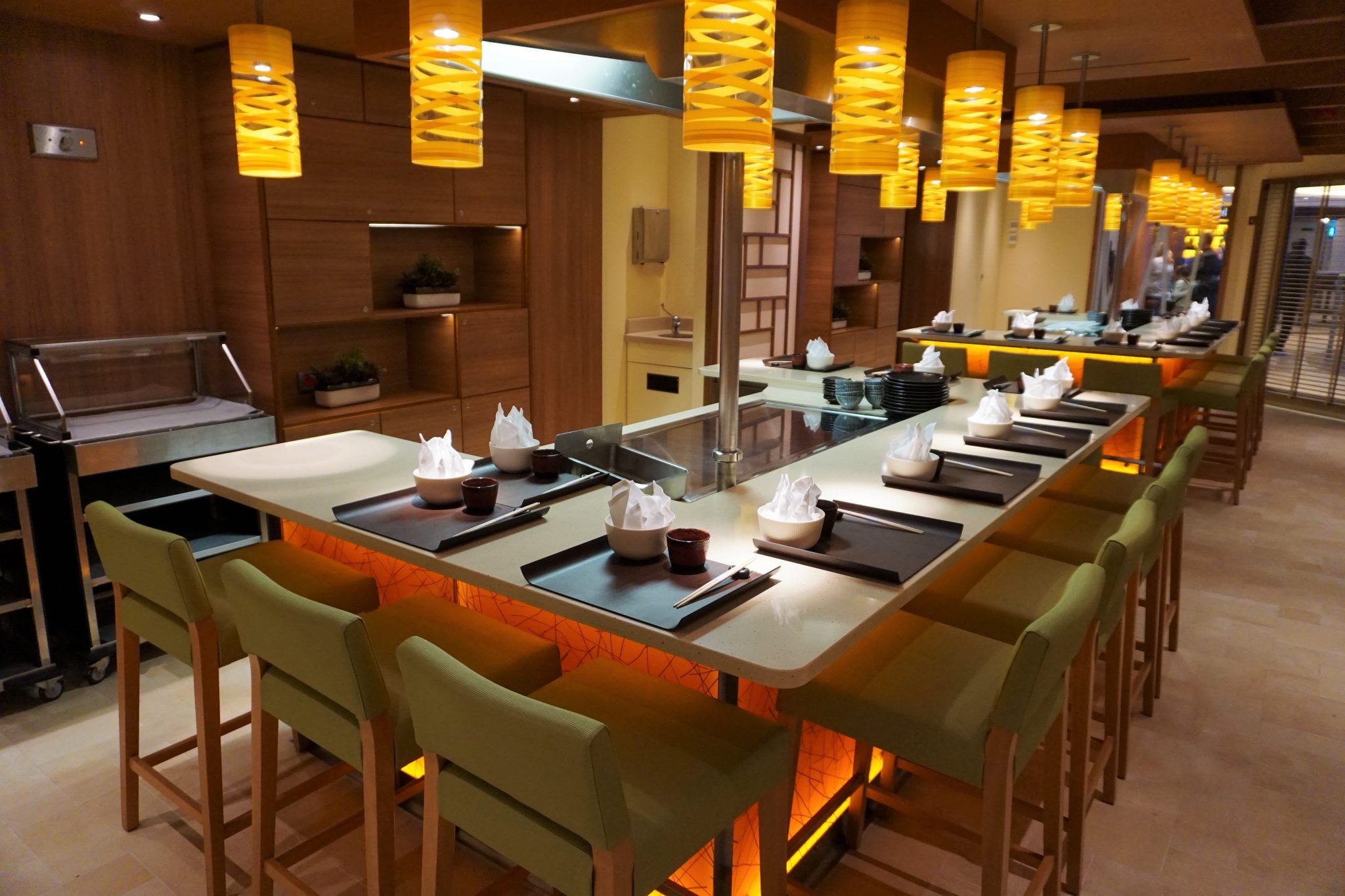 Bonsai Sushi (Deck 5)
Also located on deck 5 is Bonsai Sushi. This sushi lovers paradise is an a la carte venue that is open for dinner daily from 5 pm – 12 am and for lunch on sea days from 12 pm to 2:30 pm. Bonsai Sushi offers several sushi and sashimi selections, as well as noodle bowls and Japanese small plates. So, even if you are not a fan of sushi, there are probably other menu items for you to enjoy at this venue for reasonable prices.
Cucina del Capitano (Deck 11)
Cucina del Capitano is Carnival Cruise Line's traditional Italian restaurant. For a nominal fee of $15 for adults, you can dine here nightly from 5:30 pm to 9:30 pm on classic Italian appetizers, entrees, and desserts like calamari, housemade burrata, chicken parmigiana, and all your favorite pasta dishes.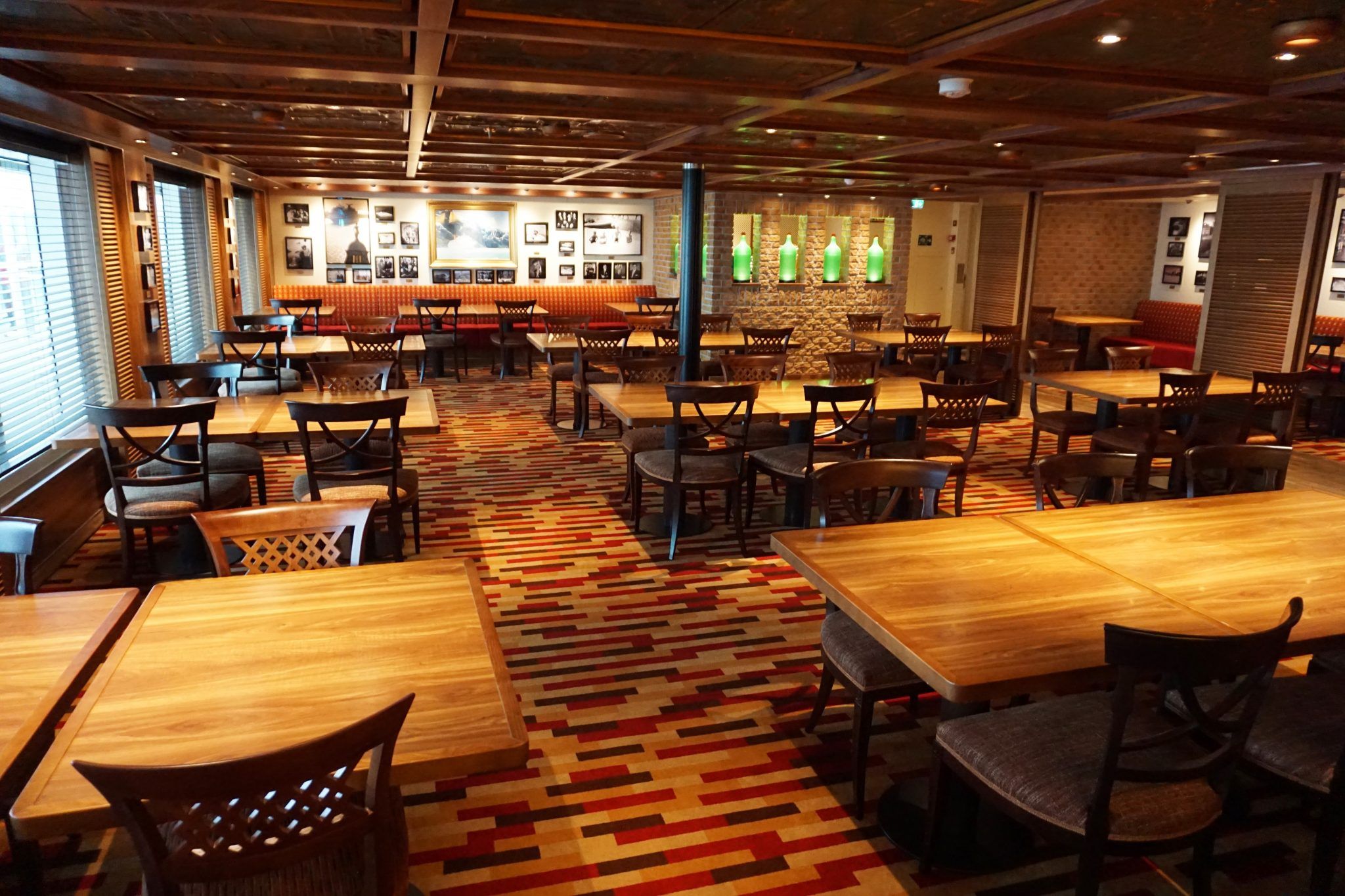 JiJi Asian Kitchen (Deck 11)
JiJi Asian Kitchen serves regional specialties from across Asia each crafted in its own unique style. This restaurant has a flat fee cover charge of $15 for adults and is open for dinner nightly from 5:30 pm to 9:30 pm. The portions are meant to be sharing size, so it is suggested that you order several different options to share among your dining party. With appetizers like pot stickers and spring rolls, as well as a selection of rice and noodles, you will have plenty of great options to compliment your entrees. We particularly liked the Kung Pao chicken.
Fahrenheit 555 Steakhouse (Deck 5)
Fahrenheit 555 is Carnival Cruise Line's signature steakhouse. This steakhouse has a cover charge of $38 and is open nightly for dinner from 5:30 pm to 9:30 pm. This restaurant makes for a great elegant night dinner with upscale offerings like oysters and jumbo shrimp cocktail for appetizers and filet mignon and surf & turf for entrees. To top off the evening, you can indulge in a chocolate sphere dessert or mocha-tini after dinner drink.
Cocktail Menu | Starters | Entrees | Dessert | Wines 1 | Wines 2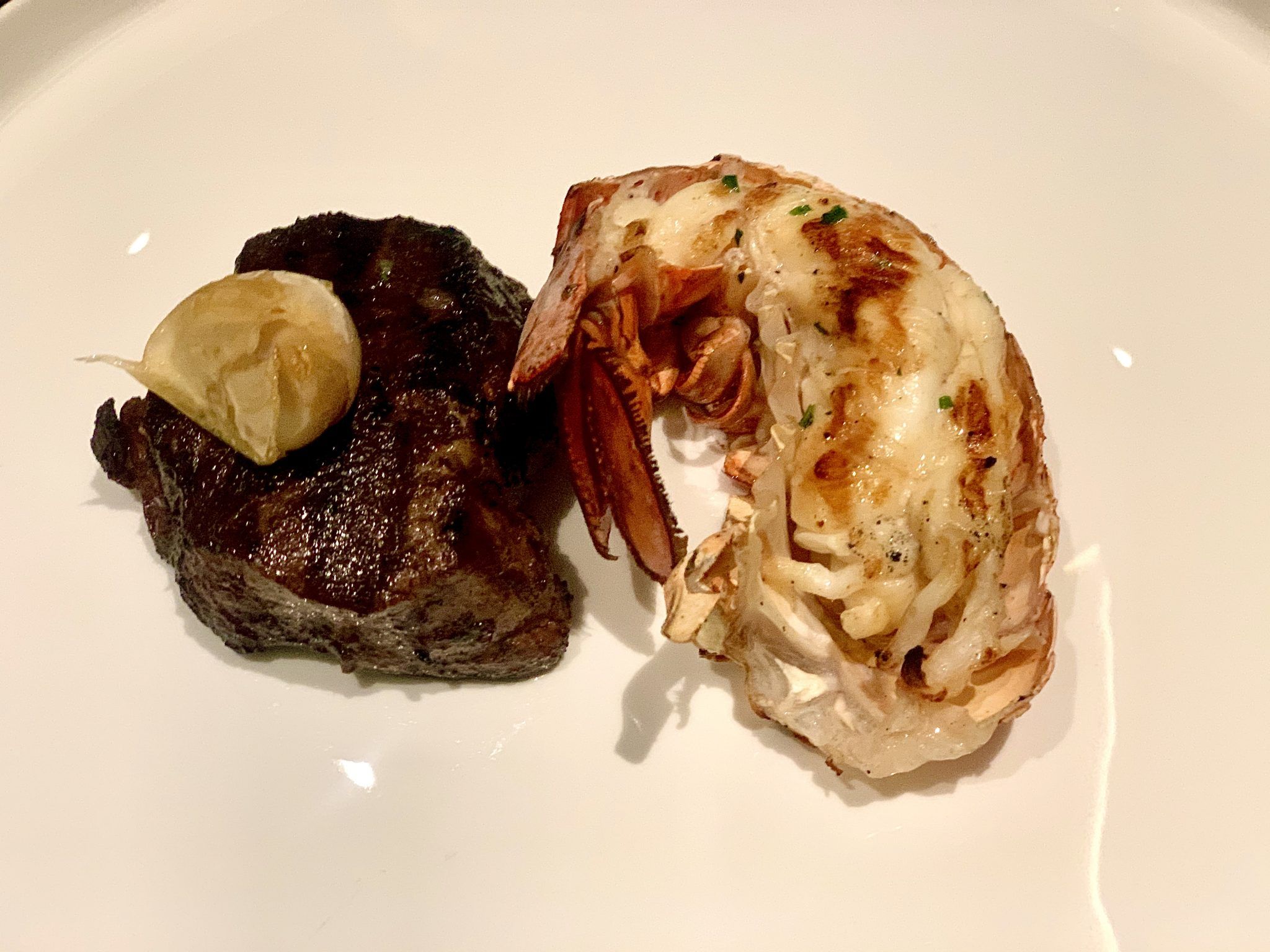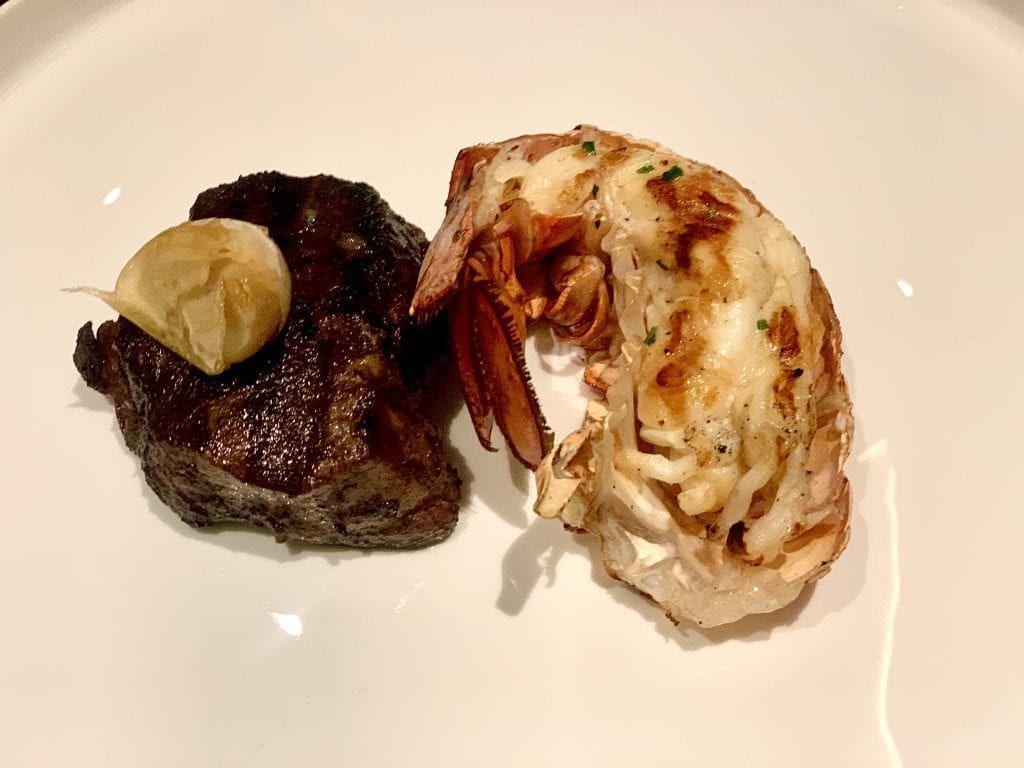 Related Post: Carnival Panorama Bar Guide with Menus
Seafood Shack (Deck 10)
The casual Seafood Shack is located aft on deck 10 near the Tides bar and pool. This counter service restaurant is open for lunch and dinner daily varying times from 11 am until 11 pm depending on the port of call. The Seafood Shack offers classic favorites like fried shrimp, lobster rolls, fish & chips, clam chowder, and other fresh local catch. All menus items at this venue are a la carte at current market prices.
Carnival Panorama Dining Guide and Restaurant Menus- Other Options
Chef's Table
The Chef's Table is an exclusive multi-course dinner hosted by the executive chef. This experience includes cocktails and hors d'oeuvres, a galley tour, and an elegant meal with selections not found anywhere else on the ship. This intimate meal is priced at $95 +18% gratuity. This menu is subject to change based on the chef's preferences and locally sourced ingredients.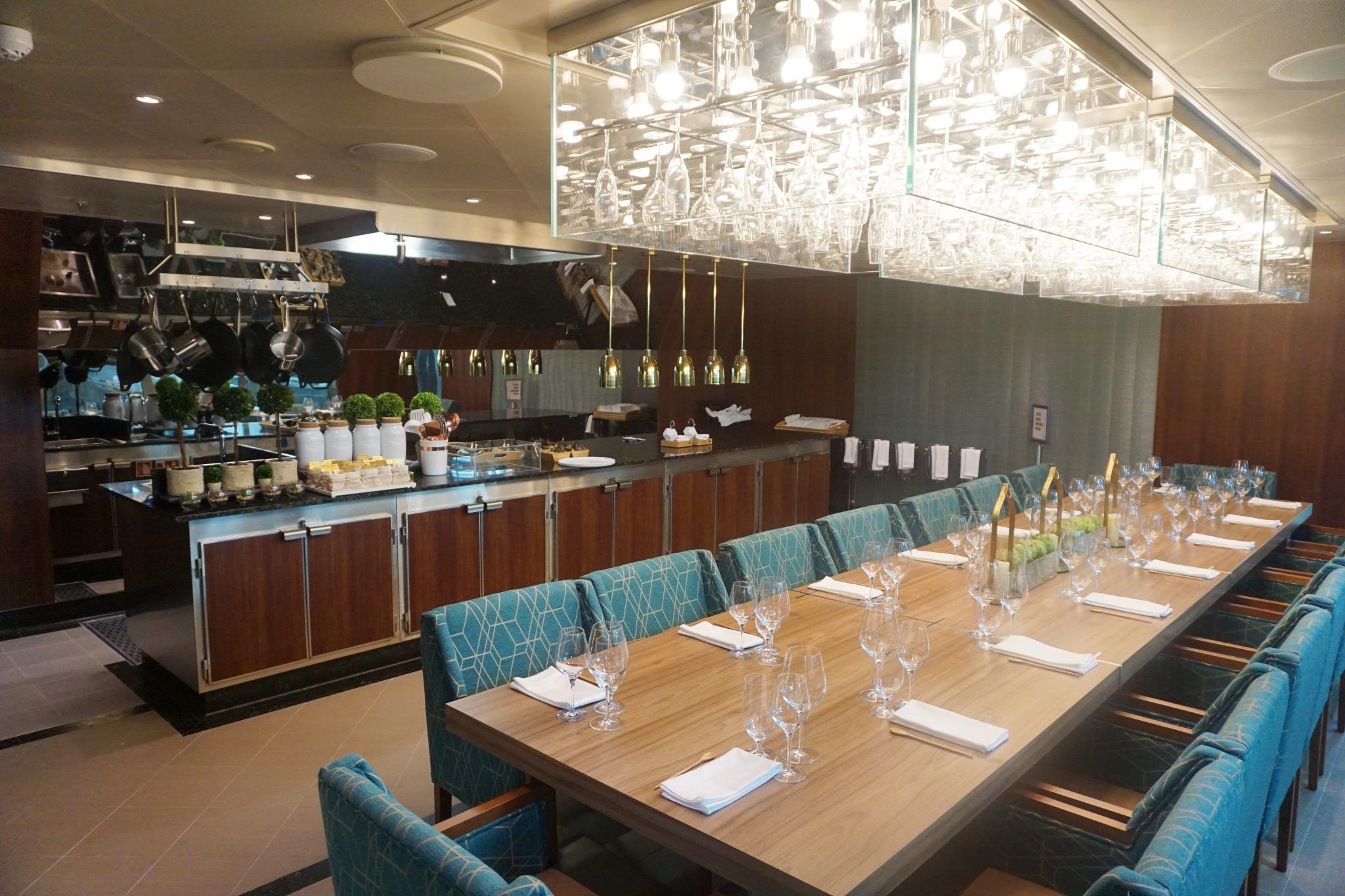 Green Eggs and Ham Breakfast
For just $6 per person, you can enter the whimsical world of Dr. Seuss. Accompanied by the Cat in the Hat, Thing 1 and Thing 2, and friends, you can feast on a colorful breakfast. This special event offers menu items like Horton's cereal crusted french toast, pancake stacks, steak and eggs, and of course, green eggs and ham. Whether you are a family or just kids at heart like us, this is a fun way to spend a sea day breakfast. The experience was offered on the last sea day of our cruise at 8:15 am and 9:45 am. Reservations can be made once on the ship.
Green Eggs and Ham Breakfast Menu
Room Service
Room service is available 24 hours a day with select complimentary items and other items that are available for an up-charge at a la carte pricing. For breakfast, you can choose from fruit, cereal, continental pastry items, and yogurt for no additional cost as well as breakfast sandwiches for $3-5. During the day, select salads and sandwiches are available as well as other up-charge items including wings, firecracker shrimp, and pizza. There is also a late night menu served from 10 pm to 6 am with most items priced around $5 each.
Continental Breakfast | Room Service Menu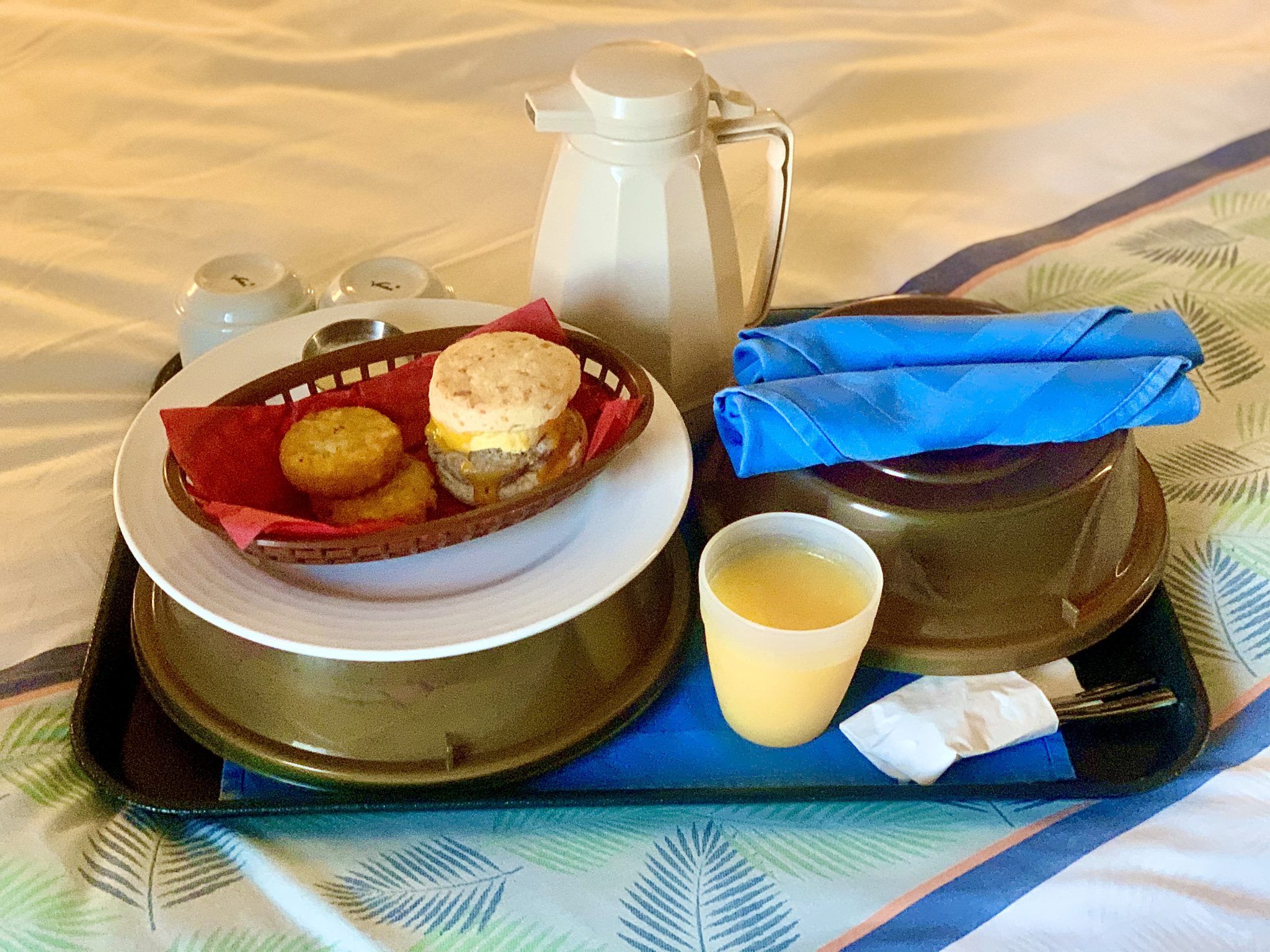 Carnival Kitchen
Debuting on Carnival Panorama is the new Carnival Kitchen. This culinary studio offers various classes by onboard chefs. These hands-on classes include everything from sushi making, a tailgate party class, a cake workshop, pizza making, pasta making, a smoke master class, an elegant affair, and more. Prices for these classes range from $30 to $59 with some including dinner in the price. These classes are small groups, so be sure to book early to guarantee your space. You can reserve your spot pre-cruise in the online cruise planner or once onboard the ship.

Comments
Do you have a cruise planned on Carnival Cruise Line's newest ship? Which of the restaurant menus looks the best to you? Drop us an anchor below with any questions about this Carnival Panorama Dining Guide.