Carnival Panorama offers several dining venues that are included in the cruise fare. For cruisers looking for even more options, the ship also features several specialty restaurants. On our recent Carnival Panorama Mexican Riviera cruise, the Princess and I decided to sample a few of these for-fee restaurants. We opted to test out the line's signature steakhouse, Fahrenheit 555. Did it live up to our expectations? Find out in our Fahrenheit 555 Restaurant Review.
Carnival Cruise Line Fahrenheit 555 Restaurant Review
Getting Reservations at Fahrenheit 555 on Carnival Panorama
This was our first Carnival Cruise Line voyage, so we were happy to discover that the line just recently started accepting pre-cruise specialty restaurant reservations. However, the process is slightly different than other brands. Cruisers must request a preferred date and time on Carnival's website. Then, they will receive an email several days later with a confirmation of the reservation if available.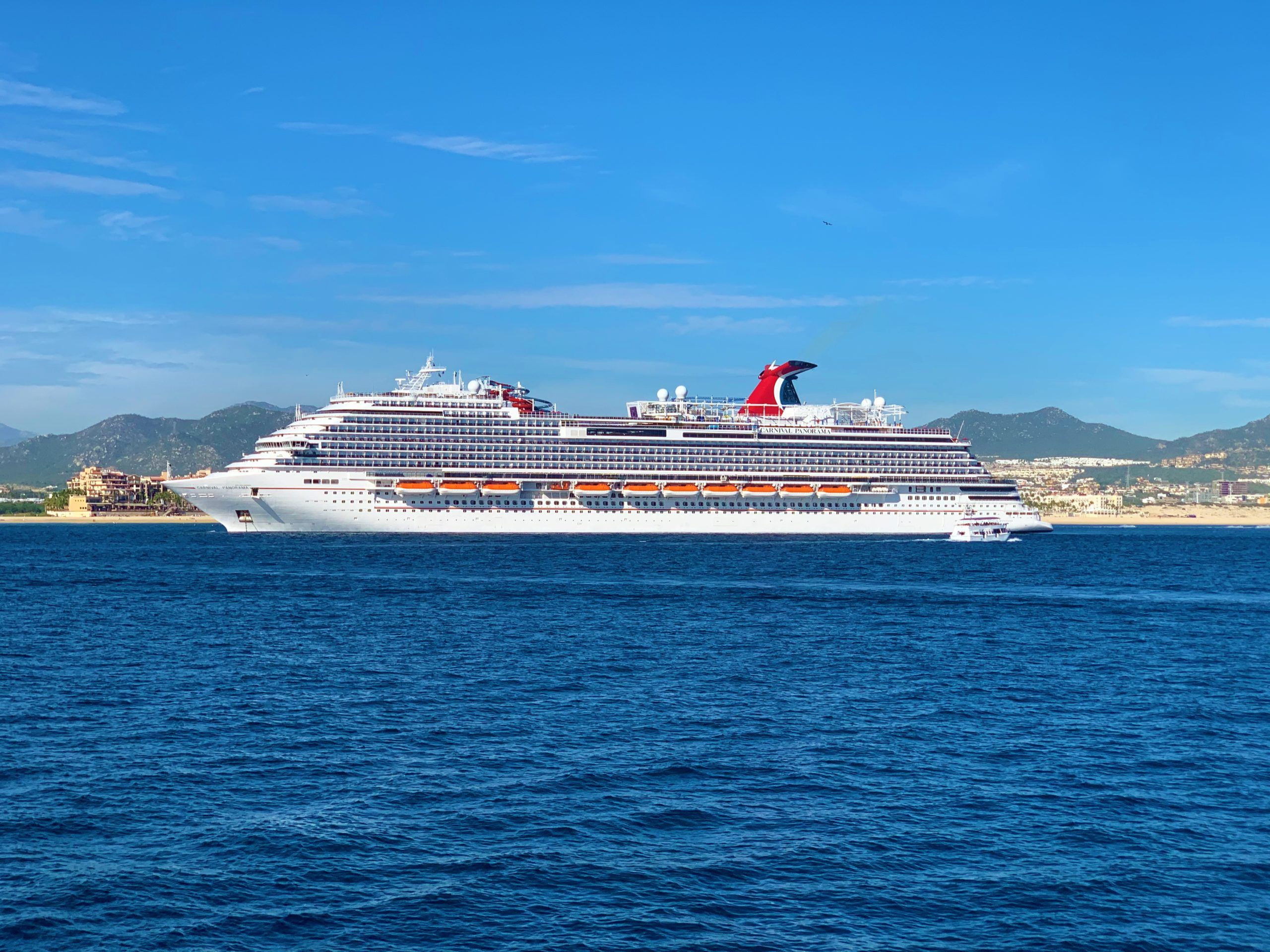 Luckily, we did get confirmation of our request for 6:30 pm on Night 2. We decided on this date as we anticipated this was going to be the ship's first elegant night. Unbeknownst to us, Carnival's "lobster night" is actually the first elegant night unlike other major brands. Oh well, we will know for next time.
Inside Fahrenheit 555 on Carnival Panorama
Fahrenheit 555 is located on Deck 5, midship. This central location is ideal as it is right next to our favorite bar on the ship, the Alchemy Bar. This made it quite easy to grab a pre-dinner cocktail.
Inside, there is a small bar near the entrance, oddly tucked away in the corner with few seats. There is also an open kitchen concept so cruisers are able to view the chef preparing dishes.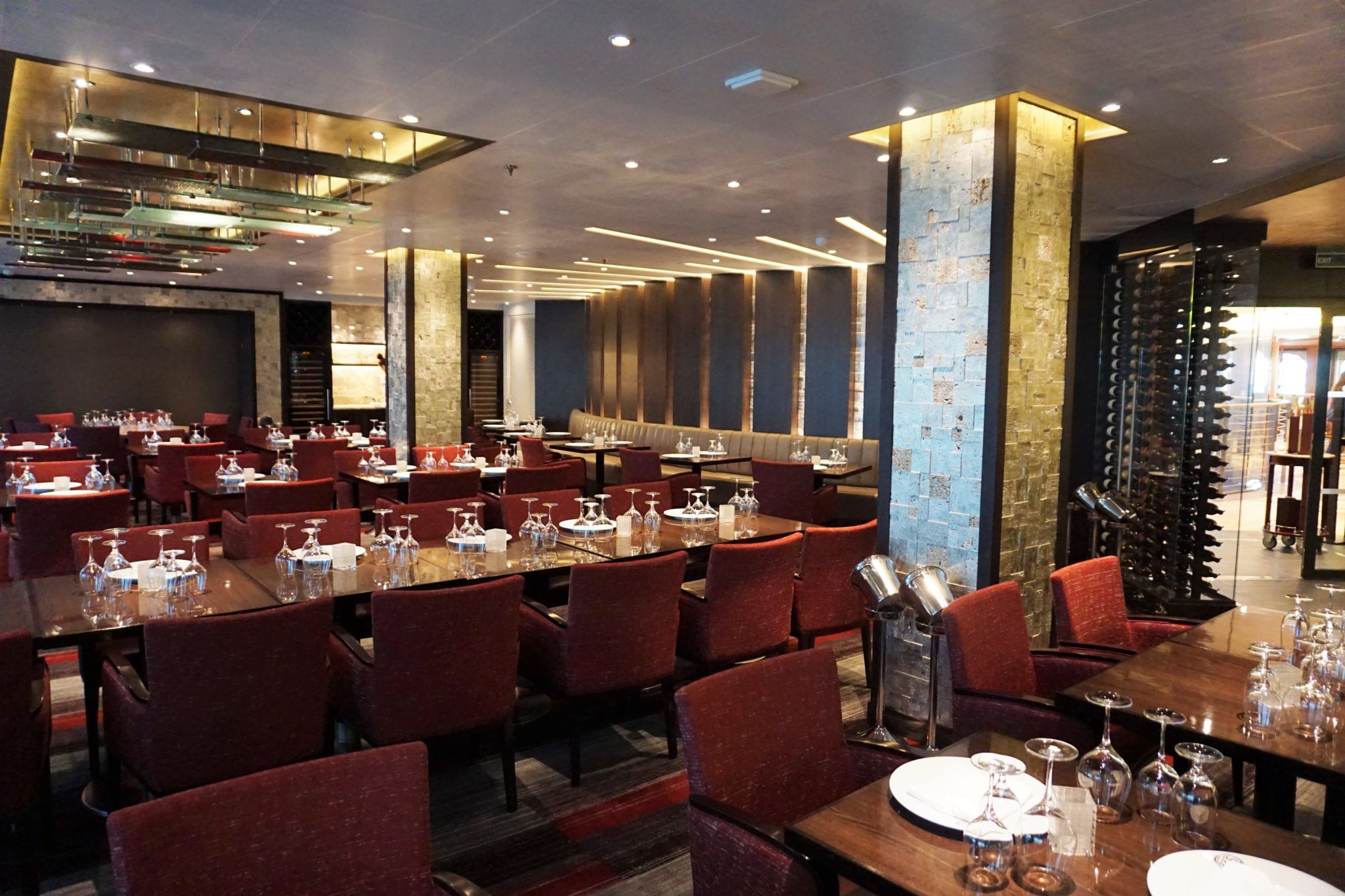 For a ship of this size, Fahrenheit 555 felt a tad small. It has a modern, open design showcasing a red and silver color palette. While elegant, this restaurant did not feel as intimate as some steakhouses on other lines such as Celebrity Cruises. Still, it was certainly more upscale than the main dining room and a nice location to celebrate a special occasion.
Dining at Fahrenheit 555 on Carnival Panorama
The restaurant has a flat fee of $38 per person. This fee includes a starter, an entree, dessert, and two sides. I was able to convince our waiter to bring two starters for me to sample.
Of course, we each started with one of the restaurant's signature cocktails. While there were several to choose, I had to go with this venue's rendition of a sidecar. My go-to martini did not disappoint. It was well balanced with just the right combination of sweet and sour. Likewise, the Princess ordered a watermelon martini which she enjoyed.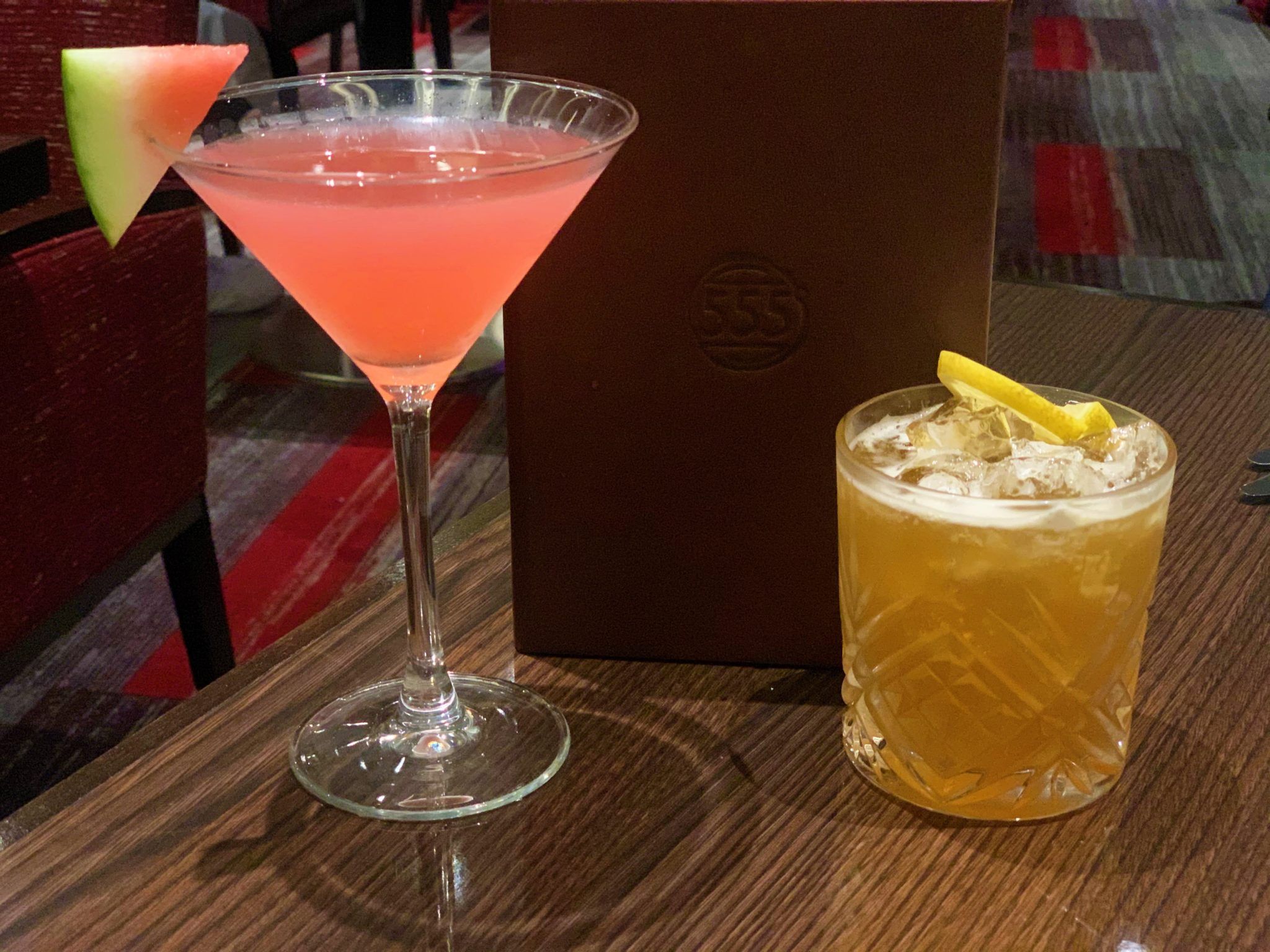 Being rather predictable, the wife went with the Baby Leaf Lettuce salad as her starter. This take on a typical salad was adequate but not all that impressive. On the other hand, my two starters exceeded my expectations.
Witnessing the table next to us order the smoked oysters, I had to give them a try for myself. True to their name, they were smoky and full of flavor. My jumbo shrimp cocktail was also pleasantly chilled, with just the right touch of cocktail sauce.
While this dining experience started off strong, we were both let down by our entrees. My surf and turf was a combo of an average lobster tail with a properly cooked medium steak. However, the steak was served room temperature with no seasoning or much flavor. The lobster tail was also rather bland, and no better than I have had in the main dining room on other cruise lines.
Of course, the Princess opted for the only chicken dish on the menu. This entree did not live up to her standards either. She stated that it was rather greasy and a tad overcooked.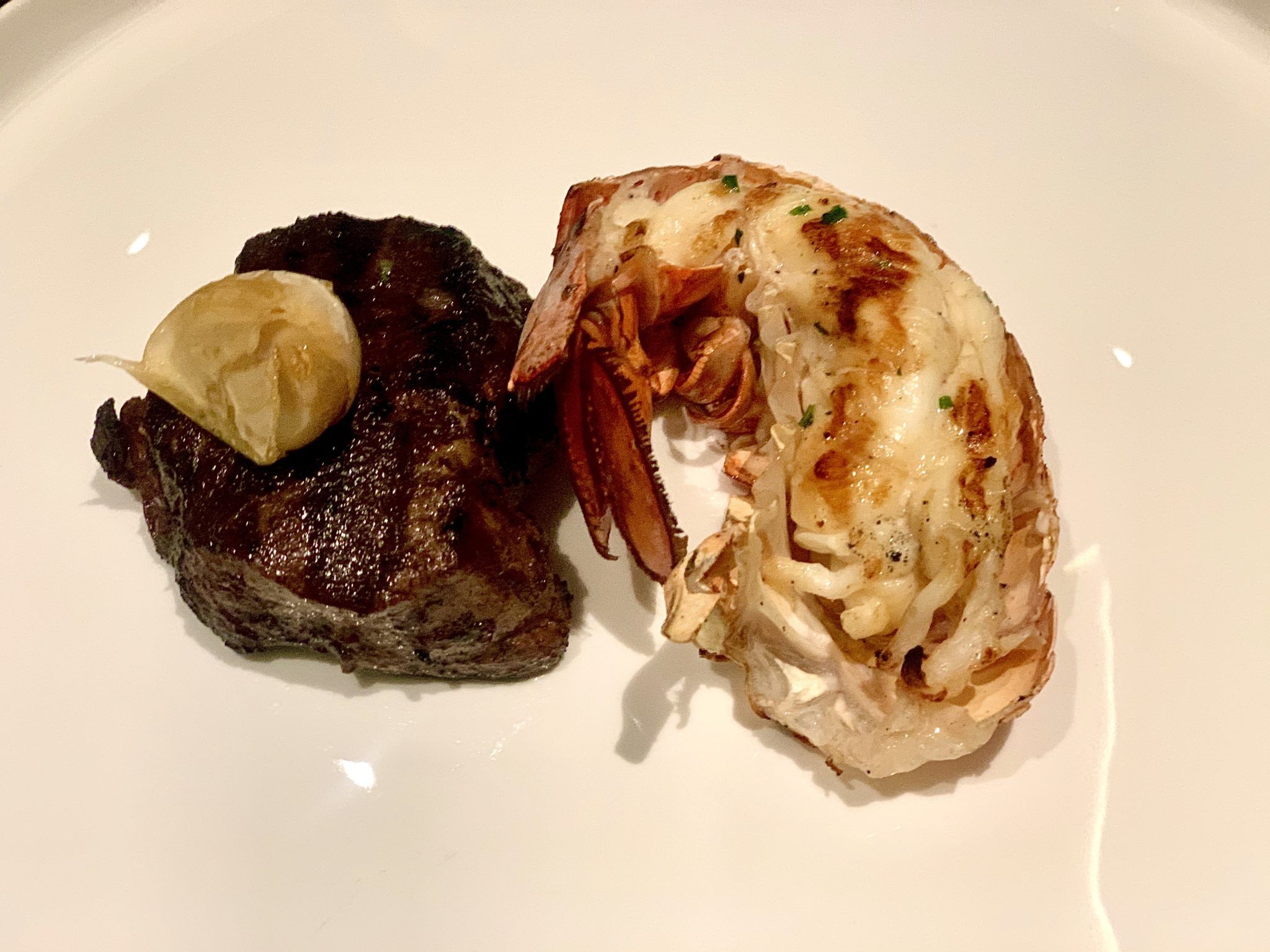 For sides, we ordered the garlic rapini, onion rings, mac n cheese, and fries. While we don't expect side dishes to be standout, these accompaniments did little to improve the main courses.
While our service in the main dining room was excellent and well timed during our entire trip, this was not the case in Fahrenheit 555. There was a long break between the starters and our entrees, as well as taking our dessert order.
Informing our server that we wanted to catch the show, we were assured that we would make it in time. So, we indulged in a Mocha-tini in the meantime. These drinks were certainly stiff and had a strong chocolate flavor.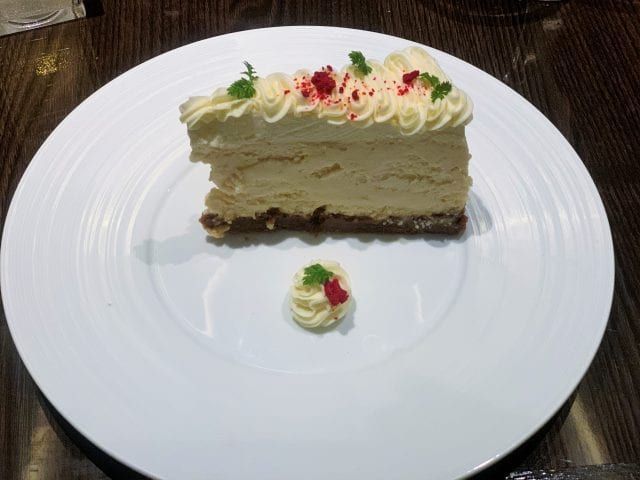 For dessert, I was a fan of the cheesecake. Even the Princess admitted that my dessert was the clear favorite. Her Chocolate Sphere made for a nice presentation but didn't compare to the similar treat offered in Wonderland on Royal Caribbean ships.
Recap of Fahrenheit 555 on Carnival Panorama
This steakhouse has a cover charge of $38 and is open nightly for dinner from 5:30 pm to 9:30 pm.
Cocktail Menu | Starters | Entrees | Dessert | Wines 1 | Wines 2
In terms of both service and cuisine, Fahrenheit 555 was hit or miss during our visit to this popular Carnival Cruise Line specialty restaurant. When compared to cruise ship steakhouses on competitor brands, we would rank Fahrenheit 555 towards the bottom of the list. This was a big upset as we were so impressed with the other food options on Carnival Panorama.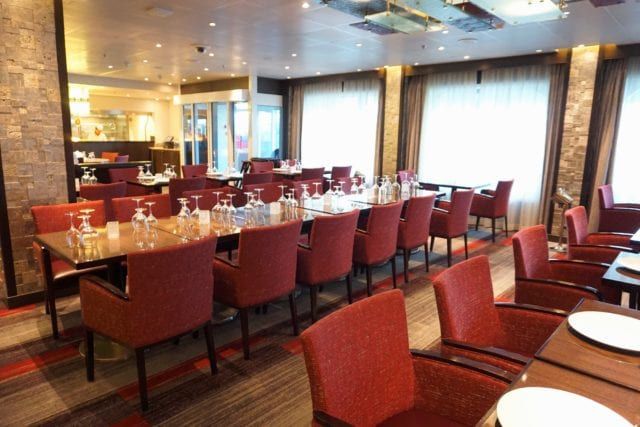 With a main dining room that consistently delivered great food and service, as well as several other casual and specialty dining options, we would probably not return to this up-charge venue in the near future.
Comments
Have you dined at Fahrenheit 555 on a Carnival Cruise Line ship? What are some of your favorite menu items at this venue? Drop us an anchor below with your review of this popular specialty restaurant.