While Carnival Panorama offers several complimentary dining venues, there are also a variety of up-charge specialty restaurants. Among these is the casual JiJi Asian Kitchen. While the venue does offer a complimentary noodle bar for lunch- which we highly recommend- this spot also features several Asian-inspired classics for dinner at a very reasonable cost. As fans of "take-out" Chinese food, we both knew we wanted to try this restaurant following one of our longer port days during our Carnival Panorama cruise. Did it live up to our expectations? Find out in our Carnival Cruise Line JiJi Asian Kitchen Restaurant Review.
Carnival Cruise Line JiJi Asian Kitchen Restaurant Review
Just recently, Carnival Cruise Line made it possible to pre-reserve specialty restaurants online within the cruise booking. Good thing, as we are over-planners. So, we put in a request for a dinner reservation at JiJi Asian Kitchen about 3 months out from our sailing. While it took a few days to receive a response, we did finally get an email confirmation.
About a month later, we put in a request to change the day and time of the reservation given some changes to our shore excursions. An email response confirmed our reservation was switched to this new requested day and time.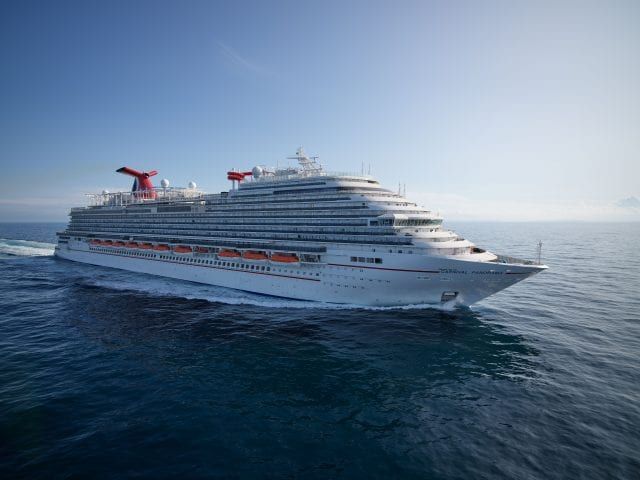 Once onboard the ship, our new day and time was not reflected in our cruise planner. Speaking with a host soon after embarking the ship, we were assured that our new booking was all set. Luckily, when we arrived at the restaurant on Night 4 at 6:30 pm, everything was in order for our table of 2.
Related Post: Carnival Panorama Restaurant Menus and Dining Guide
Inside JiJi Asian Kitchen on Carnival Panorama
JiJi Asian Kitchen is located on Deck 11 aft. You might actually miss the venue if you do not go looking for it. The restaurant is across the way from the Italian specialty restaurant, La Cucina del Capitano.
Inside, there is an open kitchen at the front of the restaurant, with a rather basic table layout. Décor in the restaurant is subtle, with warm tones and a few pieces of Asian-inspired artwork. Unlike some themed restaurants, this one did not have an over the top look or feel. Of course, we did not decide to dine here because of the atmosphere.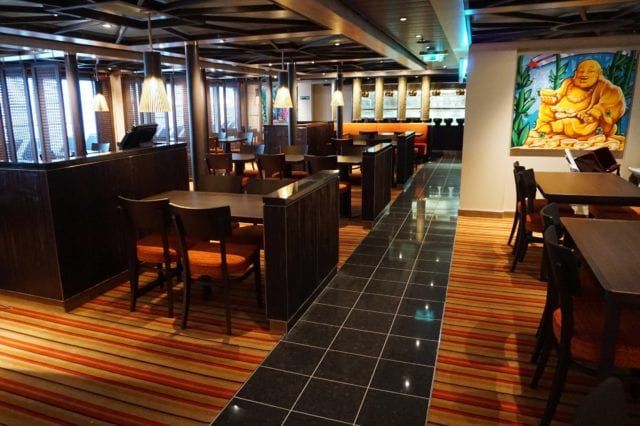 For our dinner, we were seated at a table right next to the portside windows. While it was a bit early, we were surprised that there were very few tables occupied with other diners.
Getting Started at JiJi Asian Kitchen
Service at this restaurant was prompt and very attentive. Our waitress greeted us shortly after being seated to review the menu and take our drink order. We couldn't pass up the chance to grab a few "umbrella" drinks. Luckily, all of the beverages in the cocktail menu are covered by Carnival Cruise Line's Cheers package.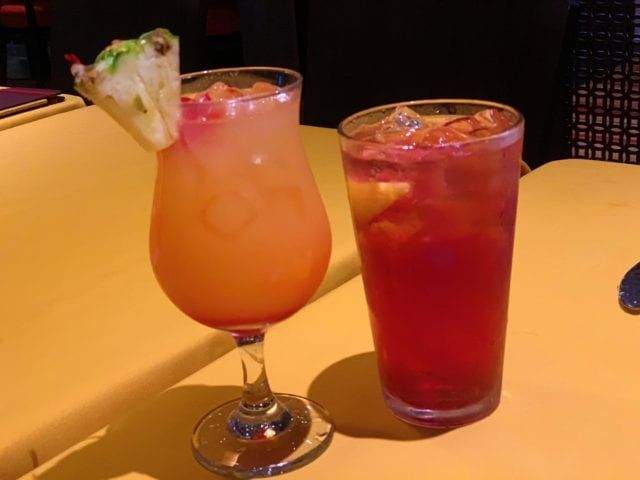 As a fan of rum based drinks, I tested out the Rum Dynasty. The Princess ordered the Bali Sunset. While I tend not to like overly sweet drinks, her cocktail was better than mine.
Our waitress explained that most of the dishes were meant to be shared. This was our plan all along, even though the Princess is a picky eater.
Related Post: Carnival Panorama Ship Scorecard Review
While the waitress suggested ordering two apps, we opted for three. This was mainly due to my desire to try the duck. Good thing I did, as it was my favorite starter. It was crispy and succulent, without being overly fatty or greasy. The stir fried vegetables were the perfect accompaniment to this hearty app.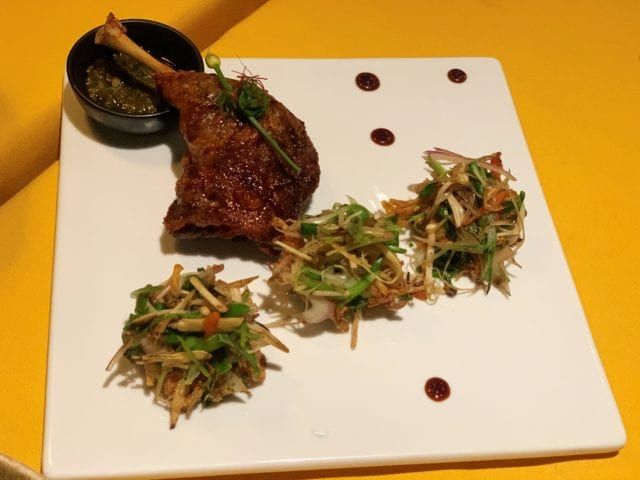 I was also a fan of the pot stickers, which were served steamed with a slightly sweet dipping sauce. For the Princess, we also ordered the chicken spring rolls. You can't go wrong with this deep fried appetizer.
So far, JiJi Asian Kitchen was living up to our expectations.
Digging into Dinner at JiJi Asian Kitchen
Given that the restaurant was rather slow, we were greeted by the chef on two occasions during our dinner. Also, our waitress and hostess made sure to stop by several times throughout the meal to ask about the food and service.
For our meals, we each ordered an entree and also split one rice and one noodle dish. I decided on the sweet and sour shrimp. This dish was served similarly to what you would find at a typical Chinese restaurant back home. It consisted of a thick fried batter and a tangy sweet sauce. It was good, but perhaps my least favorite option out of all of the other dishes we sampled this evening.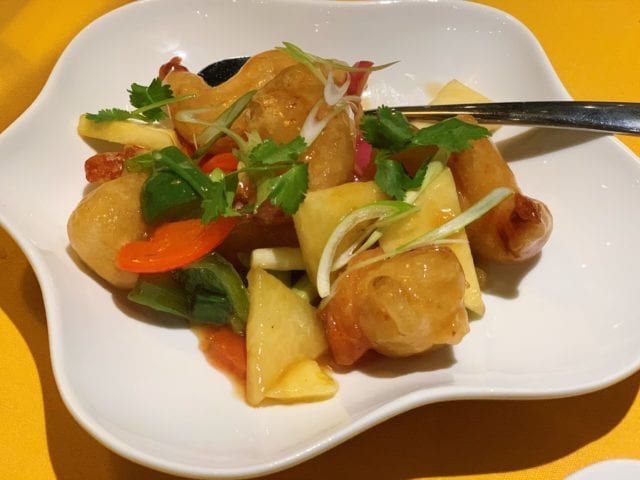 Actually, the Princess' Kung Pao Chicken was much better. It was coated in just the right amount of mild sauce. While it was not spicy per the wife's request, it was well prepared and the portion was large enough for us to share. With an order of chicken fried rice and Hakka style noodles, there was certainly plenty of food to go around the table.
As we worked steadfast on our meals, we were tempted by dessert. Even though we had limited room left, we ordered the crepes and the wontons. While we don't usually think of Asian restaurants as featuring solid desserts, they were the perfect end to dinner.
Recap of JiJi Asian Kitchen Restaurant Review on Carnival Panorama
For a casual specialty restaurant, JiJi Asian Kitchen delivered authentic, exquisitely prepared meals for a very affordable price. With a flat fee of $15 a person, you are able to feast on a variety of delicacies from various regions of the Asian continent.
This specialty restaurant is open for dinner nightly from 5:30 pm to 9:30 pm. We would certainly dine here again. While it is more casual than other up-charge restaurants on the ship, this is certainly not "fast food". We liken this restaurant to P.F. Chang's on land. JiJi Asian Kitchen was actually home to some of our favorite dishes of the trip.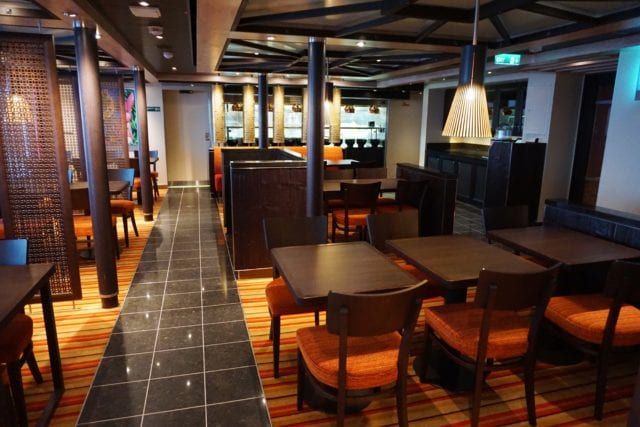 As we mentioned previously, the service was very attentive and friendly during our dining experience. Several staff members, including the chef, made it a point to check-in with us throughout the meal. Plates were cleared promptly, and the meal was well timed, with just the right amount of spacing between our starters and entrees.
Comments
Have you dined at JiJi Asian Kitchen on a Carnival Cruise Line ship? What are some of your favorite dishes featured at this restaurant? Drop us an anchor below with your restaurant review.