For one set fare, a cruise vacation enables travelers to see multiple destinations while enjoying most of the onboard amenities. Although, what is included in each cruise line's standard price can fluctuate. To help cruisers planning a vacation with Carnival Cruise Line, we have put together this list of What's Included on Carnival Cruise Line. See why a cruise vacation might be the best value for your travel dollars.


What's Included on Carnival Cruise Line
Accommodations
Your cruise fare covers the cost of your stateroom for the duration of the trip. Included with your accommodations, you will have a friendly room attendant who will make up your room twice a day.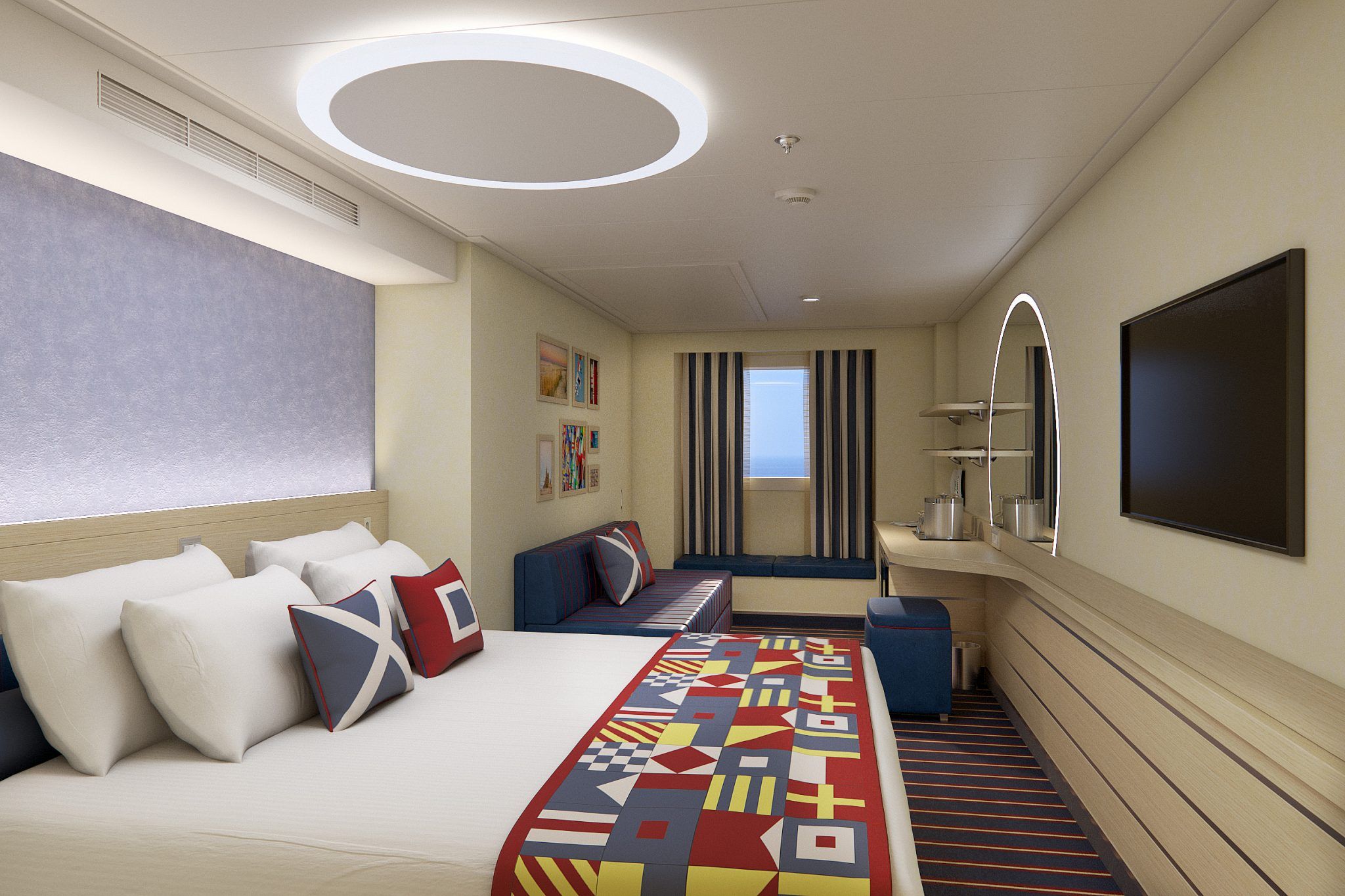 All Carnival ships offer a variety of different room categories from interior cabins to suites and everything in between. Choosing your cabin type will be the main driver of your total cruise costs. Certain cabin categories provide travelers access to exclusive areas of the ship like the thermal suite and free fitness classes for the Cloud 9 Spa staterooms to an exclusive pool area for Havana staterooms and Family Harbor staterooms which offer special perks for families. So, make sure to review all of the benefits for each cabin category before selecting the perfect fit for your next Carnival cruise.
Food and Dining
Regardless of the ship, you can enjoy three meals a day (with some snacks in between) at the casual Lido Marketplace. This buffet is part of your cruise fare and offers a variety of menu items morning, noon, and night.
Other casual fare varies from ship to ship, such as Shaq's Big Chicken debuting in 2020 on Carnival Mardi Gras and Guy's Burger Joint serving up some of the best burgers at sea. There is also the BlueIguana Cantina for some Mexican favorites, a pizzeria, and even a lunchtime pasta bar on select ships.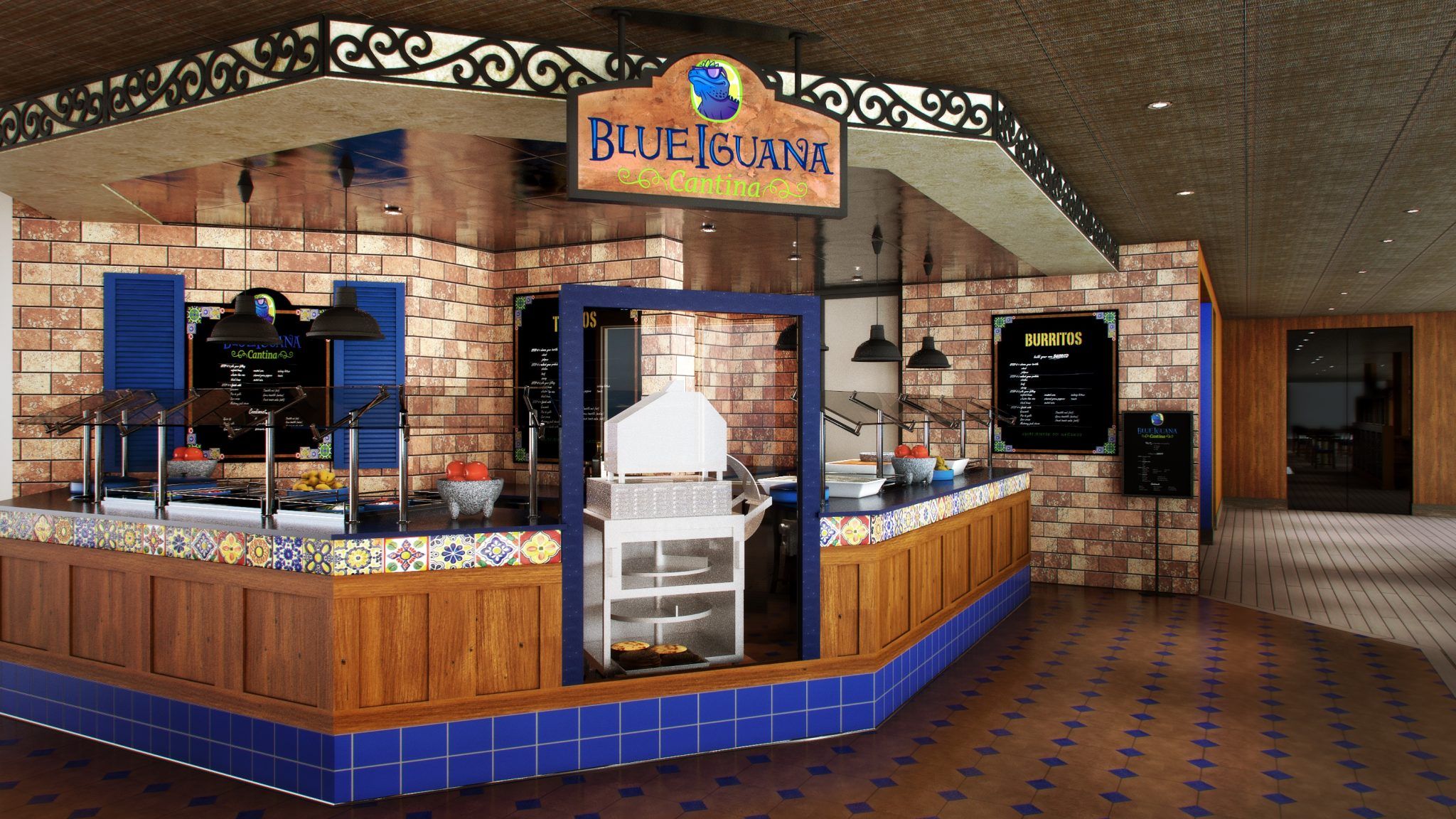 In addition to this casual fare, cruisers can also dine in the Main Dining Room. Carnival Cruise Line offers the traditional early and late dining as well as Your Time Dining which gives more flexibility to dine whenever you want. Many of the larger ships will have 2 complimentary dining rooms. These venues are always open for dinner, serving a different menu each night. The main dining room is also open on select days/hours for a sit down breakfast and sea day brunch.
When it comes to beverages onboard the ship, you will have the option of select drinks like iced tea, lemonade, filtered water, some juices, hot chocolate, and drip coffee/tea. While these items are complimentary, soda, bottled water, specialty coffee, and alcoholic beverages will cost you extra money.
Pool Deck and Sports Deck
All Carnival Cruise Line ships have a large pool deck for all cruisers to enjoy at no additional cost. Offering at least one main pool, hot tubs, and loungers, the pool deck is the ideal place to spend your days at sea. You might even want to spend your evening watching a Dive-In Movie by the pool. Many of the newer ships in the fleet also offer other pool deck amenities like the Waterworks aquapark with waterslides. For adults looking for ultimate relaxation, there is also the adult only Serenity Retreat.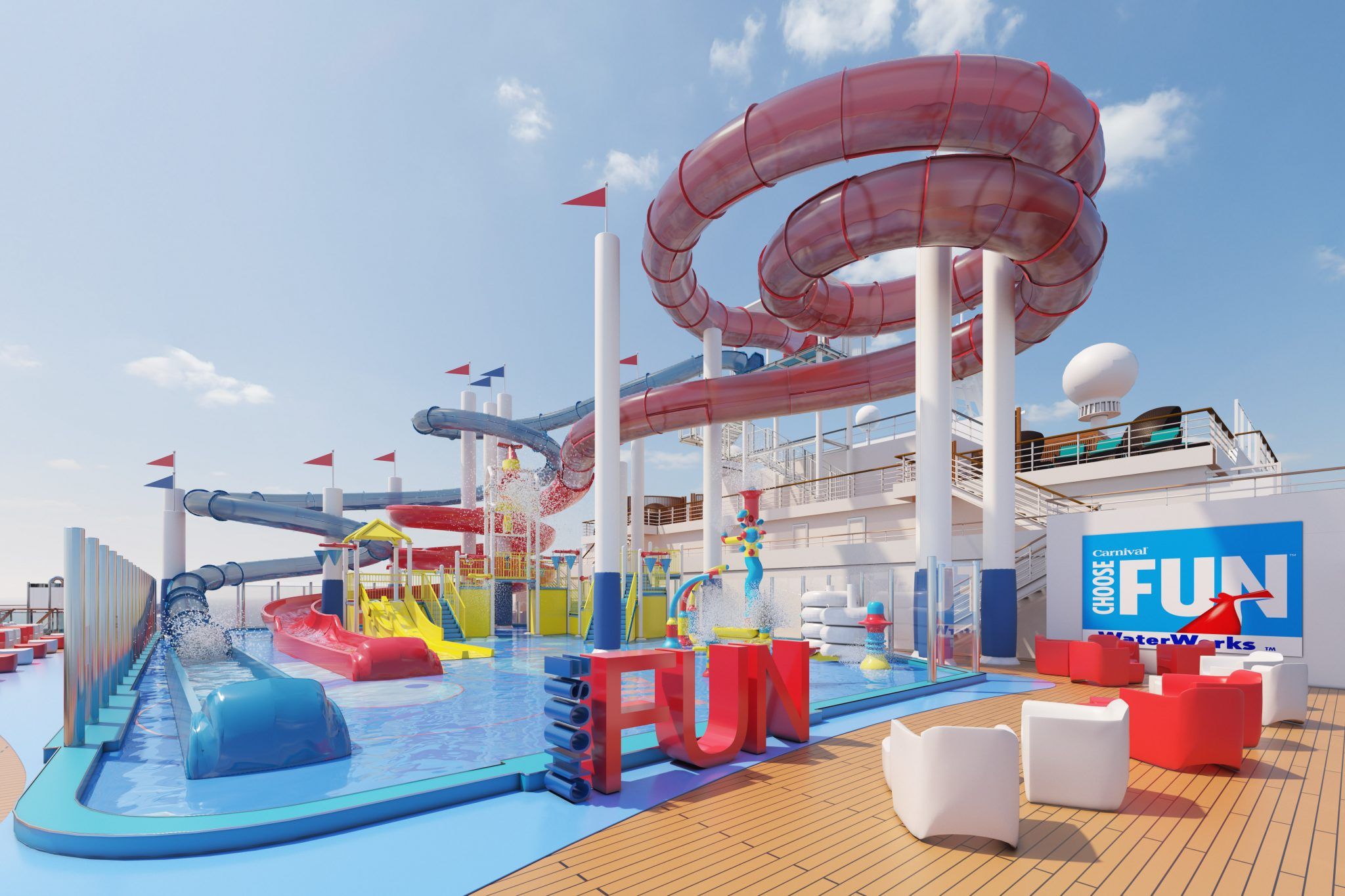 Most elements of the sports deck are included in your Carnival cruise fare as well. Activities like a basketball court, mini golf, ping pong tables, and the ropes course are all complimentary and fun for cruisers of all ages. There is also the SkyRide, a suspended bicycle course on Vista-class ships and the 18+ SkyFitness outdoor gym offering great views and ocean breezes during your work out. The new Bolt rollercoaster debuting on Carnival Mardi Gras will come with an additional fee to ride however.
Onboard Activities
Your cruise ship is a hub of activity and events. You will always find something to do on the ship that will not cost you a dime.
On Carnival Cruise Line, you can enjoy modern fitness facilities and an outdoor jogging track for a workout at almost any time of day. Various poolside activities and deck parties also occur when the weather permits.
Other onboard events like trivia, cooking demonstrations, games, and seminars are also included in the cruise fare. These events will be listed in the Fun Times daily schedule left in your room each evening. So, be sure to check for the exact events occurring on your cruise. Even if you do not participate, these daily activities are equally as fun to watch.
Related Post: Top Cruise Ships to Sail on in 2020
Nightly Entertainment
At night, your Carnival Cruise Line ship comes alive with plenty of entertainment options that won't cost you anything. The signature evening entertainment can be found in your ship's main theater. Here, there will be featured Playlist Productions, 30 minute musical productions featuring the cast of singers and dancers.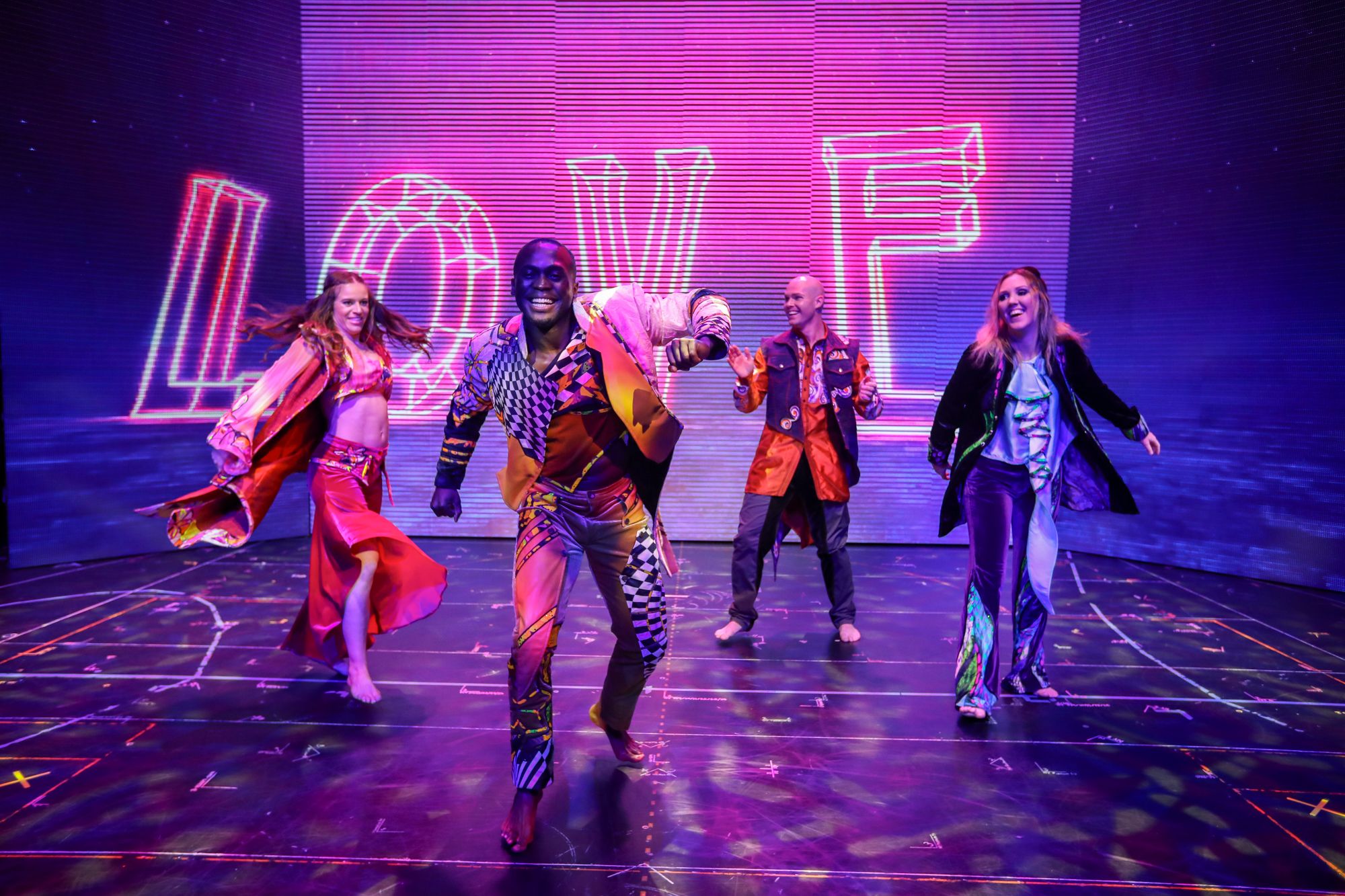 Several Carnival ships also feature family-friendly entertainment that is unique to the cruise line. These options include Lip Sync Battle, Hasbro the Game Show, a Clue murder mystery, and the brand new Family Feud Live debuting on Mardi Gras. The great thing about Carnival Cruise Line is that none of these shows require advanced reservations.
Carnival Cruise Line also features dedicated venues on select ships for piano music, comedy shows, karaoke, sporting events, and more. If that's not enough, there will be plenty of other live music around the ship including a DJ that spins tunes until the wee hours of the morning.
Youth Programs
Included in the cruise fare on Carnival Cruise Line are youth programs for children aged 2-17 years old. Camp Ocean offers kids 2-11 supervised, age-based activities (Penguin 2-5 years old, Stingrays 6-8 years old, and Sharks 9-11 years old) like arts and crafts, games, movies, and more. Kids 2–5 years old can also enjoy a free 30-minute Zumbini class.
Circle C is the supervised hangout for those 12-14 years old, while Club O2 is for those 15-17 years old. These areas include dance parties, games, video games, and movies, with other activities also taking place around the ship.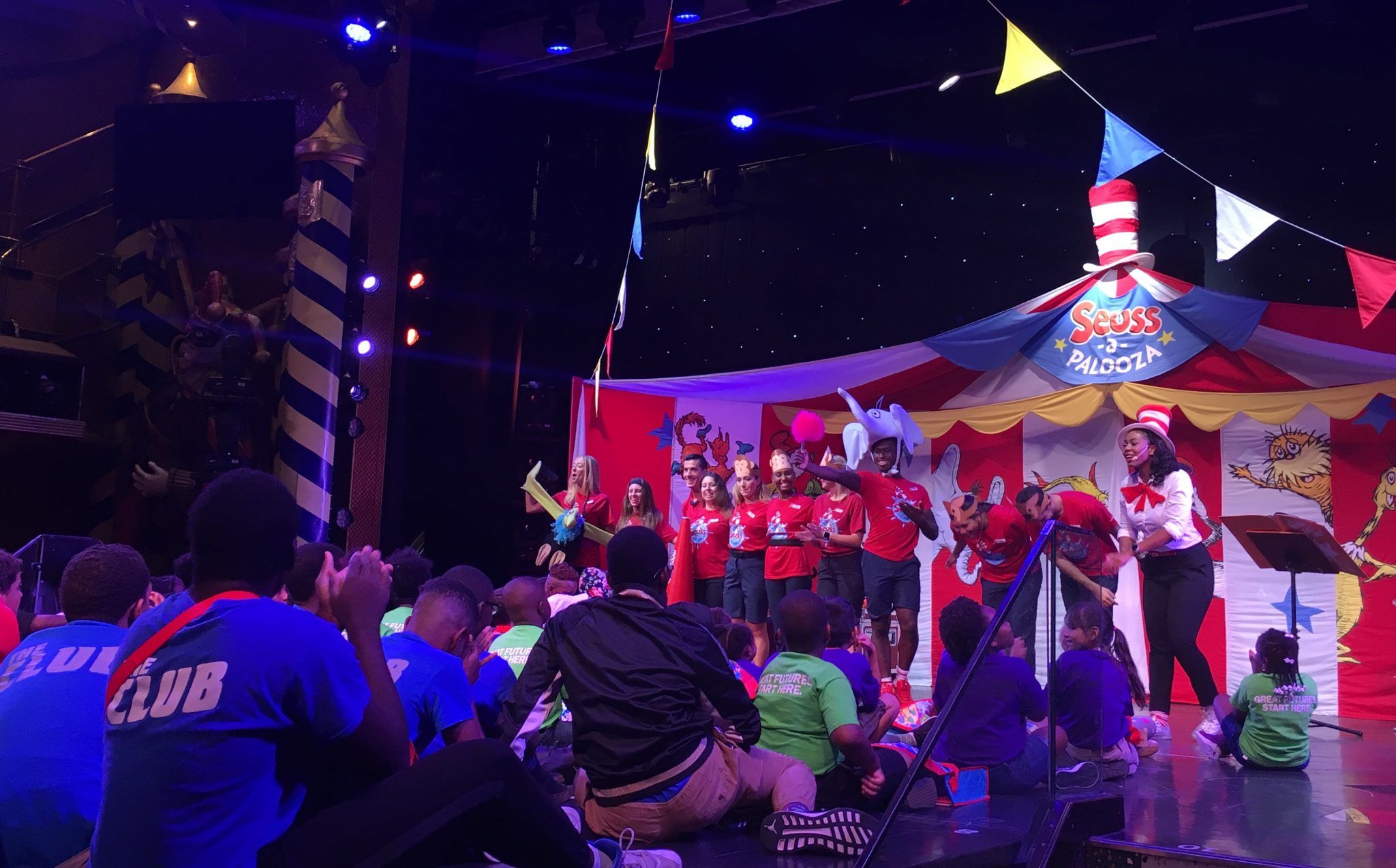 Several Carnival ships also offer Seuss at Sea with special Dr. Seuss programming including character parades, interactive storytime, Bookville, and more for a truly unforgettable family vacation. Other family fun activities can also include a Dive-In movie night, the Hasbro game show, or some friendly competition in the SportSquare.
What is Not Included in Your Cruise Fare
While cruises do provide a great vacation value, not everything will be covered in the cruise fare. On Carnival Cruise Line, there are other amenities that can be purchased if cruisers choose to do so.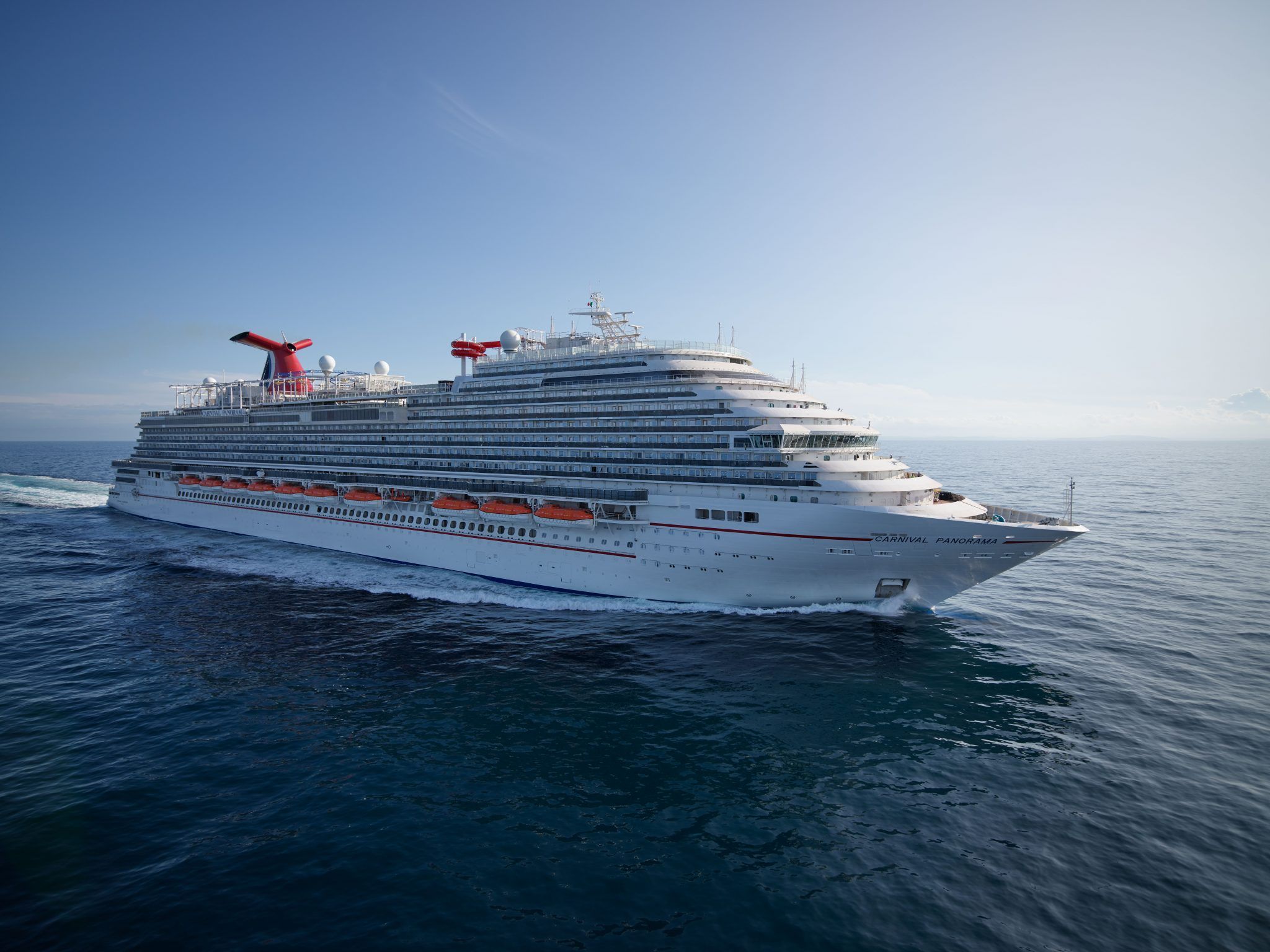 Shore Excursions
Your cruise ship will transport you to several exciting ports of call. Unfortunately, shore excursions are not part of the base fare. These tours and additional experiences can be booked through the cruise line or through third part retailers at additional costs. Shore excursions can range from inexpensive walking tours to several hundreds of dollars for unique experiences.
Alcoholic and Some Non-Alcoholic Beverages
As mentioned previously, alcoholic beverages are not part of the cruise fare. On Carnival ships, beer, wine, cocktails, soda, specialty coffee and tea, and bottled water will all cost additional fees. Depending on your drinking habits, purchasing the Cheers beverage package might be a better option than paying the a la carte pricing. This package includes a variety of non-alcoholic beverages, beer, wines by the glass, cocktails, and a wide selection of high quality brand-name spirits priced up to $20. Soda, juices, specialty coffee, energy drinks, and bottled water are also included in this package. The Bottomless Bubbles is Carnival Cruise Line's soda package which is also an up-charge and includes soft drinks and juices only.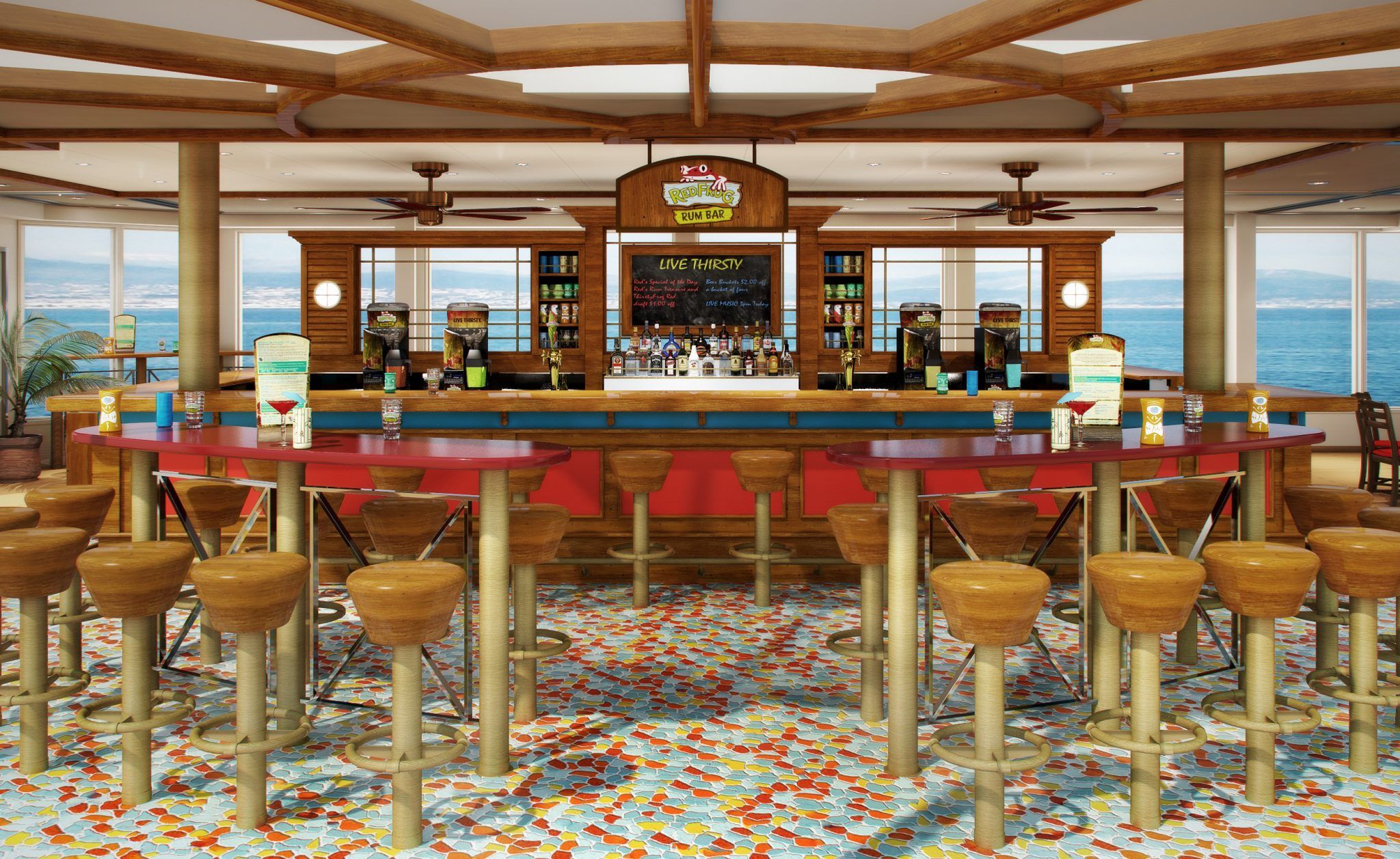 Some Entertainment and Onboard Activities
While there are several included activities and entertainment, many ships offer additional classes and activities that cost an up-charge. These can include Bingo, fitness classes, cocktail tastings, and onboard activities like the IMAX, SkyZone, the soon to debut Bolt sea coaster, video arcade, or Build-A-Bear workshop. The new Carnival Kitchen cooking class is also an additional fee, as are Cloud 9 Spa treatments and access to the thermal suite.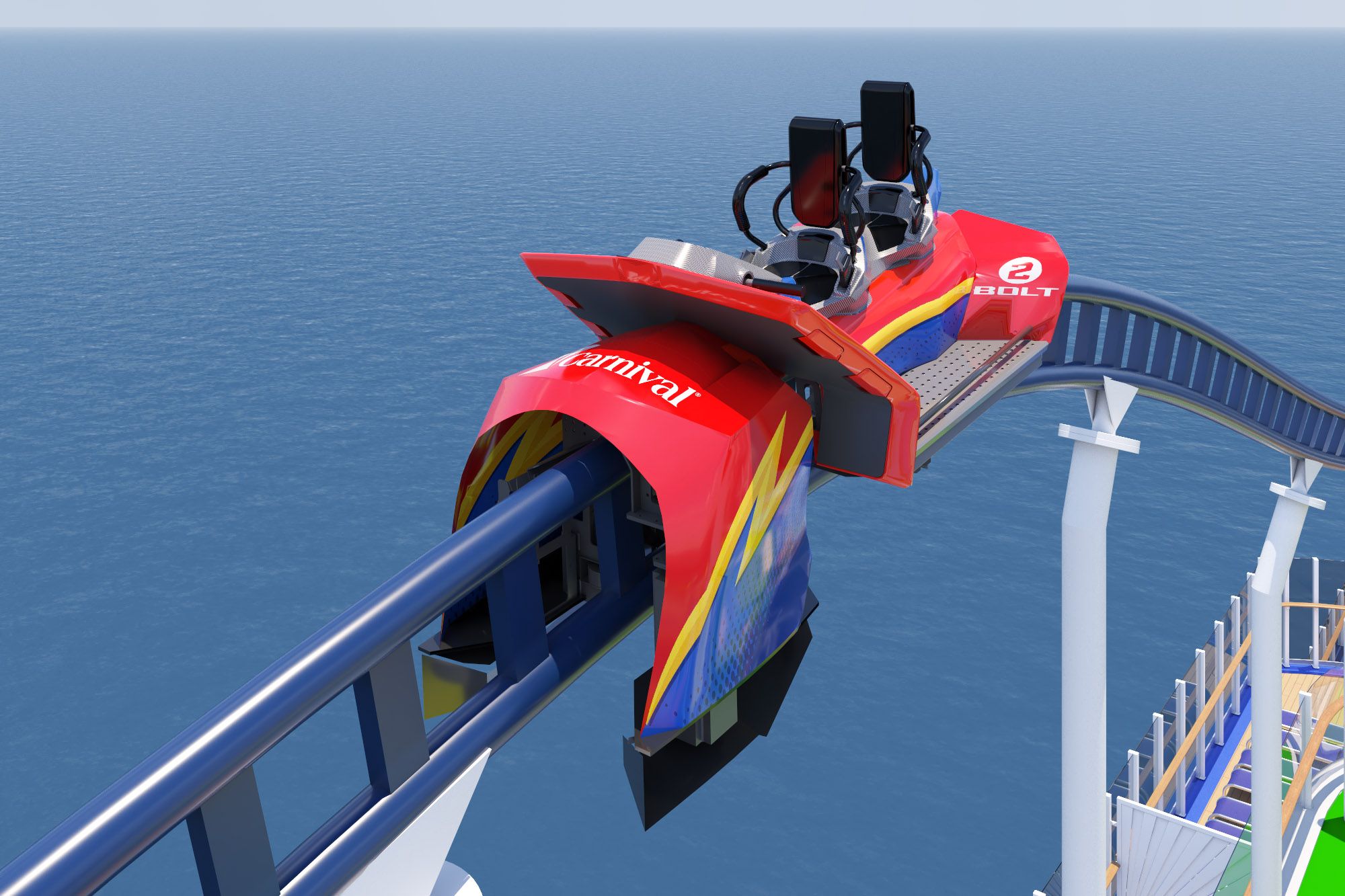 Of course, any shopping in the retail stores onboard the ship or gaming in the casino are all at your own expense as well.
Specialty Dining
While there are many dining venues covered in your cruise fare, Carnival Cruise Line also offers up-charge dining options and experiences. Specialty venues like Steakhouse, Bonsai Sushi and Teppanyaki, Seafood Shack, JiJi Asian Kitchen, Cucina del Capitano, Guy's Pig & Anchor Smokehouse, and the soon to debut Emeril's Bistro will all cost additional fees. Some of these restaurants have a flat-fee cost while others are a la carte pricing.
If you do want to dine at one or more of these restaurants, reservations are highly recommended and can be made prior to your sailing on the Carnival website. Reservations can also be made on the ship, but space will be limited.
The Dr. Seuss Green Eggs and Ham breakfast and room service also have associated fees.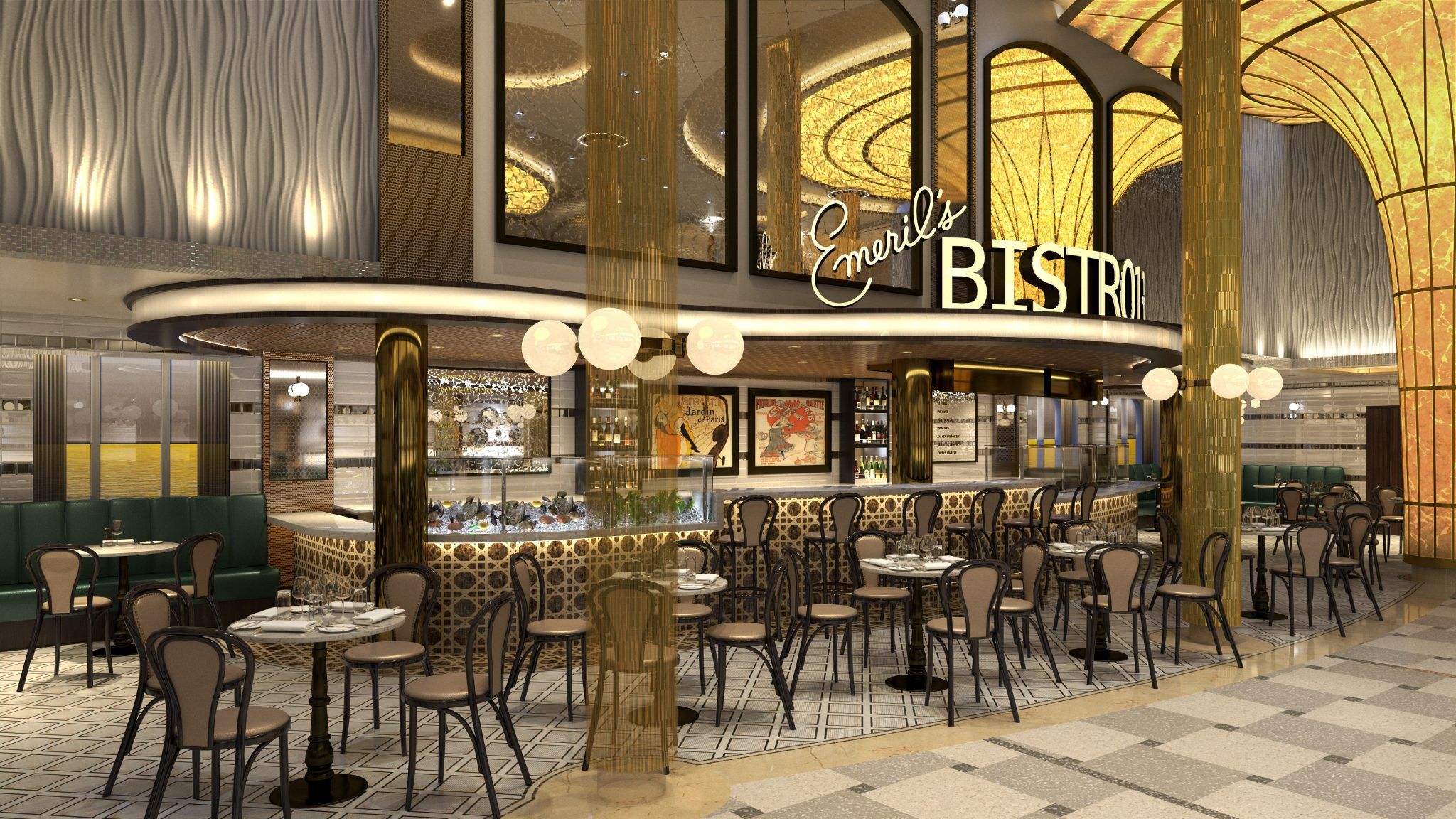 Other Add-Ons
For those who want to stay in touch with family and friends, you will need to purchase an internet package. WiFi is not part of the cruise fare nor is the chat feature in the HUB app. If you would like clothing washed or pressed, these laundry services will cost you extra money as well.
Other add-ons like the previously mentioned beverage packages are an additional fee. Likewise, so are photo packages, special celebration packages, and transportation to and from the cruise port.
Finally, there will be a daily service charge added to your onboard cruise account. These daily gratuities are currently $13.99 per person per day for standard staterooms and $15.99 for suite guests. These charges go towards the hardworking staff on the ship including your stateroom attendant, wait staff, bar servers, and various other crew. If you choose, the daily gratuities can be pre-paid using your online account prior to the cruise.
Comments
Have you sailed on a Carnival ship? What are your thoughts about what's included on Carnival Cruise Line (and what's not)? Drop us an anchor below to share your experiences cruising with the brand.