Scroll Down to Watch Our Best New Cruise Ships for 2021 Video!
With cruising on pause for much of 2020, we cruise enthusiasts are eager to get back to doing what we love – cruising! If you are ready to hit the high seas next year, you should consider booking a trip on one of these Best New Cruise Ships for 2021. With some ships delayed in delivery from 2020 to some extensive refurbishments, the coming year will see some great ships sailing to various destinations around the world.
We already have plans to sail on a few of these ships and might just book a few more. Which new cruise ship for 2021 will you choose?
Best New Cruise Ships for 2021
Carnival Mardi Gras
Carnival Mardi Gras will debut as the largest ship in the Carnival fleet in early 2021. While Mardi Gras was already delayed once, this new ship was even further delayed due to the pandemic and associated shipyard closures.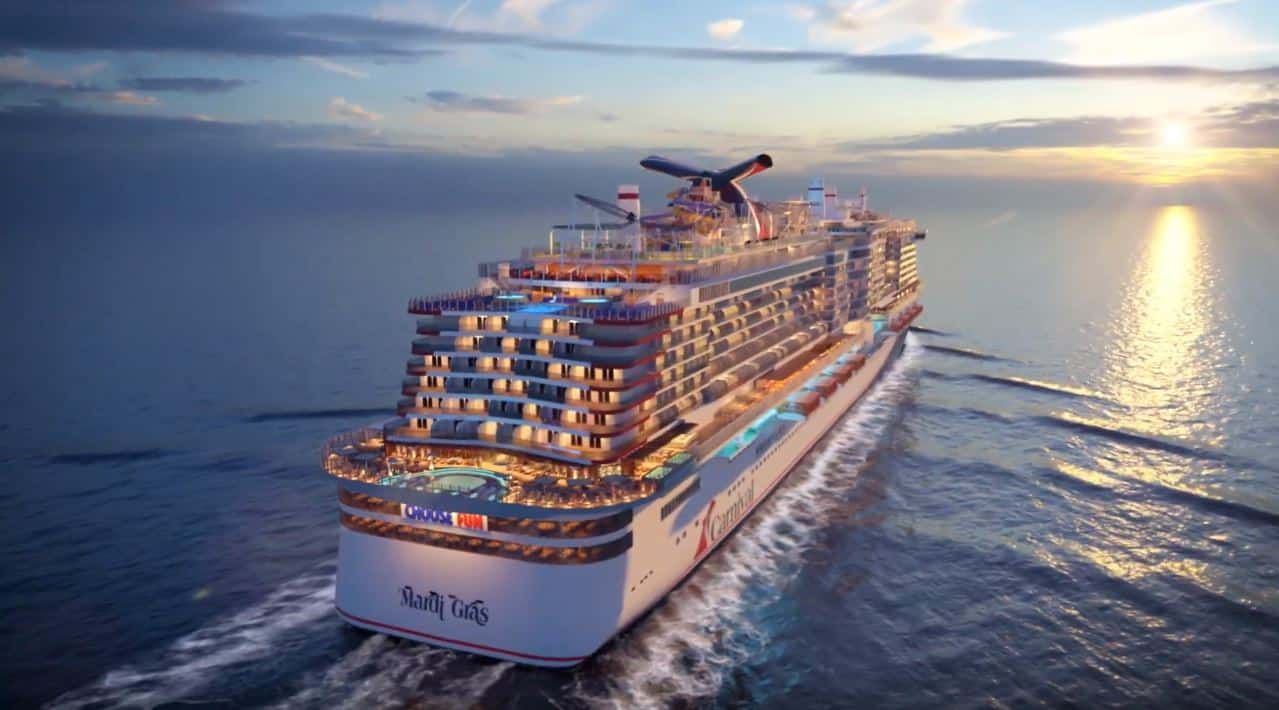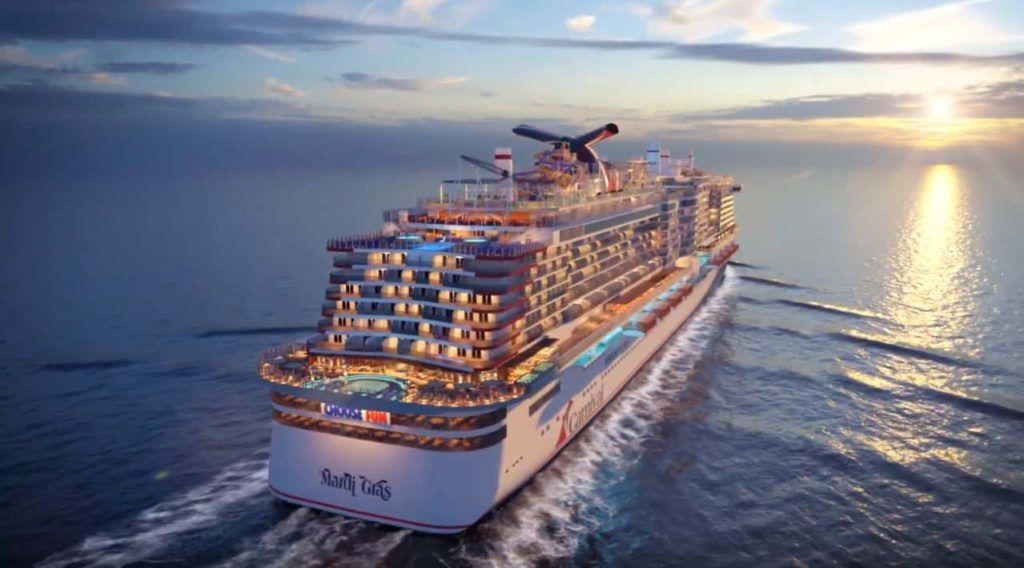 The ship will now depart from Port Canaveral beginning on February 6, 2021. This meant that our September and January sail dates were cancelled. We hope the third time is a charm. We can't wait to sail on Carnival Mardi Gras in February, as it will certainly be one of the best new cruise ships for 2021!
While paying homage to the original TSS Mardi Gras, this new version will feature many firsts for the cruise line. With the new "zones" concept, cruisers can enjoy a variety of themed dining and entertainment in these six unique areas.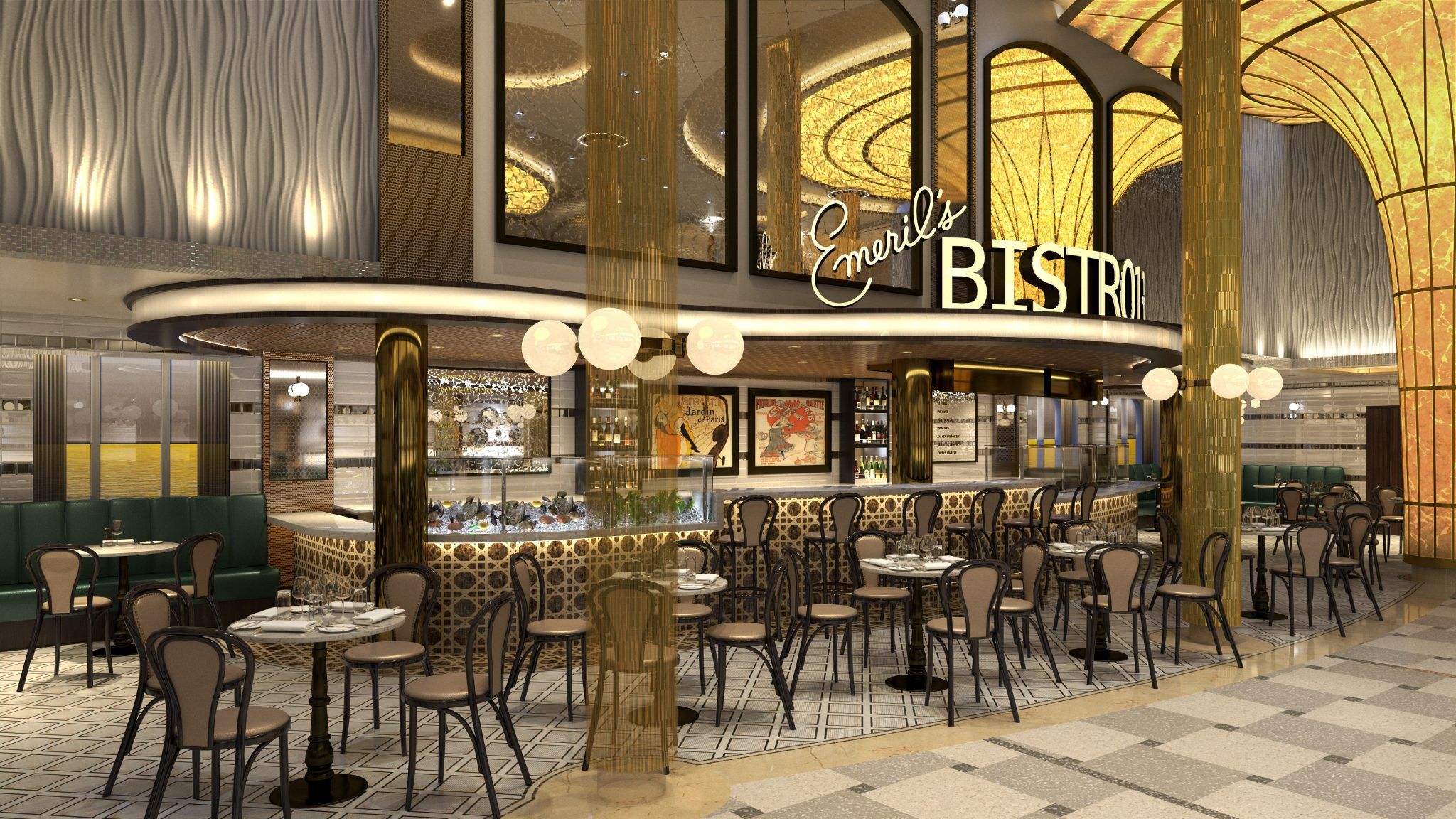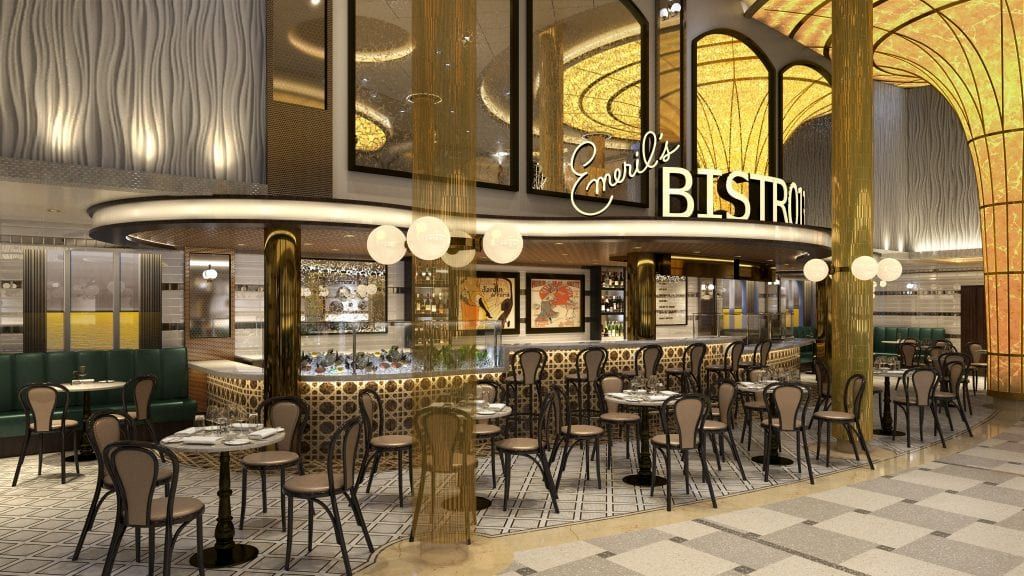 The French Quarter will be among the zones on Carnival Mardi Gras; this zone will feature a brand-new partnership with Emeril Lagasse. Inspired by New Orleans, the French Quarter will feature bars and restaurants including Emeril's Bistro 1396. The other zones include Grand Central (think Atrium) and Summer Landing featuring Guy's Pig and Anchor Smokehouse | Brewhouse.
Additionally, there will be La Piazza debuting a new Mediterranean spot specializing in seafood, Lido, and the Ultimate Playground.
Speaking of the Ultimate Playground, Carnival Mardi Gras will debut the first rollercoaster at sea. Yes, you read that correctly! Bolt is an all-electric thrill ride that puts you in control as you zip around this open-air course high above sea level. This zone will also feature the largest WaterWorks, a full mini-golf course, a ropes course, and more.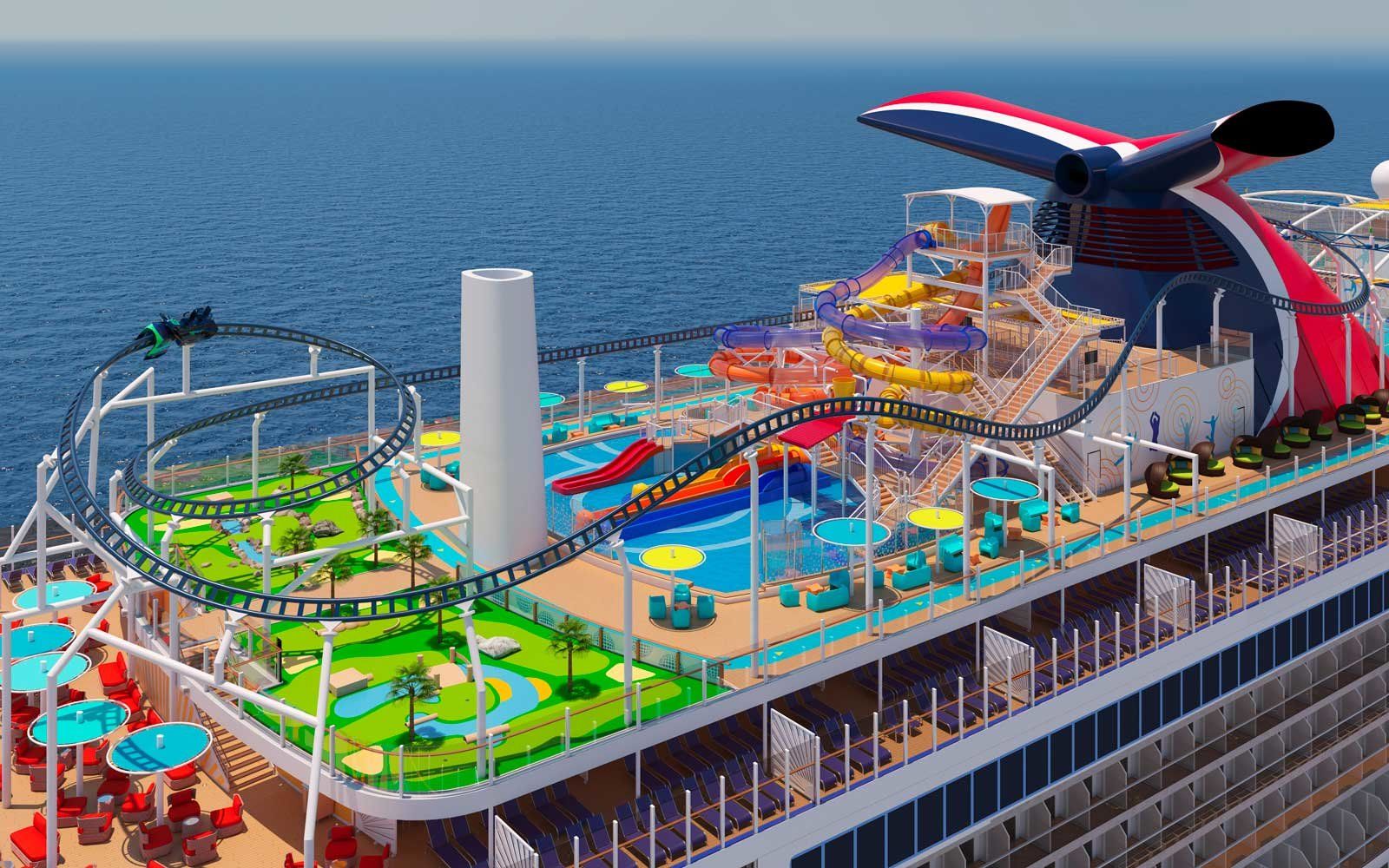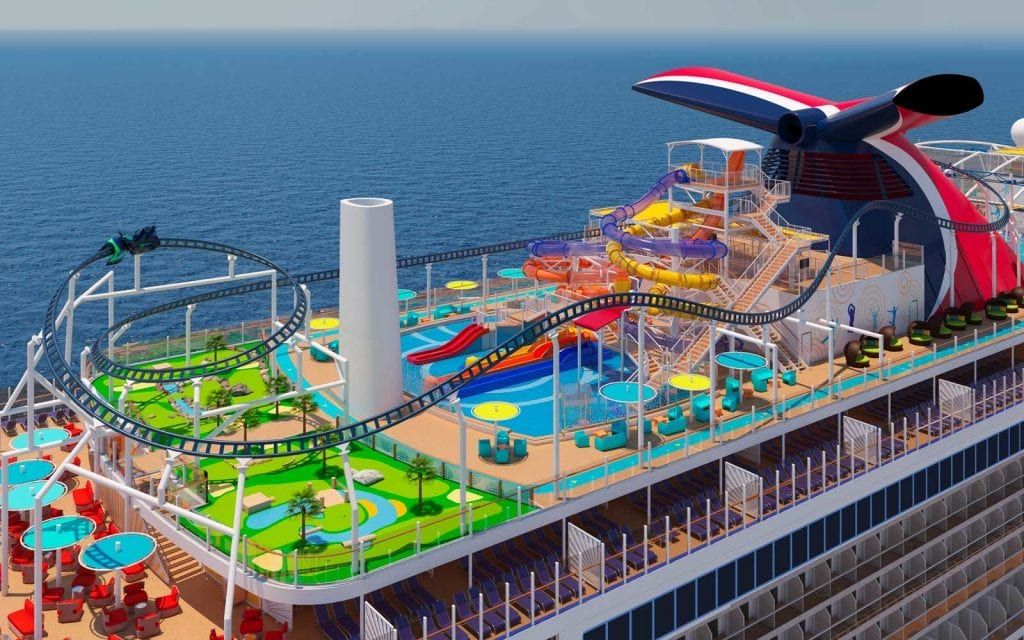 Carnival Mardi Gras also plans to take its restaurants, bars, entertainment, and staterooms to the next level. The ship will have the first RedFrog Tiki Bar, a two-story poolside watering hole. In partnership with Shaq, there will also be a complimentary chicken shack, Big Chicken; this venue will serve tasty treats for breakfast, lunch, and dinner. Of course, the ship will feature many of the other dining venues that fans know and love as well.
Further, Family Feud Live will debut on Mardi Gras hosting a live edition of the popular game show.
Related Post: Carnival Panorama Cruise Review
Odyssey of the Seas
Odyssey of the Seas will be Royal Caribbean's second Quantum Ultra-class ship. This ship was originally set to launch in the Fall of 2020 but has also had construction delays resulting from COVID-19. Therefore, all cruises from November 5th, 2020 through April 17th, 2021 were cancelled. This included our inaugural sailing!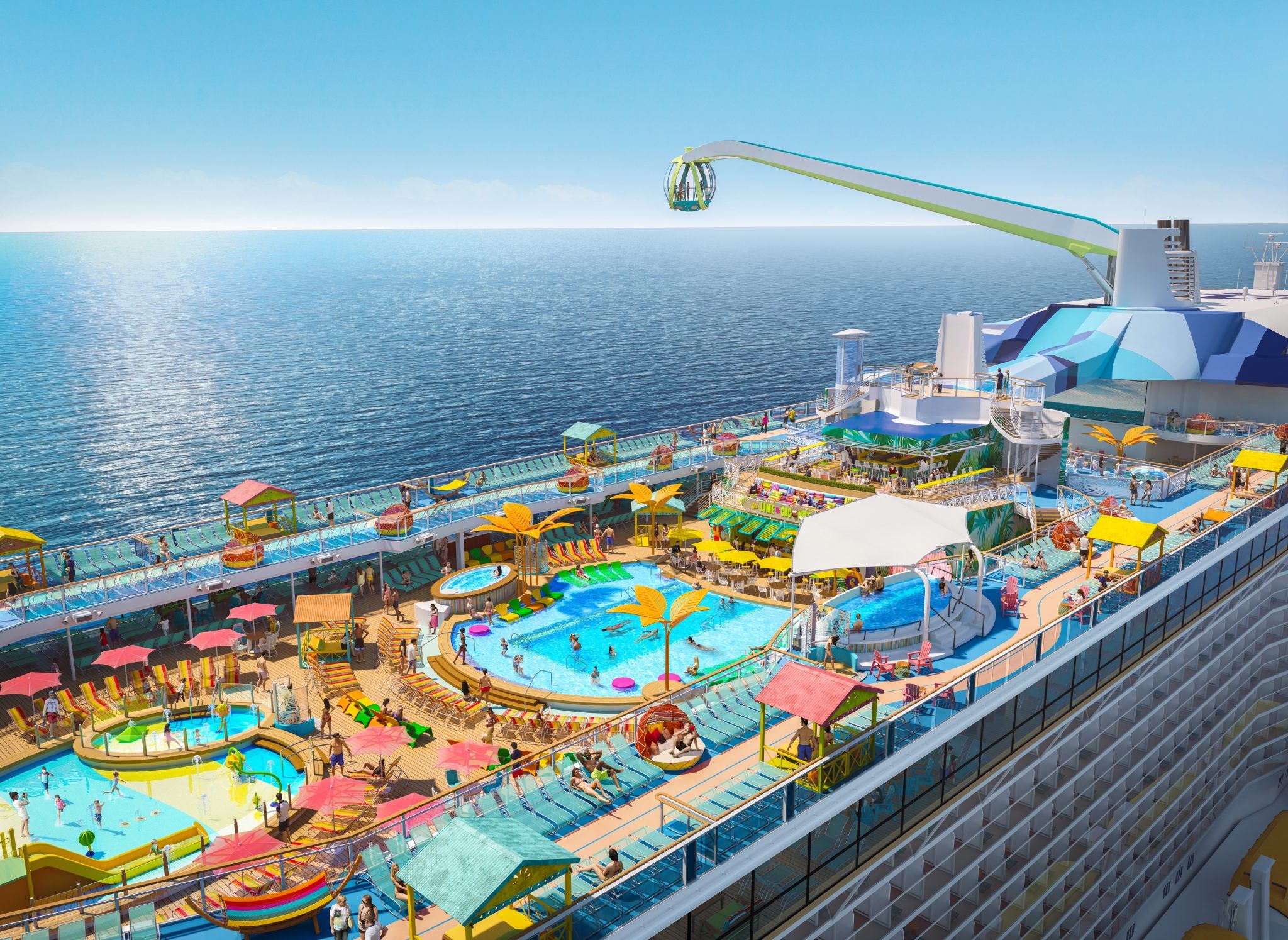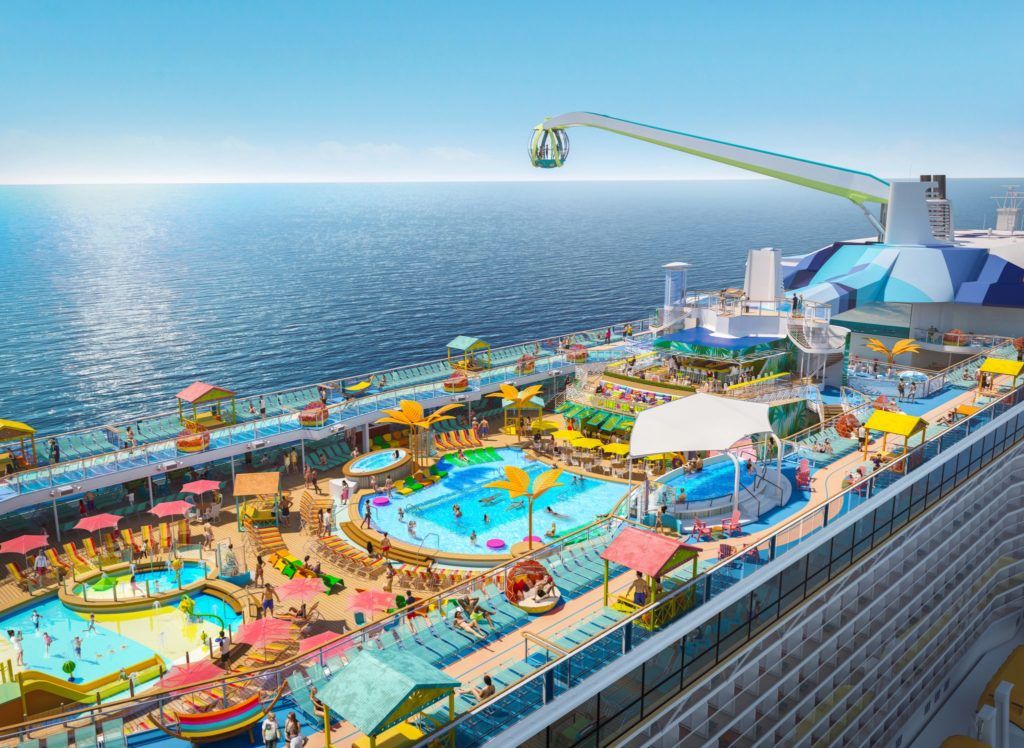 When Odyssey of the Seas sets sail next year, it will be the 27th ship in the Royal Caribbean fleet. Odyssey of the Seas will feature two familiar favorites from the Quantum Class ships, the RipCord by iFLY and the North Star. Thrill seekers will also be glad to hear that the Sky Pad will also be found on Odyssey of the Seas (with new age restrictions).
Odyssey of the Seas will also be home to the SeaPlex, the largest indoor space at sea. Similar to other Quantum Class ships, this SeaPlex will have a roller-skating rink and bumper cars (though no trapeze school). The space will also double as the glow-in-the-dark laser tag arena.
Cruisers who love the pool deck on the newly amplified ships in the fleet can rejoice. Odyssey of the Seas will feature a similar multi-level resort style pool deck. It will feature two pools, plenty of comfy lounge furniture, and the popular Lime and Coconut Bar.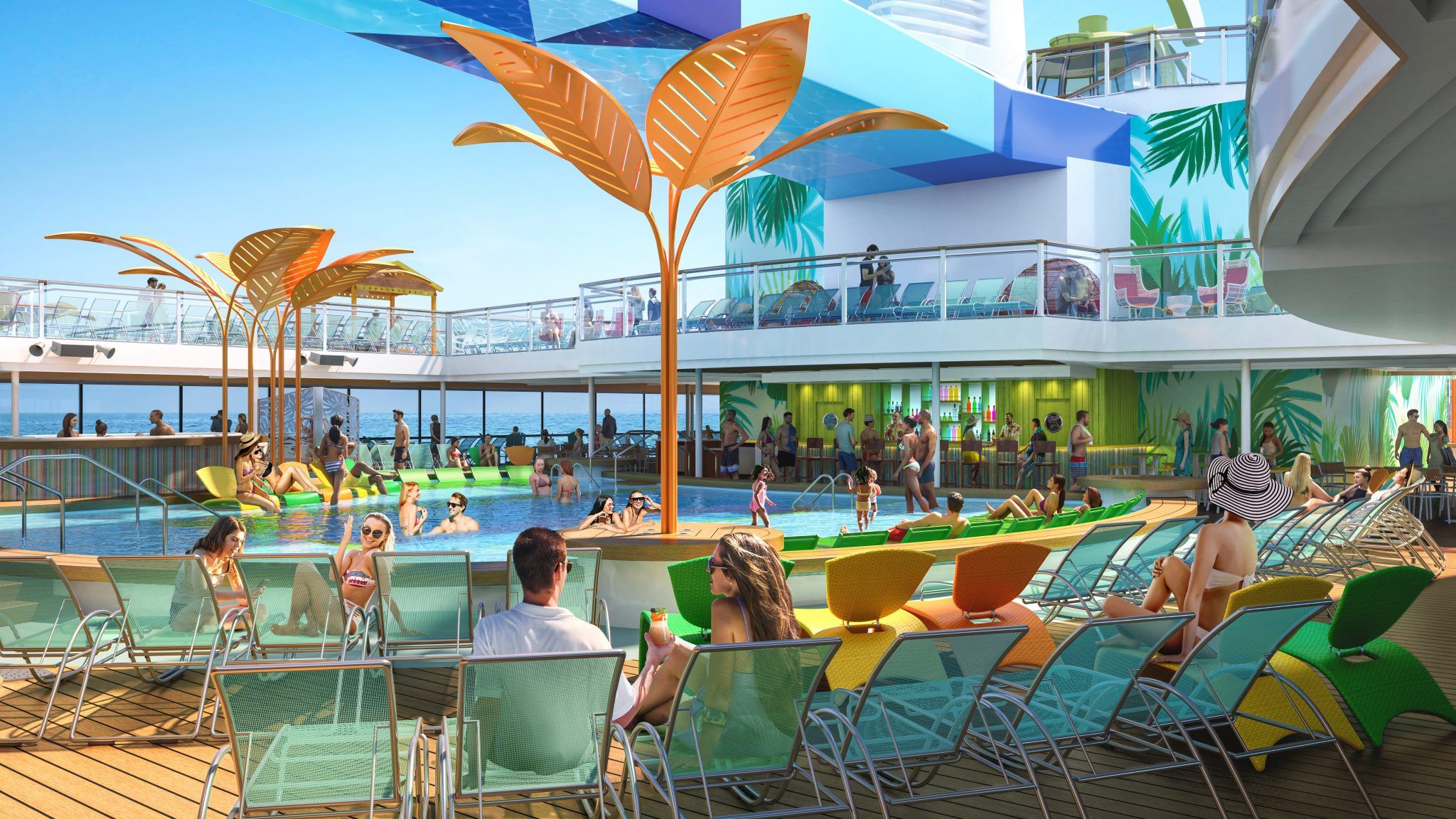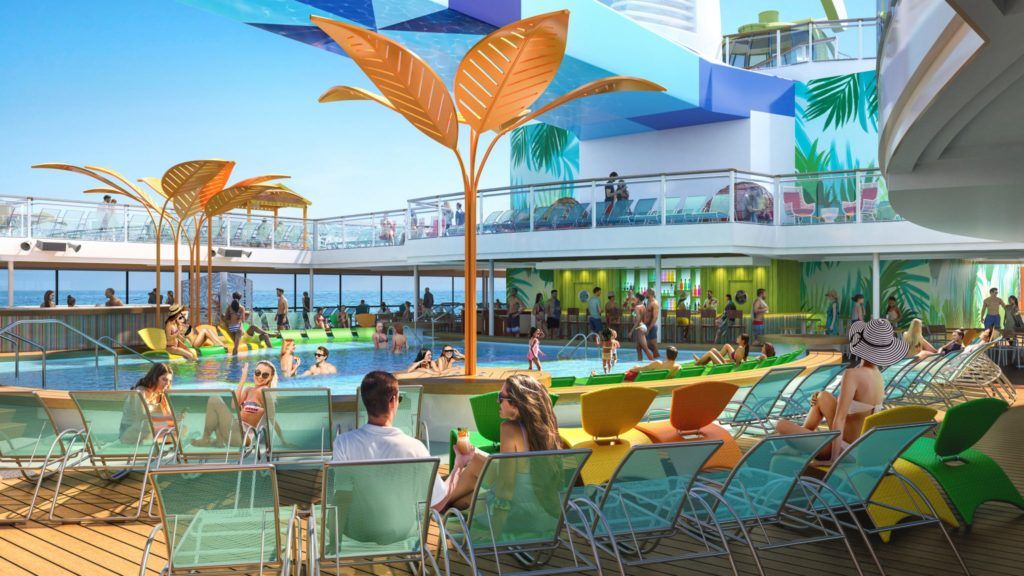 Related Post: Amplified Navigator of the Seas Cruise Review
One of the biggest additions coming to Odyssey of the Seas is a brand-new restaurant, Teppanyaki. Keeping pace with other contemporary cruise lines, Royal Caribbean will now have a dedicated restaurant to serve up Far East flavors in a traditional Japanese cooking style. The re-imagined Giovanni's Italian Kitchen, which we loved on the amplified Freedom of the Seas, will also be coming to Odyssey of the Seas.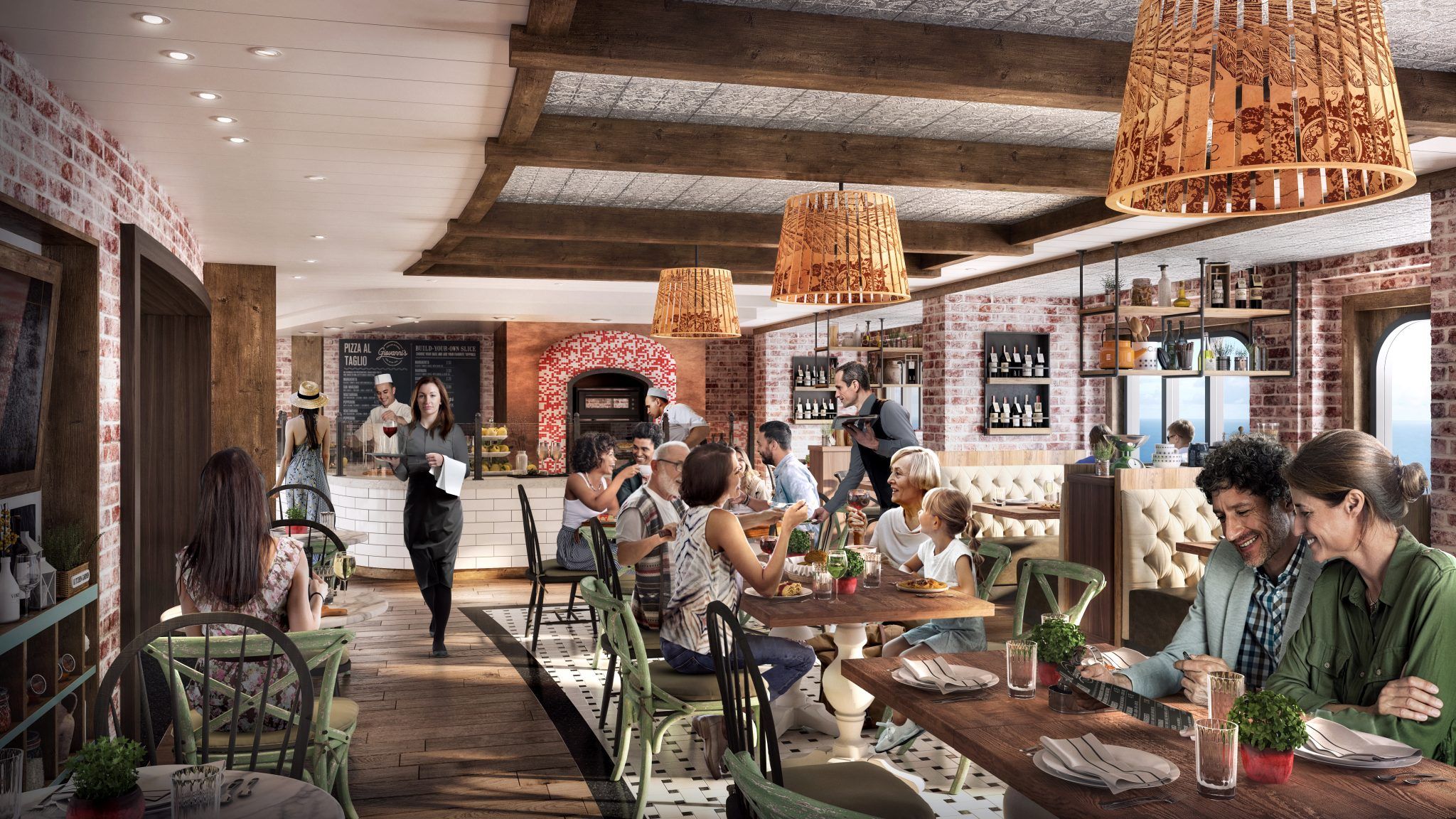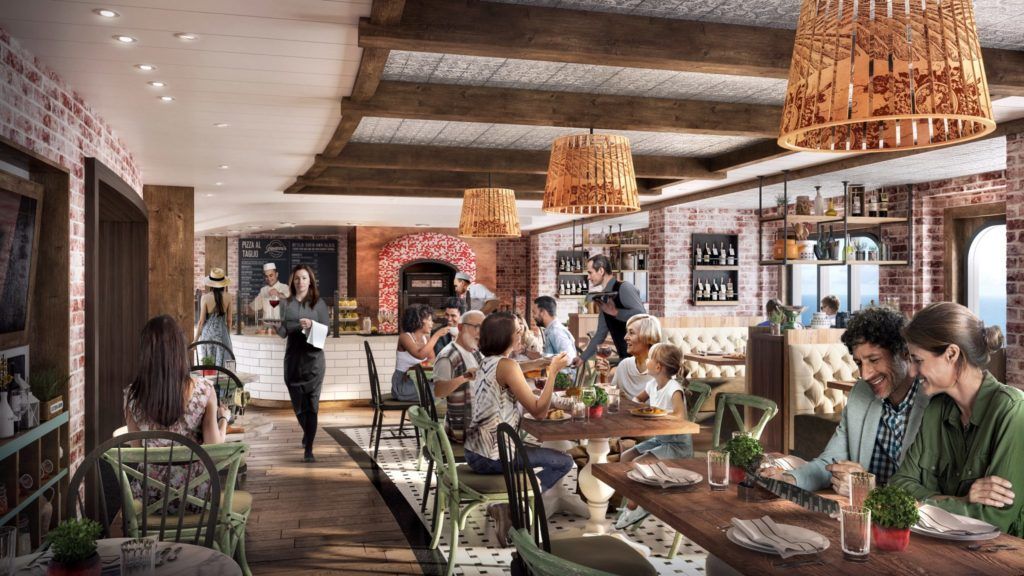 Odyssey of the Seas will sail the Spring and Summer of 2021 in Europe before transitioning to her home in Ft. Lauderdale in November. So, we will just have to wait a bit longer now to experience this best new cruise ship for 2021!
Related Post: Amplified Freedom of the Seas Cruise Review
Celebrity Apex
Celebrity Apex, the sister ship to Celebrity Edge, was set to debut this past spring. While Celebrity Cruises did officially take delivery of the ship during a virtual ceremony back in March, cruisers have yet to be able to experience all this brand-new ship has to offer.
The good news is that Celebrity Apex will now sail the Caribbean once cruising resumes. This best new cruise ship for 2021 will then transition to Europe for the Summer 2021 season and head back to Ft. Lauderdale for the Fall/Winter of 2021.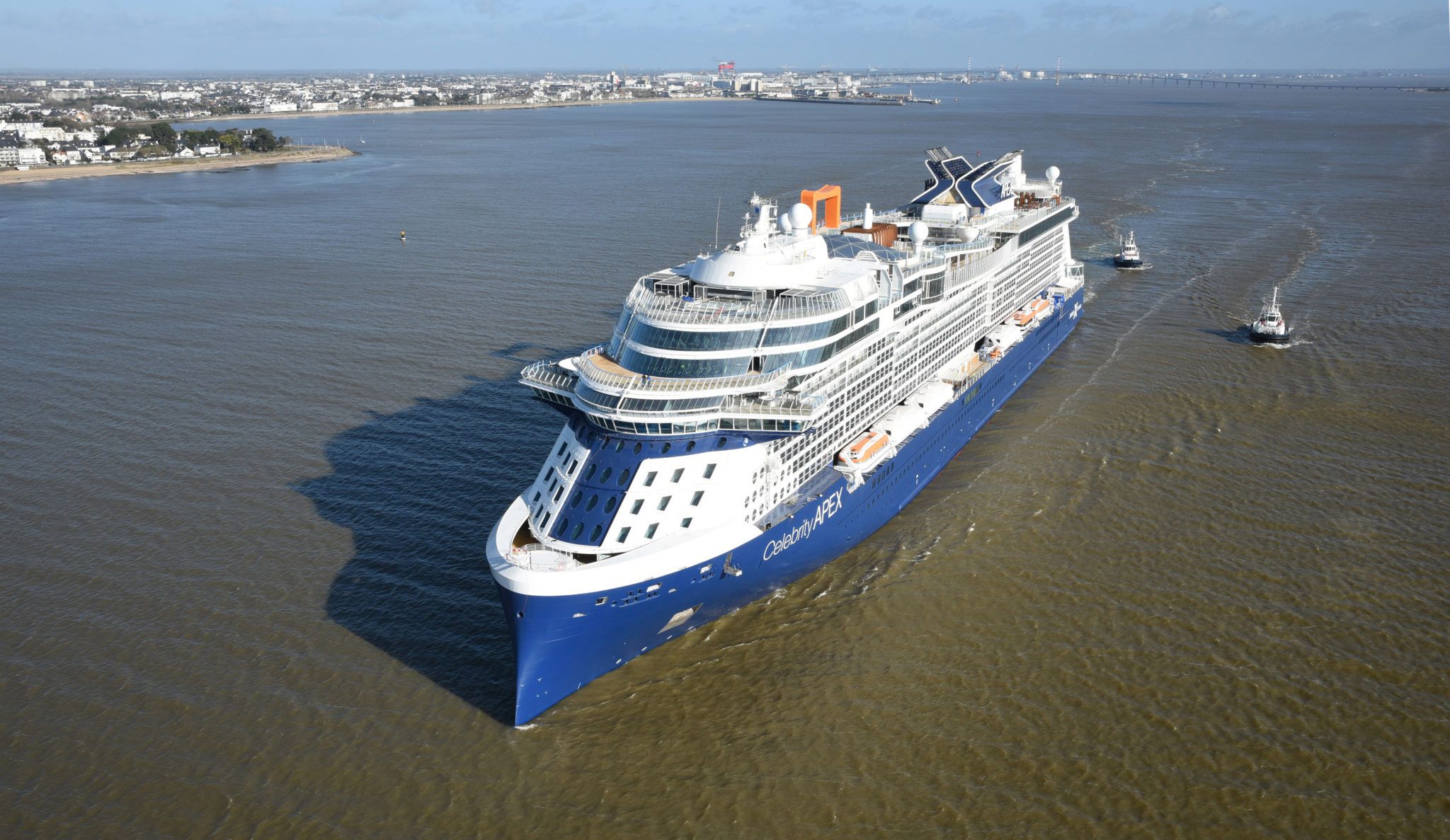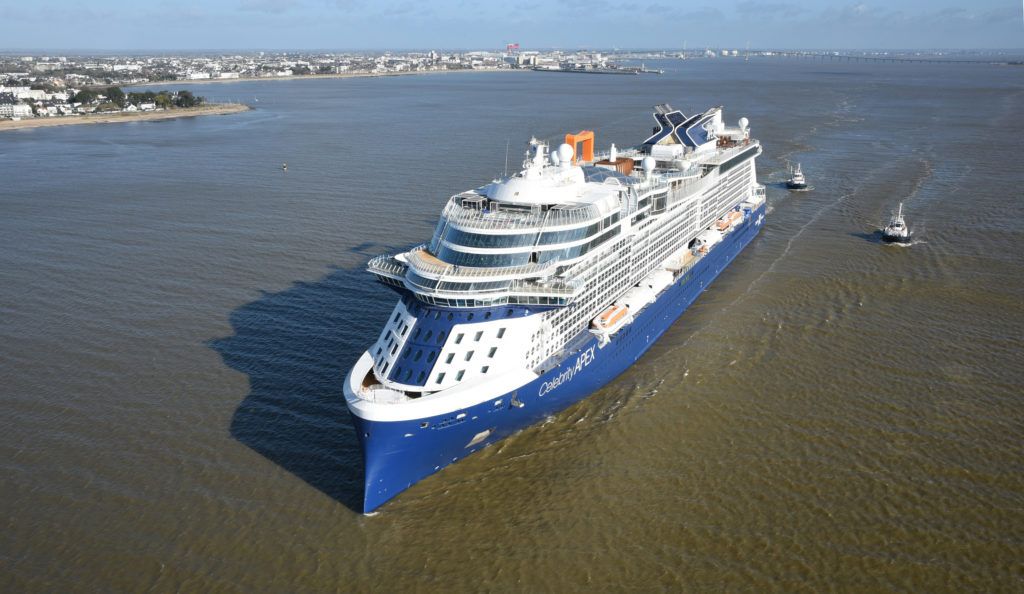 Like her older sister, Celebrity Apex will be home to many of the same dining, entertainment, and onboard experiences. Some of the boldest features will be the Magic Carpet and the dynamic venue of Eden.
The Magic Carpet is a cantilevered, floating platform that serves multiple purposes; it serves as an al fresco dining experience, a state of the art tender station, and one of the coolest sun deck bars at sea. Eden is a transformative venue featuring relaxation with floor to ceiling views by day and unique theatrical performances by night. Also, the Eden Restaurant hosts some of the most experiential dining at sea.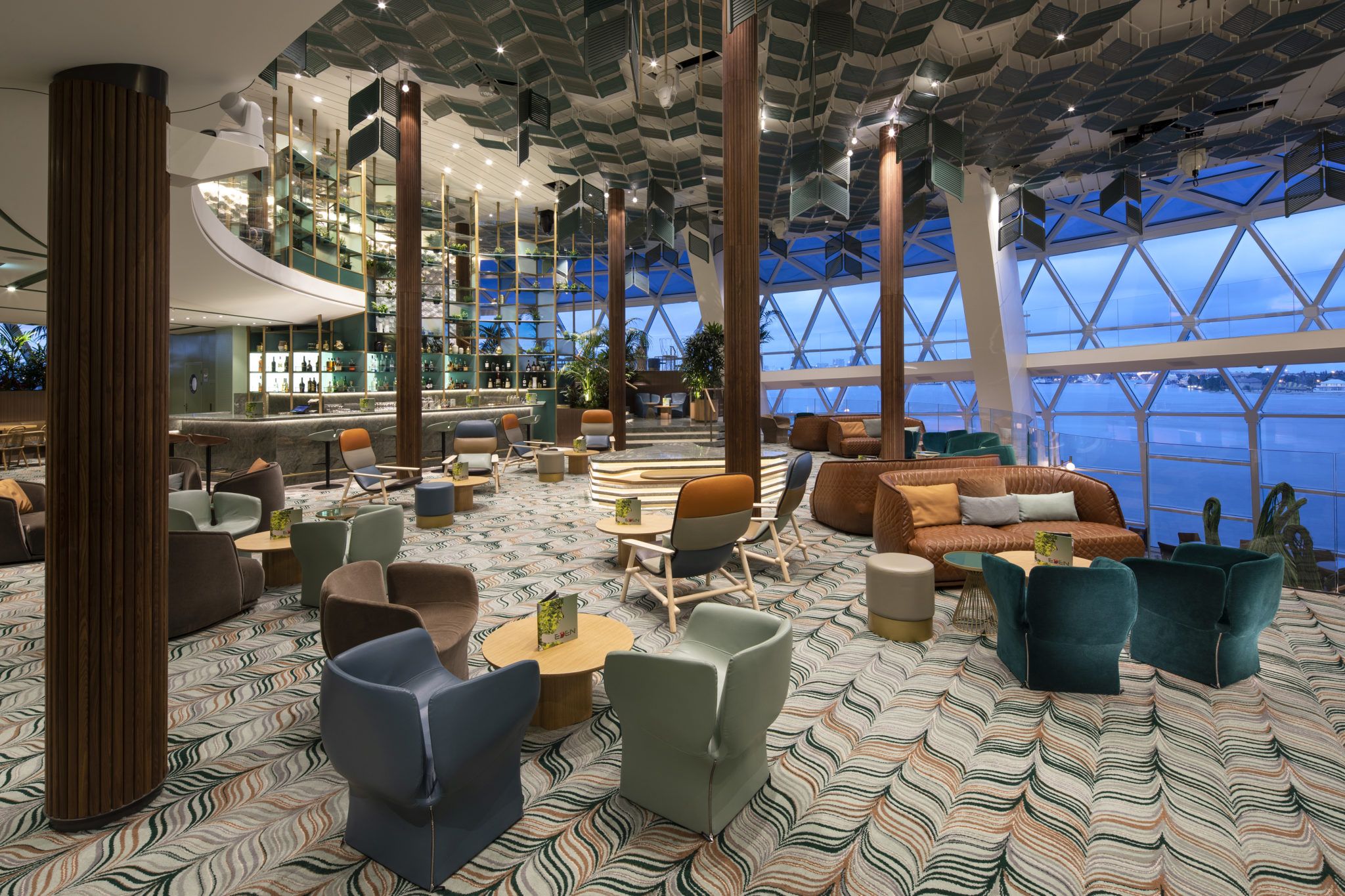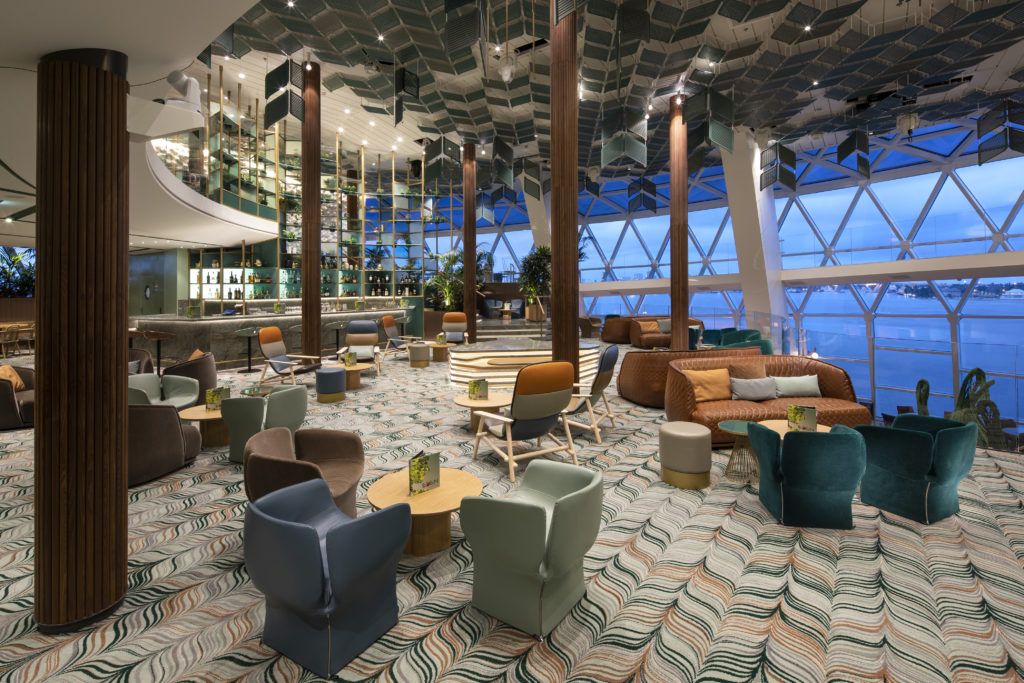 Continuing the evolution of dining on a cruise ship, Celebrity Apex will also feature four different main dining rooms. Each of these restaurants will have its own theme, decor, and specialty menu items. Celebrity Apex will feature the popular specialty restaurants found on Celebrity Edge, including Fine Cut Steakhouse, the Rooftop Garden Grill, and more.
Cruisers on Celebrity Apex will love the outdoor tranquil vibes of the Rooftop Garden and the glamorous resort feel of the pool deck. They will also enjoy the unique theater design and first rate shows and the technology-enhanced staterooms. These technological features will be even more important now given the pandemic.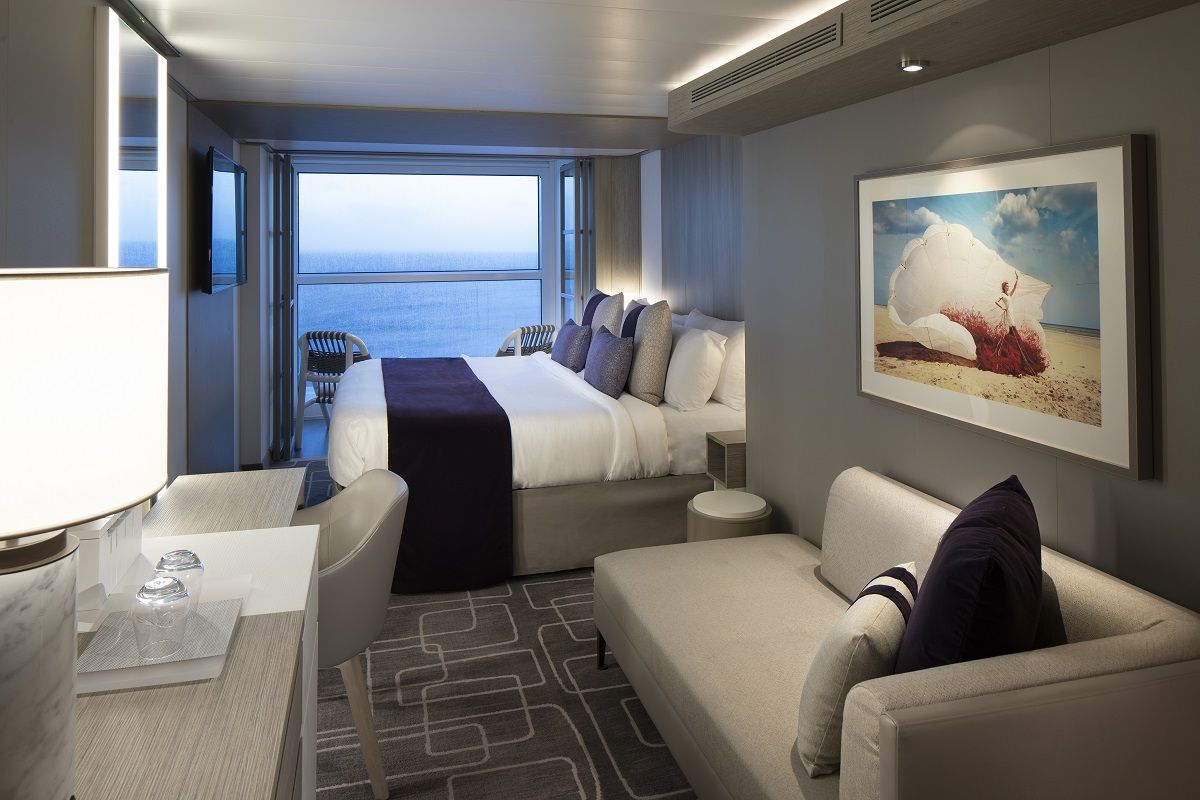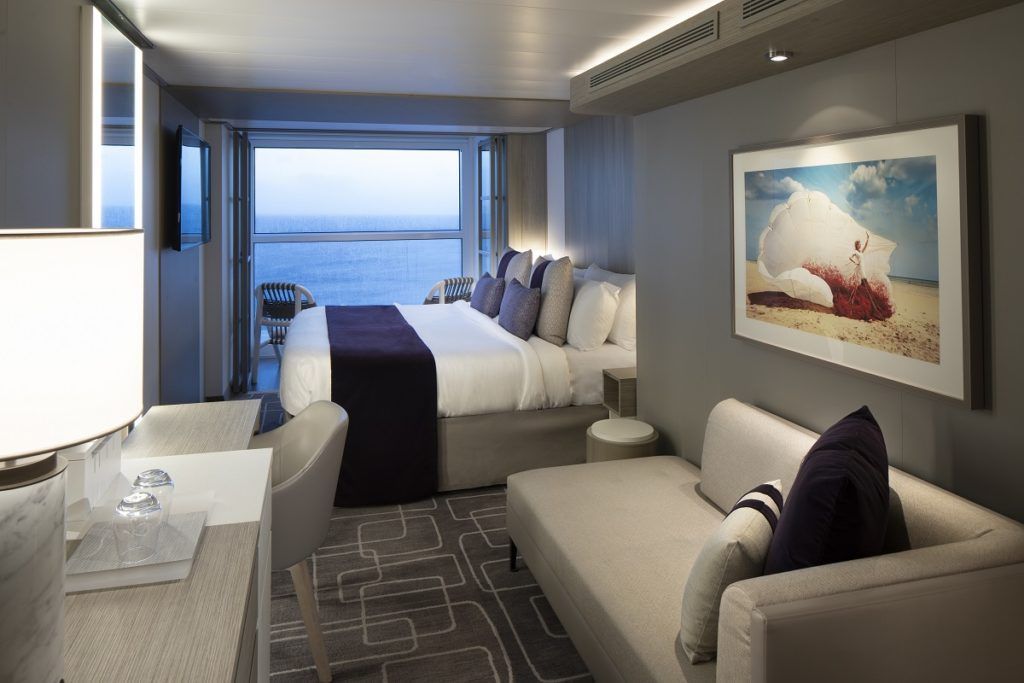 Scarlet Lady (or Valiant Lady)
Virgin Voyages' first ship, Scarlet Lady, briefly debuted earlier this year on a few media sailings in Europe. However, the ship's repositioning to Miami, Florida and the official christening have been delayed due to COVID-19.
Yet again, another cancelled cruise for us in 2020! The good news is that Scarlet Lady is ready to welcome passengers once cruising resumes in the United States.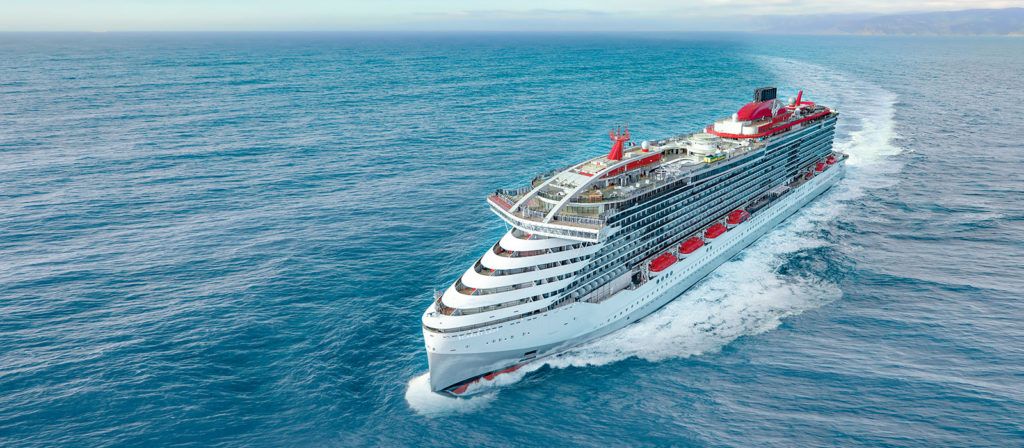 Scarlet Lady is breaking the cruise mold and restricting the age of its "sailors" to 18+. Virgin Voyages is hoping that this kids-free atmosphere will draw a more sophisticated crowd. They are especially looking to appeal to those who might not ordinarily consider a cruise for their next vacation.
Scarlet Lady aims to revolutionize the whole dining experience on a cruise ship. Being ahead of the curve when it comes to casual dining, the ship will not feature a "buffet". In addition, Scarlet Lady will not have a traditional main dining room. There are 20+ dining options on the ship that are all included in the cruise fare.
From casual options to upscale dining experiences, there will be no up-charges to dine at any of the restaurants. These options include Wake, the glamourous steak and seafood restaurant with great aft views and Extra Virgin, an Italian trattoria serving handmade pasta. There is also the lively Korean BBQ restaurant, Gunbae, and Pink Agave, an upscale Mexican restaurant.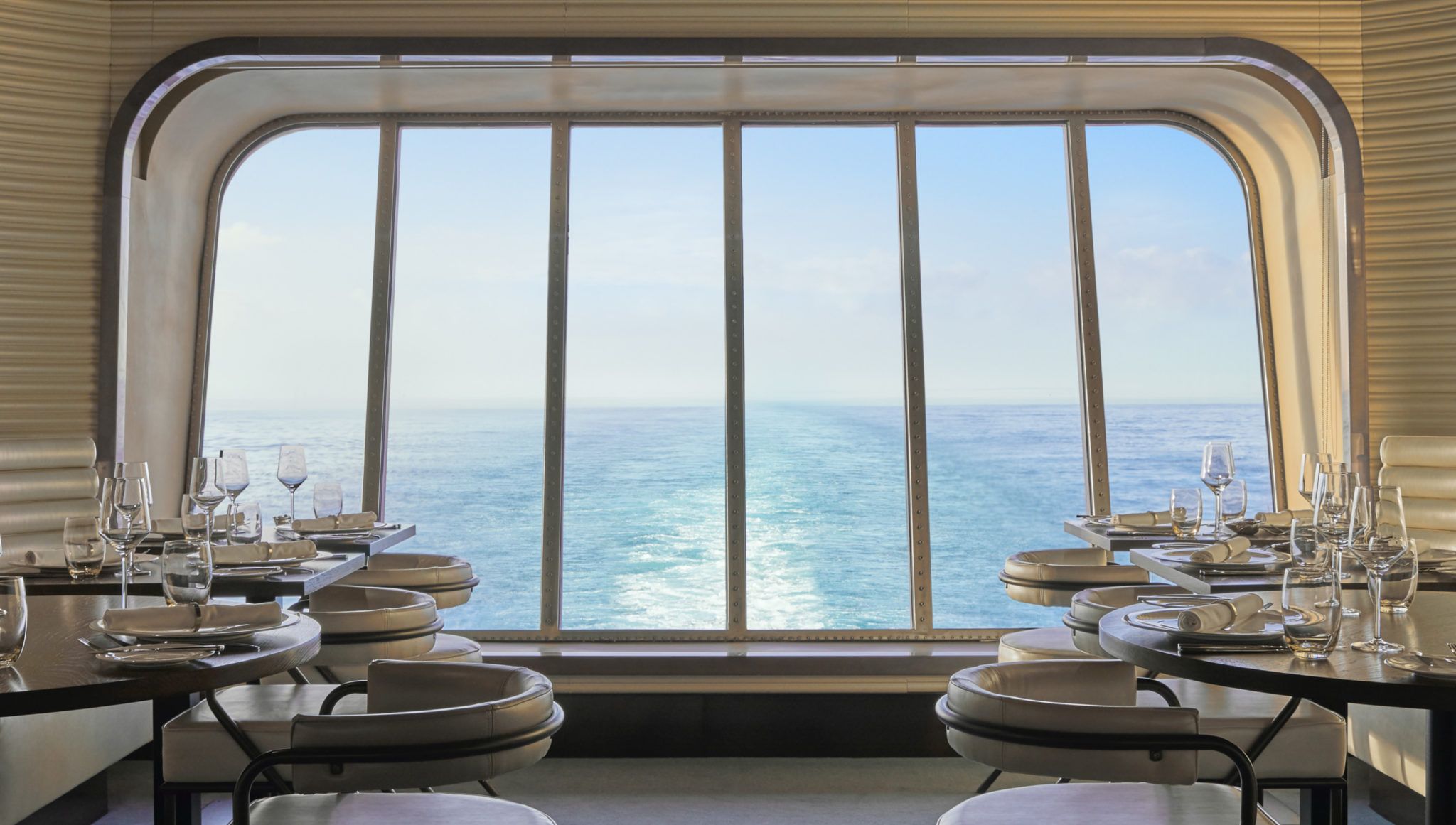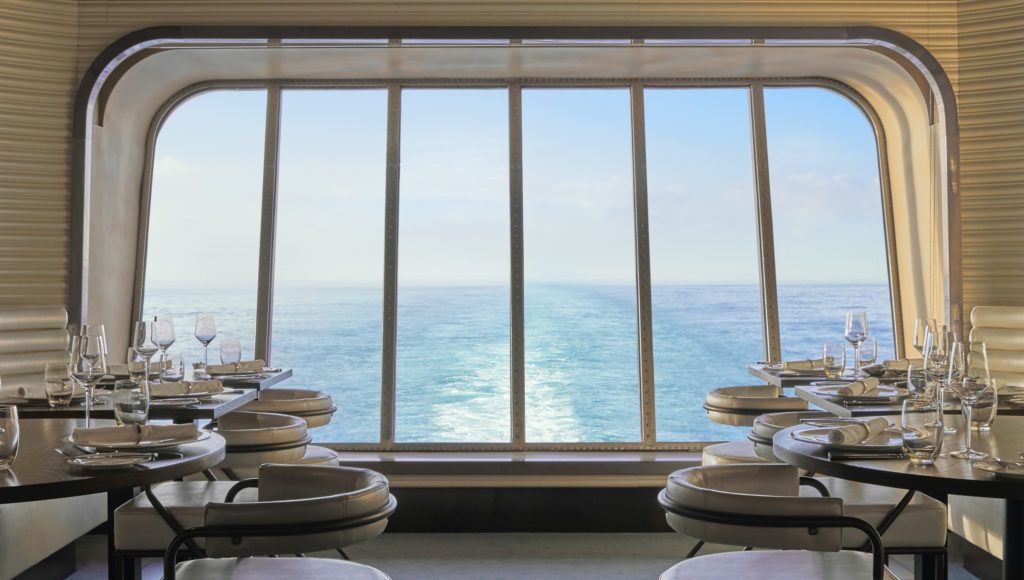 All cruise fares on Virgin Voyages will include basic beverages like soda, bottled water, non-pressed juices, coffee, and tea. Cruise fares will also include all gratuities, even on services such as spa treatments. Other inclusions that are normally an up-charge on competitor brands are basic WiFi for all passengers, as well as group fitness classes.
The Caribbean itineraries on Scarlet Lady provide a few different 4 and 5- day options. These shorter itineraries are ideal for a return to cruising after the pandemic. Besides being close to home, these itineraries feature destinations that fewer cruise ships visit. Among them are Key West, FL, Puerto Plata, Dominican Republic, Playa Del Carmen, and the private Beach Club at Bimini.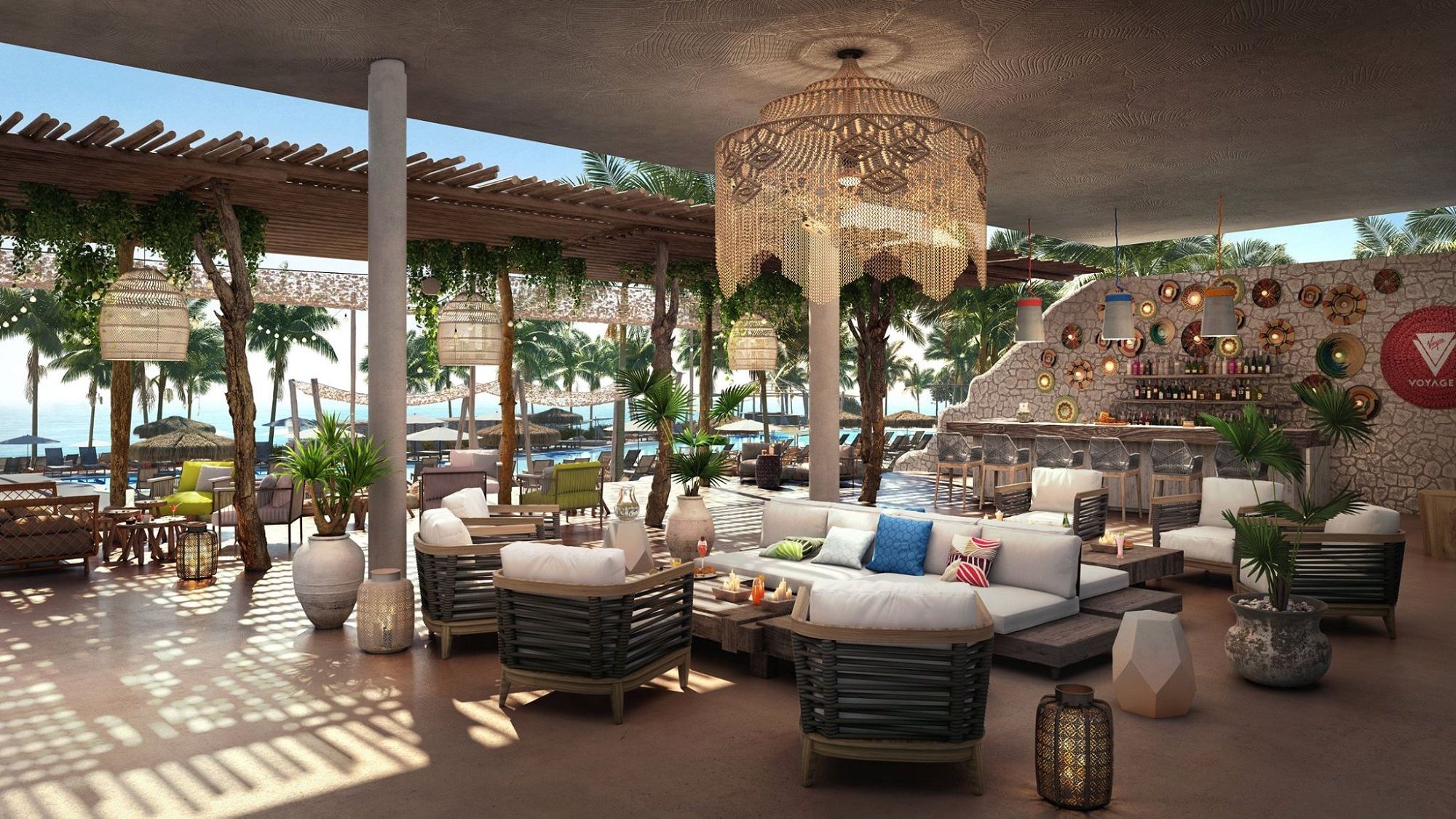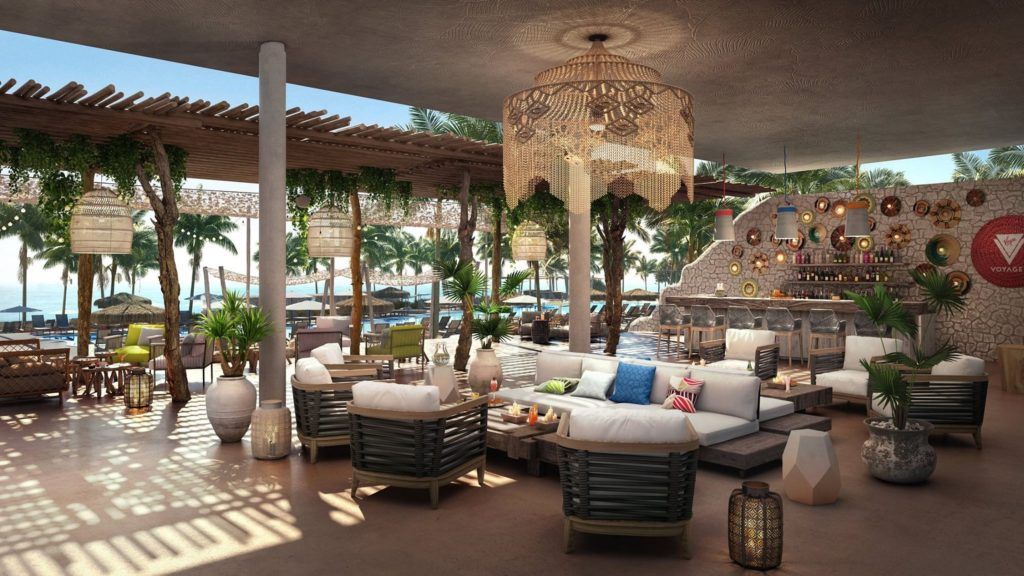 Virgin Voyages second ship, Valiant Lady, will set sail in Spring of 2021. The ship will visit some of the Mediterranean's most famous cities and islands from its homeport in Barcelona. These itineraries will feature longer port stays and an overnight stop in Ibiza. The ship will then transition to Miami, Florida for the winter season sailing 6 and 8-night cruises to the Caribbean.
Related Post: Virgin Voyages New Health and Safety Measures
Enchanted Princess
Enchanted Princess will be the fifth Royal-class ship in the Princess Cruises fleet when she debuts. Also delayed as a result of the pandemic, Enchanted Princess has successfully completed her sea trials and now awaits a delivery date. Currently, Princess Cruises has extended its pause on global cruise operations through December 15, 2020. Therefore, Enchanted Princess is another great choice for a 2021 cruise.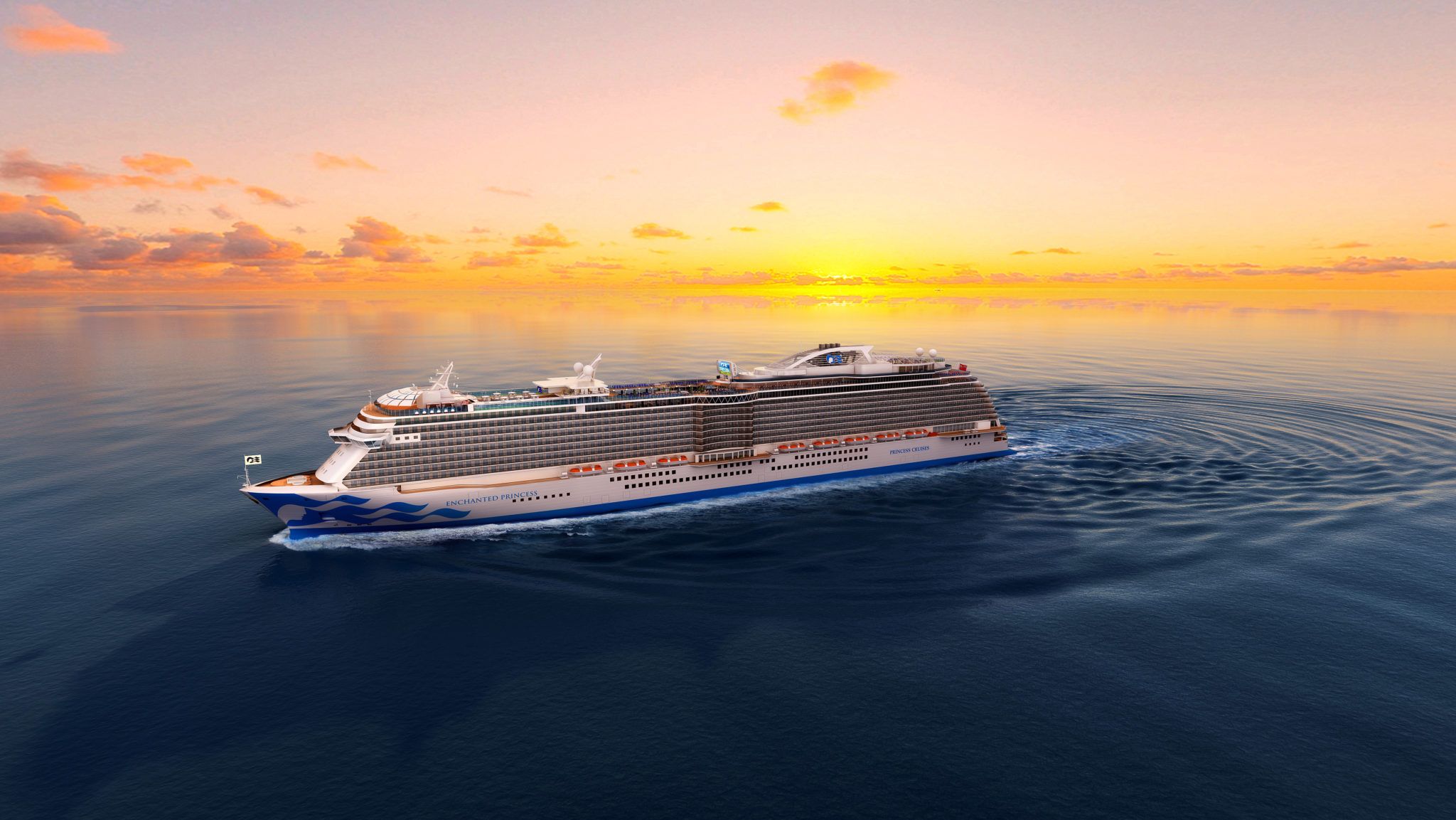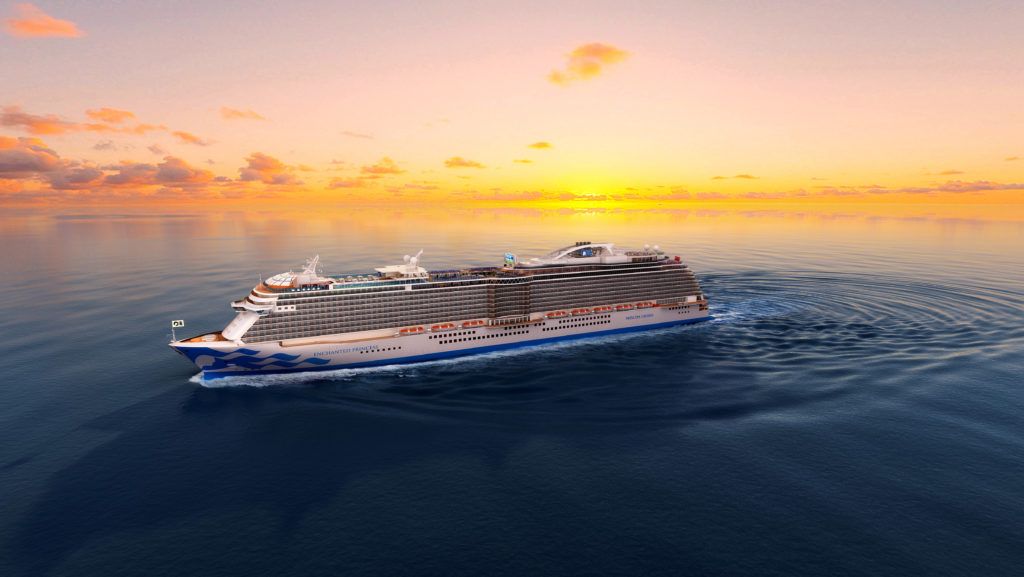 The brand-new Enchanted Princess will sail Caribbean itineraries this winter from Ft. Lauderdale followed by European itineraries from Barcelona, Rome, and Athens for the Summer 2021.
The ship will share all of the spectacular style and luxury of its predecessors, while also introducing some new attractions of her own. Boasting the most pools and whirlpools ever, Enchanted Princess will feature two pools with sunken communal seating. In addition, the ship will also feature the Wakeview infinity pool and bar where you can score some amazing aft views.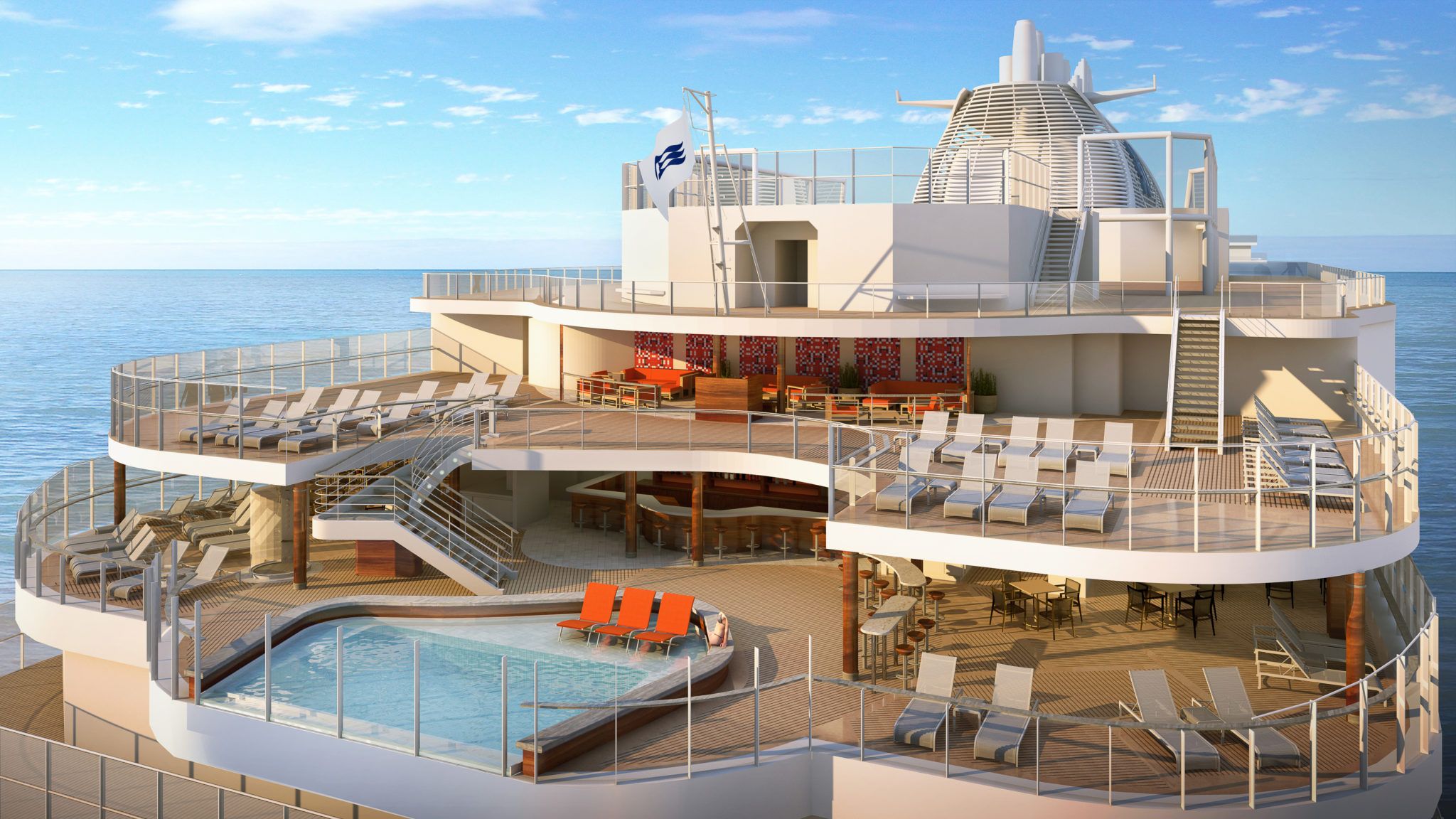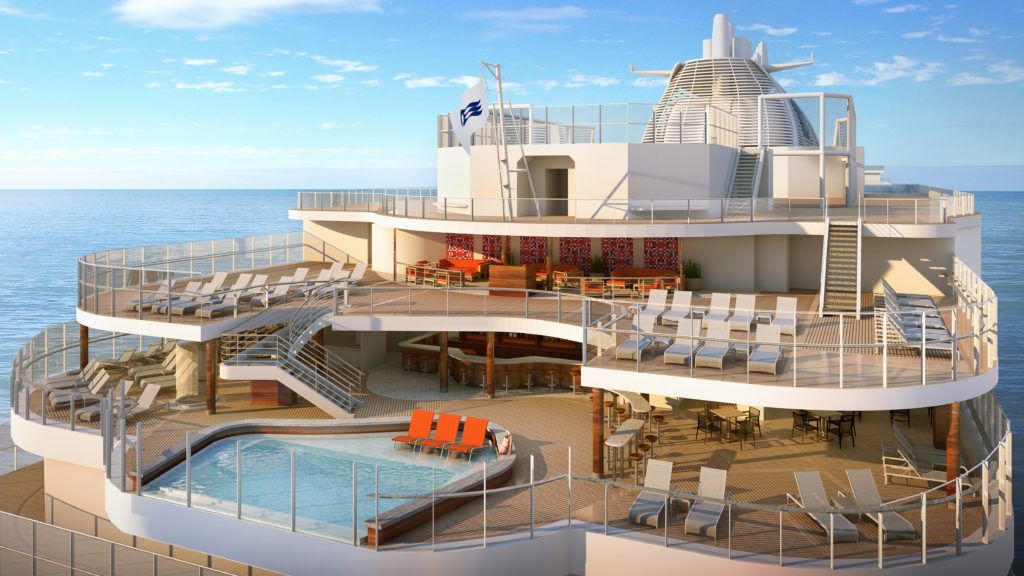 Cruisers on this ship can enjoy comedy and other live performances in Princess Live!, relive the Jazz era in the only jazz theater at sea, and enjoy original nighttime productions exclusive to the ship. The line's signature Movies Under the Stars and the Piazza with street performers will also be featured on Enchanted Princess to keep guests entertained day or night.
Enchanted Princess features all the familiar favorite restaurants like the Crown Grill Steakhouse and Sabatini's Italian Trattoria. Guests can also indulge in French bistro-style dining with a modern twist at Bistro Sur La Mer, created in partnership with Michelin Star Chef Emmanuel Renaut.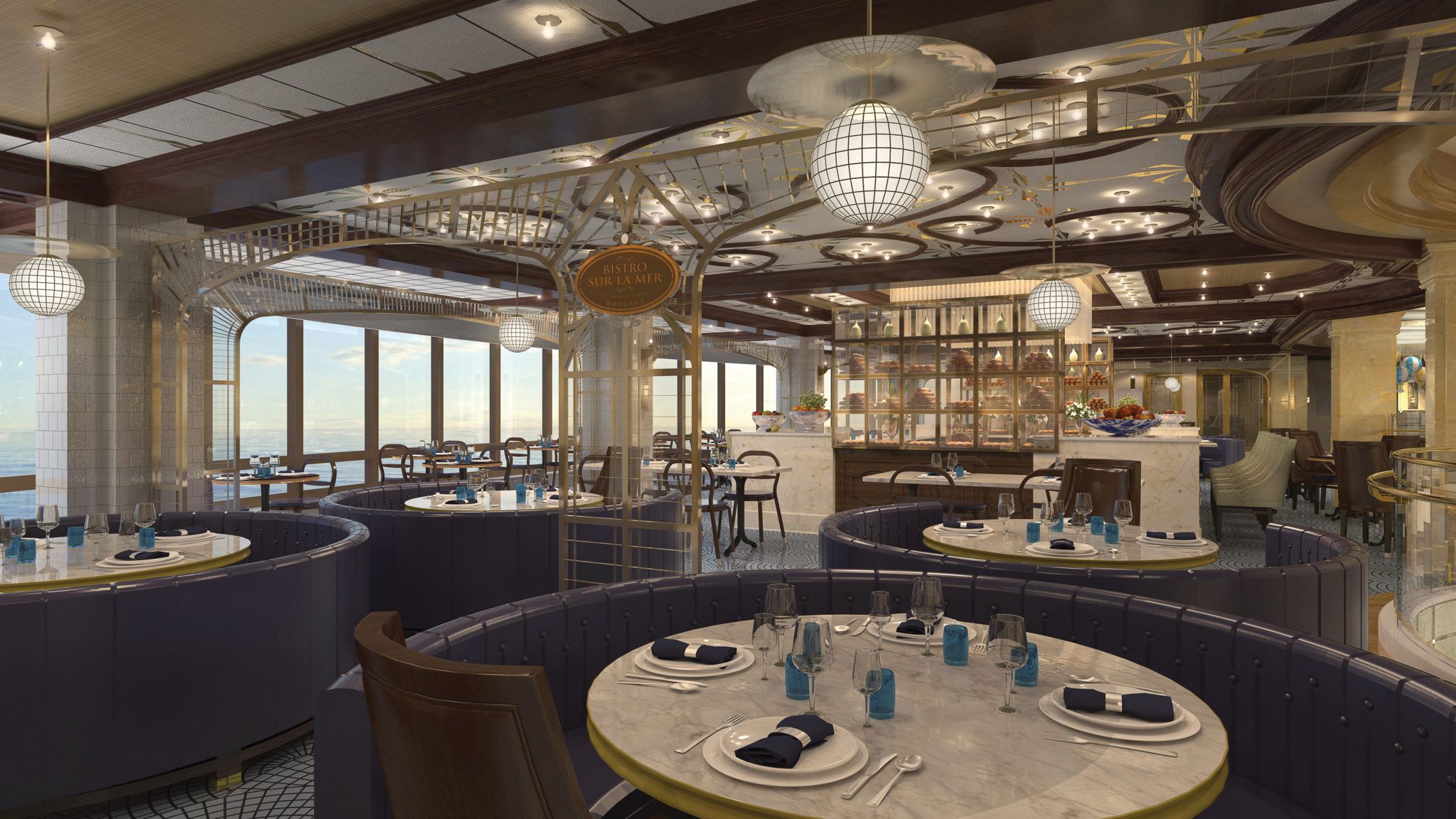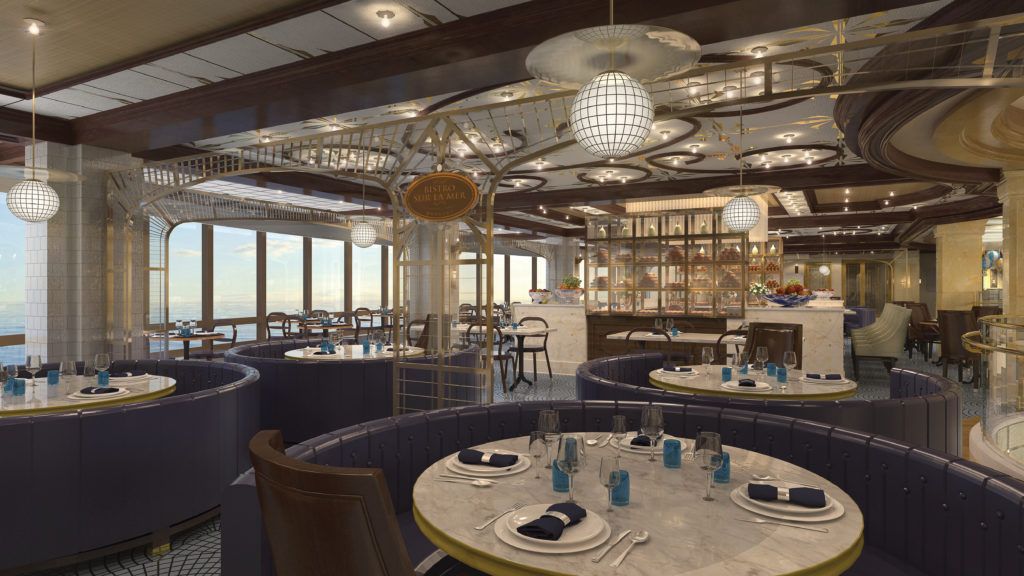 Enchanted Princess will be the latest edition to the line-up of MedallionClass ships. This contactless technology will be at the forefront for healthy and safe cruising experiences in the COVID-era. With the OceanMedallion, guests can enjoy a more seamless cruise experience. This starts with the embarkation process, to automatically opening your stateroom door, controlling other in-room features, and even more digital experiences throughout the ship.
Viking Venus
We experienced our first Viking Ocean cruise last year and loved it. If you are looking for a luxury cruise experience in 2021, look no further than Viking Cruises.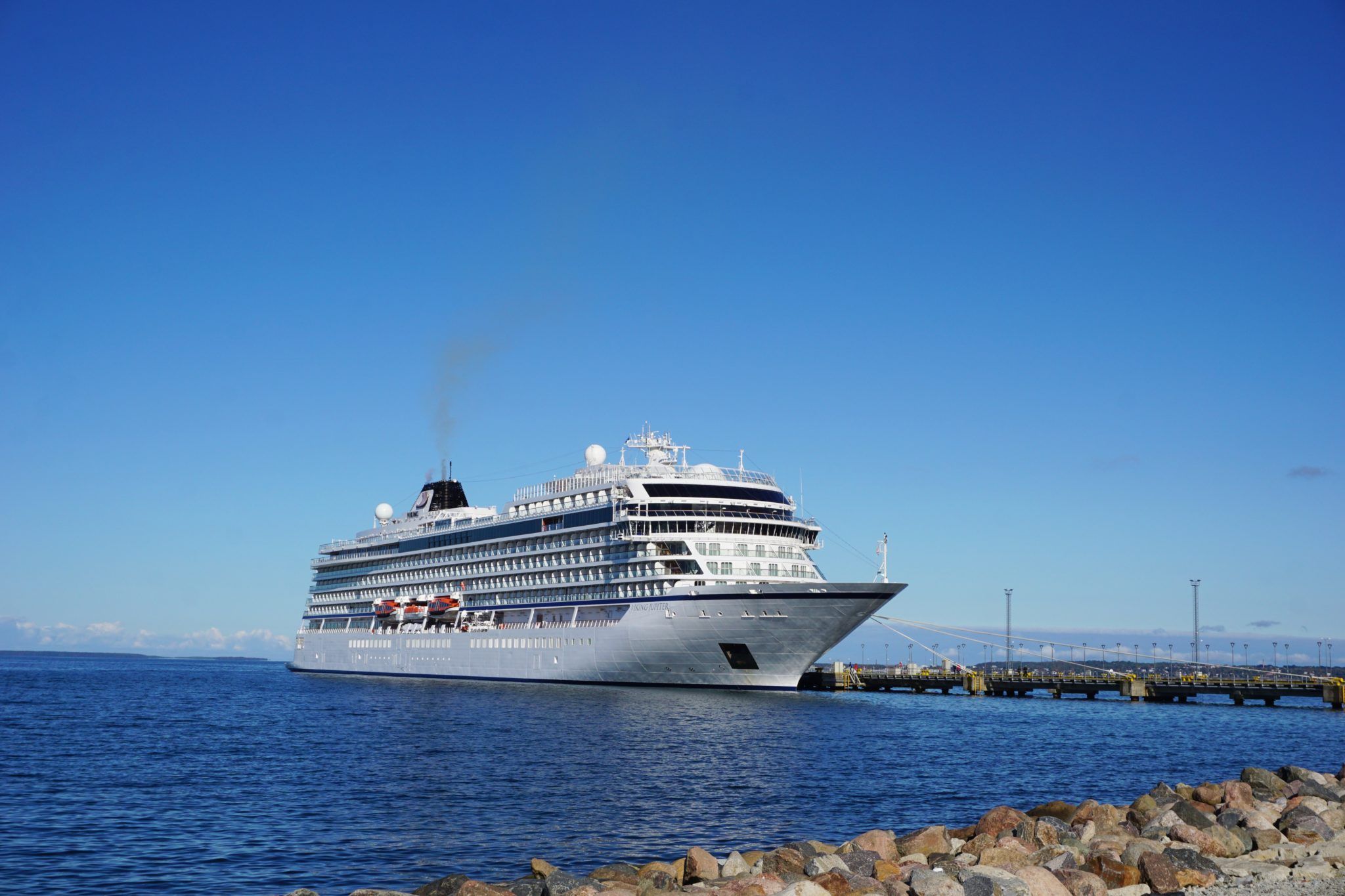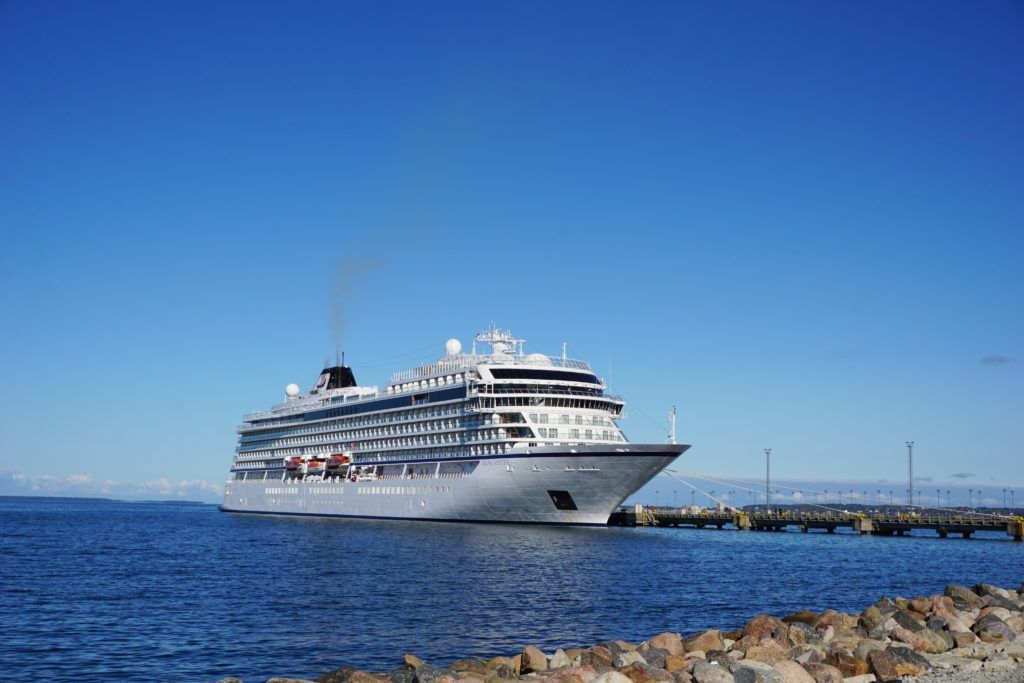 With 6 ocean cruise ships currently in the fleet, and the 7th on its way, Viking Cruises offers a variety of itineraries exploring various corners of the globe.
Related Post: Viking Jupiter Cruise Review
Whether you want to explore the Baltic, the Mediterranean, the British Isles, Greece, or beyond, you can do so in style with this cruise line. Debuting in early 2021, Viking Venus is the newest ship in the fleet. However, all of the brand's ocean-going ships are mostly identical.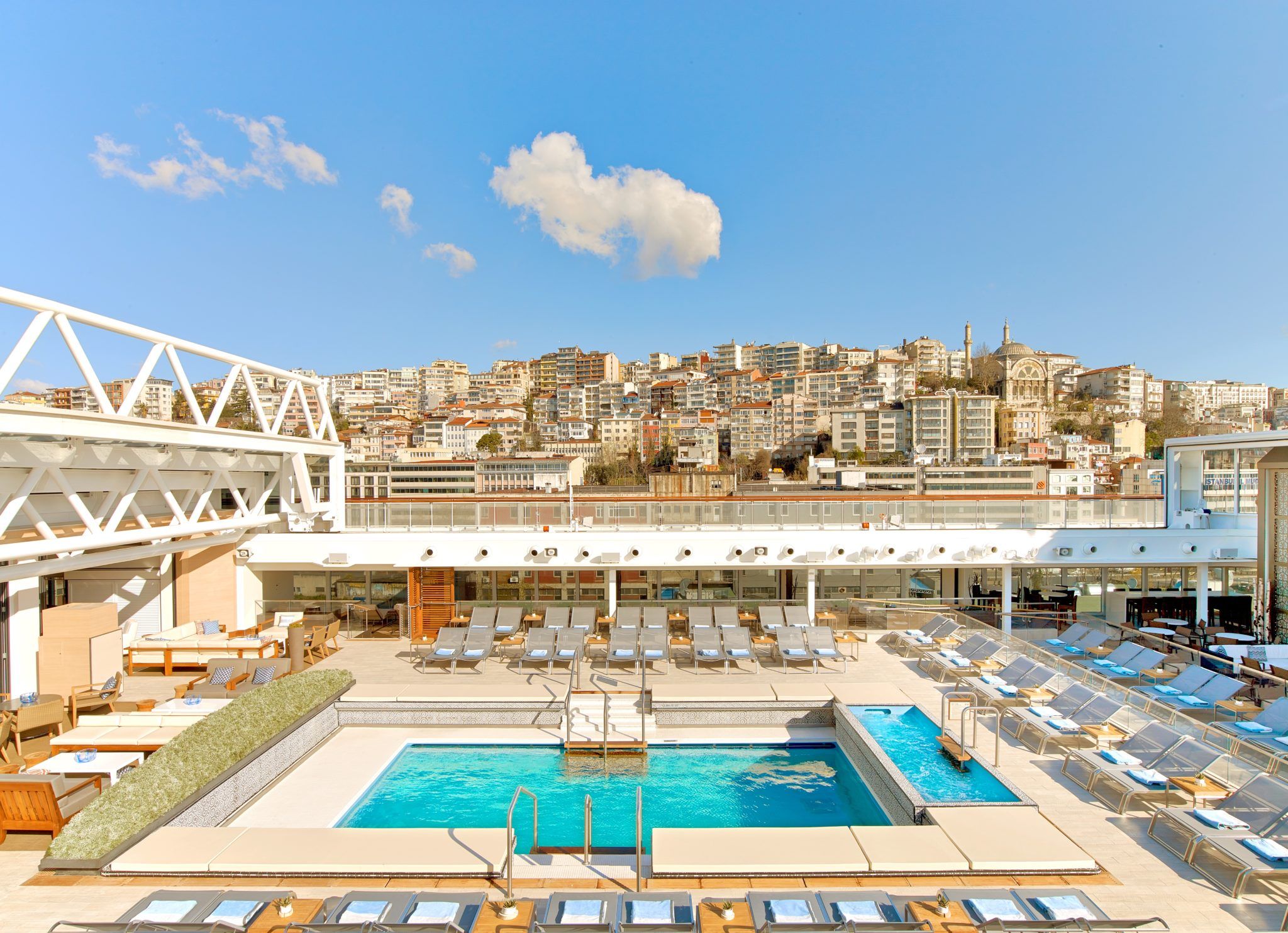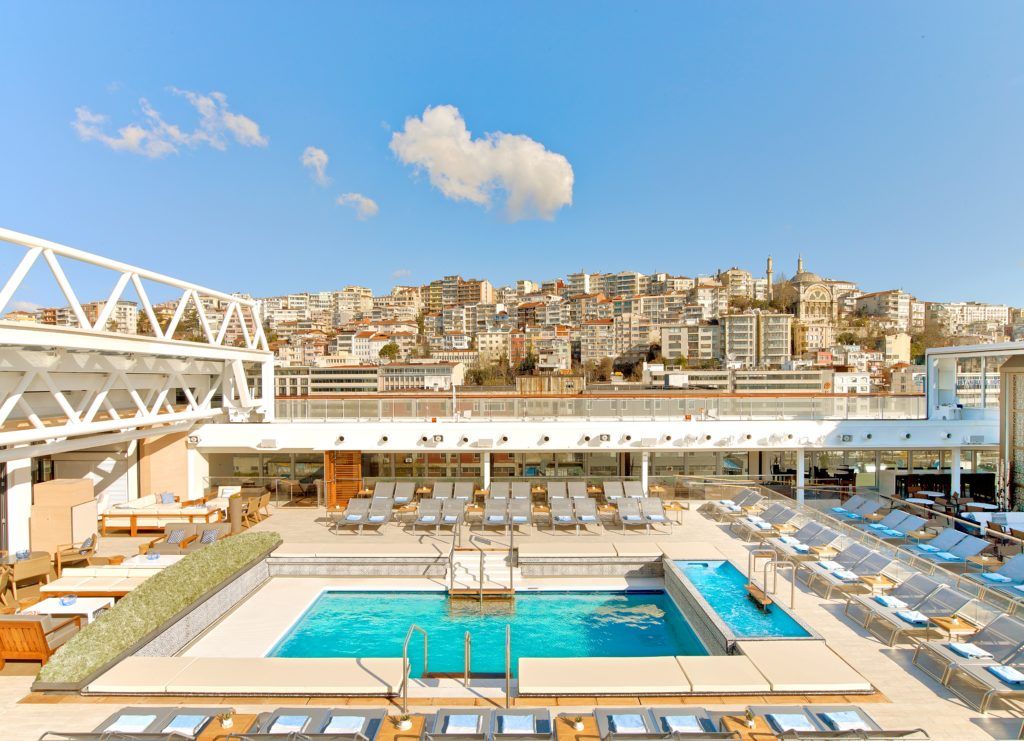 Viking Cruises offers destination-focused itineraries to compliment the unparalleled service and inclusive nature of the cruise line.
These small 930-passenger vessels boast state of the art technology and all veranda staterooms. On a Viking ocean cruise, you will enjoy a free tour in each port of call, WiFi, no up-charges for specialty dining, and complimentary room service. Additional inclusions are beer, wine, and soft drinks at meals, specialty coffees and bottled water, and access to the thermal suite. There is no nickel and diming on a Viking cruise!
Although the ships are smaller in size, Viking Cruises offers several dining options. In our opinion, it is some of the best food at sea. If you are looking for a casual atmosphere, the World Cafe offers buffet-style meals including a sushi bar with indoor seating or al fresco seating at the Aquavit Terrace. Guests can also enjoy Mamsen's, a gourmet Scandinavian deli, and afternoon tea in the Wintergarden.
For a more gourmet meal, Viking Venus has a main dining room, Manfredi's Italian restaurant, and Chef's Table. The best news is that all of these restaurants are part of the cruise fare.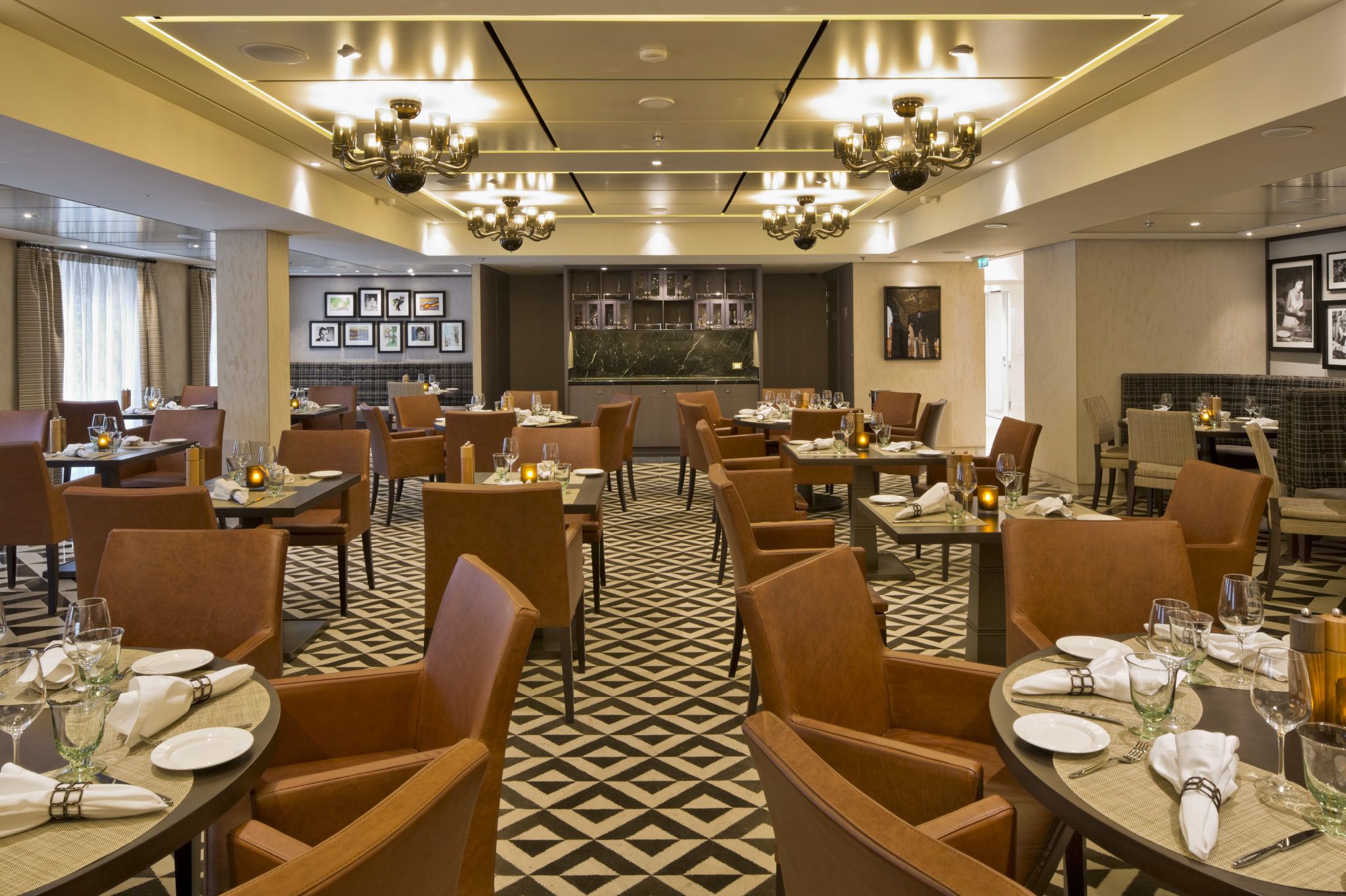 While you are not enjoying your ports of call, you can relax in the thermal suite or admire the views from the infinity pool. Perhaps, you might choose to enjoy a performance in the theater, dance the night away in Torshavn, or sip a drink in good company in the Explorers' Lounge.
MSC Virtuosa
MSC Cruises' newest mega-ship, MSC Virtuosa, has also been delayed due to shipyard closures related to COVID-19. Now, this second Meraviglia-Plus class ship will be delivered early in the new year.
This sister ship to Grandiosa will carry more than 6,000 passengers. MSC Virtuosa will truly embody its namesake with every deck named after a musical instrument. It will also feature two brand new Cirque du Soliel shows.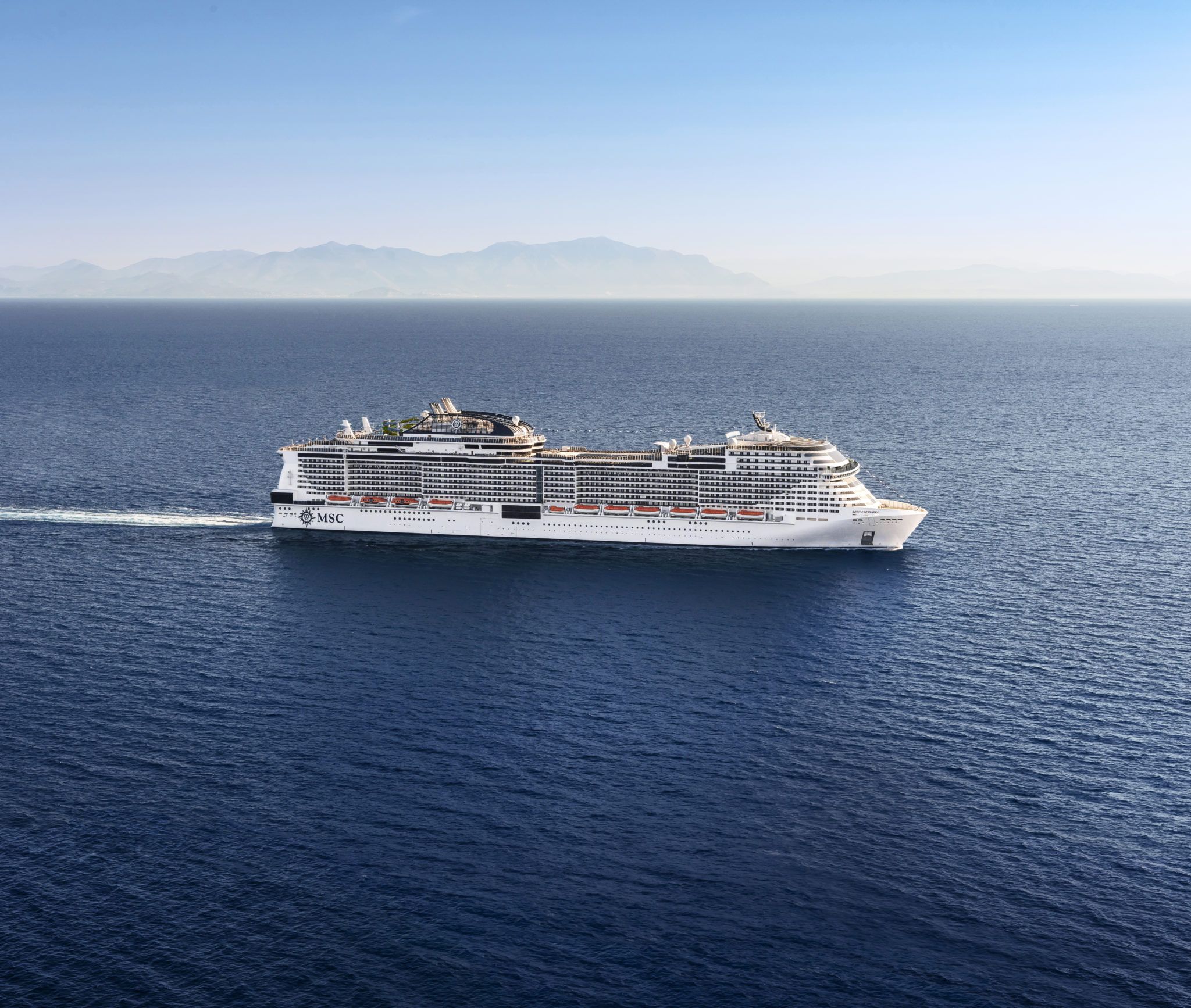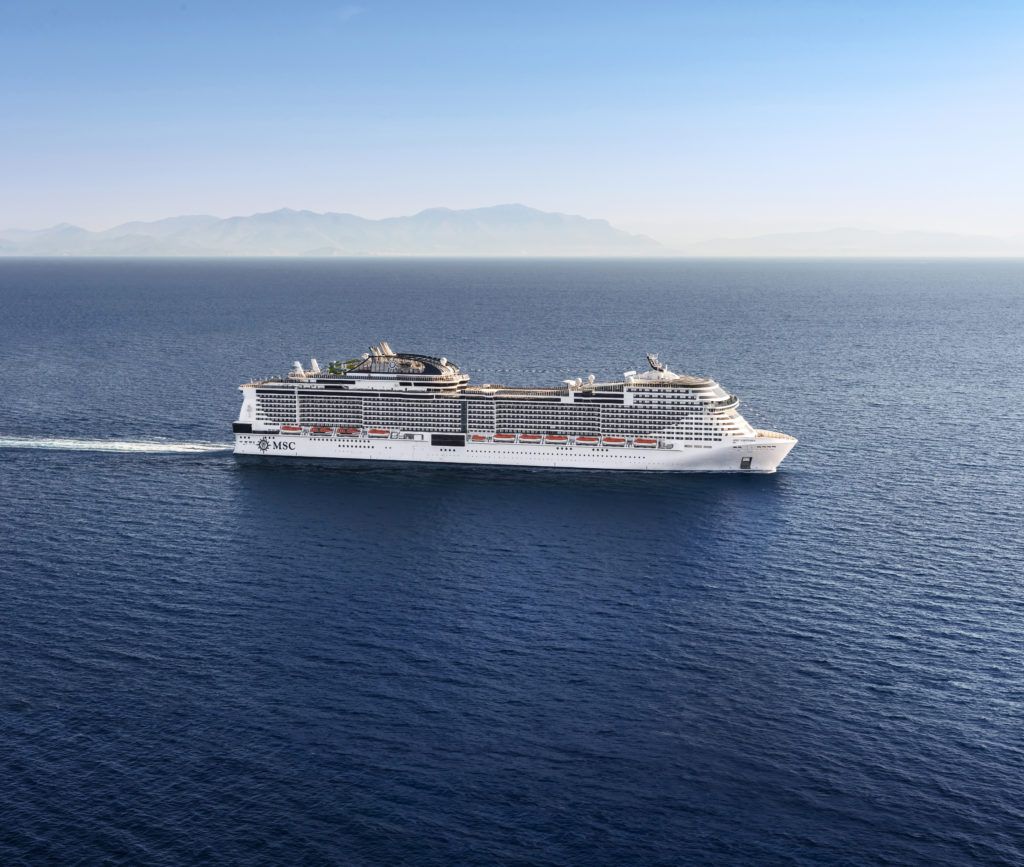 For a little daytime fun, cruisers of all ages can enjoy one of the most intricate waterparks at sea, the Sportplex, and F1 racing simulators. Or, guests can choose to relax on one of the most spacious pool decks at sea, offering 5 unique pools.
Related Post: Reasons to Love MSC Meraviglia
The ship will also feature the popular Galleria Virtuosa. This indoor promenade will be home to the longest LED Dome at sea. In addition, the area will be home to several restaurants and shops, making it the ideal location day or night.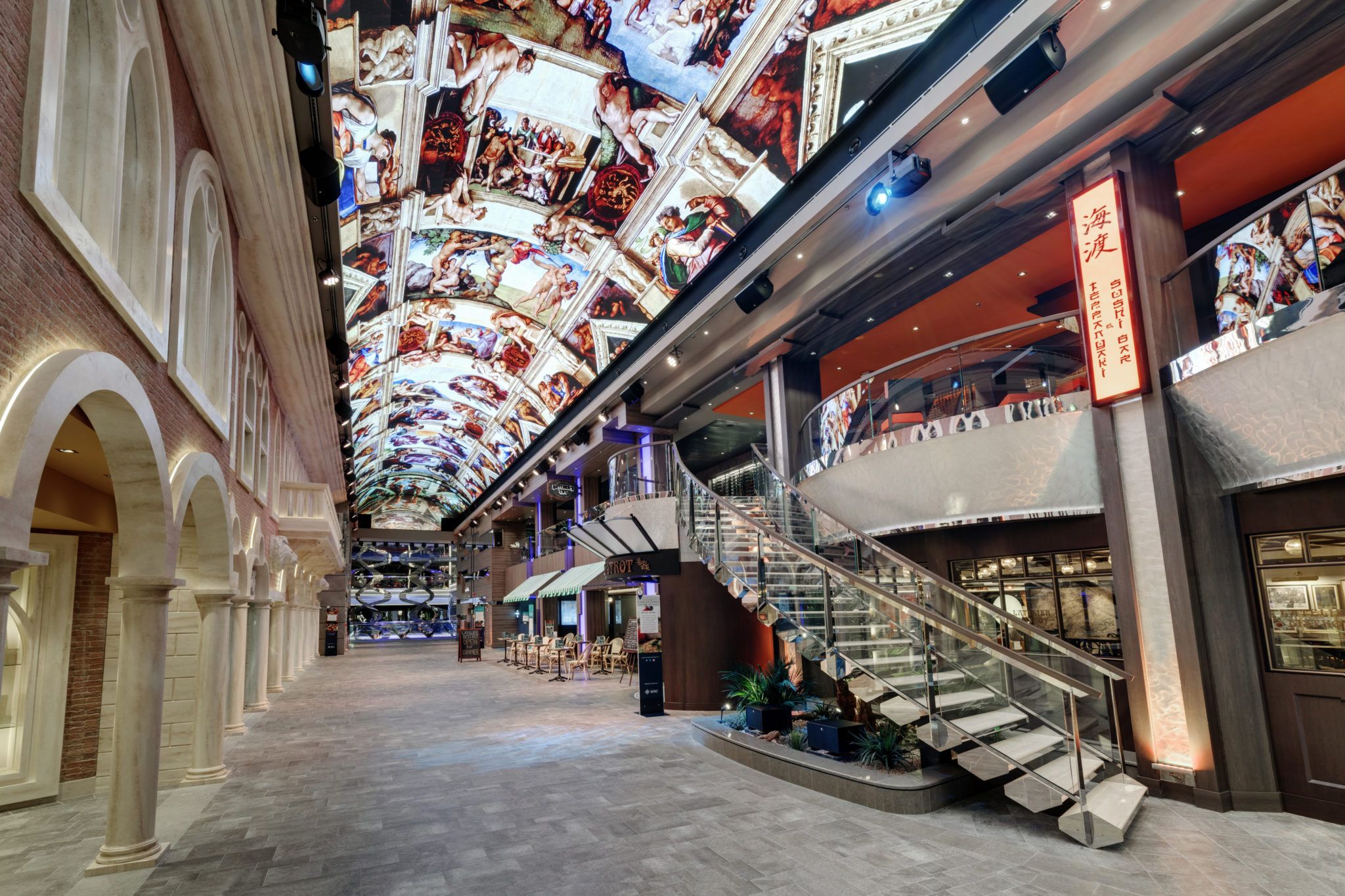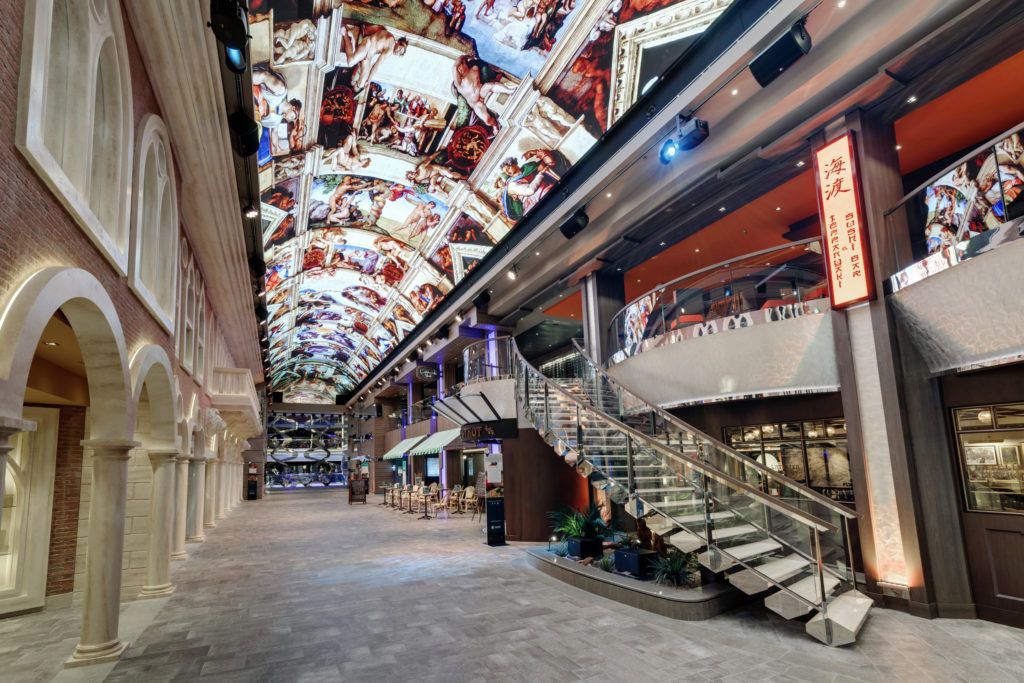 In terms of dining, MSC Virtuosa will offer 11 distinct venues with a variety of culinary options. Guests can expect the popular Butcher's Cut Steakhouse, Kaito Teppanyaki and Sushi Bar, and HOLA! Tapas Bar. There will also be a French bistro and a brand-new Indochine restaurant onboard the ship. Further, the ship will be home to 21 bars, each offering a unique experience.
When MSC Virtuosa launches, it will be one of the most technologically enhanced ships sailing the Mediterranean. With the MSC for Me app and the virtual assistant Zoe, your cruise vacation will be seamless, personalized, and contactless.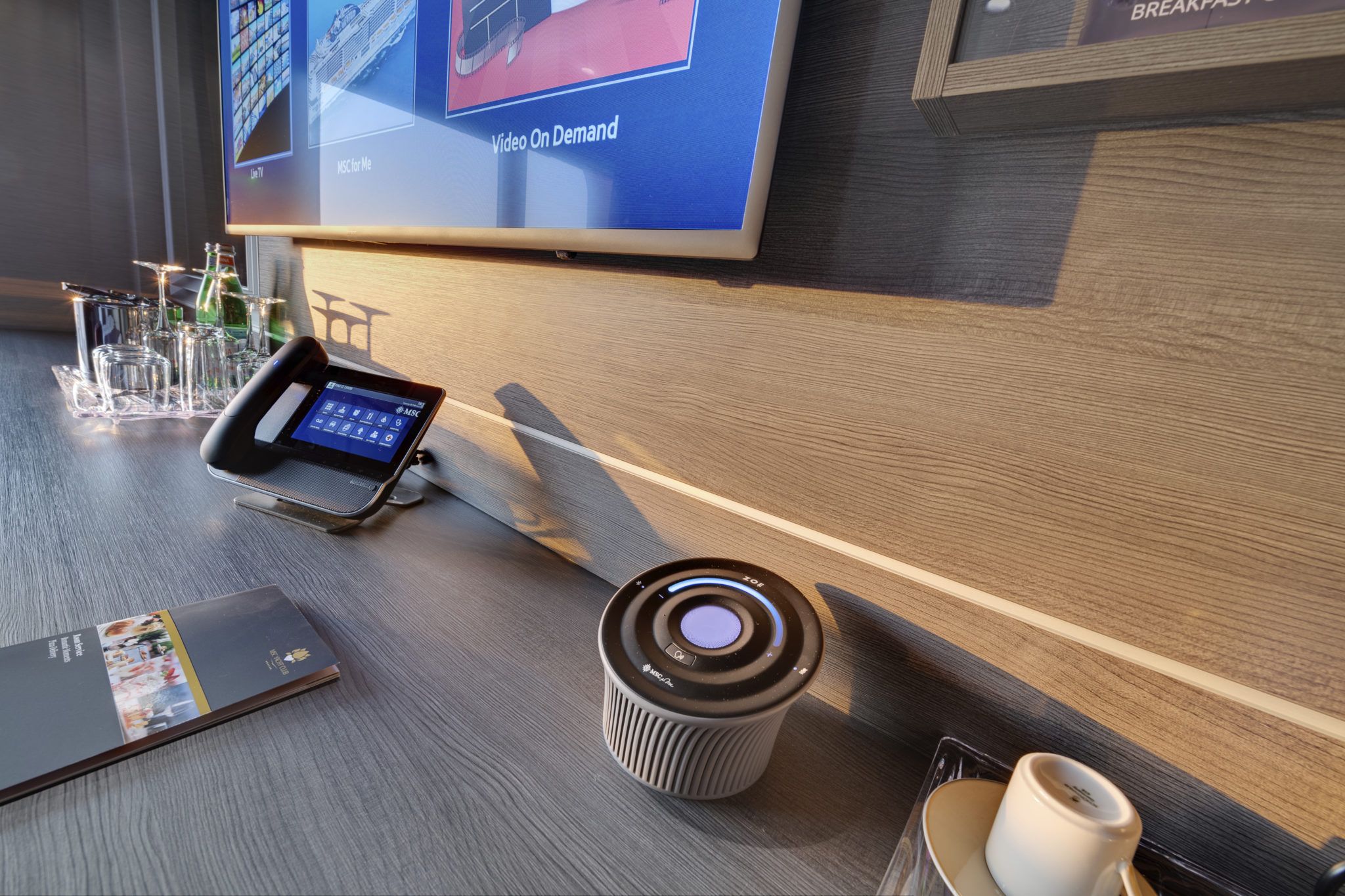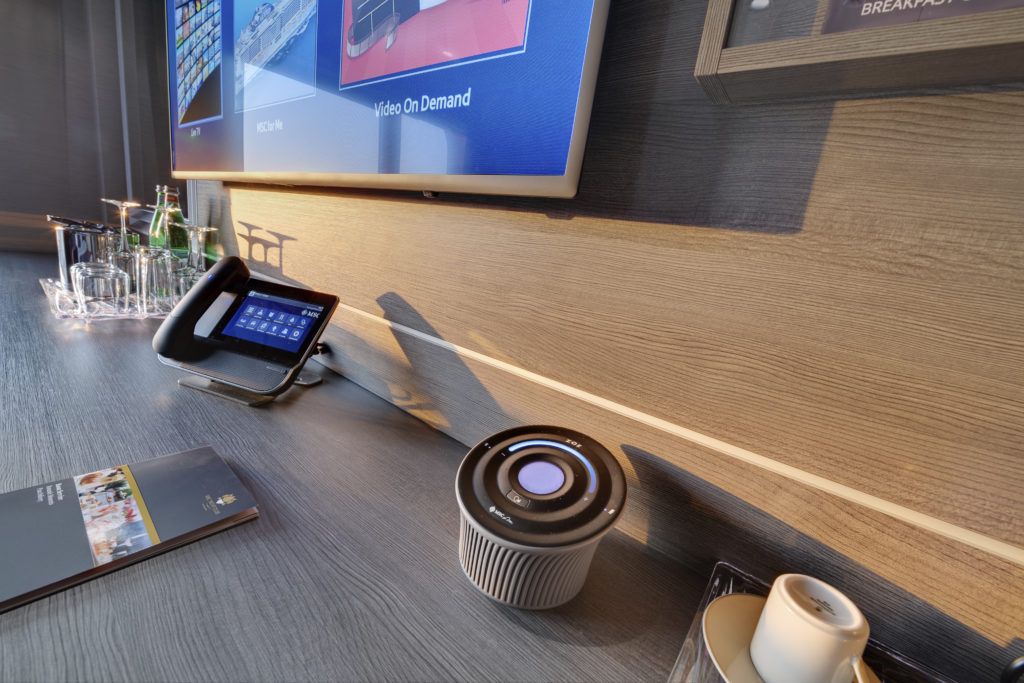 You can use the app to stay connected with friends and family onboard for no additional charge and have access to interactive maps. Additionally, guests can make reservations, get answers to all their questions without waiting in line at guest services, and so much more.
With the successful re-start of MSC Grandiosa, MSC Virtuosa will sail the Mediterranean and Northern Europe in Spring/Summer 2021. MSC Cruises has already announced its Health and Safety Protocols. These comprehensive protocols are designed to keep guests safe during this COVID-era of cruising.
Related Post: MSC Cruises Comprehensive Health and Safety Protocols
Norwegian Spirit
Earlier this year, Norwegian Cruise Line unveiled the all-new Norwegian Spirit following a $100 million revitalization as part of the Norwegian Edge program. The ship received the most extensive bow to stern makeover in the company's history.
Norwegian Spirit emerged from a 43-day dry dock with renovations to all dining venues, staterooms, and public areas, as well as new hull art. That is why this ship makes our list of best new cruise ships for 2021, even though it is technically not "new".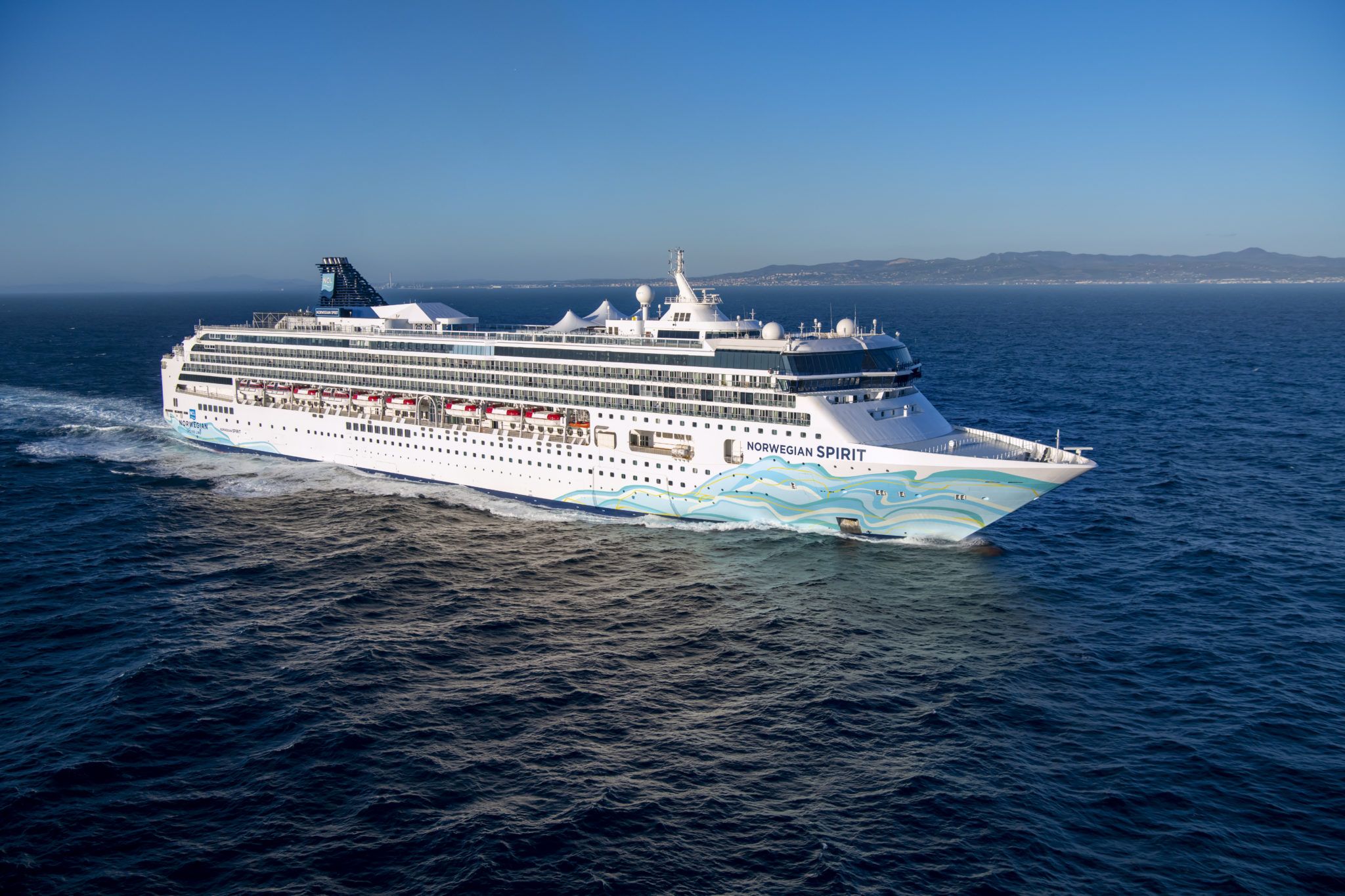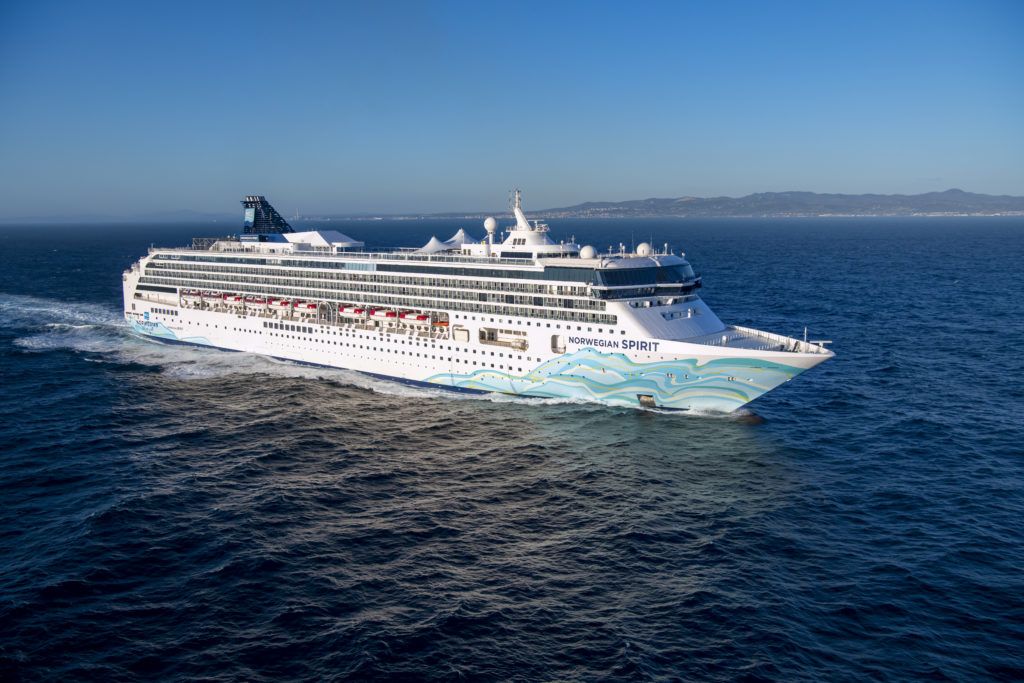 Norwegian Spirit was set to homeport in Athens offering 7-day cruises to the Greek Isles this year. Of course, this plan was derailed by COVID. Though, the ship will sail the Mediterranean and the Greek Isles once cruising resumes.
Some of Norwegian Spirit's enhancements include a larger Mandara Spa, complete with a new thermal suite and relaxation area. The ship will also feature the second Onda by Scarpetta restaurant at sea. This restaurant which debuted on Norwegian Encore gets two thumbs up from us!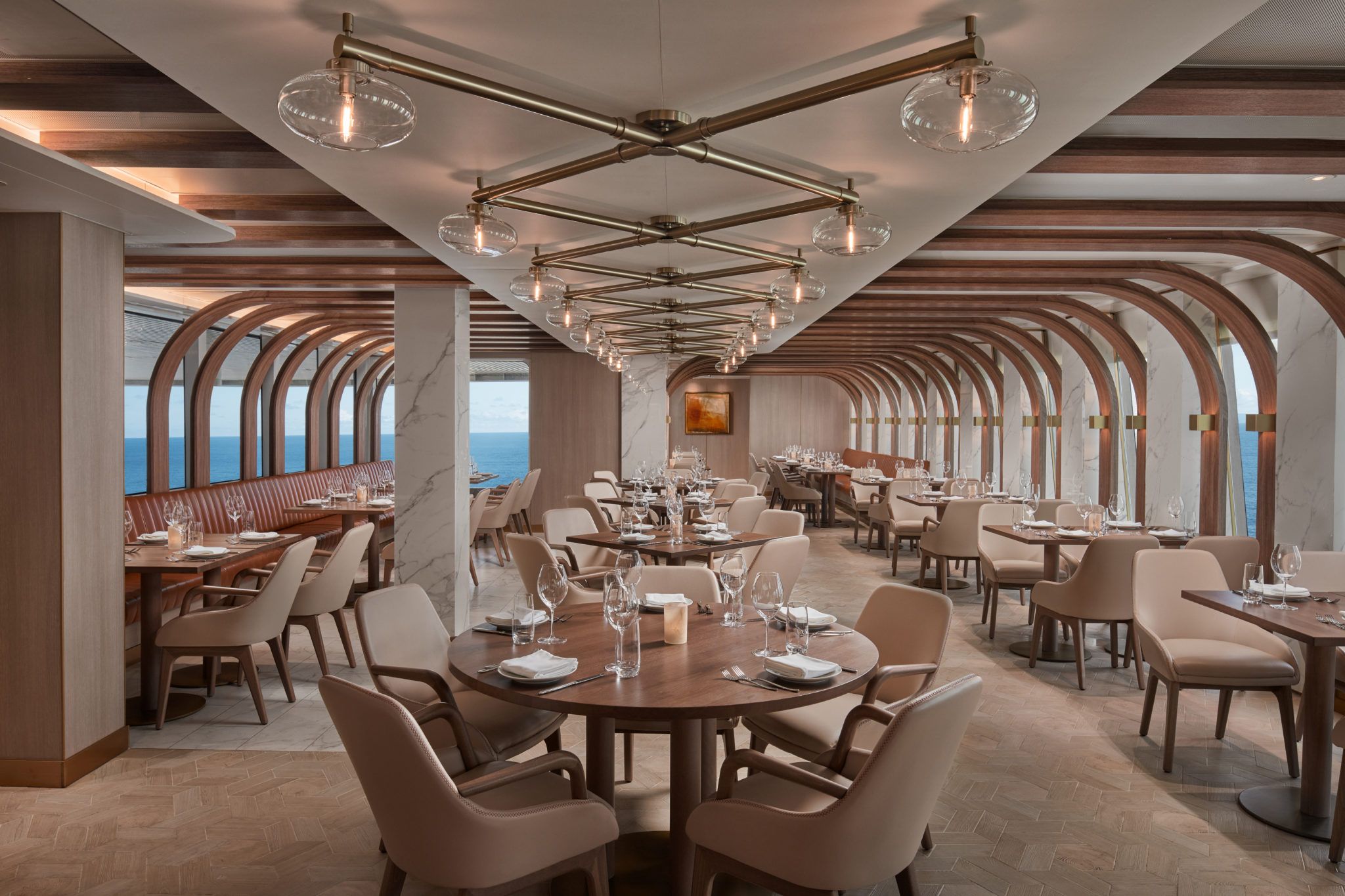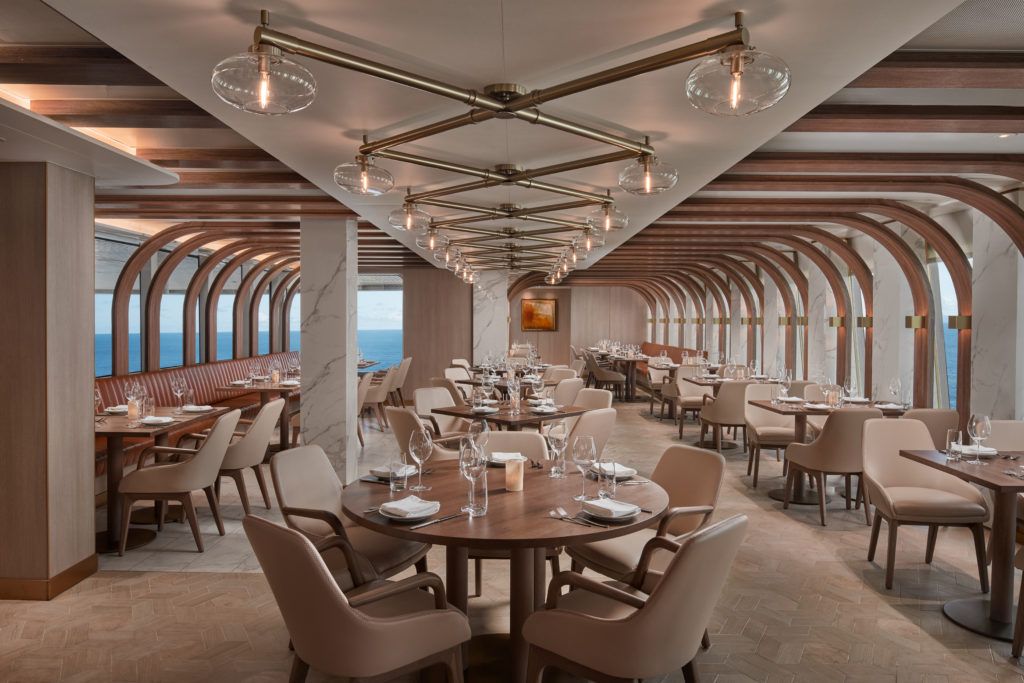 New complimentary dining venues on Norwegian Spirit include an extra main dining room and the 24-hour Local Bar and Grill. In addition, the ship offers the buffet-style Garden Café, the Great Outdoors Bar, and Waves Pool Bar. Making their debut on Norwegian Spirit are also the popular Bliss Ultra Lounge and the adults-only retreat Spice H2O.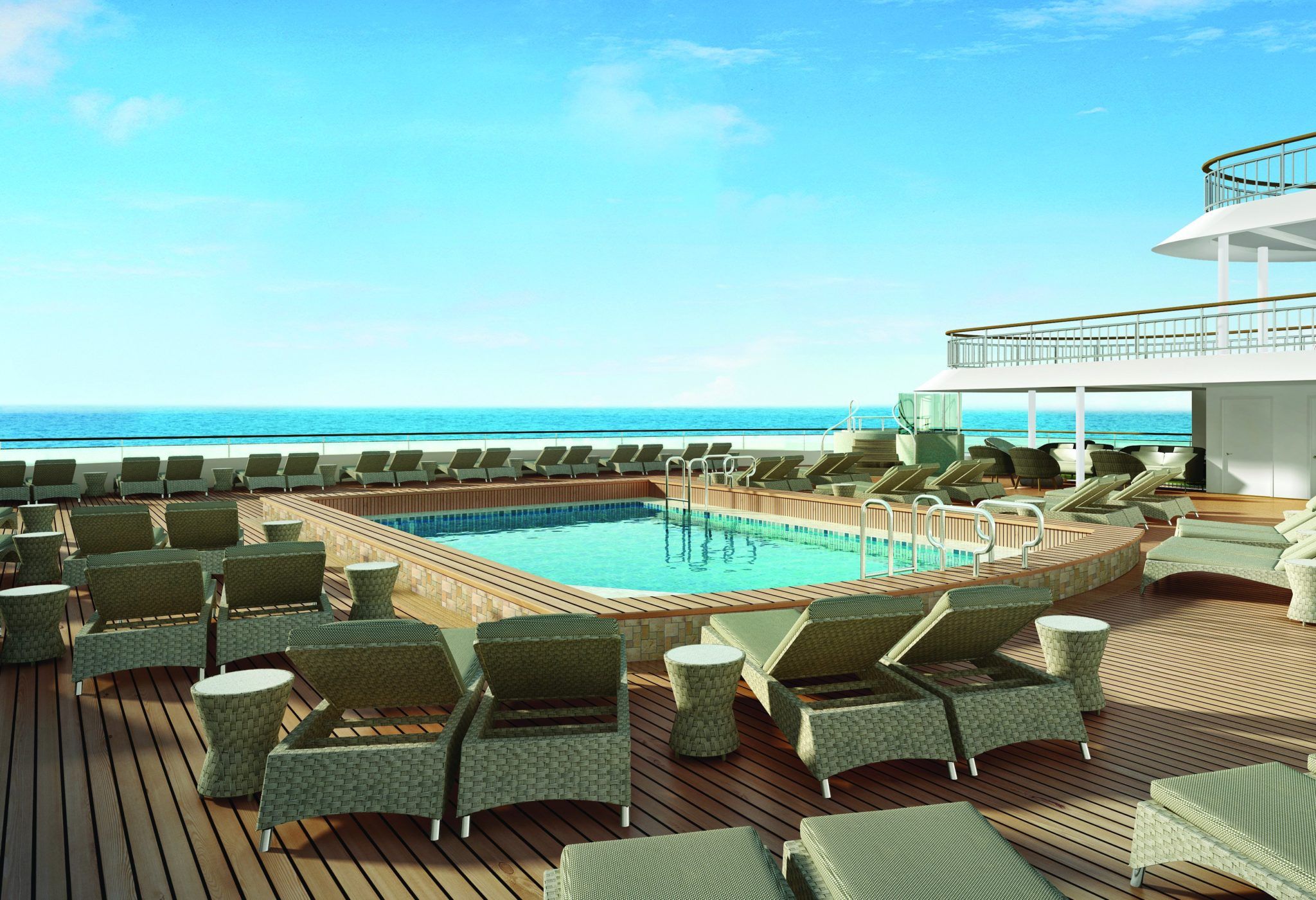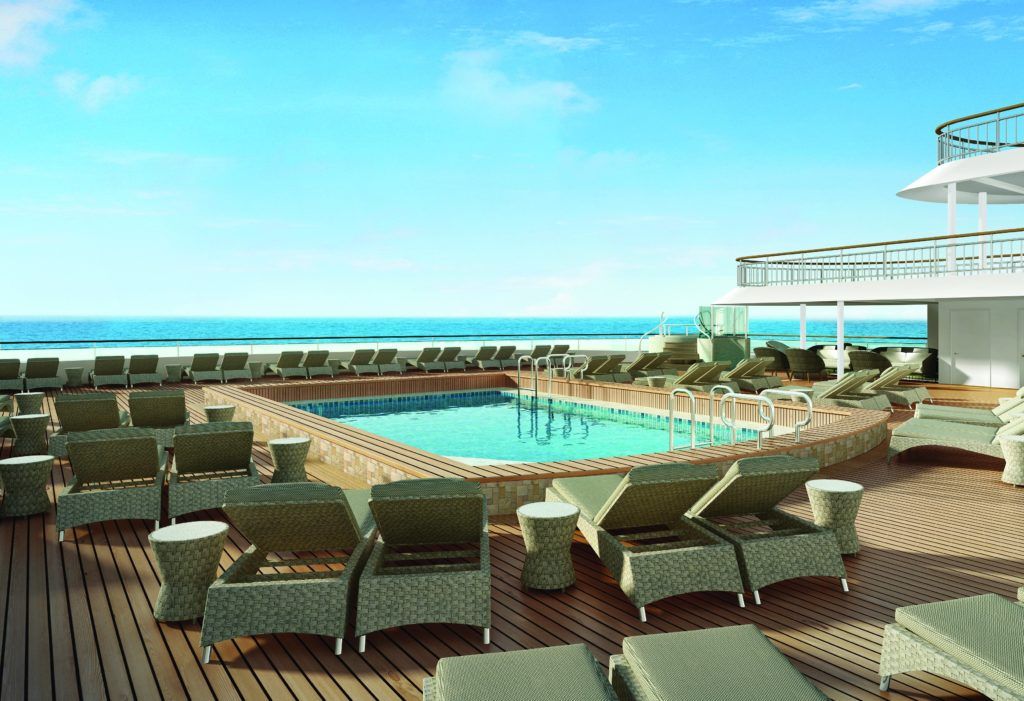 Norwegian Spirit will continue to offer NCL's signature Freestyle approach to dining; it will also offer familiar favorites when it comes to specialty dining, like Cagney's Steakhouse and Le Bistro. Additionally, guests can enjoy nightly entertainment in the Stardust Theater or drinks in one of the many bars and lounges after a long day ashore exploring the ports of call.
Related Post: Things You Can Only Find on Norwegian Cruise Line
Carnival Radiance
Much like Norwegian Spirit, Carnival Radiance has undergone an extensive $200 million refurbishment. The Carnival Victory departed PortMiami on March 2nd bound for Cadiz, Spain where she was set to undergo a 38-day dry dock. The ship was set to emerge as Carnival Radiance back in April. Yet again, the global pandemic interrupted this plan.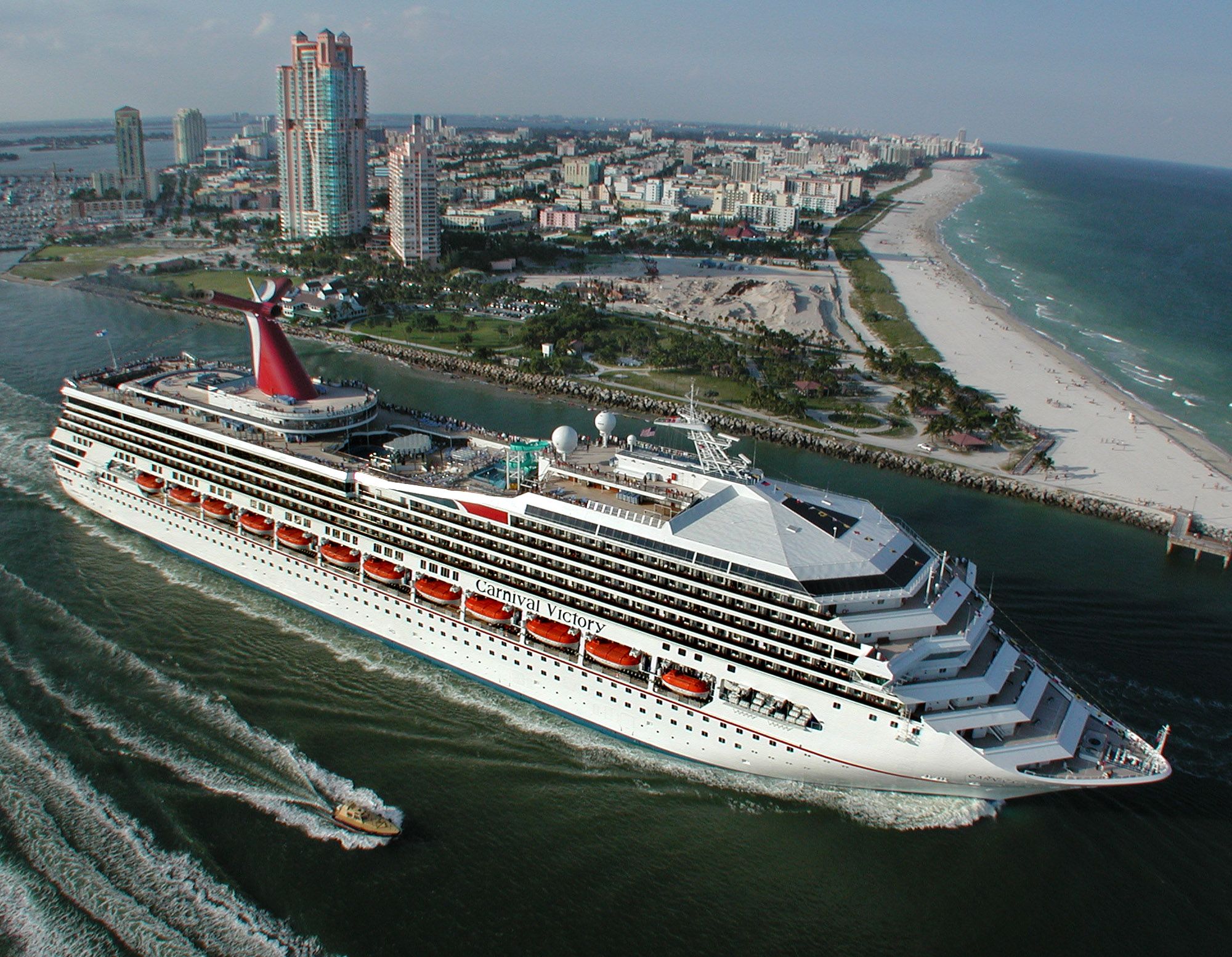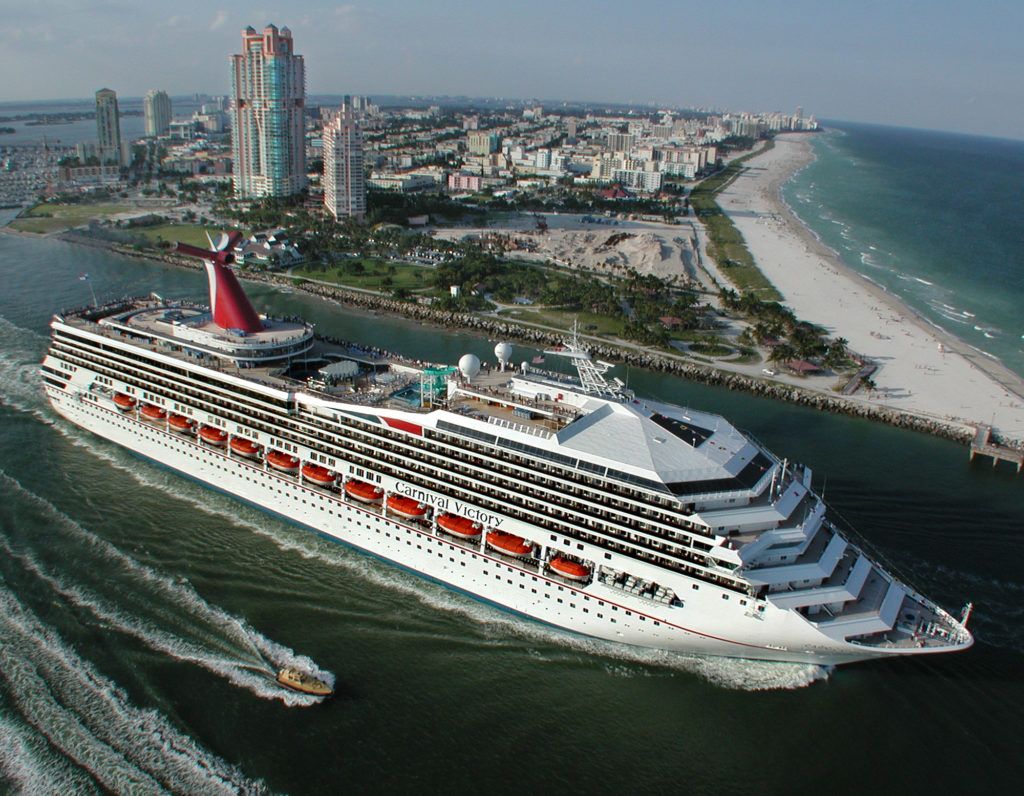 Carnival Radiance will now debut in Spring of 2021 from Long Beach, California. This "new" ship will sail 3 and 4-day cruises to Baja Mexico visiting Catalina Island and Ensenada.
Carnival Radiance will offer some of the latest bars, activities, amenities, and dining spots. Among Carnival Radiance's many offerings will be the first-ever Big Chicken at sea restaurant, created by the line's Chief Fun Officer, Shaquille O'Neal.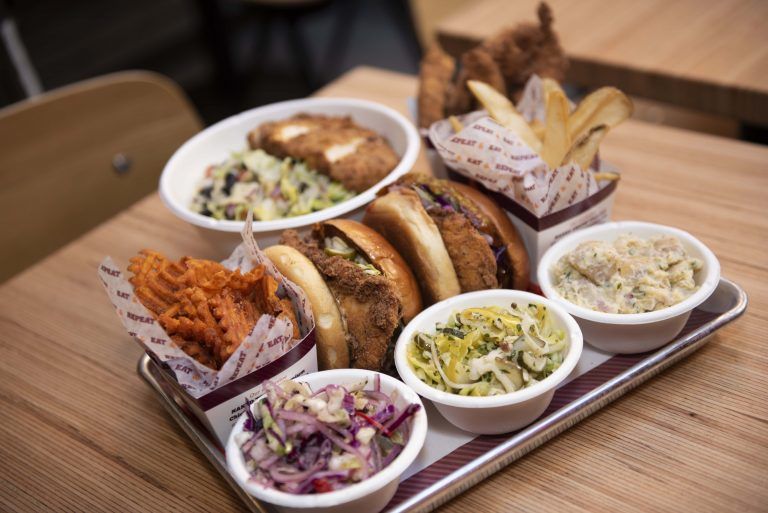 Other new offerings added to Carnival Radiance during her makeover will include Guy's Pig & Anchor Bar-B-Que Smokehouse created by Guy Fieri and Cucina del Capitano family-style Italian restaurant. There will also be a Bonsai Sushi and the Caribbean-inspired RedFrog Pub. Additionally, all of the ship's spaces will be transformed including the water park, youth facilities, retail shops, and Cloud 9 Spa.
During the day, guests can seek some relaxation at the Serenity adults-only retreat or get their game on in the SportSquare. Perhaps, you can splash away in the Waterworks aquapark or take a dip in one of the pools.
In the evenings, guests can take in a show at the new Liquid Lounge which will be home to Carnival's award-winning Playlist Productions shows. Or, you can enjoy a Dive-In Movie on the lido deck. You can laugh it up at the Punchliner Comedy Club as well. Further, there will be plenty of live music throughout the ship and all of your favorite watering holes like the Alchemy Bar.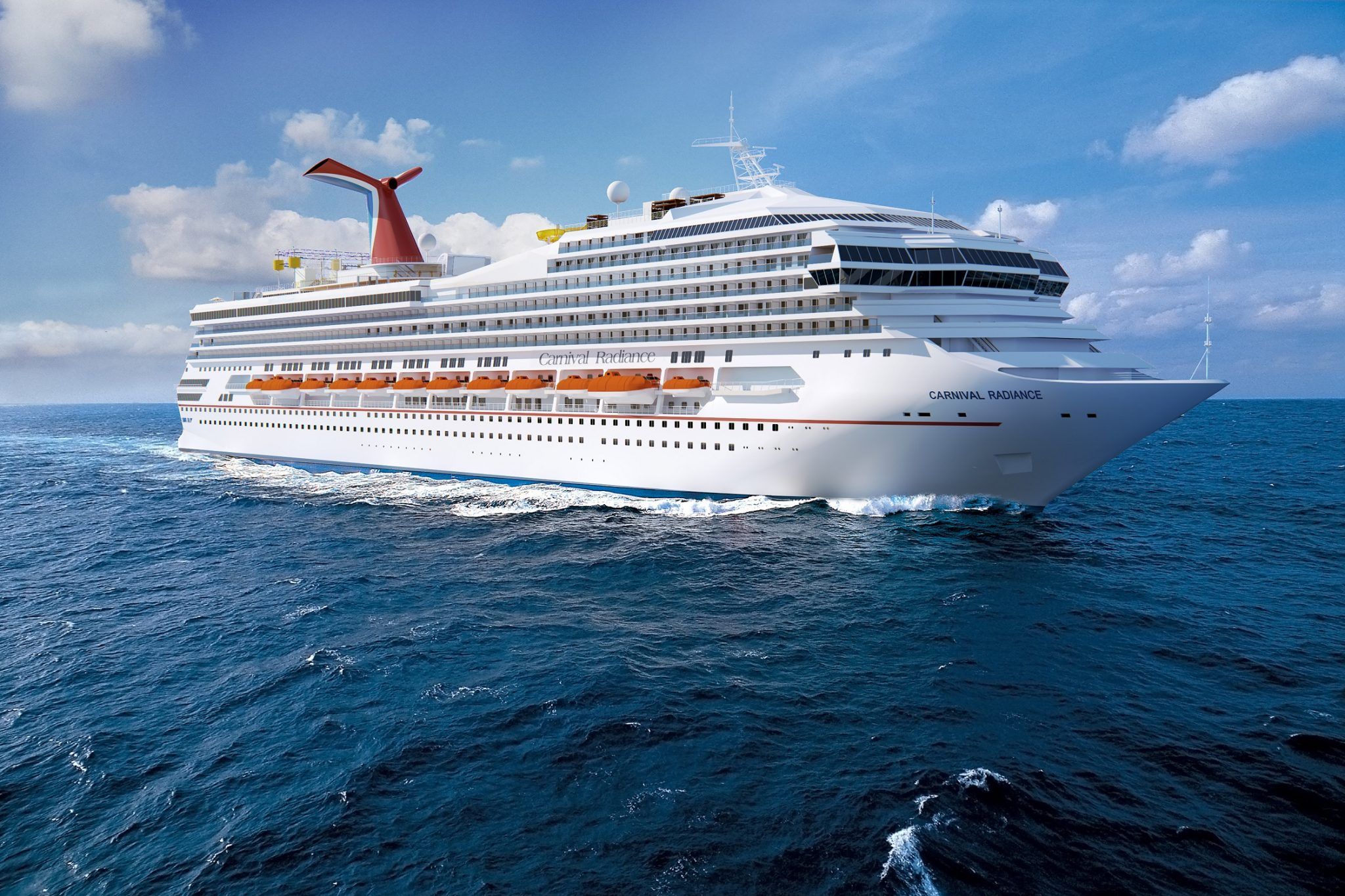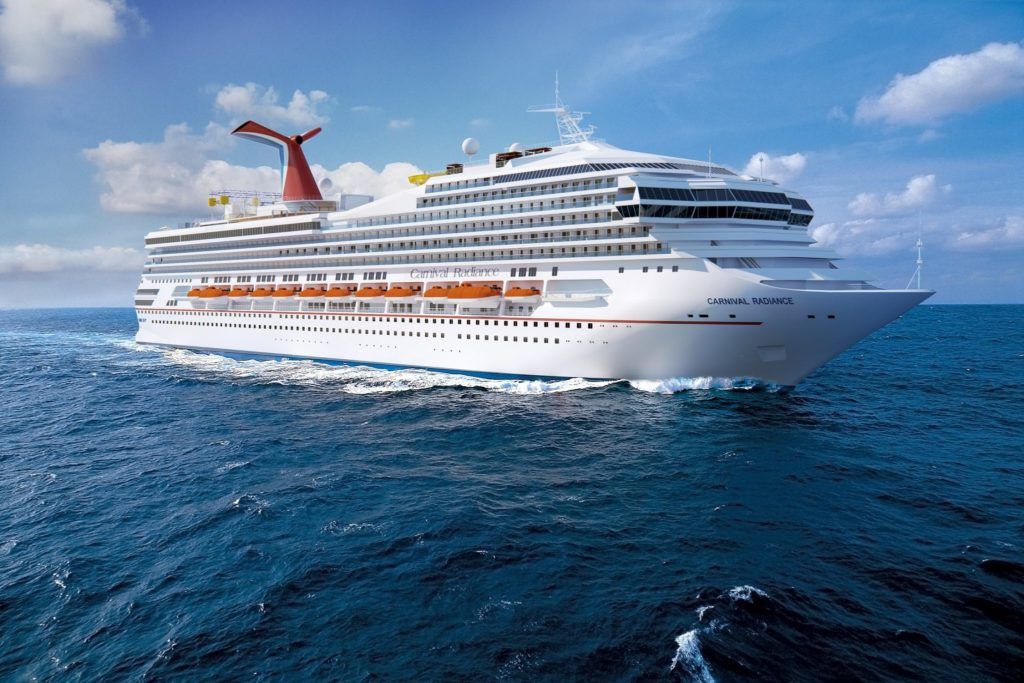 Related Post: Things You Can Only Find on Carnival Cruise Line
American Jazz
If you love to cruise but are still a bit apprehensive about traveling, 2021 might be the year to consider a cruise that is closer to home. While you are probably familiar with the various river cruises in Europe and Asia, you do not need to leave the country to have the same enriching experience.
If you are looking for a twist on the more popular than ever U.S. "road trip", American Cruise Lines' brand-new American Jazz will be cruising the Mighty Mississippi in 2021. The ship will offer departures from New Orleans, LA and Memphis, TN.


Specifically designed to provide amazing views throughout the vessel, you will never miss the coastline as you sail between each scenic port. With a 5-story glass atrium, several lounges, and impeccable amenities, American Jazz provides the perfect means of exploring the country that we call home.
This 190-passenger modern riverboat provides contemporary styling and amenities that make river cruising more attractive and comfortable than ever. American Cruise Lines' state-of-the-art ships feature the largest staterooms in the industry. The staterooms on American Jazz offer ample living space, full-size bathrooms, and private balconies. This makes them the ideal place to unwind after a long day of exploring the historic South.


American Cruise Lines seamlessly connects enriching experiences both onboard the ship and while ashore. The cruise line offers a carefully cultivated schedule of activities and included tours specifically tailored to your itinerary. Onboard entertainment features regionally inspired performers; each day's menu is even inspired by the port of call with locally sourced ingredients.
Another luxury on American Cruise Lines is a daily, complimentary cocktail hour before dinner, along with beer and wine at meals. Additional inclusions like Wi-Fi, afternoon tea services, and twice daily stateroom service are all part of the river cruise lifestyle as well.
Related Post: Why You Should Take a U.S. River Cruise
Comments
Do you have plans to sail on any of these Best New Cruise Ships for 2021? Which ships are you most interested in checking out? Drop us an anchor below to share your travel plans for the new year.