We are live on the 3-day Norwegian Bliss Christening and Inaugural cruise from Seattle, WA. Follow along with our adventures here and on all social media as we recount our three days on this innovative new ship.
Ready for more? Find out about all the amenities like the go karts and Q Texas Smokehouse from Day 2 of our live blog. Or, take a final tour of the ship in our Day 3 live blog.

Norwegian Bliss Live Blog
Day 1
Our first ever live blog! Granted, it is only a three-day voyage, but we still want to bring you everything from this inaugural cruise on Norwegian Bliss as it happens.
Of course, we did not want to risk missing the boat on this sponsored trip. So, we arrived in Seattle the night before, taking the last flight out from Boston which arrived in Seattle around 10:15 pm local time. For us, this felt like after 1 am. Collecting our bags and grabbing an Uber, we were at our accommodations for the evening, the Maxwell Hotel, and ready for bed within 30 minutes of arriving in the city.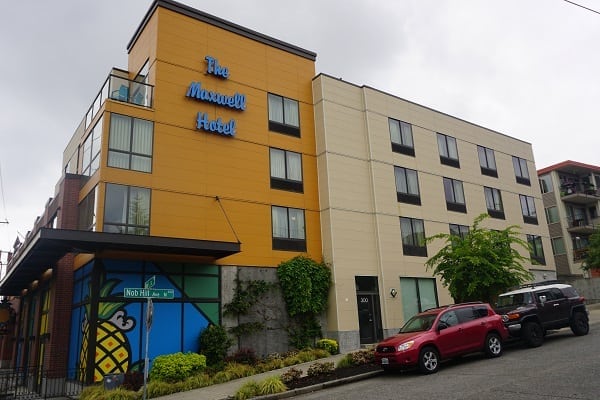 This meant that when I woke up around 6:45 am, I was still a bit tired. We had a long couple of days ahead, so I grabbed some coffee and breakfast sandwiches from the café in the lobby. These were actually just what we needed to get our trip off on the right foot. During this quick break, I also took some pictures of the indoor and outdoor venues of the hotel, as you can never have enough photos for a review!
Our plan was to be out of the room by 10 am. For the most part, we were all packed and out the door on time. Our Uber was at the hotel within 2 minutes, and the approximately 7-8 minute ride down to Pier 66 was quick and efficient. Even though check-in didn't officially start until 10:30am, it was about 10:20am when we arrived, and there were several other passengers being dropped off as well.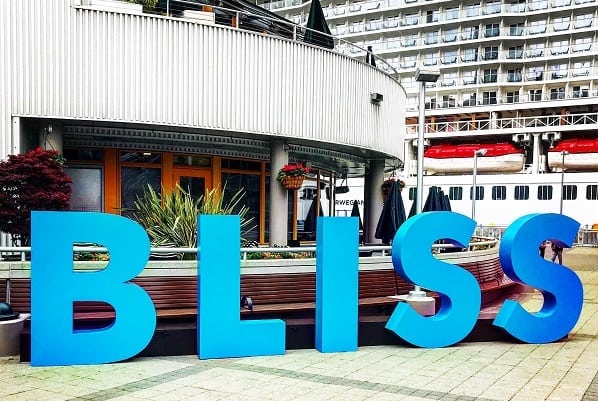 Following directions to walk about a block from our drop-off point to the official entrance to the terminal building, our excitement was growing. Turning the corner, we could see the ship and the massive BLISS sign welcoming us onboard.
With our passports and e-docs in hand, we snaked our way through the first round of security and to the check-in point with no hassles. This process took perhaps 10 minutes mostly due to the fact that all passengers were only allowed to bring carry-on bags.
Check-in took a matter of minutes, and we were directed to a seating area with our boarding number 9. Really, we arrived early and still got 9? Our number was not called until after 12:30 pm, so we knew that our embarkation ritual of taking pictures throughout the ship was going to be impossible as the ship was already a buzz with people.
As soon as we boarded, we checked in with the social media team to get additional details about our schedule of events, dining, shows, etc. This three-day voyage was completely scheduled for us. Unfortunately, we had no say to restaurants or times on this trip.
Our first scheduled event was at 1 pm in Spice H20. This gave us just enough time to get up to our room, a mini-suite- room 13824, unpack, and get to the outdoor open decks only a few minutes late. There, we ran into the social media director who was kind enough to invite us onboard and watched a brief presentation from a representative of the Port of Seattle, a quick performance from a local dance troop, and a speech from the NCL CEO about the ship and the partnership with the city. Oh, did we mention that there were also parachuters involved?
Finishing by 1:30 pm, we decided to wander around the ship a little bit to take some pictures and explore the vessel. First impressions? Norwegian Bliss is much more elegant and contemporary in design than its older sister Norwegian Escape. Several of the venues, like the Local Bar and Grill and the Observation Lounge, have a sophistication that you do not find on other NCL ships.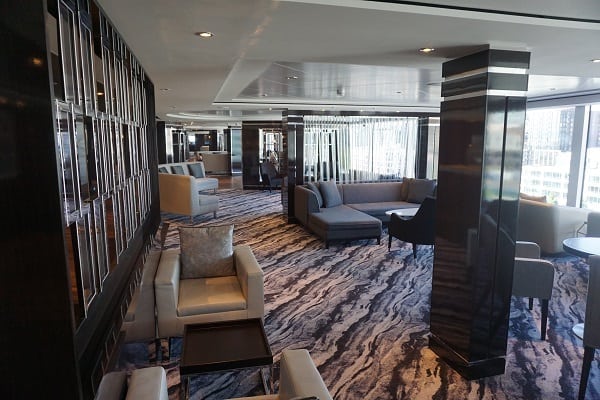 Given the craziness of the morning and the slight case of travel fatigue, we did not realize that the muster drill was at 2:15 pm. So, when we tried to get something to eat at the Local, we were told it was closed for muster. Wait, what? Desperate for a snack, we rushed up to the Garden Café and grabbed a few items from the random trays that were not yet roped off by the crew. Mostly lunch meat and bread was not exactly what we had envisioned for our first lunch on Norwegian Bliss.
Scarfing down the random assortment of snacks, we proceeded to our muster station. Luckily, the drill was quick, and we were in and out by 2:30 pm. Back to the room, it was time for a costume change and to prepare for the Christening party. Our assigned viewing station was the Atrium.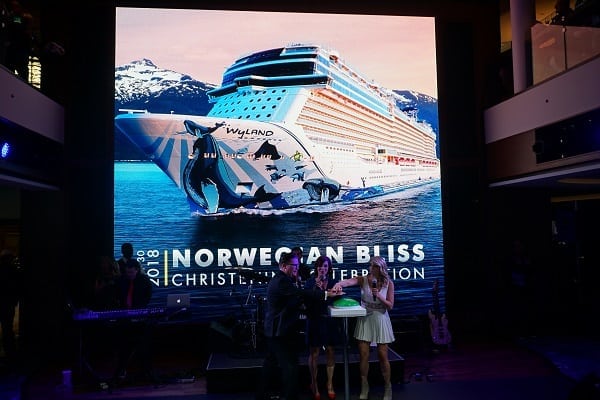 Arriving about 3:15 pm, there was already a sea of people. Grabbing a drink, a cocktail for me and an iced latte from Starbucks for the Princess, the christening ceremony lasted until about 5 pm, when the ship was officially named. There were 6 different venues hosting the event throughout the ship. Our location included live performances from a few different local dance acts as well as some performers from Jersey Boys and Havana as part of the spectacle. We did find out later that Train and a few other musical acts made surprise performances in some venues. The Princess would have loved that!
With the ship officially named, we now had time to kill since our dinner was not until 9 pm in the Food Republic. This gave us time to explore the ship including the Waterfront area on Deck 8.
Following our close to two hour self-guided tour, we headed back to our room. During this stop over, we ran into our stateroom attendant for the first time.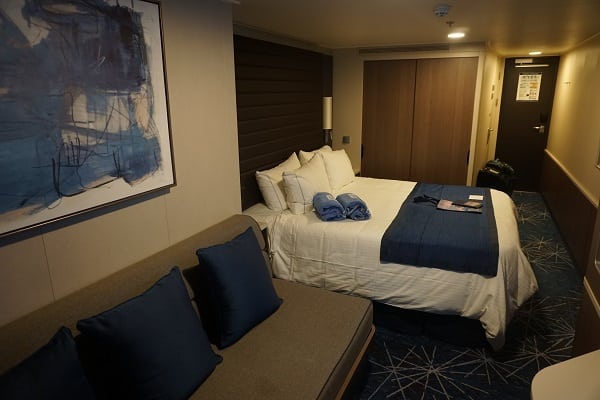 By this point, it was past our usual dinner time, so we were getting hungry. We decided to grab a snack at the Local  Bar and Grill. Service was fast, I mean lighting fast, as our starter came out within minutes of ordering. Both of us found the food to be good, with the pretzel appetizer being our favorite over the taco bowl or the pot pie.With these snacks completed in less than 45 minutes, we went back to the cabin until about 9pm when we decided to make our way to Food Republic for dinner and to meet our fellow social media influencers.
The Food Republic fusion menu is filled with several delicious international items. The five of us ordered a variety of small plates and did some sharing. I was a fan of the fried rice and firecracker shrimp, as well as the must order green tea brownie dessert. Of note, Food Republic is not covered in the specialty dining package.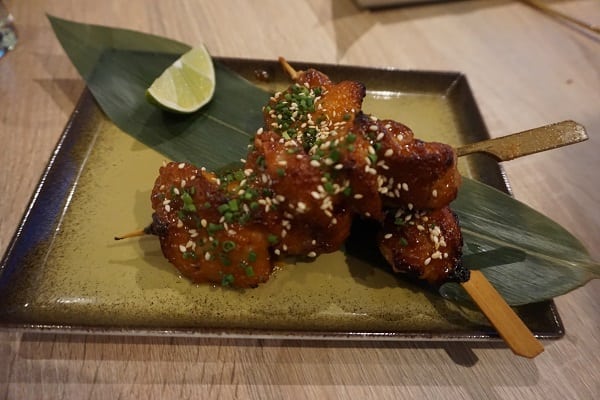 Finishing up after 10 pm, we headed into Q Texas Smokehouse to listen to Camille Rae Band. Lucky for us, the venue was relatively empty, but the band was rocking out. We had a drink and listened to the music until the band took a break around 11 pm. We then made a quick stop at the Social, which turns into a night club after the last comedy show ends, to meet up with some of the other NCL team. Surprisingly, the venue was also rather empty, with only a handful of people on the dance floor. And no, we were not some of them!
We spent about a half-hour catching up with the team, when to the Princess' surprise, I decided to call it a night by 11:45 pm. I was starting to feel the jet lag/travel fatigue setting in and needed to get some sleep. We retired to our room where we spent another hour or so on social media and blogging before finally calling it a night before 1 am.
Continue Reading
Day 2 – We Test Out the Ship – Go Karts, Laser Tag, Q Texas Smokehouse and more!
Day 3 – Final Ship Tour and Stop in Victoria, British Colombia
Comments
Do you have a cruise planned on Norwegian Bliss? Tell us what you are looking forward to trying out on this new ship. If you have any questions, reach out to us here or on social media.