It has been over seven years since our last Norwegian Cruise Lines (NCL) cruise. Our last sailing, on the NCL Pearl in 2008, was definitely hit or miss, with some great and some not so great experiences. Yet with the upcoming debut of Norwegian Escape, the Princess and I have decided to give Norwegian Cruise Lines another go this upcoming January of 2016.
Yes, the innovators of the "Freestyle Approach" have convinced us to hop onboard NCL once again.
You might be asking yourself, how will The Princess, the ultimate planner, be able to handle this laid back approach?
Concept Art for the New Norwegian Escape
With our exclusive preview of the Norwegian Escape, I will show you how I was able to convince The Princess that we must sail on this new ship!
Cruise Ship Preview: Norwegian Escape
Norwegian Escape – The Breakaway Plus Class
It is no secret that we enjoy mega ships. At the time of our last sailing on NCL, the Norwegian Pearl was part of NCL's largest class of ship, the Jewel Class, weighing in at 93,000 tons. After more recent sailings on mega ships like Allure of the Seas and Quantum of the Seas, it is difficult for us to consider smaller ships.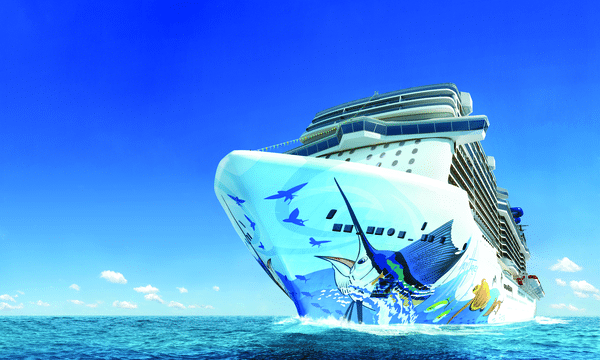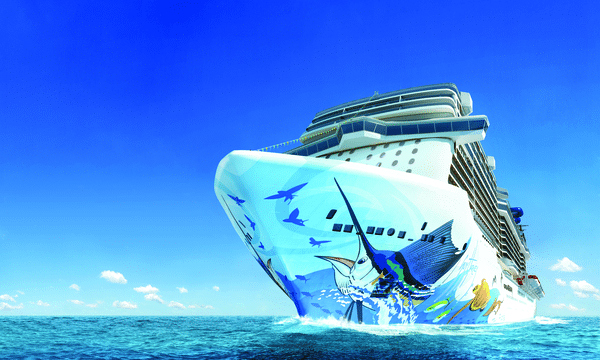 With the announcement of the new Breakaway-Plus Class Ship, a new ship combining elements of the Norwegian Epic and the Breakaway class, the new Norwegian Escape was just the right size for us to think about trying out NCL again. Weighing in at over 160K gross tons, similar in size to Royal Caribbean's Quantum of the Seas, and boasting many unique experiences, we decided to cruise like a Norwegian once again. With twenty decks of entertainment, activities, and dining, this ship is sure to peak many cruisers' interests.
Onboard Activities on Norwegian Escape
Perhaps the most appealing aspects of Norwegian Escape are the onboard activities. Yes, we know that some cruisers prefer quiet pool decks and less distractions while cruising, but not us. In fact, what draws us to mega ships is the variety of activities, many of them new or exclusive to a certain ship.
Concept Art for the Aqua Park on Norwegian Escape
Let's start with the Aqua Park. This onboard water park contains four slides, including racing slides and the fastest water slide at sea, making it a place to spend my sea days.
The New Rope Course with Two Planks and 3 Zip lines, along with other Challenges for Adults and Kids
If you are like the Princess and don't see the appeal of water slides, then the Ropes Course, located at the aft of the ship, might be a reason to book a cruise on the Norwegian Escape. All you adventure-seekers can experience the 2 thrilling "Planks"-a thin beam that extends eight feet off the side of the ship, and the three zip lines that make up this three-story challenge course that will surely get your heart pumping.
Even though some may say that mini-golf is a kids activity, we do love our personal mini-golf competitions. And after all, Teenage Mutant Ninja Turtles (TMNT) did first gain their popularity during our childhood, so it is totally acceptable that we are looking forward to the TMNT themed 9 hole mini-golf course on this ship. Surely, we will be visiting this rooftop attraction multiple times on our cruise. Perhaps the Princess might actually win a game on this trip!
Dining on Norwegian Escape
With all of these things to do on Norwegian Escape, you will certainly work up an appetite. Even though we are usually fans of traditional dining in the Main Dining Room, the variety of options on this ship are very appetizing to us.
The Manhattan Room, One of 3 Main Dining Rooms
NCL now allows you to pre-book dining, something we were not able to do on our last sailing with this line, so now The Princess does not have to worry about not getting her preferred dining times.
To list all of the restaurants would take forever, so we are not even going to try in this post.
Al Fresco Dining is Now an Option
Many of these restaurant options, including La Cucina, Cagney's Steakhouse, Moderno Churrascaria, and Food Republic, will offer al fresco dining on the "Waterfront" so you can enjoy the seaside views and cool breeze during your dining experience. The ship will also offer 3 Main Dining Rooms, so make sure to try at least one of them, especially the Manhattan Room, a cruiser favorite with sleek decor, and (hopefully) equally sophisticated meals.
With the selection of reasonably priced Specialty Restaurants, Norwegian Escape will give you the opportunity to sample many different cuisines including small Spanish plates at the Pincho Tapas Bar, Latin inspired seafood at Jose Garces' Bayamo, some Brazilian meats at Moderno Churrascaria, Italian favorites at La Cucina, Japanese Hibachi at Teppanyaki, and of course some French cuisine at Le Bistro.
Inside the First Margaritaville at Sea!
Even the casual dining on Norwegian Escape sounds mouthwatering, with the 24 hour O'Sheehans Neighborhood Bar and Grill and the first Jimmy Buffett's Margaritaville at sea- there are a plenty of options to choose from.
Yes, even though this ship is for "Freestylers", you will have the ability to make dining reservations 90 days prior to sailing. You guessed it, we already have our dining plans all mapped out and are anxiously awaiting these bookings to become available for our sailing.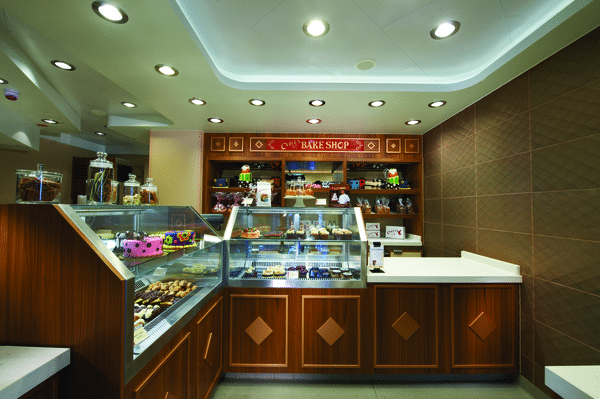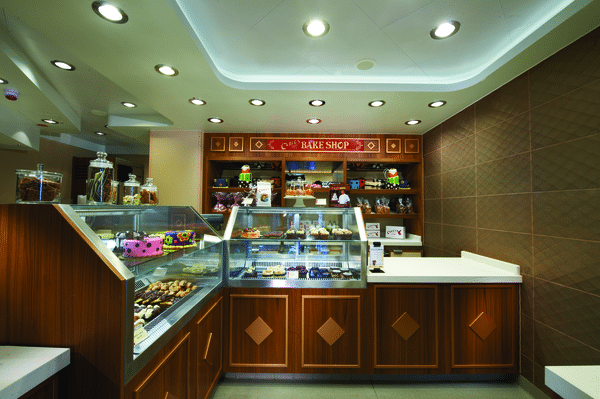 With all these dining options, be sure to save some room to fit in the sweet treats offered at Cake Boss' Carlo's Bake Shop while onboard.
Nightlife on Norwegian Escape
It can sometimes seem like an impossible task to do and see everything on a mega-ship, but that does not mean we do not try. On Norwegian Escape, the number of public spaces, especially one-of-a-kind bars and lounges mean we will have a fair share of late nights.
Also, NCL has been running a number of promotions where you can choose a complimentary drink package, meaning all of your adult beverages onboard will be covered during your vacation.  We took advantage of this promotion, giving us a great value for this cruise!
DB Will be Throwing a Few Back at the District Brew House
Yes, there is a casino and entertainment on Norwegian Escape, but it also offers so much more. For starters, there will be the District Brew House, which promises dozens of craft beers as well as live music. It might just be a nightly stop for me.
The Princess is more interested in some of the specialty cocktail venues including the trendy Mixx Bar, because every girl deserves a hand crafted Cosmo, as well as the Sugarcane Mojito Bar and the world famous Tobacco Road.
Many Bars and Lounges Offer Outdoor Seating on Deck 8's Waterfront
What is most appealing about many of these venues are their location-deck 8 on the Waterfront. We love our outdoor spaces, and this exterior focused Promenade offers great views of the sea, with outdoor seating and bars, keeping you one step closer to the ocean. I can see many afternoons spent at the Five O'clock Somewhere Bar found starboard side.
Spice H2O is the Night Time Place to Be on Other NCL Ships
The culmination of these hot spots is the adult only Spice H2O area. Located aft on Deck 17, this open area with a grotto pool, lounge chairs, and large outdoor screen promises to be an all day beach party. When the sun goes,  a night life scene erupts with music, dancing, and of course, plenty of booze.
Good thing we will be consuming plenty of food on this cruise to help absorb all of this alcohol.
Entertainment on Norwegian Escape
Last, but not least, entertainment. The hallmark of a good cruise is solid nightly entertainment. A new trend on ships is to offer signature shows, along with traditional reviews. On Norwegian Escape, the cruise line has announced that there will be two Broadway shows.
Theater Entertainment is One of the Things We Love About Cruising
That's right, two separate, full run Broadway shows. The Tony Award Winning Million Dollar Quartet, which relives a jam session with four musical icons, along with the high energy, jazz musical After Midnight, are two of the shows you can watch during your cruise in the main theater.
Along with these shows, there are sure to be traditional "headliner" acts and production shows that will be playing in the Escape Theater when the musicals are not running.
Regular Comedy Shows Brought to You by the Levity Group
In addition, Norwegian Escape will also have a Headliner's Comedy Club.  Odds are, these shows will be for mature audiences, and it does not look like this ship will be partnering with Second City, like some other NCL ships do.
The 1980s are in Full Swing in this For the Record Production
For cruisers who love the 80s, Norwegian Escape will also offer the For the Record Production Dear John Hughes at the Supper Club. This dinner show inspired by the movies of John Hughes from the 1980s is a fully immersive cabaret show that will bring many Generation Xers back to their childhood. Note: their is an additional charge for this production.
Are You Ready to Sail on Norwegian Escape?
After all of these highlights, are you considering sailing on Norwegian Escape? You have to admit that this new ship definitely rivals some of the other mega ships afloat with her restaurants, entertainment, and signature venues.
Now you can see how I was able to convince The Princess to give this ship a try.
Can Norwegian Escape Live Up to the Hype?
Admittedly, we are excited for this trip!  We were cruise newbies when we last sailed on Norwegian Cruise Lines, and even though it was not our best cruise experience, a lot has changed in how we travel, and by all appearances, the NCL product has improved over this time. So, we are ready to give it a go once again! Stay tuned for our feedback on the new Norwegian Escape after our January 2016 sailing.
Comments
Are you looking forward to the new Breakaway-Plus class ship? Have you sailed on some of Norwegian Cruise Lines other large ships such as Norwegian Epic, Norwegian Breakaway, or Norwegian Getaway? Drop us an anchor below to tell us your experiences on those ships. Or, let us know if you are as excited as we are for this new ship. Help your fellow cruisers make the right choice in their next cruise vacation.
All photos are copyright images of Norwegian Cruise Lines