Along with the various dining options available on Quantum of the Seas is Devinly Decadence, located where the Solarium Bistro is typically found on other ships. This healthy alternative restaurant was created especially for Quantum of the Seas in partnership with executive chef Devin Alexander, known from her work on the Biggest Loser television show. The menu consists of entrees that clock in at under 500 calories, along with low calorie starters, desserts, and cocktails. Devinly Decadence is a perfect option for those looking to stay fit while on their cruise but is really a great dining spot for everyone. We decided to make a dynamic dining reservation at Devinly Decadence for our January 2015 Quantum of the Seas cruise not to be healthy but simply because the menu looked to have many great dishes. At the time of our sailing, Devinly Decadence did have a charge of $20 for dinner but was complimentary for lunch. The week following our sailing, the restaurant was changed over to fully complimentary!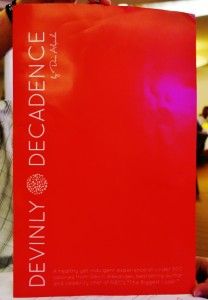 Dynamic Dining Review Devinly Decadence
The exterior of Devinly Decadence is very unassuming. In fact, during the day you need to enter the restaurant from the glass doors in the Solarium.  For dinner, the restaurant can be accessed directly from inside near the forward staircase. Inside the restaurant, the room has a very plain decor, with a classic, upscale look.
When we dined at Devinly Decadence on night 6 of our cruise at 6:30pm, the restaurant was pretty empty. Besides a few small tables of two, many of the tables in the restaurant were occupied by crew. Most likely, this was due to the upcharge not the food, as during lunch there was a solid line out the door.
Shortly after being sat, our waiter approached the table, introduced himself, and described the menu and the story behind the restaurant. We, of course, started with two drinks; I did the Much Better Frozen Blueberry Margarita, and the wife ordered the Heart Healthy Sangria. The margarita was refreshing and tasty; in fact, I might prefer this mixture to a traditional margarita, especially if it is low in calories.  The sangria on the other hand was pretty basic.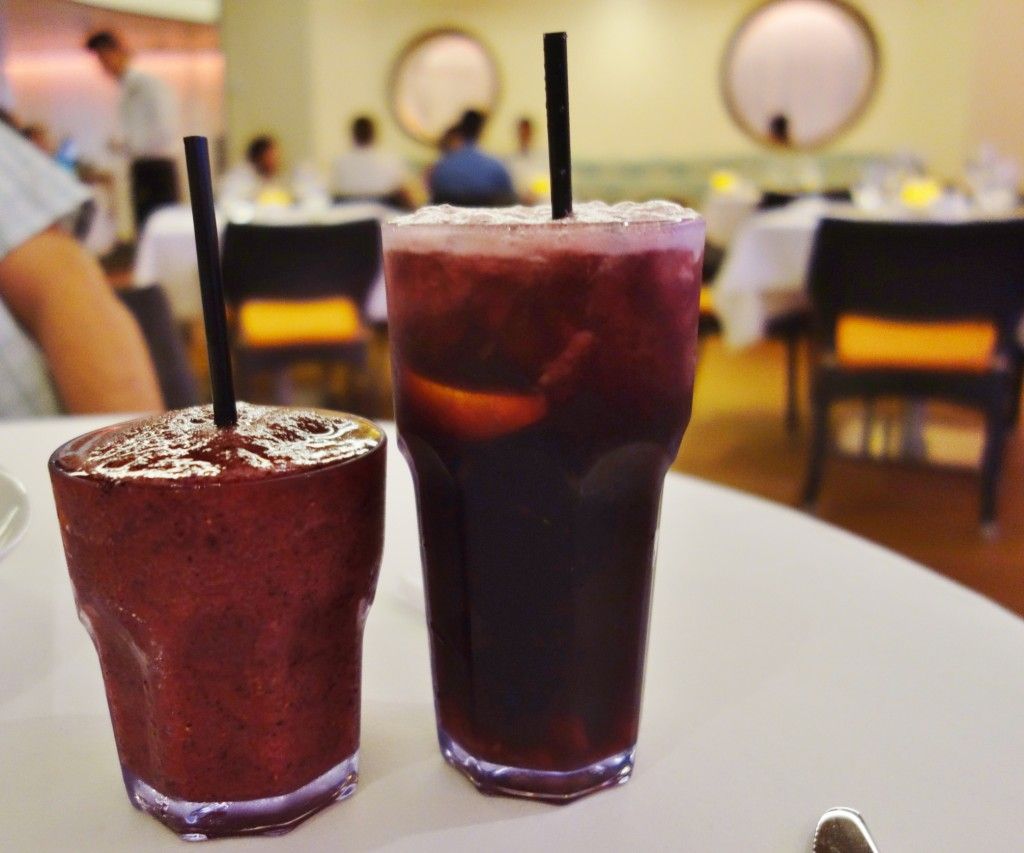 As you may have guessed, there are no breadbaskets at this restaurant; instead, you receive a plate of chopped vegetables with a low calorie, yogurt based dipping sauce. Thankfully, it was all uphill from here!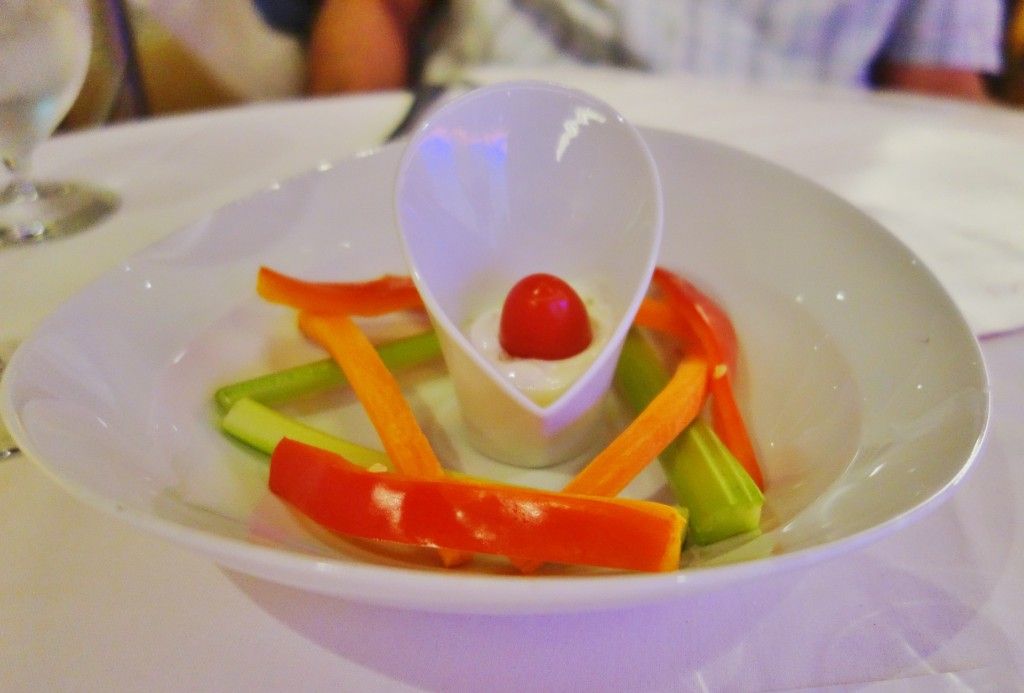 Reviewing the menu, we decided to each get our own starter and to split a flat bread pizza. This was a "healthy" restaurant so we were assuming the portions were going to be rather small. But, think again; the portions at this restaurant were actually some of the biggest portions we had all week.
The BBQ Chicken Flat Bread was a great choice, so do try it. It was very thin and crispy, with just the right amount of barbeque sauce. The goat cheese gave this appetizer a great texture and smoky flavor.  Unfortunately, we were not able to finish eating the pizza as our other appetizers were equally delicious and large!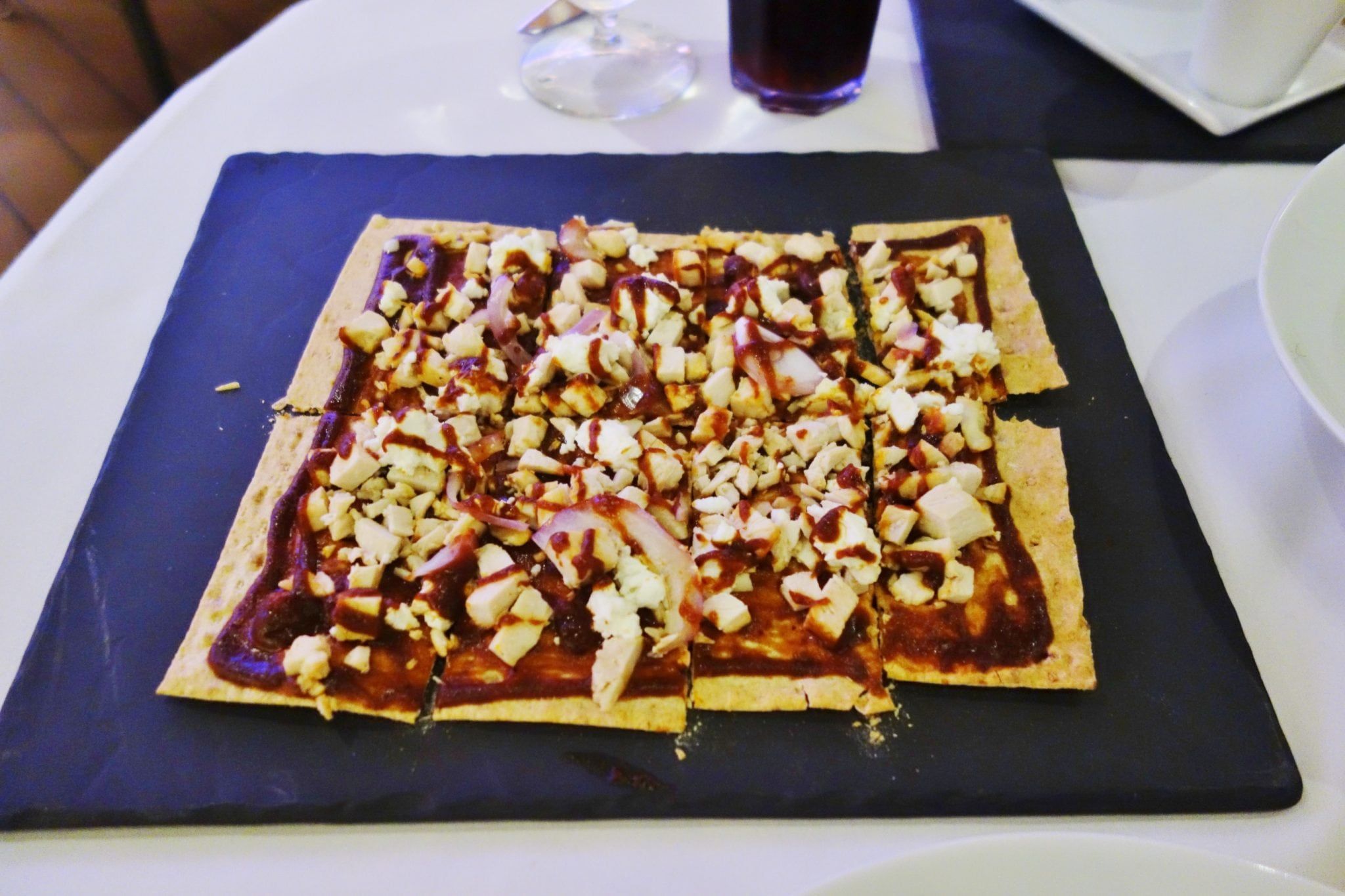 Of course, the Princess ordered the Chicken Satay with Peanut Dipping Sauce as her appetizer. This order came with four large chicken skewers that were grilled with a slight seasoning and served with a peanut sauce. This serving size could have been a meal as it also came with a cucumber salad, the only vegetable the wife likes! We were both very impressed with this appetizer as it was cooked perfectly and tasted very fresh.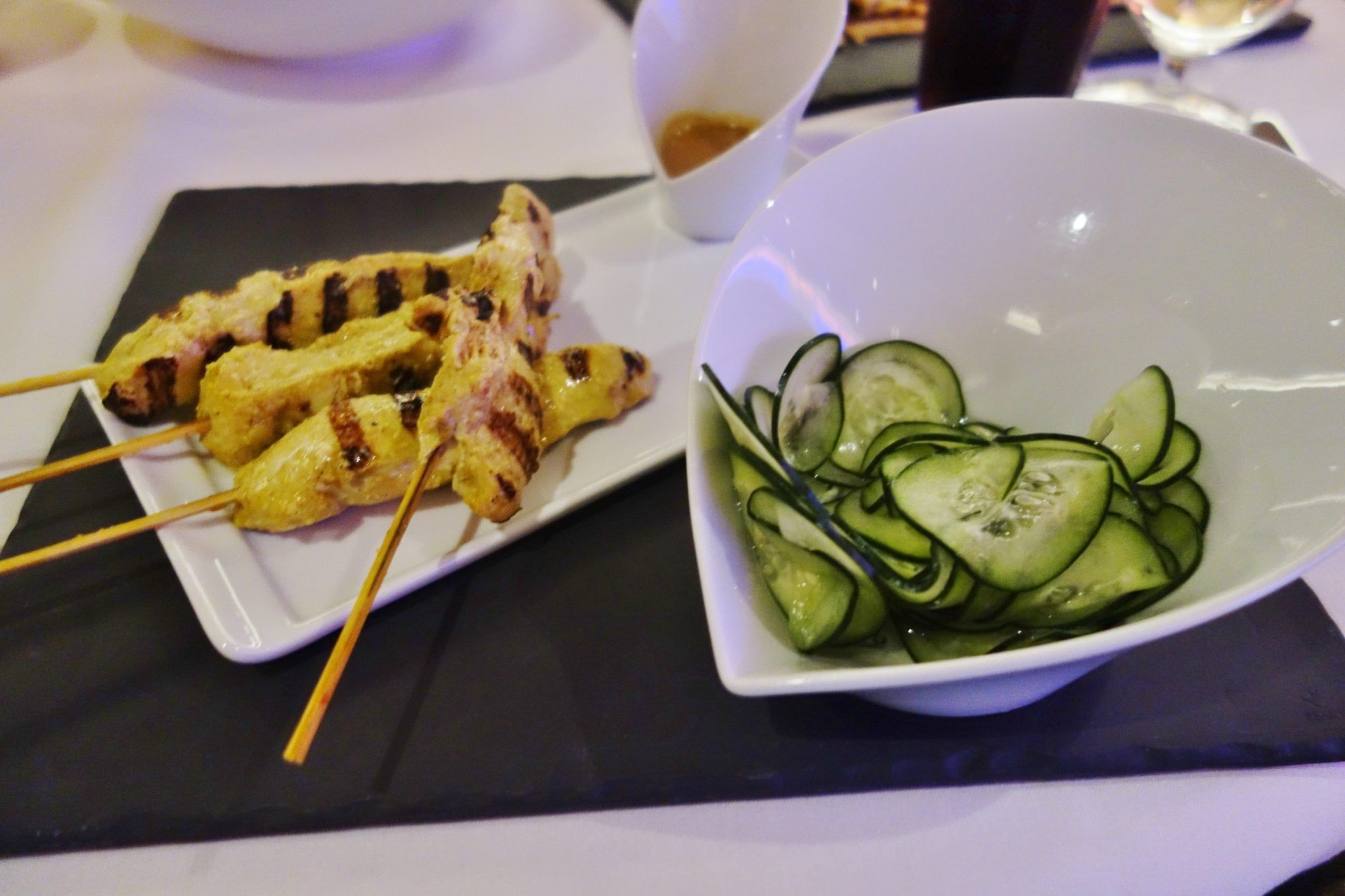 My starter , the Grilled Salmon Chipotle Salad, was also quite large and could easily have been a meal. The arugula salad mixture with beans, corn, and salsa had great texture and was served with a chipolte dressing that had some kick to it. We are fans of Mexican food, and this salad definitely delivered some great spicy flavor. The salmon was grilled just right too. This was already way more food than we would normally eat, and we still had an entree and dessert to come.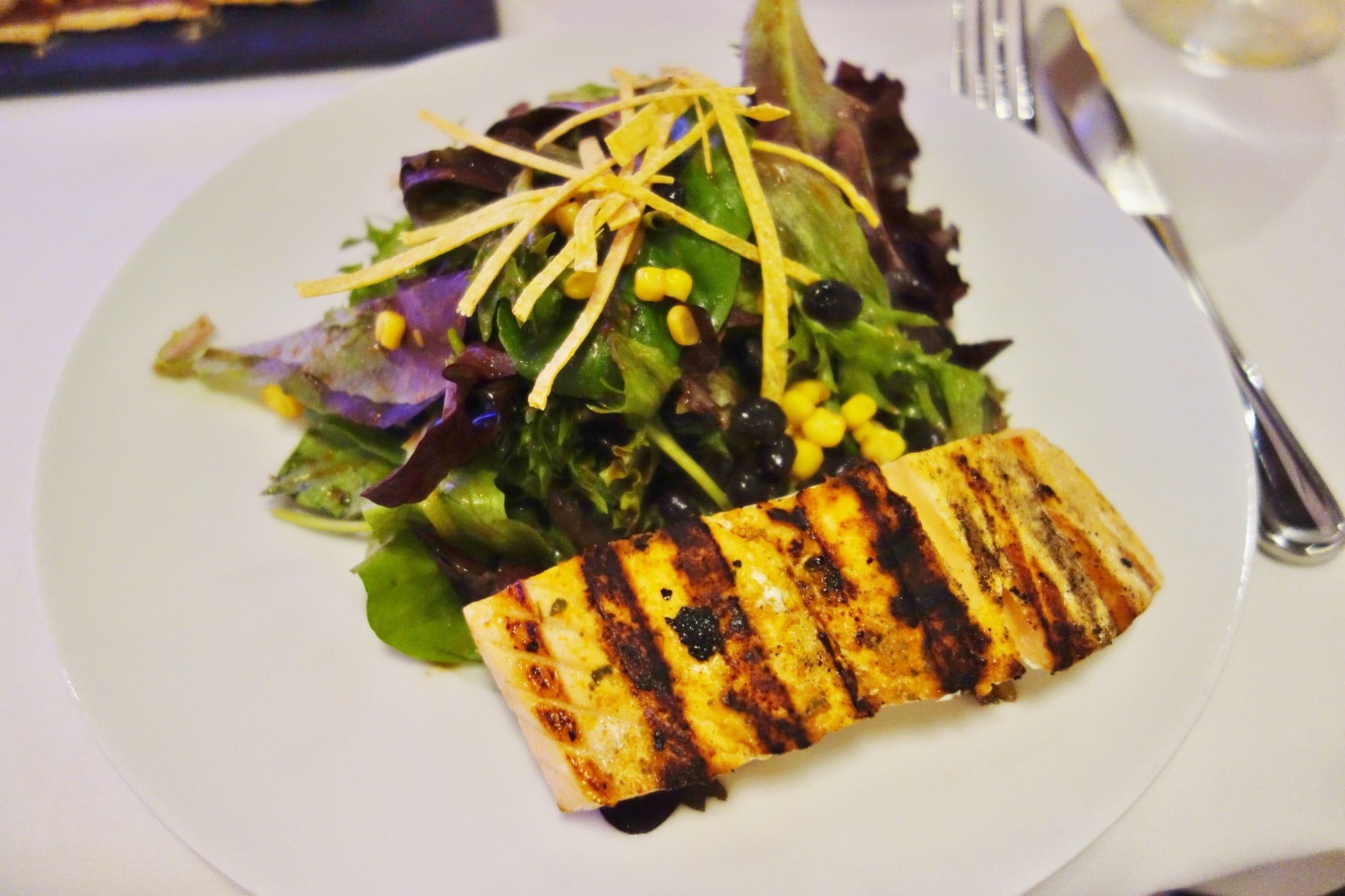 If you guessed that the Princess had chicken for dinner, you are correct. Keeping with the Mexican theme, she ordered the Grilled Chicken Enchiladas. The sauce was not too spicy, the corn tortillas were baked so they had a nice crunch to them, and there was just the right amount of cheddar cheese.  Having already eaten quite a bit, it was a struggle for her to finish these two well portioned wraps. But, they were definitely quite tasty and highly recommended.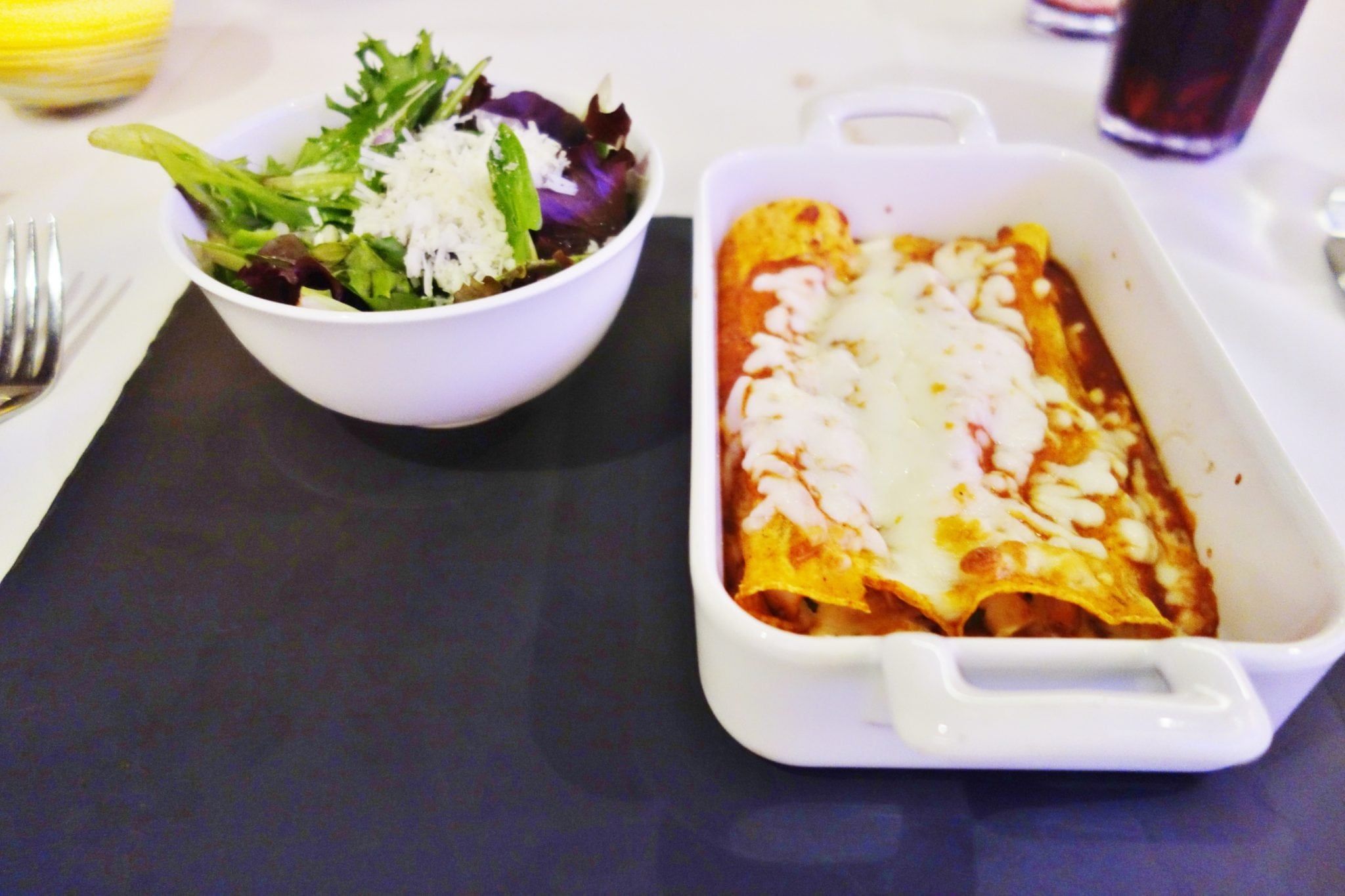 I am going to go out on a limb here and say that the Cowboy Rubbed Beef Tenderloin was the best steak I had on Quantum of the Seas. A close second was the Hibachi Steak I had at Silk. I ordered it medium, and the steak came out with a nice pink center. The "rub" definitely has some pepper and heat, giving it an almost Mexican feel as well. The quality of beef was much better than the steak I had at American Icon Grill.  I would have paid the upcharge just for this meal, not to mention the previous courses.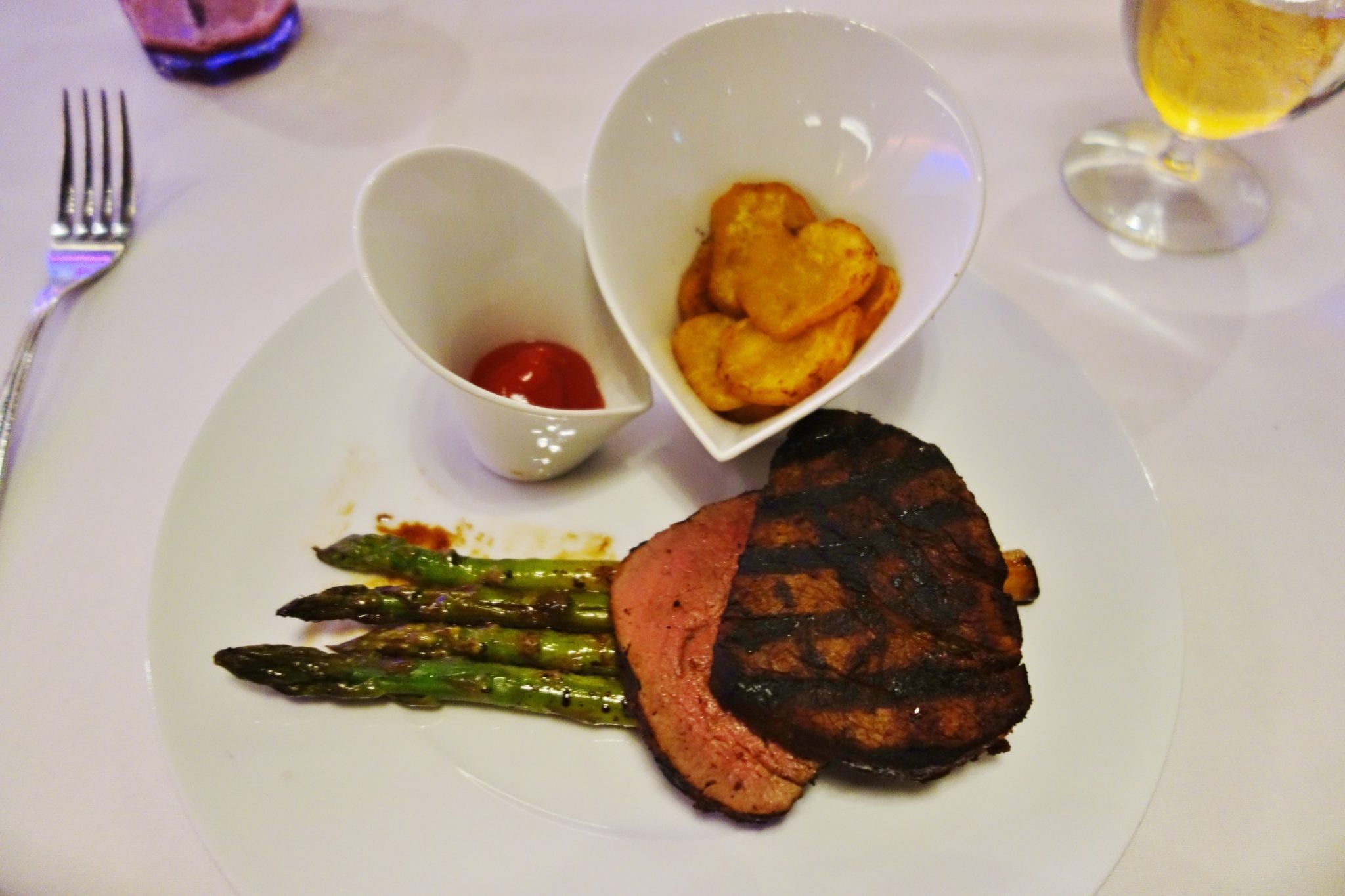 Not that we had room for dessert, but for the sake of this blog we HAD to order some just to give Devinly a complete review. Throughout this cruise, we had been indulging in plenty of sweet treats, so these lighter offerings were a nice change.  Being a fan of apple pie, I ordered the Naked Apple Tart a la Mode. These baked apples came topped with a scoop of vanilla frozen yogurt and cinnamon.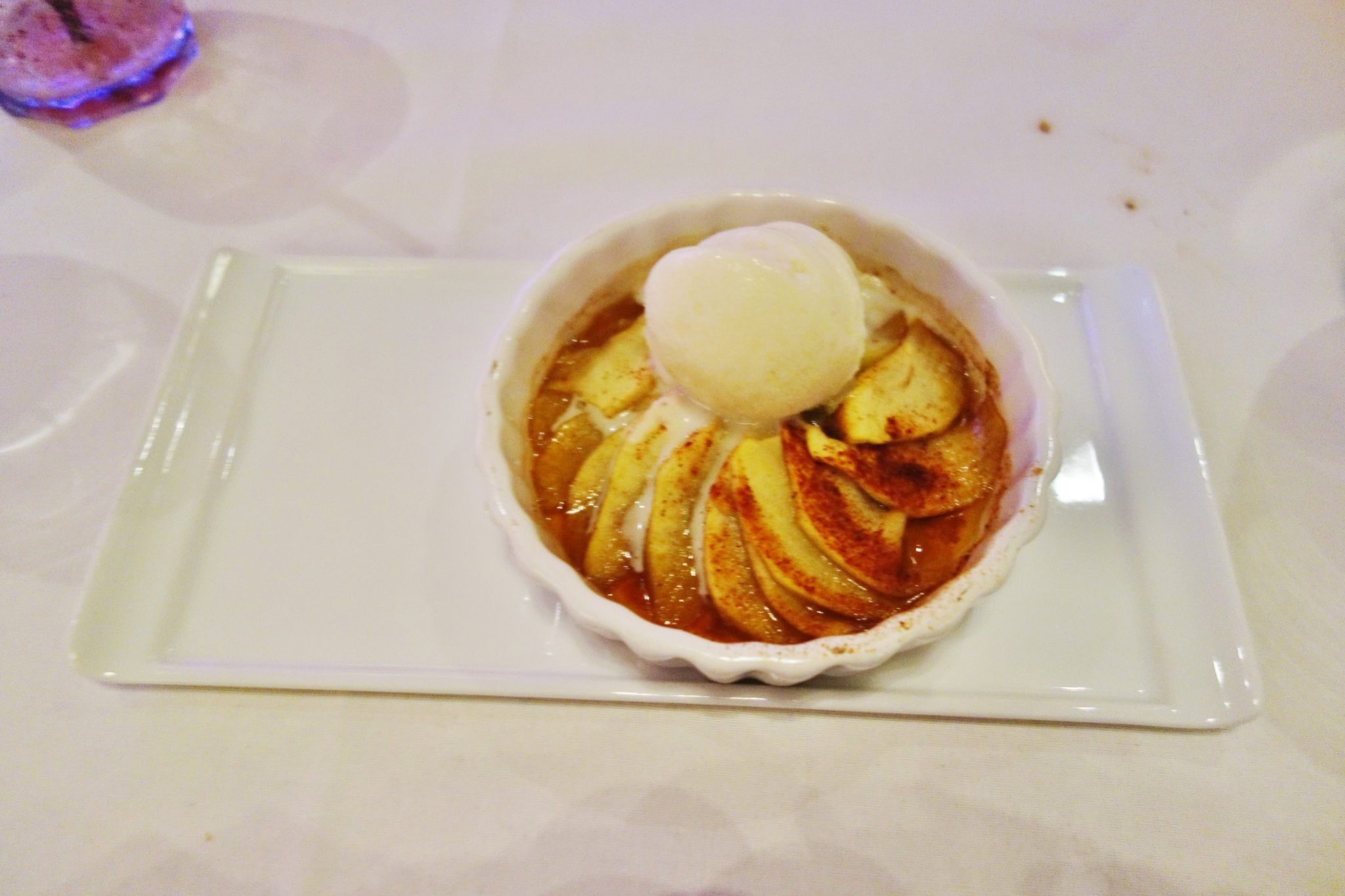 The Princess tried the Shot Glass of Pumpkin Cake, mainly for the cream cheese frosting. The dessert was not exactly what she was hoping for, as the frosting was not very sweet, so she ended up having a few bites of my dessert, which I knew was going to be better from the start!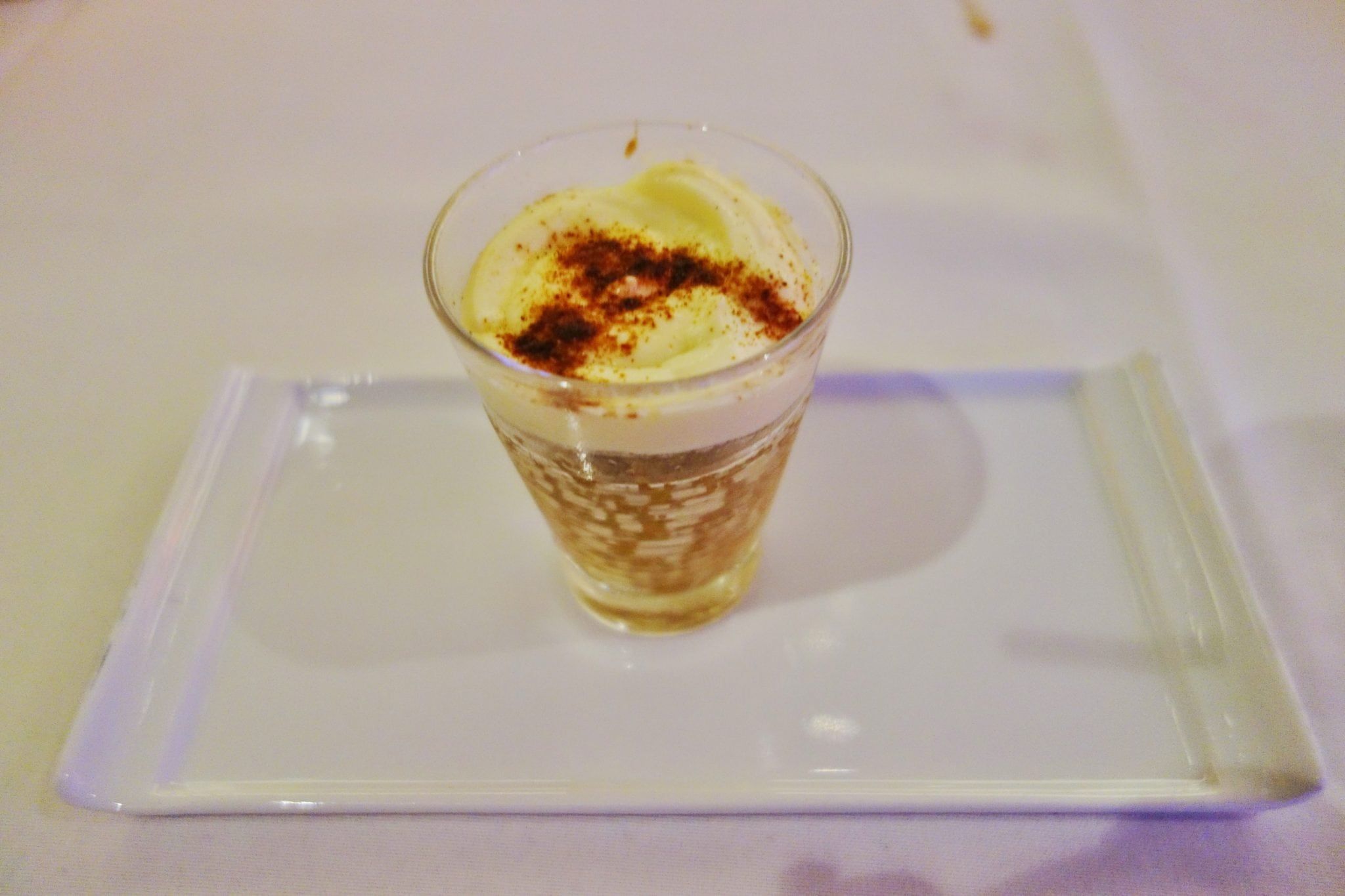 To recap our Dynamic Dining Review Devinly Decadence, the last thing anyone would say about the Princess and I is that we are health conscience, especially when we are on vacation, but we thoroughly enjoyed our dinner experience. Even though we booked Devinly Decadence when there was an upcharge, what drew us to the venue was the menu. Everything we sampled at dinner was a complete home run, full of flavor, and leaving us more than satisfied. Even the cocktails, which we were sure to drink again the following day at the Sunshine Bar, were great. Our total dining time at Devinly Decadence was about 90 minutes, which seemed to be about our average during the course of the week. Given that this venue is now complimentary and that you can get basically the same menu for lunch (minus the Cowboy Steak), this restaurant gets our highest rating on Quantum of the Seas. Make reservations now, as it is a small venue and sure to be packed on your cruise!
Summary
Type of Food- Healthy Alternatives
Meals served-Breakfast Buffet, Lunch, and Dinner
Dress code- Smart Casual
Cost-Complimentary for all meals (as of January 11, 2015)
Comments
Have you tried Quantum of the Seas' Devinly Decadence? If so, what were your thoughts on this venue and dynamic dining? Drop us an anchor below to let us know your favorite meals. We would love to hear about your experiences with the restaurants on this new ship, Quantum of the Seas!