"A BOLD, NEW AND SMART APPROACH TO TECHNOLOGY"
Royal Caribbean's new ship, Quantum of the Seas, which set sail in November of 2014 has been hailed as the most technologically advanced ship to date with many new firsts at sea. During our recent 8- day sailing in January 2015, we set out to test the technology on Quantum of the Seas.
Does it do what it says? It's judgement day!
Testing the Technology on Quantum of the Seas

Cruise Planner
This technology on Quantum of the Seas is needed before you even step onto the ship. By creating a Royal Caribbean online account, you now have access to your cruise reservation and the ability to personalize your cruise from the comfort of your living room. Within the cruise planner feature, there are tabs for shore excursions, dining and beverage, entertainment, spa and fitness, onboard activities, and a full calendar detailing all your selections. Here, you are able to browse and book available shore excursions for your ports of call, make dynamic dining reservations, pre-purchase drink packages, pre-book spa treatments, pre-book entertainment, and pre-book onboard activities such as character breakfasts, iFLY, and an all access tour.
It is HIGHLY recommended that you do utilize this feature to pre-book all dining and entertainment as choices will be limited once onboard the ship.
So, what was our experience with the cruise planner? After booking our Quantum of the Seas cruise in May for January 2015, we stumbled upon the ability to book dining and entertainment. We were not notified by Royal Caribbean until much later that this was available. It seems as though the time frames for which dining and entertainment reservations are open for booking have been varying but are typically available at least 90 days prior to sailing.
So, we advise that you check the cruise planner frequently. We did and found that new dining times would become available as other cruisers made changes. But, we had difficulty modifying our reservations, so we often had to call and have a representative from the company change our reservations for us. Also, the entertainment schedule changed twice for our sailing, which meant we had to rearrange our schedules as well as rebook some of our entertainment. With all of the options available, it is great that you can pre-book before cruising, but it does require a lot of planning. The Cruise Planner would be a great feature if it was one and done, but unfortunately as Royal Caribbean continues to work out the kinks, this feature seems to be ever changing and needs to be checked frequently to ensure you get exactly what you want, when you want!
 Royal Caribbean International©
Royal iQ App
To enhance your onboard experience and give you the ability to modify your cruise planner or view your cruise calendar once on the ship, Royal Caribbean has created a smart app downloadable for iPads, iPhones, and Android phones. You can download this app prior to sailing but it will not work until you are onboard the ship. To be honest, we did not really make use of this technology on Quantum of the Seas, but did see other cruisers using it. The same information can be found on smart touch LCD screens located throughout the ship.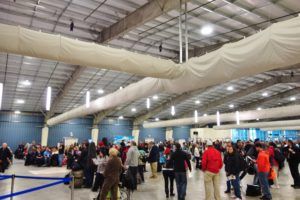 SMART Check-in
This technology on Quantum of the Seas allows you to complete all necessary check-in documentation online including uploading your own photo. There are specific guidelines for usable photos, so be sure to read those if you want to make sure you don't need to take another picture at the terminal.  After completing your online documentation, you can print your setsail pass which contains a barcode that is supposed to be scanned at the terminal. This is supposed to save time allowing you to get from sidewalk to ship in 10 minutes, with no check‑in counter, no forms to fill out, and no lines to wait in.
During our January 2015 sailing on Quantum of the Seas, our check-in was NOT that easy. We had completed all the necessary steps and entered the terminal with setsail pass in hand. After passing through security, we were greeted with much disorganization but eventually found a staff member with tablet in hand to "check" us in. However, the gentleman was not able to verify our check-in; whether it was human error or technology error, we went through a series of 3 staff members and 3 tablets before our check-in verification was successful.
Even though it seemed like an eternity, it really only took about 30 minutes from when we left our taxi until we were waiting to board the ship, which is not bad at all! Then it was time to take welcome aboard photos and wait in this disorganized and crowded waiting area that was standing room only until we were able to board the ship.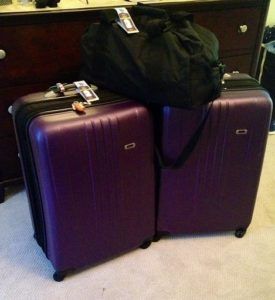 RFID Luggage Tracker
This new smart feature allows you to track your luggage using the Royal iQ app once onboard the ship. Outside when you check your luggage with the porters, they issue you a tag for each piece of luggage with a barcode on it. During the check-in process in the terminal, these tags will be scanned and hopefully associated with your account so you are able to track the status of your luggage.
Apparently, our tags were not scanned in properly as we tried using the Royal iQ app to test out this RFID luggage tracker and were told that there were no bags associated with our check-in. Is it really essential to know the location of your luggage? Probably not. Our bags had already been delivered to our room by 1:30pm so there was no further need for this technology on Quantum of the Seas.

RFID WOW Bands
These new WOW bands are essentially a wearable Seapass card that are supposed to increase ease and efficiency while onboard Quantum of the Seas. Upon entering our stateroom, our WOW bands were on the bed waiting for us to don them. They are roughly the size of a watch and can be swiped to enter the room and make onboard purchases. It should be noted however that the WOW bands do NOT work at the gangway, and you will still need your Seapass card to enter/exit at a port of call.
During the daytime hours, we did wear our bands and found them to be convenient when ordering drinks and entering our room. DB did end up carrying both of our Seapass cards with him anyway just in case he went to the bar to order 2 drinks, one would be on his band and the other on my card. You know, the Princess shouldn't have to order her own drink all the time! At nighttime, I chose not to wear my band as I did not want it to show in any of our pictures. Overall, we would give the WOW bands a "thumbs up" for convenience.
High Speed Internet
Using O3b satellites, Royal Caribbean boasts "unprecedented bandwidth and internet speed"… greater than "every other cruise ship in the world combined", allowing for use of social media, Skype, streaming, Xbox live, and much more.
During our January 3rd sailing on Quantum of the Seas, we received complimentary WiFi service. We experienced some inconsistency of service, as there were times we were sitting right next to each other and the internet was working for one of us but not the other. We are not sure if these "down times" were related to the number of people using the service at the same time, our geographical position, the weather, or some other extraneous factor. Despite these minor hiccups in service, the WiFi onboard Quantum of the Seas was much faster than typical cruise ship internet, allowing for social media posts throughout the week and checking email. We did not experiment with Skype, streaming, or Xbox Live so can not attest to the speed or quality of such features.
Quantum of the Seas offers a variety of internet packages broken into categories of Basic, Premium, and Premium-Plus based on speed. Each category then has packages for hourly, daily, unlimited 1 device, and unlimited 2 devices. Unlimited 1 device plans run approx. $180-$320 for an 8-day cruise. C&A discounts are available. Again, we received complimentary internet during our cruise so can not comment firsthand on the differences in speed between the Basic, Premium, and Premium-Plus packages. If we did have to pay, we would have probably purchased the Premium package. Overall, Royal Caribbean gets another "thumbs up" in this area of technology on Quantum of the Seas; although the WiFi wasn't perfect, it is definitely a step in the right direction for the modern cruiser who wants to stay connected while at sea.

Bionic Bar
This highly anticipated venue on Quantum of the Seas had been advertised as "mixology meets technology".  Here, through the use of robotic arms powered by Makr Shakr, a robot will make and serve your drink to you. There are tablets at which you order your drink, once ordered you will be added to the onscreen que, and then you can watch the step by step process of your drink being made.
Is this the way of the future? Do cruisers really prefer a robot to bar staff? Our answer is No.
Despite the cool concept, unfortunately, the Bionic Bar gets a "thumbs down" from us for technology on Quantum of the Seas. It is definitely something that we suggest experiencing once, but this will probably not be your go-to bar on the ship.
There were a few too many technology flaws leaving us frustrated at times. While ordering drinks on the tablet, there were often time-out errors in your order being processed and other times when it made 2 drinks even though only 1 drink was ordered. There were many times we passed by the Bionic Bar and only 1 of the 2 robotic arms were actually working. Even when the drink ordering and making process went smoothly, it was often a difficult feat to retrieve your drink as the swipe feature that is supposed to release your drink to you did not always work; so despite having 2 robots, there were usually 1-2 staff members also present to assist guests with all these issues.

Two70
Where Royal Caribbean's Technology on Quantum of the Seas really shines!
This venue located at the aft of deck 5, with a 270 degree view of the ocean, is a daytime and nighttime hang out. During the daytime, this venue functions as your very own living room at sea. At nighttime, this venue transforms into the hottest entertainment venue, featuring the show Starwater.  Featuring Vistarama and Roboscreens, this venue is a technology masterpiece. The Vistarama is a 270′ backdrop comprised of 18 high-definition projection screens that display awe-inspriring scenes, including a fireworks display, a space scene, and an underwater scene to name a few. These are definitely worth a nighttime visit to experience.
The Roboscreens not only add dimension to the other entertainment in Two70, but they are entertainment all on their own. During the daytime, roboshows are played every hour beginning at 1230pm.  With the eloquently choreographed movements of these 6 screens and the visual images displayed, these roboscreens tell a story incorporating abstract art, dance, and a bit of humor. Overall, a big "thumbs up" for technology in Two70 and a well deserved RoyalWOW.

Smart Art
In keeping with the technology, Royal Caribbean also incorporated new interactive art into Quantum of the Seas' overall theme of "What Makes Life Worth Living" art collection.  These SMART Art pieces are displayed throughout the ship, with two of our favorites being Dreamride,  a life-like depiction of a man driving a car with some comedic takes that you will have to experience for yourselves, and Hunter 2, Farmer 2, Captain, a series of 3 caricatures who sketch pictures while you watch. Overall, a nice added touch and an exemplification of the vast array of innovation found on Quantum of the Seas.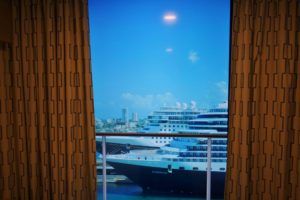 Virtual Balconies
Along with many of the other technological advancements onboard Quantum of the Seas, Royal Caribbean has increased the viewing experience for all passengers, including those staying in inside cabins, with the implementation of virtual balconies. Yes, those staying in interior cabins can now have a real time view of the outside world. These 80″ 4K LED Sharp Aquos screens pan floor to ceiling, and through the use of technology, project real time video and sound. These virtual scenes are much more life-like than we expected and definitely enhance the stateroom experience for those more "economical" cruisers who don't wish to spend the extra money for a "real" balcony. We have to admit that we weren't expecting much from the virtual balconies but were pleasantly surprised. See our complete review of these windows to the outside world.
Impressions
With all of the technology onboard this new smart ship, Quantum of the Seas, the star that really shines in our opinion is Two70 and all this venue has to offer. While the award for most improvement needed goes to the Bionic Bar. All of the other technology on this ship is truly innovative and can certainly enhance your overall cruise experience as well but still has some kinks that need to be worked out first. If all of these innovations can be perfected and flow seamlessly by the time Anthem of the Seas sets sail in November of 2015 then that would truly be a WOW on the part of Royal Caribbean and a well deserved title of best SMART ship! We can't wait to find out when we sail on her in January of 2016.
Comments
Have you sailed on Quantum of the Seas or have an upcoming cruise on Anthem of the Seas? If so, what is your favorite or most anticipated aspect of the technology? We would love to hear your experience with these innovative "firsts at sea", so drop us an anchor below.