It took a while, but recently most major cruise lines have begun to offer cruisers more options to make their cruise more all-inclusive. Chief among these offerings are drink packages. Now, one can pay a set price to indulge in an unlimited selection of non-alcoholic and alcoholic beverages during his or her cruise.
We have started to test these packages out to see if they are a good value, by weighing the pros and cons of paying one flat fee for all-inclusive drink options. We are not alone, as many cruisers are often seeking opinions as to whether or not they should purchase these drink packages.
Over the past year, we had a chance to test out the Royal Caribbean Drink Packages on several different sailings including Enchantment of the Seas, Quantum of the Seas, and Independence of the Seas.
All Royal Caribbean Ships Sailing Three Days or Longer Offer Drink Packages
For us,  the Royal Caribbean Drink Packages have been been a good deal, making our cruise more hassle free, and saving us some money in the process.
But, what about you?  Are the Royal Caribbean Drink Packages the right choice for your next cruise vacation? We have put together this week's post to help you make that decision. So, let's take a look at all of the options available to determine whether you would benefit from one of these plans.
 The Basics of Royal Caribbean Drink Packages
As soon as travelers hear the phrase "drink package", they usually assume alcoholic drink packages; however, there are several different options for Royal Caribbean drink packages, offering both alcoholic and non-alcoholic plans. Here, we are focusing on packages that offer unlimited consumption, but there are also some prepaid beverage plans that allow you to purchase a set number of drinks like bottled water.  With any drink package discussed in this post, you are only allowed to be served one drink at a time, whether it is alcoholic or non-alcoholic.
And remember, just because the packages do allow unlimited cocktails, it does not mean you should over indulge. Cruise staff have the right to limit your intake and refuse you bar service if you are intoxicated, so be sure to drink responsibly, even though you are on vacation.
You are also not allowed to share the drink package. Not everyone in your stateroom has to purchase a beverage package, or the same package, but as mentioned above you are only allowed to purchase one drink at a time in an attempt to curtail sharing the package with others in your party.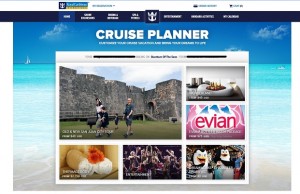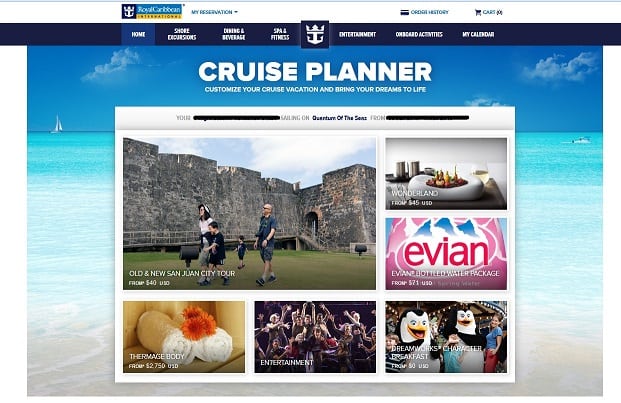 You can pre-book your drink package before you board the ship for convenience
The prices are quoted as per person, per day. They do NOT include gratuities (also referred to as a service charge) which was recently increased to 18%.  While you can pre-book your beverage packages on the Royal Caribbean website, you can also book them when you board the ship for exactly the same price.
Another insider tip: Royal Caribbean drink packages ARE honored at bars on the line's private islands, Coco Cay, Bahamas and Labadee, Haiti. If your ship is stopping at one of these locations, and you plan on relaxing on the beach with a few frozen cocktails, then your drink package will allow you to do so at no extra cost- unless you choose to purchase the souvenir cup!
These Labadoozies from Labadee, Haiti are covered with the Premium and Ultimate Drink Packages
Royal Caribbean drink packages are available for all sailings of 3 days or longer-so essentially all cruises except for two day "sampler cruises". Many cruisers are not aware that you do not have to purchase the drink package on the first day of the cruise. You can purchase them at any time so long as there are at least three consecutive days left in your voyage. You will pay a prorated amount for the remainder of the trip; but, you do not get any credit for drinks you may have already purchased on previous days of your vacation. However, you can not pick and choose which days you purchase the drink package- for example, you can not purchase the drink package just for sea days.
None of the drink packages include items from the mini-bar-those are always extra. Also, drinks from room service are not included. No "bottle" service for the alcoholic drink packages is offered on any package, meaning you can not get bottles of wine or liquor on a plan. Though, there is a 20% discount on bottles of wine with the Select, Premium, and Ultimate packages.
Non-Alcoholic Royal Caribbean Drink Packages
Royal Refreshment Drink Package
For non-alcoholic drink packages, there are two options-Royal Refreshment and Royal Replenish. The Refreshment package is what is typically referred to as a soda package. For $6.50 a day for adults and $4.50 for children under 18, cruisers can enjoy unlimited amounts of soda from the bars and restaurants onboard and the private islands. This does not include cans of soda or soda ordered through room service.
Refillable Souvenir Cups from Quantum of the Seas January 2015 Sailing
When you purchase this plan you get a souvenir cup that can be used at such locations. Recently,  Royal Caribbean ships have been outfitted with Coke Freestyle machines, meaning if you buy this package you can make your own crazy concoctions using your souvenir cup. Note, only those with souvenir cups can use the Freestyle Machines. You cannot purchase a single drink at these machines.
Soda goes for about $2, meaning that adults need to drink about four servings a day to make it worthwhile-children need to drink about three cups.  If you are a soda drinker, this package is a no-brainer, and now with over 100 possible combinations in the Freestyle machines, you may never have the same drink twice all cruise!
Endless Combinations and Unlimited Refills at the Coke Freestyle Machines
Royal Replenish Drink Package
If you want more options than just soda in your non-alcoholic drink package, then the Royal Replenish package might be right for you.
For a total of $19 per person, per day, this plan gives cruisers unlimited choice of premium coffees and teas, soda (including the souvenir cup), bottled water (both sparkling and still), freshly squeezed orange juice, and non-alcoholic frozen drinks. Essentially, you can enjoy almost any non-alcoholic beverage on this package. There are only a few exclusions, such as sports drinks (e.g., Powerade).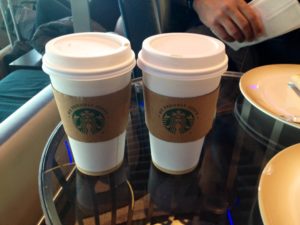 Your Hot (and Iced) Latte Drinks are Covered in the Royal Replenish Package
While it might fluctuate day-to-day, it is quite easy to see how you could quickly rack up enough beverages to make this drink package worth it for you. Just take this example, which is a list of the non-alcoholic beverages I recently consumed on a port day at Nassau, Bahamas on Enchantment of the Seas.
Time of Day
Drink
Price
Breakfast
1 Iced Latte
$4.50
1 Bottled Water
$2.25
Lunch
2 Freestyle sodas
$4.00
1 Bottled water
$2.25
At Port from Noon to 4:30pm
Afternoon
1 Bottled Water
$2.25
1 Iced Latte
$4.50
Night Time
2 Bottled Waters
$4.50
Total
$24.25
Note, we had an alcoholic drink package, so at dinner and during evening shows I was enjoying more adult beverages. If I wasn't, I would have easily had additional non-alcoholic offerings. Again, this package offers some great value for your vacation saving me over 25% on this prototypical day.
Alcoholic Royal Caribbean Drink Packages
Select Drink Package
For those who prefer beer and wine, this Royal Caribbean Drink Package may be for you. For $35 a day, per person, you can select from essentially all of the beers onboard and wines under $8.00, as well as soda from the bar and Freestyle machines.
Also, like all alcoholic drink packages, you get 20% off of any bottles of wine you purchase onboard.
To be honest, most beers cost about $6 or less, for a standard 16oz bottle or draft. On some of the newer ships, like Quantum of the Seas, there are some venues that have specialty beers in larger sizes, like a 22oz Southern Tier Unearthly IPA, that will not be covered on this plan.

A Small Selection of wines are included in the Select Package
In addition, the wines on this plan are extremely limited. In fact, looking at the wine menu for Vintages, the wine bar on most Royal Caribbean ships, not one glass of wine is under $8. Thus, you have a very small menu of house wines that are included.
If you are a beer drinker, and you plan on regularly drinking 6 beers a day, with a few sodas thrown into the mix, then this plan would certainly be worth it for you. If you like to choose from a larger menu of wine or other alcoholic cocktails, then we suggest you opt for another one of the Royal Caribbean drink packages.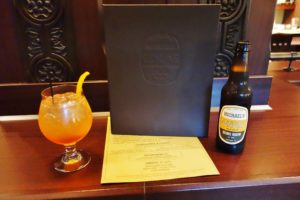 Most Craft and Specialty Beers are Included in the Select Package
Premium Drink Package
For those looking for a wider range of alcoholic beverages, as well as bottled water (still), we highly recommend you consider the Premium Beverage Package. With this plan, you can choose from almost any cocktail found onboard, including spirits such as Bombay Sapphire. Grey Goose, Chivas Regal, and specialty cocktails found at restaurants or lounges, plus all beers and wines valued at $12 or less.
We just got this updated list of the Beverage Package, details all the included (and excluded) liquors covered on the Premium Ultimate packages! This is yours to download!
View Fullscreen
Not to mention this plan includes soda and bottled water (still). For us, bottled waters easily added up to $10 to $15 a day, especially when having a few cocktails at night.
The wine selection at this price point is much more substantive. For instance, now at Vintages you have about 8 different wines within the allotment.
Another nice feature of this plan is the ability to only pay the difference for drinks above the stated dollar limits. Want a nice glass of Cabernet Sauvignon that is priced at $17? Well, since this plan covers wines up to $12,  it will only cost you $5.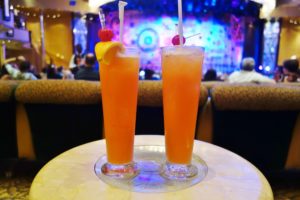 Enjoy Any Drink of the Day While Using the Royal Premium Package
Most cocktails cost around $7-$8, with martinis and some signature drinks costing as much as $12-$13 on some ships. Those drinks ARE covered on this plan. Here, you need to drink about six cocktails, and a few bottles of water or soda to more than cover the costs of the plan each day.
On sea days, a few poolside drinks, a few bottles of water or sodas, a few glasses of wine or cocktails at dinner, and you are basically at the allotment before the nighttime activities even get started. Thus, you can easily save about  20-25% off your bar tab from picking this plan.
Ultimate Drink Package
For those looking for the most inclusive package offered, then the Ultimate Package will cover virtually all drinks you can order on the ship, minus the top tier brands on the above referenced exclusions list.
Essentially, this Royal Caribbean Drink Package takes all of the non-alcoholic drinks, including the soda souvenir cup, premium coffees and teas, sparkling and still water, and freshly squeezed orange, from the Royal Replenish and combines it with all of the alcoholic beverages in the Premium Package.
For $55 a day (or $6.00 more than the Premium Package), you can expand your offerings to include all of these beverages.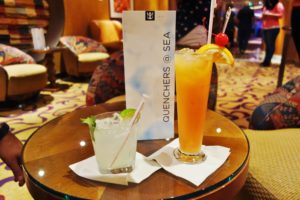 Mixed Drinks, Beer, Wines, and Signature Cocktails are Included in the Ultimate Package
Admittedly, this plan does not include any more liquors than the Premium Package, but the biggest difference between these two plans are non-alcoholic offerings.
The main difference between this package and the Premium package comes down to the espresso based drinks ($4 and up) and freshly squeezed orange juice ($3). If you drink at least one of each these drinks, then this plan is worth it for you.
We are big coffee drinkers, and I discovered the joys of freshly squeezed OJ when first testing this plan out back on Independence of the Seas. Thus, we have opted for the Ultimate Package on our last two sailings. And, they have been a great value.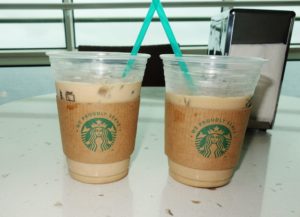 Enjoying our morning (and occassional afternoon) lattes on the Ultimate Package
How do the Royal Caribbean Drink Packages Measure Up?
So this brings us back to the original question, are Royal Caribbean drink packages a good value?
Now that you have seen the breakdown, you can start to get a sense of what you can reasonably consume, and not consume, over the course of your trip.
Comparing our experiences on two 8 night sailings and one 3 night sailing, we saw the greatest benefits on our three day Bahamas cruise.  Even on vacation, there is only so much one can consume, consistently, day after day.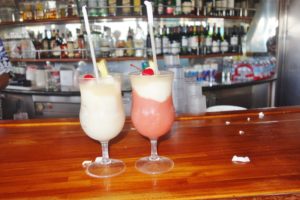 Frozen Drinks Poolside are a Must with a Royal Caribbean Drink Package
This is not to say that we did not realize cost savings on our longer cruises too. For instance, on our Quantum of the Seas sailing, here is the breakdown of drinks I consumed on day 7, a sea day.
| | | |
| --- | --- | --- |
| Time | Drink | Price |
| Breakfast | 1 Iced Latte | $4.50 |
| Mid morning | 2 Bottles of Water | $4.50 |
| Lunch | 1 Frozen Cocktail | $7.50 |
| Afternoon | 1 Froze Cocktail | $7.50 |
| | 1 Bottled Water | $2.25 |
| Pre-Dinner | 1 Bottled Beer | $6.00 |
| Dinner | 1 Glasses of Wine | $10.00 |
| Pre-Show | 1 Signature Cocktail | $12.00 |
| Late night | 2 Signature Cocktails | $24.00 |
| Before Bed | 2 Bottled Waters | $4.50 |
| | Total | $82.75 |
If I had to pay out of pocket for these drinks, it would have cost me over $82. Paying only $55, I saved close to 30 bucks, or 33%, on my beverage costs for that day. I would say that I made out pretty well with this Royal Caribbean drink package. Savings did fluctuate from day to day,  but overall the beverage package was a good investment for us on our 3 recent cruises.
Comments
Have you ever purchased one of the Royal Caribbean drink packages when on a cruise? Let us know your experiences with a beverage package. Good, bad, or a little tipsy, we want to know. Help your fellow cruisers plan their vacation and make the right call when it comes to purchasing drinks while onboard.