Heidi and I were on the inaugural cruise of Norwegian Cruise Line's newest ship, Norwegian Prima. This new class of ship offers a variety of dining options. During our trip, we were able to dine at the new Italian restaurant Onda by Scarpetta. Was this restaurant worth the wait? Well, we share our experiences from start to finish with our exclusive review of Onda on Norwegian Prima!
Norwegian Prima Onda Restaurant Review
Like all specialty restaurants on Norwegian Prima, Onda by Scarpetta is an up-charge. This restaurant is priced a la carte. Or, cruisers can use a credit from the Norwegian Cruise Line Specialty Dining package.
When using the package, cruisers receive one starter, one entrée, and one dessert. Although, in our experiences, cruisers can often order multiple starters and desserts. However, the cruise line does charge a supplement for extra entrees.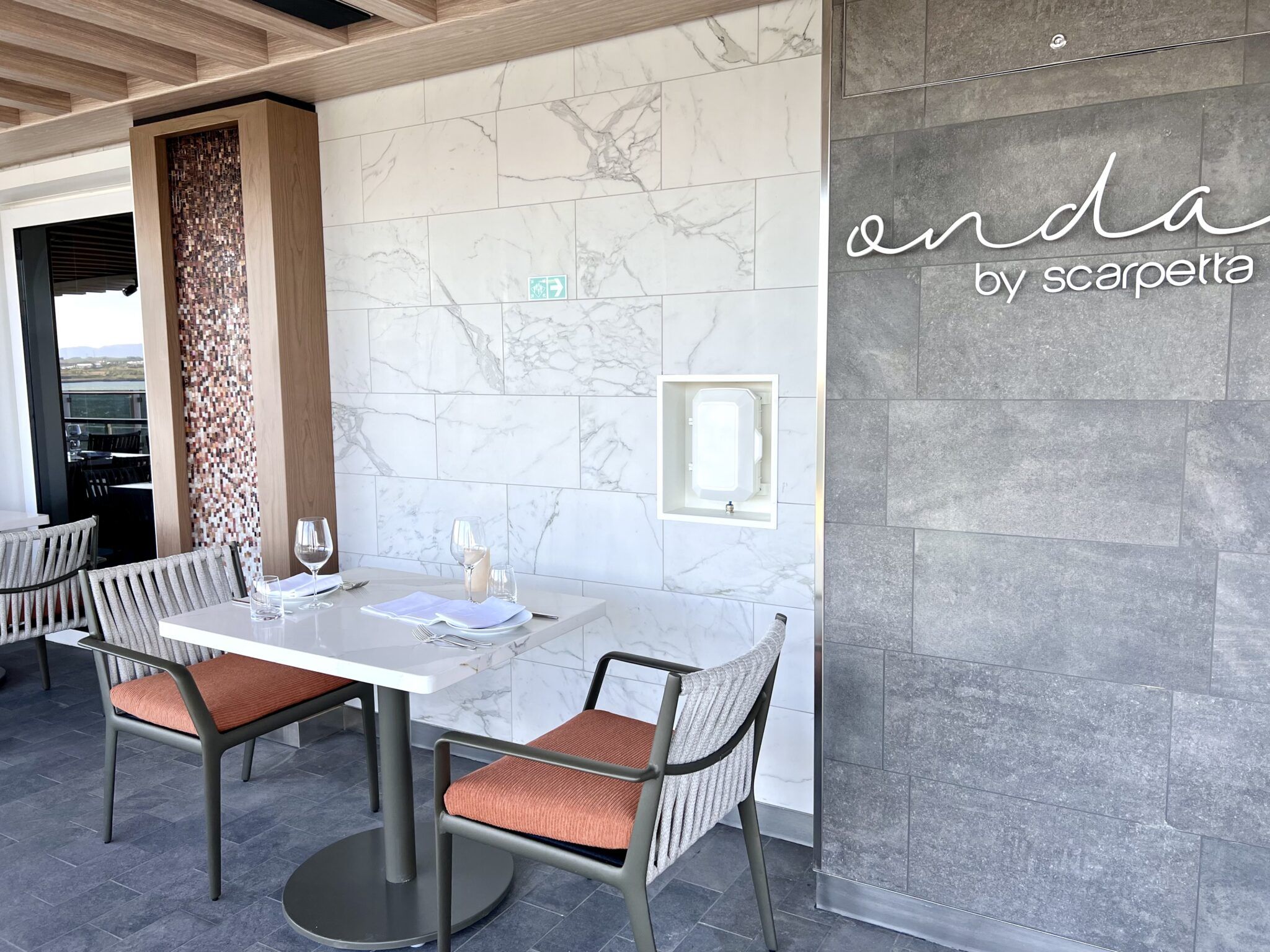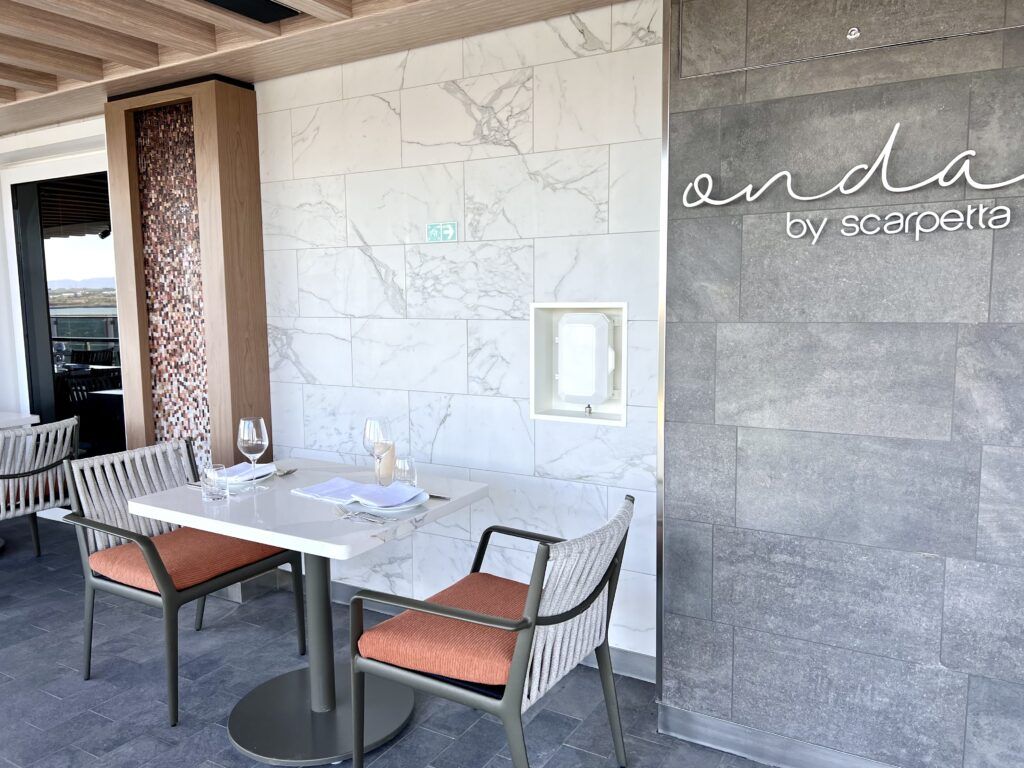 Typically, cruisers can make reservations pre-cruise on the My NCL website or NCL app. Unfortunately though, for our maiden voyage on Norwegian Prima, cruisers were not able to pre-book specialty dining.
We had to make reservations once onboard the ship. So, all we were able to get was a 5:30 pm reservation on the last night of the cruise. Still, we were willing to eat a tad on the early side if we were going to be able to dine at this restaurant.
EXCLUSIVE SAVINGS: BOOK NOW AND SAVE ON NORWEGIAN PRIMA CRUISES!
Inside Onda on Norwegian Prima
Deck 8 midship is where cruisers can find Onda by Scarpetta on Norwegian Prima. This intimate restaurant is tucked behind the Whiskey Bar on the portside of the ship.
The restaurant's décor is similar to the first Onda at sea on Norwegian Encore. With light wood tones, bright whites, and a nautically inspired layout, the restaurant feels very modern. It is intimate and inviting even though it is located just steps away from the lively Penrose Atrium. Further, the venue offers plenty of natural light.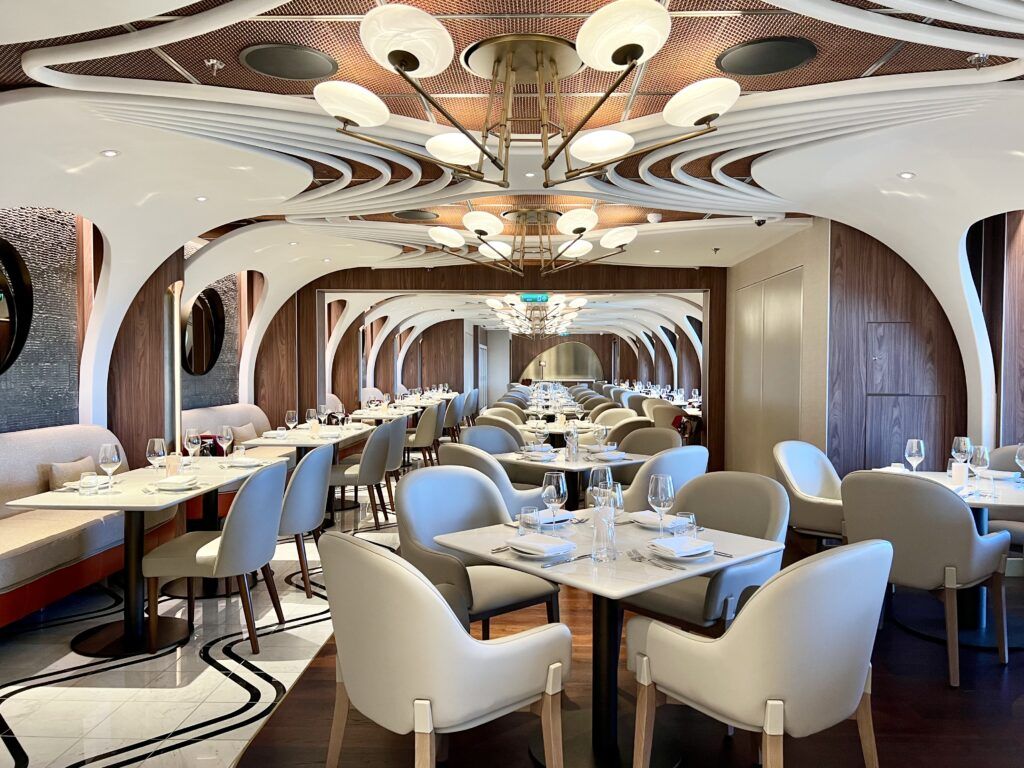 While Onda on Norwegian Prima does offer outdoor seating, we opted to dine inside. Given the ship was cruising the North Atlantic, the weather was a bit too chilly to dine al fresco at any of the restaurants. Still, in the Caribbean or Bahamas, the option to dine outside on Ocean Boulevard might appeal to many cruisers.
When we arrived at the restaurant for our reservation, we were surprised to find it was rather empty. This was a bit disappointing, as it was such a struggle to get reservations all week.
Settling into Onda on Norwegian Prima
Once the hostess confirmed our reservation, a server escorted us to a table for two in the middle of the restaurant.
Of course, we started this multi-course feast with a drink. The San Remo signature cocktail caught my eye. This bourbon-based drink was well balanced, with a slightly sweet finish from the elderflower liquor. A creature of habit, the wife went with a Cosmo.
Now, it was time to dive into the food menu. The menu at Onda by Scarpetta on Norwegian Prima features many classic Italian dishes.
For a starter, we opted for something classic and something unique. Heidi began her meal with the burrata. This milky, delicate cheese was served with tomatoes and Italian ham, along with a light balsamic reduction. It offered a rich and creamy version of this pretty standard dish.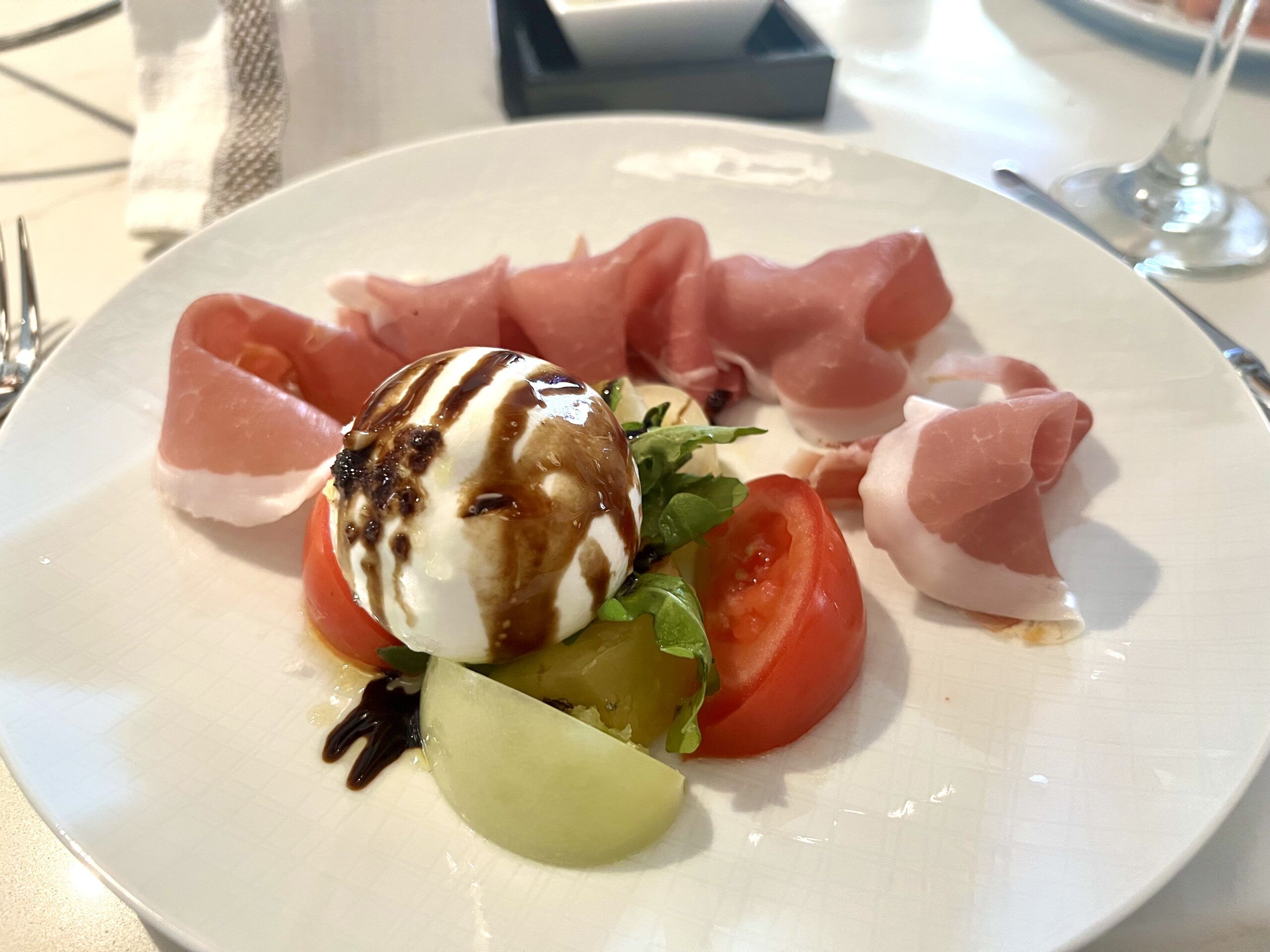 I started with the braised octopus. While I am also a fan of the fried calamari, that is something you can get at any Italian restaurant. The braised octopus was crispy and tender with a light sofrito made of fresh vegetables and beans. This accompaniment gave the starter a unique texture and flavorful finish.
Additionally, we ordered a margherita pizza for the table. This hot and gooey pizza had a thin crust and an ideal ratio of pizza sauce and cheese.
While still not the best pizza at sea, this version at Onda is certainly the tastiest on any Norwegian Cruise Line ship.
On to the Main Course
With our starters offering familiar Italian flavors, next up were the entrees. By now, we had a full week testing out many of the restaurants on the ship. So, we each chose to sample a pasta selection as our main course.
I continued the classics theme, ordering the pappardelle Bolognese. The savory marina sauce with beef, veal, and pork made this dish a hearty meal. It paired exquisitely with the al dente noodles. The portion was certainly more than enough for a meal.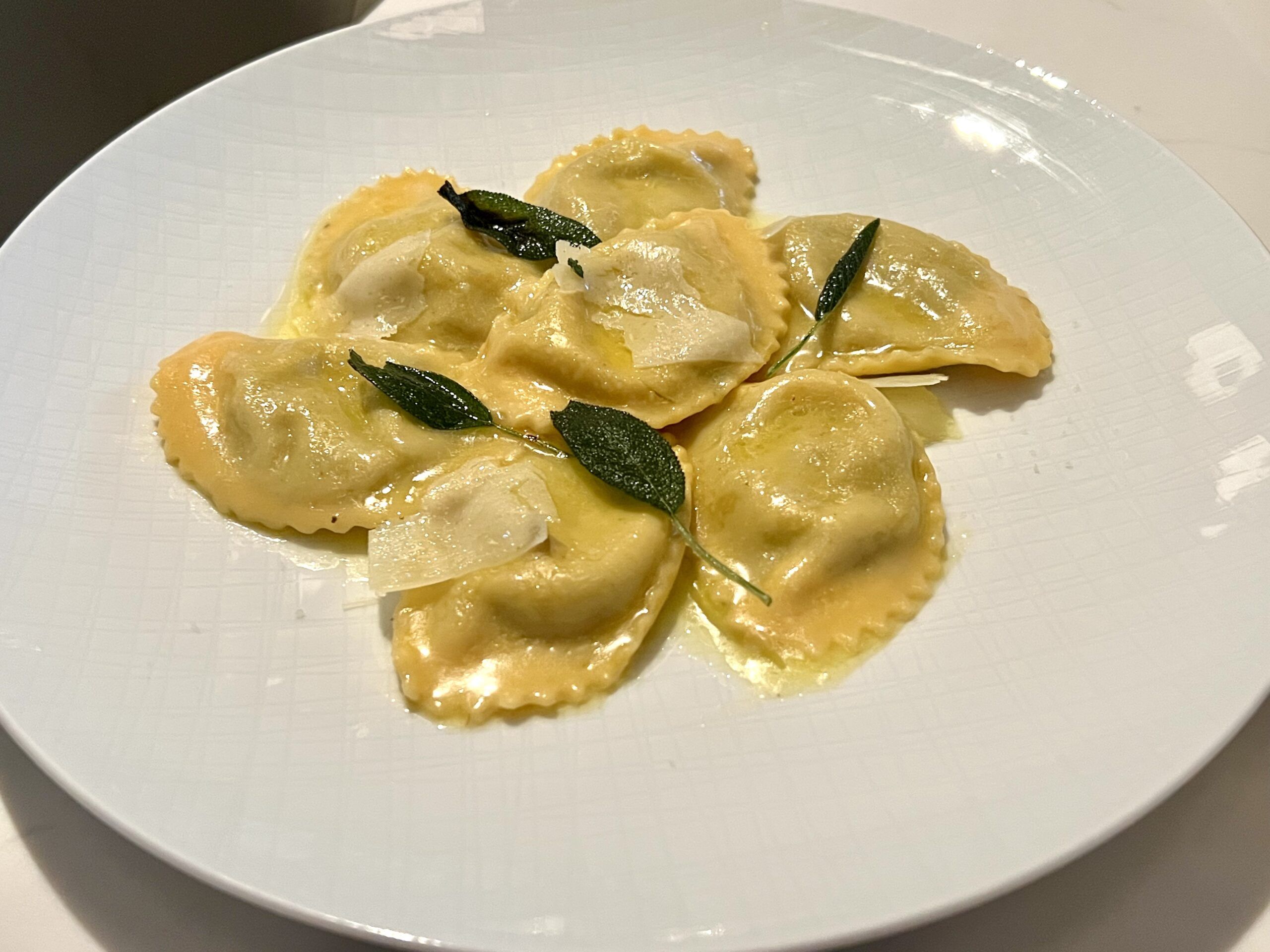 Heidi went with the ricotta and spinach ravioli, which were glazed with a brown butter sauce. The lighter topping allowed the natural flavors of the filling to shine. Admittedly, her entrée was not as filling as mine.
Of course, we both saved some room for dessert. After all, Italy is not only known for pasta, but for its sweet treats.
The tiramisu was light and airy, with true mascarpone cheese. This dessert was certainly on par with versions you would find in the best pastry shops in Boston.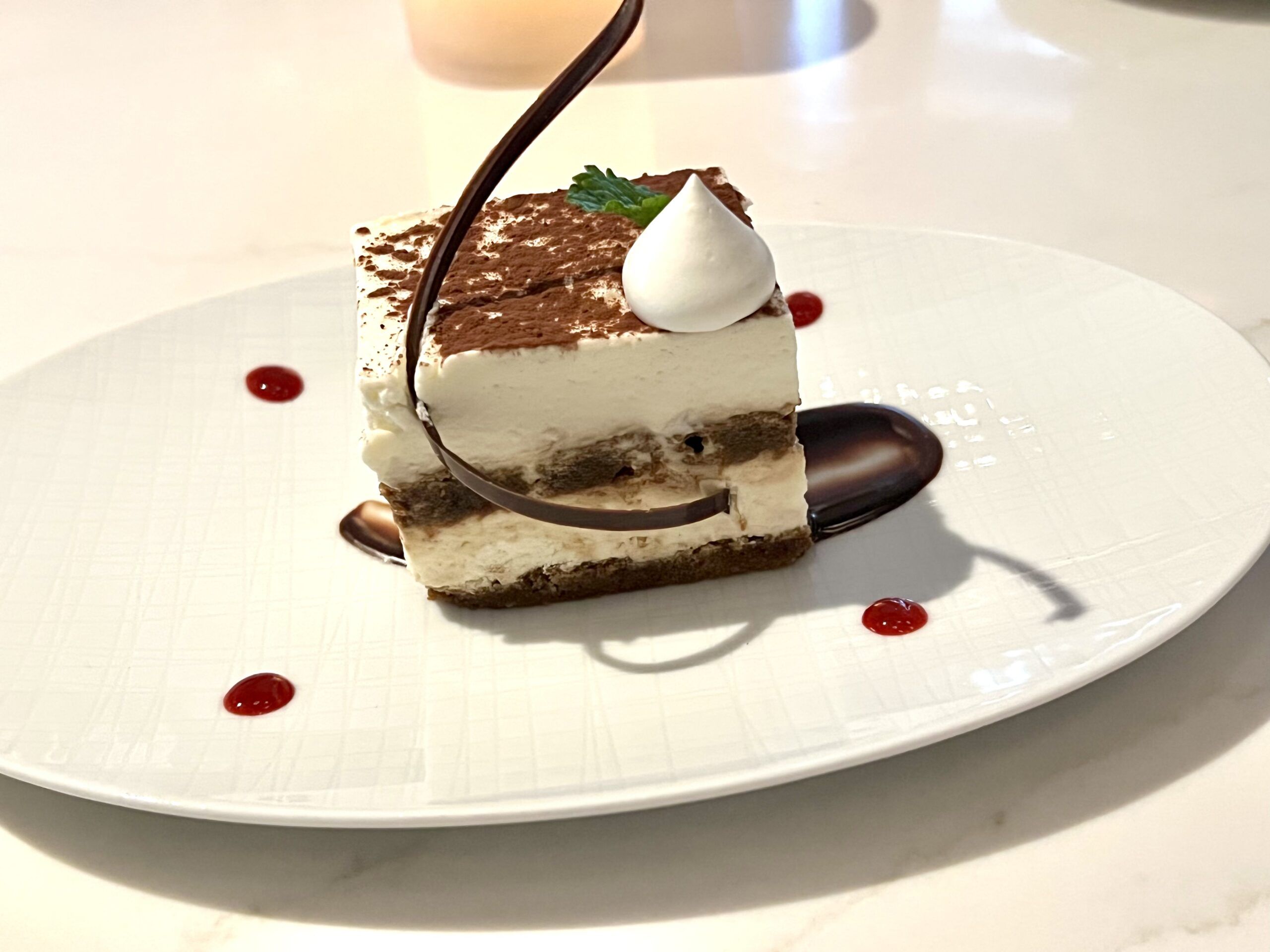 For something unique, we also tried the Butterscotch budino. This Italian pudding had a smooth texture and a sweet flavor. It was topped with salted caramel crumbles giving it a bit of crunch and a scoop of chocolate gelato for good measure.
While not something we typically order, it was delicious.
BOOK NOW: EXCLUSIVE PERKS FOR YOUR NEXT NORWEGIAN CRUISE LINE CRUISE!
Recap of Norwegian Prima Onda Restaurant Review
Our 90-minute, three course Italian feast at Onda on Norwegian Prima was the ideal way to end our christening cruise on this ship. The satisfying and expertly prepared plates offer Italian comfort food in an upscale and elegant setting.
Our wait staff was very accommodating. They were quick to clear plates and refill our drinks. The pacing of the meal was what you expect for a cruise ship specialty restaurant.
Many cruise lines offer Italian specialty restaurants. However, the quality and experience vary greatly in our opinion.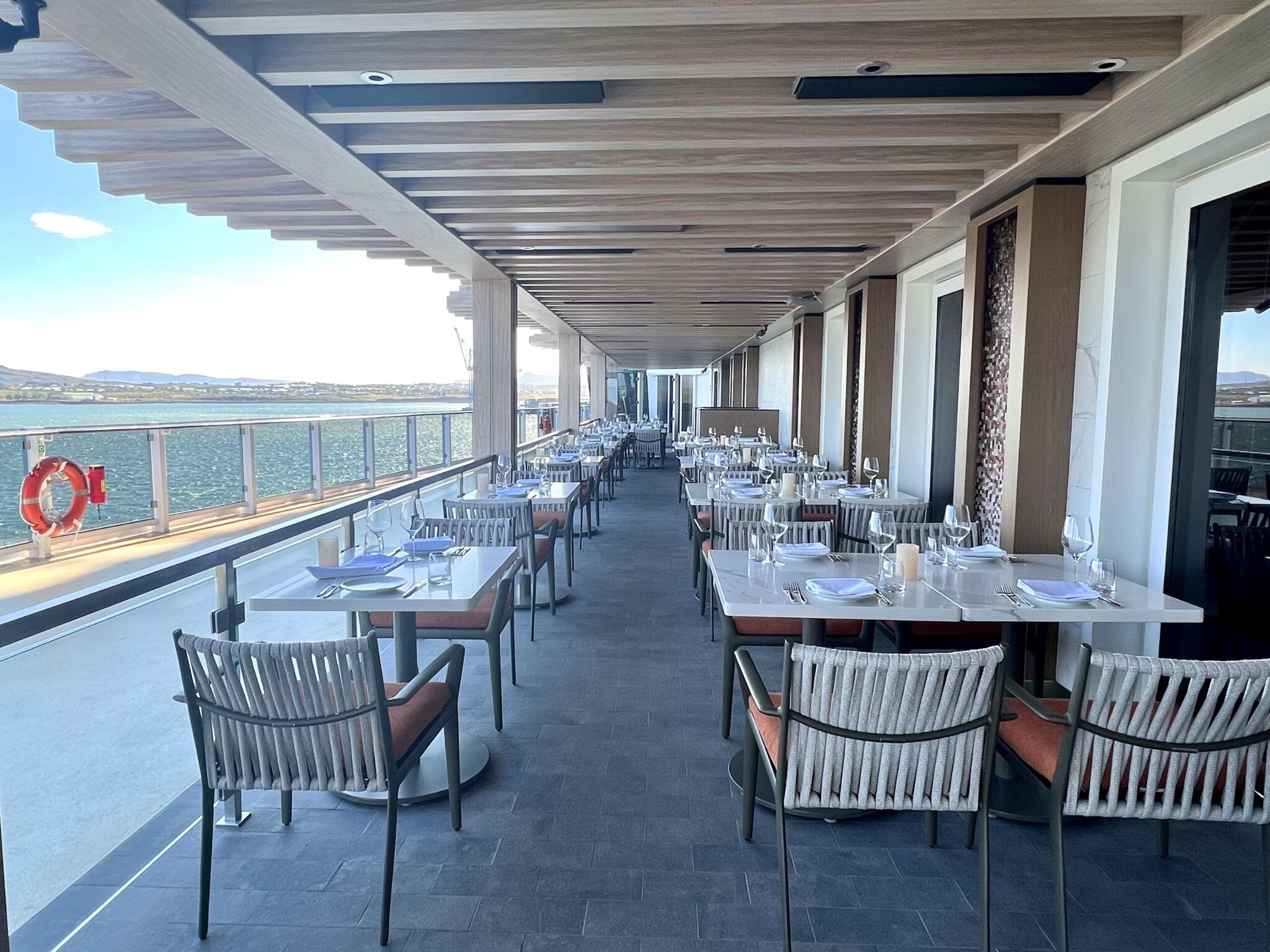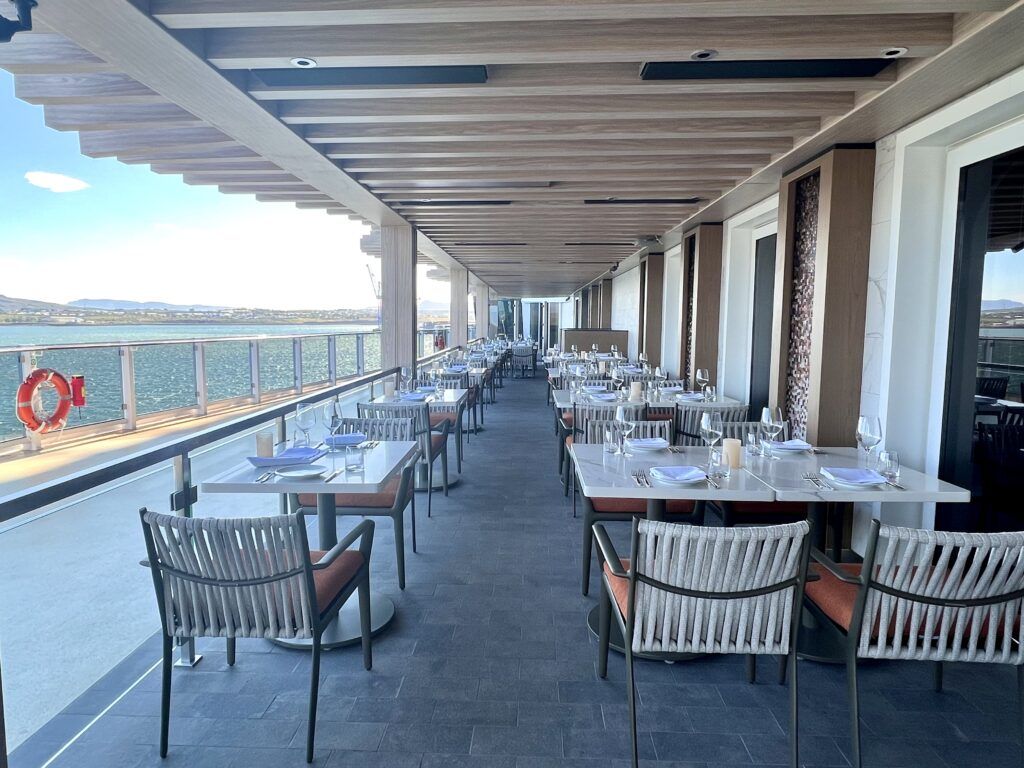 Thankfully, Onda by Scarpetta offers delicious, well-prepared options ranking it among our favorite Italian restaurants at sea. For us, it is certainly worth using a specialty dining credit. Like many Norwegian Cruise Line restaurants, the a la carte prices add up quickly.
If you are already drooling over your meal at Onda on Norwegian Prima, we highly suggest you book your dining reservations before boarding the ship. This way, you won't miss out on one of the best specialty restaurants on the ship!
Comments
Did you enjoy our review of Onda on Norwegian Prima? Have you dined at this specialty restaurant on NCL yet? Drop us an anchor below with your feedback of the dining on this new ship.