One of the best new cruise ships for 2022 has just set sail! Norwegian Cruise Line's innovative Norwegian Prima just debuted in Reykjavik, Iceland where we got to attend this christening ceremony with Katy Perry. Now, we are back from this first sailing and have put together this Norwegian Prima Restaurants Guide with menus so you can see what is available at the different restaurants onboard this new and innovative NCL ship.
Norwegian Prima Restaurants Guide With Menus
Complimentary Norwegian Prima Restaurants
There are several dining options on the list of Norwegian Prima restaurants that are included in your cruise fare. These include the two new main dining rooms, the new Surfside Cafe and Grill (aka cruise buffet), the popular Local Bar and Grill, and many other new casual options in the Indulge Food Hall.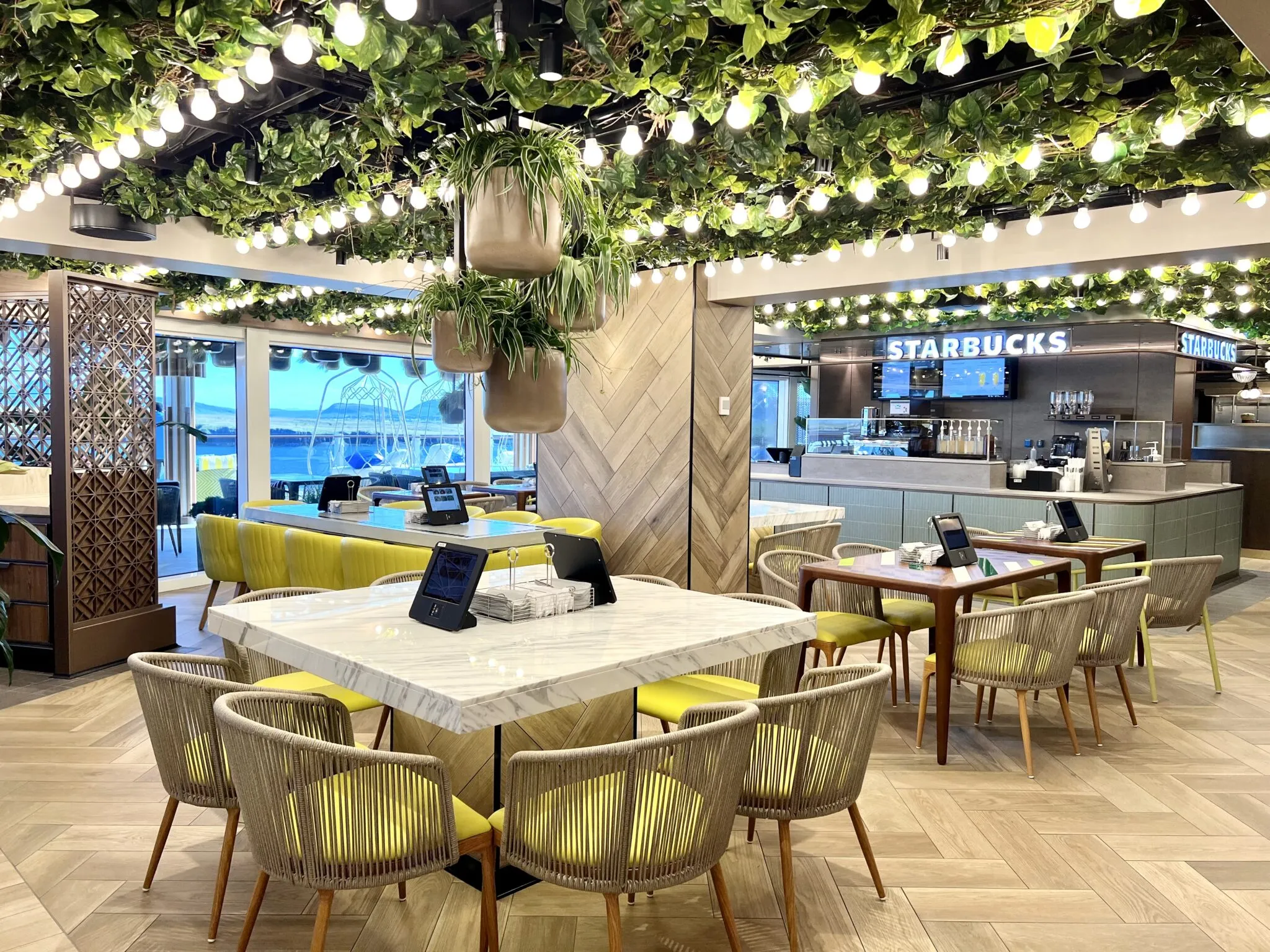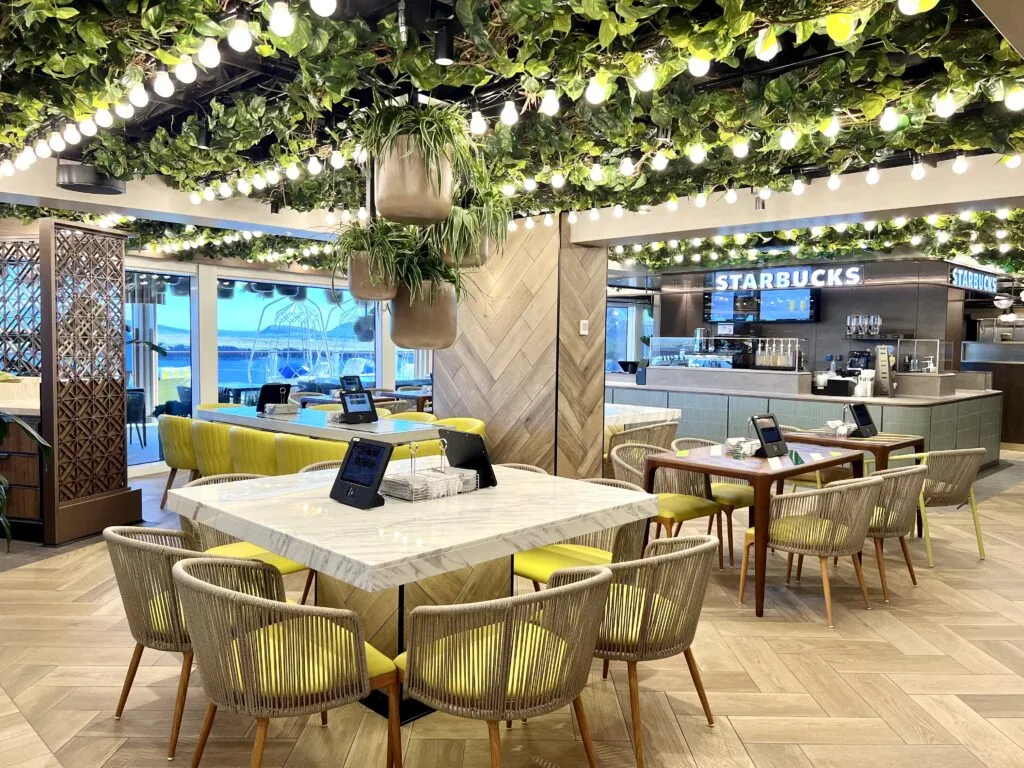 With so many great offerings, you certainly do not have to pay extra for dining (if you don't want to). Though, this new ship also offers a plethora of specialty restaurants that are worth a try.
EXCLUSIVE SAVINGS: Get Deals on Norwegian Prima Cruises Now!
Surfside Café and Grill (Deck 17)
The Surfside Cafe and Grill is NCL's latest rendition of the cruise ship buffet. This venue, located on the pool deck, is just one of the casual food options on Norwegian Prima. This complimentary buffet serves up plenty of choices for breakfast, lunch, and dinner, with indoor and outdoor seating available.
The Surfside Cafe is the larger space with a salad bar, pizza, freshly grilled vegetables, grilled chicken, tacos, a pasta station, and plenty of sweet treats. The Grill is a smaller section tucked around the corner of this venue near the entrance to the Vibe Beach Club. Here, you will find grilled favorites like hamburgers, hot dogs, and fries.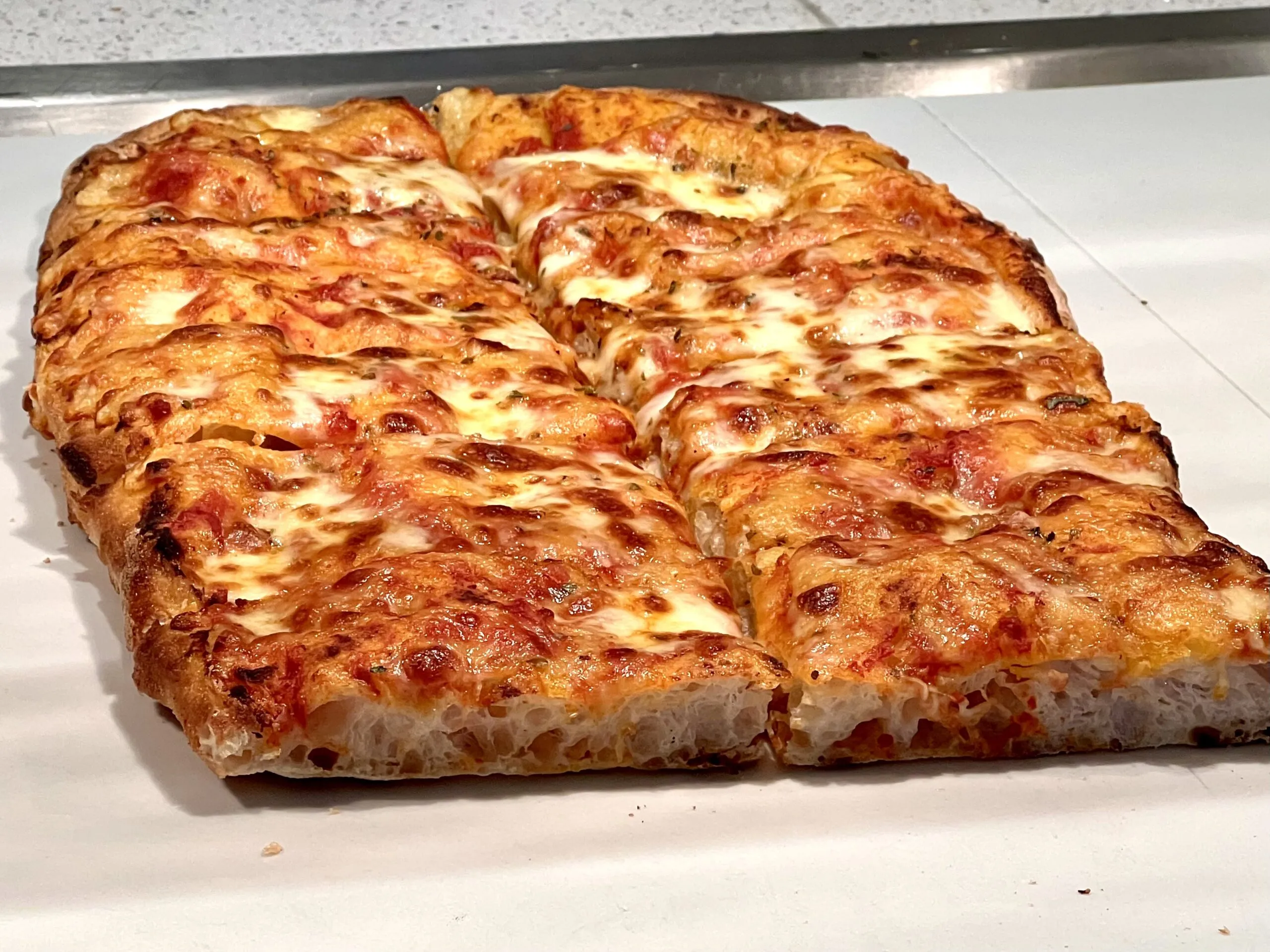 For an NCL ship of this size, the buffet and seating area are small. Though, it served better than expected specialties. Further, it still features the cruise line's signature seafood buffet one day of the cruise.
The Surfside Cafe and Grill is generally open for breakfast from around 630/7 AM to 10 AM, for lunch from around 12 PM to 3 PM, and for dinner from around 530 to 930 PM. The buffet also reopens for late night snacks from 11 PM to 1 AM.
The Local (Deck 8)
Located on the new Ocean Boulevard on Deck 8 (think Waterfront), there is an NCL favorite, the Local. This bar and grill has been revamped with a new seaside atmosphere which includes both indoor and outdoor seating. The bar and restaurant area have also been separated, with the bar now featuring live music and a much larger seating area.
The Local offers all your classic pub fare, along with cocktails and a large beer selection. This complimentary venue is open 24 hours a day serving up slightly different menus depending on what time of day you choose to dine here.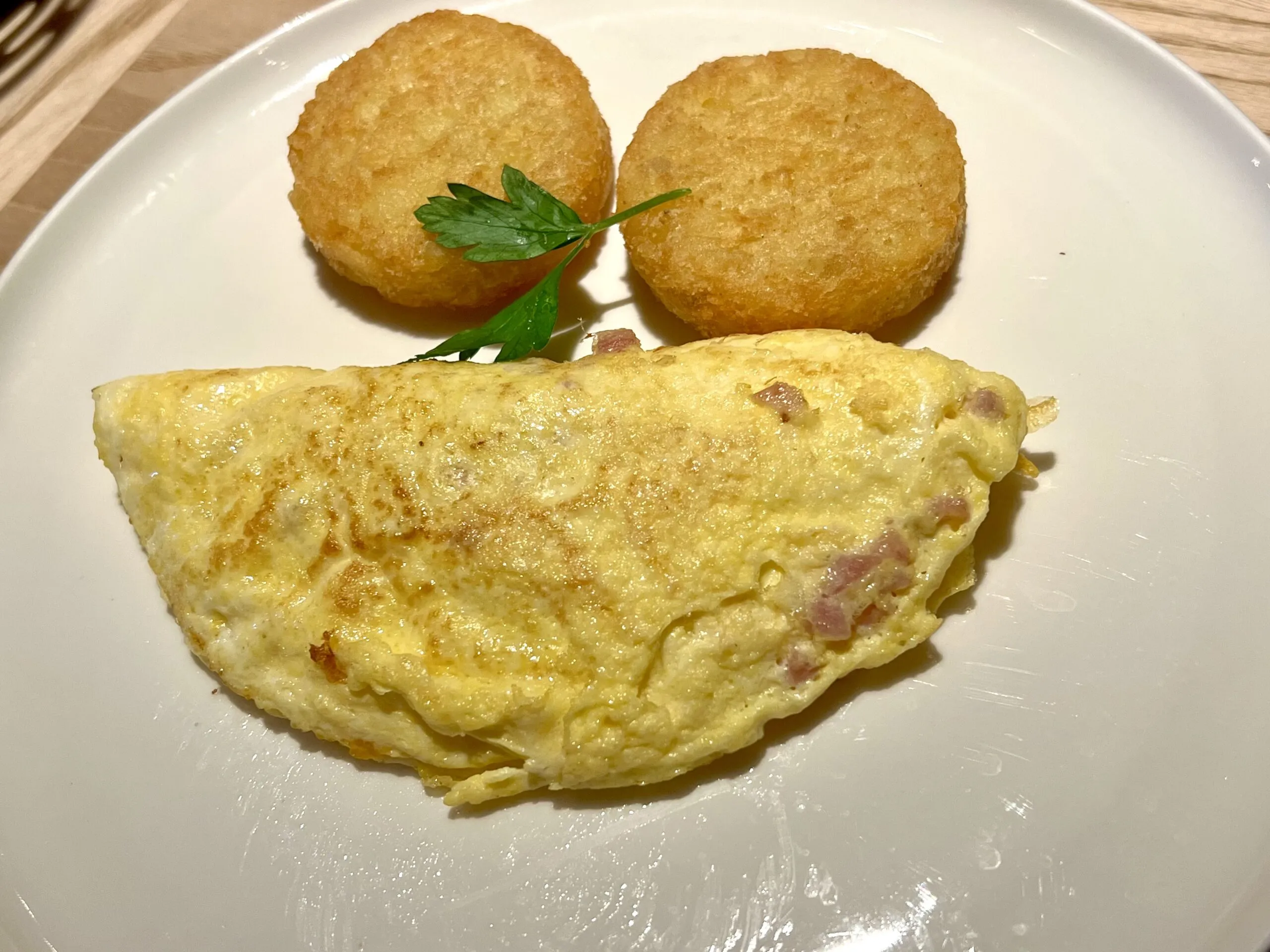 The menu features favorites like chicken wings, pretzel bites, hot dogs, burgers, and fish and chips. There are also a few newer items as well like a Cuban roasted pork entrée and sausage sliders. For breakfast, you can enjoy omelets, an American breakfast, and even breakfast sandwiches.
The Local Menus: Breakfast | Lunch and Dinner | Late Night
Indulge Food Hall (Deck 8)
Aft on deck 8 is the Indulge Food Hall, a brand new concept for Norwegian Cruise Line. Personally, we liken this venue to the Galley on Virgin Voyages, which we love.
The Indulge Food Hall features 11 different eateries with both indoor and outdoor seating. So, you can choose to enjoy your food at a table, the bar, or perhaps even outside at the outdoor lounge.
The best part is that most of these food stations are complimentary. The exceptions are Coco's and Starbucks.
The Indulge Food Hall is open for breakfast, lunch, and dinner. For breakfast, the venue is grab and go with items like breakfast sandwiches, continental items, and fruit. The Indulge Food Hall is generally open from 7 AM to 10 AM for breakfast.
For lunch and dinner, the restaurant is table service. Seating is first come, first serve, with cruisers ordering at tablets located at each table. This venue serves similar menus for lunch and dinner; though, there are some differences. Thus, you will want to dine here at least once for each meal to sample the variety of options available.
The Indulge Food Hall is open for lunch generally from 12 PM to 3 PM and for dinner from 530 to 930 PM.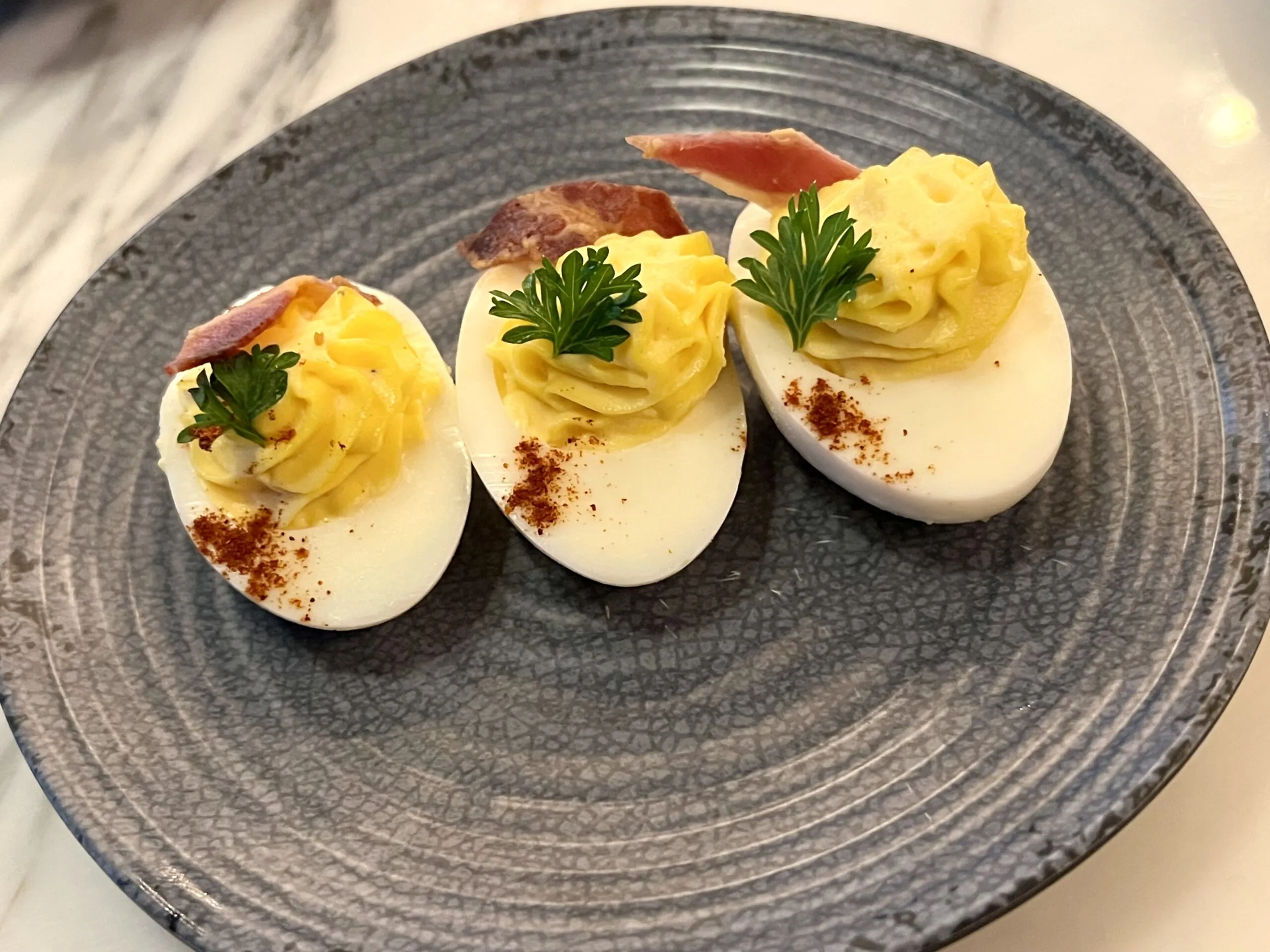 Indulge Food Hall Stations
Coco's is priced a la carte. Coco's serves up gourmet milkshakes and sundaes that are definitely photo-worthy. You may have to show some self-restraint because you could simply lose yourself in these sweet surroundings.
Q Texas Smokehouse, a specialty restaurant on a few other NCL ships, has found a new home on Norwegian Prima. This venue serves up Southern comfort food and barbecue favorites. Q is now complimentary!
Starbucks, the popular coffee house on land, has a second home in the Indulge Food Hall on NCL Prima. These espresso-based beverages will cost extra though. Even if you have the Premium beverage package included in the line's Free at Sea promotion, these drinks are still not included. You will have to upgrade to the Premium Plus drink package for this inclusion.
Seaside Rotisserie is the first new offering on Norwegian Prima. This food stand features a wide array of rotisserie-cooked dishes like lamb chops, tenderloin, and kabobs.
Nudls serves noodle dishes from around the world, from Italian to Thai cuisines. It features dishes like pad thai, gnocchi, and more.
Tamara serves classic Indian dishes and multiple vegetarian food options. Some menu options include chicken tikka, naan, papadum, and more.
The Latin Quarter serves classic Latin food with a twist with menu selections like guacamole, totopos, and tostadas.
There is even a Tapas Food Truck in the Indulge Food Hall on Norwegian Prima. This food truck serves up Spanish-inspired snacks like chorizo and manchego.
Further, there is the Garden Kitchen, where guest can order customized salads with more than two dozen ingredients.
Just Desserts features a variety of dessert options.
Just Ice Cream serves all your favorite ice cream flavors.
Some of our favorite menu items included the pad thai with shrimp, spare ribs, cobb salad, beef tenderloin, chicken tikki, and the famed deviled eggs from Q.
Indulge Food Hall Menus: Breakfast Menus | Lunch Menus | Dinner Menus | Cocos Menu | Starbucks
Hudson's (Deck 7)
When it comes to complimentary main dining on Norwegian Prima, NCL has completely revamped this dining experience. Instead of three main dining rooms with rotational menus like the Breakaway Plus ships, Norwegian Prima features two main dining rooms with elevated, fixed menus. This means that no matter what days you dine at these venues, the menus will be the same.
Hudson's is the first of these two main dining rooms. Located completely aft on Deck 7, Hudson's allows guests to admire the 270-degree views while enjoying a variety of global cuisine. The menu also features a build-your-own-pasta section, vegetarian options, and "Specialties" where guests can select certain dishes from specialty restaurants for an up-charge.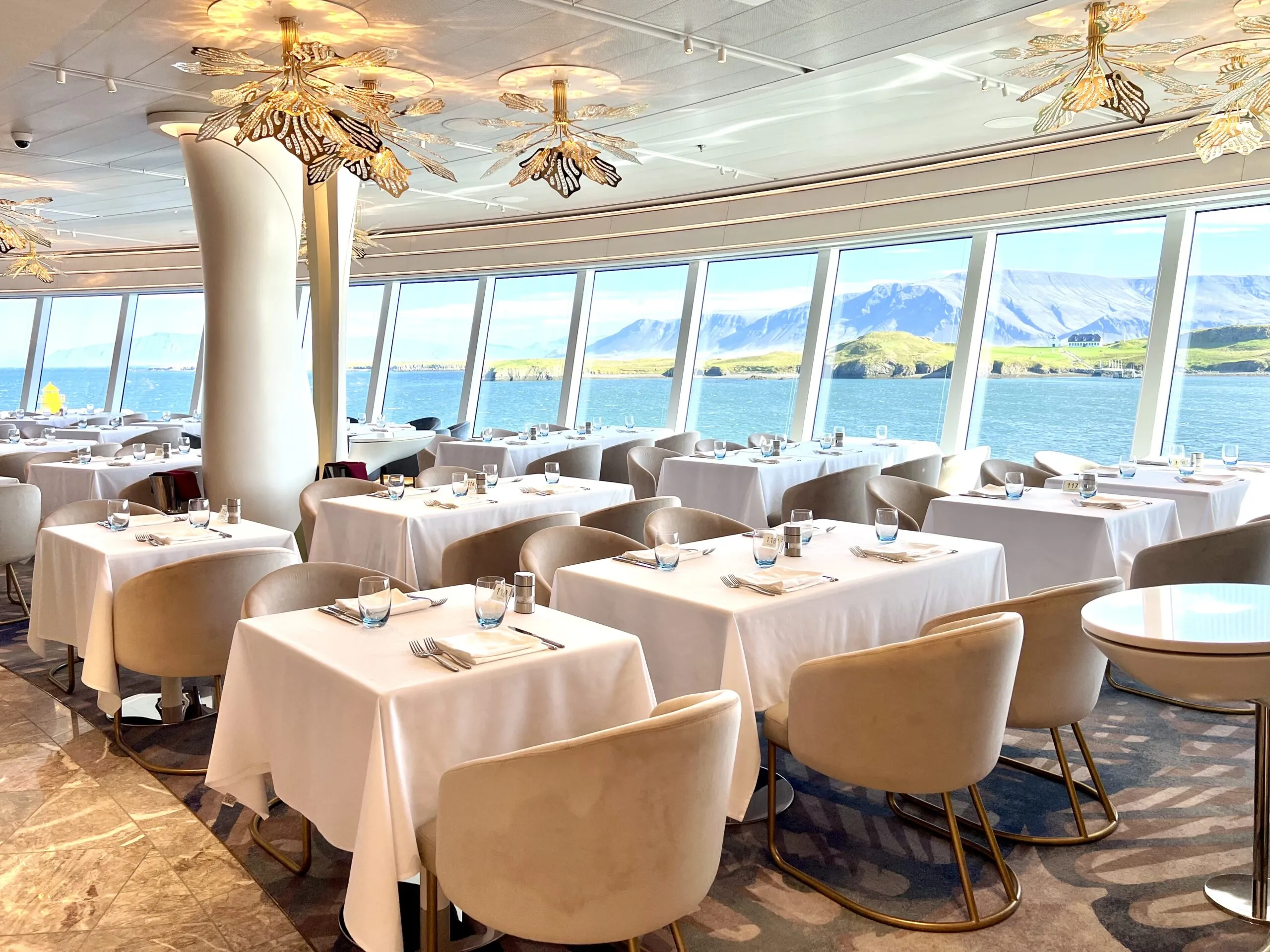 While the menu items are elevated, we did not find the presentation or food quality to be any different than a typical main dining room experience on any other cruise line. Some of our favorite dishes on this new menu included the rotisserie chicken, short rib, coconut shrimp, and clam chowder. While we like the idea of the build your own pasta, our dishes were not very flavorful.
Hudson's is also open for breakfast and lunch as well. Again, these are fixed menus for the duration of the cruise. Hudson's is open for breakfast from around 7/730 AM to 9/930 AM. For lunch, the venue is open around 12 to 2 PM. For dinner, guests can dine at Hudson's between 530 and 930 PM.
Hudson's Menus: Breakfast | Lunch | Dinner | Wine List
The Commodore Room (Deck 6)
Additionally, the Commodore Room is the second complimentary main dining room on Norwegian Prima. This venue is the smaller of the two dining rooms and is located on Deck 6.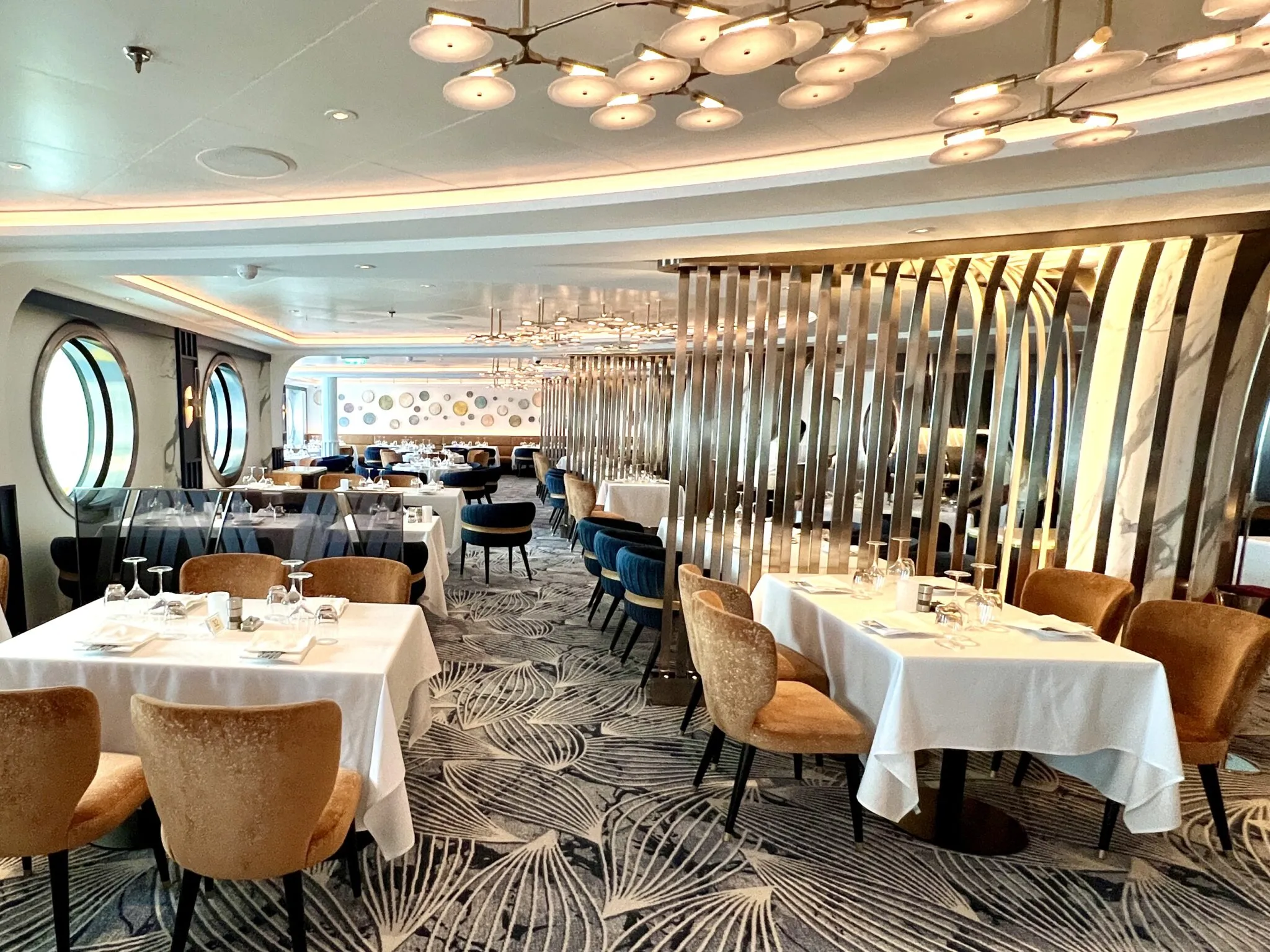 The Commodore Room has the same fixed menus at Hudson's. It is also the dining room that more closely resembles an MDR. The Commodore Room is only open for dinner on Norwegian Prima.
In our opinion, it would have been nice if each of these main dining rooms offered different fixed menus to provide even greater choices for complimentary dining.
SCORE BIG WHEN BOOKING A NORWEGIAN PRIMA CRUISE!
Specialty Restaurants on Norwegian Prima
Further, while Norwegian Prima does offer a number of complimentary dining venues, it also features a number of specialty restaurants. These include some familiar favorites and some that are brand new to NCL. These specialty restaurants do all have up-charges. Though, they are certainly worth it in our opinion.
If you plan to dine at any of these restaurants, you should make reservations pre-cruise, as popular dining times do fill up quickly.
Most of the specialty restaurants are priced a la carte on Norwegian Prima with the exception of Hasuki. Alternatively, cruisers can use meals from their specialty dining packages to dine at these venues.
Palomar (Deck 17)
Located off the pool deck on Deck 17 is a brand new specialty restaurant on Norwegian Prima. This is NCL's first Mediterranean-inspired restaurant, Palomar. Here, fresh seafood and ocean views come together for one epic evening.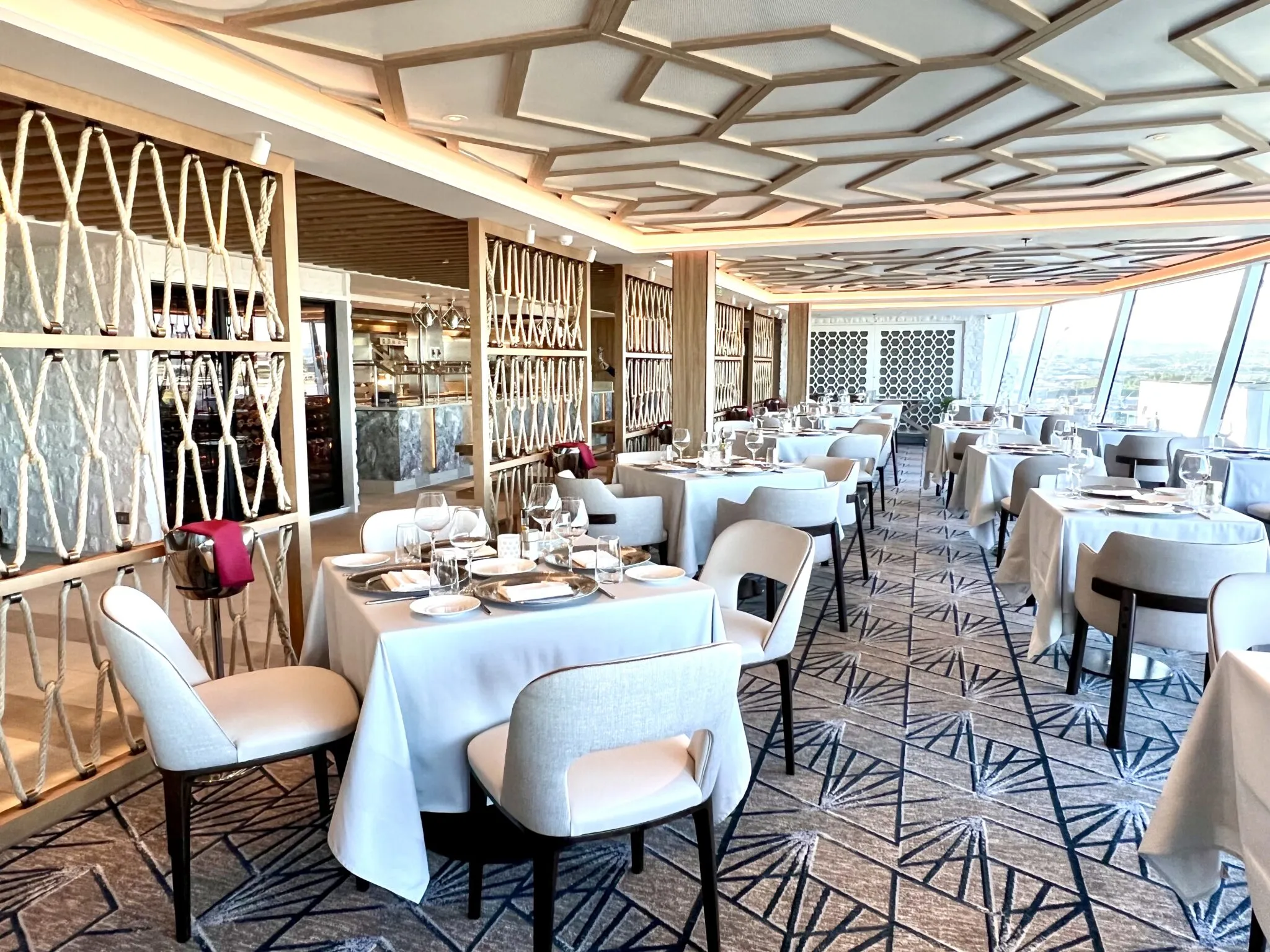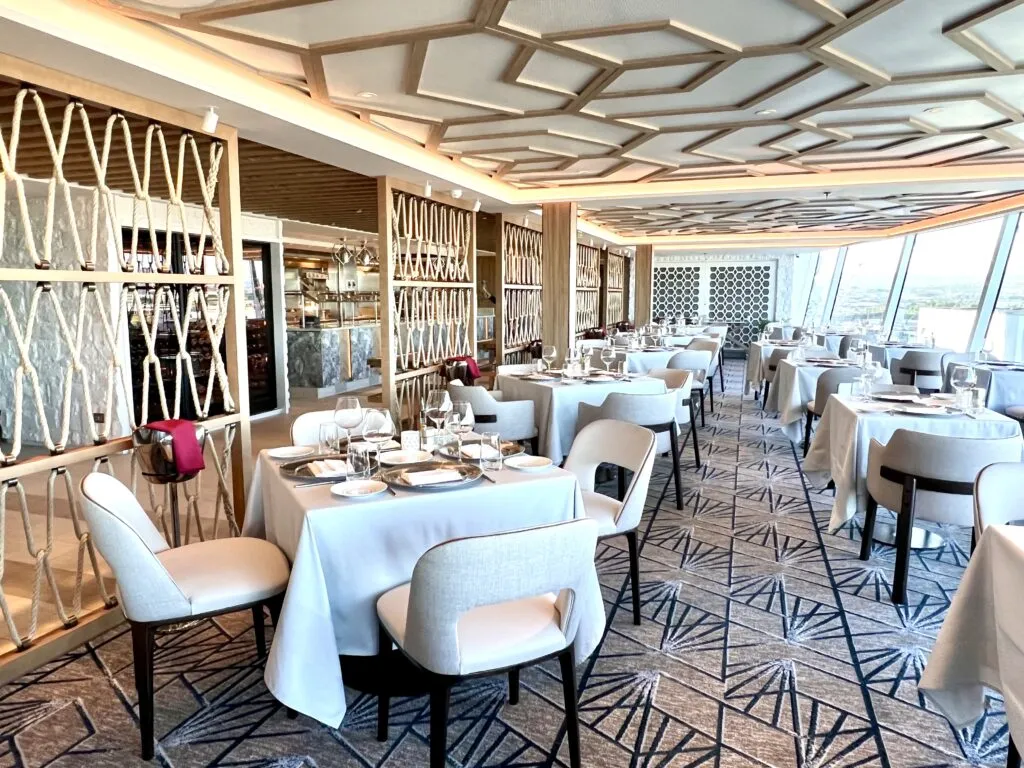 This new seafood specialty restaurant serves up dishes like oysters, lobster, langoustines, filet mignon, a veal chop, and more. Of note, the langoustines and lobster entrees each have a $25 supplement if using the NCL dining package.
Palomar is open nightly for dinner from 530 to 930 PM.
Food Republic (Deck 17)
Located nearby Palomar is one of our favorite specialty restaurants on Norwegian Cruise Line, the Food Republic. This fusion restaurant offers a variety of tapas-sized dishes with culinary influences from around the globe.
On Norwegian Prima, the Food Republic has a larger restaurant space and a better view of the outdoors. This venue is great for sharing with friends. If you are using the specialty dining package here, it includes 4 items each person.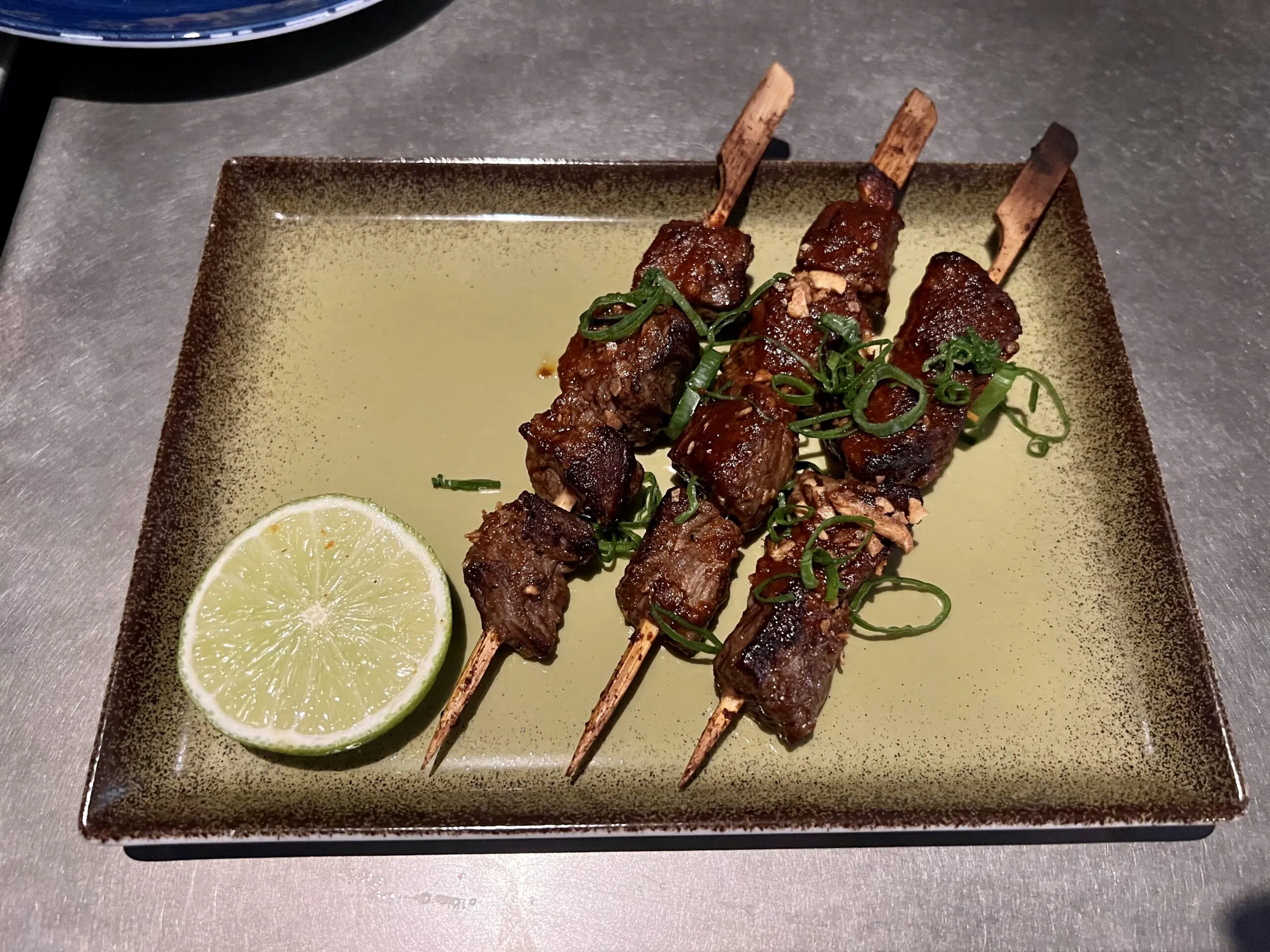 The items range from sushi and handheld bites like the firecracker shrimp to shareable plates, a grill, and noodles and rice. There are plenty of delicious items to choose from on the menu, but be sure to save room for the green tea jar too.
Onda by Scarpetta (Deck 8)
Onda by Scarpetta first debuted on Norwegian Encore in 2019 and is also available on Norwegian Spirit. This specialty restaurant showcases rich and bold flavors from the award-winning Scarpetta restaurants. The venue also features both indoor and outdoor seating on Ocean Boulevard.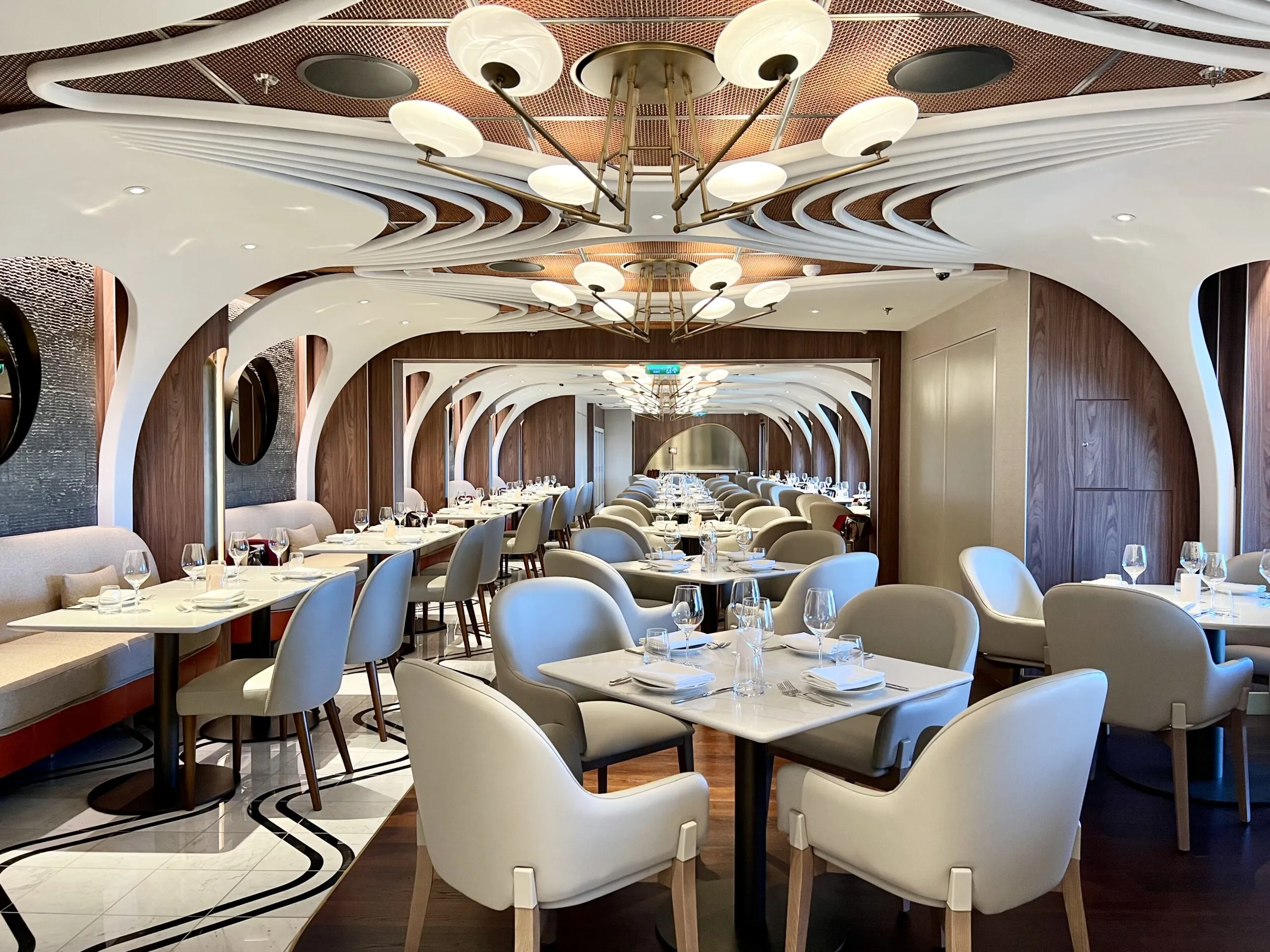 With modern Italian dishes like fresh pasta, mouthwatering seafood, and timeless desserts, this is one of our favorite Italian restaurants at sea. Some of our favorite menu items include the pizza, burrata, braised octopus, and the variety of pasta dishes.
Onda by Scarpetta is open nightly for dinner from 530 PM to 930 PM as well.
Los Lobos (Deck 8)
Also, adjacent to Onda on Ocean Boulevard is Los Lobos. Los Lobos is a premium Mexican restaurant offering traditional flavors with a modern twist. For instance, the venue offers guacamole prepared table-side, tacos, cochinita pibil, and more. This Los Lobos menu has changed significantly since our last sailing with NCL.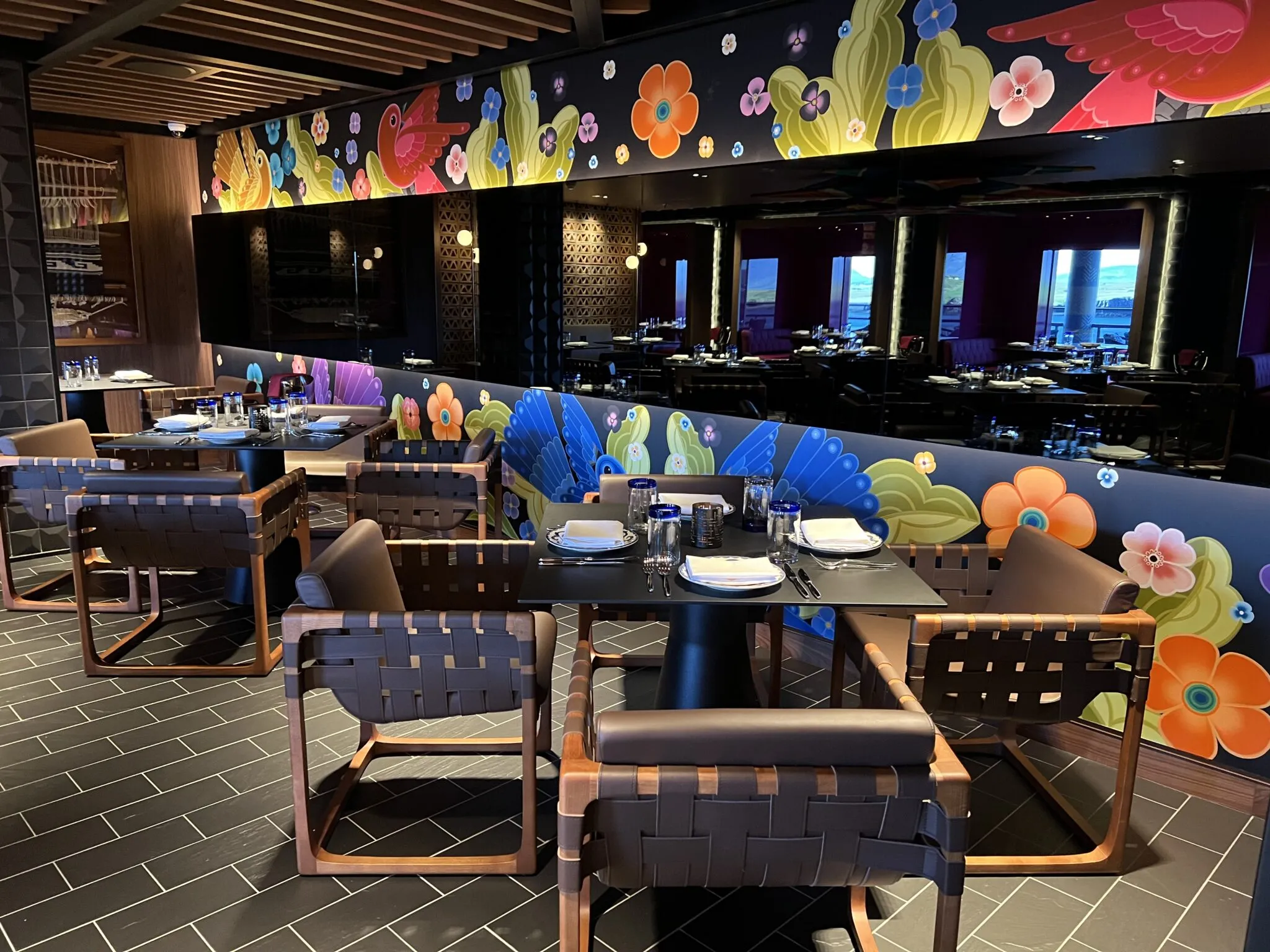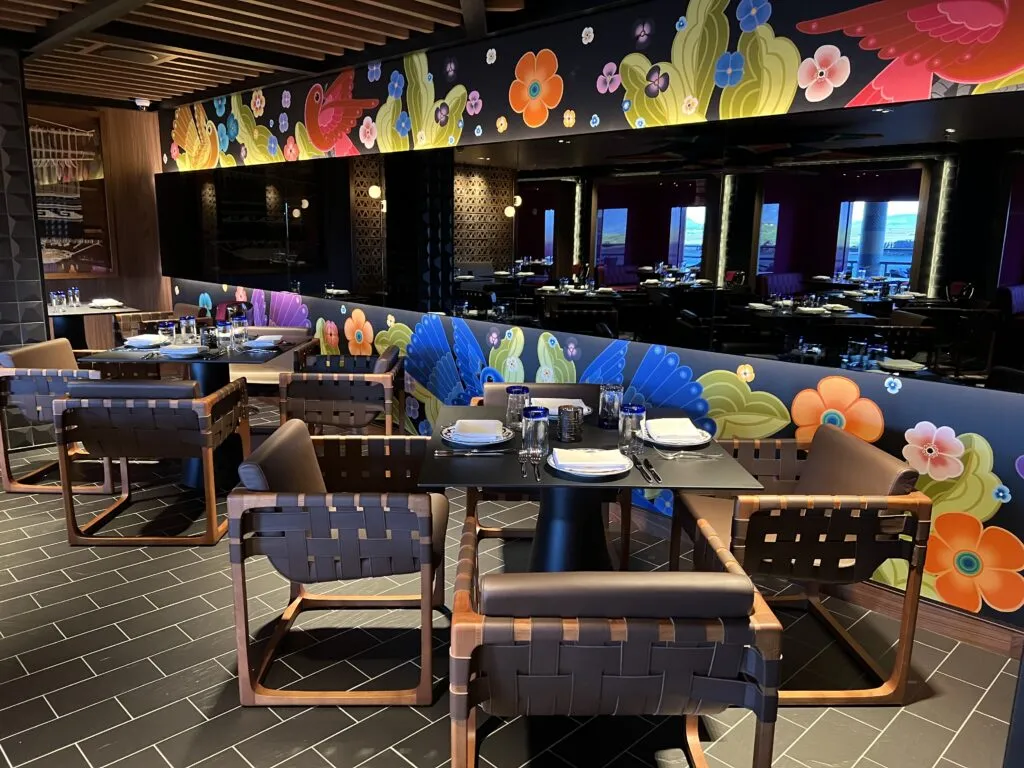 Couple the exquisite new menu with some margaritas, and you have one festive night out. Los Lobos is open nightly for dinner from 530 to 930 PM as well. However, it would be nice to see certain specialty restaurants like Los Lobos or the Food Republic open for lunch.
Le Bistro (Deck 7)
Aft on Deck 7, you will find NCL's signature French restaurant, Le Bistro. This upscale specialty dining venue on Norwegian Prima is designed after the Palace of Mirrors in Versailles. This intimate setting makes for a romantic night out.
Le Bistro's menu features favorites like escargot, Lobster Thermidor, and Coq Au Vin all at a la carte pricing. Like all other specialty restaurants, Le Bistro is also open for dinner from 530 to 930 PM.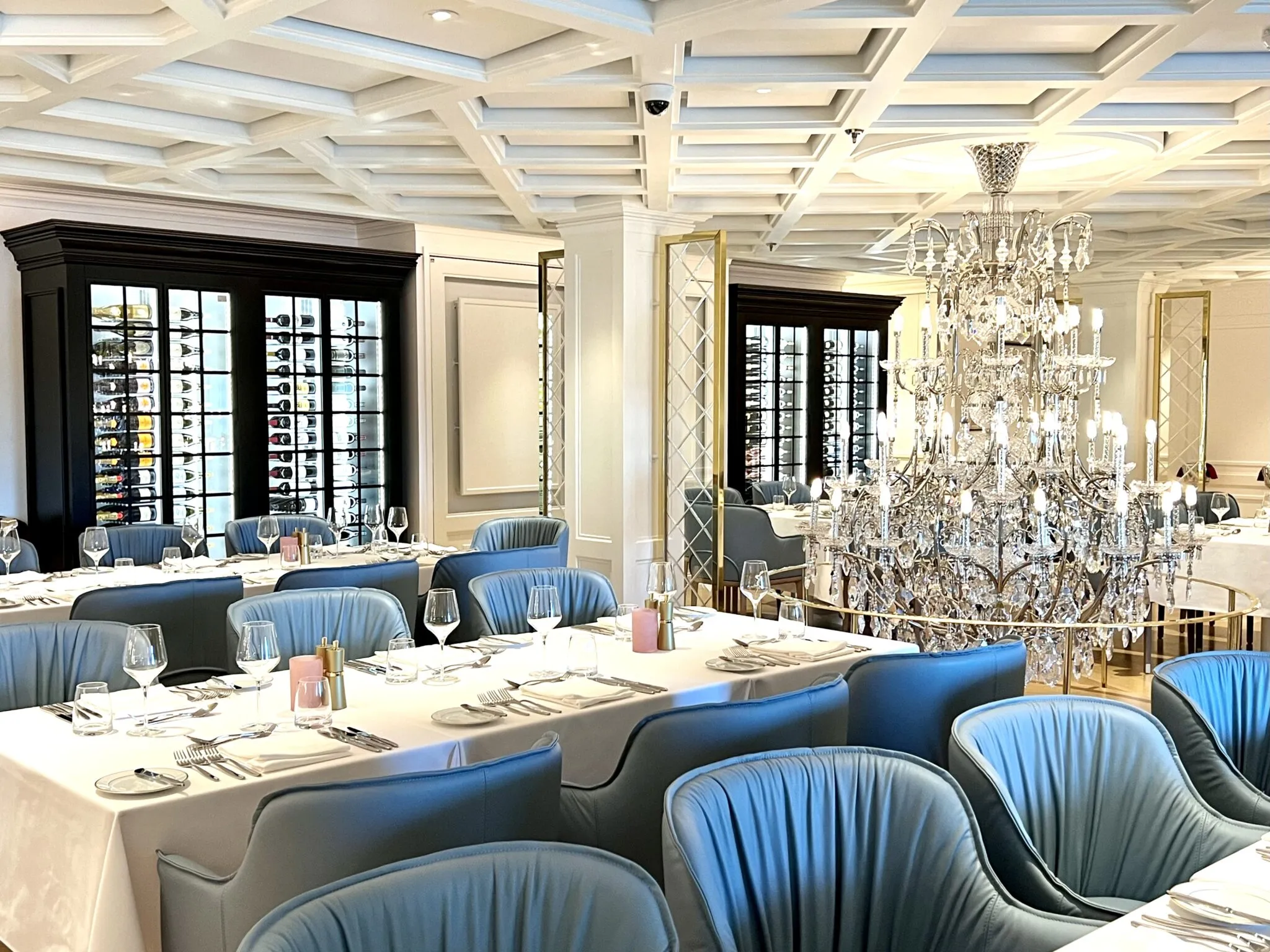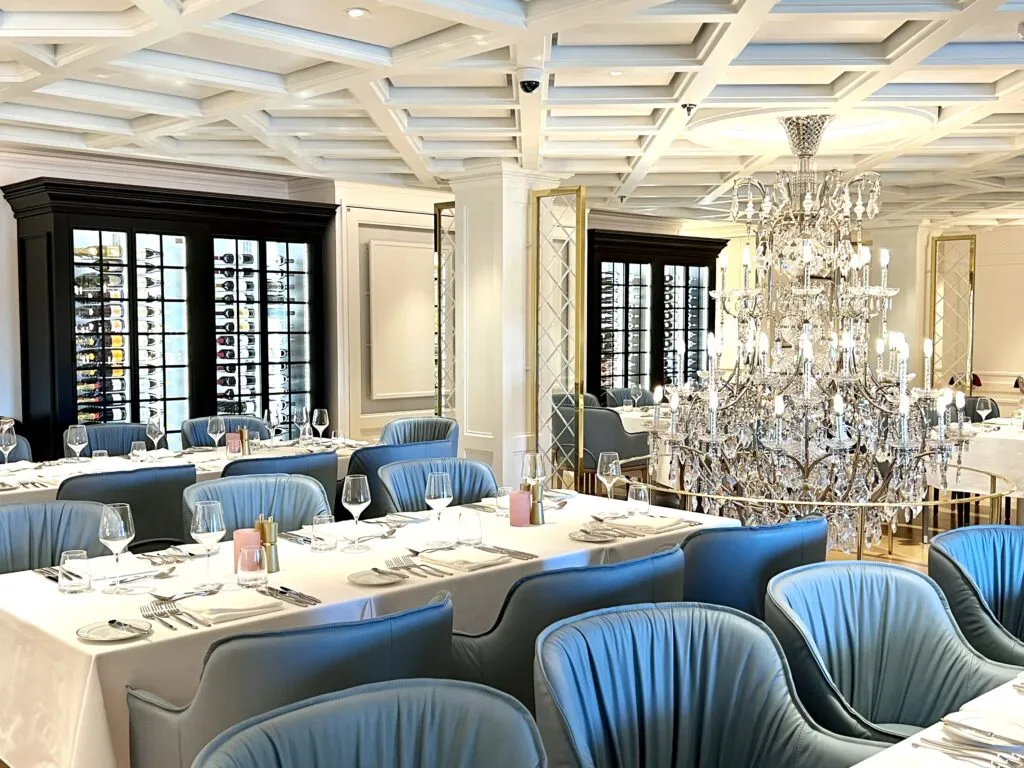 The Specialty Dining Package is accepted at Le Bistro, and it is a great value as dinner here can be quite pricey. Of note, the Lobster Thermidor is a $25 supplement with the specialty dining package.
Hasuki (Deck 7)
Additionally, also located on Deck 7 aft is Norwegian Prima's new take on Japanese cuisine. Hasuki is the new teppanyaki-style experience. Here, a skillful chef sears up shrimp, steak, and chicken dishes alongside fried rice and veggies on a large steel grill. This dinner and a show hibachi experience never disappoints.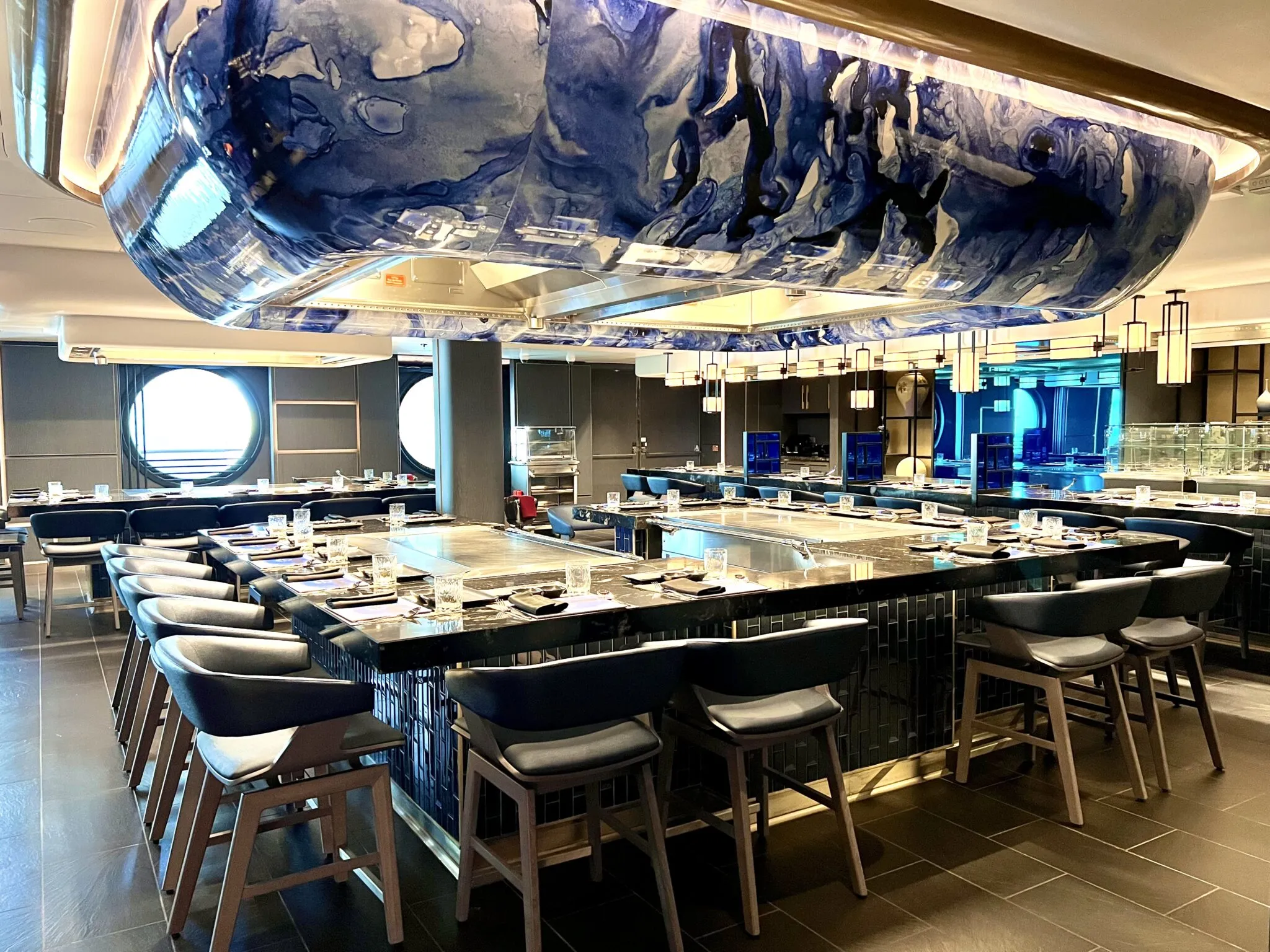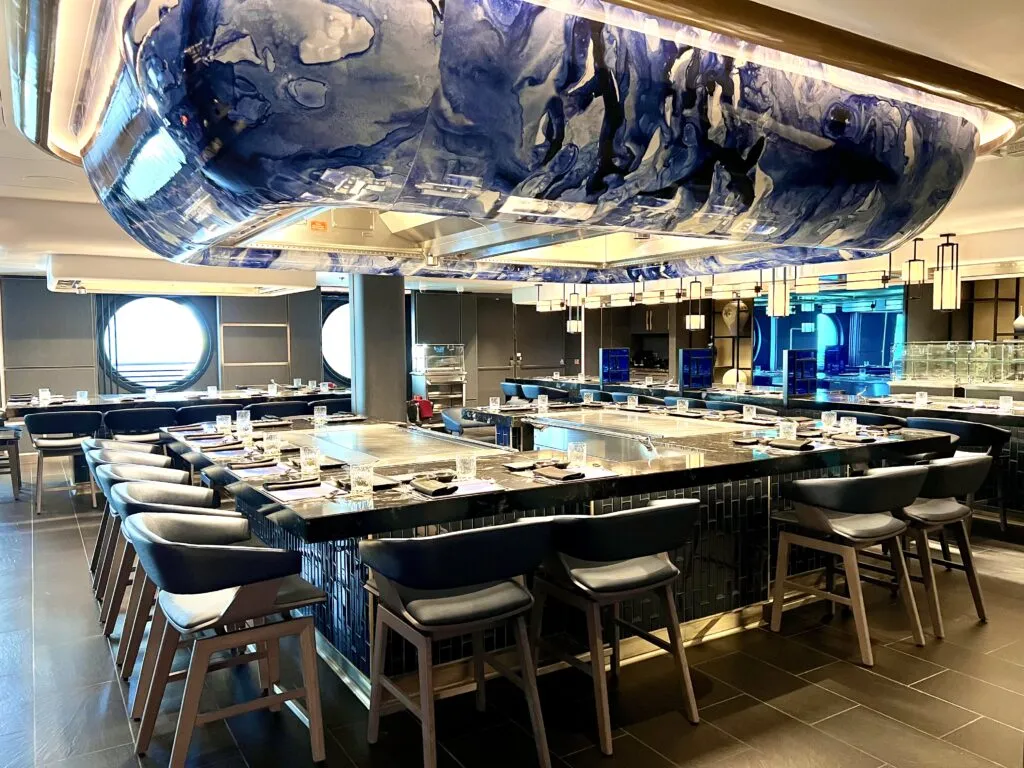 With Japanese-influenced décor, great food, and entertaining chefs, you shouldn't miss Hasuki. The fixed pricing for Hasuki is $49 per person. This includes edamame, a soup, salad, entrée, and dessert.
Hasuki is open for dinner from 530 to 930 PM.
Nama Sushi (Deck 7)
Across the way from Hasuki on the starboard side of the ship is the new sushi bar, Nama. This venue offers elevated sushi dishes prepared by master chefs alongside a carefully curated sake list.
Nama is currently only open for dinner as well.
Cagney's Steakhouse (Deck 6)
Finally, Cagney's Steakhouse is Norwegian Cruise Line's signature steakhouse. This specialty restaurant is located on Deck 6 of Norwegian Prima. Cagney's serves up premium cuts of beef alongside delicious starters, side dishes, and desserts.
While the venue might feature some new décor, Freestyle cruisers will feel right at home at Cagney's on Norwegian Prima. Like the other specialty restaurants, Cagney's is priced a la carte and reservations are required.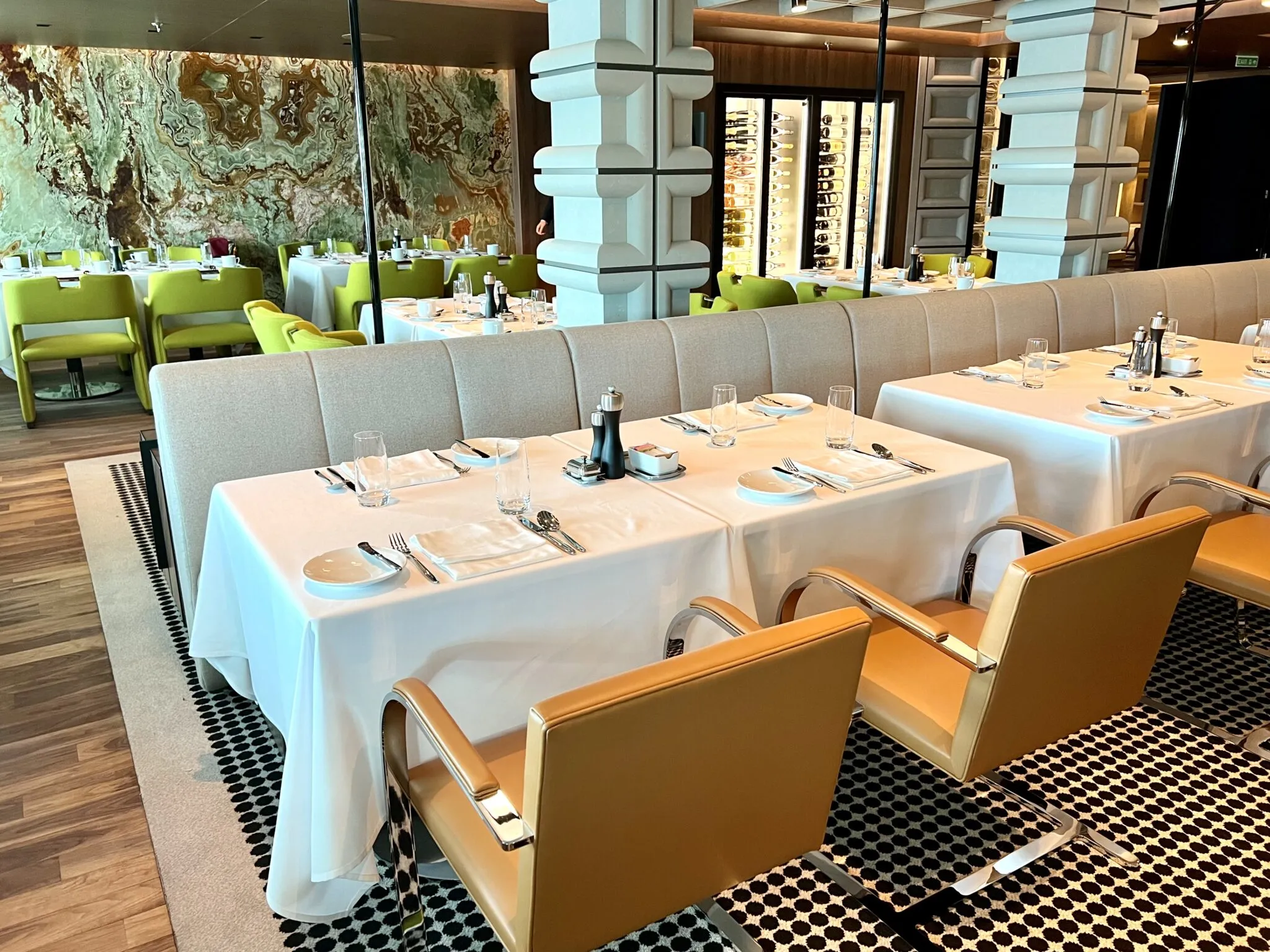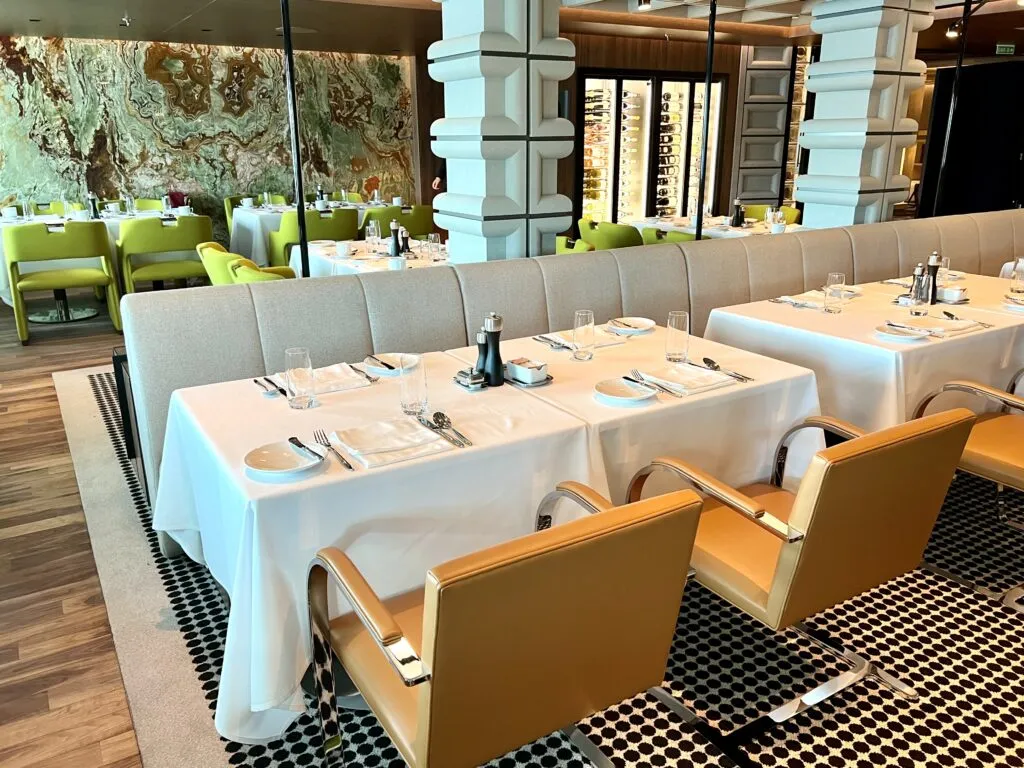 Of note, a few dishes do have a supplement when using the dining package. These include the Surf & Turf and the Bone-In Tomahawk.
Cagney's is open nightly for dinner 530 to 930 PM and is another great choice for an elegant night out on Norwegian Prima.
Room Service
Further, room service is available 24 hours a day on all Norwegian Cruise Line ships. Continental breakfast is complimentary from 6 to 11 AM. All other orders have a $9.95 service charge (plus 20% gratuity).
BOOK NOW: Exclusive Rates on Norwegian Prima Sailings!
Comments
Do you have plans to cruise on the brand new Norwegian Prima? What is your favorite from the list of Norwegian Prima restaurants? Drop us an anchor below to share your dining preferences on Norwegian Cruise Line ships.