It's a first. The new Norwegian Prima has just set sail for Norwegian Cruise Line. This long awaited ship delivers a number of new concepts, amenities, and firsts at sea. Heidi and I have just returned from the inaugural cruise and can't wait to share all of the details with you. See how we rate this new ship with our exclusive Norwegian Prima cruise ship scorecard review.
Our Honest Norwegian Prima Review Video
Norwegian Prima Cruise Ship Scorecard Review
Pool Deck
The main pool deck on the new Norwegian Prima cruise ship is Deck 17 midship. Admittedly, this central pool is smaller than we would expect for a ship of this size. Though, that is rather typical for newer ships in the NCL fleet.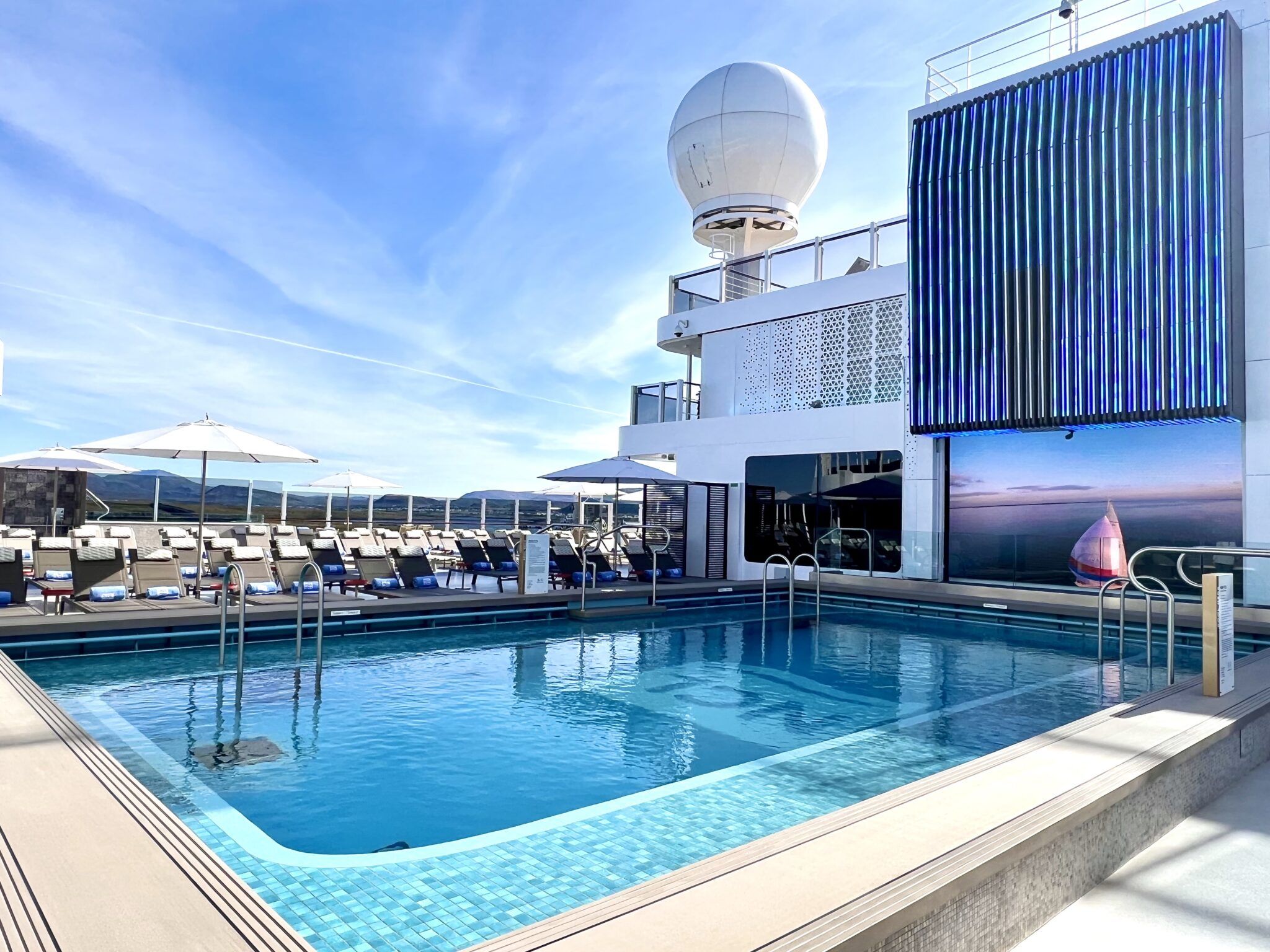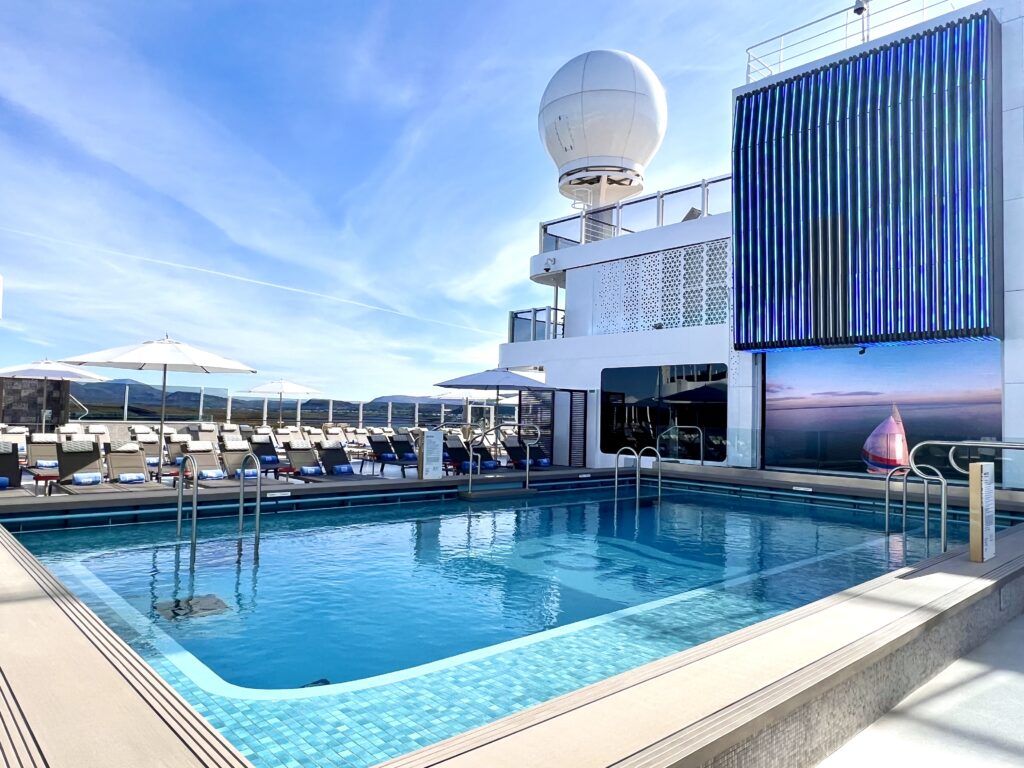 Still, it is conveniently located between other popular public spaces, including the Observation Lounge and the Surf Side Café and Grill.
One deck above, cruisers will find ample loungers facing out to the ocean as well.
On the starboard side of Deck 18 forward is the Kids Aqua Park. Honestly, this area consists of a few water features and not much in terms of interactive or creative elements.
A short walk up from this aqua park is the entrance to a new attraction, The Wave slide. This tidal wave style waterslide is a fun and complimentary family activity.
While the outdoor space at the top of the ship is limited, Ocean Boulevard on deck 8 provides a nice retreat and is perhaps the most glamourous outdoor promenade space on any cruise ship.
On both sides of Ocean Boulevard, you will find an infinity pool, loungers, and some day beds with ocean-facing views. This enhanced outdoor deck gets cruisers closer to the ocean, while helping to disperse the crowds.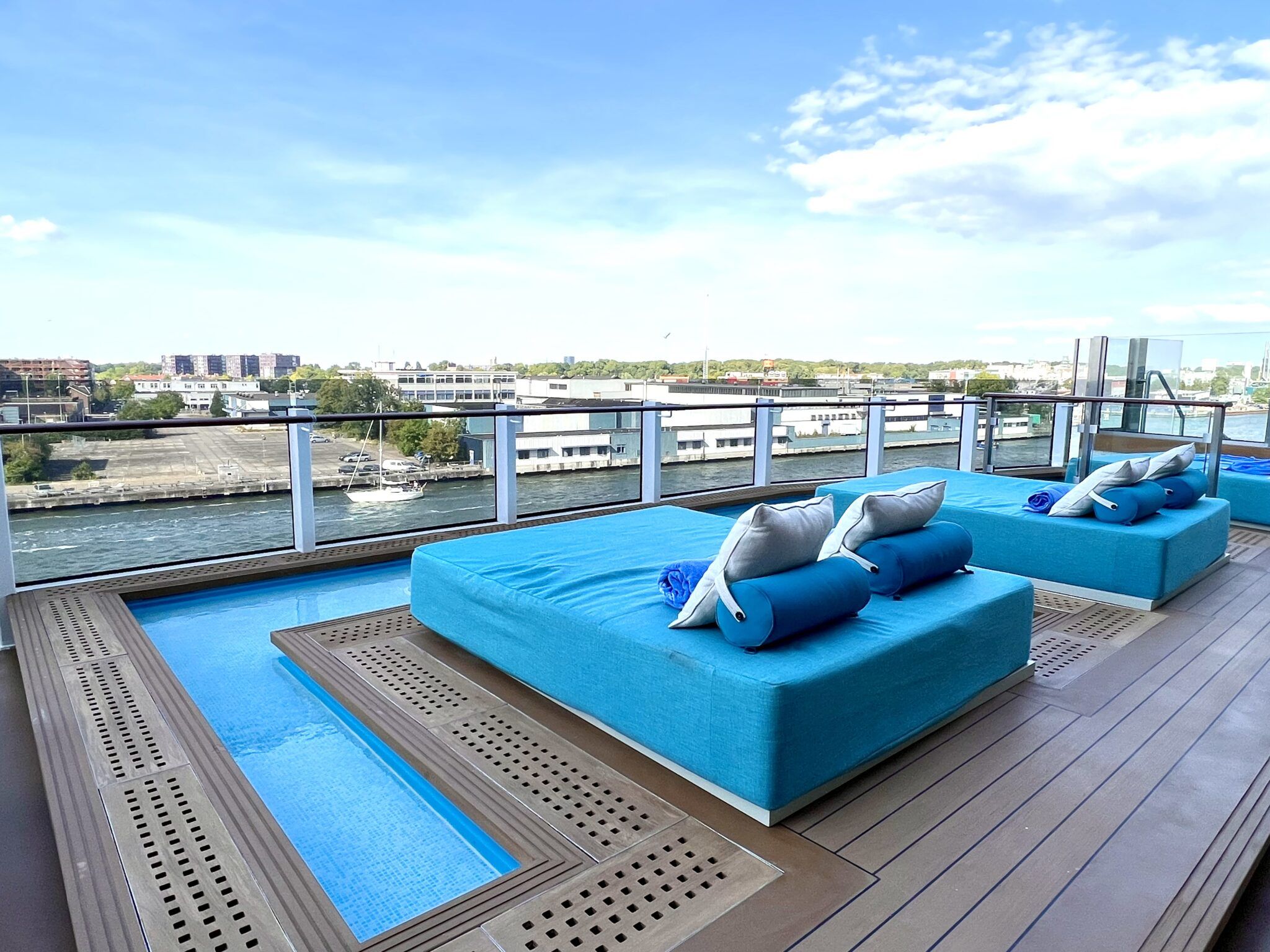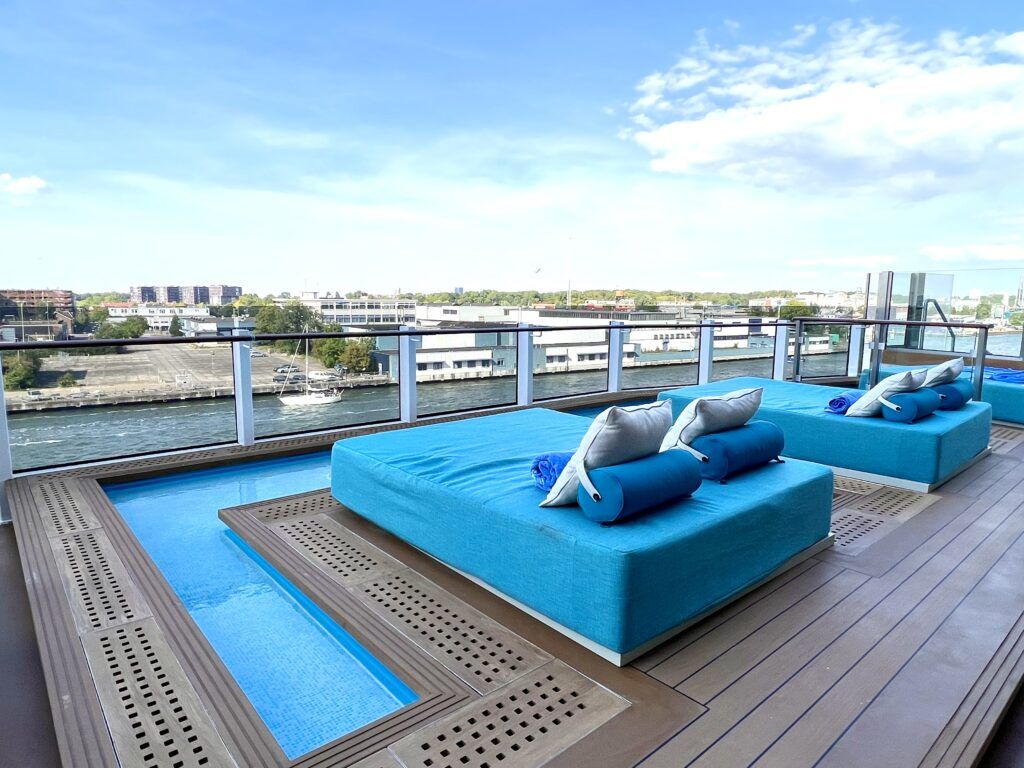 Finally, for those looking for a more exclusive experience, there is the Vibe Beach Club. For a current price of $249 a person, this reserved aft sun deck on Deck 17 is a private oasis. With a variety of lounging furniture, a bar, and two infinity hot tubs, this adult only retreat might be worth the upgrade for many cruisers.
EXCLUSIVE SAVINGS: Get The Lowest Prices on Norwegian Prima Cruises!
Sports Deck
Unfortunately, not many of the Norwegian Prima cruise ship's top attractions are included in the cruise fare.
Perhaps the most popular sports deck activity is the 3-story Prima Speedway. For $15 a ride, up to 15 cruisers can see if they have the driving skills to rank at the top of the leader board. For $20, cruisers have three chances to get the fastest track time of the voyage to win prizes with the You and the Track experience.
Nearby the entrance to the racetrack is The Stadium. We appreciate that this reimagined outdoor space is still complimentary. The Stadium features plenty of tabletop games where cruisers and their families can challenge each other to classics like foosball and ping pong. There is also beer pong (minus the booze), shuffleboard, and even a pickle ball court.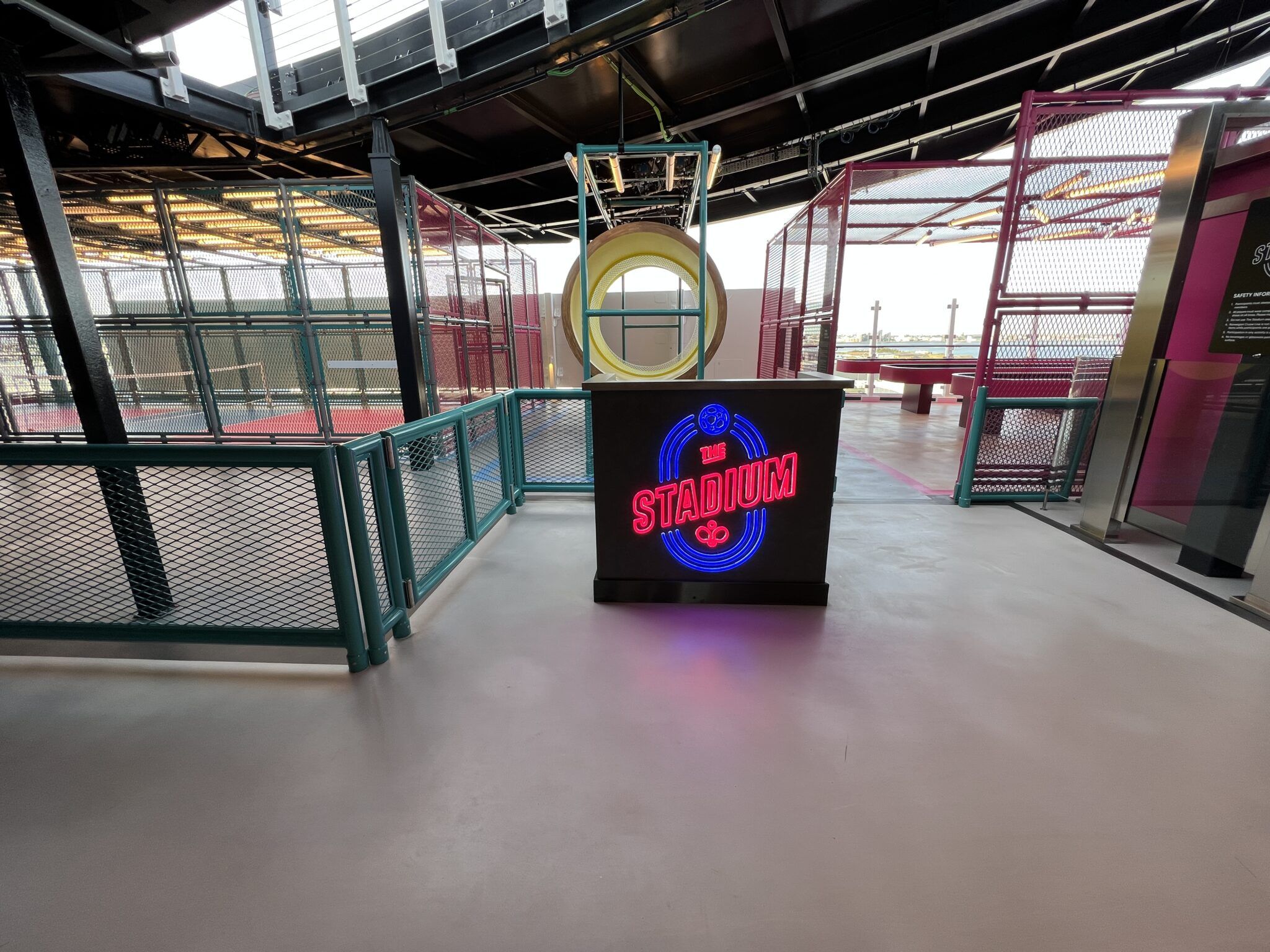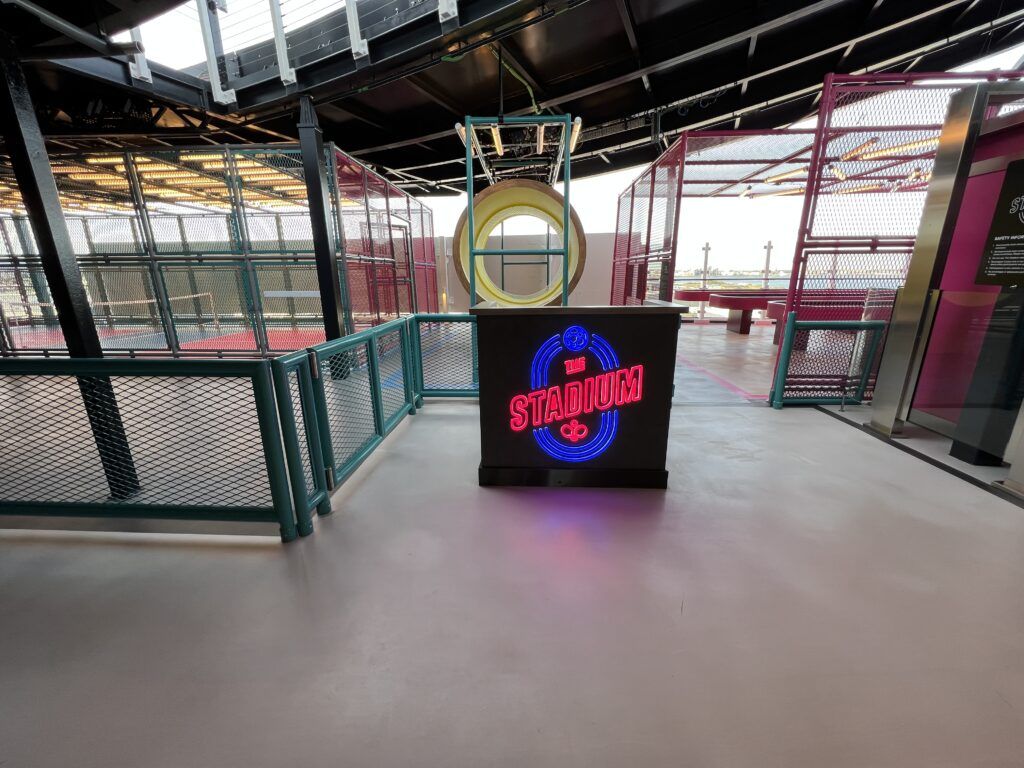 Deck 18 is also home to the entrance for the two new dry slides. On the portside is The Drop, the first drop dry slide at sea. Here, cruisers plunge 10 stories as they hit g-forces equivalent to an F1 race car.
On the starboard side is the Rush. These duel racing dry slides pit cruisers against each other for a race to the bottom.
While the slides are free, the additional activities on Norwegian Prima's sports deck will cost money. This includes the fun and creatively themed Tee Time. This mini-golf course is set to cost around $15 for a 9-hole round. While pricey, cruisers do have the chance to win prizes, including a free cruise, if you have the putting skills.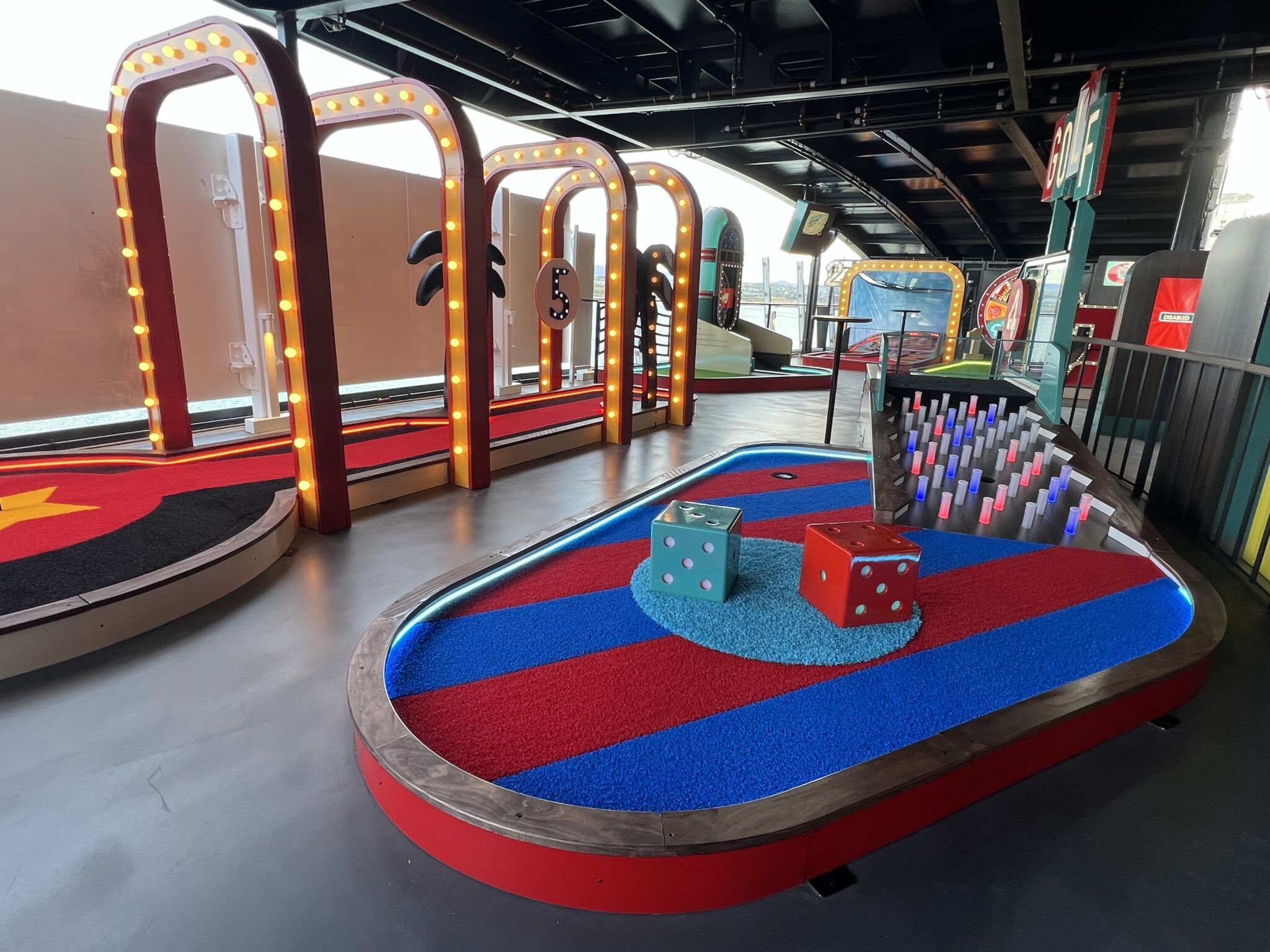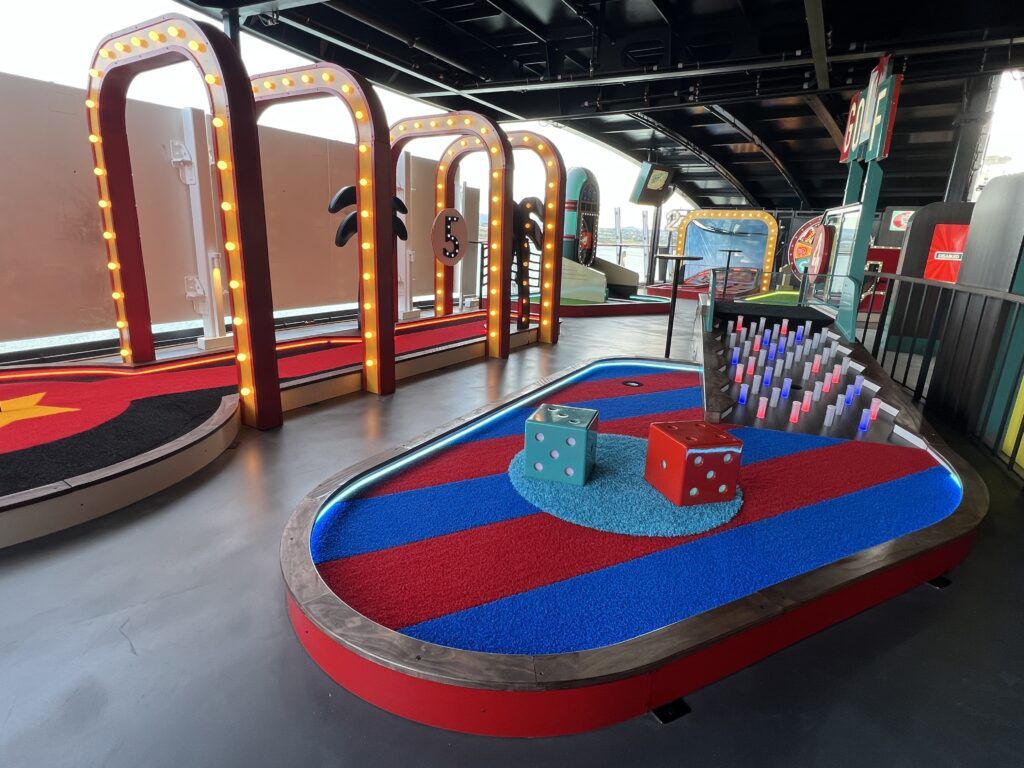 At about $45 for 45 minutes (for up to 6 players), the Bull Eye's is the first of its kind dart lounge at sea. This al fresco space is also on the portside of deck 18. In this swanky new lounge, guests can challenge each other in interactive games like 301, Cricket, and more.
Technically indoors, the attractions at the Galaxy Pavilion on Deck 17 are immersive and fun as well, with a total of 14 virtual reality experiences including simulators and games. Not to mention, there will eventually be two escape rooms in this area.
Day passes for the Galaxy Pavilion start at $49 per person. Or, you can pay about $8 per attraction.
Casual Eats
A Norwegian Prima cruise ship scorecard review wouldn't be complete without talking about dining. This Norwegian Cruise Line ship is home to several new dining concepts.
Hands down, our favorite casual option is the Indulge Food Hall. This quick-service venue offers 7 complimentary food stations, excellent service, and perfectly prepared menu items. The former up-charge Q Texas Smokehouse is now located here.
For breakfast, the Indulge Food Hall serves grab and go options. From a variety of breakfast sandwiches to continental items, it is the ideal mix to suit all tastes.
For lunch and dinner, the restaurant is table service. Seating is first come, first serve, with cruisers ordering at tablets located at each table.
Be aware that it can be difficult to find seats in this new venue at peak times. Further, the menus are different for lunch and dinner. For lunch, the pad thai with shrimp, chili, and totopos were hits at our table.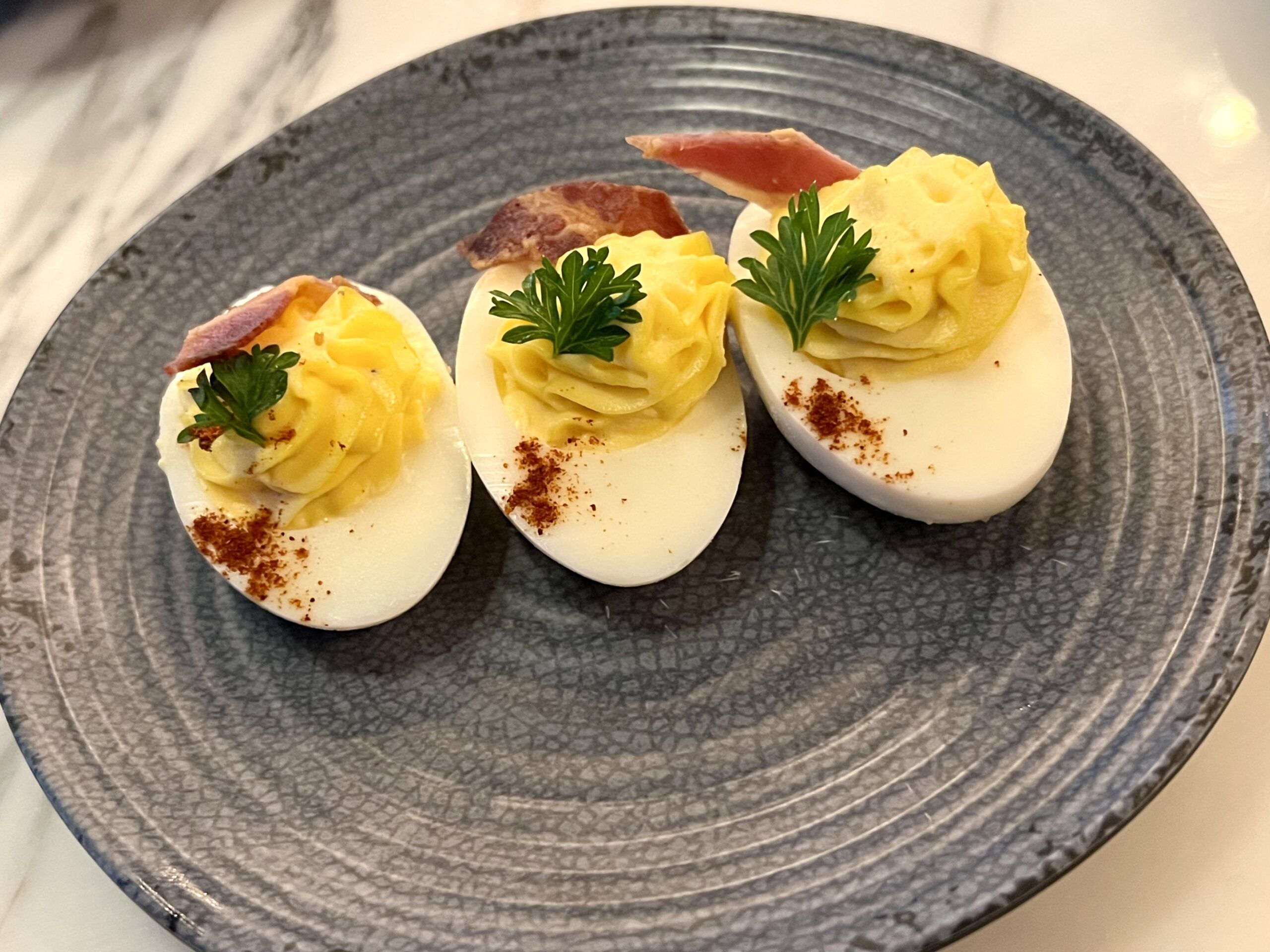 For dinner, you can opt for items like spare ribs, cobb salad, beef tenderloin, chicken tikki masala, or the famed deviled eggs from Q.
In addition, there is the 24-hour bar and grill, The Local. Located on Deck 8, this popular NCL restaurant now offers al fresco dining on Ocean Boulevard. The menu still includes staples like chicken wings, fish and chips, and burgers. Yet, the Local on Norwegian Prima also serves up some new dishes like sausage sliders.
Lastly, there is the Surfside Café and Grill. The Café is the cruise ship's buffet. For an NCL ship of this size, the buffet and seating area are small. Though, it served better than expected specialties for lunch and dinner, like French bread style pizza, freshly grilled vegetables, grilled chicken, tacos, a pasta station, a salad bar, and plenty of sweet treats.
On Day 4 of our cruise, the cruise line hosted its famous seafood buffet in the Surfside Café. Shrimp, crab claws, oysters, and other seafood selections were plentiful here.
Main Dining Room
On most Norwegian Cruise Line ships, the main dining room offers a rotational menu that changes nightly. However, the cruise line has made some big changes to its main dining room experience on Norwegian Prima.
The ship now has two main dining rooms, Hudson's and The Commodore Room, which serve the same fixed menu each night of the cruise. This elevated dining menu is expansive, with several premium options for starters, entrees, and dessert. Of course, you can order as much as you want with no additional costs.
Among the nightly offerings are a crab cake, clam chowder, and coconut shrimp for appetizers. For entrees, cruisers can create a customized pasta plate. Or, there are also classics like New York strip steak, Veal Oscar, and grilled mahi mahi every night of the cruise.
For dessert, you can get New York style cheesecake, chocolate lava cake, crème brulee, and daily ice cream selections.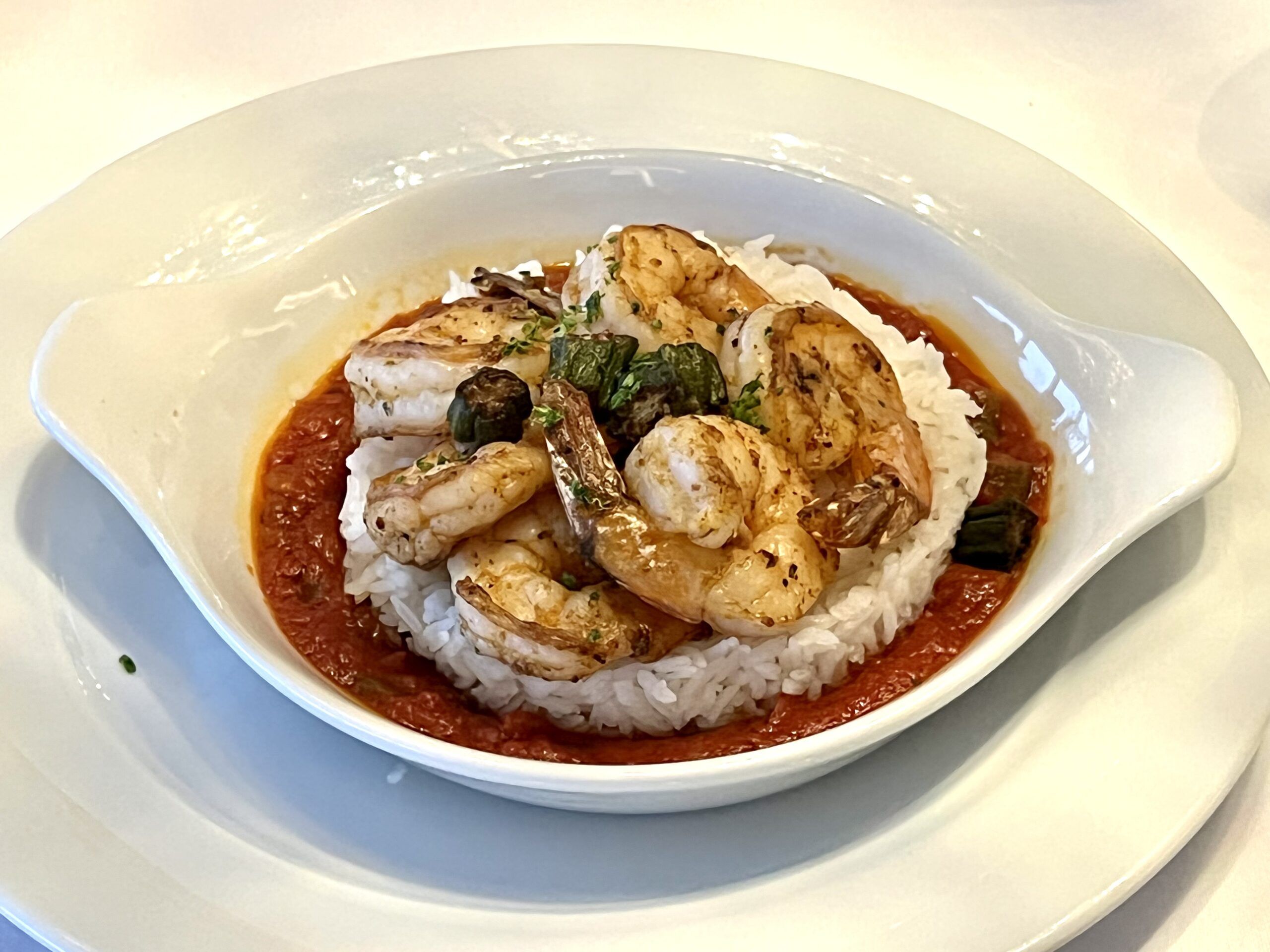 Similarly, for breakfast and lunch, you will find the same menu served throughout your cruise. During our 8-night voyage, Hudson's offered breakfast every morning from about 7:30 am to 9:30 am.
Typically, lunch was served between 12 pm and 2 pm each day, even during ports of call. The lunch menu included favorites like a variety of tacos, fish and chips, and a French dip. Some dinner items are also on the lunch menu, like the rotisserie chicken and entrée salads.
The Commodore Room was open for dinner only.
In our opinion, this menu at the two venues is large enough to dine here 2-3 nights of the cruise. Otherwise, it would get repetitive.
Specialty Dining
All Norwegian Cruise Line ships offer a variety of specialty dining. Norwegian Prima is no different. There are 8 themed specialty restaurants offering globally inspired signature menus. All of the restaurants are included in the Norwegian Cruise Line specialty dining package, with a few items costing a supplement if you are using a SDP meal.
Debuting on Norwegian Prima is the new Mediterranean restaurant, Palomar. Featuring selections like grilled octopus, pickled oysters, and Dover sole, the menu is heavy on seafood. There are also a few other selections like Filet Mignon.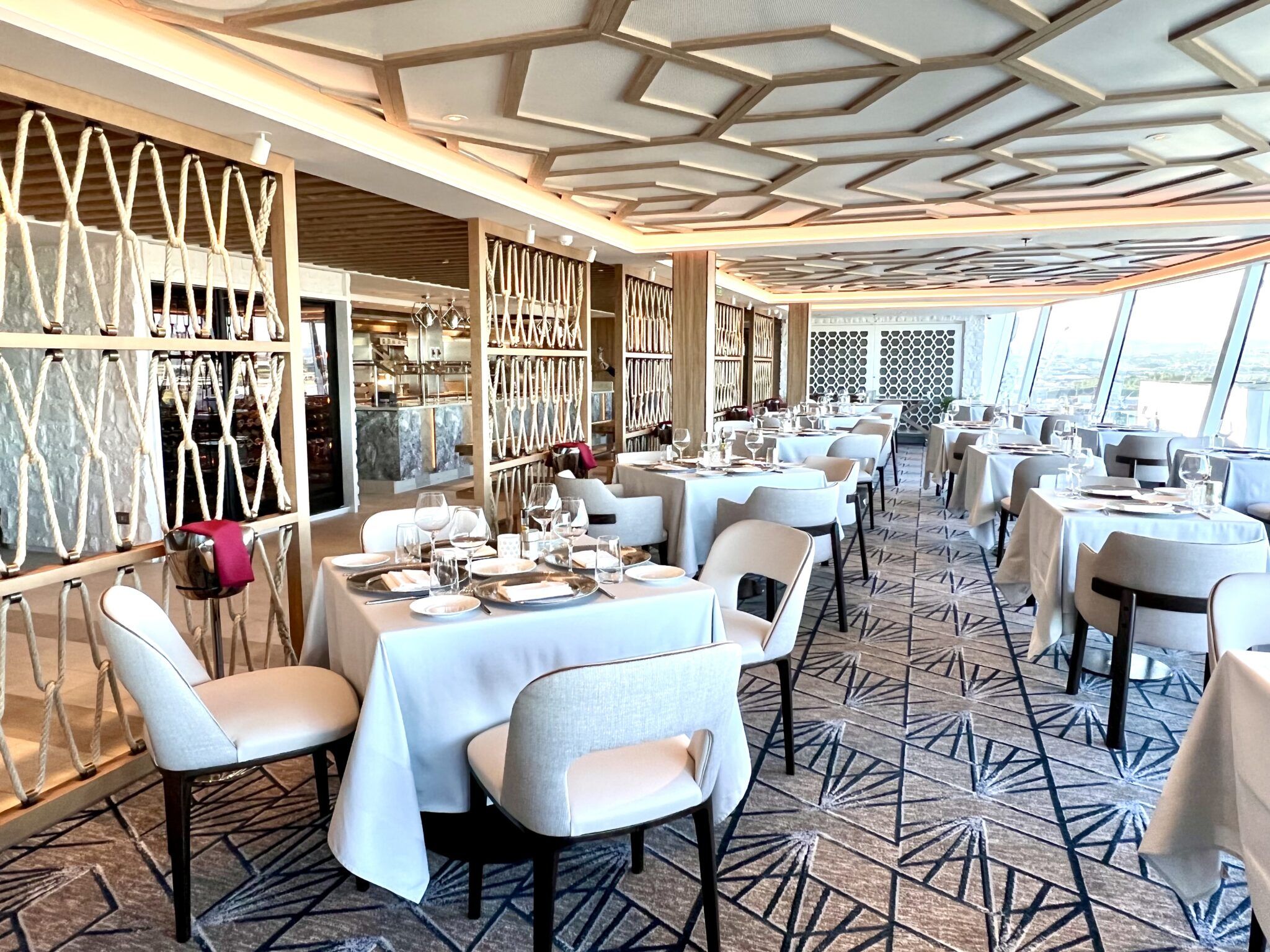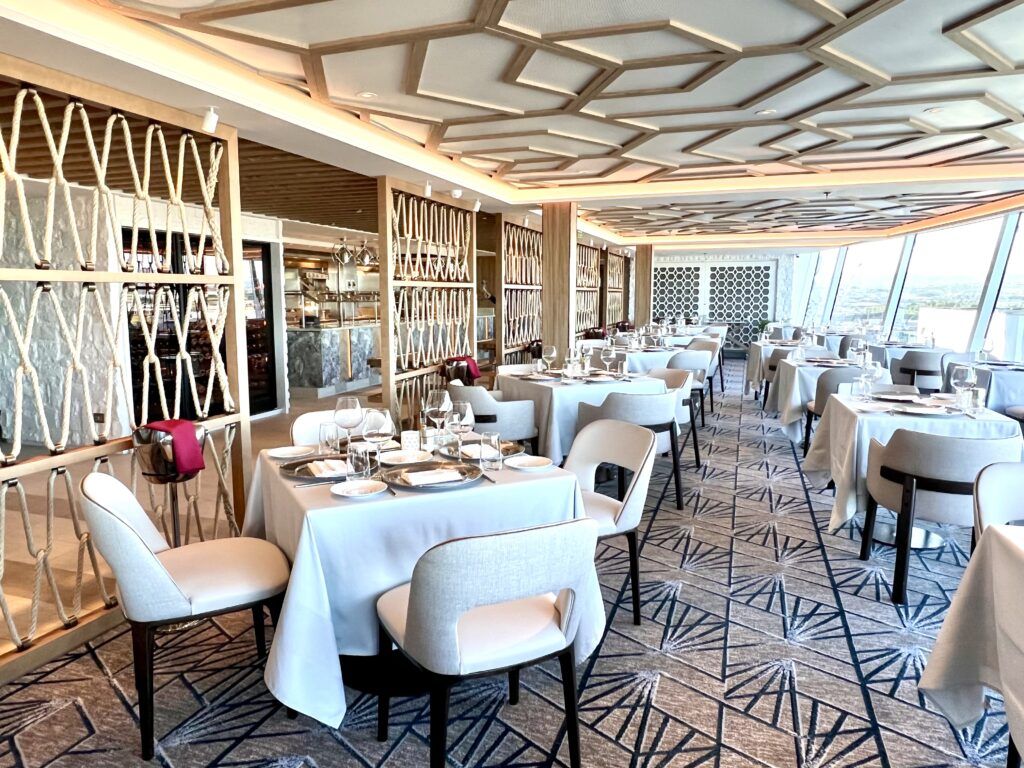 Also new is a dedicated sushi spot, Nama, located across from the Teppanyaki restaurant. Hasuki is the Japanese hibachi venue on Norwegian Prima. New name, same great atmosphere.
Other familiar favorites include Cagney's Steakhouse, Le Bistro, the newer NCL Italian restaurant Onda by Scarpetta, Food Republic, and Los Lobos.
Due to the nature of this inaugural sailing, we were only able to dine at two of these specialty restaurants. Thankfully, both restaurants are among our favorites- Food Republic and Onda.
At Food Republic, we sat with some friends and ordered a table full of food. The spicy Korean fried chicken had just the right amount of tang, while my tiger roll was a crunchy mix of shrimp and tuna. Likewise, the Thai chicken lettuce wraps and pork belly dumplings were upscale takes on these classic takeout items.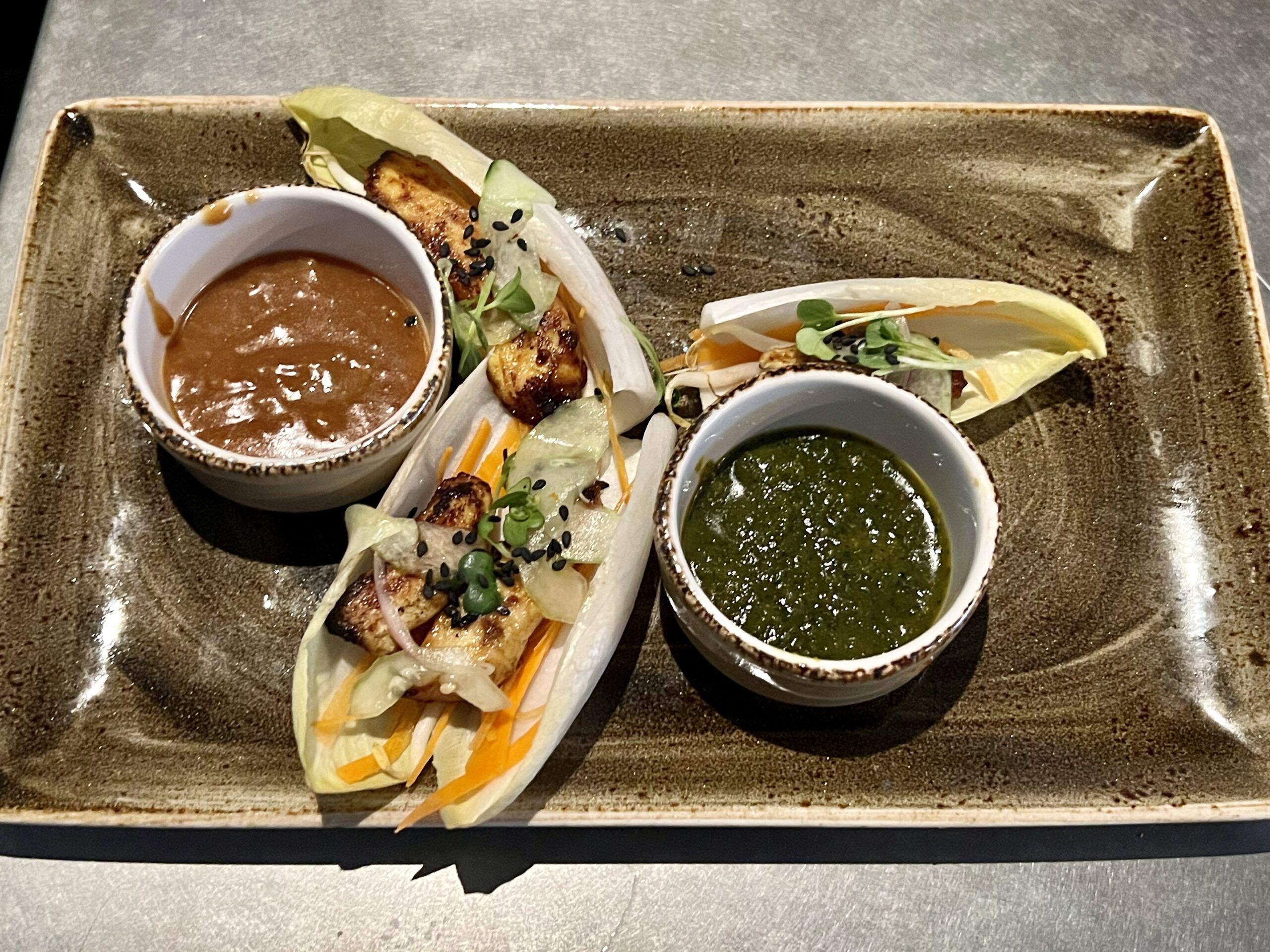 At Onda, we split a pizza for a starter, along with the burrata and braised octopus. Then, both of us went with pasta for entrees. All of these dishes were great. My Bolognese was a hearty rendition with an al dente pappardelle pasta. I finished the meal off with another classic, tiramisu.
We are certainly looking forward to checking out some of these other restaurants on an upcoming sailing, especially Los Lobos as there have been many changes to this menu.
Service
For a brand new mega-ship, the service onboard Norwegian Prima was friendly and prompt. There were plenty of staff to assist guests in all venues including restaurants and bars. In fact, there were over 1500 crew members to staff the 2500 passengers onboard the ship.
Even in new spaces, like the Indulge Food Hall, the hardworking staff were on top of their game. Tables were cleared swiftly, food was delivered quickly, and they were quick to refill water or answer questions.
In the main dining room, the waitstaff were prompt as well, getting us in and out in under 90 minutes most nights.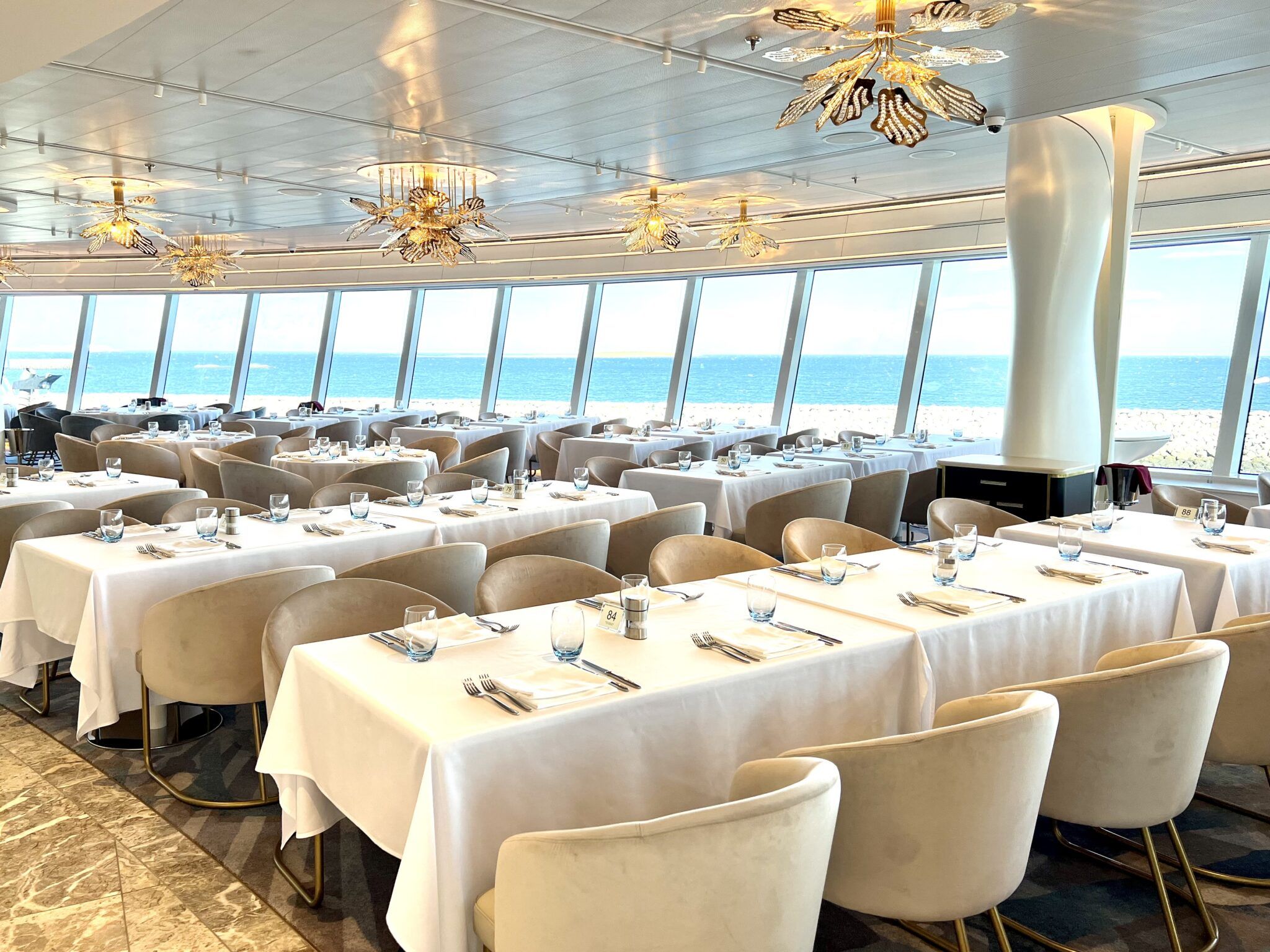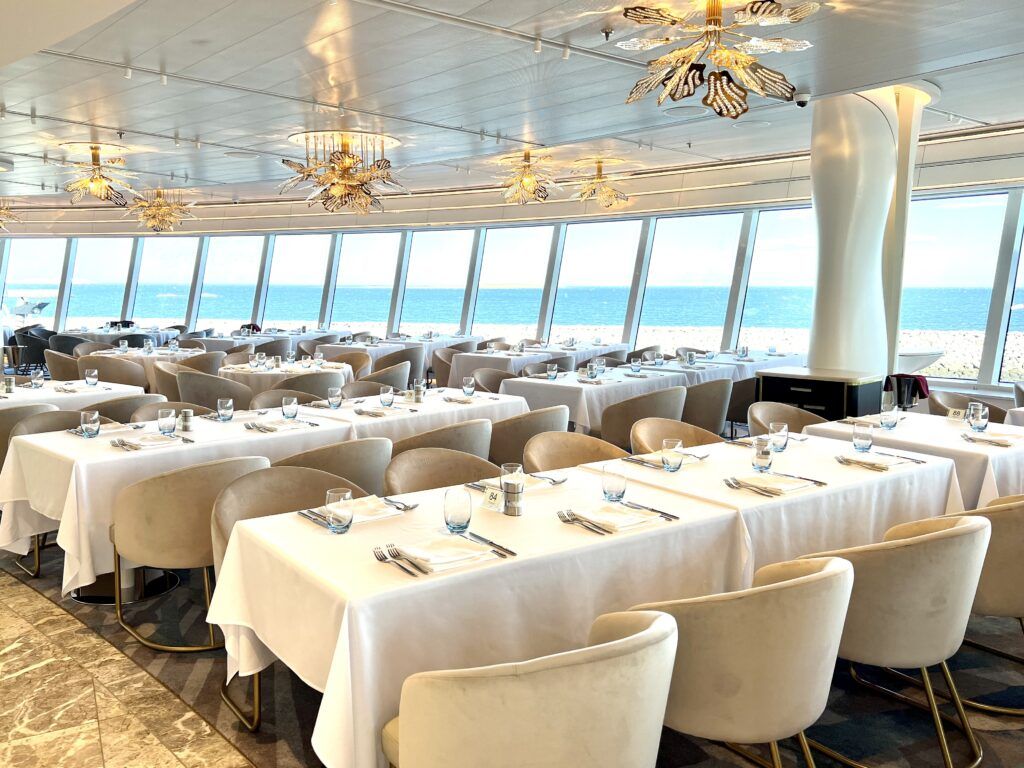 Additionally, Ian, our stateroom attendant, was always around to make sure we had everything we needed and ask about our day. He was friendly and always smiling.
With any new cruise ship, there are usually some kinks with staffing and service that need to be ironed out. Surprisingly, we did not find this on Norwegian Prima. The increased crew to passenger ratio on the ship meant our inaugural cruise was smooth sailing.
Even when we went to Guest Services to report noise issues in our cabin from the nightclub, the team made sure to follow up on two separate occasions to ensure this was less of an issue on subsequent nights.
BOOKING BONUS: Free Perks When You Book Norwegian Cruise Line!
Daily Activities
Over the eight days onboard the new Norwegian Prima cruise ship, there were four ports of call. So, we had just two full sea days.
When in port, there were not many organized daytime activities. In fact, Simon and his entertainment team did not host many of the usual cruise activities on this sailing.
Still, many of the new amenities were open on port days. From the slides and other sports activities to the pools and waterslide, there was plenty to keep cruisers who did not go ashore busy.
Given this was the inaugural cruise with media and travel partners, we do suspect that all of your favorite trivia, game shows, and other organized activities will still occur on revenue sailings.
If you are looking to relax, the Observation Lounge is a great indoor spot as is the 3-story Penrose Atrium. Likewise, La Terraza and the Indulge Lounge on Ocean Boulevard are great outdoor spaces to take in quiet time and ocean breezes.
Of course, there are also shops, a casino, a fitness center, and the Mandara Spa. Further, there is an interactive art tour that gives cruisers the chance to learn more about the multi-million dollar art collection scattered throughout the ship.
Signature Entertainment
Norwegian Cruise Line has some of our favorite signature productions at sea. For Norwegian Prima, the cruise line is debuting two new theater shows.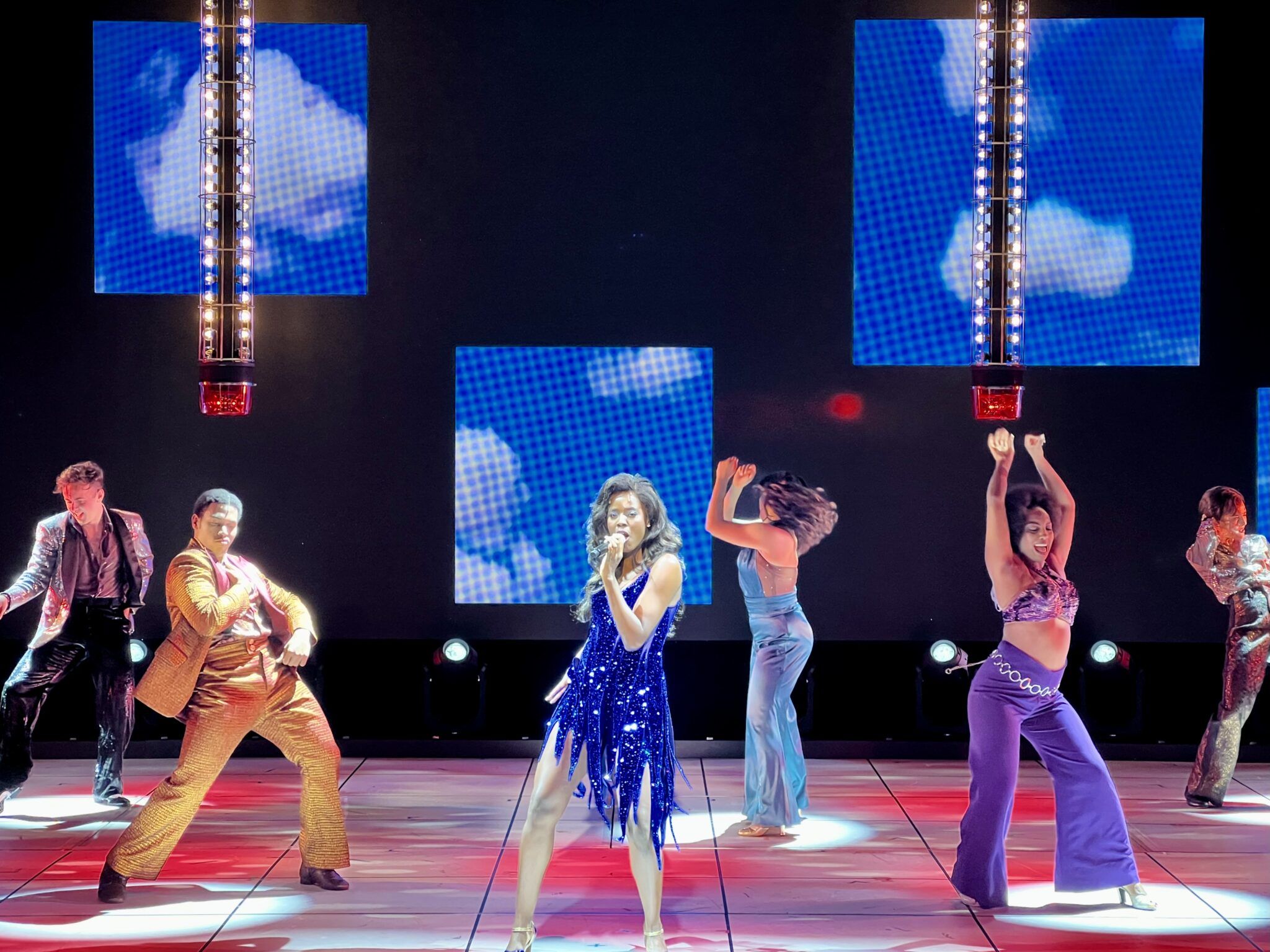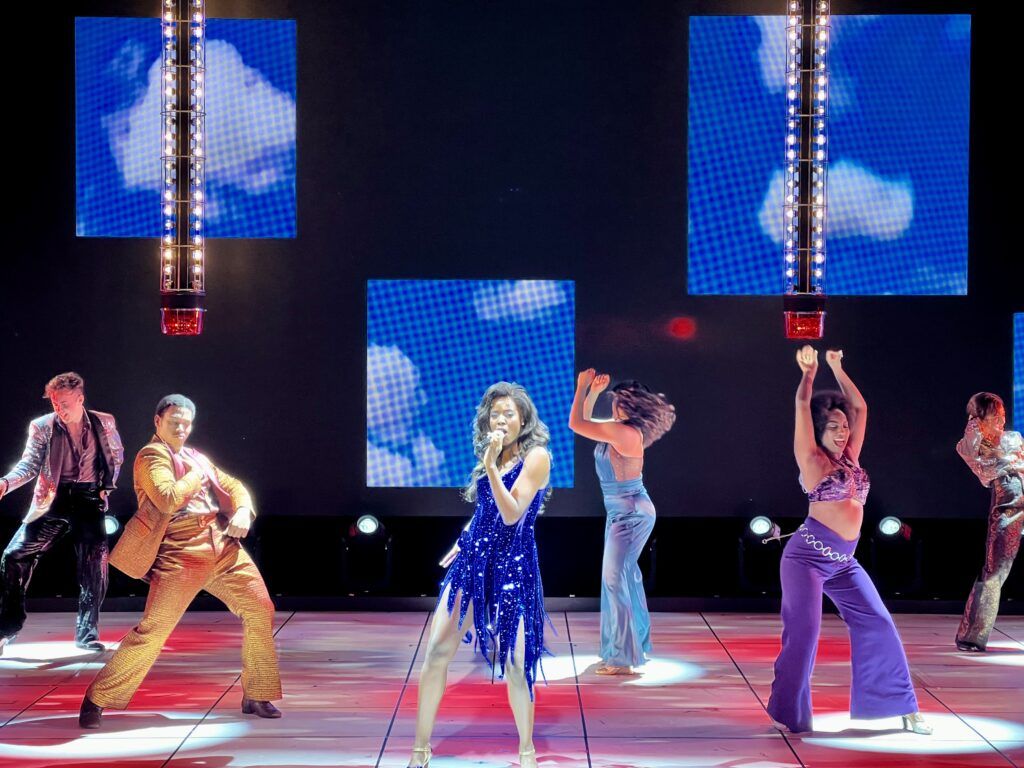 During our sailing, we were able to see Summer: The Donna Summer Musical. The show featured a phenomenal cast, including three powerful singers playing the lead character at different stages of her life. Even if it wasn't our favorite NCL production, this 75-minute spectacle is the caliber of show we have come to expect from NCL.
The second show set to debut soon is Noise Boys. This show is from the producers of Choir of Man, so we are sure it will be a good time.
Also, Norwegian Prima's transformational theater features some of your favorite television game shows at sea, where cruisers have a chance to win real prizes.
On our sailing, we joined the audience for the Price is Right. Our late-night showing featured a few special guests. Katy Perry and other NCL folks participated in all the fun from Plinko, to spinning the big wheel, to the showcase showdown.
Nightlife
Norwegian cruisers like to have a good time. So, for this Norwegian Prima cruise ship review, we did our best to attend as many of the nighttime activities as possible. While daytime programming might h ave been a bit light, there was plenty to do in the evenings.
Following the second showing of the Donna Summer Musical, the Prima Theater comes alive as Studio 54! This space transforms from a theater to a three-story club, complete with disco balls.
Several other venues all feature a variety of live music as well. A guitarist played sets in the Local and Penrose Atrium. Similarly, a duo offered themed sessions in the same venues.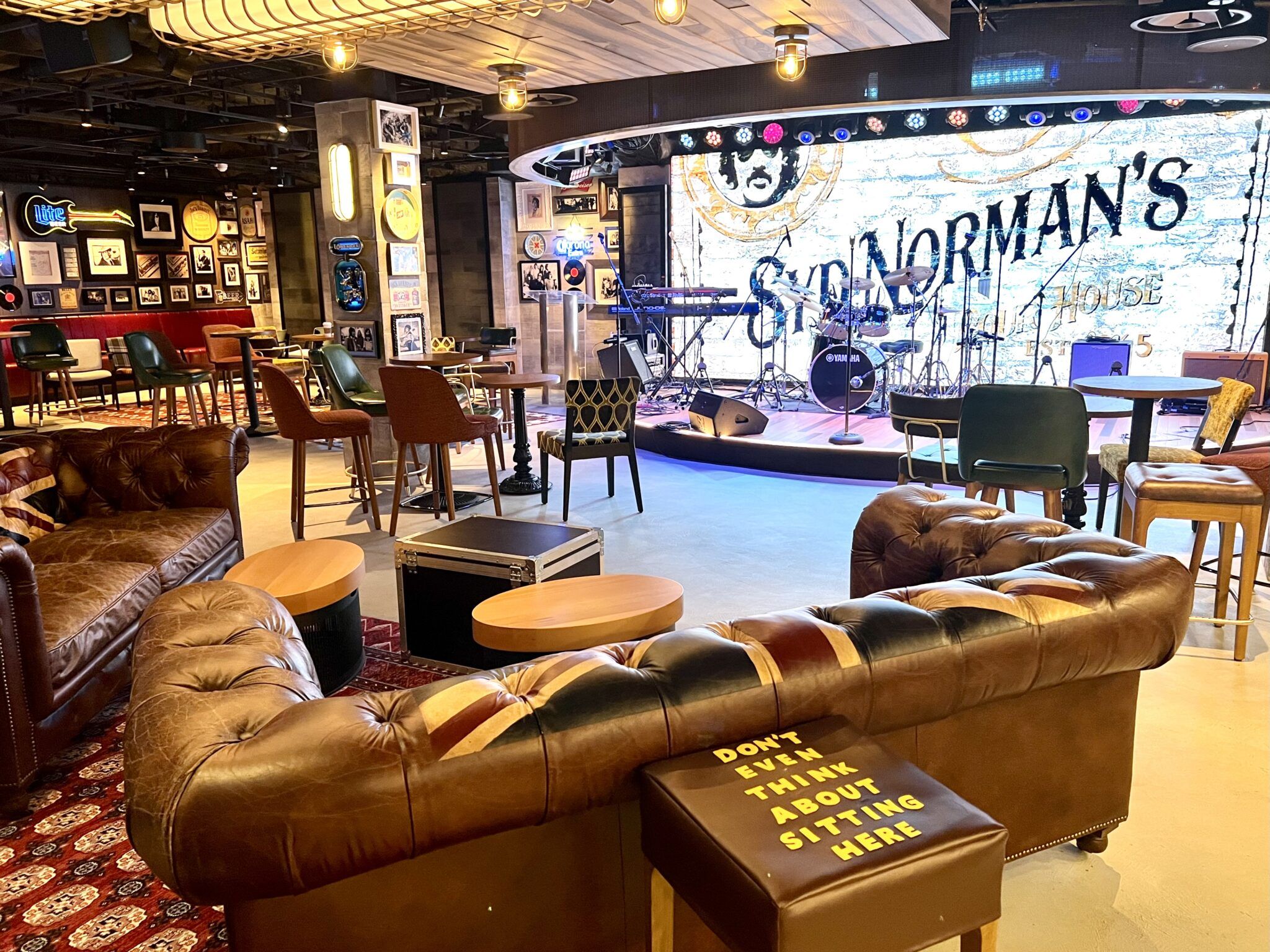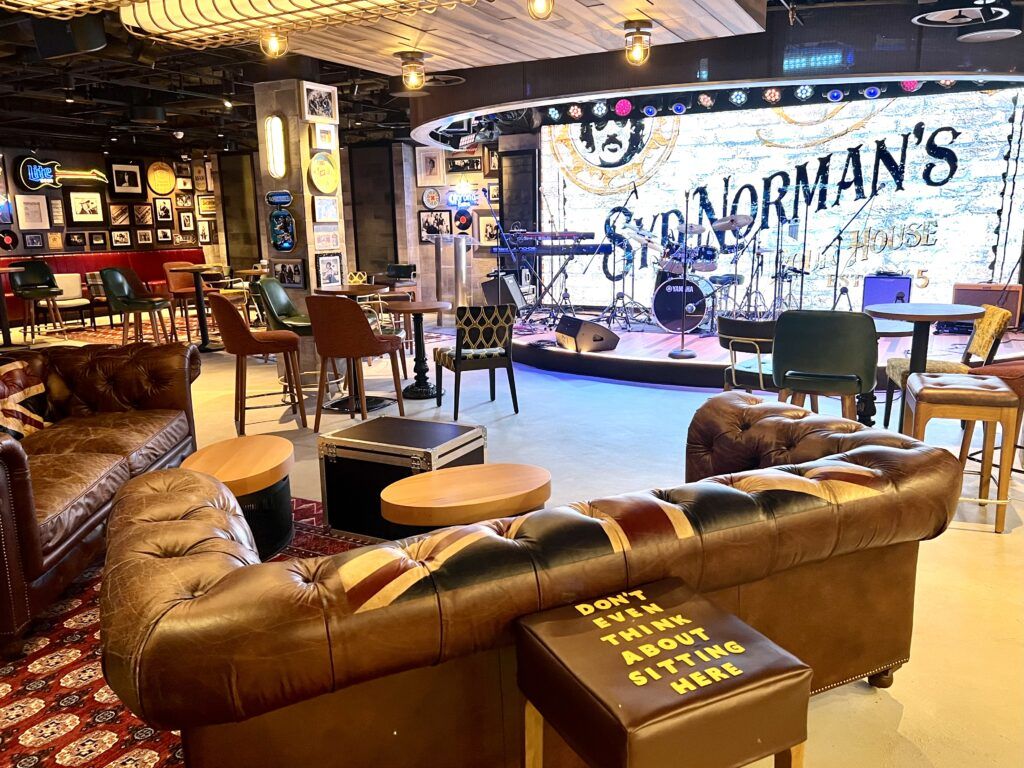 In Syd Norman's Pour House, the house band played shows which mixed live rock music with lighthearted humor and great drinks. If you want to attend this show, make sure to arrive early as this venue gets packed.
Further, the Improv at Sea offered comedy shows on three nights of the cruise. Given the venue is small, there may need to be additional shows on future sailings to accommodate all cruisers. On the off nights, the Improv at Sea hosted game shows and doubled as a night club.
During our stop in Ireland, a Celtic band even came onboard for a few sets. There were a few trivia sessions in the early evenings at the Local as well.
Many of the entertainment venues on Norwegian Prima are rather small. While we like that this makes them feel more intimate, it also means they get crowded. Popular places like Syd Norman's fill in at least 30 minutes before showtime.
Bars and Lounges
This new ship is home to some new bars too. Of course, for this Norwegian Prima cruise ship review, we sampled at least one signature drink from each venue.
Whiskey lovers will appreciate the upscale Whiskey Bar on Deck 8 in the Penrose Atrium. This venue offers a variety of finely aged liquors and a small specialty cocktail menu. Be warned that many of the selections are above the $15 limit on the Norwegian Cruise Line Premium Beverage Package.
The Belvedere Bar on Deck 6 serves up signature bottled concoctions crafted by Bar Lab. I enjoyed the 'bourbon myth', and Heidi enjoyed the 'all about that basil'.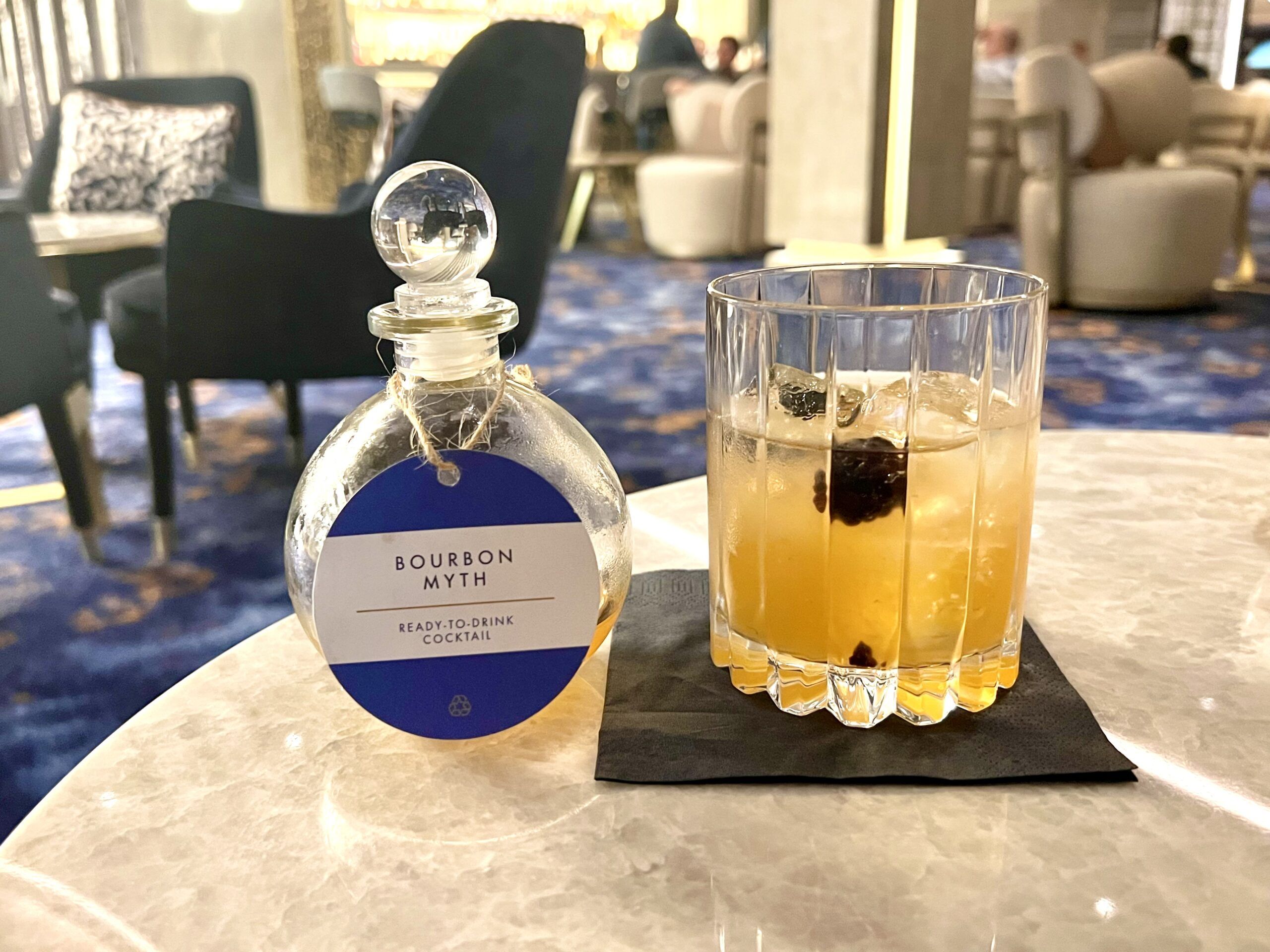 The Deck 7 Metropolitan Bar is home to sustainable drinks. We appreciate NCL's pledge to be more eco-friendly, and we did enjoy the cocktails like the croissant mai tai, cucumber cool, and the primadonna. However, the venue itself lacks theming and is located right near the cigar lounge.
There's also the Penrose Bar on Deck 6, the Observation Lounge on Deck 17, and the Local bar sporting a new seaside theme. Many of these other spots serve the standard menu with our favorite libations being the smoked peach margarita, monkey business, and red bubbles.
Of course, venues like the Improv at Sea, Syd Norman's Pour House, and the Prima Theater also serve up typical drinks along with live music and entertainment.
On the outside decks, you have traditional cruise drinks at the Waves Pool Bar on Deck 17 or the Speedway Bar on Deck 18. On Deck 8, the Soleil Bar serves a selection of beers, wines, and cocktails on tap, including the Whiskey Orchard Press. This is a great bar to enjoy some wake views and perhaps a sunset.
In full disclosure, while we like the new onboard drink menus, we do miss the Sugarcane Mojito Bar and the District Brewhouse.
Stateroom
We stayed in a balcony cabin on Deck 9 for this Norwegian Prima cruise ship review. Cabin 9148 is a forward-located stateroom on the portside of the ship. Actually, it is only a few steps from the forward bank of elevators. According to NCL's website, this category BF cabin measures 231 square feet, with a balcony of 45 square feet.
Immediately upon entering the cabin, our bathroom was to the right (forward wall) and our closet was to the left.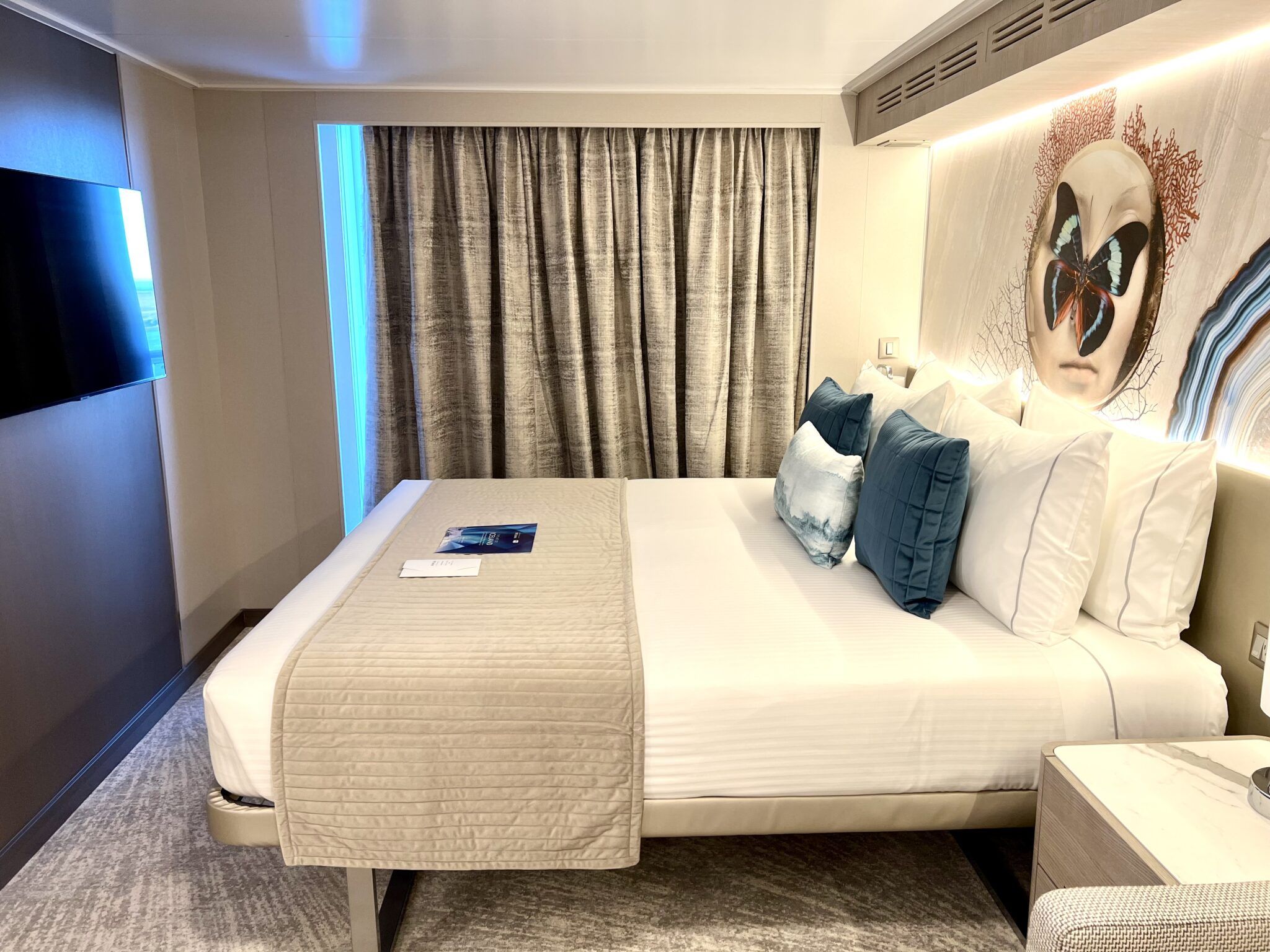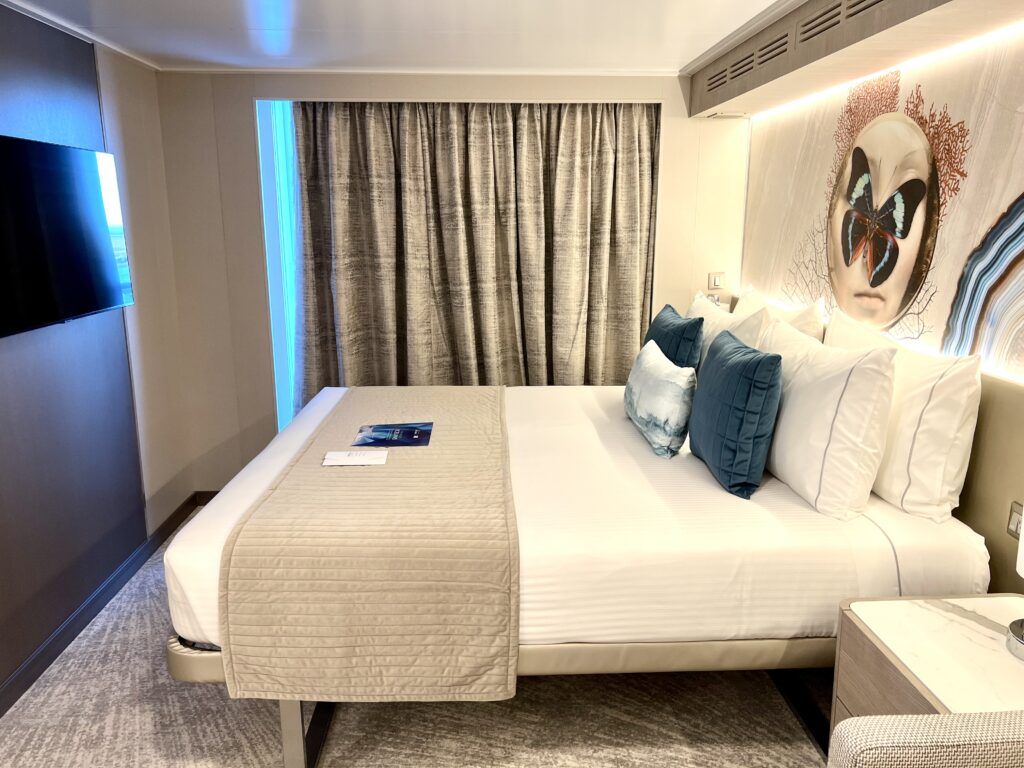 The cabin is considerably bigger than a similar category room from our last Norwegian Encore sailing. Also, the décor is more modern and sleek with beachy wood tones, a neutral color palette, and pops of blue. We also appreciated the number of power outlets in the cabin.
While the closet might be bigger overall, the actual storage space is still lacking. There are three small closets with a clothes rack and hangers. However, there are no shelves and only small wire basket drawers. Thus, we did find it a bit difficult to unpack all of our belongings for the eight days.
Like most NCL standard balcony cabins, the balcony itself is a tad on the shallow side, but we did appreciate the upgraded and comfy chairs.
On the other hand, the bathroom is a nice upgrade from other NCL ships. The creatively hinged shower door made it easy to get in and out of this oversized stand up shower. There is also a large vanity area and upgraded finishes.
Norwegian Prima Cruise Ship Scorecard Review Recap
Our eight days on Norwegian Prima gave us the opportunity to explore most of the ship. While we were limited in terms of dining availability, we did get to check out all of the other amenities.
We both loved the new Ocean Boulevard. With the variety of comfy lounge furniture and infinity pools, we could see ourselves spending quite a bit of time here on warmer climate cruises.
Plus, the Indulge Food Hall is conveniently located nearby. This was another one of our favorite new venues on Norwegian Prima. We liked the variety of dining options in this dynamic space. Perhaps, there needs to be a pizza station here too.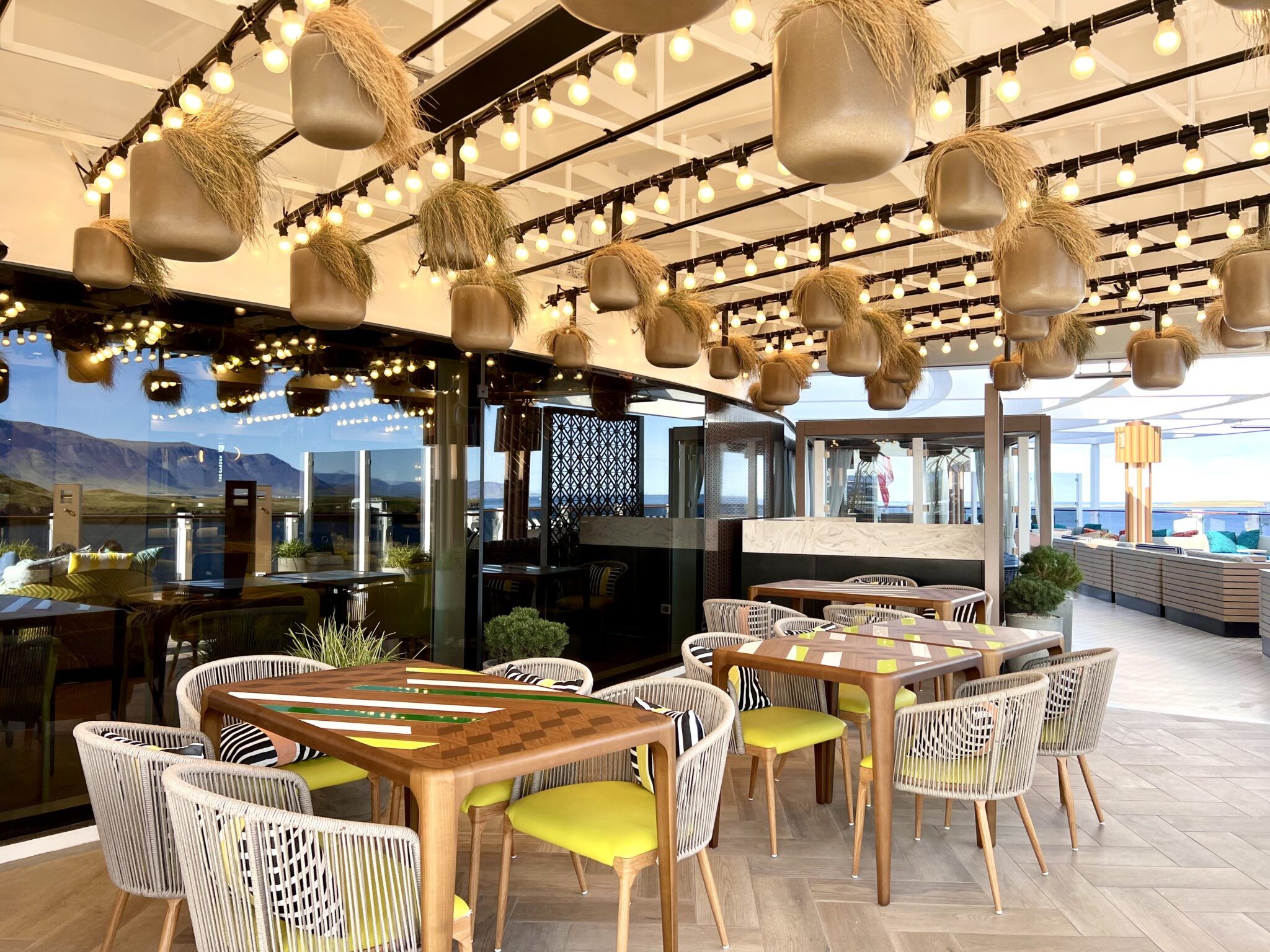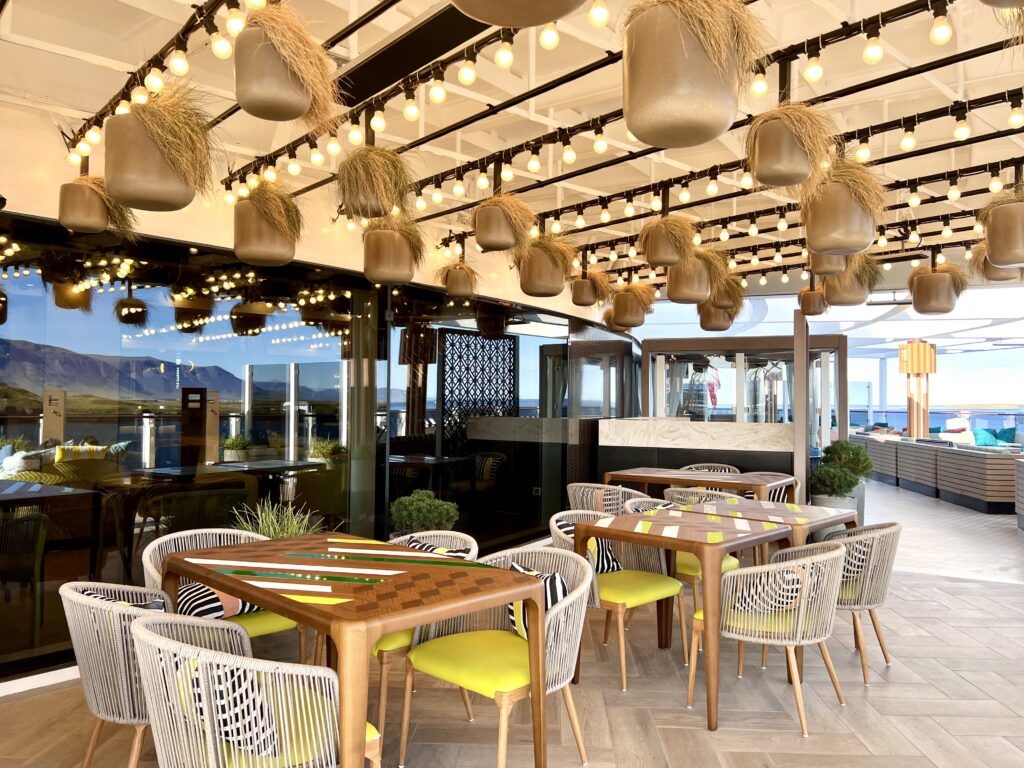 We do enjoy all the activities onboard Norwegian Prima as well, even if many of them are up-charges. With complimentary offerings like The Stadium and the dry slides and for-fee activities like the Speedway, mini-golf, darts, and the Galaxy Pavilion, there is plenty for cruisers of all ages to enjoy. Families just need to budget accordingly for use of these amenities.
Undoubtedly, the interior and exterior spaces on Norwegian Prima are gorgeous. The ship exudes the look and feel of a premium cruise ship with more intimate and upscale venues. Although, it will be interesting to see how some of the venues function at full capacity. During our media preview, venues like Syd Norman's Pour House and the Indulge Food Hall were very crowded and often difficult to get seats.
Also, it will be interesting to see how the new main dining room concept plays out. While the menus do feature a greater variety and more upscale offerings, it could get repetitive if you don't mix things up with specialty dining, the Indulge Food Hall, or The Local.
Overall, we enjoyed our time on Norwegian Prima. We can't wait to get back onboard to test out more of the dining options and experience more of the entertainment offerings like Noise Boys once it debuts. In our opinion, this ship offers a traditional NCL cruise experience with more premium finishes akin to Celebrity's Edge Class of ships.
Comments
Do you have plans to sail on Norwegian Cruise Line's newest ship? Did you enjoy our Norwegian Prima Cruise Ship Scorecard Review? Drop us an anchor below with your thoughts and/or questions on this brand new class of ship.