Royal Caribbean has debuted a brand new addition to its specialty restaurant lineup. Hooked Seafood splashed its way onto Symphony of the Seas when the ship set sail last spring. As a seafood lover and a native New Englander, I was skeptical about this new concept. Well, we have returned from one of the first Western Caribbean cruises and have all the delicious details in this Hooked Seafood Symphony of the Seas Review.


Hooked Seafood Symphony of the Seas Review
Inside Hooked Seafood
Hooked is located on Deck 16 forward, overlooking the Solarium and Solarium Bistro. The entrance to the restaurant has a typical dining room look and feel, but the venue itself has a nautical theme with lots of blues, whites, and natural wood tones. Although it is an upscale seafood restaurant, Hooked has a casual vibe.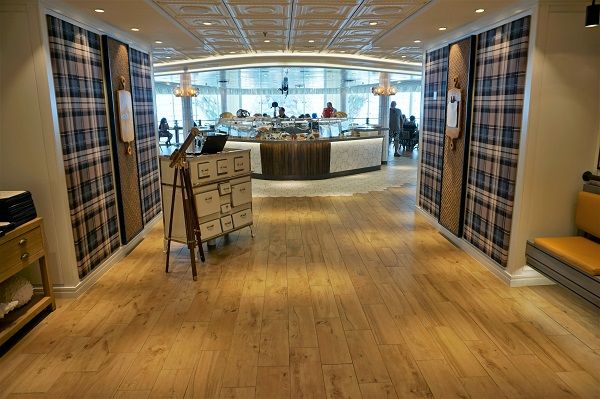 When entering the restaurant, you can not escape the massive bar in the center. While seating here is limited, the showcase is the ice and raw bar. If you do not have reservations at the restaurant, you might consider stopping in at the bar for one of the Happy Hour specials that run throughout the cruise.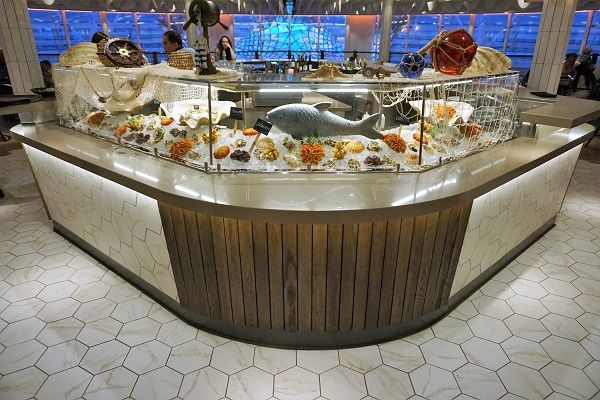 The main dining room is a rather open space. It did feel like there were fewer tables here than some of the other specialty dining venues onboard Symphony of the Seas. Being a seafood restaurant, it is certainly a more laid back setting than we expected.
If you want something more formal, there are plenty of other options, such as 150 Central Park and Chops Grille.
Related Post: Symphony of the Seas Restaurant Menus and Dining Guide
Lunch at Hooked Seafood
The restaurant is open for lunch on sea days. While we tried to book a reservation pre-cruise, the system said it was sold out. However, we were able to make reservations for Day 6 at 12:30 pm once onboard the ship.
The menu for lunch and dinner are very similar, with lunch having more limited options.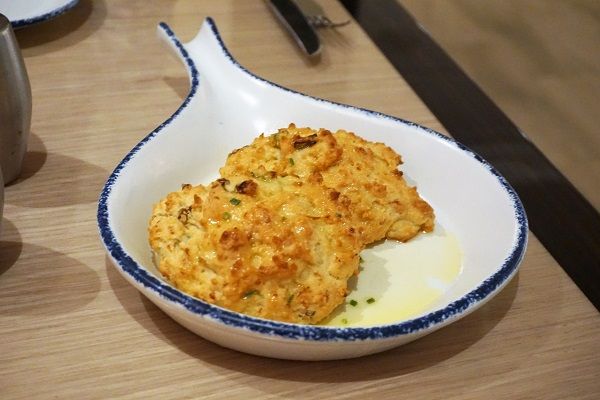 Whether you dine at Hooked for dinner or lunch, the meal begins with a serving of seasoned butter biscuits. These flaky starters might be too rich for some cruisers, but I was fine nibbling on them prior to our meals.
For a starter, I ordered the fried calamari. This hearty portion was crispy and fresh, certainly not a frozen concoction. It came with a tangy tartar sauce that was a fine compliment to the dish. The Princess went with a house salad. Honestly, it looked like something you would get in the main dining room.
For meals, I had to test out the Maine Lobster Roll. As a New England classic, I have to admit that this was a worthy entree.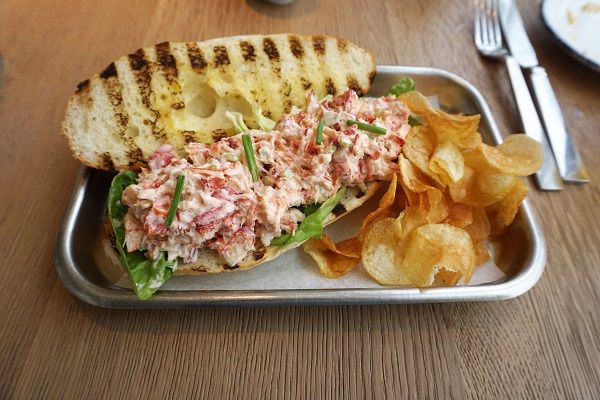 Being a bit more of a traditional take on the dish, it contained a filling portion of real lobster in a light mayonnaise-based mixture. I was also a fan of the buttered and toasted split-roll. The hand-cut potato chips served on the side as well as an additional order of french fries were too much to handle for lunch.
While the Lobster Roll was a success, the Princess' Maryland Clam Strip Sandwich was a bit of a letdown. The clam strips appeared to be frozen, and the sandwich was drenched in tartar sauce.
For dessert, we opted to try the one item that we had not yet sampled, the Blueberry Crumble. Of all the desserts, this was our favorite at the restaurant.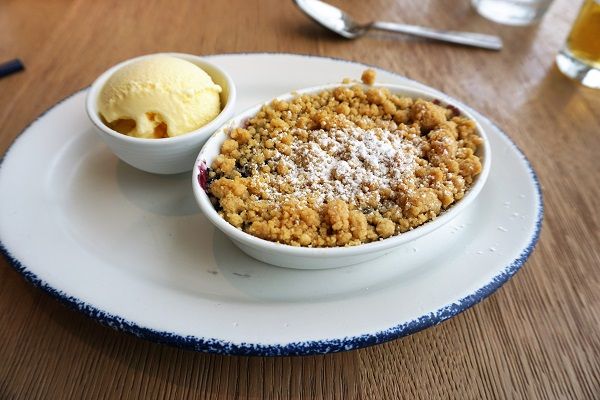 Given that the lunch pricing is about 50% cheaper than dinner, if you are on the fence about testing out this new venue, giving it a try during the day is a nice option.


Dinner at Hooked Seafood
Knowing we had to try this new venue, we made reservations pre-cruise to dine here on night 4 at 7 pm. With some schedule changes, we showed up to dinner over 30 minutes early in hopes that we could get a table. The host was very polite and said he could get us a table in about 10 minutes.
Lucky for us, there were two seats available at the bar. While there is a small specialty drink menu, we both opted for our go-to cocktails, a Manhattan and a Cosmo.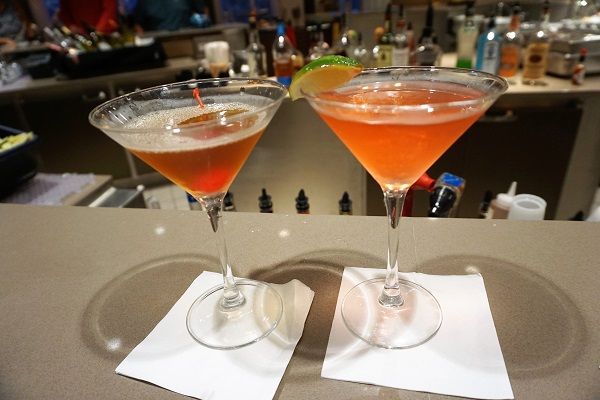 In just about 10 minutes' time, the host came over to escort us to a table on the starboard side of the restaurant.
Our waitress stopped by to introduce herself and say that she would be right with us. Returning a few moments later with some warm biscuits, we placed our extensive order.
We both ordered two appetizers. I did the calamari and crab cake. The Princess tried the New England Clam Chowder and the Drunken Mussels, claiming I could try a few.
As starters go, my choices were average. I found the crab cake to be crispy and warm but not much different than the same app in the main dining room. On the other hand, the calamari got two thumbs up.
As for the Princess, she had nothing but compliments for the chowder. While it is tough to please a New Englander when it comes to this traditional dish, Hooked Seafood succeeded.
However, the mussels were a different story. They were drenched in broth that was heavy and room temperature, at best, and had little flavor.
A fellow cruiser had recommended the Captain's Platter at Hooked. So, since Capt. Ron was on the bridge, I decided to grab his dinner!
I opted for Salmon as the fish selection to go along with a freshly steamed lobster tail and shrimp skewer. The meal was well prepared but with little seasoning. This was fine with me as I prefer my seafood plain.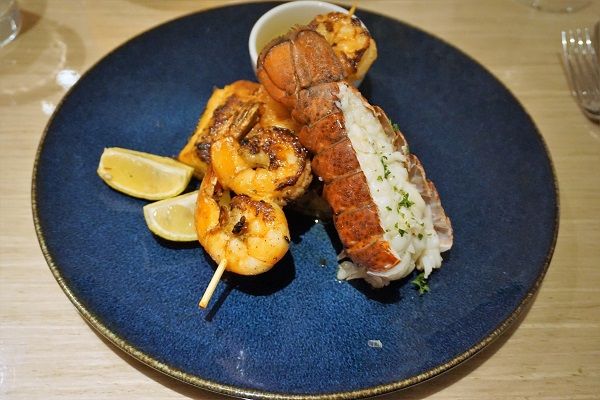 Interestingly, the Princess ordered the same dish but went with a chicken breast instead of fish. Now, I could devour two lobster tails!
Having eaten quite a bit of food already, we were happy to see that the desserts were rather small. I went with the whoopie pie. Honestly, I had been eyeing this dessert since I first saw the online menus. The Princess went with the Boston Cream Pie.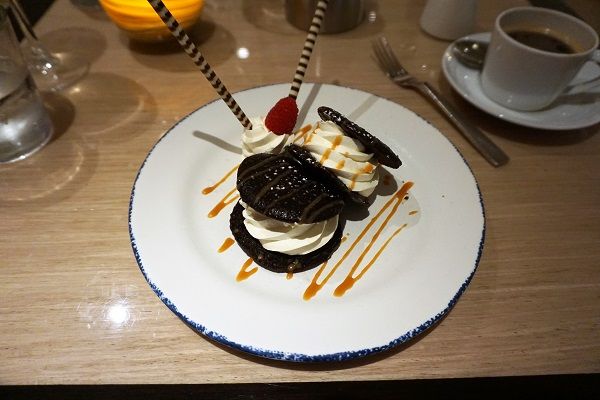 Neither of us were impressed with our dessert choices. Given how much food we had already devoured, we were both fine leaving this third course behind.


Recap of Hooked Seafood Symphony of the Seas Review
Lunch Menu | Happy Hour Menu | Drinks Menu | Dinner Menu
As a new dining concept, we liked the addition of a seafood restaurant to Royal Caribbean's current specialty dining line up. When compared to other cruise lines with a dedicated seafood restaurant, the appeal of Hooked is that it is more casual and family friendly.
Food quality was also somewhat better than what we have experienced on rival lines. Still, it was hit or miss for us though, partly due to recipes and partly due to ingredients.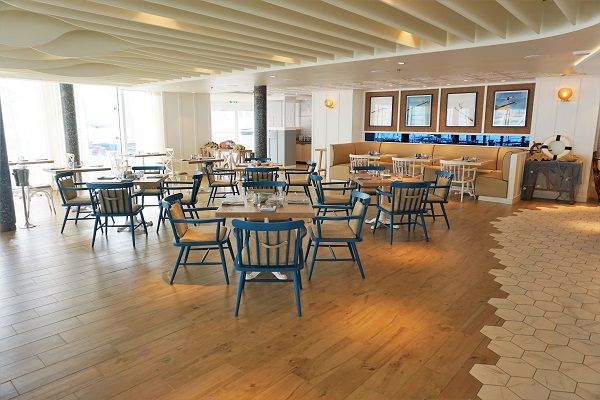 Overall, we would consider dining at Hooked again for lunch, as it was a better value than dinner. While the Captain's Platter was tastier than the lobster tail in the main dining room, I am not convinced that it was worth the up-charge.

Comments
Have you dined at Hooked Seafood? What is your favorite menu item? Drop us an anchor below with your restaurant review of this new dining venue onboard Symphony of the Seas.