Cozumel is one of the most popular cruise ports in the Western Caribbean. This Mexican island offers an array of different shore excursions and tours. On a recent trip to Cozumel, we decided to relax at one of the popular all-inclusive resorts, the Nachi Cocom beach club. We are back and have all of the details in our exclusive Nachi Cocom Cozumel Review.


Nachi Cocom Cozumel Review
Pre-Cruise Planning
We have visited Cozumel several times in the past few years. Given this frequency, we have done a variety of different tours and excursions. So, we decided to book an all-inclusive beach break this trip.
Reviewing the local options, we reached out to Nachi Cocom Cozumel about three months before our cruise. Completing the online order form and making the required ($11 a person) deposit, we received a confirmation number. Two days later, we received an email stating that our reservation was confirmed.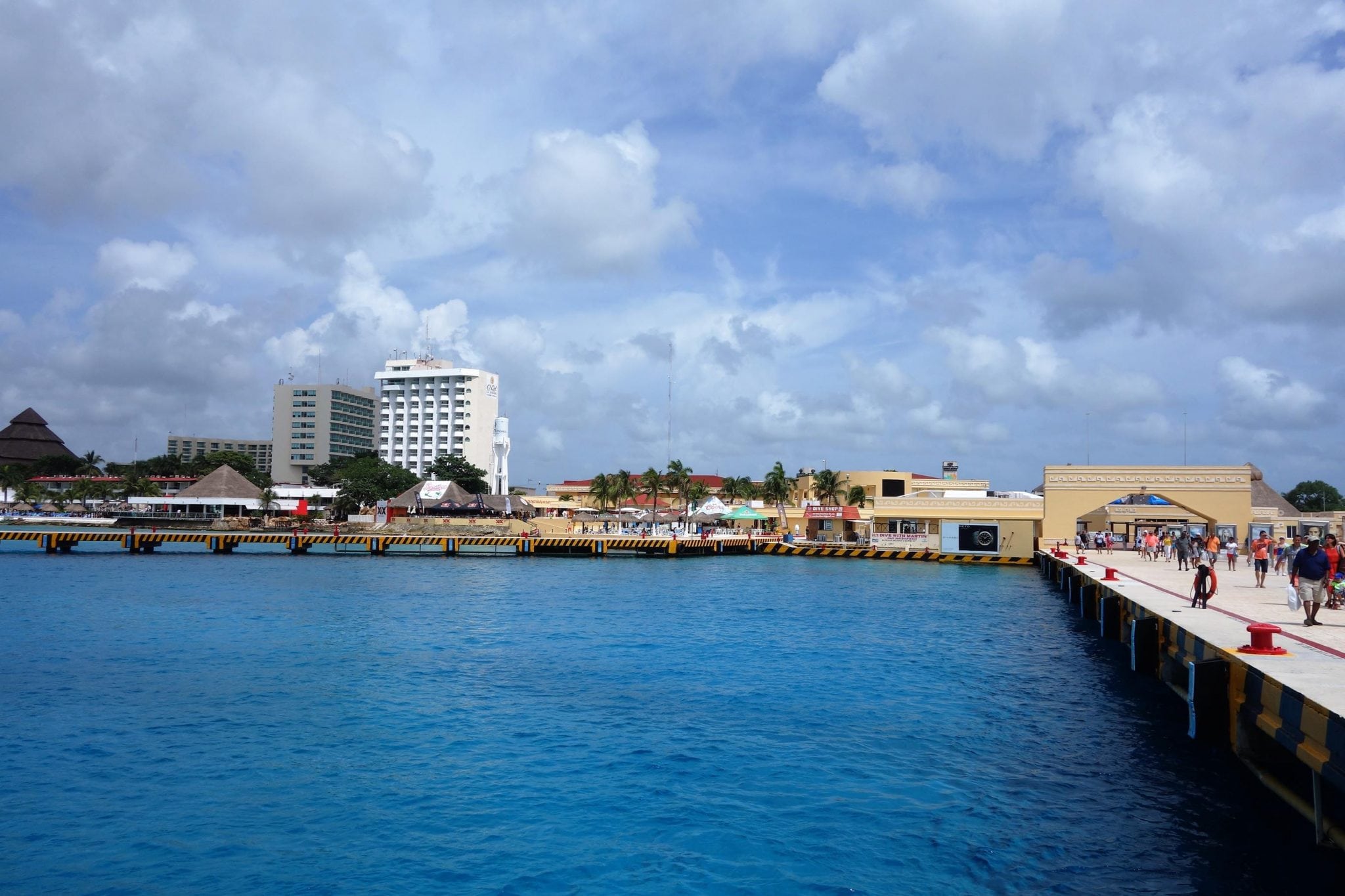 The resort charges $55 a day per person for adults, with pricing for children ranging from $19 to $39 depending on their age. Children under the age of 3 are free. When reserving, you are only required to pay the deposit, with the remaining balance to be paid upon arrival.
The beach club limits the number of people allowed on the grounds to 130 guests. They also guarantee that you will have a beach chair and access to all of the amenities.
Related Post: Best Things to Do in Cozumel on a Cruise
Getting to Nachi Cocom Cozumel
Nachi Cocom Cozumel opens at 8 am local time. Depending on the time of year you visit, your ship may or may not be on the same time as the island. Tip: Always make sure you remain on ship time so you do not miss your ship's all aboard time.
During our recent visit, we arrived essentially at the same time the beach club was opening, so we were among some of the first passengers off the ship. Walking through the port shopping area, we arrived at the taxi stand with no wait. We requested a taxi to Nachi Cocom and confirmed the total cost was $13 for the two of us.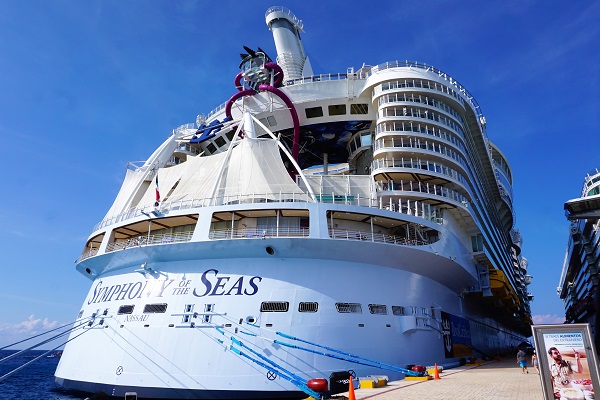 The beach is located not far off the main strip with the total ride taking about 15 minutes. Pulling up to the resort, approximately 30 minutes after opening, it seemed pretty quiet.
Check in was simple. We were immediately greeted by a staff member, had a welcome photo taken, and were directed to a desk to pay. We gave them our name and confirmation number then used a credit card to pay the remaining balance of $88. Once we were checked in, we received a quick tour of the facilities.
Related Post: See our Symphony of the Seas Review and Ship Guide
The Facilities at Nachi Cocom Cozumel
The main restaurant and bar are located in the middle of the resort area. If you want to dine here for lunch, there is plenty of seating. It is a bit cooler with large fans but still an open-air pavilion.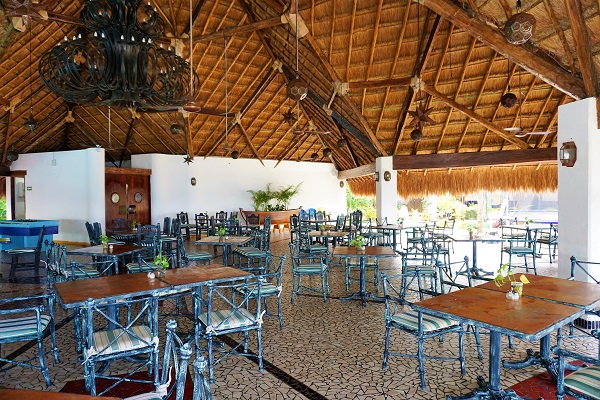 The restrooms, showers, and gift shop are located around the corner here. Right next to the pavilion, there is a large pool with surrounding loungers. A small section of the pool also abuts the main bar, and this is what is considered the swim-up bar.
During our trip here, there were mostly children in the pool, so we did not venture in to try the swim-up bar. However, we do think this is a nice feature.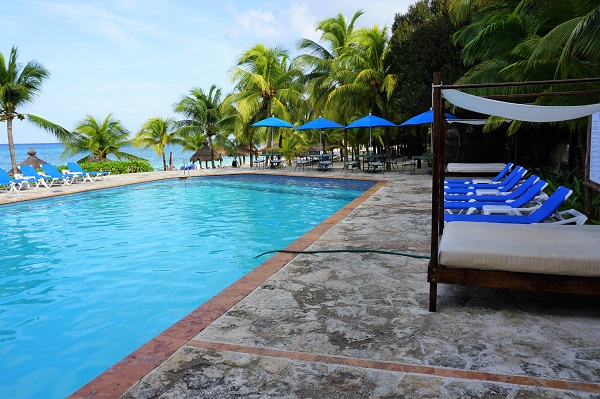 Heading out to the beach, you are essentially at one end and need to walk down the beach to get a chair. There were probably a total of 15 people on the beach at this point, so we chose some lounge chairs with an umbrella closer to the main areas.
For a club that only allows 130 people, it is a rather long beach area that was pretty well combed. The water was also quite clear and refreshing.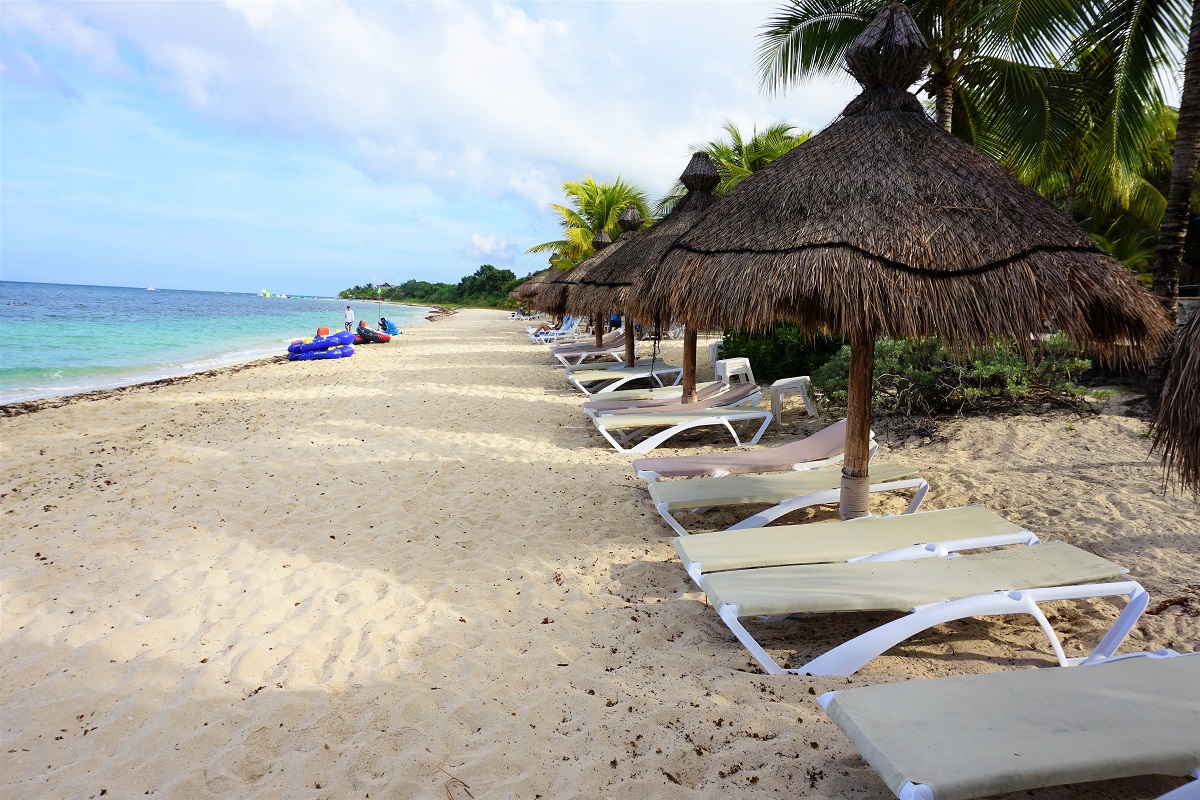 There is a small shaded section further down the beach with some hammocks and a second bar. There are servers walking around the club, but they are not the most timely, so it is nice to have 2 bar options depending on where you are located on the beach.
All-Inclusive at Nachi Cocom Cozumel
As part of the all-inclusive experience, adults have access to a variety of alcoholic and non-alcoholic beverages. There is no official menu, but there are some specials at the bar.
There was a very extensive selection of spirits, but we stuck with drinks like margaritas, sangria, beer, and frozen drinks, all of which were well made. We also made sure to have several bottles of water during our stay which are included as well.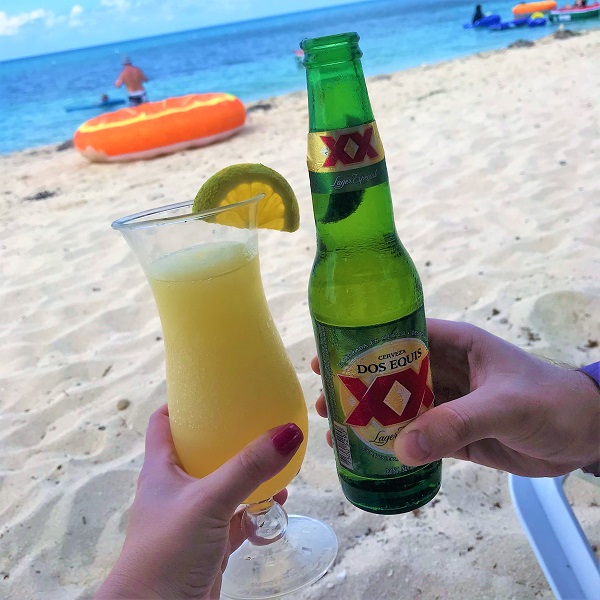 Lounge chairs and limited access to the palapas (natural umbrellas) are included; however, none of the water-based activities are included.
They have floating mats and large water rafts that you can rent for additional money. You can also rent snorkel equipment, take a snorkeling excursion that lasts about 90 minutes, or enjoy a massage. We did not opt for any of these add-ons. The salespeople are not pushy like many other places in the Caribbean.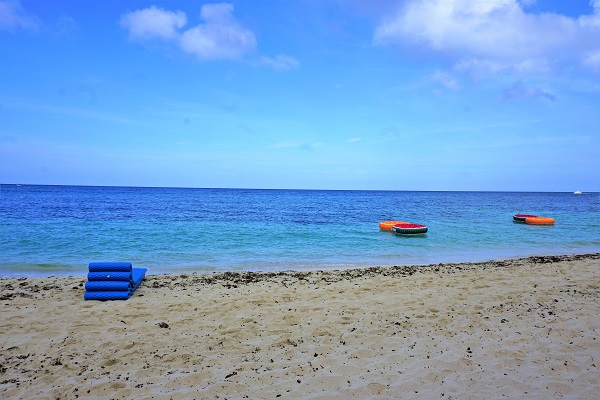 Along with unlimited beverages, the all-inclusive package includes all you can eat lunch from an a la carte menu. You can choose to eat at the restaurant or have the food delivered to your loungers right on the beach. We have a copy of the complete Nachi Cocom menu so you can see what is available.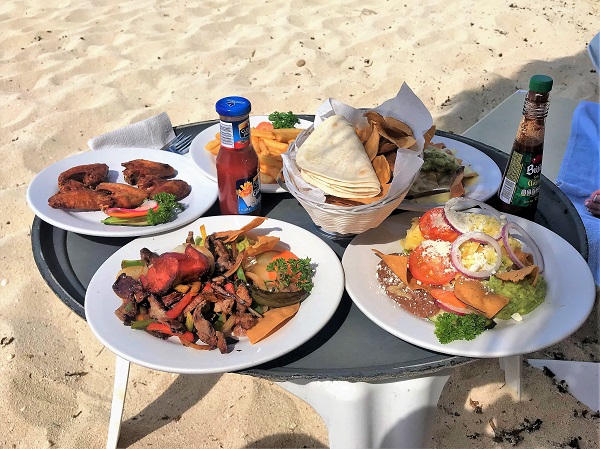 While the website states a 4-course lunch, we were told to order as much as we wanted from the menu. So, of course, that is what we did!
It was probably not the most authentic Mexican meal, but we thought the food was very good. I especially liked the fajitas. The food was fresh, flavorful, and cooked to order. Compared to other all-inclusive resorts that usually have buffets, this a la carte menu was a nice benefit of Nachi Cocom Cozumel.
Recap of Nachi Cocom Cozumel Review
We spent over five hours relaxing in the sun at Nachi Cocom Cozumel.
During our stay, there were less than 100 people at the club. While there were other people here, it felt like we had the beach virtually to ourselves. Since it is a rather large area, it never feels crowded like public beaches or other resorts. There was also no loud music or beach party scene. We really enjoyed this relaxing nature of the resort and having so much room to spread out.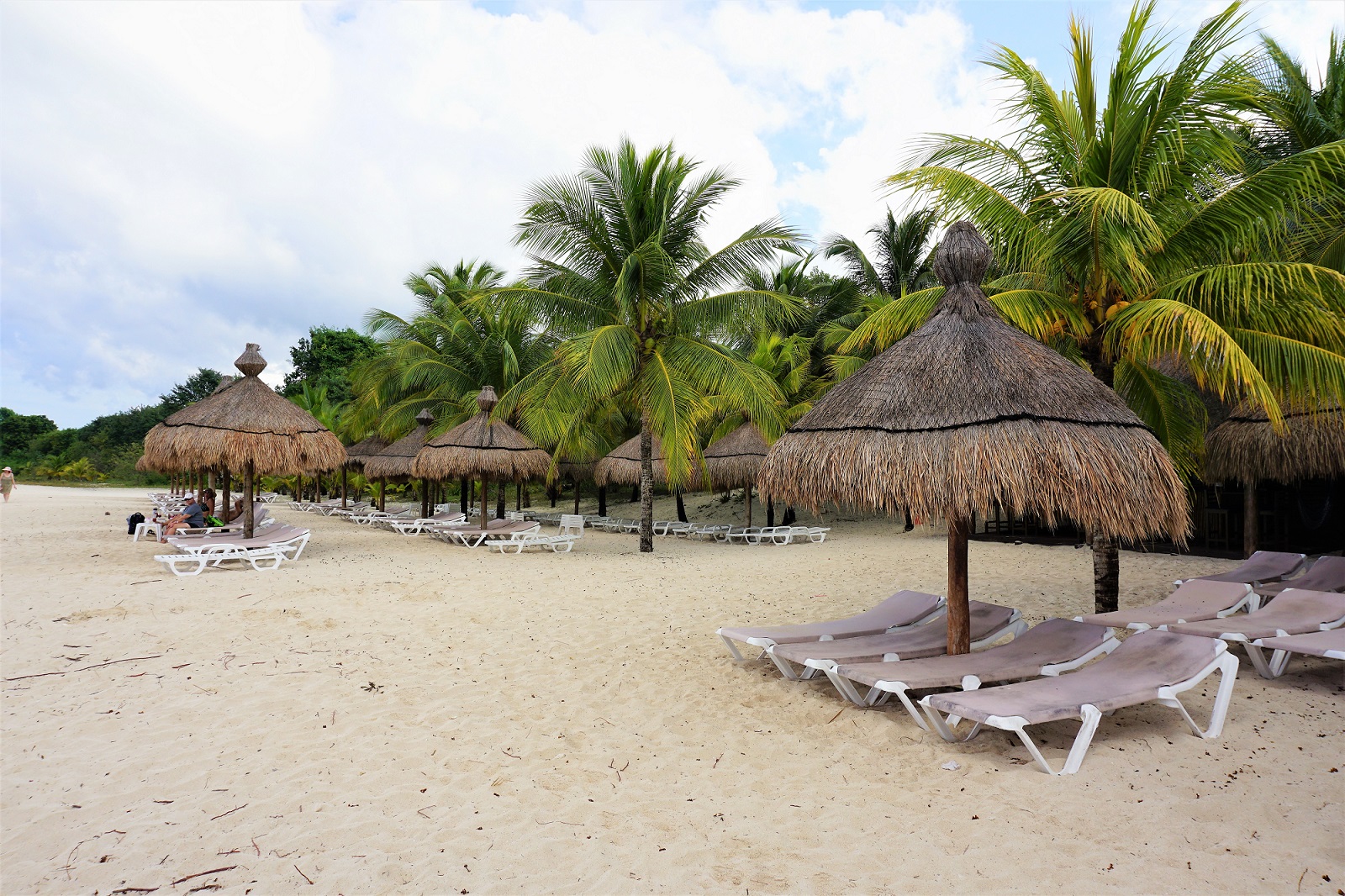 The beach itself was very clean and the crystal clear water was perfect for cooling off throughout the day. There are lockers, but we were never far from our lounge chairs so didn't need to use them.
As for the amenities, the drinks were well mixed and the food was excellent. The club admission includes WiFi, which we had no problems accessing and using for social media. There were also plenty of loungers to go around.
One negative was that there were not enough servers to handle the large area. They were all friendly but did not come by as often as we would have liked, so there were times we had to go to the bar for our drinks.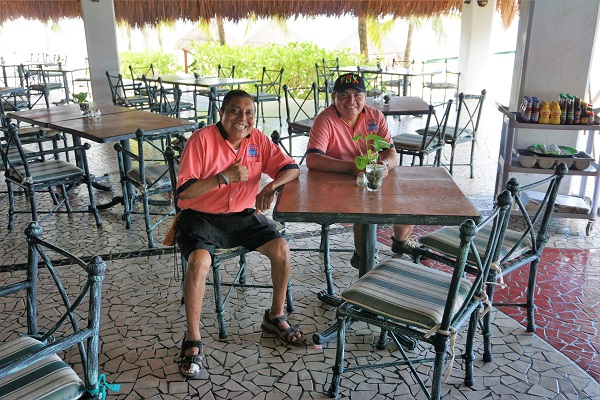 If you are traveling with children, you might want to consider one of the other beach options in Cozumel as there are no water activities included in the admission price. Or, you could always take some water toys of your own.
For the most part, the club consisted of mostly adults, and everyone we talked to was enjoying their time at Nachi Cocom.
If you are looking for a relaxing experience and a nice, clean beach without all the crowds and noise, this is certainly the beach break for you. Transportation is not included, so make sure to budget for those additional costs. When we wanted to leave, all we had to do was alert a waiter who got us a taxi in a matter of minutes.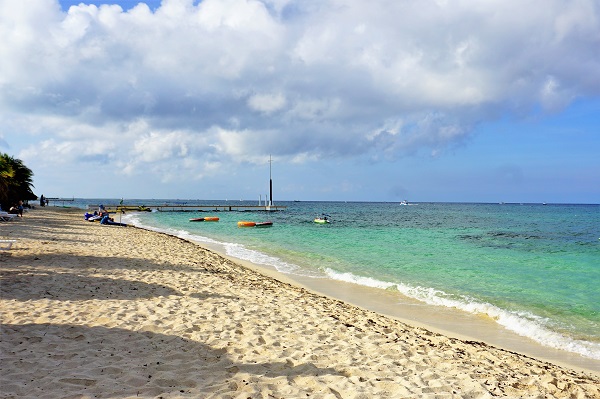 On a future visit to Cozumel, we would certainly consider spending another day at Nachi Cocom beach club and you should too!

Comments
Have you visited Nachi Cocom Cozumel on a cruise? What are your favorite beach breaks in this popular cruise port? Drop us an anchor below with your review of this all-inclusive beach resort.