"To play pickleball is to make new friends, from around the neighborhood or around the world. This ageless sport welcomes players young and old, fast or slow," said Theresa Haynie, a founding board member of Seattle Metro Pickleball Association and an International Pickleball Teaching Professional Association instructor.
My first introduction to pickleball happened onboard the Holland America Rotterdam ship. It's as if the quote above resulted from my experience. I was relaxing on deck where a fellow passenger approached asking if I wanted to play pickleball. I explained that I had never played before, yet this guy encouraged me to come and join a game.
He quickly walked me through the rules, and I not so quickly understood the game. Patiently, this person remained my partner. Another couple joined our doubles set. They were also new to the game. We enjoyed our short time playing and also got a bit of a workout. As a solo traveler on this particular cruise, it was a good way to meet some new people.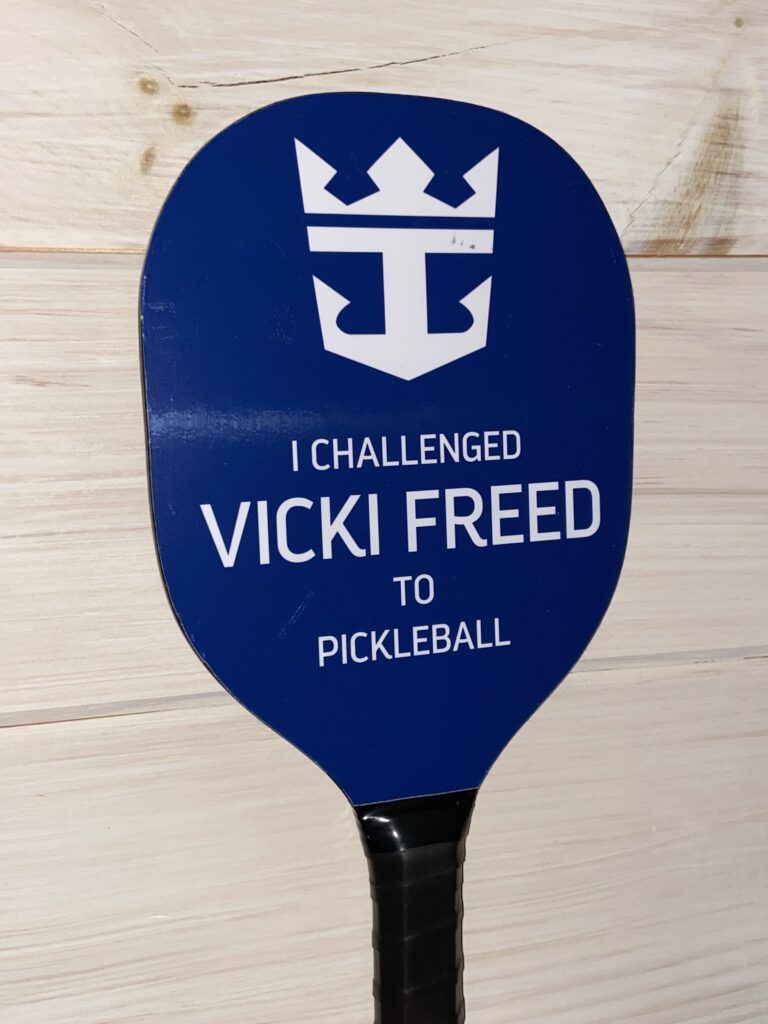 That experience led me to try the sport on another cruise ship with pickleball courts. Allure of the Seas had ongoing play times. In this case, Vicki Freed, one of the executives from Royal Caribbean, availed herself on the court to play with fellow passengers. I took advantage of this opportunity and paddled a few balls. Of course, now, I have my souvenir paddle.
EXCLUSIVE SAVINGS: Get Deals on Your Next Cruise!
The Complete Guide to Popular Cruise Ships With Pickleball Courts
A Brief History of Pickleball
Way back in 1965 a family and some friends found themselves sitting in their yard wondering what to do. With a badminton court already installed, these restless individuals found equipment laying around and improvised with what was available. They cobbled together a net, found some balls and rackets and so began the early rendition of the sport.
As time evolved so did the sport of pickleball. Organizations formed and the sport spread to all 50 states and around the world. Championships and tournaments were held. Pickleball was here to stay.
It seems to be all the rage these days in small and large towns. Referred to as the fastest growing sport, pickleball courts, clubs and players are springing up everywhere.
Cruise ships have embraced the trend with many new ships finding space for courts. Older ships convert space or make do with existing space. Many cruise ships with pickleball courts sail the seven seas.
Why the Name Pickleball?
A popular story is that the sport was named after a family dog called Pickles. However, according to research done by Pickleball magazine, "pickle" is a term used for the leftover crew members at a rowing event. The pickle boat uses random rowers and random equipment at an event. So, just like the game started by using found equipment, this terminology seemed appropriate.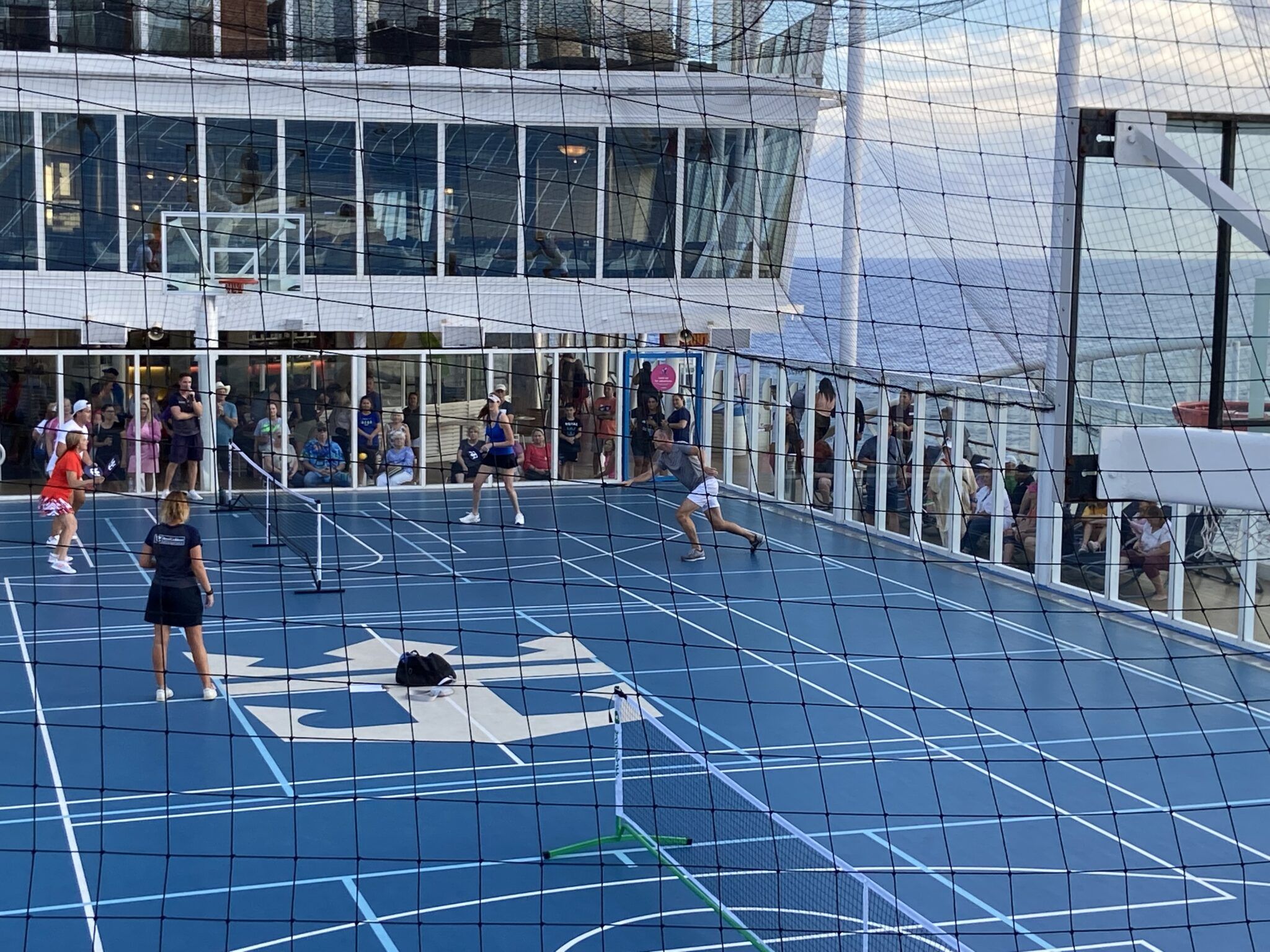 How to Play Pickleball
What is pickleball? Simply put, it's a combination of games like tennis, table tennis and badminton. It's played on a regulation doubles badminton court. It's considered less stressful on joints than tennis, but there are some interesting differences from tennis.
One of the biggest is that the ball does not bounce like a tennis ball. The ball used in pickleball is hard and plastic with many holes. Think Wiffle Ball.
Do Cruise Ships have Pickleball Courts?
As the sport of pickleball gains in popularity, so does its presence on ships. Not only do some ships have dedicated pickleball courts, others share them with other court sports.
One of the best parts of cruising is that there is the abundance of opportunities to learn or try something new. Several of the cruise ships with pickleball also offer lessons. Be sure to check out the daily program for times.
Not only do some of the ships offer lessons, some may even offer tournaments. Again check out the daily schedule.
Getting Ready Before You Sail on a Cruise Ship with a Pickleball Court
There are plenty of organizations committed to the sport of pickleball. Official rules, types of equipment and tips for playing are found on several sites. Familiarize yourself with them if you want to prepare before your cruise.
Several sites list local places with courts just in case you want to practice before you board your cruise ship with a pickleball court.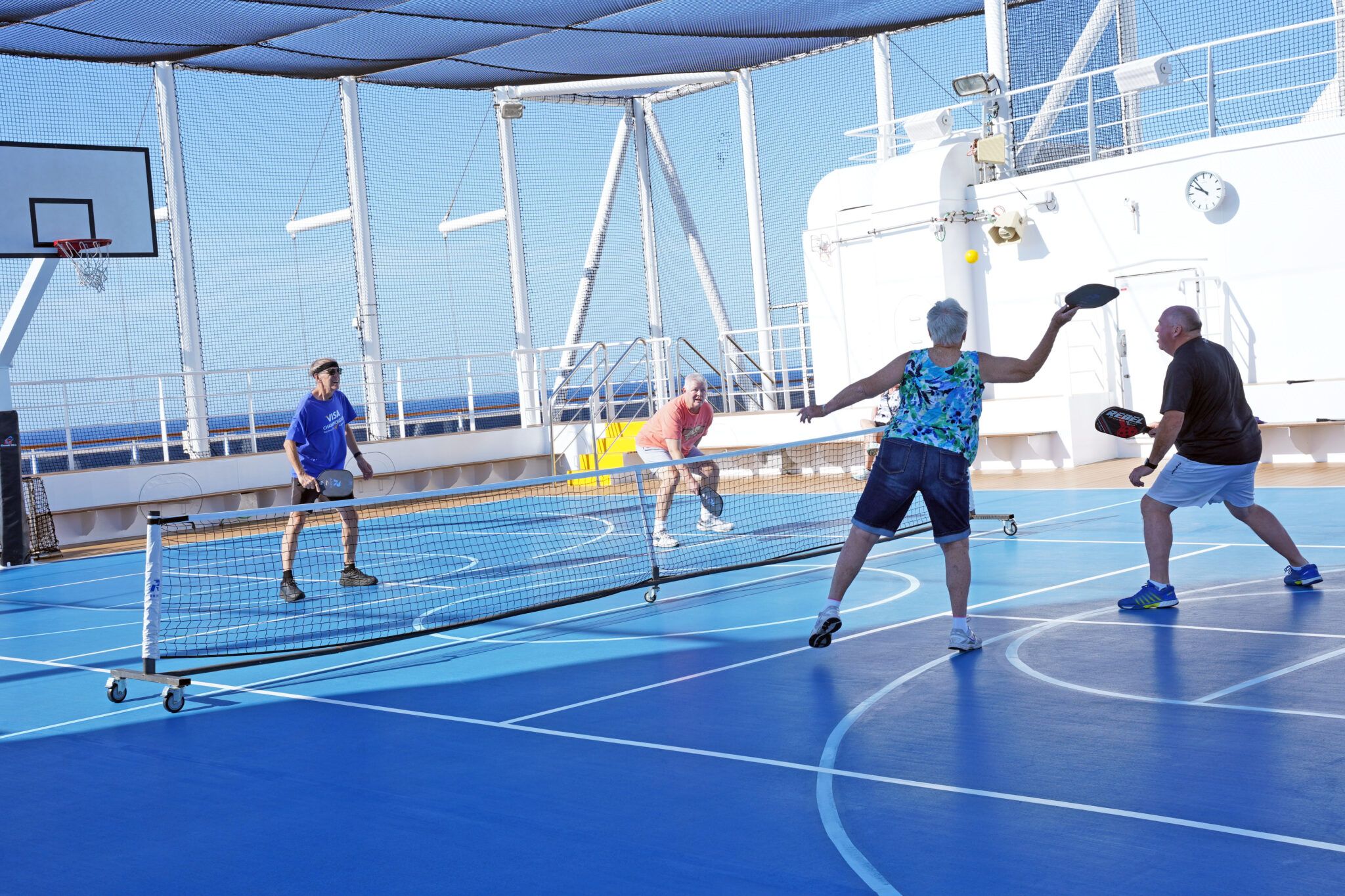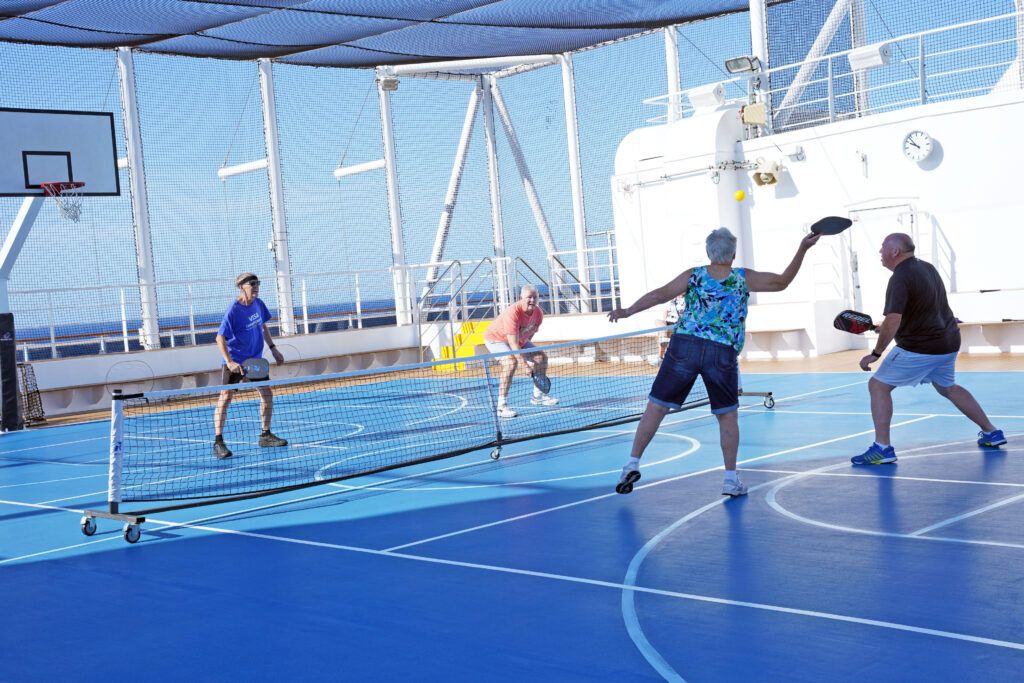 Going All The Way with Pickleball – Holland America Line
A leader in cruising is teaming up with the leader of the fastest growing sport in the U.S., thanks to an exciting new partnership. Holland America Line has been exclusively named as the Official Cruise Line of the Professional Pickleball Association (PPA) and is committed to expanding its pickleball experience at sea for guests.
All ships in the Holland America Line fleet feature pickleball courts with amazing top-deck views that will be refreshed by February 2023, including adding new PPA Tour partner logos.
Beginning in February and rolling out fleet-wide by April 2023, complimentary beginner lessons will be offered by shipboard instructors who will teach guests the rules and basics of playing pickleball, including where the "kitchen" is and what it means to hit a "dink" shot.
"It's a fun game to teach and even more fun to learn," says Theresa Haynie. "Now with pickleball on board ships with this wonderful partnership, cruisers and players have one more adventure to experience and take home with them."
Cruise Lines That Have Pickleball on Their Ships
Which Carnival ships have pickleball courts?
Carnival Conquest and Carnival Glory have permanent pickleball courts and the other ships have a shared sports court where pickleball can be played. The upcoming ships, Carnival Venezia, Carnival Jubilee and Carnival Firenze will share the sports courts.
These pickleball courts are open daily. As with all sports activities, guests can find information on what's available on board, including hours of operation, listed in the HUB App.
They are all open play, except for one organized tournament per cruise.
As of now, there are no limitations as to how long guests may use the court. Much like on land, the court is busier at certain times. As guests might expect, the court is most popular on sea day afternoons.
Pickleball equipment is readily available. Though, some guests choose to bring their own paddles/equipment.
Currently, Carnival does not offer pickleball lessons.
Which Celebrity cruise ships have pickleball courts?
Nine Celebrity Cruises' ships now offer pickleball including: Celebrity Beyond, Apex, Constellation, Eclipse, Equinox, Infinity, Millennium, Solstice, and Summit.
Court locations vary by ship. On Edge Series ships, cruisers can play pickleball at the lush and roomy Rooftop Garden. On Solstice Series ships, pickleball is offered on the Sports Deck (Deck 15). Meanwhile, on Millennium Series ships, players can head to the Sports Court (Deck 12).
There are multi-sports courts which accommodate Pickleball, Basketball, and Soccer. Pickleball has exclusive timeslots.
The courts are available for exclusive pickleball play for 4 hours/day, and tournaments are also scheduled. (Times may vary by day and are shared in the onboard newsletter, Celebrity Today.) Pickleball equipment is also available for use outside of the scheduled hours.
Currently, no reservations are required. Further, the ships have enough equipment for each player on the court, as well as spares.
Unfortunately, professional instruction is not available at this time on Celebrity cruise ships.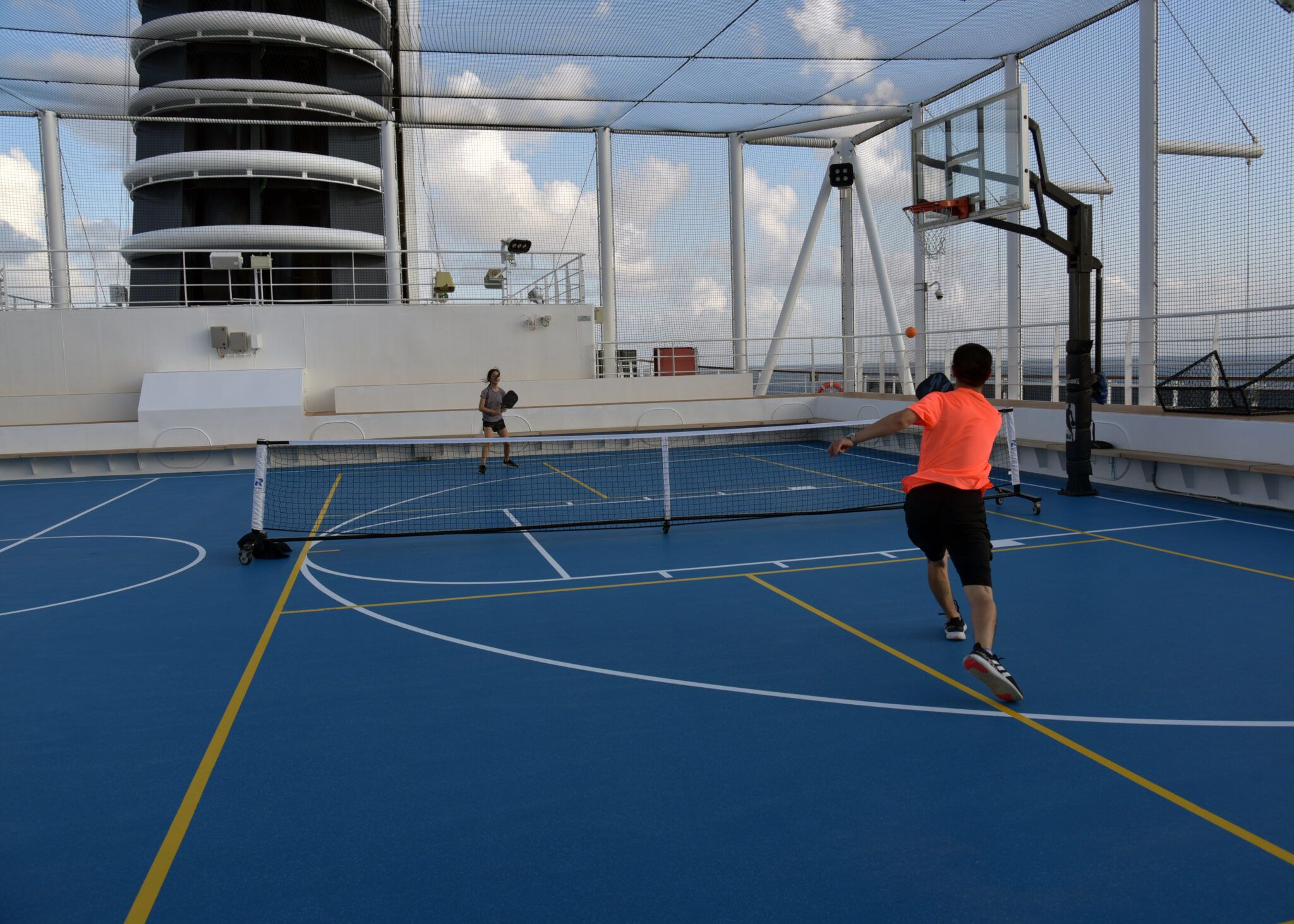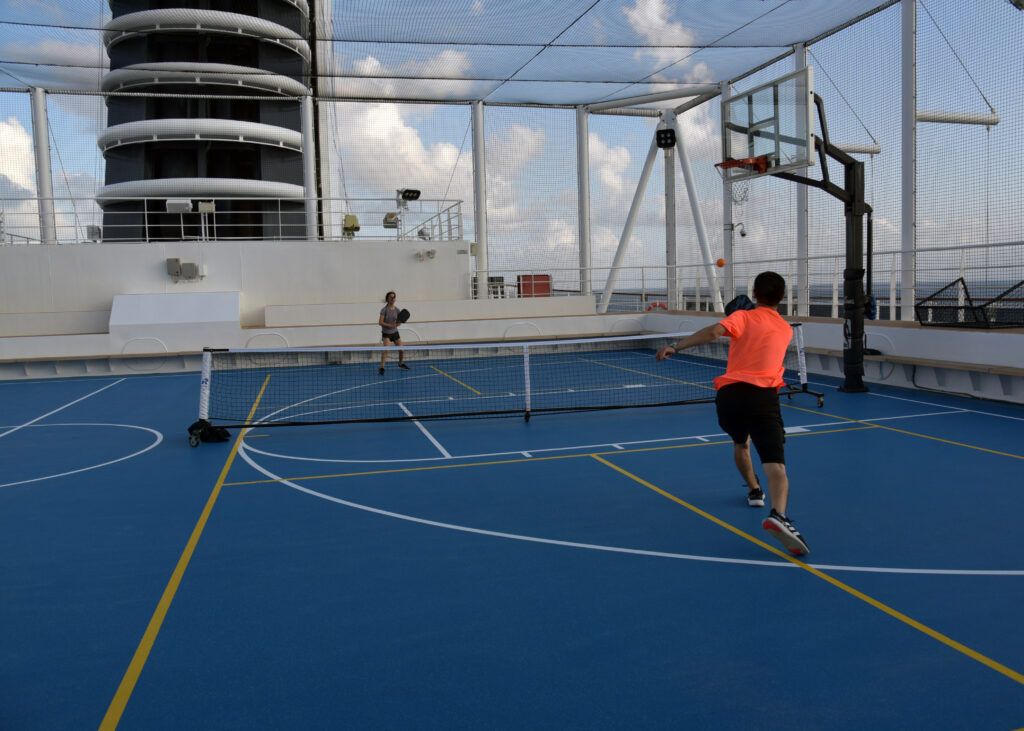 Which Holland America Line ships have pickleball courts?
All ships in the Holland America Line fleet feature pickleball courts with amazing top-deck views.
The sports court on Pinnacle, Signature, and Vista Class ships will be "dedicated" to pickleball play from 8am to 4pm daily. On R-Class ships, one side will be dedicated to pickleball. Open play takes place after 5pm, as this allows all guests to use the area for basketball or other sporting activities.
Reservations will be available, and slot times will be one hour per reservation. The sports director will help manage reservations.
Lessons will take place daily on sea days, and they may take place in port as well depending on the length of the cruise. Tournaments also will be held throughout the cruise.
Which Norwegian Cruise Line ships have pickleball courts?
Pickleball is available on board Norwegian Prima and her sister ship Norwegian Viva, set to debut in August 2023. These ships feature a dedicated space within The Stadium on deck 18.
Guests can generally play between 10am – 9pm (times vary with each cruise).
NCL also provides all pickleball equipment. Though, lessons are not available.
Which Princess ships have pickleball courts?
Guests have been able to enjoy playing pickleball onboard Princess ships for more than five years. The sport's popularity has increased greatly, and the cruise line now offers it on all 15 ships in the Princess fleet.
Pickleball is played on the Sports Court, where guests enjoy a variety of activities including basketball, volleyball, tennis, and more.
The court is always open, and it has dedicated hours for pickleball open play. Guests can check their Princess Patter or the Princess app for timing.
Princess Cruises provides all equipment; though, no lessons are available.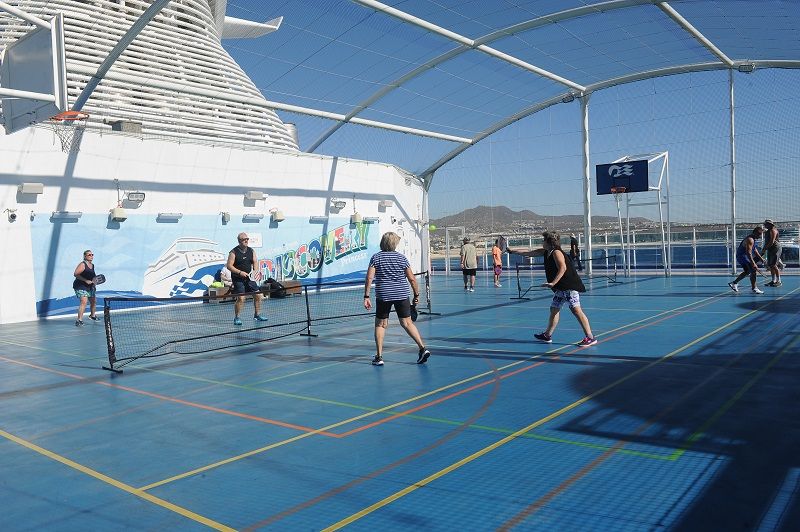 Which Royal Caribbean cruise ships have pickleball courts?
All Royal Caribbean cruise ships offer pickleball. There are indoor and outdoor courts as well as full and half-courts. All Oasis Class ships have a pickleball program offered at the Sports Court. Quantum Class ships have a program that takes place in the SeaPlex.
Each ship offers different times for pickleball play based on itinerary, ship class, etc. This changes frequently, but when a group is scheduled with ample time, an adjustment is made to ensure the right programming is offered.
Some ships with an indoor SeaPlex facility require reservations of the equipment (more like a check-in/check-out system). However, European ships require reservations. Usually though, it's a first-come, first-service open play session.
During "Open Play" hours, the equipment is on the court ready for guest use. The cruise line also organizes pickleball tournaments where guests can play each other to be crowned a pickleball champion for that particular cruise.
Additionally, guests can request to rent the court as long as there is the availability for it onboard. Though, there is a price that comes with exclusively renting out the sports court.
Royal Caribbean does not offer pickleball lessons at this time.
Which MSC cruise ships have pickleball courts?
MSC reports that pickleball is available on MSC World Europa and will be available on MSC Euribia when she comes in to service later this year.
Which Virgin Voyages ships have pickleball courts?
Valiant Lady is the only ship in the fleet to currently offer pickleball. The court is shared with other sports including basketball and dodgeball. The court is open on sea days only to accommodate for basketball play as well.
At this time, Sailors can use the court on a first come, first serve basis. Further, there is no limit on the length of play at the moment, but this might change as usage increases.
The cruise line has equipment available for 4 players.
Virgin Voyages is still building into the programming and developing more pickleball related activities. There are plans to include fun tournaments in the future similar to what is currently offered for dodgeball.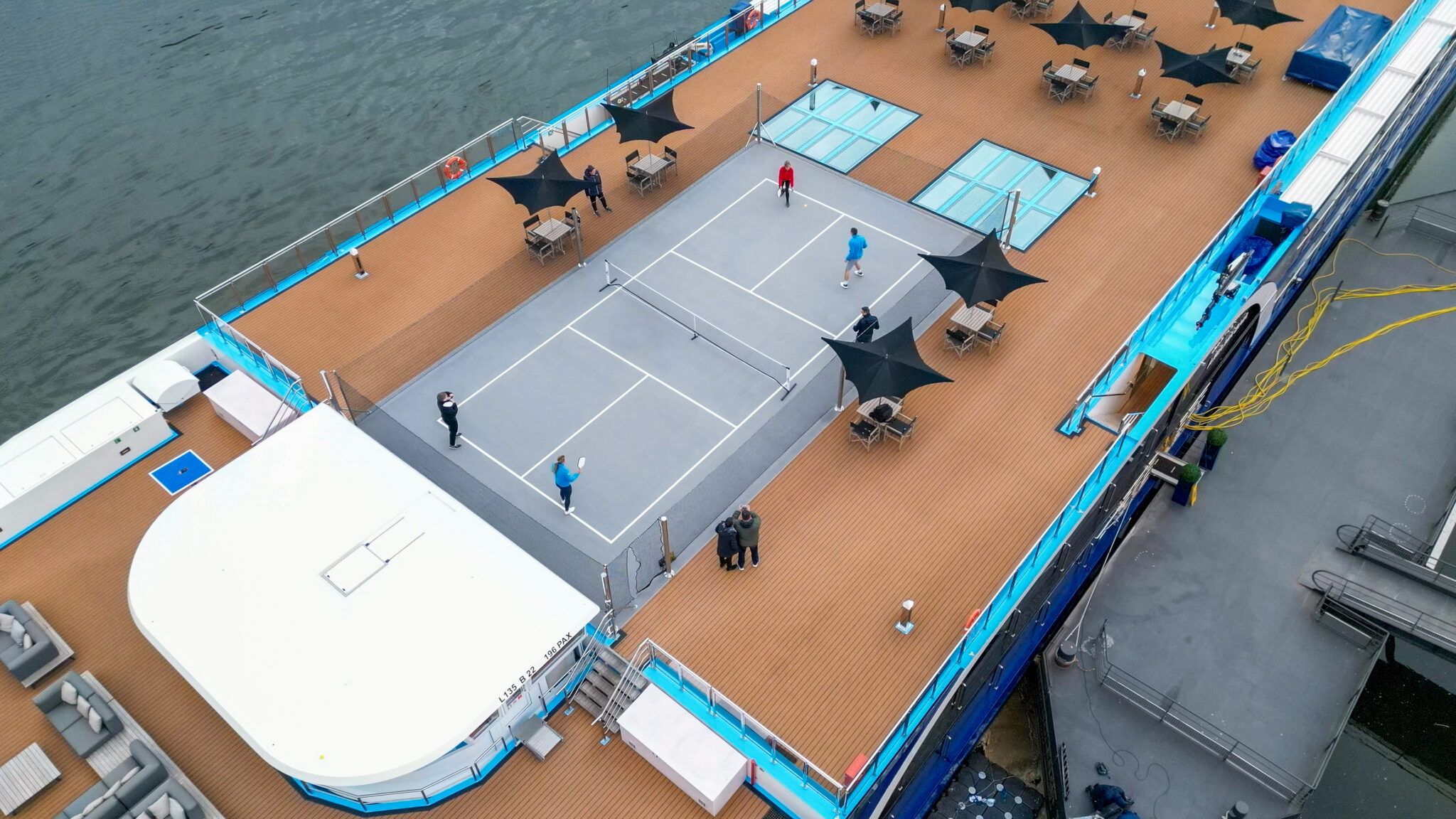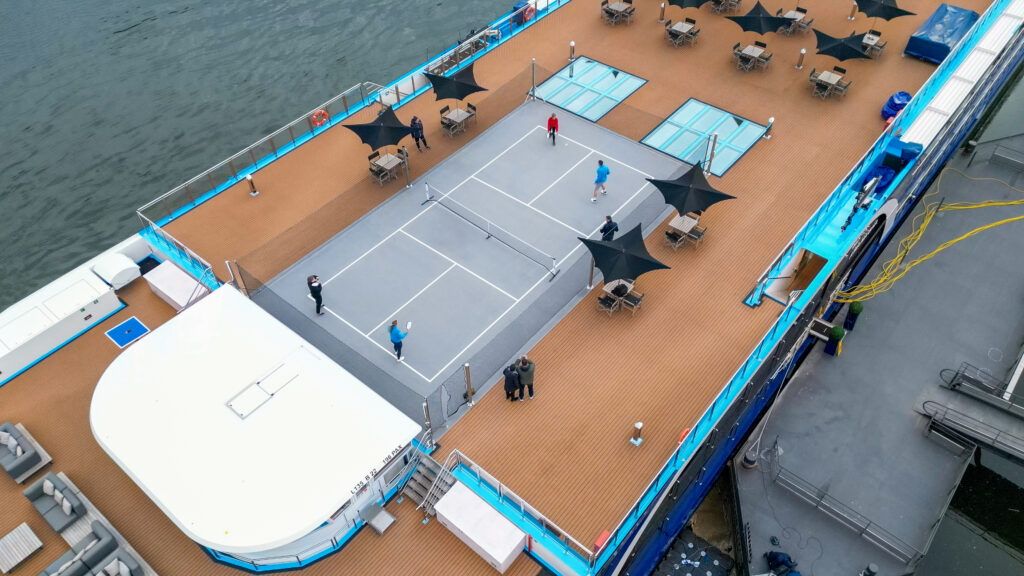 What about river cruise ships?
Having launched the active river cruising concept with bikes on board since 2006, AmaWaterways is once again leading the way and continuing to prioritize wellness with the addition of pickleball to its flagship.
Located on the Sun Deck of the intimate yet spacious AmaMagna, which measures nearly twice the width of traditional river cruise ships, the brand-new pickleball court invites guests of all ages to take a swing while being docked in the heart of picturesque towns along Europe's legendary Danube River.
BOOK NOW: Exclusive Rates on Your Next Cruise!
Comments
Have you jumped on the pickleball bandwagon yet? Have you played pickleball on a cruise ship? Drop us an anchor below to share your experiences playing this newly popularized sport at sea.