Quantum of the Seas' art collection celebrates the timeless question, "What Makes Life Worth Living?".  Royal Caribbean's most innovative ship to date, Quantum of the Seas, encompasses approximately 3,000 works scattered throughout the ship. Many of the pieces were designed specifically for this ship and aim to explore "the intangible yet sustainable qualities of life".
The catalog named The ABC's of "What Makes Life Worth Living" can be found in your stateroom and highlights many of the Quantum of the Seas art pieces find onboard.
In a week long cruise, it would be nearly impossible to discover every piece, but in this article we highlight some of our favorites.
In a previous post, we highlighted the digital imagery of artist Deming Harriman displayed in the elevators throughout Quantum of the Seas. Now, we venture out to discover the other magnificent artwork.
Quantum of the Seas Art
Located in the Via, this first stunning piece of work is called Waves of Light and was designed by artist, Soo Sunny Park. This sculpture is made from stainless steel and dichroic plexiglass. It makes for a great backdrop for all those formal pictures as well!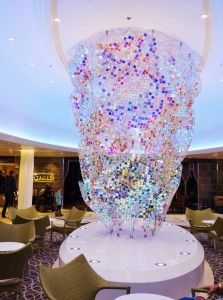 Also located near the Via is the piece of art titled The Crossing by artist, Paul Villinski. This vast display of 210 butterflies is made from aluminum, stainless steel, and acrylic enamel. It is definitely a sight to behold.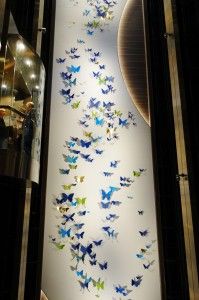 This next gem, located in the staircase near the dining venues, is called Anemone and is a creation of artist, Milton Rosa Ortiz. The vivid silver and red colors make this another truly magnificent piece.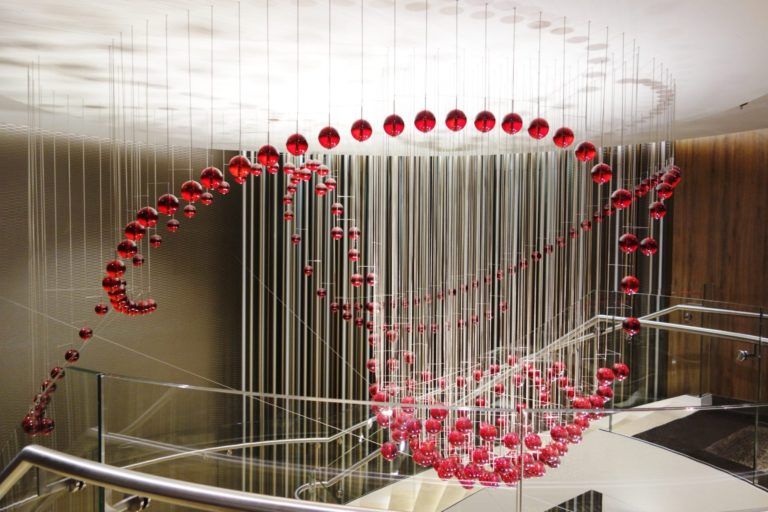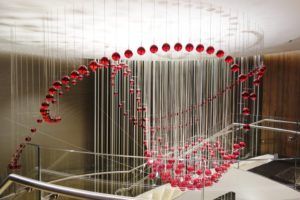 Who can miss this larger than life magenta bear? Located outside the SeaPlex on deck 15, this massive creature made of stainless steel is the work of artist, Lawrence Argent, titled From Afar. And yes, you can certainly see her from afar!
Located in the Solarium onboard Quantum of the Seas,  Anna B's World II is a marble creation by artist, Jaume Plensa. This masterpiece definitely adds to the zen feel of this adult's only area.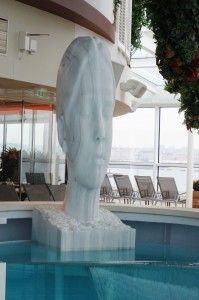 Next up on this Quantum of the Seas art journey is Swing, a creation of artists Wolfgang Winter and Berthold Hoerbelt. It is made of acrylic resin, stainless steel, and fluorescent lights and can be found in Two70. This swing is just one of the stops on the list of must-have photo-ops in the chairs of Quantum of the Seas.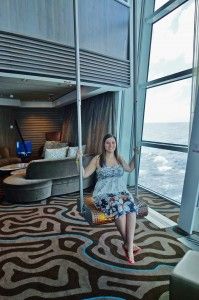 There is also tons of other inspirational artwork around the ship, with these being just a sample of them. So, get ready to explore every nook and cranny of the Quantum of the Seas to find your favorites! Hint, the staircases are a good starting point.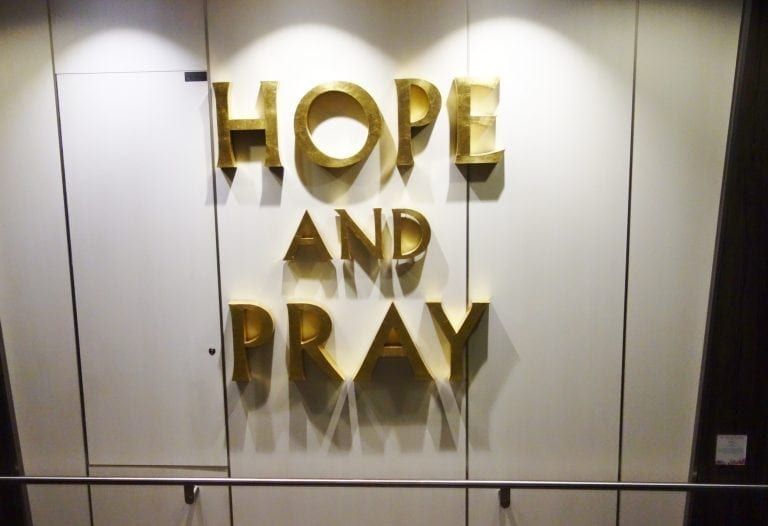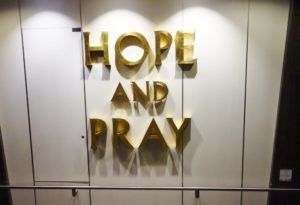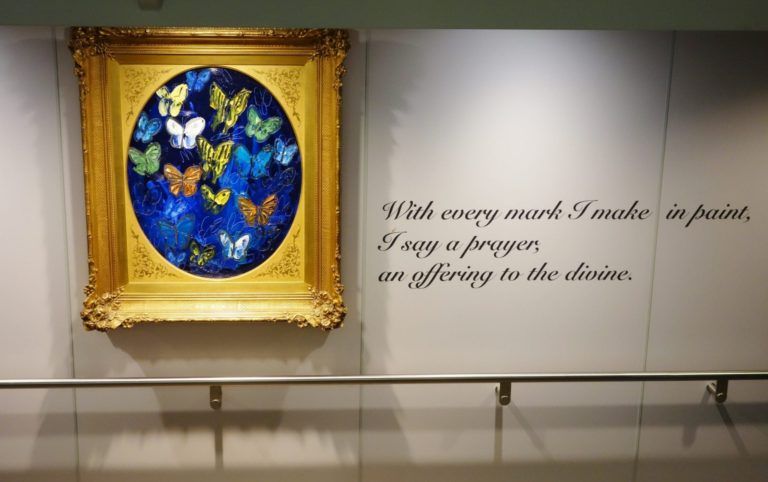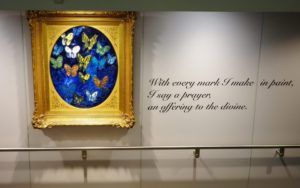 With all of the other technological advances on Quantum of the Seas, would you expect any less when it comes to the artwork showcased on this ship? Of course not, that is why Royal Caribbean features a selection of technological and interactive works rightly called "smart art".
Located on deck 5, is an interactive piece by artist, Daniel Canogar, titled Helix. This helical structure is hung from the ceiling and displays LED images.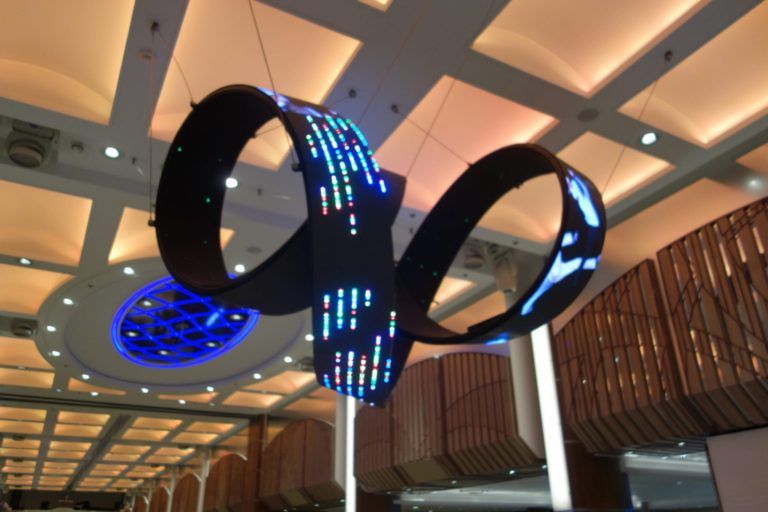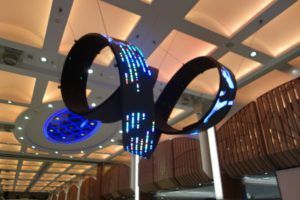 Two of our favorite pieces of virtual art found onboard Quantum of the Seas include Dreamride by artist, Peter Sarkisian, located outside the Music Hall on Deck 3 and Hunter 2, Farmer 2, Captain by artist, Brian Bress, located outside the Schooner Bar on Deck 5.  Below are some videos we were able to capture of these interactive and imaginative works of art.
Dreamride
Hunter 2, Farmer 2, Captain
Comments:
Have you sailed on Quantum of the Seas? If so, what was your favorite piece of Quantum of the Seas art? We would love to hear from you so drop us an anchor below. Even if you have not sailed on Quantum of the Seas let us know some of your favorite masterpieces found on other ships.