Have you ever thought it would be cool to get a bird's eye view of your favorite cruise ship? Well, the Royal Caribbean North Star has made that dream come to life. Debuting on Quantum of the Seas, as well as the soon to be released Anthem of the Seas, the North Star is the first aerial gondola found on a cruise ship!
We take you to new heights in our photo review of North Star, among the many "firsts at sea" found on the Royal Caribbean Quantum class ships!
Review of Royal Caribbean North Star on Quantum of the Seas
North Star is a jewel-like capsule that ascends 300 feet above sea level to give passengers a breathtaking 360 degree view of their surroundings.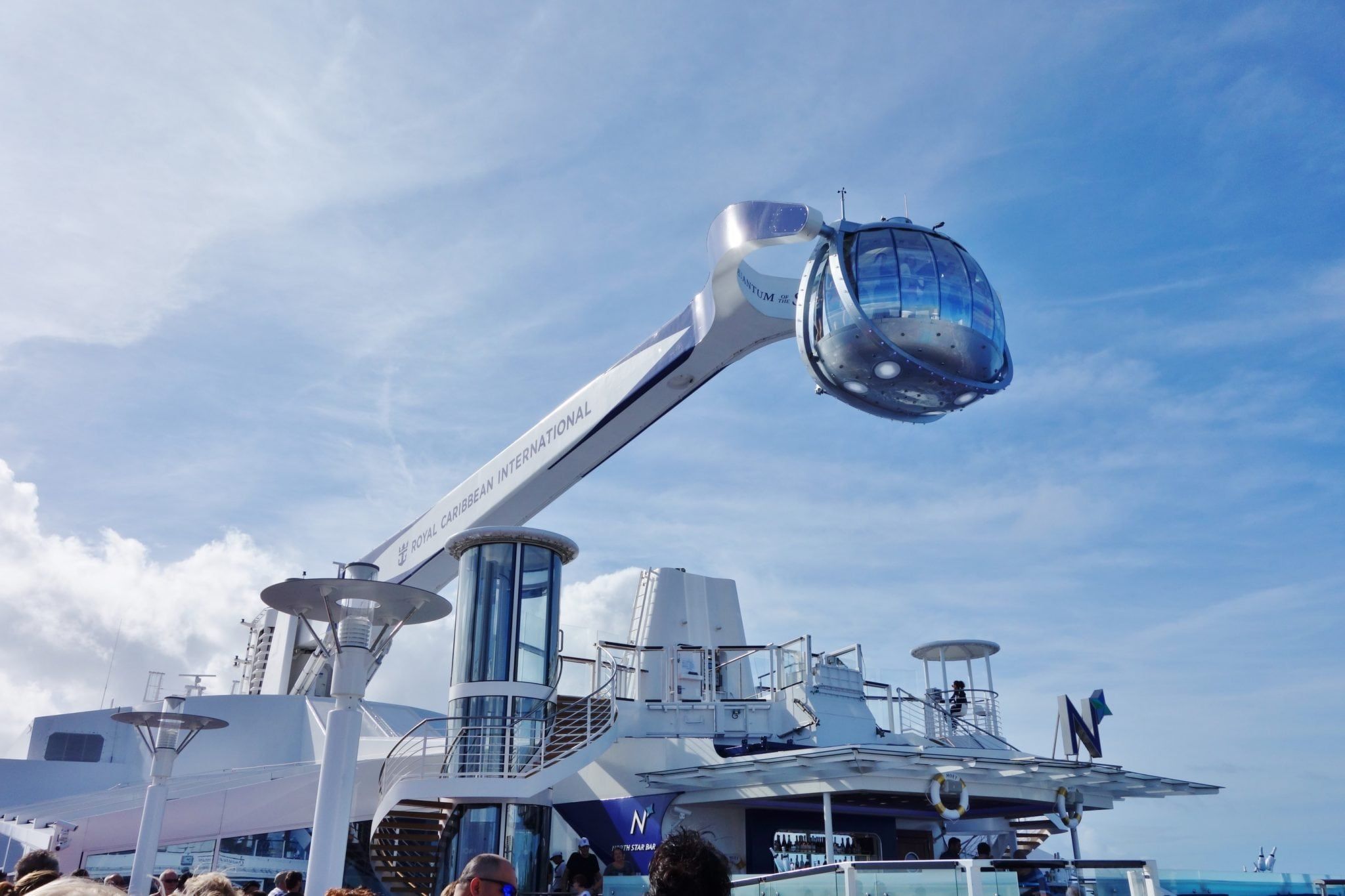 North Star is open most days of the cruise, weather dependent, from 8am to 6pm, with an occasional early/late start or stop time due to specific port of call restrictions.
There is no pre-booking option available for North Star at this time. We were told by staff that they had trialled different methods of reservations but given the unpredictability of the weather and the need for cancellations, they resorted to the good old fashion que. Yes, that's right, you simply have to wait in line for your ride on the Royal Caribbean North Star.
There are markers along the way informing you of the wait times similar to that of an amusement park.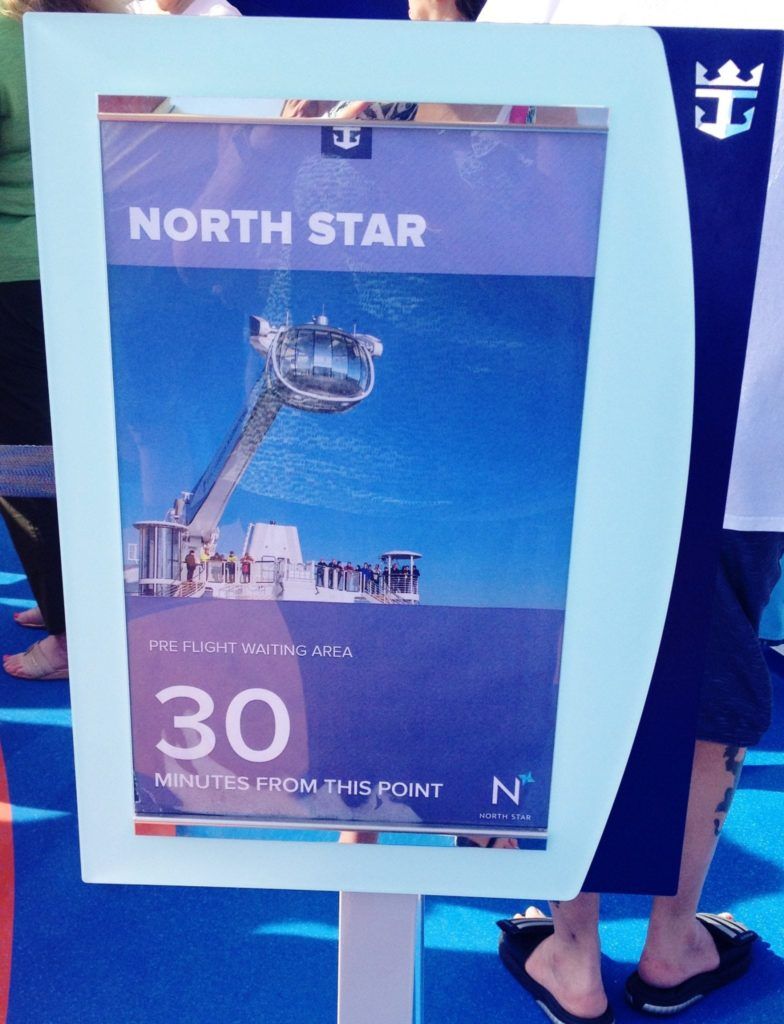 Testing out North Star at Sea
For our test ride on North Star, on day 3 of the cruise, we lined up after breakfast around 9:30am and waited a full 60 minutes.
The ride itself is about 10-15 minutes depending if it is a sea day or a port day. On sea days, the capsule ascends into the air and also pivots to the side of the ship taking closer to the 15 minutes; however, on port days, the capsule only goes up and down making the ride time closer to 10 minutes.
The capsule only holds 14 passengers, making it an intimate experience once it's your turn inside, but does add to the wait times.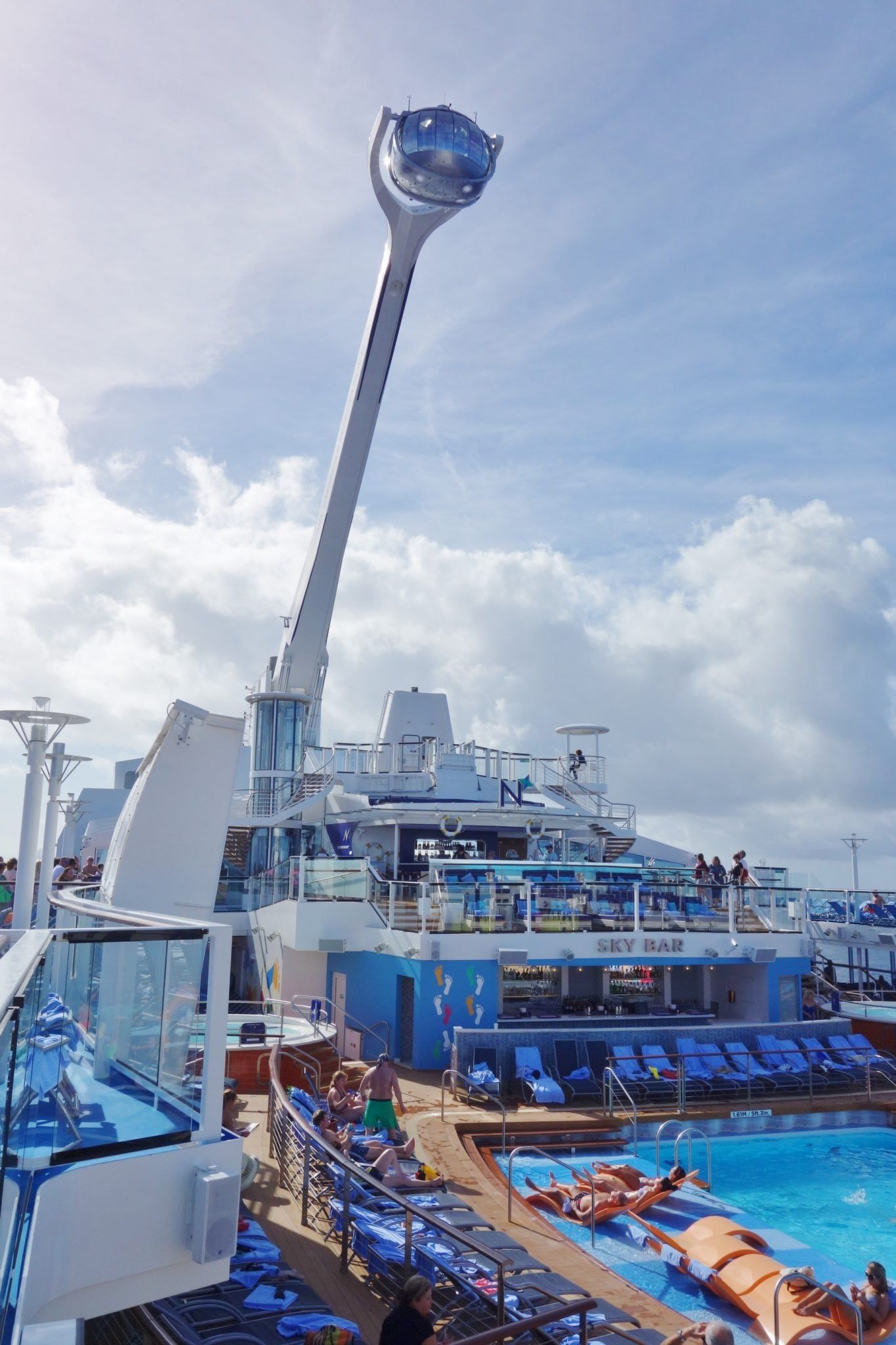 We did notice as the cruise went on that wait times seemed shorter first thing in the morning and on port days. We had already decided that we wanted our first ride to be on a sea day so we could experience all that the Royal Caribbean North Star had to offer. So, given that the weather had closed all outside activities on day 2, we made North Star one of our first stops on day 3 of our recent 8-day Quantum of the Seas cruise.
Spectacular Views from North Star
We waited 60 minutes in line, well DB waited the full 60 minutes in line while I wandered around taking pictures of the outside areas as this was the first nice weather day. When we approached the front of the line, we were counted off into a group of 14 individuals then led up a spiral staircase.
Of course, there is a professional photo opportunity in front of the capsule before you board.
Once on board, get ready for spectacular views.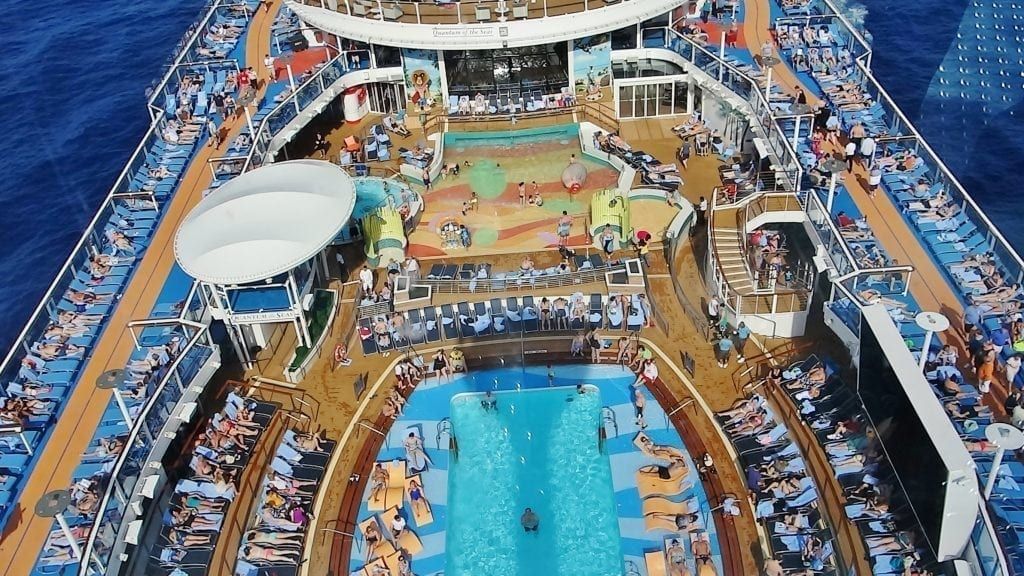 And by views, I mean of all those poor unsuspecting tanners and pool-goers! While inside the North Star capsule, it is pretty amazing to be able to see this area of the ship from above, but looking back at our pictures might also be a bit creepy.
Note to self, do not tan here if you do not want your picture all over the internet.
As we made our way up to 300 feet above sea level, we made sure to capture as many videos and photos as possible. Luckily, it was sunny and bright this day so we were able to get some great shots aside from some glares/reflections in the glass. We even managed to get a few selfies.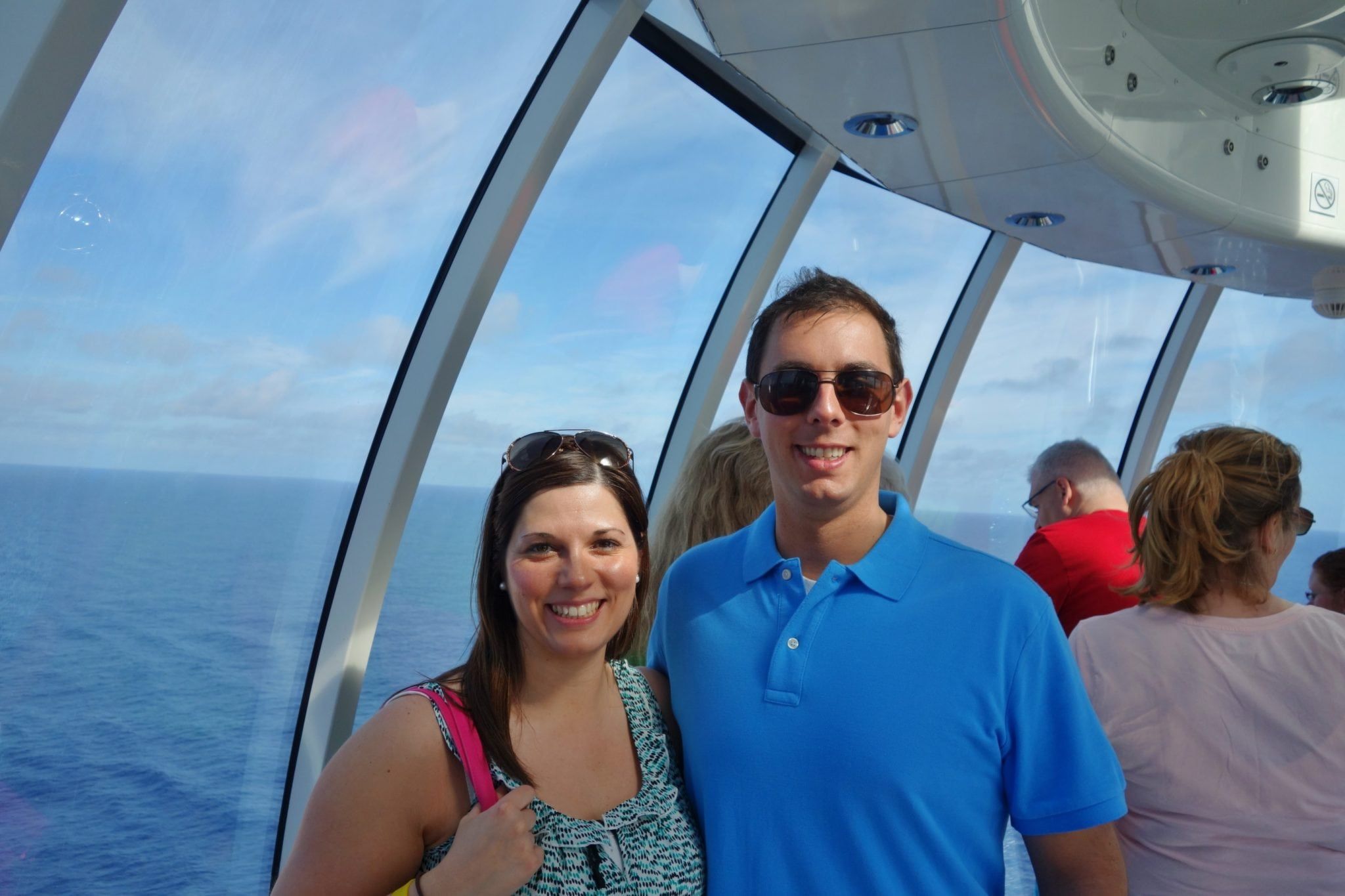 Once at the top, you are able to see the whole aft of the ship as well as the surrounding ocean. And yes, the giant magenta bear is rightly named From Afar because you can definitely see her from afar!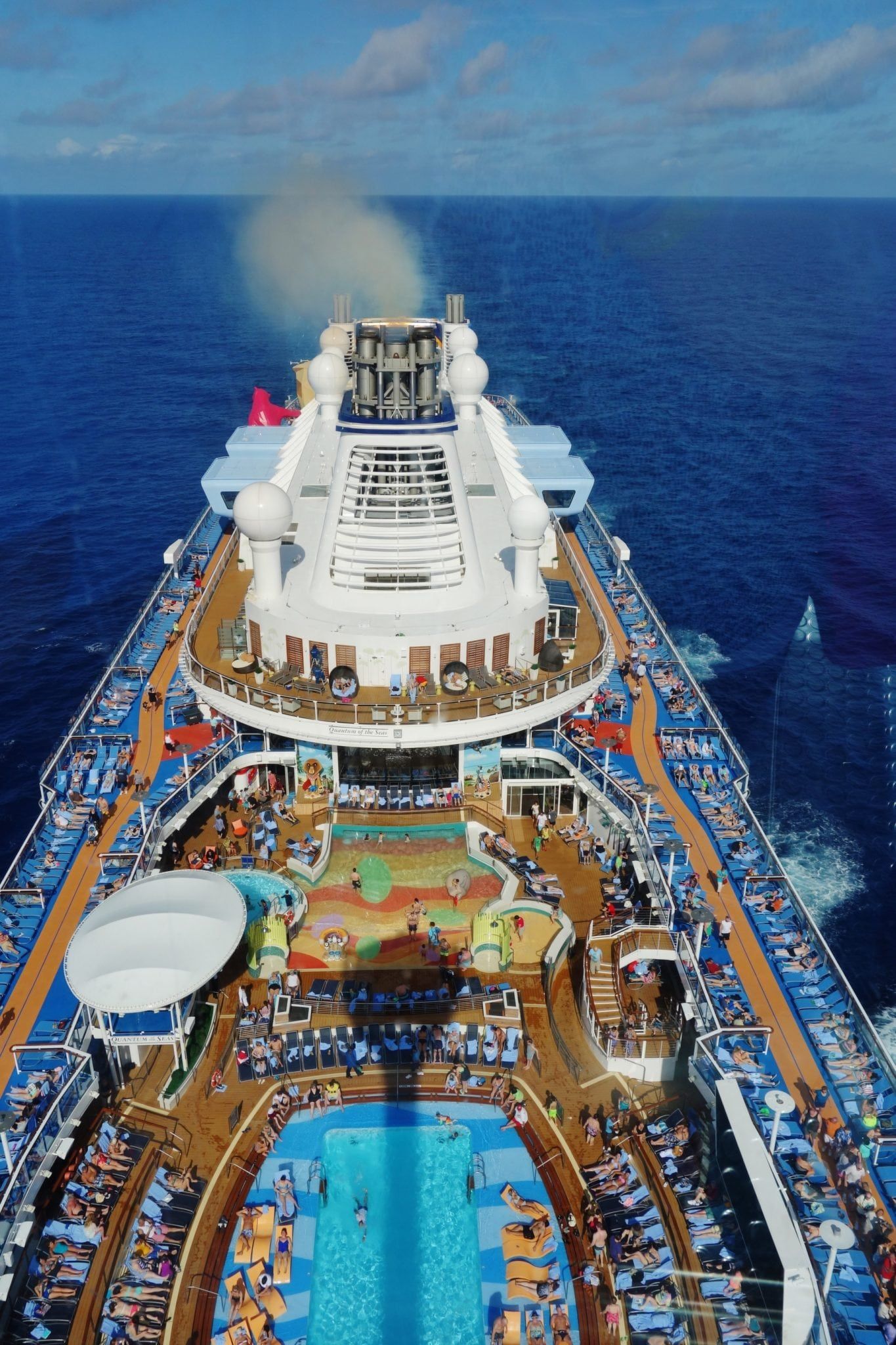 Our total ride time was closer to 15 minutes, given that it was a sea day, we were able to swing out over the ocean for more amazing views.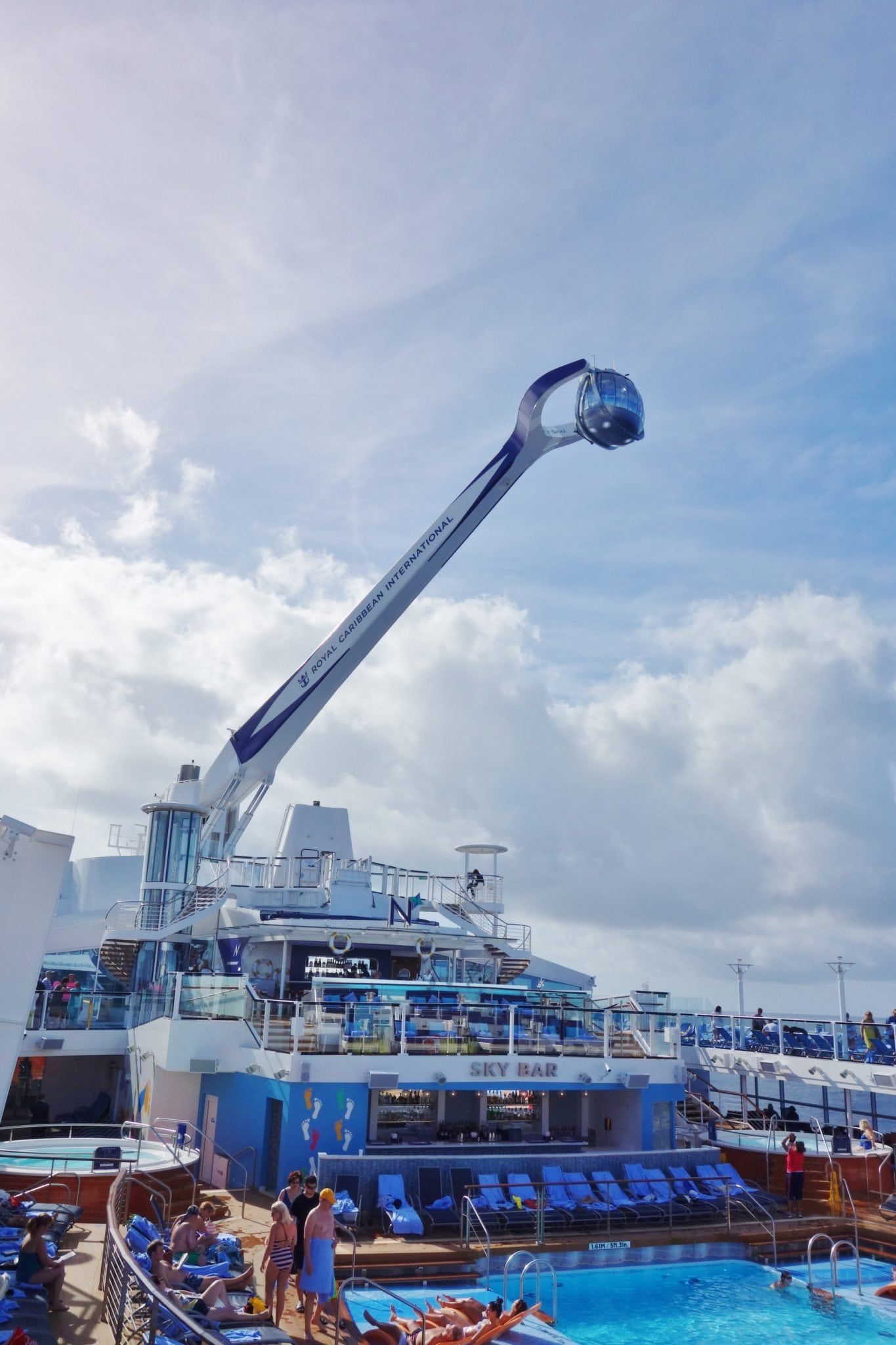 Final Thoughts on Royal Caribbean North Star
A ride on Royal Caribbean North Star is definitely something that you should experience once while sailing on Quantum of the Seas or Anthem of the Seas, but in our opinion 60 minutes is the absolute maximum amount of time we would wait.
We heard other passengers on our sailing state that at certain times of the day, wait times were 3-4 hours, so definitely do not wait that long as there are so many other things to see and do on this amazing ship. Try to find an off-peak time to get your North Star ride, like first thing in the morning.
We had originally thought that we might try to ride a second time while in a port, but after our first ride decided that once was enough for us.
This ride is certainly for everyone. It is very slow moving and relaxing. One gentleman on our ride said that he had a fear of heights but seemed to fare fine during our ride. It can also accommodate a wheelchair if needed. So, during your Quantum of the Seas or Anthem of the Seas cruise, get your camera ready and set out to explore all the "firsts at sea" that the ships have to offer!
Comments
Have you sailed on Quantum of the Seas? If so, what were your thoughts on North Star? What are your insider tips to avoid long wait times? What was your best time to enjoy a North Star ride? Drop us an anchor below to share your thoughts. We would love to hear from you.