Found on several cruise ships in the fleet, the Crown Grill is Princess Cruises' signature steakhouse. Of course, we could not pass up the chance to dine here during our Majestic Princess Alaska cruise this summer. How did the restaurant compare to other steakhouses at sea? We dive into the details with our exclusive Princess Cruises Crown Grill review.
Princess Cruises Crown Grill Review
On Majestic Princess, the Princess Cruises Crown Grill is located aft on Deck 7 with a large open-concept restaurant and bar.
The bar features live music and a signature cocktail list. Thus, it is the perfect place to enjoy drinks before or after your multi-course meal at the restaurant.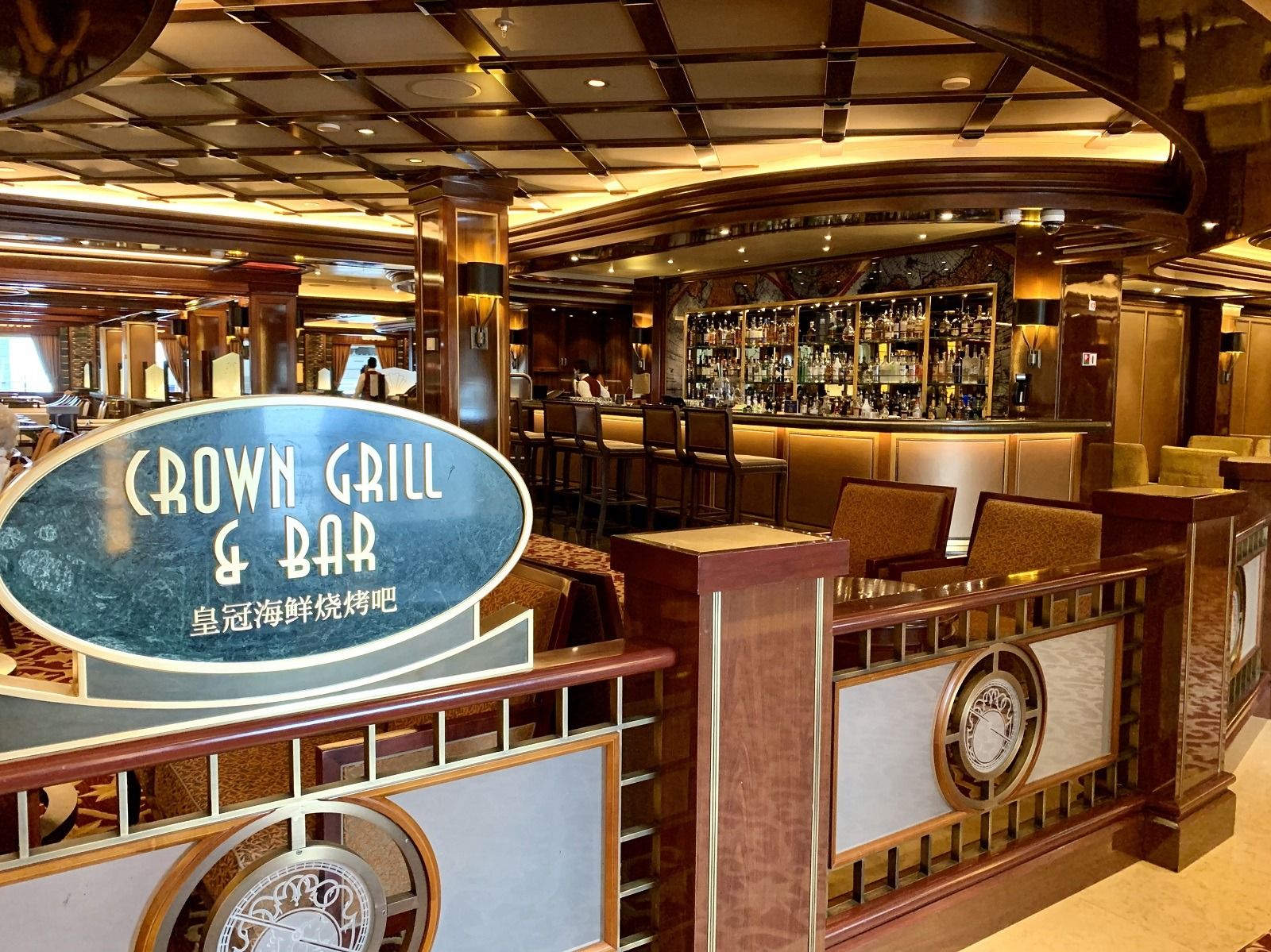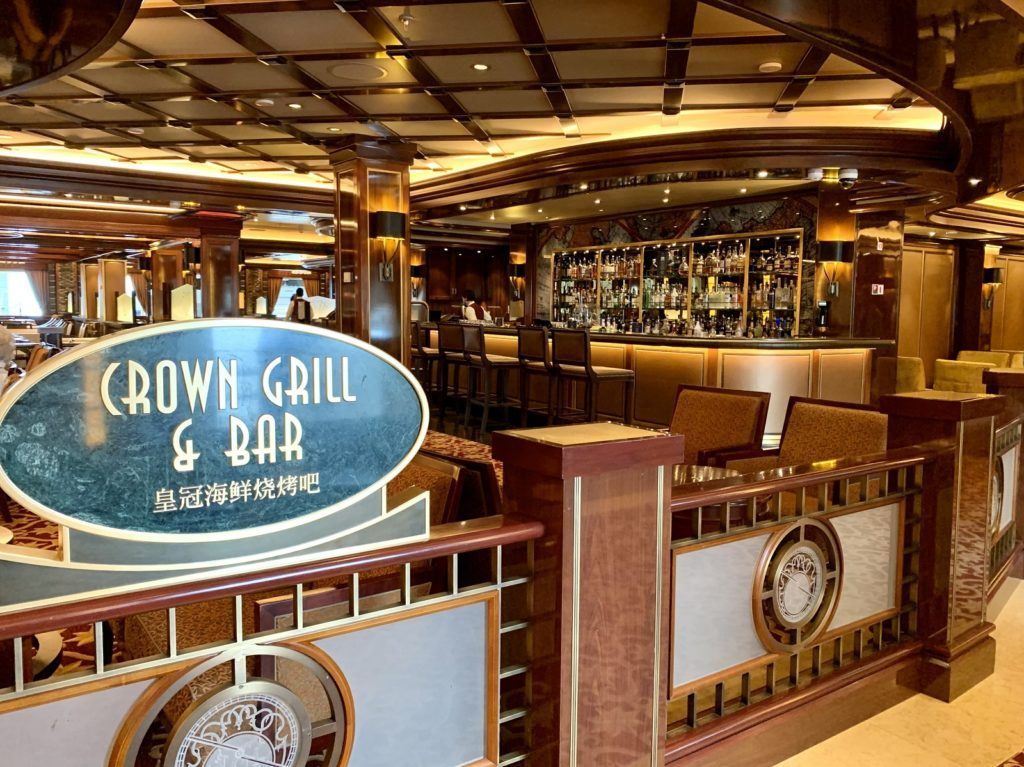 Knowing that we had to test out the restaurant during our first cruise with the brand, we booked our reservation pre-cruise using the online cruise planner. Unfortunately, the only times available were 5:30 pm or 7:30 pm.
We opted for 5:30 pm on the last night of the cruise, hoping we could move the dining time a little later once onboard the ship. Subsequently, we had no luck and were stuck eating here early.
The Crown Grill is not one of the Majestic Princess restaurants that are included in the cruise fare. Like the other specialty restaurants on the ship, the up-charge is $29.99 per person. Comparatively, this is one of the least expensive steakhouses at sea.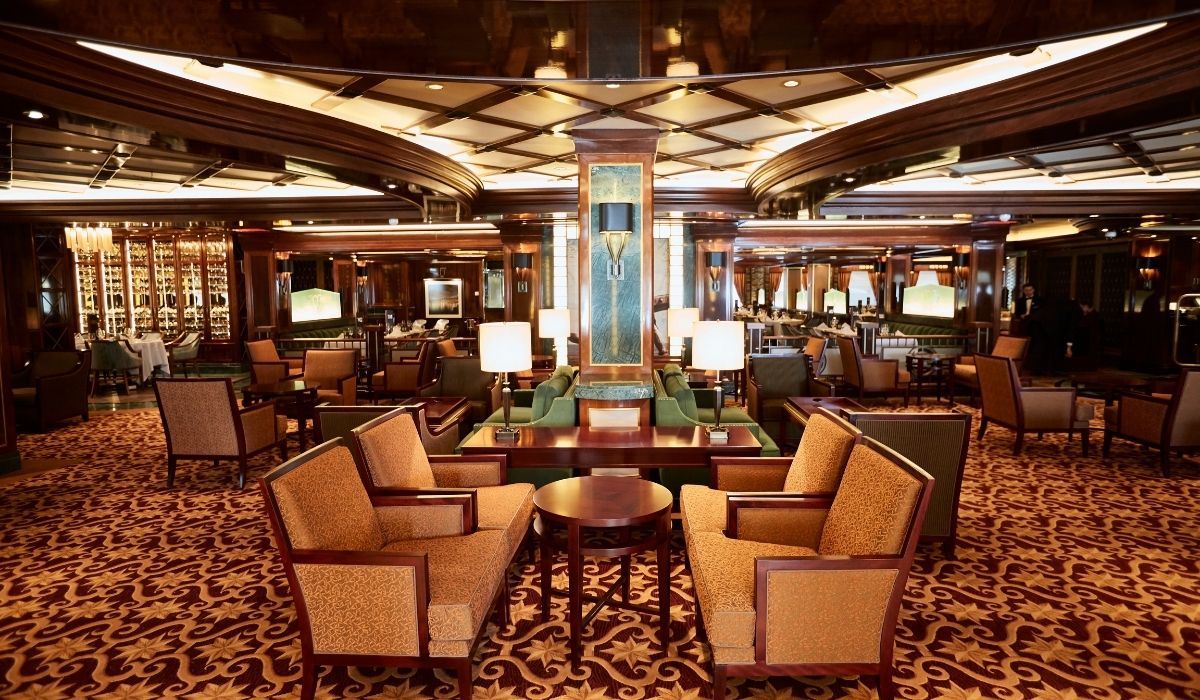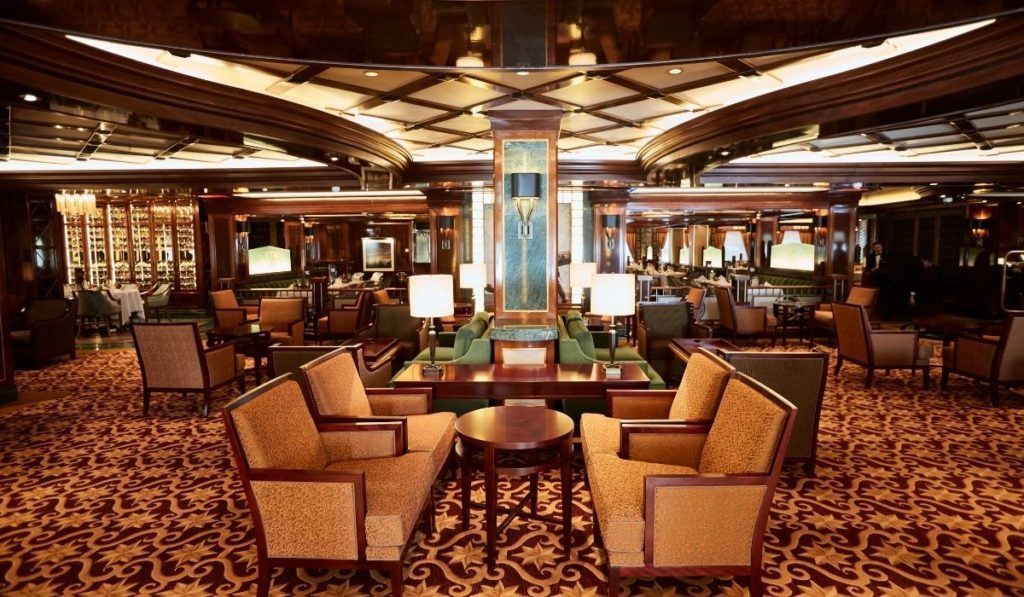 The Crown Grill's décor has a classic new England charm. The venue features lots of dark wood tones, ornate carpeting, and some art. The rich color palette makes the restaurant feel warm and inviting.
EXCLUSIVE SAVINGS: Score a Great Deal on Your Next Princess Cruises Sailing!
Dining at the Crown Grill on Majestic Princess
We were about 15 minutes late to our 5:30 pm reservation. Surprisingly, the restaurant was quite busy already. Though, we were quickly escorted to a table for two near the front of the restaurant.
Unlike other cruise ship steakhouses, the Crown Grill does not have a chicken option on the menu. Thus, I spoke with the hostess prior to dining here. She indicated that Heidi could order her entrée off the main dining room menu.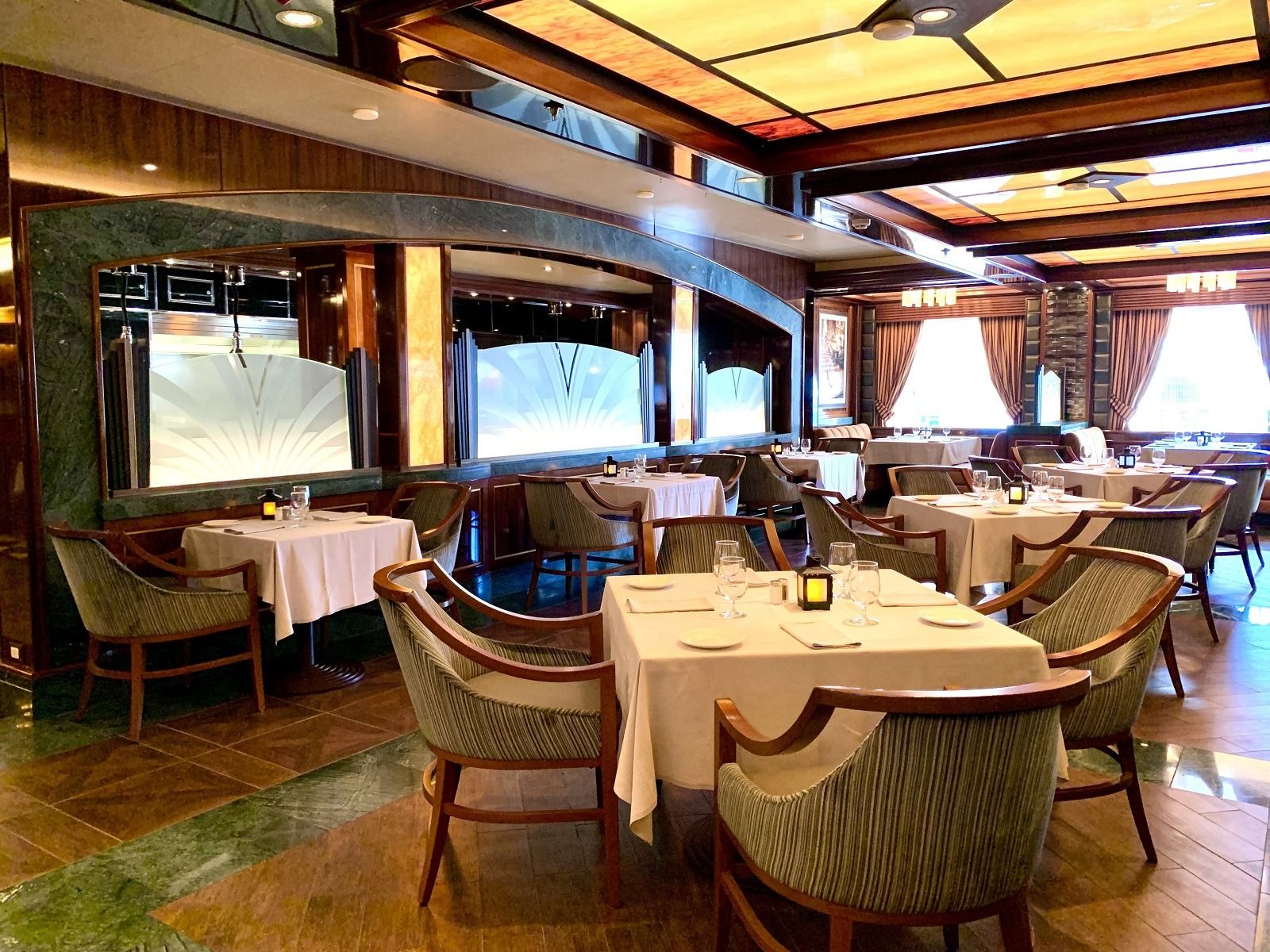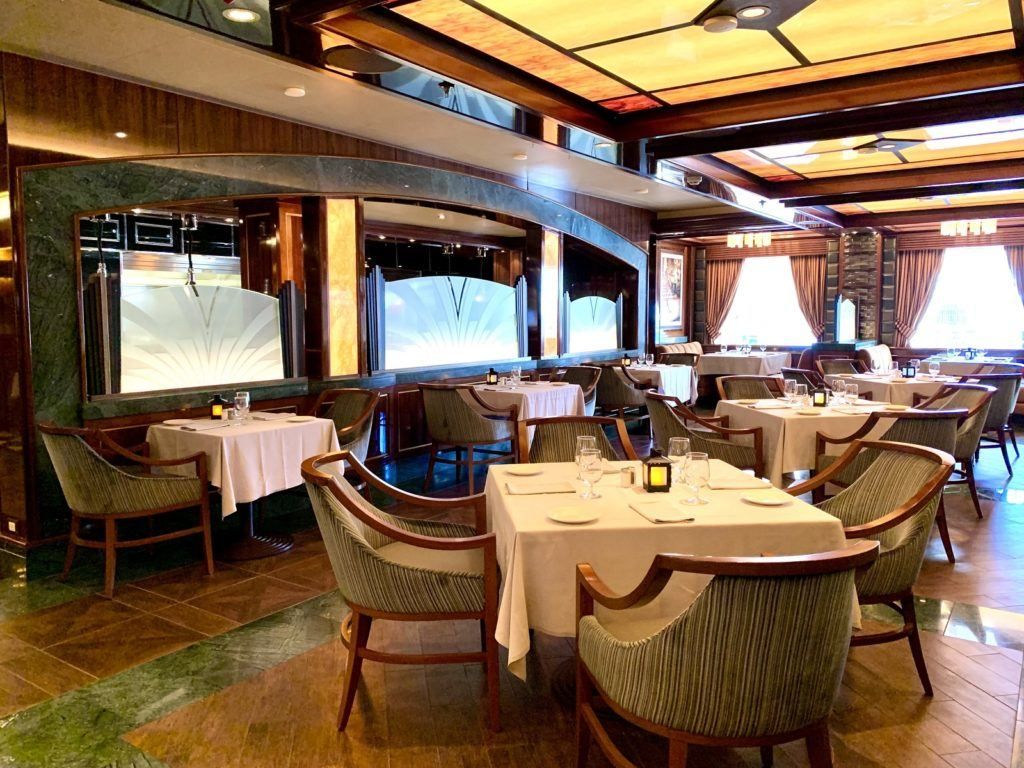 With many cruisers in the midst of their meals, it did take our waiter a while to come by our table to introduce himself and take our drink order. We opted for our typical cosmo and sidecar cocktails with this evening's dinner.
Fortunately, there were starters, sides, and desserts on the menu for the wife to enjoy.
For appetizers, I went with the waiter's recommendation of the spiny lobster cake. This piping hot appetizer was a crispy outer layer with plenty of lobster meat. It was different in texture than a typical crab cake, with less breading and more seafood.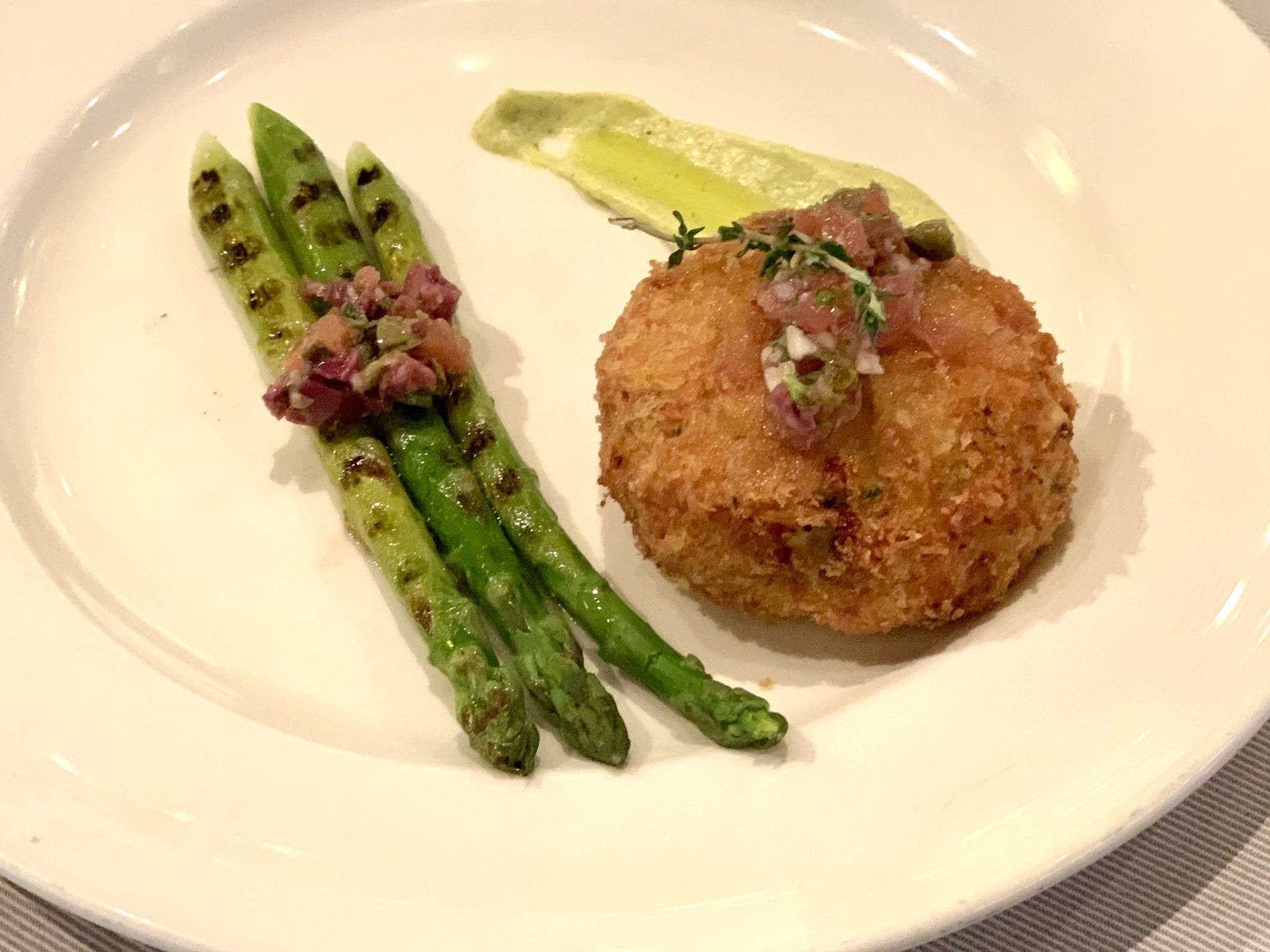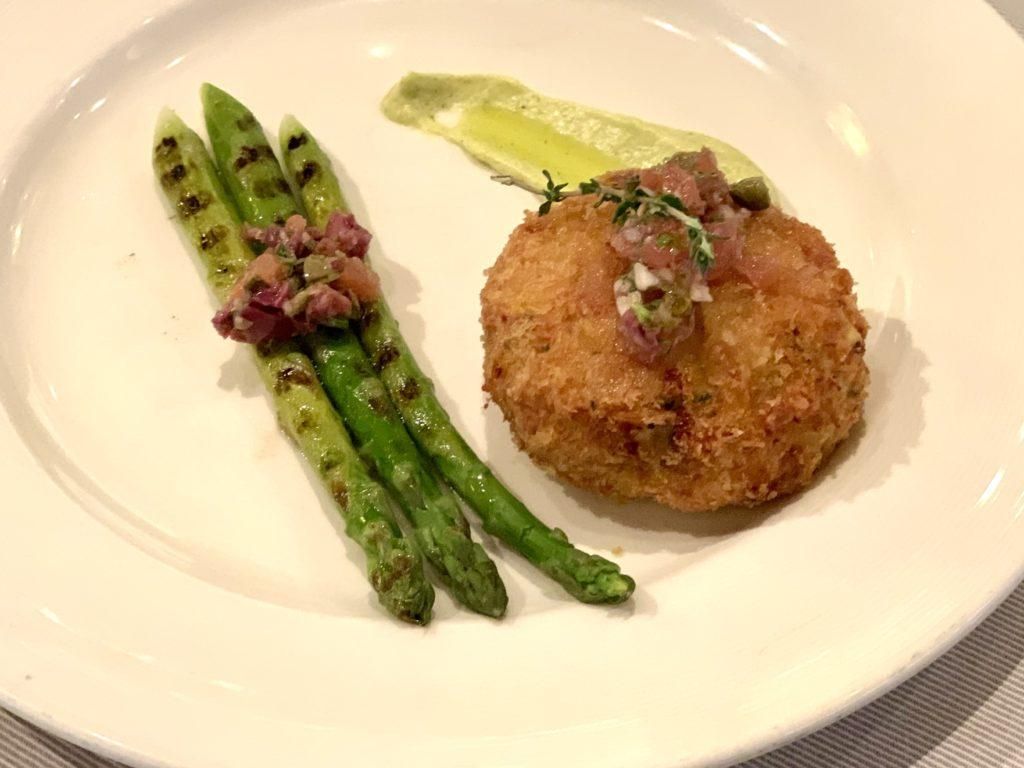 Heidi tried the watermelon salad, which was a light and refreshing way to start her meal.
With the night 7 main dining room menu featuring a turkey dinner, it was an easy choice for her entrée. Of course, it wouldn't be a Princess Cruises Crown Grill review if I didn't order a steak.
Reviewing the options, I decided to upgrade to the surf and turf with lobster for an additional $10. The waiter said I could pick any steak, and he recommended the ribeye.
This cut of beef was cooked to my requested medium rare. It was tender and juicy, but I did feel that it lacked flavor.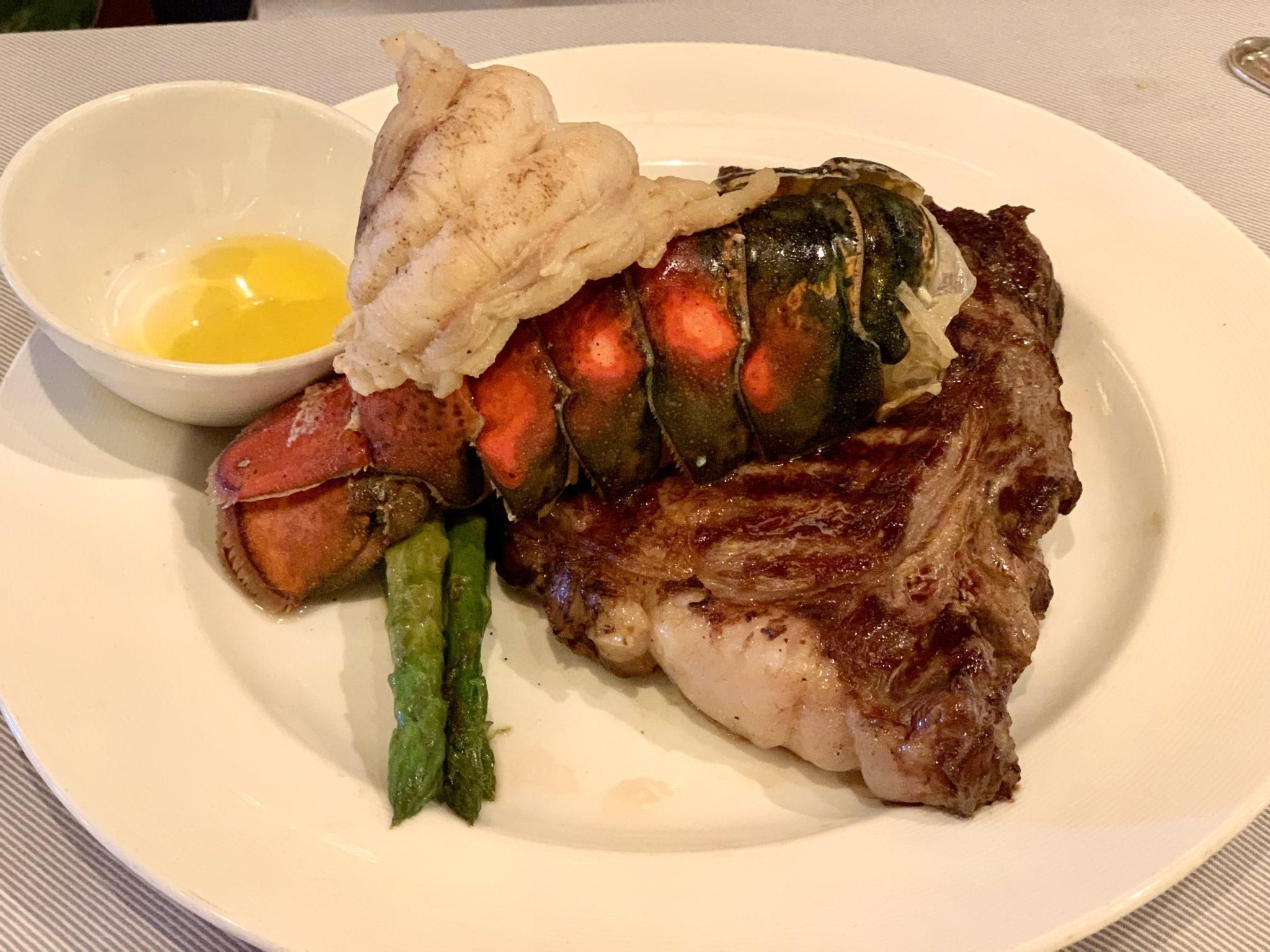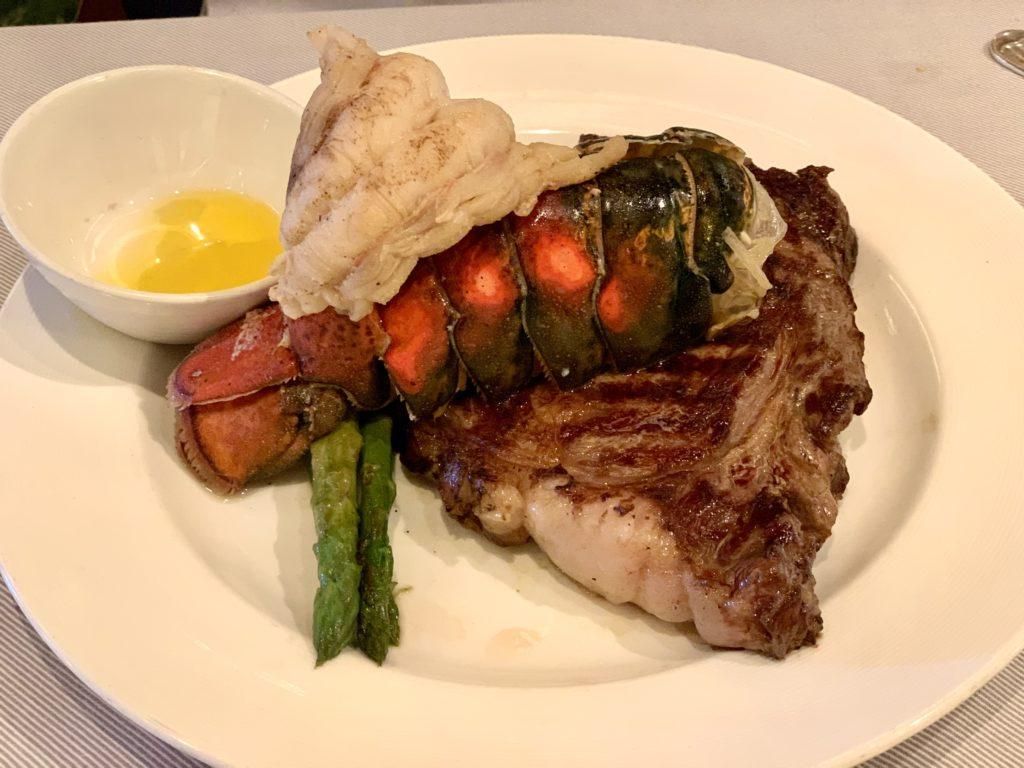 However, the Maine lobster tail was a vast improvement over the main dining room entrée. It was served hot with just the right amount of seasoning to let the flavor of the lobster itself shine.
For side dishes, we ordered three selections, garlic & herb fries, red skin mashed potatoes, and sautéed wild mushrooms. Oddly, the waiter insisted on serving these selections to us instead of leaving the small plates on the table. Sadly, this meant that we only had a small serving of each of these side dishes.
For the most part, the sides were adequate, but nothing was really stand out.
As the restaurant was getting busier, our waiter seemed stretched thin among his tables. So, a different team member actually came by to take our dessert order.
While we already thought the desserts in the main dining room were superior to other cruise lines, the Crown Grill's desserts were even better.
Unable to decide on just two selections, we ordered three! Each dessert was richer and tastier than the next. It was a toss-up as to which one was my favorite.
The chocolate trifle had a rich chocolate sauce, gelato, and an airy sponge cake. The warm apple and rhubarb cobbler had a buttery, rich crust with filling that was just sweet enough and was topped with a scoop of vanilla ice cream. These desserts were a satisfying way to end our meal at Princess Cruises Crown Grill.
BOOKING BONUS: Get Additional Perks When You Book a Cruise Now!
Recap of Princess Cruises Crown Grill Review
For cruisers looking for an elegant night out on a Princess Cruises' ship, Crown Grill delivers an intimate, upscale experience. In fact, the Crown Grill certainly ranks as a top choice for cruise ship steakhouses.
While our service was slow, it was also the first cruise for the brand in over 15 months. We suspect the pacing would be better once the staff are back into their routines.
Nevertheless, the waitstaff were friendly and accommodating.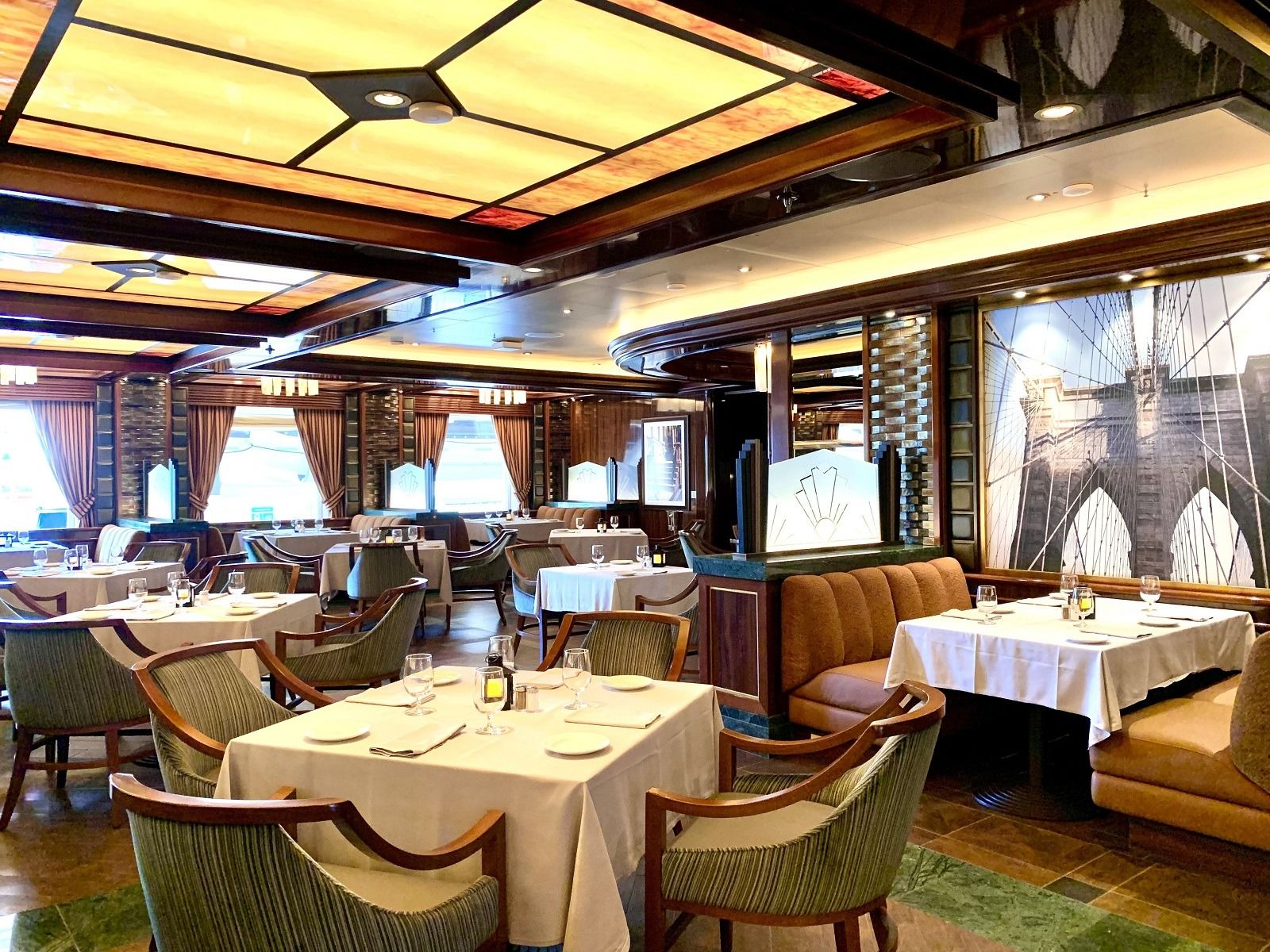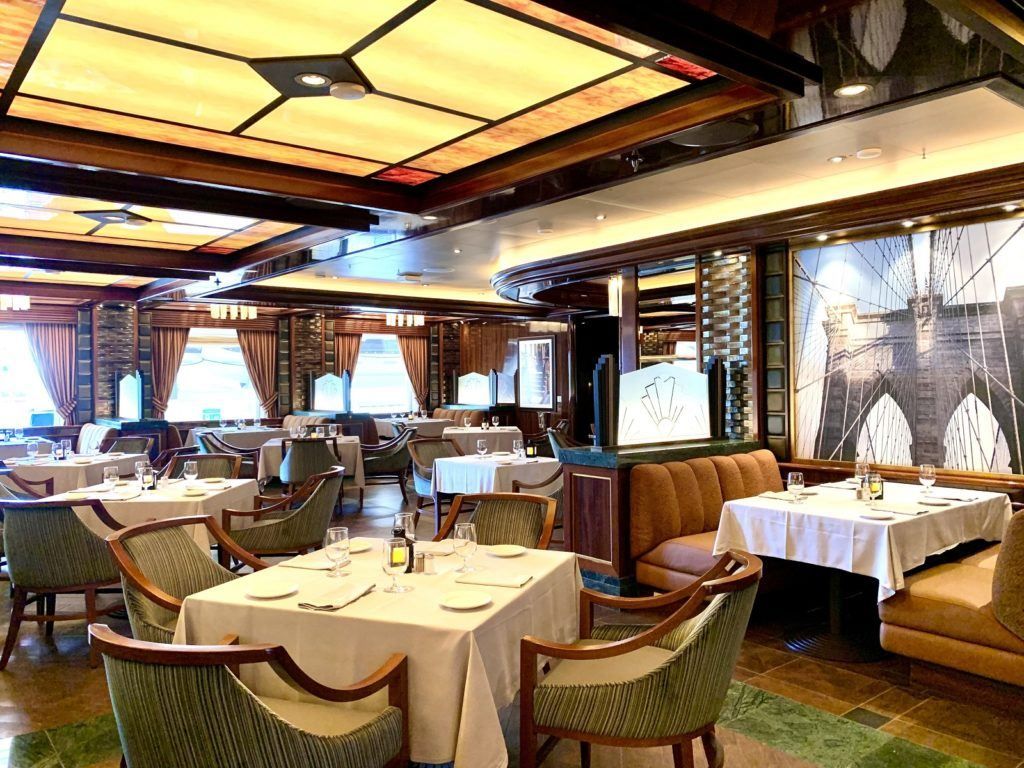 With unique starters, surf and turf, and lavish desserts, the Crown Grill on Majestic Princess is well worth the up-charge price. In fact, we feel the restaurant is a superb value.
On our next Princess cruise, we will certainly dine at this restaurant again to sample more selections from the menu.
Comments
Do you have a Princess Cruises Crown Grill review to share? Have you dined at this cruise ship specialty restaurant? Drop us an anchor below with your dining experiences on Princess Cruises.