Deciding which cabin to select for a cruise can be difficult. For our Alaska cruise on Holland America Line's Nieuw Amsterdam, we stayed in a balcony cabin on Deck 4. How did this room compare to similar cabins on other cruise lines? Well, we share all of the details from our latest trip in this Holland America Line's Nieuw Amsterdam Verandah Stateroom Review.
Nieuw Amsterdam Verandah Stateroom Review
Even though we have been on over 35 cruises, we have never sailed with Holland America Line up until now.
This was a media trip, so we were not able to select our cabin or cabin category. Instead, Holland America Line assigned us a cabin for this cruise. About two weeks before our cruise, we learned we would be staying in a verandah stateroom on the Upper Promenade Deck, room VB4137.
Balcony staterooms on Nieuw Amsterdam generally all include a sitting area, a queen-sized signature Mariner's Dream™ bed with a Euro-Top mattress, and a bath tub/shower combo.
Related Post: What It Was Like Sailing on Holland America Line Right Now
Holland America Line's website claims verandah cabins range from 213 to 379 square feet including the balcony.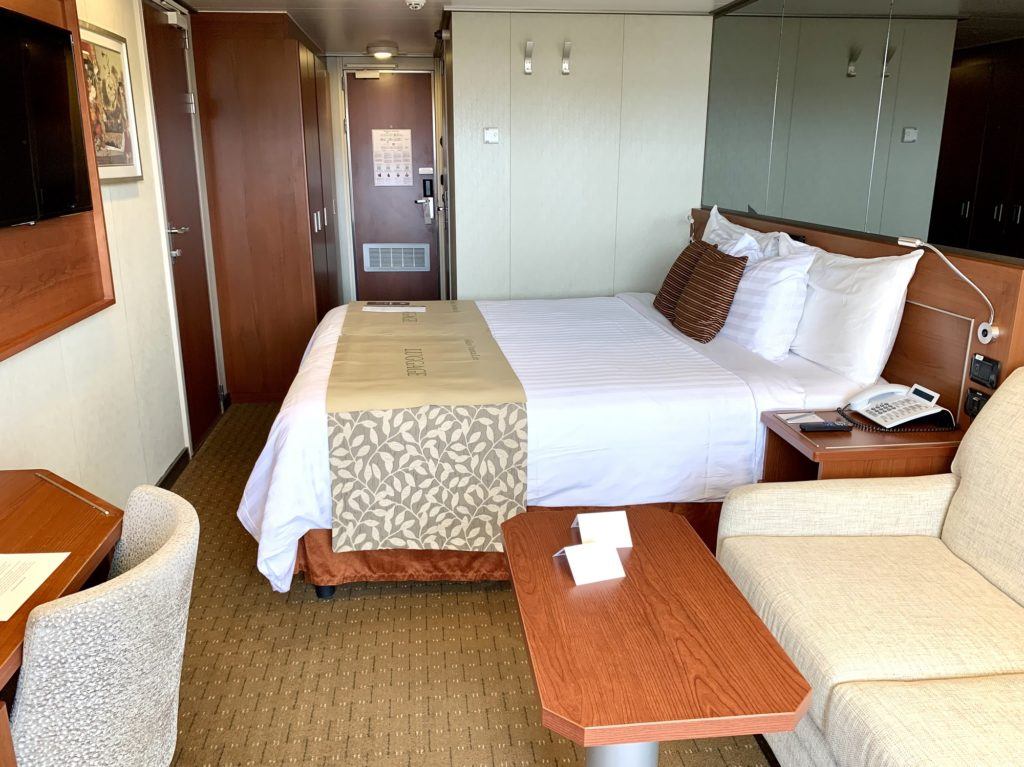 Our room was located on the starboard side fairly far aft on the ship. In fact, the stateroom was located right near the aft bank of elevators.
The location on Deck 4 was a convenient walk down to the main indoor venues. It was also an easy elevator ride up to the outdoor decks. Luckily, we never had any issues getting an elevator.
EXCLUSIVE SAVINGS: Score Deals on Holland America Line Cruises By Booking NOW!
Layout of the Nieuw Amsterdam Verandah Stateroom
At first glance, we were happy to see the stateroom had a very traditional layout.
Immediately entering our veranda stateroom on Nieuw Amsterdam, our bathroom was to the left. Across from the bathroom was a closet.
Beyond the bathroom, our queen-sized bed was on the left (forward) wall. Our bed faced aft towards the 42″ LCD HD television.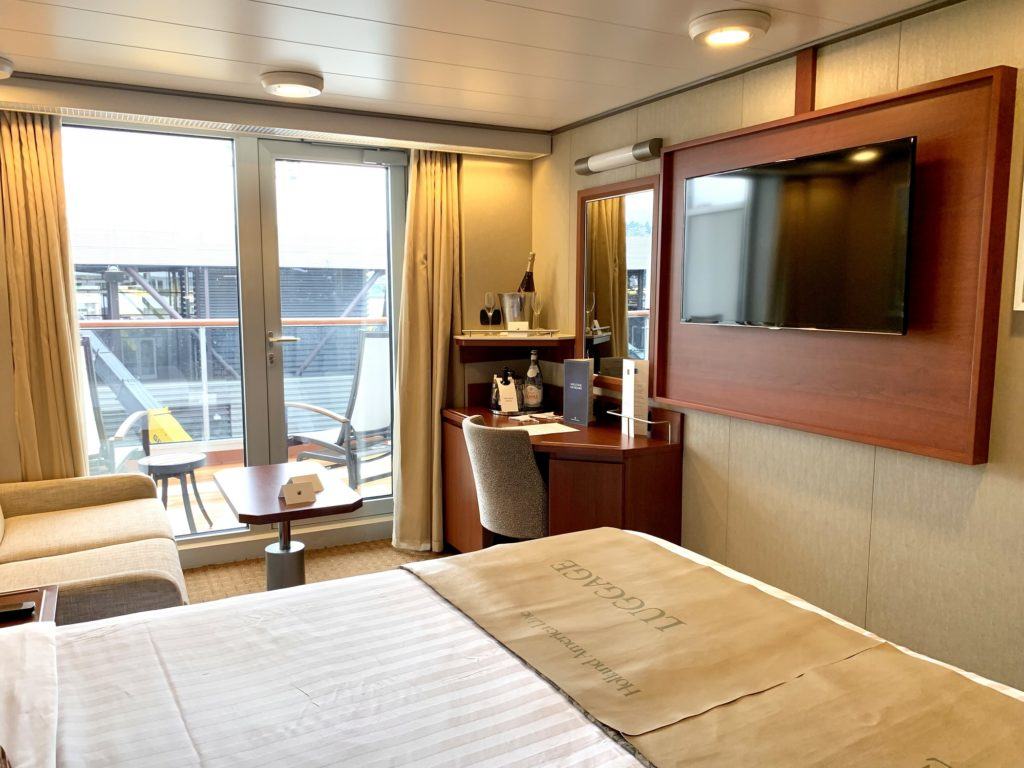 There was a small night stand on each side of the bed. These stands included two drawers, as well as USB Outlets. So, we each could charge our cell phones each evening.
Immediately following the bed, there was a small sitting area. Unlike the balcony stateroom on Majestic Princess, this cabin did include a loveseat and small coffee table.
Across from the seating area was the desk. It was relatively small, with only one corner shelf.
Finally, there was our very generously sized balcony. This became one of our favorite spots during our scenic cruise in Alaska.
Related Post: Guide to Cruise Cabin Categories
Inside Our Nieuw Amsterdam Verandah Stateroom
The closet area was similar to other cruise lines in terms of overall size. There was one door with all shelves. This included the safe. In addition, Holland America includes bathrobes and beach towels for all guests. We used this area to store our "layers" and other foldable items in our packing cubes.
When packing for an Alaska Cruise, you need to be prepared!
The other two doors of the closet offered a rack with hangers. In addition, there were several adjustable shelves. Dividing up "his" and "hers", each of us were able to customize our setup. This was a great feature.
Across from the closest was the bathroom. We felt the bathroom was slightly larger when compared to other contemporary cruise ships.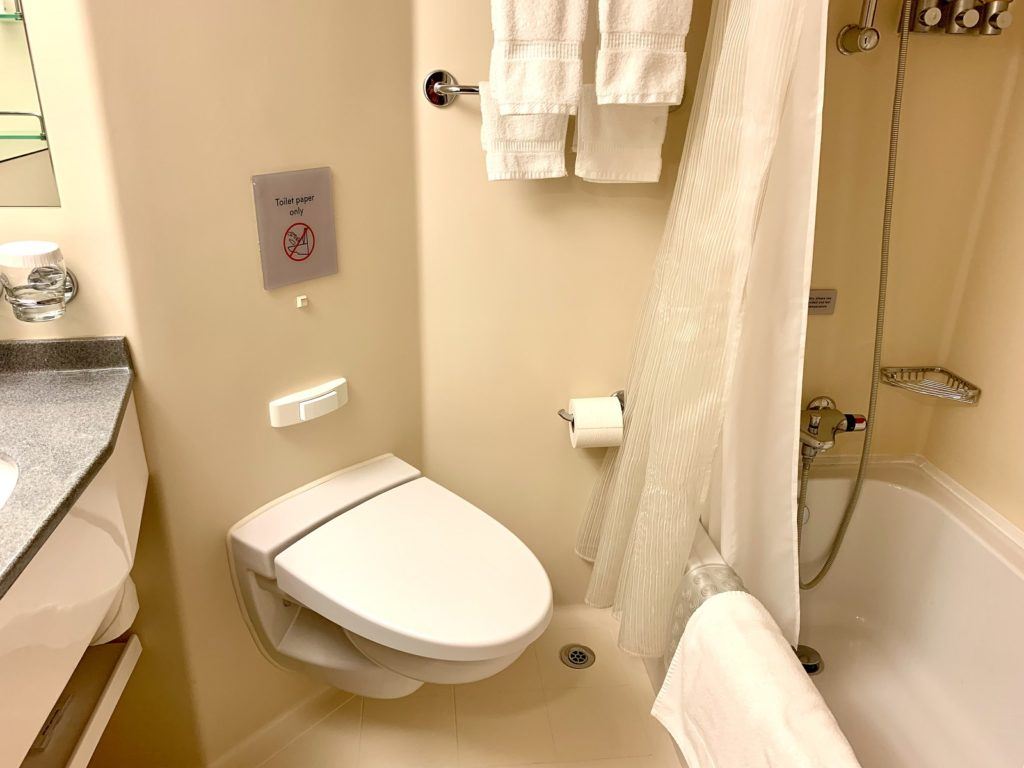 This bathroom included a full-tub shower with a shower curtain. This is a vast improvement over the typical "cylinder" showers on most cruise ships.
The vanity space was about the same with just a few shelves for storage.
Still, the bathroom had more "elbow room". This made it easier to get ready in the morning.
The stateroom bed offered plenty of comfort over the course of our 7-day cruise. As travelers who go from sunrise to sundown, we had no issues falling asleep at night. The upgraded bedding and linens meant we were able to unwind each evening in comfort.
The spacing between the bed and the aft wall was tight, like most cruise cabins. I did have to turn sideways to get into the bed from the inside wall as well.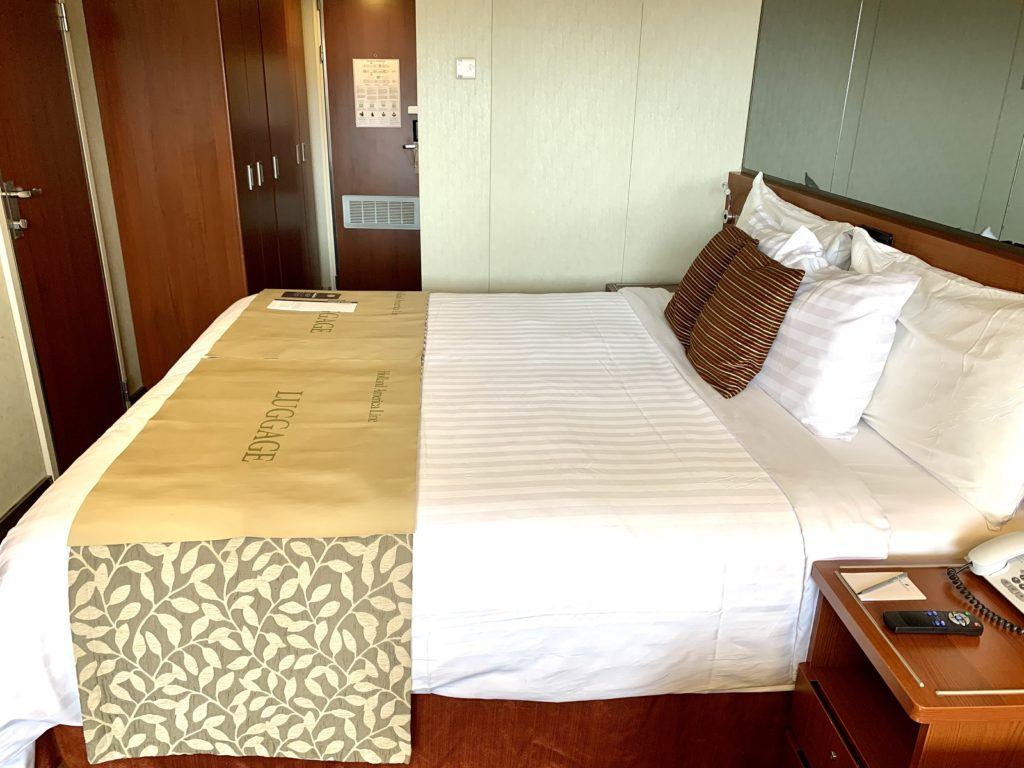 Across from the bed was the television. Honestly, we only used this to listen to announcements and check our onboard account.
When it came to the desk, we were a bit disappointed that there was not much additional storage. The desk contained one small corner shelf and a corner cubby which housed the hair dyer and glassware. It was also home to our mini-fridge.
Plus, the overall desk was quite small. It was used mostly as Heidi's station to get ready. I was able to store our technology on the one corner shelf above the desk for charging purposes. Luckily, there were a good number of power outlets and USB outlets near the desk.
Thankfully, we did have a loveseat and table behind this desk. As usual, it became our dumping ground during our trip.
Perhaps the best feature of this verandah cabin was our oversized balcony. With unseasonably warm weather, we used this feature a lot during the cruise.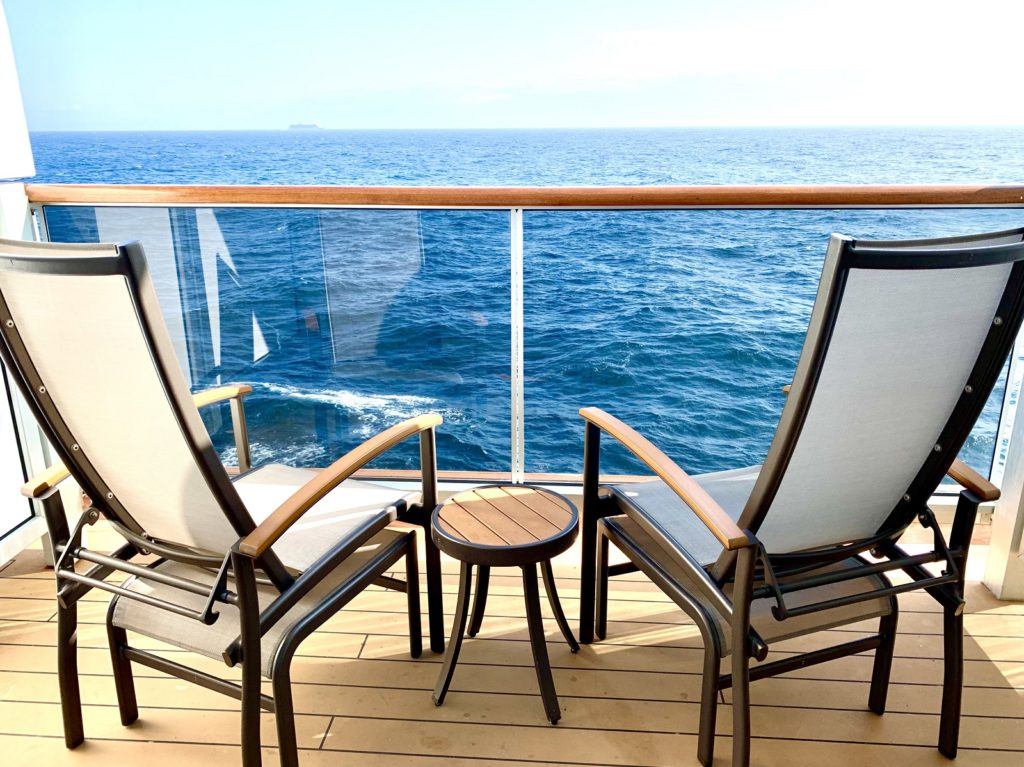 What made this balcony standout was its depth. It was certainly deeper than the balconies you get on most mega-ships. There was enough space for us to use the adjustable loungers and ottomans. In fact, you could easily lay out on this balcony.
Though, we mostly used it to marvel at the Alaskan scenery. From multiple wildlife sightings, to glaciers, and scenic cruising, the veranda certainly came in handy!
BOOKING BONUS: GET ADDITIONAL PERKS WHEN YOU BOOK YOUR NEXT CRUISE NOW!
Recap of the Nieuw Amsterdam Verandah Stateroom Review
For our first cruise with Holland America Line, our veranda stateroom on Deck 4 was the ideal accommodations.
Our cabin offered plenty of space. While storage and the main cabin area were on par with most cruise lines, the additional space in the bathroom and on the balcony were bonuses.
Using some of our cruise cabin hacks, we had no issues creatively organizing the cabin to make it our home away from home for the week.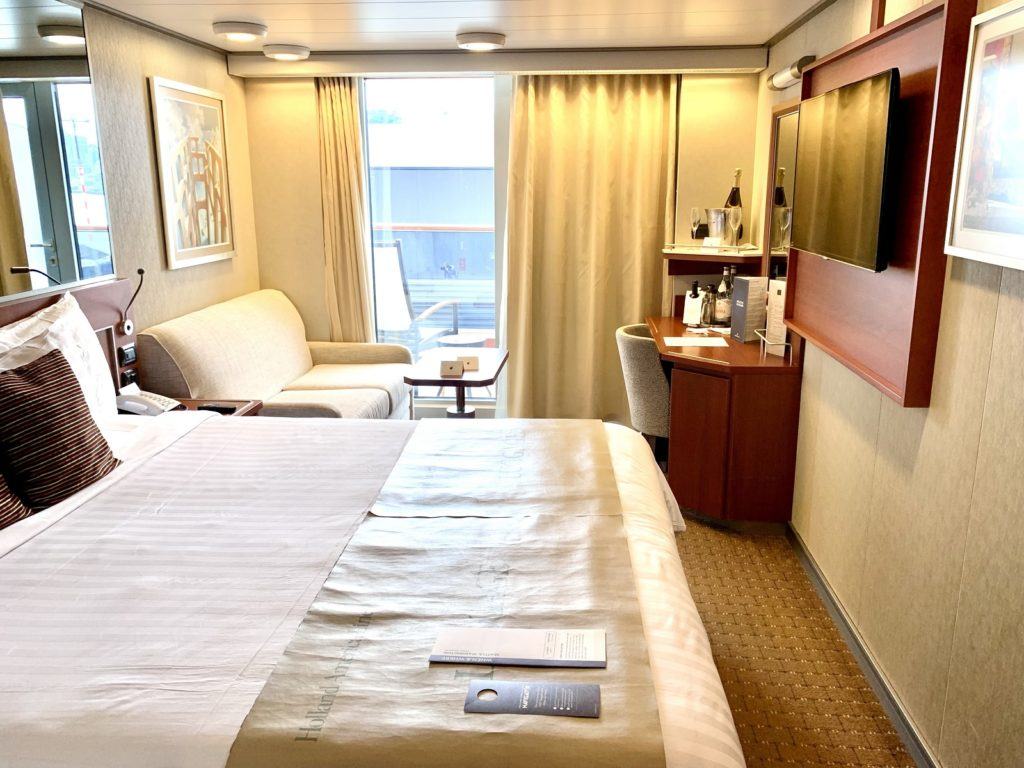 Our location next to the aft elevators made it easy to get to most public areas. We were only a few decks down to the dining and entertainment venues on Decks 2 and 3.
Not to mention, it was a short elevator ride up to the Lido Market and the outdoor pool area.
Despite being located right near the stairs and elevator, we never heard any noise from the nearby lobby or decks below us.
We definitely used our balcony more than we normally do on a cruise. This was due to the combination of its size, the warm weather, and the spectacular vistas. Unfortunately, the ship mostly docked on the portside though.
Overall, we highly recommend the VB category on Holland America Line's Nieuw Amsterdam, regardless of the cruise itinerary.
Comments
Have you sailed in a verandah stateroom on Holland America Line? What is your preferred cabin category when you cruise? Drop us an anchor below with your stateroom reviews.