While many Caribbean islands boast beautiful beaches, a beach break at Jost Van Dyke might be the Eastern Caribbean's best kept secret. The smallest of the four main British Virgin Islands, Jost Van Dyke offers the ideal beach escape. The island's White Bay Beach has consistently been rated as one of the top 25 beaches in the world.
Located 5 miles northwest of the popular cruise port of Tortola, BVI, Jost Van Dyke's White Bay Beach is a cruisers paradise. After spending a day soaking up the sun, we didn't want to leave! See why you should take a Beach Break at Jost Van Dyke in this week's shore excursion review.


Why You Should Take a Beach Break at Jost Van Dyke
A Quick Ferry Ride
Getting to Jost Van Dyke is as simple as hopping on a ferry. Leaving at 8 am and 10 am from Tortola, the New Horizon Ferry Service is only $30 per person, roundtrip, with kids under 5 sailing free. Those porting at St. Thomas do have the option of a ferry as well.
Ferries dock at Great Harbor in Jost Van Dyke (where the popular Foxy's Bar is located), which is only a 5 minute cab ride to White Bay. If you don't mind the steep hills, you could walk there in about 30-40 minutes.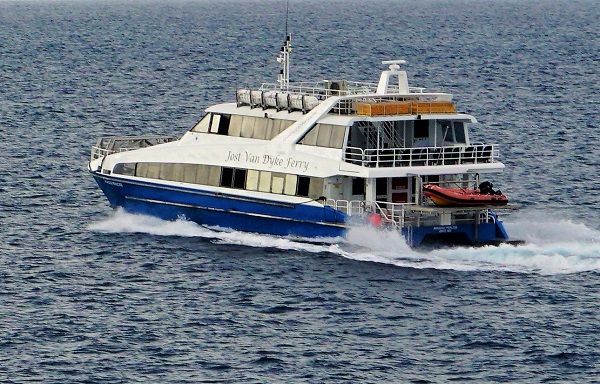 To make it even easier for you, some cruise lines offer excursions to Jost Van Dyke that will drop you off right at the beach. For example, Norwegian Cruise Line offers the Escape to Jost Van Dyke shore excursion on cruises stopping at Tortola. Carnival Cruise Line also offers an excursion with transportation and lunch to Jost Van Dyke.
Related Post: Best Things to Do in Tortola on a Cruise
Manageable Crowds
Yes, there will be other travelers at White Bay beach, but the crowds might be more manageable than the popular beaches on the islands of Tortola or St. Thomas. During our visit, there was never a lack of beach front property and loungers. It did get slightly busier at peak times though, like when the cruise excursion catamarans pulled up to shore.
We thought the size of the beach was perfect. It is large enough to offer several different areas to disperse the beach-goers. Yet, this beach still provides a feeling of seclusion, like you are relaxing at your own tropical paradise.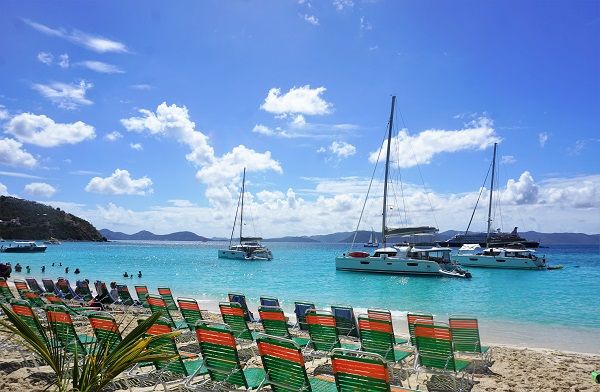 No Hassles
One thing we loved about Jost Van Dyke was that NO ONE bothers you. You won't find vendors trying to sell you jewelry or other handmade goods. There are no obnoxious sales pitches offering parasailing tours or trying to get you to rent jet skis. The beach-goers even seemed to keep to themselves. While here, we were able to enjoy the white sands, sun, and tranquility.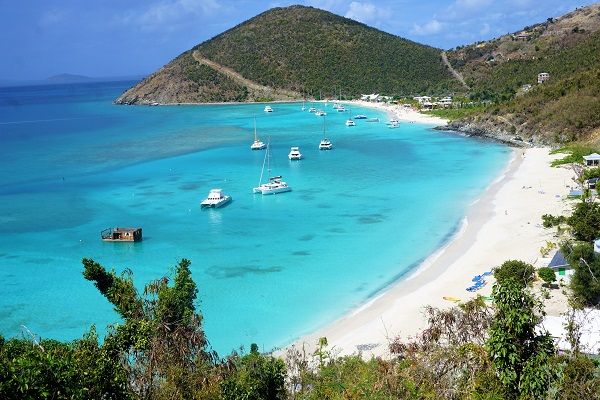 This does not mean that the beach has no amenities or atmosphere though, as there are several bars and restaurants at White Bay Beach (see below) for you to enjoy.
Plenty of Options
Once you arrive at White Bay Beach, you have plenty of options. If you arrive early enough, you can grab free lounge and Adirondack chairs at the Soggy Dollar Bar. Or, if you prefer, you could rent loungers at several of the other restaurants and bars spread across the beach.
The furthest east is Hendo's Hideout. This restaurant has limited lounge chairs and umbrellas to rent. While we did not dine there, the food and drink menu did look tempting.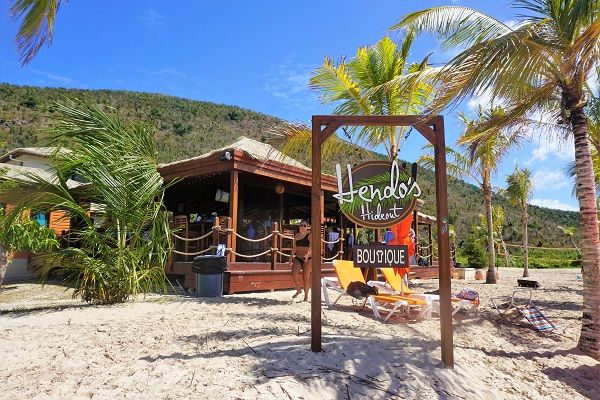 We ended up finding some of the last chairs at the famous Soggy Dollar Bar. This popular venue is home to the original Painkiller. It also has a variety of other mixed drinks. Yes, we had to try a few of them during our stay on the beach! Don't get intimidated by the lines at this bar, as the skilled bartenders move quickly to get everyone a beverage!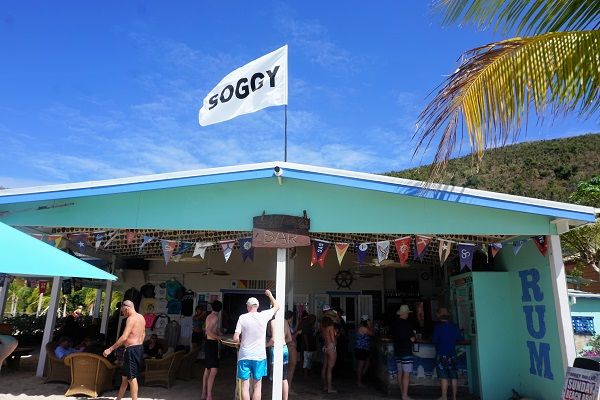 If you continue down the beach, there are other locations to provide you with food and rental options, including the local's favorite Gertrude's Beach Bar and Restaurant. During our visit, the chairs here were reserved for a shore excursion.
Other venues that are all within walking distance on the beach are the Coco Loco Beach Bar, the One Love Bar and Grill, as well as the Ocean Spa. In addition, some water rentals are available at the Sea and Land Adventures, all the way west on the beach. Rentals include kayaks, noodles, and more.


The AMAZING BEACH
The Princess and I are pretty picky when it comes to beaches. So, when we say this beach is perhaps one of the most pristine beaches that we have ever visited, then it must be true.
The white sand beach was smooth and well manicured. There was no need for water shoes and no washed up seaweed or litter on the shore. We walked up and down the beach several times just admiring the beauty of it all.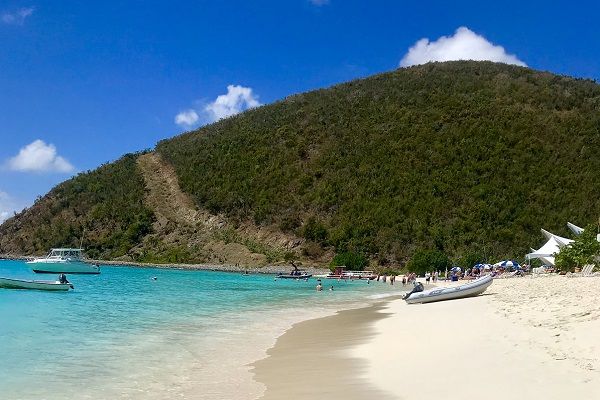 The crystal clear water was just the right temperature, and swimmers were well dispersed along the coastline. Not to mention, the picturesque landscape and the private catamarans and yachts provided the perfect backdrop to our beach day.
We loved our time on Jost Van Dyke relaxing near the Soggy Dollar Bar, soaking up the sun, and enjoying some cocktails. We wouldn't hesitate to take a trip out to White Bay Beach in the future, or find a cruise stopping at this small island (like our Windstar Cruises' Wind Surf itinerary did).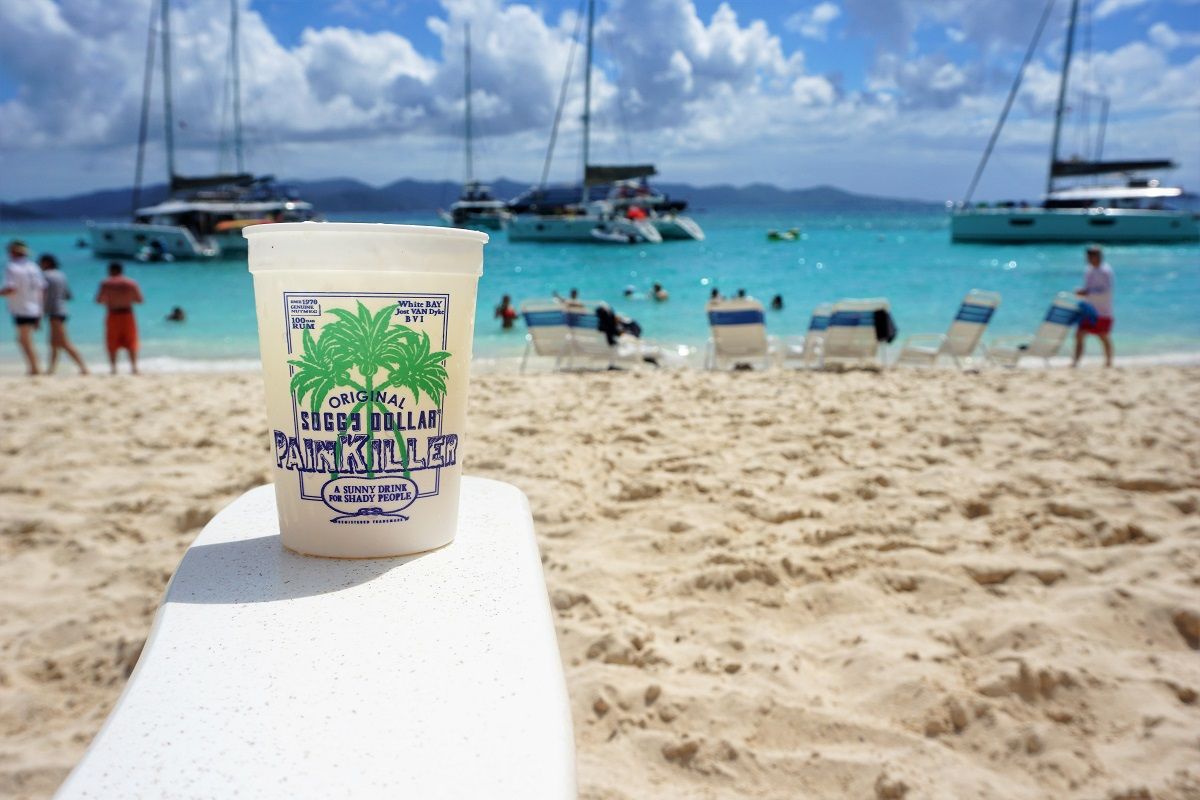 Related Post: Windstar Cruises' Wind Surf Review
In our opinion, a beach break at Jost Van Dyke is the perfect escape for cruisers. Lounge on one of the most beautiful beaches in the world with everything right at your finger tips. Enjoy the unaltered beauty of this small slice of paradise. Just be sure to keep this little secret between us!
Comments
Have you taken a beach break to Jost Van Dyke? Do you agree with our review of White Bay Beach? Drop us an anchor below with your experiences visiting this "hidden gem" in the Eastern Caribbean.