During our Celebrity Edge cruise, on the first sailing back in the U.S., we visited Cozumel. At the time, Celebrity Cruises' protocols required all cruisers to book a shore excursion with the cruise line if they wanted to head ashore. Luckily, we were able to book the Jeep Adventure to Punta Sur National Park and had a fabulous time. Now, we detail everything about this tour in our latest shore excursion review.
Jeep Adventure to Punta Sur National Park in Cozumel
Getting the Day Started
This Jeep Adventure to Punta Sur National Park excursion was advertised as 5 hours in duration; though, it ran closer to 6 hours. The tour company contracted through the cruise line for this excursion was Explora Tours.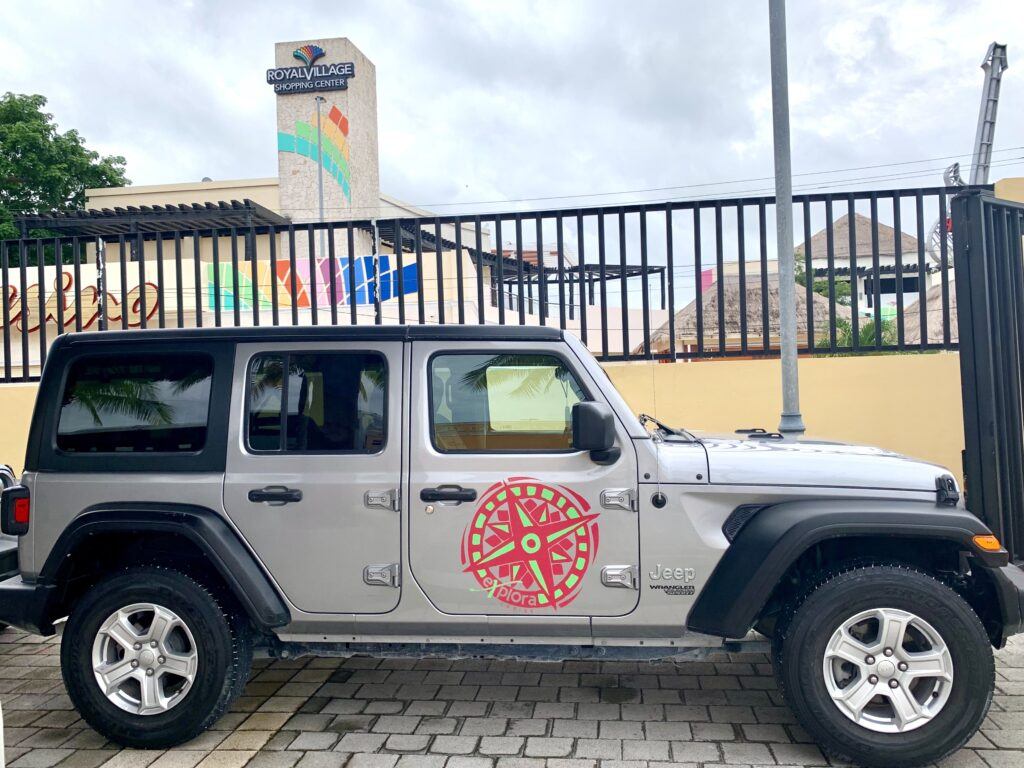 Upon disembarking the ship in Cozumel, we met our guides, Willy and Kike, at the end of the pier. Here, we checked in and were asked if we wanted an automatic or manual transmission Jeep. Automatic for us please!
Actually, all the the vehicles were relatively new and most were automatic anyway. Due to social distancing measures, each travel party got their own Jeep. Score!
Soon after, we were escorted to the Jeep caravan and assigned a vehicle. We had a few minutes to get comfortable before we set off on our drive to Punta Sur.
Punta Sur is the largest ecological park in Cozumel with a variety of flora, fauna, and lagoon systems. During a visit to Punta Sur, you can climb a lighthouse, visit a small Mayan ruin, snorkel a protected reef, relax on the beach, or even spot some crocodiles lurking in the lagoons.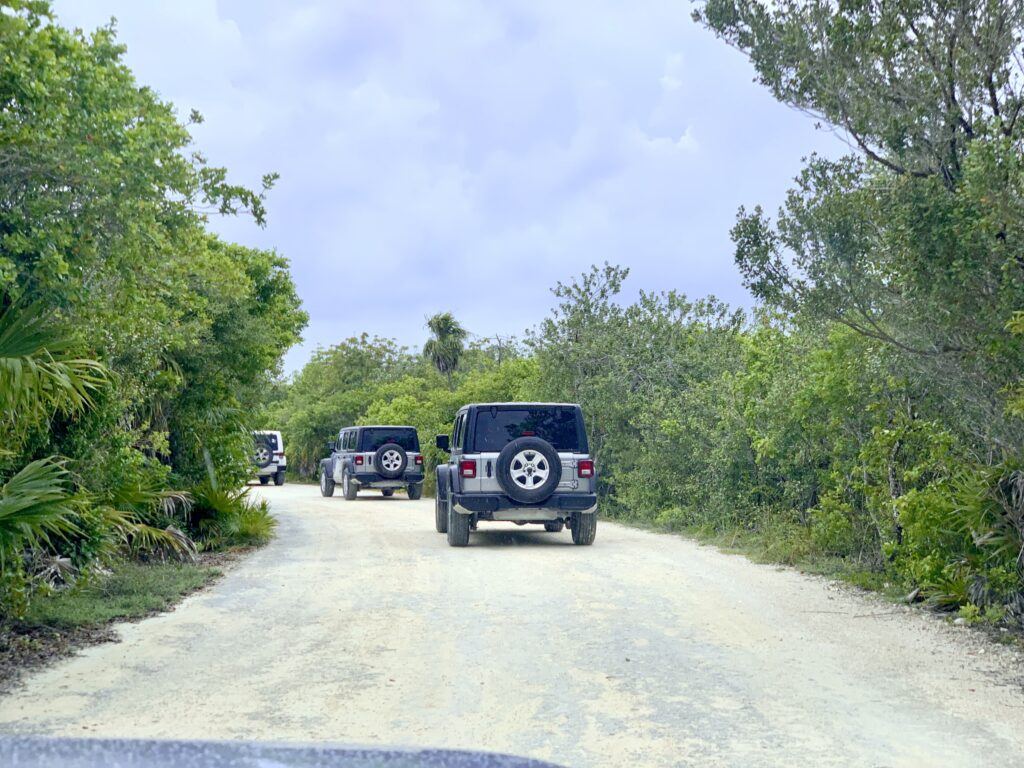 The drive from the cruise terminal to the National Park is about 45 minutes. It includes some highway driving and just enough "off-road" terrain around the park to warrant using a Jeep.
Related Post: Top Things to Do in Cozumel on a Cruise
Arriving at Punta Sur
Our first stop on the tour was a beach club. Here, we had some time to relax on the beach or participate in an optional guided snorkel of the ecological reserve. Each party received an umbrella and loungers free of charge.
While the weather was kind of gray and overcast, I opted to stay on the beach while the hubby headed out for some snorkeling.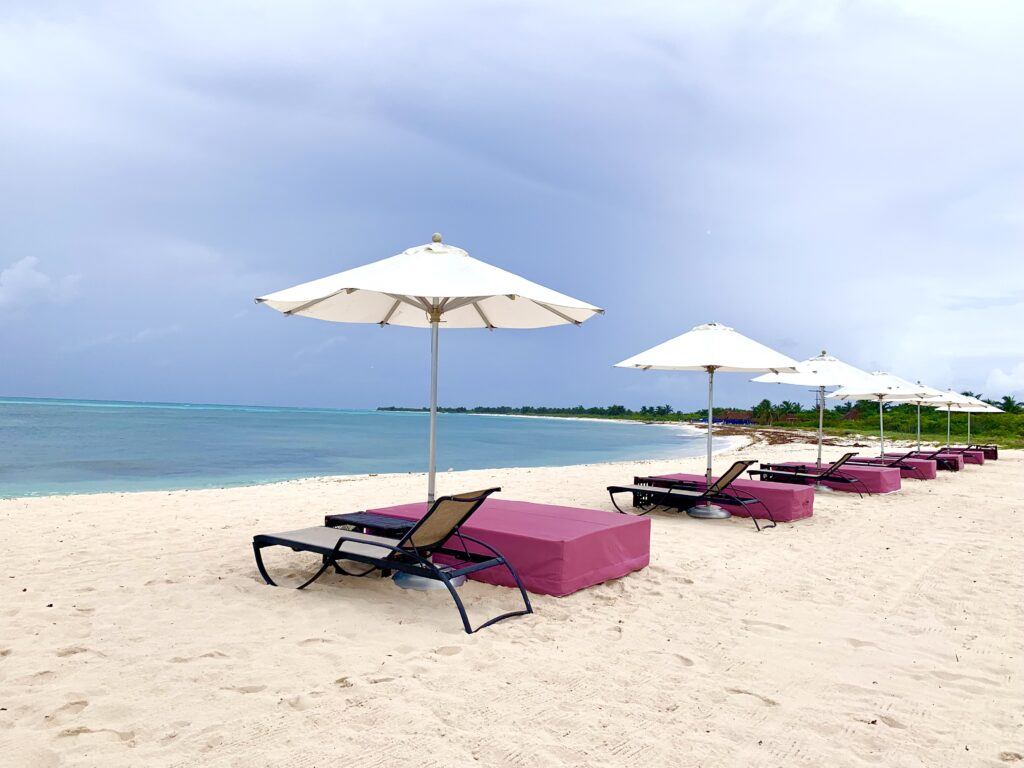 Prior to the snorkel adventure, the waitstaff made the rounds taking food and drink orders. This way, the food would be ready once the group returned.
The small onsite restaurant at the private beach club has a large menu with Mexican favorites like nachos, tacos, and margaritas. While the food wasn't part of the cost of the excursion, the prices were reasonable.
Given the weather, the water was rather choppy. So, some who were not strong swimmers returned from snorkeling early. Unfortunately, hubby indicated that he did not see much marine life during the tour anyway.
We had about 2 hours in total at this first stop. This meant that there was just enough time to enjoy some food and drinks once the snorkelers returned.
Then, we made our way back to the Jeeps to continue our adventure. Our next stop was the Celarain lighthouse, where we had about a half hour to explore.
If you choose to climb the 130+ steps of the Celarain Lighthouse (Faro de Celarain), the reward is amazing panoramic views of the the area. The base of the lighthouse is also home to the Museum of Navigation and a small tequila tasting venue, which are both complimentary with the tour. Or, you can browse the few shops on site or roam the surrounding grounds.
Our last stop of the day was El Caracol, a small Mayan temple built during the post-classical period. While this is just a small ruin in comparison to more famous sites like Chichen Itza, you should not overlook it. Many believe this functioned as a weather alarm, producing a whistle when winds funneled through this structure, but this is just a myth.
Very nearby this Mayan ruin site is a crocodile lookout point. A boardwalk over the Colombia Lagoon is a great spot to view the mangroves and the creatures of this habitat. There is also an observation tower for a more aerial perspective.
EXCLUSIVE: Get Deals on Your Next Caribbean Cruise!
Recap of Our Jeep Adventure to Punta Sur National Park Review
Given the great condition of the vehicles paired with just the right amount of time during each of our stops, we really enjoyed this excursion. Often times, tours can feel rushed, but that was not the case with this Jeep Adventure to Punta Sur National Park. It was well-organized, and our guides were very friendly and knowledgeable.
The company offers both automatic and manual transmission Jeeps to allow all guests a chance to drive the vehicles. Guests must be at least 21 years old and must present a valid driver's license to drive.
During our visit, we had our own Jeep. However, in more normal times, you will likely share a vehicle with others on the tour.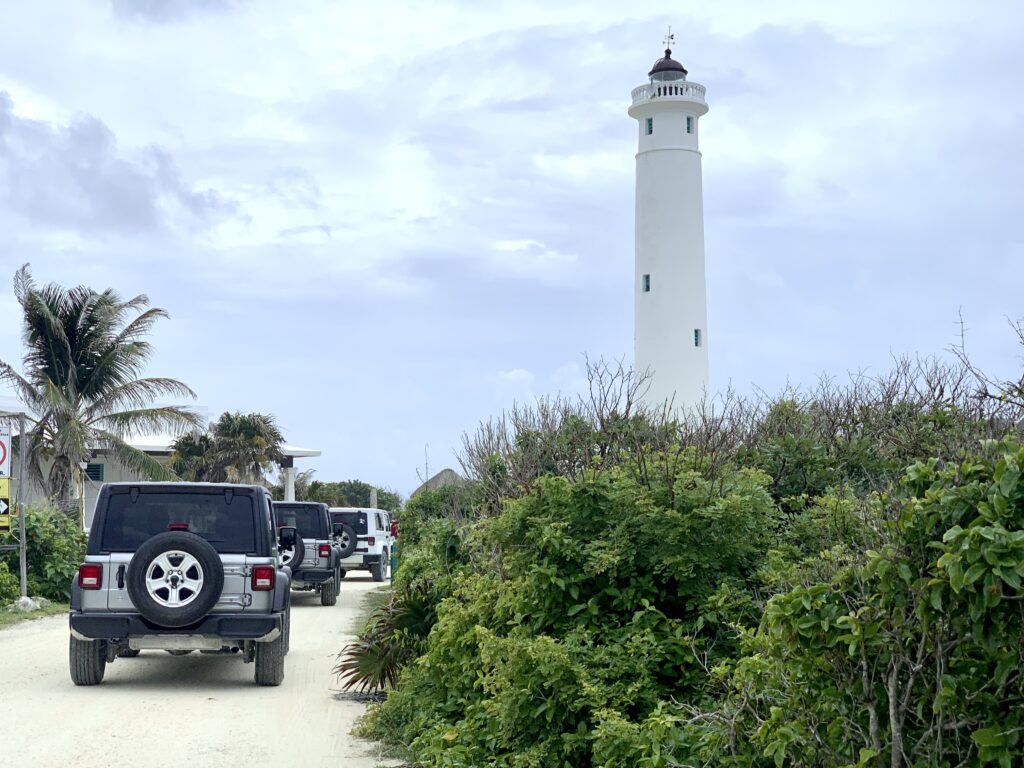 This Jeep Adventure to Punta Sur National Park is a great cruise excursion, as it affords a variety of experiences in a short amount of time. You can learn a bit about Mayan history and culture, get great panoramic views of the island, swim and snorkel, enjoy a beach and some Mexican food and drinks, and even see some wildlife in its natural habitat.
If your are heading to Cozumel on your own, we would certainly recommend booking with Explora Tours. If you are traveling via cruise ship, the company does recommend booking directly with your cruise line due to time constraints.
Either way, a Jeep Adventure to Punta Sur National Park should be high on your list of things to do the next time you visit Cozumel.
Comments
Have you taken a Jeep Adventure to Punta Sur National Park? What are some of your favorite things to do while visiting Cozumel on a cruise? Drop us an anchor below to share how you spend your day in this cruise ship port of call.