Celebrity Cruises' newest class of ships, Celebrity Edge Class, offers a variety of unique dining options. With some new specialty dining restaurants, casual eateries, and the addition of four main dining rooms, the culinary experiences on this ship are unlike anything else you will find in the fleet. The biggest change however is the inception of a new dining program known as Celebrity Select Dining Plus.
As traditionalists, we were skeptical at first, but we were won over by the new program after a 7-night cruise onboard Celebrity Edge. To help you decide if this new approach to dining is right for you, we have put together this FAQ covering Everything You Need to Know About Celebrity Select Dining Plus on Celebrity Edge.
Guide to Celebrity Select Dining Plus on Celebrity Edge
What are the Dining Options on Celebrity Edge?
Like most cruise ships, Celebrity Edge offers cruisers Traditional Dining with an early (6 pm) and late (8:30 pm) seating. Cruisers will be sat at the same table in the same restaurant with the same wait staff for the duration of the cruise.
If you prefer something more flexible, there is the new Celebrity Select Dining Plus. This option offers cruisers the ability to dine at any of the four main dining rooms at various times each night of the cruise. This means you can pick your restaurant and time, but you will not have the same wait staff or table.
This is essentially the same as Select Dining on Millennium or Solstice Class, except there is the added option of four main dining rooms.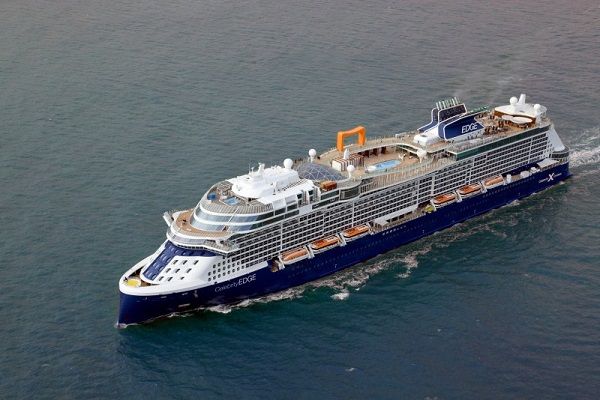 Related Post: Celebrity Edge Restaurant Guide
Does Celebrity Select Dining Plus Cost Money?
No. There are no additional costs for having Celebrity Select Dining Plus. When you book a reservation on Celebrity Edge, you will be given the option to choose Traditional Early Seating, Traditional Late Seating, or Celebrity Select Dining Plus as your dining preference.
Do keep in mind that this option is limited to a certain number of guests, so it might not be available at the time of your booking. If not, you can contact Celebrity Cruises to get put on a waiting list.
What Restaurants Are Included in Celebrity Select Dining Plus?
You can use Celebrity Select Dining Plus at the four, complimentary main dining room restaurants on Celebrity Edge. These restaurants include Cyprus and Cosmopolitan on Deck 4 and Tuscan and Normandie on Deck 3.
While these four restaurants all offer the same rotational Signature menu, along with the Classics options, each restaurant does have its own small Exclusive menu with items that you can only find at that restaurant.
Each dining venue also offers a unique theme and decor with Cyprus serving up Greek-inspired dishes and Tuscan offering an Italian flare. Normandie has French influences, while Cosmopolitan is the most traditional with American classics.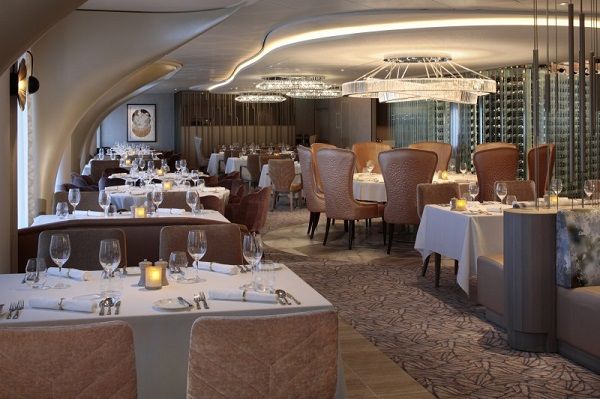 Do I Have to Wait Until I Am Onboard to Pick My Restaurants?
One of the biggest benefits of Celebrity Select Plus Dining is the ability to make dinner reservations at the four above mentioned restaurants pre-cruise. You do not need to wait until you are on the ship to decide when and where to eat each night of your cruise.
You can pre-book your reservations before the cruise or while onboard the ship using the Celebrity Cruises App. We booked all four restaurants ahead of time with no problems.
Keep in mind, if you have traditional dining, you will be assigned to one of these four restaurants for the duration of the cruise.
Do I Have to Pre-Book My Restaurants?
No, reservations are not necessary with Celebrity Select Dining Plus. While you can make them ahead of time if you choose, you also have the option to just walk up to a restaurant when you feel like dining.
Like a restaurant on land, you might be quoted a wait time and given a pager if you arrive at the prime dinner hour. This flexible option also gives you the ability to pre-book for some days of the cruise and just walk up on other days.
Celebrity Select Dining Plus leaves all the choices up to you.
Related Post: Everything Included on Celebrity Cruises
Does Celebrity Select Dining Plus Work in Blu or Luminae?
Blu and Luminae are exclusive restaurants for Aqua Class and Suite Class (respectively). These restaurants are always first come, first serve, and you can not make reservations at either venue.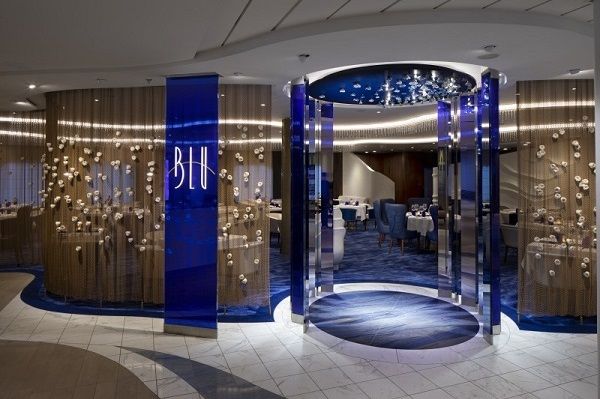 If you have Celebrity Select Dining Plus, you can choose to dine at the other main dining rooms on some evenings and these exclusive restaurants on a walk up basis on other evenings.
How Do I Know Which Restaurants Are Not Busy?
Unlike some cruise lines that have screens showcasing wait times at restaurants, there is no way of knowing whether a particular restaurant has a wait. While the app will show you which restaurants are currently open, it does not let you know wait times.
The good thing is that all four of the restaurants are clustered together, aft on Decks 4 and 3. So, if you do not have a preference, you can do a quick survey to see if one venue looks busier than another venue.
Related Post: Guide to Celebrity Cruises Ship Classes
Will I End Up Waiting for a Table?
In our experience, we never had to wait for a table, whether we had a reservation or not (We had a reservation for 3 of the 4 restaurants.). At most, there were usually two or three parties ahead of us, so it only took a few minutes to be checked in and escorted to a table.
We did typically dine earlier in the evening, so we can not speak for later in the evening.
We did see pagers given out on occasion though. While we were not clocking them, we would say that they didn't wait more than about 20 minutes. And, this was at peak dining time, around 7:30 pm, on the second Evening Chic night (AKA lobster night).
Of course, there is the potential that you might have to wait if you go during peak hours. Though, the wait should be minimal in our experience. This was a welcomed surprise, given Royal Caribbean's failed attempt at Dynamic Dining.

What is the Service Like with Celebrity Select Dining Plus?
Fabulous! We were concerned that service would suffer with this dining option. However, we are happy to report that we had excellent service at every restaurant. Even though we had a different crew every night, the staff was friendly and attentive.
Our meals were mostly well-timed, with courses well spaced out. Further, the menu items were always delivered at the appropriate temperatures. Kudos to Celebrity Cruises for trying something new and making it work right out of the gate!
Related Post: Guide to Celebrity Cruises Drink Packages
What About Specialty Restaurants?
On Celebrity Edge, there are also several new specialty restaurants that are an up-charge. When you have Select Dining Plus, you can still eat at these venues if you choose. Please know that the specialty restaurants are reservation only, except for Raw on 5.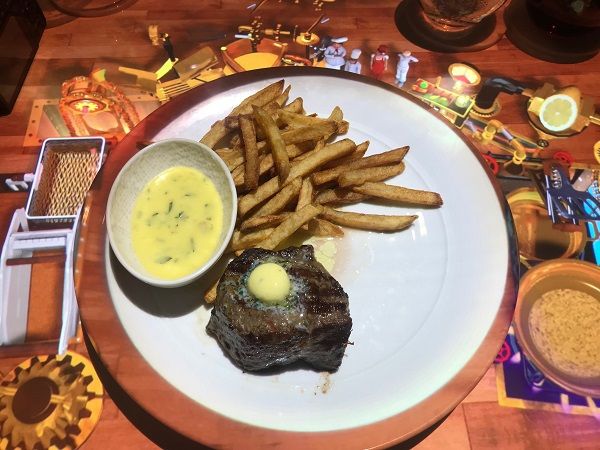 Popular venues (like Fine Cut Steakhouse or Le Petit Chef and Friends) do fill up quickly, especially at prime dinner times. If you want to dine at a specialty restaurant, we recommend making reservations before your cruise. While onboard, there will be limited availability, usually later in the evening. 
What About Tipping?
This was an area that we struggled with too. Part of the daily service charge is always reserved for the waitstaff in the restaurants. With traditional dining, we always tip our wait staff additionally at the end of the cruise.
In a specialty restaurant, you will get a receipt to sign where you can provide additional gratuity if you choose. However, there is no easy way to tip on your SeaPass card at these complimentary venues with Celebrity Select Plus Dining.
We recommend taking some small bills with you if you plan on providing additional gratuities. This is by no means necessary as the staff is already receiving part of that daily service charge. Though, it seems like cash is the easiest way to show your appreciation for superb service with this dining option.
Which Ships Have Celebrity Select Plus Dining?
Currently, this program is only available on Edge Class ships. Other cruise ships in the fleet do offer the similar Celebrity Select dining option. This option allows you to dine in the central main dining room at different times each evening.
Comments
Have you sailed on Celebrity Edge yet? Did you test out Celebrity Select Plus Dining? Drop us an anchor below to share your experiences with this new dining concept.