Thanks again to our guest reviewer, Joe Tolley, proprietor of Shiphead Trading Company. You can also find his latest cruise reviews, vlogs, and ship tours on his YouTube channel.
Why I Completely 'Zoned Out' on the Carnival Mardi Gras Inaugural Sailing
Upon embarkation on the Carnival Mardi Gras inaugural sailing, as they paraded us through Grand Central, I soon realized this was going to be a different experience than my previous Carnival sailings.
When building ships with ever-increasing capacity (nearly 6,500 on Mardi Gras), designers must address the challenges associated with traffic. So, the designers of Mardi Gras came up with a new concept for the Carnival brand.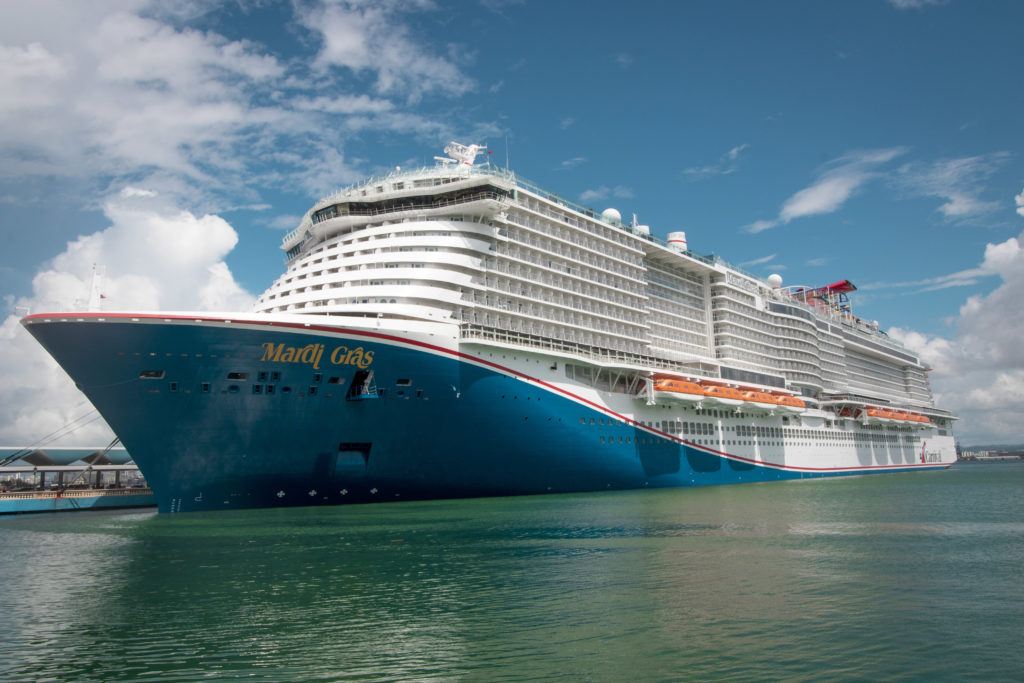 Carnival Mardi Gras debuted six distinct zones to help spread out the normally high-trafficked areas throughout the ship. This allows for full-ship activation throughout the entirety of the day. And in my humble opinion, they knocked it out of the park with this design concept.
Though not quite at full capacity, the 4,200 passengers on our sailing never resulted in crowds.
Given this new concept, I wanted to share what I loved most about each of these zones.
Watch Joe's Full Carnival Mardi Gras Ship Tour!
Grand Central (Center Stage)
As the heart of the ship, Grand Central covers three decks. This area is home to its many shops, the casino, a few restaurants, the piano bar, the Havana Bar, and the Punchliner Comedy Club.
But what takes center stage in this zone is, well, Center Stage.
Replacing the main atrium as the hub on most Carnival ships, Center Stage is a massive three-deck venue that is the setting for most of the ship's main entertainment. This includes music, game shows, variety acts, and its more immersive theatrical performances such as Celestial Strings and brand new aerial shows.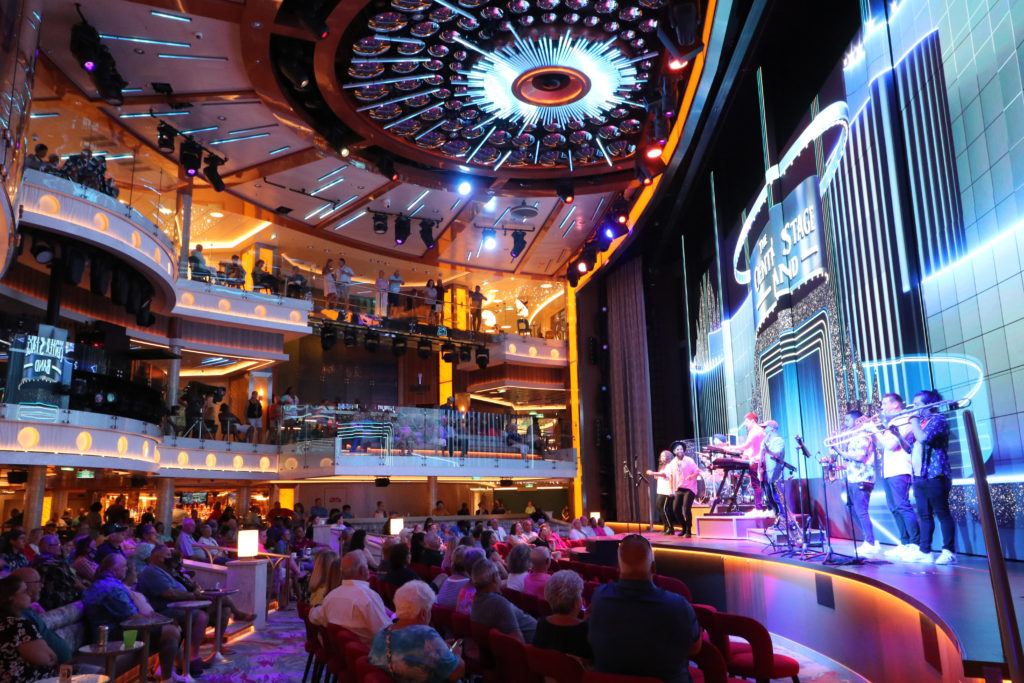 The backdrop for all of this entertainment is either a massive bank of windows overlooking the beautiful ocean or an entire wall of display panels that rise out of the floor to showcase dynamic graphics. It was quite mesmerizing to watch the transformations throughout the day.
Unfortunately, due to challenges still facing the cruise industry, not all of the shows have made it to the schedule just yet. During a Q&A, Carnival president, Christine Duffy, offered her hope for a full schedule of Mardi Gras entertainment later this fall.
EXCLUSIVE SAVINGS: Score Deals on Carnival Mardi Gras NOW!
La Piazza (Paninis and Pizza)
On deck eight, spanning from Grand Central towards the back of the ship, you'll find La Piazza, Mardi Gras' Italian-themed zone. As you would expect, it's full of Italian colors and design elements.
There is even an actual fiat and a vespa, both 1972 models, reflecting the launch year of the original Carnival Mardi Gras. These spots are perfect for photo ops!
Cucina Del Capitano, the Italian specialty dining restaurant and Bar della Rosa, La Piazza's Italian indoor/outdoor, coffee/cocktail bar also live here.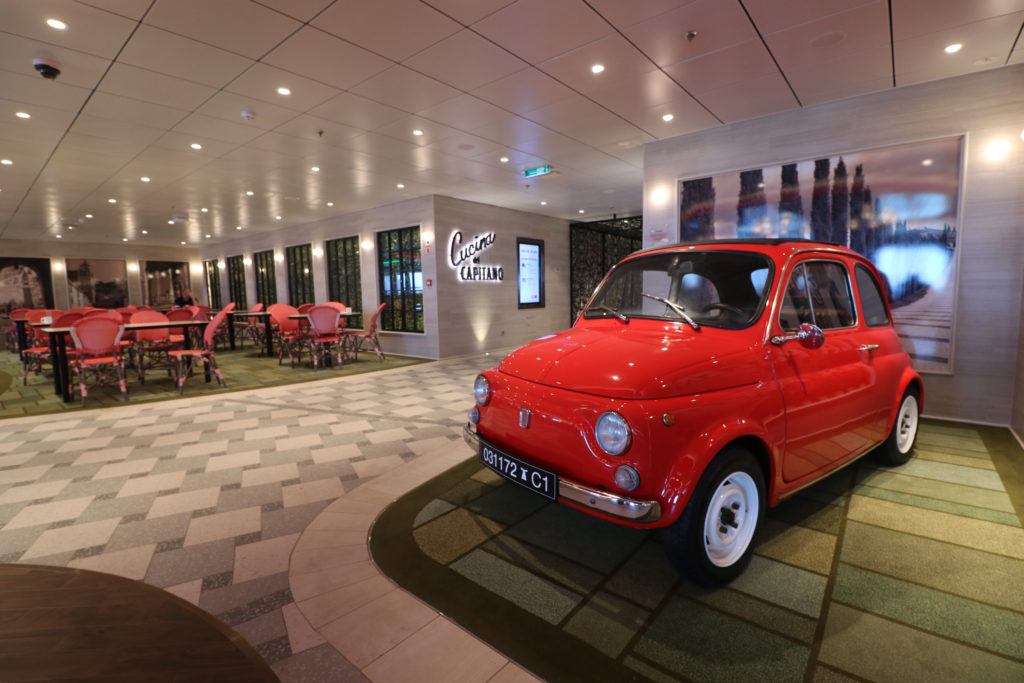 For me, this was the perfect escape from the crowds of the Lido deck. Tucked away towards the back of La Piazza is the new Piazza Panini and Pizzeria del Capitano, Mardi Gras' 24-hour pizza place. Not saying that it wasn't crowded at times, but grabbing a panini and/or a slice of pizza amidst ambient Italian music was a wonderful treat.
Plus, you can also venture outside and enjoy your slice in the relatively empty and covered, outdoor seating on the deck eight promenade.
The French Quarter (Fortune Teller)
The French Quarter is by far my favorite zone of this ship and possibly my favorite area of any ship. Designed to reflect the look and feel of New Orleans, it sits directly below La Piazza on decks six and seven.
Among its residents are Emeril's Bistro, Fahrenheit 555 Steakhouse, and the three craft cocktail bars featuring their own signature menus. This combination will make this neighborhood a hit for practically everyone who sets sail on Carnival Mardi Gras.
The first, Alchemy Bar is home to everyone's favorite mixologists and is situated on deck seven overlooking the two-story esplanade and Emeril's Bistro.
Second, The Brass Magnolia is the new, New Orleans-themed bar where you can enjoy live jazz on a nightly basis as you sip your Crescent City cocktails. And third, the Fortune Teller bar is something you have to experience for yourself.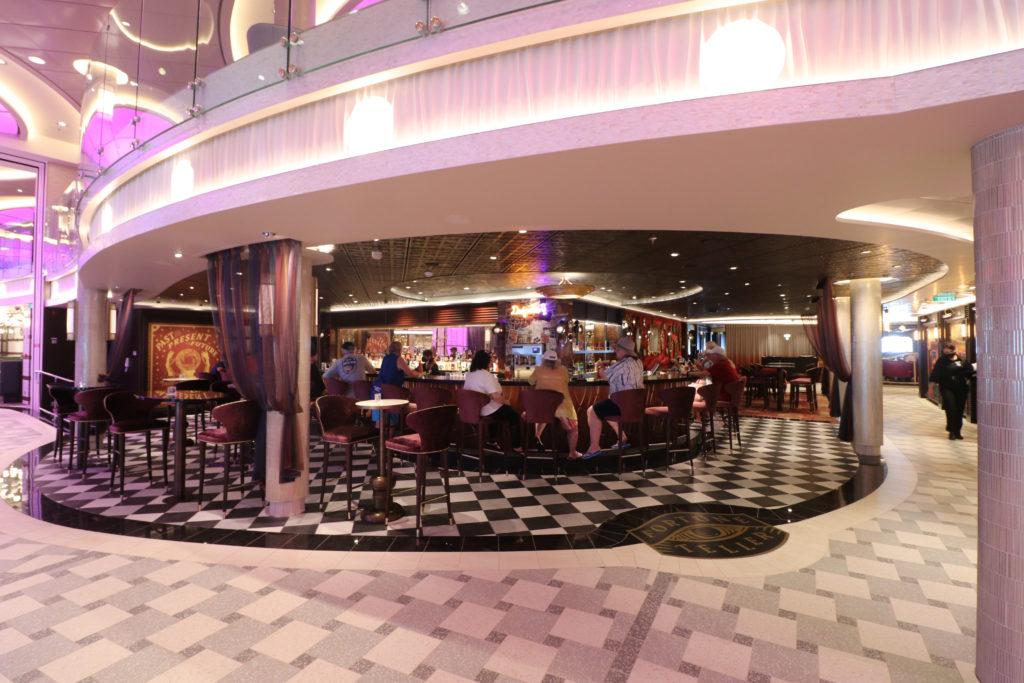 Imagine if the Alchemy Bar was designed and run by gypsies. That's the best way I can describe Fortune Teller.
With drinks like Abracadabra which changes colors as the bartenders have you pour in the last ingredient, or the Crystal Ball, a sort of Margarita topped with a giant bubble completely filled with smoke, you may find yourself attempting to try one of everything on this unique menu. And rumor has it, I succeeded!
To me, the Fortune Teller has the perfect balance of taste, atmosphere, and entertainment. It's no wonder why I found myself here night after night. Thank goodness for the Carnival Cruise Line drinks package.
Summers Landing (The Patio)
Summers Landing is essentially the casual hangout spot on the ship. Located on the very back of deck eight, it houses Guy's Pig and Anchor Smokehouse and Brewhouse which features wonderful live house music from The Backyard Band.
Summers Landing is also home to the Hero's Tribute Lounge and the almost hidden gem, The Patio.
Aptly named, The Patio offers a not-quite-as-crowded infinity pool overlooking the ship's wake, a pair of hot tubs adjacent to the Watering Hole poolside bar, and absolutely stunning views of the aft of the ship.
Lido Deck (Big Chicken)
I won't bore you by describing the Lido deck. It's still the Lido deck but with a few subtle differences. The Red Frog Rum Bar is now the Red Frog Tiki Bar, a two-story, yes two-story updated Red Frog. And a very popular improvement.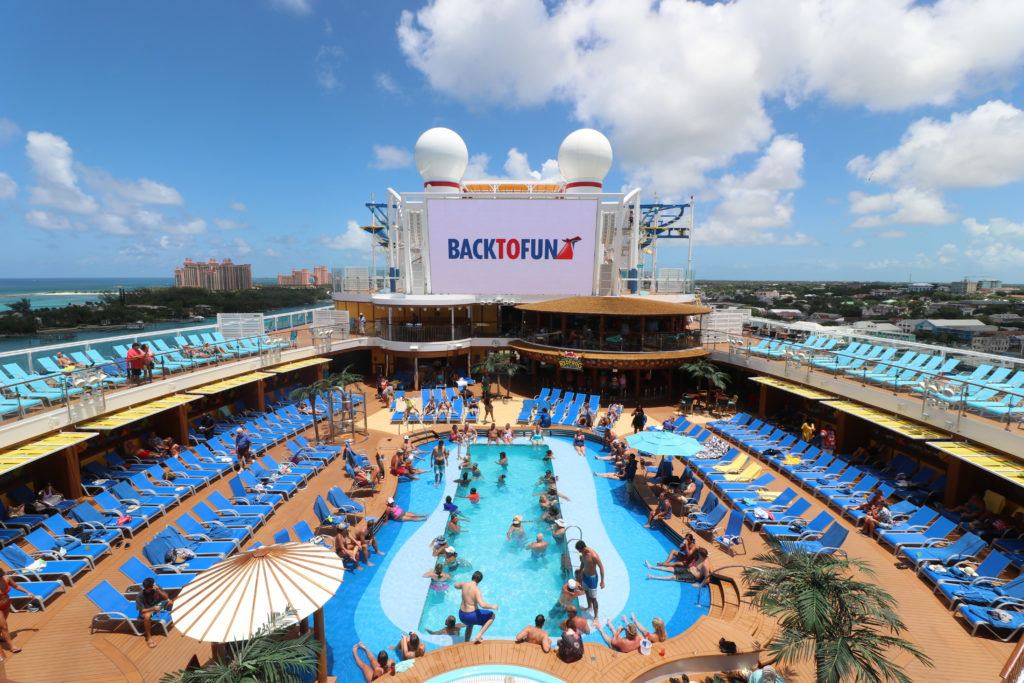 Guy's Burger joint has moved from the actual Lido deck on Mardi Gras to one deck up. The venue has also tripled in size to give it more of an outdoor restaurant vibe. This helps to move some of the traffic away from the pool area. Did I mention they now serve breakfast here? Picture your favorite Guy's burger. Now, slap an egg on it. Voila, Guy's breakfast.
Street Eats was a surprise hit for us. Three tiny complimentary small-bite food options, ranging from designer fries to dumplings to kabobs, introduced us to an unofficial meal in between lunch and dinner… Linner? I'd now recommend a later dinner seating.
The highlight of the Lido deck for me was tucked away in the aft beyond the Marketplace buffet. To be honest, Shaq's Big Chicken didn't really interest me at first. I mean, with Guy's Burger Joint, it seemed like an attempt to add more celebrity partnerships.
Though, I am SO glad I forced myself to give it a try. There is only one way to describe it. Big Chicken IS the Guy's Burger of the chicken sandwich. Just like Guy's puts In-N-Out to shame, Big Chicken does the same to Popeyes.
BOOKING BONUS: Get Additional Perks When You Book Your Next Carnival Cruise Line Cruise!
The Ultimate Playground (Bolt)
The Ultimate Playground is essentially the "kids" zone of Mardi Gras. Here, you'll find the typical but larger SportsSquare, ropes course, mini golf, and WaterWorks.
It is also here where you will find the all new Bolt, The Ultimate Sea Coaster.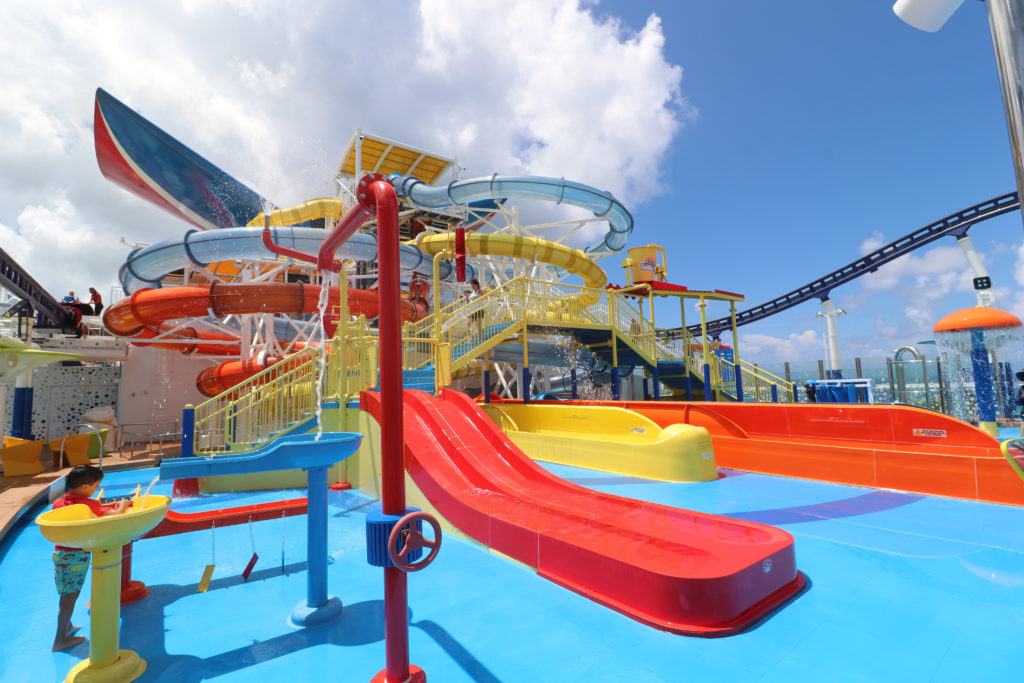 When I first heard that Carnival was going to reveal the first roller coaster at sea on Mardi Gras, I was very skeptical. Along with Norwegian Cruise Line's go-karts and Royal Caribbean's bumper cars, it really just sounded a little too gimmicky and possibly a "jump the shark" moment for the cruise industry.
Well, I was wrong.
Though it lasted for only about a minute at a top speed of only 40 mph, it was one of the scariest feelings I've had on a thrill ride. Major trust issues came into play when I realized the only thing keeping us from plummeting 20 decks down to the water below was the single, narrow track on which I had no clue how we were attached.
It does cost extra, but do yourself a favor and book it. It was quite the rush.
Related Post: What's Included on Carnival Cruise Line
Final Thoughts on Carnival Mardi Gras Inaugural Sailing
My overall impression of Carnival Mardi Gras inaugural sailing was one of amazement. I only understood the actual flow of the six zones towards the end of the sailing, and it left me wanting more. So, I will leave you with a few tips for your sailing on Mardi Gras.
Eat at Emeril's. My only regret is that we never did. Everyone raved about it. On several occasions, I saw some "important people" eating there, including the actual lead ship designers themselves.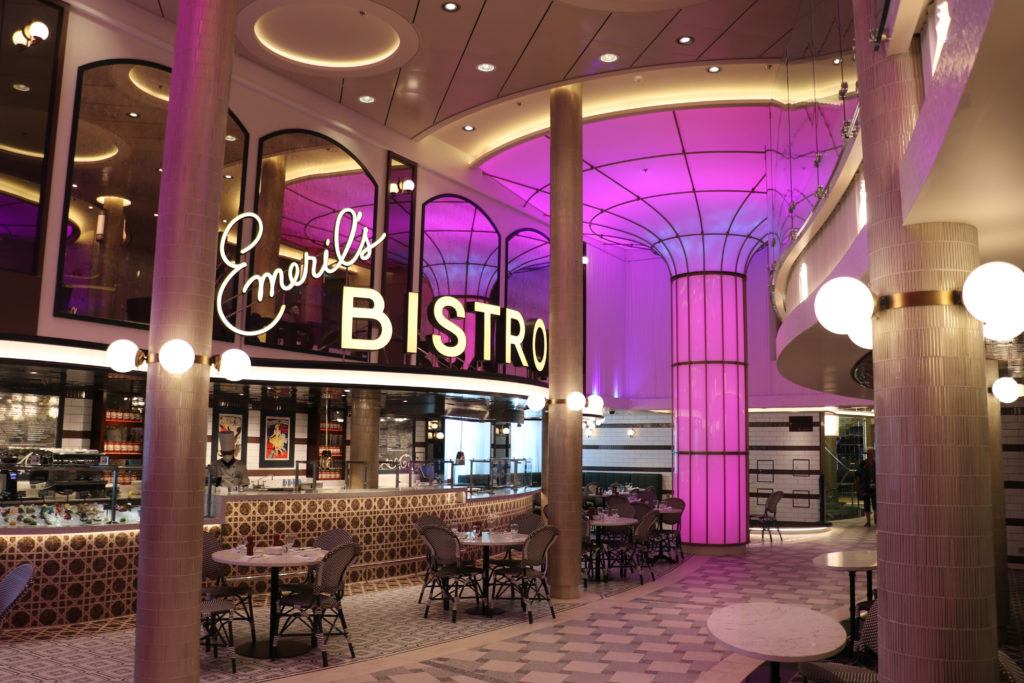 Skip the Marketplace buffet. With so many options for breakfast, lunch, and small bites throughout the ship, don't find yourself grazing at the buffet with the rest of the herd.
You could even skip the main dining room. At the time of our sailing, Cucina del Capitano, Guy's Pig and Anchor, and Chi-Bang (Carnival's new Asian/Mexican specialty restaurant) were all complimentary and could be booked in advance as an alternative to the main dining room.
If you like cocktails, purchase the drinks package before you board this ship. In the French Quarter alone, the three cocktail bars' drinks range from $10.95 to $12.95 each. With the package priced at only $50 per day, four delicious craft cocktails a day would cover that cost.
Final tip: If you are a Carnival fan, book Mardi Gras immediately. You will be pleasantly surprised. If you are NOT a Carnival fan, book Mardi Gras immediately. You will also be pleasantly surprised with the new direction of Carnival and may very well become a fan yourself.
Comments
What do you think of this guest review of the Carnival Mardi Gras Inaugural Sailing? Do you have plans to sail on this new Carnival Cruise Line ship? Drop us an anchor below to share what features you are most excited to check out on Mardi Gras.