Celebrity Cruises' Celebrity Edge offers a variety of specialty dining restaurants. These up-charge venues offer cruisers more upscale menu items in an intimate setting. The brand's Edge-Class of ships takes dining to the next level. So, on our Celebrity Edge cruise this past summer, we made sure to test out a few of the popular restaurants, including the Le Petit Chef & Friends experience. Now, we share all of the delicious details in our Celebrity Edge Le Petit Chef restaurant review.
EXCLUSIVE SAVINGS: Score Deals on Celebrity Edge Cruises NOW!
Celebrity Edge Le Petit Chef Restaurant Review
What Is Le Petit Chef?
Le Petit Chef is a unique dining experience that you can only find on Celebrity Cruises. Available on several ships in the fleet, this 3D experience expertly pairs tabletop entertainment with an upscale pre-fixe menu.
Le Petit Chef is a digitally enhanced dinner which includes a four-course meal and a "show". On Edge-Class ships, you can meet this tiny chef along with his friends in Le Grand Bistro.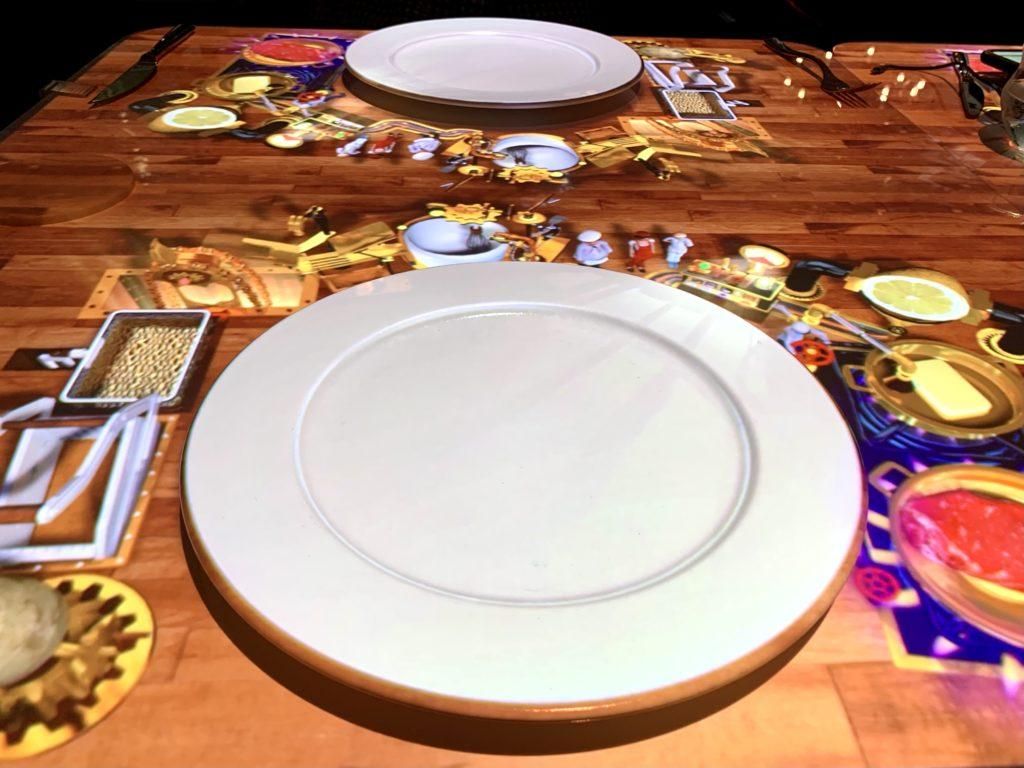 During this first of its kind experience at sea, technology and story-telling combine as 4 mini-chefs compete in a cooking competition right before your eyes.
The impeccable timing and the delicious food make this one of the best specialty restaurant on Celebrity Cruises!
Le Petit Chef & Friends does have a cover charge of $55 per person. Further, it is a set menu, but there is an alternative menu as well.
MENU: Le Petit Chef and Friends
Our Experience at Celebrity Edge's Le Petit Chef
For our cruise on Celebrity Edge, we booked Le Petit Chef & Friends on the last evening at 6 pm. Given that this is dinner and a show, there are only two dining times available at 6 pm and 8:30 pm.
We arrived at Le Grand Bistro right on time for our meal to find that the venue was about half full. We were quickly escorted to our table. The plain white table cover, plates, coasters, and projector light set the stage for a one of a kind dining experience.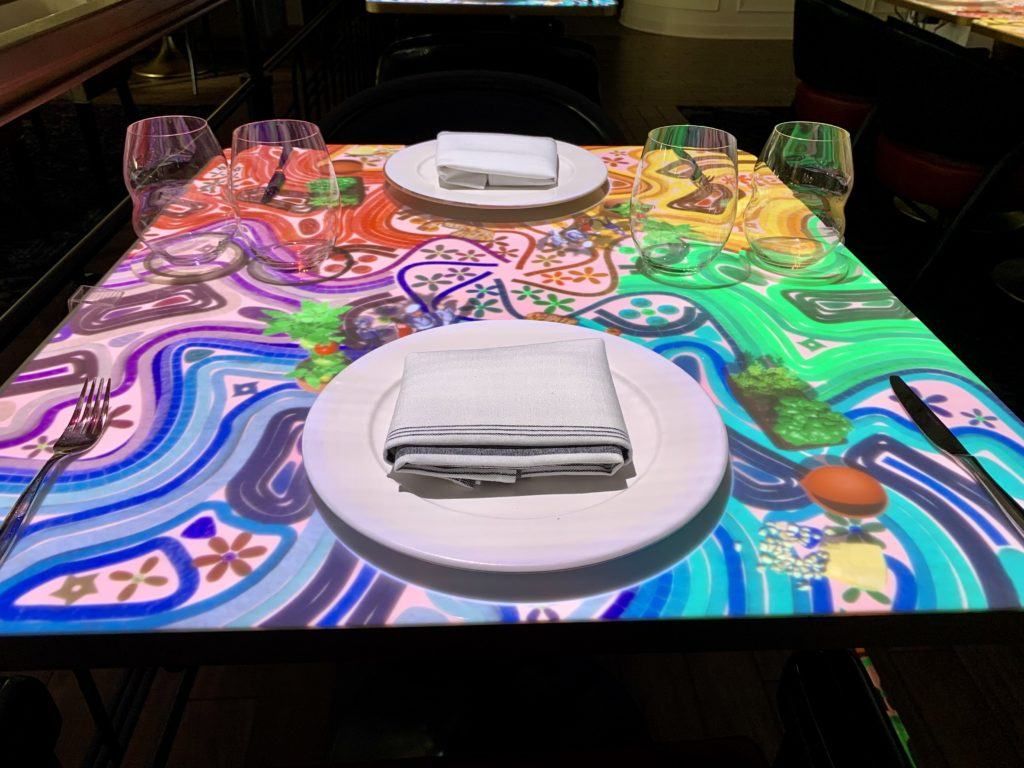 We were quickly greeted by our waiter, who reviewed the menu and took our drink orders. The hubby opted for the up-charge wine pairing ($15 + 20% gratuity), while I ordered my usual cosmo.
Right on cue, the lights dimmed. The projection illuminated on the table to welcome us to this international cooking competition. We were now guests watching these four tiny chefs from different countries compete for the top prize.
During the show, Le Petit Chef (French) and his friends Pecaniya (Spanish), Piccolo (Italian), and Chizana (Japanese) charm you with their wit and culinary skills. With brightly colored and well-timed animation, each chef created a course right before our eyes.
These course preparations are paired with the delivery of the actual food. Yes, the house lights do come back on so you can see what you are eating.
Related Post: Celebrity Edge Dining Guide
Celebrity Edge Le Petit Chef Menu
The four courses of this Celebrity Edge Le Petit Chef menu consist of a cold starter, warm starter, entrée, and dessert. The first course is a marinated tomato salad. The second course is a truffled five cheese ravioli. The entrée is steak frites, and the dessert is a green tea matcha cake.
Of course, I substituted the steak with the sautéed chicken breast from the alternate menu. The hubby managed to get the waiter to also bring him the pan roasted sea bass from the alternate menu as a second entrée.
The food was just as good as we remembered from our last time dining here over 2 years ago. The tomato salad was good, but we both really enjoyed the ravioli. It was the perfect combination of rich and creamy sauce, bread crumbs, and mushrooms to top off this pasta dish.
The steak frites was cooked to the perfect medium-rare temperature and served with a side of fries. My chicken dish was a different preparation than the last time we dined here. Though, it was actually more flavorful and served with vegetables and garlic mashed potatoes. DB liked the sea bass, but the dish had a bit too much sauce for his liking.
On our last visit, we thought the dessert was the weak spot of the meal, and the same still holds true. I enjoy my sweets, and this just didn't hit the spot.
BOOKING BONUS: Get Additional Perks When You Book Your Next Celebrity Cruise Now!
Recap of Our Dining Experience at Celebrity Edge Le Petit Chef
Once again, Le Petit Chef and Friends served up a tasty and enjoyable alternative to your typical cruise ship meal. All of the dishes were well-prepared, flavored, and served at the perfect temperature.
Additionally, the waitstaff were attentive and timely. The delivery of the food courses was perfectly timed with the animation for a truly one of a kind experience.
With two menu options, there should be enough to sample at the restaurant for even the more picky eaters like myself.
At $55, it is a bit pricey, given this is the same cost for the Fine Cut Steakhouse. Still, the food here is undoubtedly good and the show makes this a unique experience.
Comments
Have you dined at Le Petit Chef and Friends on Celebrity Edge? What do you think of this dinner and a show experience? Drop us an anchor below with your review of this dining concept.