Celebrity Cruises newest ship, Celebrity Apex, kicked off its inaugural season in the Caribbean last fall. We were guests of the cruise line on a 2-day sailing where we got a quick peek at all this great vessel has to offer. On this media trip, we were hosted in a Sky Suite. Now, we give you an inside look at this Celebrity Apex Sky Suite Cabin to help you decide if it's the right stateroom choice for you.
SCROLL DOWN TO WATCH OUR COMPLETE CABIN TOUR AND REVIEW VIDEO
Celebrity Apex Sky Suite Cabin Review
The Edge Class of ships do offer a plethora of stateroom categories. We have stayed in a standard balcony cabin on Celebrity Edge, an Infinite Veranda stateroom. We have also upgraded to a Sunset Veranda stateroom on this class of ship. So, we were interested to see how this Celebrity Apex Sky Suite Cabin would compare.
Since we were guests of the cruise line on this sailing, our Celebrity Apex Sky Suite Cabin was assigned to us. Reviewing the deck plans, this starboard side balcony cabin on Deck 10, 10176, is actually a Magic Carpet Sky Suite.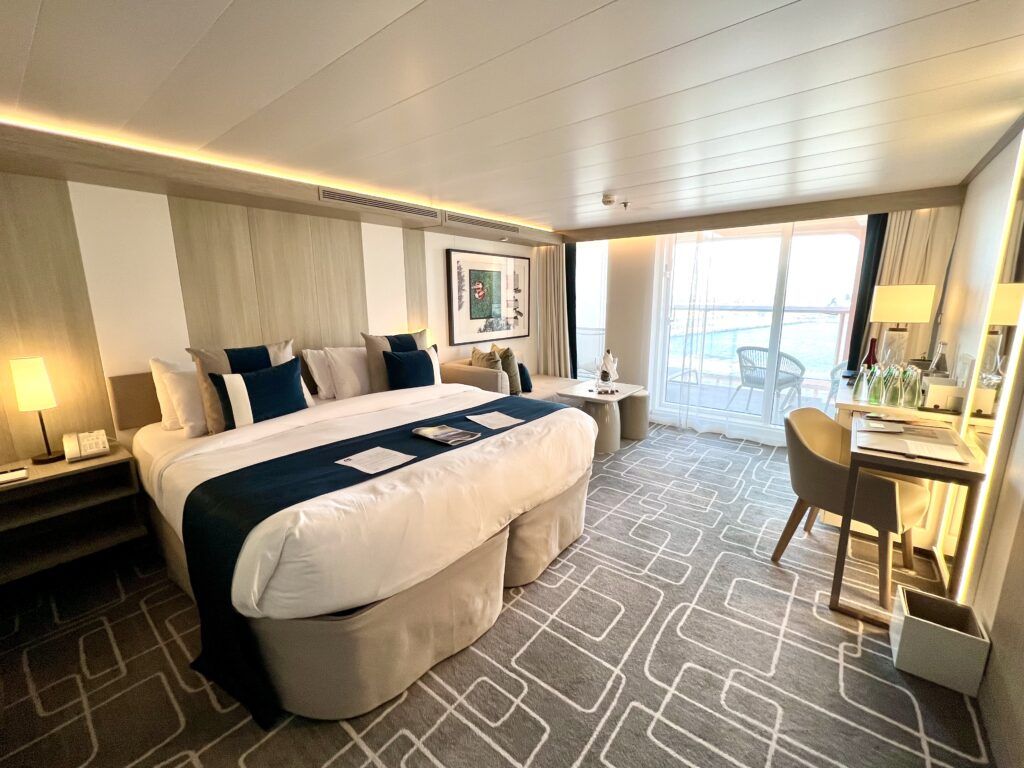 This cabin is located fairly midship, almost equidistant from both elevator banks. Deck 10 is also located in the middle of the public areas outdoors which start on Deck 14 and the public indoor areas which start on Deck 5.
According to Celebrity Cruises' website, a Sky Suite ranges in size from 254 to 362 square feet with a 57-102 square foot balcony.
Further, all suites include a king-sized Cashmere Mattress with eXhale bedding, full sliding glass doors to the veranda, and access to exclusive amenities including The Retreat Lounge, Sundeck, and Luminae.
EXCLUSIVE SAVINGS: Score Deals on Celebrity Apex Cruises!
Layout of the Celebrity Apex Sky Suite Cabin
Upon entering this Celebrity Apex Sky Suite, all we could say is WOW!
We have actually never stayed in a suite before, so this cabin was a noticeable upgrade in size.
The room itself had two doors that you needed to scan to enter. The first exterior door led to a small hallway where there was an additional door to enter the stateroom.
Once inside the cabin, the bed was off to the left on the forward wall (facing aft) with the television on the opposite wall. Tucked around the corner was the bathroom flanked by closet doors.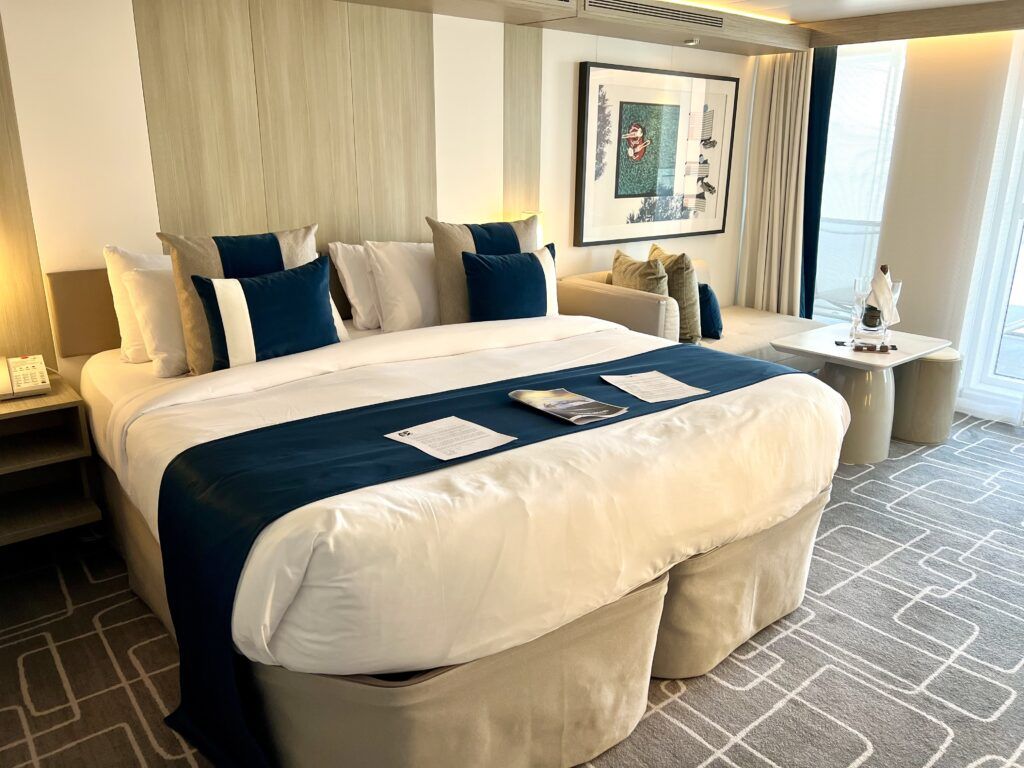 This design not only tucks the storage area and bathroom out of sight, but it also provides additional space near the entrance, making the room feel less closed off.
On each side of this king-sized bed, there was a small nightstand. The nightstand on one side of the bed contained 3 small cubbies, a power outlet, and two USB outlets. The other side of the bed had two larger shelves but no charging outlets.
The bathroom was the largest cruise ship bathroom we have had to date. It included a large vanity with double sinks, a tub/shower combo, a separate toilet space, and a make-up station.
One closet included the traditional clothes bar with hangers, while the other included shelves and the safe.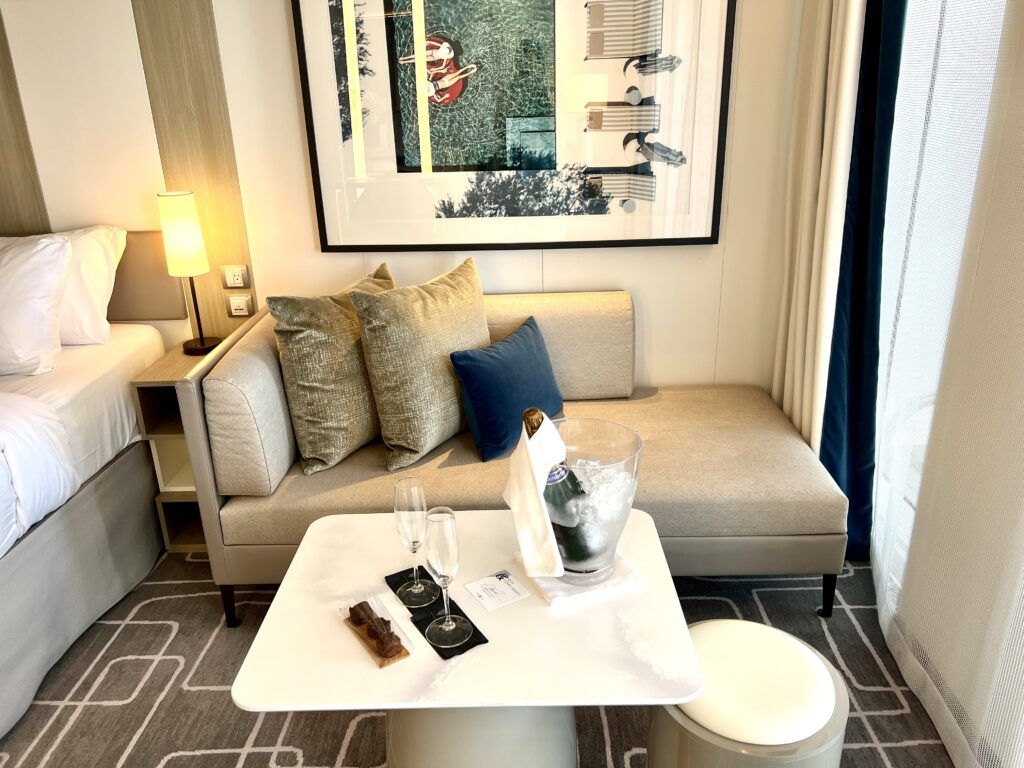 Continuing past the bed, there was a open seating area, small desk, and additional dresser for storage.
The seating area contained a love seat, coffee table, and ottoman. The desk was rather small but served its purpose. The additional dresser included three large drawers, the mini-fridge, and also a power charging box.
Finally, there was our very generously sized balcony with two lounge chairs, two upright chairs, and a small table. This veranda was a vast upgrade in size compared to traditional balconies on other cruise ships.
Inside Our Celebrity Apex Sky Suite Cabin
Bathroom
When it comes to cruise ship bathrooms this Celebrity Apex Sky Suite Cabin shines. The finishings and décor were very modern and elegant. The marble and light beachy wood tones, along with the premium bath products, made the space feel like a luxury hotel.
Not to mention, the size of the bathroom is more than double what cruisers have come to expect. The vanity was much larger with two sinks, plenty of counter space, and four small shelves on each side for additional storage.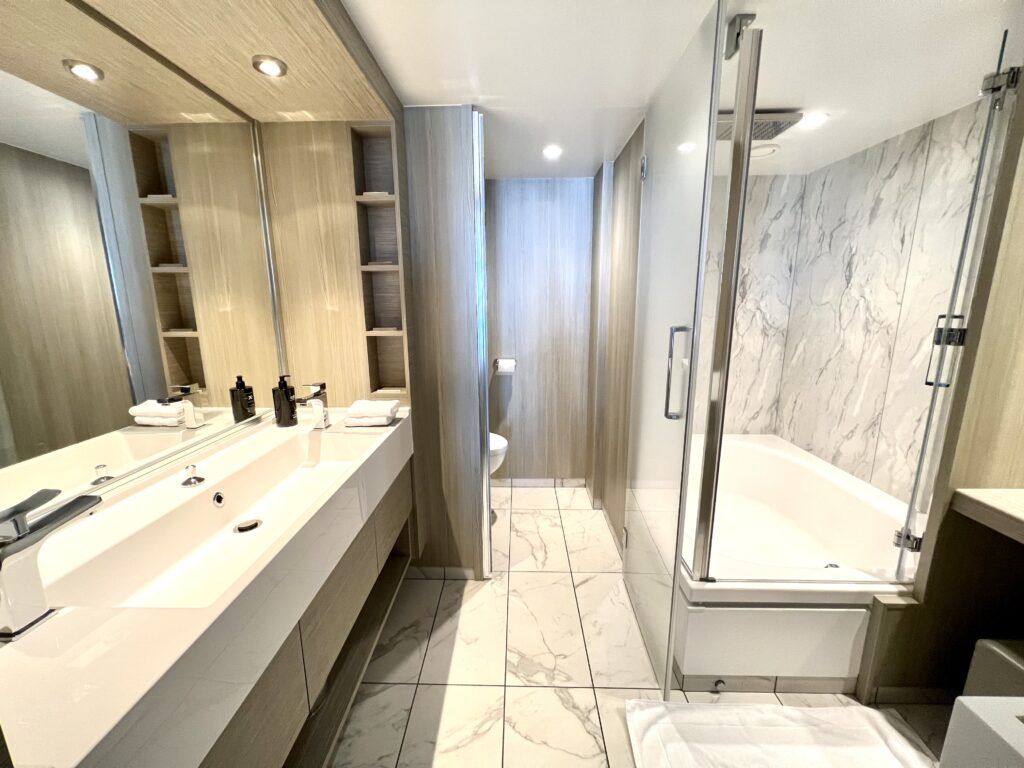 Additionally, there was a small contained space for the toilet with a glass door for separation, along with a full sized shower/tub combo. This combo had a rainfall shower and glass door.
Finally, the separate make-up station and ottoman closely resembled what you would find in your own home. It contained plenty of counter space, a magnifying mirror, and additional small shelves for storage off to one side.
Main Cabin Area
Much like the bathroom, the main cabin area in this Celebrity Apex Sky Suite cabin also felt much roomier.
The closets offered plenty of storage space with the combination of shelves and the clothes bar with hangers. Not to mention, there were also additional drawers in the dresser near the balcony.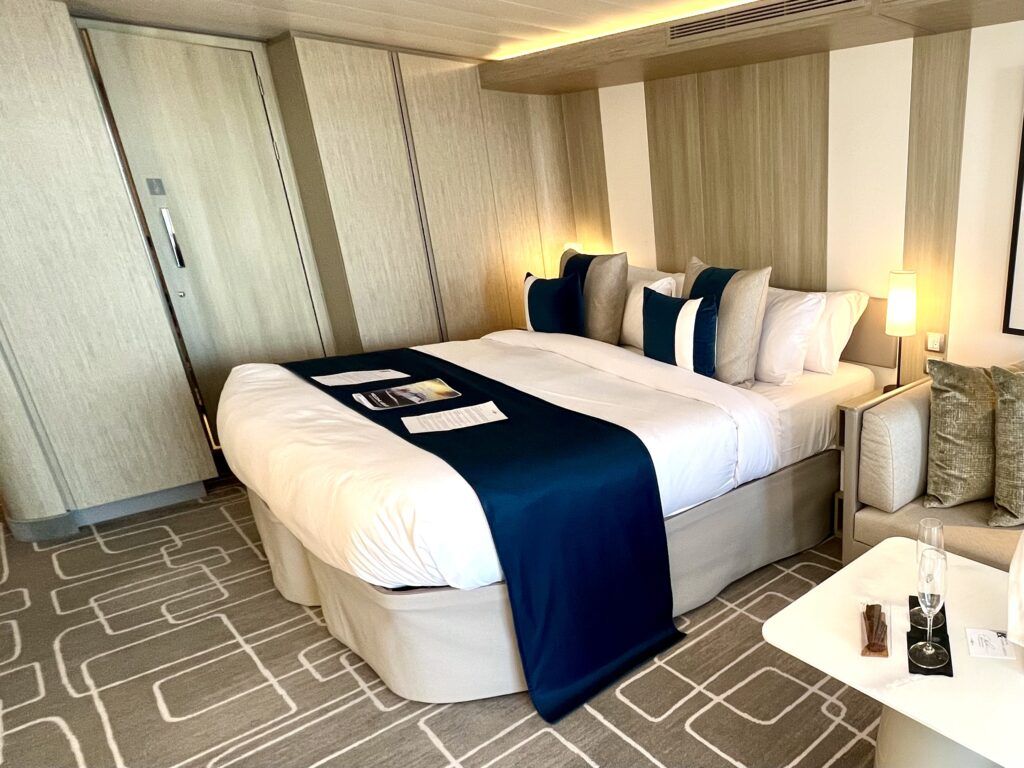 The bed offered plenty of comfort during our trip. We had no issues falling asleep at night. The upgraded bedding and linens meant we were able to unwind each evening in comfort.
There was also plenty of walking space in between the bed and the opposite wall with the television.
The sitting area was good sized too. The loveseat provided enough space for two adults, along with a table big enough for a tray of food.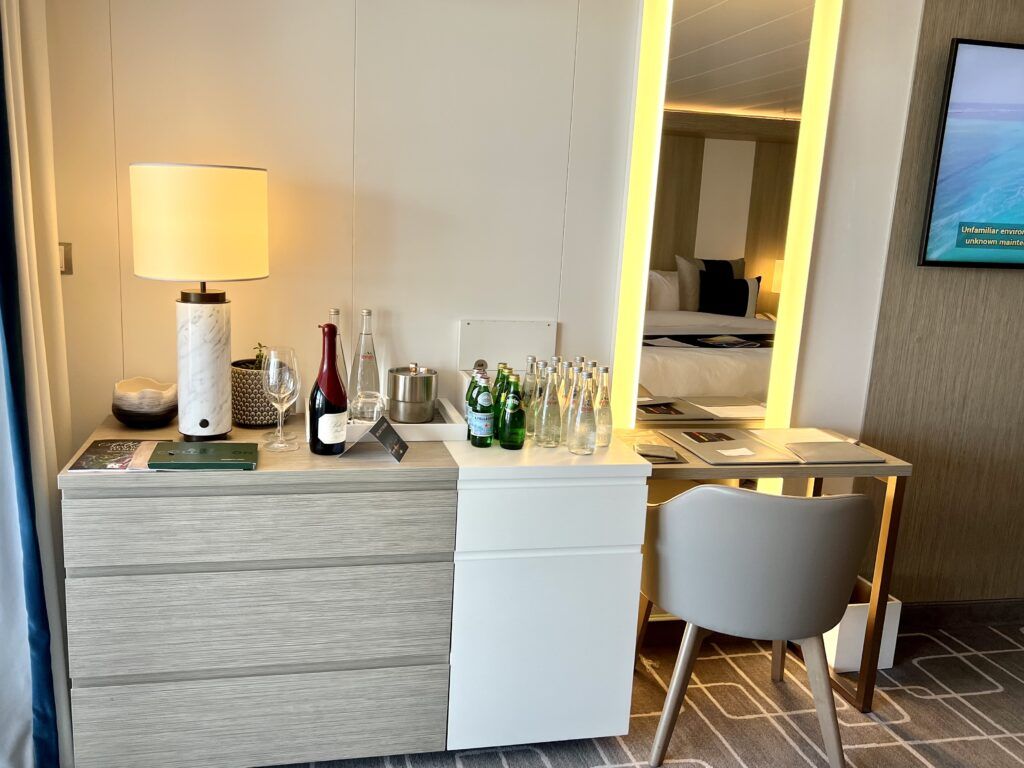 Further, it was great to have a true desk that did not need to double as my getting ready station. This came in handy for housing our computers and doing some work.
Balcony
In keeping with the theme, the balcony was also much larger than what we have come to expect on a cruise. While one side felt a bit closed off due to the Magic Carpet structure, it was huge!
The area comfortably fit the two chairs and small table that come standard on other balconies in addition to two full lounge chairs. Still, there was even plenty of space to walk.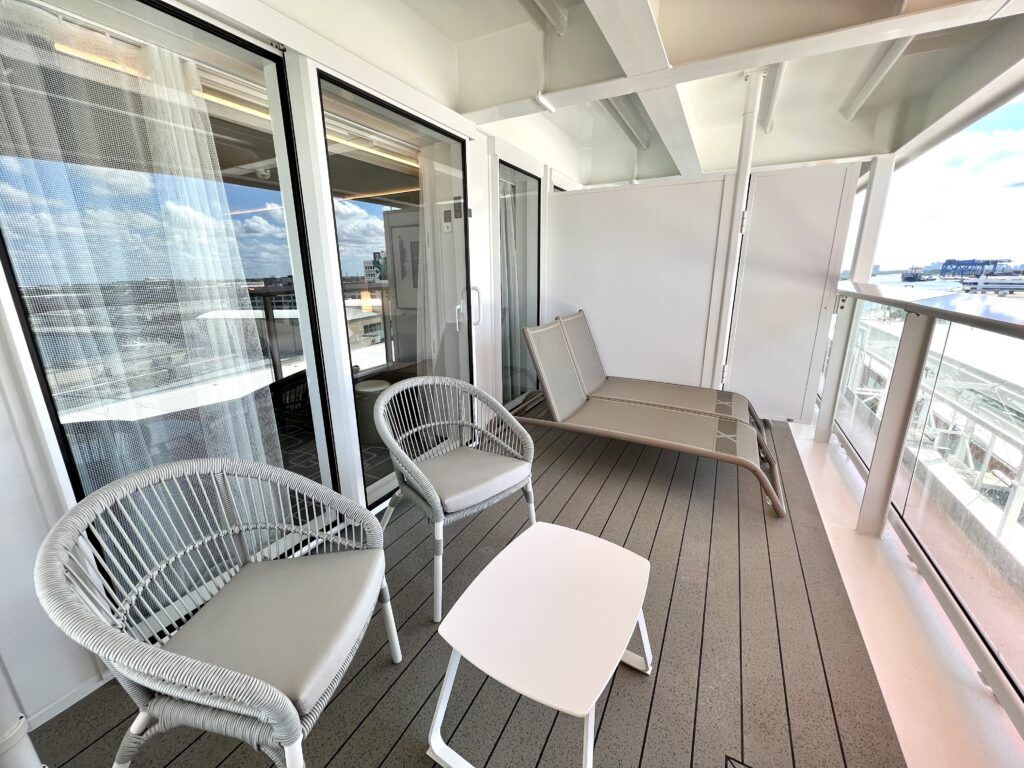 Unfortunately, this was only a 2-day cruise, so we didn't get to spend all that much time on this gorgeous balcony.
BOOK NOW: Get Exclusive Deals on Your Celebrity Apex Cruise!
Exclusive Suite Perks
In addition to the luxurious space, guests booking suites on Celebrity Cruises are entitled to other exclusive perks.
Some of these perks include access to The Retreat Lounge and Sundeck, a dedicated restaurant, complimentary room service, and the Always Included perks.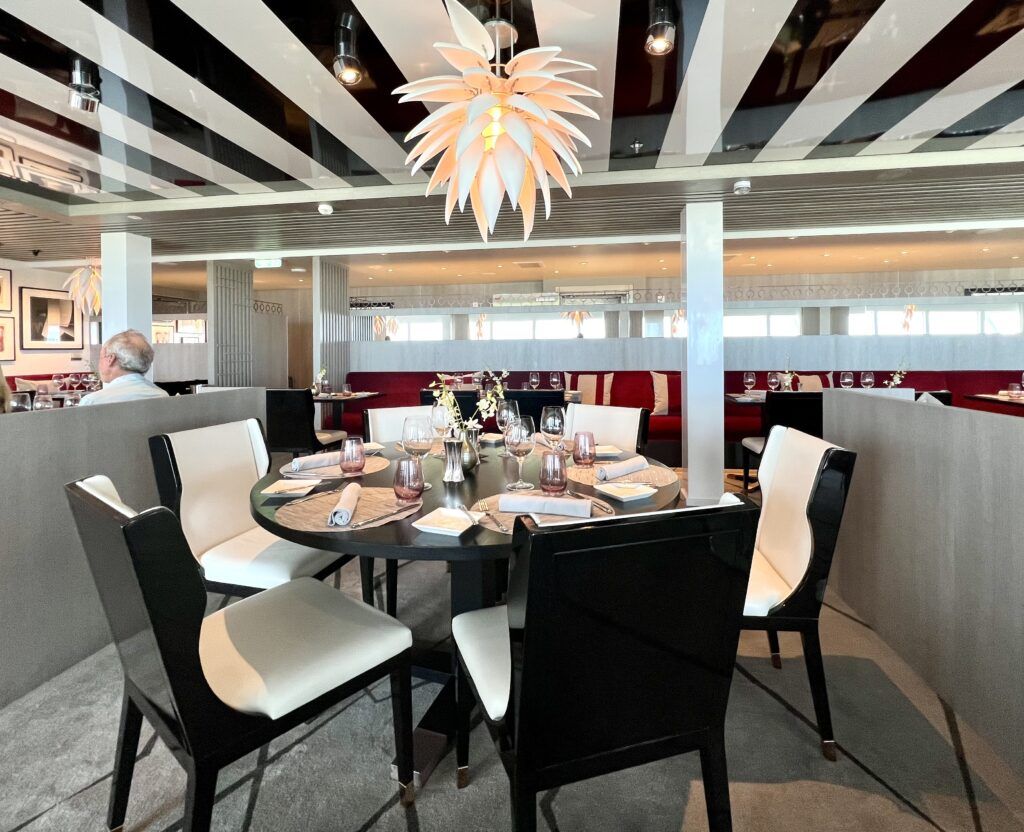 All guests who book The Retreat will receive the Indulge Package at no additional charge. The Indulge Package provides a Premium Beverage Package, an Unlimited Stream Internet Package, Gratuities, and an OBC for all guests in the stateroom. OBC amount varies by length of sailing.
Guests staying in a Sky Suite also receive a personal Retreat host, priority check-in and tendering, and reserved theater seating on Evening Chic nights.
Luminae is the exclusive restaurant for suite guests, located Deck 12 forward on Celebrity Apex. This restaurant serves complimentary breakfast, lunch, and dinner with an elevated menu.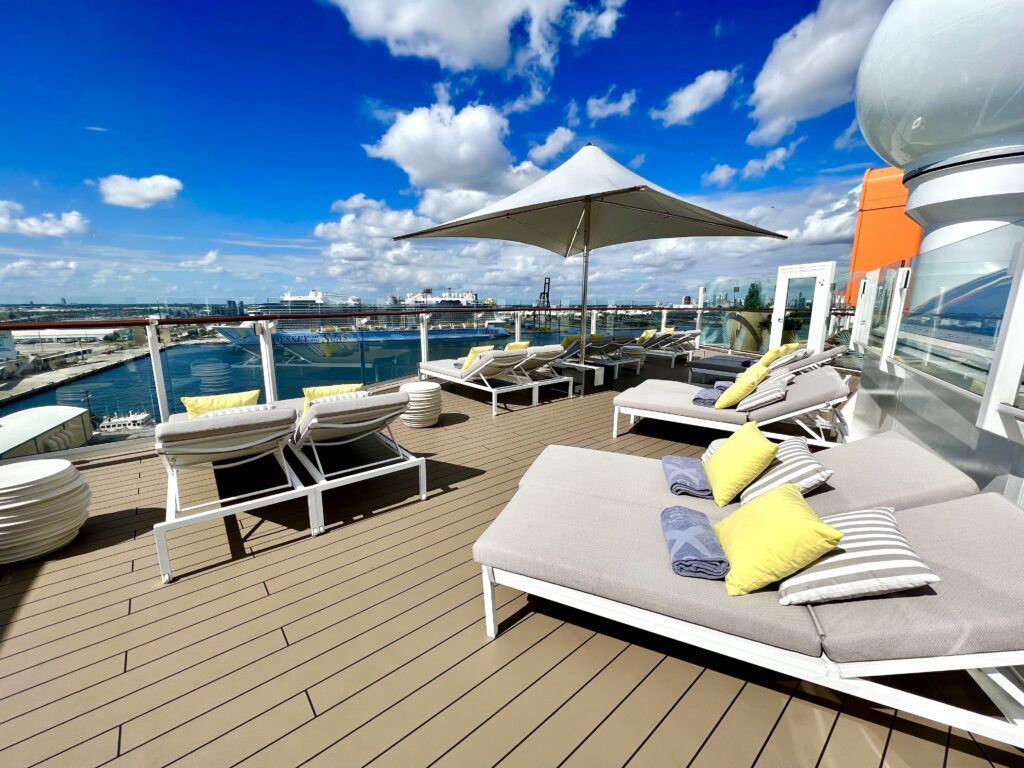 The Retreat Sundeck, located on Deck 16, includes a private pool, hot tub, bar, and plenty of comfy seating just for suite guests.
Recap of the Celebrity Apex Sky Suite Cabin Review
There was so much to love about our upgraded cabin on Celebrity Apex.
The Celebrity Apex Sky Suite offers additional interior living space along with the same functions and finishes found in the standard veranda cabins. It also offers plenty of storage, a comfy king-sized bed, and plush space for working or unwinding in the cabin.
Not to mention, the luxurious bathroom and very generously sized balcony are huge upgrades. These features alone make this stateroom worth every additional penny.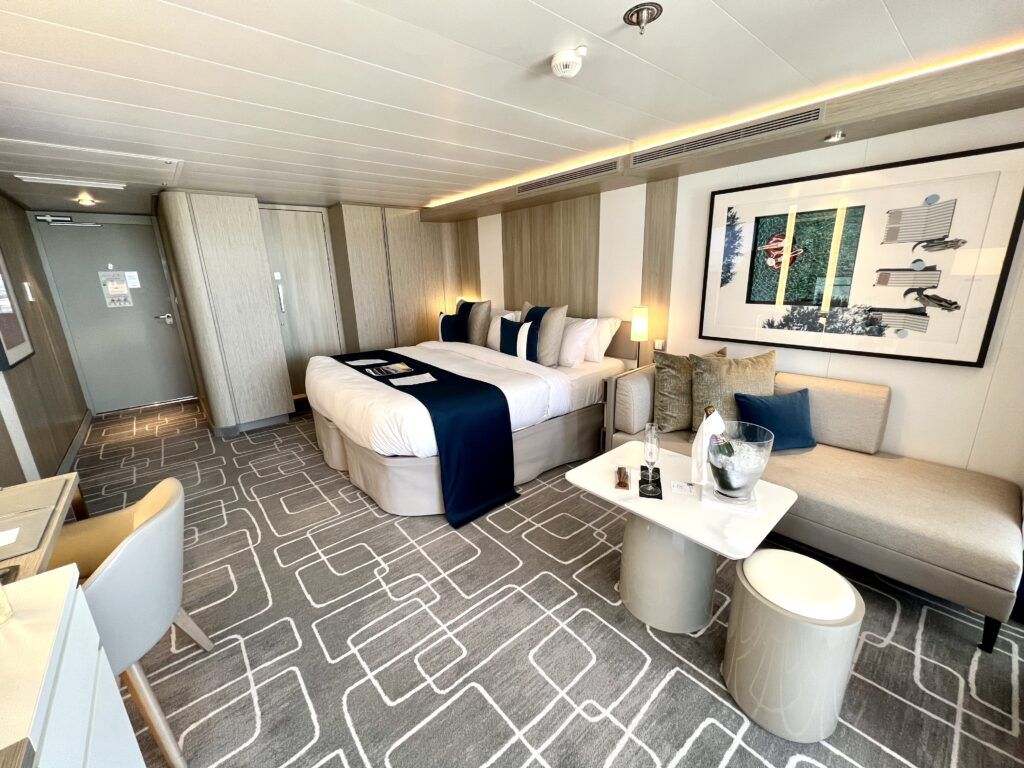 The cabin boasts 21st century upgrades, with plenty of outlets and USBs throughout the room. A touchscreen near the entrance even controls the stateroom's lights and temperature.
Of course, the Celebrity Apex Sky Suite Cabin does come with a higher price tag, but if you have the finances, this up-grade is worth it. The room features, in addition to the exclusive amenities for suite guests, will truly provide an upscale cruise vacation comparable to the most luxurious of resorts.
Comments
Have you sailed in a Celebrity Apex Sky Suite Cabin? What is your preferred stateroom category when you cruise? Drop us an anchor below with your review of the cabins on Celebrity Cruises.