SCROLL DOWN TO WATCH OUR BRAND NEW CARNIVAL PANORAMA CRUISE REVIEW VIDEO!
Carnival Panorama is Carnival Cruise Line's largest ship to date. This third Vista-class ship debuted late last year at the cruise line's updated terminal in Long Beach, CA. This new ship features many of the line's signature dining venues and onboard amenities; however, Carnival Panorama is also home to some unique onboard activities that you can not find anywhere else at sea.This was our first ever cruise with Carnival Cruise Line, but we had rather modest expectations of the cruise line given our experience sailing on competitor brands. We are back and give you our honest take on this new ship in our Carnival Panorama Ship Scorecard Review!


Carnival Panorama Ship Scorecard Review
Pool Deck
Met Expectations
On Carnival Panorama, there are two public pools on deck 10. There is also a private area with a pool on deck 5 for suites and Havana Club guests. In addition, there is a complimentary adults-only sun deck with a bar and hot tubs on deck 15. These various areas offer plenty of options for taking a dip in a pool or hot tub and grabbing a lounger. We never had an issue finding seats even at peak times, and the pools themselves were relatively empty given the cool weather. Depending on whether you want a quiet space to unwind or a lively pool party experience, you are bound to find your place in the sun on Carnival Panorama. Further, we liked that the pool deck is also home to a variety bars and casual dining options, so you never have to venture far for some food or drinks.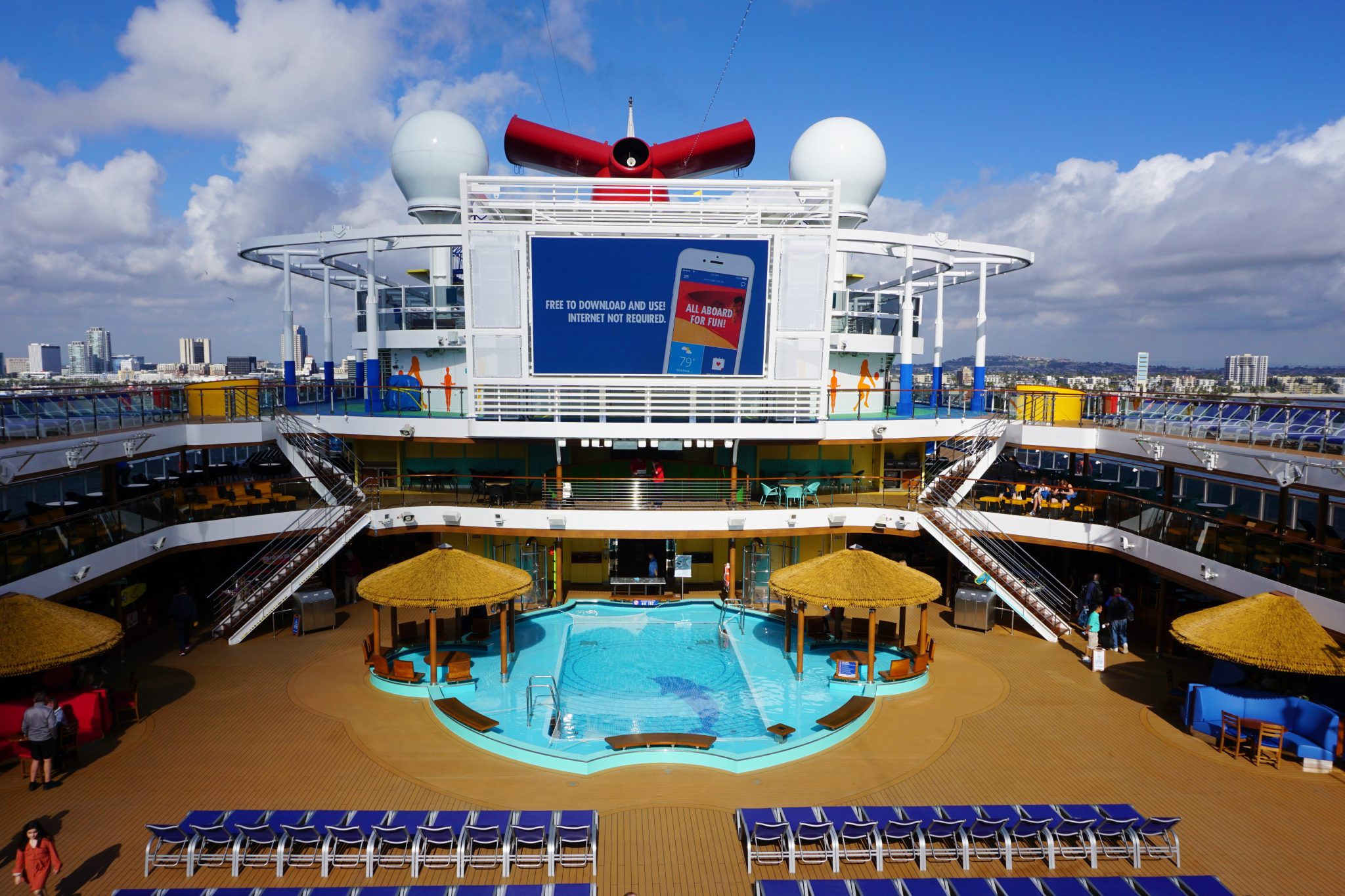 Sports Deck
Met Expectations
The outdoor amenities on Carnival Panorama are plentiful and all included in the cruise fare. These include the typical offerings on family cruise ships, like a 9 hole mini-golf course, basketball court, shuffle board, foosball tables, ping pong tables, and a variety of other family friendly games. Signature attractions include a ropes course, waterslides, the SkyRide aerial bike, and the SkyFitness outdoor workout stations.
The centrally located SportSquare was smaller than we expected. On busy sea days, it can be a bit congested with individuals playing mini-golf, pool, Chess, and more all in close proximity. Wait times for the SkyRide averaged around 30 to 45 minutes during the middle of the day with shorter wait times at off-peak hours like earlier in the morning. Throughout the cruise, there was usually only a short wait for the ropes course as well as the waterslides. These complimentary activities are fun and offer a variety of entertaining options for family members of all ages.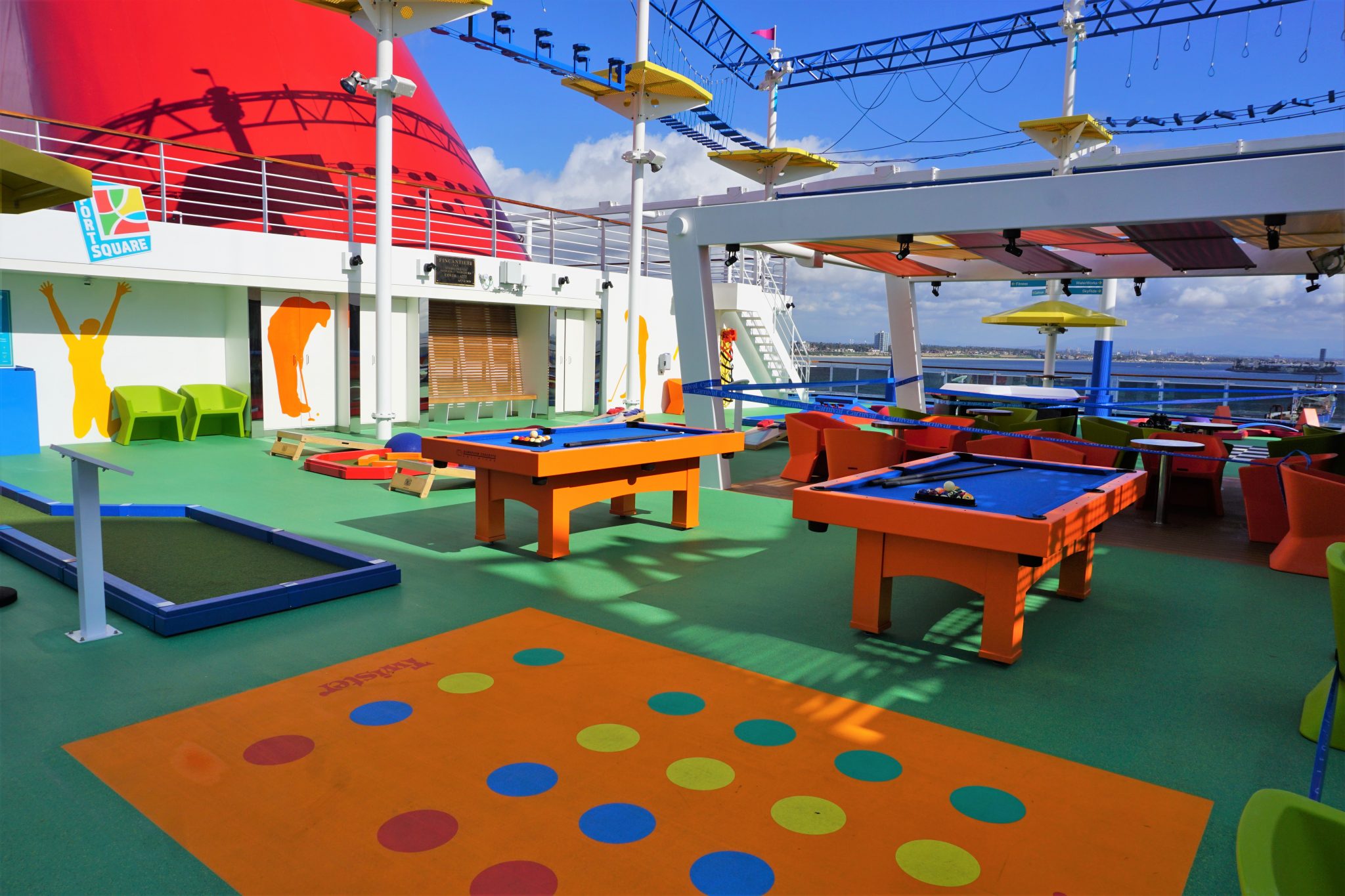 Service
Exceeded Expectations
Considering the ship has been sailing for only 6 weeks, we were impressed with the service received from all staff members. We have sailed on many ships during the inaugural season, and this might be one of the most polished crew we have encountered on a new ship. Whether it was dining, entertainment, activities, or bars and lounges, everyone was friendly, knowledgeable, and efficient.
The staff was helpful and always addressed us by name. There were several standout members of the team during the trip. Our stateroom attendant Winston did a great job keeping our room tidy and always surprising us with towel animal creations. The coffee duo Martin and Java Joe always made us smile and brewed up some fabulous "sexy" drinks at Java Blue. Our waitress Winnie for traditional dining was equally as personable offering superb and quick service over the course of the week. At the bars, service was prompt as well. We never had to wait long for a drink, even during shows or parties. Service in casual dining areas was also quick with tables cleared swiftly during the busy dining times. Not to mention, the cruise director Emma was high energy, always visible around the ship, and one of the best cruise directors that we have ever had.
Kudos to Carnival for launching a brand new ship with such precision and high level of service.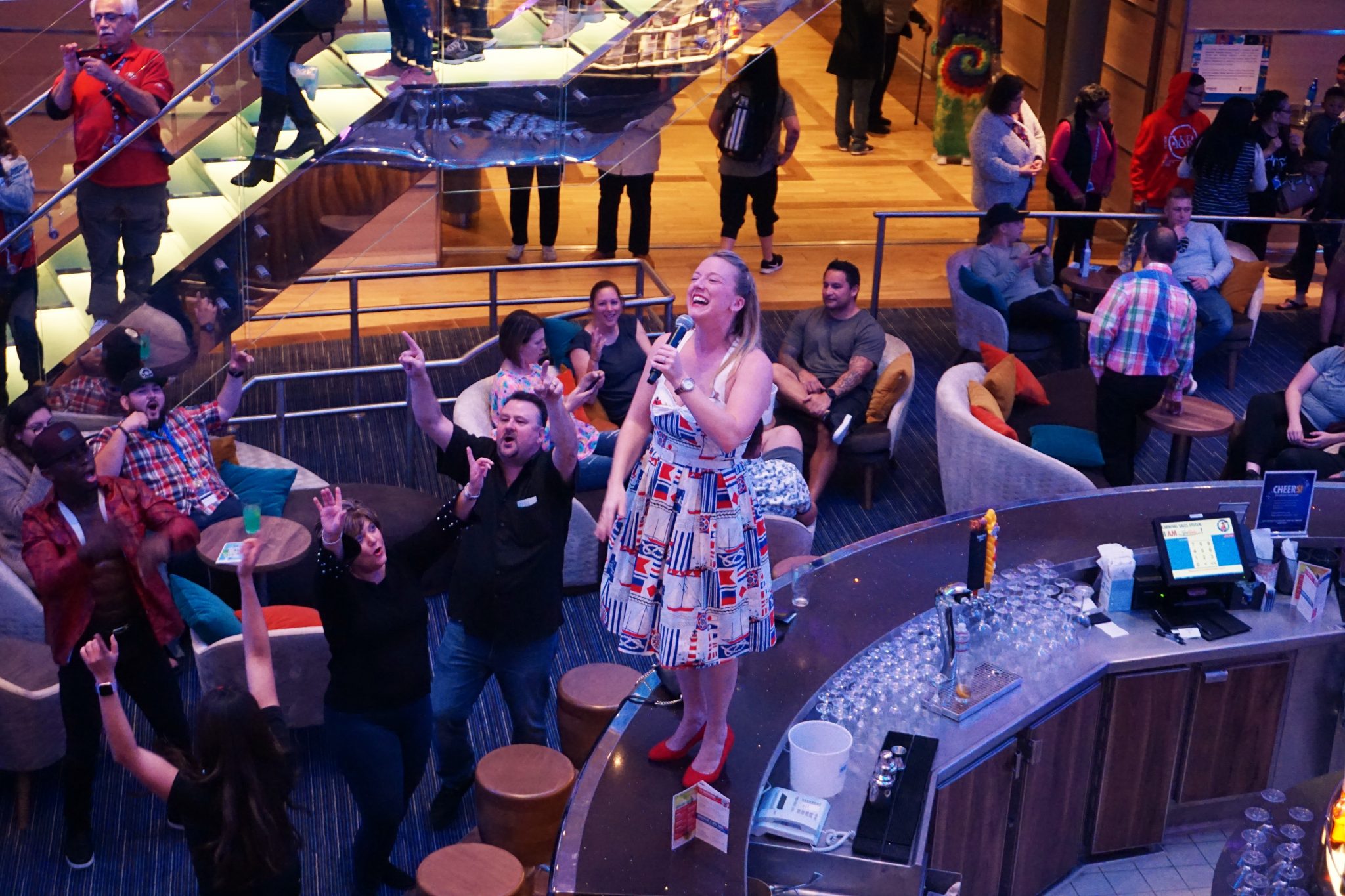 Daily Activities
Met Expectations
During sea days and our ports of call, the activities on Carnival Panorama were very similar to other ships of its size. There was the typical mix of trivia, shopping promotions, classes and seminars, spa and fitness offerings, dance classes, Bingo, and poolside fun.
There were also Fun Squad games and challenges, like Hasbro board games, scavenger hunts, or Dr. Seuss family events. It was Emma and her amazing entertainment team that made these events more memorable. From the Hairy Chest contest to the sail away party and the Lip Sync Battle try outs that occurred poolside, having a good time on Carnival Panorama was "easy peasy lemon squeezy".
With a different cruise director, we are not sure that the daytime activities would have been as well attended and engaging as they were during our sailing.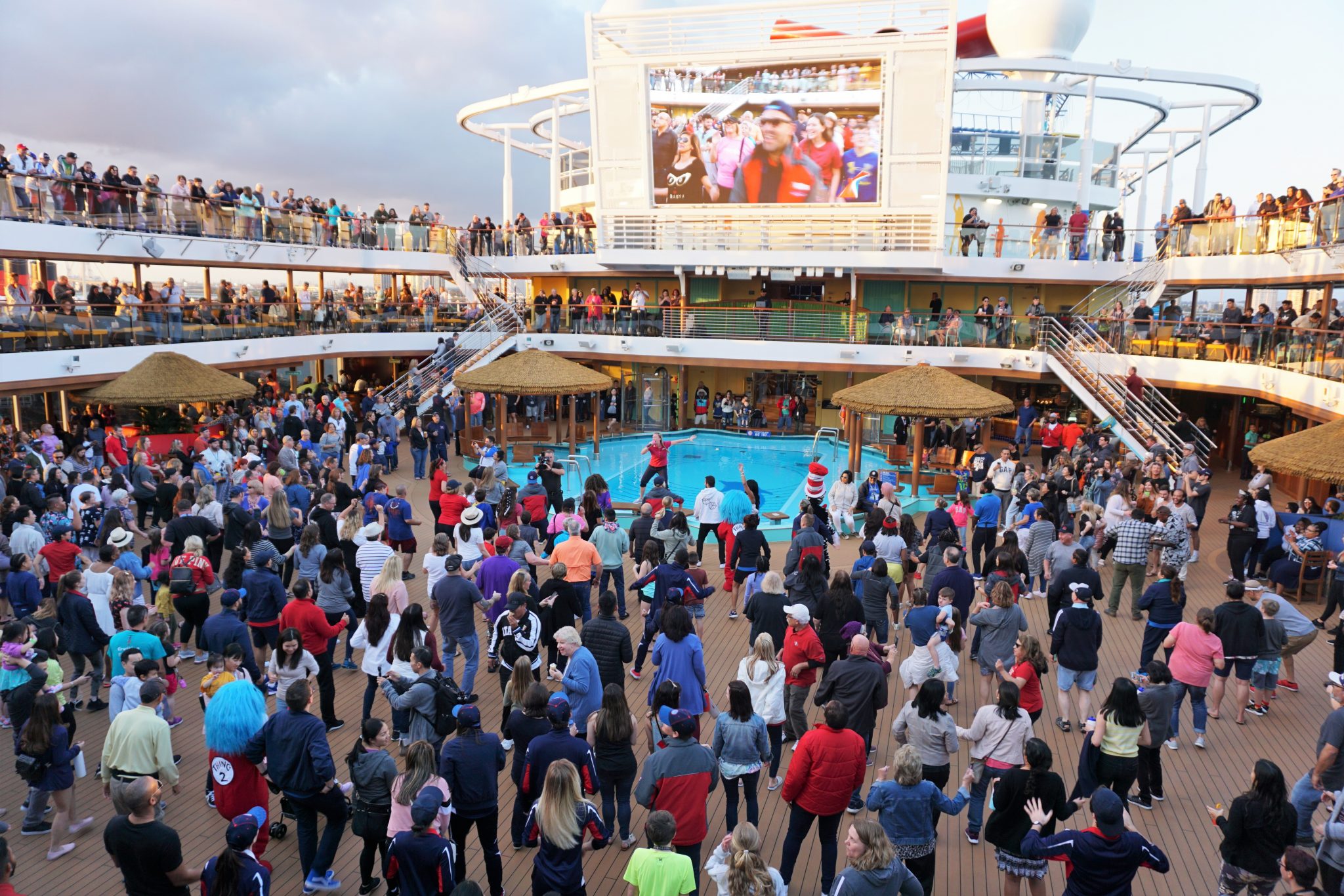 Main Dining Room
Met Expectations
On Carnival Panorama, the main dining room is open for sit down breakfast on port days and Sea Day brunch on sea days. The Sea Day brunch was definitely a highlight of the main dining room. This complimentary offering is a mix of amazing breakfast food, like the rich and sweet skillet cake and steak and eggs, along with lunch favorites like Southern Fried Chicken.
We dined in the main dining room four times for dinner. We were wait-listed for early dinner and were eventually assigned a dining time of 5:15 pm. That is early, even for us! When I spoke to the hostess on the first night, she assured us that as long as we arrived before 6 pm, we would have our table.
Our waitstaff team of Winnie and Putra were excellent. Our meals were well timed, and the food was always hot and well prepared. If we had any requests, Winnie was quick to customize our orders or add on another starter. The main dining room meals were certainly as good as other contemporary cruise ships with some of our favorites being the Sweet and Sour Shrimp, Rosemary Lamb Shank, Filet Mignon, Baked Alaska, and the line's signature Melting Chocolate Cake. Yes, lobster is served on the first elegant night of the cruise.
Related Post: What's Included on Carnival Cruise Line
Specialty Dining
Met Expectations
Prior to our cruise, we booked two specialty dining reservations, Fahrenheit 555 and JiJi Asian Kitchen. Overall, it was a mixed-bag.
In terms of cruise ship steakhouses, Fahrenheit 555 was a slight let down. We started off strong with the starters, which included Iced and Smoked Fresh Oysters and Shrimp cocktail, but it went slightly down hill with our entrees and desserts. My filet was cooked medium as ordered but was cold and lacked flavor as did our dessert choices.
JiJi's was as we expected, and we enjoyed the offerings including the Kung Pao chicken, Hakka Noodles, and starters like the Nanjing-style Duck. It is a more casual specialty restaurant, with only a small cover charge of $15 a person, so we felt it was a good value. We would certainly recommend the restaurant to those who enjoy venues like PF Chang's on land.
If we sailed on a ship in this class again, we would definitely try another specialty restaurant or two, such as Guy's Pig and Anchor Smokehouse, Bonsai Teppanyaki, or Cucina del Capitano.
Casual Eats
Exceeded Expectations
Hands down, we were both very impressed with the casual dining on the ship. Carnival Panorama offers a variety of restaurant options for breakfast, lunch, and dinner outside the typical buffet and main dining room.
For breakfast and lunch, we enjoyed the Blue Iguana burritos. The made to order offerings were fresh and flavorful. My first ever Guy's Burger did not disappoint either, and the seasoned fries were some of the best at sea. Other complimentary dining options such as the Mongolian Wok and the Deli sandwich counter located in the buffet were also excellent. We did not have time to try the Captain's Pasta bar, but we have heard from several cruisers that it is equally delicious.
As a pizza lover, the Princess raved about the 24 hour pizza. Honestly, I have to agree that it was among the best pizza at sea. There are 5 different pizza options, and the cooks are available day and night making fresh pizzas. Don't be surprised to find a line at this venue no matter when you visit.
Of all the casual options available on the ship, we felt the Lido Marketplace buffet was the weakest. None of the items we sampled for breakfast or lunch were all that spectacular. Also, there appeared to be a limited number of options for both of these meals when compared to other cruise lines. However, with all the other great options, we both easily gained a few pounds on this trip!
Nighttime Activities
Met Expectations
Similar to the daytime activities, Carnival Panorama offered your typical lineup of activities in the evenings. There were four different comedians each offering a PG and R rated set over multiple days. We were able to watch one show from each comedian, and our favorite was Azeem.
As for the other activities, we both enjoyed the exclusive Hasbro Game show and the Lip Sync Battle, thanks to the antics of the guests participating. Emma's version of the Love and Marriage show seemed a bit more tame than other ships. Yet, it still provided a good number of laughs. The same could be said about this ship's version of the Quest which took place in the Liquid Lounge.
During our cruise there were four themed parties, including the Mega Deck Party, White Hot Night Party, and the 80's Rock and Glow Party. These were fairly well attended, and Emma was a fantastic host at all parties bringing plenty of energy. There were also Dive-In movies playing recent hits on the outdoor big screen on most evenings of the cruise.
Of course, there were several musical acts playing at venues throughout the ship as well. We enjoyed the rock music of the duo Liz and Lucas as well as the Guitar soloist Owen Stevens. There was also a Latin band playing most nights in the Havana Bar, two DJs, two pianists in the Piano Bar, and other instrumentalists.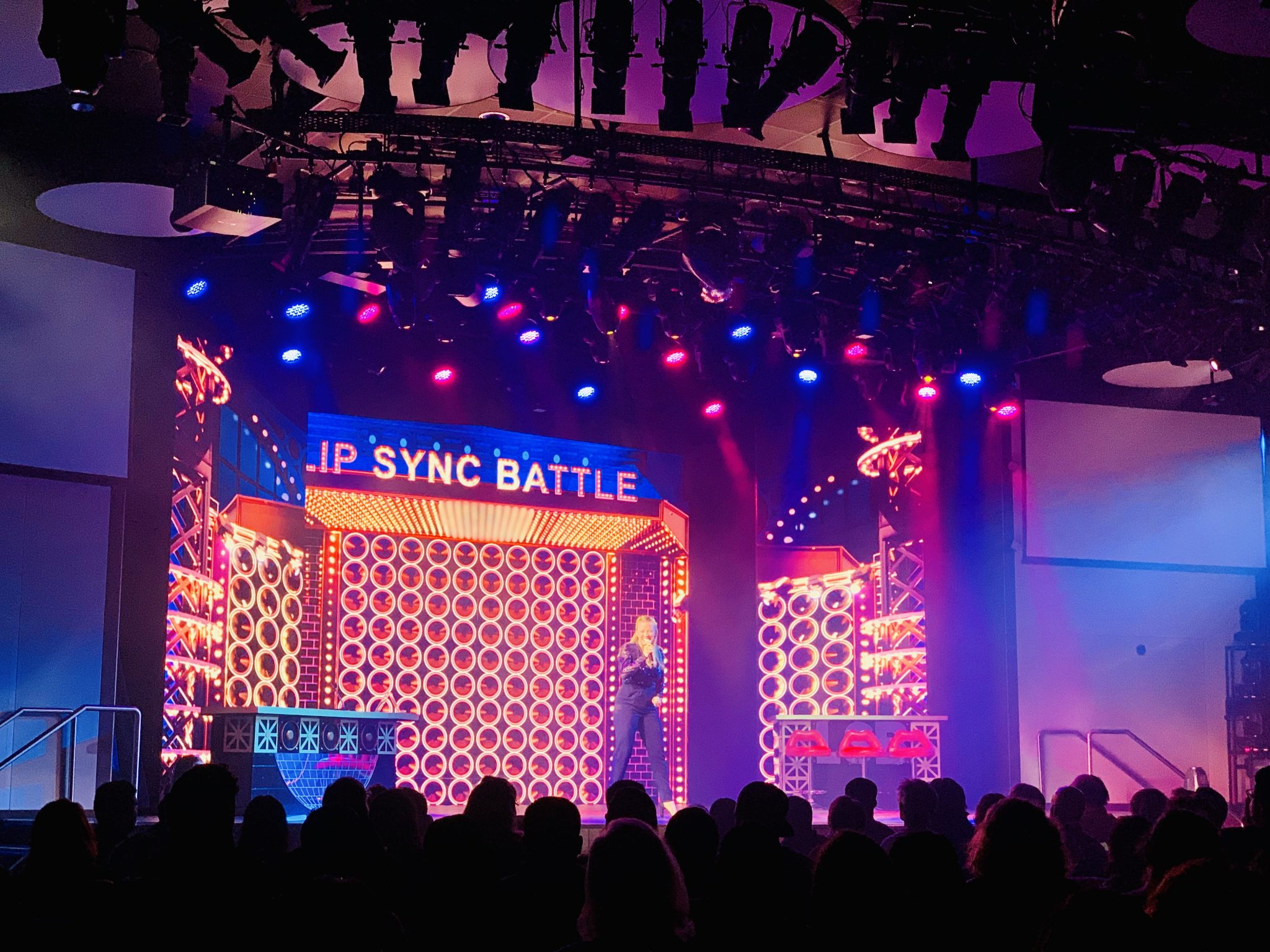 Signature Entertainment
Did Not Meet Expectations
None of the theater shows or other entertainment like comedians require reservations on Carnival Panorama. This was a mixed blessing as the theater and comedy club were often packed and standing room only. The main theater is the Limelight Lounge on Decks 4 and 5. Quite honestly, the venue is horribly designed. There are many seats with obstructed views in this venue.
The ship featured four signature Playlist Productions shows and no guests entertainers. Overall, we thought the shows were not up to par with signature entertainment on new mega-ships from competitor lines. Most of the performers were average, with the female lead singer being the standout voice.
For this vessel, the two new shows were Broadway Beats and Rock Revolution. Neither of us liked Broadway Beats, as it felt like your stereotypical cruise ship show. I enjoyed Rock Revolution, but the Princess was not feeling the love. The opinions were reversed for Soulbound, which the Princess liked but I found a bit silly and over the top. The two of us agreed that Celestial Strings was the best production, with a harmonious combination of songs, a visually stunning set, and storytelling.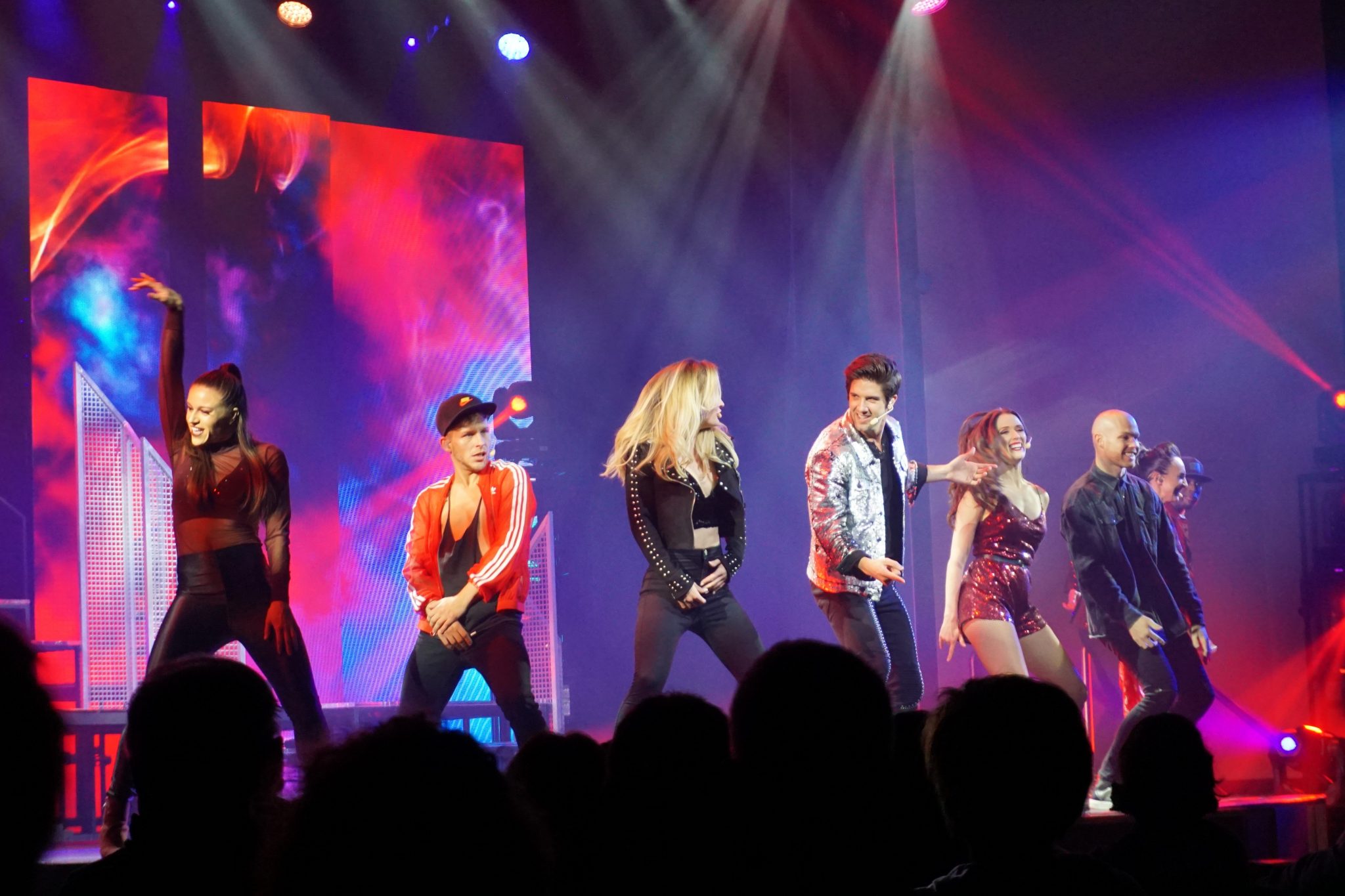 Bars and Lounges
Met Expectations
There are several themed bars on this ship. Among the venues featuring signature cocktails were the Havana Bar, Piano 88 Bar, the Alchemy Bar, and Guys Pig and Anchor Brewhouse. Our favorite drinks were from the Alchemy Bar as it served up unique, handcraft cocktails that you could not find anywhere else on the ship. The only issue is that this bar is rather small and located in between two specialty restaurants. So, there were not many seats nor any musical entertainment in the area.
The other indoor bars had variations on a standard menu, with a few drinks that were different across places like the Liquid Lounge, Panorama Bar, the Limelight Lounge, and the Ocean Plaza. The outdoor Blue Iguana Tequila Bar and Redfrog Rum Bar offer unique menus poolside. These venues remain open for the deck parties so you can enjoy the different margaritas and rum drinks while you dance the night away. Other outdoor bars included the Serenity Bar on deck 15 with some specialty sangria options and the Tides Bar which was your pretty typical pool bar located aft on deck 10. We never had an issue getting a drink, even at peak times and on sea days.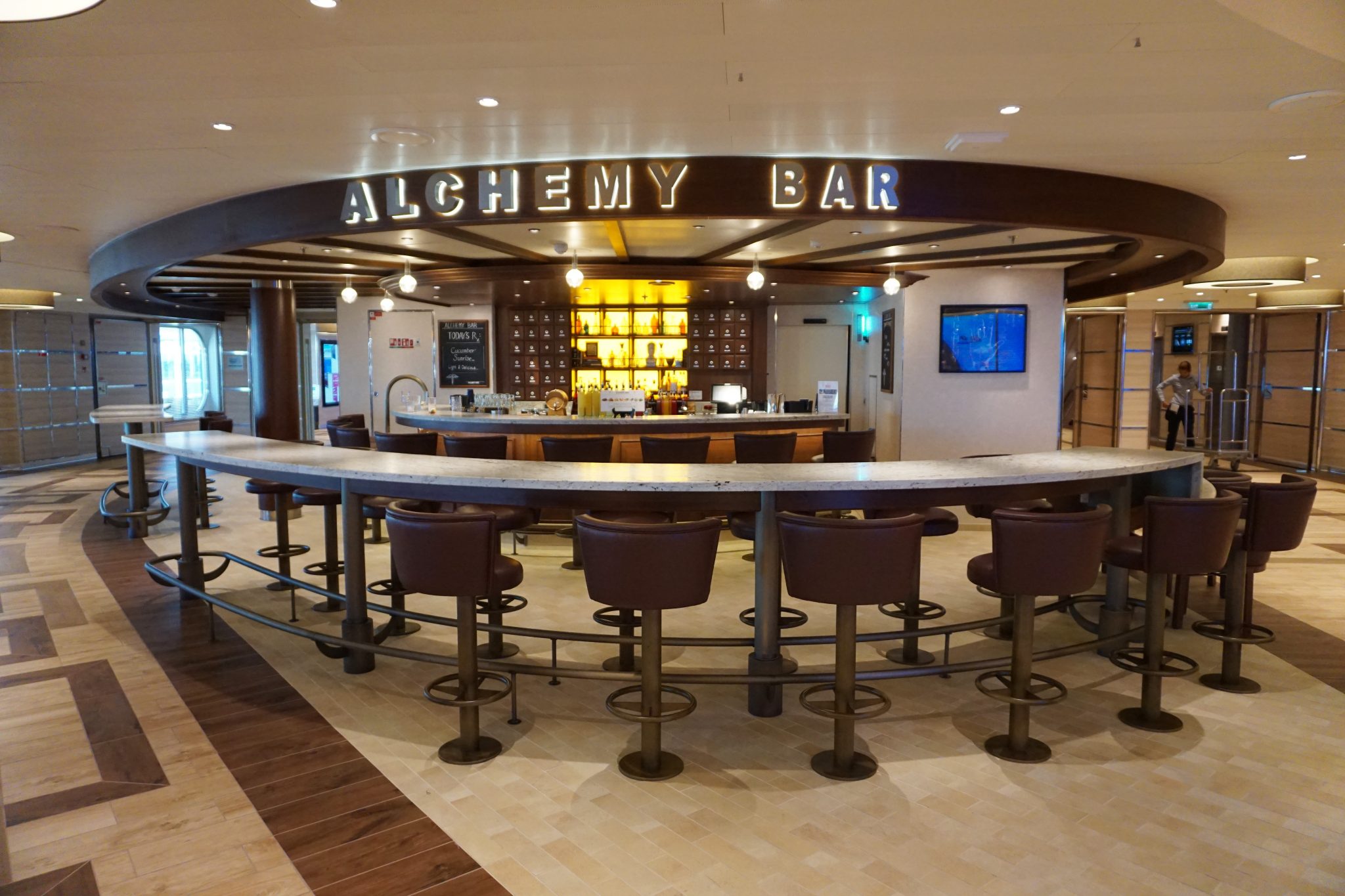 Stateroom
Met Expectations
We stayed in a balcony cabin, room 8387. It was rather aft on the starboard side, just slightly forward of the aft elevators.
As far as staterooms go, it was basic, functional, and included the standard amenities. The décor was plain, and the size felt on par with cabins on other cruise lines. For a week-long cruise, we had enough storage space. Still, there were a few drawbacks.
The bathroom was a bit smaller than typical staterooms in this category on other contemporary cruise lines with the shower having a curtain rather than a sliding door. The desk was certainly smaller as well when compared to Royal Caribbean and Norwegian Cruise Line.
The balconies were "different" too. Not sure if it was just our room category, but our cabin did not feature a sliding glass door; rather, there was a window adjacent to a pull-out door. This set-up does not allow you to easily leave the balcony door open to enjoy the ocean breezes. The size of the balcony itself also seemed smaller and lacking depth.
Inside the cabin, the bed was comfortable, and the layout with the bed near the balcony worked well for us. Another let down though was the lack of outlets and/or USB plugs near the bed. This was a big miss in our opinion.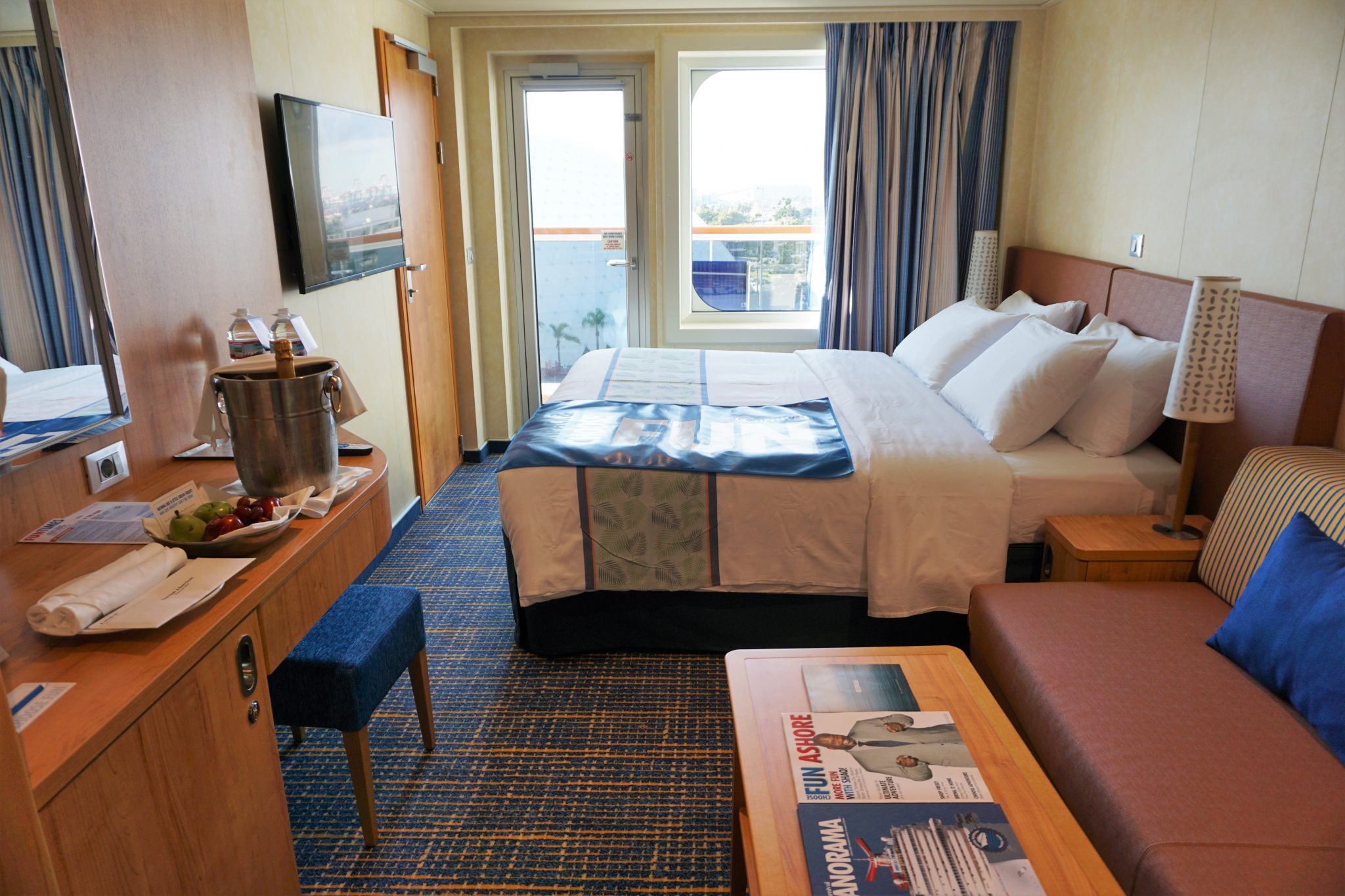 Embarkation/Disembarkation
Did Not Meet Expectations
Carnival Cruise Line was gracious enough to provide us with priority embarkation. Good thing, as we did our check-in late and were assigned an arrival time of 1:30 pm.
Embarkation was disorganized, and the gate agents were not the most courteous. We are not sure if this is a function of a larger ship than the port is used to processing or the actual design of the new terminal. We were also asked by at least four different staff members to see our priority boarding pass on our way to the Captain's Lounge. Matters were further complicated by a barely audible PA system.
While not as chaotic, disembarkation was also quite time consuming and different than what we are used to with other lines. They did not begin calling self assist disembarkation until close to 8:30 am. With that being said, they even break this category into decks, starting on deck 1. We may have headed to the gangway before deck 8 was called as the process was taking forever. Still, we were standing in line for close to an hour before we made it to customs. With a ship of this size, disembarking should be much smoother and streamlined than it was for us.
Meeting for tours in the dining room was also not the most efficient process. The Carnival Adventures staff simply walked individuals down to the gangway. Neither of us understood why we simply were not told to meet on the pier, as tour operators stood with clearly marked signs with the names of the excursions. This was even the case the day we tendered into Cabo.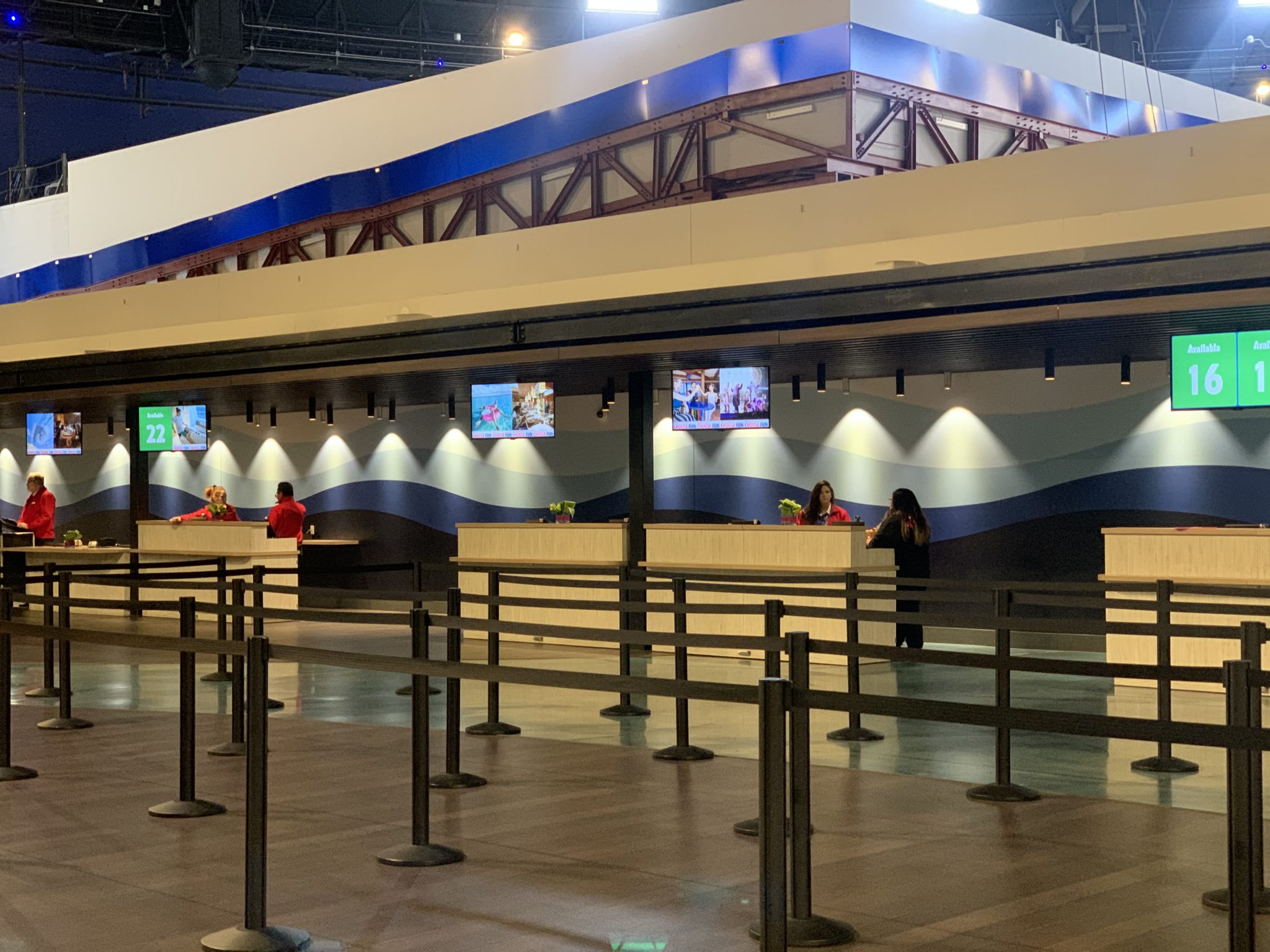 Crowd Control
Met Expectations
Carnival Panorama holds just over 4,000 passengers at double capacity, and our sailing had to be close to full. With an early January departure date, there were fewer families onboard than you would expect during the holidays or summer months. So, we were glad to see that crowding was never an issue. Granted, we cruise on mega-ships all the time and always make sure to arrive before the stated start times for all activities.
Still, we never waited long for a drink, and we were able to find loungers at the adults-only area and main pool with ease during our sea days. While shows were busy, if you arrived when doors opened, there were no issues getting seats. The busiest venue was the comedy club, so definitely get there early for prime seats.
At peak times, the buffet and other casual dining eateries did have small lines, but the overall wait times were nominal for popular places like Guy's Burger Joint or Blue Iguana Cantina.
With plenty of open spaces both indoors and outdoors, including the under-utilized outdoor seating areas on Deck 5, there are certainly options to escape fellow travelers if you are looking for some quiet time during your cruise.
Overall Carnival Panorama Ship Scorecard Review
We are happy to report that Carnival Panorama offered a fun, engaging, and overall fantastic cruise. While Carnival caters a bit more to families when compared to other lines, there is still plenty for couples to do on its ships.
Unlike some cruise lines, most of the ship's featured activities are complimentary. Even the up-charge venues, such as the Sky Zone, are moderately priced and well worth the costs.
The complimentary food options were some of the best we have had on recent mega ships. We were big fans of the various casual dining spots. The main dining room also provided consistent service along with hot and and freshly prepared meals.
Throughout the ship, service was personal, as the cruise line aims to always call guests by name.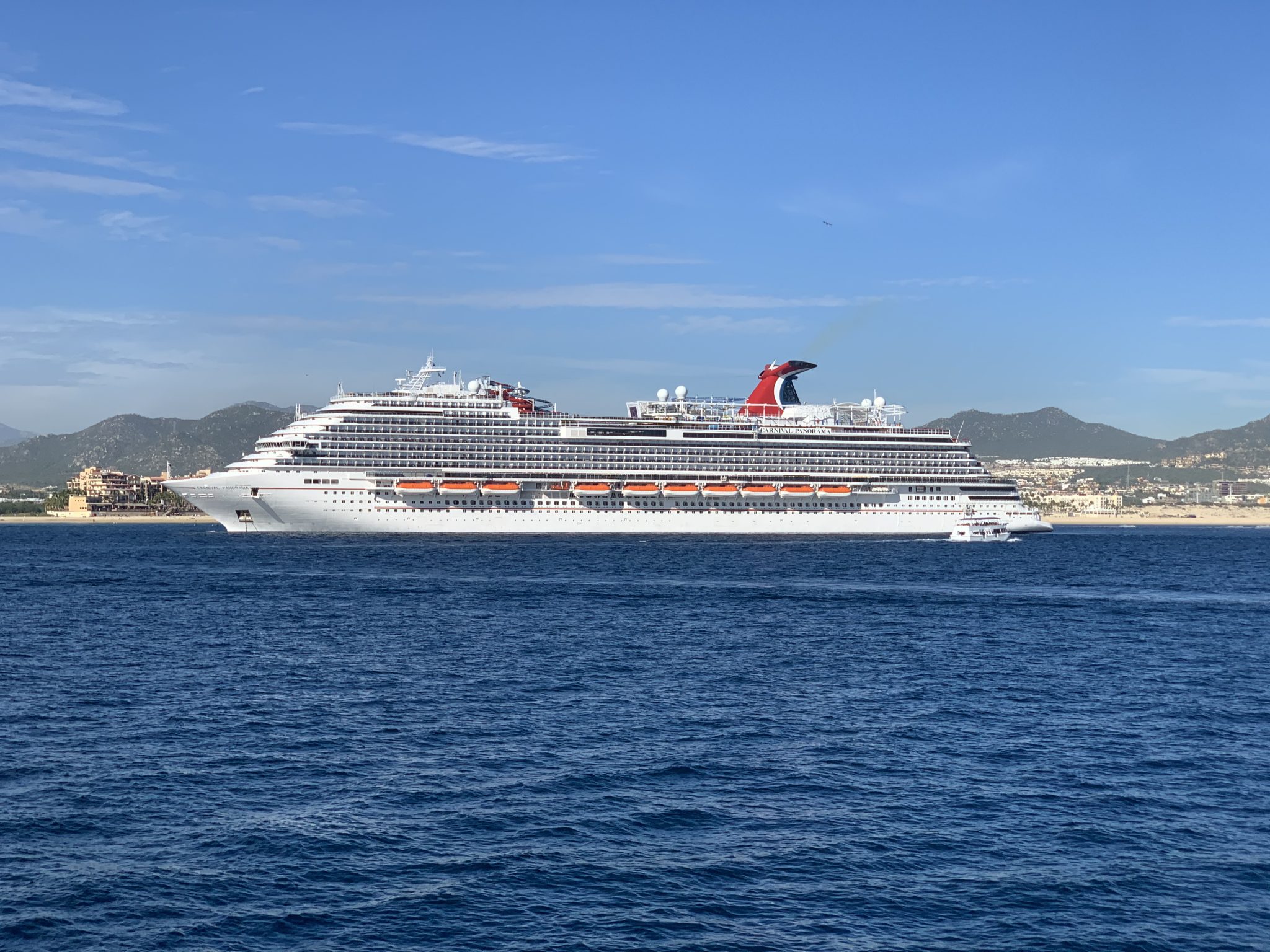 The cruise director Emma and her entire staff made this cruise extra special. Emma is by far one of the best cruise directors we have ever sailed with on any line. She is personable, fun, high-energy, and always puts guests first. She is everywhere on the ship and oversees all events, parties, and other activities with plenty of personality.
While it took over 30 cruises together to try a Carnival Cruise Line ship, it will not take much time at all for us to book another one. In fact, we are already looking to re-book our cancelled Mardi Gras sailing for the end of this year.
Comments
Have you sailed on Carnival Cruise Line's newest ship yet? What do you love about Carnival Panorama? Drop us an anchor below with your feedback on this latest mega-ship in the Carnival fleet.