Carnival Cruise Line is one of the most popular cruise lines. With several celebrity partnerships and some of the most innovative new vessels in the industry, there are plenty of great reasons to sail on one of the line's 25+ cruise ships. In fact, the cruise line has been busy building new ships and transforming old ships to include features that you can't find on any other cruise line. Check out some of these exclusive amenities and venues in our 10 Things You Can Only Find on Carnival Cruise Line ships.


10 Things You Can Only Find on Carnival Cruise Line Ships
Bolt: The Ultimate Sea Coaster
Just when you thought Carnival wouldn't be able to top some of the other out of this world attractions found on ships from competitor cruise lines like sky diving simulators and two-story racetracks, you were wrong! Debuting on Carnival Mardi Gras later this year will be the very first rollercoaster at sea. Bolt is an all-electric thrill ride that puts you in the driver's seat. You will be able to control the speed of the car as you zip along this open-air course suspended high above the ship. We will definitely be the first in line to test out this attraction! For those less adventurous cruisers, you can ease up on the pedal and just enjoy the ocean views as you coast the track. The Bolt rollercoaster will cost an additional fee to ride.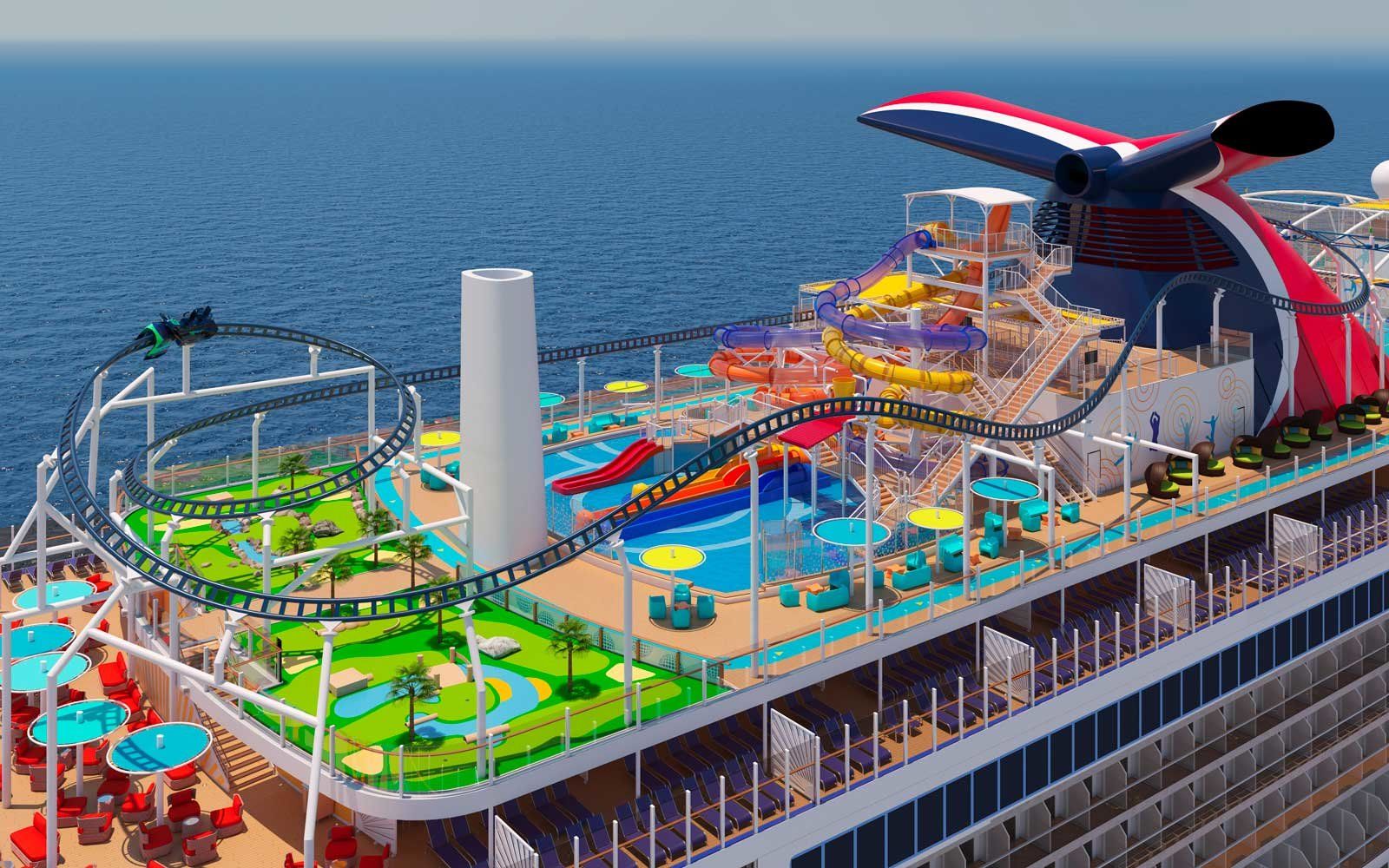 SkyRide
For a similar bird's eye view of the ocean and pool deck with a bit less of an adrenaline rush, cruisers on Carnival Vista, Horizon, and Panorama can enjoy the SkyRide. This unique and complimentary attraction found only on Carnival Cruise Line ships is a two lane bicycle track suspended high above sea level. If you are up for a little workout, then see who can pedal around the ship the fastest. If you'd prefer a more leisurely ride to take in the views, you can do that too. Remember, the faster you pedal, the quicker your ride is over. Don't worry about your fitness level as this attraction is fun for all ages as long as you meet the minimum height requirement and weight restrictions.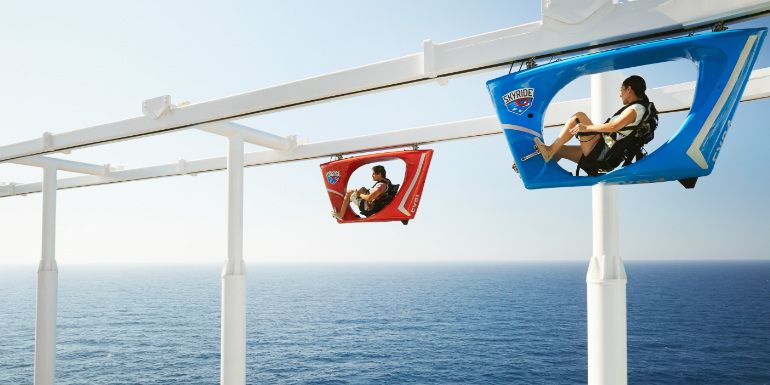 IMAX Theater
Found on Carnival Vista and Horizon is an IMAX theater. If you have ever watched a movie in an IMAX theater on land, then you know that this is the most immersive movie experience possible. With a larger screen and higher resolution than most movie theaters, you are completely engrossed in the film. You can watch current Hollywood hits and IMAX documentaries while on your Carnival cruise. This is the perfect activity for some rainy day family fun or when you just need a break from the sun. Latest pricing is reported as $12.95 for adults, $9.95 for kids, and $5.50 for documentaries, but be sure to check your Fun Times daily program for the current movies available and pricing during your cruise.
Related Post: Top Cruise Ships to Sail on in 2020
SkyZone
The Sky Zone which just debuted on Carnival Panorama is a first at sea indoor trampoline and challenge zone for thrillseekers of all ages. This arena is a two-story, 3,000+ square foot space that offers a variety of activities including a climbing wall and ladder, a balance and jousting beam, basketball experiences, dodge ball, and more. One hour sessions can be purchased for three different age groups for $12 currently. This price includes custom SkyZone socks. There is even a nighttime glow party for all ages ($18). Reservations can be made once onboard at the Sky Zone kiosk.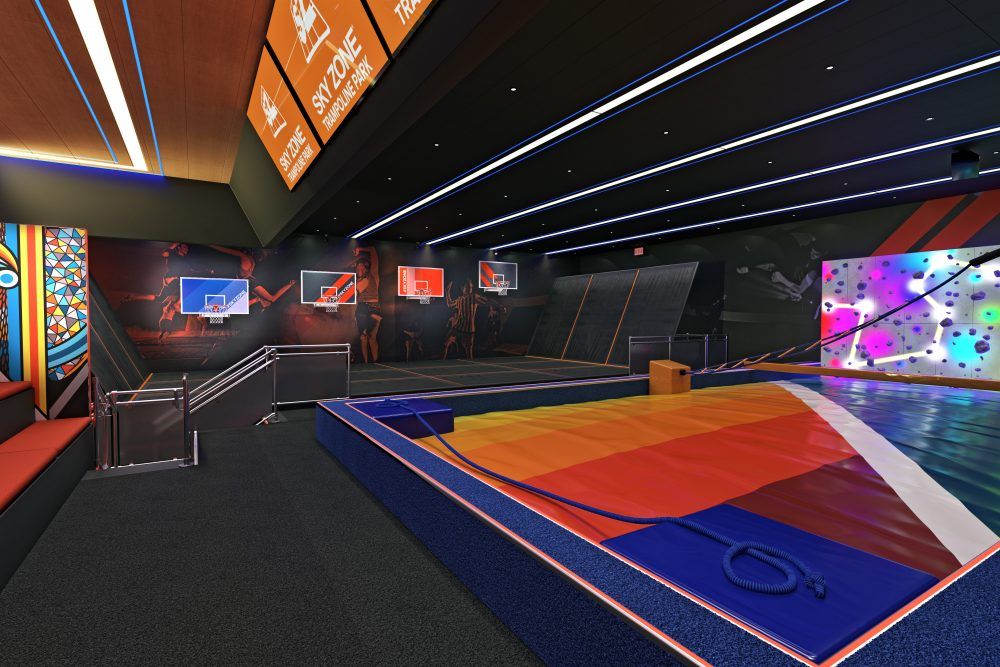 Family Fun
While all cruise lines offer family friendly activities, Carnival Cruise Line caters to families and offers some of the best family fun at sea. Besides all of the great amenities already listed, Carnival has nighttime entertainment and game shows for the whole family like the new Family Feud Live debuting on Carnival Mardi Gras and the cruiser favorite Hasbro Game Show. Who doesn't love some classic board games like Yahtzee, Sorry, Connect 4, or Simon? On Carnival ships, you can grab your crew and battle it out on stage in these larger than life games.
Seuss at Sea
The Cat in the Hat, Thing 1 and Thing 2, and all your favorite Seussville characters can only be found on Carnival Cruise Line ships. Continuing the family friendly fun, Carnival offers themed programming from these timeless, childhood stories. The kids can enjoy character parades, interactive story time, an imaginative Dr. Seuss themed library, and even a Green Eggs and Ham breakfast. While all the other activities are included in the price of your cruise fare, this specialty breakfast is an up-charge of $6 per person. However, with delicious menu items like Horton's cereal crusted french toast, pancake stacks, steak and eggs, and of course, green eggs and ham, what's not to love?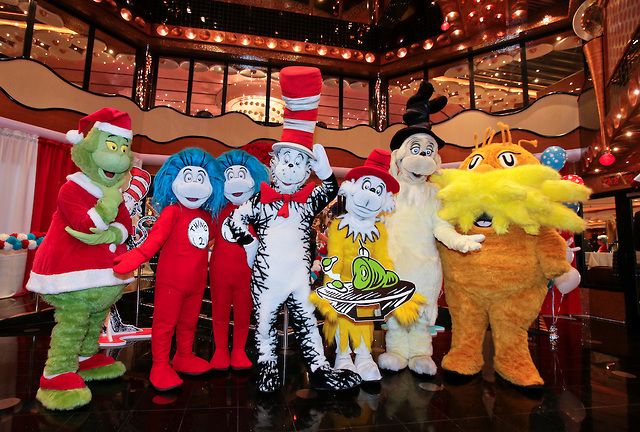 Signature Restaurants
Yes, many cruise lines now have signature restaurants; although, Carnival Cruise Line arguably has some of the best celebrity partnerships at sea. Onboard select Carnival ships, you can find Guy Fieri's Burger Joint serving up some of the best burgers at sea or Guy's Pig & Anchor Smokehouse which fires up all your BBQ favorites. Debuting in 2020 will also be restaurant partnerships with Shaq and Emeril Lagasse. You will be able to find Shaq's Big Chicken on Carnival Radiance and Mardi Gras with chicken biscuits, chicken sandwiches, and all your favorite Southern style sides on the menu. While Emeril's Bistro will serve New Orleans inspired cuisine on Mardi Gras.


Private Label Brews
Carnival Cruise Line now offers its very own special brews not found anywhere else at sea. Want a ParchedPig IPA or Toasted Amber Ale? Or perhaps a ThirstyFrog Caribbean Wheat Ale? Well, these craft beers are no longer just available on the select few ships with a brewhouse onboard. Rather, they are now canned and distributed across the fleet. If you are a beer lover, you will want to make it a point to try these one of a kind brews on your next Carnival cruise. If you happen to be sailing on Carnival Vista, Horizon, Panorama, or Mardi Gras, you will want to check out the onboard brewery as well.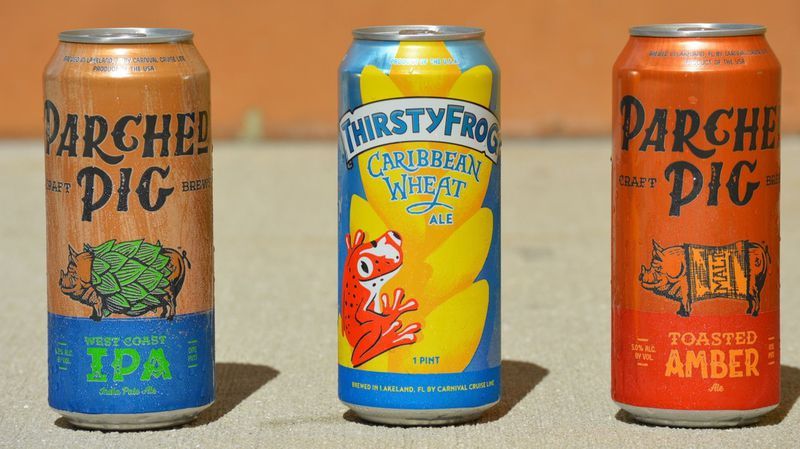 Unique Cabins
As perhaps the most family oriented cruise line, Carnival Cruise Line ships are the only ones in the industry to offer staterooms with dedicated family spaces. Guests staying in Family Harbor cabins have exclusive access to the Family Harbor Lounge which serves breakfast and snacks throughout the day. The Lounge is also a hub to socialize with other families, play games, enjoy movies, and more. Additional perks include kids dine free in most specialty restaurants and one evening of complimentary babysitting service.
Carnival Cruise Line also offers the unique Havana staterooms which come with exclusive resort like amenities including daytime access to the Havana pool and bar. Secluded from the busy pool with your own Cuban inspired cocktails? Sounds like the perfect vacation to us!
An Unmistakable Funnel
When you see the larger than life red funnel adorned on a cruise ship, there is no mistaking it for anyone else besides Carnival Cruise Line. While most brands have some signature features, it is often difficult to discern the cruise line from a distance. Like it or not, Carnival cruise ships are probably the most recognizable at sea. With each cruise ship offering signature Carnival style with its own personality, it's easy to see why so many cruisers Choose Fun!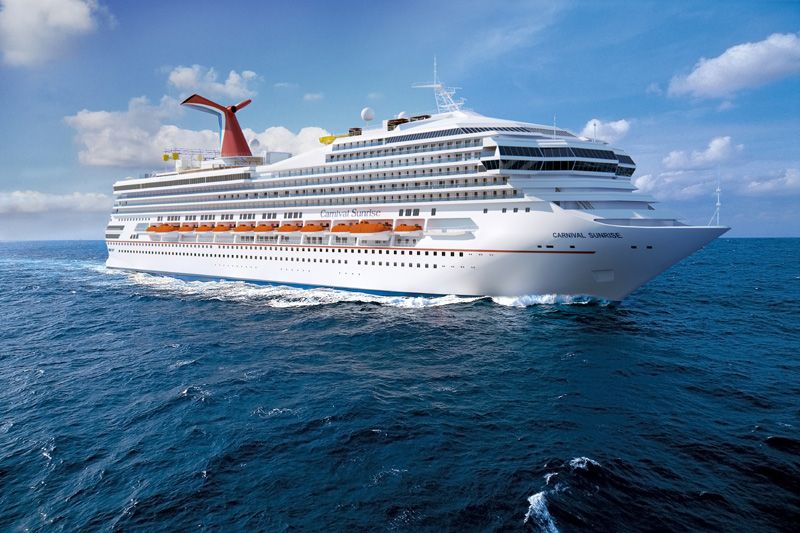 Comments
Have you sailed with Carnival Cruise Line? What do you like about cruising with this brand? Drop us an anchor below to share your favorite things that you can only find on Carnival Cruise Line ships.