American Queen Voyages, formally American Queen Steamboat Company and Victory Cruise Lines, is known for its small ship River cruises and Lakes & Ocean cruises. Now, the company has entered the expedition cruise market with the launch of Ocean Victory. Debuting in Alaska this season, we recently had the chance to check out this new expedition vessel and want to share all that she offers in our deck by deck American Queen Voyages Ocean Victory ship tour.
American Queen Voyages Ocean Victory Ship Tour
American Queen Voyages' Ocean Victory is a small ship expedition vessel accommodating just 186 guests and under 100 crew members. The ship measures in at 342 feet in length and features an innovative X-Bow design. This 8K gross ton vessel is the company's first purpose-built ship to ensure the comfort of guests and the protection of the environments visited.
With spacious staterooms, inviting public spaces with panoramic views, upscale dining, and expedition decks for easy launches of zodiacs and kayaks, Ocean Victory is certainly one of the best ships to explore Alaska this year.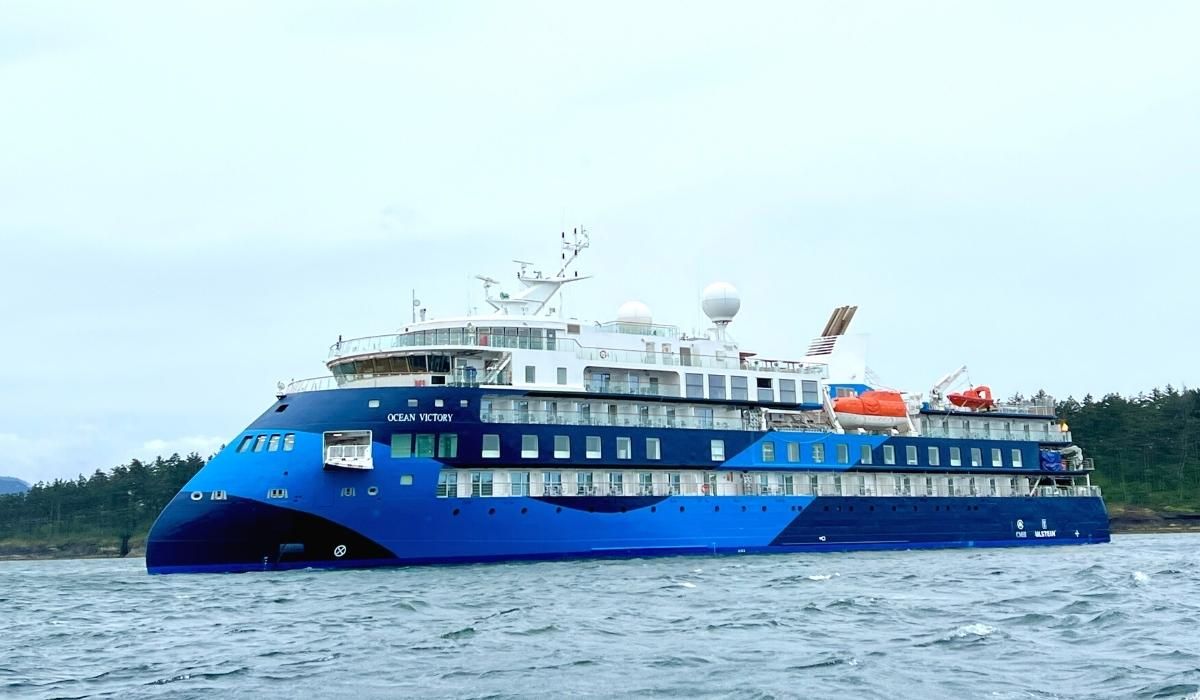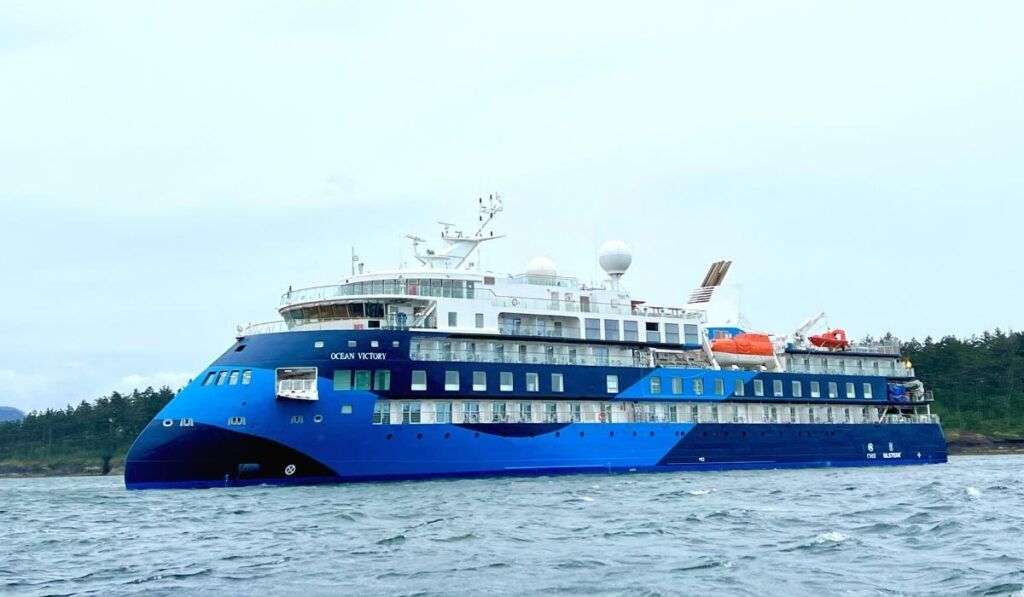 For those looking for a more intimate and up-close exploration of their destinations, Ocean Victory might be the perfect fit. This new expedition vessel is sailing a series of 12 and 13-day voyages from Vancouver to Sitka with a seasoned expedition team, allowing guests to visit the more remote locales that larger cruise ships can't.
With American Queen Voyages, discovery runs deep.
Not to mention, American Queen Voyages expeditions are all-inclusive. The cruise fare for Ocean Victory includes more than some other similar expedition vessels. Every voyage includes a 1-night pre-cruise hotel stay, transfer to the ship, many shore excursions, and unlimited WiFi. Further, all dining and beverages like beer, wine, cocktails, espresso, and smoothies are all included in the cruise fare.
Deck 8 – American Queen Voyages Ocean Victory Ship Tour
Starting this Ocean Victory ship tour at the very top of the ship, you will find an outdoor observation deck all the way forward on Deck 8. Immediately following this outdoor deck, there is a generously-sized Observation Lounge. This indoor space allows guests to admire the vistas from the comfort and warmth of the ship.
With comfy furniture and panoramic floor to ceiling windows, this is the perfect spot to relax and watch the ever-changing scenery. From majestic fjords and glaciers to other natural landscapes and wildlife, there is plenty to see on an Alaskan cruise.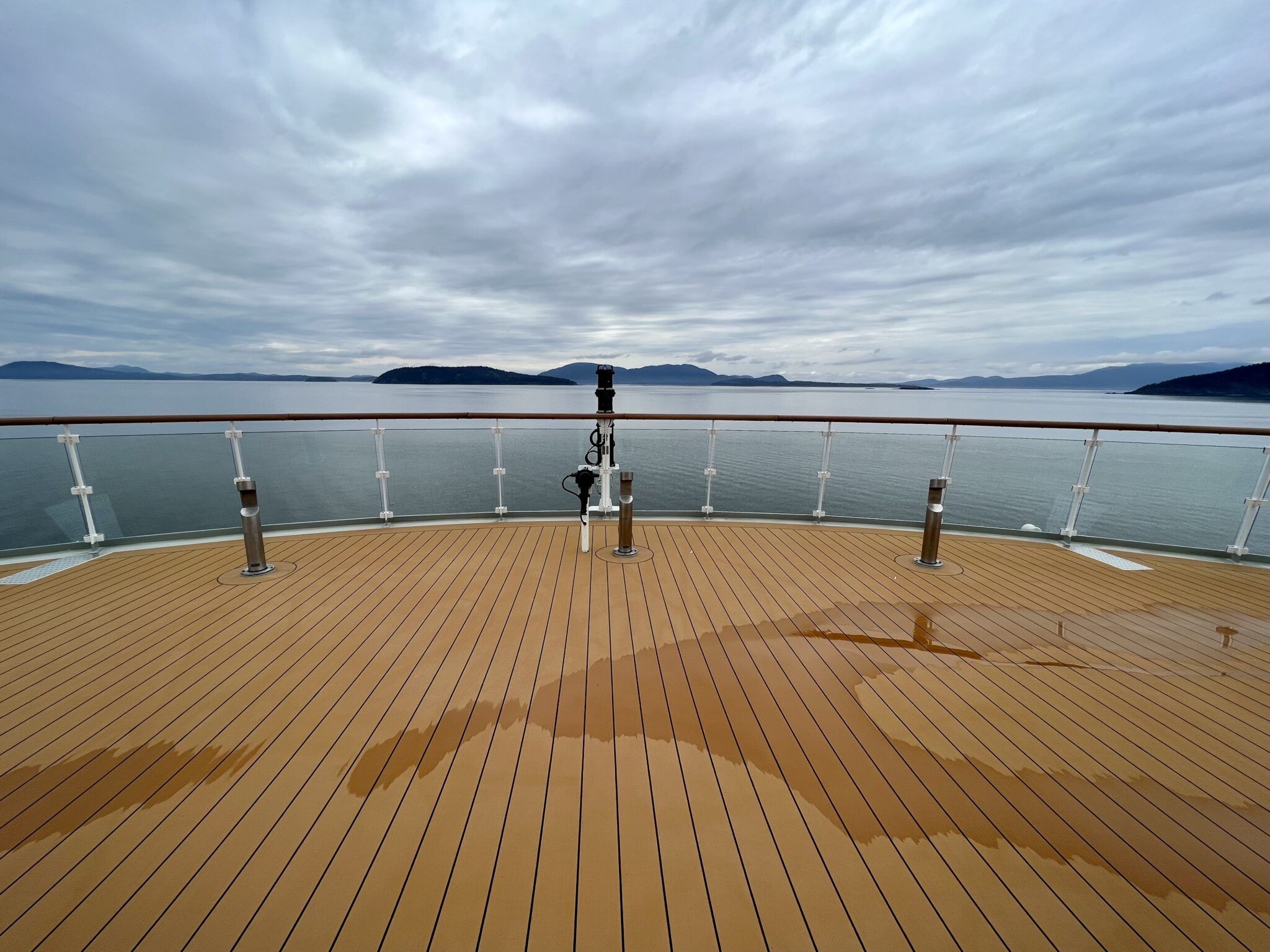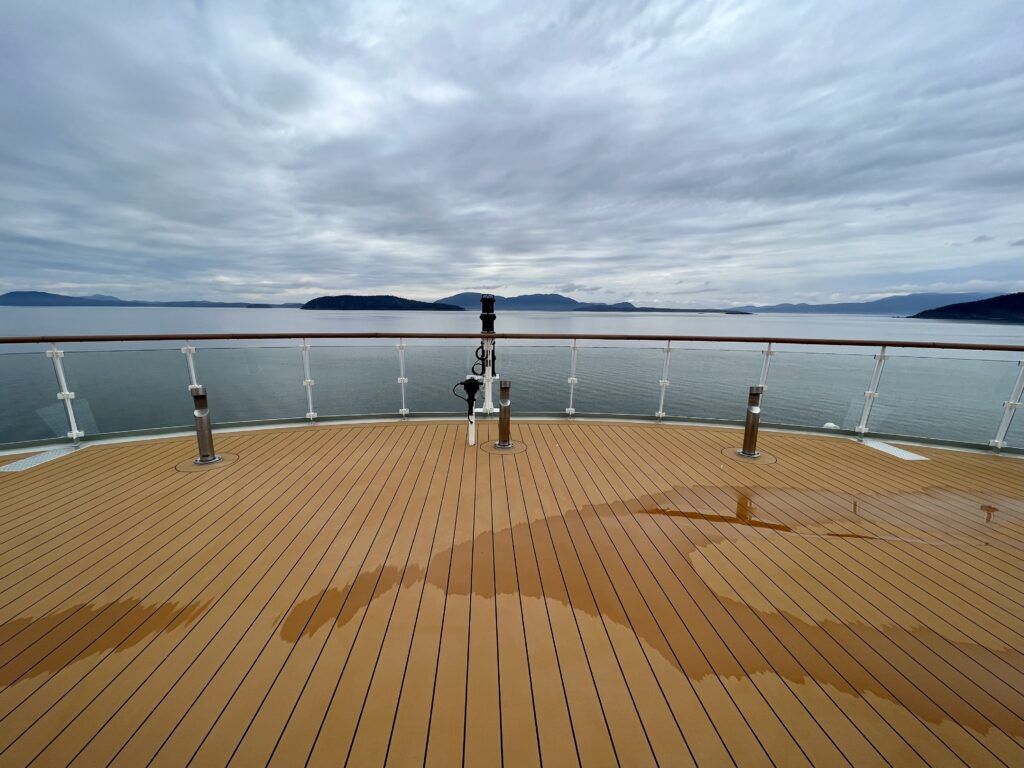 The Observation Lounge is also home to a bar and educational equipment like microscopes and telescopes.
Heading a bit further aft on Deck 8, you will find the Panorama specialty restaurant on the starboard side. While this intimate venue was not open during our sailing, it is described as featuring à la carte specialties and distinctive tableside preparations.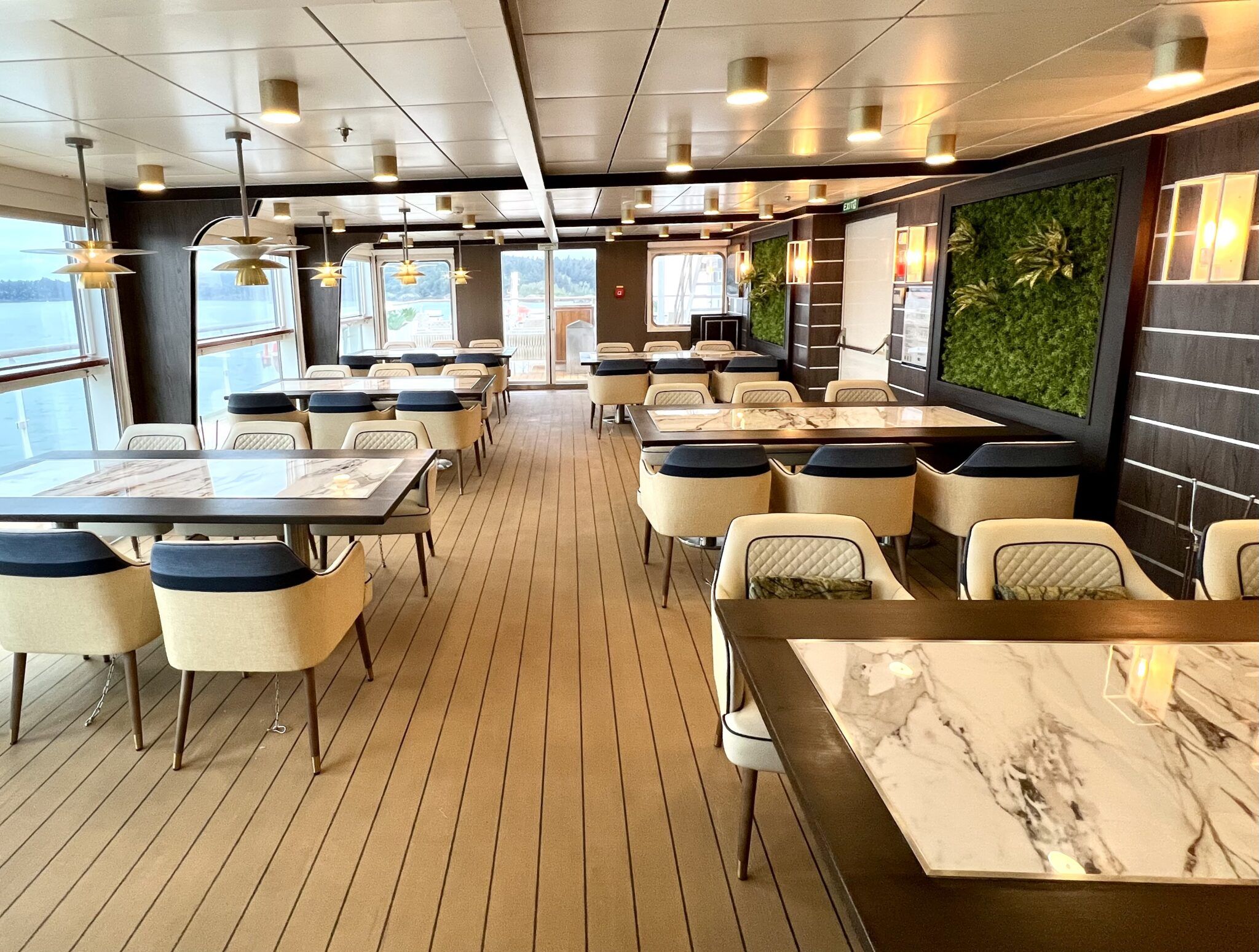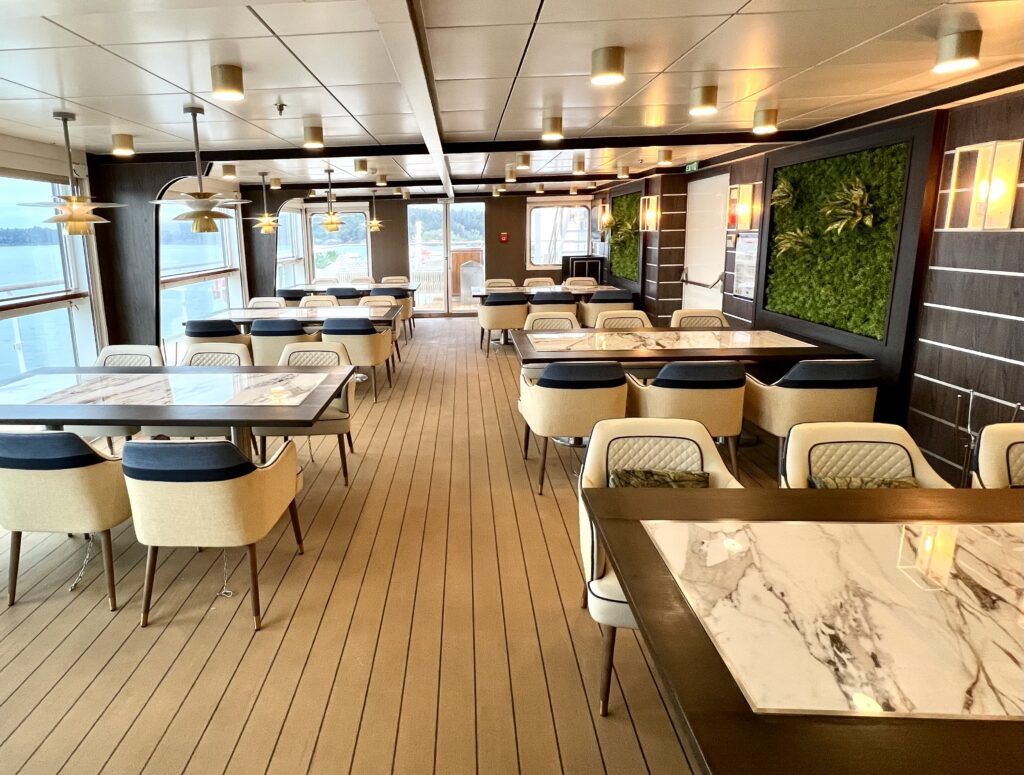 There are floor to ceiling glass walls that also open to additional outdoor tables.
Deck 7 – American Queen Voyages Ocean Victory Ship Tour
Heading down to Deck 7 on this Ocean Victory ship tour, once again, there is an outdoor observation deck all the way forward. This lower level outdoor space can be accessed from the observation deck above.
The Bridge is also located forward on this deck.
Continuing aft, you will find the Ocean Spa and Fitness Center (starboard) flanked by staterooms. The fitness center features cardio and strength equipment to get in a workout between your explorations.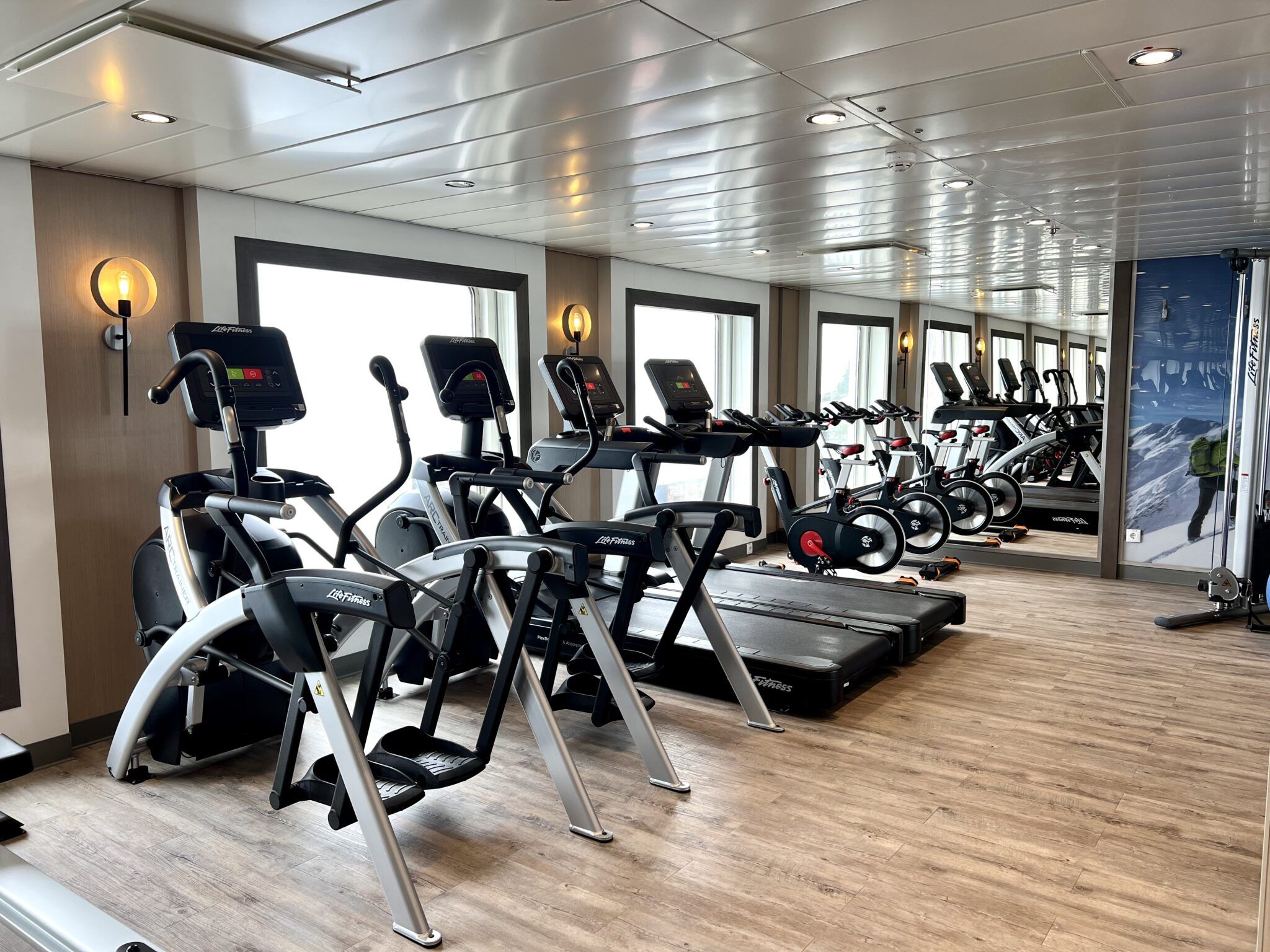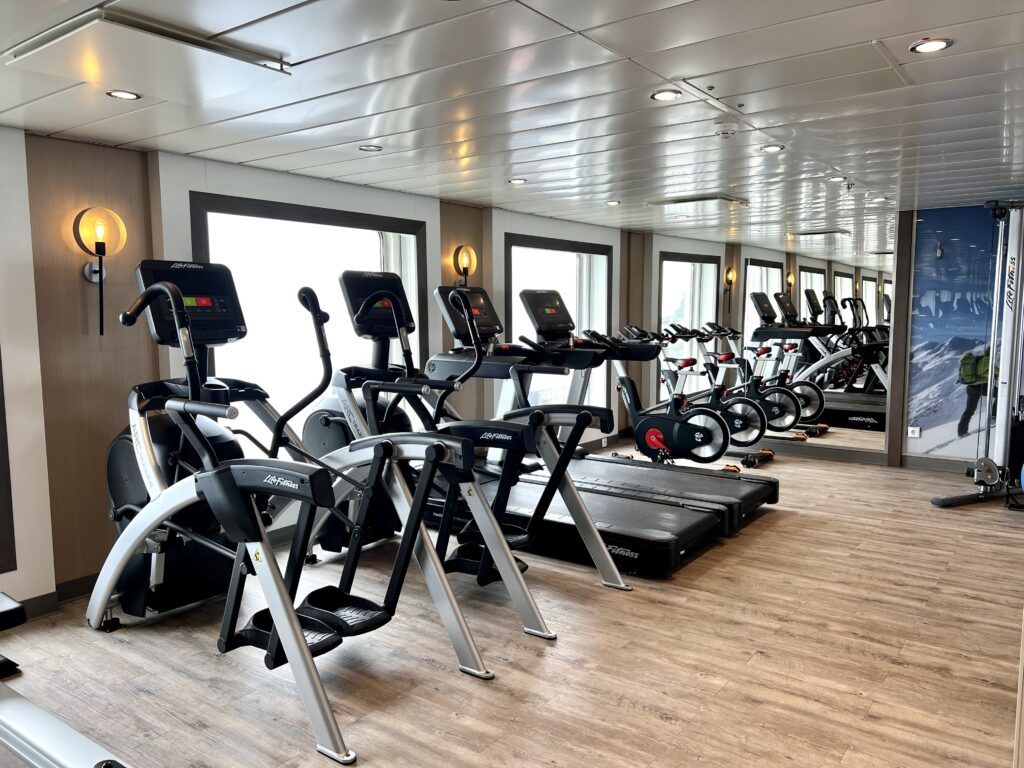 The Ocean Spa is where you will want to head if you need a little pampering. Currently, there is one specialist onboard offering a variety of treatments.
Aft on Deck 7 is the pool deck. This luxurious space includes an elevated infinity pool and 2 whirlpools. So, whether you want to take a quick dip in the pool or soak in the views from the hot tub, there is plenty of space to do so.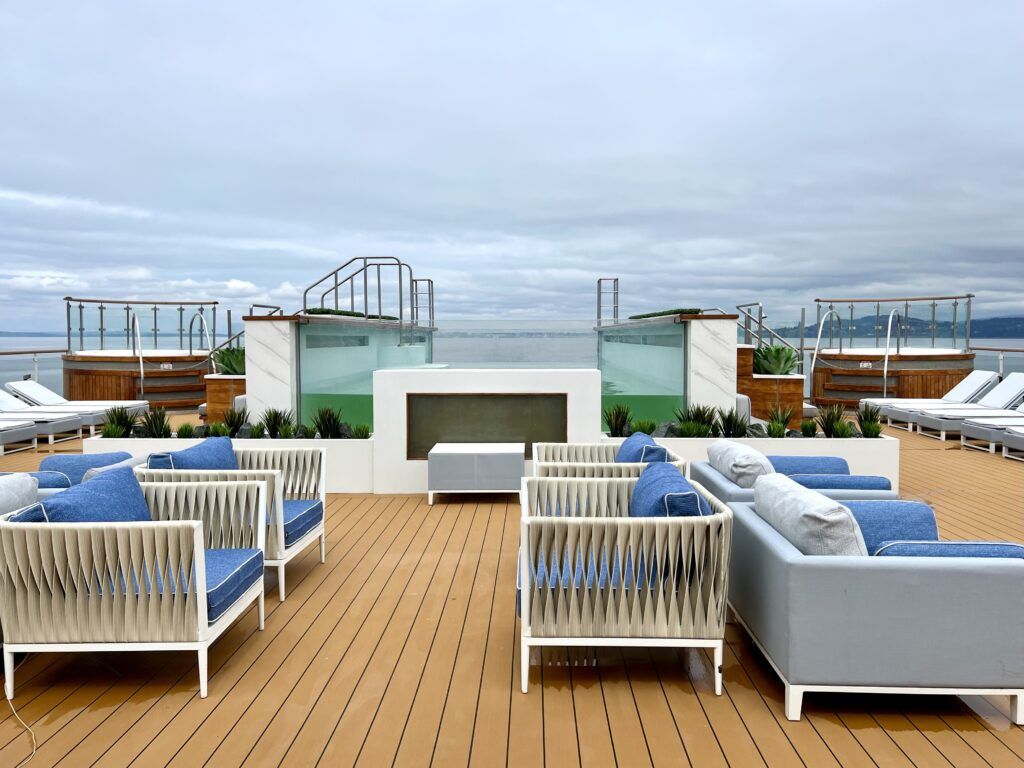 This area also features an array of comfy furniture and a Pool Bar for those warmer afternoons. The Pool Bar was not open during our sailing and was currently being utilized for storage.
Deck 6 consists of all staterooms.
Deck 5 – American Queen Voyages Ocean Victory Ship Tour
Continuing on this ship tour, Deck 5 is the heart of Ocean Victory featuring a number of public venues. Once again, you will find yet another outdoor observation deck all the way forward beyond the Expedition Lecture Room.
From here, guests can access over-water viewing platforms. Folding down from both sides of the ship, these platforms provide a unique over-water perspective perfect for wildlife sightings.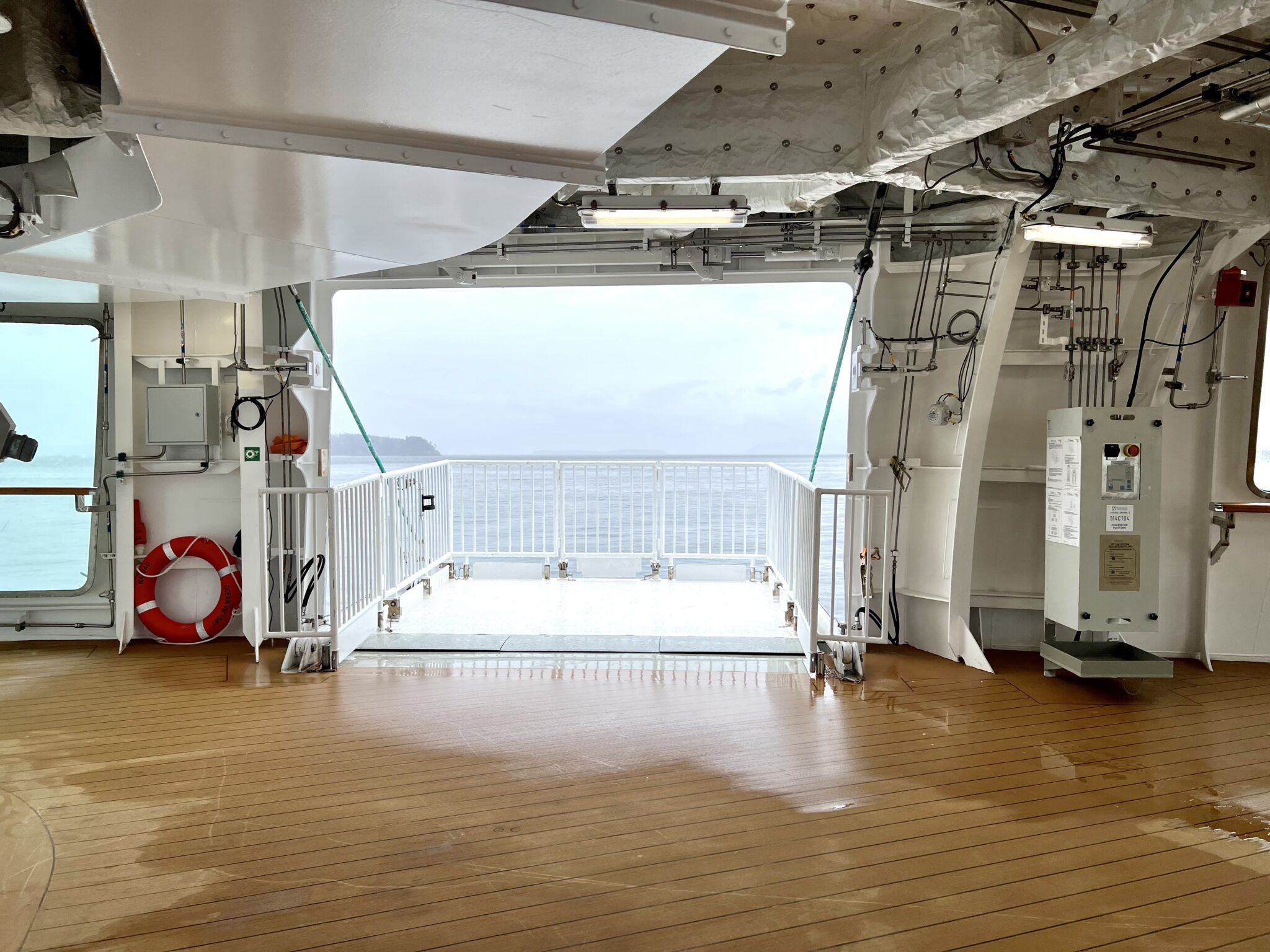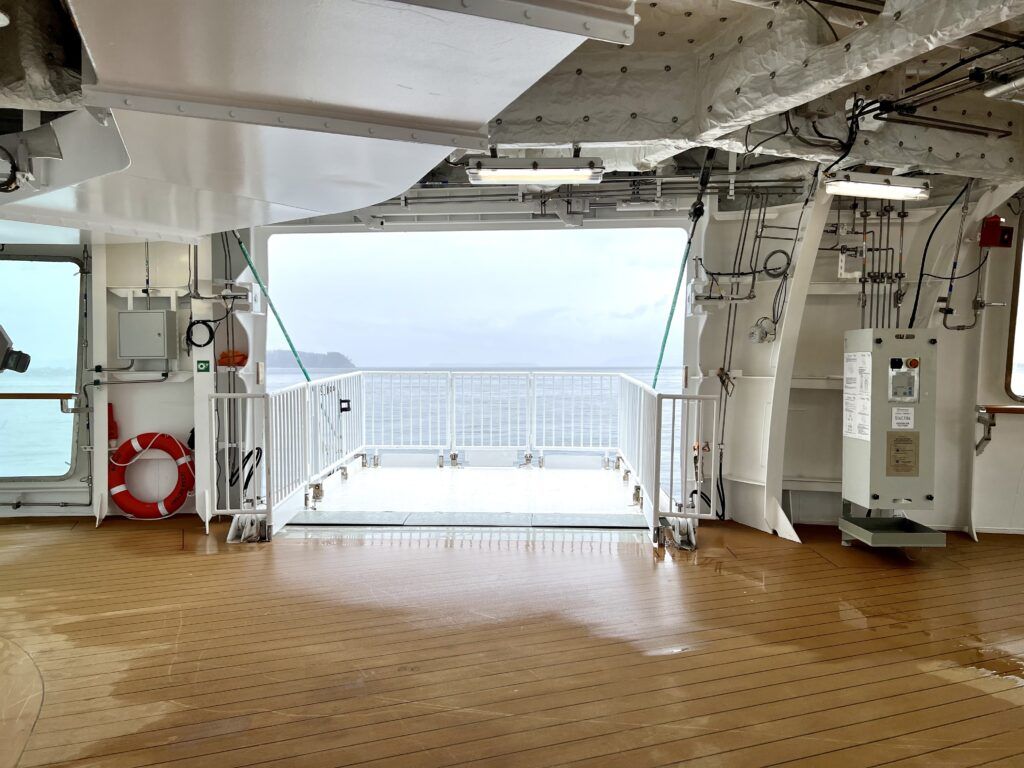 The Expedition Lecture Room is a multi-purpose lounge space with enough seating to accommodate all guests. Here, there will be a variety of talks and lectures from research experts and onboard expedition team members about various topics. These edutainment offerings complement the other activities for a truly immersive cruise experience.
At the back of this lecture room, guests can help themselves to coffee and espresso machines along with cookies and other small snacks.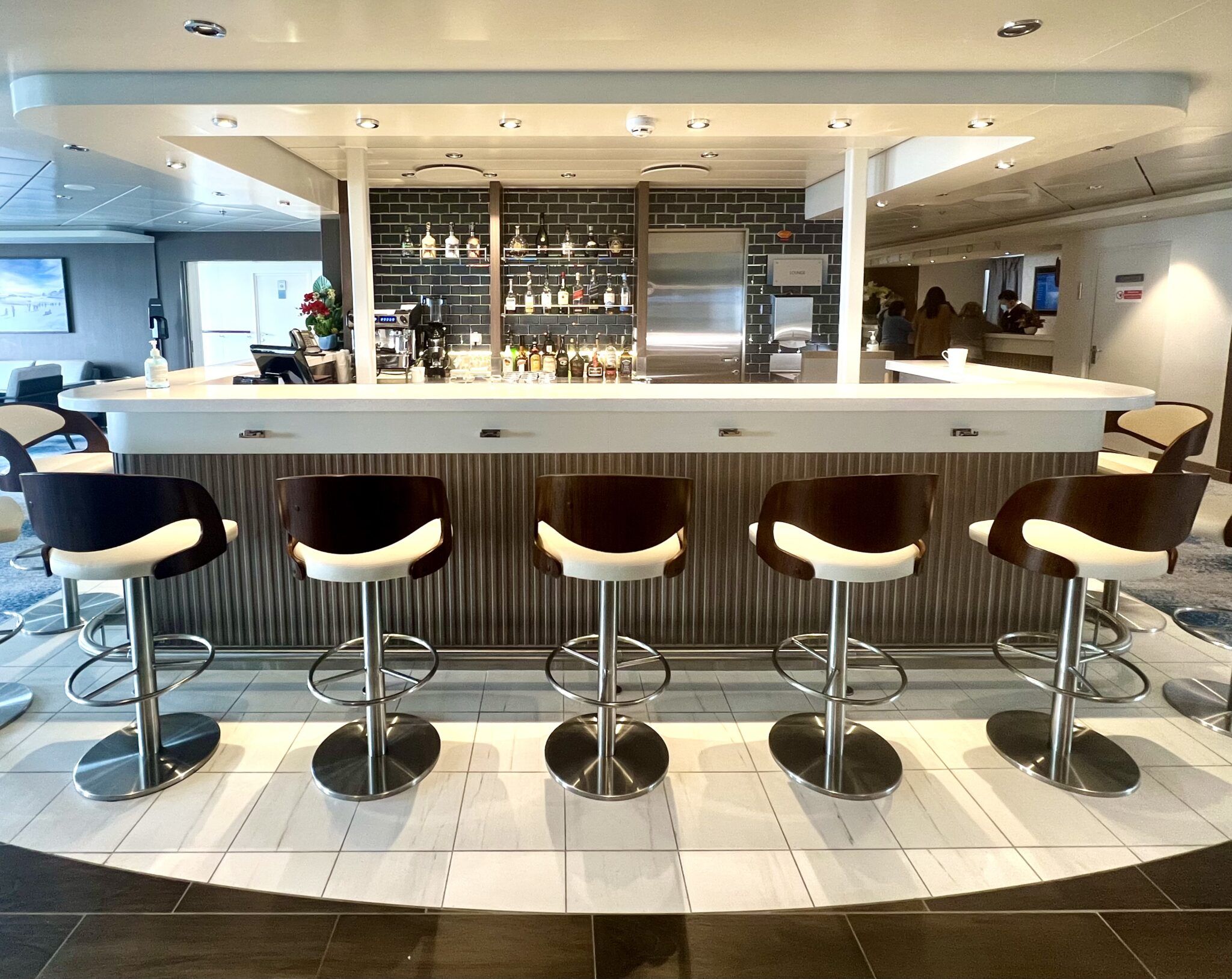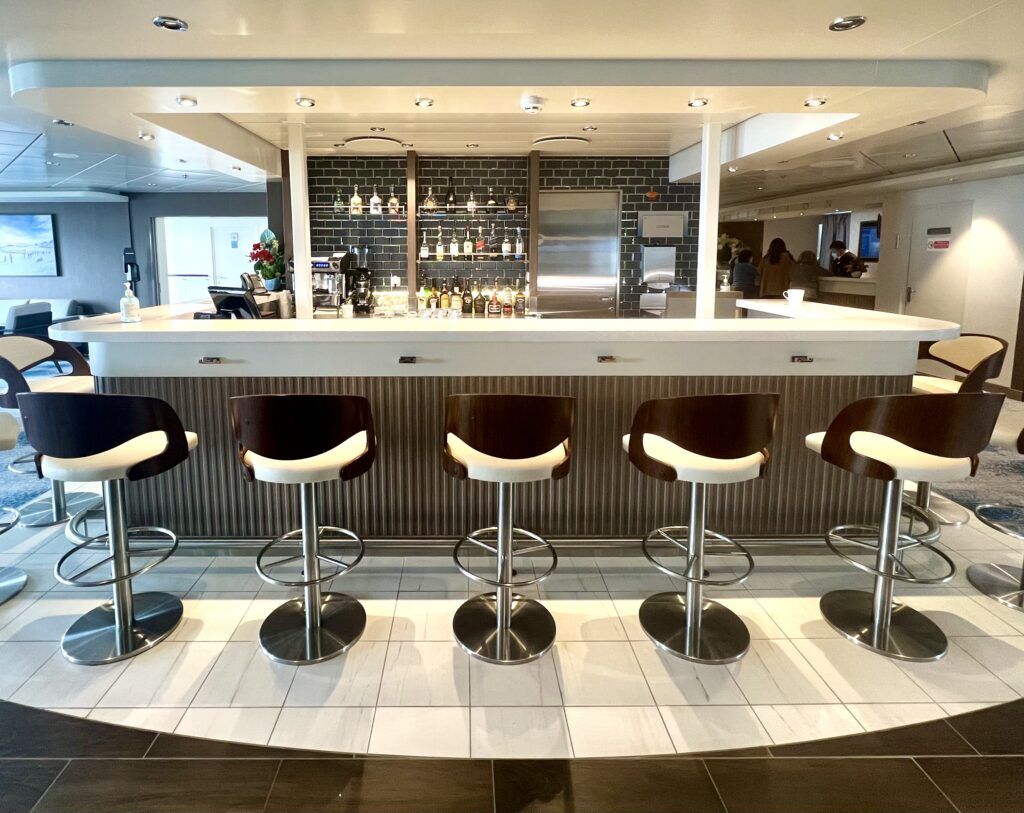 Outside this lecture room is the Explorer Bar & Lounge. This venue is the central gathering spot on Ocean Victory. At the bar, you can find your favorite cocktails all included in the cruise fare.
In the evenings, there is also live piano music. This is the perfect place to strike up conversations with fellow passengers and relax after a long day ashore.
The Voyager Library is a quiet nook off the Explorer Lounge on the portside featuring a selection of books that are complimentary for guests to enjoy throughout the voyage.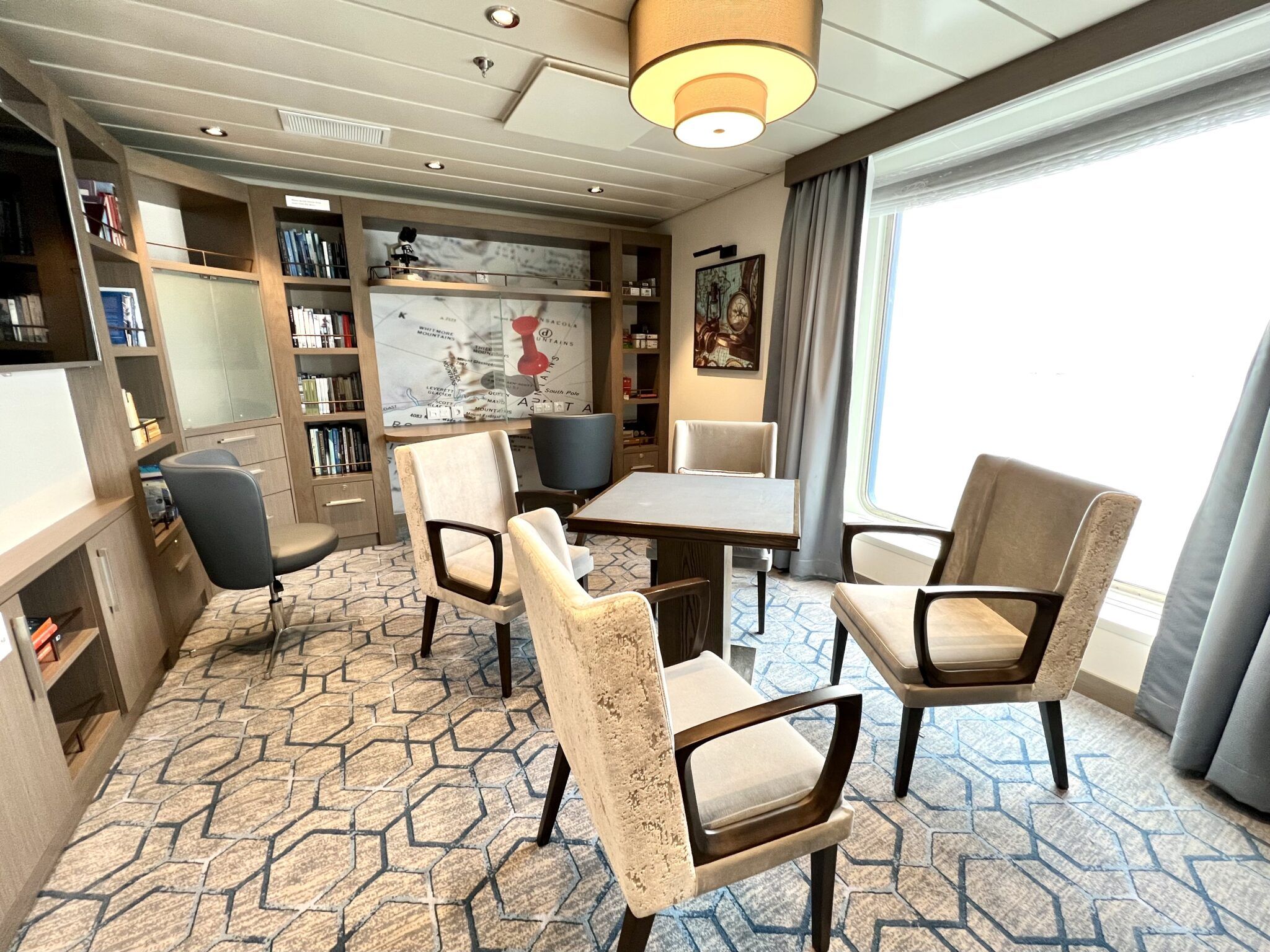 Continuing past the Voyager Library on the portside of the ship, there is the Reception Desk as well as the Hotel Manager's Office and the Purser's Office. The Reception Desk is basically Guest Services, where you can address any concerns or get answers to any questions you may have during the voyage.
Heading further aft down the hallway, there is the small Ocean Boutique on the portside. This retail shop features some logo merchandise and other sundries.
Related Post: Viking Expedition Ship Tour
Ocean Victory Dining
Aft on Deck 5, you will find the main dining room on Ocean Victory.
The Main Restaurant is where guests can enjoy gourmet multi-course meals each evening. The Main Restaurant has open seating, so no reservations are required.
The venue is open nightly for dinner from 7 to 9 pm serving a rotational menu of regional specialties. There are also a number of "Always Available" dishes served nightly including lobster and prime sirloin.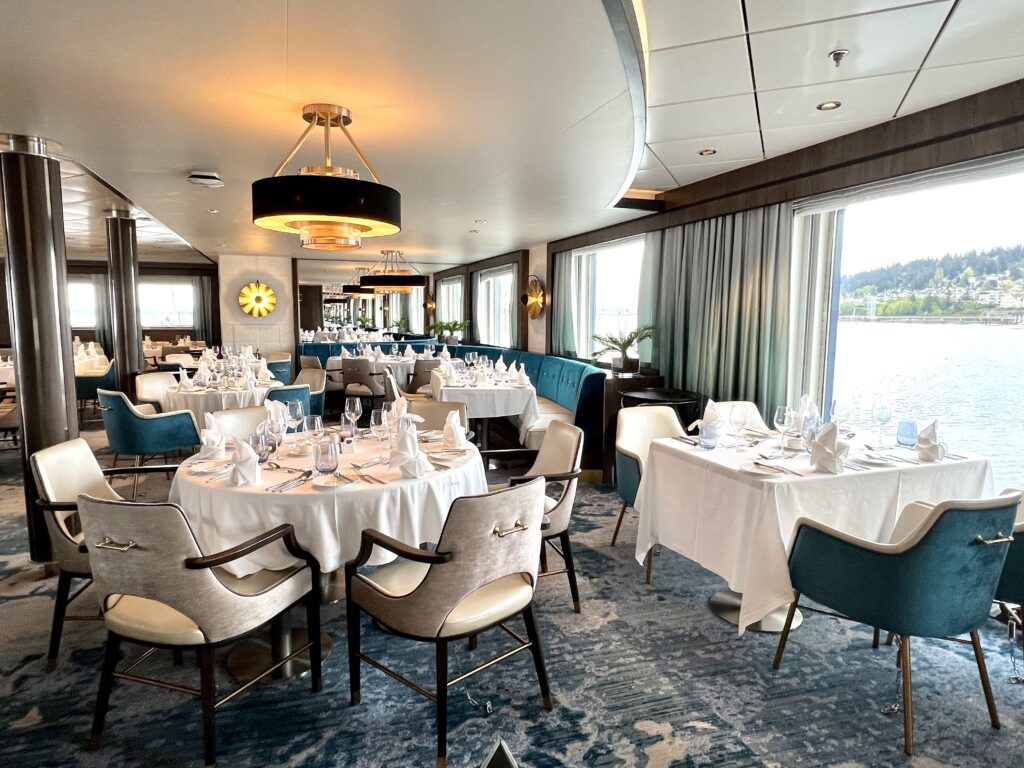 Further, the Main Restaurant is open for breakfast and lunch serving buffet selections that rotate daily as well.
Deck 4 – American Queen Voyages Ocean Victory Ship Tour
Continuing down to Deck 4 on our Ocean Victory ship tour, there are mostly staterooms. Our stateroom for this voyage, cabin 417, was located on this deck.
This cabin is considered a Stateroom with Private Balcony (E). According to the cruise line's website, this cabin category ranges in size from 221-260 square feet.
This Ocean Victory cabin features modern décor and is on par with contemporary cruise lines in terms of size. There is a closet, desk, and plenty of storage shelves and drawers in the cabinetry opposite the bed. Further, there are several power outlets and USB outlets in the cabin. However, there is no sofa or additional seating in this cabin category.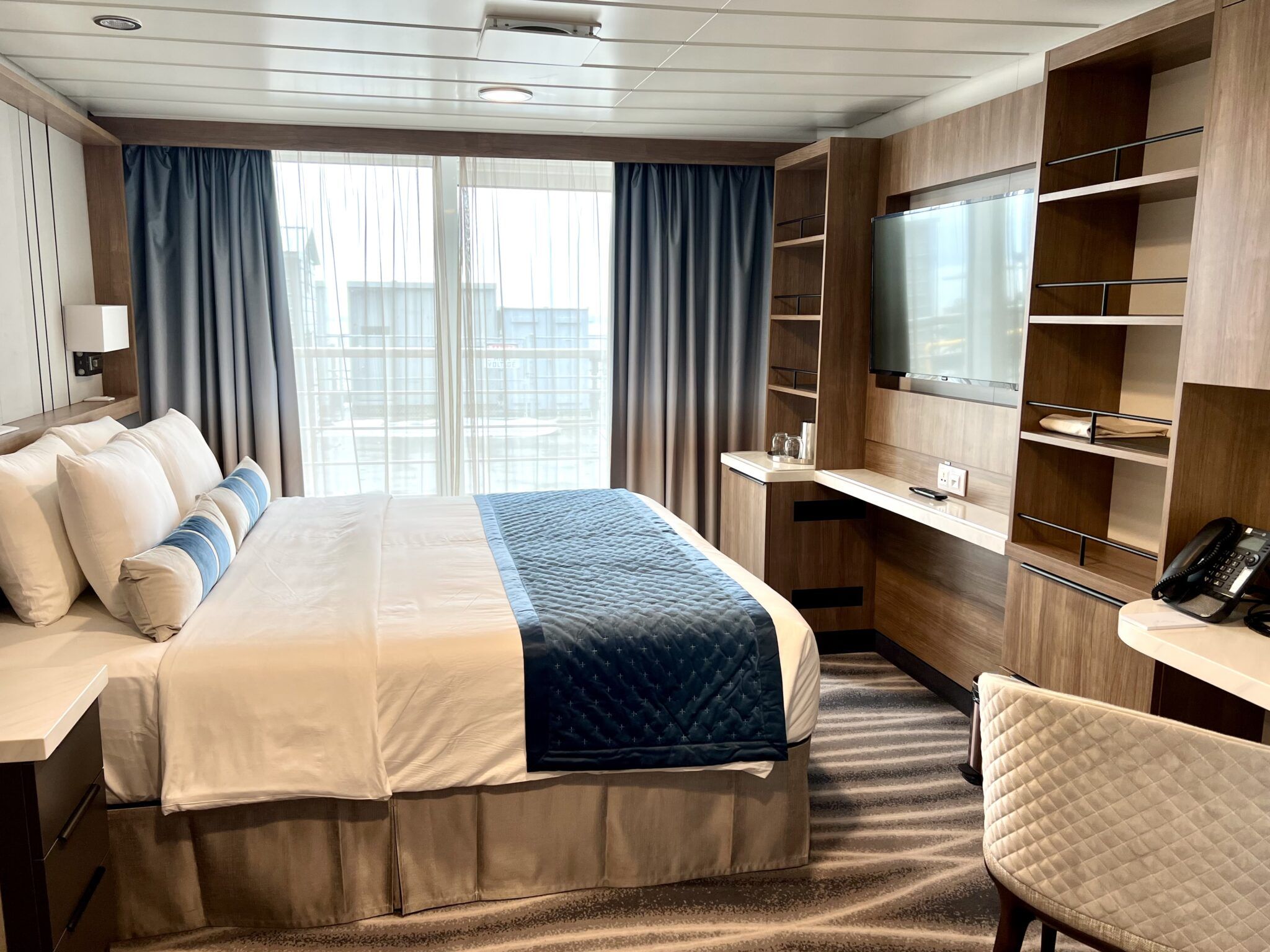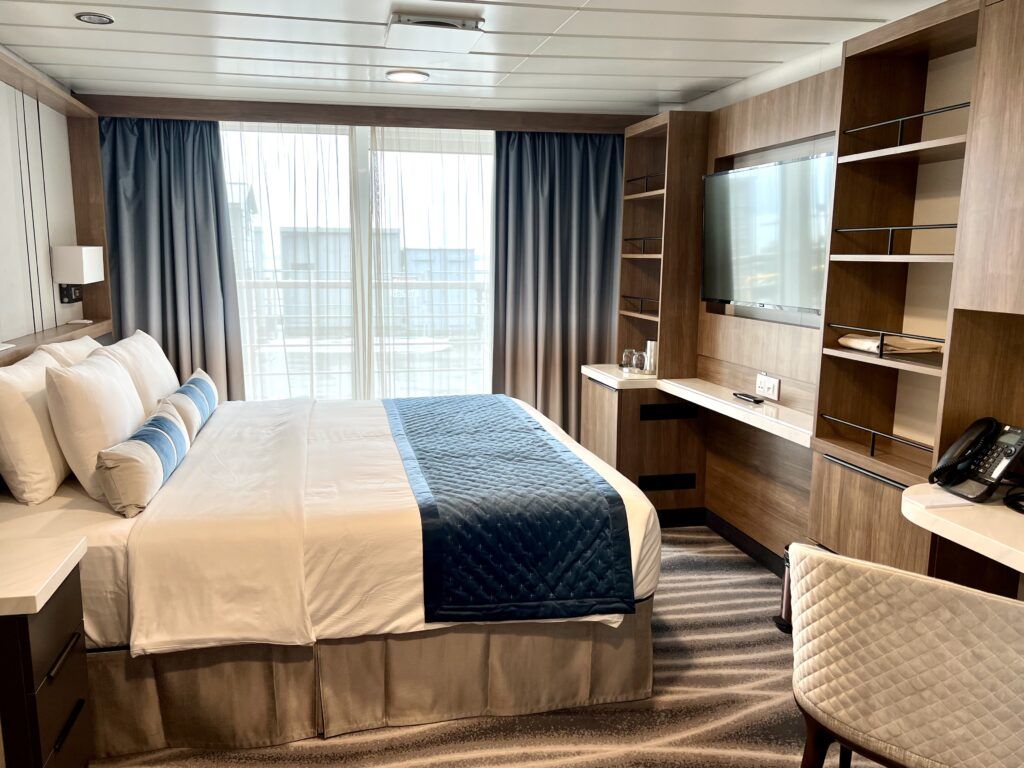 The bathroom is also a bit small with limited storage space. Though, the shower itself was a good-size. While trendy, the half glass shower wall was not ideal for a cruise cabin.
We did appreciate that this Ocean Victory cruise cabin features a traditional balcony with two upright chairs for plenty of scenic views.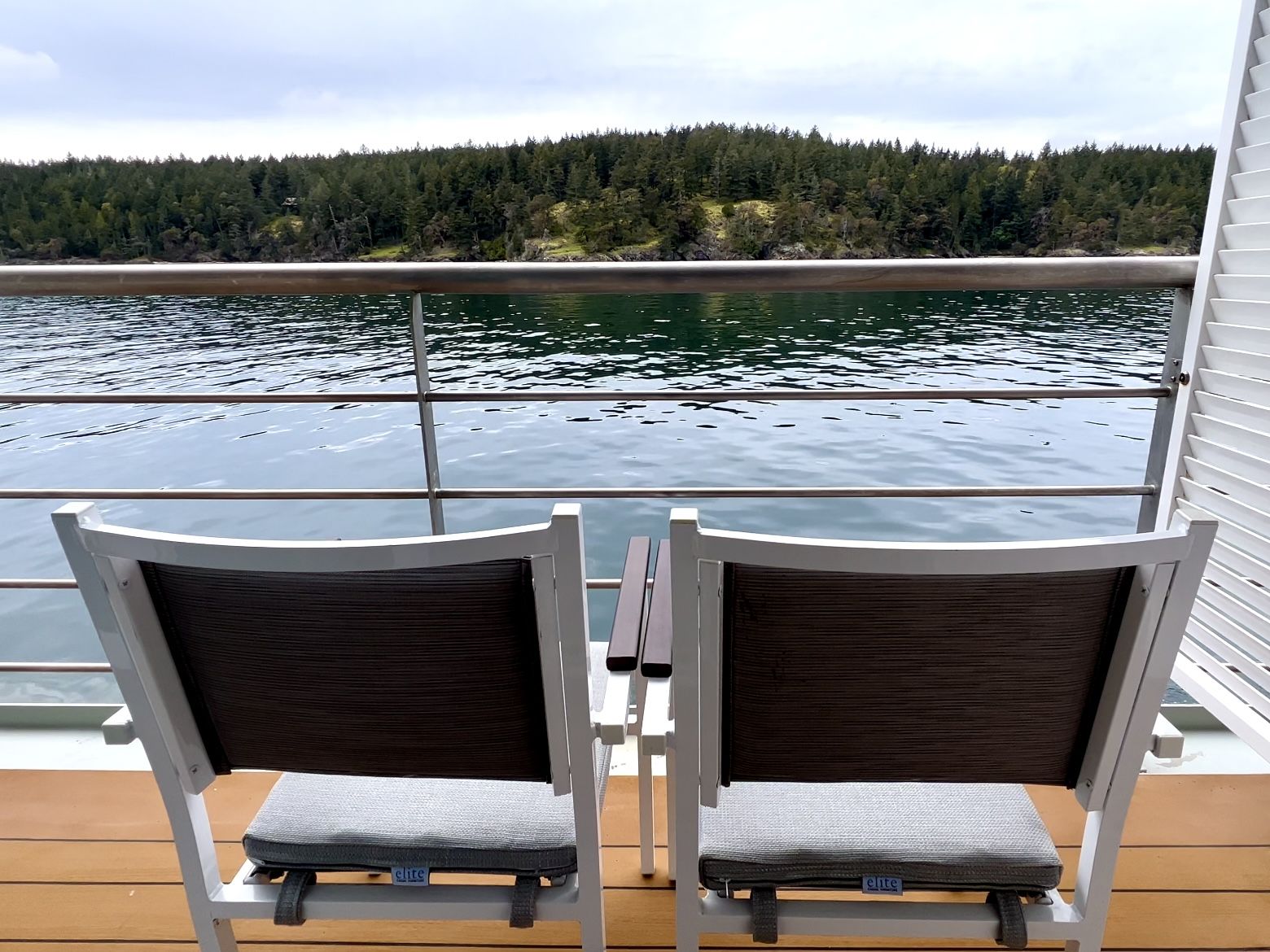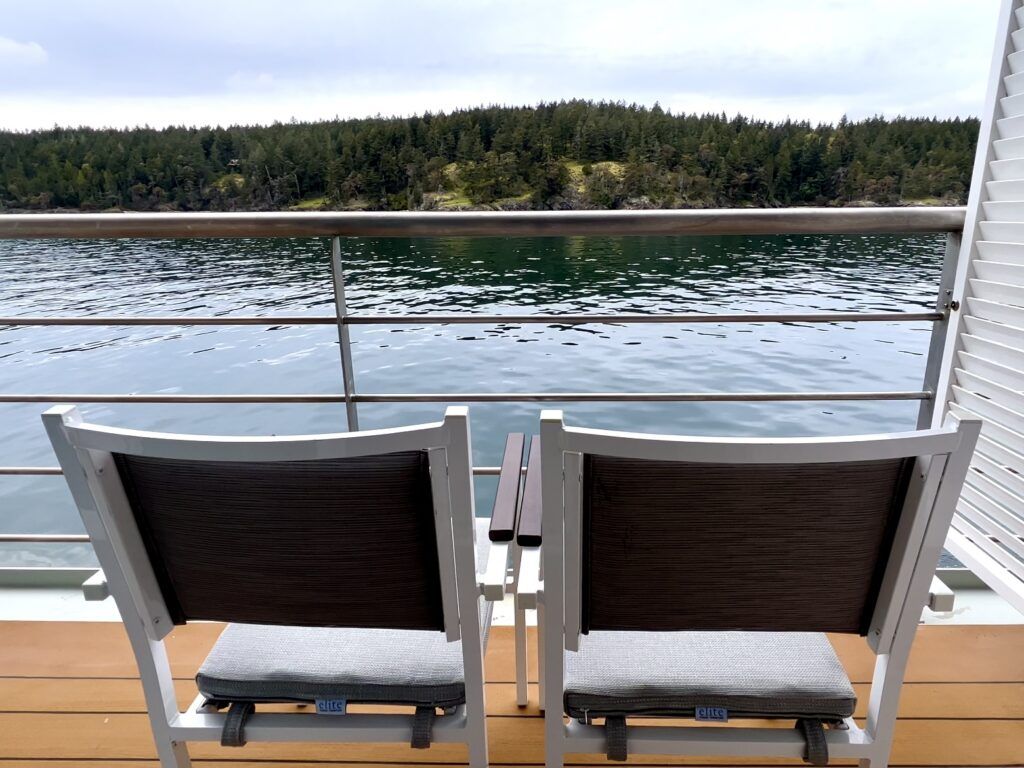 The only public space on Deck 4 is the Expeditions Desk. This desk is staffed with expedition team members who can answer questions regarding shore excursions and expedition activities.
Deck 3 – American Queen Voyages Ocean Victory Ship Tour
The last passenger deck on this Ocean Victory ship tour is Deck 3. This deck consists of mainly staterooms and the medical center at the forward end.
Accessed via an aft staircase on deck 4, you will also find the Mudroom. Here, each cabin has a locker for storage of expedition gear. This is also where you will set off on your zodiac and kayak adventures. These tours are complimentary and are available to all guests. Of course, launching these vessels is weather-dependent.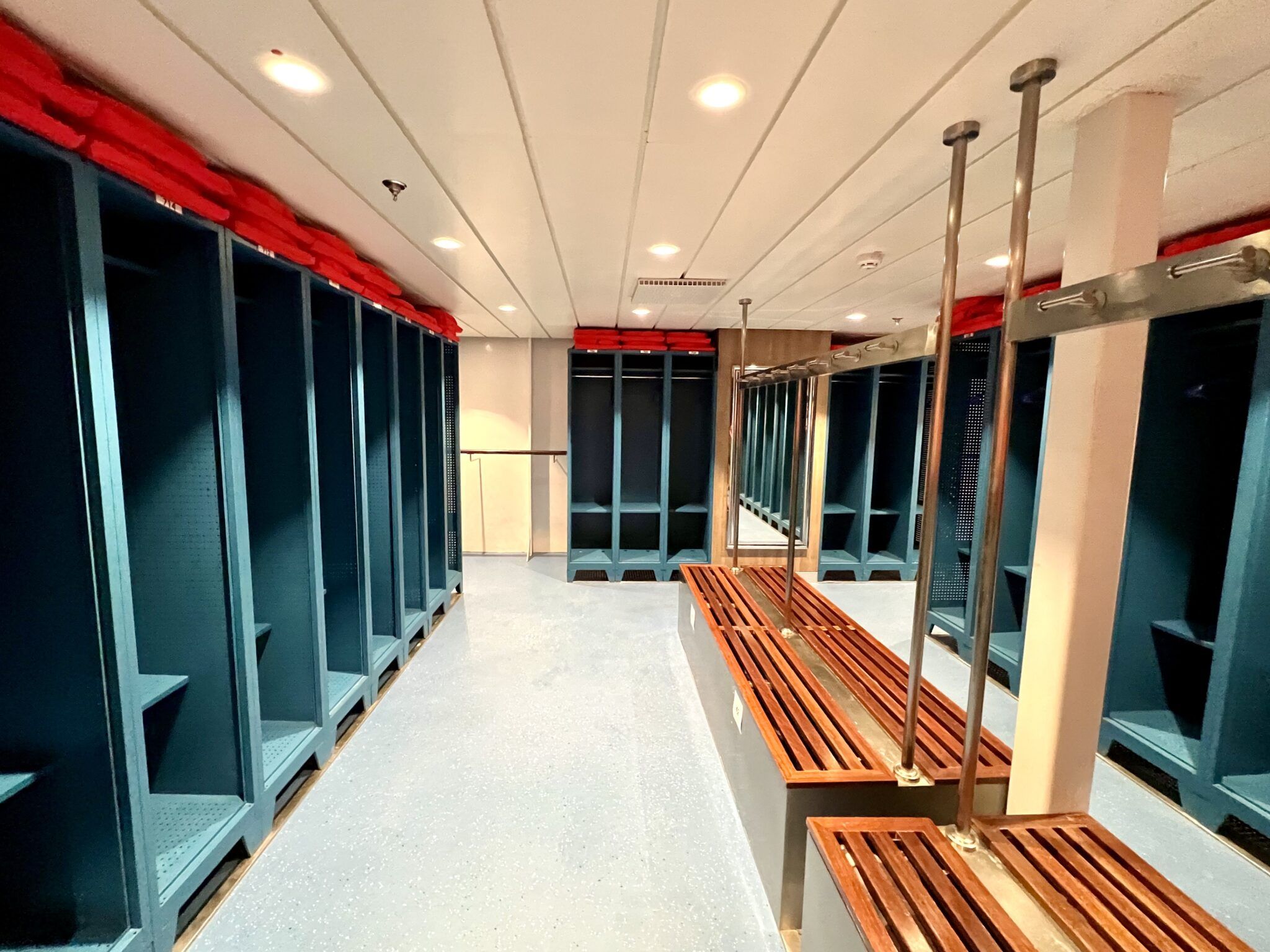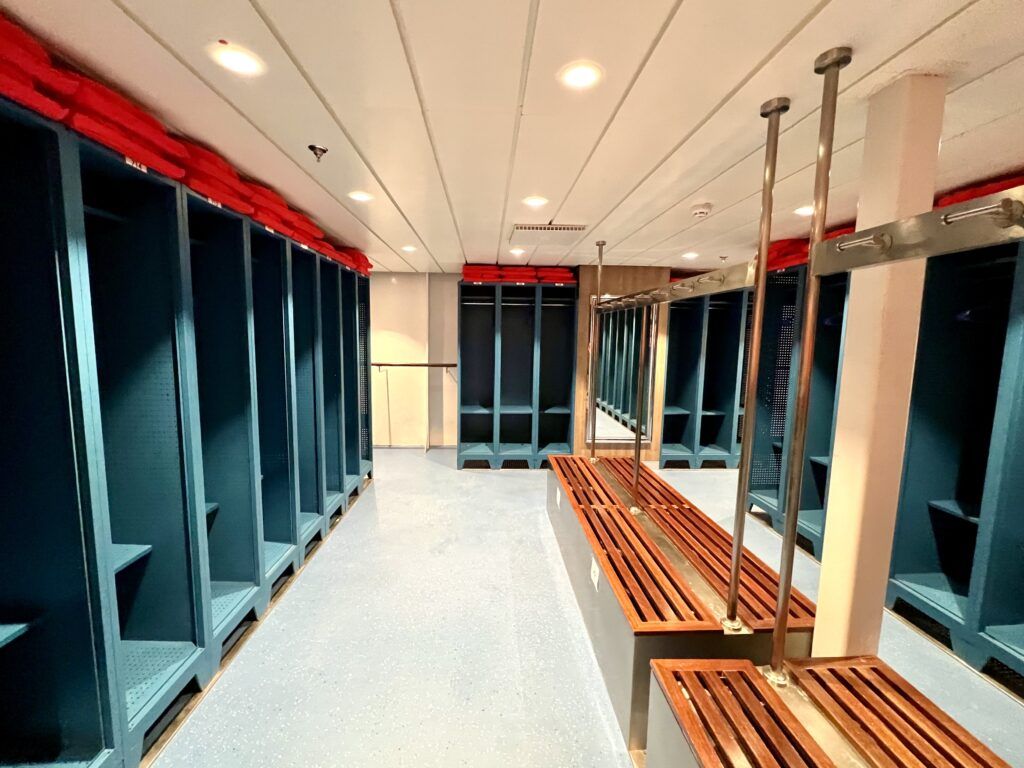 There is a Zodiac Embarkation platform on both the starboard and portside of the ship. During expedition days, guests will have the opportunity to explore the nearby fjords, glaciers, and wildlife with guided zodiac tours.
Further aft from the Mudroom is the kayak loading area. With over 20 kayaks onboard, the expedition team will lead small groups on tours for an up-close and personal Alaska expedition experience.
Comments
Did you find our American Queen Voyages Ocean Victory ship tour helpful? Do you have plans to cruise on this new expedition vessel? Drop us an anchor below to share what you love about small ship cruising.