Adventure of the Seas Review
7 Day Southern Caribbean Cruise 8/22/15-8/29/15
Summary:
The Ship
This third voyager class ship has been sailing from San Juan since she debuted in 2001. Calling the Southern Caribbean home, she is one of the largest ships departing from San Juan. With 15 decks, Adventure of the Seas includes features and amenities for cruisers of all ages like multiple lounges and bars, the Royal Promenade with shopping, a casino, a rocking climbing wall, a mini-golf course, and an indoor ice skating rink.
The ship went through a revitalization in 2014, adding an outdoor movie screen, digital signage throughout the ship, and a new specialty restaurant. During our cruise, we found the ship was still in tip-top shape and offered plenty of things to do.
Adventure of the Seas at the San Juan Pier
Itinerary
It almost feels like no two Adventure of the Seas itineraries are the same. While she exclusively sails in the Southern Caribbean, the itineraries vary weekly with islands as far south as Curacao and Aruba. On our August 22nd sailing, Adventure of the Seas was scheduled to bring us to some of our favorite islands, including stops in St. Kitts, St Lucia, St. Maarten, Antigua, and Barbados. With five islands, the cruise was scheduled to be very port intensive. But, Mother Nature had different plans for us. With two itinerary changes during our sailing, we ended up with a one of a kind itinerary, sailing to St. Maarten, Aruba, Bonaire, and Curacao, with two sea days.
St. Maarten was the Only Originally Planned Port We Stopped at on this Cruise
Highlight
Being the first time that we sailed with other family members, we picked Adventure of the Seas mostly for the itinerary. With that schedule being completely changed, we made the best of the options provided to us. Luckily, the staff throughout the ship were friendly and patient, putting the Royal WOW in service. This was especially true for our waitstaff team, Leonardo and Jasmon, as well as our bar server Abel. They went above and beyond to provide the four of us with excellent service. We were so happy that the crew and staff of Adventure of the Seas delivered on so many fronts throughout our vacation.
Our bar server Abel (left) and our waiter Leo (right)
What's Missing
Even though the ship has been recently updated with some new digital features and WiFi, it did feel like the ship was lacking in some aspects. An additional casual dining option, besides Cafe Promenade or the Windjammer, would have been nice. The buffet also seemed to have fewer selections for breakfast and lunch than usual. There were also a few features on the ship that have been essentially phased out on other vessels that made Adventure of the Seas seem dated. Mainly, there was an inline skating rink on the sports deck which saw virtually no action, and a night club on decks 3 and 4, which also was never really busy. We suspect that during the ship's next dry dock, these remaining places will be removed and enhanced with other Oasis or Quantum class amenities.
Not Sure if Anyone Uses This Inline Skating Rink?
Main Takeaways
If you are looking to escape the normal Eastern or Western Caribbean itineraries, then Adventure of the Seas offers the diverse ports of call you seek while still offering plenty of big ship fun. The food in the main dining room was spot on, and the selection of onboard activities was typical for Royal Caribbean, delivering plenty of laughs. You can visit different Southern Caribbean islands with this vessel, but still have all of the same fun and level of service you would have on other ships- no need to spend money on some small luxury brand to visit these islands.
The Cruise Director Staff Getting their Groove On!
The cruise director, Dan Sheldon, was a decent master of ceremonies, but almost a bit tame when compared to the activities manager, Tino. It was Tino that shined during events, shows, and other activities, with tons of energy and charisma. If you need any further encouragement to book a cruise on Adventure of the Seas, look no further than our mom and sister. Being their first cruise ever, both of them had a great time and will cruise again. So, don't take our word for it, take theirs!
Read our detailed, day by day Adventure of the Seas Review below…
Adventure of the Seas Review
Day 0
The Calm Before the Storm
Even though we have been on two cruises so far in 2015, our third (and unfortunately final cruise of the year) was a trip we had been looking forward to since it was booked back in March. This trip had special meaning as it was a birthday present for The Princess' mother's 60th birthday. We were able to persuade The Princess' sister to join us as well, so we booked two adjacent Promenade View staterooms.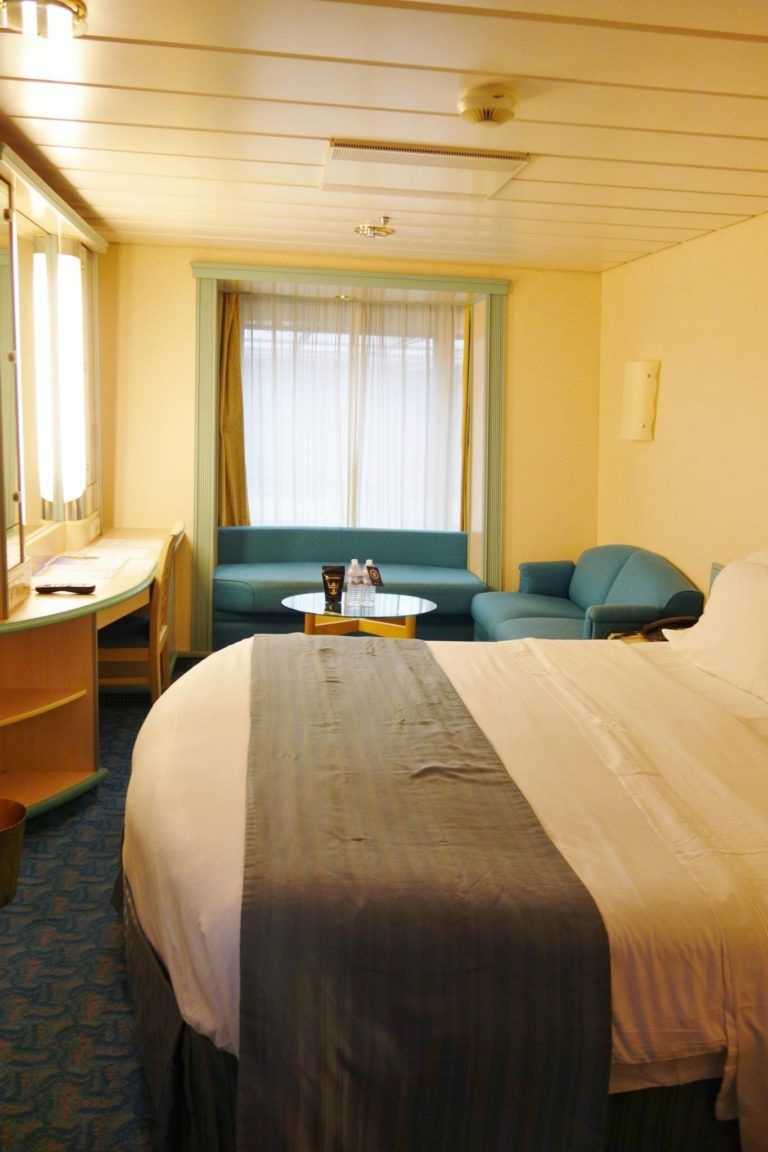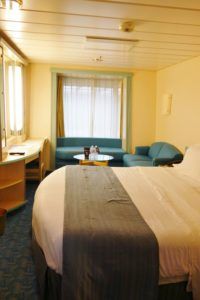 Three women against me was a potential recipe for disaster. Would we make it through the eight days, or would someone make it overboard? Only time would tell.
Doing our regular preparations, including booking shore excursions in advance and putting together our daily activities files, we were all set for the August trip by June.
About two weeks prior to sailing, we were printing our luggage tags and set sail passes when we noticed something odd; the two adjacent Promenade View staterooms we had booked were no longer adjacent. Somewhere between our deposit and present time, our stateroom had been moved to the opposite side of the ship. Of course, the Princess did not take this news well.
Being a bit more level-headed about the matter, I placed a call to the Crown and Anchor Society who confirmed that our room had been moved, probably due to a computer glitch. The best offer that the Society could provide was a $150 onboard credit. We took the credit, but I knew there WAS something else that could be done. I sent an email to the Society the next day, and a few days later, I received a call stating they were able to "play some chess" and get us back into our original stateroom-letting us keep the $150 OBC as well for the inconvenience.
Picking Our Cruise Adventure
Mom and Sis had never been on a cruise, or to the Caribbean for that matter, so we wanted to pick a ship and itinerary that we thought they would enjoy the most. Adventure of the Seas, out of San Juan, Puerto Rico, offered us the best mix of onboard amenities and features, along with a unique itinerary that included stops in some of our favorite ports of call, St. Kitts and St. Lucia. Plus, if for some odd reason our family members were really not enjoying being on the ship, we would be maximizing time in port with 5 stops. Everyone was sold on this idea!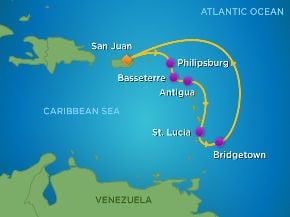 The August 22nd sailing visiting St. Maarten, St. Kitts, Antigua, St. Lucia, and Barbados was a perfect fit. So what if it was right in the middle of hurricane season. Hurricanes really don't hit the Southern Caribbean!?!
Adventure of the Seas has a late day departure, with an all aboard at 5:30pm, meaning that it was possible to fly in the day of the cruise and make it to the port in plenty of time to get on the ship. Nonetheless, we decided to fly down a day early to spend some time in Puerto Rico. Unfortunately, we were not able to get direct flights from Providence to San Juan. Sis, on the other hand, was able to get a direct flight from CT, so would be arriving way before us!
At last, it was the night before our trip, but wait- is the potential first hurricane of the season really forming RIGHT NOW? The potential threat of Tropical Storm Danny now had us a bit worried that there could be issues with our trip. With some foresight, The Princess made it a point to spend the rest of the evening playing meteorologist and examining potential alternate islands and tours just in case the storm did find its way to the Leeward Islands. Albeit a cursory browse in comparison to our normal research, that information would later come in handy!
A Change in Plans
Up bright and early the day of our flight, we were to the Providence airport eager to get the trip started. Prior to boarding the plane, The Princess received a text from Sis indicating that she received an email from Royal Caribbean about an itinerary change. Great! This was going to get interesting. I checked my email on my phone and did get the same email, but it was blank. Further, there was no update on Royal Caribbean's website. Trying not to stress too much, we got on the plane headed to Tampa where we would have a two hour layover.
Touching down in Tampa, I checked my email and Royal Caribbean's website again, but still no updates. On the flight from Tampa to San Juan, I could over hear the passengers behind us discussing an itinerary change, so I kindly asked if they were sailing on Adventure of the Seas and if they knew the new itinerary. The long awaited news- the ship would make its first scheduled stop in St. Maarten, but then there would be an added sea day to head south to Aruba and Bonaire, then we would spend another day at sea before coming back north to St. Thomas. They also mentioned the excursions they were going on. Wait, they got to book excursions?
Now, The Princess who does not handle change well was in complete overload! Quickly, we paid for the Southwest internet to see what tours would be available through Royal Caribbean. Some of our initial tours were with third party providers, but it was going to be too much to try to reschedule with them the night before our cruise. We would worry about getting our refunds upon return home.
The Second Half Game Plan
We landed in San Juan by 4:00pm. We claimed our bags, grabbed a taxi, and arrived to La Concha Resort before 5:00pm.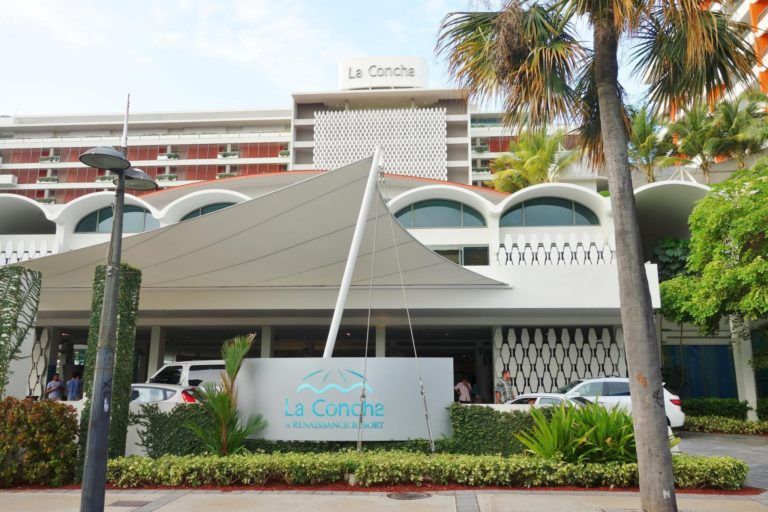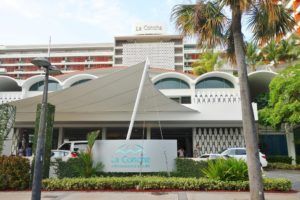 Sis had been at the hotel for some time lounging by the pool. So after checking in and bringing our luggage to our rooms, we had to start planning. Months of detailed organization was now gone, and we had one night to put it all back together! A call to Royal Caribbean confirmed that we would have to wait to make new tour reservations with the Shore Excursions Desk once onboard.
The 4 of us decided on new shore excursions for Aruba, Bonaire, and St. Thomas. Although we were looking forward to the zip lines in St. Kitts, at least we could zip line in St. Thomas. We would have to settle for island tours in Aruba and Bonaire. Once that was sorted out, we took a walk around the resort to grab some pictures and get a layout of the hotel. We had plans of enjoying the beach or pool for a little while, but that time had now been devoted to cruise planning, again.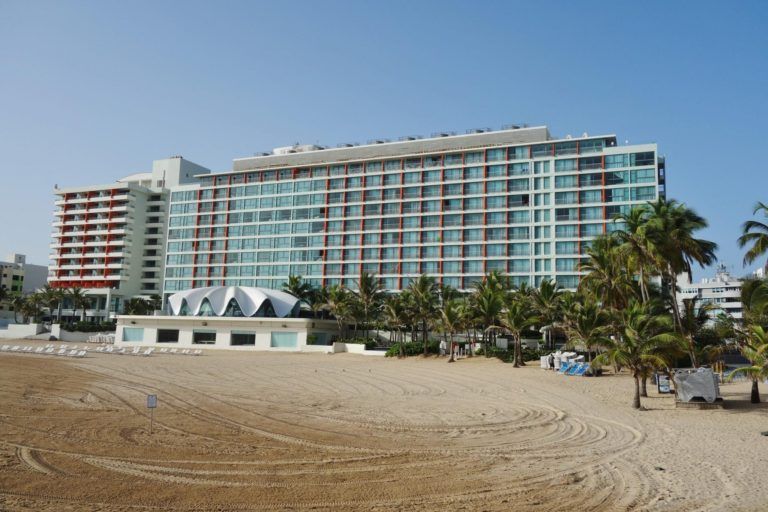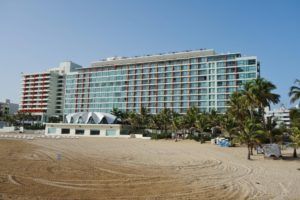 We also took a stroll around the adjacent Ashford Street area; I mean we needed to find the closest Starbucks and Walgreens. Given our overtired and agitated state, we opted to grab dinner at the Serafina Restaurant at our hotel instead of venturing out for some authentic Puerto Rican food. Perfect for convenience, but lacking in service and food quality.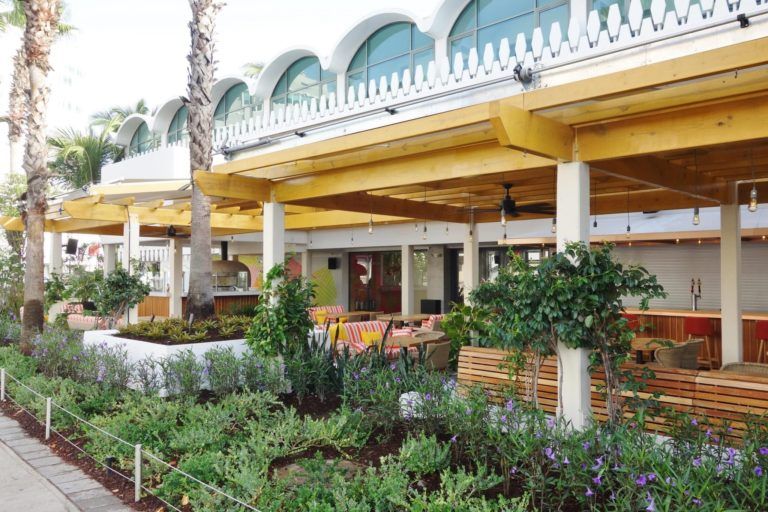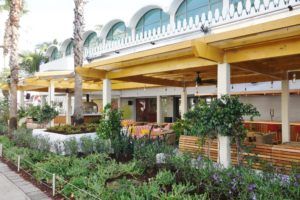 Ready for bed, and for what was sure to be a very interesting cruise, we retired to our rooms after dinner as we planned on getting to the cruise terminal early tomorrow.
Adventure of the Seas Review
Day 1
Smile It's Picture Time
Being avid cruisers, we have our Embarkation Day rituals. Yes, we are that crazy. These Embarkation Day must-dos include getting to the ship early and taking a complete deck by deck tour of the ship capturing plenty of pictures of all the public spaces before they are filled with other passengers. Traveling with Mom and Sis was not going to deter our plans. They could either join us or find the nearest bar. Now, in addition to our traditional plans, we also had to find time to book shore excursions. Everyone coming onboard was in the same boat (yes, bad cruise blog pun) as none of us had any tours lined up for the new ports. So, we planned to meet in the hotel lobby around 9:30am.
With the alarm Set for 7:00am, I took a few extra minutes to grab some great photos of the resort then headed to Starbucks for some lattes and breakfast sandwiches while The Princess got ready.
With food, coffee, and photos complete, we were checked out and on our way to the port, which was a 15 dollar cab ride (plus $1 dollar per suitcase). The ride took essentially no time at all, and before we knew it, we were pulling up to the Adventure of the Seas!
Preparing for an Adventure
If you have visited San Juan in the past, then you have most likely docked at the Old San Juan port, next to the Sheraton and within walking distance to Old San Juan. Adventure of the Seas was docked at the Pan American Pier, across from a small airport. This is not the international airport you will most likely fly into if you are traveling to the ship from the United States, Canada, or Europe.
Pulling up to the terminal building, there was a small line of people waiting to enter and be processed. In our experience at other ports, the terminal building usually opens up around 10am, and you can be onboard the ship between 11- 11:30am. After dropping off our bags and getting in the priority check-in line, our excitement was beginning to build. Then, we waited, and waited, in the hot Puerto Rican sun for close to an hour before we were even let into the terminal. I passed the time talking to the couple behind us from Texas who were taking their third trip on this ship.
The line of fellow passengers was growing, and once the doors opened (around 11am), both the priority and non-priority lines slowly proceeded through security. My first impression of the processing area was that it was small. There were separate lines for check-in based on Crown and Anchor status. Even though we were the second party in line, it took quite some time to get enough agents to the desk for passenger processing. Set Sail pass signed, photo taken, and SeaPass card in hand. We were officially ready!
A small sitting area was setup, separated by Crown and Anchor status, though it was not very large and became crowded quickly. Sitting with other loyal royal fans, it took about 15 minutes before the metal gates opened and it was time to board the ship. Our first stop, of course, was the Welcome Aboard photo station. Now with four travelers, this meant extra photos with different combinations; we were going to get our money's worth from the photo package.
Back into the mob of people walking up the gangway, we were asked two additional times to see our passport and SeaPass card. This is normally not the case when boarding other ships, so I am unsure what the extra precautions are for with this vessel.
We boarded the ship on Deck 4, next to the Lobby Bar. First sight on the ship was a couple already drinking cocktails, they appeared to be drinks of the day, which made me feel like I was finally home!
Photo Tour of the Ship
Many people have their Embarkation Day traditions-going to the Windjammer, being the first one in the pool or hot tub, grabbing a drink from the Pool Bar, etc. For us, it is pictures, pictures, and pictures. And if we have time, maybe a few drinks. This time around was no exception; after boarding, it was up to the Viking Crown Lounge to grab photos starting at the top of the ship.
We basically took pictures all the way down until deck 5. Be sure to check out our complete photo tour of Adventure of the Seas.
When approaching the Promenade, we noticed that a line for the Shore Excursions desk was already forming, even though it was not open yet. I decided to stand in line while The Princess continued taking pictures of the Promenade deck. The desk opened around 12:30pm, and the few people in front of me had no idea what excursions they were going to do needing time to review the new options- amateurs.
We were all set and ready to purchase our tours. The wife was just coming back when it was my turn at the desk, so she snatched the family, and we were able to purchase the three tours we had scoped out the night before. Simple as that. I actually felt bad for people when we returned to grab a bite to eat about an hour later as the line was half way down the Promenade.
Heading down to get the remaining decks photographed, it was now about 1:30pm. It was time for some lunch, so we headed up to the Café Promenade.
While back on the Promenade, we purchased the Ultimate Drink package for ourselves and the Royal Replenish for Mom. Sis was weighing her options, and ended up getting the Premium Package a few days later, once she started to see the cost benefits of the package.
About this time, the announcement was made that the rooms were ready, so after finishing our "snack" it was time to see these "inside rooms with a view".
The design of the room offered additional seating in front of the bow window, which we utilized for storage, so getting this cabin category was definitely a good choice. See our complete cabin review for more details.
Unpacking the Fun and our Luggage
Coming down the corridor, we noticed two of our suitcases in front of our room and our other suitcase near the elevators. We lugged the 100+ pounds of luggage into the room, and decided to use this time to unpack.
Sail away is not until 8:30pm, and the muster drill is at 5:45pm, so with plenty of time to kill, we returned to the pool deck to grab our first drinks of the cruise and listen to some Calypso music.
With more cruisers arriving at the pier, the outdoor decks were getting busier, but not as crowded as we would expect. That would be the vibe we got all cruise as the ship handled crowds inside and out quite well during events, shows, and major activities.
Making the decision to get ready for dinner before the muster drill, we returned to our rooms around 4:30pm to shower. The heat and hours spent outside definitely meant we all could use a little freshening up.
Unlike the newer ships, on Adventure of the Seas, your muster station is on an outdoor deck near the life boats, making it extremely hot with so many people in such close quarters. We were back inside a little after 6:00pm, and with dinner for this night pushed back to 6:30pm, we grabbed a quick pre-dinner drink at the Schooner Bar.
Royal WOW and Service
Right at 6:30pm, we crossed through the casino on our way to the Strauss dining room on Deck 4. Earlier in the day, we had scoped out our table which was located right near the entrance to the dining room. Not exactly thrilled with the location, we decided to see how the service was before we thought about trying to have our table moved.
Our server Leo and assistant server Jasmon greeted us within minutes of being seated. They provided great service all week, as did our bar server Abel. Given the great service, we decided to keep our seat assignment.
Compared to other cruises, the main dining room on Adventure of the Seas always seemed kind of empty-even for the last formal night, or "lobster night" as I refer to it.
The first night was the Mojo menu, which had a slightly different cut of beef than the prime rib that is on the RCI regular menus.
I went with the Fish Rillettes appetizer and Marinated Pork Chop.
Of course, the Princess went with Classic offerings-a Caesar Salad and the Marinated Chicken Breast.
Yes, we know she is very boring when it comes to her dinner.
Mom also did the chicken, while Sis tried the Fruit Medley starter and the Beef, which was cooked medium.
All our dinners were cooked to our liking. Dessert was the Blueberry and Peach crumble for three of us and a Crème Brulee for the Princess. We all enjoyed the warm crumble with vanilla ice cream (who wouldn't enjoy that?).
Exploring the Nightlife on Adventure of the Seas
Following dinner, we joined many of our fellow cruisers on the outdoor decks for the sail away.
Watching us pull out of Old San Juan was too good to pass up, and we made sure to take plenty of pictures. From departing the port to making it around El Morro took about 30 minutes.
We now had about an hour to kill before the Welcome Aboard show at 10:30m. Given our location, we decided to try out Blue Moon in the Viking Crown Lounge.
With the Latin Band playing, The Princess got a Drink of the Day, and I got a Long Island Iced Tea. The venue was virtually empty.
Finishing our drinks around 10:00pm, we checked the Viking Crown off our "Drink around the Ship" list, and trekked down 10 decks to the Lyric Theater for the first show.
Probably not surprising, the theater was mostly empty, so we took our regular seats stage left and watched the variety show which included the Royal Caribbean Singers and Dancers, the featured Professional Latin American Dance Champions Anastasia and Igor, and the Comedy of Steve Smith.
Surprisingly, this comedian did not do any more performances on the ship. Later in the cruise, there was a late night comedy hour featuring, Miguel Washington. Not sure if it was due to the itinerary changes, but normally the Welcome Aboard comedian headlines another show during the cruise.
Dan Sheldon (AKA Dan Dan) was the cruise director, and the Welcome Aboard show was the first time we "saw" him. Dan was not much of talker, nor did he have many jokes or do long introductions; he seemed to be going through the motions during some of the shows and parades.
In contrast, Tino the activities director was definitely more energetic and outgoing. Tino lead some of the dance parties and other day time activities. He definitely tried to liven things up with his humor. Together, they made a good team, and all of the events were up to Royal Caribbean standards.
After a long day, we called it quits at the conclusion of the show. With the crazy last few days, we needed as much sleep as possible for St. Maarten the next morning. We put out the card for room service to be delivered at 7am. At least this ship does not charge for a basic room service breakfast, yet.
Adventure of the Seas Review
Day 2
Back to St. Maarten…Again
The alarm went off, and I was in a complete daze; it was day 2 already? We got room service a few times for breakfast on this cruise, and overall, it was not very impressive. The eggs were watery and cold, and the breakfast meats, bacon in particular, were extremely fatty.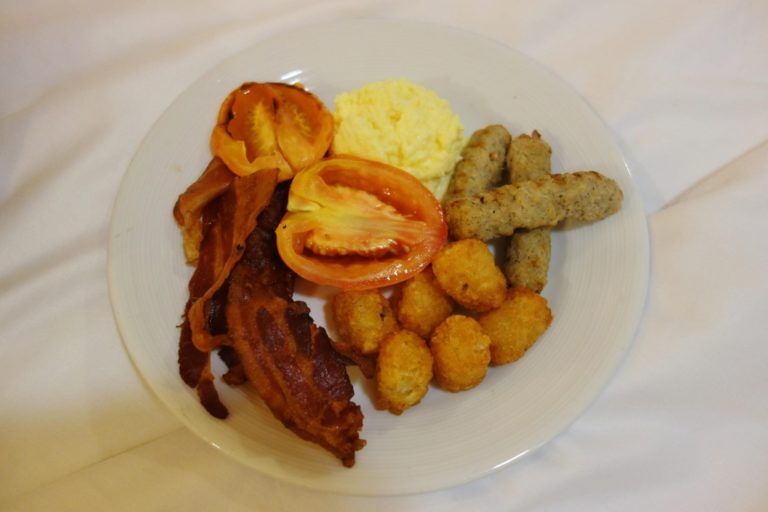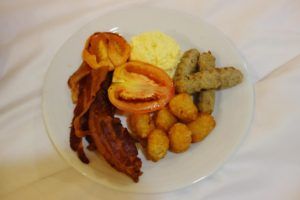 The saving grace was the breakfast breads. I ate plenty throughout the cruise, so I am not complaining, but I do feel that the last few years the room service quality has gone downhill.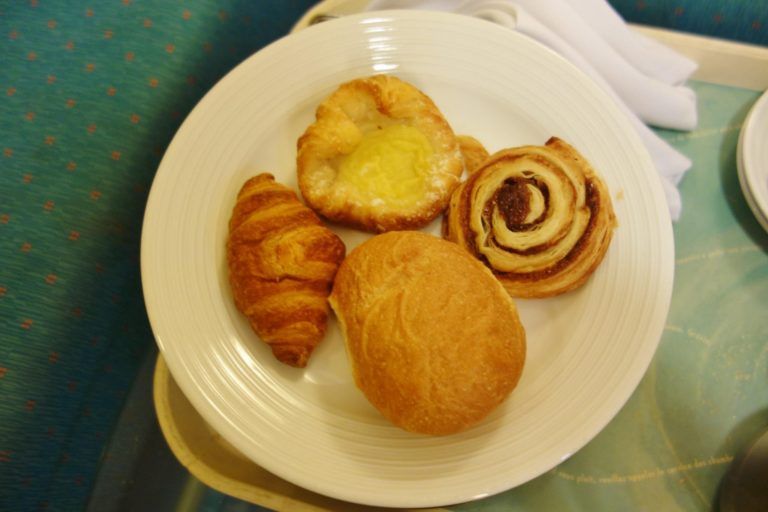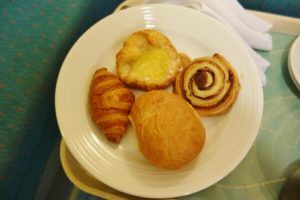 Having had a great experience with a private tour company last time we were in St. Maarten, we booked an island tour with Bernard's Tours. Mom and Sis had never been to any of these islands, so we thought this tour in particular would be a good introduction to this popular port of call. Having had our docking time changed to an hour earlier, we spoke with Bernard before sailing out of San Juan, and he directed us to get to the meeting point a half hour earlier.
An Island Tour
Getting off the ship as soon as possible, around 8:30am, we posed for the several port photos, including one with a pirate.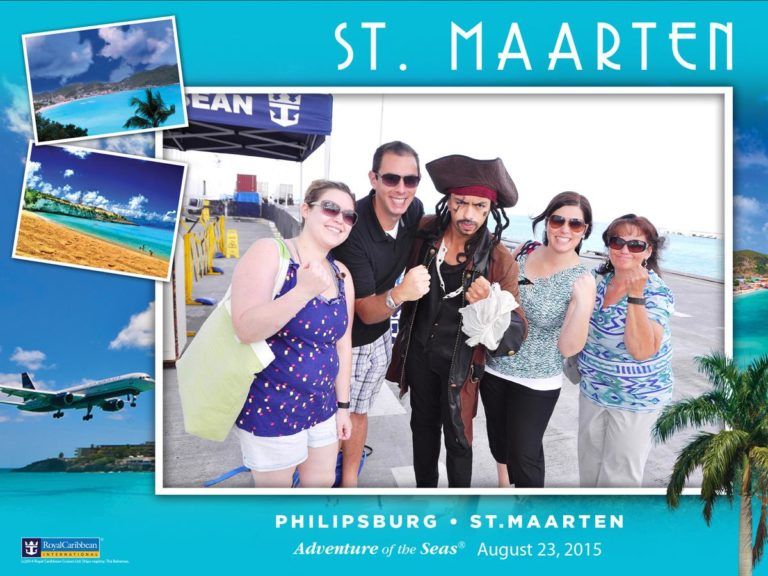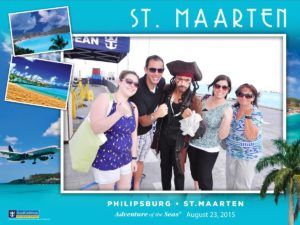 Hey, we have to get our 200+ pictures to make the digital photo package worth it. Walking toward the visitor center, we noticed how extremely quiet and empty it was-we were the only shipped docked! Given the storm, many ships had changed from East Caribbean itineraries to the Western Caribbean. This meant some great picture opportunities for us though.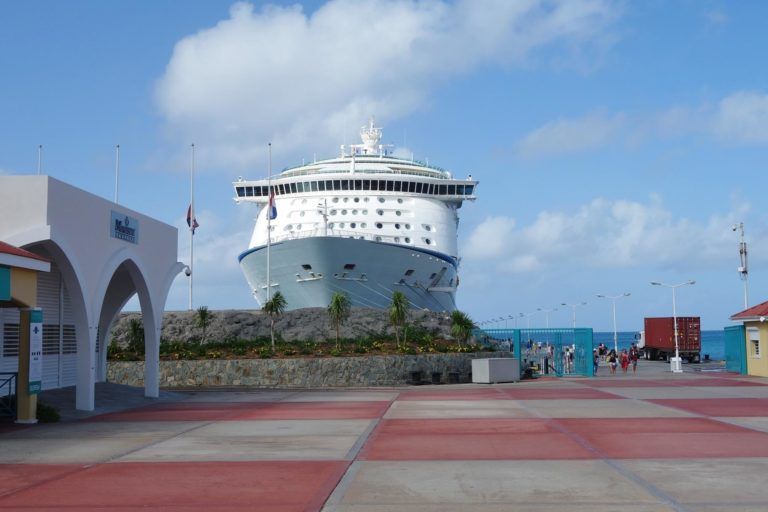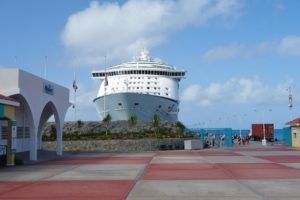 Once taking all new pictures of the pier and surrounding areas, we tried to follow Bernard's directions to find his "White Tent". Only problem-there was no white tent. In fact, once we made it to the parking lot where we were supposed to meet our tour, the security guards laughed about the "white tent", or lack thereof. Getting to the meeting point and checking in early was mostly a waste as we had to wait for other travelers before departing at the originally planned time of 9:30am.
The tour lasted close to 6 hours, so we were back to the docks around 3pm. Be sure to read our complete shore excursion review for the Island Tour of St. Maarten by Bernard's Tours.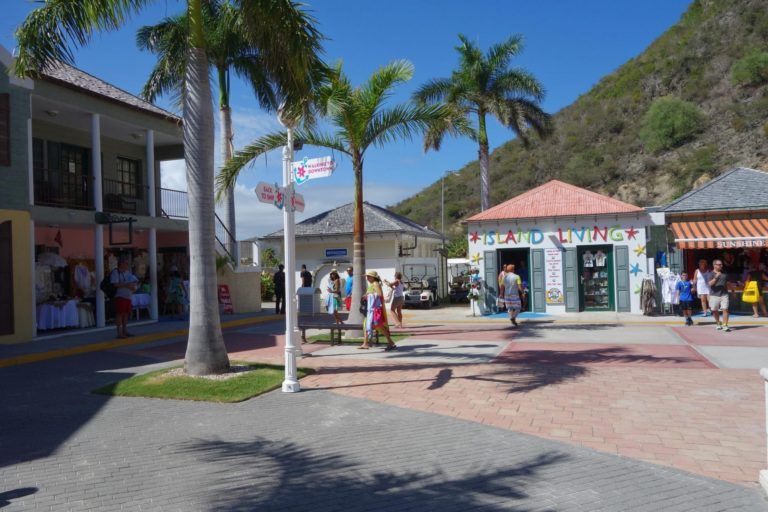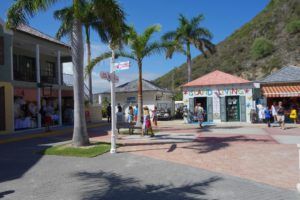 Back at the port, we were on a mission to get a new ornament for our travel themed Christmas tree. If you have to ask, then you need to read this post! Getting an ornament from St. Maarten that was NOT made in China proved impossible once again due to the lack of shops open. That doesn't mean that we still didn't buy one!
Back on the ship, we grabbed some ice lattes and treats from the Café Promenade.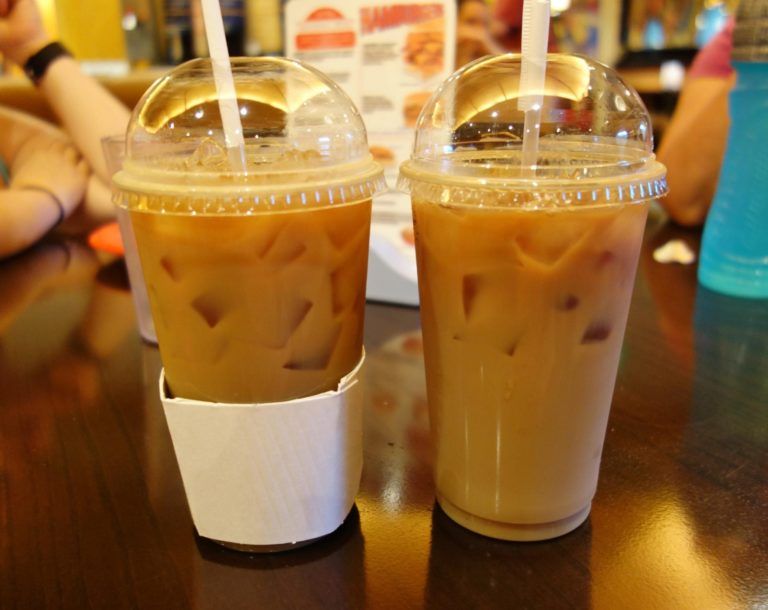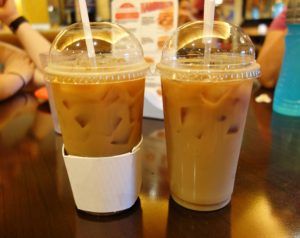 The Princess was in love with the cheesecake pops, and the zeppoles were better than we expected. Yes, I know, not exactly a nourishing mid-day snack!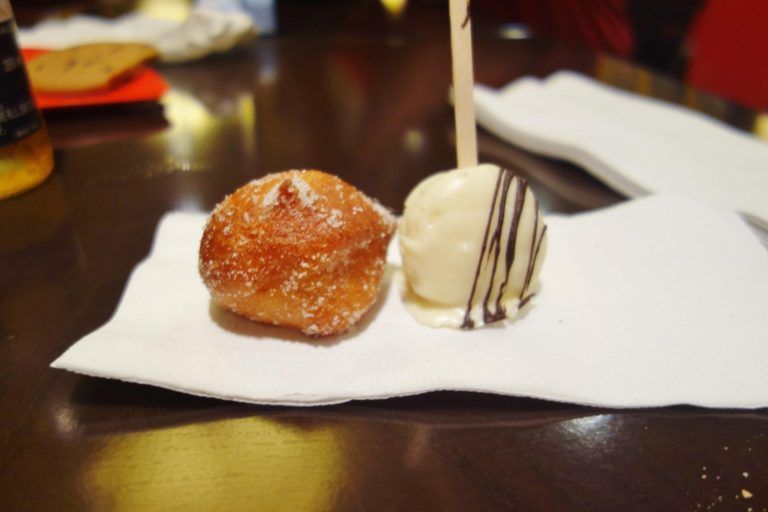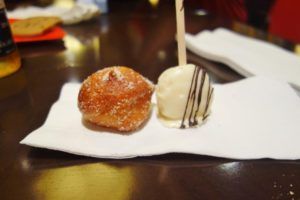 There Are Portraits Tonight?
Given the tour was longer than we first thought, and we had to get ready for dinner and pictures, we ventured back to our rooms to shower and get ready around 4pm.
I stopped at a few of the bars along the way to get extra bottled water for our room, including making a loop around the pool deck during which time I encountered a pretty intense display of water aerobics. Having the drink package is great for staying hydrated; during our cruise, we easily consumed over 100 bottles of water.
Portrait studios open around 5:30pm. Unfortunately, there were only 3 studios, including the white background with poses in some awkward positions on the floor. We took photos in all three stations tonight. If you pre-purchase the digital photo package, you get it for a discounted rated. This is the same rate that you get on the ship if you buy the package within the first 3 days of the sailing, which is $50 off.
We were through the studios in record timing considering we took pictures as an entire family, just the girls, and then just the Princess and I. Yes, we were one of those annoying groups this time around. Only thing is we bought all of those pictures! I am amazed how many people take tons of pictures and then ended up buying none of them.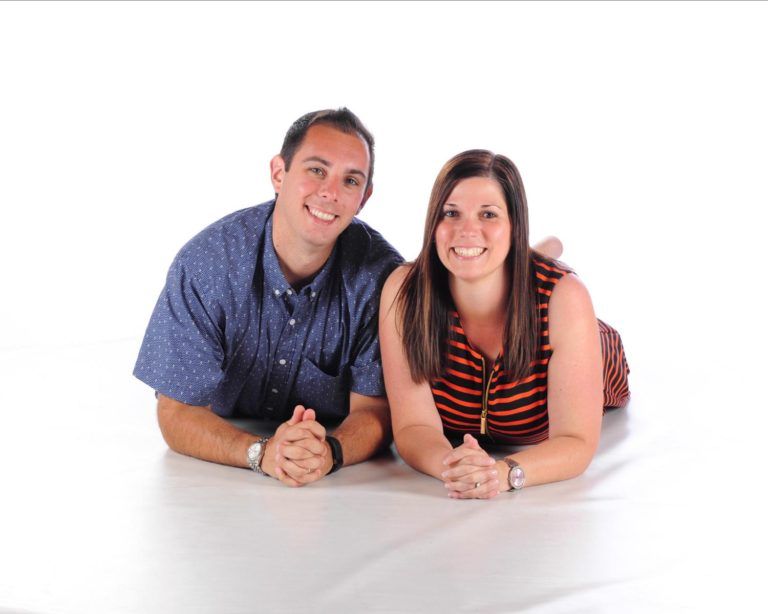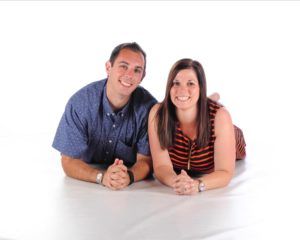 An Italian Dinner and Show
Following pictures, we headed to the main dining room for dinner. Tonight's menu was Pimento, which was a departure from the traditional rotation, but this was mainly due to Formal Night being day 3 instead of day 2 on this cruise. Tonight's feature was the Tiger shrimp, which I may have had two orders of for my dinner.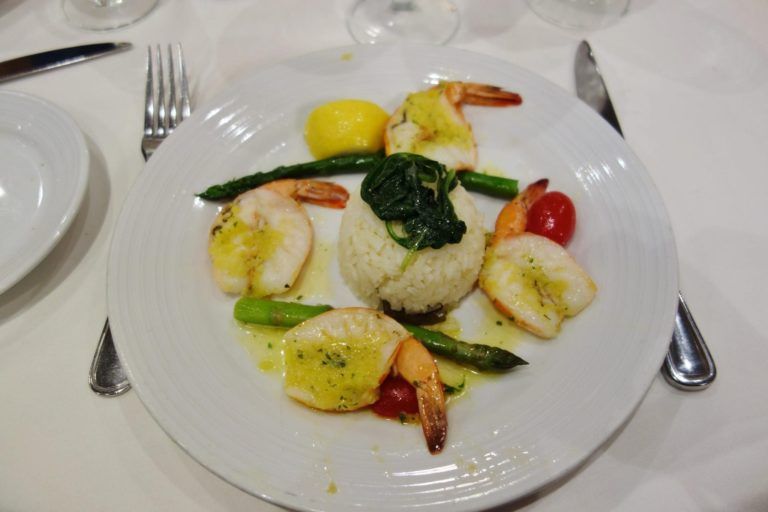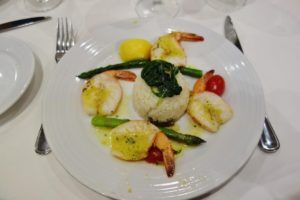 A few of us got the Caprese Salad, which featured Mozzarella and tomato with balsamic vinaigrette, as well as the Antipasto, which came with a piece of ham and salami, along with some fruit and an egg.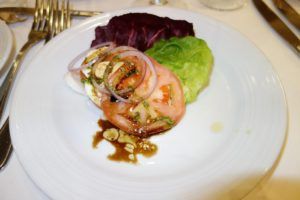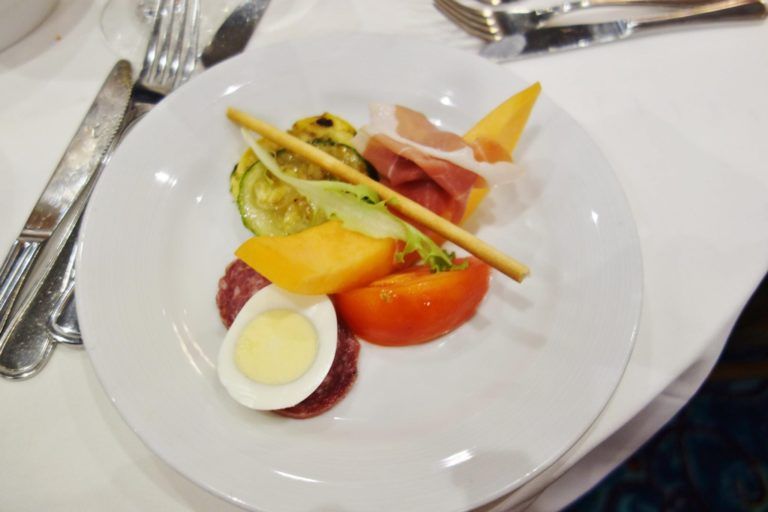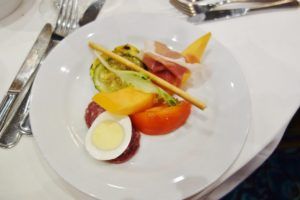 Mom tried the Minestrone soup, which was to her liking.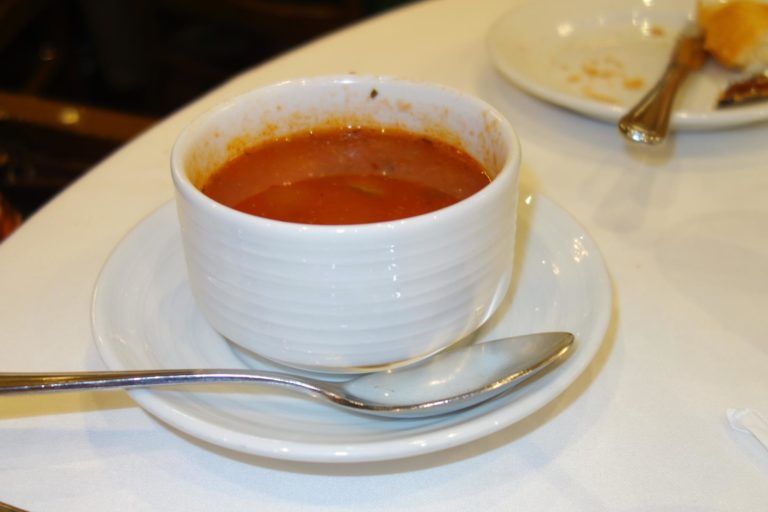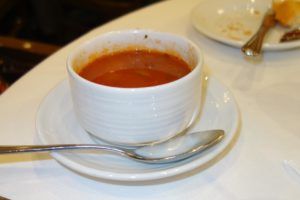 I also had the Arancini, but it was not well prepared.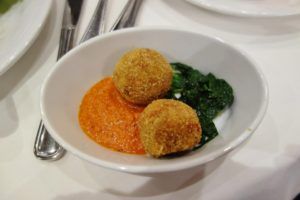 One of the few menus that have a good chicken dish, both Mom and the Princess got the Chicken Marsala. They were both quite large pieces of chicken, and they enjoyed the dish.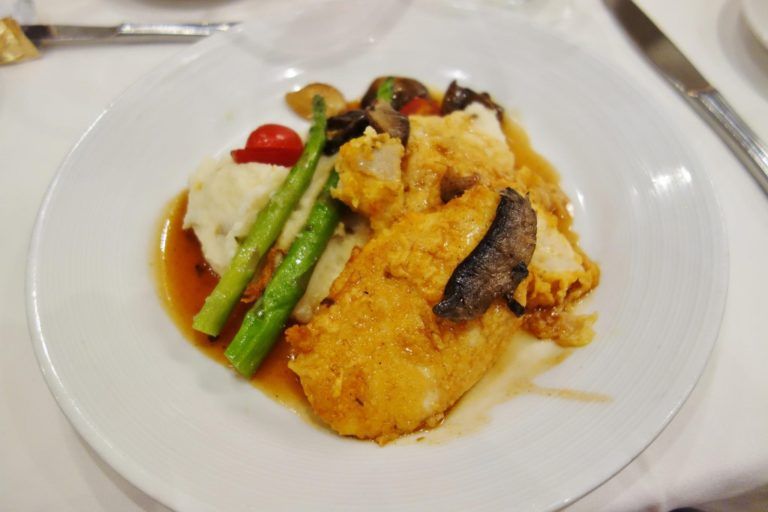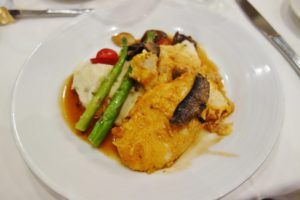 Sis did the lasagna, which I have had in the past and told her it was not very cheesy. It had more meat than anything, which again was something she preferred.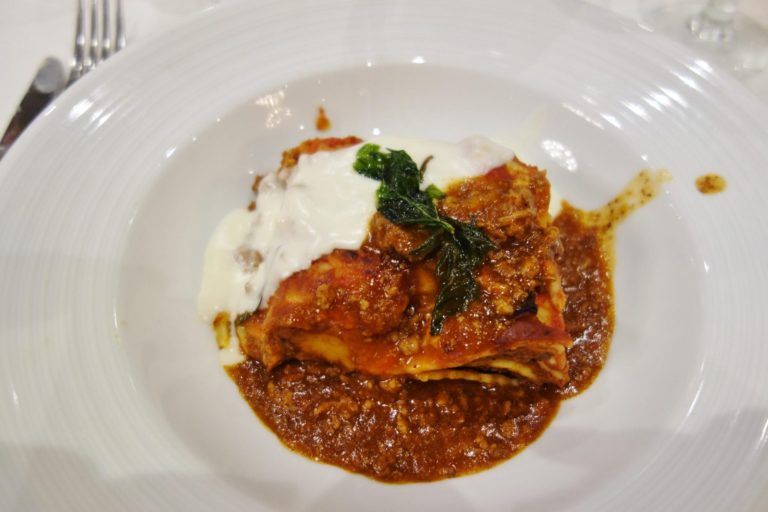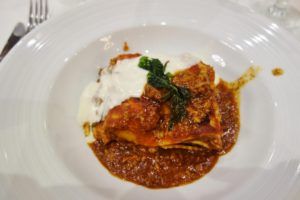 Tonight, our head waiter introduced himself and brought over a piece of tiramisu cake while our service team wished Mom a Happy Birthday. I went with something different, the dessert trio with a scoop of vanilla ice cream.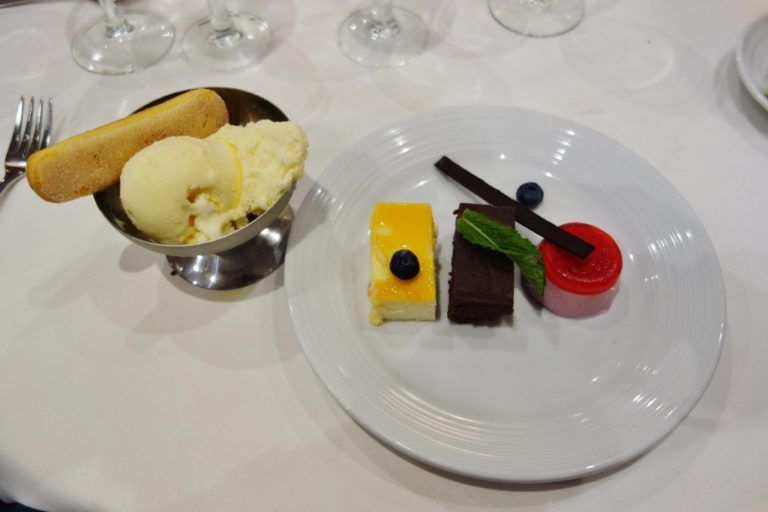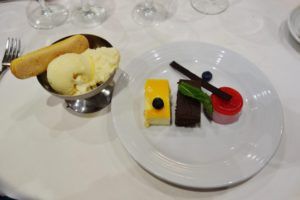 Of the three selections, the chocolate cake was my favorite. Going light on dessert, the Princess had the Strawberries Romanoff-which was basically some strawberries and ice cream.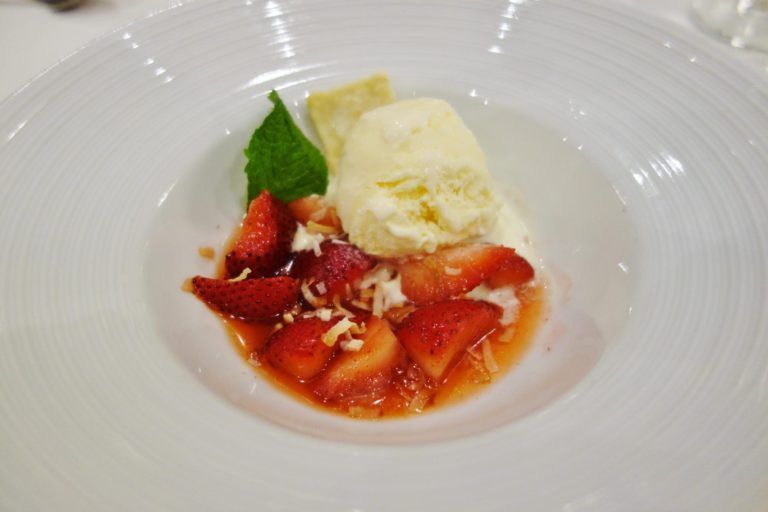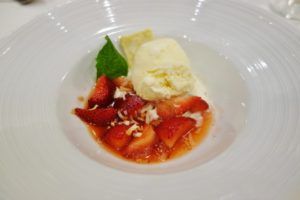 During this evening near dessert, the wait staff paraded around the dining room while cruisers waved their napkins in the air, as a sign of appreciation for the service.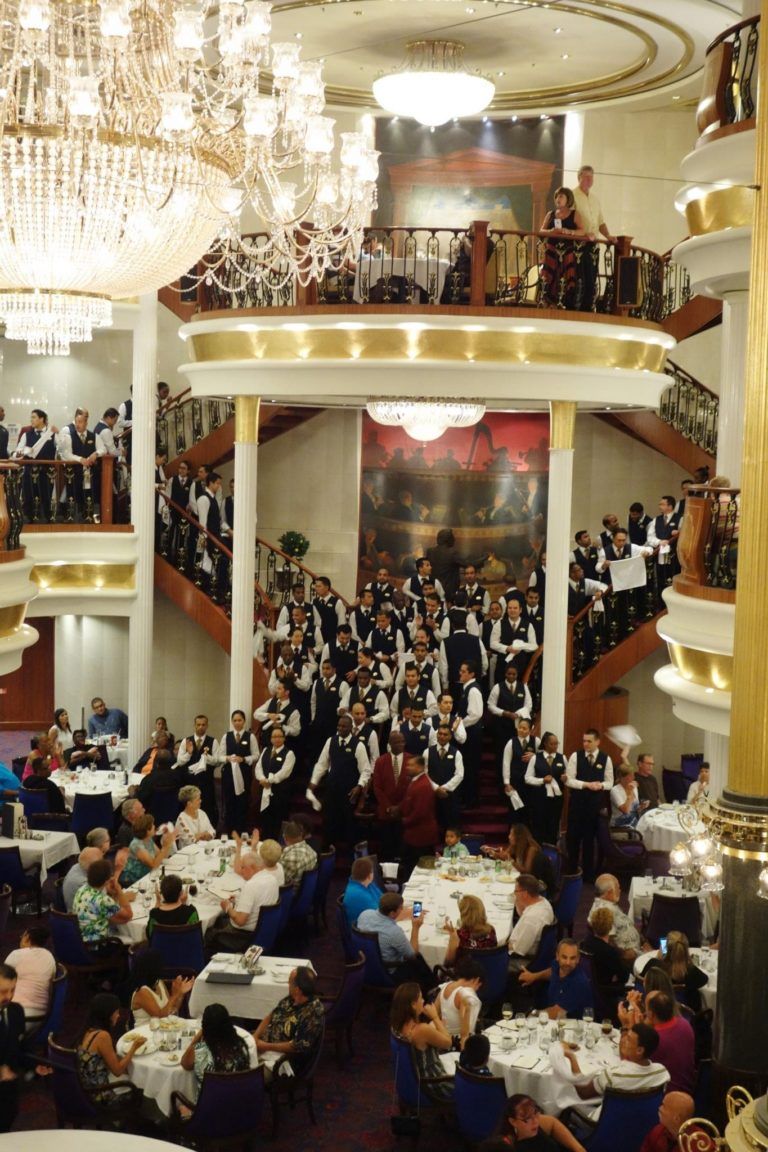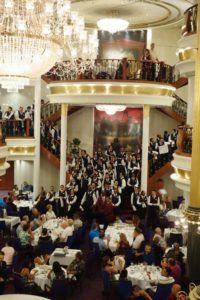 A Night Full of Song
The headliner act, A Tribute to the King starring Travis Ledoyt, had all the makings of a bad cruise show. Now, I did not want to enter this show swayed in any way by The Princess' predisposition, so I did all I could to have an open mind. I like Elvis music, so how bad could he be?
Before heading to the show, we went to check out the pictures from earlier in the day, only to discover on the first night there were actually two casual photo studios as well! How did we miss those?
Catching the end of 70's music trivia and the beginning of Adult Karaoke, we squeezed into some seats in the Schooner Bar where I ordered a perfectly made side car. The wife tried the Tropical Old Fashioned, which was just okay. The good thing about the drink package- if you do not like a drink, you can order another one!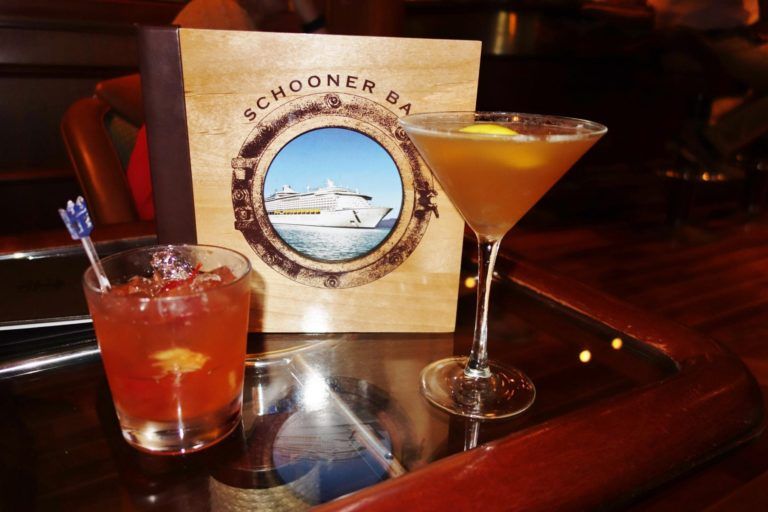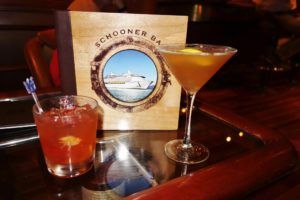 After listing to a few karaoke hits, we headed to the theater for the Headliner Show. Well, let's just say that the Elvis impersonator was not one of our favorite shows.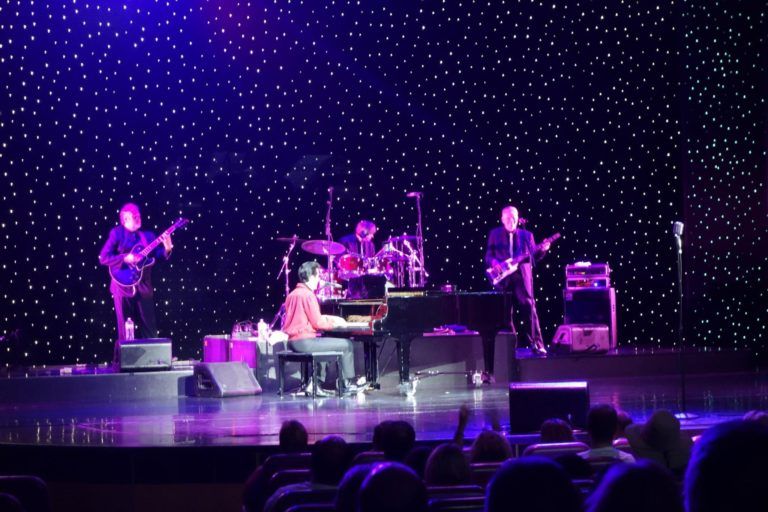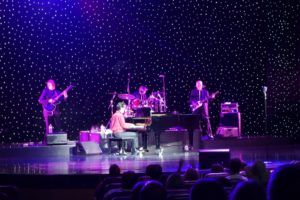 It was straight from the show to the 70's party on the Promenade. Luckily, we scored some seats at the Gravity Sports Bar where we could mostly see the show.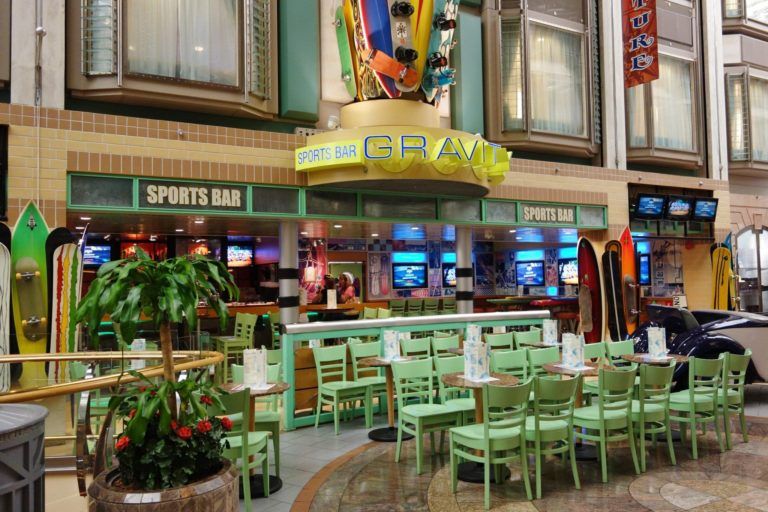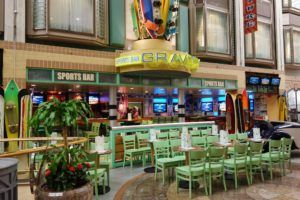 The 70's disco party is always a riot; this show was fun, but more tame than we have seen in the past. Either way, during the 45 minute performance we had a front row seat and a table which allowed us to enjoy some drinks, including the drink of the day.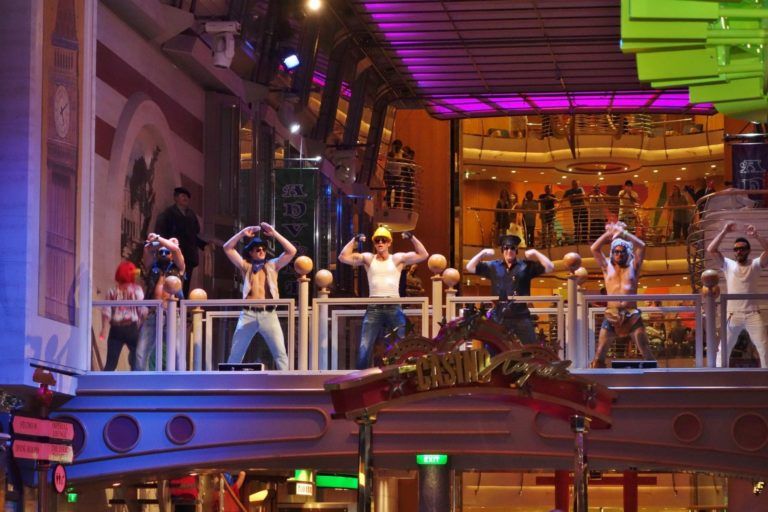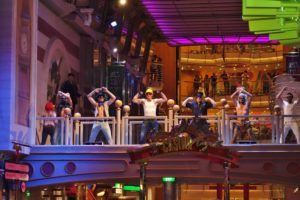 After the show, we debated going to the Imperial Lounge for the Majority Rules Game Show, but opted to retire to bed instead. Tonight we actually got a towel animal.
We had briefly run into our room attendant on Day 1 when I provided him some incentive to leave us a towel animal every night for The Princess. I was disappointed when we did not receive a pet the first night, but tonight he redeemed himself with an unidentifiable animal in sunglasses.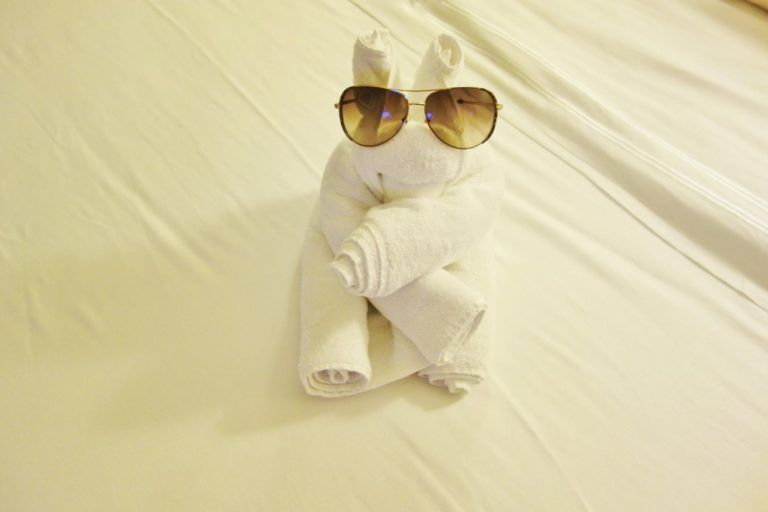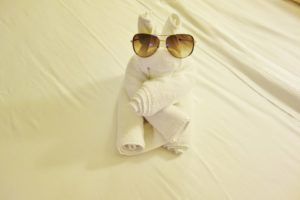 He also left a nice birthday cake towel animal for Mom. I thought that was a nice touch.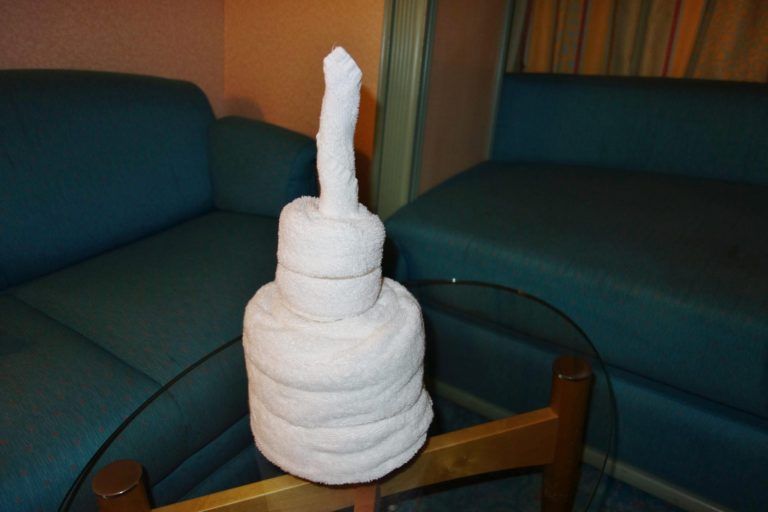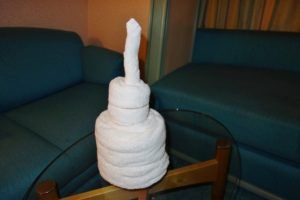 Adventure of the Seas Review
Day 3
Some Time for Rest and Relaxation
Given the new itinerary, we now had an extra sea day while the ship headed south and west to avoid Hurricane Danny. Even with the extra sea day, I knew The Princess wouldn't allow for a complete day of rest and relaxation. Having had a mediocre room service breakfast the day before, we made plans with the rest of our family to get breakfast around 8:30am, so we could be outside by 9:00am to snag some deck chairs. This of course meant that The Princess was up at 6:30am "to get ready". I slept a bit longer then trekked down to the Café Promenade around 7:30am to grab some iced lattes.
Breakfast was not too busy as only half the Windjammer was open. The first buffet line had a small queue, so I went to the back where the make your own omelet stations were located. The same buffet food was also present, but with much smaller lines. I ended up waiting close to 15 minutes for our omelets, but later learned that the station on the Starboard side had a much smaller line. This came in handy on future trips to the Windjammer.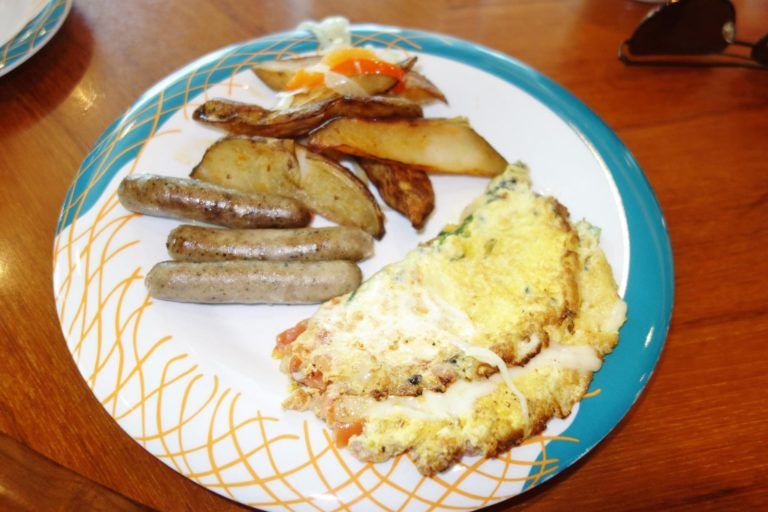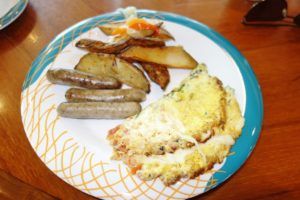 A Beautiful Day in the Sun
We made our way outside by 9:15am, and I was amazed at the availability of deck chairs. We actually got four chairs right next to the Pool Bar, Starboard side, in prep for the Belly Flop Contest and Sexy Man Contest that would occur this afternoon. With ideal deck chairs positioned in the morning sun, there was nothing to do but tan and take an occasional dip in the pool. Even though The Princess is not a swimmer, Sis enjoys the water so I had some company when I decided to cool off in the pools.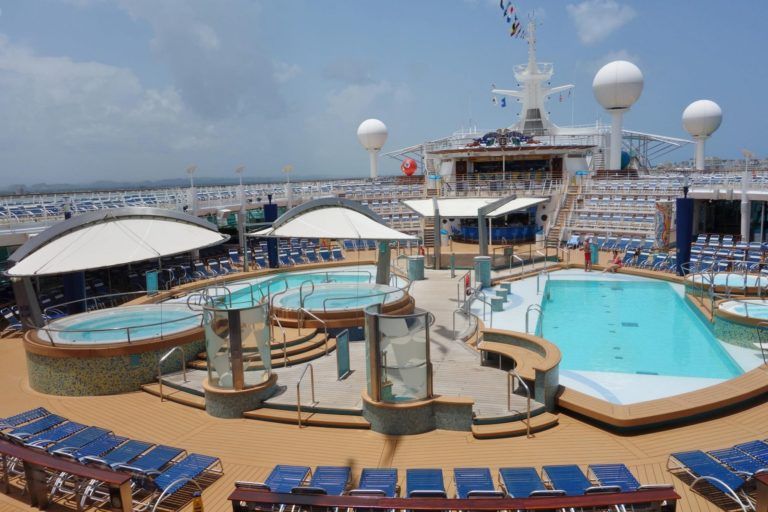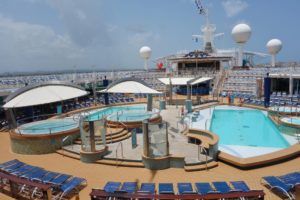 I also made it a point to get to the "top" of the ship to take a picture next to the Adventure of the Seas sign. There was only one person on this mini deck, and he did not seem to mind me climbing up the rails. It was more difficult than I thought though.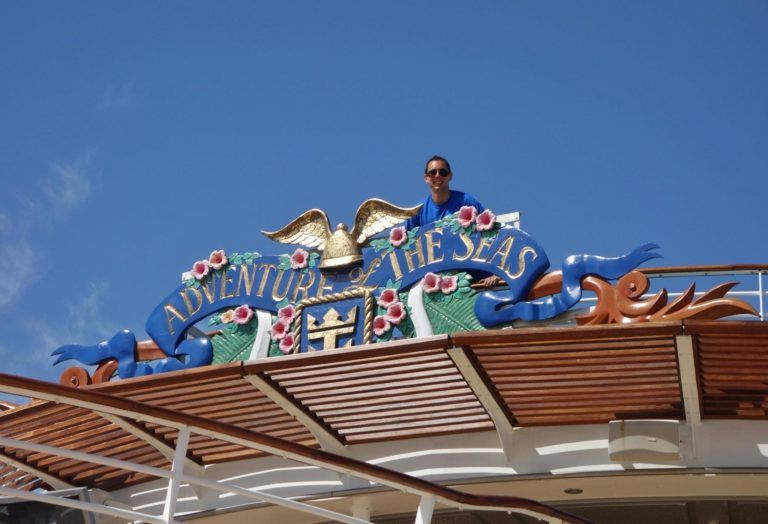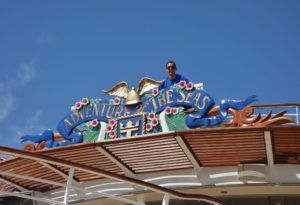 During the morning, we also ran into Abel, our bar server from dinner. This would start an ongoing tradition of bumping into him all the time around the pool decks. He was so nice and outgoing, and always ready to get us drinks. At the end of the cruise, we gave him one of our WOW cards and provided him with an additional gratuity which he greatly deserved. As morning wore on, we got the Princess' permission to get some frozen cocktails.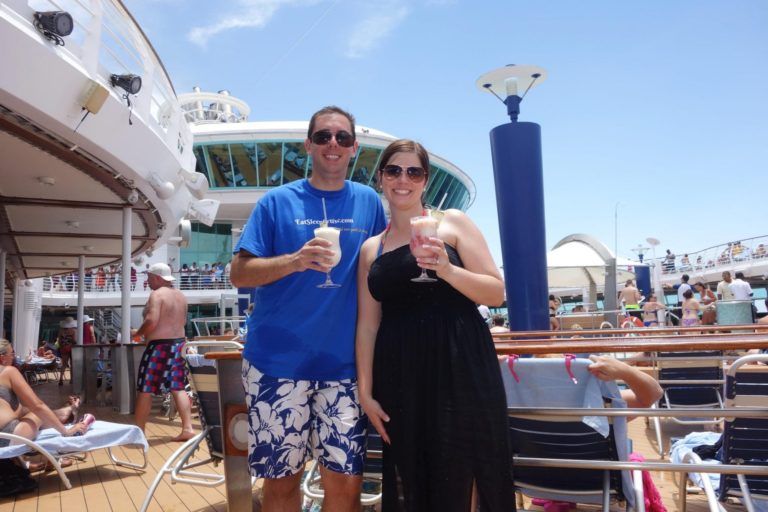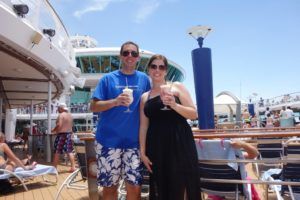 Seeing how we were making out with the drink package, Sis decided it was time to get one. Only problem, no one at the outdoor bars would sell her one, claiming you could no longer buy it. We knew this was not the case, and even our friend Abel was not sure how to go about getting one. Later in the day, she was able to purchase the package at Café Promenade.
Now These Are My Kind of Athletes
With the afternoon approaching, we were kicked out of the Starboard pool for water aerobics. Compared to the session I witnessed the afternoon before on my water run, this class was pretty tame. Before long, it was time to laugh and enjoy the Sexy Man Competition, along with perhaps one more frozen cocktail.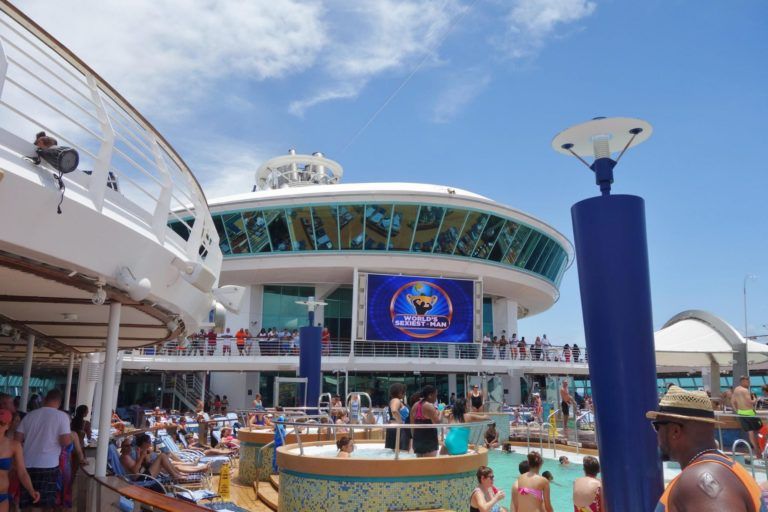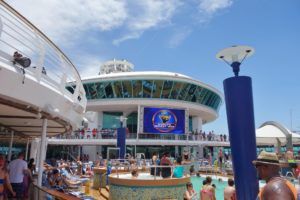 It was a respectable showing, especially by one older Italian gentleman who spoke no English. The winning medal went to a rather fit and athletic younger guy who put it all out there.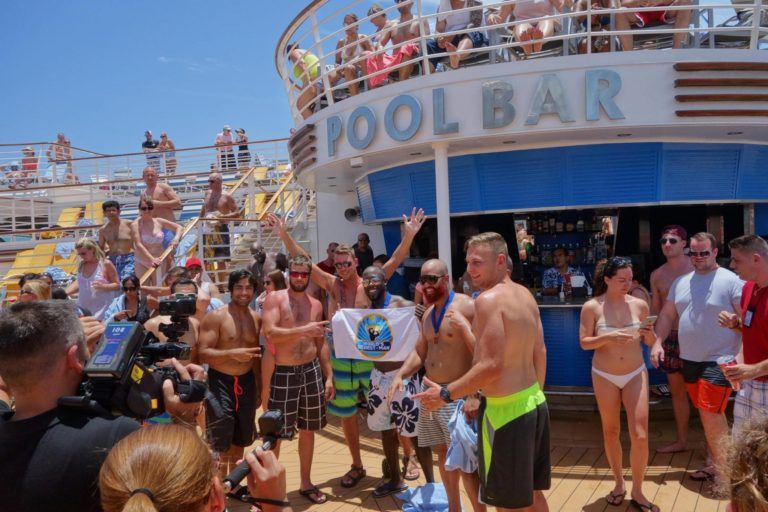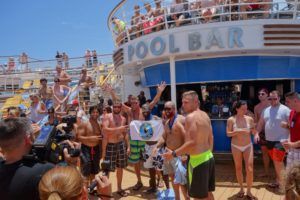 This show went straight into the Belly Flop contest. Trying to get a better vantage point, I scoped out a perfect perch location on Deck 12 so I could get some mid flop pictures.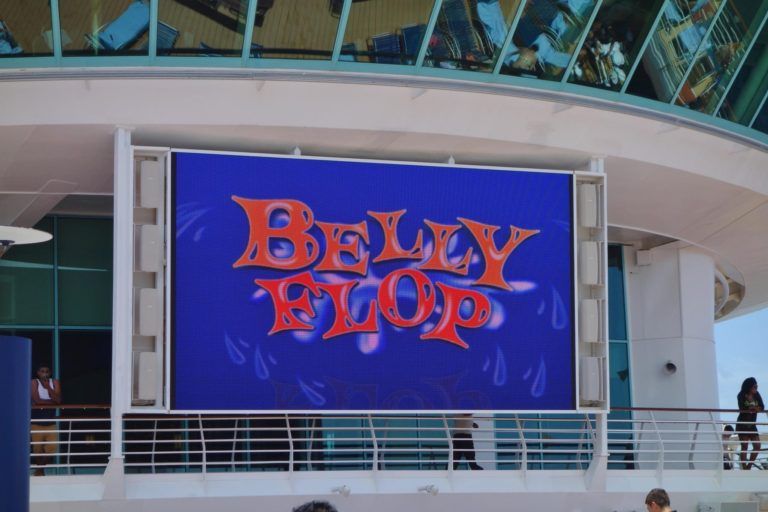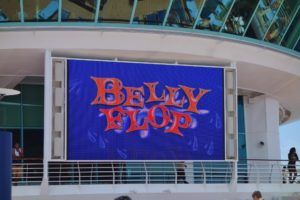 There were two solid heavy hitters and even a female contest which was something new for us. Always a crowd pleaser, there were definitely some big splashes at the Belly Flop Contest.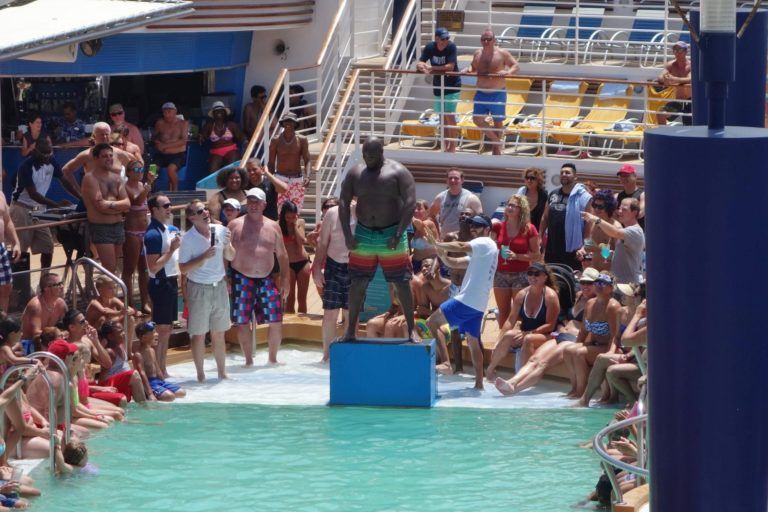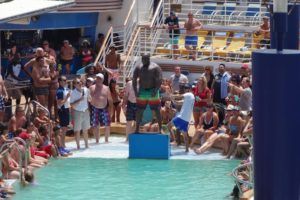 It was a close call, but the gal from Boston actually took the top spot ousting a very large gentleman who I was rooting for.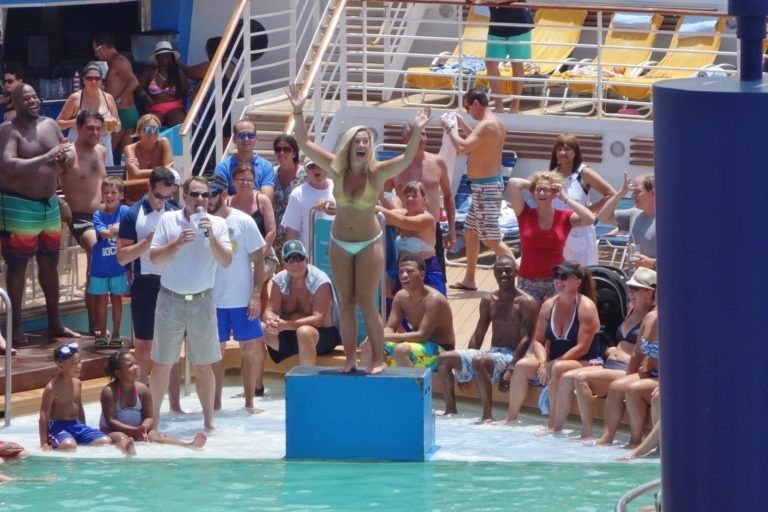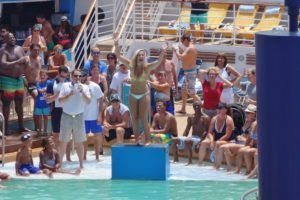 Speaking of sports, The Princess needed a break from the sun, so she suggested a family game of mini-golf. There was a small line to get clubs and a lack of golf balls, so the four of us ended up sharing two golf balls. Our game on this 9-hole course lasted about 30 minutes. While appearing new, the course had many unforeseen dips and bumps in the carpet, which made for a close game. In the end, I gained the victory.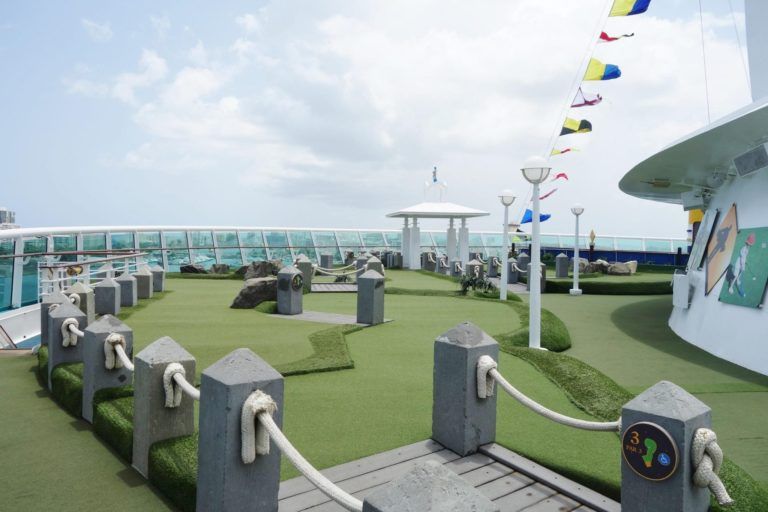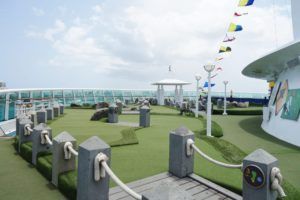 What better way to celebrate than with a snack and some coffee at the Café Promenade?
Preparing for Our Close Up
Heading indoors also meant a break from the sun. Even though we put on plenty of sun screen, it was apparent that we all got a little too much sun. Would we all look red in our formal portraits tonight? The Princess would not be happy about that!
Once we grabbed some drinks and snacks, we headed to the photo gallery to review our pictures from the night before.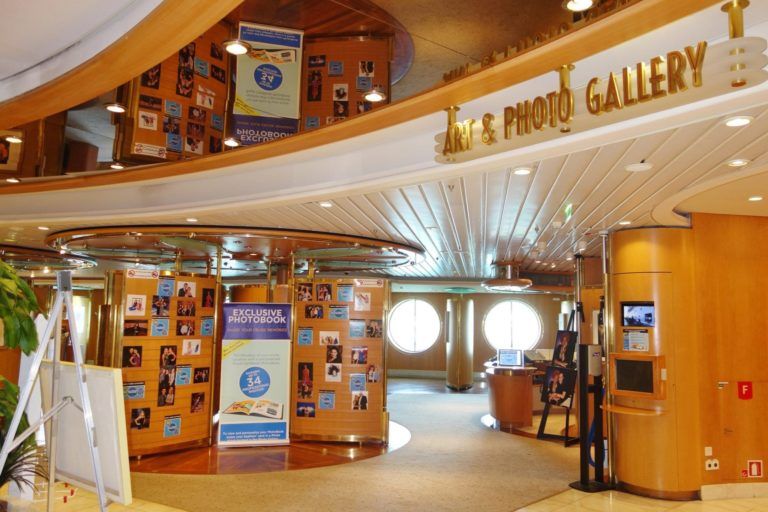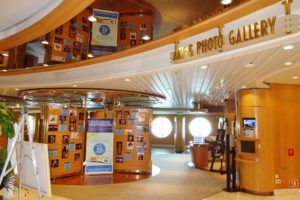 Adventure of the Seas only has a few computer terminals to review your photos, but I suggest comparing your picture count of the hard copies with what is on your account if you are purchasing the unlimited digital package. It was at this time that I actually purchased to package to ensure we got the $50 savings.
We still had some time to kill, and the casino was rather quiet, so The Princess tried her luck at the slots.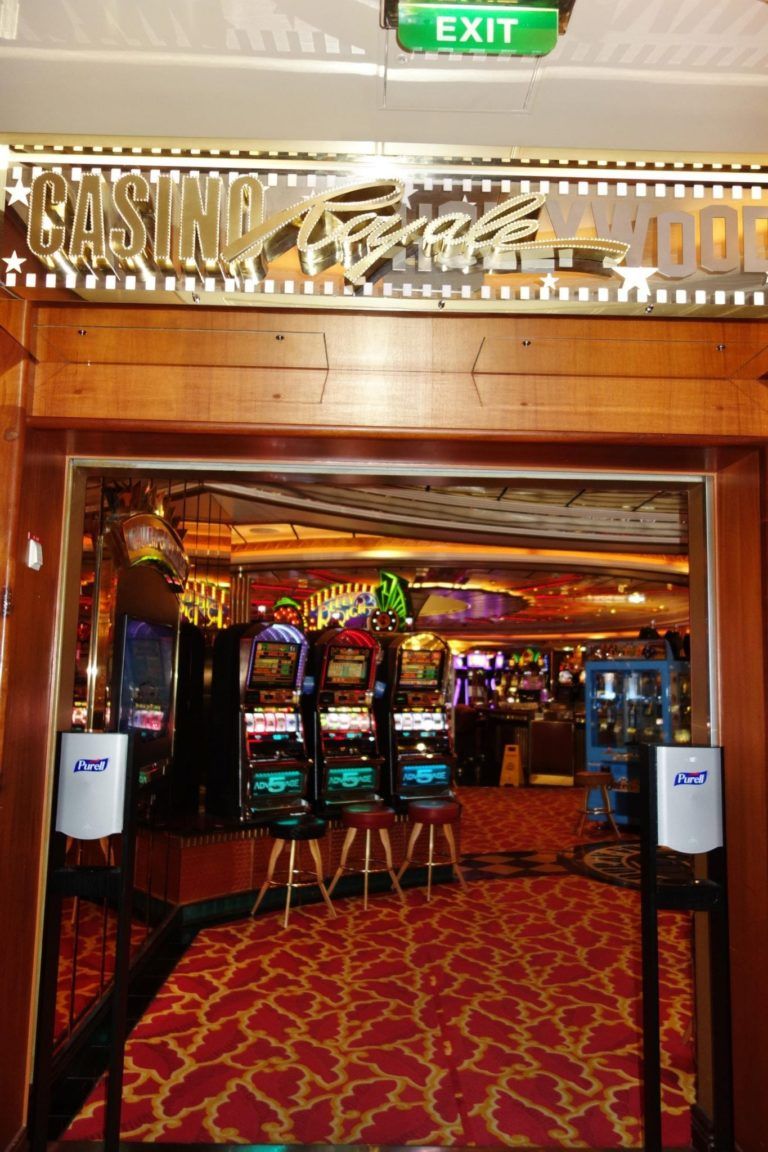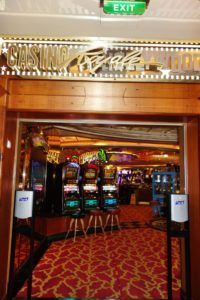 Our streak of bad luck on the slots would continue for the third cruise in a row, with her losing about $120 during the course of the cruise. I ended up breaking even on the table games. We tried to redeem ourselves with the free slot pull for Crown and Anchor members, and even there, we did not win our customary VIP key chain.
Approaching 3:30pm, a solid two hours before the portrait studios were set to open, The Princess made her way back to the room while I made my water run. Good thing for this drink package!
Glamour Shots and Dinner
Ready in plenty of time, we were down to the Promenade a little before 5:30pm to find none of the portrait studios were ready. On some of the larger ships, you can almost always find at least one photographer ready a few minutes early. Starting on Deck 5 and working our way down, we hit all of the 8 portrait studios, saving the one right in front of our dining room for last.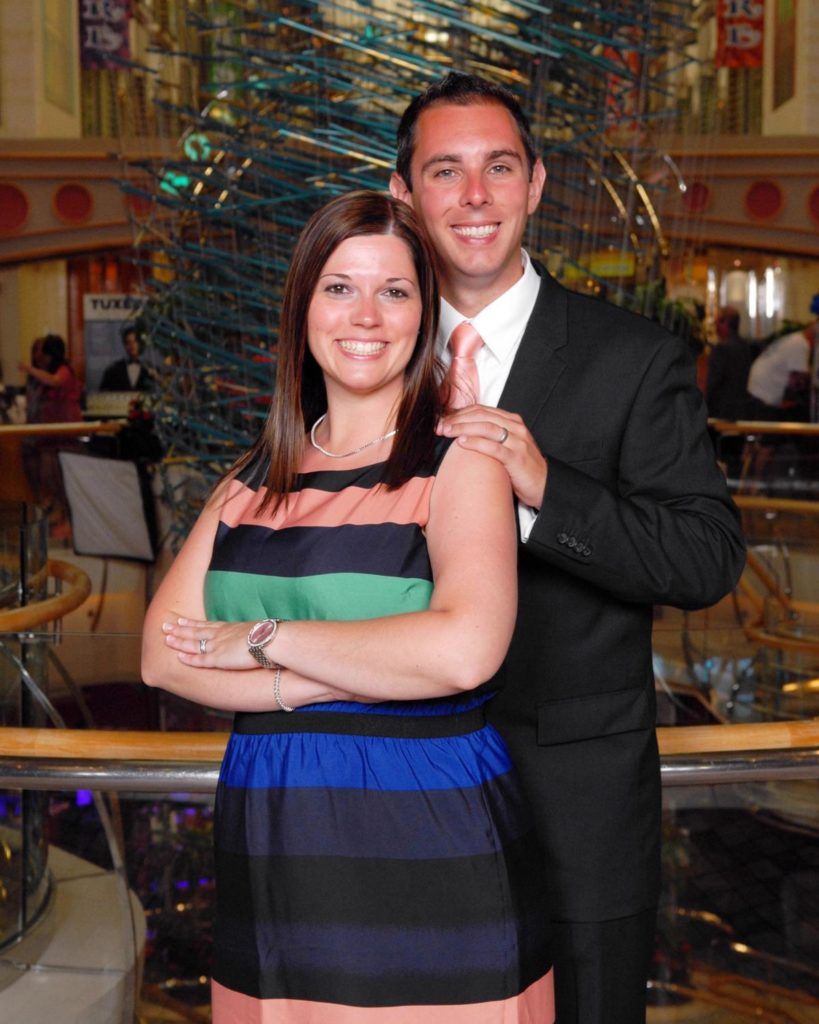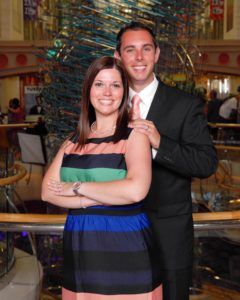 It only took us about 45 minutes to make it through all the studios. We considered that a rather impressive feat. With the photo shoot complete, it was time for some dinner and drinks. Tonight's menu was Saffron, and it featured one of my personal favorite entrees, the Roasted Duck. This dish did not disappoint tonight- it was roasted perfectly with light seasoning, just the way I like it.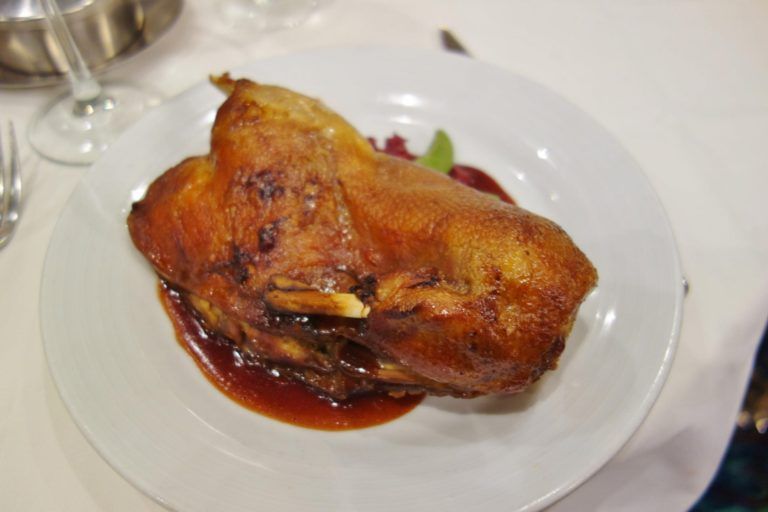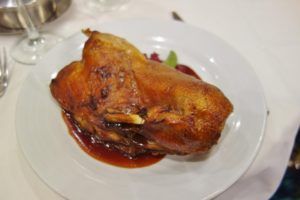 I also got a side dish of the steak fries. My hope is that these fries are here to stay as I really enjoyed the thicker cut compared to the older shoestring style on other ships.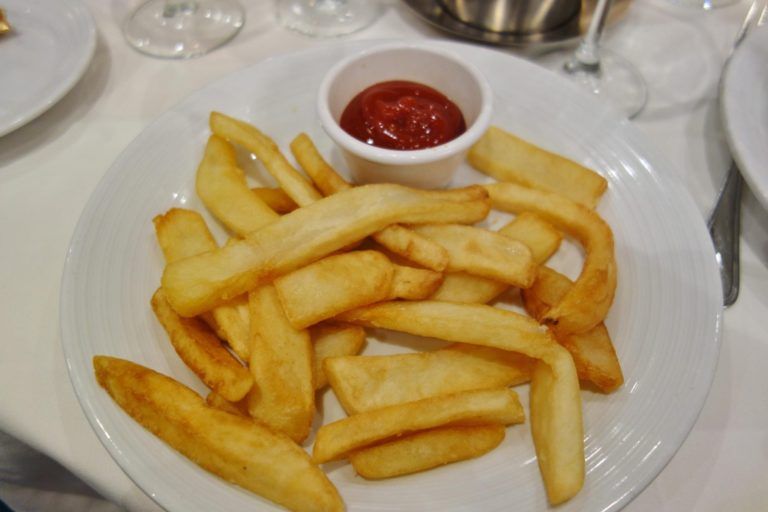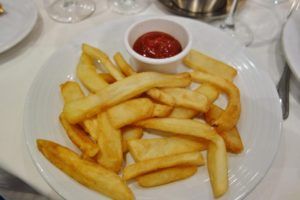 The starters tonight were rather plain, so I did an order (or two) of shrimp cocktail and the wife did the Oakwood Smoked Chicken salad.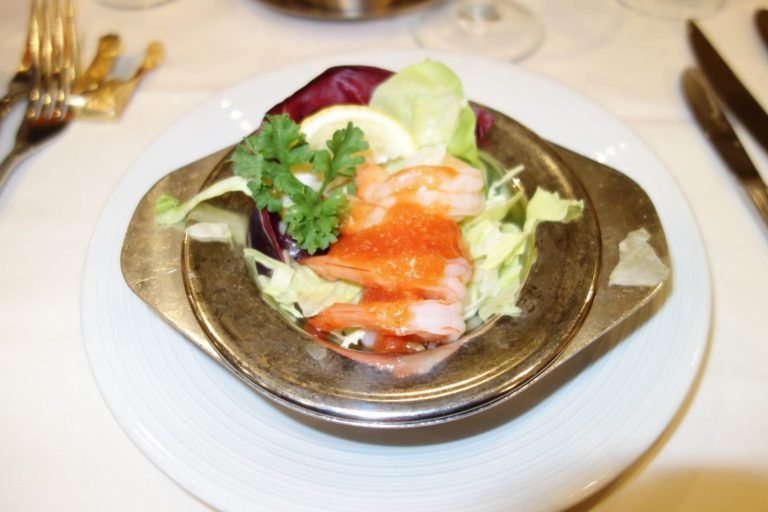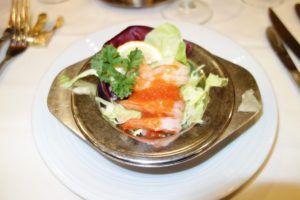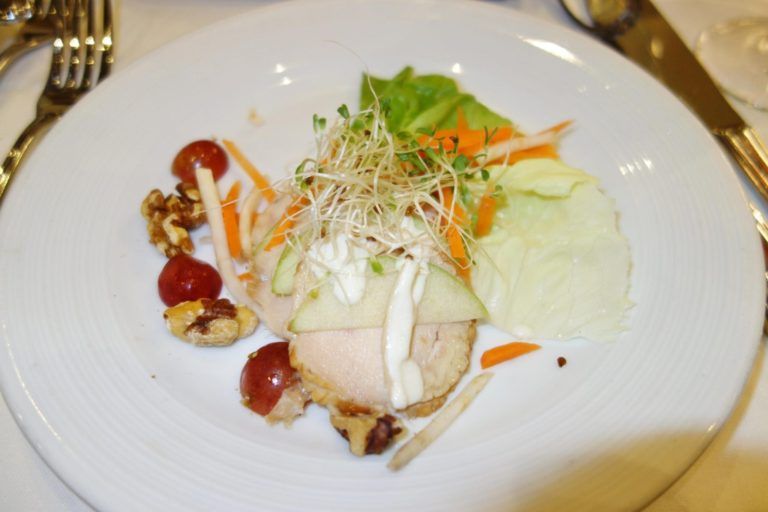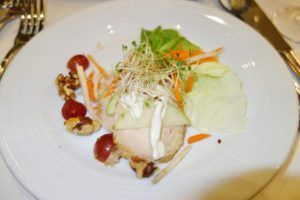 As you have come to know, The Princess only eats chicken so again she opted for the marinated chicken breast with mashed potatoes. Sis and Mom tried the beef tenderloin, which they enjoyed, but it was too cooked for my tastes.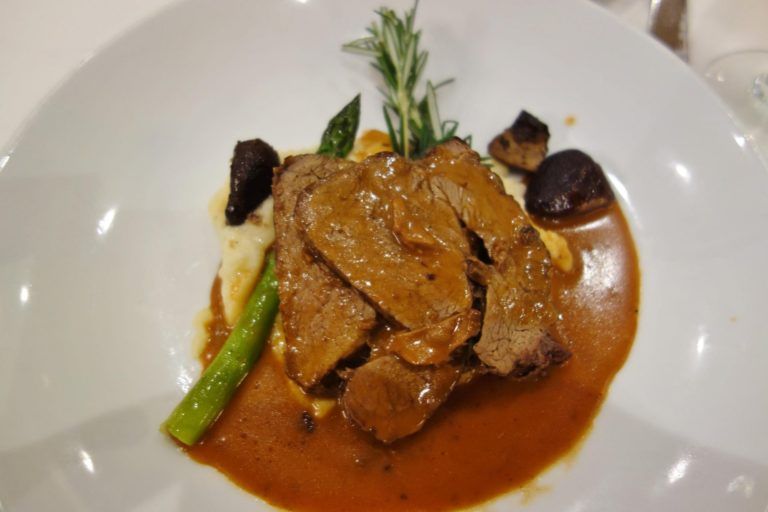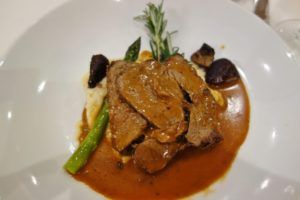 Dessert selections on our table tonight included the Strawberry Cheesecake which is good but lighter than a real New York Style Cheesecake and the Chocolate Soufflé with a scoop of vanilla ice cream.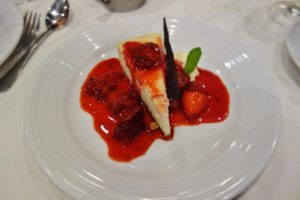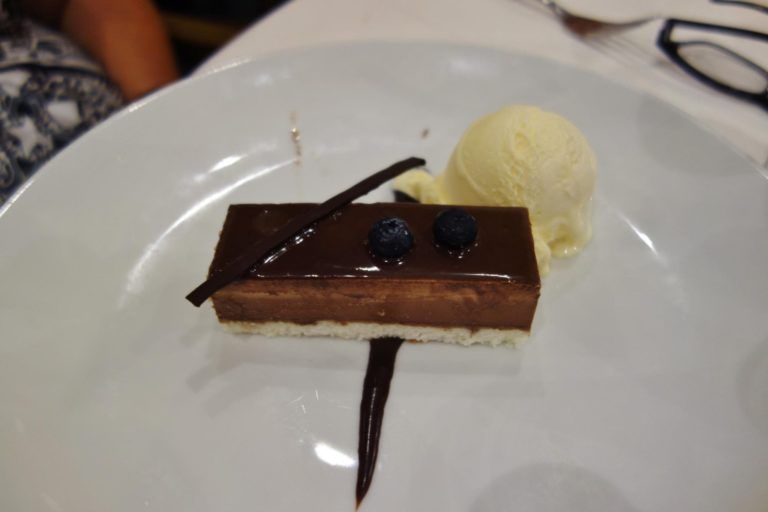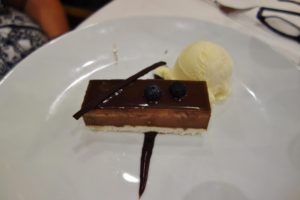 It was at this point that our headwaiter and waiter came by to wish us a Happy Anniversary and sing a short song. It was a bit embarrassing, even for me, as after the initial serenade, our waiter did his own solo performance. It was a lovely gesture, but it did seem a bit long and awkward.
A Night out on the Ship
We had plans to see the production show at 9:00pm, but figured that it would not be too busy, so we made a post-dinner stop at the Schooner Bar for a drink and some karaoke.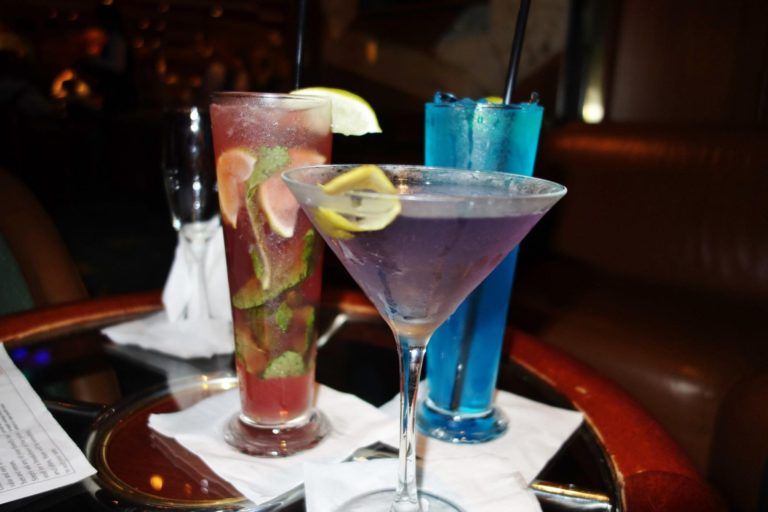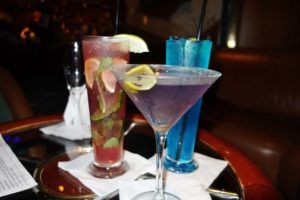 Not really believing she would sing, The Princess was embarrassed that Sis was the first performer of the night. Her rendition of Britney Spears' "Oops I Did it Again" was great and also provides plenty of blackmail material!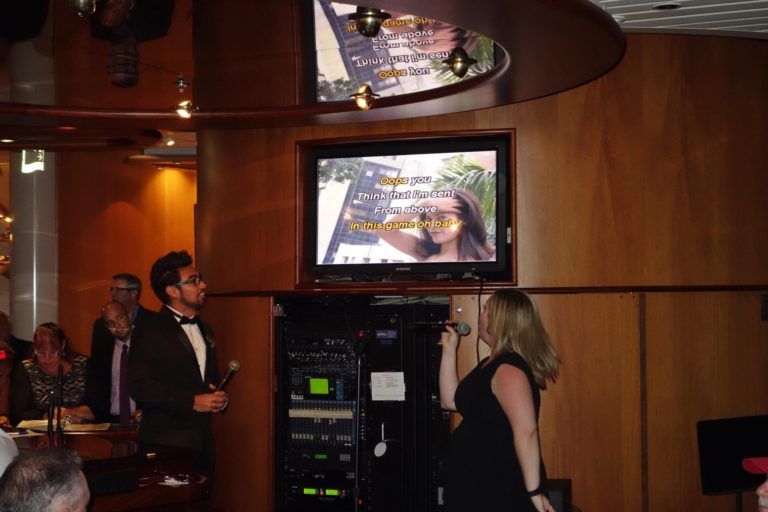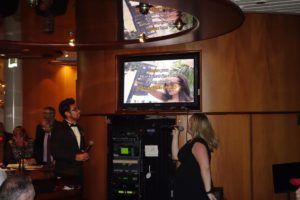 Listening to a few of the other singers, Sis definitely took the prize for best performance for the evening. Cutting it close to Showtime, we then made our way to the Lyric Theater for the production show Jackpot. It was the first time we had seen this show on a Royal Caribbean ship, but it was definitely worth seeing if it is on one of your upcoming sailings.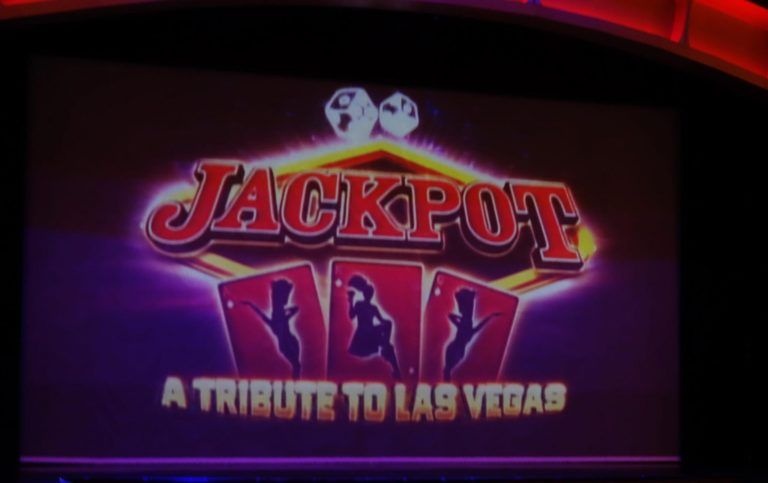 An ode to Vegas performers, from Elvis to Celine Dion and Barry Manilow, it had a nice mix of different music genres and songs. The RCI singers and dancers did a great job bringing the musical acts to life. I wish more cruise ship shows were of this caliber.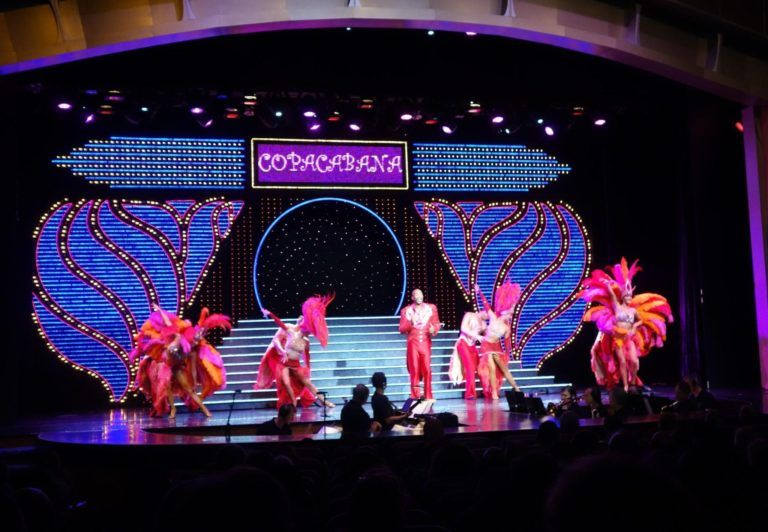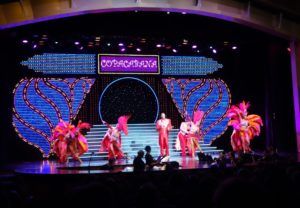 Ending right around 10:00pm, we made a dash up to the Imperial Lounge for the Battle of the Sexes, getting one of the last few seats. For those who are not familiar with the game, there are a series of different challenges where men and women are called down to participate, with one gender wining a challenge.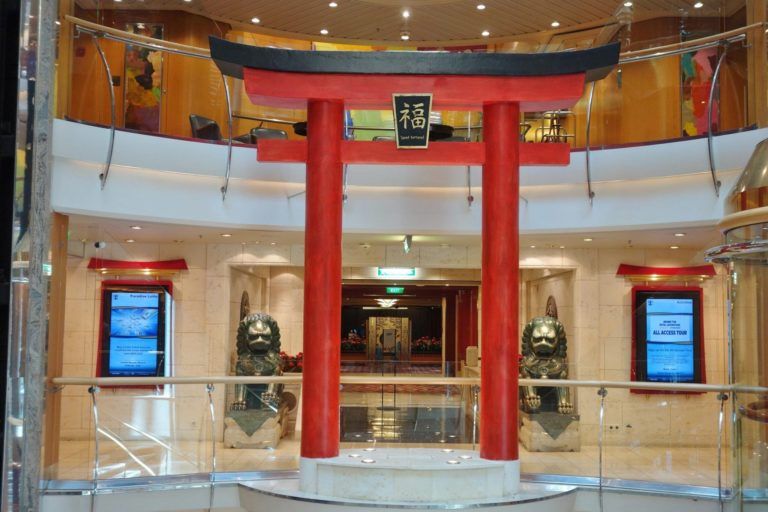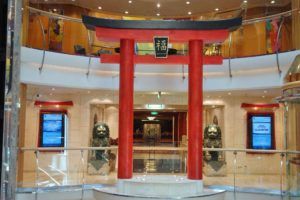 By this time in the cruise, we were starting to see familiar faces and running into "those people" all the time. A guy from karaoke on the first night, the winner of the belly flop contest, a newlywed couple, and the list goes on. It seemed like all of these "familiar faces", both male and female, were at the game show and ready to play.
Did we participate? What do you think? Actually, Sis did run down for one challenge, but The Princess and I remained spectators.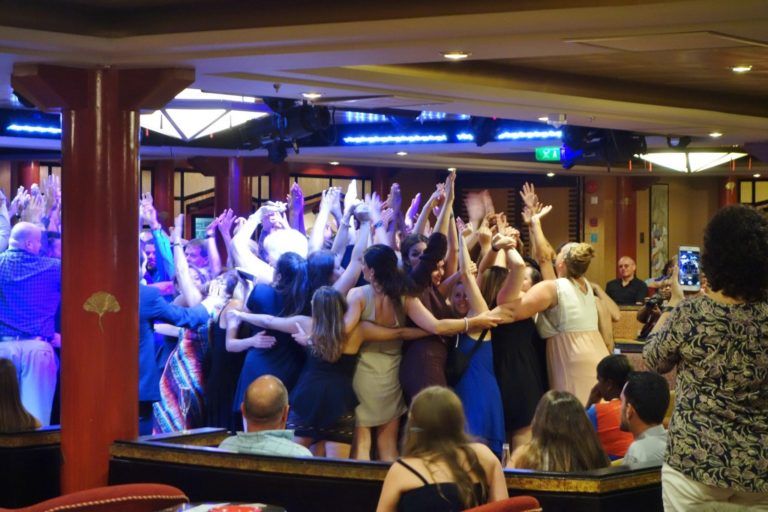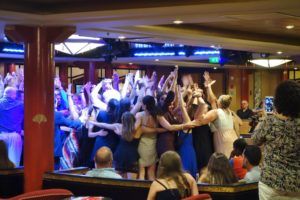 As usual, the show was a riot, and shockingly, the men actually pulled the win in the tiebreaker round. With all of this excitement done by 11pm, we headed to bed in preparation for our second port of call, Aruba, and an island tour to explore this new port. Returning to the room, we were greeted by another towel animal. Now we were talking.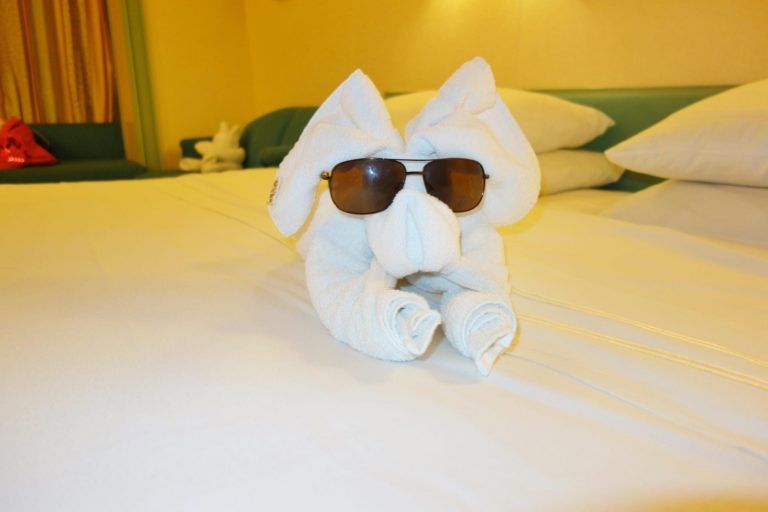 The Princess loves to collect these creatures over the duration of the cruise, creating her own little zoo on the couch. Which means less sitting area and towels for yours truly!
Adventure of the Seas Review
Day 4
Learning our ABCs
Now with the ship far away from any possible bad weather, we were scheduled to visit Aruba today. Aruba is an island we have always wanted to visit, but hadn't gotten around to it yet. With the sudden itinerary change, we would now get to visit the island, but we certainly did not have enough time to prepare or research tour options and must see attractions on the island.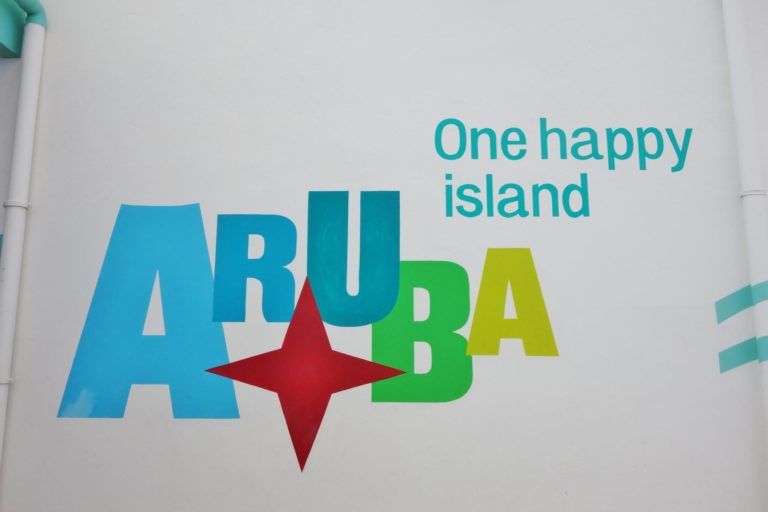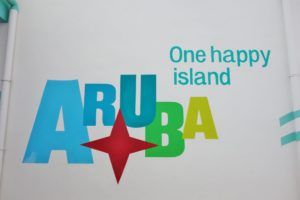 We figured the safest bet was to do an island tour through the cruise line to get a lay of the land for our next trip back. The ship was scheduled to arrive around 8:00am with a sail away time of 11:00pm. With so much time on the island, it was possible for us to do the tour in the morning and head back out later in the day if there was something that caught our attention.
Scheduled to meet in Studio B for 8:00am for preferred exiting off the ship for our excursion, the Princess was up at 5:30am to begin her morning ritual. We left ourselves enough time to get lattes and breakfast pastries at the Café Promenade where we met our family around 7:30am.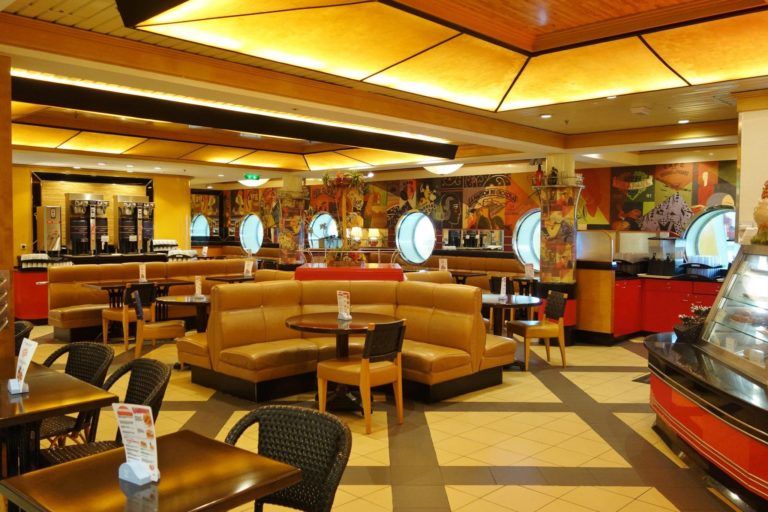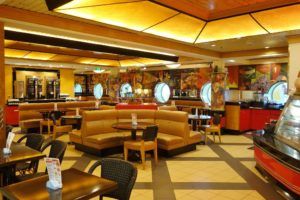 Getting to Studio B right on time, I grabbed us some towels and bottles of water. We sat down for not even 10 minutes when we were cleared by local officials and escorted to the pier to locate our tour.
Our First Views of the Island
As we exited the ship, there were a few picture studios right next to the gangway. Of course, we stopped to pose for them. However, we were all wearing sunglasses, so we had to have the photographers at the Photo Gallery manually add these to our account. Even though we have gone through this before on other cruises and have never had problems, when we got home and went to download the digital files from this disc, our Aruba photos were not there. Too bad, as the Princess claims they were great photos.
As we entered the small terminal with a few shops, we saw a sign for our tour. We showed the representative our tickets and were directed to one of the buses immediately outside.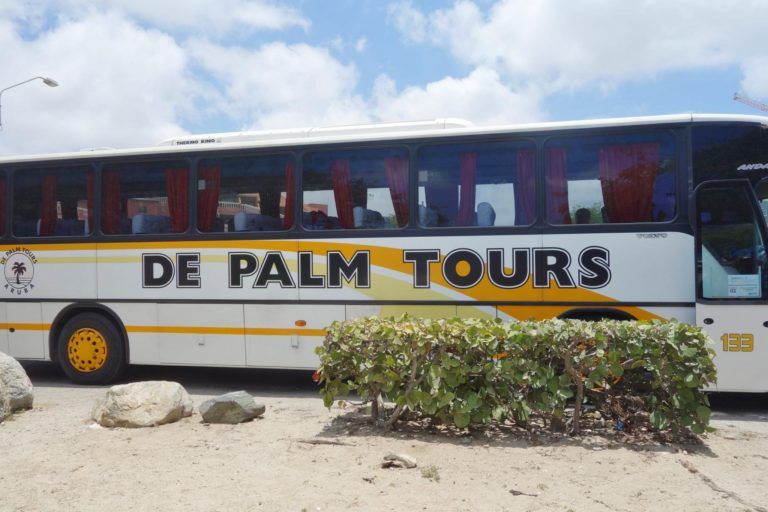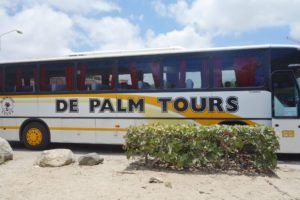 Since we immediately entered the terminal building after disembarking the ship, this was really our first chance to get a glimpse of the island. From what we had been told, Aruba is not like your typical Caribbean island; it is much more arid and desert like, and the reports were right.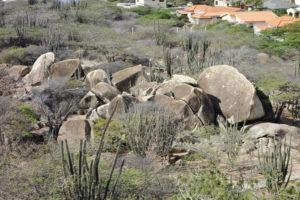 Our tour departed promptly at 8:30am and took us around some of the major island sights, including the Casabari Rock Formations, the Natural Bridge, the California Lighthouse, and a much needed stop at Eagle Beach for a dip in the crystal clear water.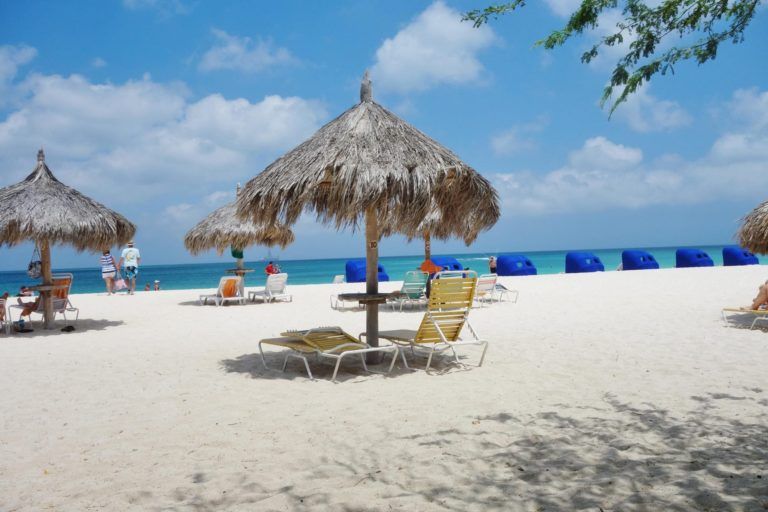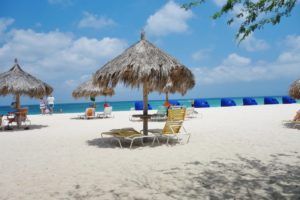 While at the beach, we ran into someone from our ship, who took the public transit to the beach. Apparently, she regularly visits Aruba on vacation and was telling us about some of her favorite things to do on the island. To find out more about Aruba, see our Shore Excursion Review.
Some Souvenirs and Beers
The tour bus got us back to the ship for 1:00pm. Mom was feeling a bit under the weather from the sun and heat, so we thought she was going to head back to her cabin to rest, but she decided to tough it out while we exited the port and entered into town.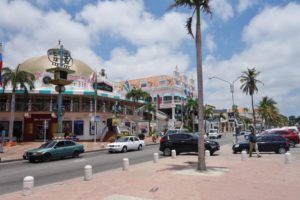 We had plans to walk around the immediate area which included some typical souvenir shops and bars. One thing I had to do before we left was try a Balashi beer, a local brew. Sis agreed with me on that too. Our first pass was a little open air market that offered your typical t-shirts, magnets, and a variety of the normal touristy things.
Wandering through the shops, I stopped into one t-shirt store, but I quickly got the sense that they were not into negotiating on this island. I was not paying $25 for a t-shirt, even a nice one; I actually ended up finding a similar t-shirt later on for only $15. Although we usually confine our shopping to a t-shirt for me and a handmade ornament for our vacation tree, The Princess suckered me into buying a locally made giant sandal. Yes, what every cruiser needs to hang-up in their house. Negotiating $5 off the list price made me feel better about buying it. After rounding out this area, we headed in the opposite direction to another marketplace. Here, Sis and I bought matching island hats.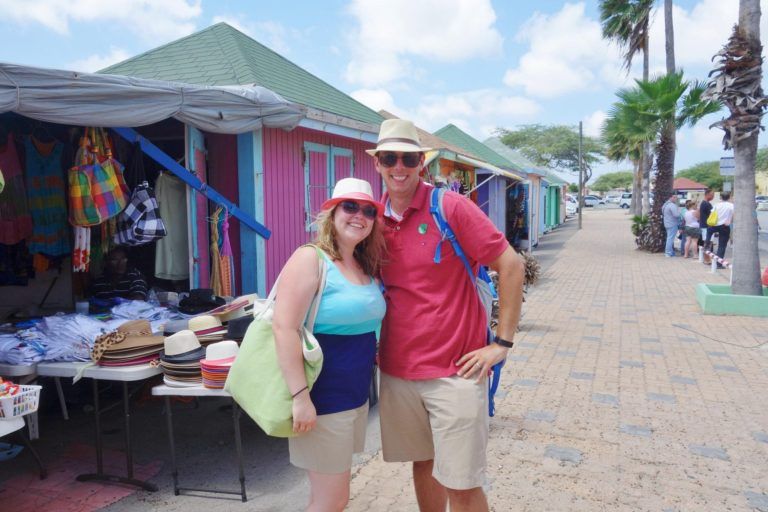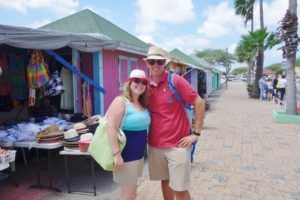 I have wanted a "cruise" hat for a while, but could never find one that fit quite right. With help from a nice merchant and some coercing from Sis, I found a fedora style hat that sat appropriately on my head, and I was sold. By this time, we were all getting a bit overheated and tired, so we slipped into a local bar near the ship to try the local brew. To me, it had a similar taste and finish to a Heineken.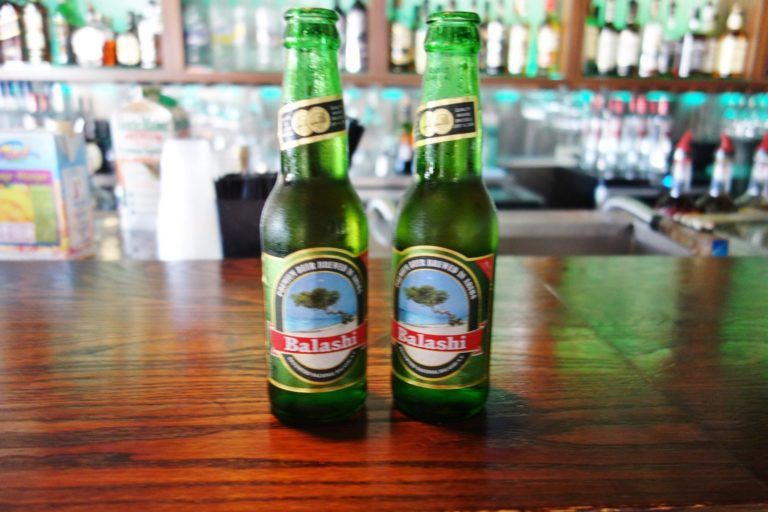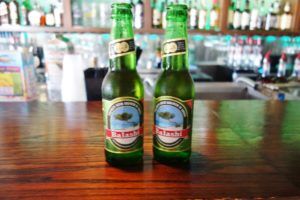 Then, it was back to the ship by 3pm.
Another Storm Brewing
Upon return, we made a dash to the Windjammer for a late day snack, but first a quick pit stop for some iced lattes. Unfortunately, the buffet was closing, so the selection was limited. At least they had my French Fries.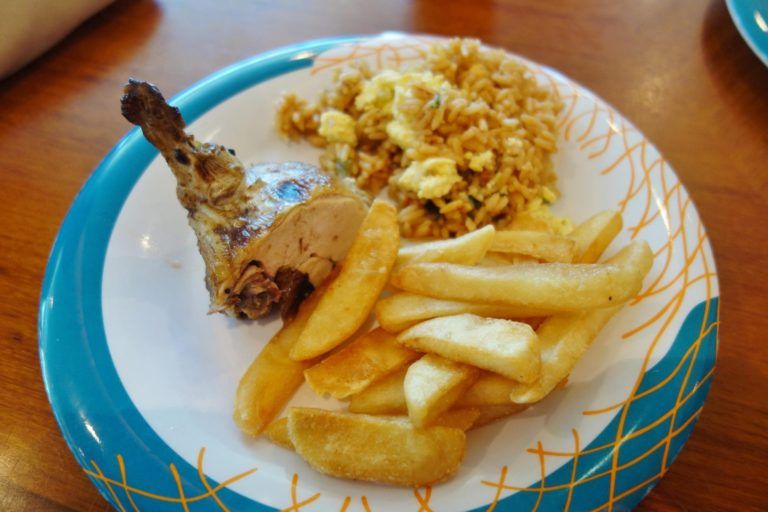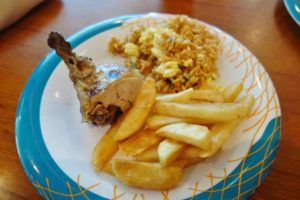 Finishing "lunch", The Princess and her family headed back downstairs to their cabins while I took some aerial photos of the port from Deck 12 and grabbed more bottled water for our room.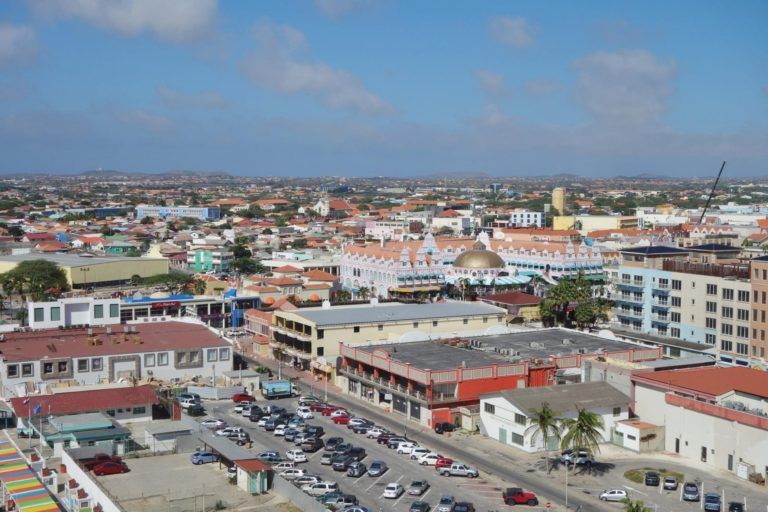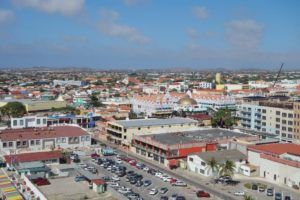 Tonight there was a planned sail away party and dancing under the stars, which meant late night drinks, so water was going to be a necessity! It was during my travels that I overheard passengers talking about ANOTHER tropical storm, Erika, which was predicted to pass through the islands. Seriously, another tropical storm in the same week?!?
Upon return, I alerted The Princess who checked her phone and indeed Ericka was predicted to be in the vicinity of St. Thomas around the same time we were expected to travel to the island. GREAT!
Tonight, Mom decided to stay in her room and passed on dinner. I think it was a combo of the sun and the adjustment to cruise food, but she was not feeling too well. We tried to insist that she drink more water as it was apparent that she was dehydrated.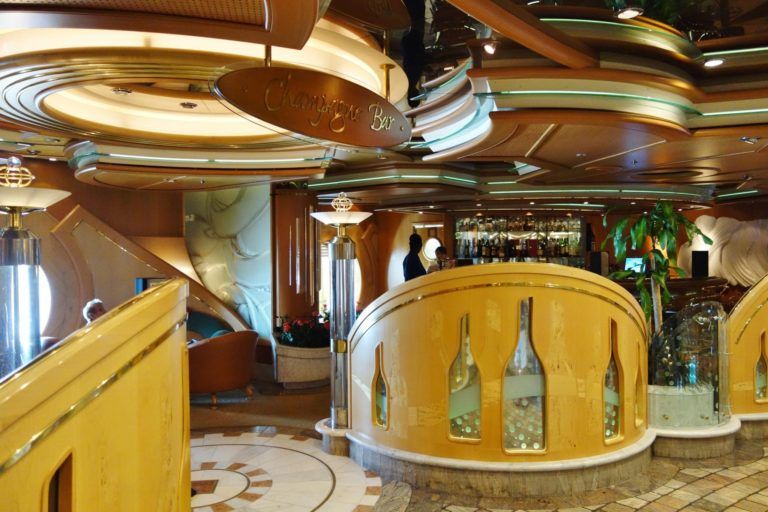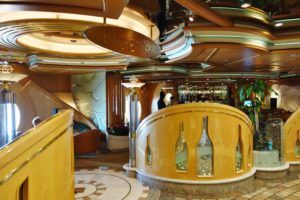 Ready for dinner, the remaining 3 of us headed down to the promenade for 5:30pm to grab some pre-dinner drinks at the Champagne Bar, continuing our "drink around the ship". The Princess enjoyed her Strawberry Shortcake Martini, and Sis got an Orange Dreamsicle Martini. My Rock Star drink was nothing spectacular.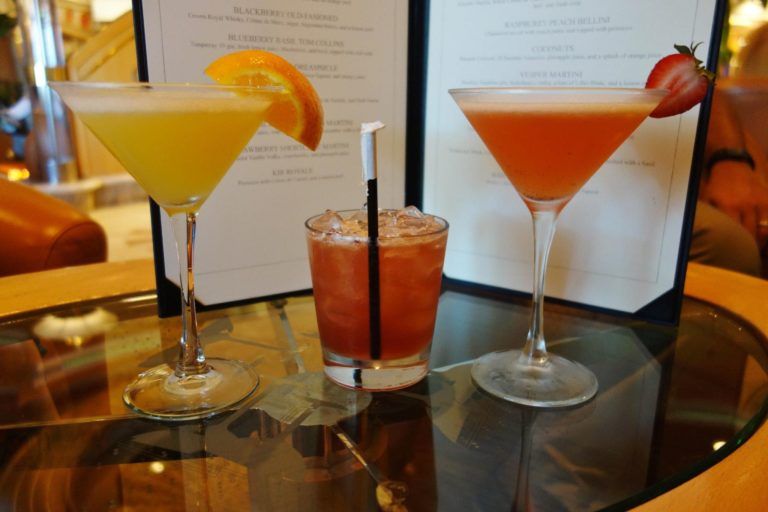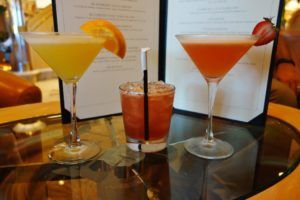 To dinner at 6:00pm sharp, our waiter and bar server noticed Mom's absence immediately. Having about half our cocktails left from the Champagne Bar, our server Abel joked that he was disappointed in us. I assured him that I would need another drink soon enough. Tonight's menu was Basil, which has an odd mixture of food pairings. I started with the Crab Cake, which is always well prepared.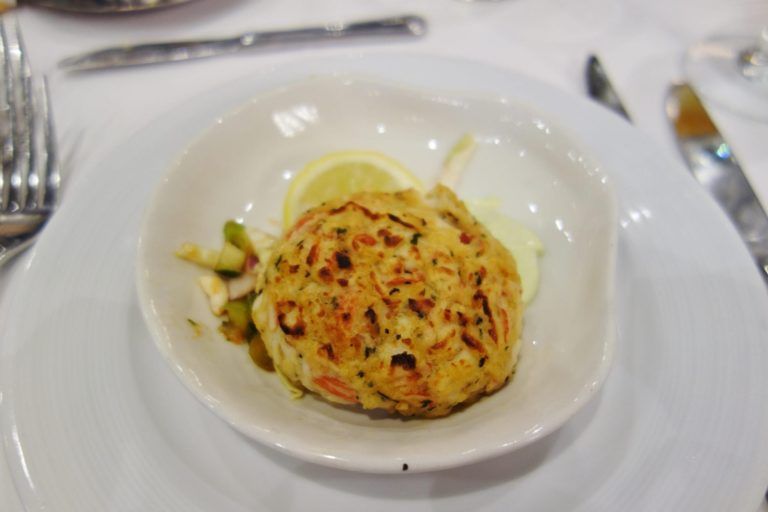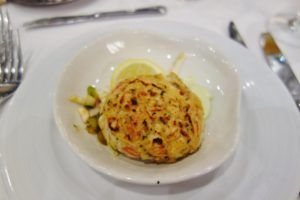 I also did an order of the Smoked Duck Breast, which had a rich flavor to it and for duck, it was rather light.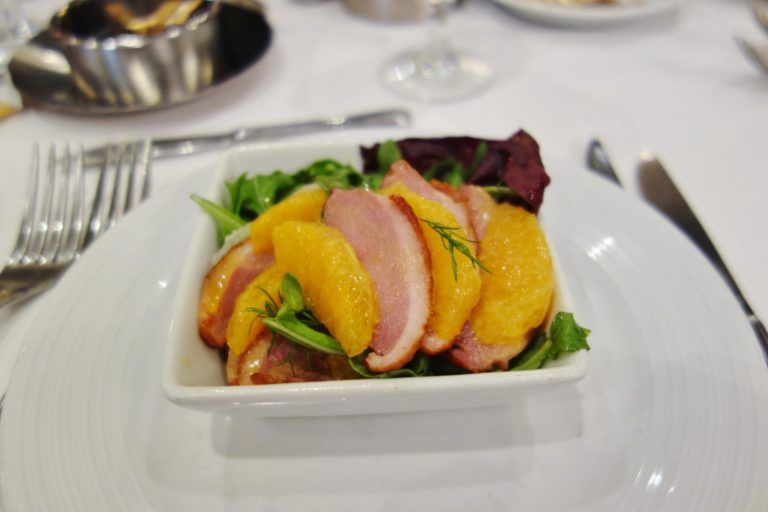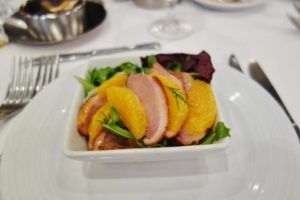 Sis tried the Summer Fruit Medley which just looked too healthy, and the Princess ordered the Arugula and Pear Salad.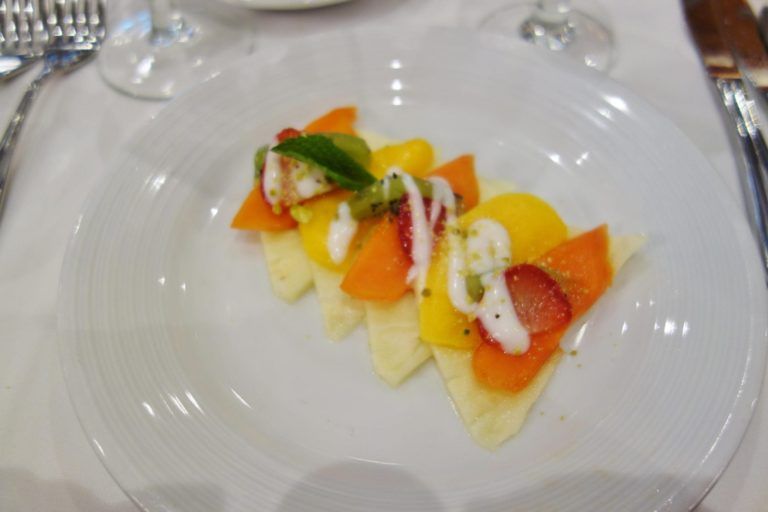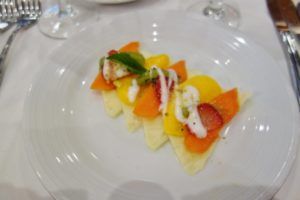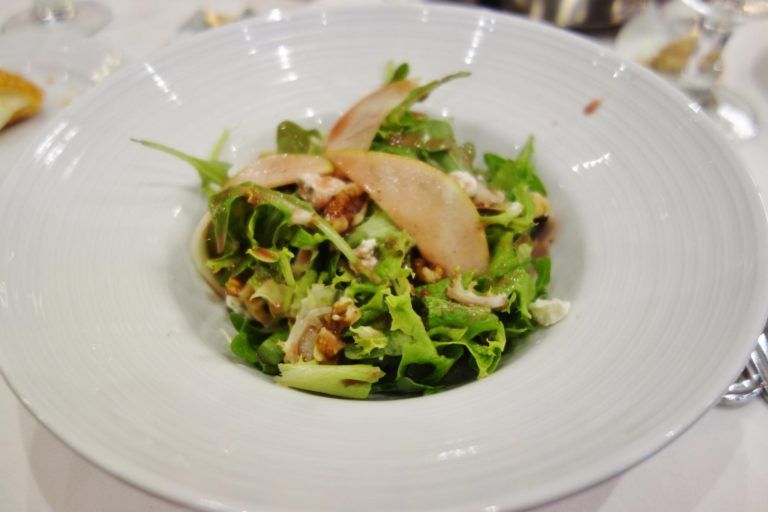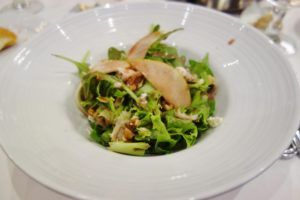 For entrees, Sis ordered the pasta with short ribs. For her, this was her hands down favorite meal of the cruise. In fact, she was slowly coming around to enjoying the food, drinks, and atmosphere.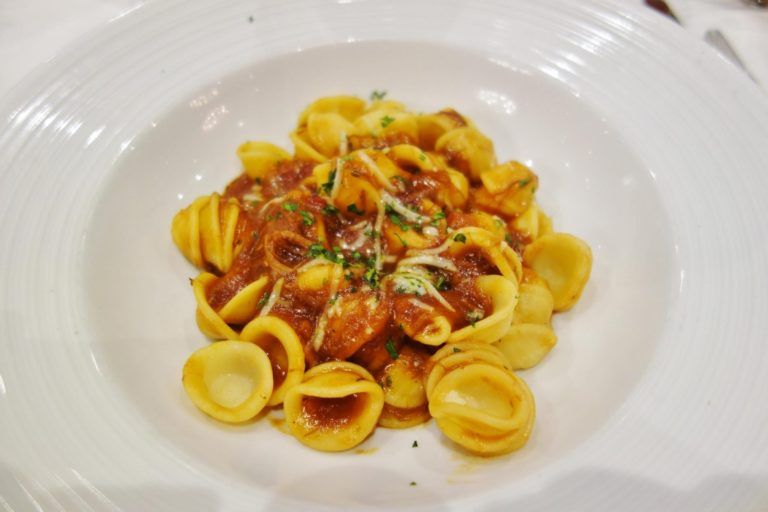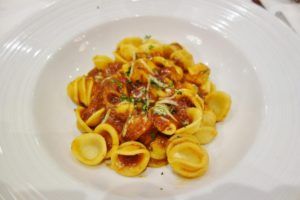 The wife tried the Chicken Cordon Bleu even though Leo warned her it was dry.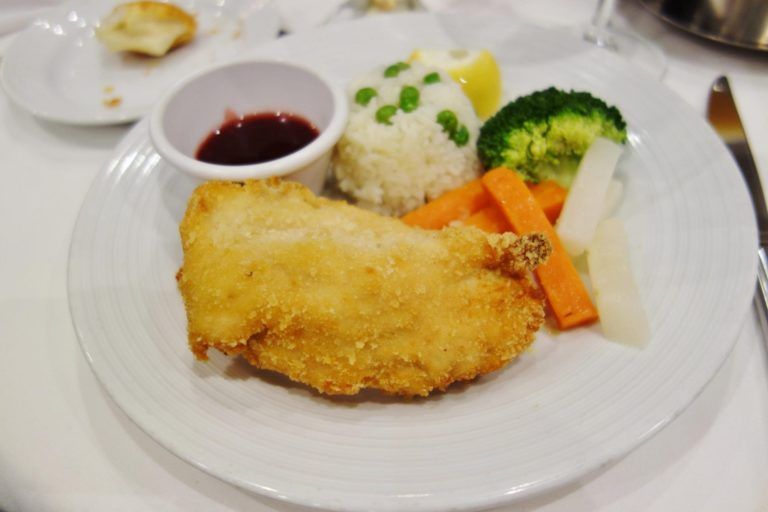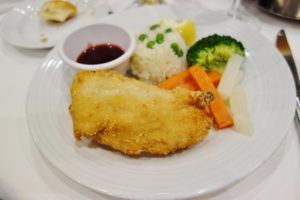 I got my first beef dish of the cruise, a medium rare tenderloin which was cooked perfectly. The creamed potatoes complimented the beef well, and let's just say that there was nothing left on my plate.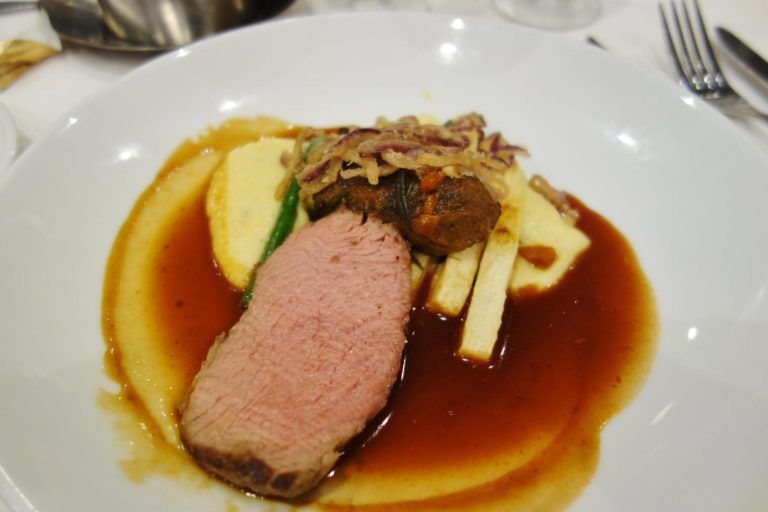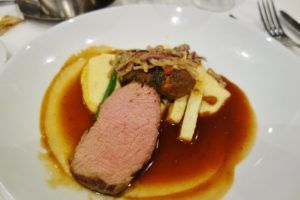 For dessert, Sis and I went with the Rum Baha, and The Princess just stuck with vanilla ice cream tonight.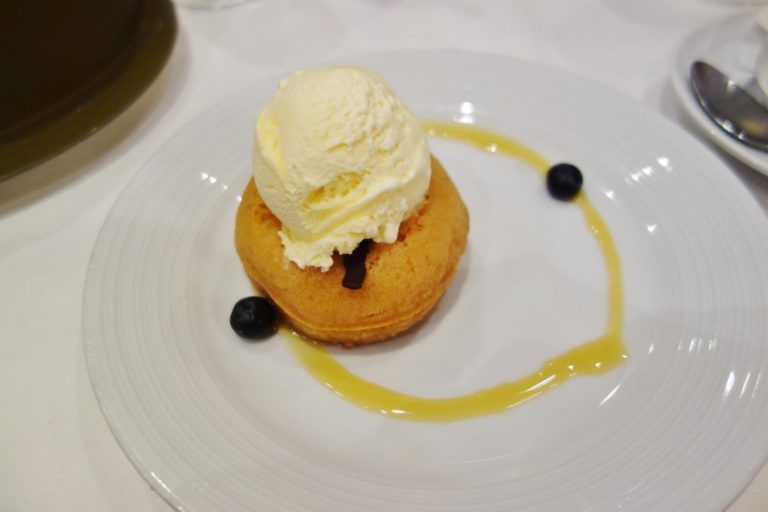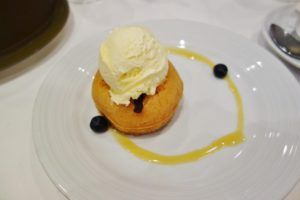 Threes Company
Finished with dinner, we exited the dining room to see a few casual portrait studios had opened up. Even though the Princess does not like to take pictures on a full stomach, I convinced the ladies to do two of the studios. I think this picture taking addiction is contagious!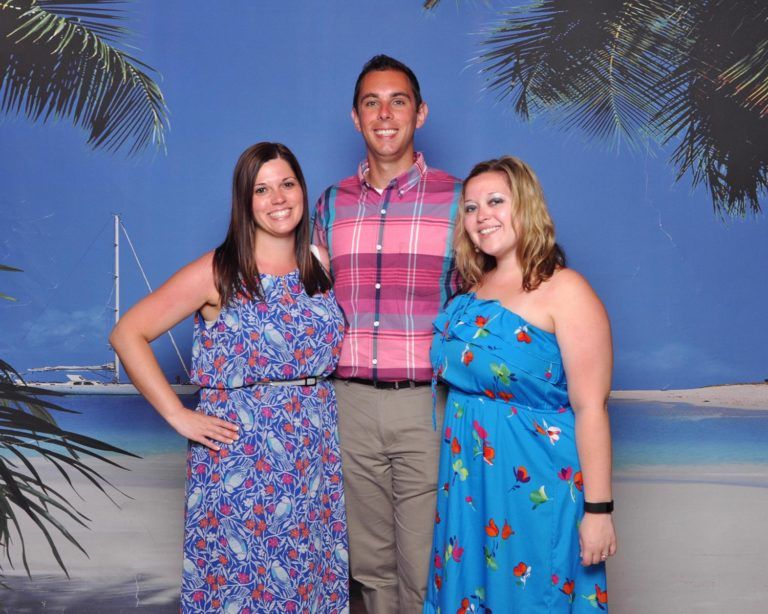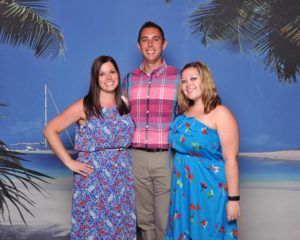 A call up to the room to see how Mom was feeling revealed that she was going to pass on the evening's activities as well. With a tour booked for first thing in the morning in Bonaire, I inquired about pushing our tour back to give her a little more time to rest up. Luckily, our tour also offered a 1:30pm departure, so we were able to switch time slots without issue.
With no headliner act in the Theater and the Love and Marriage Game show not starting until 10:15pm, we had a few hours on our hands. Continuing our "Drink around the Ship", we did some beer cocktails at the Dog and Duck Pub.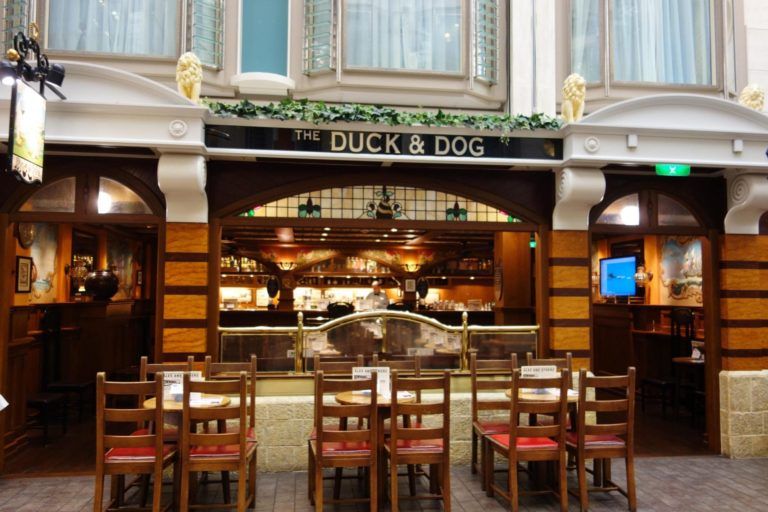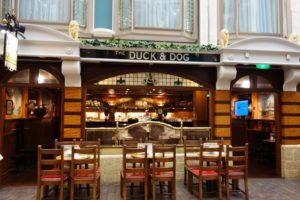 I obviously got the Boston Iced Tea. Unfortunately, the beer inspired cocktails left a little to be desired.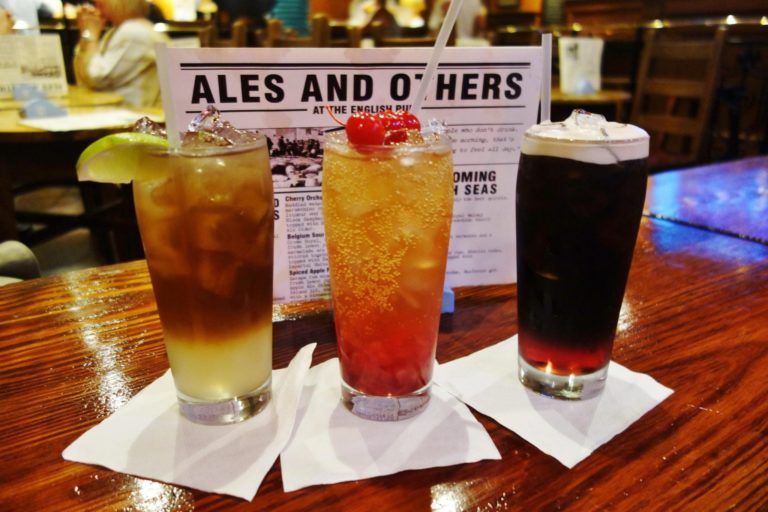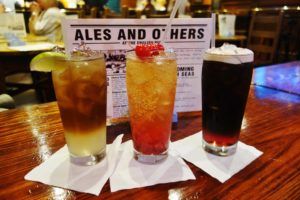 There was also no live music yet at the venue, so we stayed to finish our drinks then moved on to the casino. Again, The Princess was on a losing streak, so there was no better way to drown those sorrows than to continue our quest to grab a drink at every one of the bars on the ship. Adjacent to the casino is the Lobby Bar, so it was an obvious choice.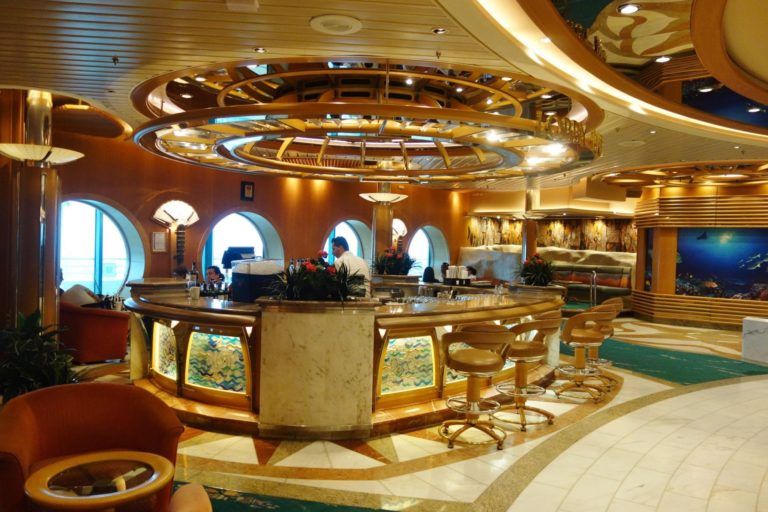 Unfortunately, this bar does not have a specialty drink menu, so a drink of the day and the aptly name Hurricane Danny cocktail were our chosen beverages.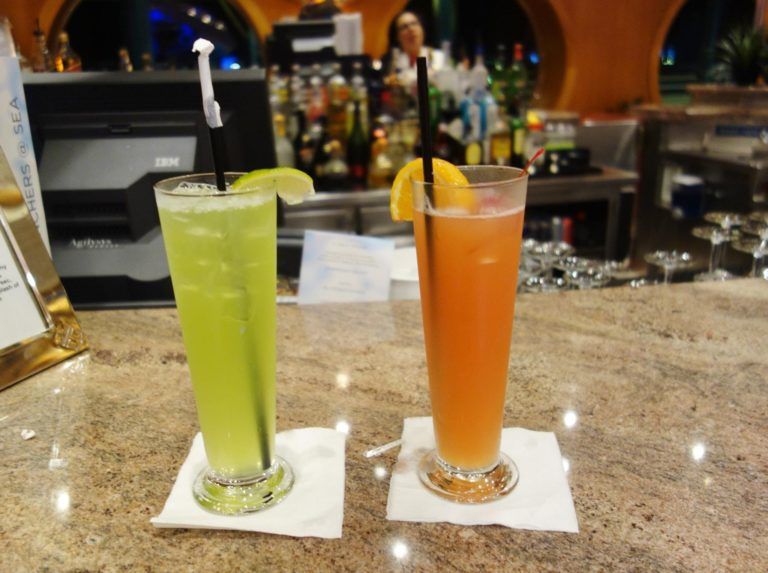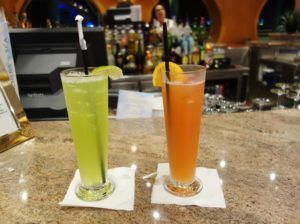 With the second seating of dinner starting to get out, we followed the crowds to the theater. The highlight of almost any cruise is the Love and Marriage Game Show.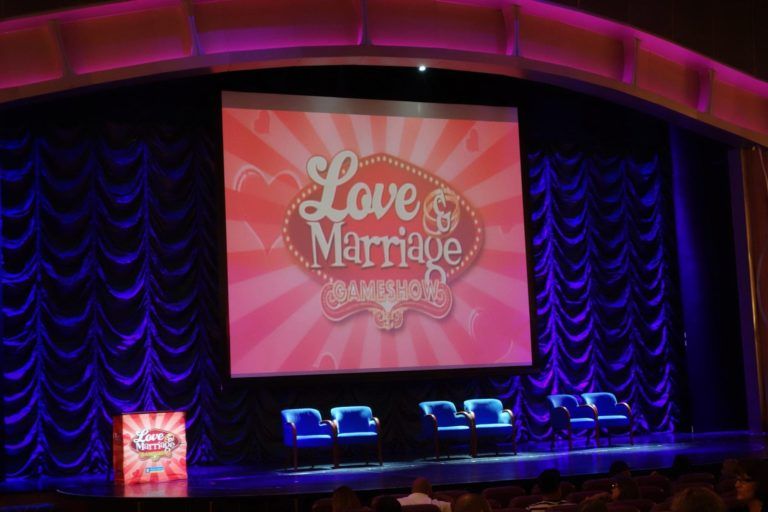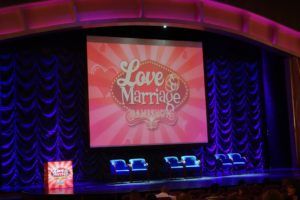 On this trip, there were a number of different questions, which gave the game a fresher feel for us. The middle couple stole the show this time around.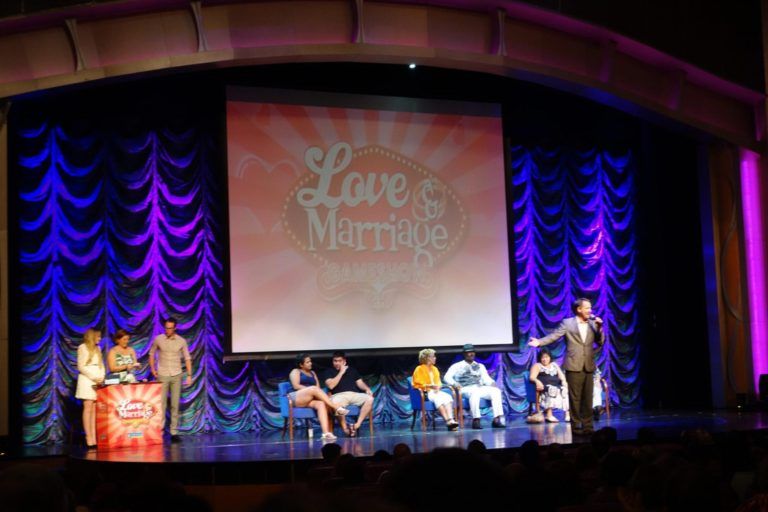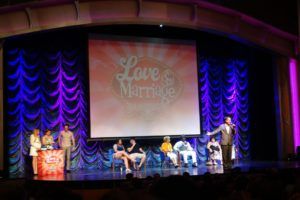 With the show over late, the Dance under the Stars and sail away party had already started. Deck 11 was quite packed, but of course we ran into Abel, manning one of the beer carts.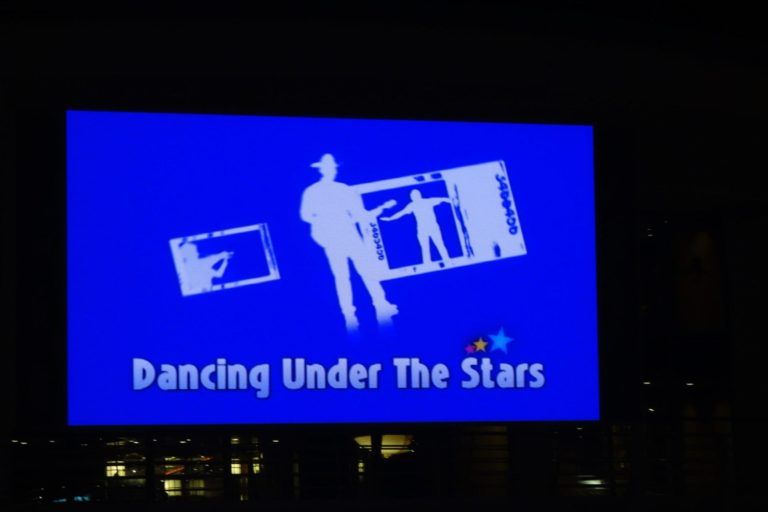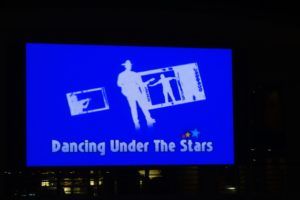 I grabbed a Carib, the island beer of St. Kitts, and a few photos of the dance party.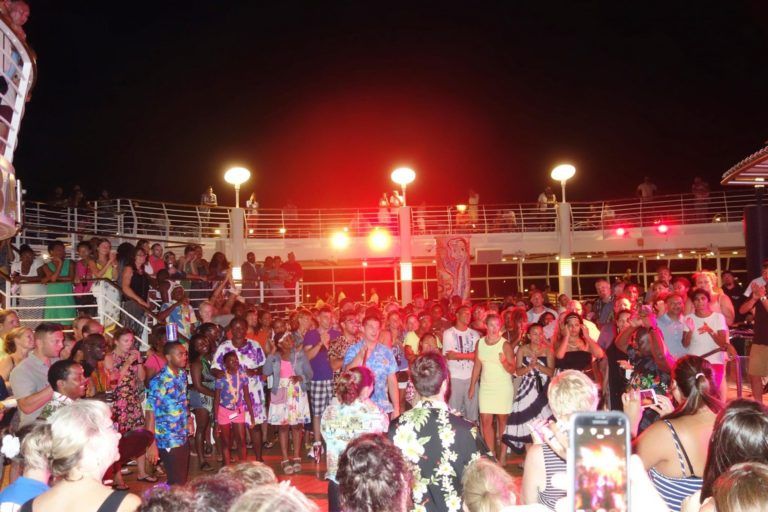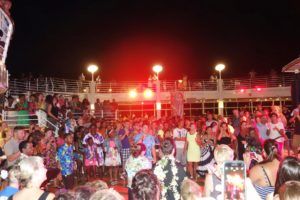 There was also a midnight buffet of snack foods-nothing like the elaborate late night buffets of cruise days past.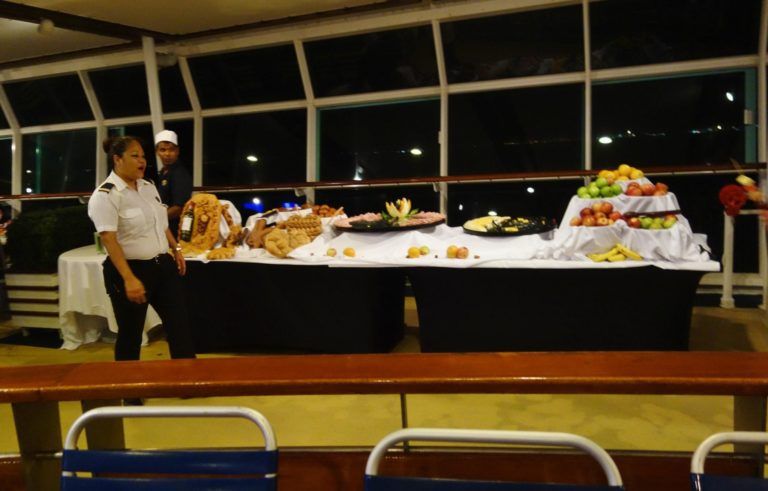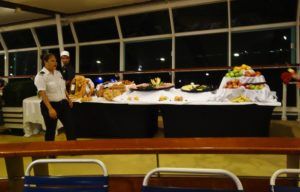 There was a wide selection of snacks including nachos, corn dogs, "chicken wings" which were really chicken drumsticks, and a cool fruit tree resembling a cactus plant.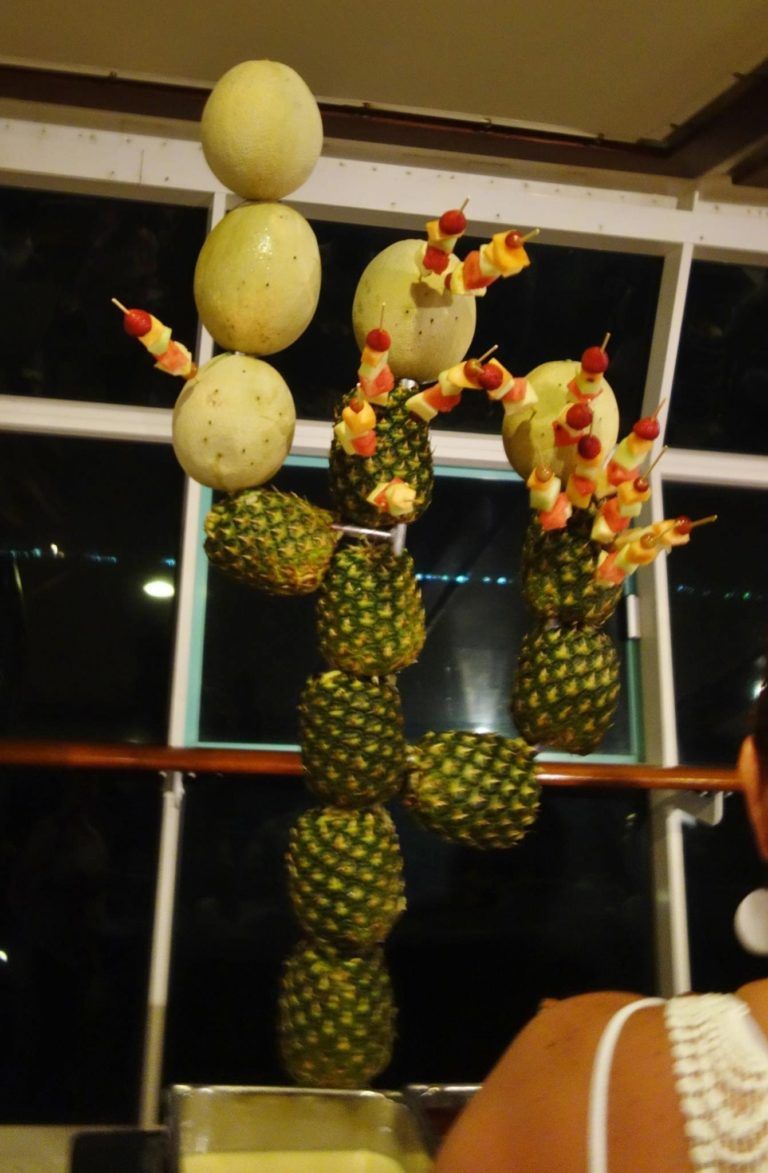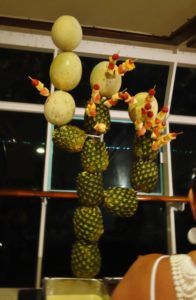 With neither The Princess nor I being much of a dancer, she was ready to leave by 12:30am. I succumbed and went back to the room, while Sis decided to stay out a bit longer. We were greeted with a monkey towel animal this evening.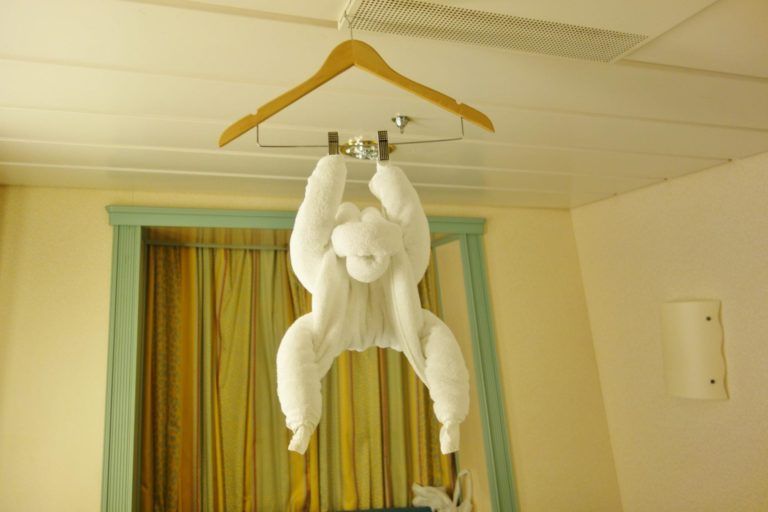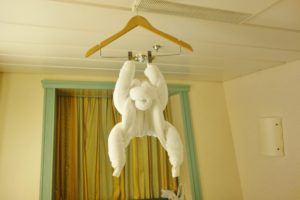 Adventure of the Seas Review
Day 5
Getting Some ZZZs
While it is not customary for us to "sleep in" on a cruise, the newly rescheduled early afternoon departure of our off road tour in Bonaire meant we could get some extra shut eye. Despite the attempts, we were still up by 8:30am. I decided to go for a jog on the running track before getting ready. With few travelers on the top decks, it was ideal running conditions. This bout of exercise also gave me the opportunity to take my first glances at Bonaire.
From the twelfth deck, the port area looked very small, and the area right outside this port, with shops and restaurants, was also comparably small. Beyond the immediate area, there was not much to see but sand. What was this tour going to explore?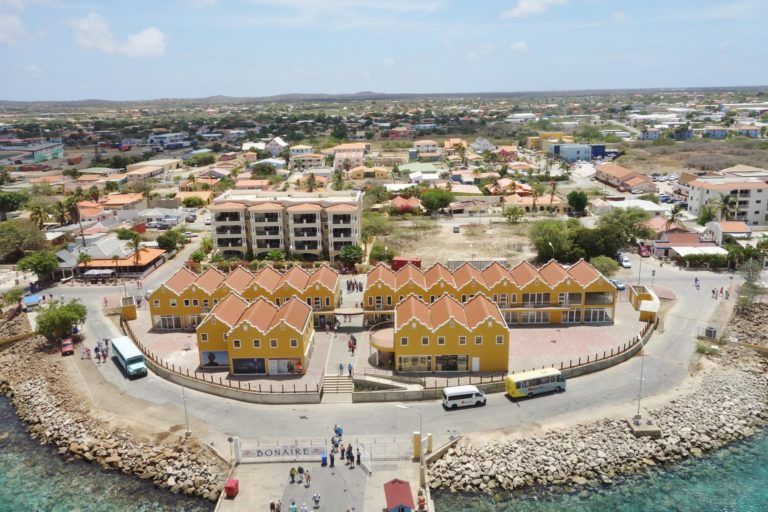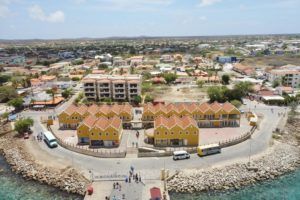 Returning to the room, it was me who was now behind schedule for today. During my shower and time getting ready, The Princess went next door to her family's room to find out that Mom was still not feeling all that well. With another hot day in store, and a tour in an open air Range Rover (no A/C), she decided that she would pass on the excursion and rest up for the evening's activities. I went down to the Guest Services desk to cancel her ticket and luckily, the company was happy to refund my money for the ticket. I do have to say the service on this ship was great. While sometimes the staff at Guest Services are not the friendliest, that was not the case on this cruise; they were always cheery and eager to help.
Now ready to start the day slightly before 11am, we went up to the Windjammer for breakfast. Again, we were cutting it close on time, so the breakfast stations were closing. The omelet stations were already closed and trays of breakfast food were being pulled. We managed to throw together some plates for ourselves with a random assortment of goods and a plate for Mom to bring back to the room.
Bon-Where?
Before exiting the ship, The Princess went outside on Deck 12 to take some aerial photos of the port and get her first glimpses of the island. She had a similar feeling, that the island looked less developed than we expected.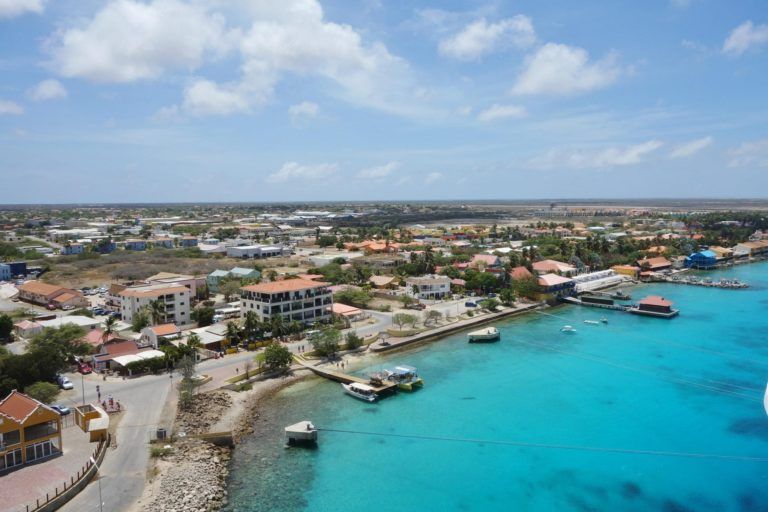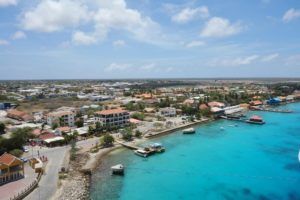 For those who like to snorkel and scuba dive, the rocky protected coast of Bonaire does make for some excellent water-based excursions. With our tour scheduled to end around 4:30pm, any shopping or port explorations had to be done before the tour, so we decided to exit the ship around 12pm to give ourselves an hour or so to walk around the area. Due to our late departure, none of the photographers were outside taking photos. Already, I could tell The Princess was not going to be happy, so we had Sis snap our own photo next to what appeared to be a welcome ashore station.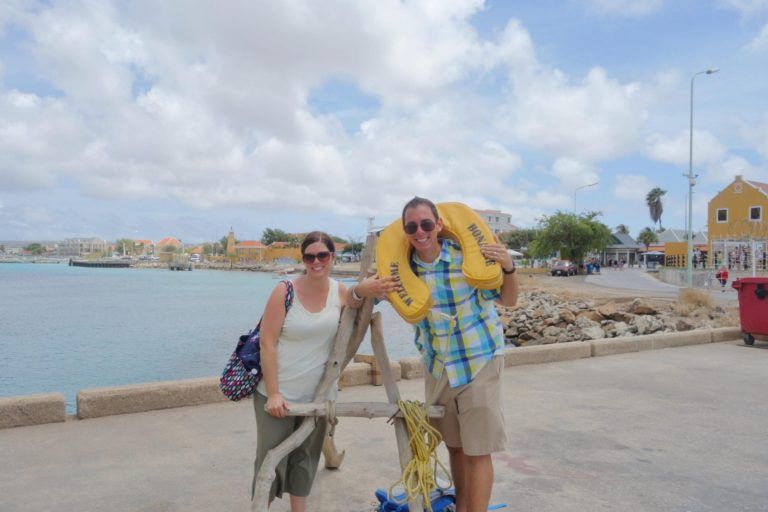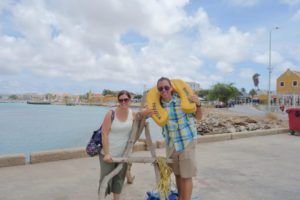 There is a newer shop area right outside of the port gate, but since we were the first ship of the season to stop in Bonaire, only a few of the stores were open. Turning right from this area, you see a few hotels further up the road, as well as an odd dock with people snorkeling right off the coast. We took some pictures of the ship from this vantage point, as you could get most of this mega ship in the frame.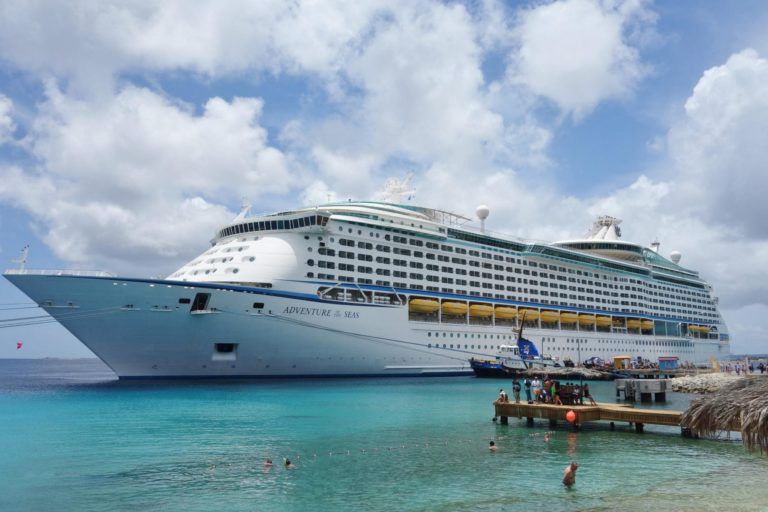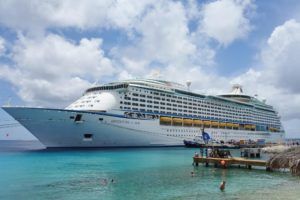 Most of the action is toward the left of the cruise ship. Here, there is a main road which had a variety of restaurants, souvenir shops, and a small open air market with handmade goods, homemade tequila, and even some Asian street food. By the looks of it, some crew members of the ship were enjoying the food here. Browsing some of the open air tents, the Princess found an ornament that interested her, and I found a t-shirt that was to my liking in a shop in the more metro area. Of course, we also had to stop for this photo op in front of the Bonaire Gift Shop. Who doesn't love these cheesy, over the top tourist photos?!?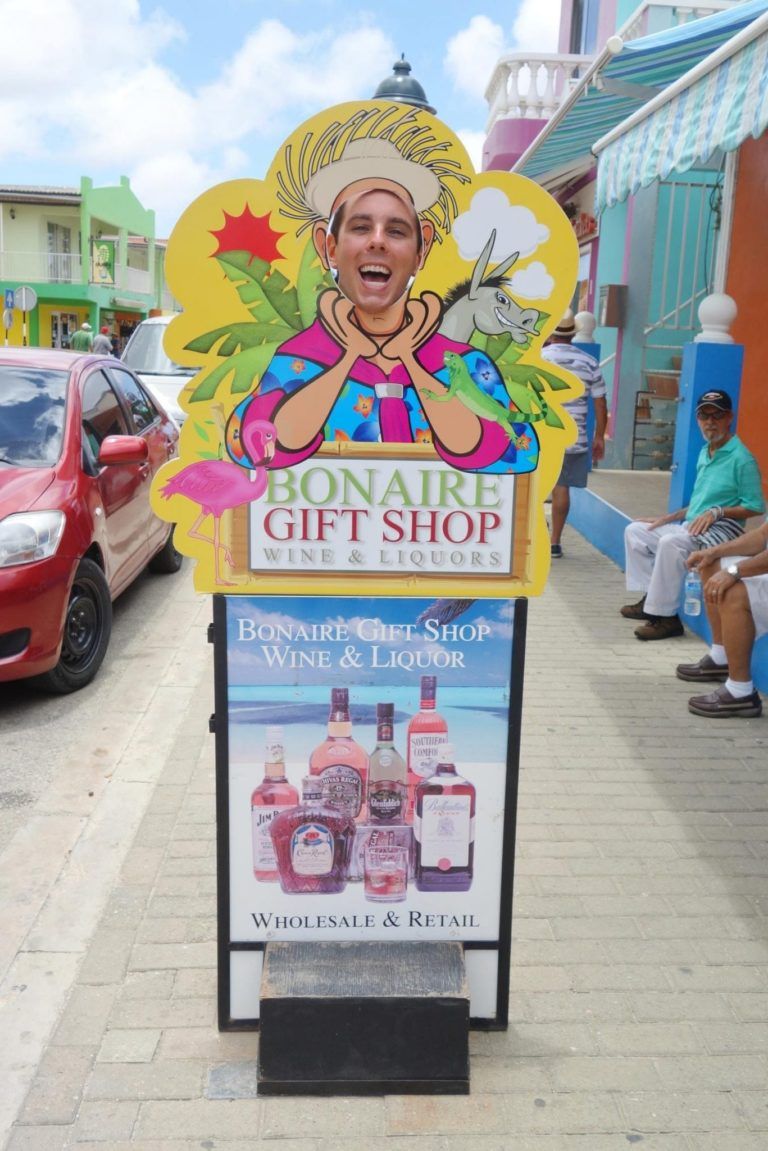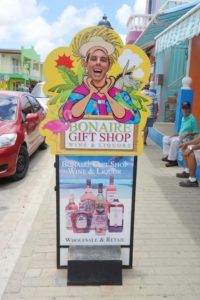 Sis was thinking of getting her fiancé a bottle of local liquor from the island and was doing some comparison shopping, but figured she would wait until after our excursion so she was not lugging around a bottle of booze on the open air vehicle. Even though we had only budgeted an hour, we were back to the port in plenty of time, as the operators for our tour were not even there yet. After about 15 minutes, crowds started to form and the afternoon staff began holding up signs for the different excursions. We waited with other travelers and our party of three was put on a Rover with two couples traveling together from Canada.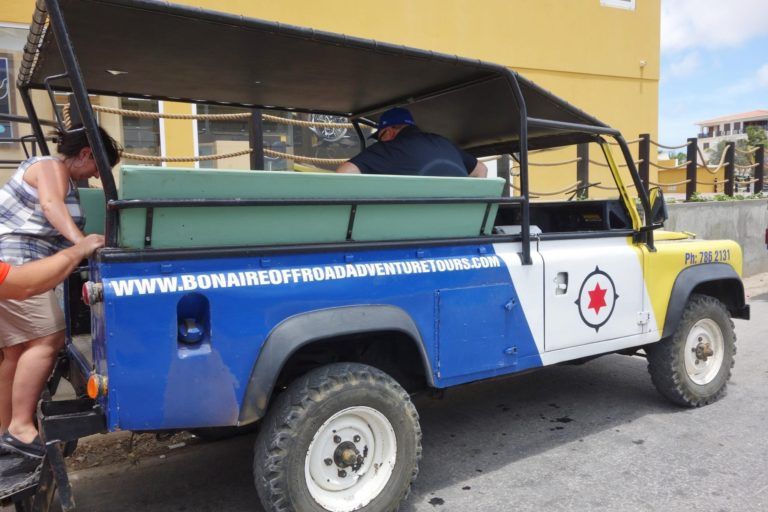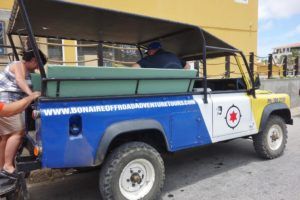 Soon, we were off on our three hour ride through the Bonaire country side. For an in depth look at our experiences in Bonaire, see our Review of the Bonaire Off-Road Adventure Tour.
Time for Another Announcement
Returning from our tour, we stopped in the shop right across from the port for Sis to pick up a bottle of Bonaire rum. As the crowds of people were lining up to get back onboard, the murmur of the crowd was that the ship was not going to St. Thomas. Heading back on the ship we were conversing about the options, would we spend another day at sea? Stop at another island? Hearing the commotion, a member of the staff manning the area said that we were still going to St. Thomas. Nice try, but the natives were getting restless, and with internet access, now everyone is a meteorologist.
Back onboard, we did not have much time to change for dinner. Mom was feeling better so she was going to join us tonight, even if she did not eat too much. While getting ready, there it was- an announcement from the Captain. Indeed, due to Tropical Storm Erika, the port of St. Thomas was closed. We were not going to make it to St. Thomas, but instead we were going to remain in the Southern Caribbean and visit Curacao the next day. Great, another change of plans, another round of canceled excursions, and another tour to book! Too bad, because Mom was really looking forward to zip lining-first in St. Kitts, then in St. Thomas.
While The Princess was getting ready, I went downstairs to try to get new brochures for the tours in Curacao, but they weren't ready. The line at the Shore Excursions desk was growing by the minute. With no brochures ready, and no staff ready to take new tour requests, I returned to the room to see if the RCTV had been updated. Of course, we couldn't get anything to load, probably because they were updating the system or it was crashing from too many user requests. With nothing else we could do, we got ready and headed to dinner.
All of the changes and madness of the day did not detract us from taking some casual portraits, even if we were preoccupied with determining what tours we would do at this new port of call. There were only two photo stations ready and a small line at one, so we were a bit late to dinner.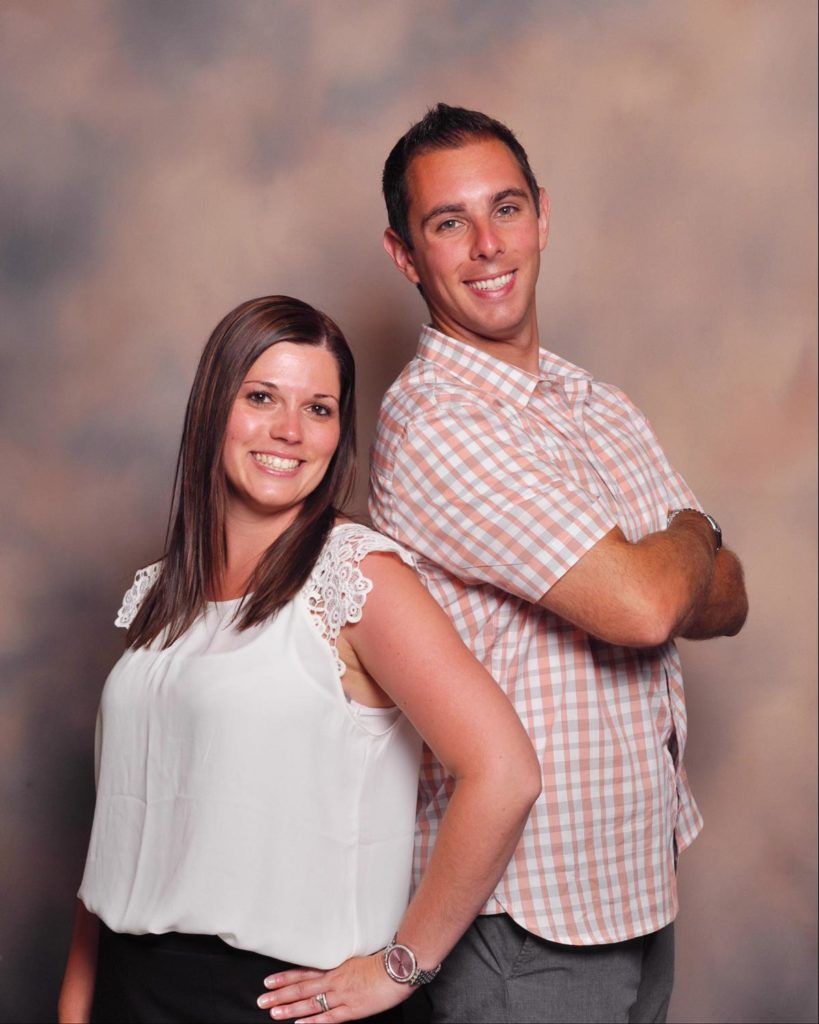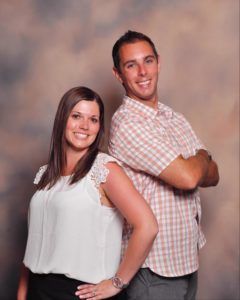 An Adults Only Evening
Our wait staff welcomed Mom back and were ready to serve, with Abel bring our customary cocktails within moments of us sitting down. I could get used to that type of service.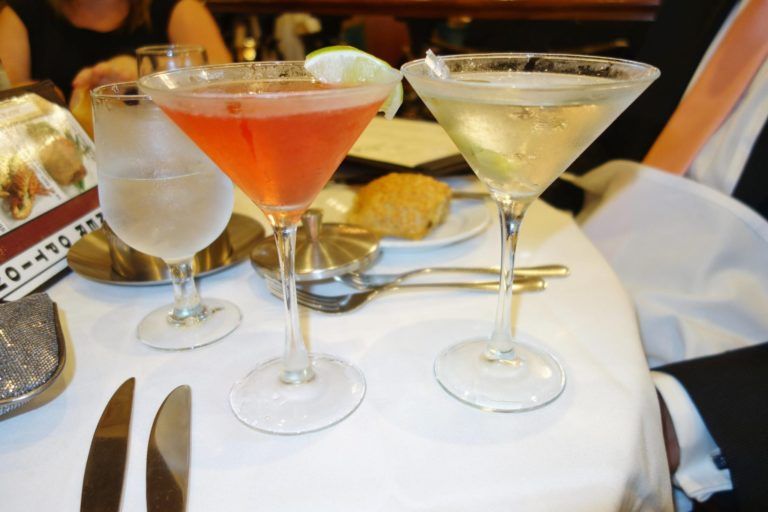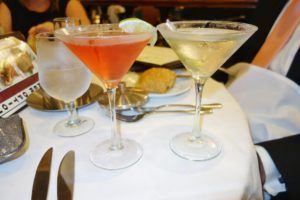 The menu tonight was Shitake, and it again had some eclectic offerings. A few of us got the Spinach Dip.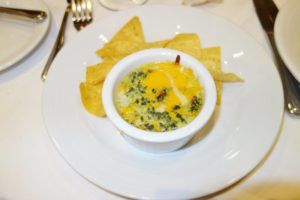 The Princess should have got her own because she ended up eating most of mine! I was ok with that though because I knew I had 2 entrees coming, not to mention I also had the Seared Beef Carpaccio starter.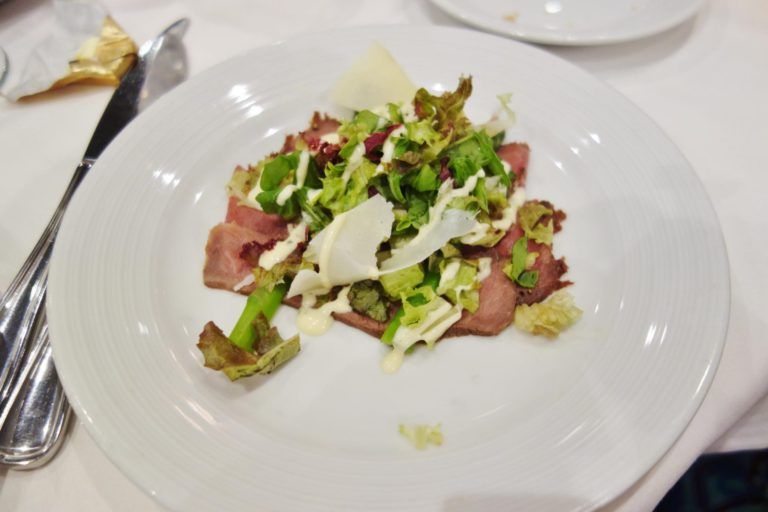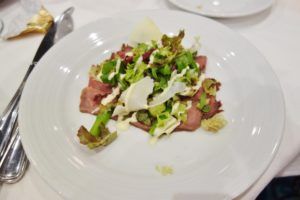 Surprisingly, The Princess went with the salad for a starter, which was pretty plain.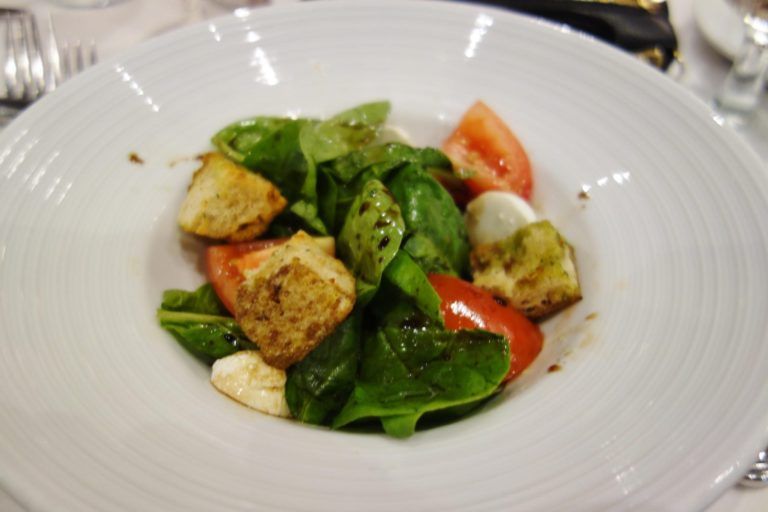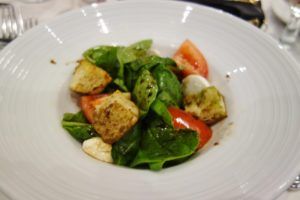 For entrees, I got the Roasted Rack of Lamb and the Shrimp Goyza (i.e., Japanese Dumplings). I feel like dumplings are more of an appetizer, so I devoured those first.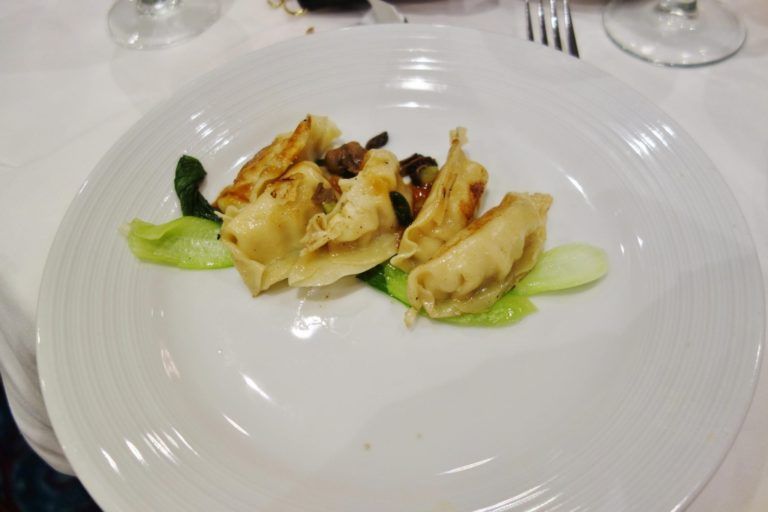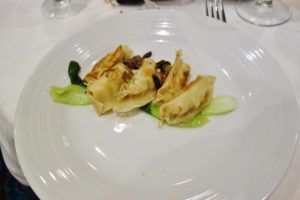 Usually there are more Asian themed dining items, especially in the Windjammer, but this cruise the selections were lacking. The Lamb was well prepared, and I got Sis to try it too.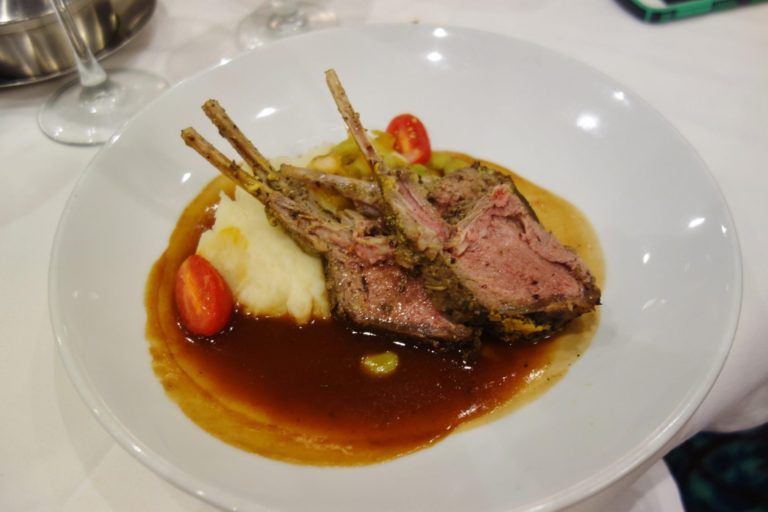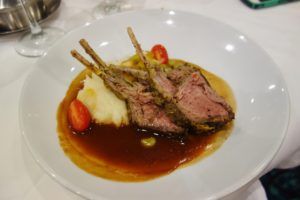 Having enjoyed the pasta dishes on the previous evenings, she ordered the Conchiglioni Pasta.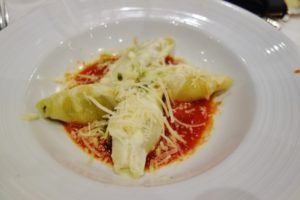 Other lame members at the table went with the Marinated Chicken Breast AGAIN. Dessert tonight was a chocolate lover's dream. Sis and I went with the warm chocolate cake with a scoop of vanilla ice cream. One of my personal favorites, the dessert is rich, the cake is moist, and the center is gooey. It might be one of my top desserts of all time!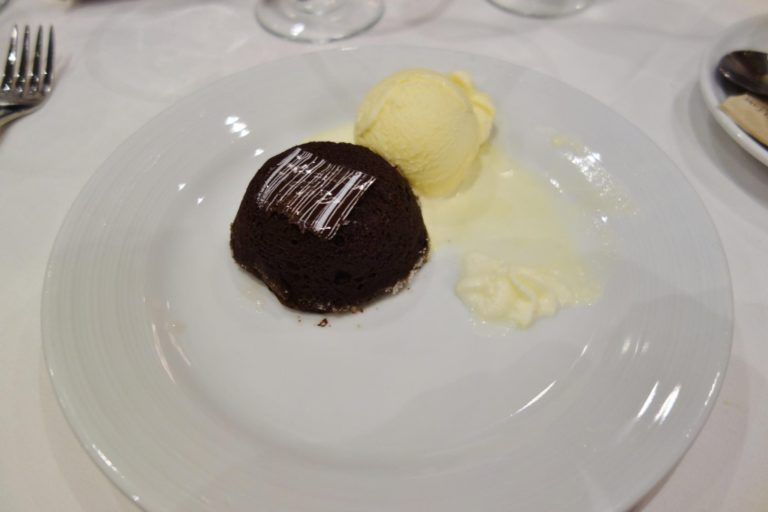 The Princess went with the Chocolate Praline Finger. It did not look as good as my dessert, but she is not a chocolate feign like me, so it was fine her.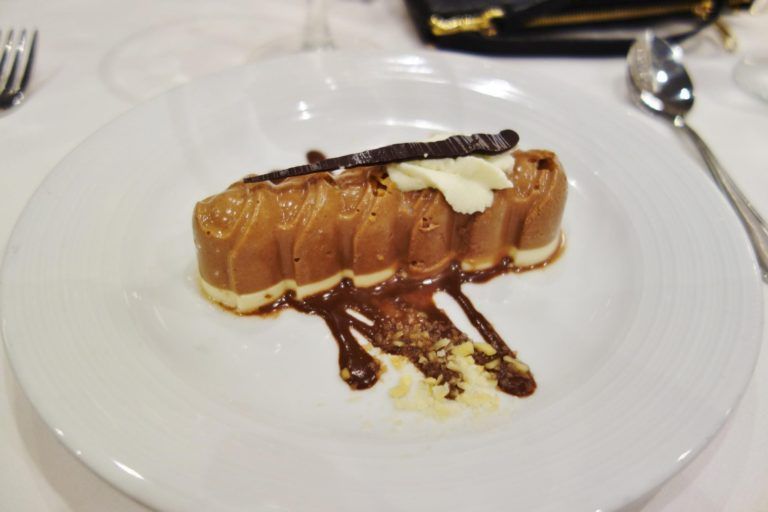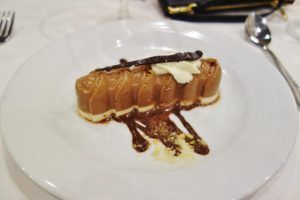 Mom decided to just stick with some ice cream tonight.
Following dinner, we were able to review the tours available for Curacao, which were mostly island tours. Having done some cursory last minute investigating, The Princess knew she wanted to see the Hato Caves. Deciding between two tours that visited these caves, I opted to go to the Guest Services desk, as the line at the Shore Excursions desk was rather long. Good thing I did-we were able to book our tour quickly and get our tickets before other cruisers even realized you could book the tours there too.
The Headliner act was scheduled for 9:00pm, so we stopped at the nearby Champagne Bar for some pre-show drinks then headed to the Lyric Theater.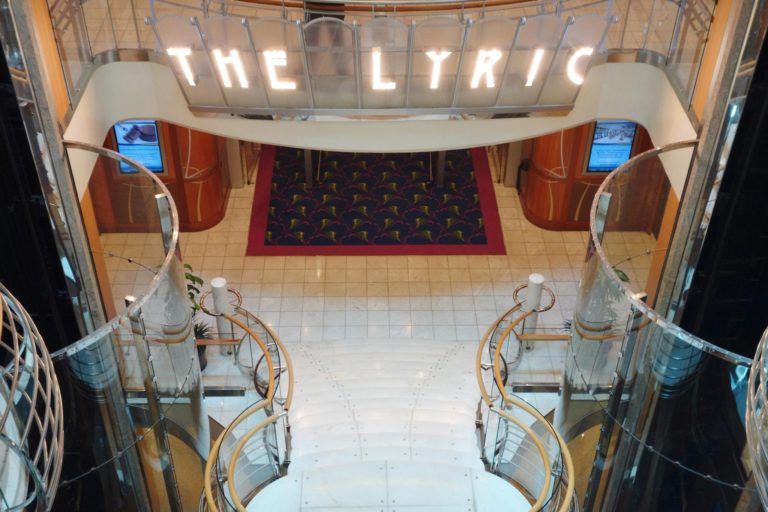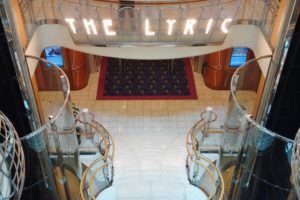 Tonight's act was the Las Vegas Tenors. This trio of male singers covered a variety of songs and genres and put on a pretty solid performance.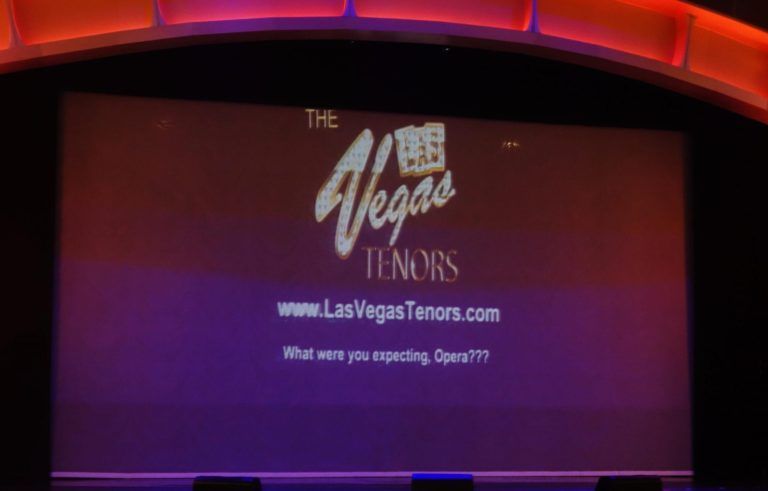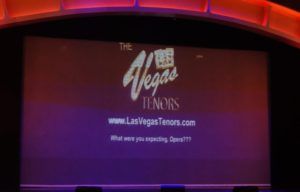 They were probably some of the better singers we have seen on a cruise ship. All of us seemed to enjoy the show, as did the crowd, which was still not as large as we would have expected for this type of performance. I guess Southern Caribbean cruisers are not big on main theater shows.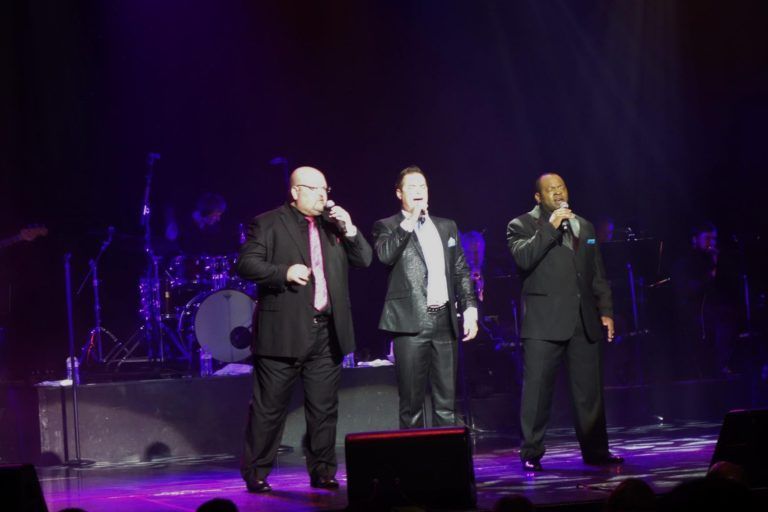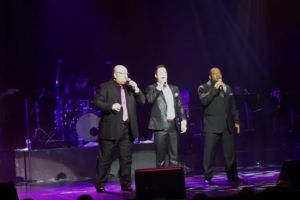 Being Mom and Sis' first cruise, we had to take them to the Quest, the Adult Game show, which started at 10:45pm. Held in Studio B, the Quest is basically an excuse to let adults run around on a quest for random items and act like fools.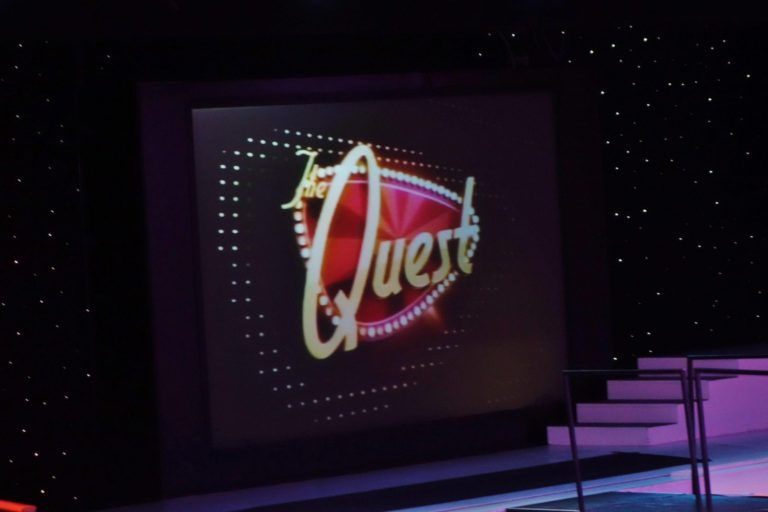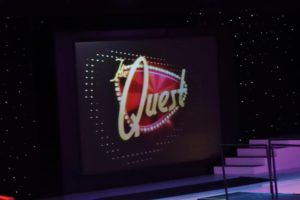 By now you know that we do not actively participate in many of these events, but we prefer to be spectators. For this particular Quest, we never really had any of the items anyway. Sis did lend a bra to one of the challenges.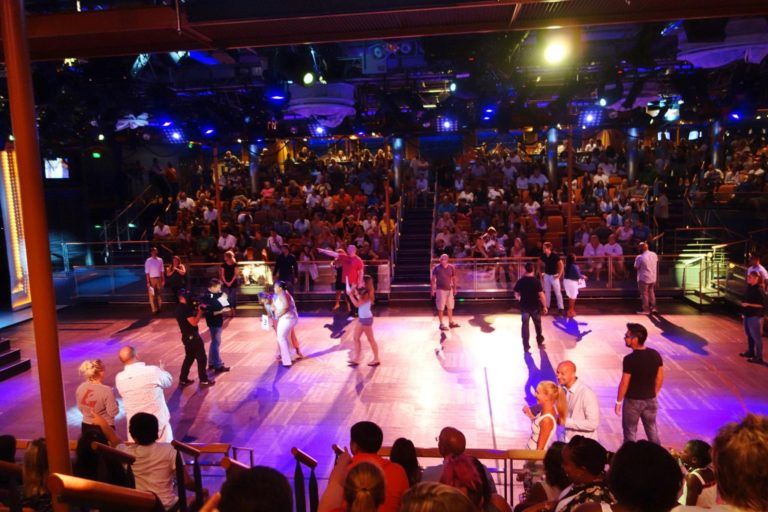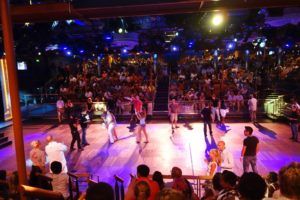 Following the Quest was the family friendly Glow Party. With black lights on and cruisers in their whitest outfits, we stayed for a few songs and decided it was time for us to call it a night.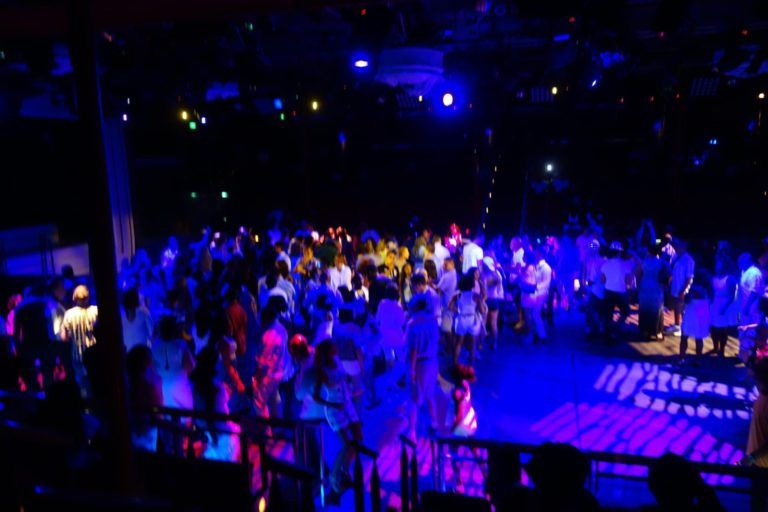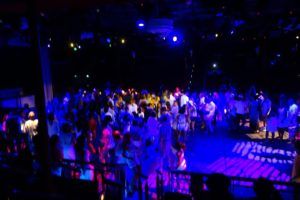 Sis decided to stay behind, and we would learn that she was out most of the night, venturing from the Glow Party to Jester's, and not returning until around 3am. Oh, to be young!
We were back at the room around 12:15am, with no towel animal!
Adventure of the Seas Review
Day 6
Another Island Tour
Going for our fourth island tour on this trip, which was not at all what was originally planned, we were up around 6am for our day in Curacao. By now, we had gotten accustomed to breakfast, so we decided on room service for 7am. This time around, the food was much better prepared. Similar to Aruba, our shore excursion tickets had us meeting in Studio B for 8am so we could get priority exiting from the ship.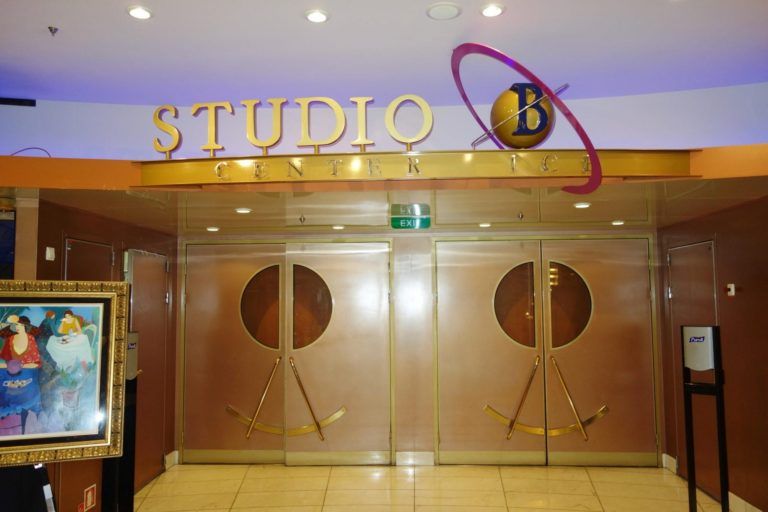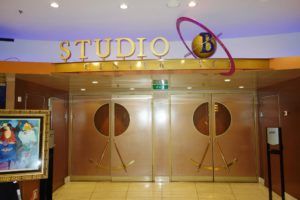 Grabbing two bottles of water, we were ready to leave in no time. Walking off the ship, the pier is essentially a landing platform with our friends the photographers ready to snap pictures. By now they knew us, so they were calling us over to take photos. Sure, why not, we have a few minutes to kill before lining up for the tour.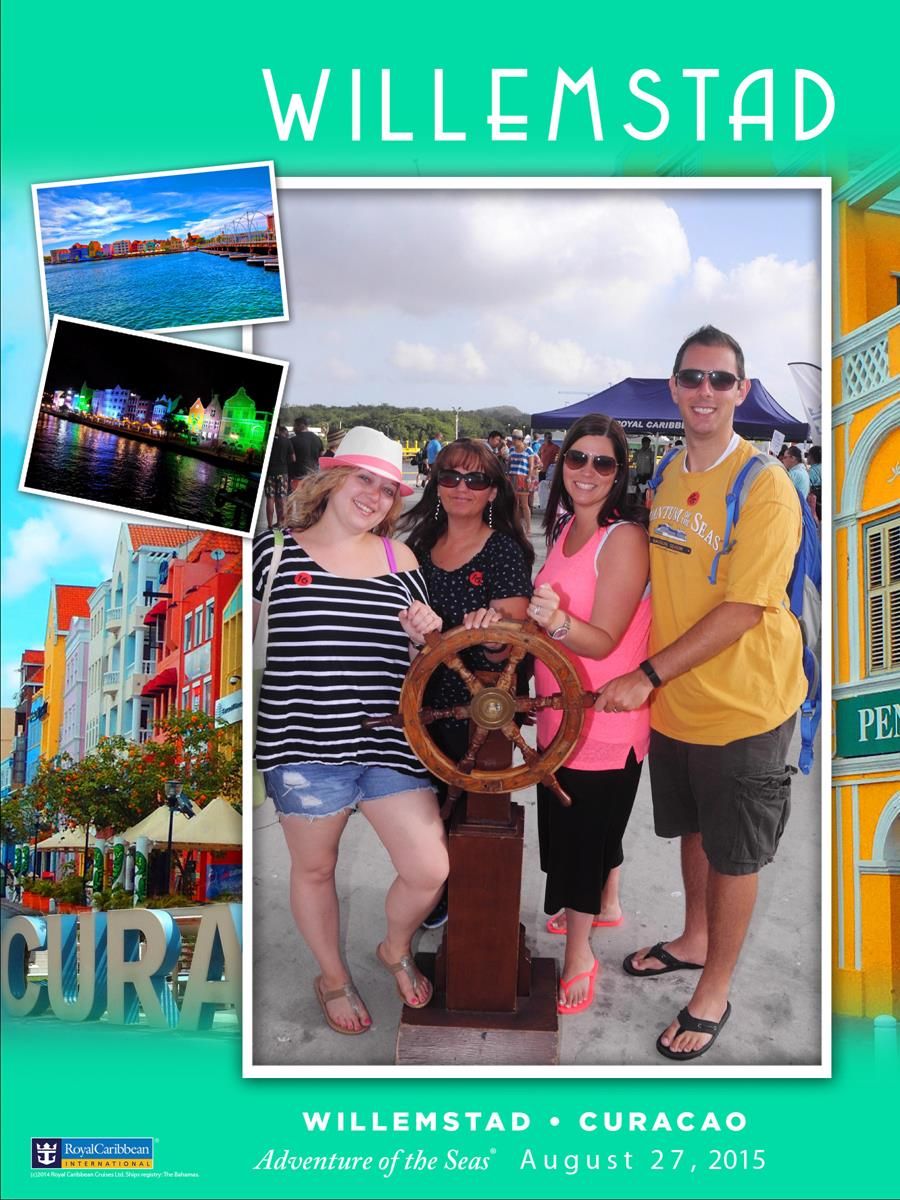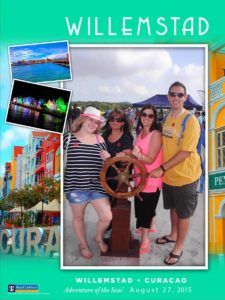 Finding the appropriate sign for our shore excursion, we were lined up and escorted to a large motorbus with a Danish tour guide. As we were filing into the bus, it didn't seem like we were all going to fit on one bus, but as chance would have it, the four of us literally got the last four seats at the back of the bus.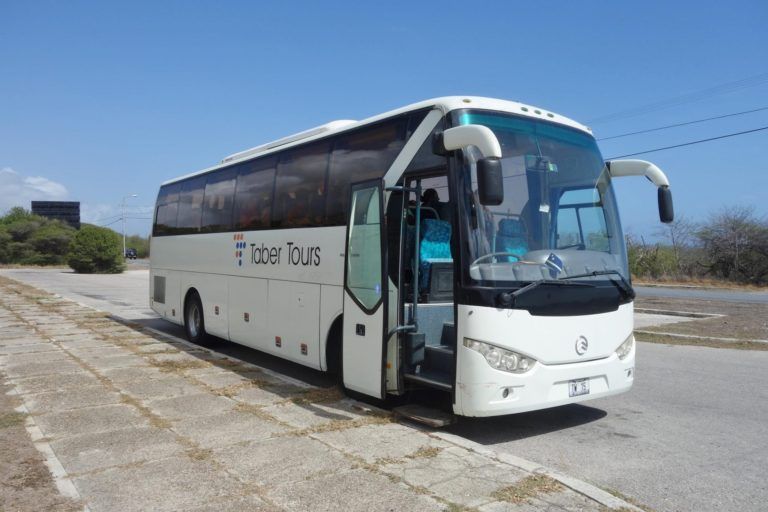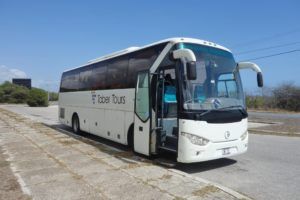 The seating arrangement was a little uncomfortable, and it was often difficult hearing the tour guide while traveling around the city. The excursion ran from 8:30am to about 11:30am including a bus ride with a stop at the Hato caves and a tour of historic Wilmestad, which unexpectedly turned out to be a walking tour.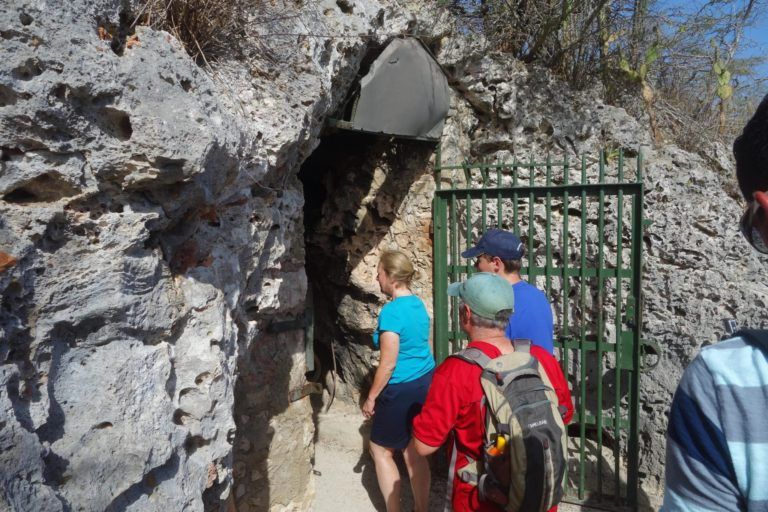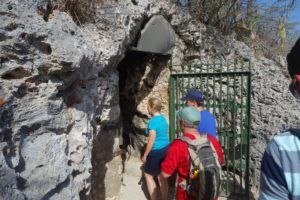 The tour left us in the downtown area requiring a water taxi ride to get back to the ship. To get more insight into our morning in Curacao, you can read our complete shore excursion review.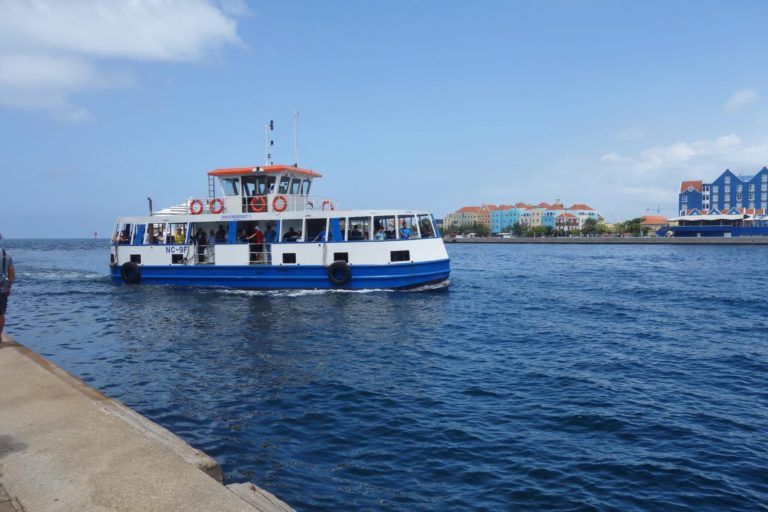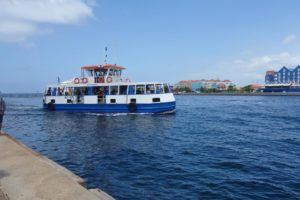 Do I Really Need Another T-Shirt?
Upon completion of our tour, the guide gave us the option of exploring more of the city or following her back to the ship. We were sure that there would be plenty of shopping opportunities closer to the ship, so we decided to go with her. Given that the island was not in "cruise season", the floating bridge, which connects the two parts of the city, had been removed for repair. This meant we needed to take a ride on a small passenger ferry to get back to the other side.
Arriving back on the other side of the city, we wandered off on our own to start browsing through the open air market. While the ladies were looking through the goods, I took the opportunity to snap some photos of the shore line, the government plaza, and the remains of the walls of the old city.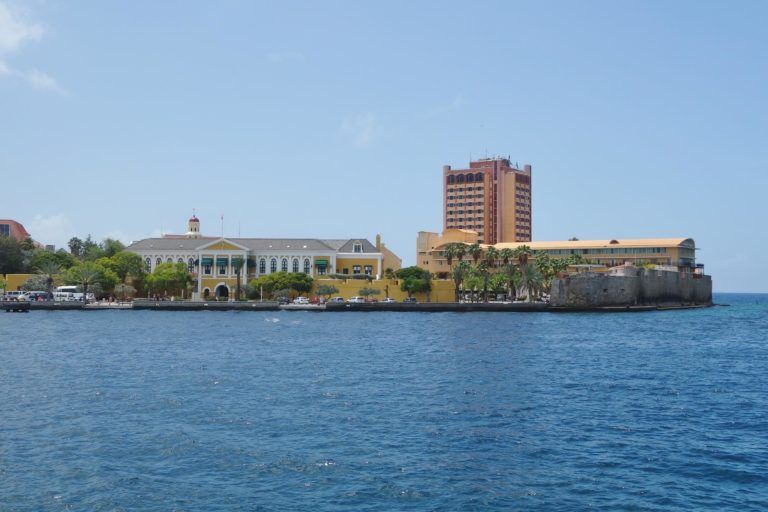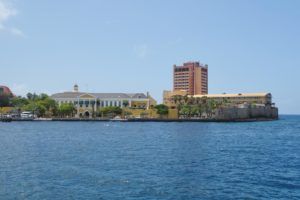 The colorful building facades make for that picture-perfect postcard of Curacao.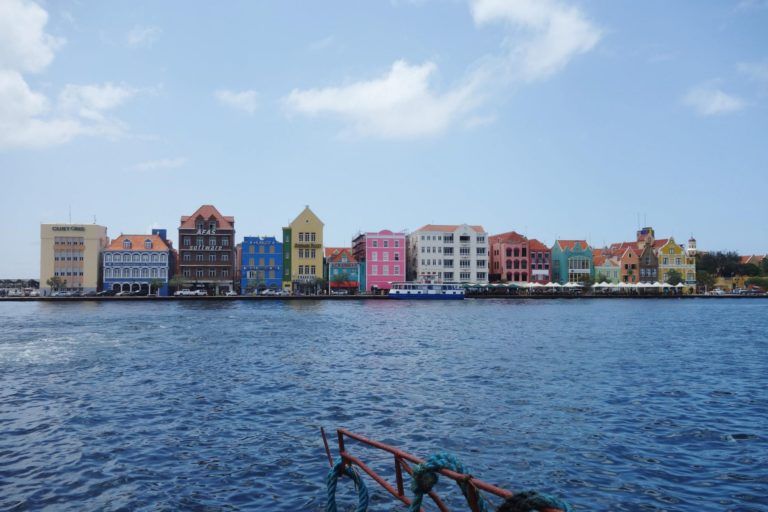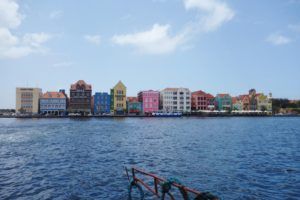 With no authentic ornaments and no t-shirts that were really calling my name, we kept walking toward the ship. As we continued, we came to the Renaissance Mall and Rif Fort. Here, there were some souvenir shops, along with restaurants and other big name stores like Tiffany, and even Starbucks.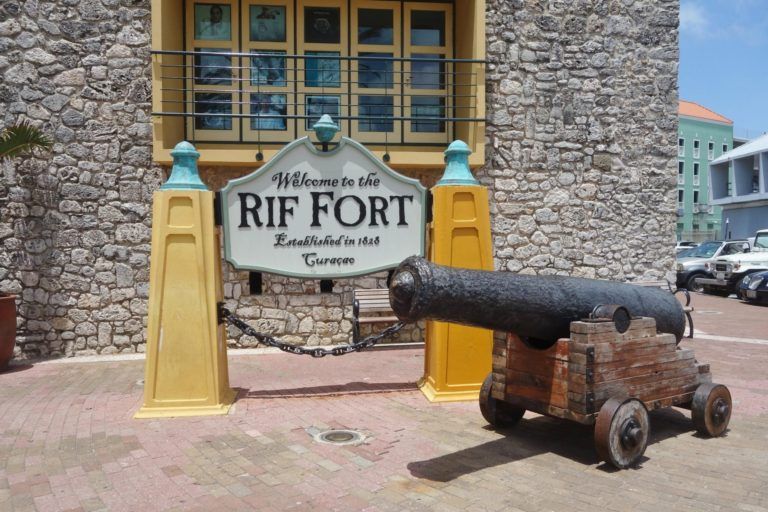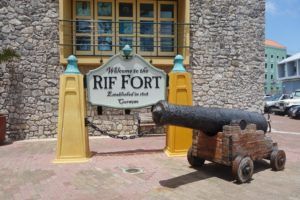 It was here that I found what every traveler needs- a Curacao baseball cap. Don't ask me why, but as soon as I entered this shop looking for a t-shirt, the cap spoke to me. We also managed to purchase two small bottles of Blue Curacao, including a Rum Raisin flavored one, and an ornament while here.
Exiting the fort area, there is a path directly back to the ship. Before getting back onboard, we took the chance to get some great profile shots of the ship and multiple selfies in front of Adventure of the Seas. Just what every cruiser needs!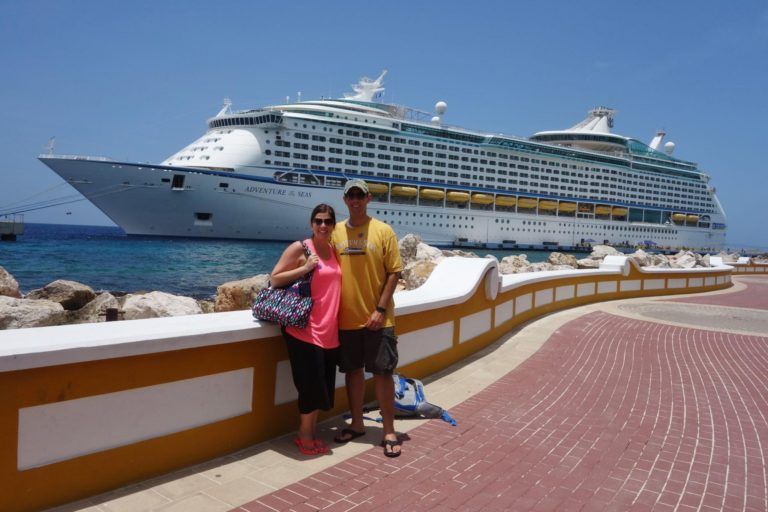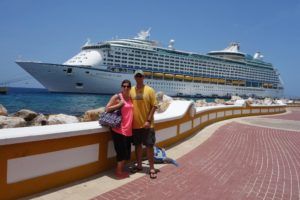 Back Onboard
With all our picture taking and port shopping completed, we were back onboard right around 12:30pm. Having no morning coffee, The Princess suggested we get some iced lattes and then food at the Windjammer. The caffeine was much needed, although the food was probably not necessary; although, we did just complete an impromptu walking tour. Arriving to the Windjammer at prime lunchtime, the selection was better than the last time we visited, although I was still surprised that there were few international dishes.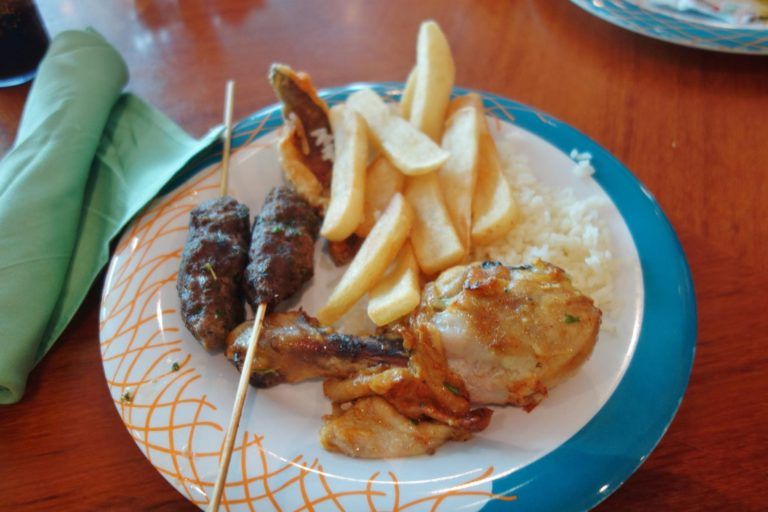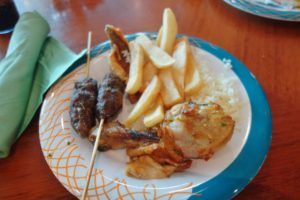 After lunch, Sis needed to take a nap due to her early morning bedtime. Leaving just the three of us, we decided to take some pictures of the port from Deck 12. Now, this was a port worthy of some photos and definitely a place we would love to visit again on another cruise.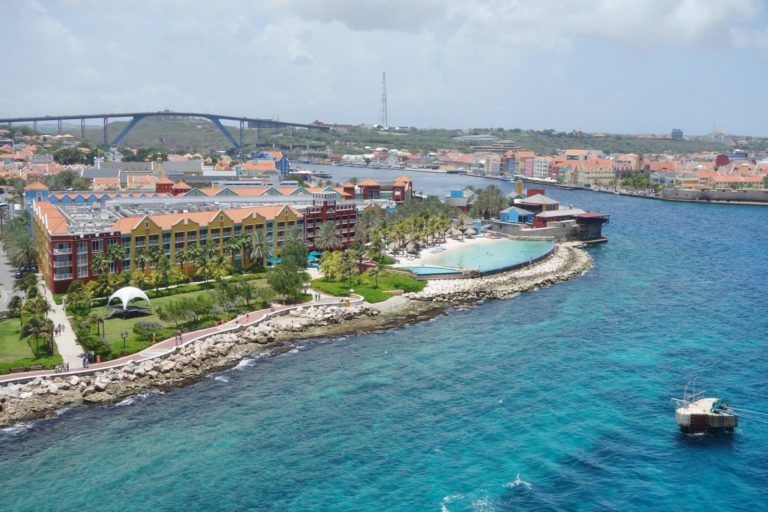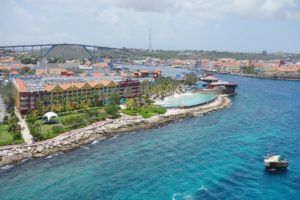 Not ready to go back to our rooms just yet, we walked over to the sports deck for a round of mini golf. This time, the course was completely empty, so we got through the 9 holes pretty quickly. Do you even have to ask who won? Of course, yours truly!
We headed back to the room around 2pm and made plans to meet around 5:15pm to go to the Promenade for formal photos. The Princess and I decided to take a little nap until 3:30pm. As she showered and got ready for formal night, I made the rounds to get some bottles of water as we were running low. Getting back to the room, I too showered and got my formal digs on. We were all set to go around 5:15pm.
I'm So Fancy
Down to the Royal Promenade a few minutes early, none of the photographers were ready again this evening. Moments later with our hawk-like vision, we found the first station to open on Deck 5.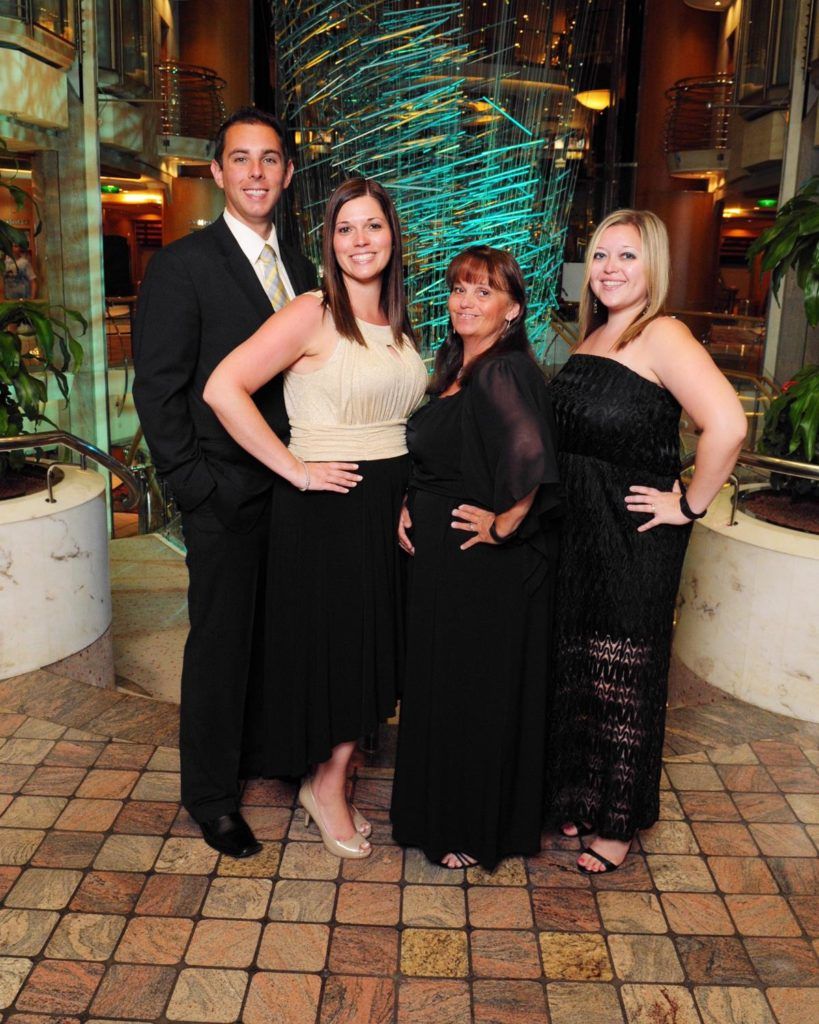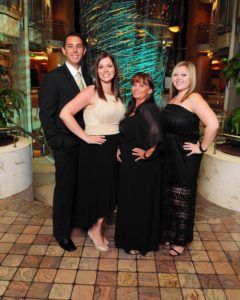 After taking this "promenade picture", we processed through each of the stations, working our way down the three decks, saving the picture gallery right in front of our dining room for last. This studio actually had an interesting setup with a chaise lounge, so I was expecting some unique poses or different arrangements. But to our dismay, the photographer really had no good stances for us and only took a few photos.
Into the dining room by 6:15pm, I could not believe how few people were at dinner again this evening. Even some of the tables near us that had our familiar faces, like "karaoke guy", were not at dinner! This is lobster night people, lobster night! It was at this point that Abel came over, with our drinks already in hand.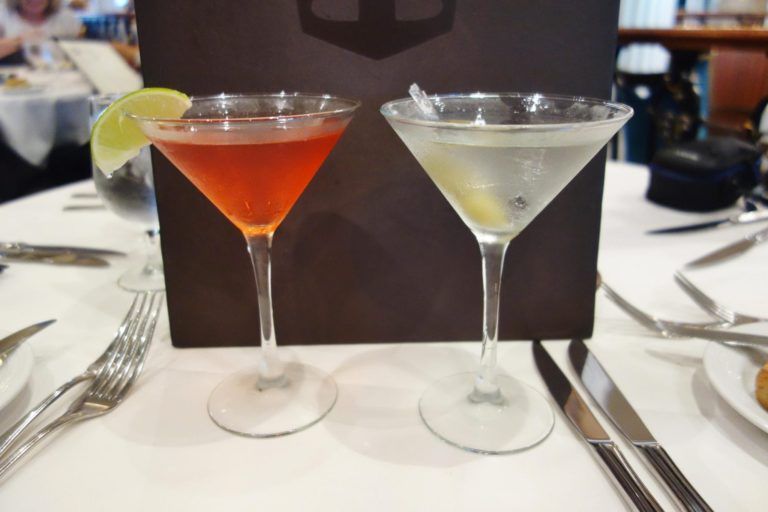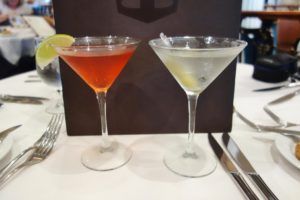 Tonight's menu was Jasmine and that means plenty of seafood for me. First, I did the seafood salad; it was edible, but not my favorite app.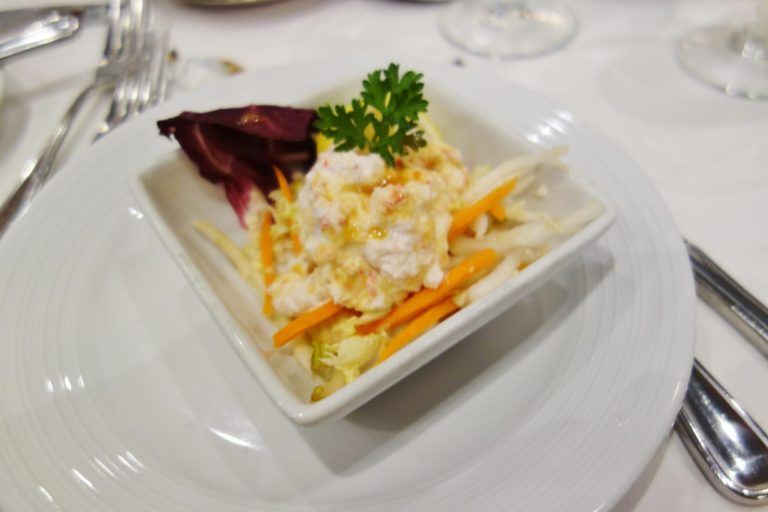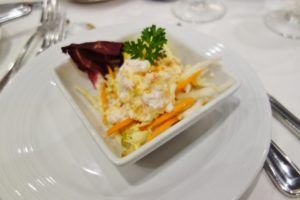 I also got an order of shrimp cocktail which is always a crowd pleaser.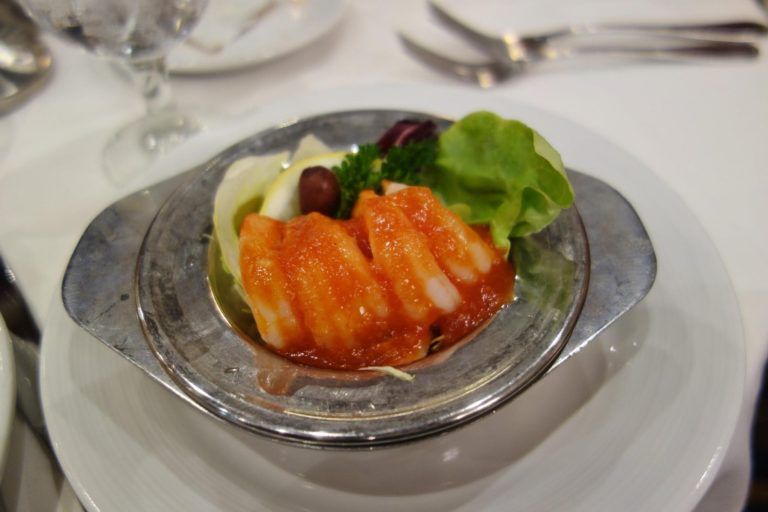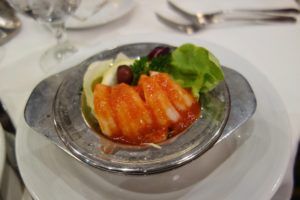 Sis did the Corn Soup, Mom a Caesar salad, and The Princess a salad that came topped with mozzarella cheese and was not at all what she expected.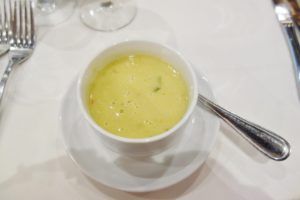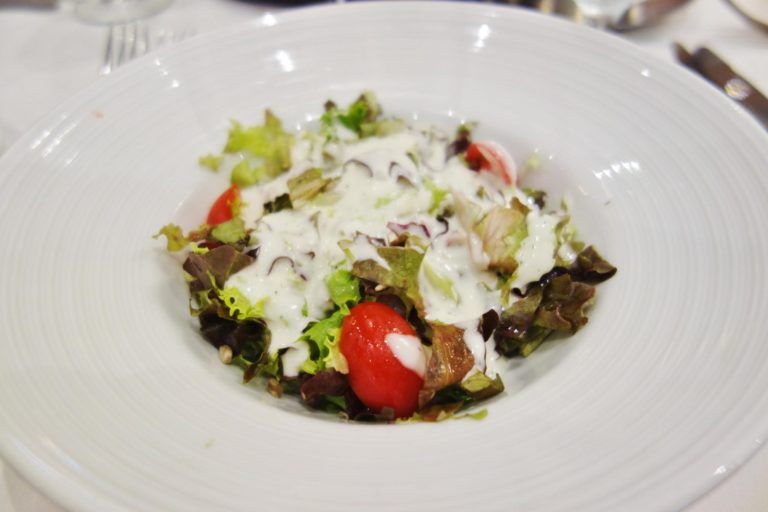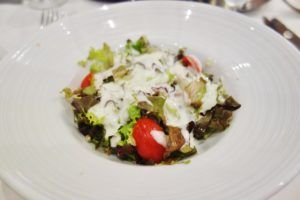 We should have taken a picture of the menu this evening, as it appears some of the items had been changed since Royal Caribbean redid their main dining room menu a few years ago.
For dinner, I told Leo I wanted two Fisherman Plates (which comes with a Caribbean Lobster Tail and shrimp), but of course The Princess had to tell him that in the past I've had 4 of them.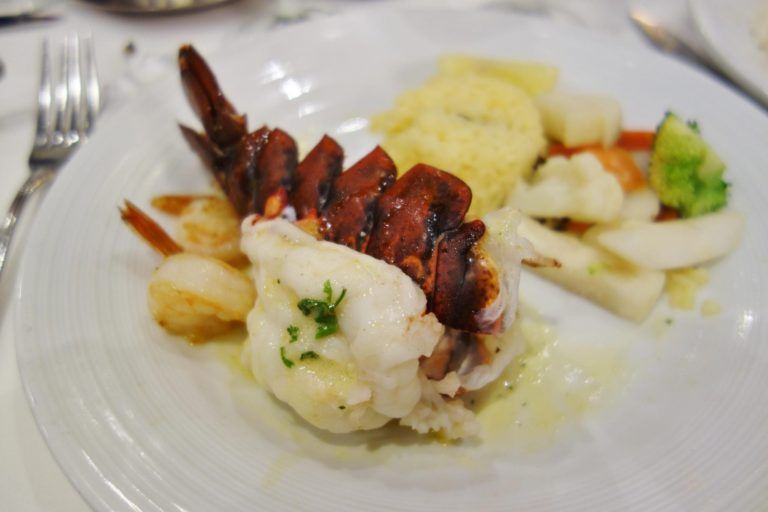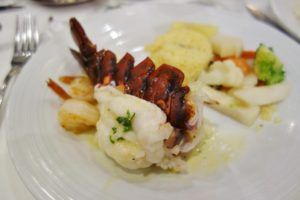 Sis did the Three Cheese Ravioli, which she again enjoyed.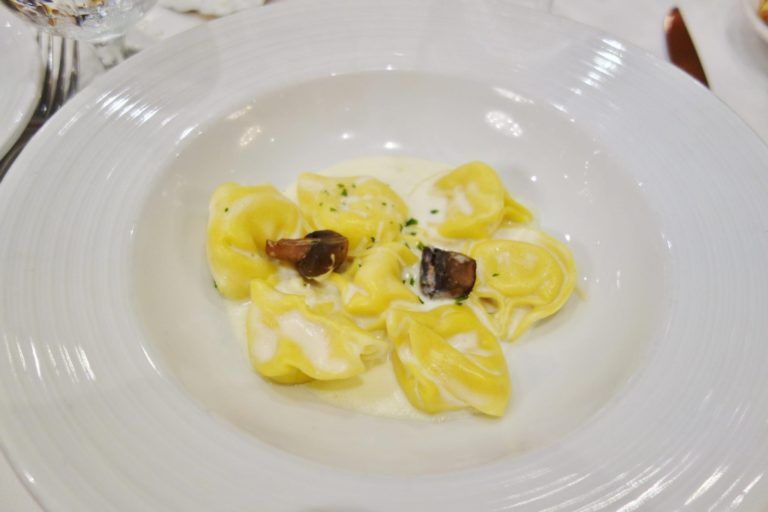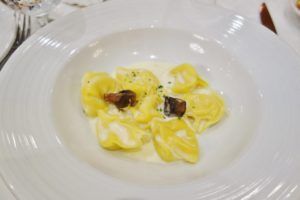 The Princess got the Thai Chicken Breast, which did not have a lot of sauce or spice to it, so it was perfect for her sensitive pallet.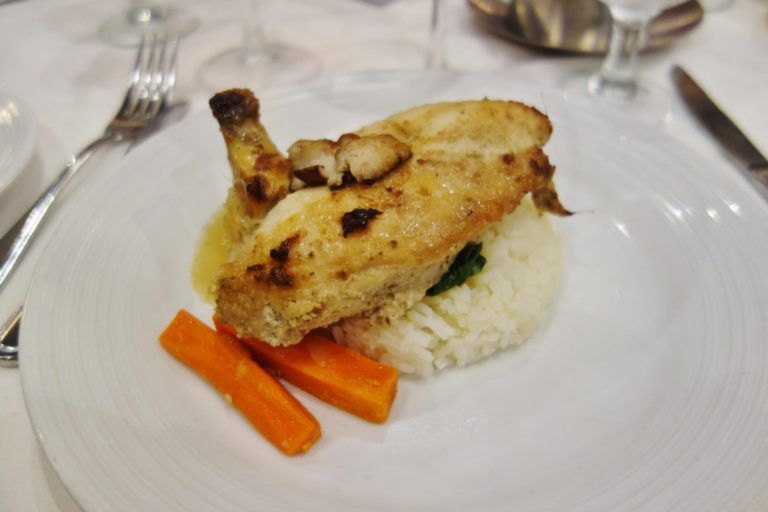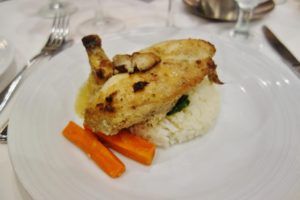 Mom decided to try out the Linguine Pomodoro from the Classics Menu tonight.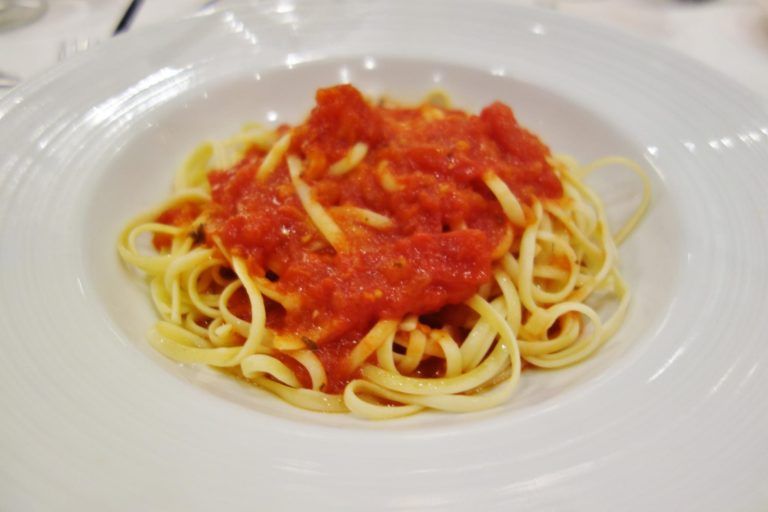 Finishing my second lobster tail, Leo leaned over with another plate. It would have been rude for me to refuse, right? He took the plate and slid it onto my already growing pile of empty lobster shells.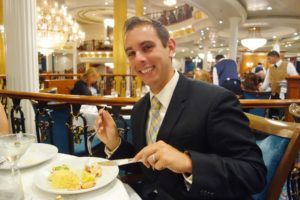 At this point, the other members of the table were finishing dinner, so I made quick due of the lobster and shrimp, so we could get to dessert. But, Leo was not done. After knocking out the third lobster tail, he returned asking if I wanted another one. Politely, I said no, but I could sense that he already brought another out for me anyway. Indeed, he had a fourth one at his station the whole time for me. I blame The Princess for this one, as I definitely did not need to eat four lobster tails! Now that I have tied my record, does this mean I need to devour 5 on our next cruise?
Complete stuffed, I somehow managed to also throw down the Ivory Chocolate Mousse (with a scoop of vanilla ice cream) for dessert.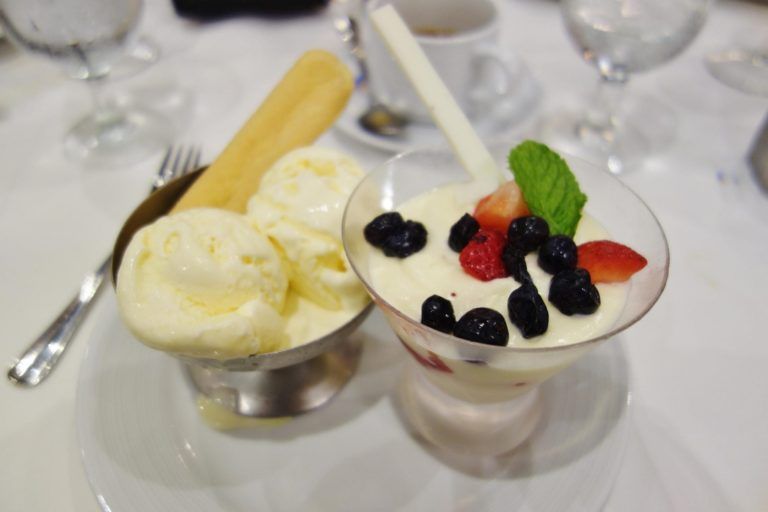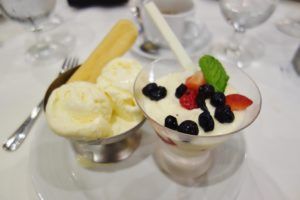 Everyone else at the table got the Baked Alaska. I know many cruisers rave about the dessert, but to me it is rather blah.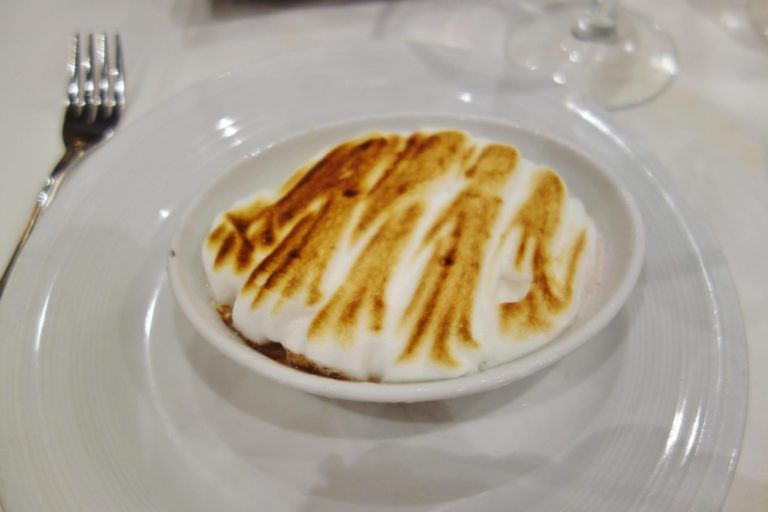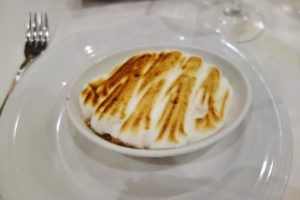 One Thriller of a Night
Barely being able to walk out of the dining room, I was dragged to the Champagne Bar, so the wife could get her Strawberry Shortcake Martini. The production show, Invitation to Dance, was scheduled for 9pm, and given the track record so far, we knew the theater would not be crowded. Taking our time with our drinks at the Champagne Bar, we then stopped at the Schooner Bar for the end of music trivia.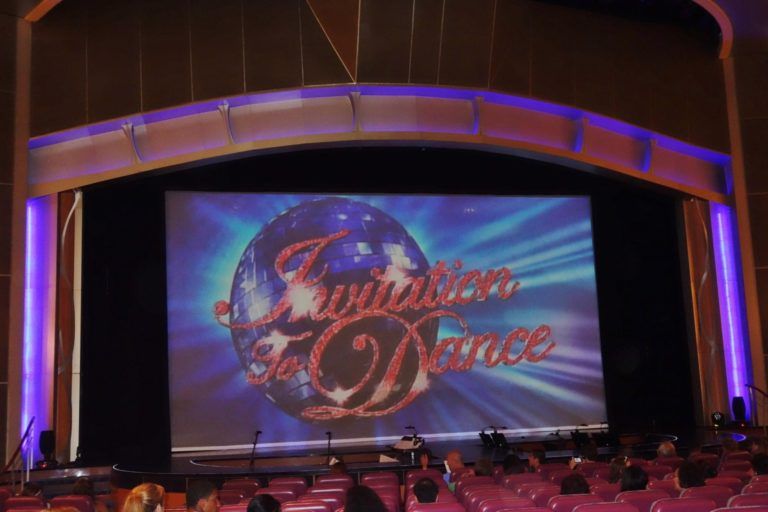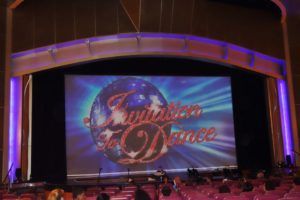 Honestly, I can't recall how many times we have seen Invitation to Dance, maybe 4 times? Basically, it is a review show that goes through a variety of different dance styles. We were not overly impressed and enjoyed the Jackpot show much more.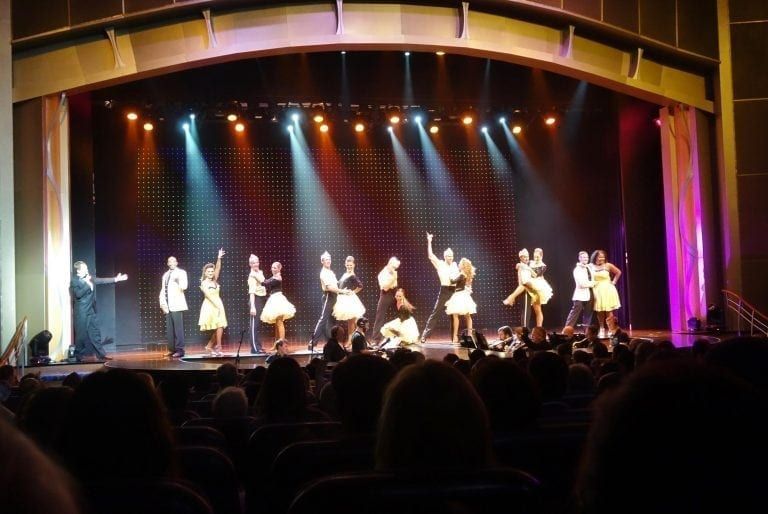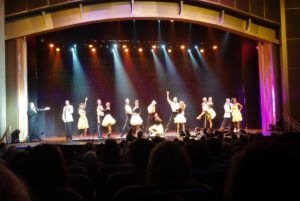 Following the show, the crowd was all going to the same location, the Imperial Lounge. It was a Michael Jackson Tribute. Right in front of the entrance, the activities manager, Tino, was standing by in complete Michael Jackson attire with many gathered around taking pictures. The tribute began with some music trivia which was relatively easy.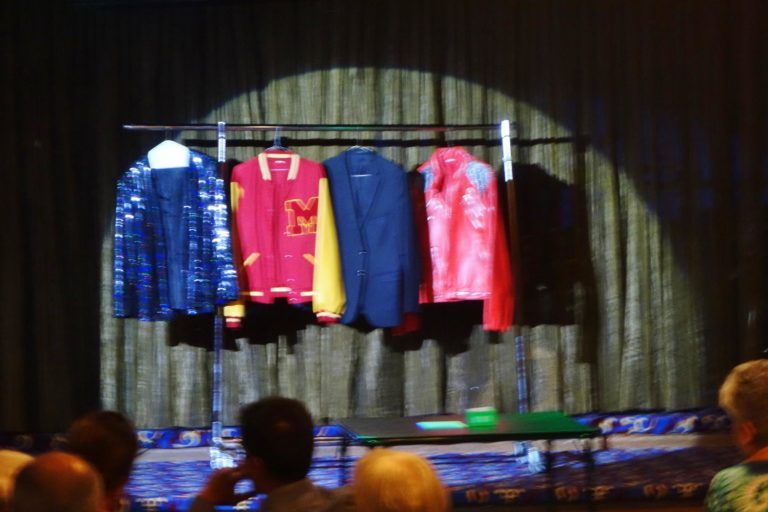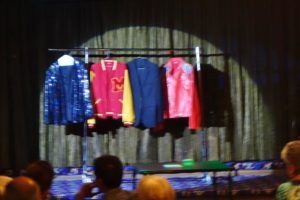 While unofficially playing, I had to try the specialty drink, the Smooth Criminal, in the non-souvenir glass of course. Too bad we didn't take a picture of the ingredients because now I cannot recall what was in it.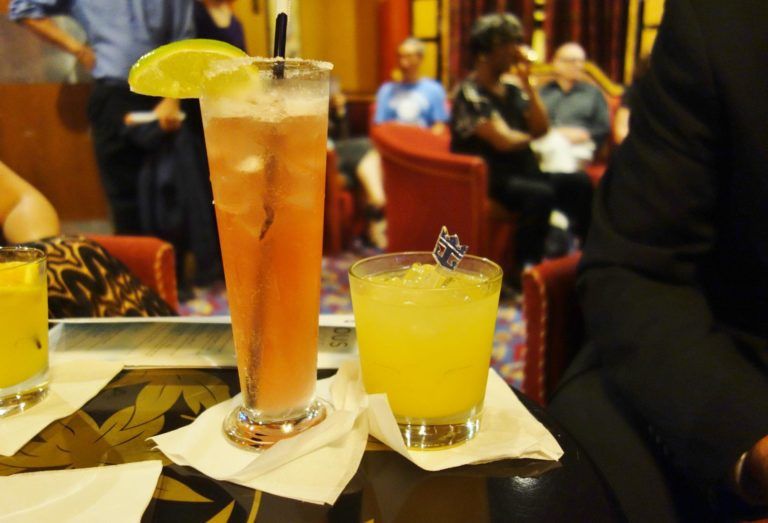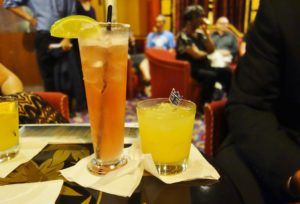 After the trivia, it was time for Tino's dance tribute. Quite honestly, he did a very good dance impersonation of Michael Jackson. The 15 minute performance included some iconic songs and dance moves, with plenty of crotch grabbing, gyrating hips, and moon walks to make any MJ fan proud. It was the most engaged that I had seen an audience in a show all cruise. Too bad we didn't get any good pictures of the performance!
Coming off the high of that show, we wanted to keep the music going with karaoke in the Viking Crown Lounge. It had started around 10:45pm, so when we got up there a bit after 11pm the venue was rather busy. We were not aggressive enough trying to get seats, so after listening to two songs, we moved on. Mom decided to call it a night at this point, and we had no other choice then to go where apparently few cruisers had gone before-Jester's Nightclub, to check that off our drink around the ship list.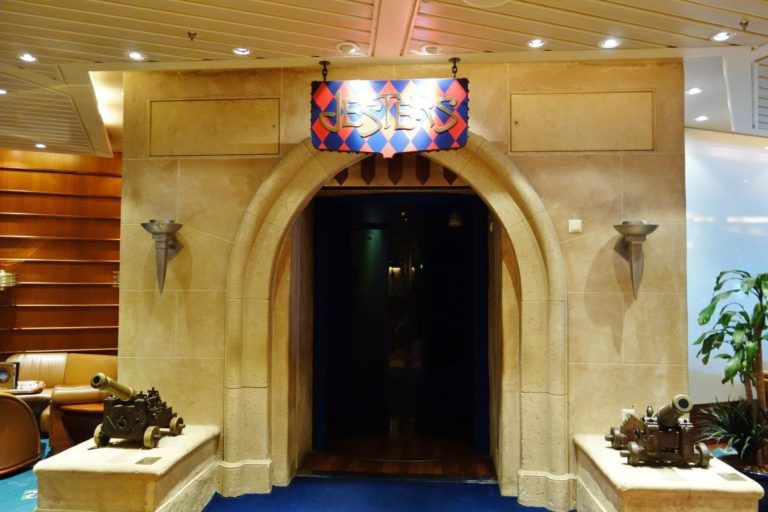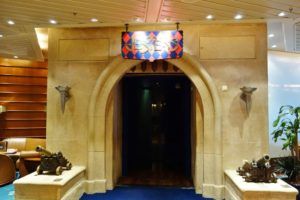 This two story venue has a small bar on the second floor with booths reminiscent of VIP tables and a balcony that wraps around the venue looking down at the dance floor. There were a few people dancing, but not many. We got drinks from the bar and sat for a little while.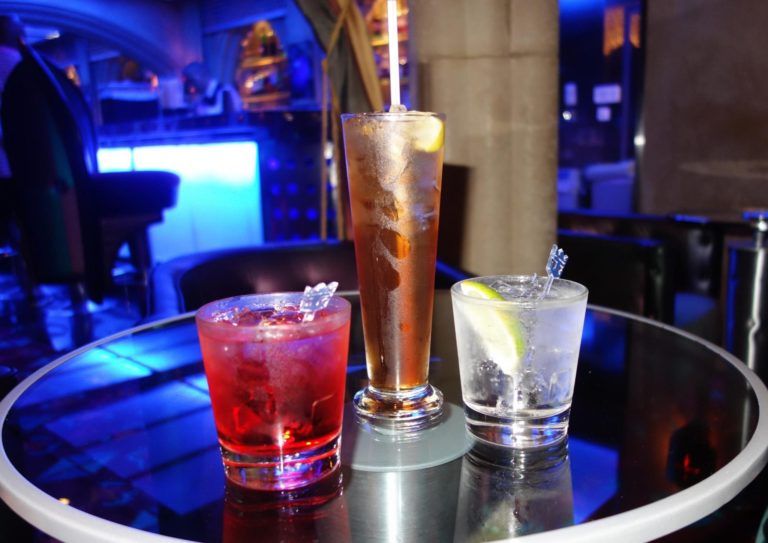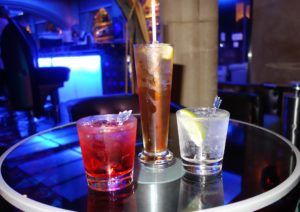 At one point, The Princess yawned, and a fellow cruiser made a b-line for our table calling her out on the sign of tiredness. That was all we needed to put an end to the night; after all, it was closing in on 12:30am. Sis was going to stay behind to meet up with some girls she had partied with the night before.
Tomorrow was the last sea day, and we wanted to be up early to get a deck chair and plenty of sun. Or so we thought…
Upon our return to the room, we were greeted with an elephant towel animal.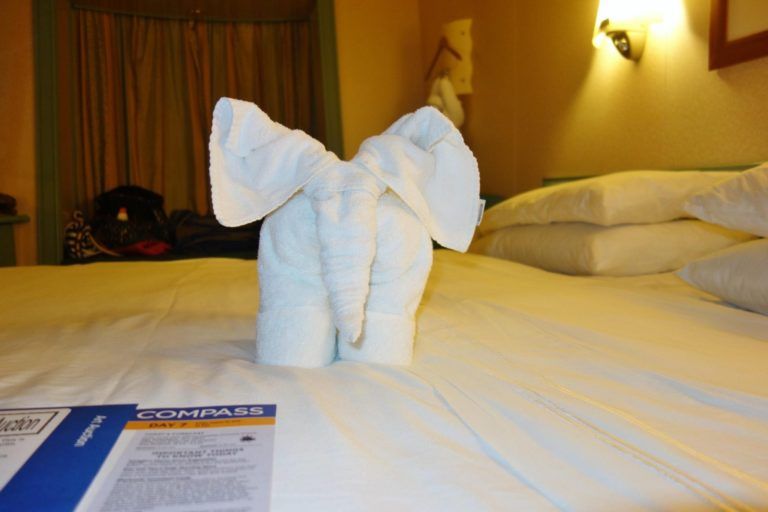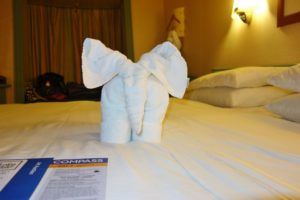 The farm was growing!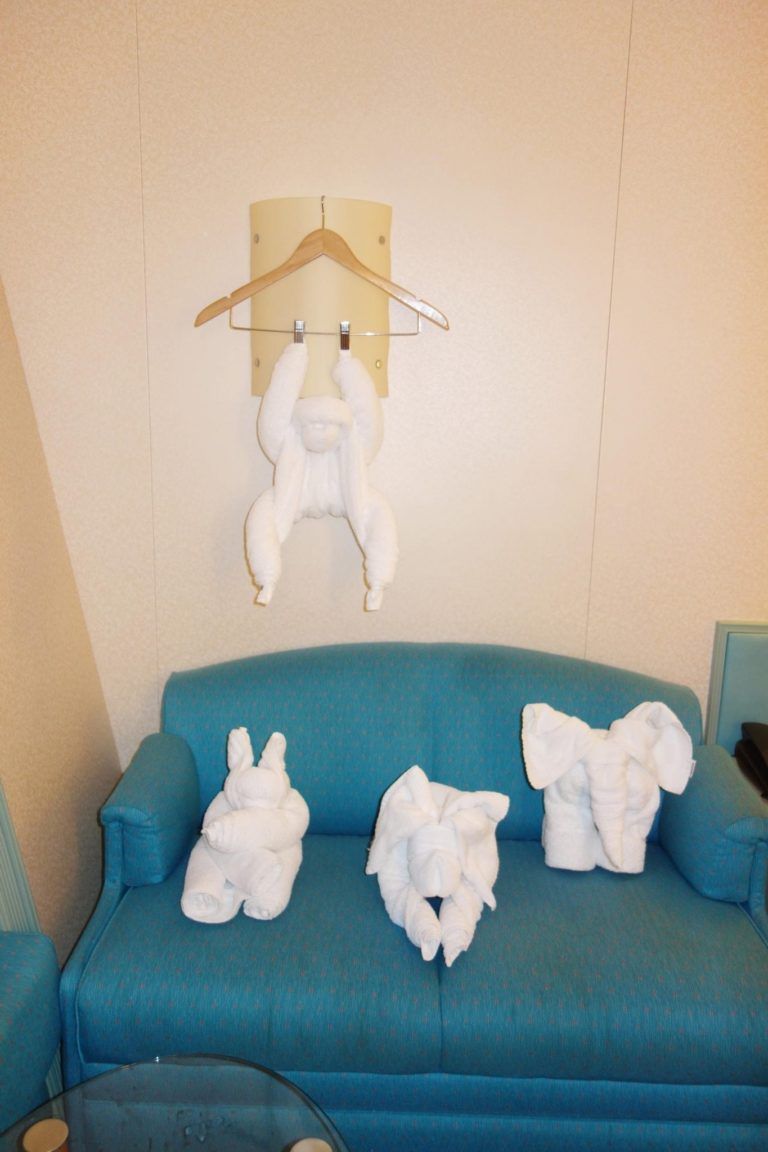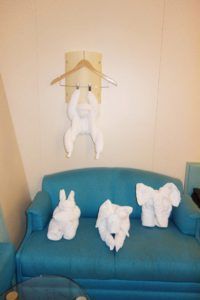 Adventure of the Seas Review
Day 7
Why an Outside Room Comes in Handy
Having successfully navigated around two tropical storms with seven straight days of sunshine and warm temperatures, we had high hopes that our final sea day would be another bright, beautiful day. Similar to our first sea day, our plan was to get in as much outdoor time as possible, before returning home. Having no problem getting deck chairs on our first sea day, we decided we would sleep in a little bit. Conferring with our family, we made plans the night before to meet around 9:30am to head to the Windjammer, so we could be outside around 10am and get some final rays of sun.
Waking up around 8am, we got ready in our pool attire, which included a bathing suit and EatSleepCruise t-shirt for me, and we were ready to go at the designated time. The hallways seemed a bit busier than expected, and in hindsight, I didn't really notice many people wearing sun tanning attire. Arriving at deck 11, we were greeted with quite a crowd of people and awful-pouring rain and wind outside. The outside decks were closed, so there would be no tanning or sun time on this last sea day. Yet again, another final day cruising with bad weather! And, another reason why having some view of the outside from your cabin comes in handy!
What to Do with the Day?
Being among the few cruisers wearing our bathing suits, we walked into breakfast to find it quite crowded; although, we did get our "usual" table in the Windjammer. Our plans had yet again been upheaved so we needed to find things to do, besides change into more appropriate clothing, so we reviewed the Compass during breakfast.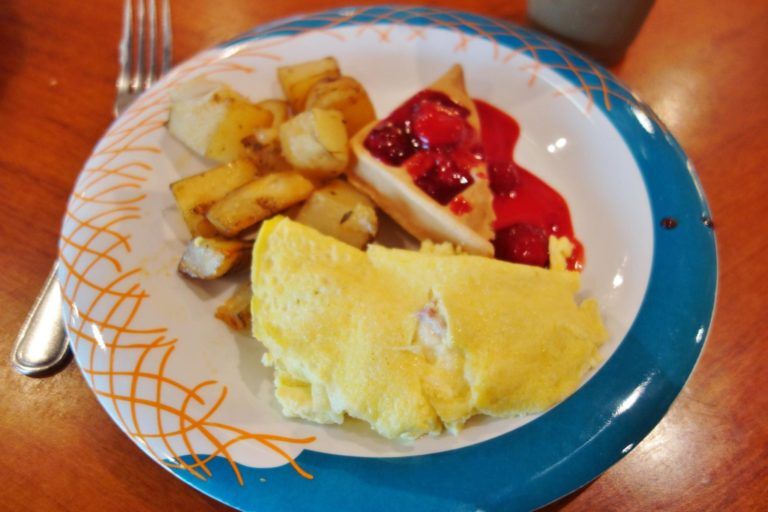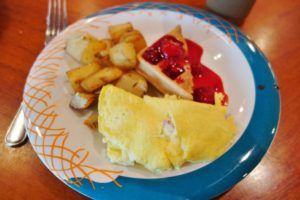 Following breakfast, we went back to the room to change then headed down to the Royal Promenade to join the mobs of people perusing the sales-including the $10 t-shirt sale. The t-shirt that I have been eyeing for some time now was again only available in extremely large sizes, so I would go another cruise without it.
After collecting a few souvenirs, including another ornament for our Christmas tree, it was time for one last review of our professional pictures. Another hectic scene at the Photo Gallery, we were able to collect all our physical pictures and reviewed them one more time to ensure they matched our digital account. A total of 216 pictures, which was close to our personal best, but we were still missing some digital files from Aruba. I brought the hard copies of those pictures to the main desk to be added to our account and inquired about when the digital CD would be ready. We would be able to come back after 10:00pm to pick up the CD. I felt confident that the photo gallery staff would add the additional 8 photos-sadly, those pictures did not make it onto our CD.
Besides sun, the only other official plan for the day was rounding out our "Drink Around the Ship" at the Solarium Bar on Deck 11.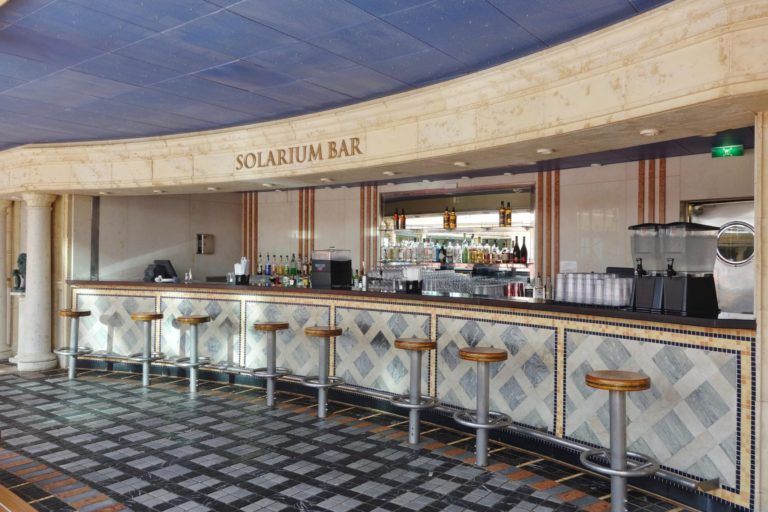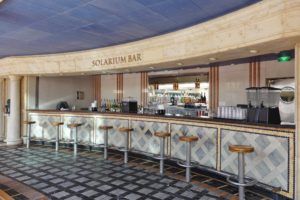 While we did go up there later in the day once the weather improved slightly, unfortunately, the Solarium Bar was still closed. Next time, we will not wait until the last day to cross all of the bars and lounges off our list!
With the inside venues getting more crowded by the minute, the cruise director came over the announcement system to reveal that additional indoor activities were being added. Among the additions were an indoor ping pong tournament, trivia, bingo, and an additional ice show at 1:00pm. We had planned on going to the ice show at 3pm after spending a day in the sun, but now with little to do, we decided we should try to catch the earlier show.
Hot Ice, but Cold Tables
We decided to grab our last drink of the day at the Lobby Bar and scope out the wait at Studio B.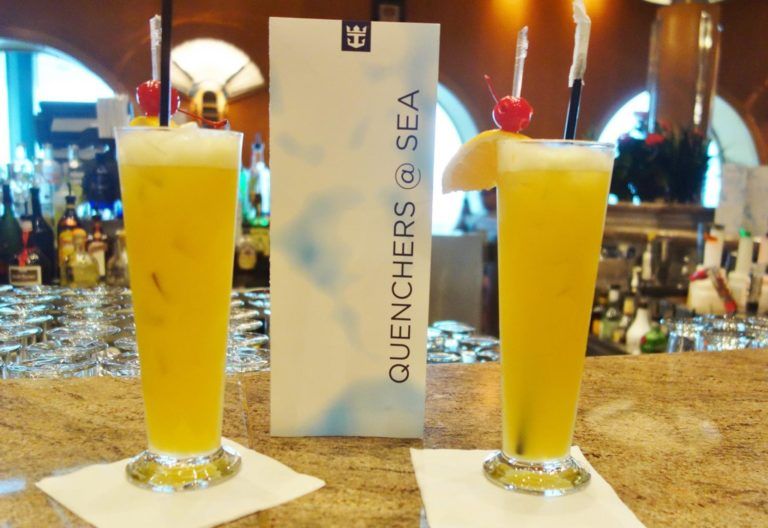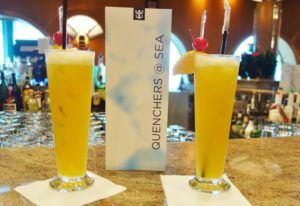 We noticed a line beginning to form around 12:15pm, so we decided to get in line. With the doors opening right on time, the crowd rather calmly filed in and found seats. We sat port side in our regular area and grabbed additional photos of the venue.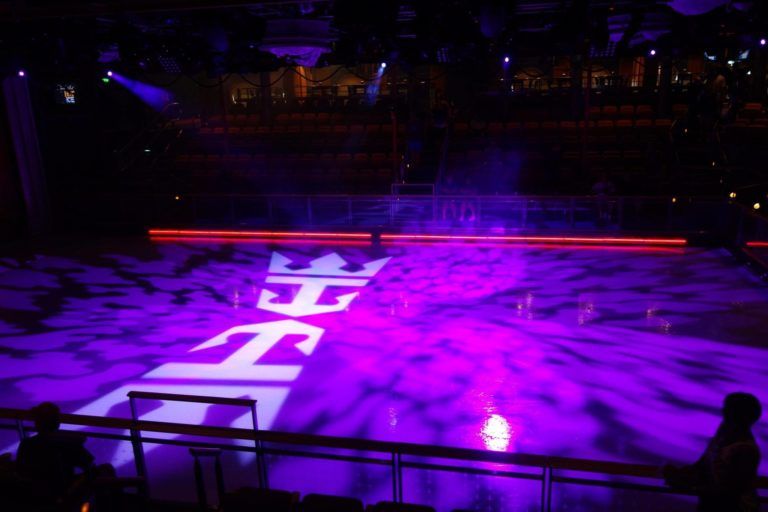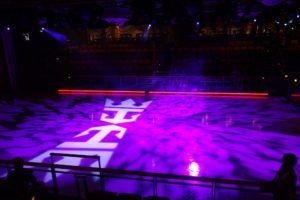 I may have also grabbed a beer-it was afternoon and 5'oclock somewhere. The ice show on Adventure of the Seas is called Cool Art, Hot Ice.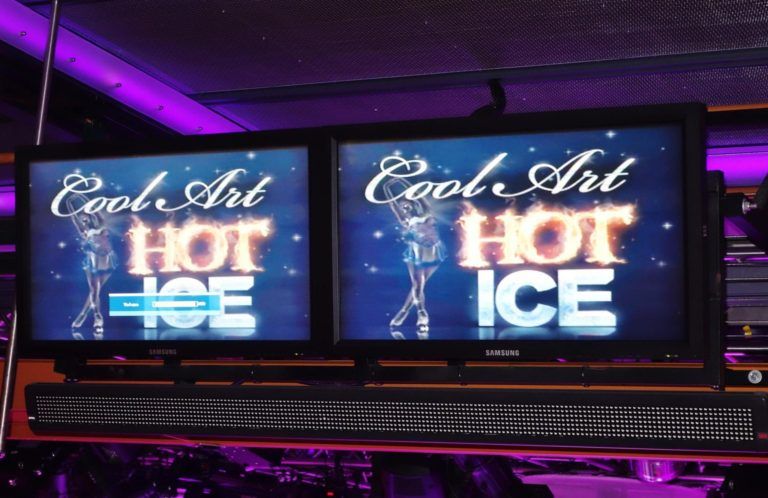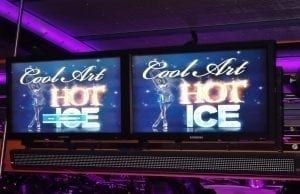 The show portrays a journey through different eras and art forms, paying homage to different types of artistic expression from classical painting, to sculpture, to modern rock music. The choreography was solid, and the story line and musical selection were much better than the last ice show we saw on Independence of the Seas.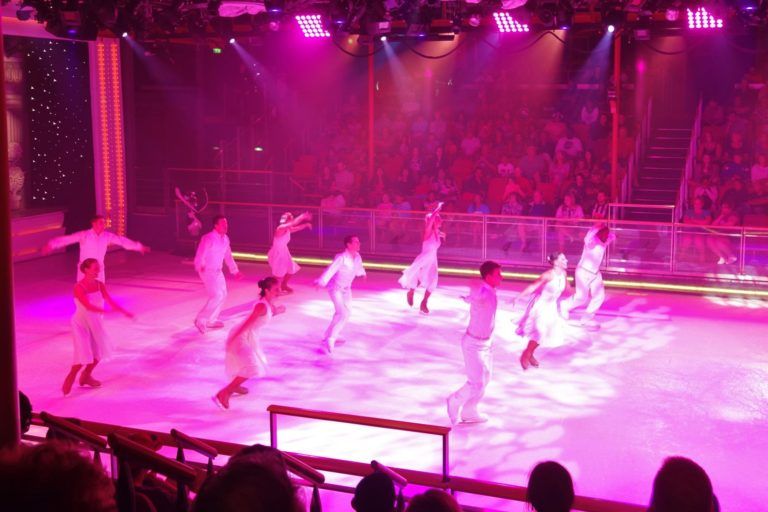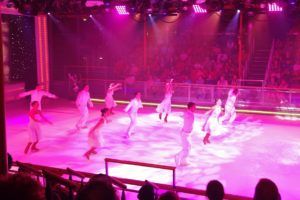 The performers do the best they can given the small rink and the movements of the ship, but there were a few mishaps during the performance. We counted 3 falls in addition to some not so graceful landings, but it did not detract us from enjoying the show.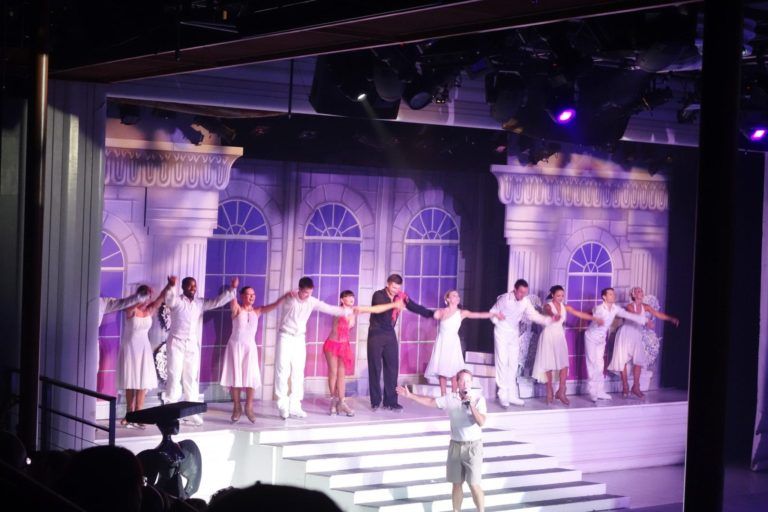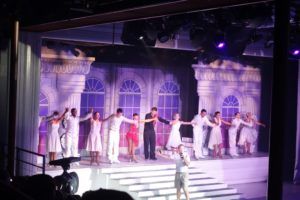 Lasting about 50 minutes, where would we head to now? It was inevitable that we would find our way to the casino. With a little luck at the Roulette table, I was up close to $100, which was not much but was better than the Princess' luck at the slot machine.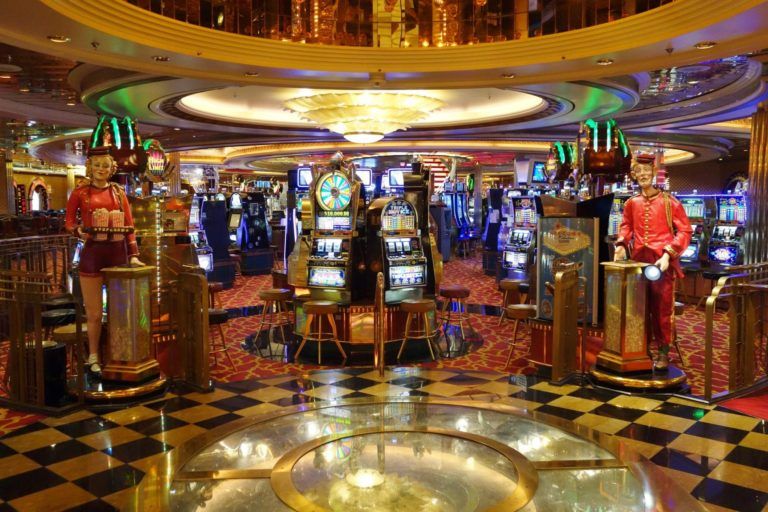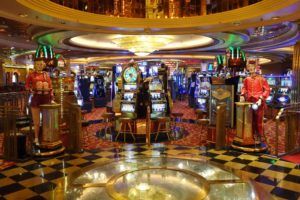 In the meantime, Sis had found the only craps table that was open-which did not have much action or excitement. Having hit a cold streak, I walked away up $60 from roulette and decided to throw it down at the craps table. Perhaps one of the saddest and coldest craps tables ever, I was down to my last chips pretty quickly. Leaving the casino, and Sis, behind, we went back to the room to begin packing around 3:30pm.
Packing on the last day of the cruise is truly the most depressing part of any trip. We had made plans to play the "win a cruise" bingo, which started at 5pm, with cards going on sale at 4:15pm. So after packing, we got ready for dinner and headed down to purchase cards around 4:30pm. As it would turn out, Sis came back to the room late indicating that the luck had turned around at the craps table, and she ended up on a winning streak. Oh well, we were going to get ours at bingo, I just knew it!
More Bad Luck on the Last Night
The bingo game had been moved to the Lyric Theater in anticipation of a larger crowd, and there was already a small line forming to buy cards when we arrived. Not having played bingo in a while, we were contemplating the different packages, including the ones with the computer cards. Essentially, these tablets do all the work for you. While at first I was bit skeptical about getting one, (what fun is it to watch a computer play bingo?), after playing with one I am a total convert. Why waste your time with a dabber and all those cards when the tablet can do the work for you…and you can enjoy a nice beer? We got Mom the traditional paper cards, and I manned the tablet. Sis never made it down in time to play.
Of the three games, we were "standing" on the first one, being one number away from a bingo, but alas we did not win. For the final "win a cruise" bingo, none of our cards were anywhere close to winning, and a gentleman in the front row who was a stander for most of the games actually one. With a rather quick three games of bingo and already ready for dinner, we killed some time at the pub and people watched.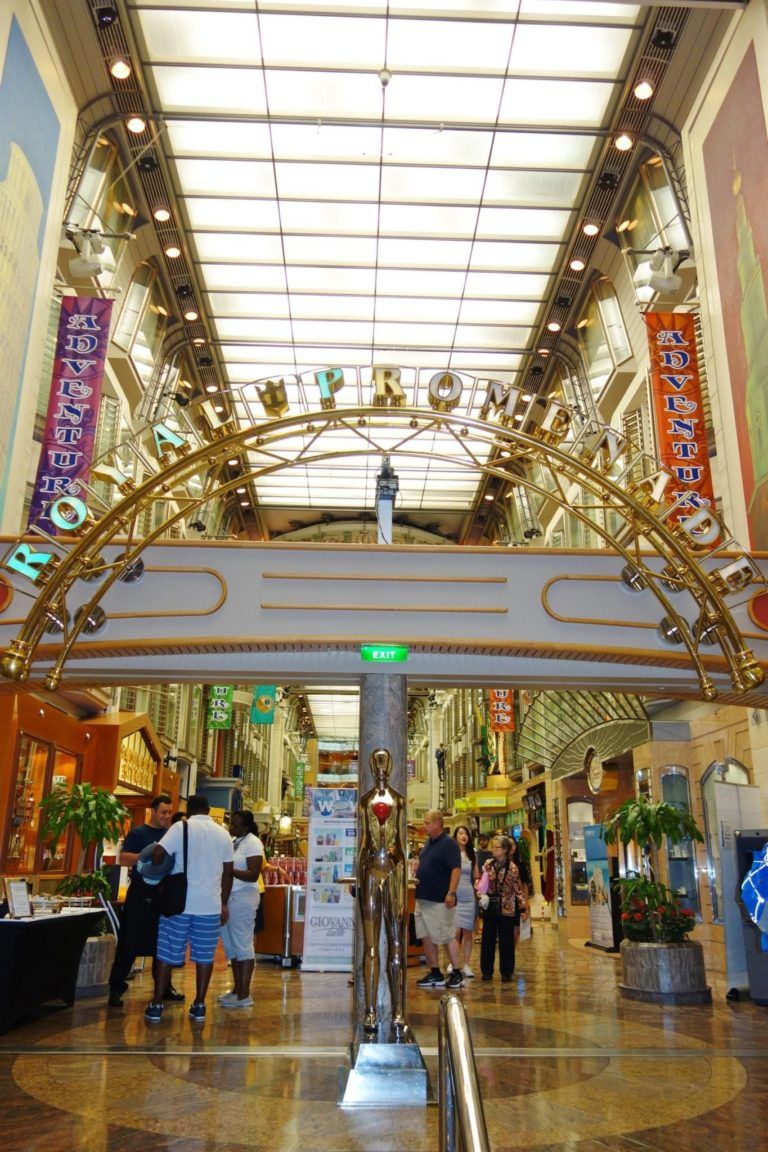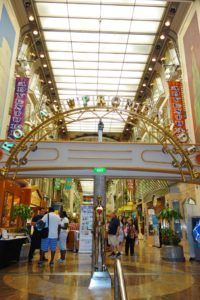 The Princess was not a fan of the menu here, so I went down to the Champagne Bar to get her a Strawberry Shortcake martini while the rest of us enjoyed a beer. To dinner right at 6:00pm, tonight's menu was Pomodoro, and it featured the Princess's favorite meal, the Roasted Turkey.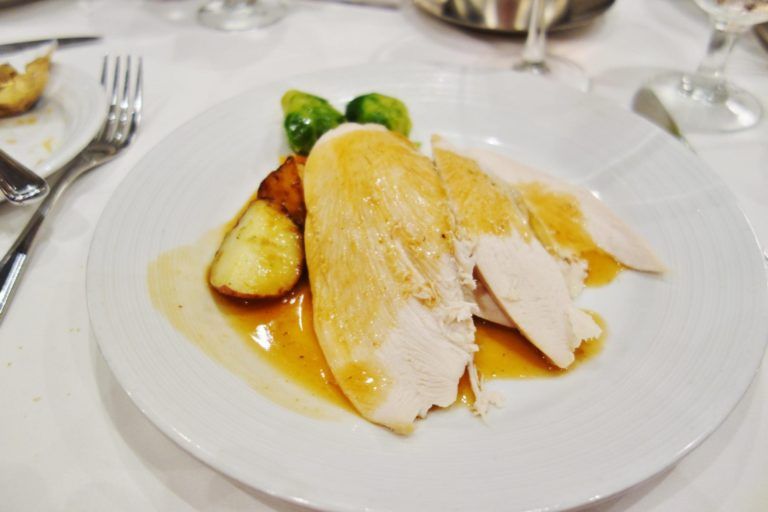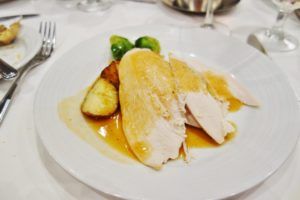 After six straight days of stuffing myself, tonight I was going to take it easy. For apps, a few of us got the Spanish Tapas Plate, which had a nice array of cheese and cured meats.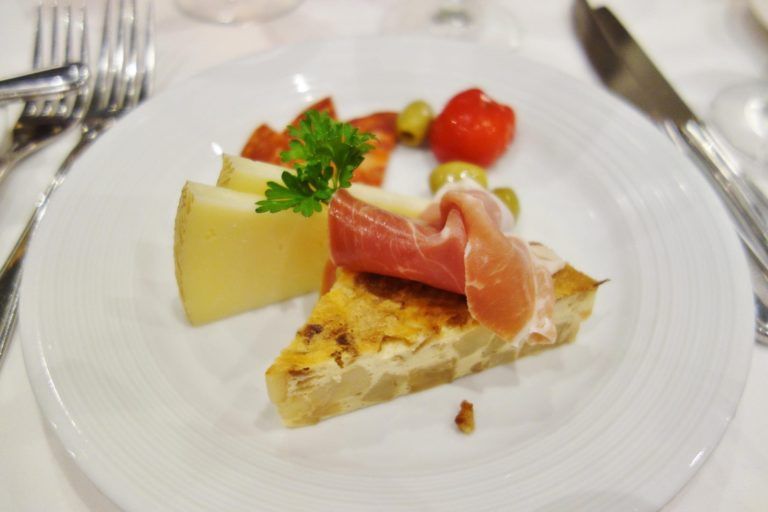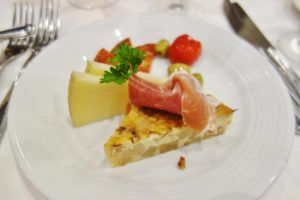 Mom tried the French Onion soup, and I also tried the Eggplant and Kalamata Olive Tartare starter.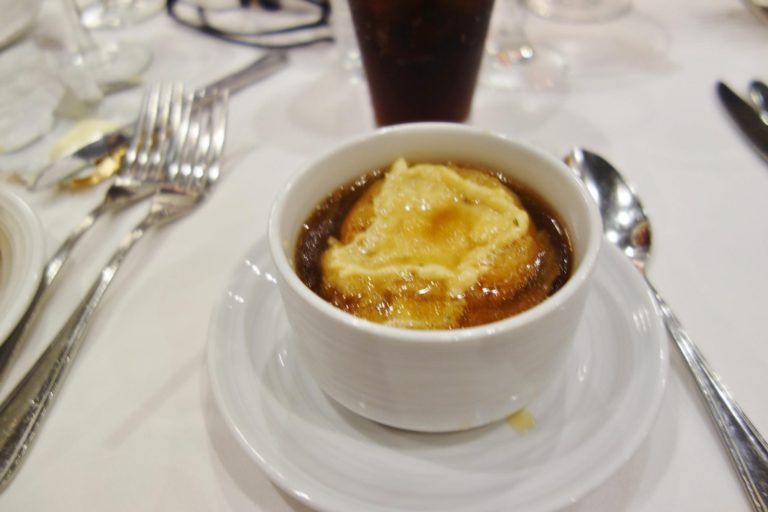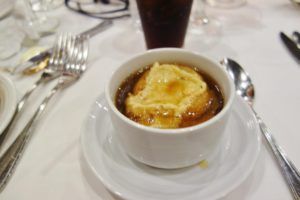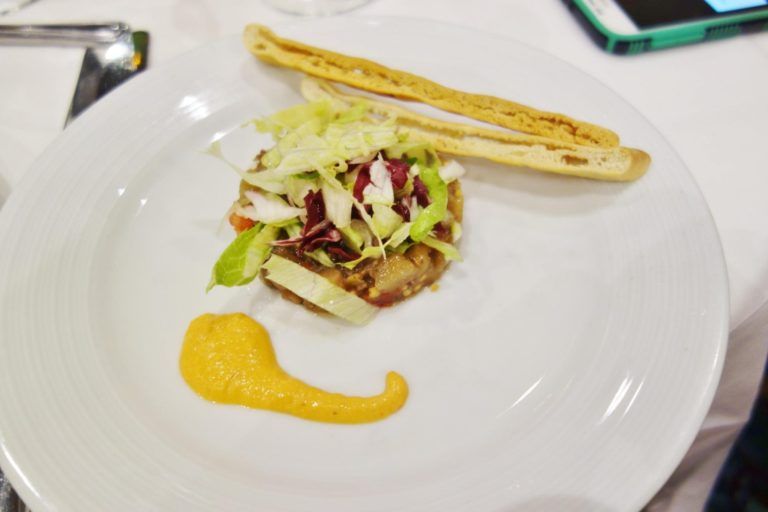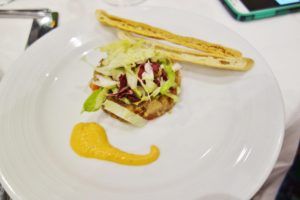 For entrees, Mom, Sis, and The Princess all ordered the turkey. Although, I think they have been taking tips from me all week because Sis also ordered the Rigatoni Pasta and The Princess also ordered the Tandoori Chicken.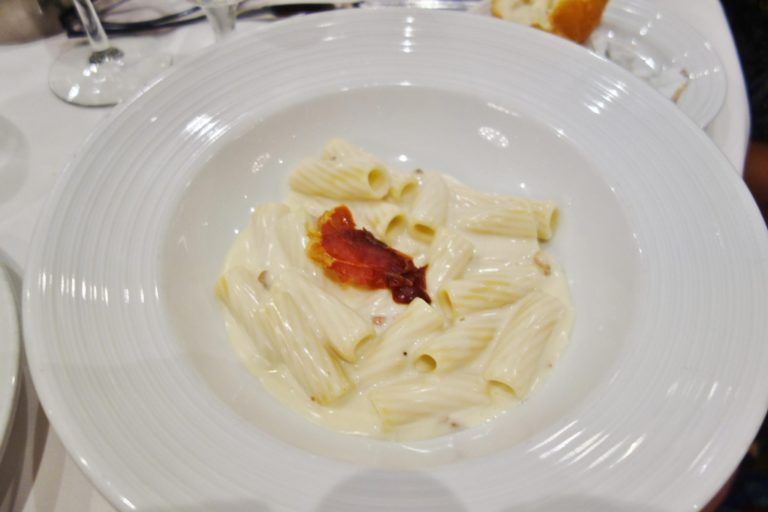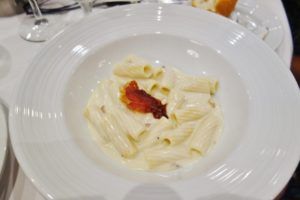 Sis only picked at the pasta because she thought the sauce was a bit heavy, and The Princess did not enjoy the Tandoori chicken meal at all- good thing for the turkey!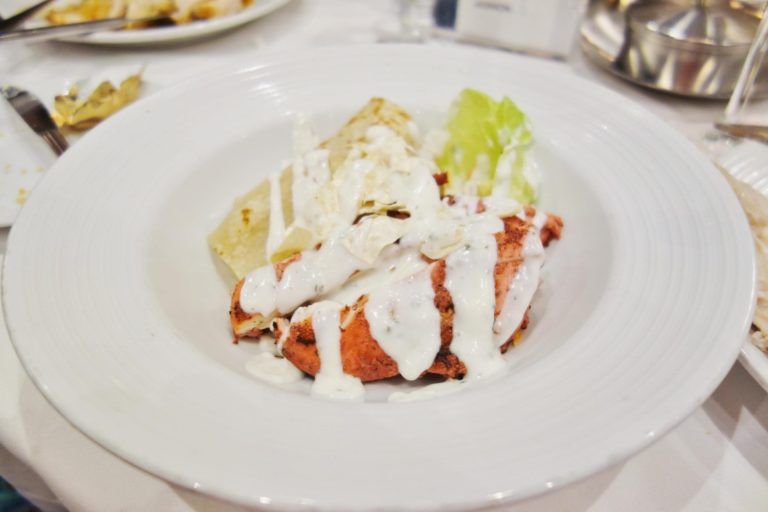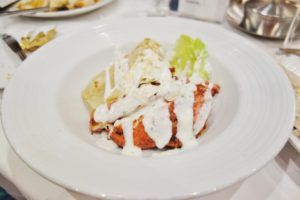 I did the Lamb Shank. It came out quite warm and was fall off the bone succulent. While I am not usually a big mashed potatoes fan, the braised juices and sauce from the lamb enticed me to clear my plate, leaving only the bone.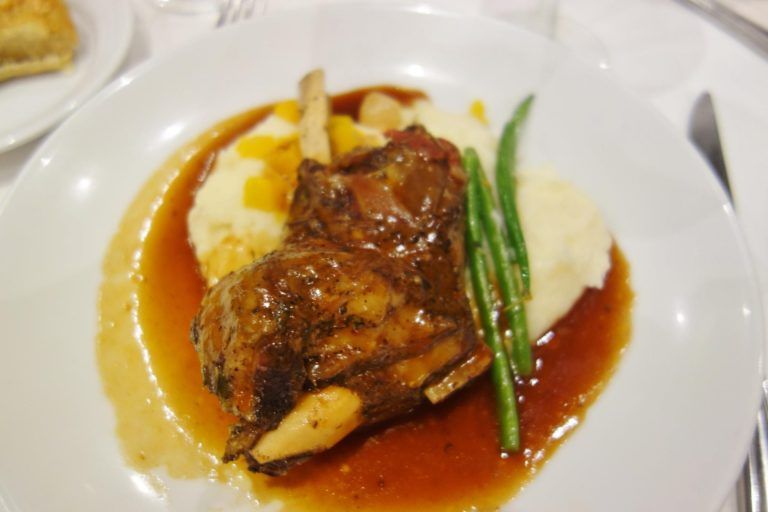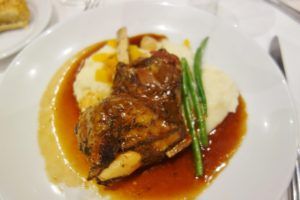 Ok, so I changed my mind- I ended up trying the beef sliders off the Classics menu too, just to try them.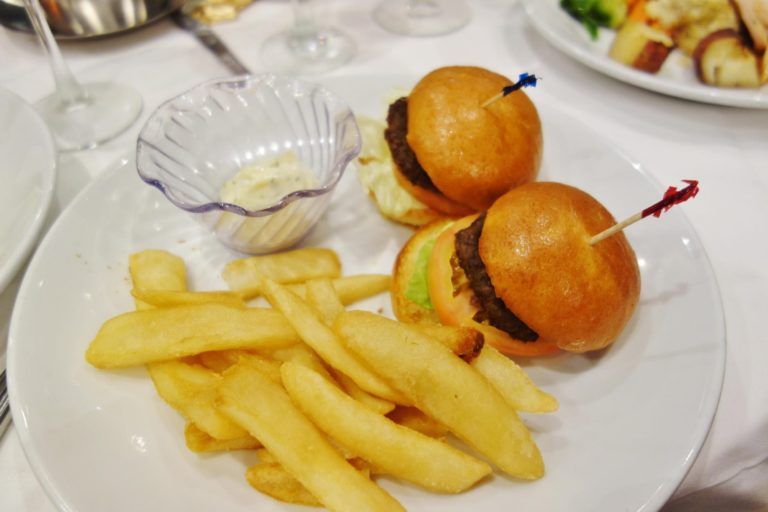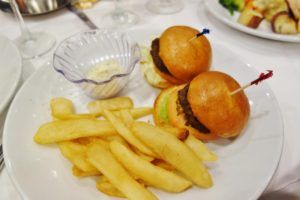 For dessert, as if we needed it, I went with the Warm Apple Dome, which was warm cinnamon apples wrapped in thin dough and coupled with a scoop of ice cream. I did ask for an extra scoop of ice cream, which Leo delivered.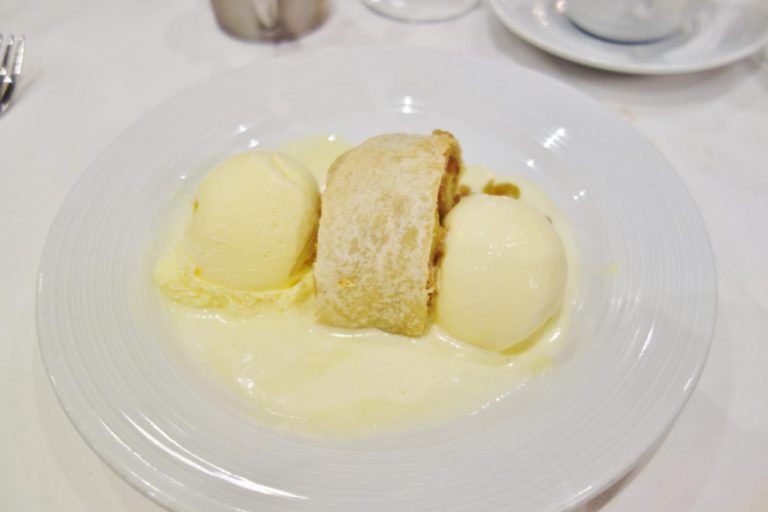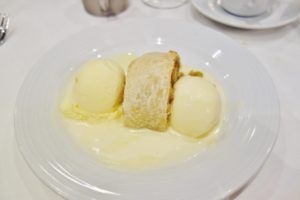 Sis and Mom followed suit. The Princess decided to try the Frozen Strawberry Soufflé with a scoop of ice cream too.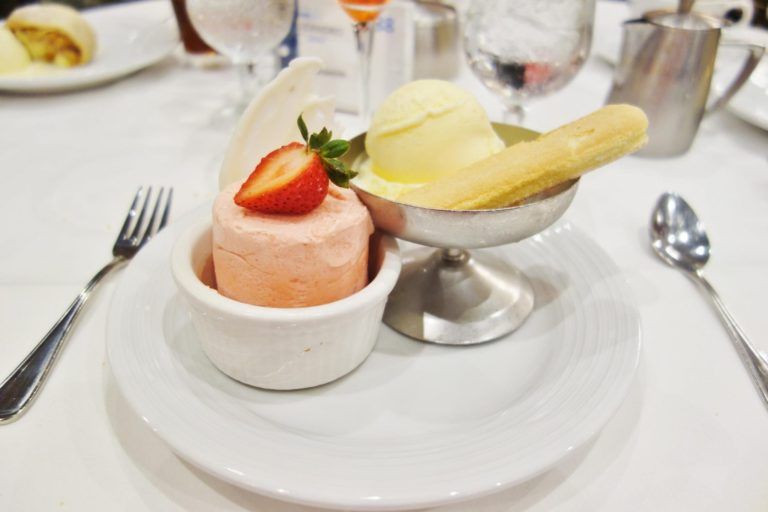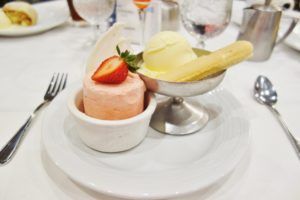 Towards the end of dinner, the wait staff gathered to bid us farewell.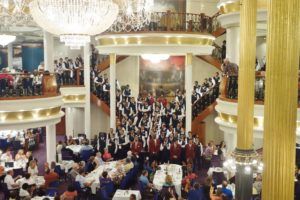 After the little display, we were able to flag down Abel to give him a gratuity and a WOW card. He seemed overly excited to get the WOW card, giving us all hugs and wishing us well. He was probably one of the best crew members we have ever encountered on a ship as he always had a smile and was there to help. We also flagged down Leo and Jasmon to say good-bye and provide them with an additional gratuity, and a WOW card for Leo. We were ready to take off to catch the Farewell show that started at 7:45pm when Leo pulled out his guitar and started serenading our table and the table next to us.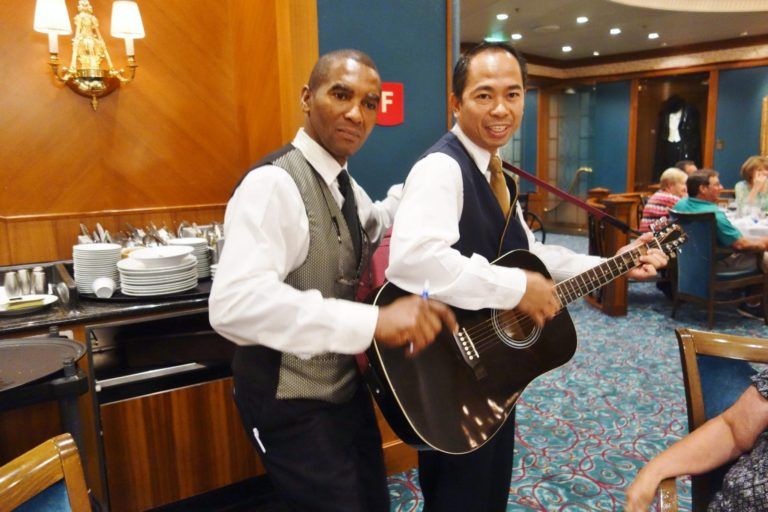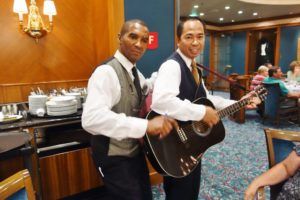 After listening to a few songs, we did not want to be rude and leave but it became almost drawn out and awkward. I think everyone was looking for a chance to leave but Leo kept going!
One Last Hurrah Before We Leave
We were finally able to sneak out of dinner after another round of thank-you's and good-bye's and got to the show without much time to waste. This show featured a few songs and dance numbers from the Royal Caribbean singers and dancers, as well as clown humor from Kirk Marsh. His show was amusing and relied on picking people out of the audience.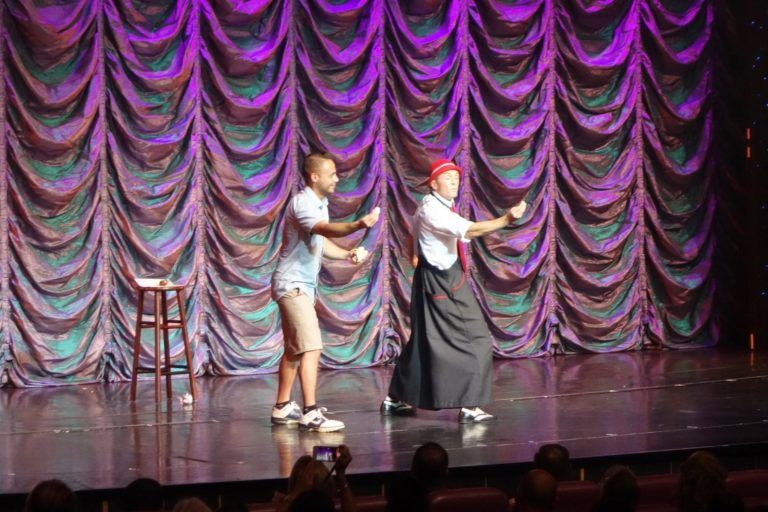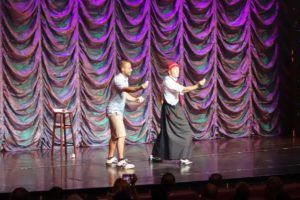 At the end of the show, senior officers marched into the theater and took to the stage as a final send off.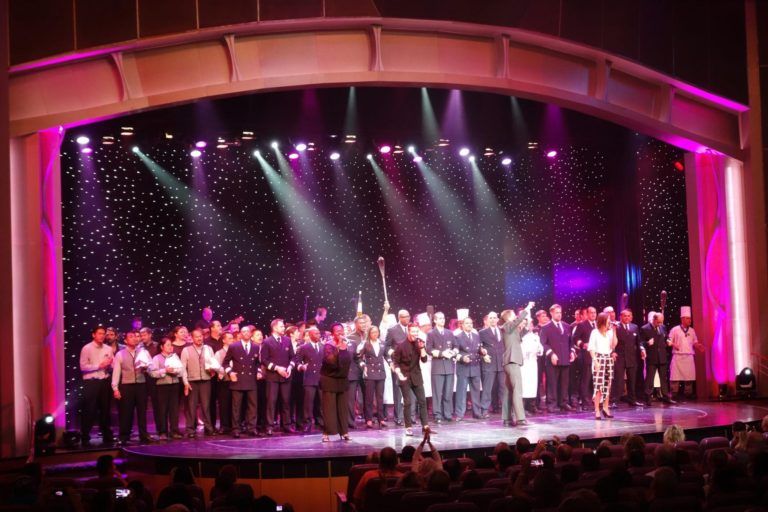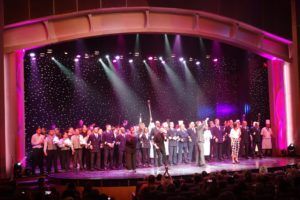 Being the last night onboard the ship, The Princess had planned out a rather packed schedule. After the Farewell Show, it was up to the Imperial Lounge for some drinks and back-to-back trivia.
The first game was the Totally 80's Tune Trivia at 8:45pm. Having been kids in the 80's, this game was all ours. We had a rather solid score, but there was one team that pulled out a perfect score! I was quite proud of our showing as it was mostly Sis and I getting the songs and artist. Although, the Princess did know 'Take My Breath Away' was sung by Berlin. Random fact and the only answer she provided. The next trivia game immediately following was Harry Potter Trivia. Now, I am not a real fan of Harry Potter (books or movies), so I was going to sit this out and leave it up to Sis. Again, there was a team with a near perfect score, and Sis fell somewhere in the middle of pack. Not bad, considering the winning team was comprised of 5 or 6 members. After the trivia, it was straight out to the Promenade for the Island Frenzy parade which was starting at 10:15pm.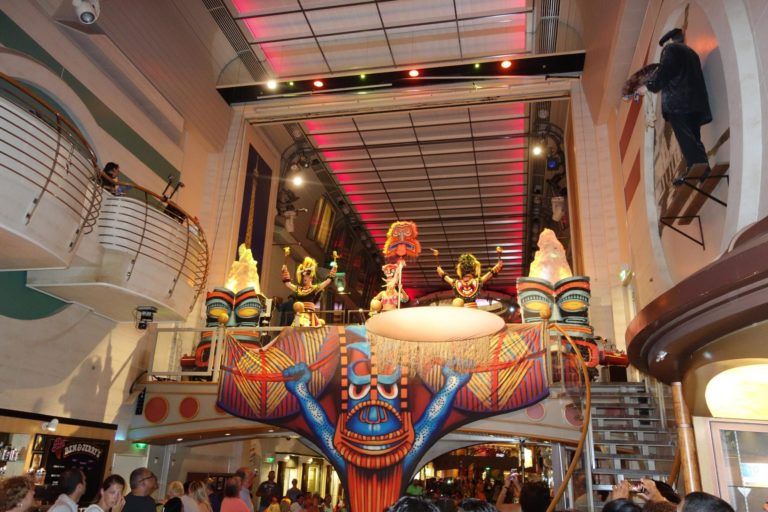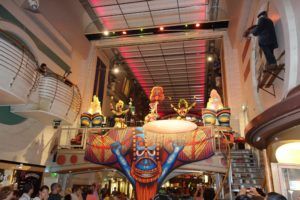 Since there are no Dreamworks characters on this ship, this send-off parade featured the crew dressed in island attire-think Tiki style with straw skirts and hula skirts. We got an okay standing location in front of one of the shops; although, it just seemed short in comparison to other parades we have seen.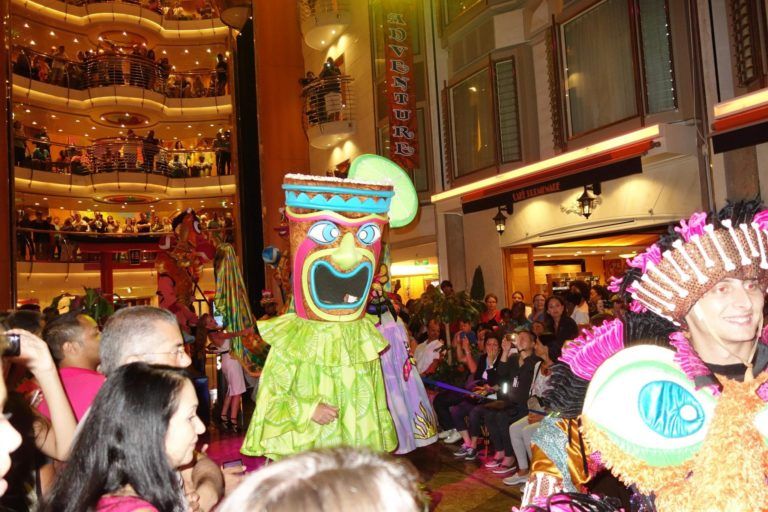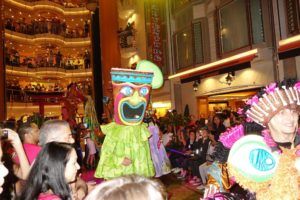 Following the parade, it was back down to the Lyric Theater for Late Night Adult Comedy featuring Miguel Washington. As I said before, I was surprised that the comic from the first night did not perform again, and this was the first time we had seen Miguel on the ship. His set was pretty standard, nothing too outrageous; this was no Blue Collar tour. I thought he was pretty fun, but then again, I am a fan of comedy.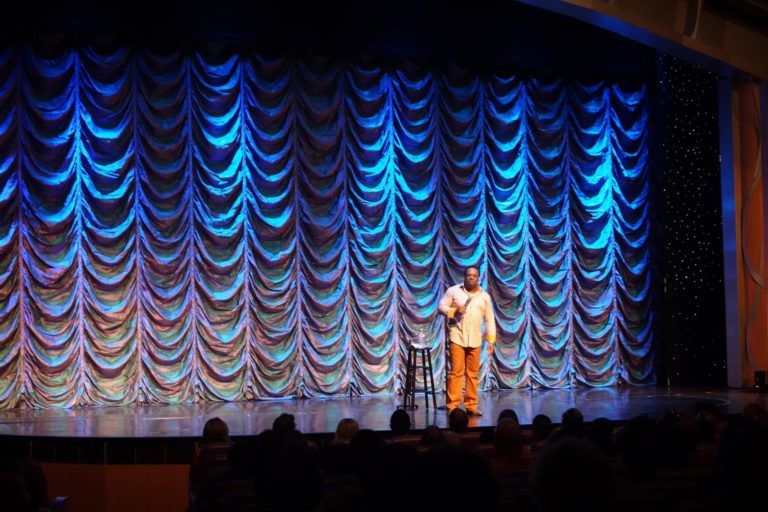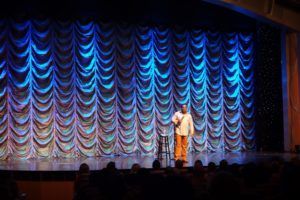 With the show over around 11:30pm, we decided to finish packing and call it a night. We would be carrying our bags off the ship in the morning and needed a few hours of rest. No towel animal tonight…a preparation for the real world again.
Adventure of the Seas Review
Day 8
We Need a Taxi
We had decided that we were partaking in the self-checkout this morning, so we could spend some time showing Sis and Mom around Old San Juan prior to our afternoon flights home. Self-checkout begins at 6:45am, so The Princess was up and at 'em way too early. With everything packed and a final room check, we were ready to go around 6:30am. We opted to skip breakfast and iced coffees, knowing that we would be heading back to San Juan and going directly to a Starbucks.
Checking in on our family next door, Sis was still sleeping as she did not get in until 5:00am! Literally dragging her out of bed, we headed down to our meeting spot with all our luggage. The Princess said all along we should have just gone to the gangway, and sure enough, she was right. As we exited the elevator with all our luggage in tow, we were told that the ship was cleared, and we could go down to Deck 2 to disembark. Catching the next empty elevator, luckily, we were down and off the ship in no time.
Into the terminal building, we were through customs and near the taxi area by 7:30am. In this loading area, there are taxis to take you to the airport and buses for cruise organized excursions. We were approached by a local tour company to purchase a tour of Old San Juan, which would stop at one of the forts. The price was reasonable, and our luggage would be stored with the bus, but it was not leaving until 9:30am and it was not stopping at San Cristobal, the larger fort that we had yet to tour. We knew exactly where we wanted to go, it was just a matter of storing our luggage. I made a quick call to the hotel we stayed at pre-cruise, La Concha Resort on Ashford Street, to explain our situation, and we were told we could leave our bags there for the day (free of charge).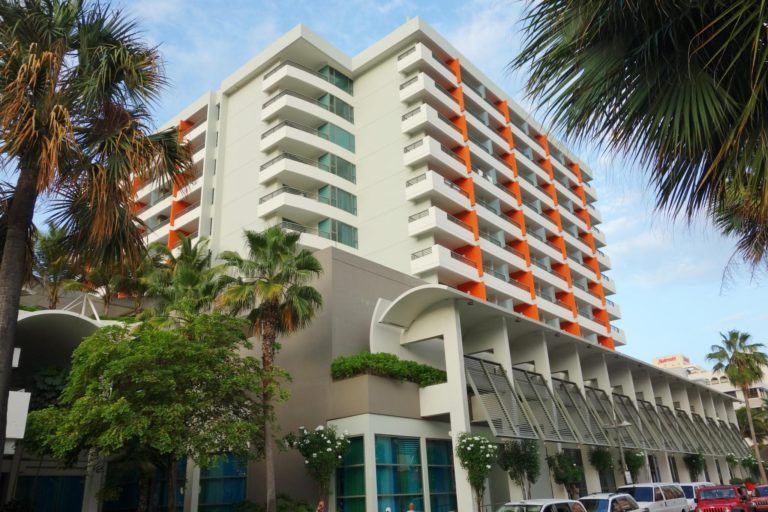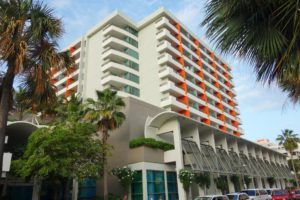 We grabbed a $15 cab (plus $1 per bag of luggage) and were to the hotel before 8:00am. I'm sure if I called a closer hotel in Old San Juan and used the same story, we could've left our bags there too, but I didn't want to be that dishonest.
Walking Tour of San Juan, Take 2
I double checked with the front desk at the hotel to make sure it was okay, and it was, so we left the bags and walked a few blocks to the nearby Starbucks. We needed our caffeine and a breakfast sandwich if we were going to make a day of walking in this heat. It was also apparent that Sis may still be feeling the effects of her late night drinking. From Starbucks, we walked back to the hotel for a taxi to take us to El Morro. We figured that Fort was the furthest out, so between walking and the free Old San Juan trolley, we would be able to stop at San Cristobal and other historic parts of the town on our way back.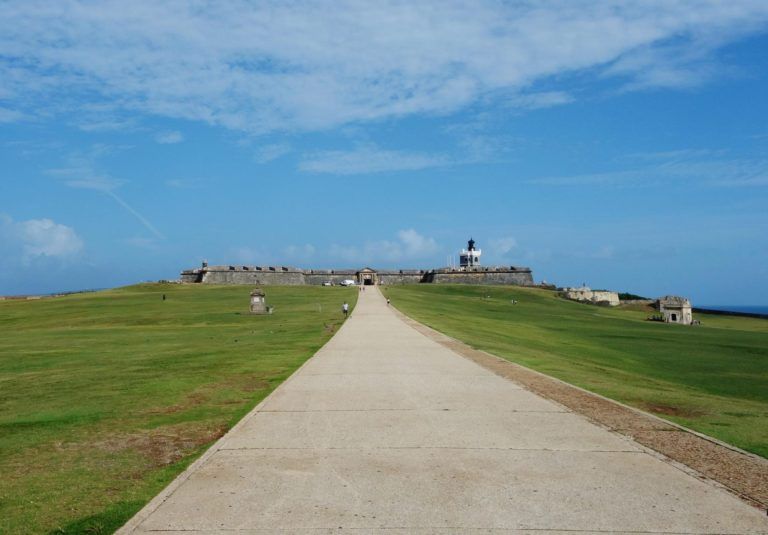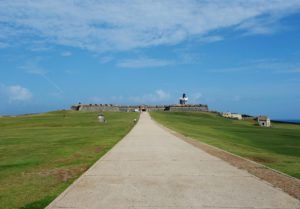 We arrived at San Felipe del Morro slightly before the gates were open, so we used the spare time to take more pictures of course. We had visited this fort on a previous tour of Old and New San Juan but were a bit rushed, so we were excited to be able to tour it again and explore the entire area.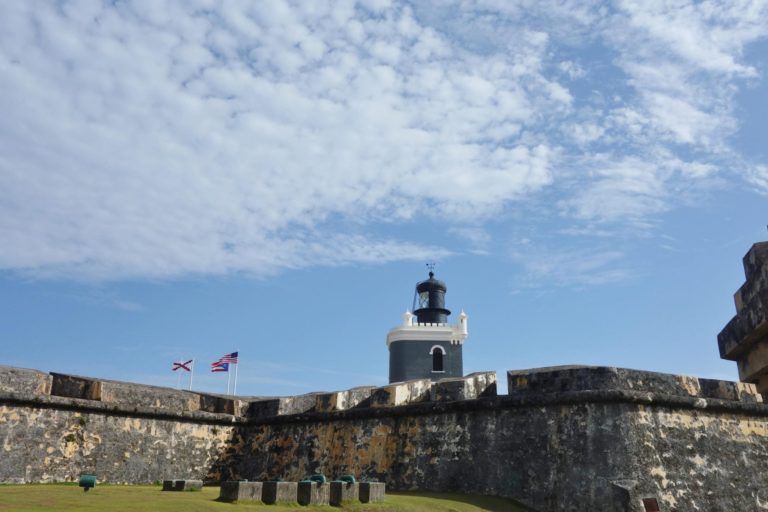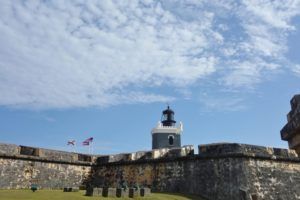 The cost of admission is $5 and allows access to both forts. After some explorations and photos, we took the trolley down to Fort San Cristobal. It would have been about a 20 minute walk, but we could tell Sis was not up to that.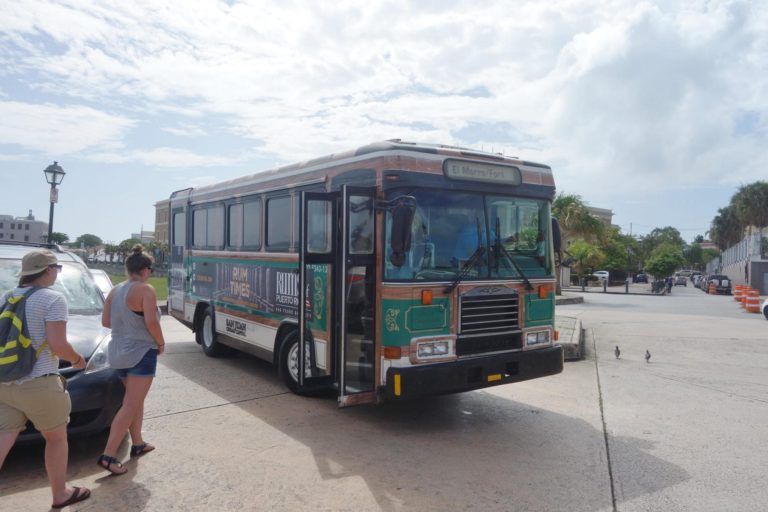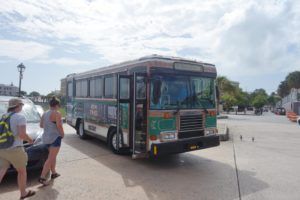 After touring both forts, we waited for the trolley, which seemed to take a bit longer this time, and headed into the heart of Old San Juan.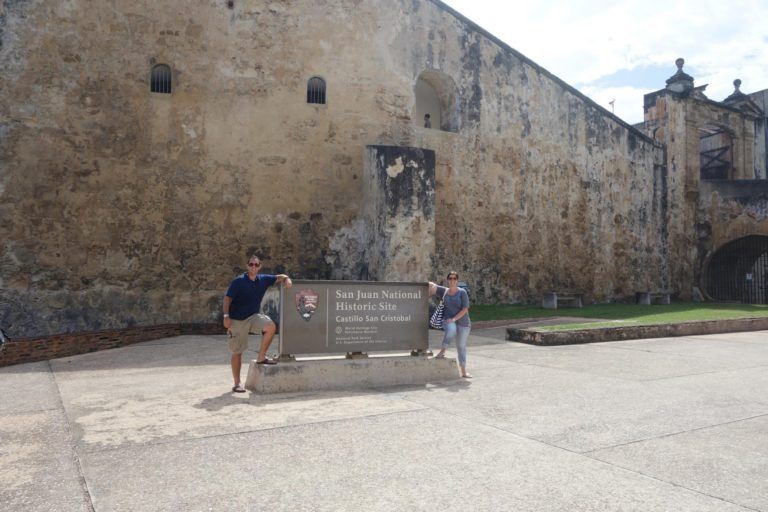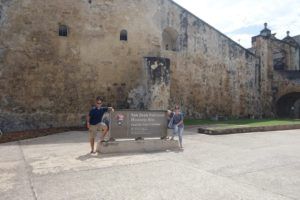 We completed the remaining walk on foot along the Paseo La Princesa showing the family the walled city's notable landmarks including the Raices fountain, the Old San Juan Gate, the San Juan Cathedral, the Governor's House (La Fortaleza), and of course Barrachina, home of the world's first Pina Colada.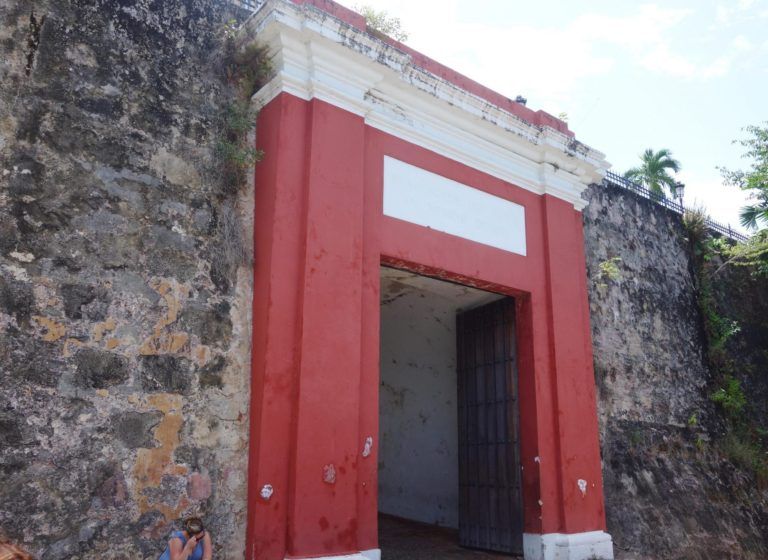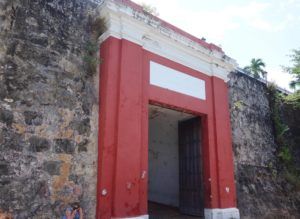 After about four hours of touring Old San Juan, we all needed a break. We grabbed some pina coladas and lunch at Barrachina while enjoying the much needed air-conditioned dining room.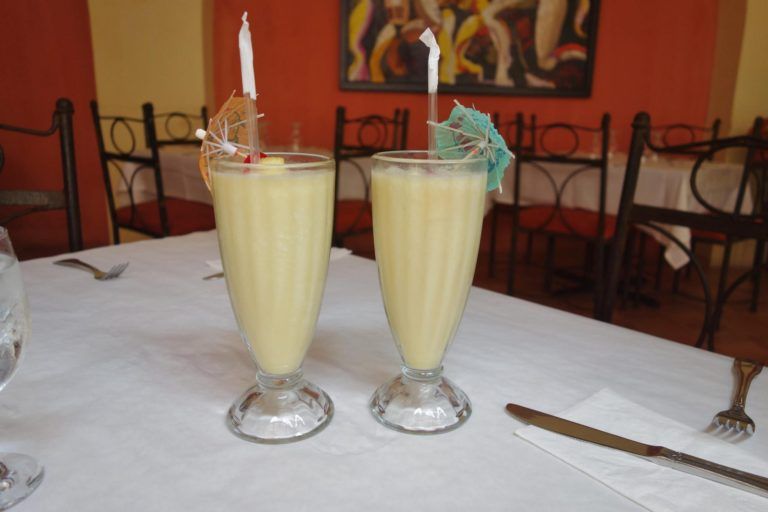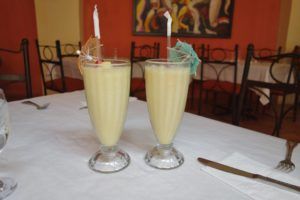 After a rest and some nourishment, we decided to make our way back to La Concha to grab our bags and head to the airport.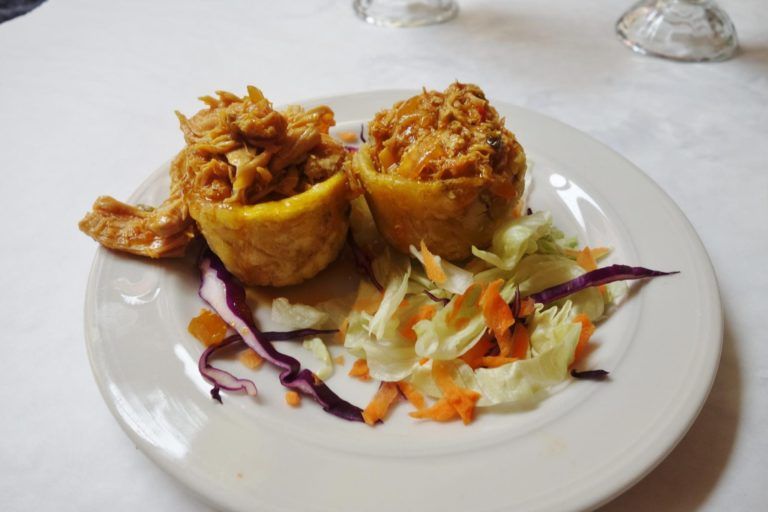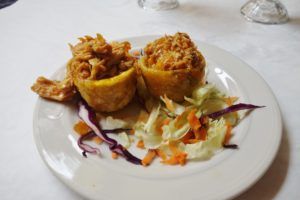 Oh, but not before I headed toward the Old San Juan pier to grab some great shots of Adventure of the Seas off in the distance.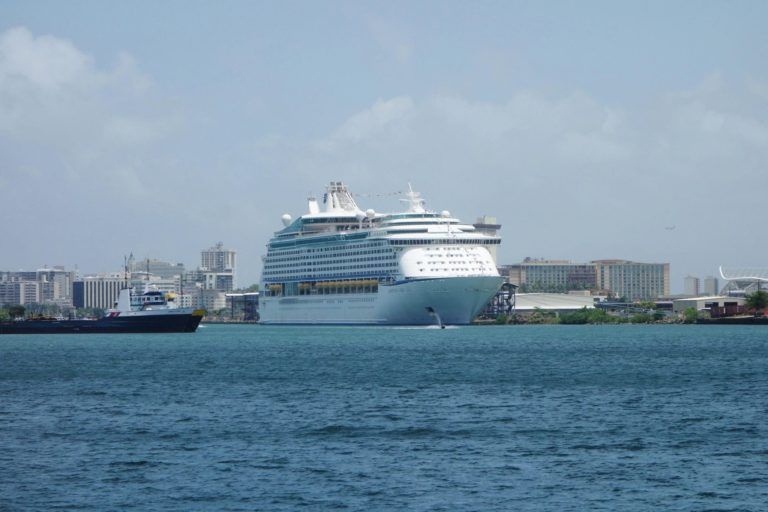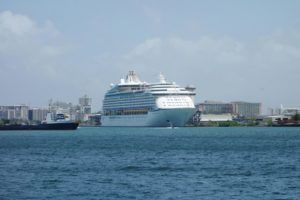 Now I was ready. We grabbed a taxi to take us to the hotel, while I ran in to get our bags, and onward to the airport we continued. We arrived at the airport before 2:00pm, with our flights leaving around 4:00pm, so we just took this opportunity to rest. Luckily, our flights were not impacted by the remainder of Tropical Storm Erika, so without a hitch, we were back in New England by 10:30pm.
Getting our luggage, shuttling to the car, dropping Mom off, and driving home ourselves, we were back home around midnight. Now with the vacation officially over, our first family vacation as adults was mostly a success, even if all the planning we had done was essentially wasted. The drawbacks of traveling during hurricane season!
Comments
Have you sailed on Adventure of the Seas out of San Juan? What are your favorite things to do on the ship? Drop us an anchor below to give us your Adventure of the Seas reviews.