Our cruise to the Southern Caribbean on Royal Caribbean's newly amplified Freedom of the Seas offered stops in the lovely ABC islands. We had not visited Aruba, Bonaire, or Curacao since 2015 and couldn't wait to get back. Prior to our cruise, we booked an off-roading adventure with the local tour company ABC Tours Aruba. See why you too should book an excursion with this highly rated tour company with our ABC Tours Aruba Island Ultimate Safari Review.
ABC Tours Aruba Island Ultimate Safari Review
The instructions provided by ABC Tours indicated that our meeting spot for this excursion would be the cruise terminal building. The instructions also indicated that our departure time would be 8:30 am. As soon as our ship was cleared, we made our way to the terminal building to check in with the tour provider. After only a few minutes, our group of cruisers was loaded on a bus and escorted to the nearby headquarters.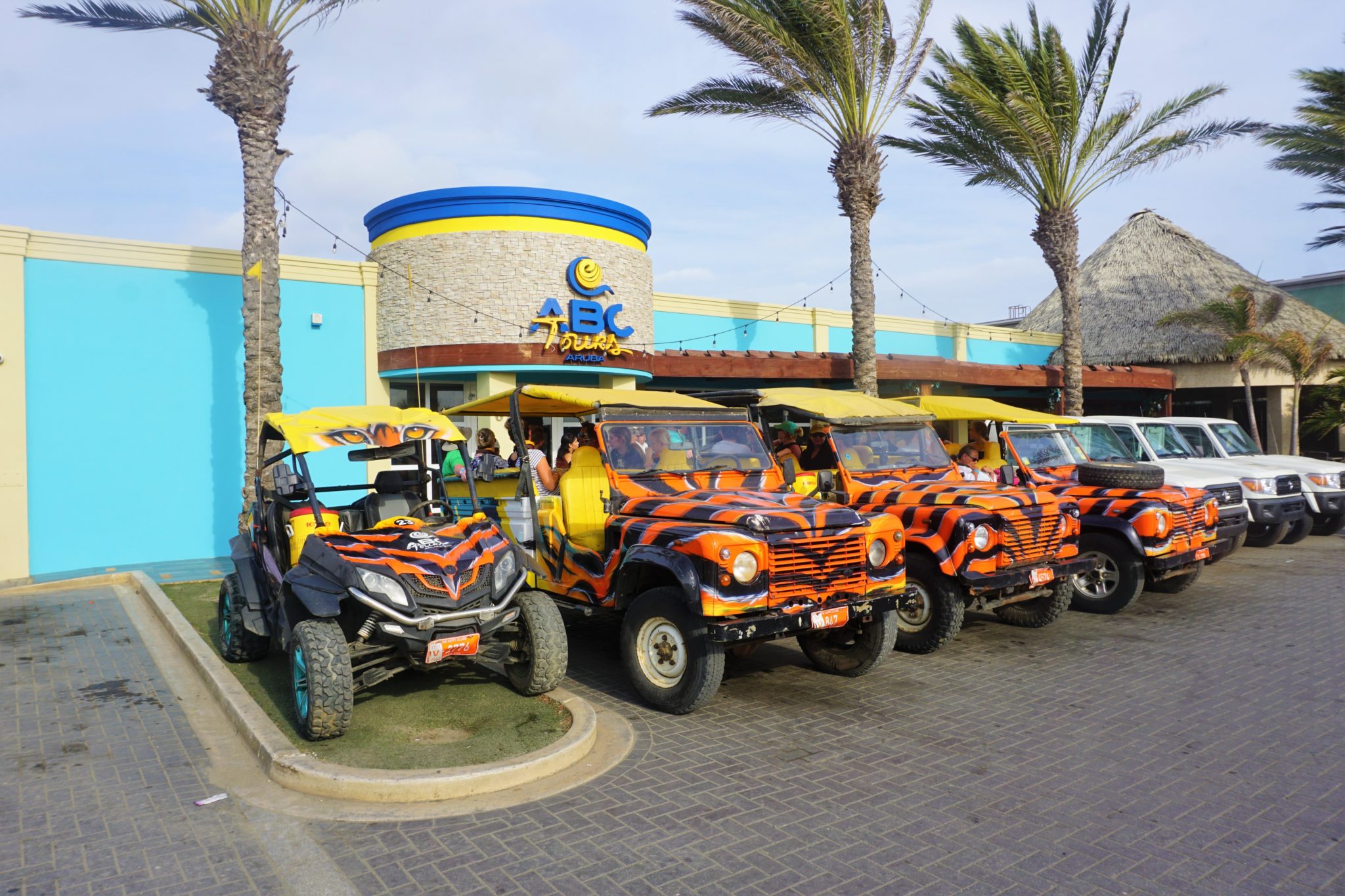 Here, we were asked to make our lunch selections from the menu provided and divided up into our appropriate tours. We were the only two from this group who were escorted to an otherwise full Jeep waiting for us outside. It is here that we met our "family" for the day along with our tour guide, Uncle Johnny.
Uncle Johnny was informative, jovial, and loved playing paparazzi. He safely, albeit bumpy, chauffeured us around the island and ensured that everyone was having a good time. It was evident that Uncle Johnny loved what he did. He is an example of what all tour guides should aspire to be.
Related Post: Freedom of the Seas Southern Caribbean Cruise Review
Let's Get This Off-Road Adventure Started
Aruba, located just 15 miles north of Venezuela, has the least rainfall of all the Caribbean islands making the weather mostly sunny and dry year round. However, the trade winds keep temperatures in an ideal zone and lend to beautiful warm water beaches. This desert-like terrain allowed for one of the wildest off-road shore excursions ever!
Leaving the company's office, we headed to the northwest part of the island for our first official stop at the California Lighthouse shortly after 9 am. This lighthouse was built between 1914-1916 and named after the S.S. California. Since a renovation that was completed in 2016, visitors can once again climb to the top of the lighthouse for stunning views of Aruba's north coastline. Since we didn't have much time at this stop, we just admired the views from ground level.
Next up on this off-road adventure was the Wish Garden. This quick stop afforded some beautiful views of the waves crashing along this rugged coastline and the intricate stacks of rocks. Then, it was a jaunt over to our next stop, the Alto Vista Chapel. This small yellow church was built in 1952 and sits on the site of the first Catholic church built in Aruba in 1750.
By about 10:30 am, we had made our way to the Wariruri natural bridge, one of the seven natural bridges on the island of Aruba. After giving us some history about these natural bridges, Uncle Johnny was more than happy to take everyone's photo in front of this iconic attraction.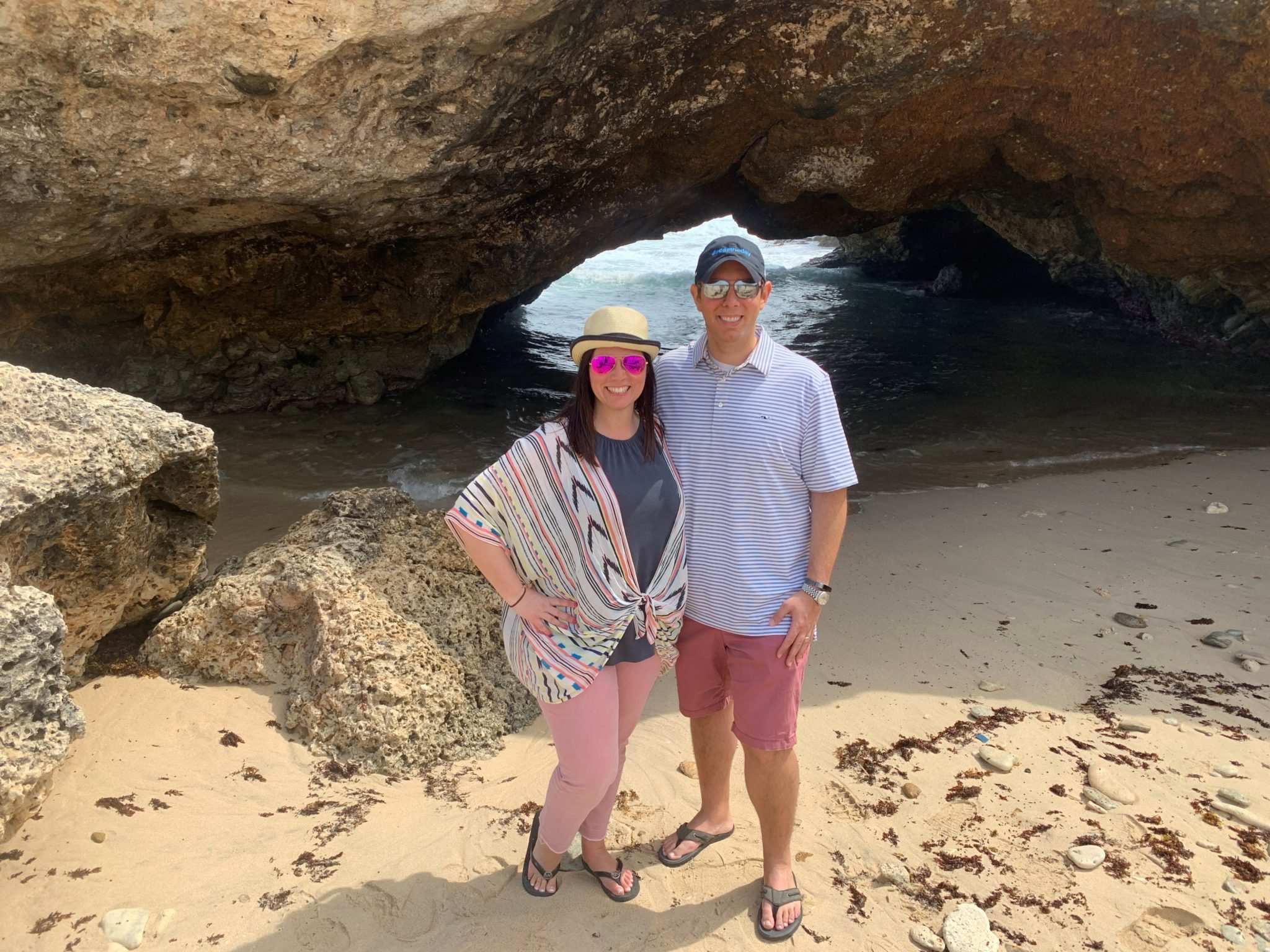 And We Are Moving On
Continuing along our wind and dust swept adventure around the island, we drove past Shark's Mouth Cove on our way to the next stop, Bushiribana Gold Mill Ruins. This mill once processed ore during the 19th century gold rush in Aruba. We were given a few minutes to explore the ruins and take photos before heading across the way to the more famous Natural Bridge.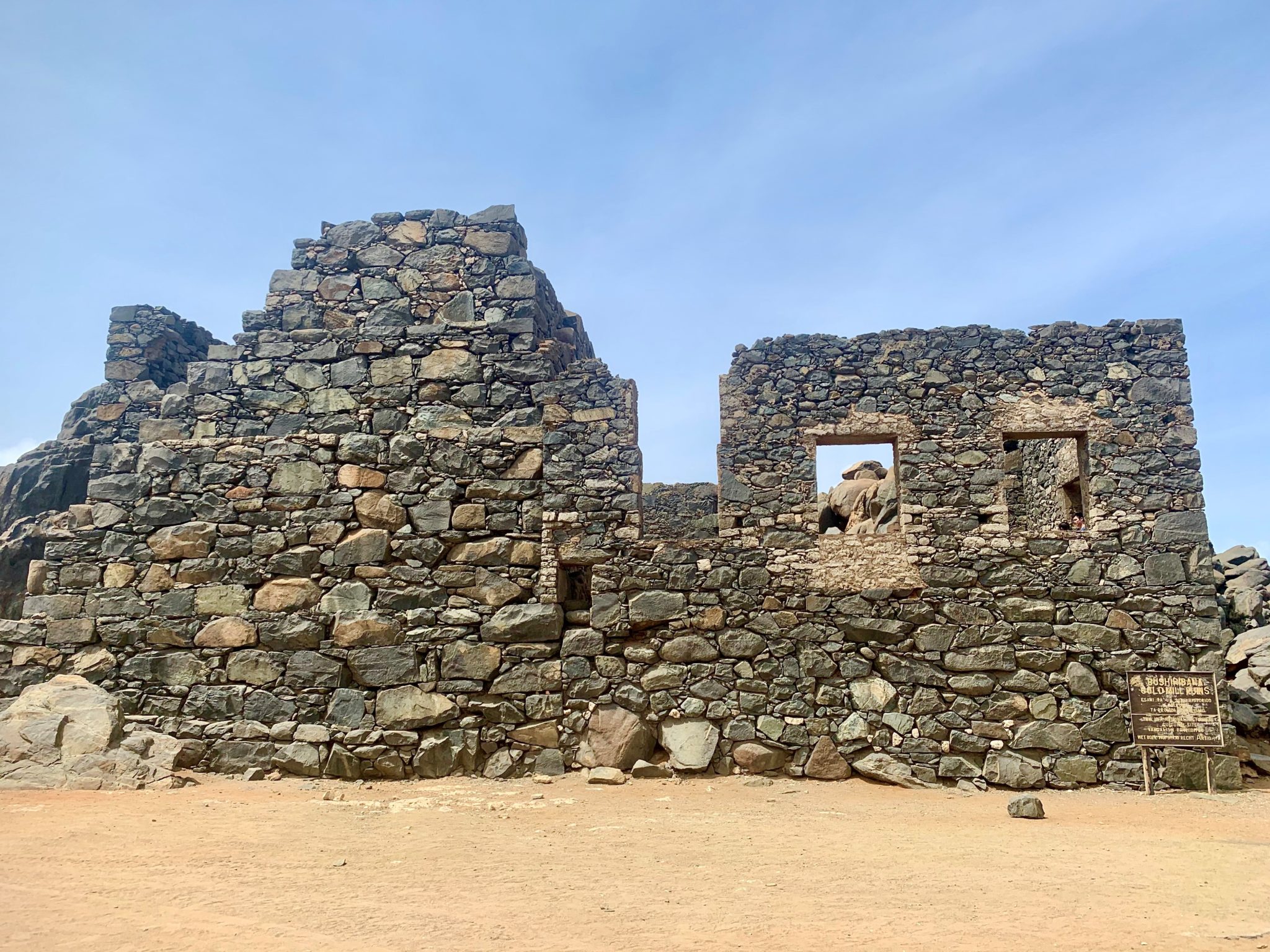 This Natural Bridge was one of the largest natural formations until its collapse in 2005. It spanned between the Bushiribana gold mill ruins and Andicuri Beach. Despite its collapse, the remains of this "mother" bridge and the smaller "baby" bridge are still popular photo spots. We were also treated to a double rainbow-like halo around the sun, which was certainly a sight to behold.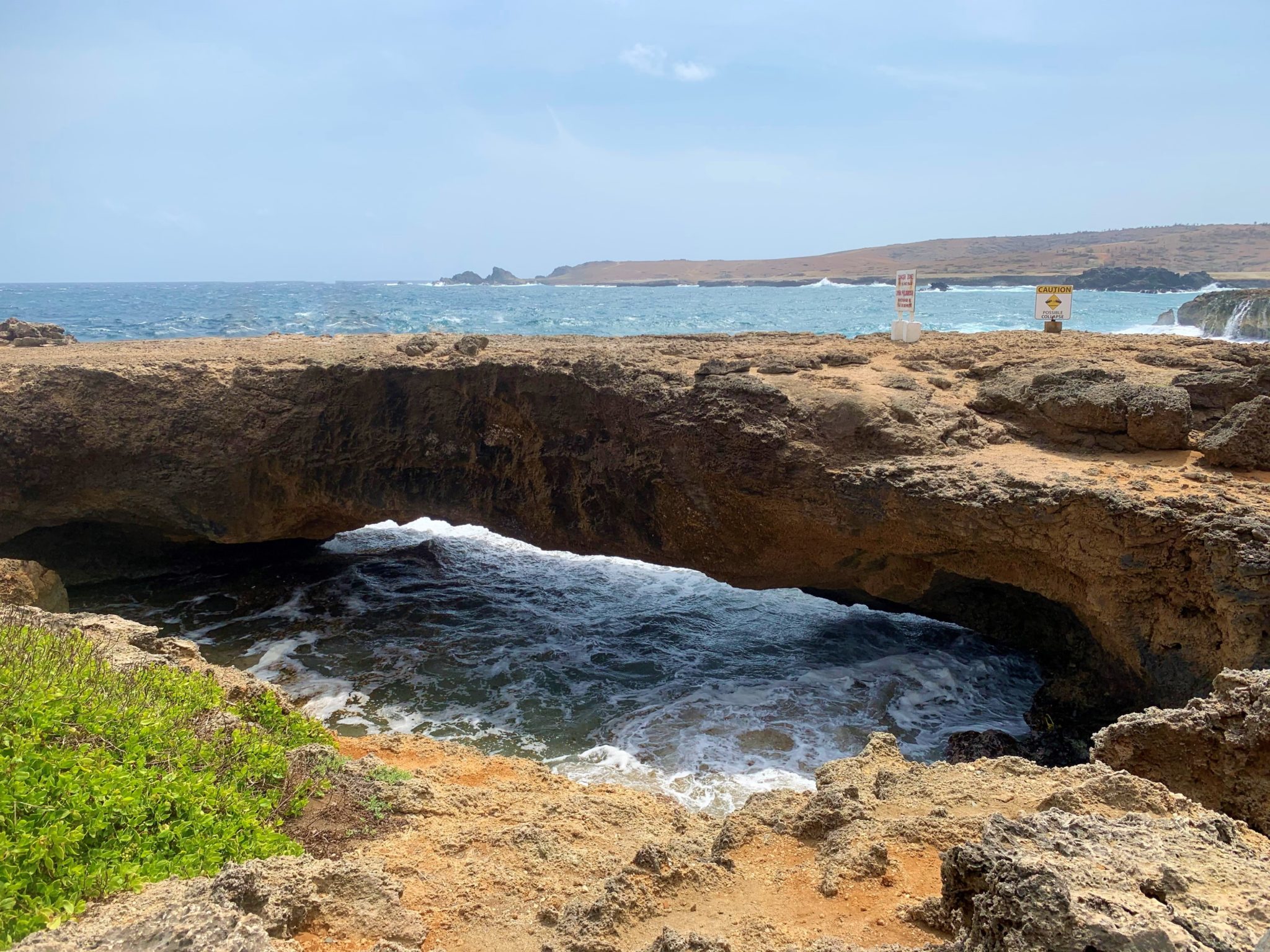 On our way back to the company's headquarters for lunch, we made a quick detour to drive by the Ayo Rock Formations. During our last visit to Aruba, we were able to tour another one of these rock formations, Casibari. These giant boulders have been carved out over time by nature. If we had one critique of this tour, we would have liked to be able to walk around this site briefly instead of just driving by the landmark.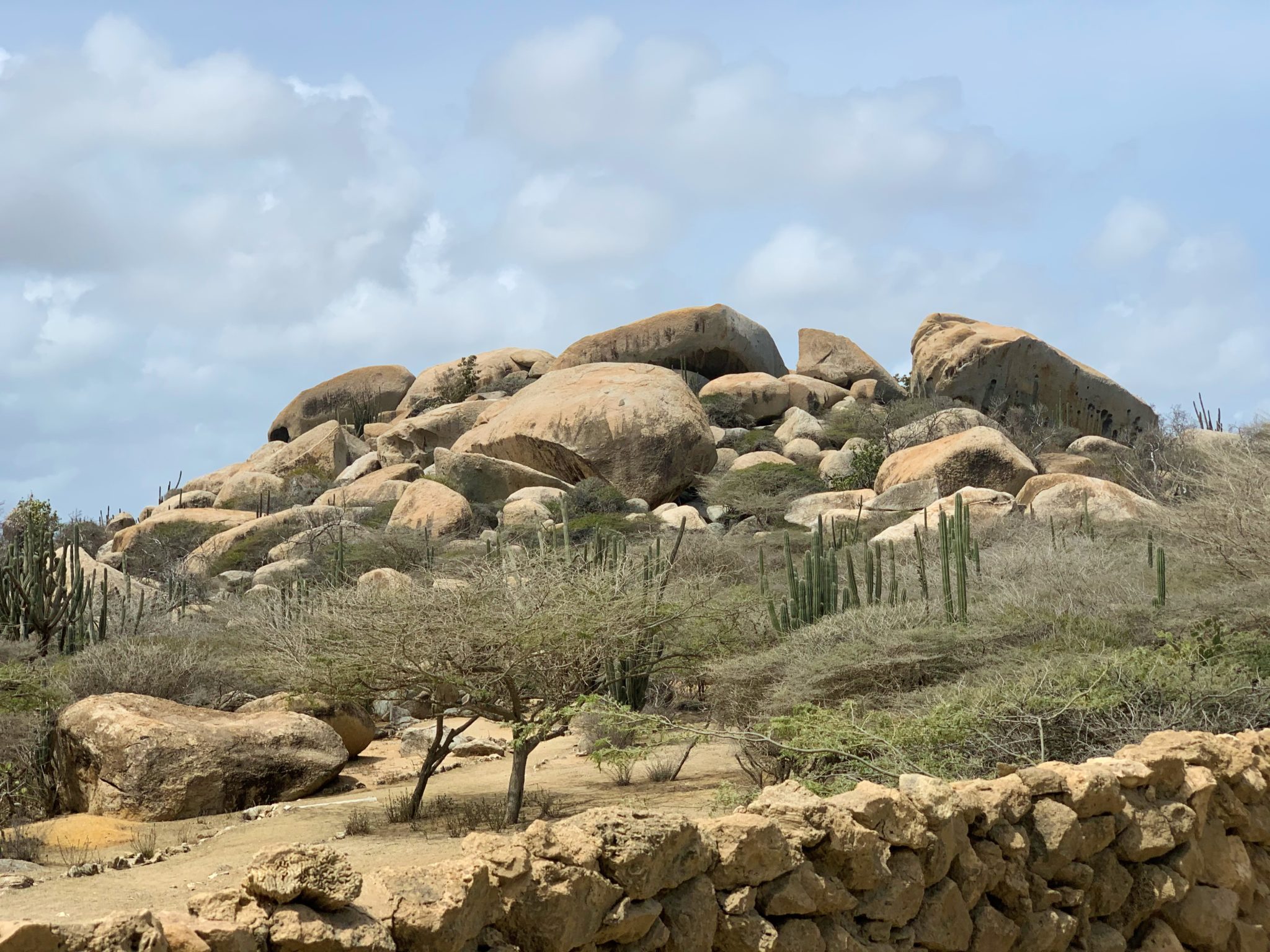 We arrived at the tour office around 12 pm. Our family was seated at a large table and meals were delivered shortly after. This gave everyone the opportunity to freshen up a bit as we were all covered in dirt by now! The menu options included pasta, barbecue chicken, or kid's chicken fingers. Most guests opted for the BBQ chicken which was quite tasty. Of course, we also had to try one of the island's signature cocktails (for an up-charge).
Related Post: Best Things to Do in Aruba on a Cruise
Hold On, It's Going to Get Bumpy
On a full stomach, we set off on the second half of our island tour. If you are a thrill-seeker, get ready. We headed off the beaten path on one of the bumpiest treks ever down to the Natural Pool in the Arikok National Park. I'm so glad that we left the driving to the professionals! Of course, Uncle Johnny may have purposely taken the extra rough path that kept us laughing and bouncing out of our seats the entire way.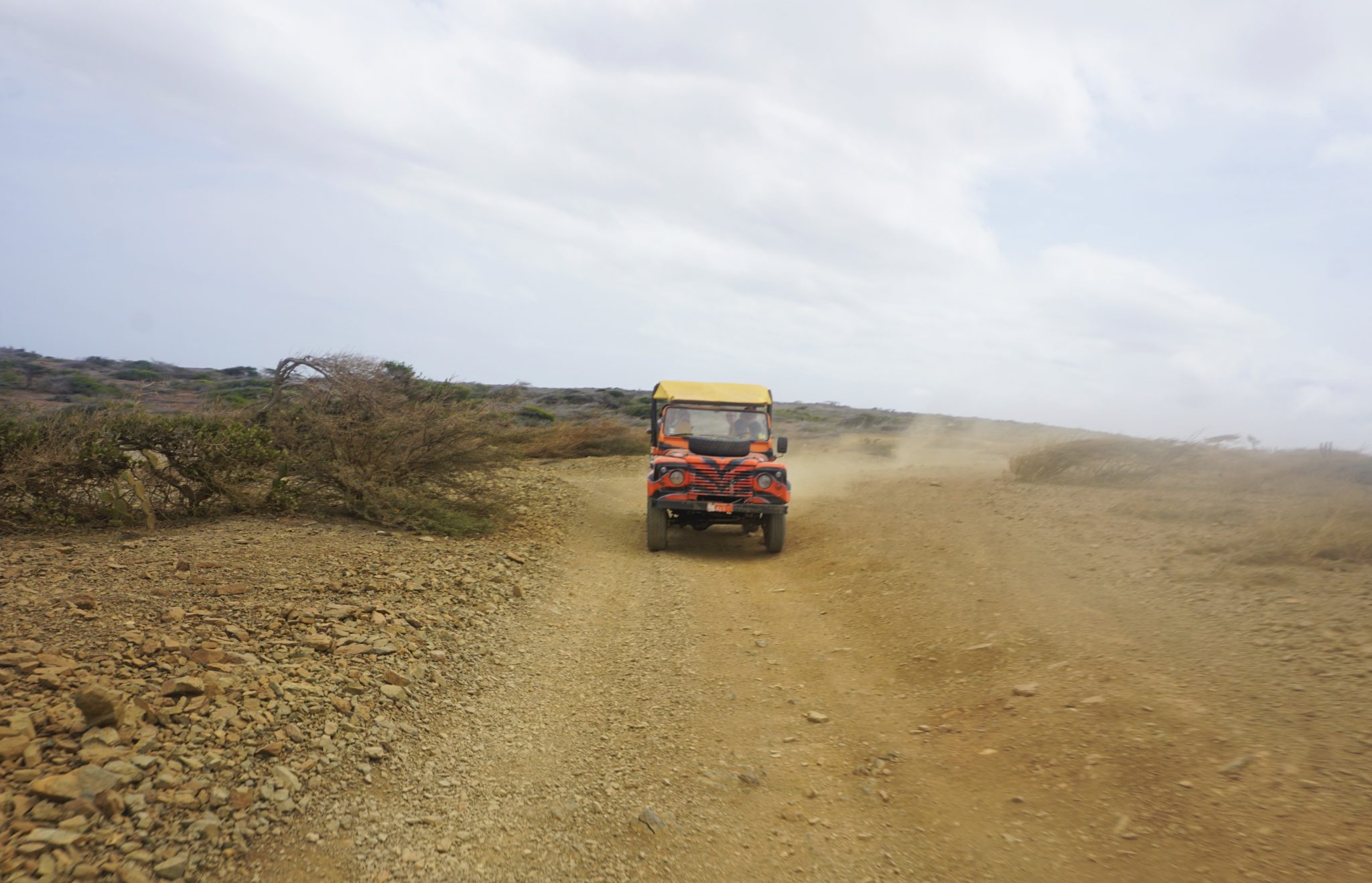 The Natural Pool, also referred to as "Conchi", is known as the hidden pool surrounded by volcanic stone formations. This area is only accessible by 4×4 due to the rugged surrounding terrain. There are also quite a few stairs down to the water. The surf was rather rough during our visit, but the park was still allowing guests to take a dip in this famous landmark. I stayed on dry land while DB ventured in to test the waters.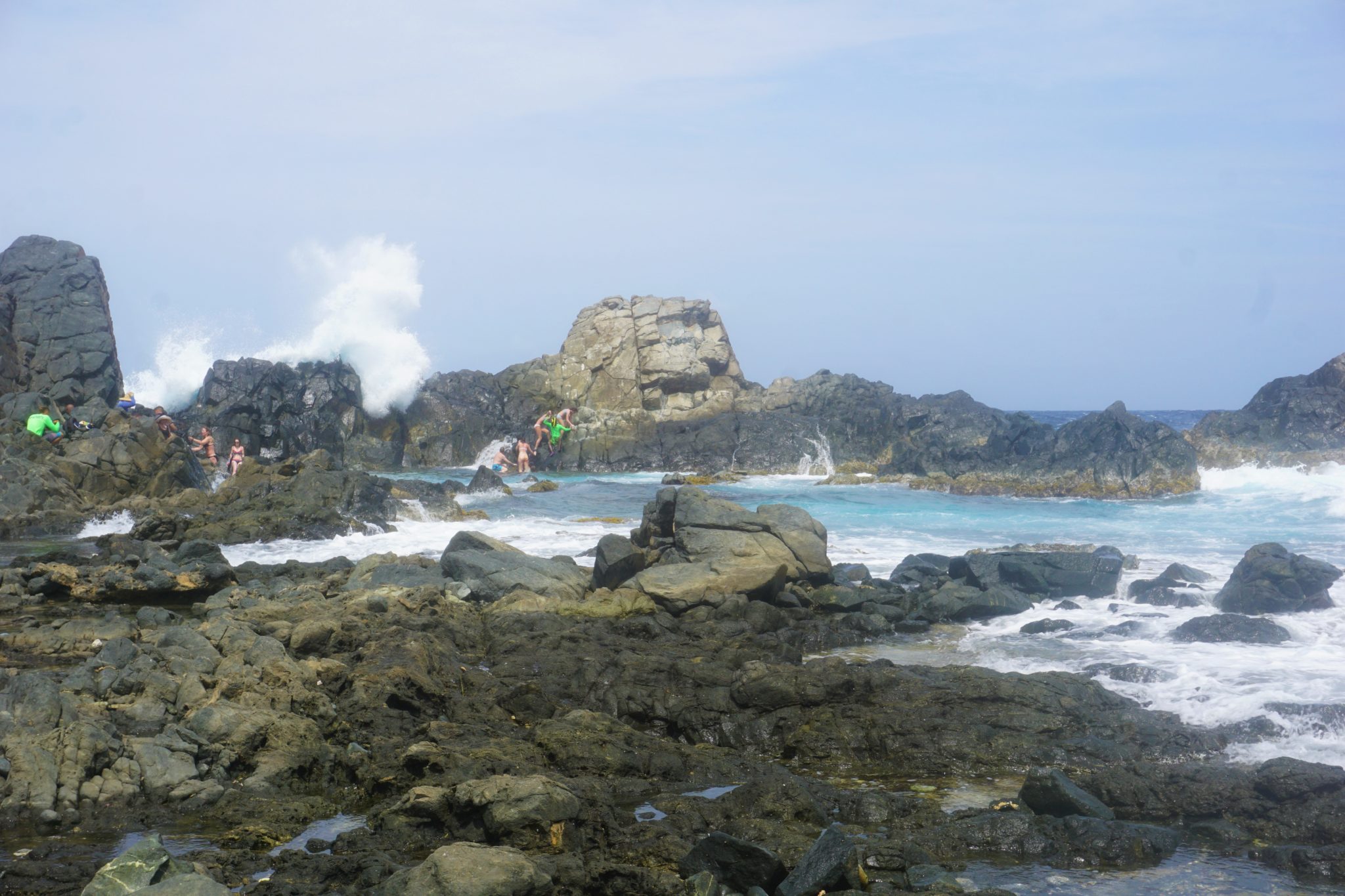 Uncle Johnny had the trip timed so that we would get to the Indian Caves, also within the Arikok National Park, before they closed at 4 pm. However, things did not go according to plan. Apparently, the Jeep that had been following us was having issues with its brakes, and it would not be safe to continue the journey. So, we waited about an hour for a replacement Jeep to arrive before we could continue the adventure.
Uncle Johnny did his best to hustle to the caves. As luck would have it though, we arrived just minutes too late. So, after a few photos from the outside, we continued on to our last stop of the day.
One Last Aruba, Ariba!
After all this excitement, we made our way to the southeastern tip of the island for some relaxation on Baby Beach. This shallow lagoon is great for families and is also a recommended snorkel location. We had slightly more than an hour here to enjoy the beach on our own. This beach has a large restaurant/bar and chairs available to rent; however, everything was closing up by the time we arrived.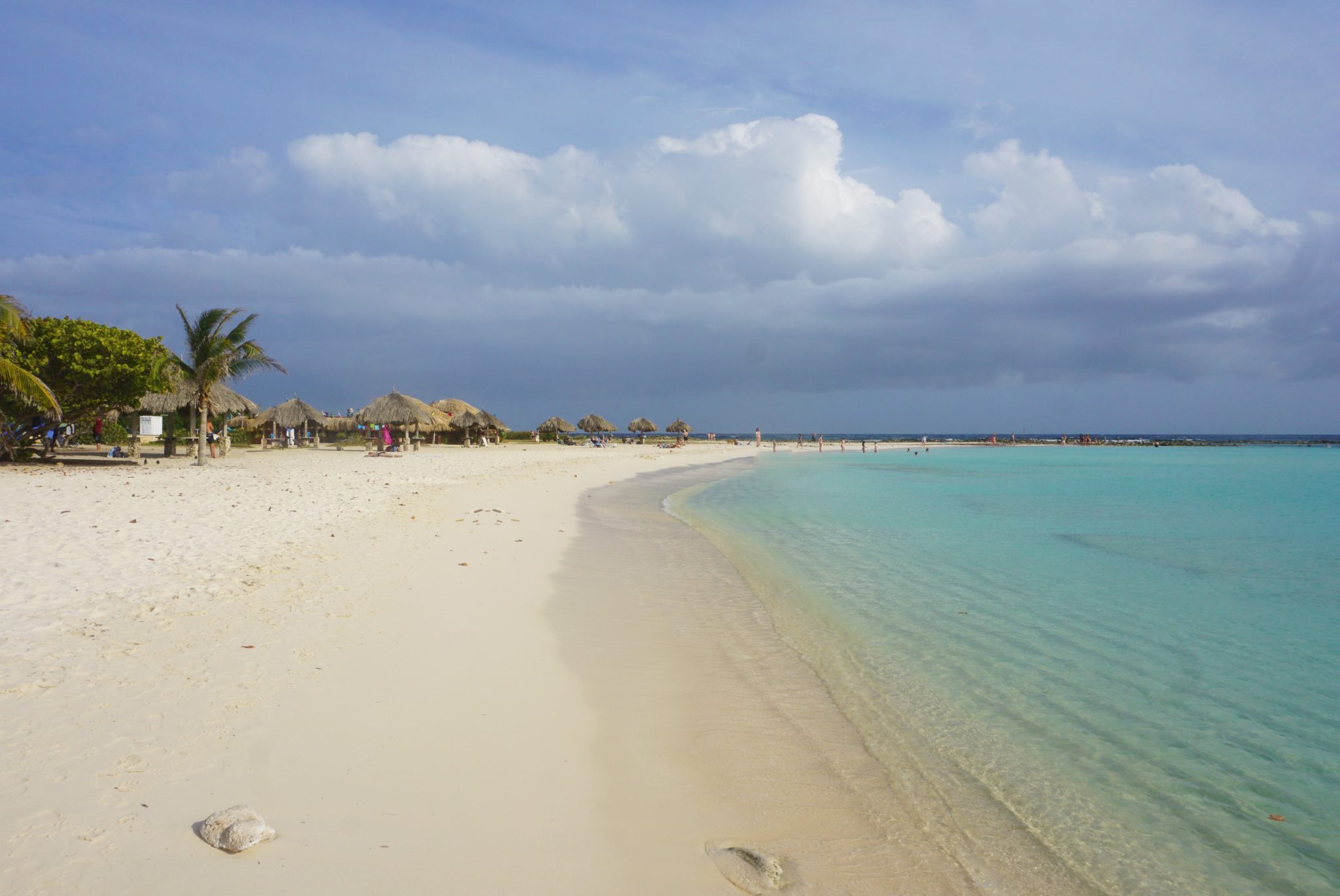 After a full day on this Island Ultimate Safari, our time on the happy island of Aruba was coming to an end. Uncle Johnny rounded up the crew, and we set off back towards the cruise terminal. Making a few stops along the way to drop off other guests at hotels and Airbnb's, we arrived back to our ship around 6:30 pm. It was here that we had to say goodbye to Uncle Johnny and thank him for showing us his island for the day. Of course, he wouldn't let us go without a hug. After all, we were family now!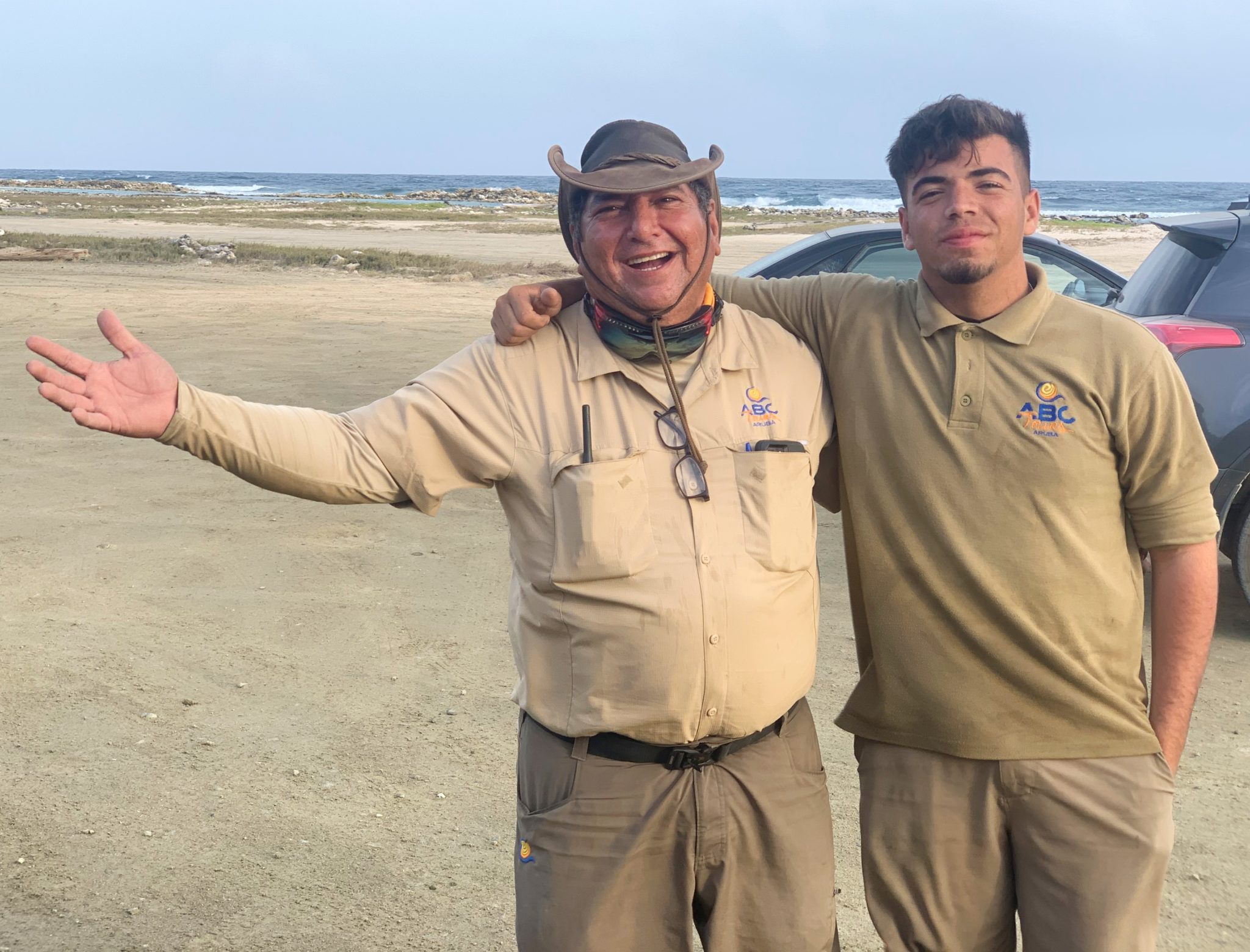 Recap of ABC Tours Aruba Island Ultimate Safari Review
The ABC Tours Aruba Island Ultimate Safari is advertised as 9.5 hours. The cost of the excursion is $108 for adults and $70 for children under 15 years old. The tour price includes pick up service that brings you to the main office and drop off right outside the cruise terminal area. It also includes lunch and ice water on the Jeep as well as entrance fees to all locations.
This tour is advertised as the "most adventurous off-road tour" and that description is pretty accurate. We have done Jeep tours and ATV tours on other Caribbean islands in the past, but nothing has compared to this excursion. It was high energy and full of thrills from start to finish. This is a great option for those who want to explore as much of the island as possible during their short visit without the hassle of driving themselves. Of course, this is a long tour, so only cruisers who have stops of 10+ hours will be able to participate.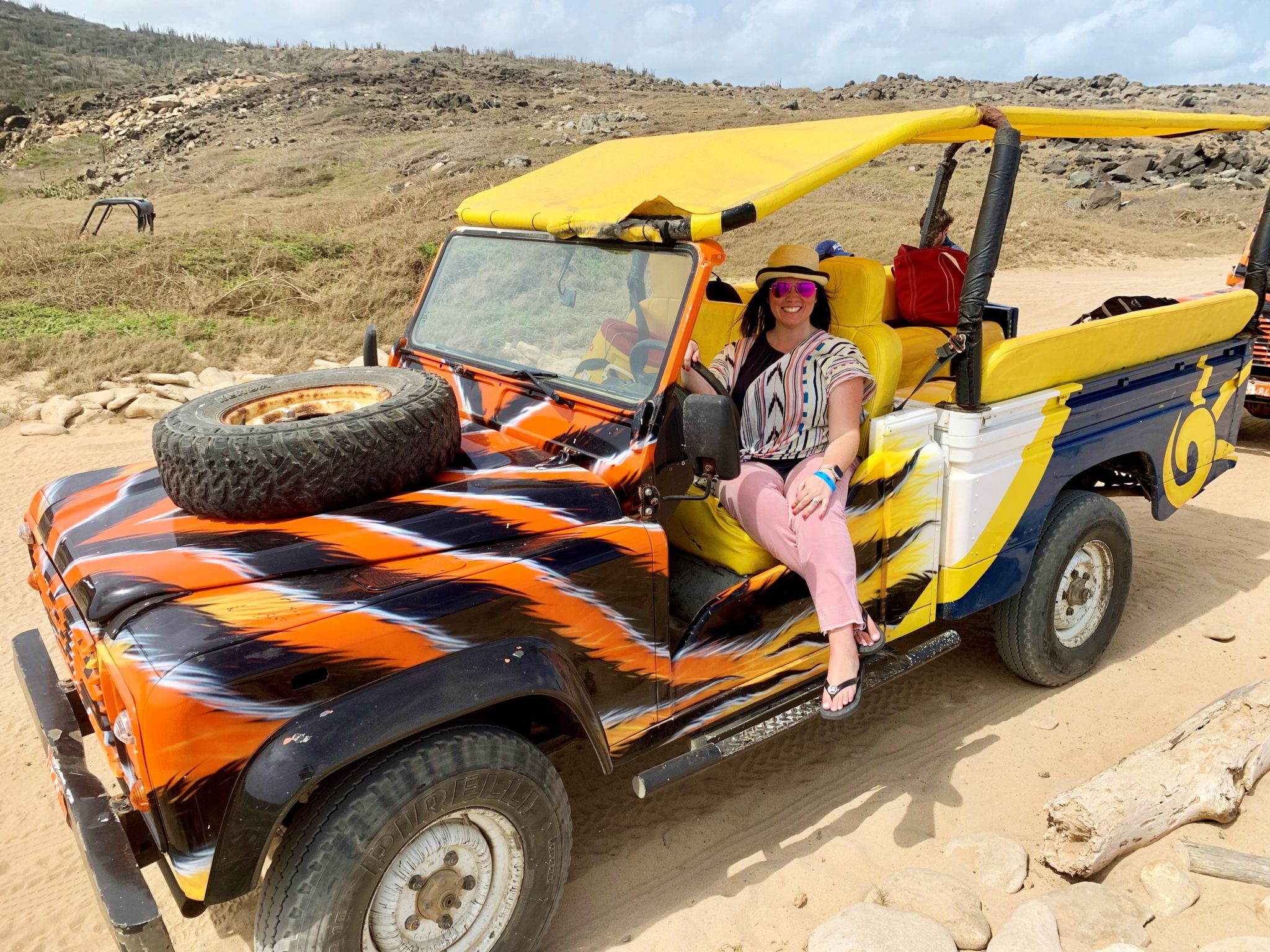 ABC Tours Aruba comes highly rated and delivered a professional and well-executed cruise excursion. Our guide Johnny was personable, very thorough, and one of the best hosts we have ever had on an excursion. The time spent at each location was well balanced. It provided an opportunity for photos and exploration of many of Aruba's most popular landmarks and attractions. If you have an upcoming visit to Aruba, we would highly recommend this tour or one of the other tours offered by ABC Tours. We would not hesitate to book another excursion with this provider in the future.
Disclaimer: We were guests of ABC Tours on this excursion, but all opinions in this review are our own as always.
Comments
Do you have a cruise planned that is visiting Aruba? Would you consider booking the ABC Tours Aruba Island Ultimate Safari? Drop us an anchor below to share your favorite things to do while visiting this ABC island.