MSC Meraviglia just made her stunning debut in New York. This 170K+ gross ton cruise ship features 19 decks of food and fun for the whole family. We were lucky enough to spend a day onboard discovering just some of what she has to offer before she set sail to warmer destinations this past weekend. Now, we are back and want to share our 7 reasons why we think an MSC Meraviglia cruise is the perfect option for your next vacation.
Now Sailing From New York
MSC Meraviglia launched in 2017 as the first ship in MSC Cruises' Meraviglia Class of vessels. This class includes MSC Meraviglia, MSC Bellissima, MSC Grandiosa, MSC Virtuosa, and the soon to debut MSC Euribia.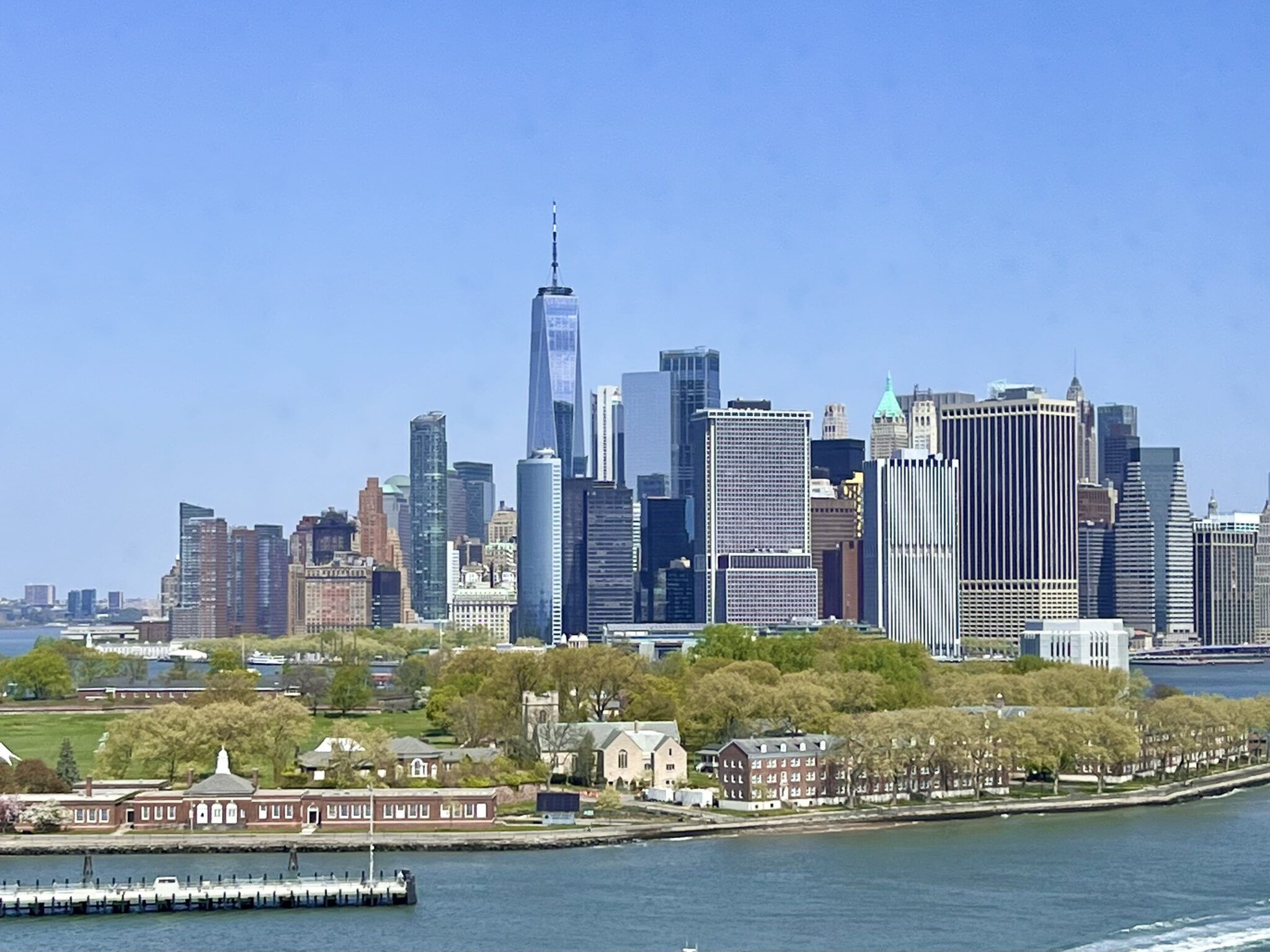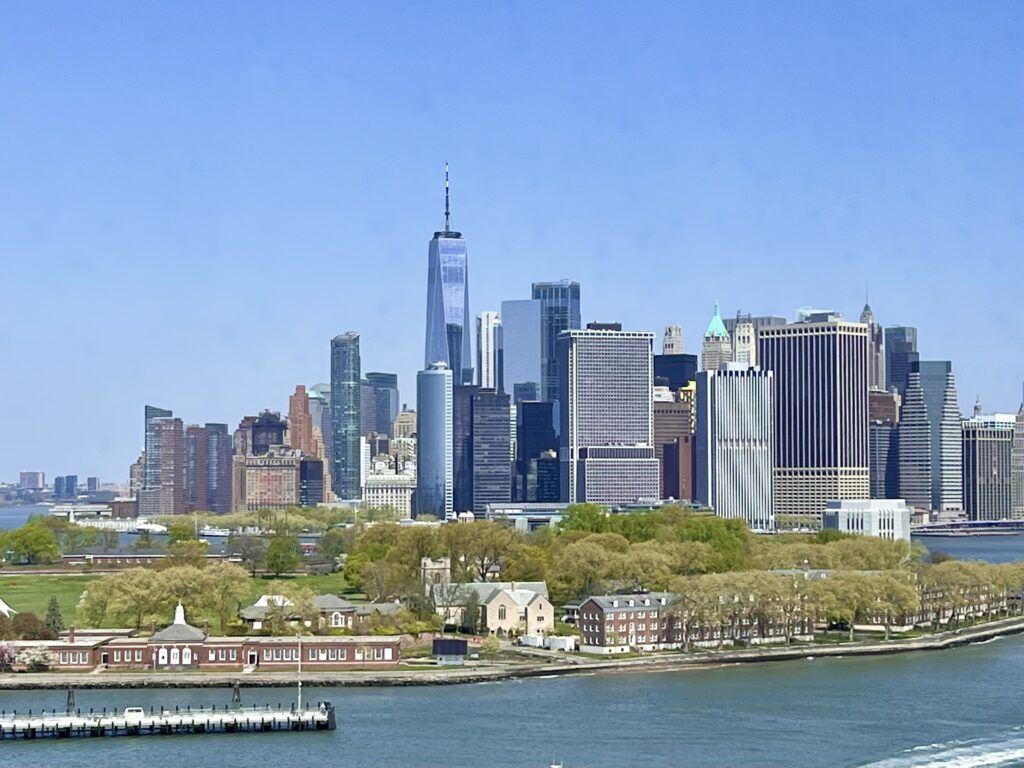 At 1,036 feet long and 213 feet tall, carrying 5,700 guests at max capacity, MSC Meraviglia is one of the largest cruise ships sailing from the New York area. Debuting at the Brooklyn cruise terminal, this ship will sail year-round from New York, offering locals more cruise options.
As New Englanders, it's great to have another ship within driving distance. Adding to the list of ships departing from Boston, Manhattan, and Cape Liberty, MSC Meraviglia gives cruisers the opportunity to explore various destinations right from their backyard. Alleviating the need to fly to ports in Florida, an MSC Meraviglia cruise is a perfect vacation option for those in the Northeastern United States.
EXCLUSIVE DEALS: Score Savings on MSC Meraviglia Cruises!
A Variety of Itineraries
MSC Meraviglia even offers a variety of itineraries, with various lengths and destinations from which to choose. Cruisers can visit the popular summer destination of Bermuda or take a fall foliage cruise to Canada and New England. Travelers can also choose from a variety of Bahamas/Caribbean sailings with a stop at MSC Cruises' private destination Ocean Cay.
Ocean Cay Marine Reserve is the newest cruise line private island in the Bahamas, located about 20 miles from Bimini. The island can only be reached by booking an MSC cruise that calls on this private destination. It features 8 sandy beaches, teeming marine life, Bahamian cuisine, tropical cocktails, a shopping village, and more.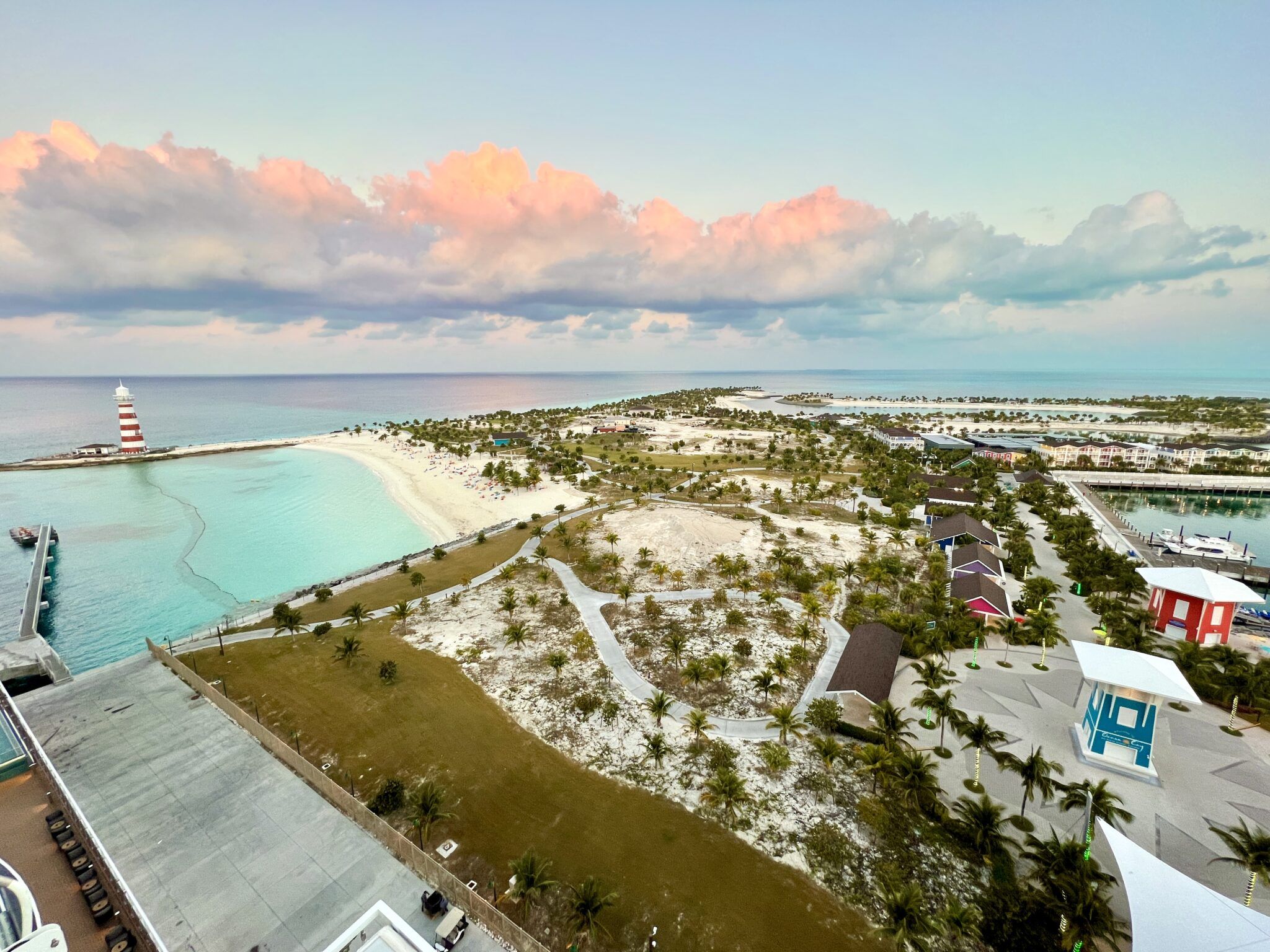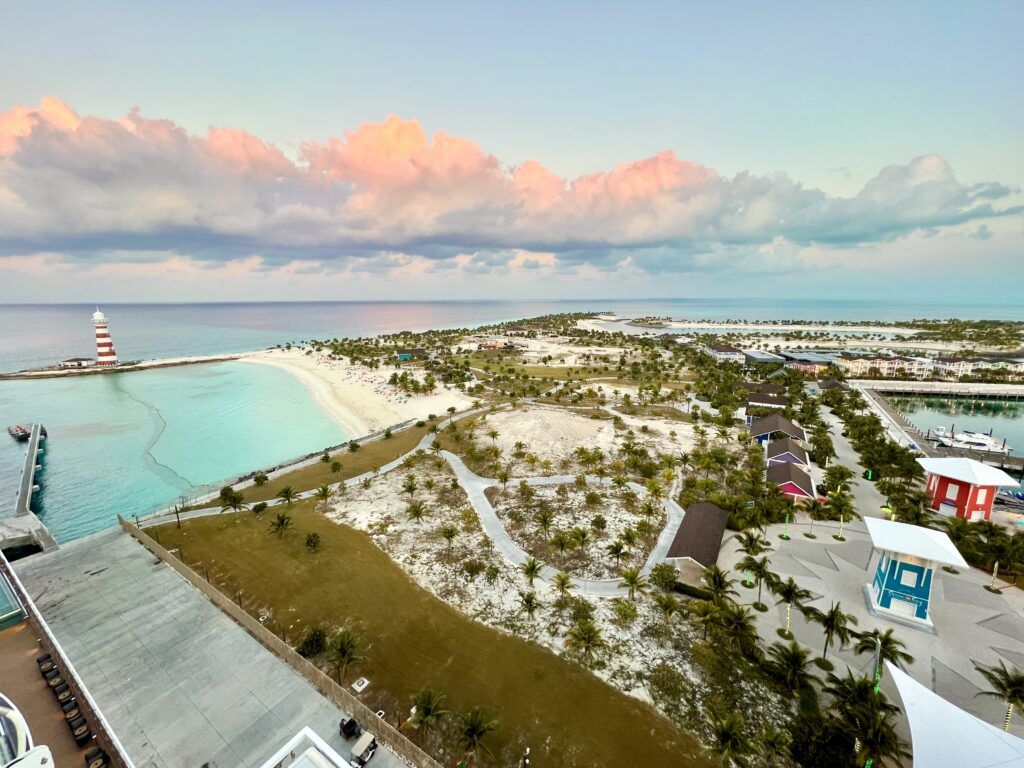 MSC Meraviglia's Bahamas itineraries vary in length from 7 to 11 nights. They include stops in Miami and Port Canaveral, Florida; Nassau and Ocean Cay MSC Marine Reserve, The Bahamas; Cozumel and Costa Maya, Mexico.
Starting in August, guests can enjoy 5- and 6-night sailings to Kings Wharf in Bermuda, with several days in port to explore the beauty of the island. Or, they can hop onboard MSC Meraviglia this fall for a 10- or 11-night sailing to Canada and New England. These itineraries include stops in Newport, Boston, and Portland and Saint John, Halifax, Charlottetown, and Sydney in Canada.
Great Prices
The best part is that cruisers can take advantage of great prices on an MSC Meraviglia cruise right now. These low cruise fares coupled with eliminating the need to fly makes it a win-win for those of us in the Northeast!
A 7-night Florida and Bahamas itinerary in June 2023 is starting at just $279 per person. If you opt for a more all-inclusive rate, cruisers can get onboard credit, free drinks, and WiFi starting at just $689 per person. Further, a 6-night Bermuda itinerary in September 2023 is priced as low as $459 per person.
If you are thinking of a fall cruise, MSC Meraviglia's 10-night Canada and New England itinerary in October 2023 starts at $439 per person or $1059 per person with OBC, drinks, and WiFi.
*Prices are subject to change.
Spacious Pool Areas
As a ship for all seasons, MSC Meraviglia has plenty to offer cruisers despite the weather outside.
MSC Meraviglia features several pool options as well as the Polar Aquapark and Himalayan Bridge ropes course for the kids. This waterpark includes a splash pad for the little ones and 3 waterslides.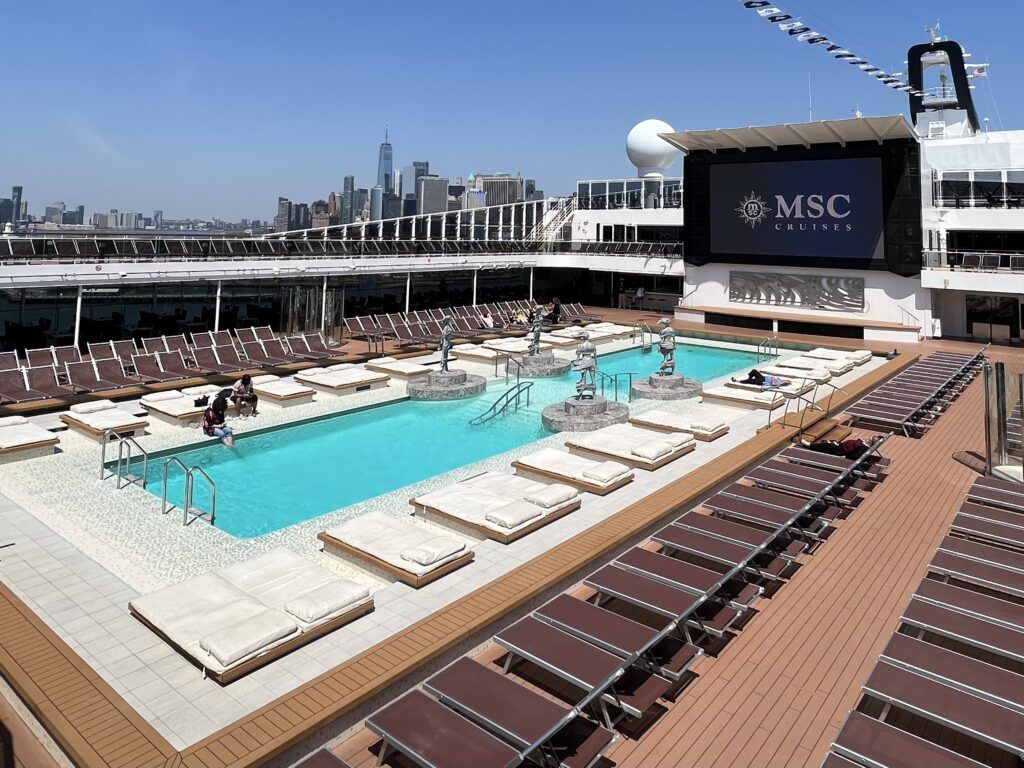 The Atmosphere Pool, centrally located on the pool deck, offers plenty of space for those seeking the sun. The Horizon Pool, located aft on the ship, offers more poolside relaxation and some great ocean views. This pool area is adults-only.
The Bamboo Pool is an indoor pool with a retractable roof that makes it a pool day no matter the weather outside.
Of course, for those opting to upgrade to the Yacht Club, MSC Cruises' ship-within-a-ship, there's an exclusive sundeck and pool too.
Family-Friendly
An MSC Meraviglia cruise is a great family-friendly option. Whether you are cruising with little ones or teens, or as a multi-generational family, there is plenty for everyone to enjoy.
The Sportsplex is an indoor gaming facility that features a sports court, an arcade, a full-sized bowling alley with two lanes, an F1 racer, an XD cinema, and a flight simulator.
MSC also offers a kids club for children aged 0-17 years old. This space has dedicated facilities and programming for babies, toddlers, children, and teens. The cruise line even has an exclusive partnership with Lego.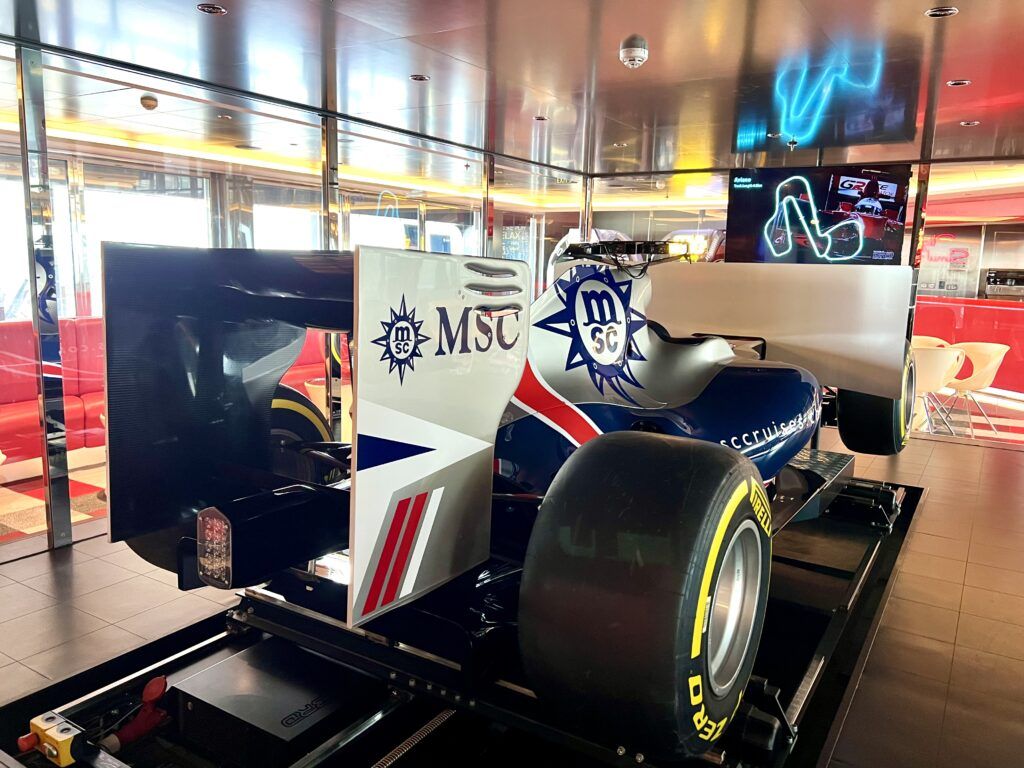 If that's not enough, the main theater features several different shows, along with signature productions in the Carousel Lounge. This theater in the round configuration features upcharge Carousel Productions at Sea.
We had the opportunity to experience House of Houdini, showcasing some of Harry Houdini's illusions set to song, dance, and acrobatics. We can attest that this immersive show is a must-see during your MSC Meraviglia cruise.
An Array of Dining Options
MSC Meraviglia features 12 restaurants and 20 bars!
Along with the traditional main dining rooms and buffet, the ship has several specialty venues for cruisers to indulge in various cuisines. Continuing the Mediterranean-influence, MSC Meraviglia is home to HOLA! Tacos and Cantina. Cruisers will also find the American-style steakhouse, Butcher's Cut, serving up prime cuts, as well as the Ocean Cay seafood restaurant. Not to mention, Kaito Teppanyaki and Sushi Bar serves up Asian favorites in a lively atmosphere.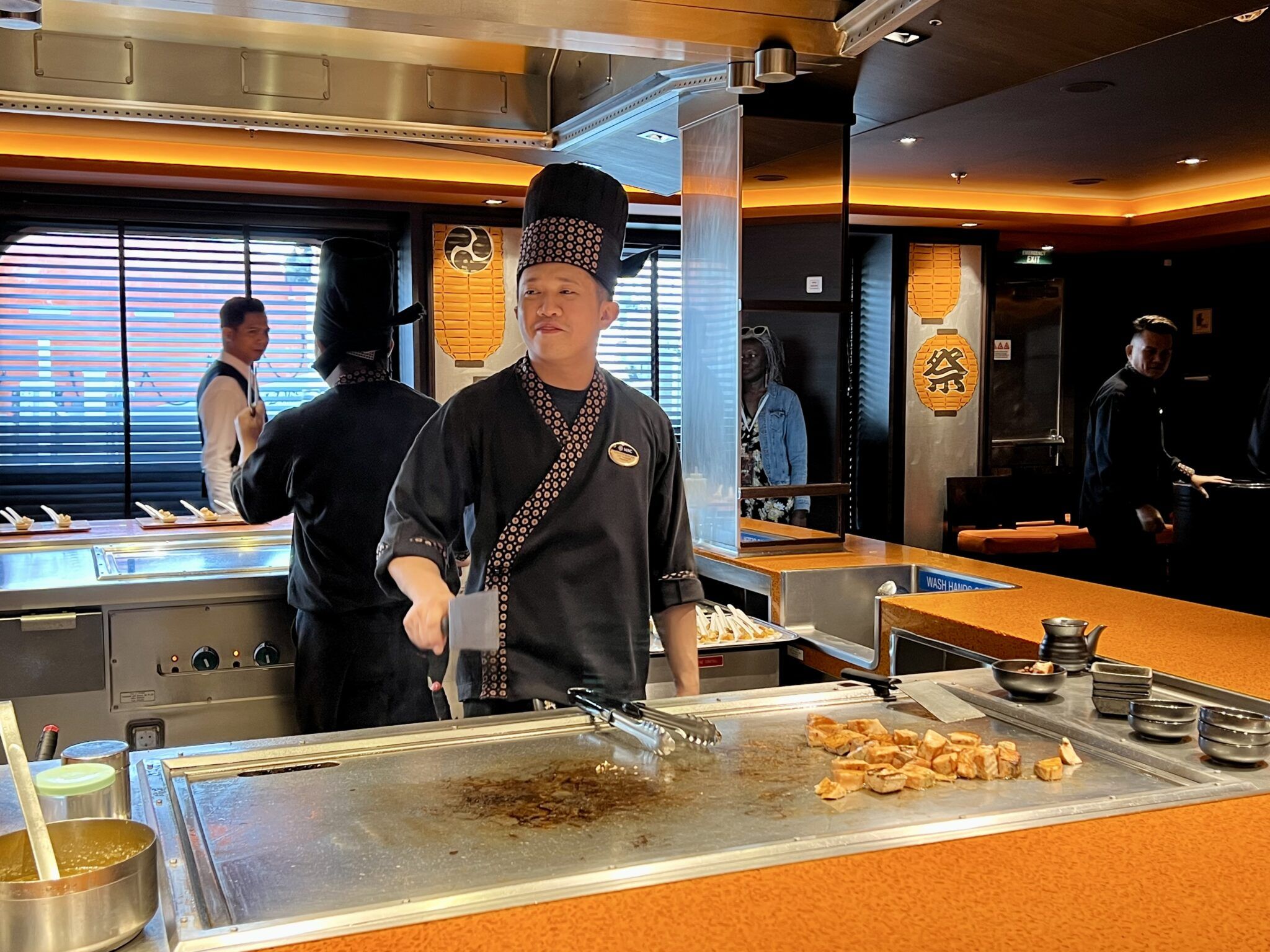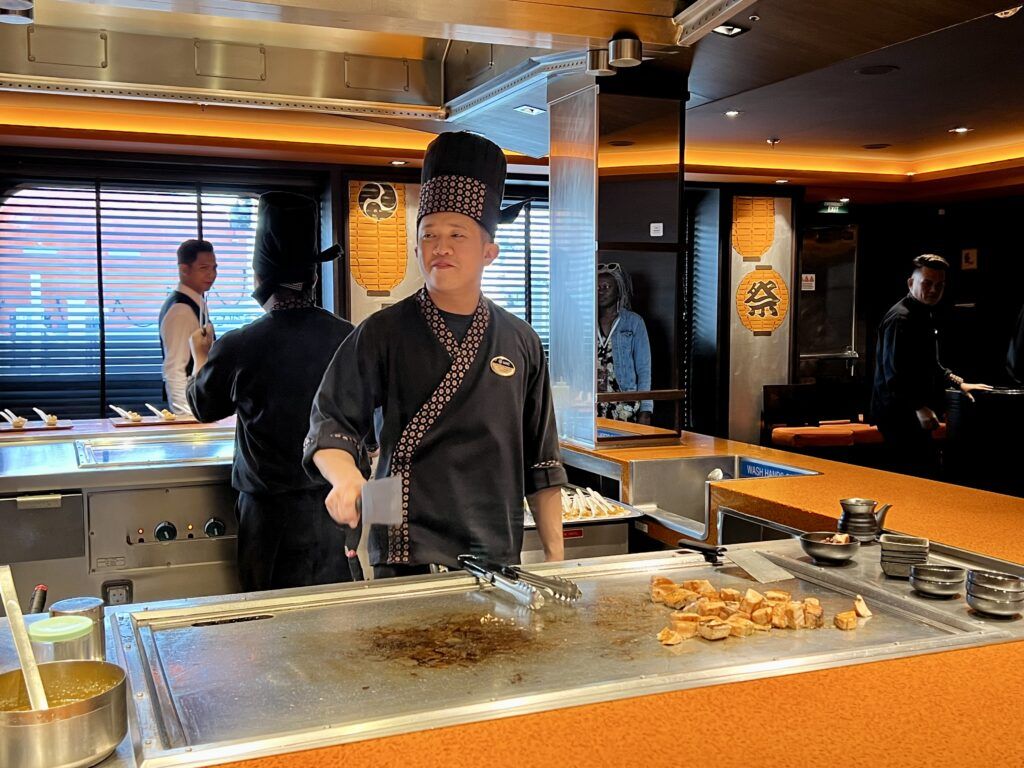 Further, those with a sweet tooth will love Jean Philippe's Crepes, Ice Cream, and Chocolate.
Of course, there's also plenty of bars to enjoy an adult beverage from the champagne bar to an Irish pub. Cruisers will certainly find a watering hole to fit their mood.
Elegant Design
From the glamorous Swarovski crystal staircases to the artfully themed Galleria, you will be surrounded by elegance in all design elements on MSC Meraviglia. Perhaps the most stunning example is the 5,000+ square foot LED dome that projects a digital sky over the 2-story promenade.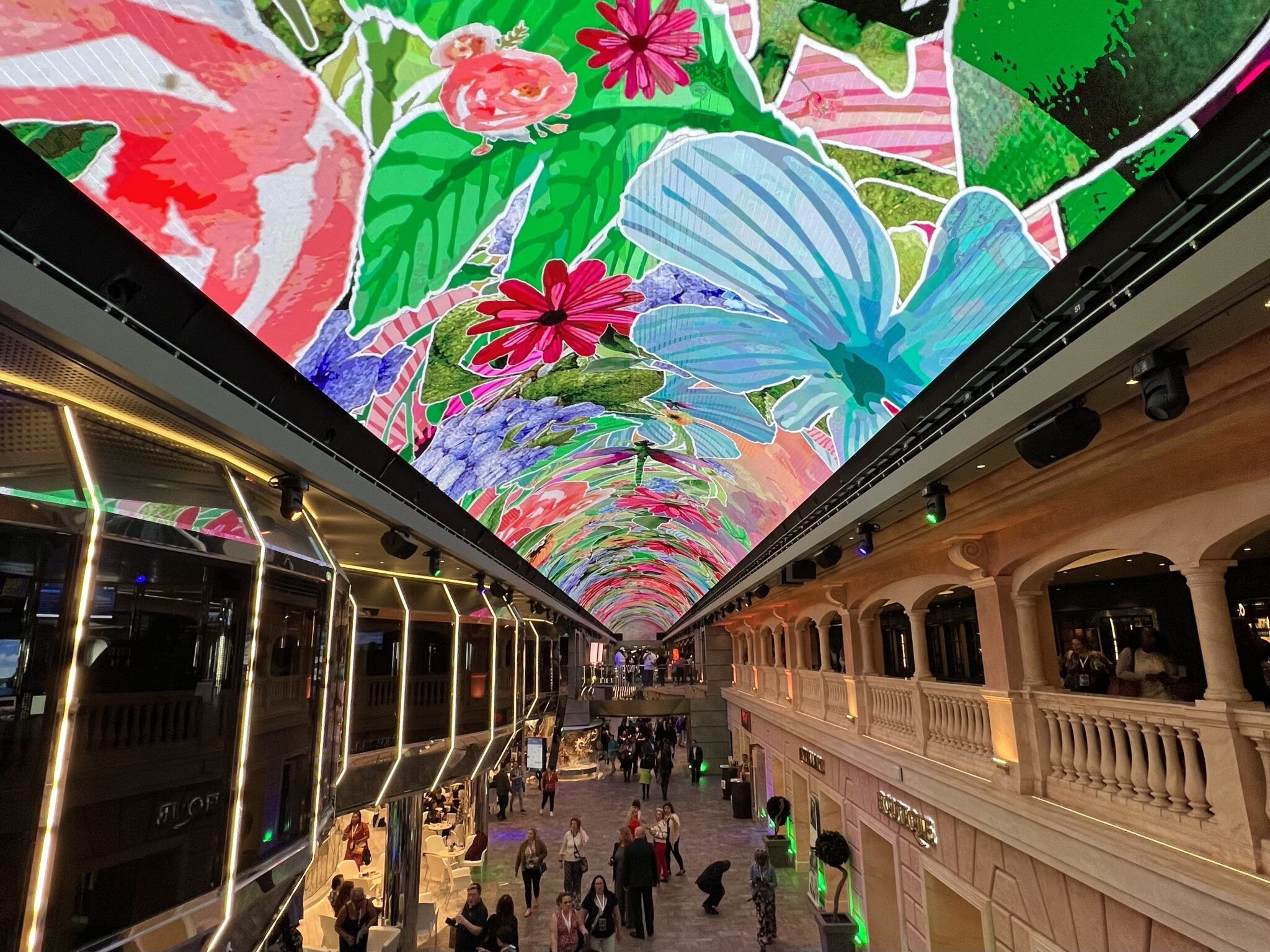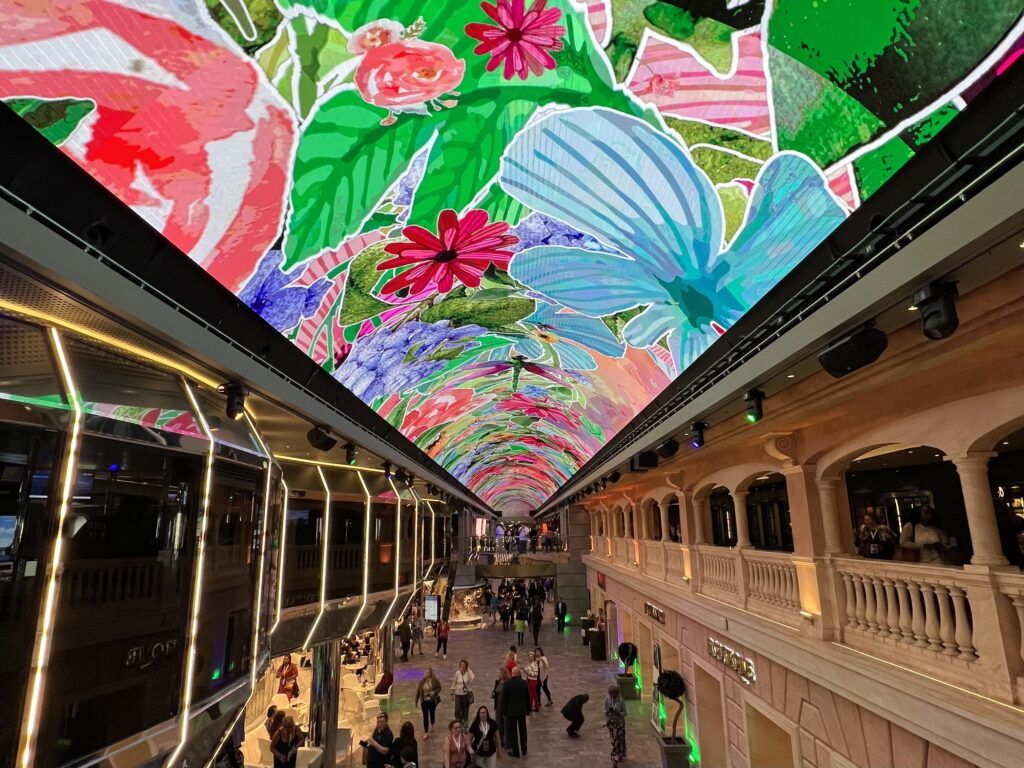 Whether you are shopping, dining at one of the specialty restaurants, sipping a cocktail in one of the bars, or socializing and enjoying some live entertainment, you are sure to love all of the luxurious touches throughout the ship.
When compared to MSC Seascape, MSC Cruises' newest ship sailing in the U.S., we actually prefer the more open promenade area on the Meraviglia Class of ships.
BOOK NOW: Exclusive Rates on Your Next MSC Meraviglia Cruise!
Comments
Have you cruised out of New York? Are you ready to book an MSC Meraviglia cruise? Drop us an anchor below to share your experiences sailing with MSC Cruises.