While most people envision cruising to tropical locales, cruise ships visit various destinations across the globe. Caribbean cruises are the most popular, but you can also visit several seasonal regions like Alaska on a cruise. In fact, many of the top cruise destinations are seasonal ports. In our latest cruise packing list for 2021, we detail what to wear on a cruise in these various regions of the world.
What to Wear on a Cruise: Cruise Packing List 2021
Scroll Down to Get Our Downloadable Cruise Packing List
Warm Weather Destinations
A warm weather cruise packing list is certainly easier to put together. Destinations like the Caribbean, Bahamas, Mexico, and Hawaii tend to have warmer weather year-round. Though, the precipitation amounts do vary throughout the year.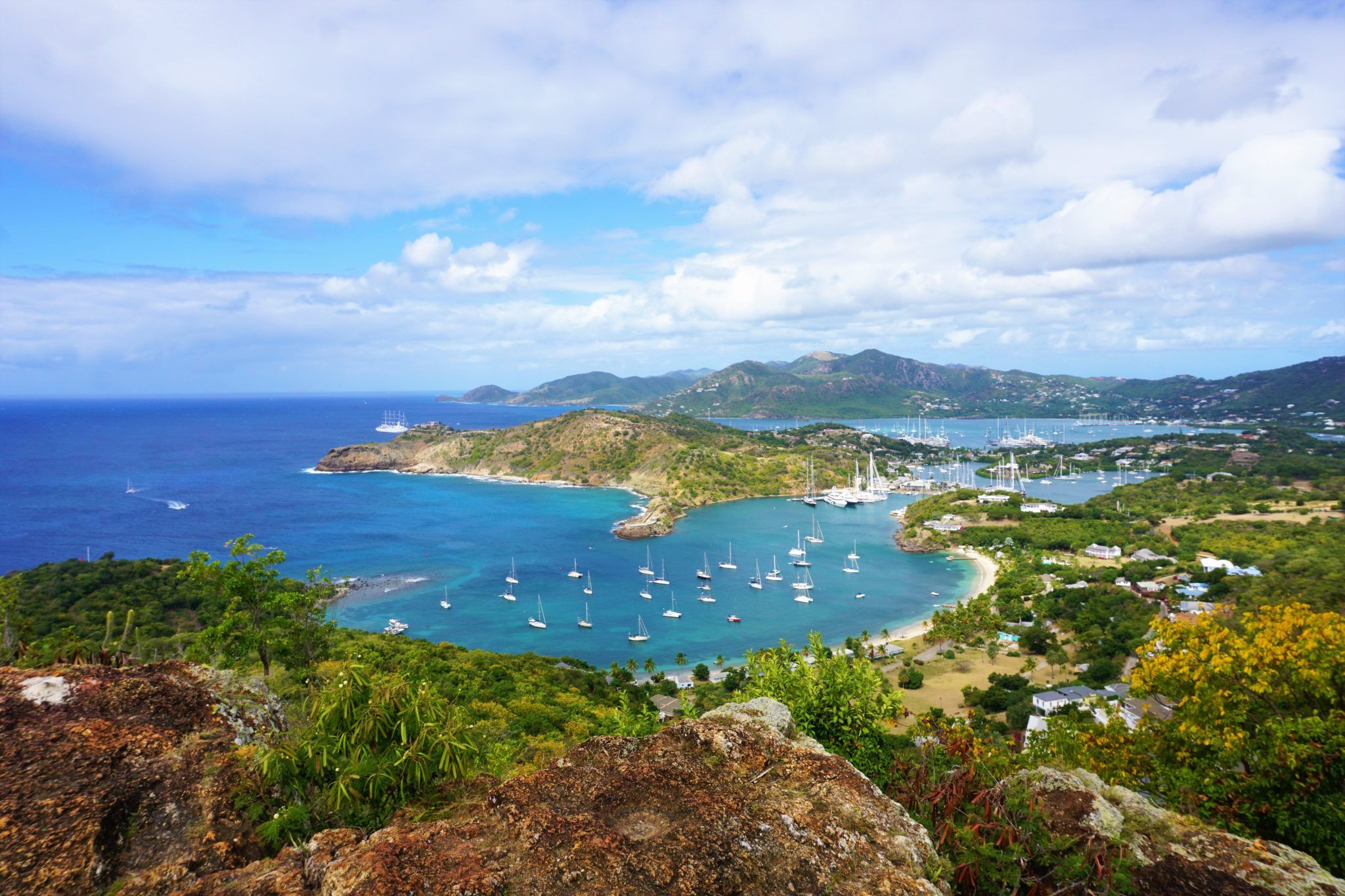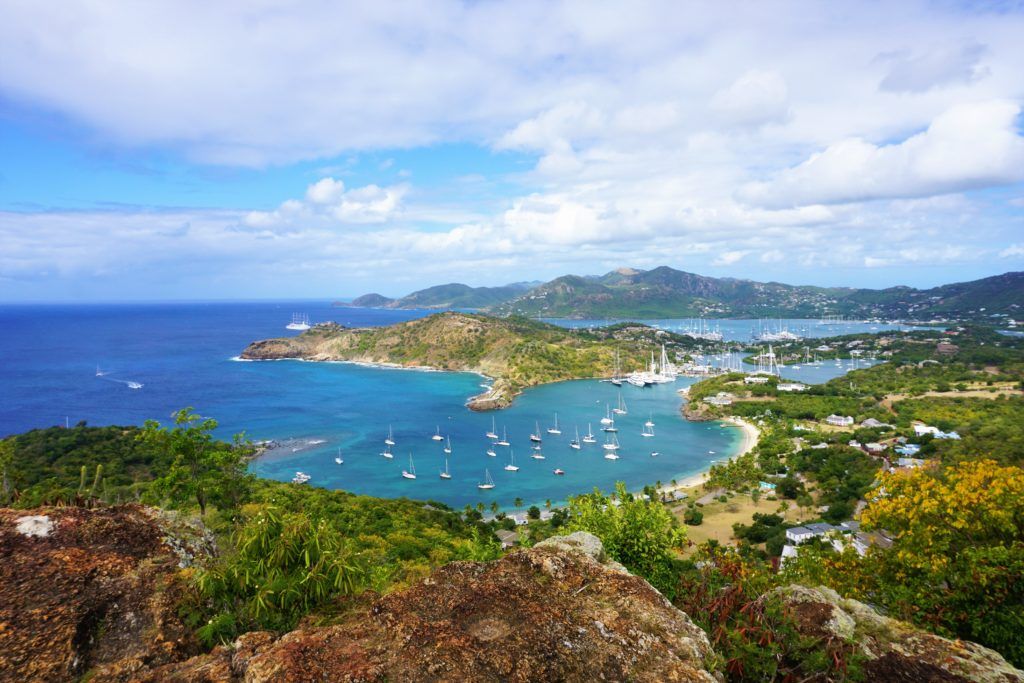 When packing for a cruise, we usually group outfits into daytime use and nighttime use regardless of travel destination. We plan a daytime and a nighttime outfit for each day of the cruise, choosing items that can be re-purposed.
Of course, you should consider how you are going to be spending your days when packing for your cruise. For instance, if you plan to lounge around the pool on sea days and spend your time ashore at the beach, you will probably only pack bathing suits for daytime use. If you have shore excursions planned, you will want to pack outfits to fit those requirements.
For warm weather destinations, you will want to pack clothing items that are comfortable, lightweight, and multi-purpose. A raincoat is another essential item. You will also want to ensure you pack the appropriate footwear. This may include water shoes, sneakers, or flip flops.
A 7-night cruise typically has 1-2 "formal" nights depending on the cruise line. If you choose to dress for the occasion, you should pack the appropriate formal attire.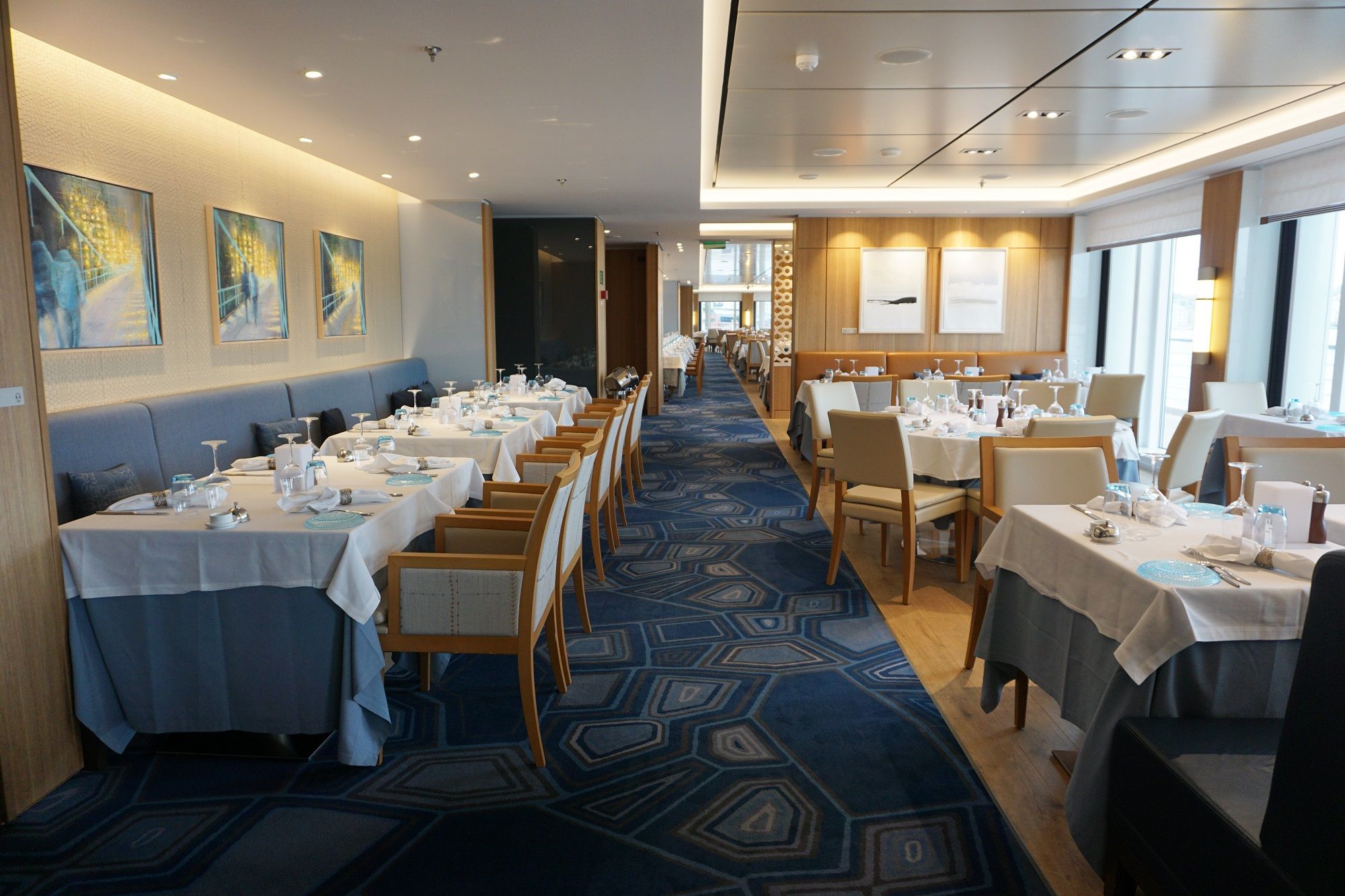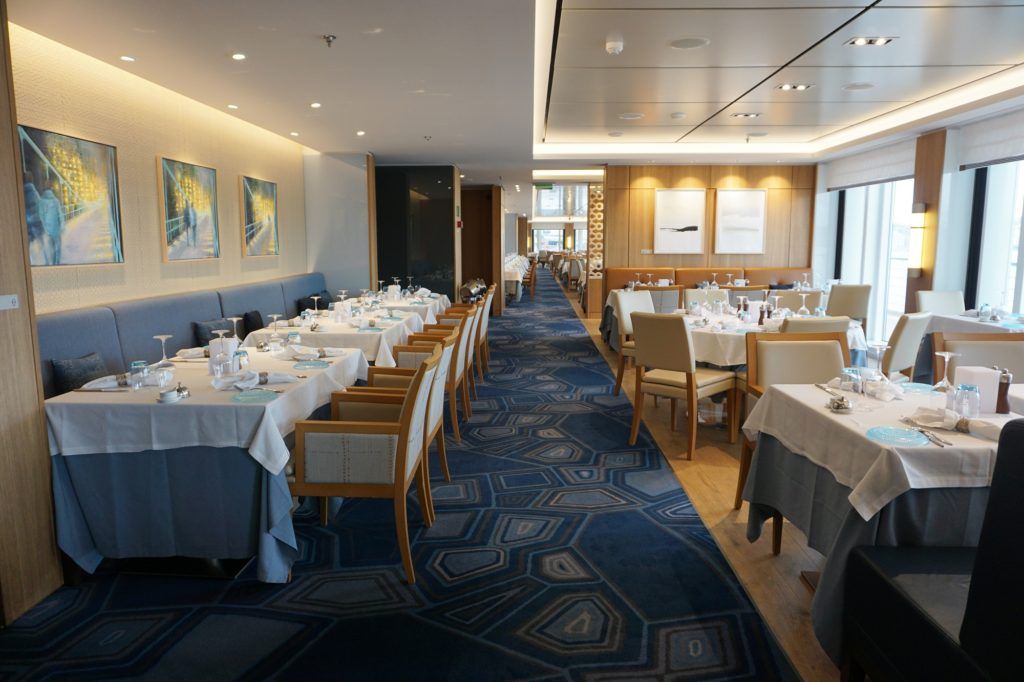 Otherwise, "resort casual" outfits are appropriate for the main dining room and other nighttime entertainment. Woman should also pack a cardigan or light jacket as it could be a bit chilly on the ship.
If you are taking a 3-night weekend cruise, the dress code is usually a bit more relaxed. Though, you should still dress appropriately if you choose to eat in the main dining room.
Related Post: Top Cruise Ships for 2021
Cooler Weather Destinations
Alaska is one of the top seasonal cruise destinations. This means that you will only be able to cruise to Alaska during select months of the year.
Other seasonal destinations include Canada/New England and Northern Europe.
These destinations will likely have cooler weather than the Caribbean during their respective cruise seasons. While Bermuda and the Mediterranean are largely seasonal itineraries as well, the weather is generally a bit warmer.
With that said, the temperature and precipitation will still vary during each of these regions' cruise seasons. The shoulder months, beginning and end of the season, will generally have the coolest temperatures. The middle of the cruise season in most of these regions will have the warmest temperatures.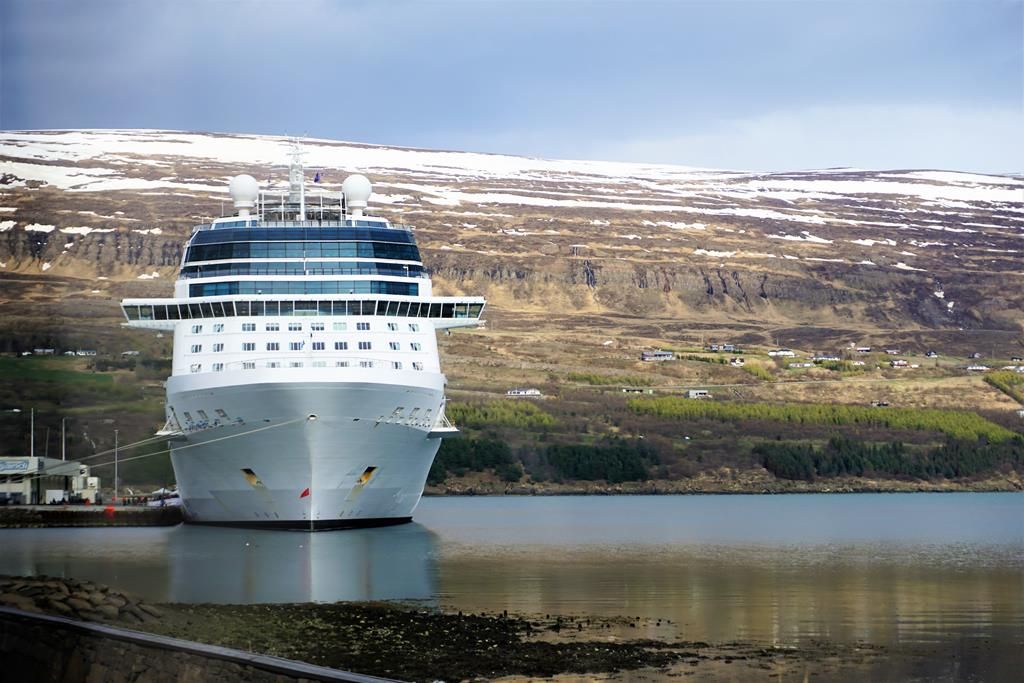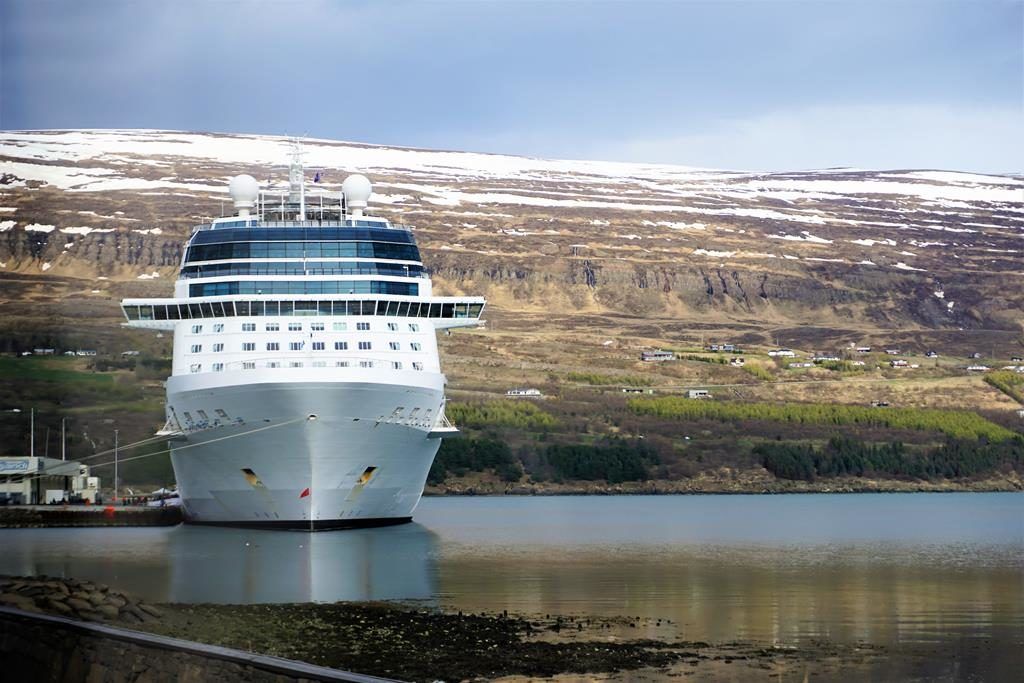 However, with this optimal weather comes increased crowds and increased price. The mid-summer months also coincide with school vacation, so there will likely be more families onboard these cruises.
The time of year you choose to cruise to these cooler weather destinations will dictate to some degree what items you will need to include on your cruise packing list. The type of excursions you book should also factor into what you pack.
Most importantly, LAYERS and rain gear are essential! You will want to be prepared for rain and temperature swings on any given day.
We cruised to Alaska on Norwegian Bliss near the end of the season and had great weather. Though, it did rain one day, and the temperature swings from early morning until mid-afternoon were easily 25 degrees.
During our Ireland/Iceland cruise on Celebrity Eclipse in May, the weather ranged from rainy and cold to unseasonably warm over the course of the 10-days. The same was true for our Northern Europe cruise onboard Viking Jupiter in September, with St. Petersburg, Russia being the coldest of the ports of call.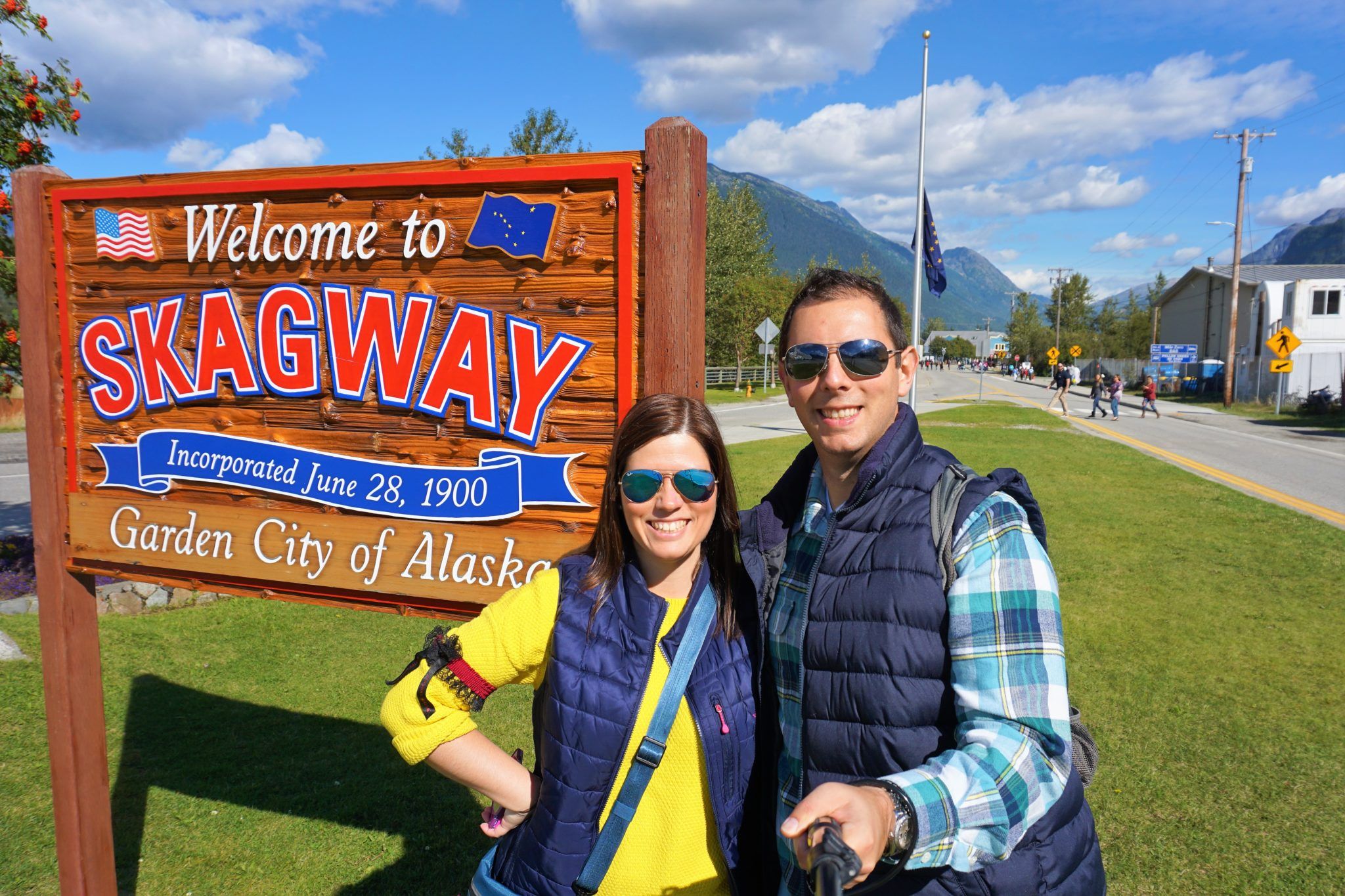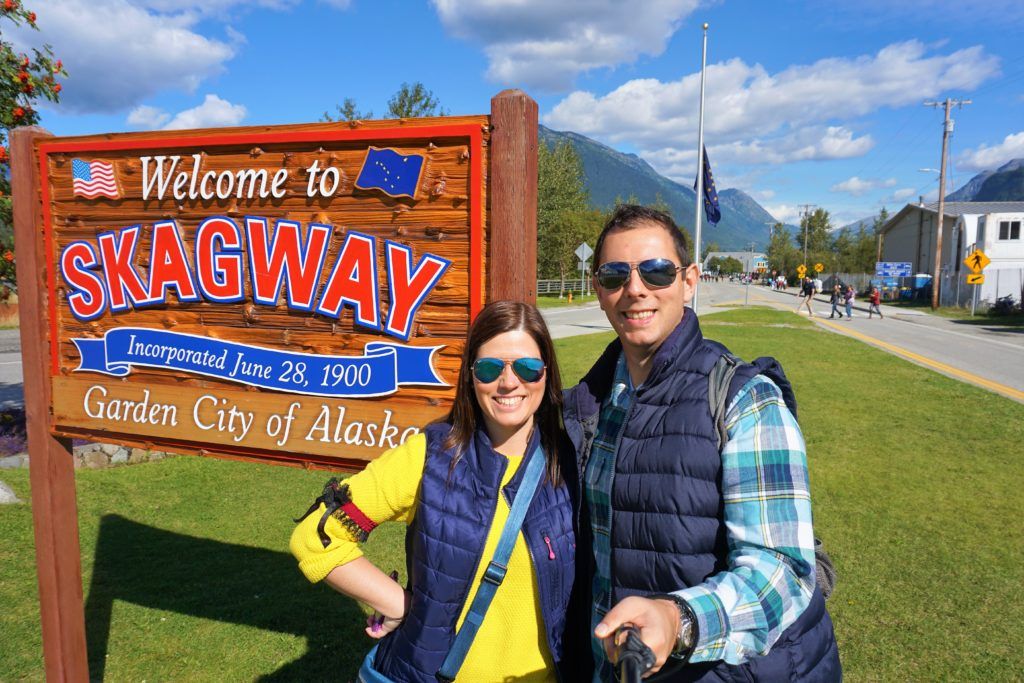 For daytime outfits, it wouldn't hurt to pack a pair shorts for the unseasonably warm day or for lounging around the ship, but you will want mostly long pants. For shirts, you will want a combination of short sleeve and long sleeve, perhaps some thermal or moisture-wicking. You will also want some combination of sweaters, sweatshirts, vests, or fleece/puffer jackets to layer over these shirts if needed.
If you are cruising during the shoulder months, we would also recommend packing gloves and hats just in case.
Related Post: Where Should I Go on My First Cruise?
For nighttime outfits, you will want to pack business casual type outfits. Think khakis and collared shirts for men and dress pants, dressy jeans, or casual dresses for woman. These port intensive cruises tend to be more casual overall, but this does vary by the cruise line. Most cruise lines do still have "formal" or "evening chic" nights where you can feel fancy if you choose.
In terms of footwear, you will want casual shoes for daytime use and dressier shoes for nighttime use. For daytime use, you will definitely want a pair of sneakers or comfortable walking shoes and waterproof shoes or boots.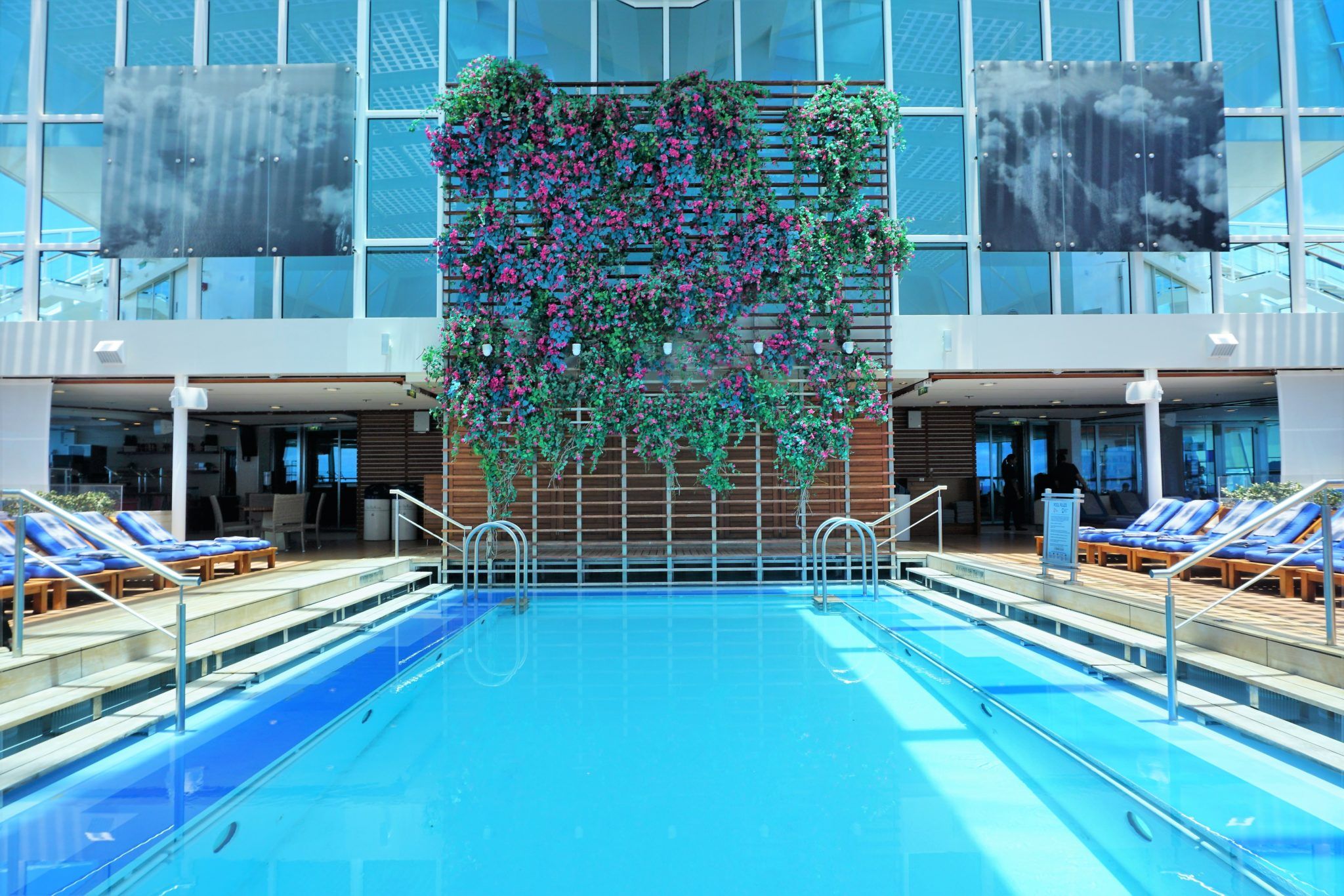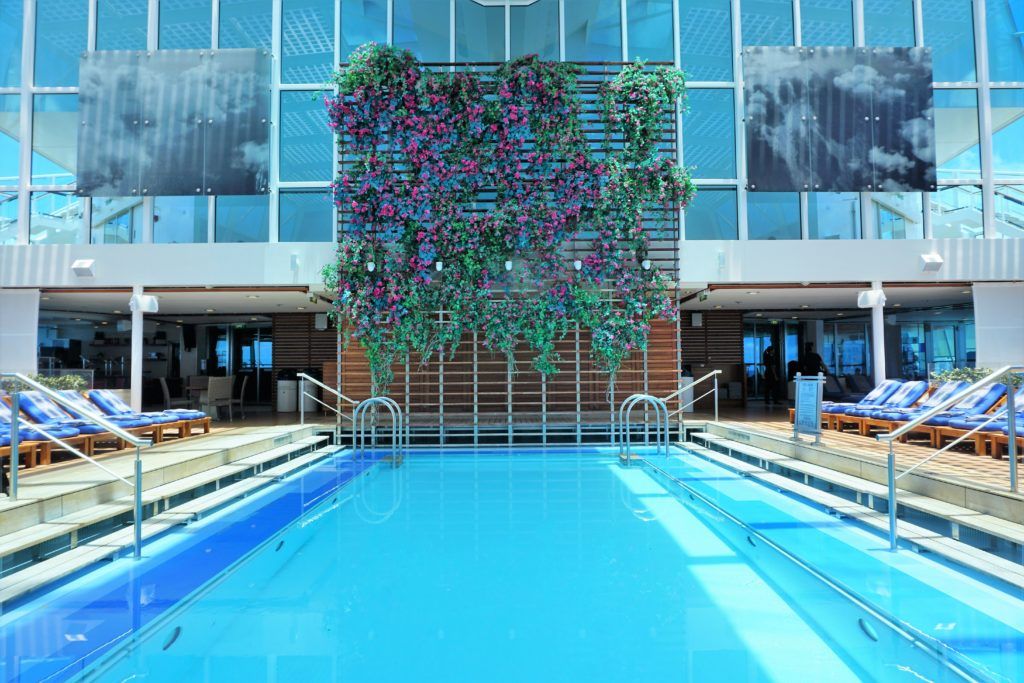 Even though you are visiting a cooler weather destination on your cruise, you should still pack a bathing suit. There are hot tubs and indoor pools onboard the ship, as well as the spa and thermal suites on many cruise lines.
You might even get lucky enough with the weather to enjoy the outdoor pools!
Toiletries
In this Cruise Packing List, we list all the toiletries we pack for our cruise vacations.
Yes, many cruise lines do provide some essential shower products, but we still prefer to bring our own. Even if you don't pack as extensively as we do, the essentials should include medications, suntan lotion (even in cooler weather destinations), and hand sanitizer.
Now more than ever, you will want to help prevent the spread of germs to avoid getting sick on your vacation, so you can never have enough hand sanitizer.
In 2021, you might also want to pack some disinfectant wipes and/or Lysol disinfectant spray to sanitize your cabin and other high traffic touchpoints.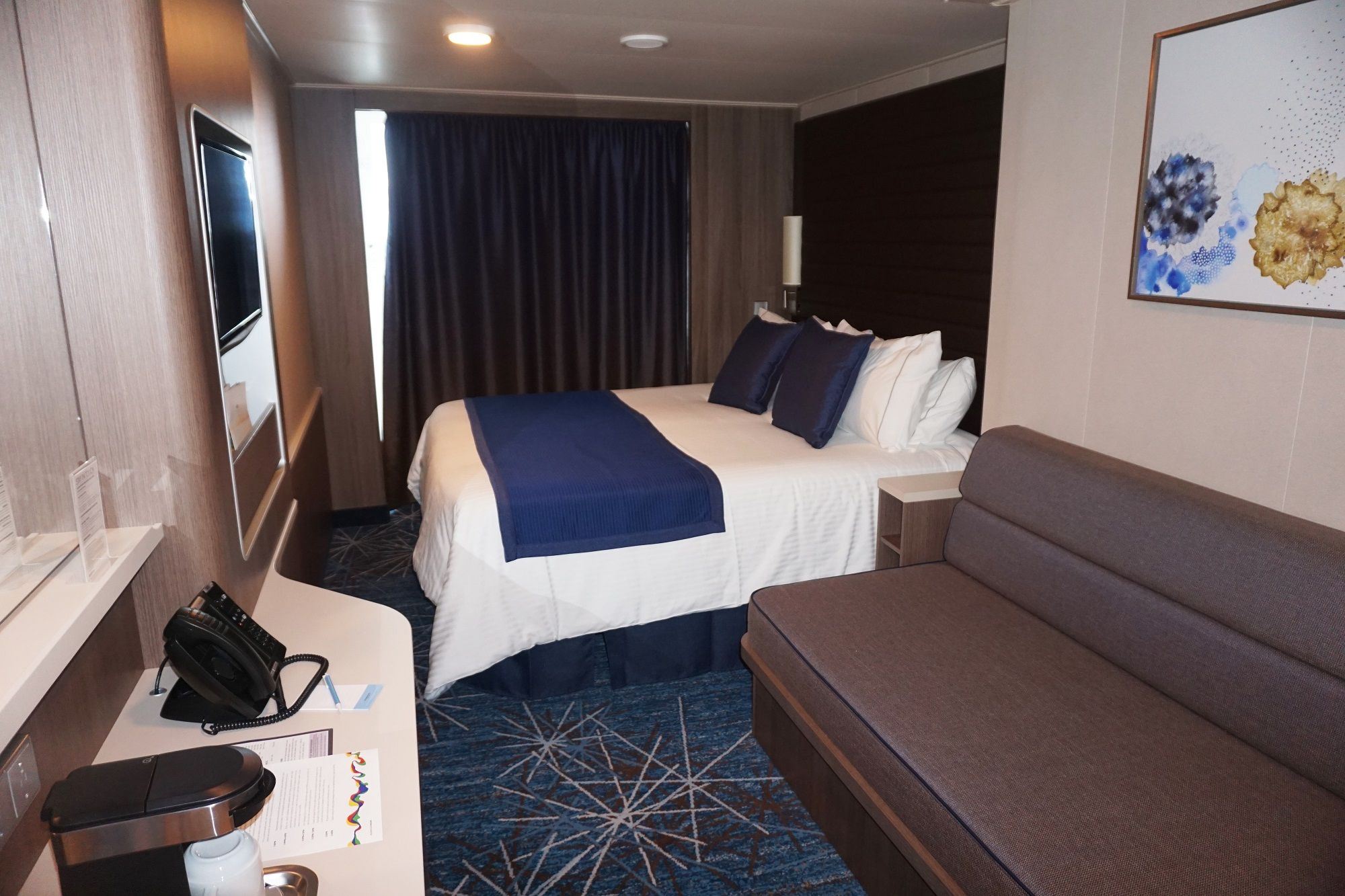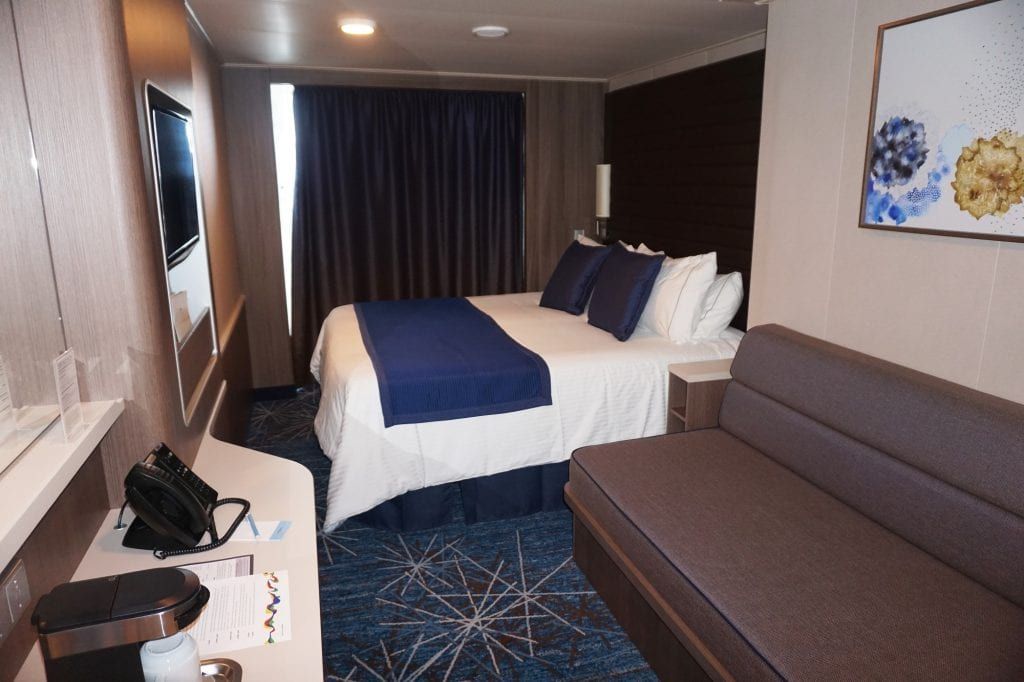 We also recommend Downy wrinkle release to help keep your clothes as wrinkle-free as possible. Irons and steamers are NOT allowed on cruise ships.
Related Post: Major Cruise Mistakes and How to Avoid Them
Other Useful Items
Besides necessary travel documents and passports, we have accumulated a list over the years of "other" items that we find essential for a cruise to any destination.
Many of these common household items can be purchased fairly inexpensively on Amazon or at your local Target or Walmart.
Given that cruise ship cabins are small, you will want to maximize the space. Magnets (We use the 40 lb. ones) come in handy for hanging hats, day bags, and other items in your cruise cabin. Additionally, we use an over the door shoe organizer, not for shoes, but rather to store toiletries and other small items to free up counter space.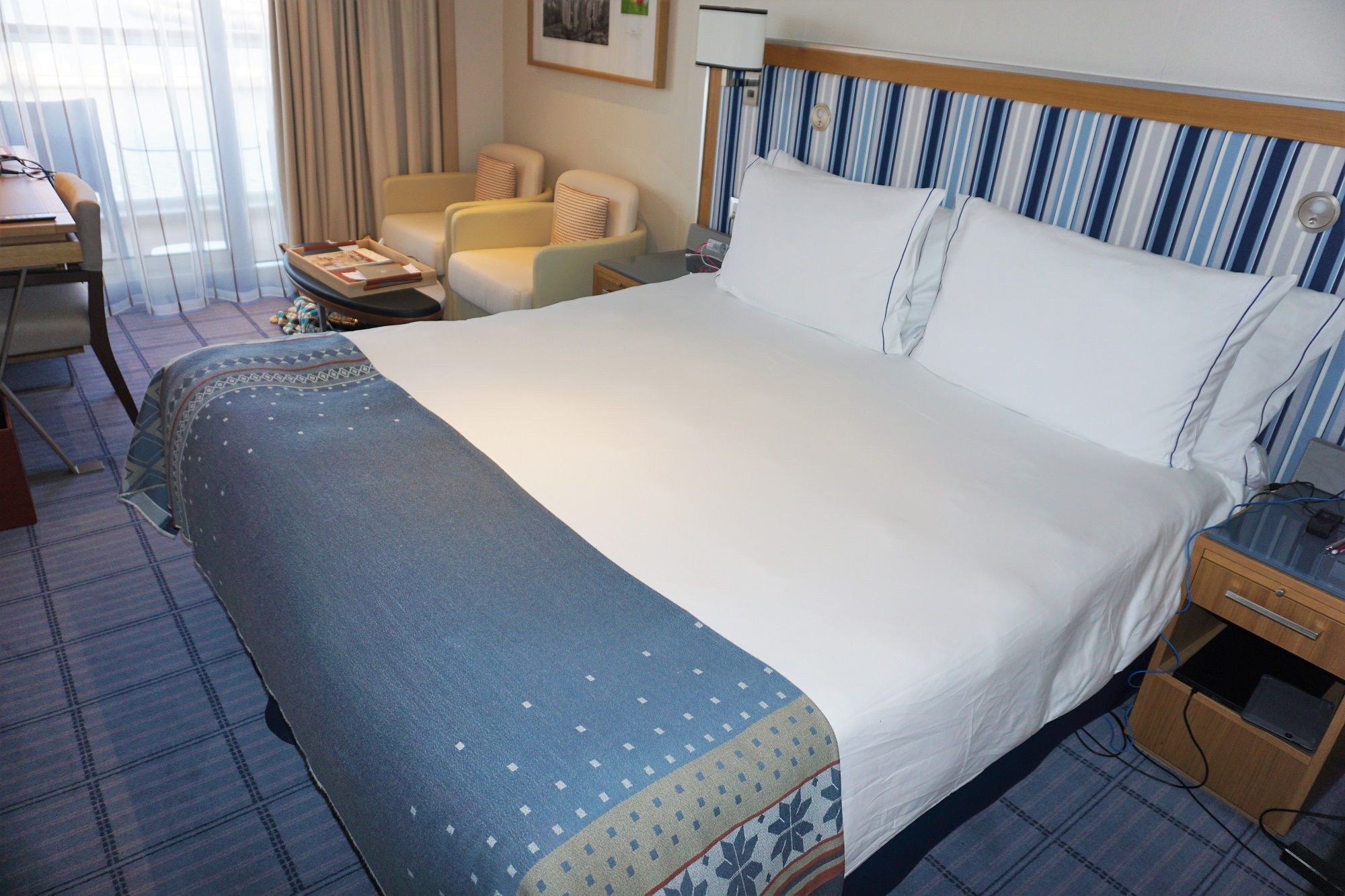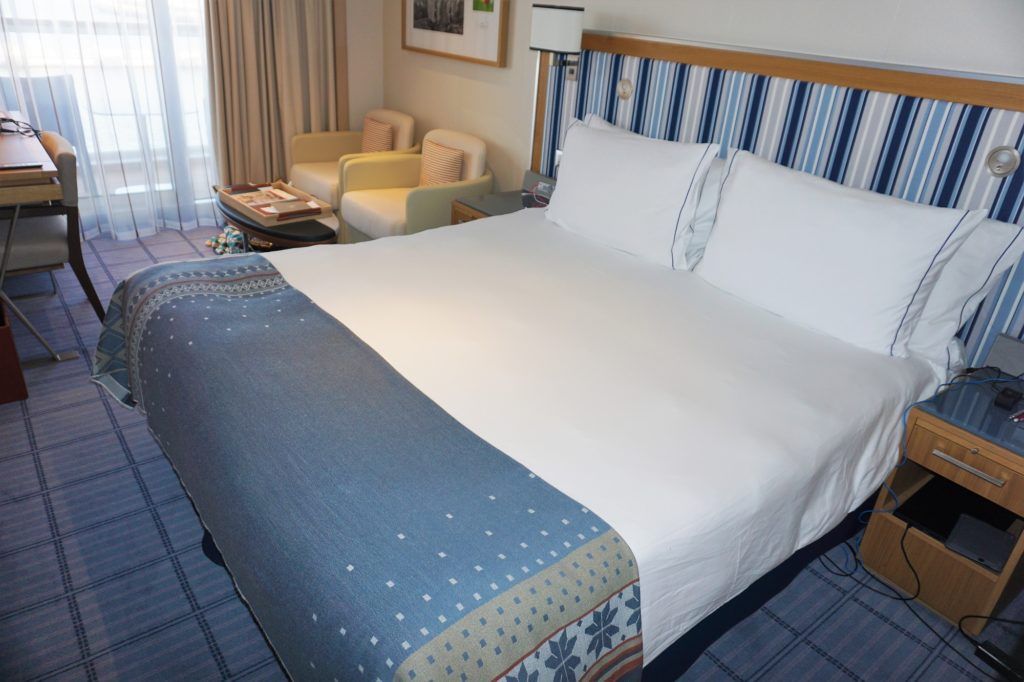 If you are cruising to a warm weather destination, we love towel clips. The clips will secure your towel to the lounge chair so it doesn't blow away. Further, a Yeti water bottle will help to keep a cold drink cold or a hot drink hot for hours, even in the Caribbean sun!
Some other useful items include a luggage scale to help ensure you are not over your airline's weight limit on the return trip home and cruise luggage tags. These plastic sleeves help to protect those paper cruise tags on your suitcases.
Additionally, would you ever think to pack Ziploc bags or trash bags? We always do! Ziploc bags are great for storing wet items or waterproofing items, while trash bags are handy to store dirty laundry over the course of the week.
In terms of electronics, a mobile cruise-approved power strip is essential as outlets are very limited in cruise cabins. You will likely want a portable power pack to keep your devices charged when going ashore as well. You might also find one of these cord organizers very helpful to keep all the chargers in one convenient location.
Related Post: Do I Need a Passport for My Cruise?
Downloadable Cruise Packing List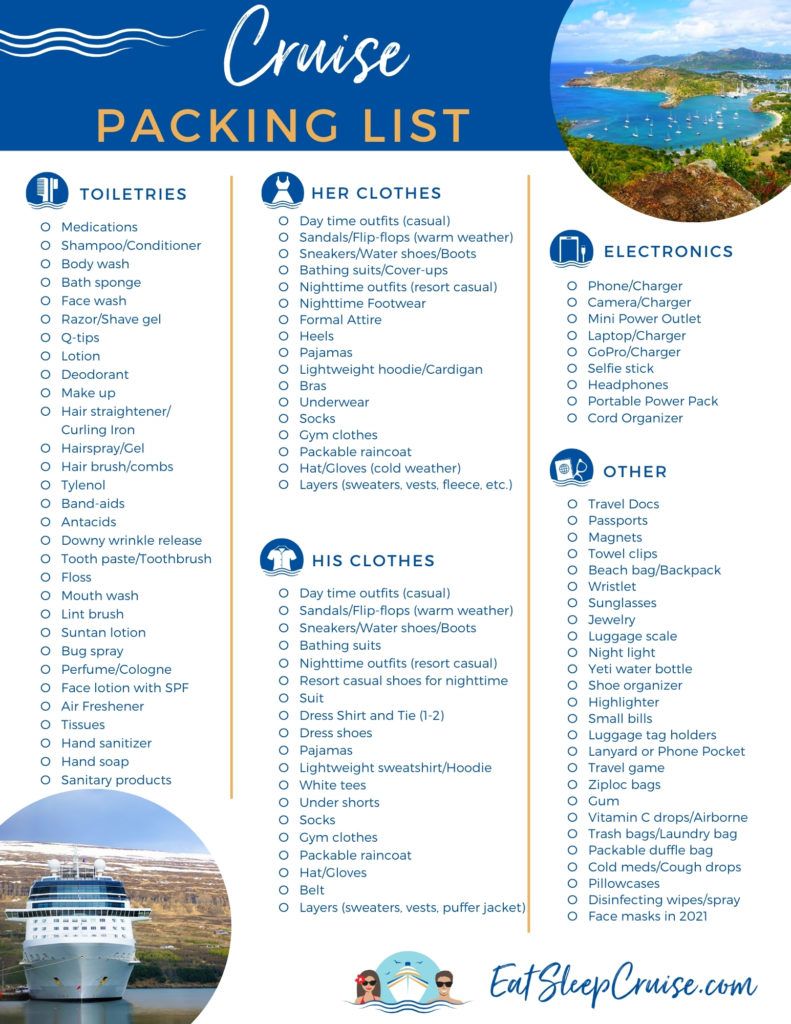 Packing for a vacation shouldn't be stressful. So, feel free to download a copy of our complete Cruise Packing List for 2021 and use this as a check list while packing for your next cruise.
Comments
What items do you find essential to pack for a cruise vacation? Are there any items on your packing list that we have forgotten? Drop us an anchor below to share your cruise packing tips.