Earlier this year, Viking launched a brand-new class of ships. This luxury cruise line which is known for both its river cruises and ocean cruises has now entered the expedition cruise market. The line's first endeavor, Viking Octantis, is a 30K gross ton vessel accommodating up to 378 passengers. We are currently sailing on Viking Octantis for its Caribbean Connections itinerary and what to share our experiences with you. So, we dive into it all in our Viking Expedition Cruises first impressions.
Viking Expedition Cruises First Impressions
At six decks tall, 665 feet long, and a beam of 77 feet, Viking Octantis feels like a smaller version of the line's ocean cruise ships. This new expedition ship seamlessly blends elements of both river cruising and ocean cruising. Thus, this new polar class 6 vessel delivers something unique, but still distinctly Viking.
Find Out if Viking Expedition Cruises is For You With Our Video Review!
Along with familiar public venues like the Aquavit Terrace and the Explorers' Lounge, you will find the cruise line's award-winning service and hospitality.
If you have cruised on either a Viking river ship or an ocean ship, you will certainly feel right at home on this Viking expedition ship.
EXCLUSIVE SAVINGS: Book Your Viking Expedition Cruise Now!
Indoor Spaces on Viking Expedition Ships
On Viking Octantis, guests can learn more about ashore activities at the Expedition Central on Deck 2. Immediately below on Deck 1, Guest Services is available to answer all of your other questions. There is also a small Nordic shop on Deck 3.
The ship's impressive theater, the Aula, can be found on Deck 2. This venue transforms from a presentation theater to a beautiful indoor viewing area. The Aula is home to documentaries, port talks, and other edutainment.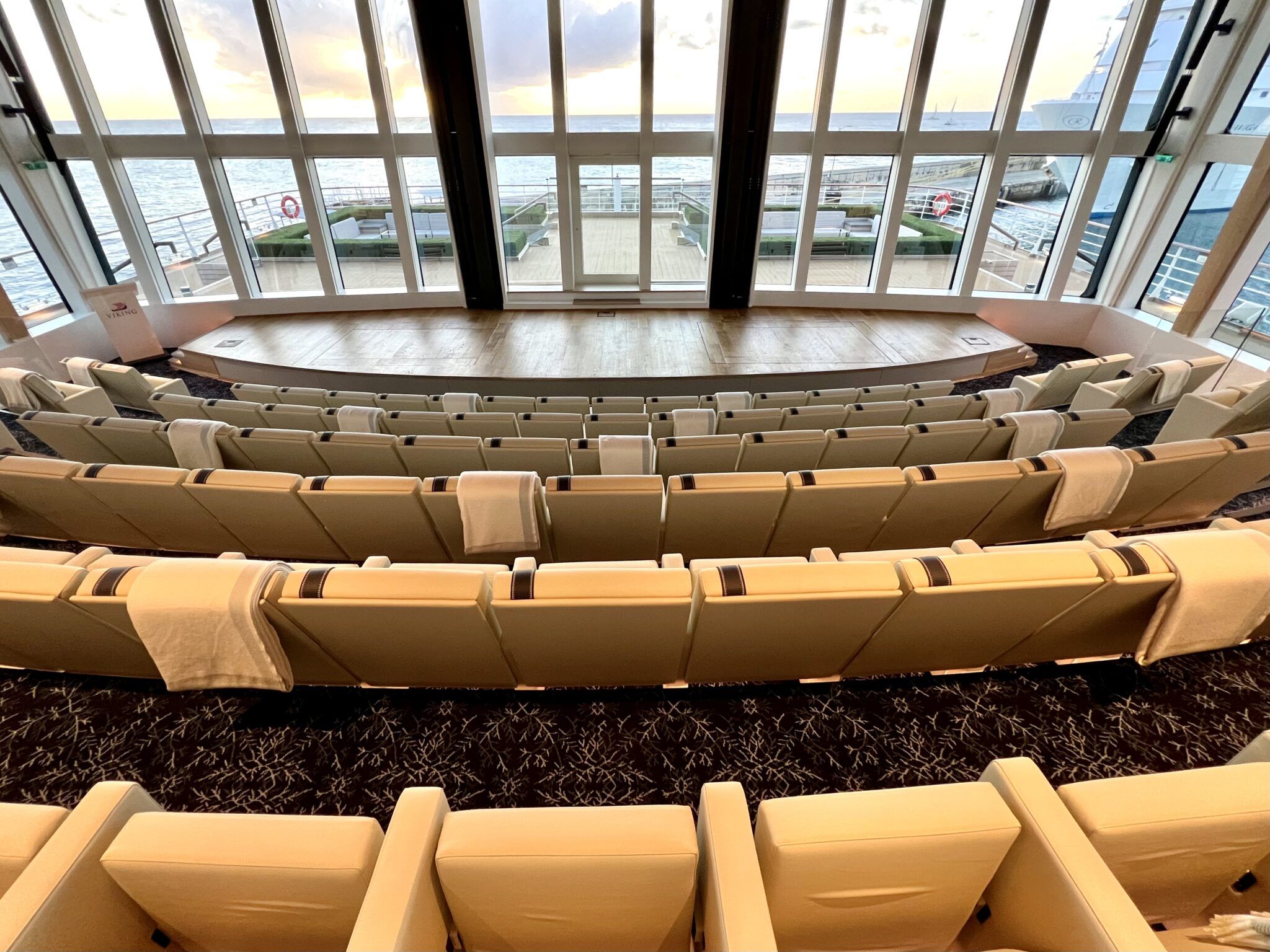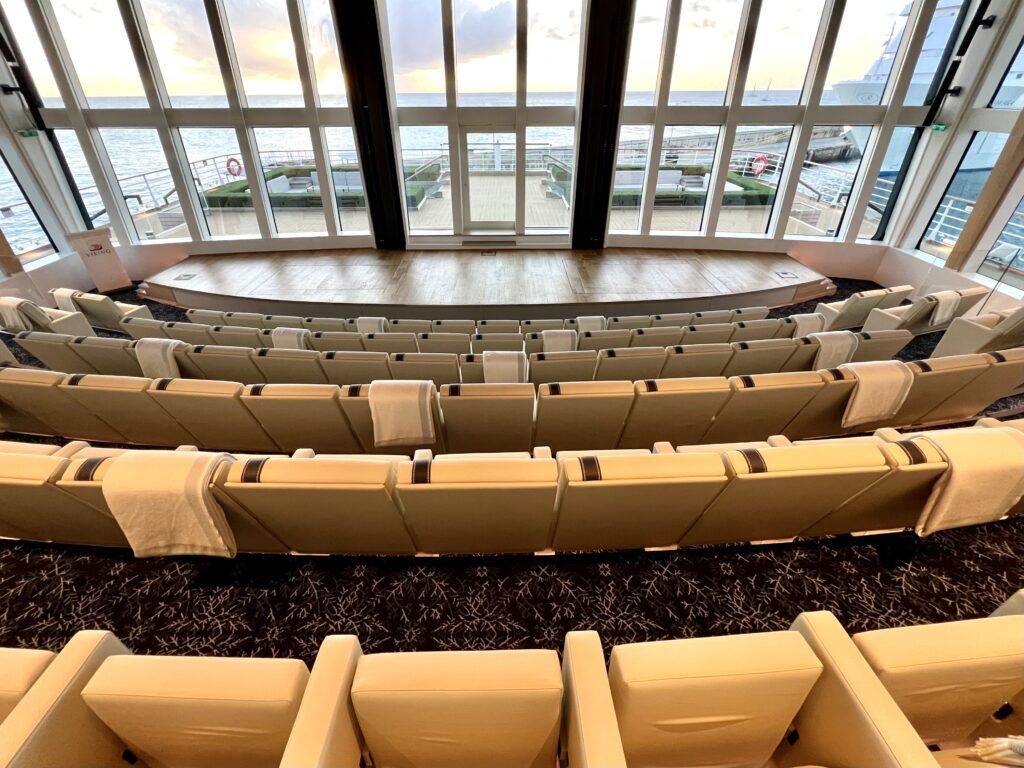 In addition, it provides a warm aft-viewing area which is perfect for itineraries in the polar regions.
The Nordic Spa is located on Deck 2 as well. This thermal suite is complimentary to all guests. So, you can enjoy the hydrotherapy pool, sauna, steam room, heated stone loungers, and more throughout the day. Of course, you can also book up-charge spa sessions like massages or facials.
Right next door to the spa is the fitness center. While small, it does contain cardio equipment, some weight machines, and a small free weight section. It never appeared all that busy either.
The Explorers' Lounge is located on Decks 4 and 5. This forward-facing venue features floor to ceiling panoramic windows, comfy furniture, fireplaces, and a centrally located bar. This Viking staple is the perfect spot day or night.
Finally, the Living Room is also located on Deck 5 featuring a quiet space to read, relax, or play interactive table games. Here, you can also find a bar and and plenty of great views.
Outdoor Spaces on Viking Expedition Ships
Perhaps the most stunning addition to Viking Octantis is the Finse Terrace. This outdoor space with sunken seating, outward facing aft views, and even fire-pits is located beyond the Aula on Deck 2.
At the completely other end of the ship, there is the Shelter and the Bow on Deck 3. Here you will find a sizeable viewing platform ideal for watching sail-in to ports.
For those chillier times, the Shelter is a partially covered region behind the bow.
In order to provide a true expedition experience, Viking Octantis offers the Hangar on Deck A. This sports deck of sorts has some of the most high-tech equipment that you will find at sea. Along with dozens of kayaks and zodiac boats, this vessel is home to two special operation boats and two submarines that will get you up-close and personal with your destinations.
We were able to test out the special operations boat and submarine, and all we can say is wow! Given we are just sailing the Caribbean, we can only imagine what it would be like to be able to explore Antarctica onboard either vessel.
Located at the aft of the ship on Deck 5 are plunge pools offering both indoor and outdoor spaces to take a quick dip and admire the views. Likewise, you will find both indoor and outdoor loungers in the Aquavit Terrace.
Cruisers can also take a stroll on the open Promenade on Deck 5 to admire the surrounding landscapes.
Lastly, there is a completely open sundeck midship on Deck 6. Here, you will find secluded seating areas, as well as outward facing loungers. For warmer climates, this is a quiet spot to catch some rays.
Viking Expedition Cruises Restaurants
Each evening, Viking Expedition Cruises offer a three-course meal in the Restaurant on Deck 1 with a rotating menu.
Unlike the river and ocean ships however, reservations for the Restaurant are required. So, make sure to book those as soon as possible. For a ship of this size, the venue is smaller than you would expect.
The menu in the Restaurant is also more limited than contemporary cruise lines; though, the staff will work to accommodate any special requests.
Like other Viking cruise ships, beer and house wines are available during dinner for no additional costs.
Like Viking ocean ships, there is one alternative restaurant, Manfredi's, on Deck 1. As one of our favorite specialty restaurants of any cruise ship, this venue features the popular Bistecca Fiorentina, along with homemade pasta and a variety of other Italian classics. Again, reservations are required for Manfredi's.
Both of these sit-down restaurants are available for dinner only. Breakfast and lunch are available in the casual eateries (or room service which is always complimentary).
Casual Dining on Viking Expedition Cruises
Mamsen's, Viking's traditional Scandinavian deli, is open for breakfast, lunch, and snacks. This venue is located portside on Deck 5.
Breakfast is served usually between 8:30 am to 10:30 am, with lunch from 11 am to 2 pm, and snacks from 3 pm to 5 pm.
Viking cruisers will recognize the open-faced sandwiches like the Reke and Roastbiff and the signature waffles.
Surprisingly, this restaurant functioned more like a buffet, unlike a quick service restaurant where the waffles are made-to-order.
The World Café is the ship's buffet. In fact, the buffet on this ship is larger than its counterpart on Viking's ocean ships. The World Café is open for breakfast, lunch, and dinner. Again, to our surprise, the buffet was self-service.
With freshly made cookies, breakfast pastries, and bread, the midship bakery section is a hit.
For dinner, I was a fan of the sushi and seafood bar, aft on the portside. Across the way, the Grill served made to order steaks, lobster tail, and other seafood selections each evening. During the day, the Grill was your lido deck food stop with burgers, hot dogs, and fries.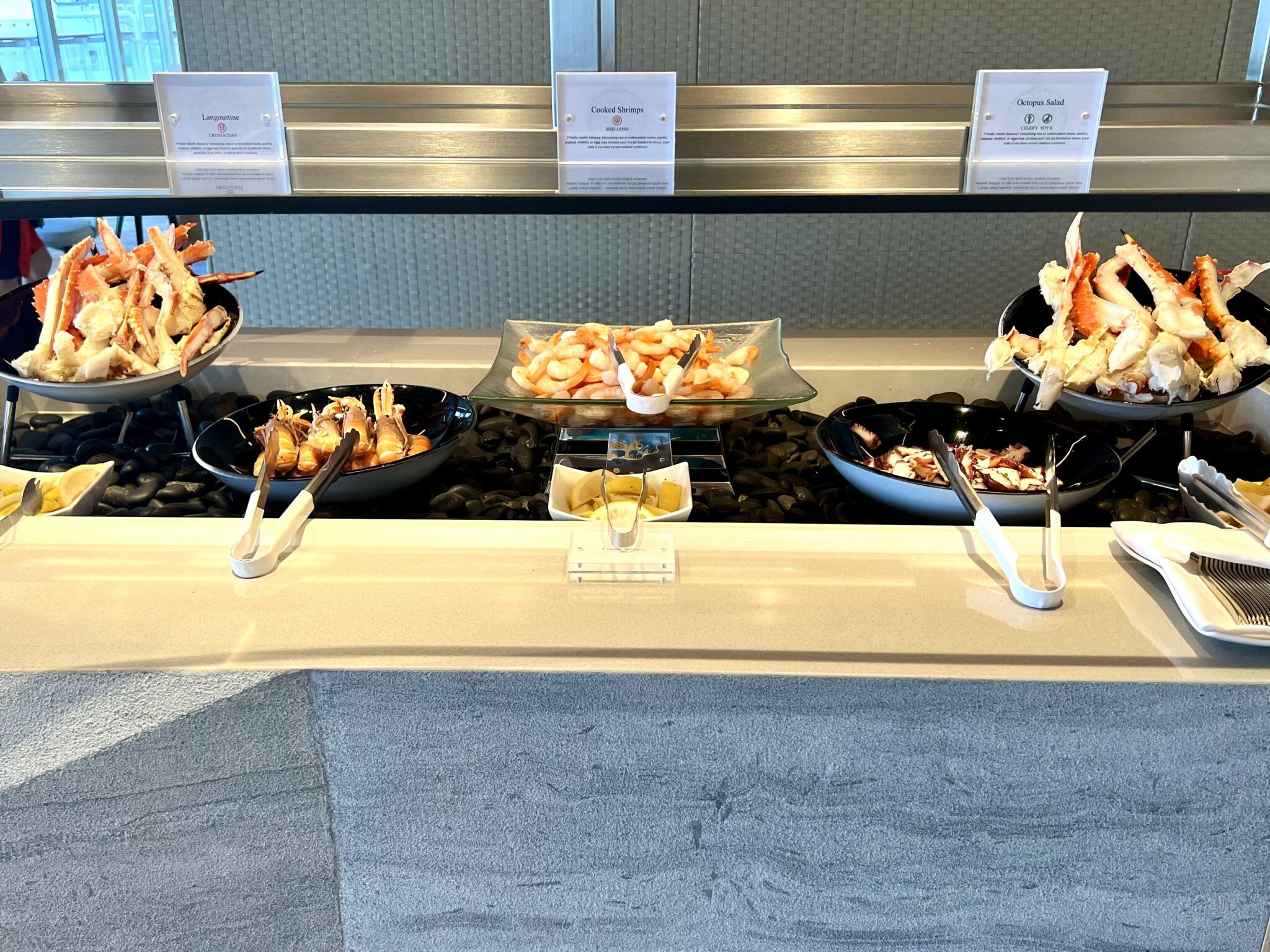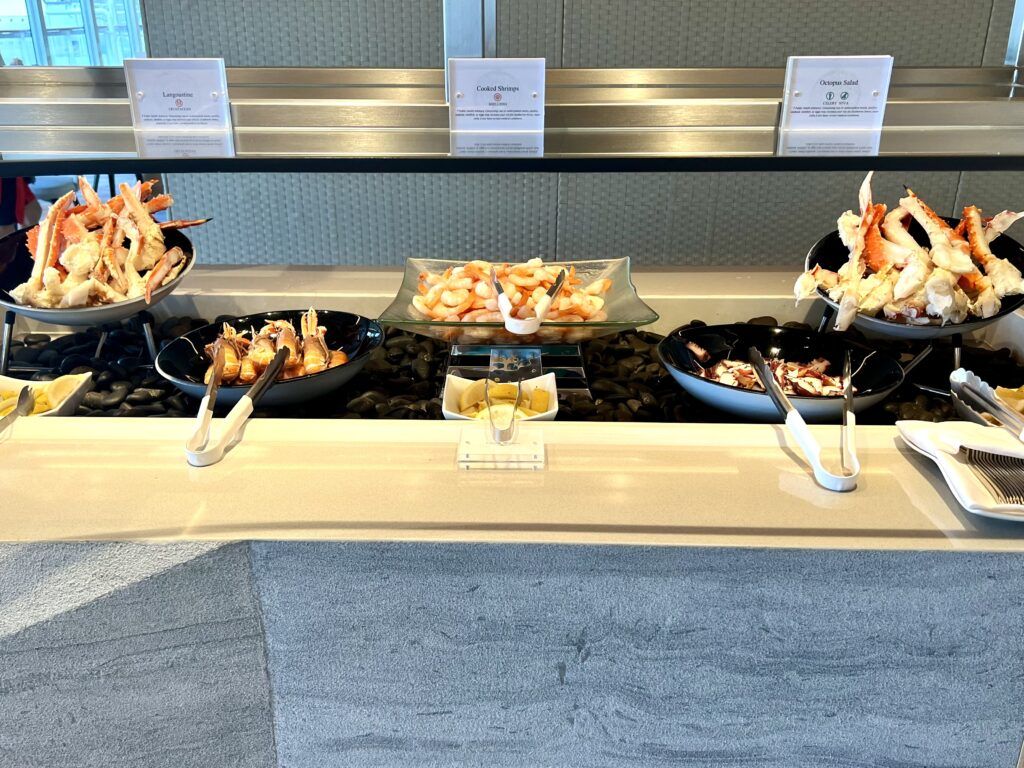 Given the itinerary and smaller than expected main dining room, we dined at the buffet more than we usually do on a cruise.
Onboard Activities on Viking Expedition Cruises
In the early evening, port talks regularly occurred in the Aula. This venue also featured some documentary movies. Given it is such a beautiful space, we did feel it was a bit under-utilized during our trip.
You can also find light classical music in the evenings at the Living Room. It is an ideal area to relax after a long day ashore. The bar in the Living Room was open from 10 am to 9 pm daily serving up the cruise line's standard drink menu.
There are four additional bars onboard this expedition vessel as well.
For your pre-dinner drink, the Viking Bar is located Deck 1 starboard. Deck 5 is home to the Aquavit Terrace with a large U-shaped bar.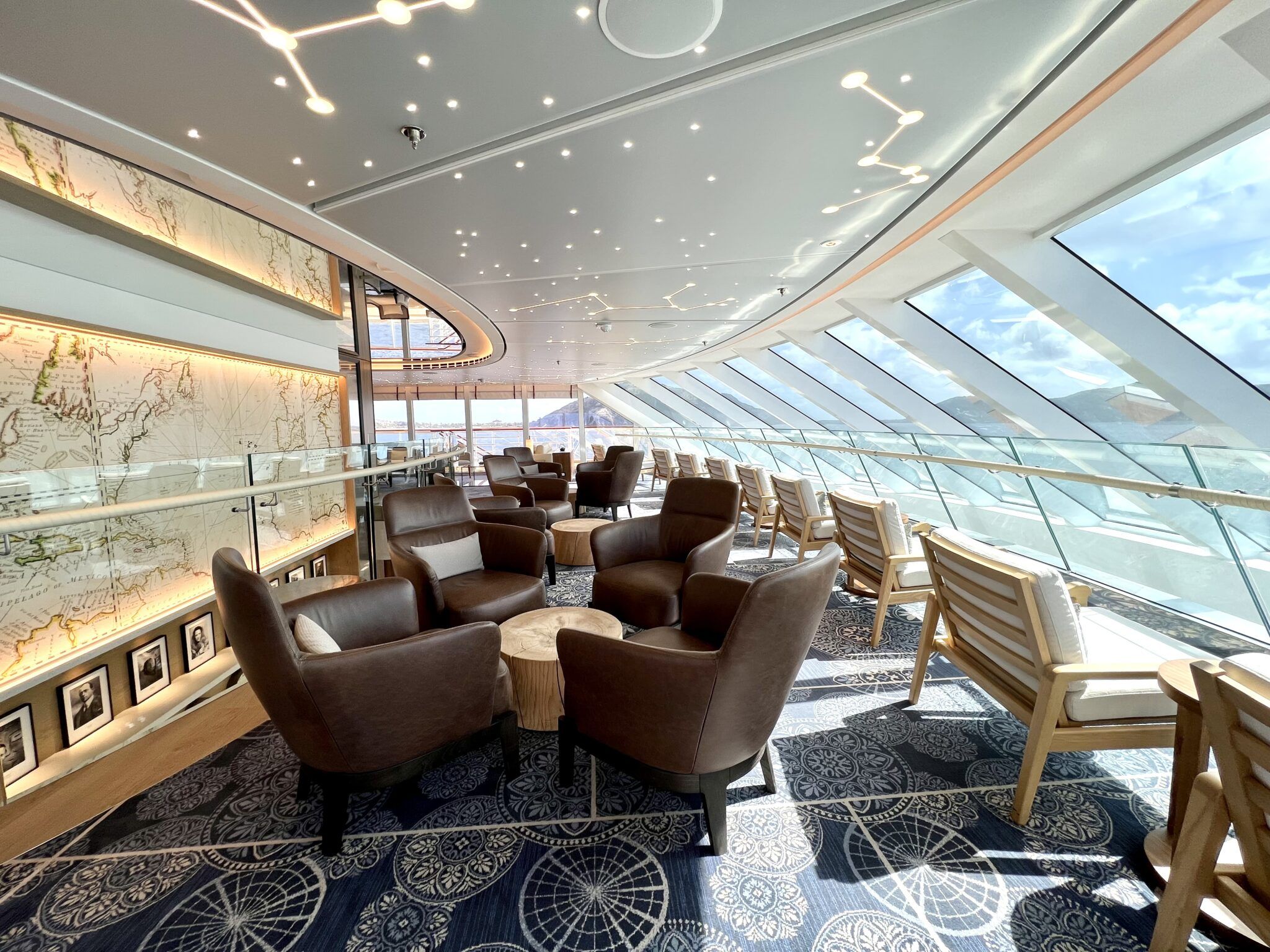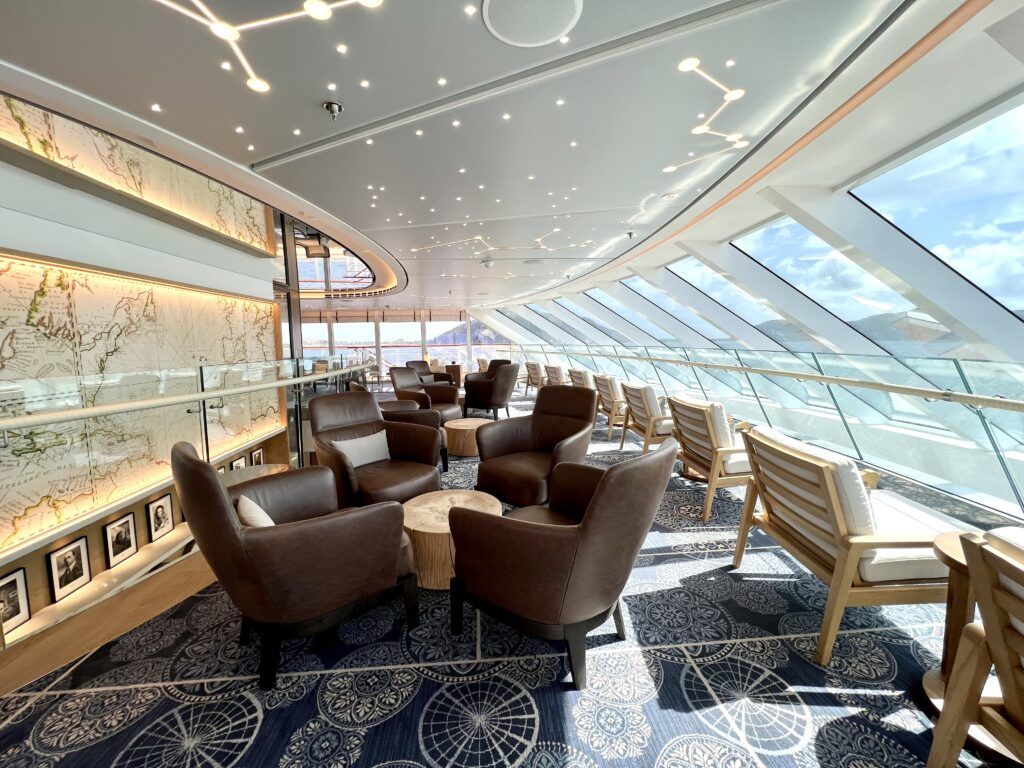 On Deck 4 of the Explorer's Lounge, you will find another bar which is open from about 12 pm to 10 pm daily. This two-story observational space also features live music in the evenings from a piano player and a musical duo. This is the ideal backdrop to relax and strike up a conversation with some new found friends.
Tucked away all the way forward on Deck 1, you will find a new and rather hidden space, The Hide. This venue has a swanky, early 20th century vibe and feels akin to a speakeasy. The Hide serves up aperitifs like the signature Viking aquavit. It seemed right at home being at the lowest deck, as it felt like something out of a Jules Verne novel.
Viking Expedition Cruises Staterooms
For our cruise on Viking Octantis, we were assigned a Nordic Junior Suite. This spacious and luxurious room provided all the comforts of home (and even more space than we needed for the week). This stateroom features plenty of closet space including a drying rack for those Antarctica expeditions as well as a rather large sitting area and desk.
The bathroom is also an upgrade from a typical cruise cabin. It features a full-sized shower with a glass door, double sinks, and even heated floors and a heated towel rack.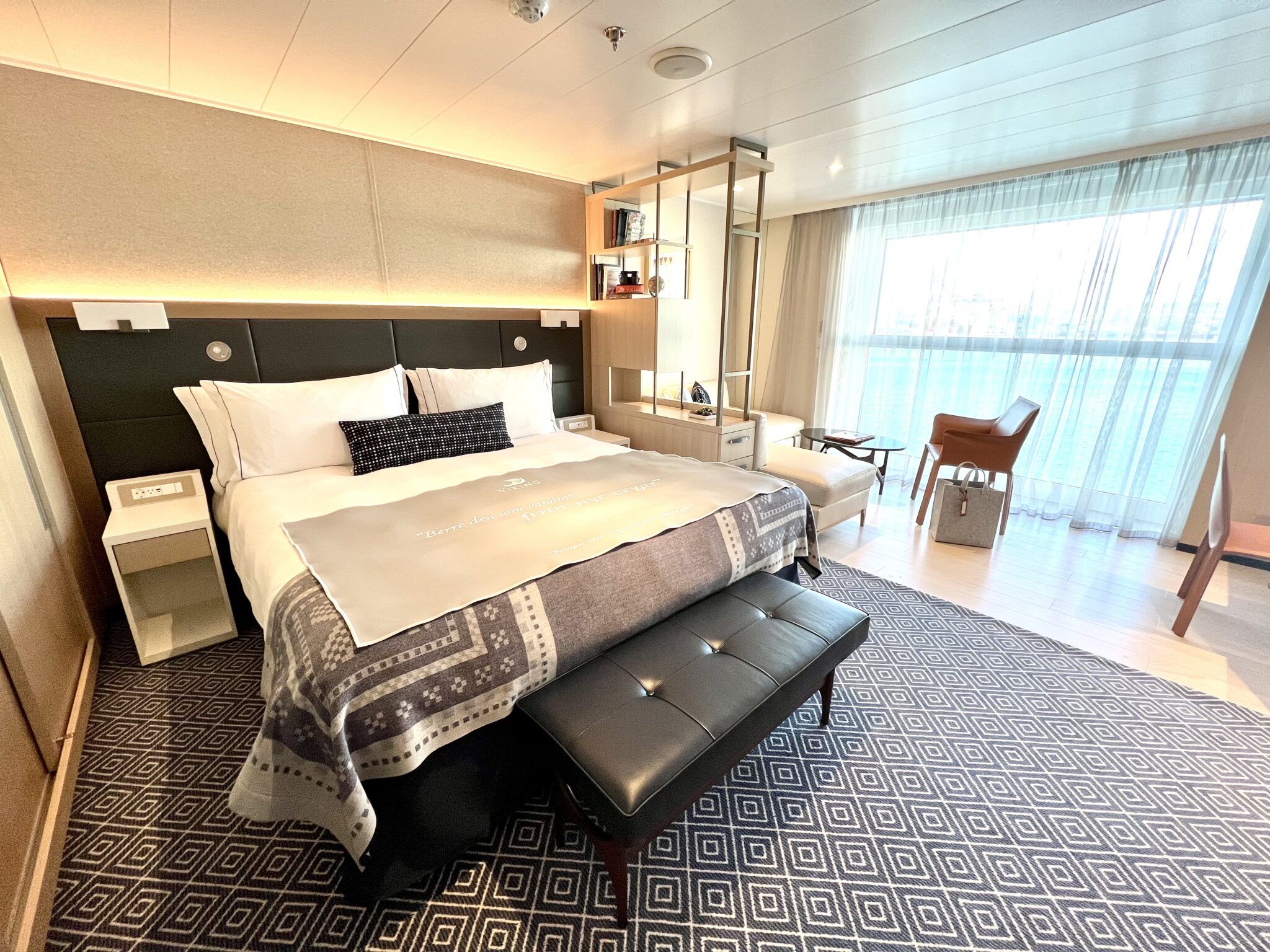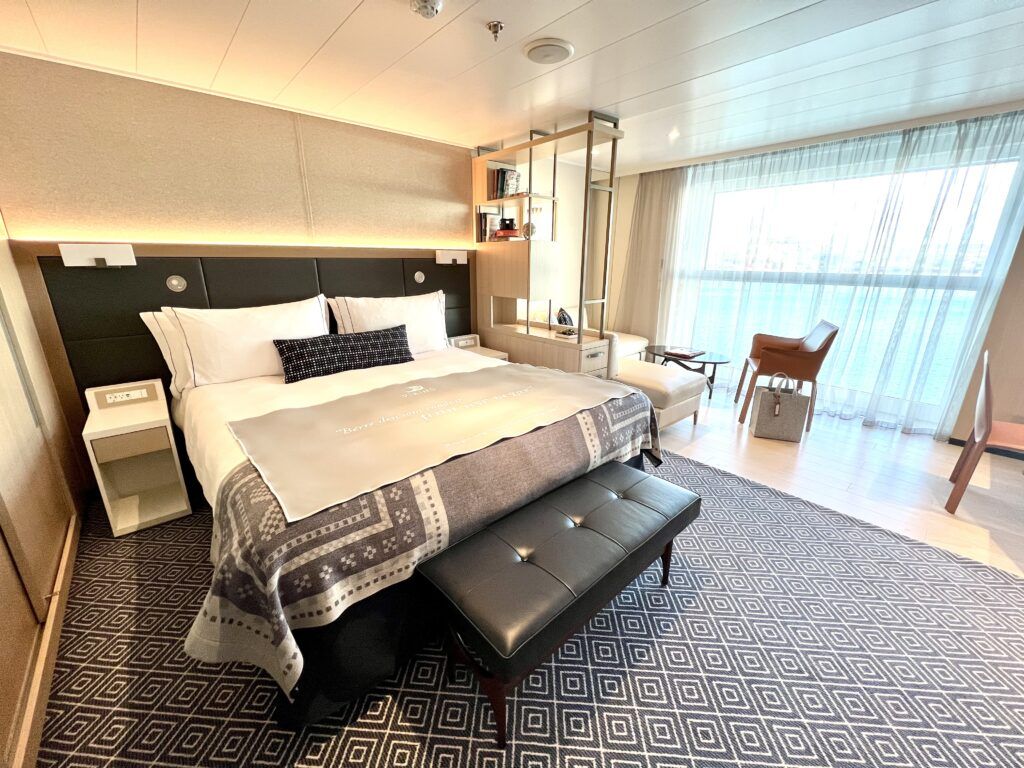 Not to mention, this Viking Expedition Cruises stateroom has a Nordic balcony, which is similar to the infinite verandas found on Celebrity Cruises' Edge Class of ships. While we are not generally a fan of this style balcony, it does make complete sense for an expedition vessel. This window lets you get up close to your destinations while still enjoying the comfort and warmth of your cabin.
BOOK NOW: Viking Expedition Cruises Now on Sale!
Viking Expedition Cruises Recap
Combining elements from the brand's ocean and river ships, Viking Expedition succeeds at delivering a diverse and engaging small cruise ship experience.
With a variety of dining options, unique spaces and activities, as well as luxurious finishes, Viking Octantis is a perfect option for high-end adventure travel. With the addition of the Hangar, guests can get even closer to their destinations.
After a long day ashore, you can rest assured that you will return to exquisite and personalized service. The staff truly go out of their way to make guests happy. Even if that means delivering a bottle of caramel syrup to our stateroom for the wife's morning latte!
Really, the only drawback that we found was the rather small main dining room, making it difficult to dine here at our preferred times.
While we loved the adventures offered during our Viking Octantis trip, past guests should be aware that this is a more active cruise.
Overall, with superb attention to detail, thoughtful design, and Viking inclusions, Viking Octantis ensured we were able to explore the Caribbean in comfort.
Comments
Did you find our first impressions of Viking Expedition Cruises helpful? Would you enjoy cruising on an expedition vessel? Drop us an anchor below to share your Viking cruise reviews.