Disney Wish, Disney Cruise Line's 5th ship, has just debuted. This 144K gross ton ship is the cruise line's first new ship in over a decade and now the largest in the fleet. With that comes many new dining concepts, onboard amenities, and one-of-a-kind features that kids and adults alike will enjoy. If you are an adult who loves cruising and Disney, like us, you will love Disney Wish. Having just returned from a sailing on this brand new cruise ship, we share our picks for the top activities for adults on Disney Wish.
Top Activities for Adults on Disney Wish
Make the Jump to Hyperspace
For all the Star Wars fans out there, you won't want to miss the Star Wars: Hyperspace Lounge. Located on the portside of deck 3 on the new Disney Wish, this venue is styled after a luxurious starcruiser.
During a visit to this bar, guests embark on a space-jumping tour of the Star Wars galaxy. While sipping galactically inspired cocktails from the menu, you will be transported to iconic locations from the films.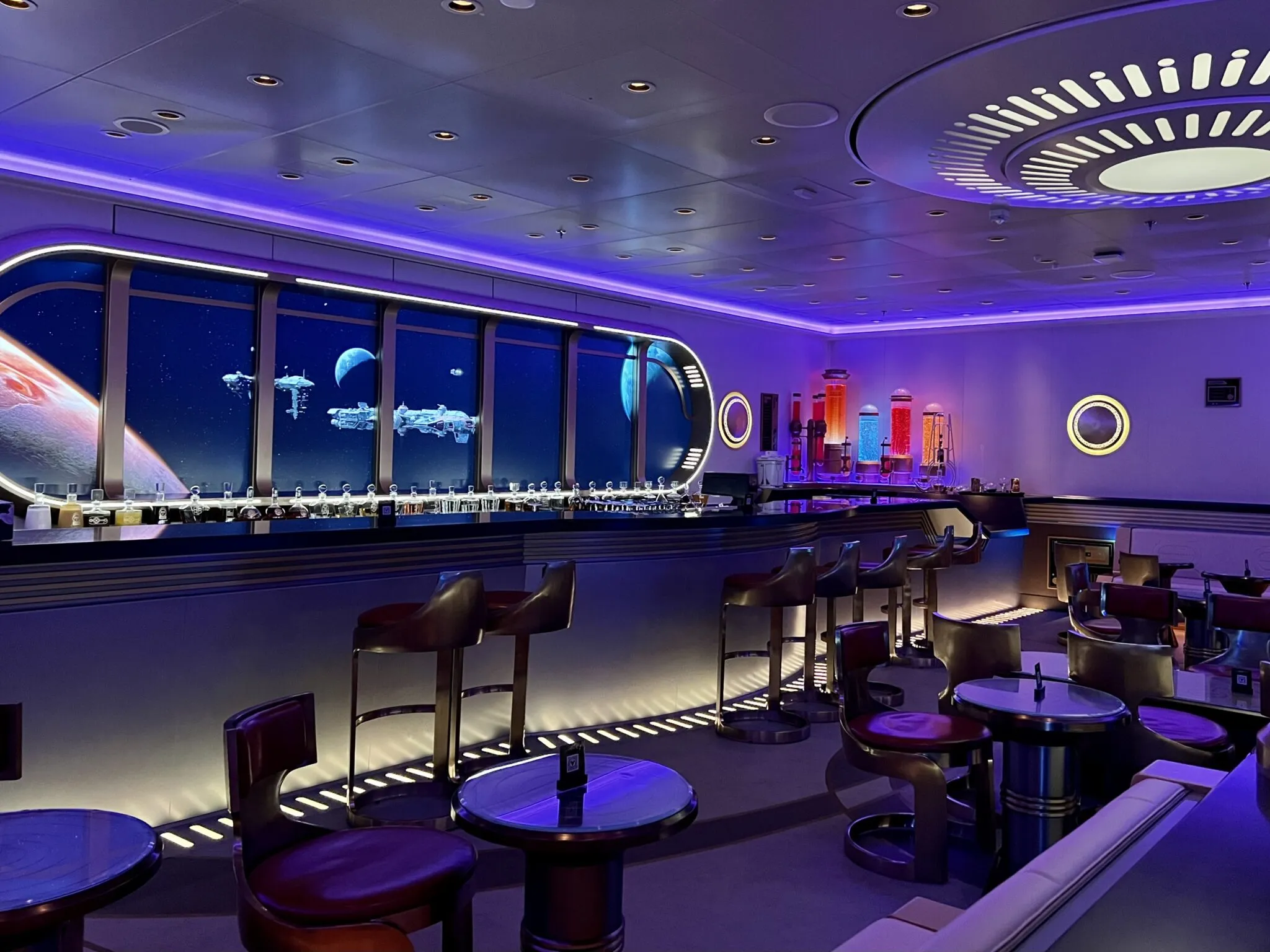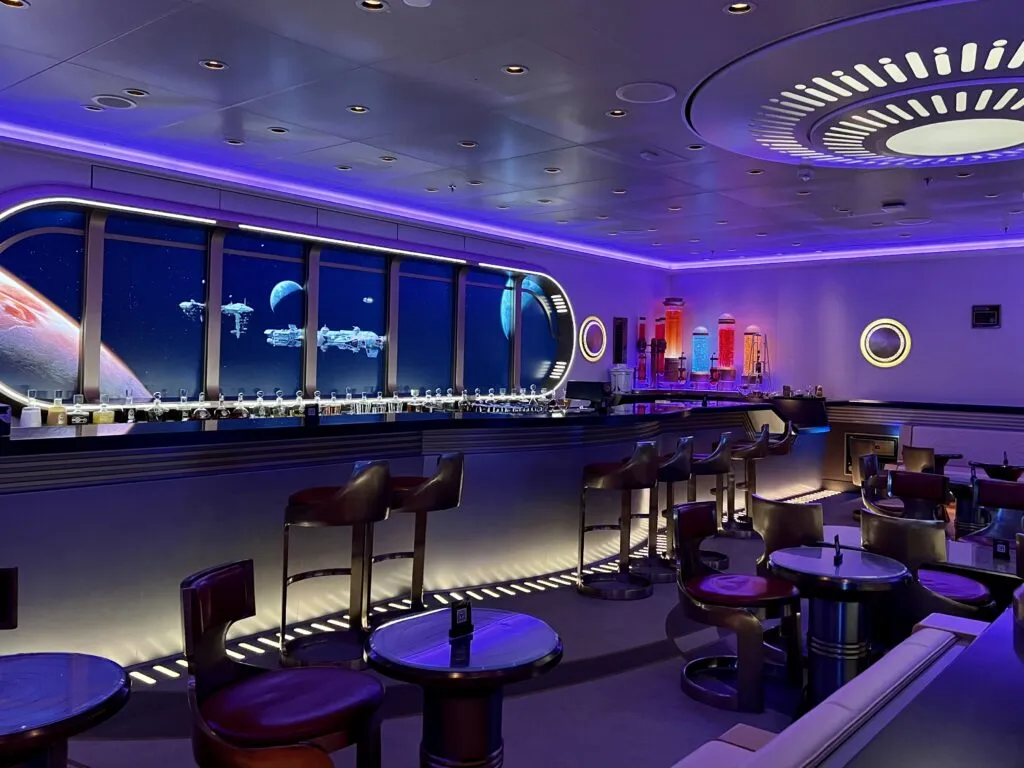 The theming, digital imagery, and the drinks of course, are certainly worth a visit. The best part is that the Star Wars: Hyperspace Lounge is reserved exclusively for adults in the evenings. As the venue is small, reservations are currently required, which can be made once onboard the ship.
Yes, there is a $5000 drink on the menu if you want to live large! However, the rest of the drinks are reasonably priced.
Retreat to the Quiet Cove
Aft on deck 13, you will find the Quiet Cove. This adult-only space is a tranquil retreat away from all the hustle and bustle of the other pool areas on Disney Wish.
The Quiet Cove features an 18+ sundeck, a whirlpool, and the wonderful infinity Quiet Cove pool. There is also a poolside bar and café. This area is ideal for adult lounging, sipping, and soaking.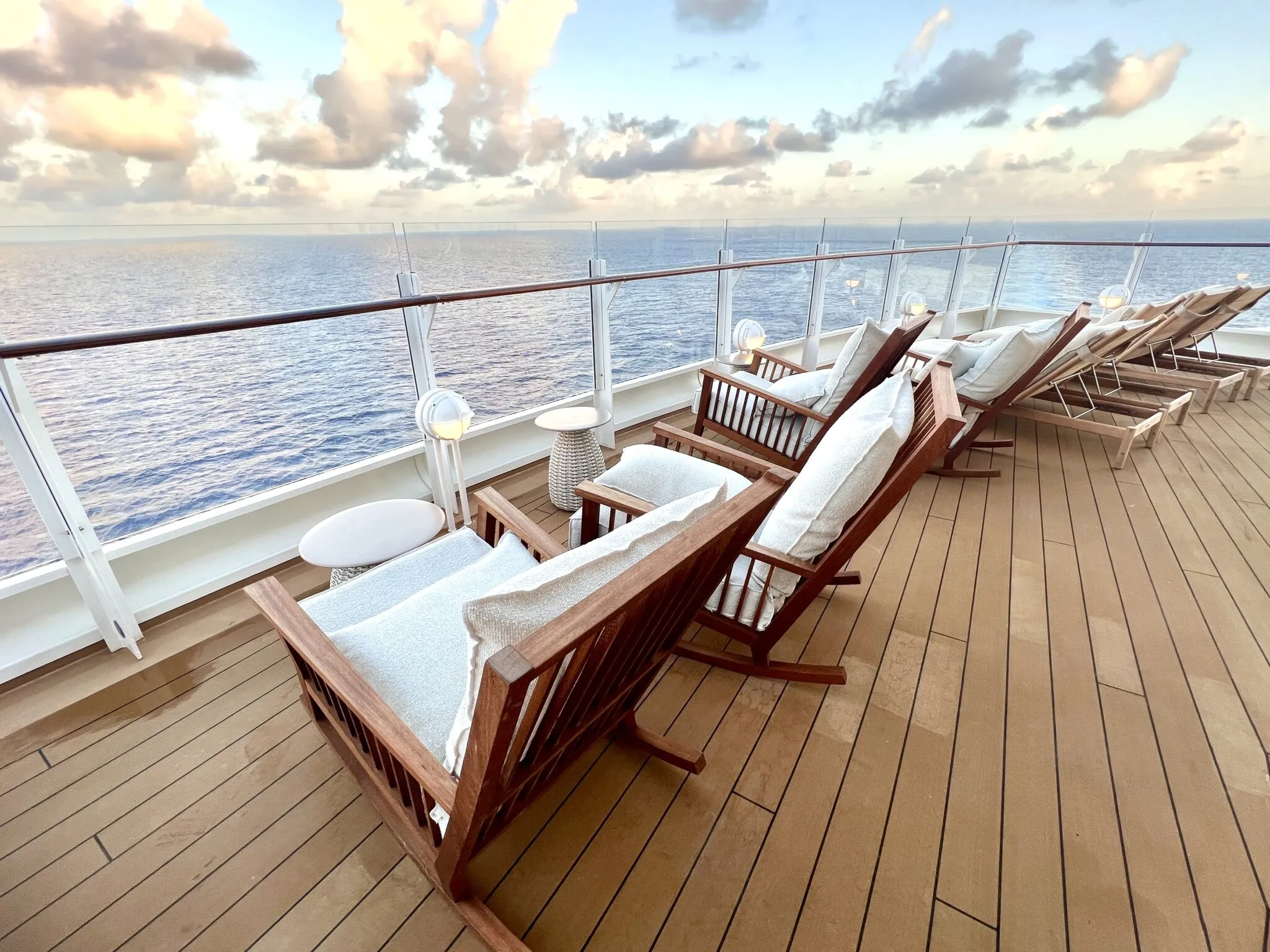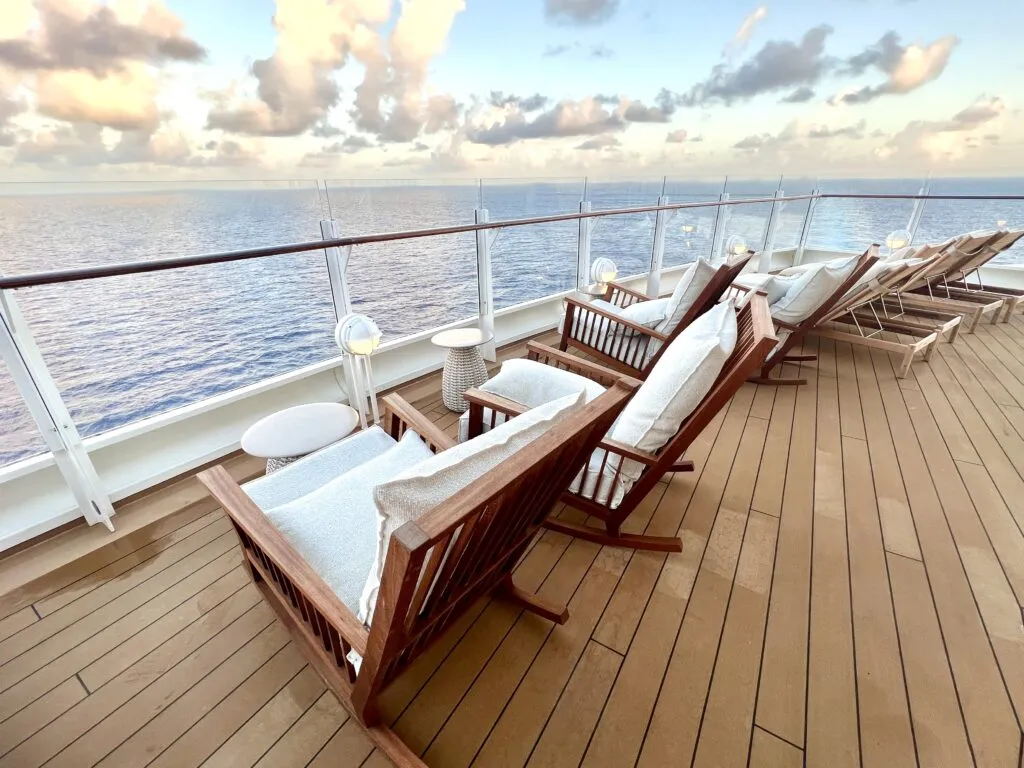 Even if you are cruising with the kids, you can still enjoy some much-needed "me time" while the kids hangout in the Oceaneer Club.
The indoor Cove Café serves gourmet coffees, teas, and specialty drinks throughout the day, making it the perfect space to escape the heat for a few. Whereas, the Cove Bar is an open-air watering hole serving beer, wine, and cocktails while you are lounging poolside.
EXCLUSIVE SAVINGS: Get Deals on Disney Wish Cruises!
Rejuvenate in the Senses Spa
All the way forward on deck 5 of the ship, you will find the Senses Spa. Rejuvenating at the spa is definitely one of the best activities for adults on Disney Wish.
This spa offers all your typical treatments like massages and facials. There are a number of individual treatment rooms as well as a couple's treatment room. There are also tranquil indoor and outdoor relaxation areas with plush loungers and swings and the Rainforest Room thermal suite.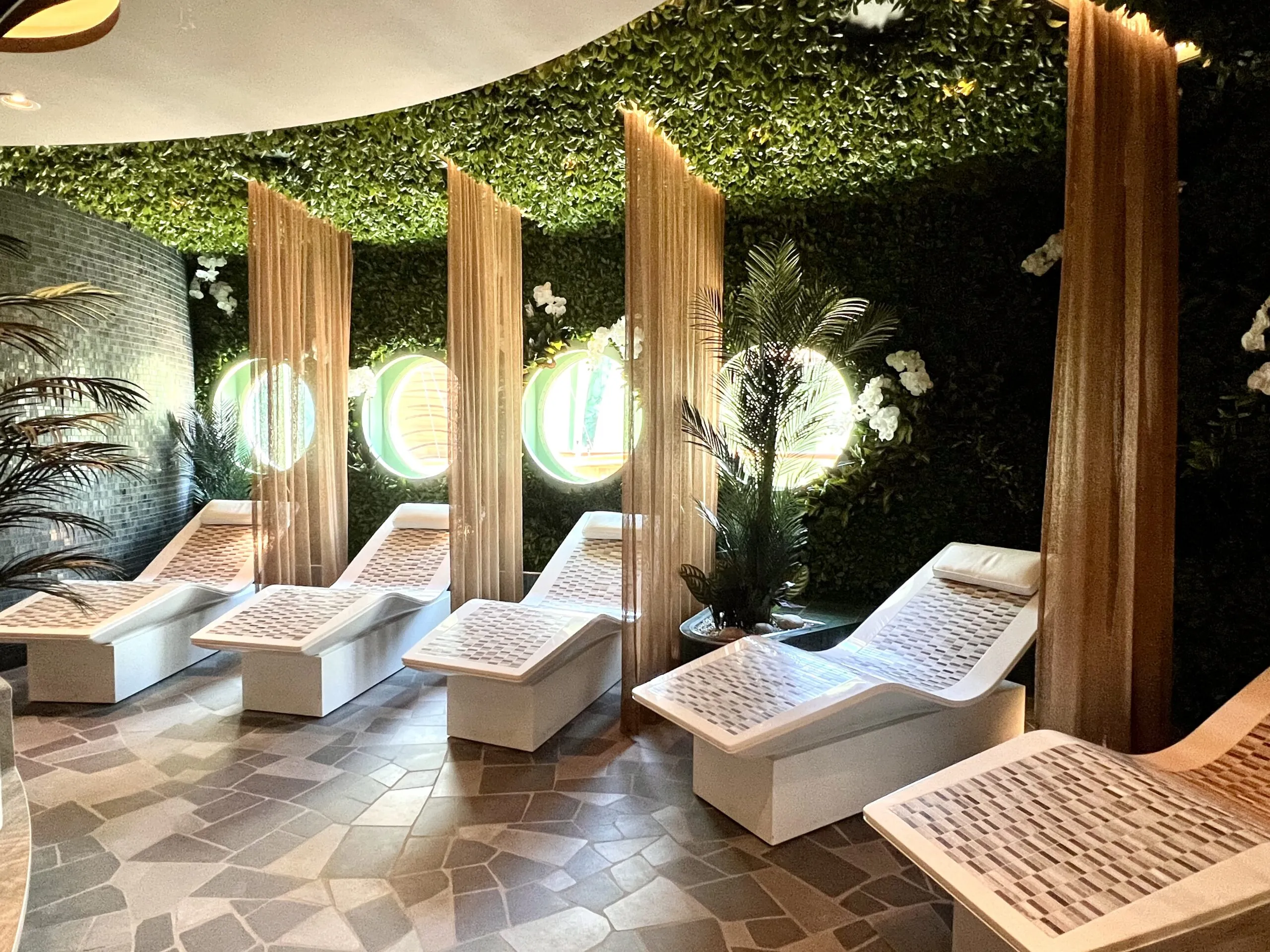 The Rainforest area features a sauna, steam room, cold room, and rainforest showers with day passes and cruise length passes available for a fee.
Unique to Disney Wish is the outdoor spa area at the bow of the ship. This quiet space is the perfect location for some relaxation during your cruise.
Sip Specialty Cocktails
The new Disney Wish offers several themed bars with specialty cocktail menus. Besides the Hyperspace Lounge, one of our favorite bars is The Bayou. Also located on deck 3, this venue is themed to The Princess and the Frog film. With magnolia blossoms, lily pads, and a canopy of twinkling fireflies, you can feel the New Orleans vibe.
This carries over into the bar's menu as well, with creative cocktails like a Hurricane, specialty coffees, and beignets. There's even some music to go along with your drinks.
In addition to the Bayou, adults can enjoy Nightingale's, Keg & Compass, The Rose, and many other bars throughout the ship.
Nightingale's is a Cinderella-themed piano bar serving wines and champagnes in an elegant setting. The Keg & Compass is a nautically themed pub with a selection of custom craft brews available exclusively on Disney Wish and an a la carte food menu. The Rose is an enchanting lounge to grab a pre-dinner drink from the specialty menu of craft cocktails.
Indulge in the Specialty Dining Options
Speaking of dinner, Disney Wish features two signature specialty restaurants that are reserved exclusively for adults. These venues do both have up-charges, and reservations are required. However, if you are looking for an upscale evening sans children, these two restaurants are the perfect spot.
Located on deck 12 aft is Palo Steakhouse. This restaurant is an evolution of the Palo restaurant found on other DCL ships. Now, Palo Steakhouse combines authentic Italian dining with a modern steakhouse. In a setting inspired by Cogsworth from the Beauty and the Beast film, guests can enjoy an elegant dinner with ocean views.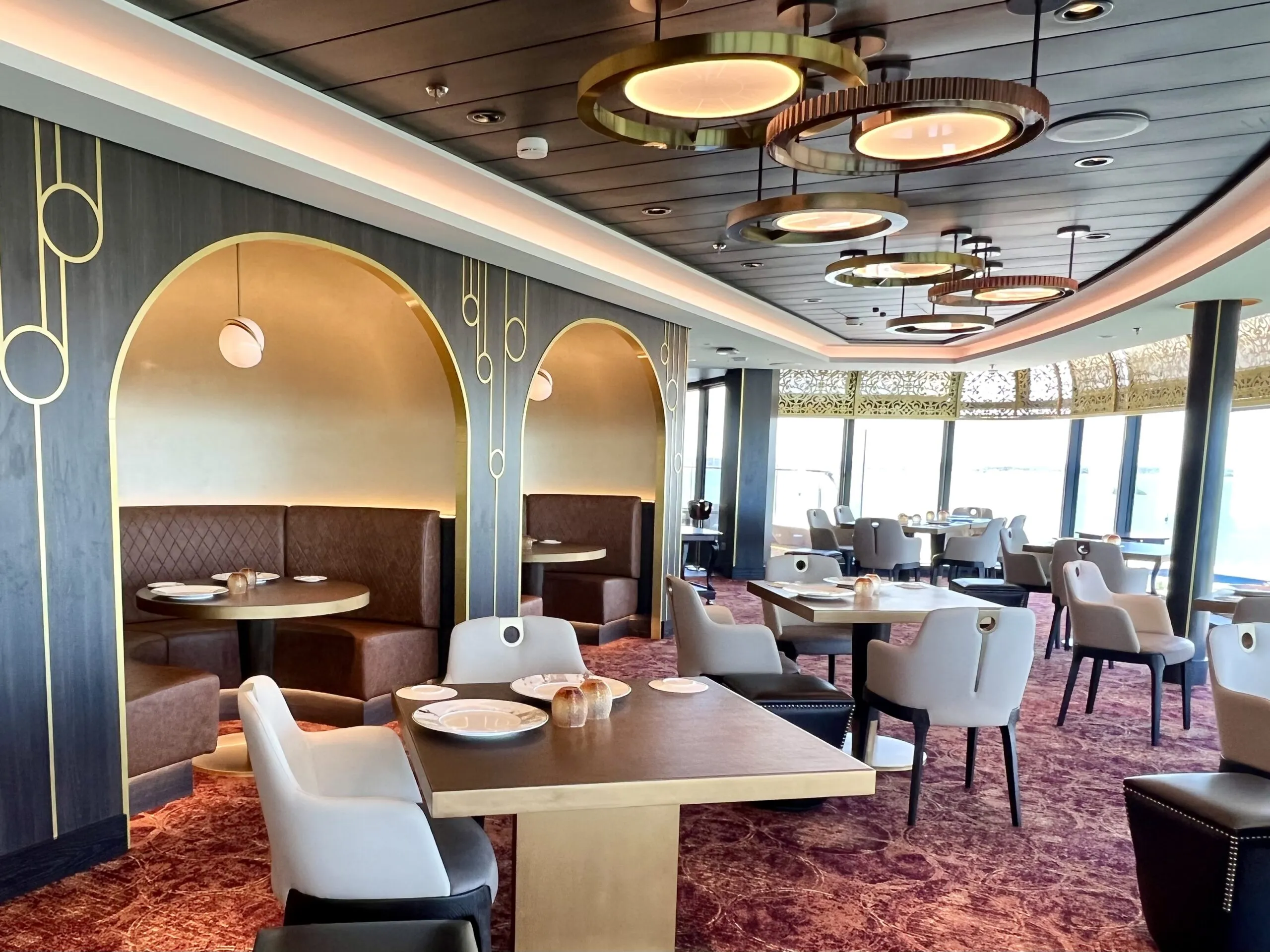 The menu features Italian classics alongside premium cuts of beef, and pairs perfectly with Italian wines.
The second specialty restaurant also located on deck 12 aft is Enchanté. This venue offers the most elegant dining experience on Disney Wish with a gourmet menu crafted by Michelin-starred Chef Arnaud Lallement. With décor inspired by Lumiere from Beauty and the Beast, this venue is romantic and intimate.
Enchanté serves a 6-course dinner which features expertly prepared dishes with seasonal ingredients from around the world.
If you don't want to spend the extra money for dining, adults on Disney Wish will certainly still enjoy the three complimentary venues, each with its own story to tell. These include 1923, Arendelle: A Frozen Dining Adventure, and World of Marvel. There's also the Marceline Market and the Mickey and Friends Festival of Foods offering plenty of worthy food options.
Enjoy the Signature Entertainment
Like any cruise ship, Disney Wish features a number of signature entertainment options and activities throughout the cruise. Just because it's Disney, it doesn't mean that you have to be a kid to enjoy this entertainment.
The Walt Disney Theatre features three high quality production shows that are fun for all ages. There is the embarkation day celebration, Disney Seas the Adventure, which is a revue show featuring your favorite Disney characters. There is also the brand new Broadway-style adaptation of The Little Mermaid with scenes, songs, and characters from the original film.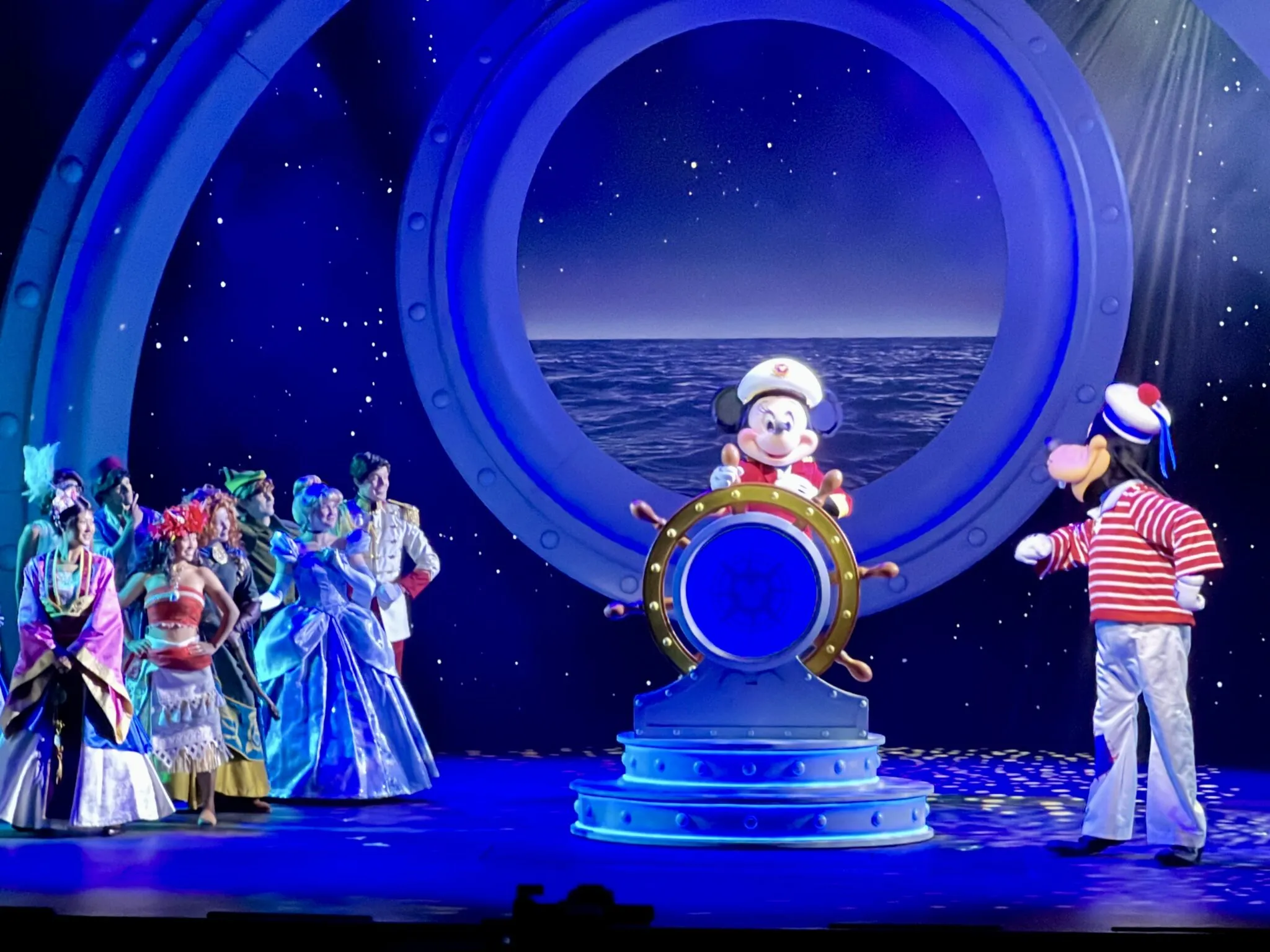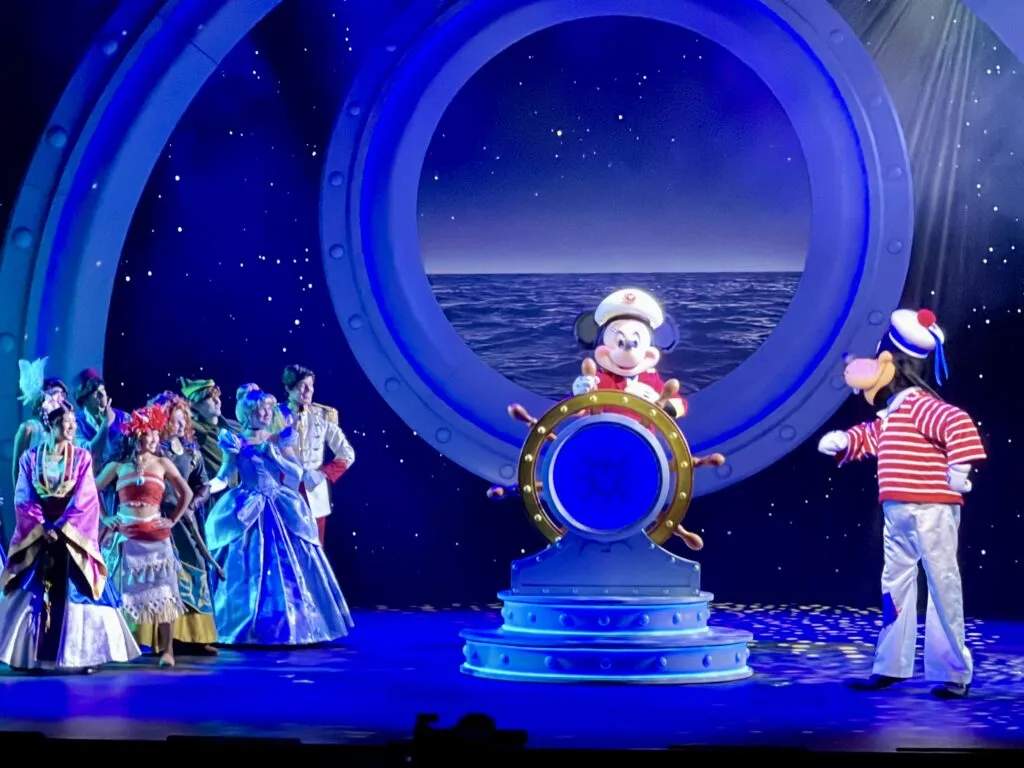 Finally, there is Disney's Aladdin-A Musical Spectacular. This musical comedy which is an adaptation of the guest-favorite show found across the DCL fleet is set to debut soon on Disney Wish.
There are also a number of other entertainment spots around the ship. Luna's transforms from a daytime setting for families into a venue for adult-exclusive entertainment in the evenings, complete with a bar. Luna's hosts a variety of events like Bingo, a Silent Disco, and adult game shows. There's also the Triton Lounge which hosts a variety of all-ages activities including trivia, game shows, and karaoke.
While arguably not for all adults, many might still enjoy the other signature attractions on the ship like the AquaMouse water ride, the Pirate Party with fireworks on the pool deck, the Hero Zone sports court, or the two cinemas.
Savor a Fancy Morning Coffee
Disney Wish has a few cafes onboard for all the adults to get their caffeine fix. You can savor a latte, macchiato, or cappuccino adorned with a special Disney touch at multiple venues around the ship.
Located on deck 4 midship, the Wishing Star Café features coffee, tea, and espresso-based drinks in a Pinocchio themed setting. The venue also serves cold brew cocktails, wines, pressed juices, and more throughout the day.
Located one deck above, the Enchanted Sword Café features a similar menu. Not to mention, adults can grab these handcrafted beverages at the Quiet Cove Cafe or at the cafe in the Marceline Market.
After all, you are going to need a lot of caffeine if you want to see and do everything on Disney Wish in just 3 (or 4) short days.
Go Shopping
What's a vacation without going home with some souvenirs? Disney Wish features several shops with various merchandise. If you love Disney, you will want to head to Mickey's Mainsail. This shop features all your favorite Disney gear and Disney Wish inaugural merchandise. From clothing, to Minnie ears, to ornaments, and other logo merchandise, you will find it all here.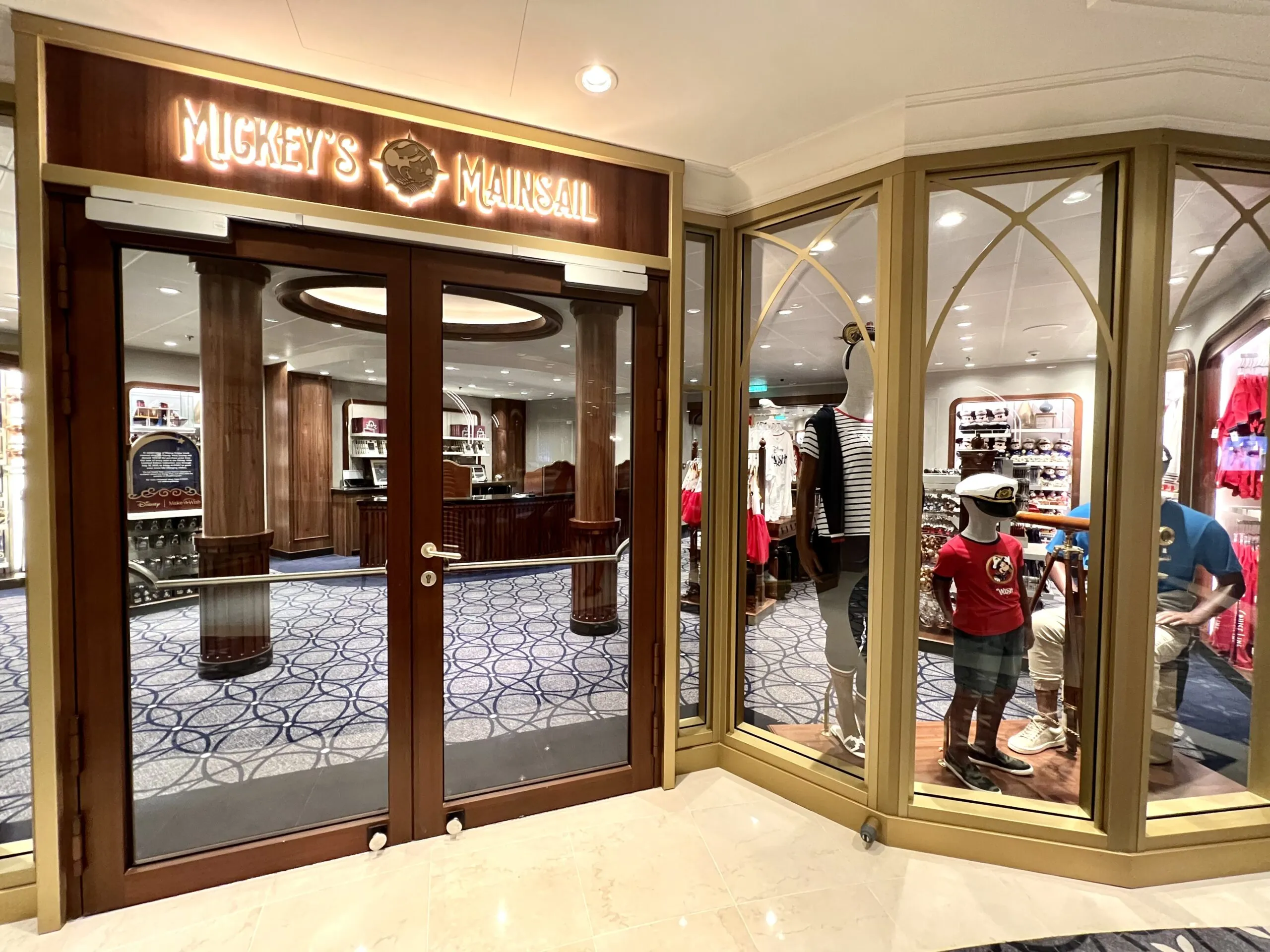 If you are looking for something a bit more upscale, you can check out the shops on deck 3. Here, you will find a variety of shops including Treasures Untold, 3 Wishes, Once Upon a Time, Royal Regalia, and Enchanted Castle Jewels. These stores sell everything from handbags to jewelry and watches.
Perhaps, the best purchase might be waiting for you at the Disney Vacation Planning desk! What better way to get over the post-cruise blues than by planning another Disney cruise.
Pamper Yourself at the Salon
If you are seeking a little pampering, a visit to the salon on deck 4 is another one of the best activities for adults on Disney Wish. Disney Wish offers the fleet's first standalone venues for hairstyling and beauty services.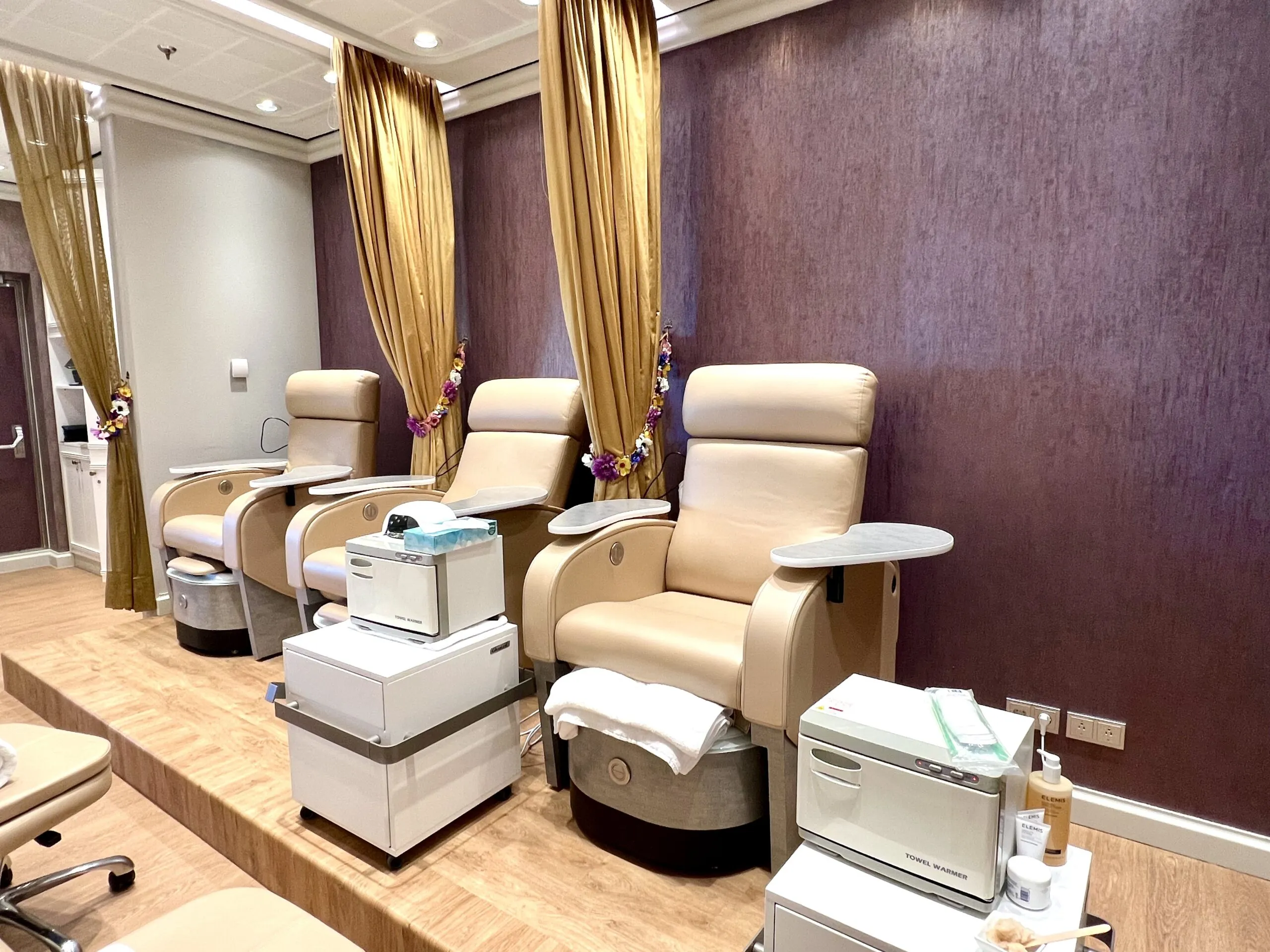 First, there is the Untangled Salon. Here, guests can enjoy a variety of beauty treatments in a Disney's Rapunzel themed setting. Across the way is the Hook's Barbery where men can indulge in their own pampering in a setting reminiscent of Captain Hook. This venue actually even includes a whiskey bar for the gents, serving up custom old fashioned cocktails.
BOOK NOW: Exclusive Rates on Disney Wish Cruises!
Feel Like a Kid Again With All the Disney Magic
Sometimes you just can't help feel like a kid again when you are surrounded by all the Disney magic. All it takes is faith, trust, and a little bit of pixie dust. From being greeted by Captain Minnie to being enchanted in the Grand Hall, it's all the little touches that make a Disney cruise fun for everyone.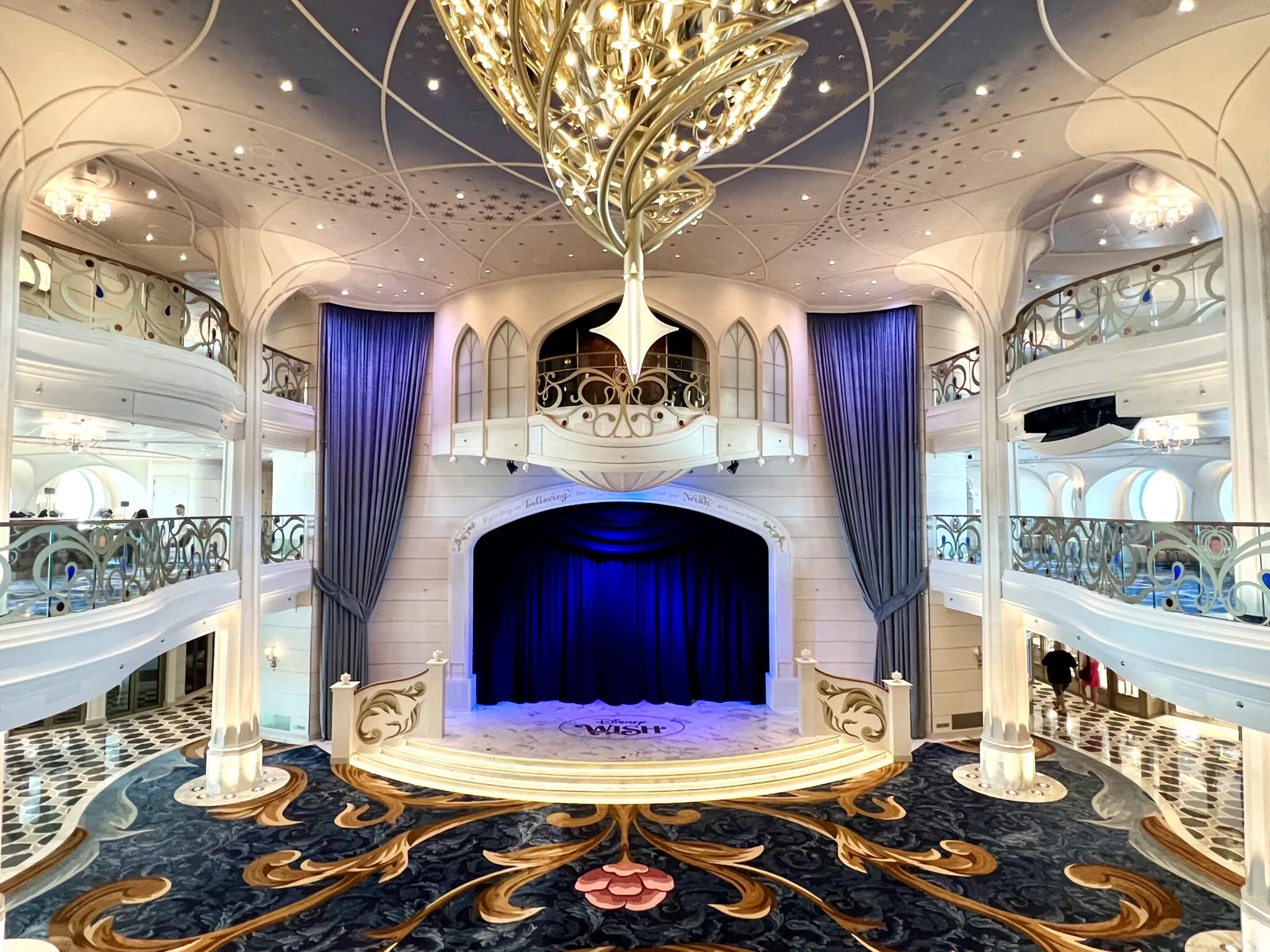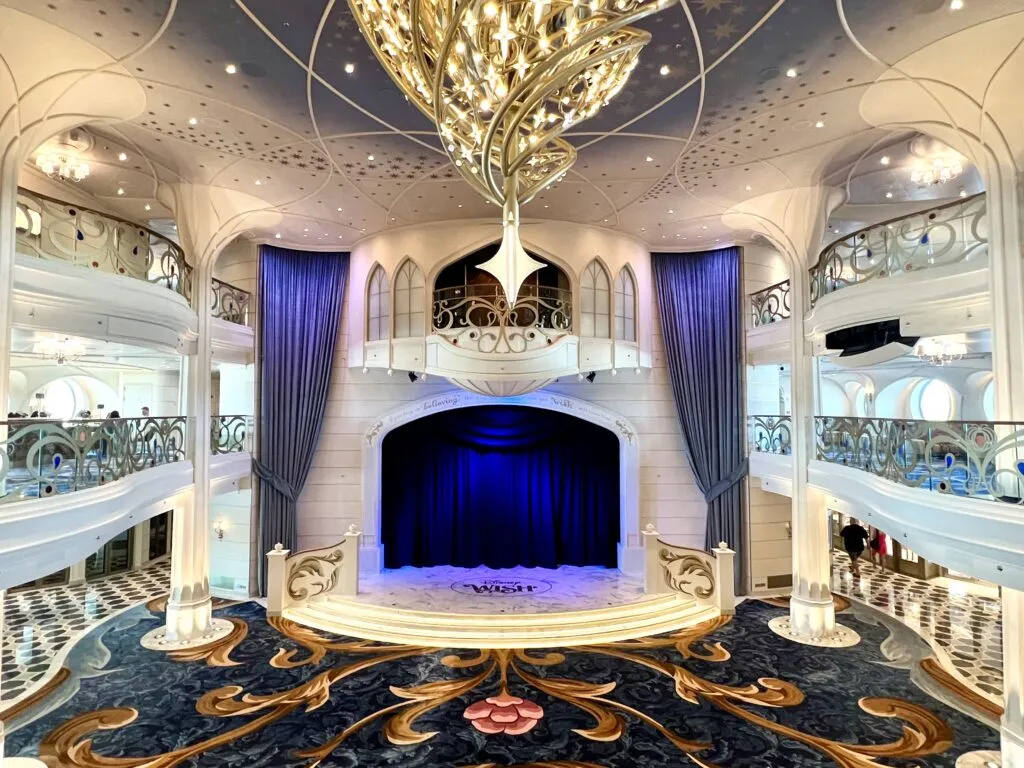 The Grand Hall certainly made me feel like a Princess in her castle. This 3-story fairytale-inspired space features a grand staircase, a starry chandelier, and a life-sized Cinderella statue. This area evolves from a gathering space to a theater through the use of special effects and the first atrium stage on a Disney ship.
Culminating with a special kiss goodnight light show at the stroke of midnight, we couldn't help but fall in love with this new ship. Yes, adults without kids can still have a good time on Disney Cruise Line!
Comments
Do you agree with our list of the best activities for adults on Disney Wish? What do you love about this new cruise ship? Drop us an anchor below to share your experiences sailing with Disney Cruise Line.