Although fewer venues than the typical mega-ships that we enjoy, Majesty of the Seas does have a few bars and lounges to indulge in some adult beverages during its 3 and 4 day Bahamas cruises. Follow along with our "drink around the ship" adventures in this Royal Caribbean Majesty of the Seas Bar Guide complete with menus and photos. Cheers!

Royal Caribbean Majesty of the Seas Bar Guide
The Standard Bar Menu
Majesty of the Seas offers a "standard menu" with drinks that are available at most restaurants and bars. You might need to track down a copy of this menu as it is hard to come by at the often busy bars. Of course, we were able to snag a copy of the menu to share with you. This drink menu which is available fleet wide is now organized by different spirits.
Drink Menu: Vodka Drinks | Rum Drinks | Gin Drinks | Tequila Drinks | Scotch and Whiskey Drinks | Cognac and Liqueurs | Wines | Beers | Non-Alcoholic Beverages
Deck 5
Schooner Bar
The Schooner Bar is Royal Caribbean's nautically themed bar that is a staple on most ships. Located port side in the middle of Majesty of the Seas, the venue is home to various activities including trivia during the day as well as live piano or guitar music at night. It's also conveniently located near the theater. This makes the bar a perfect spot to grab a drink before or after the nightly show.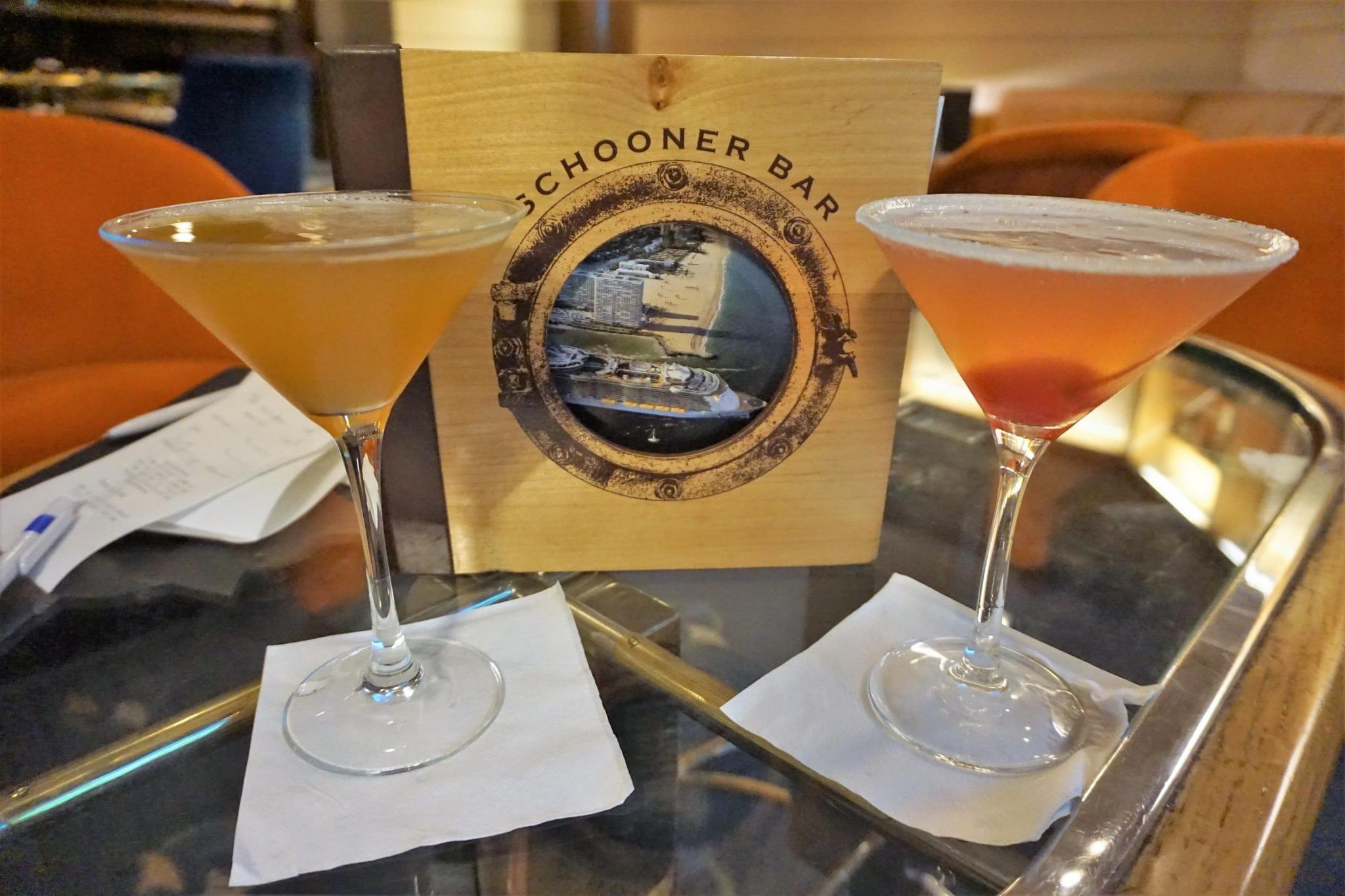 The Schooner Bar on Majesty of the Seas is one of few bars that has its own specialty cocktail menu, offering classic and timeless cocktails like my favorite, the sidecar, and the Princess' new found favorite, the lavender daiquiri.  All cocktails at this bar are included in the Ultimate Beverage Package.
Menu: Page 1 | Page 2 | Page 3 | Page 4
Casino Royale
The Casino is also located nearby on Deck 5, right next to the Schooner Bar. You might want to grab a drink or two at the bar here while you gamble the night away…or drown your sorrows. This venue offers a fully stocked bar to serve up your cocktail of choice from the Standard Menu.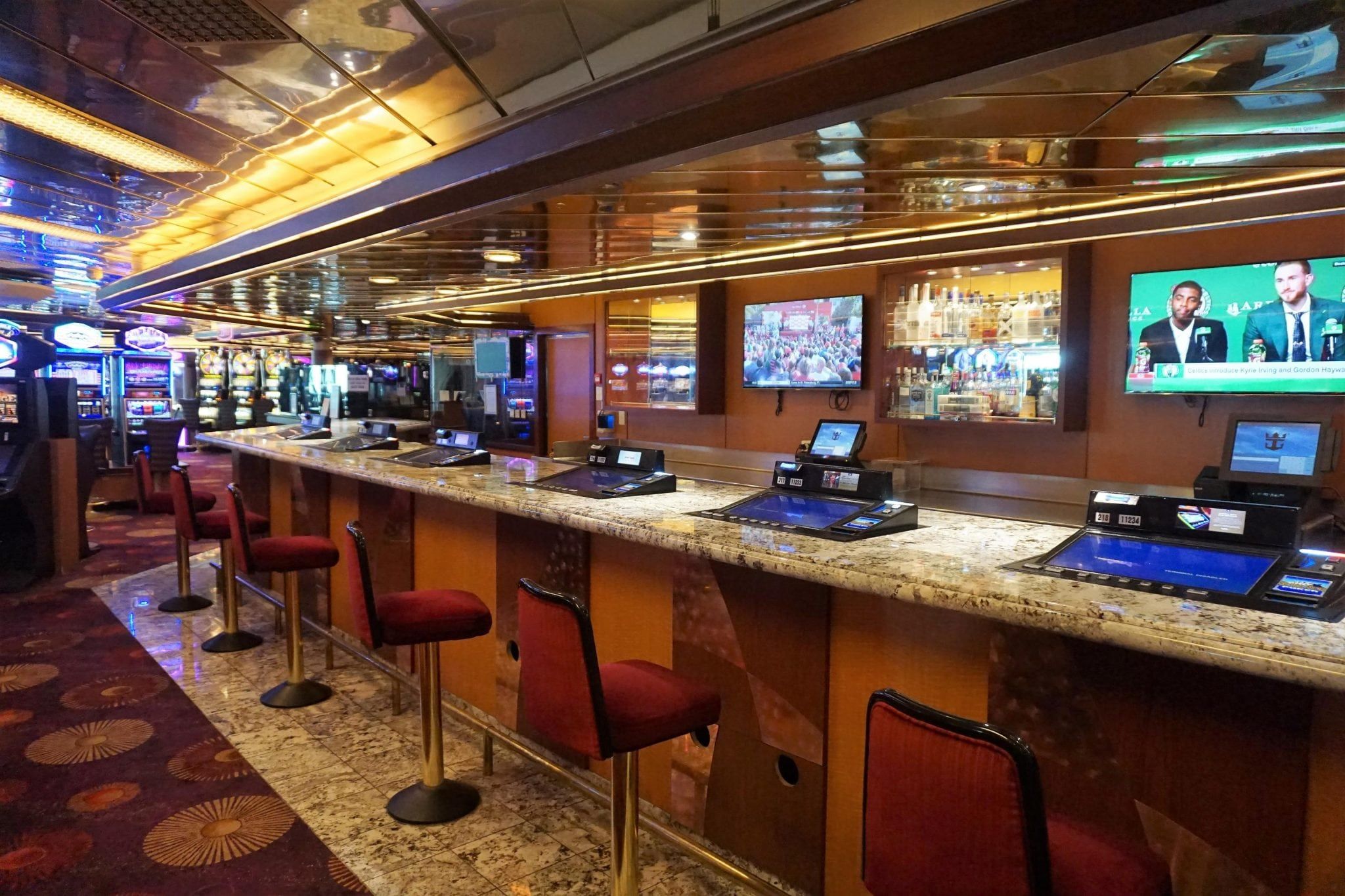 A Chorus Line Lounge
The main theater on Majesty of the Seas is named the Chorus Line Lounge. Technically spanning multiple decks, this unique theater set-up is only accessible from Deck 5. Here, there is a service bar and plenty of bar staff circulating the venue to grab your evening drink of choice. These shows always seem better with a drink in hand. Bottoms up!
Deck 7
Boleros
Boleros Latin lounge is found on many Royal Caribbean ships. Located in the center of the ship, you will need to pass through this venue when traveling from the back to the front of the ship. At night, the venue is home to several events. The karaoke, game shows, and live music will tempt you to stop in and grab a drink.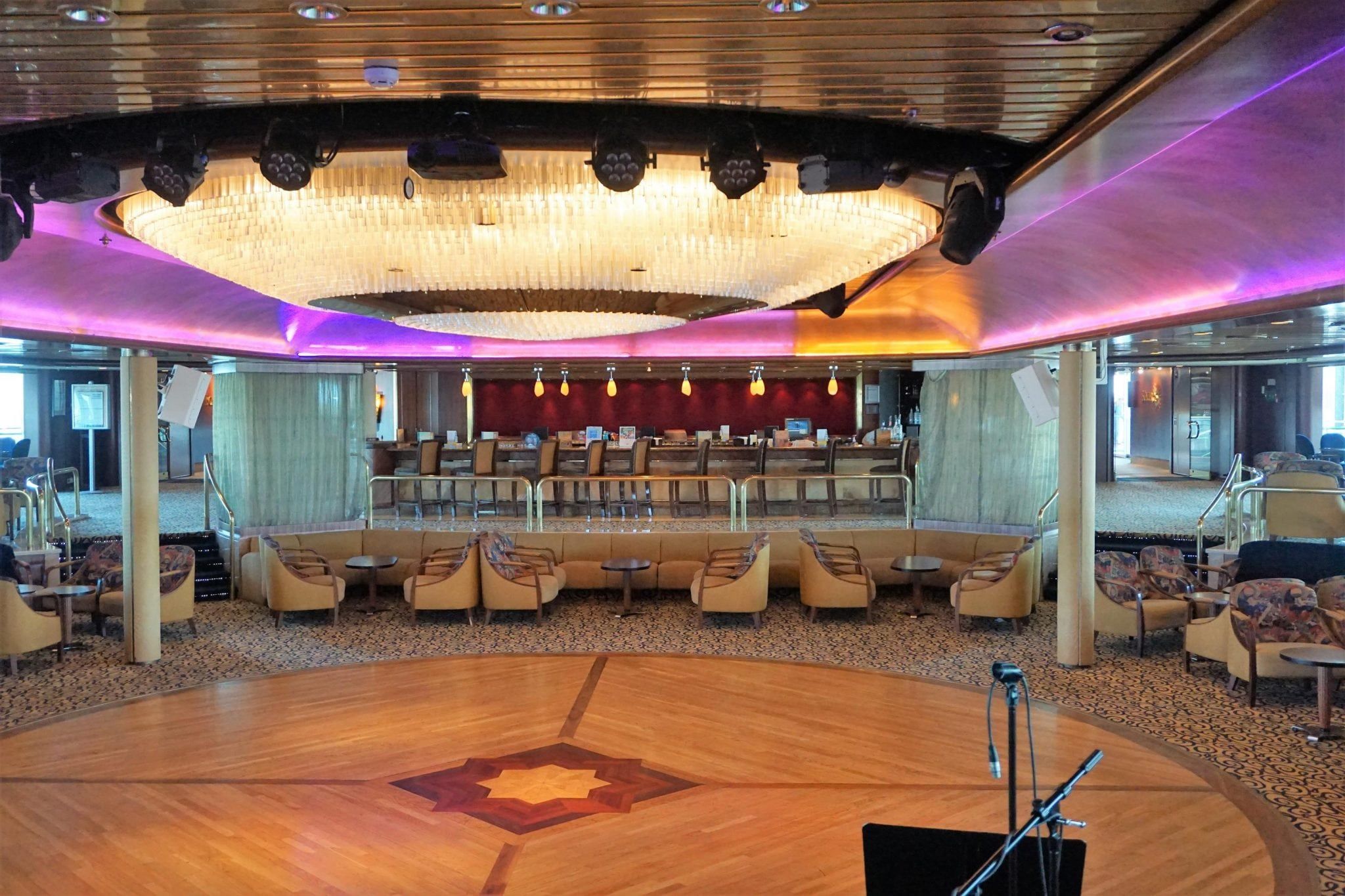 The current menu on Majesty of the Seas is different than the Boleros menu we have witnessed on other ships. The Princess and I decided to try something new. I went with the South Beach Iced Tea while she went with the Colada Martini.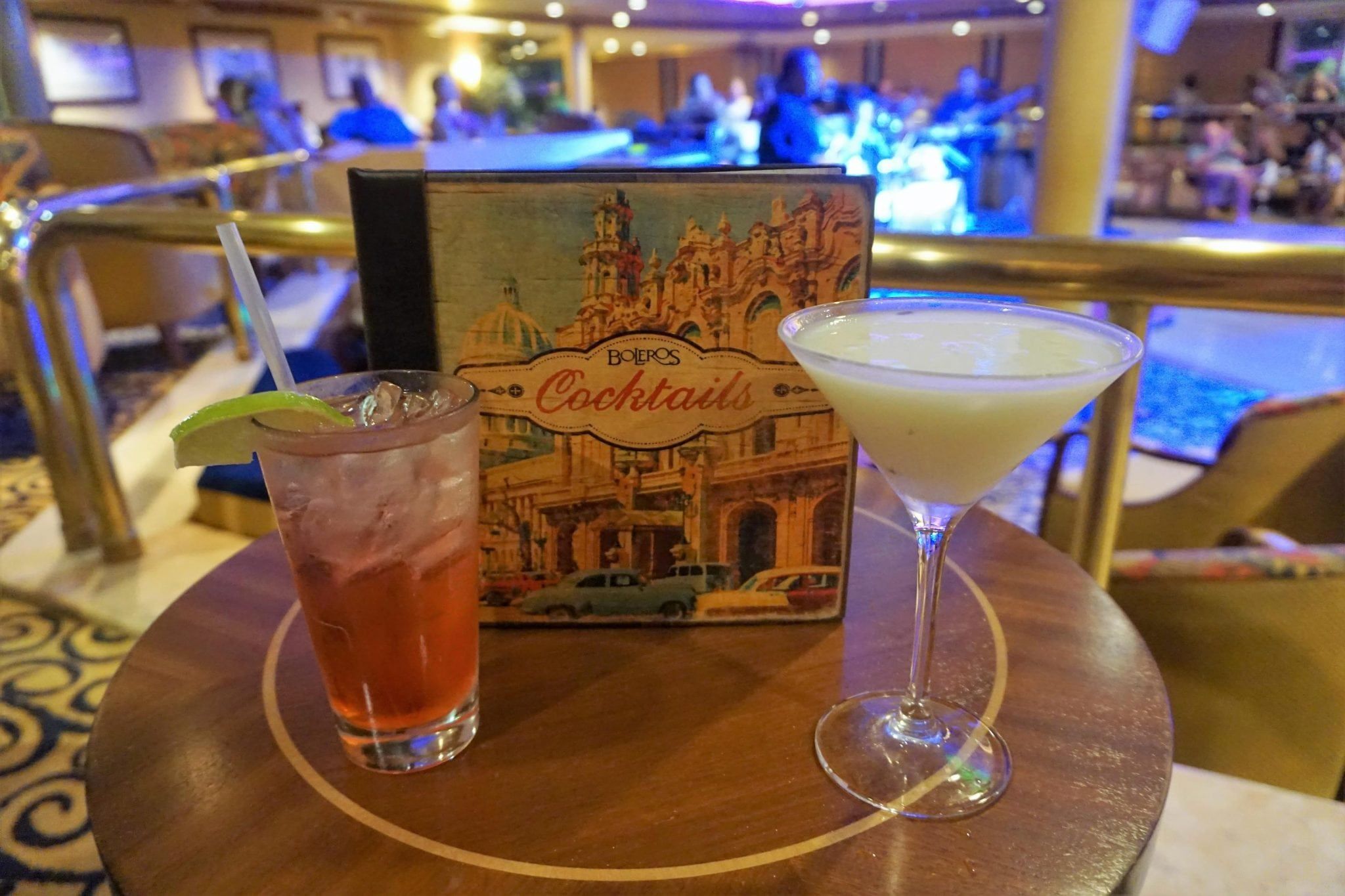 Menu: Page 1 | Page 2 | Page 3 | Page 4
Deck 8
Spectrum Lounge

Spectrum Lounge is located aft on deck 8 and hosts only a few events, most specifically the Quest game show. Offering up a standard menu of drinks, be sure to grab a cocktail or two while enjoying the various entertainment. It doesn't hurt when your stateroom is located on the same floor either! We just wish the bar was open a bit more during the cruise, as the venue itself seemed under utilized.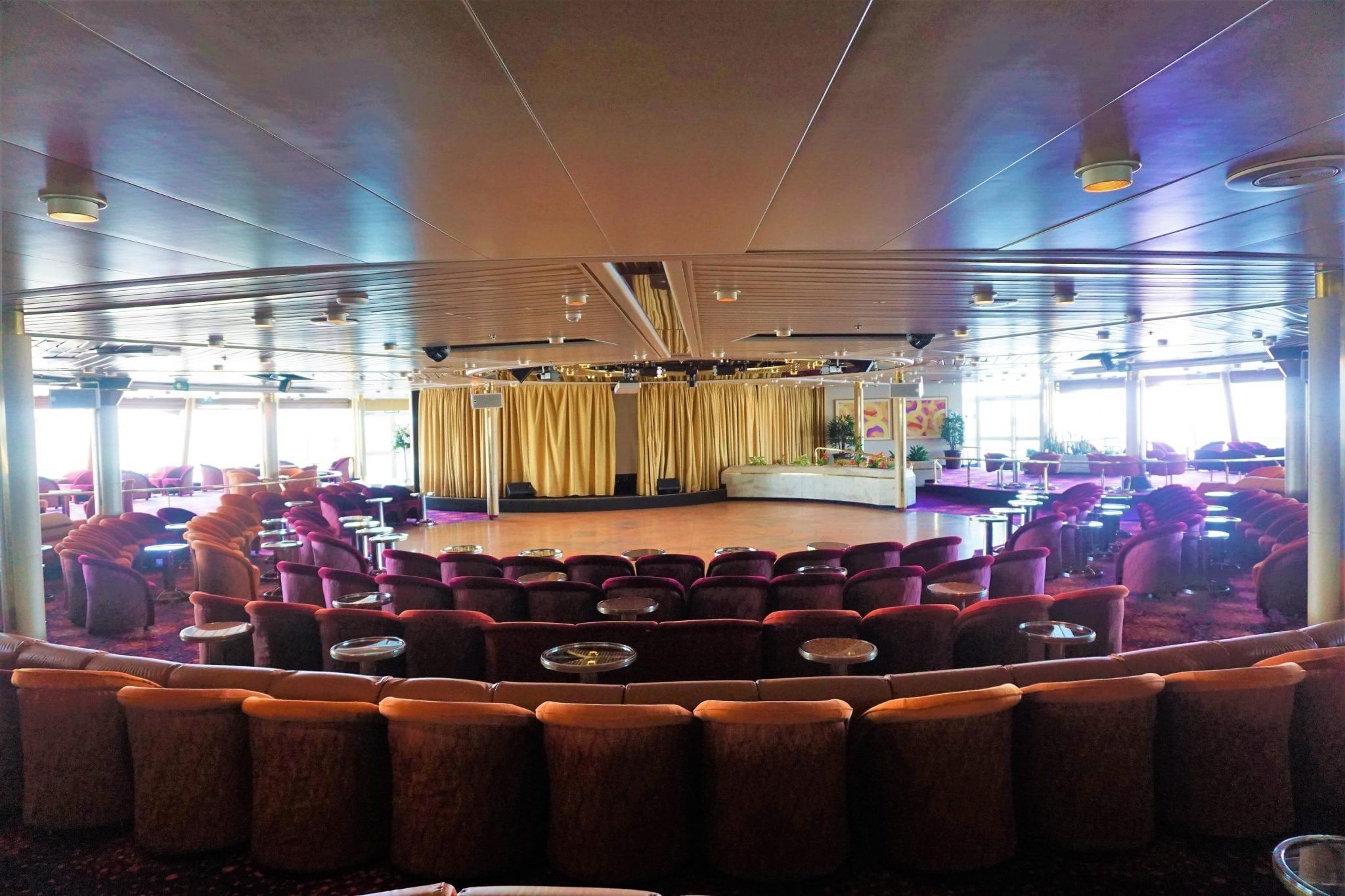 Deck 11
Pool Bar
There are technically two "Pool Bars" located on deck 11, found on each side of the outdoor deck and pool. So, no matter where you are located on this main area, you are not far from a cool beverage. Whether you are lounging by the pool or just enjoying an afternoon in the sun, this is the perfect spot to indulge in your favorite frozen cocktail.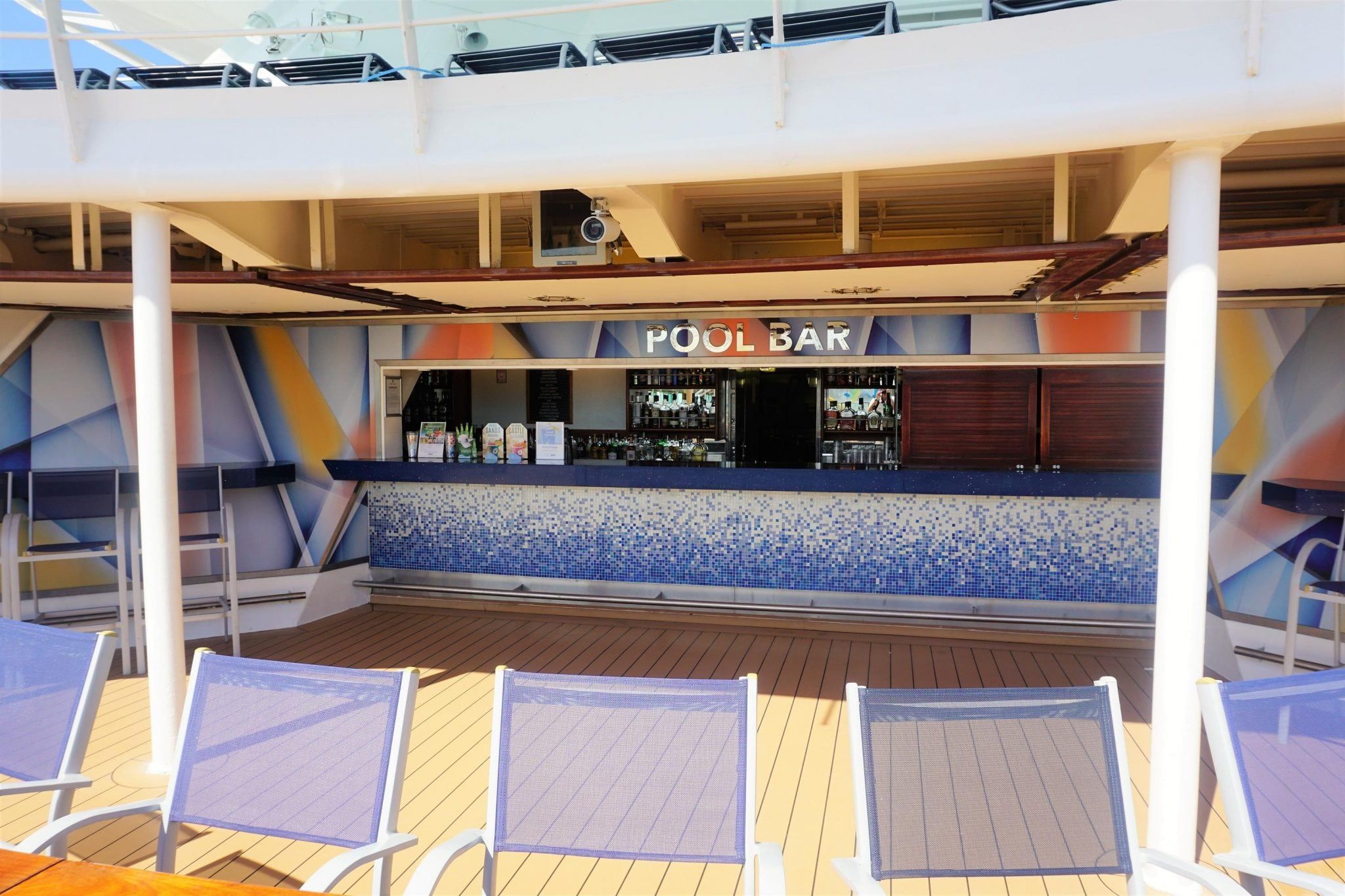 Pina Coladas and Miami Vices are always our favorite poolside drinks, but there are plenty of other great options as well. How many of them will you try during your short getaway on Majesty of the Seas?

Deck 12
Sky Bar
The Sky Bar is located on Deck 12 above the Pool Bar. While still busy, the lines here can be a bit more manageable. So, whether you are relaxing on this open air deck or not, grabbing a drink here might be easier than the Deck 11 bars. Either way, you'll have to order some drinks from each of the outdoor venues if you want to complete your own drink around the ship. After all, you do have 3 (or 4) days on the ship.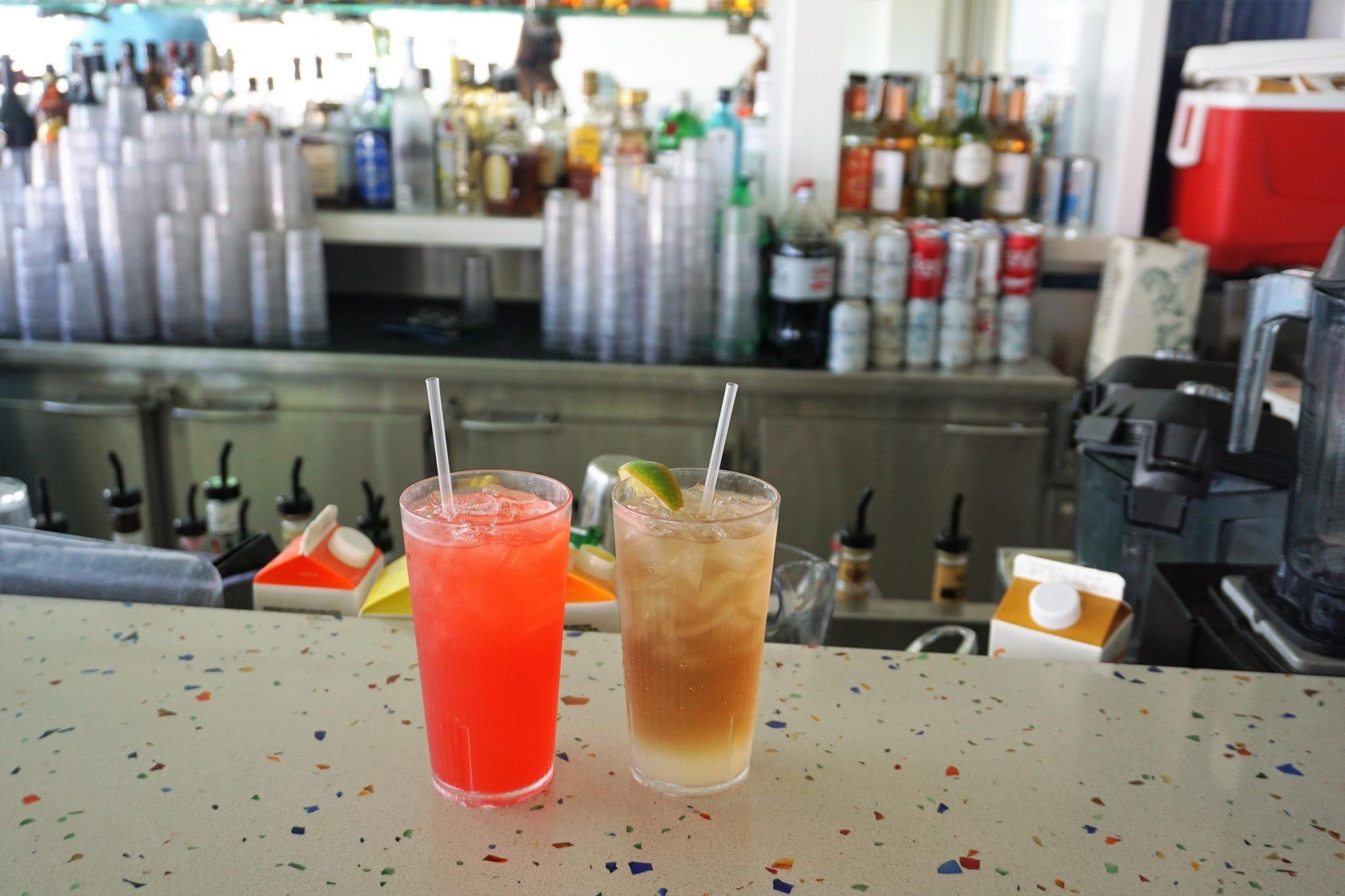 Deck 14
Viking Crown Lounge
The Viking Crown Lounge is a cruiser favorite on many Royal Caribbean ships (excluding Oasis-class and Quantum-class). This top deck lounge offers panoramic views day and night. You can find a quiet corner here during the day to read a book or check your email or enjoy an evening cocktail under the stars.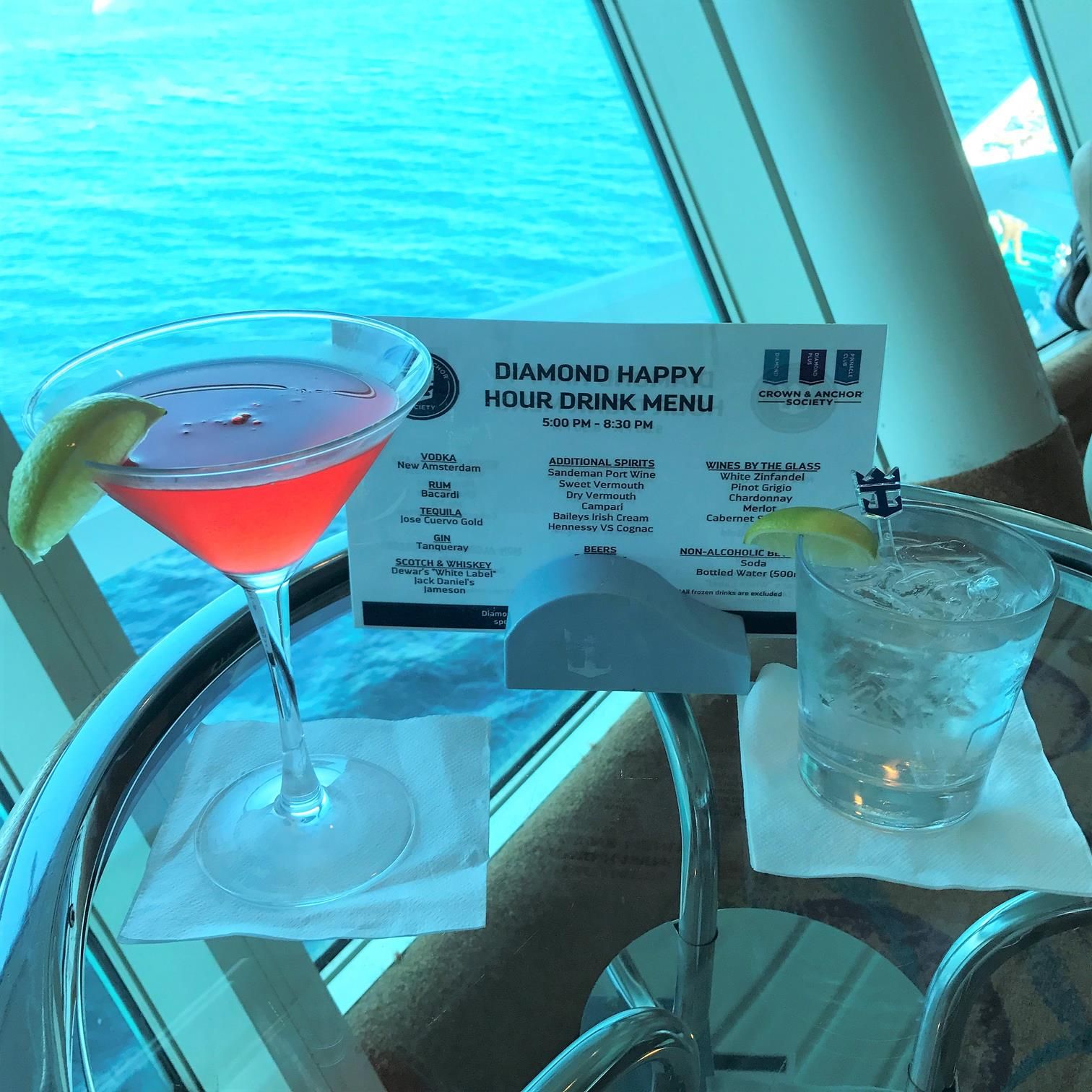 The Viking Crown Lounge also serves as the Diamond Lounge in the evening for Crown and Anchor members. Mingle with fellow loyal Royal cruisers and enjoy your free drinks here from 5-8:30pm every evening.
Menu: Diamond Lounge
Comments
Have you sailed on Majesty of the Seas? Do you enjoy your own pub crawl when cruising? Drop us an anchor below to tell us your favorite bars and cruise drinks on Majesty of the Seas.