Majesty of the Seas Cruise Review
09/01/17 – 09/03/17
Summary
The Ship
While one of the smallest ships in Royal Caribbean's fleet, Majesty of the Seas still delivers a solid cruise experience. What she might lack in onboard amenities, she makes up for in personal touches and excellent execution. Still, you can find a few features on the ship that remind you of the larger vessels in the fleet, like a rock climbing wall and the Viking Crown Lounge. There is also a Johnny Rockets and the traditional dining experience that we have come to appreciate on all Royal Caribbean ships. Being 25 years old, the ship does show some signs of wear though. Hopefully, the ship will get some much needed TLC and updates during its upcoming dry dock.
Majesty of the Seas Pool Deck
Itinerary
We booked this short three day cruise for a quick getaway. With no official "sea days", the two stops included Nassau, Bahamas and the private island of CocoCay, Bahamas. This is a pretty traditional three-day lineup found on a few other Royal Caribbean ships as well. If you are concerned about being bored on the ship, you will have plenty of time ashore on this cruise. Actually, we prefer the exact opposite and decided to stay on the ship in Nassau. We were not alone either, as there were quite a few other cruisers who joined us on the pool deck.
Itinerary for our Majesty of the Seas Cruise Review
Our stop at CocoCay was a different matter. It had been a few years since our last stop, and the island has received some recent upgrades. Plus, we scored a great deal on a Beach Bungalow on the new South Beach area. With no excursions in Nassau, and a 20% off discount, we could justify the cost for spoiling ourselves during our stop in CocoCay. As luck would have it, we had an enjoyable beach day with great service and plenty of sun.
Highlight
Serenity! Spending the day over-looking the sea from a beach bungalow is not a bad deal. In fact, we couldn't think of a better beach day than enjoying this secluded private area of South Beach. It is a bit of a trek from the tender pier, but there are trams that will drive you directly to the beach if desired. We opted to catch the very first tender to the island so we could walk along the updated area and snap some pictures along the way. If you can make it, we highly recommend this peaceful walk instead of the tram.
South Beach Bungalows
Once at the bungalow, you are free to enjoy the amenities including a catered lunch, a private bar, and some fabulous views. If you book ahead of time, make sure to stop by the shore excursions desk early on embarkation to secure your optimal bungalow location. The beach beds offer similar accommodations and are located a bit further down the beach. For those looking to upgrade their experiences on CocoCay, we highly recommend investigating these different options. They will leave you feeling relaxed and rejuvenated.
What's Missing
Sailing on smaller ships from other cruise lines, and larger vessels across the brands, we have become accustomed to a few things. One of them is dining options. While the food and service in the main dining room were great, Majesty of the Seas has no specialty dining options. There is a Chef's Table, but given the Princess' picky palette and price tag, we did not consider that option. Johnny Rockets was a nice lunch stop but other options were limited.
Main Takeaway
Overall, Majesty of the Seas provided a fine escape for a few days. The ship held its own in many respects when compared to the bigger, newer vessels in the fleet. The food and service in the main dining room were standout. The cruise director, Ricky Mathews, and the cruise activities staff were outstanding. They kept events lively and were able to react to the crowd, with jokes that often included cruisers enjoying their drink packages. Ricky in particular was a funny and energetic personality making him the perfect cruise director for the sailing.
Cruise Director Ricky Matthews
Given that it was a three day cruise, the crowd tended to be a bit younger, and there were plenty of cruisers looking to make full use of all three days. For those who are loyal to Royal, Majesty of the Seas is a fine option for a brief little escape. For those new to cruising, or to the cruise line, you might be better served by another ship that is a bit newer with more amenities.
Continue Reading Our Day-by-Day Majesty of the Seas Cruise Review
Majesty of the Seas Cruise Review
Day 1
Getting to the Pier
This was not a traditional start to our cruise vacation, by ending another vacation. Spending 6 days in Walt Disney World, we went non-stop to fit in all of the attractions in the four theme parks. This meant that we were technically in Florida for a "pre-cruise" stay, but we were extremely exhausted by the end of our time at WDW.
Officially our final cruise of the year (for now), we had originally booked this three day cruise as a quick escape for our anniversary using our credit card reward points. Getting the cruise for free, and a great deal on airfare, I was able to convince the Princess to lengthen the trip by adding the several days in Disney to the front end of this Labor Day weekend cruise.
Animal Kingdom Selfie
When embarkation day finally rolled around, the alarm jolted us out of a dead sleep around 7:00am. We mustered up the energy to get ready, and we were all packed up, checked out, and in an Uber by 9:15am. Lugging two full suitcases (mostly full of dirty clothes at this point), we were bound for the Port Canaveral cruise terminal. What should have been about an hour drive turned into a 75 minute trek. This was mainly due to a language barrier and incorrect GPS directions as we neared the terminal. Giving a few directions to ensure we arrived at the right location, we were dropped off at the terminal by 10:30am.
Depositing our over-sized luggage with the porters, there were few cruisers around at this time of the day. Many of the local, frequent cruisers hadn't made it down to the ship yet.
Cruise Terminal Entrance
Entering the priority security and check-in lines, we were done with all our necessary paperwork in less than 15 minutes. We were literally ready to sit down when the announcement was made that suites and priority members could board the ship. This was perfect timing. A seamless boarding process so far, we headed for the gangway. Along the way, we stopped to pose for a Welcome Aboard shot. From there, it was on to Deck 4 and the start of our standard ship photo tour.
Exploring the Ship
Spending some time reviewing the deck plans before the cruise, we headed aft to the top decks. Having done these similar embarkation day rituals on the largest ships in the world, this little ship was a breeze. By noon, we had covered the entire ship, skipping some of the busier indoor venues.
Majesty of the Seas Centrum
During our tour, we checked out our main dining room table assignment. Normally, I request a table for two about a week before the trip. This time, it totally slipped our minds with the Walt Disney World trip starting our vacation. Therefore, we were assigned to a large table of 8. Luckily, we were able to get a new table upon request with the maitre d', which happened to be right next to a window.
Main Dining Room Majesty of the Seas
Done taking photos and the rooms still not ready, we decided to have lunch at Johnny Rockets. After 15 cruises on Royal Caribbean, we have never eaten lunch or dinner at this casual, up-charge restaurant. If you are considering it, be on the lookout for coupons being handed out in the Centrum, which is good for 20% off your meal. Avoiding the Windjammer, trying something new, and saving money sounded like a good combination to us.
With a cover charge of $6.95 a person, this includes all the food you want. However, milkshakes are an additional $6. There were only a few other couples in the restaurant. The service was very prompt, food was hot, and quality was certainly a step above the chicken sandwiches and hamburgers in the buffet. While we often sail on ships with several lunch time options, Johnny Rockets would certainly be a place that we would return to in the future.
Inside Johnny Rockets on Majesty of the Seas
By the time lunch was finished, which included a warm piece of apple pie a la mode for dessert, the announcement was made that the rooms were ready. A little past 1pm, they really do flip these rooms fast.
So This is an Outside Cabin
Walking down a few flights of stairs, we were at our cabin on deck 8. Cabin 8550 was located a few steps away from the forward elevators. It was an ocean view room which we got as part of our cruise reward points. Not expecting much from the rooms, we were still a bit surprised at the shape of the bedroom and bathroom. Our stateroom was definitely in need of some TLC. The layout was pretty standard, and the storage was perfectly fine for a cabin in this category. The decor, linens, and the bathroom in particular had seen better days though.
Oceaview Cabin on Majesty of the Seas
Noticing that the staff was unloading luggage, I took a skip back out to the Deck 8 lobby to find our suitcases were among the piles. Wheeling these two massive suitcases back to our room, we spent about 45 minutes unpacking and reorganizing our things as we had clothes from the previous days, souvenirs, and toiletries to juggle.
Done with the necessary unpacking and sorting, it was time to get our cruise officially kicked off. Back out to the hot Florida sun, we found two deck chairs in the shade. A sea of fellow cruisers had already crowded the pools and begun queuing at the bars. Not in a huge rush, we decided to relax and enjoy the weather, sans beverage.
Majesty of the Seas
To make good use of the time, we called home to let folks know we had survived the masses at Disney and were onboard our ship. By 3pm, the announcement was made that the muster drill would begin in 30 minutes. Like clock work, the staff began ushering people off the outdoor decks into the muster stations. Like herding cattle, passengers began heading down to deck 7 where all of the muster stations are located. Fortunately, our muster station, #10, was located inside Boleros. At least we didn't have to stand in the heat during the drill!
Ready for Our First Drinks of the Cruise
A relatively organized and quick muster drill, we were dismissed by the Captain by 3:45pm. Somehow, we were able to get out of the station and into an elevator heading up to the pool deck before the mad rush. Getting to the Pool Bar before the rest of the ship, I got our first drink order of the trip- a Miami Vice.
This cruise, we were testing out getting only one drink package. We did this mainly because it was only a three day cruise, and we got free beverages in the Diamond Lounge. So, the Miami Vice was for us to split during sail away.
Sail Away Celebration with Cruise Director
Sail away started promptly at 4pm, and we were headed off out of Port Canaveral as the ship's singers and dancers began the "impromptu" dance party that launched our sail away celebration. It was here that we were first introduced to our cruise director, Ricky Mathews. An energetic and jovial entertainer, he was an excellent cruise director and was certainly one of the highlights of the ship.
By 4:30pm, it was time to head in to change up for dinner. With our 6pm traditional dining assignment, we wanted to first make a pit stop in the Diamond Lounge which is located in the Viking Crown Lounge on Deck 14.
Inside Viking Crown Lounge
I hopped in the shower, while the Princess touched up and changed. It just so happened that during this refresh, our stateroom attendant stopped by to introduce himself. Unfortunately, neither of us were ready so we told him to come back later. Later never came, so we actually went the whole cruise without meeting our stateroom attendant. A first for us.
We Are Officially Diamond Members
Like similar vessels of this size, the ship is a little maze-like. With some odd "in-between" floors and elevators that do not go up to all the decks, we learned the easiest way for us to get to Deck 14 was to walk to the aft elevators.
Entering the roped off area, we found some seats with a view. A small snack area was setup with a decent selection of appetizers. A waitress approached us to take our drink order after only a few minutes, which was nice. During our 45 minutes in the lounge, we got to chat a bit with Shane, the loyalty ambassador, and got a second round of drinks to take with us to dinner.
Diamond Drinks in the Lounge
Arriving at dinner a few minutes late, we were relieved to find that our new seating assignment was still open. We were worried that there could be an issue with our assigned table due to the switch earlier in the day. Without missing a beat, our waitress came over to introduce herself and her assistant waiter. Lachana and Savio would be taking care of us for the three nights, and they were a great team.
MDR Prime Rib Night 1
Serving the Mojo menu, the traditional first night menu, I went with the prime rib, and the Princess went with the marinated chicken from the Classics menu. Of course, we had some apps and dessert too. The 75 minute dinner was relatively well paced, especially for the first night. We have found that the first night's dinner can often be a little chaotic. This was a welcomed exception to that rule.
An Early Evening, Even for Us
Unsure if we would make the 7:30pm show, we were out of dinner around 7:20pm so decided to see if we could get seats in the theater. Boy, were we shocked to find the theater almost empty. Securing seats in the general location we normally claim during a cruise, the show started with the cruise director Ricky dancing through the crowd. So, when he came by us, I made it a point to join him in a little impromptu dance off. Needless to say, the Princess was a bit embarrassed.
Tonight's show was Boogie Wonderland. The show was much more boogie than Wonderland. Featuring dance songs and ballads primarily from the 70's, it was a rather lackluster show, in our opinion anyway.
Boogie Wonderland on Majesty of the Seas
Wrapping up with the cruise director doing a run down of the night's activities, it was about 8:30pm. By now, the food coma and the 14 hour long days in Disney were starting to hit us. Looking for things to do, we strolled through the casino but didn't find any of the Princess' "preferred" machines.
Returning to our room for a quick pit stop, we found our shore excursion ticket and menu for the beach bungalow on CocoCay. The Explorations desk was closed for the night, so I would have to wait until 9:30am tomorrow morning to deliver our selections and pick out the location of our bungalow on the beach.
Shops on Majesty of the Seas
During our photo tour earlier in the day, the Princess noticed a "cruising queen" shirt in the gift shop that she wanted to get. So, before they sold out of the best items, we stopped in to do some shopping, which included my standard cruise t-shirt and our cruise ship ornament for our holiday tree.
With only a handful of lounges on the ship, we decided to spend the first night in the Schooner Bar, one of our favorites on other ships. Ordering our two favorite drinks (and yes, we paid for the Princess' drink), we listened to the piano stylings of Graham Ashley until about 10pm. By this time, we made the group decision to skip round two and head to bed instead.
Inside Schooner Bar on Majesty of the Seas
Returning to our room, we were not greeted with a towel animal. Not getting to meet our stateroom attendant earlier in the day meant that the Princess would have to forgo having a fuzzy friend on the first night of the cruise.
Majesty of the Seas Cruise Review
Day 2
Sleeping in for a Change
Both needing some sleep, we agreed to set the alarm for 8am, a far cry from the 5 and 6am wake up calls of the past week. After all, we are on vacation to relax. With no plans to get off the ship today, we knew we could take our time this morning.
As the Princess got ready, I headed down to get an iced latte at the coffee shop on Deck 6. I was not alone, as there was a line here that was equally as long as the ones at the bar. During my travels, I got a few more pics of the indoor venues that I was not able to capture in the previous day's photo tour.
Cafe Latte-Tudes on Majesty of the Seas
Today's outfit called for a bathing suit and t-shirt, which I was happy to sport for the entire port day. Dropping the coffee off at the room and changing, I headed back out to the bars to get some bottles of water, and we made it to the Windjammer for breakfast by 10am. Still a decent crowd, we first secured seats before heading to the buffet.
Breakfast at Windjammer on Majesty of the Seas
The breakfast options were a little disappointing today. We did learn the following day that there are two sections to the buffet, and only one of them was featuring custom omelets. Given that neither of us were overly hungry, we were still able to find plenty to satisfy us for this morning.
Before heading out to grab lounge chairs, I made a pit stop at the explorations desk to drop off our bungalow menu. If I had come the day before, we could have had a much better choice of bungalow location. While in the area, we also snagged two more $10 t-shirts, who could pass up a $10 sale and a new CocoCay t-shirt?
Staying Onboard Majesty of the Seas
Even though it was already close to 11am, we somehow got seats right next to the main pool. An ideal sun location, we stayed out here for about two hours. During our tanning session, I snagged a pina colada. These chairs were also prime viewing location for the 11:30am Belly Flop contest, which is always a good time.
Belly Flop Contest on Majesty of the Seas
We pulled up to Nassau, Bahamas as the contest was taking place, and the ship was ready for disembarkation around noon.
We had plans to stay on the ship while in port today. With the crowds thinning only slightly, it appeared many other cruisers were also staying onboard. Taking a break from the heat around 1:15pm, we decided to grab a few snacks at the Windjammer and Sorrento's Pizza. To my surprise, the lunch buffet had a nice variety of options.
Sorrento's Pizza on Majesty of Seas
Following lunch, we grabbed our camera for a few more pictures of the inside venues. As most cruisers were either on the island or on the pool deck, the inside venues were mostly vacant. Capturing the remaining pics that we needed for our ship tour only took about 30 minutes. It was 2:30pm already and I had only one drink all day, so we headed to the Sky Bar to continue our drink around the ship. The Princess ordered the drink of the day special, while I went with a long island iced tea.
Sipping our drinks in the shade, we enjoyed some of the beautiful weather for another hour or so. Tonight was formal night, and while we weren't "dressing up", the Princess wanted to be down to the photo studios for 5:30pm. While we have cut back on the number of photos we take on a trip, we each get a free 8 x 10 as a Diamond benefit, so it was "mandatory" to do a few different backdrops.
Sky Bar on Majesty of the Seas
A Pretty Typical Evening
Before heading back to the room for some social media and A/C, we each grabbed a small frozen yogurt for the walk. Back to the room to shower and change, I went to get an iced latte- another great benefit of the drink package. During my travels, I met a couple who were originally from MA but were now FL residents. Oh, if only I could convince the Princess to make a similar move.
Down to deck 4 by 5:15pm, the photographers were just finished setting up, and there were a few other groups of eager cruisers ready to take some photos. We were able to do three photo stations with time to spare before dinner. Not wanting to head up to the Diamond Lounge, we used our drink vouchers at the Schooner Bar to get our customary pre-dinner drinks.
Schooner Bar
We had our drinks in hand as we entered dinner a few minutes past 6pm. With a relatively empty dining room, dinner service was quick tonight. Food was again well prepared, and I commented that this main dining room experience was one of the best we have had on a Royal ship in a while. Both our servers and our meals had been better than expected.
Roasted Duck in the Main Dining Room
With the early evening show scheduled for 8:45pm, we had over an hour of free time. Seeing the casino was not as busy as the night before, the Princess found an acceptable machine to try and reverse her cruise ship casino luck. Unfortunately, luck was not on her side this evening.
We still had over a half-hour to kill. Several venues were busy with cruisers watching college football, so we thought we would head up to the Diamond Lounge. It was a ghost town! Virtually no one was in the roped off area, but there were a good number of cruisers huddled near a television nearby watching the game.
Another Round of Diamond Drinks
Grabbing drinks and checking out the appetizer display for this evening, we relaxed here until about 8:30pm when we decided to head down to the show. Tonight's performer was Billy Prudhomme, a juggling comedian. I found the show to be entertaining, even if it had a lot of shtick. The Princess thought the show was just okay.
Headliner in Chorus Line Theater
Getting out at 9:30pm, we scored seats at Boleros where we witnessed the last few karaoke singers. The venue emptied out a bit when the show ended a little after 10pm. Our plan was to enjoy our drink around the ship cocktails until about 11pm, when the Dancing Under the Stars party started on the pool deck.
Drinks at Boleros
Following this plan as ordered, we were up to Deck 11 at 11pm precisely. The deck was rather wet and slippery. Given the seutp of this pool deck, there was a small dance floor toward the forward section of the ship where many cruisers also gathered for the Pool Bar. Being early in the party, it was rather poorly attended and had very little theming. Perhaps it livened up later in the evening, but by 11:30pm, we were ready to call it a night.
First Animal Towel of the Cruise
Returning to our room, our unnamed room attendant had left us a little party animal of our own.
Majesty of the Seas Cruise Review
Day 3
Upgrading Our CocoCay Experience
The last day of our cruise had come so quickly! These three day cruises aren't long enough. For this final day, the ship was visiting Royal Caribbean's private island of CocoCay. With good weather and calm seas, we were certain to be able to anchor and tender into the island. We opted to upgrade our beach break and get a beach bungalow for this trip. We were able to score a great deal on these beachfront accommodations by pre-booking during a Cruise Planner sale.
A Beach Bungalow on CocoCay, Bahamas
Tendering was set to start at 8am, with the first tender reserved for guests with excursions. We were determined to get on this "exclusive" transport to the island, so this meant that the alarm was set for 5:30am. With no venues open this early, I got a little bit of extra sleep as the Princess began her morning ritual. Exchanging places, I was ready for 7am to go and wait in the line at Cafe Latte-Tudes. Just like your coffee shops on land, there was always a line at this venue.
Back to the room to grab the Princess, we trekked up to the Windjammer for breakfast just after 7:15am. We were not the only people gearing up for a beach day. While I wouldn't say it was busy, there were certainly plenty of other cruisers up and also ready for a sun-filled day ashore.
Tender Boat for CocoCay
It was just before 8am when we heard the anchors being dropped. Even though there was no announcement made, we headed down to deck 1 after breakfast to see a tender boat already being loaded. We scanned our SeaPass cards and were successfully aboard the first tender to the island.
Some "Private Time" Ashore
Among the first guests to arrive, we had much of the island to ourselves. This of course meant that we would spend the next hour taking as many pictures as we could. When else would we get access to a beach with virtually no other travelers? During our self-guided tour of the island, we saw the new Cabana section, as well as the Floating Bar. We also got some updated photos of the other bars and public areas that looked greatly improved since our last visit to the island in 2015.
Finally arriving at South Beach, we checked it at the desk and headed to our assigned bungalow. Unfortunately, we were too late in reserving our spot on the ship to get a "beach front" bungalow. Even though it was only 9:30am, we could tell it was going to be a rather hot day. Good thing you get four 1 liter bottles of water along with the accommodations.
DB Floating Out in the Caribbean
With nothing else to do but lounge, I soaked up as much sun as possible. The Princess took up shop in the bungalow to escape the direct sun light. I made great use of the nearby beach and our floating mats for an occasional reprieve. Heading over to our private bar, I was informed they did not have any Coco Locos, so I had to go with a Bahama Mama for now. Luckily, the nearby South Beach Bar was mixing up some Coco Locos later on in the day.
The tide started to roll out around 11am, so we headed over to checkout the Floating Bar, which was not open earlier in the morning. At this point, you could basically walk up to the bar in knee high water. There were quite a few people on the bar and only one hard working bartender. I regret to say that I did not officially get a drink here due to the crowd. But, we did get pictures in front of the bar. That counts for something, right?
Floating Bar on CocoCay Before The Crowds
Back to our Bungalow, we discussed how we should have taken a game with us to break up the day. As we were chatting, we noticed that lunch was already starting to be served. We scheduled ours to be delivered around noon. We are not big fans of buffet food, so thought the catered lunch was a nice touch with the bungalow. We both enjoyed our meals, so neither of us felt the need to visit the barbecue this time around.
After another hour of intermittent sun and beach time, the Princess was ready to head back. Instead of taking the Coco Limo, we decided to walk along the path back to take a few more pictures and catch a glimpse of the nature trail. It was just too hot for us to do the complete trail. It was even too hot for the Princess to do any shopping at the Straw Market.
As we got closer to the tender, we could see one was starting to fill-up. We got through security quickly and grabbed some very hot seats on the top deck. As the tender pulled back, we got our last glimpses of CocoCay. It is sad to say, but we do not have another trip planned to the island…yet!
Views of CocoCay from Majesty of the Seas
Cooling off Onboard
We were back onboard the ship by 2:15pm. Making a quick stop at the room to drop off our stuff and cool off, we both needed a little pick-me-up. Down to Cafe Latte-tudes again, where you guessed it, there was a line of like-minded cruisers getting their caffeine fix. With iced lattes in hand, we strolled the indoor venues before going back to our room.
Sadly, we began to pack up our bags. With all of the Disney purchases and clothes, it became a balancing act of making sure our two bags did not weigh more than the allotted 50 pounds each. Using one of our beach bags for some souvenirs, we were able to distribute things appropriately to get everything packed away.
Photo Gallery on Majesty of the Seas
Showering and changing for dinner, we went down to the photo studio to pick out our two free photos. We were greeted by plenty of other travelers also looking to purchase some vacation photos. The lines moved quickly, and we were checked out with our purchases before 6pm.
Looking to grab a quick drink to take to dinner, we got our Diamond drinks at the Casino Bar. Hey, it was another bar to cross off our drink around the ship. With some quick service, we arrived at the main dining room a few minutes after 6pm. Our servers were quick to come over and say hello. Tonight's menu actually featured an entree the Princess would order, the Chicken Marsala. I went a bit conservative with two starters and ordered a double order of the Tiger Shrimp for an entree, it was our last night of the cruise after all.
Double Order of Tiger Shrimp
Still, we made it through all three courses and were out of dinner by 7:20pm, just missing the final farewell parade from the kitchen staff. Before leaving, we were sure to thank our servers with additional gratuities which were more than deserved for the excellent and attentive service.
Getting to the comedy show in time to find seats, the last act included an opening and closing number from the ship's singers and dancers. The comedian, Mike Pace, was mildly entertaining. There was a scheduled adults only comedy show at 11:30pm, but after watching his first set, we both agreed that we were fine skipping that staple last show of our cruise.
Mike Pace on Majesty of the Seas
After the show, we made a quick stop at the casino for our Crown and Anchor slot pulls and to use up the remaining slot ticket we had from a previous day. None of us came out ahead, so we were in and out of the casino and on to the Schooner Bar for another round of our favorite drinks. We pulled up a chair next to a fellow Royal Caribbean addict and blog reader to talk about our cruising adventures for a good remainder of the evening. The last main event of this trip was the Quest, scheduled for 10:30pm in the Spectrum Lounge.
Spectrum Lounge on Majesty of the Seas
This was also our last venue to hit on our drink around the ship. Having seen this "adult game show" numerous times, we were really just interested in getting our final beverage. We walked over to the Lounge around 10pm. While it was indeed open, the bar staff indicated that service would not start until the show began at 10:30pm. With neither one of us interested in spending another 30 minutes waiting for a drink, we opted to turn in for the night, officially ending our cruise.
Majesty of the Seas Cruise Review
Day 4
The Final Morning Onboard
No matter what our post-cruise plans entail, we always do self check out. For this Monday morning, the self disembarkation was from 7am to 8am. With a 1:30pm flight, we decided to head down closer to that 8am time frame. Still, with last minute preparations and breakfast, this meant our alarm was again set for 5:30am.
We were showered, dressed, and full packed by 7:15am. Joining the other hordes of travelers, we went to the Windjammer for one final breakfast. With the staff working feverishly to clear tables, we found a seat in the front of the dining room overlooking the port. To think, another set of cruisers would be boarding in just a few hours to take the ship back out to the Bahamas.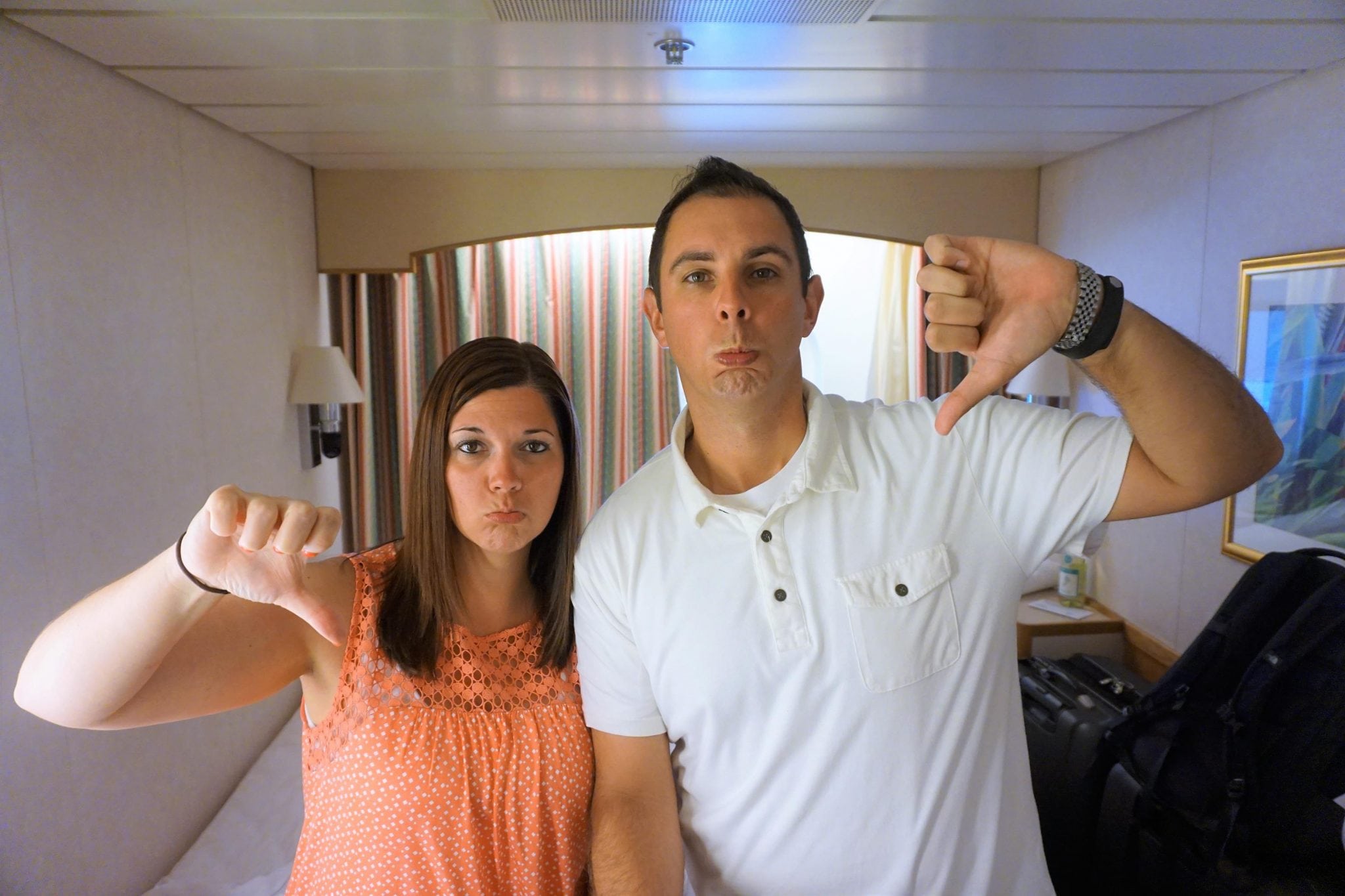 Knowing that getting an elevator was going to be tough, we were back to the room and had all our luggage out by exactly 8am. Working both the portside and the starboard side elevators, as well as the up and down arrows, we boarded an elevator going up after about 5 minutes of waiting. So far, so good.
Ascending a few floors and adding a couple of passengers, we began the trip down to deck 4 where we would be exiting the ship. Snaking through the line, which wrapped around from the elevators through the dining room, we were officially off the ship in a matter of minutes. The rest of the disembarkation was smooth sailing as well, with us making the leisurely walk down the ramp, through the luggage holding area, and through customs without stopping.
Back at Terminal 1 at Port Canaveral
Outside of the terminal around 8:30am, I requested an Uber, which was only a few minutes away. Waiting for our car in the pick-up area of the parking garage, we were loaded and on the road without any hassle. Again, another flawless self checkout and great exit courtesy of Royal Caribbean.
The car ride to Orlando International Airport took less than an hour, and we were at the Southwest reservation desk about 10 minutes before we could actually check-in. Watching the minutes tick by, we went to a kiosk to check-in, drop off our luggage, and wait in the security line. Taking about 10 minutes to get through security, we were on a monorail to the terminal. With about 3 hours to spare, it took some searching to find a seat next to an electrical outlet in the food court.
Airport Food Court
With time on our hands, it was full force blogging and photo editing. Oh, and of course, we need some Starbucks if we were going to survive the rest of our travels home. We got back to the gate area before 1pm, and just as we were arriving, they announced our flight would be boarding soon. With a quick pit stop at the restroom, we were onboard for a rather uneventful flight home. The only let down on this flight was the lack of internet. Yup, the WiFi was not working. This meant less blogging could get done right now.
Touching down in Providence ahead of schedule, we grabbed our bags and squeezed onto the second shuttle to long term parking. My brand new car intact, we loaded up the SUV and headed home. Given it was a Monday holiday, there was no traffic. After stopping to grab some fast food, we were home and back to "work" by 6pm.
Back Home in Providence
Our last vacation of the year had officially come and gone. Riding the high of both the cruise and Disney trip, we vowed to get on another trip before our next official vacation, which isn't until May 2018!
Comments
Have you sailed on Majesty of the Seas? Do enjoying cruising to the Bahamas on these short getaways? Drop us an anchor below to share your experiences with Royal Caribbean International's Majesty of the Seas.