Fellow cruisers, Steven and Patricia, recently returned from a New Year's Eve cruise onboard Royal Princess and wanted to share their experiences in this Royal Princess review. Hear their opinions on everything from dining and entertainment to ports of call and more. If you have any questions, feel free to reach out to them at sgauld@gmail.com
Reader Review of Royal Princess
We recently sailed on our first holiday cruise. We picked a 10-day Southern Caribbean cruise on Royal Princess out of Port Everglades. We choose this cruise for few reasons…
-We love Princess
-What is not to like about cruising the Caribbean Sea on New Year's Eve
-We sailed on Royal Princess in her inaugural year and were curious if her recent dry-dock had improved the experience (Hint – it did!)
We hope you will find our review helpful if you are considering a Holiday Cruise or your own Royal Princess adventure.

Before the Cruise
We arrived the night before embarkation and stayed at the Marriott Fort Lauderdale Harbor Beach Resort in an Oceanview room. We like this hotel because you can get up early and watch the morning arrivals into Port Everglades from your balcony. Nothing builds more excitement for your cruise than seeing "your" ship arrive! We had 5 other cruise ships in port that Saturday- a moderately busy winter weekend in Fort Lauderdale.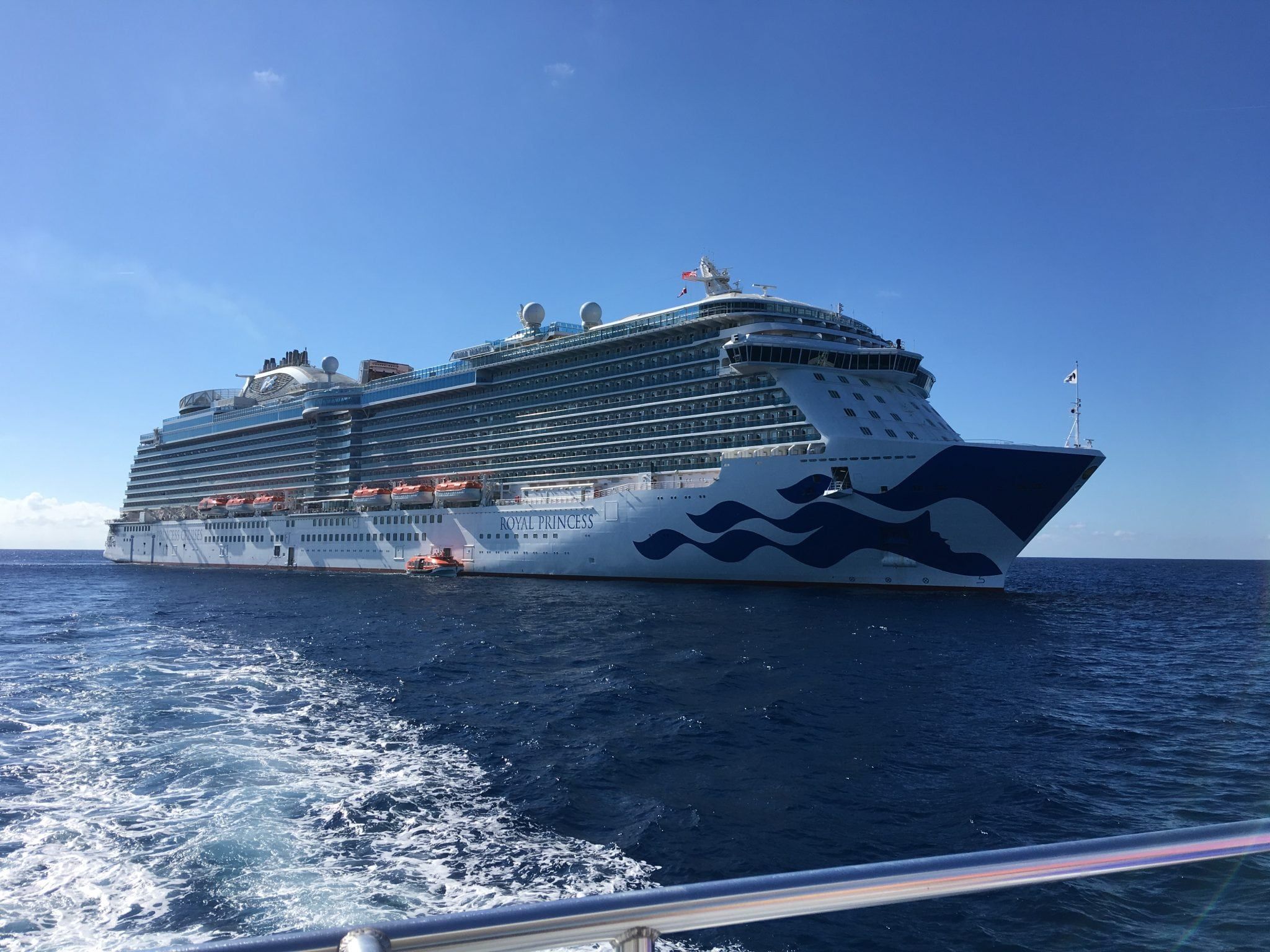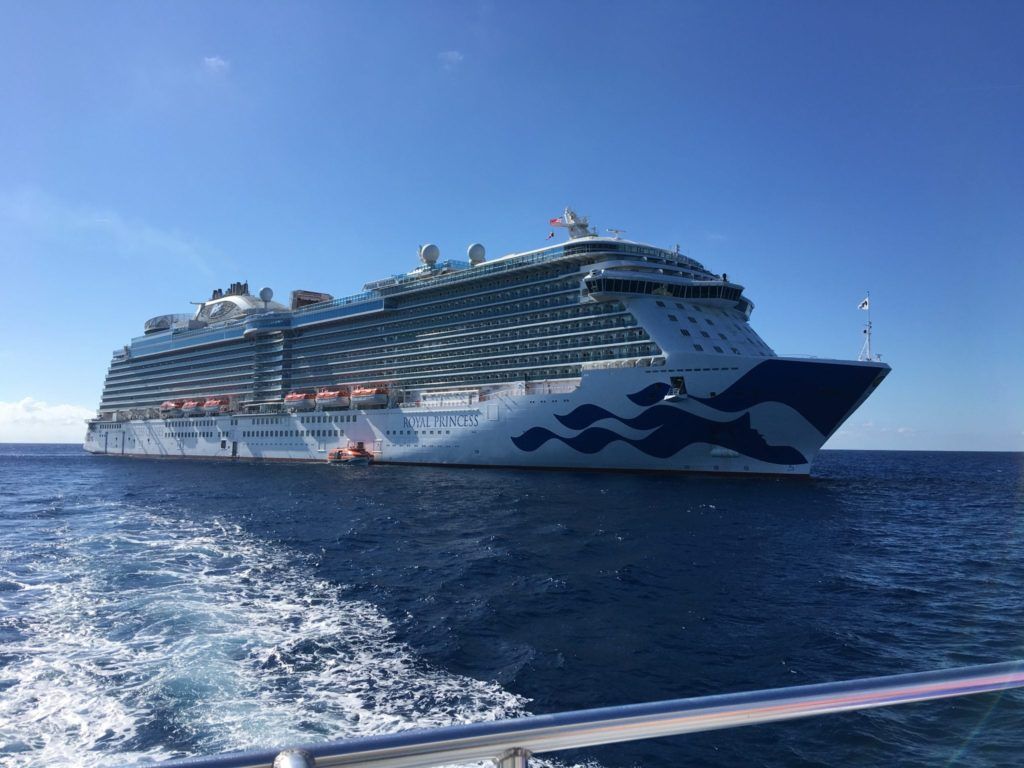 Typically, we like to be the first at the port and board early. This time, we were in a holiday season mode and decided to chill at the hotel pool and Uber over to the port at 2pm. It was a good decision. From leaving our friendly Uber driver next to Terminal 2, dropping our bags, a quick walk through security, check-in, and literally walking into our stateroom, it only took about 15 minutes. Definitely a personal record! If you are not in a rush to book something onboard (or be 1st at the buffet), then we recommend arriving later and avoiding the crowds. This is something we will do again in the future.
Royal Princess in all her Glory
Driving over the bridge towards Port Everglades, Royal Princess stands-out from the crowd. She now has the tasteful Princess Sea Witch logo painted in blue across her bow.
Royal Princess is a feast for your tired overworked eyes. You enter from the boarding bridge on Deck 5 and have an immediate view of the expansive 3-deck atrium. In typical Princess Style, Royal does not disappoint. The glitzy Piazza is certainly a sight to behold.
Navigating the public areas of Royal Princess is easy. Fantastic electronic signage will helpfully guide you to your next destination. Upon boarding, we headed forward on Deck 5 and took a quick elevator ride up three decks.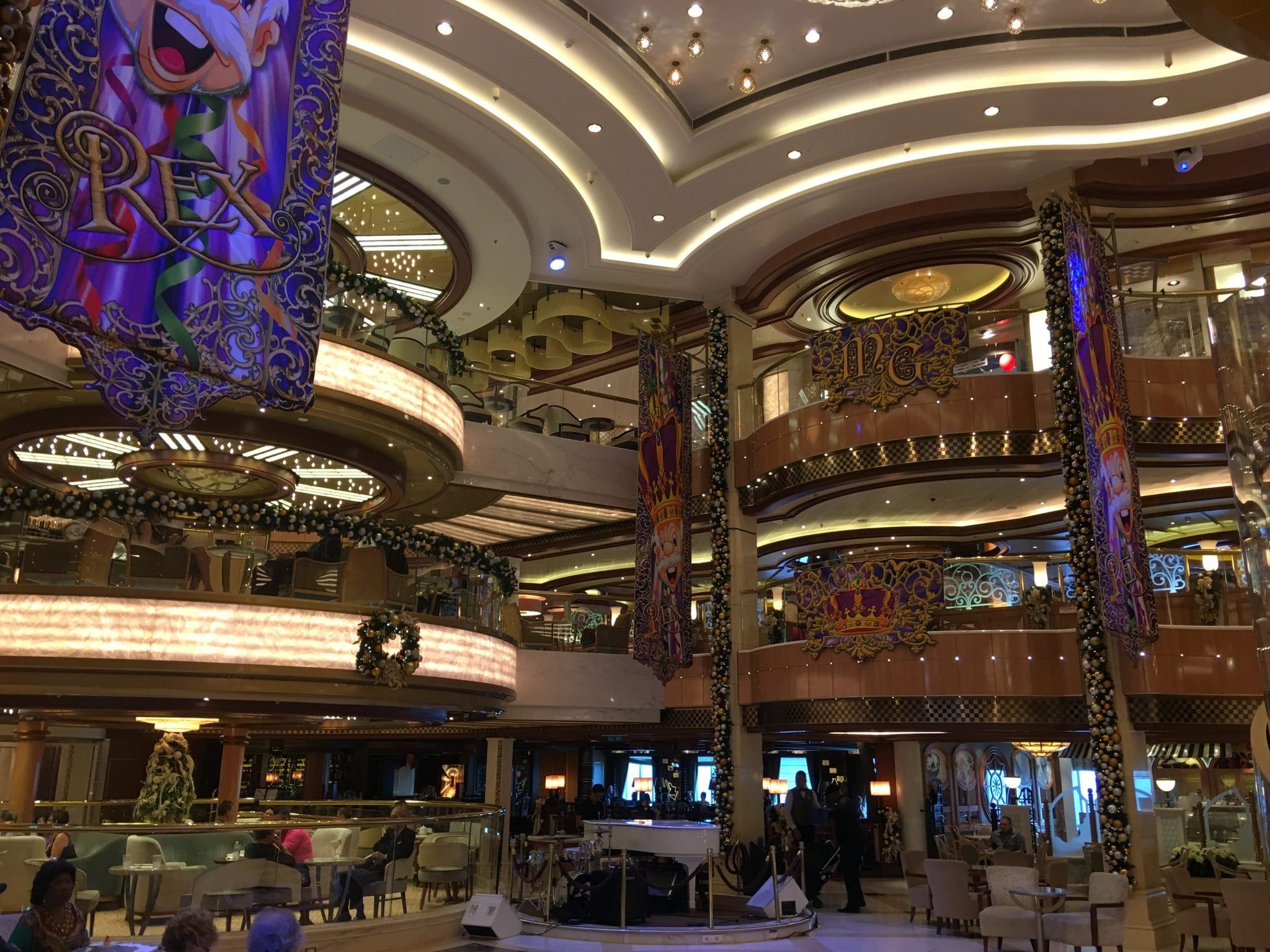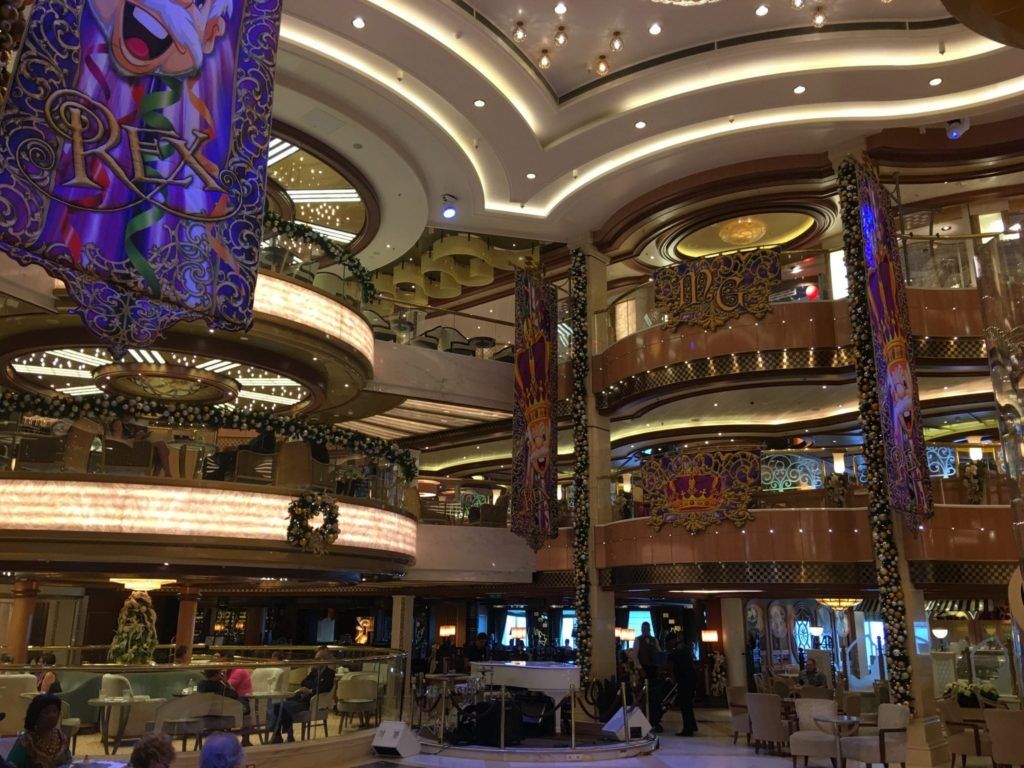 Our Stateroom, Always an Exciting Moment…
For our New Year cruise, we picked an Obstructed View Balcony on Deck 8 Emerald, Cabin E325. Surprisingly, this cabin was only slightly more expensive than the interior cabin we had planned to book. The Obstructed Balcony is also $200+ cheaper per person than a normal balcony. We were pleasantly surprised when we stepped onto the balcony. The view is obstructed immediately below with a lifeboat, but the view out to sea was completely unobstructed. We recommend this cabin type as a great way to save some precious vacation dollars.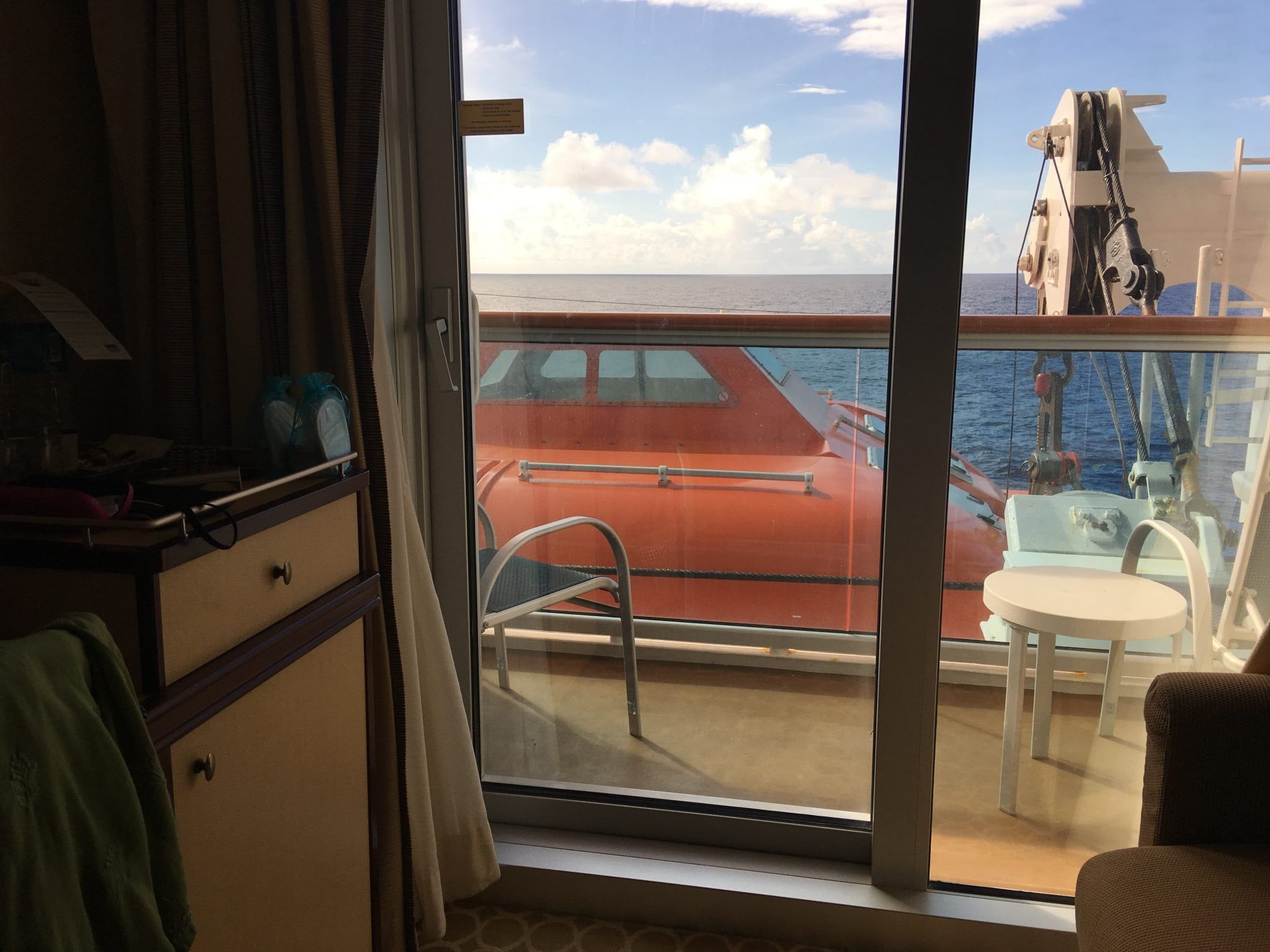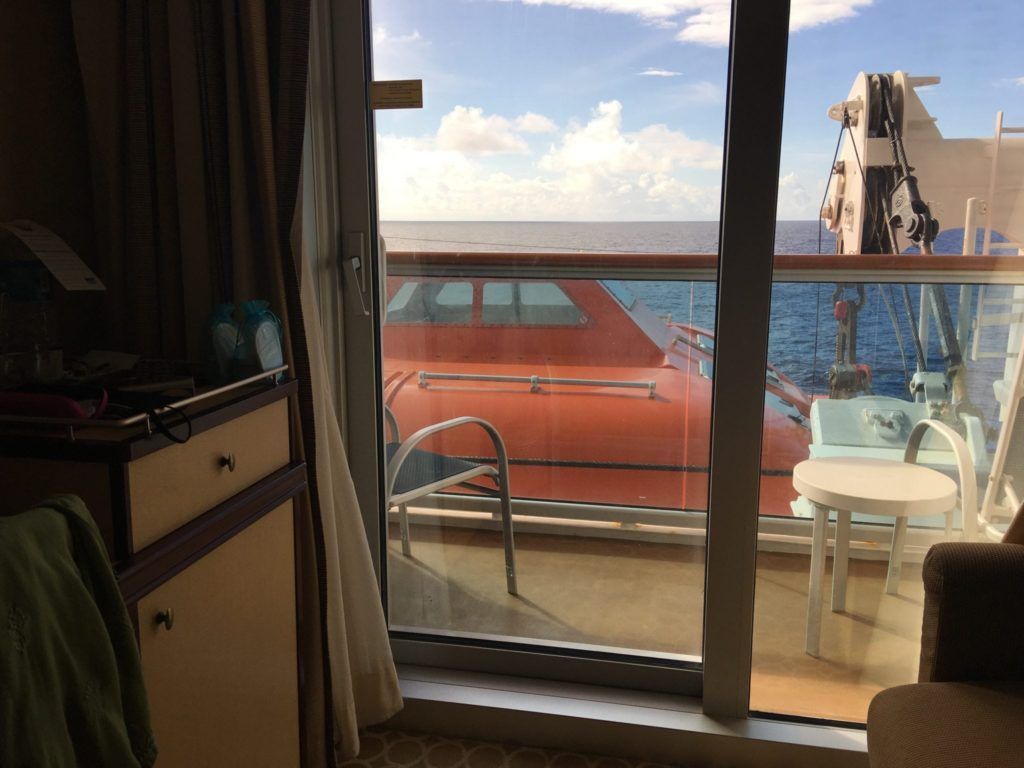 Stateroom E325 is listed as a De-Luxe cabin, which in 'Princess speak' means an extra 10 sqft and a small couch which can be converted into a single bed. Generally, the cabin has decent space, a great closet, and lots of other areas where you can tuck away your personal belongings. The bathroom is standard for a cruise ship, small but functional. However, the balconies on Royal Class (Royal, Regal, and Majestic) are tiny- 46 sqft with just enough room for two chairs and a small table.

Dining and Bars
For this review, we don't have any earth-shattering stories of amazing specialty restaurants. We took the boring route on this cruise and enjoyed all 10 nights in the Main Dining Room with late seating at 8pm. Food quality was good and as expected. Our service team were attentive and friendly. Specialty dining is not big for Princess with just two options. Fellow passengers reported that the Crown Grill was exceptional. Sabatini's seemed to get positive reviews as well.
We mixed breakfast between the MDR and the Horizon Court. Both were acceptable but nothing special. It would have been nice to see a few different breakfast options in the Horizon Court. Lunch we mixed between Horizon Court and the Trident Grill or Pizzeria on the Lido Deck – both were very good.
Royal Princess has some great bars. Our pre-dinner favorite was Crooners. We have seen great Piano Bar performers and some not so great. Perry Grant on Royal Princess was a breath of fresh air. We can honestly say we have not met the likes of Perry on a cruise ship before. Do yourself a favor, book a Royal Princess cruise and go see Perry.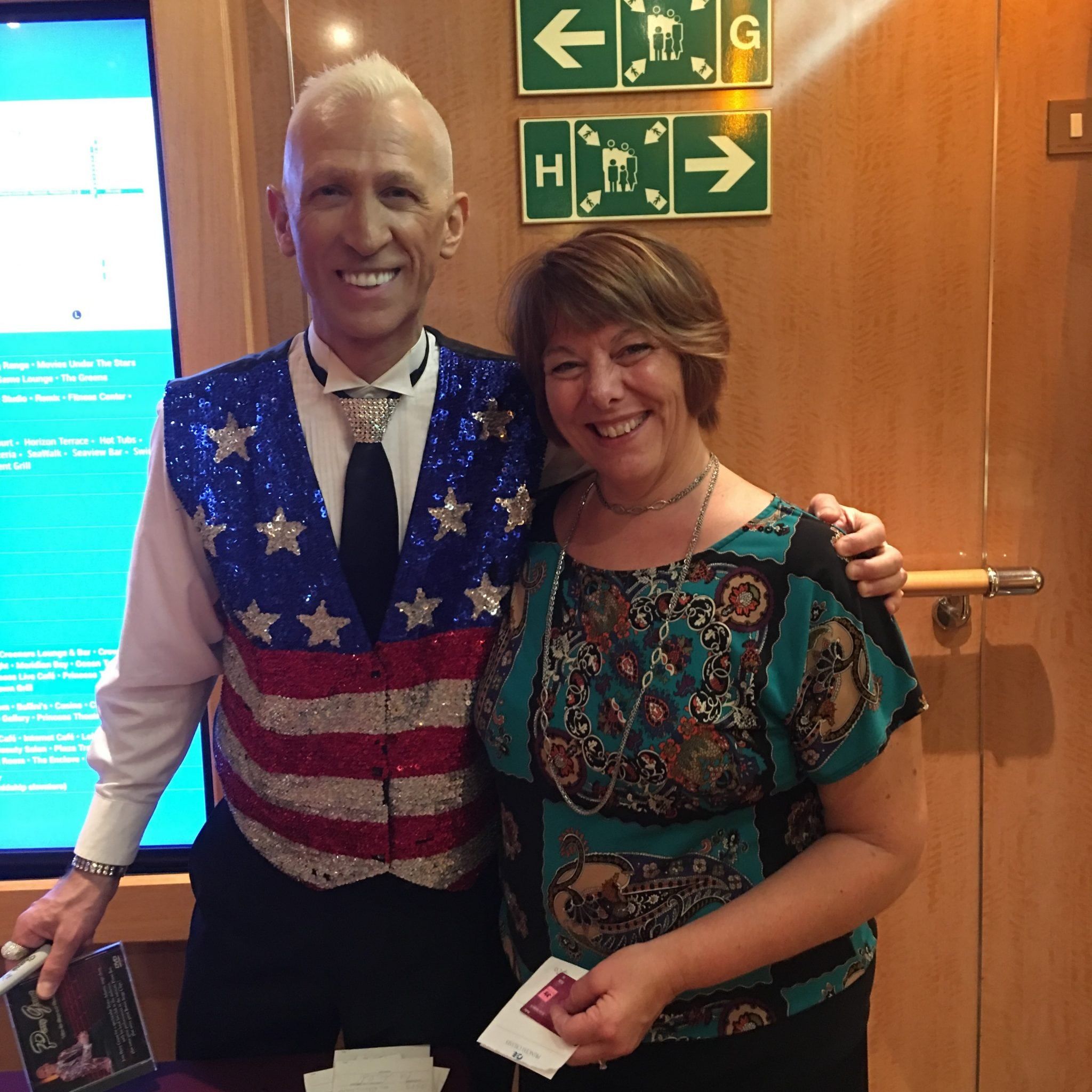 After Dinner Entertainment
I really want to say positive things about the entertainment, but it is a mixed review. Maybe a 10-day cruise stretched the performers a bit too much as some entertainment felt repetitive. In our opinion, Princess does seem to be falling a bit behind the other major lines. The main theater shows were average and a bit dated. 'Colors of the World' and a Soul Show have been cycling on Princess ships for years. The new show Encore did get good reviews.
The comedians were a mixed bag as well. Four of the 10 nights in the main theater were comedians. We saw 3 of them – 2 were very good but one looked like he was exhausted and having a really bad night. Seriously, do we need more crude cruise ship toilet jokes?
The Royal Princess band "Topaz" were seen all around the ship and did a decent job. The Wheelhouse Bar Group "Phoenix Rising" were excellent, unfortunately we only found them later in our cruise. Tony Delaney was the other regular artist and delivered a very nice Neil Diamond tribute.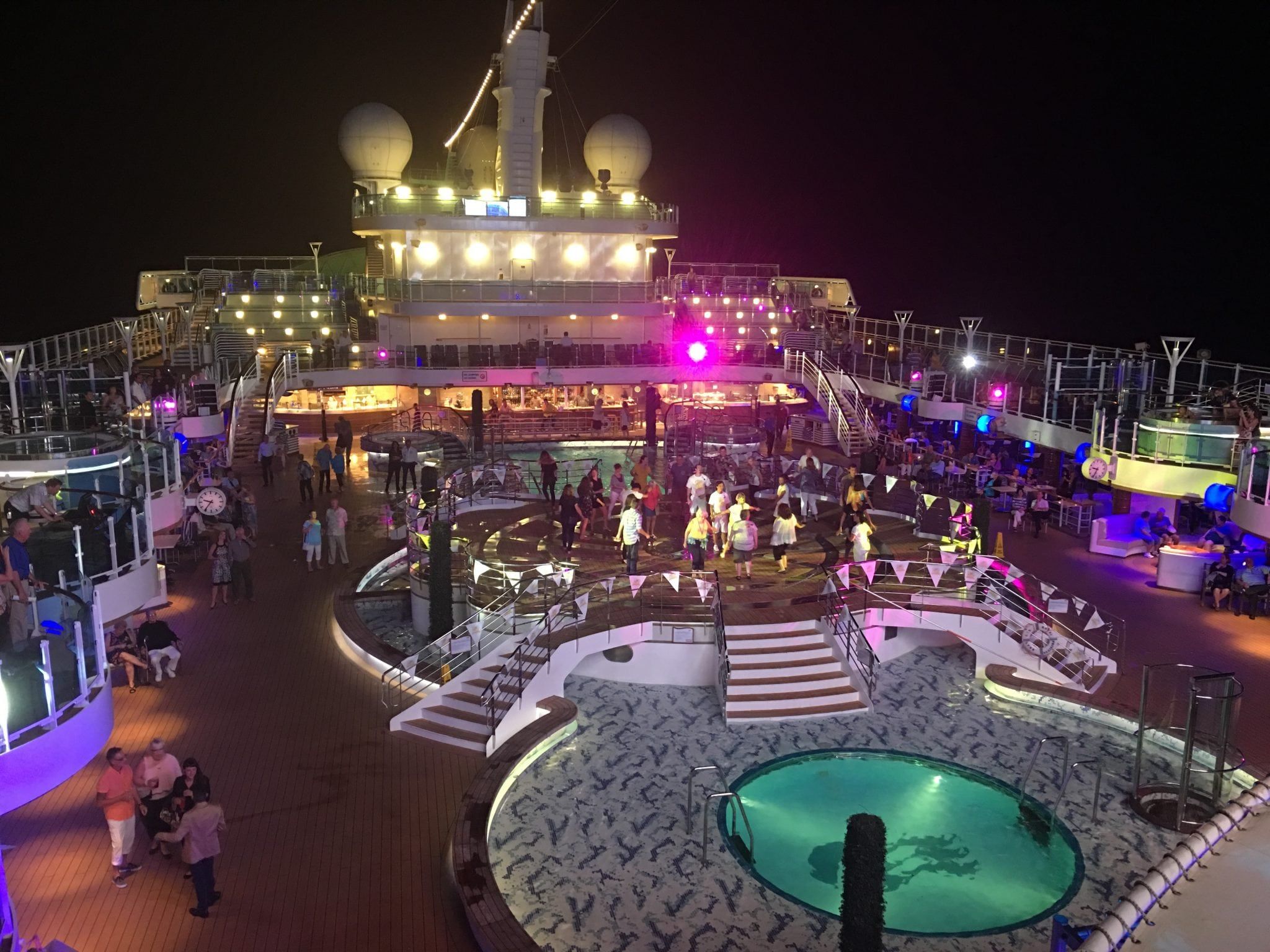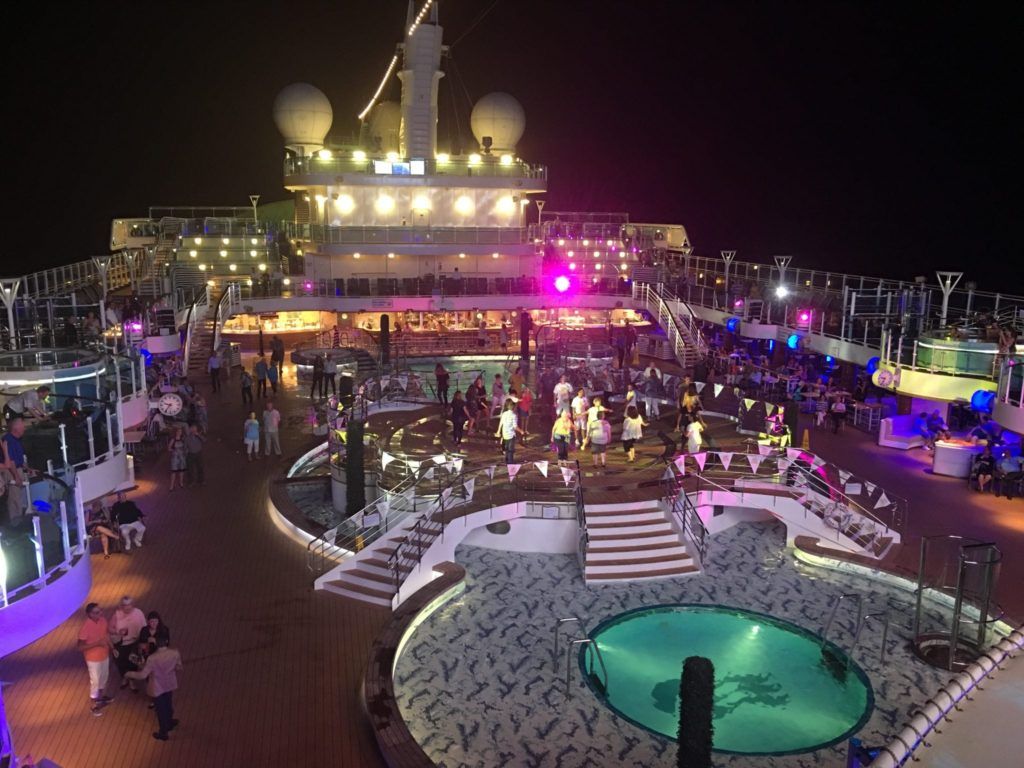 Ports of Call
We had 6 ports on our 10-day cruise – overall a very nice mix of islands.
Princess Cays – the Princess private island – lovely lovely lovely, with efficient tendering.
St. Thomas – is open again with limited capacity (only 2 ships in the day we visited). Damage around the port is largely repaired. Most damage is visible at Senor Frogs and the large Marriott Resort on the bluff as you enter the port. We chatted with a few locals, and they were delighted to see the cruise ships returning. We understand that away from the port, there is still a lot of visible damage. The locals had a single message- tell your fellow cruisers "please come back soon, our island needs you!".
Martinique – This might just be personal preference but we did not like Martinique. This port was a substitute due to the Hurricane and is clearly not ready for prime time. We tied up at the container port and had to wait in the theater for buses to take us to the port entrance. This process made tendering look attractive! It set a negative feeling for the day.
Grenada – We loved it. The island feels very Caribbean with friendly people, great local shopping, and a nice harbor side walk. It felt safe and 'unspoilt' and was a very nice surprise.
Bonaire – is our new favorite port. We did a private rental of a road-ready golf cart and spent 5 hours driving around the hilly north and salt-planes in the South. We HIGHLY recommend Bonaire Cruisers – friendly people and a super business model. $90 per day including gas and insurance felt like a good value. The Cadushy Distillery is also a MUST. Henk & Jola will give you a personal tour. They have a great story and business.
Curacao – the 'C' in the ABC islands. A very pretty pastel-painted Dutch town. We wandered around the harbor and had a cold beer while we watched the world go by. Excellent shopping port.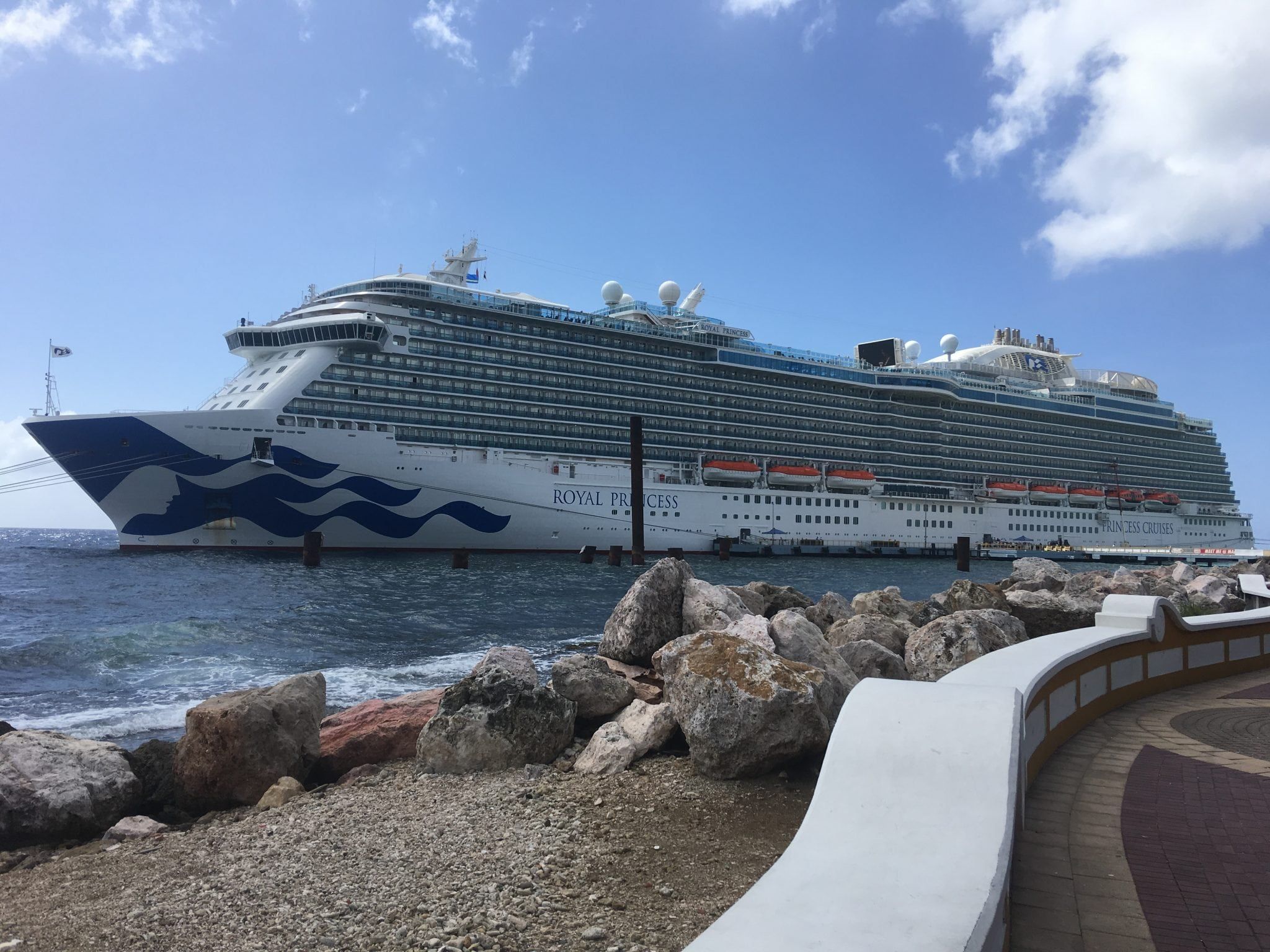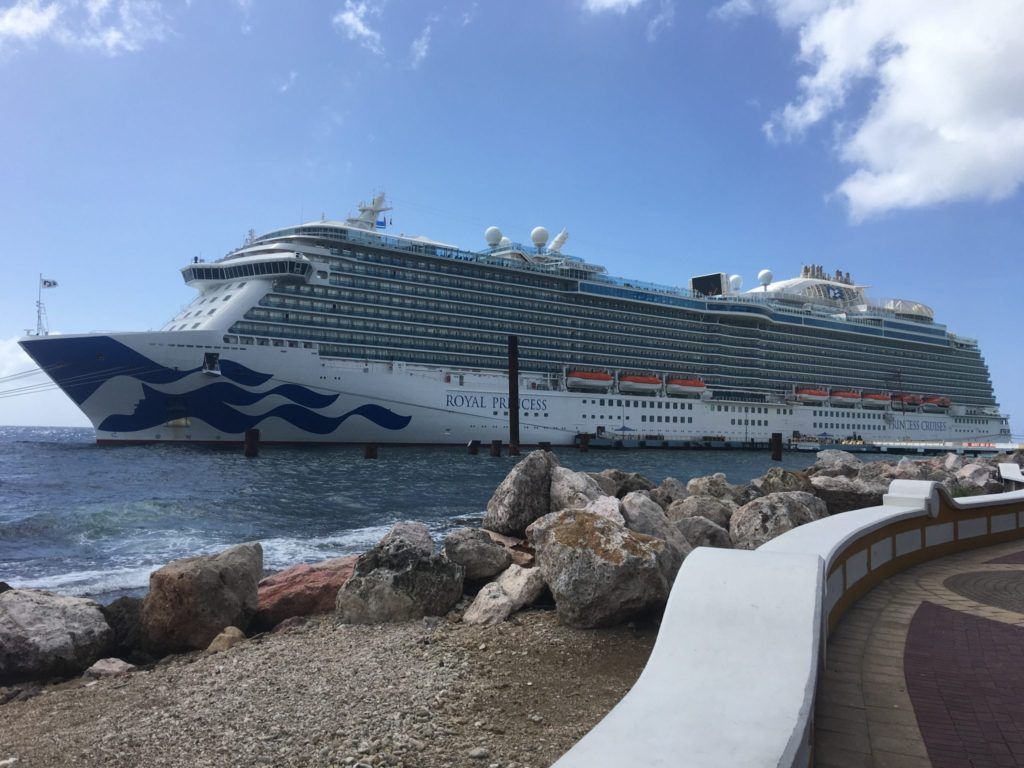 Sea Days on Royal Princess
After a rather cool and windy sail away from Port Everglades, we were blessed with exceptional weather for the whole cruise. This put the open decks under a bit of pressure around midday. If you wanted a lounger right by the pool, you were out of luck; however, there were plenty of open loungers on the upper decks. We never struggled to find a location to sit back, relax, and enjoy the sea.
The Retreat Pool (adult area) ranks up there with the 'best at sea'. It is a lovely pool with plenty of loungers in sun and shade. This is where we spent most of our sea days. Bar service was attentive and very seldom did we have more than a few minutes' wait. A shout-out to Shanko at the Retreat Pool and Crooners Martini Bar. He remembered our folio from Day 1, and we never had to pull out our sea pass cards again.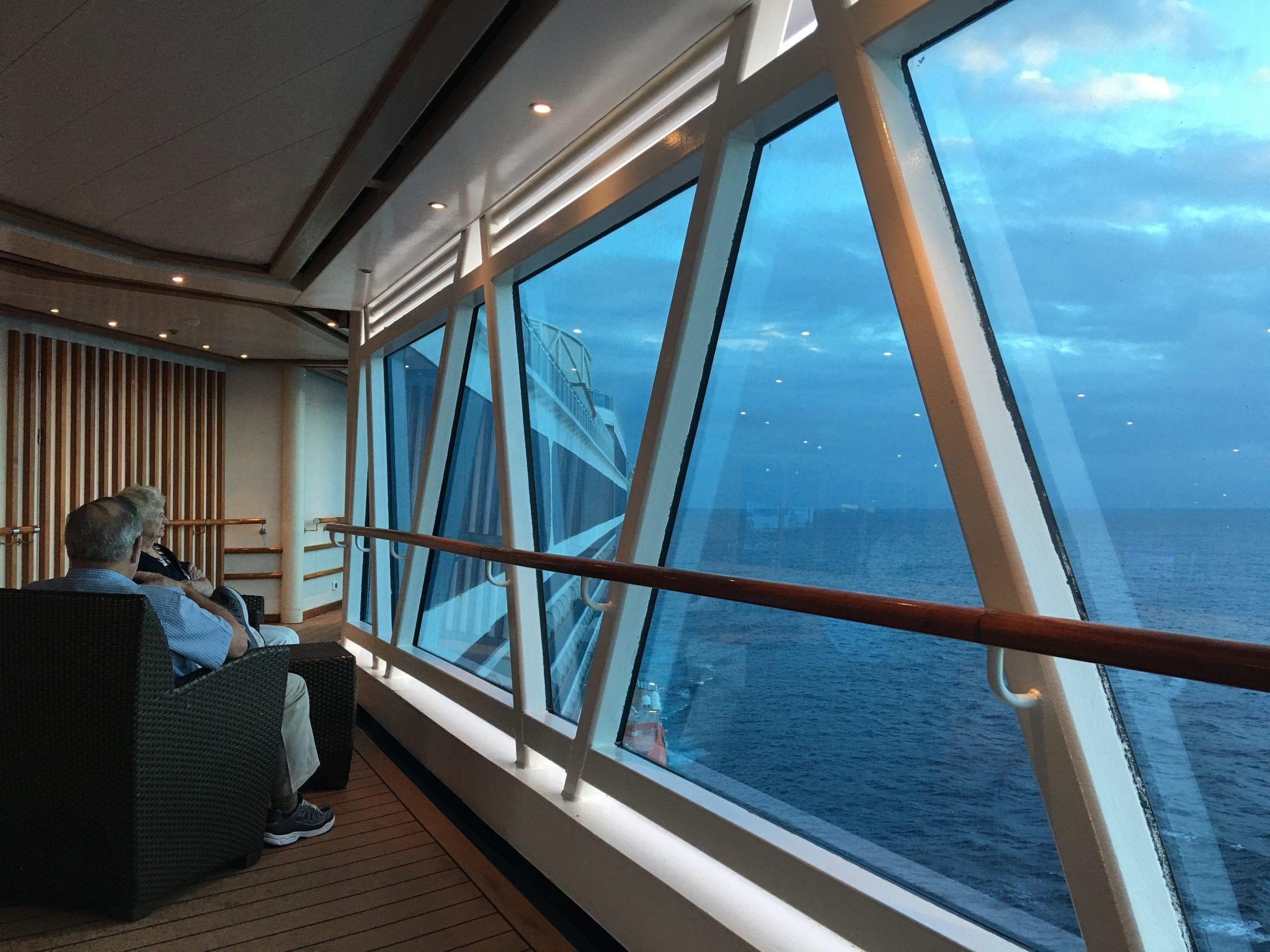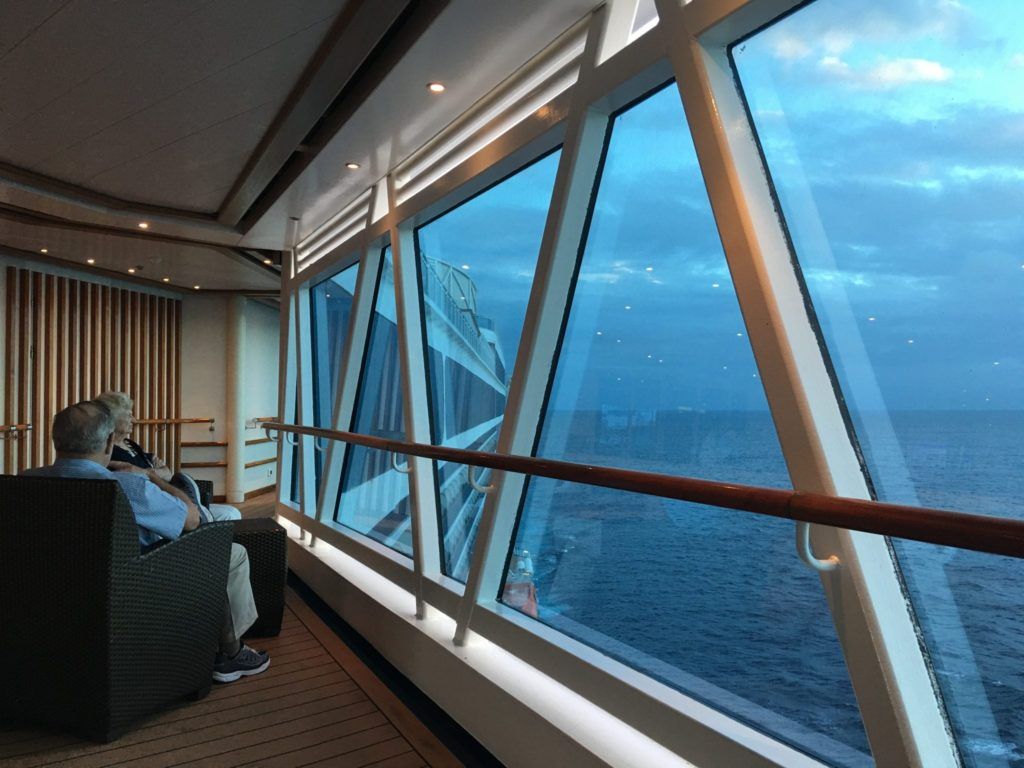 Every Good Cruise Unfortunately Ends with Disembarkation
We choose to walk-off with our bags. It could not have been easier. Maybe it was because we were the only ship in port that Tuesday. From our cabin at 8am to airside in Fort Lauderdale was 48 minutes. Our 2nd record for this trip!
Dry Dock Updates
A fair review of Royal Princess must dig back a bit to her 2013 inaugural season. Royal was the prototype for this new class of cruise ship. Regal, Majestic, and the under-construction Sky are her sister ships. With any new design, there are a few things the designers get wrong. Royal Princess went into an early dry-dock in 2017 after just 3.5 years in service. During the dry-dock, some great work was delivered.
We are pleased to report that Royal Princess now has a mid-ship passenger stairwell. If you have sailed on Royal, you will understand why this is important! This was the #1 complaint from passengers in her first few years. The passenger flow around the ship is greatly improved with this addition. The Promenade deck has also been improved, but it still falls short of previous generation Princess ships.
The elevator programming has been greatly improved, resulting in the reduction of unnecessary stops on almost every deck. The port and starboard elevator banks are now linked. Our guess is this reduces unnecessary stops by 30%. On our cruise, we did not hear a single complaint about the elevators, very different from 2013.
Sadly, the toilet roll holder is still in the ridiculous under-the-counter and tucked away position. Anyone who has been in a stateroom bathroom on Royal Princess has uttered these immortal words "what the hell were they thinking?".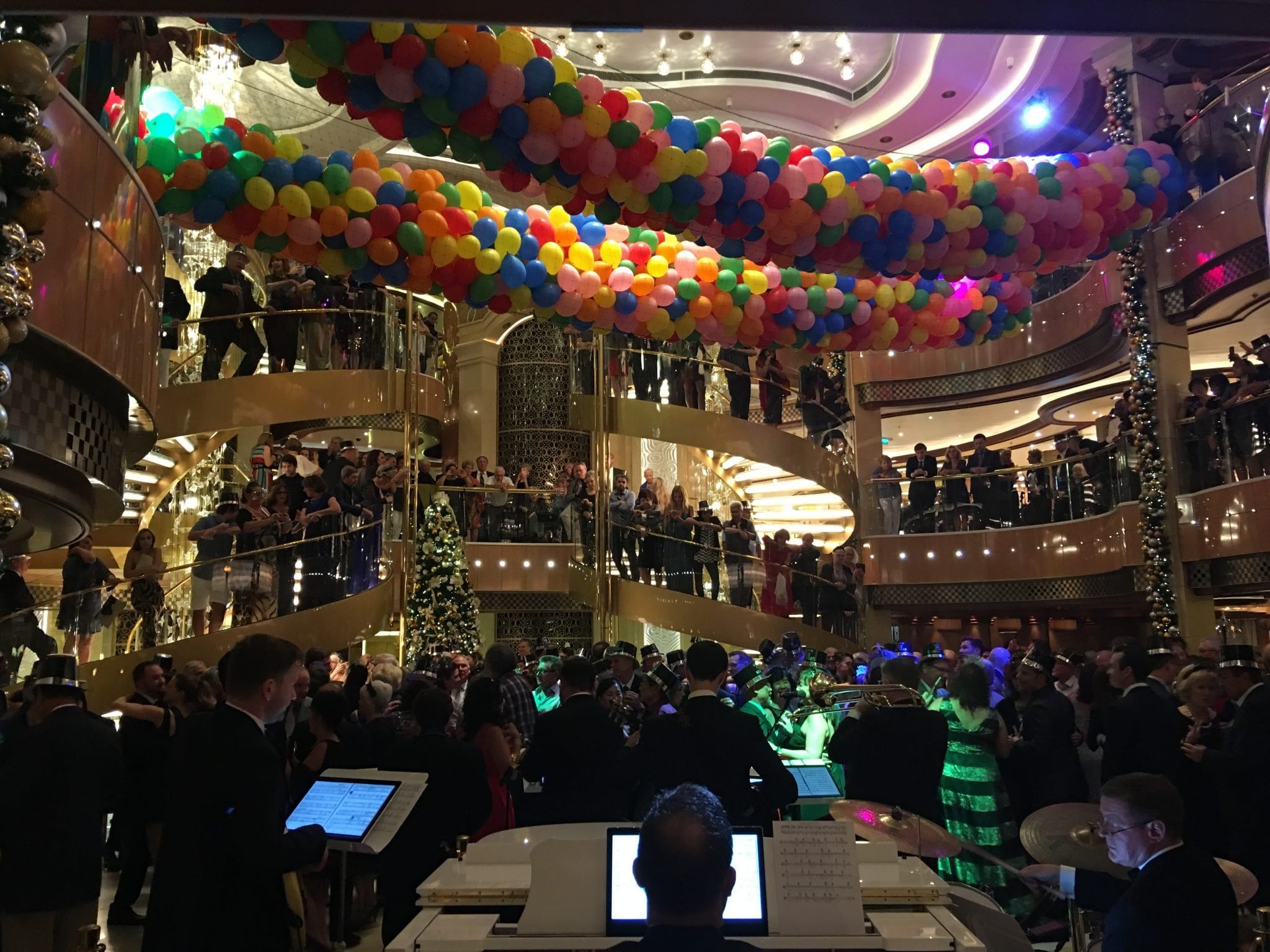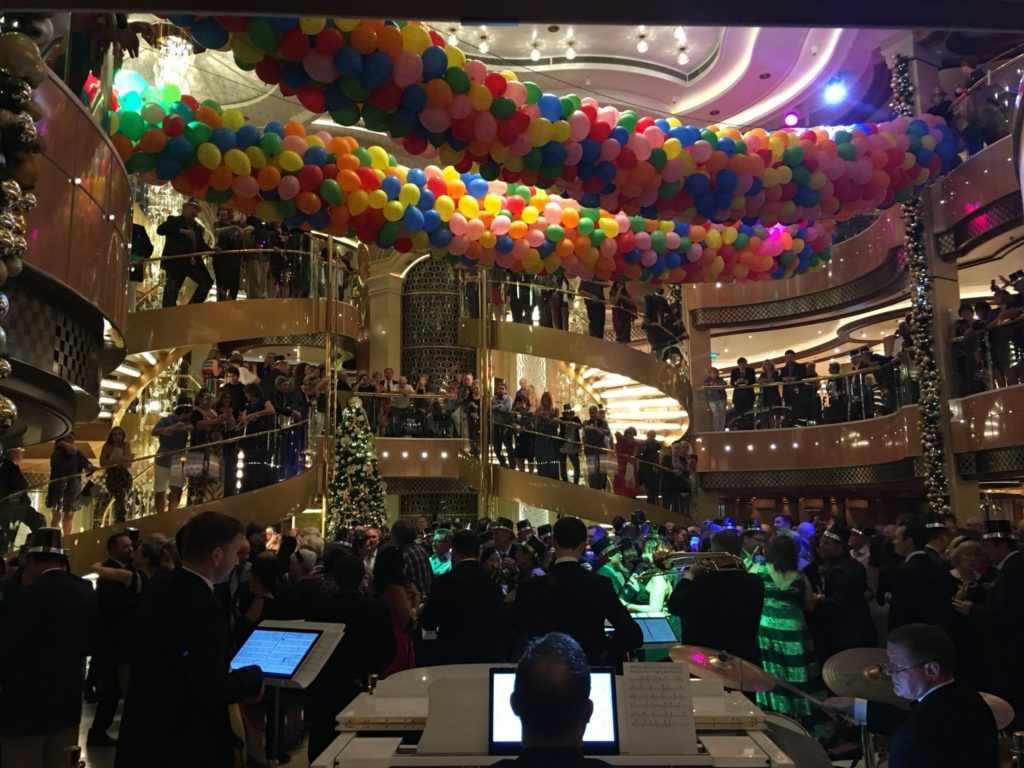 Recap
Obstructive Oceanview Balcony cabins are a super deal, and we highly recommended this option to save a few dollars while getting the balcony experience.
The adults only 'for fee' Sanctuary is lovely, but if you want a reservation then 'run' don't walk to Deck 17 forward as soon as you board the ship. It sells out within a couple of hours.
New Year's Eve on a cruise ship is tremendously fun. Princess catered to every taste and had four different New Year's parties onboard. The balloon drop at midnight in the Piazza was a highlight.
Bonaire and Curacao were our favorite ports; they are very different from the Eastern Caribbean ports. We will happily return.
Comments
Have you sailed on Royal Princess? What are your favorite memories of the ship? Drop us an anchor below to share your reviews of this Princess Cruises' ship.
[author] [author_image timthumb='on']https://eatsleepcruise.com/wp-content/uploads/2016/03/Steve-and-Patrica-Gauld.jpg.optimal.jpg[/author_image] [author_info]Steve & Patricia cruise as much as time and money will allow. Home for us is Michigan, and we try to escape the long winter months with a cruise (or 2). We have cruised the UK and Ireland and will be tackling Alaska this summer. We don't have a particular favorite cruise line and have sailed many of the major lines, each one has its own pros and sometime the odd con as well. Have questions for Steve & Patricia? They can be reached at sgauld@gmail.com. [/author_info] [/author]