Oceania Cruises Announces Seven New 2025 Summer Sailings to French Polynesia and Hawaii
Explore Far-Flung Destinations and Discover Exquisite Food on These New Exotic Cruises
Oceania Cruises announces seven new 2025 French Polynesia and Hawaii sailings on board the 670-guest boutique hotel-style Regatta. These itineraries will open for reservations on October 4, 2023. Sailing with Oceania Cruises is the ultimate way to visit these stunning destinations that offer a utopia of cultural encounters, memorable adventures, and pristine natural surroundings. 
The new cruises will visit French Polynesia and Hawaii during the ideal months of August, September, and October when the regions boast abundant sunshine, pleasant, balmy temperatures, and lower humidity. Sailing from Tahiti or Honolulu, the seven new voyages range from 10 to 18 days, allowing plenty of time for exploration, adventure, and relaxation in these stunning regions of the world.
Itineraries span the gorgeous blue lagoon of Bora Bora, the black sand beaches of Tahiti, the colorful coral reefs of Raiatea, the soaring mountains in the verdant jungles of Nuku Hiva, and more. Four of the seven new sailings link French Polynesia with the captivating craters, dramatic canyons, and lush waterfalls of the Hawaiian archipelago.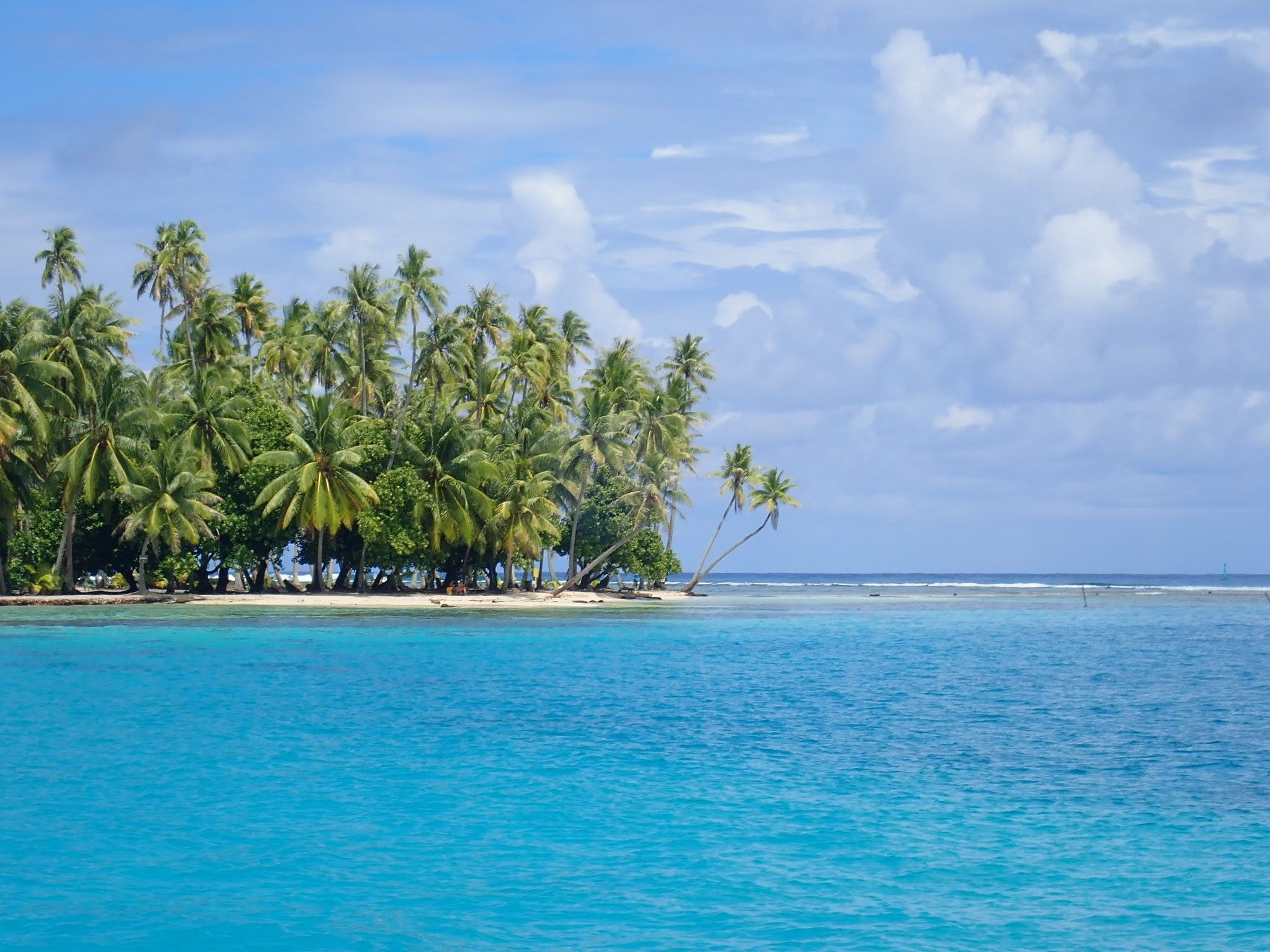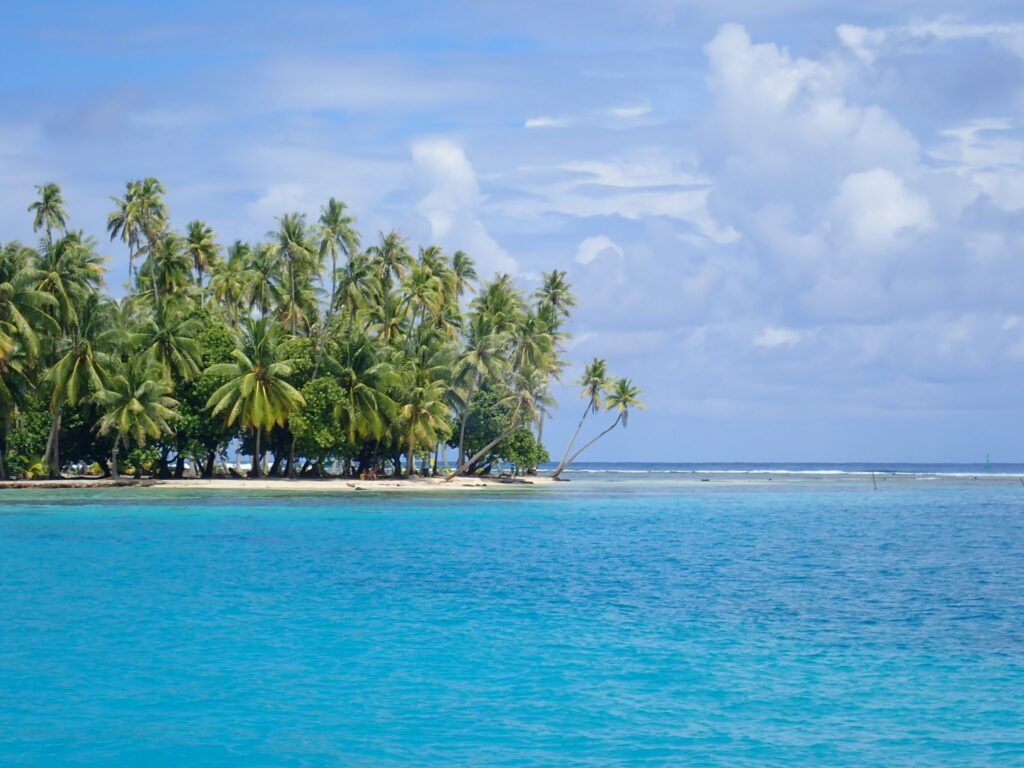 With Oceania Cruises, you can experience the paradise of these islands firsthand on immersive itineraries, discovering the traditions of native Polynesian culture, tasting the fresh flavors of the local cuisine, and exploring the local communities and surrounding natural wonders.
In addition to the seven new sailings aboard Regatta in 2025, there are dozens of other destination-rich itineraries to choose from in the South Pacific, as well as Australia and New Zealand, in 2024 and 2025 with Oceania Cruises.
NEW SUMMER SAILINGS IN 2025
Polynesian Dreams: 15 days from Honolulu to Papeete aboard Regatta, visiting Honolulu, Nawiliwili, Lahaina, Kailua-Kona, Hilo, Nuku Hiva, Rangiroa, Raiatea, Bora Bora and Papeete. Departs August 1 and September 15, 2025, which offers the itinerary in reverse.
Tahitian Legends: 10 days from Papeete to Papeete aboard Regatta, visiting Papeete, Moorea, Fakarava, Nuku Hiva, Rangiroa, Bora Bora and Raiatea. Departs August 16 and 26, and September 5, 2025.
Divine Pacific Oases: 15 days from Honolulu to Papeete aboard Regatta, visiting Honolulu, Nawiliwili, Kahului, Kailua-Kona, Hilo, Nuku Hiva, Rangiroa, Raiatea, Bora Bora and Papeete. Departs September 30, 2025.
Song of Polynesia: 18 days from Papeete to Los Angeles aboard Regatta, visiting Papeete, Moorea, Rangiroa, Nuku Hiva, Hilo, Lahaina, Honolulu, Nawiliwili and Los Angeles. Departs October 15, 2025.
REGATTA SHIPBOARD HIGHLIGHTS
Carrying just 670 guests, Regatta provides a boutique experience for travelers to explore the region, with itineraries designed to offer a unique flavor of the South Pacific. Guests will experience the ultimate in small ship luxury, with just 340 lavish suites and luxurious staterooms, nearly 70% of which feature private verandas.
Lose yourself in one of the hundreds of books in the top-of-ship library. Relax and rejuvenate in the Aquamar Spa + Vitality Center. Or socialize with old and new friends in one of the eight lounges and bars on board. After dinner in one of the four gourmet, open-seating restaurants, take in a show or spend the evening in the casino.
EAT YOUR WAY THROUGH FRENCH POLYNESIA & HAWAII
One of the best ways to delve into the local island culture is through food. Both French Polynesia and Hawaii serve up some mouth-watering specialties, exotic dishes, and delicious delicacies.
Try poisson cru: French Polynesia's version of ceviche. This dish features local raw fish marinated in coconut milk and lime juice, often with vegetables. You'll have plenty of chances to try it on a variety of excursions, and you'll regularly see it on local menus.
The mahi mahi burger and a mai tai at Bloody Mary's in Bora Bora are not to be missed. The thatched-roof restaurant with sand floors has served well-known faces including Jimmy Buffet, Ronnie Wood of The Rolling Stones, and movie star couple Goldie Hawn and Kurt Russell. It's an experience to remember.
Don't pass on the breadfruit: Called uru in Tahitian. This strangely versatile starch will appear on the table prepared in more ways than you can keep track of and is quintessentially French Polynesian. A staple form on Nuku Hiva involves roasting it over hot coals and then mashing it with coconut milk to create a dish called kaka.
You can't visit Hawaii without trying traditional poke, a raw fish bowl favored for its simplicity and freshness. Though all sorts of variations have become popular, try ahi poke or tako poke – octopus – in its birthplace for a true taste of the classic dish.
A must-have at luaus, kalua pork is another Hawaiian favorite you'll find across the islands. The traditional method of slow roasting the pork in an imu, or underground pit, and seasoning it with local sea salt results in a succulent, smoky meat.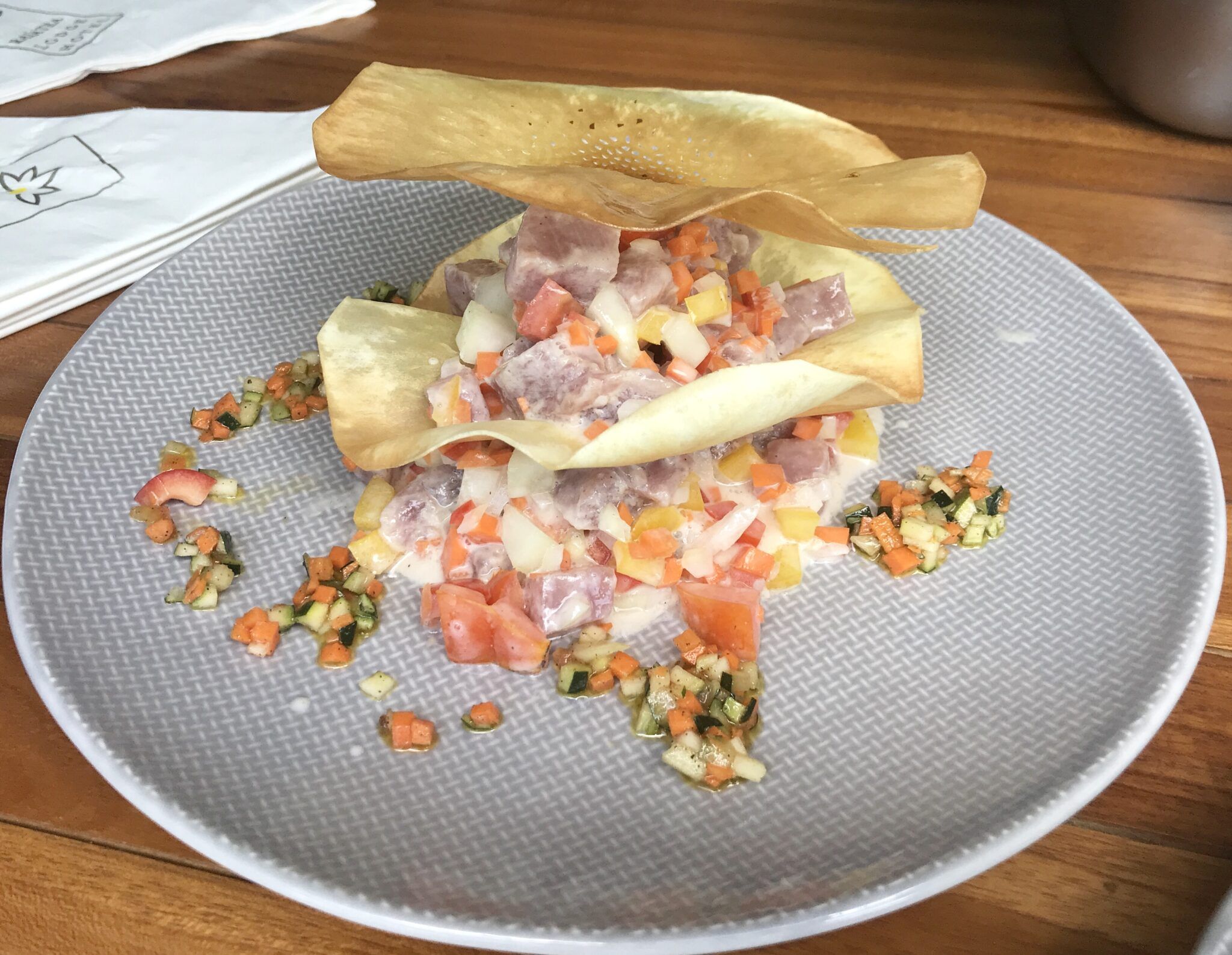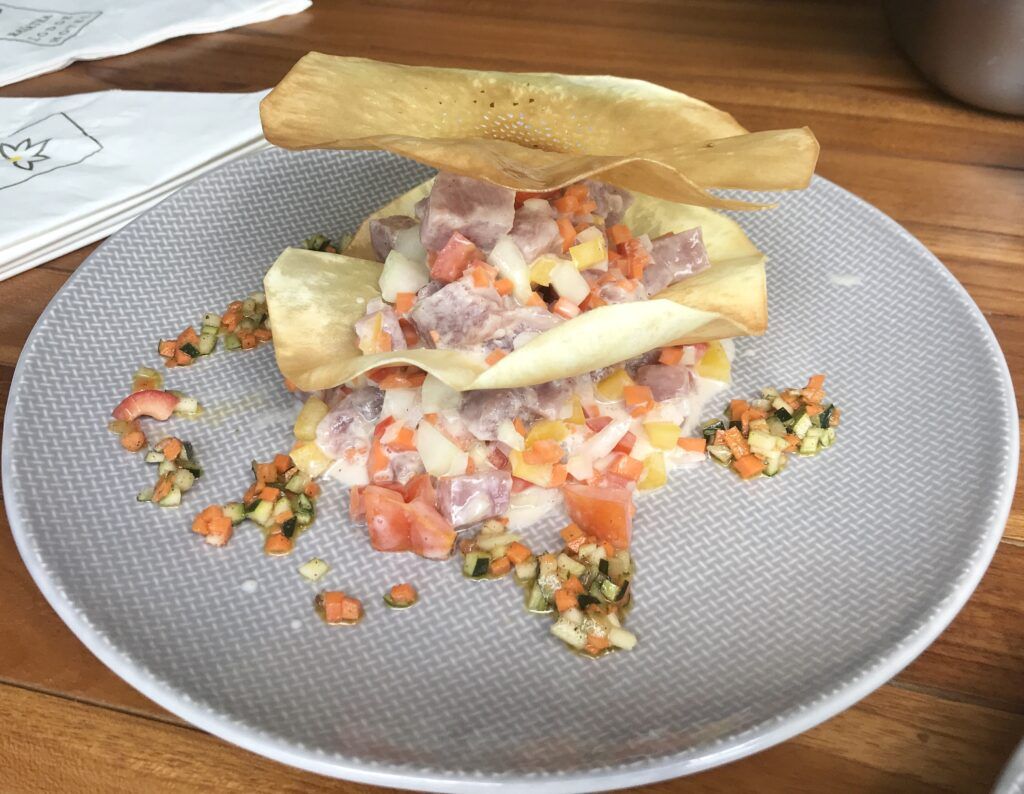 DESTINATION HIGHLIGHTS
Bora Bora, French Polynesia
One of the most photogenic islands, Bora Bora is dominated by two peaks – Mount Otemanu and Mount Pahia – both more than 2,000 feet high. Covered in emerald greenery, they create a dramatic backdrop for Bora Bora's shimmering lagoon, renowned for its breathtaking turquoise water.
Under the sea, the reef encircling the island is a haven for a rainbow of exotic fish and turtles. Explore Bora Bora's dazzling lagoon. Go on a guided off-road adventure across the island. Or see sharks and stingrays from the comfort of a glass-bottom boat.
Papeete, Tahiti
The capital of French Polynesia, Papeete has clear blue waters, palm trees, balmy weather, and rich island culture. Enjoy a wide variety of restaurants and the best shopping in the region. Be sure to look out for exquisite hand-carved wooden figurines and bowls as well as colorful patchwork textiles called tifaifai, appliqued quilts that are often handed down for generations.
Feeling energetic? Then be sure to hike inland a couple of miles to Fautaua Waterfall, Tahiti's highest at an incredible 443 feet. Learn about the iridescence and luster of pearls at the Robert Wan Pearl Museum. Or take a walking tour of the colorful and creative street art and murals painted by talented international artists.
Hilo, Hawaii
On the east coast of the Big Island, Hilo is renowned for its lush greenery. See how the 2018 reawakening of Pele, the Hawaiian goddess of fire and volcanoes, has changed the landscape at Hawaii Volcanoes National Park, a UNESCO World Heritage site.
Thrill seekers can choose from excursions such as a helicopter ride to Kilauea Volcano or zip-lining through a river gorge. For those who want to take it easier, visit Richardson Ocean Park, a black sand beach carved into the rocky shoreline. Or a stroll through farmers markets with aisles of colorful fruits, vegetables, and flowers would be perfect.
Kailua-Kona on Hawaii
Kailua-Kona has a laid-back vibe and myriad things to do. Roam a national park, swim or snorkel in the sea, or play a round of golf at one of three courses overlooking the ocean. Visit Mountain Thunder Coffee Plantation to learn about different beans and roasts and sample some of the aromatic fresh brews.
Experience Magic Sands Beach, a beautiful stretch of turquoise water and white sand – when it's there. It's named Magic Sands Beach because every so often a big storm will take all the sand out to sea, exposing rock until the sandy beach is returned by the sea over time.
simply MORE
Oceania Cruises offers travelers simply MORE, with virtually everything included in the voyage fare. Free roundtrip airfare; free airport transfers; a generous shore excursion credit; and a comprehensive beverage package available during lunch and dinner at onboard restaurants featuring dozens of vintage Champagnes, premium wines and international beers.
Created to elevate the guest experience, simply MORE means travelers receive the greatest value in luxury cruising.
SOURCE Oceania Cruises
Comments
Are you excited to hear that Oceania Cruises announces new 2025 French Polynesia and Hawaii sailings? Have you explored this region on a cruise yet? Drop us an anchor below to share your experiences visiting French Polynesia and Hawaii.
Stay up to date with the latest cruise news and travel updates!