One of Norwegian Cruise Line's biggest ships, Norwegian Epic delivers plenty of nightly entertainment to please the entire family. With so much entertainment, it is hard to cram everything into a 7-night cruise, never mind a 4-night cruise like we had to do. To help with your planning, we have put together this insider's guide to the Norwegian Epic Entertainment. Now, you will have everything you need to know so you never miss a show!

Norwegian Epic Entertainment Guide
Main Theater Signature Entertainment
Norwegian Epic boasts two signature production shows in the main theater for which reservations are required. You have a few options for reserving this entertainment. Before the cruise, you can book shows 90 days prior to your sailing using your MyNCL account. Or, you could head to the box office, use the Norwegian iConcierge app, or reserve shows using your stateroom television once onboard the ship. Make reservations for these shows as soon as possible as you don't want to be stuck in the standby line!
Burn the Floor
This non-stop, high energy dance revue fuses contemporary music with sultry dance routines. This 50-minute production runs through various scenes with a talented cast of singers and dancers. The "Rebellion in the Ballroom" dance performance heats up the stage and keeps the audience fully engaged. Burn the Floor is one of our favorite NCL main theater shows to date! On our 4-day cruise, the show occurred on Night 2 at 7pm and 9:30pm. On a typical 7-night itinerary, the show will play at least 2 evenings at these scheduled times.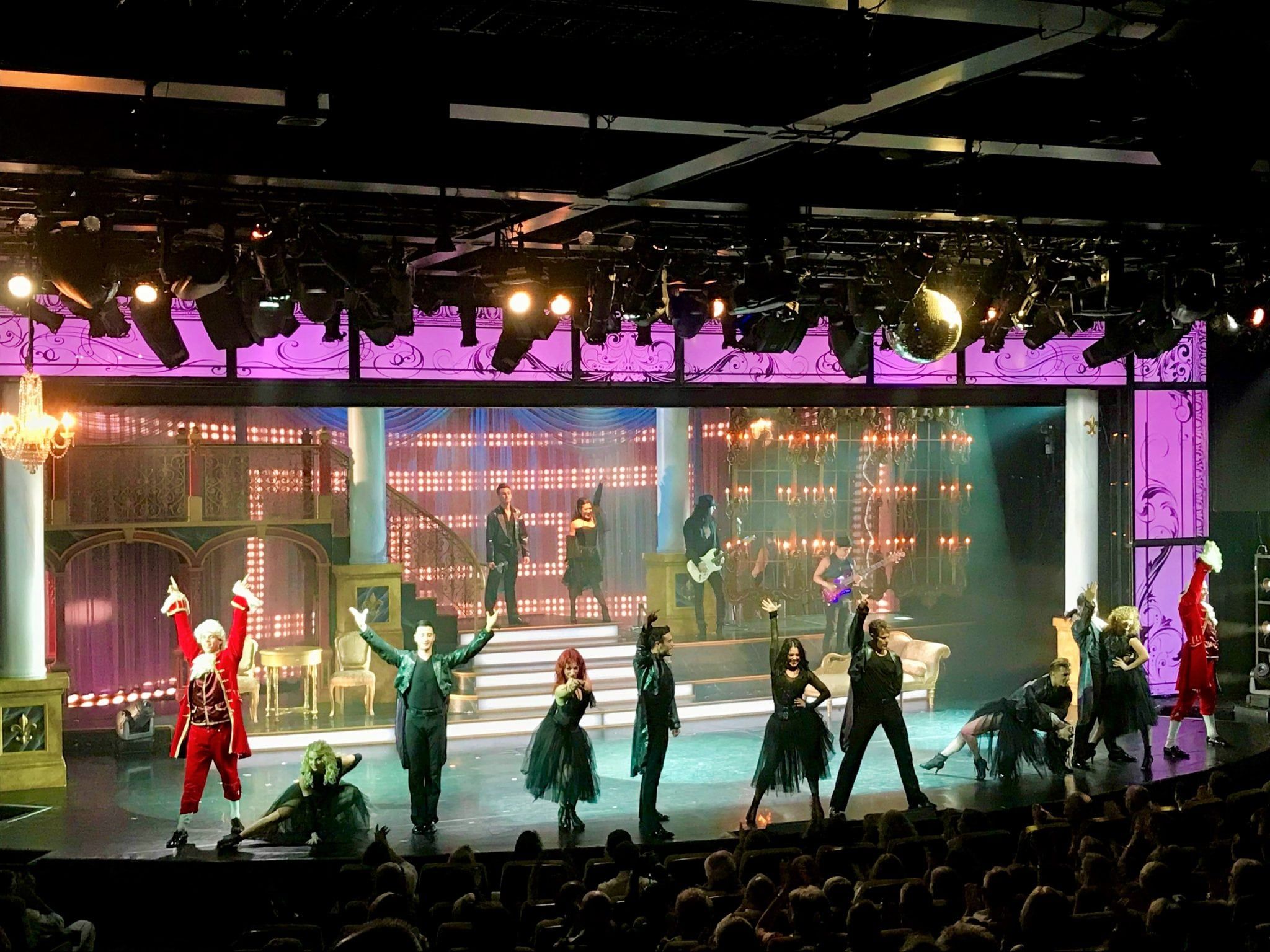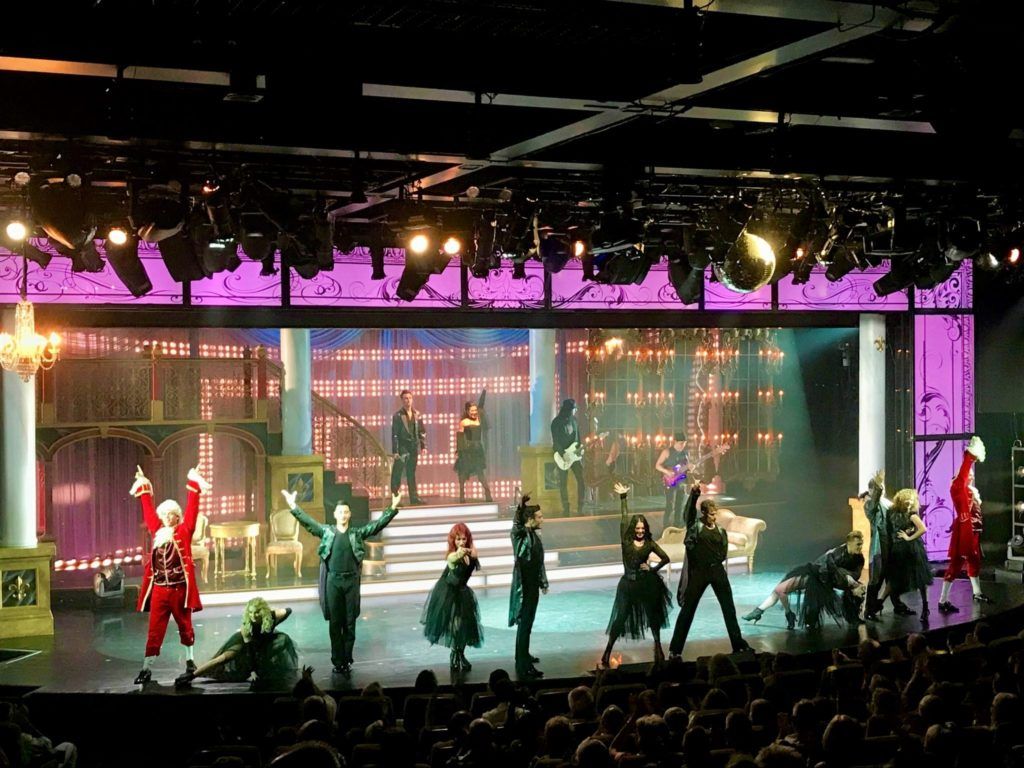 Priscilla Queen of the Desert
This hilarious Broadway musical combines comedy with energetic dance hits from the 70's and 80's in a 90-minute production show. Showcasing the journey of 3 drag queens across the Australian Outback in their run-down bus, Priscilla, this show is a crowd-pleaser featuring plenty of glitz and glam. On our 4-day cruise, Priscilla Queen of the Desert was offered on Night 3 and Night 4 at 7pm and 10pm. On a typical 7-night cruise, the show will also play 2 evenings at these scheduled times.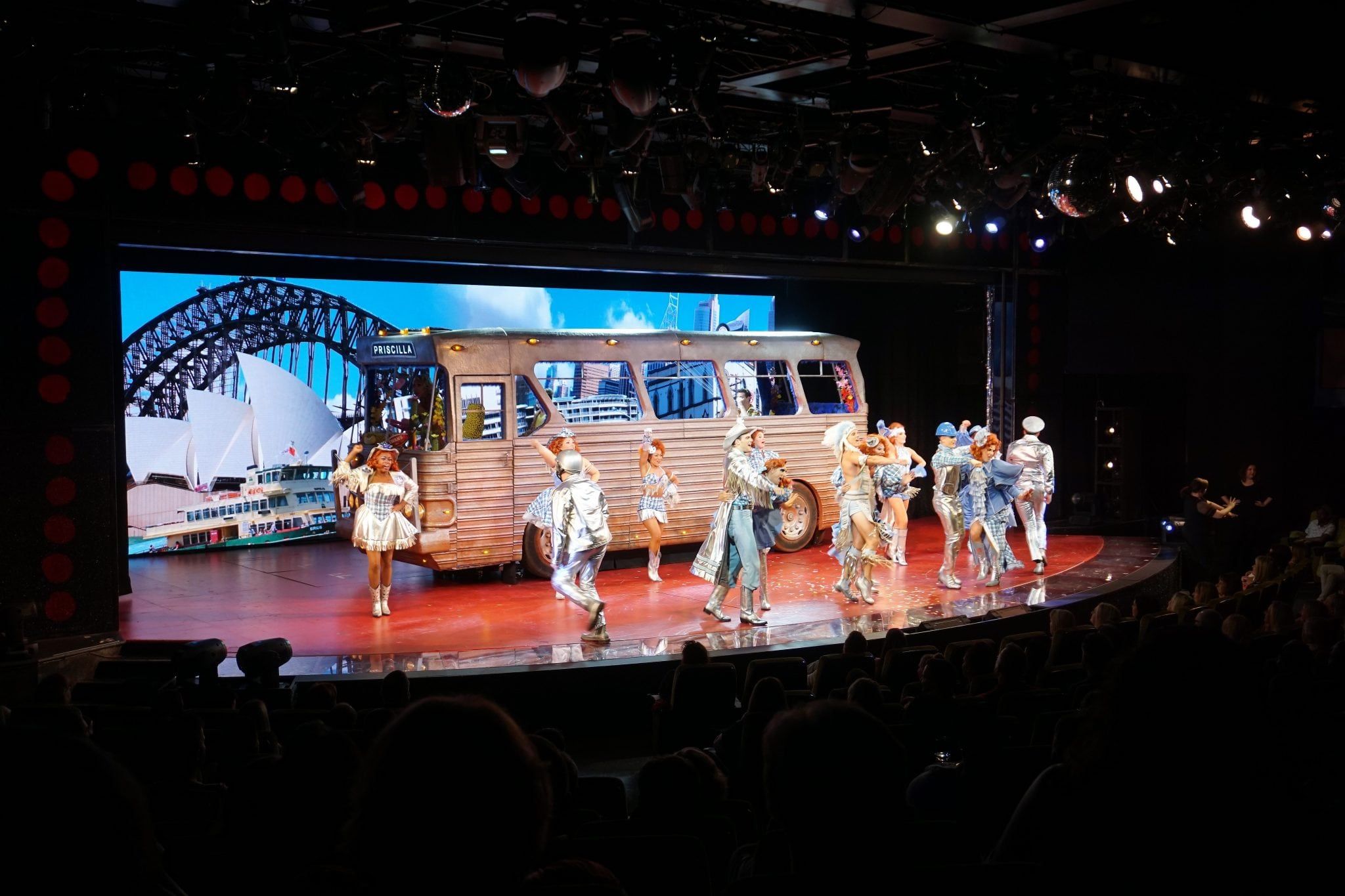 Other Main Theater Entertainment
Some shows in Norwegian Epic's main theater do not require reservations.
The Epic Beatles Live show occurs in the main theater on the first evening of the cruise. This Welcome Aboard show begins with the cruise director and senior officer introductions followed by an approximately 35 minute performance by the Beatles cover band. This show plays around 7:30pm and 9:30pm. There will also likely be a headliner show that occurs in the main theater on a 7-night cruise.

Headliner's Comedy Club
You will also find plenty of Norwegian Epic entertainment outside of the main theater. In fact, many different venues throughout the ship offer nightly shows. Headliner's Comedy Club is a small venue that holds two different shows that rotate during the cruise.
Comedy
Get ready to laugh out loud. The line-up of comedy changes regularly, but you'll probably recognize some of the names and faces from late night television or premium cable comedy specials. For this trip, we had Steve Smith and Julie Barr. The two comedians cycle through 7:00pm, 9:00pm, and 11:00pm time slots. Of note, the earlier shows are family friendly, but the 11:00pm show is adults only. We recommend making reservations for these shows as soon as you board the ship as they do sell out quickly and standby lines can get quite long. These shows are only available to book onboard and not in your NCL account pre-cruise.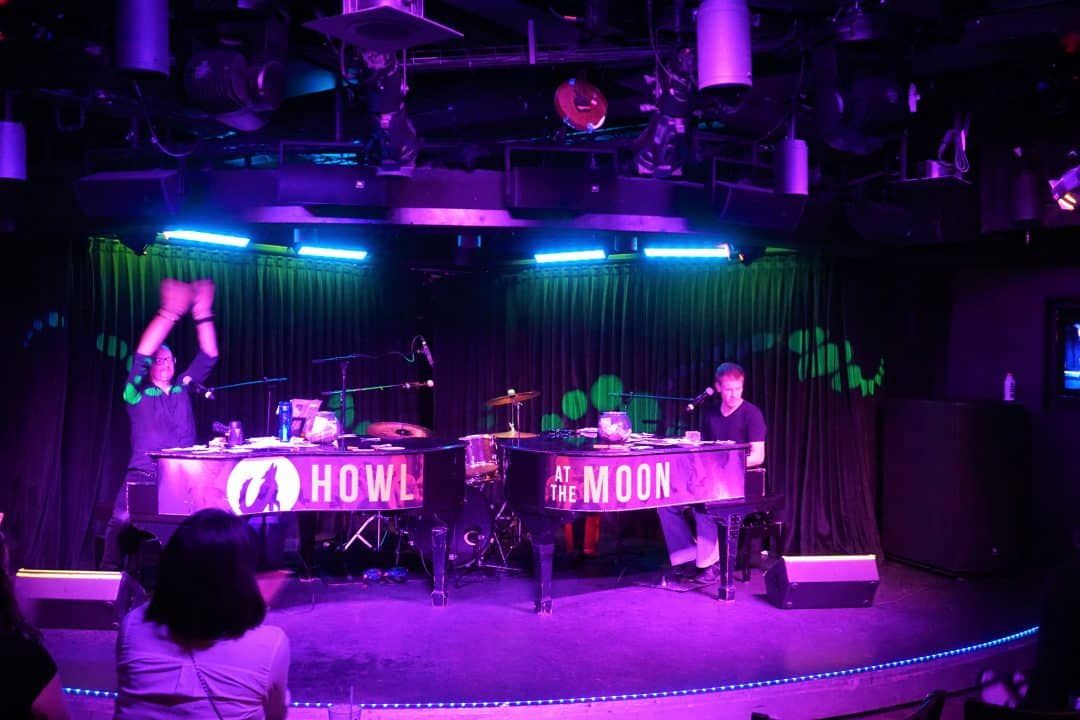 Howl at the Moon
Get ready to sing along with these dueling pianos. On select nights (opposite of the comedy shows), this venue turns into the Howl at the Moon piano bar where three musicians play, sing, and banter with each other and the crowd. Audience participation is encouraged and requests (with tips) are accepted. Reservations for the show are not available, so get here early. Many times, you will find the club standing room only. These musicians play throughout the night with scheduled breaks in between, so feel free to come and go as you please.
The Cavern Club
Relive Beatlemania in the Cavern Club on Norwegian Epic. This intimate venue inspired by the Liverpool club where the Beatles performed hosts live music and even a Beatles cover band. The venue offers different Beatles performances (usually 3) throughout the cruise generally at 10:30pm. As the venue is small, we suggest you arrive early if you want to score some plush seating for the show. During alternate evenings, we had a great rock band, Siglo, perform in the Cavern Club. We definitely suggest watching a set from this band if you are lucky enough to have them on your cruise.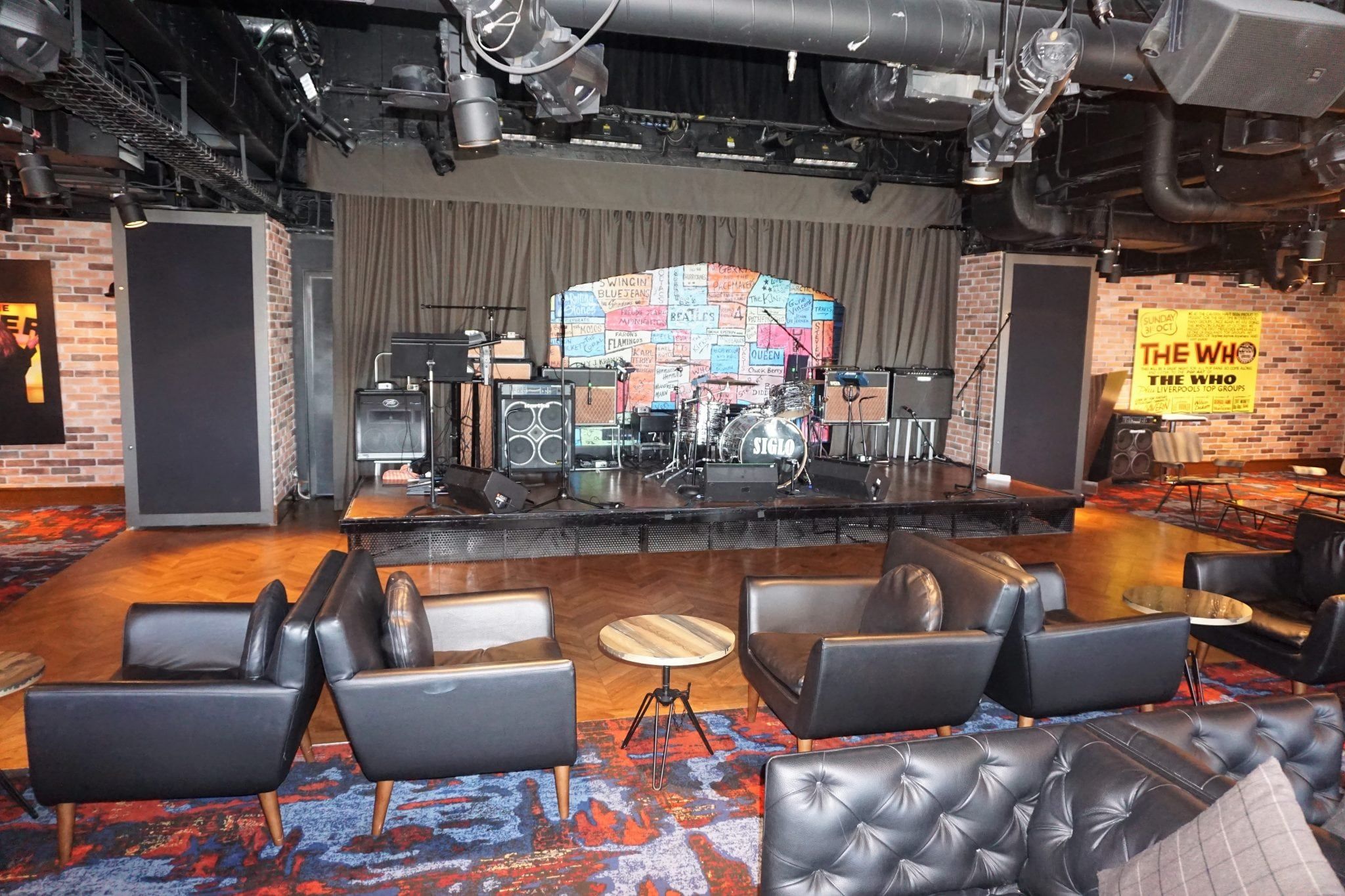 Game Shows and Atrium Entertainment
The Atrium on Norwegian Epic also hosts a variety of entertainment. Events include dance classes, trivia contests, movies, and demonstrations. There is something occurring in this central hub most times of the day. Check your daily schedule for a complete listing of the entire day's events. Some of the nightly game shows that are offered on a typical 7-night cruise include Majority Rules, 55 to Stay Alive, Deal or No Deal, Lip Sync Battle, and the Perfect Couple. The Newlywed Not So Newlywed game show occurs in Headliners on Norwegian Epic.
Norwegian Epic Dance Parties
Norwegians know how to party. So of course, some of the most popular Norwegian Epic entertainment offerings are the dance parties. Starting around 10:30pm each night, you will need to get to Spice H20 if you want to be in the center of all the action. The typical parties held on a 7-night cruise include Norwegian's Night Out, Caribbean Deck Party, Awesome 80's Party, and the GLOW Party. Be sure to pack your favorite white or neon attire for this event! If you want to keep the party going even longer, then head to Bliss which becomes your nightclub at sea after hours.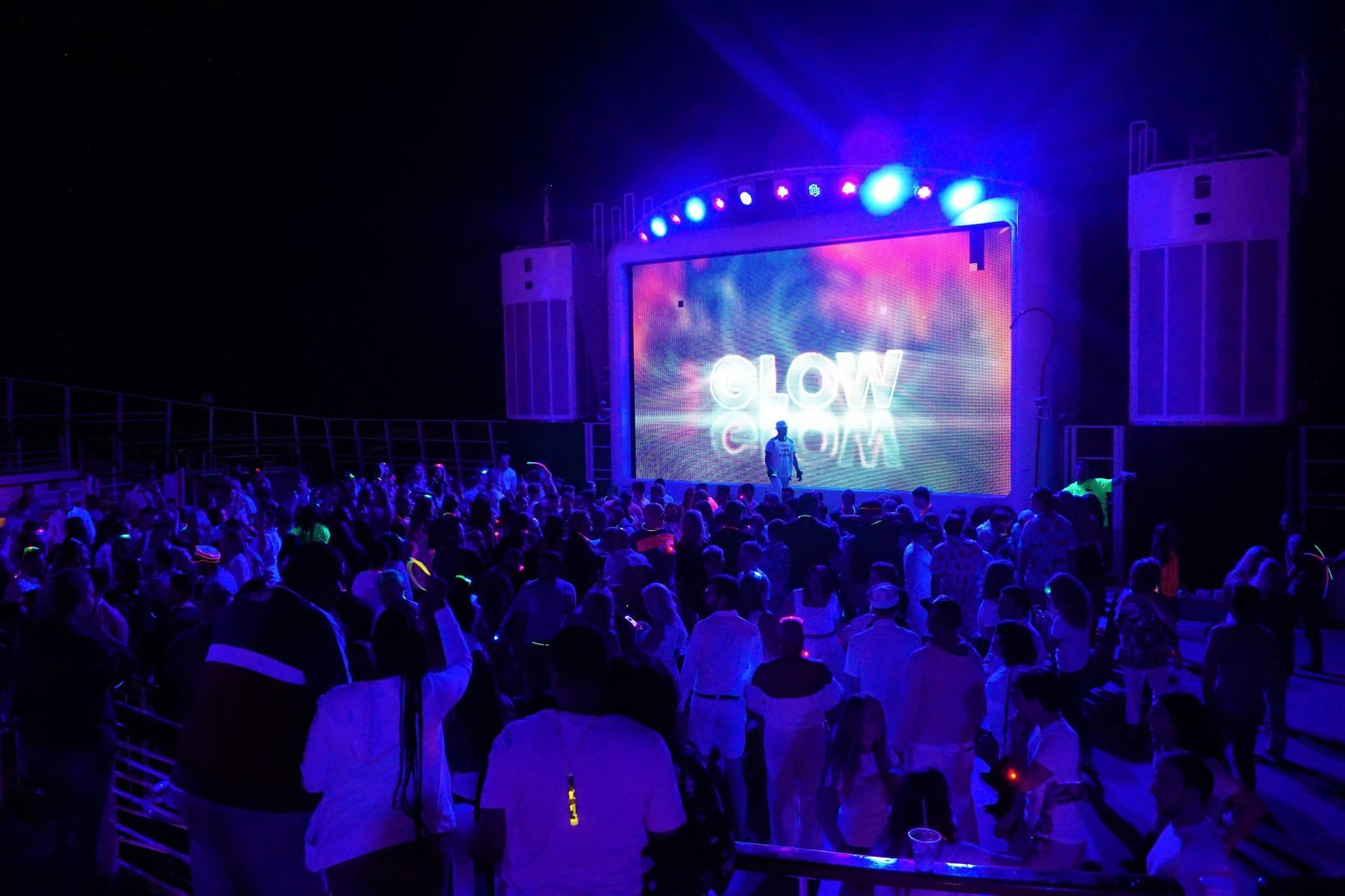 Live Music
In addition to the stage shows, there is plenty of other live music to be found throughout the ship. On our cruise, there were several musicians in the bars and lounges including a piano player in Shakers, a guitar player in Maltings, and the popular rock band Siglo. Find your favorite performers and your go-to lounge, then check your Freestyle daily for exact times as the performers do take scheduled breaks throughout the evening. On Norwegian Epic, karaoke also took place in Bliss and is fun for all ages.

Cirque Dreams Epicurean
Held in the Spiegel Tent on Norwegian Epic, Cirque Dreams Epicurean is a one of a kind theatrical experience. For a cover charge, you can purchase either floor seats or standard seats to this spectacular show. Cirque Dreams is offered on most evenings of the cruise. Included in the price is a 3-course meal and a circus-style performance. While the meal is nothing to write home about, the show is definitely worth seeing. Given the small theater and set-up of the stage, you feel like you are in the center of the action at all times. For our cruise, the pricing was $47.19 (including 20% gratuity) for floor seating and $35.39 for standard seating.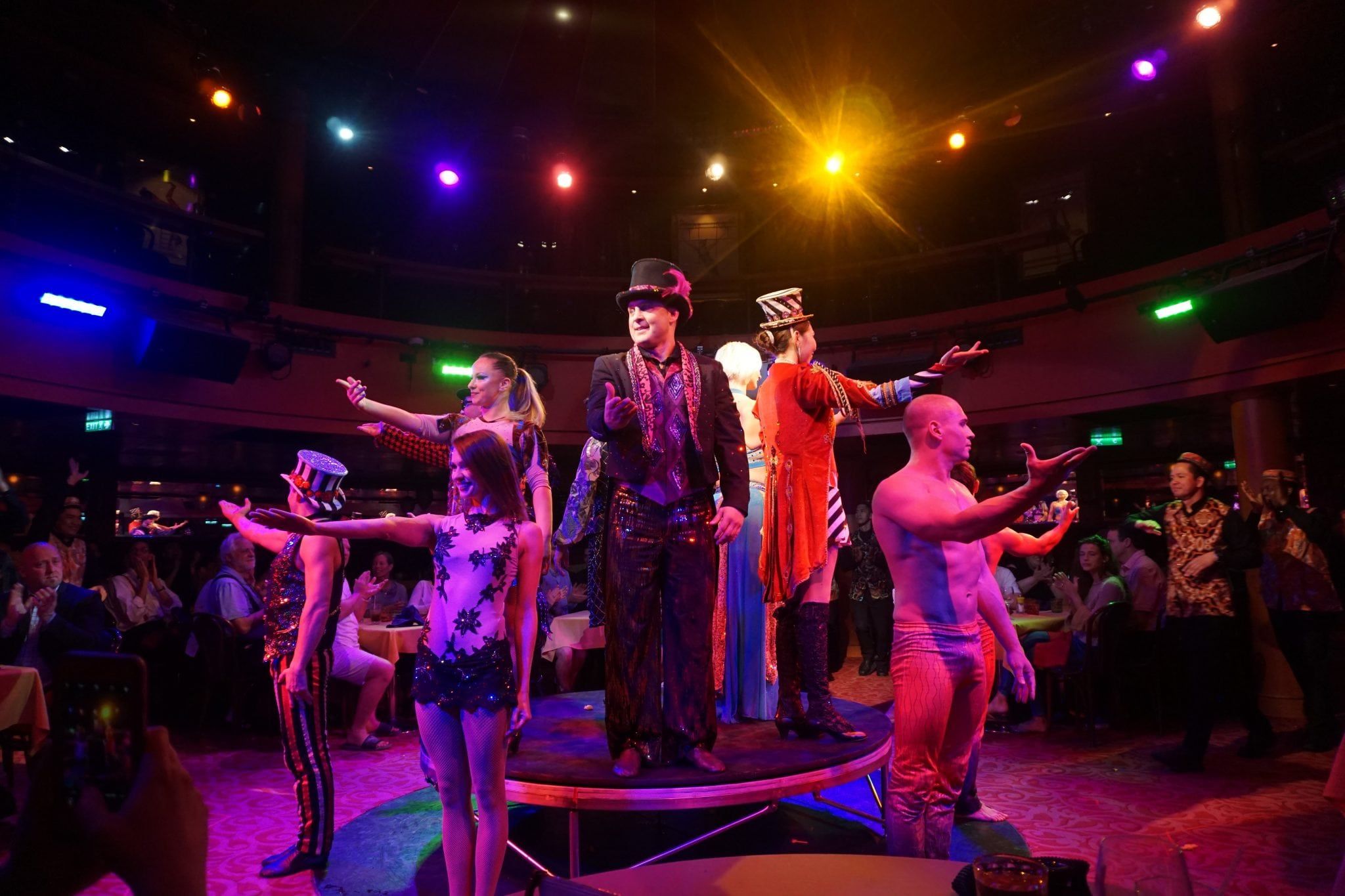 Escape the Big Top
Norwegian Epic now offers an escape room called Escape the Big Top. This circus themed experience takes place in the Spiegel Tent on select days and is included in your cruise fare. You will need to work together to solve puzzles and find the magic spell to escape the curse before time runs out. This event occurs multiple times during the cruise, but space is limited so head to the box office early to secure your spot. Be sure to bring your thinking caps for this one! This hour long "game" occurs with multiple small teams vying to be the first to solve the puzzles and escape. Do you have what it takes?
Comments
Have you cruised on Norwegian Epic? What is your favorite onboard entertainment? Drop us an anchor below to share your entertainment reviews with fellow cruisers.