Scroll down to watch our complete Norwegian Encore Ship Tour and Review where we go deck-by-deck exploring the ship!
The Princess and I have just returned from three very action packed days cruising on the brand new Norwegian Encore. Of course, we made the most of every minute testing out all the ship has to offer. From the new dining, to onboard activities, and signature entertainment, we were certainly busy. Now that we are back, we share every minute of this christening cruise in our signature, day-by-day Norwegian Encore Cruise Review.


Norwegian Encore Cruise Review – Ship Overview
Norwegian Encore is the final ship in Norwegian Cruise Line's most successful class of ships, the Breakaway-Plus class. We have sailed on two of her sister ships and were able to see how NCL has refined and improved these vessels with each iteration.
It is the little touches that set Norwegian Encore apart, such as slight design and decor changes, to places like the Local, the Observation Lounge, or the Speedway. Maybe it's just us, but the Observation Lounge felt a bit more luxurious. We thought the Local felt a bit more open as well, and we enjoyed the new viewing area for the racetrack.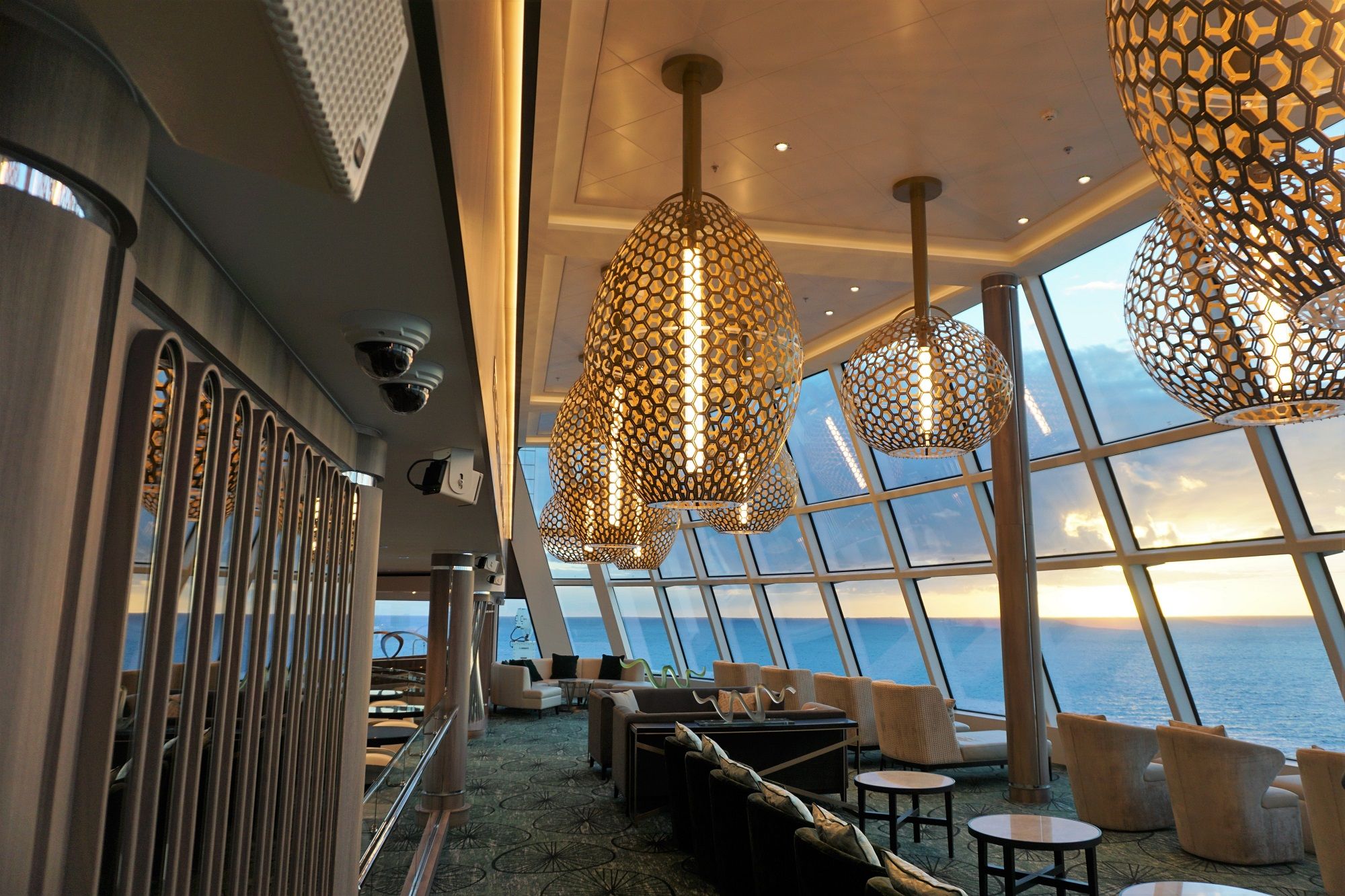 While a bit more refined, Norwegian Encore is still home to many familiar favorites for families and thriller seekers alike. These attractions include waterslides, two pools, a kids aquapark, and the Waterfront promenade. We love that this class of ship has plenty to offer all types of travelers.
Of course, Norwegian Encore is a new ship that boasts a few unique features of her own too.
One of our favorite additions is the brand-new Italian restaurant, Onda by Scarpetta. We both agreed that the food was more upscale and tastier than the line's previous La Cucina. Onda might just be our favorite Norwegian Cruise Line restaurant. We felt it compared to Italian restaurants in Boston's North End, and even foodies felt that it lived up to Scarpetta restaurants on land.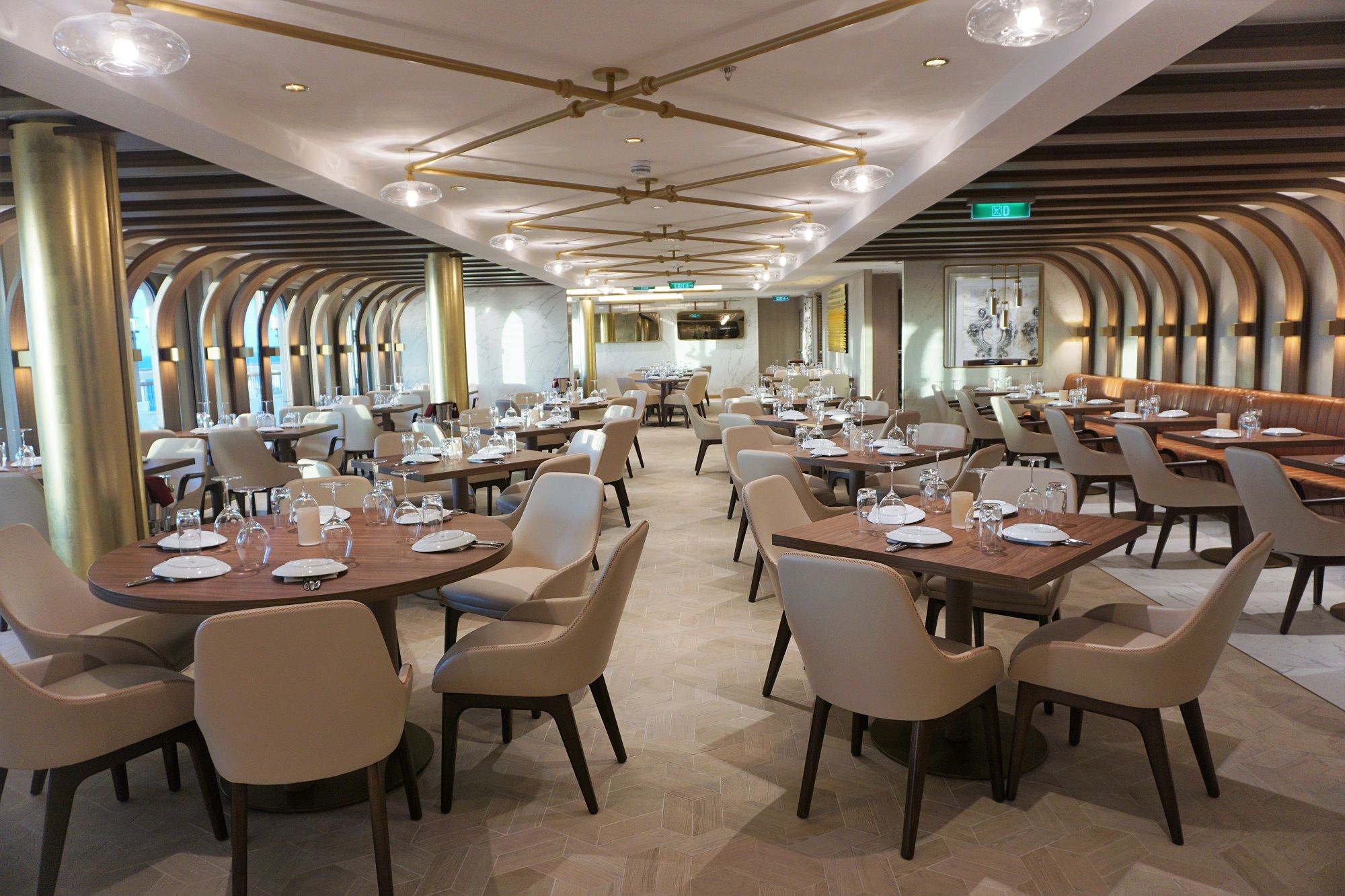 Another addition to this ship is the Galaxy Pavilion on Deck 17. This indoor amusement park features several interactive virtual reality experiences. First debuting on Norwegian Joy, this rendition on Norwegian Encore offers several unique experiences not found on her older sister.
Also debuting for the first time at sea is the show Kinky Boots. I was fortunate enough to see the West End production with NCL last winter, and this shortened version is very comparable. The Princess agreed that this show ranks as one of the top signature shows on a cruise ship.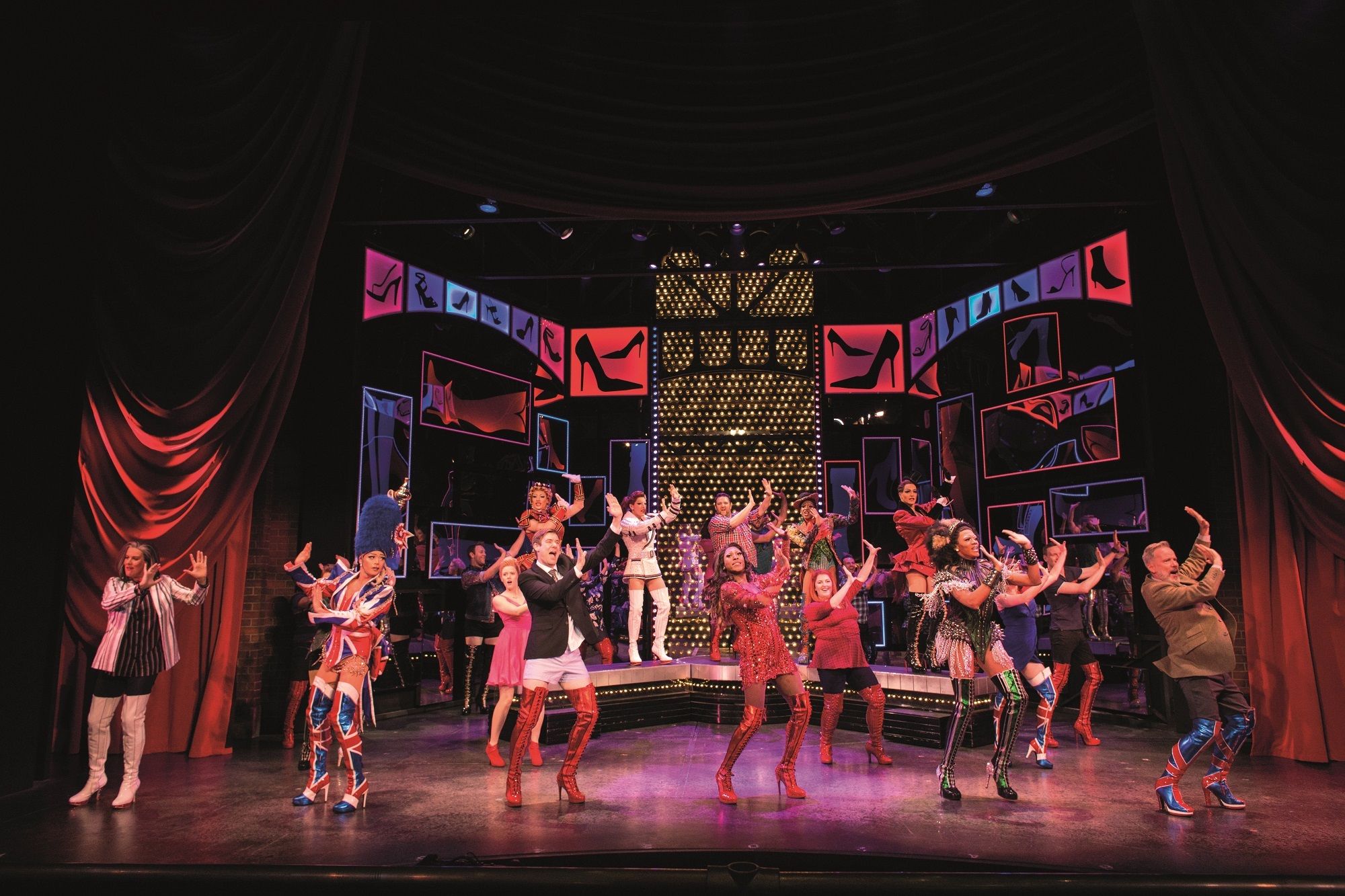 Related Post: Sneak Peek of Norwegian Encore
The main theater on Norwegian Encore is also home to the popular show, Choir of Man. This show which first debuted on Norwegian Escape is a fun, lighthearted, and engaging performance. Cruisers even get the chance to go up on stage to have a beer with the cast before the show.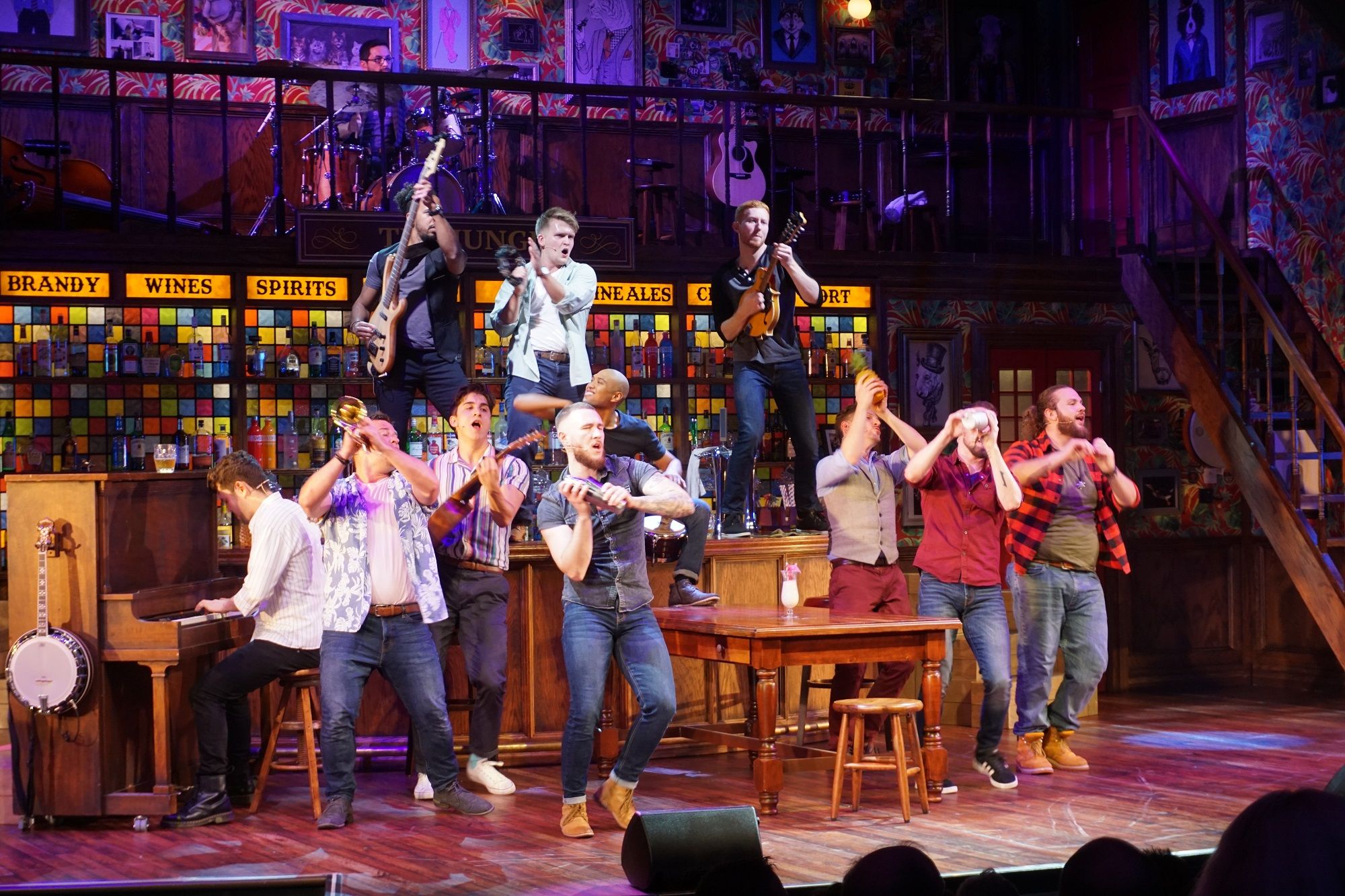 With so much to do, see, and eat on Norwegian Encore, we only touched the surface in our three days on the ship. We hope to hop back onboard soon for a full week of excitement.
Norwegian Encore Cruise Review – Day 1
The Usual Boarding Routine
We flew down to Florida the night before our inaugural cruise to ensure that we would not encounter any travel issues. We stayed about 10 minutes from the cruise port at the Intercontinental Miami. With a busy three days ahead of us, we had a low key evening at the hotel.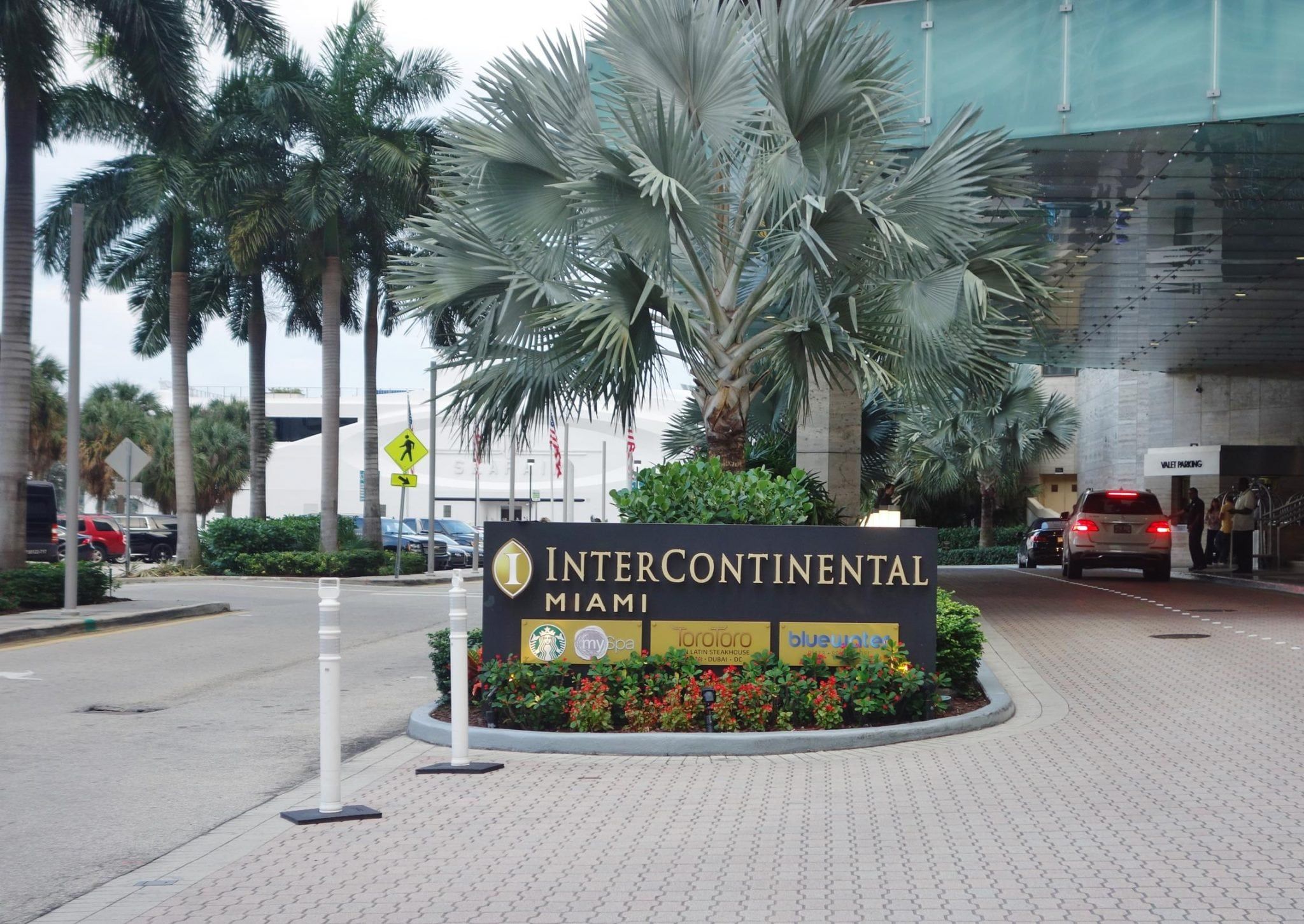 The pre-cruise documentation for this trip indicated that we could check-in starting at 10 am. Of course, this was our plan all along as we are usually among the first individuals at the terminal. That was not the case this morning though. We were greeted by several fellow travelers who were already being dropped off at the terminal as well when we arrived shortly after 9:30 am.
Related Post: Best Places to Stay Near Miami, FL Cruise Port
Still, the check-in and security processes were quick and efficient. We were in the waiting area with our Welcome Aboard photo taken and a Group 3 boarding pass in no time.
Around 10:30 am, the first groups were escorted onboard the ship. Our group was called by 10:45 am.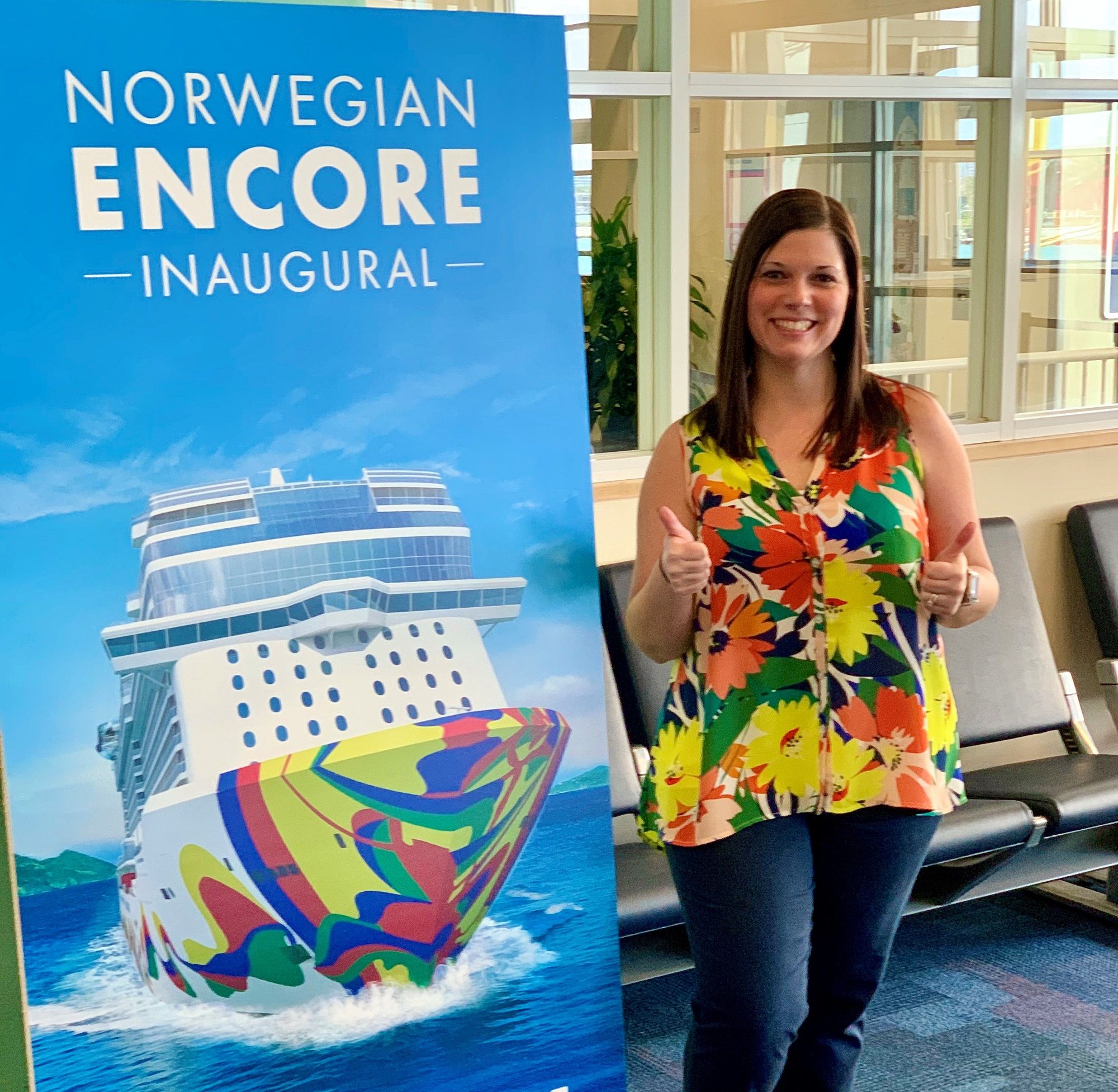 Before our typical photo (and now video) tour of the ship, we checked-in with our media contact in the library to receive our Welcome package with a schedule that had our next three days planned out for us to accomplish as much as possible. We were not going to miss a beat!
This short cruise stopped at NCL's private island in the Bahamas, Great Stirrup Cay. We were informed that Norwegian Cruise Line was offering free shore excursions on the island, so we stopped at the Shore Excursions desk to sign up for an available slot to test out the new zip line course. Surprisingly, a good number of the times were already booked up.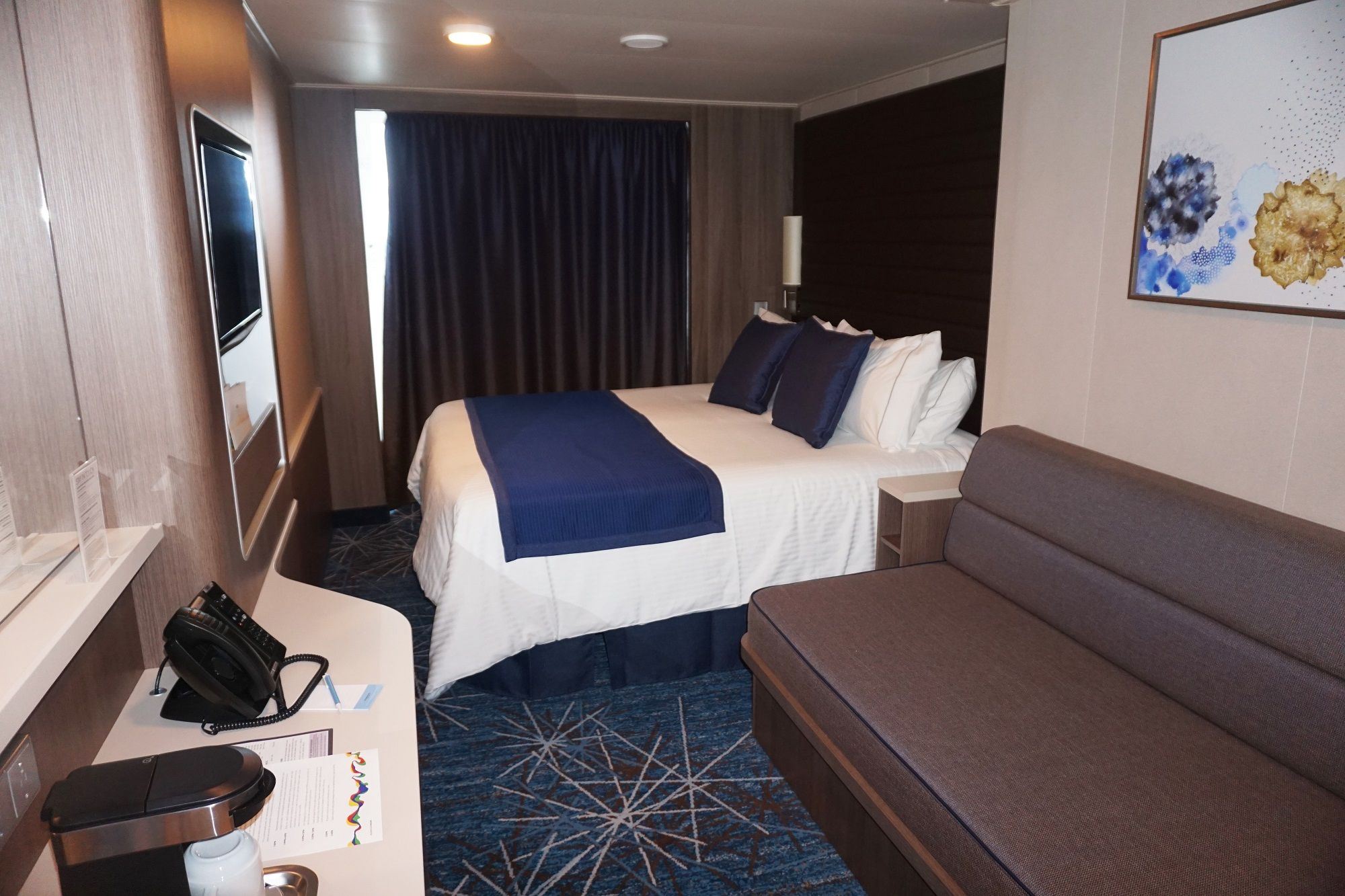 As luck would have it, our room was ready, so we were able to drop off our luggage in our cabin before we set off to explore the ship. We also took some quick but mandatory photos and video before we messed things up over the next few days.
Time to See (Some) of Norwegian Encore
We ventured up to Deck 20 mid-ship to see the new and improved Vibe Beach Club. This private club was open for all cruisers to explore this voyage.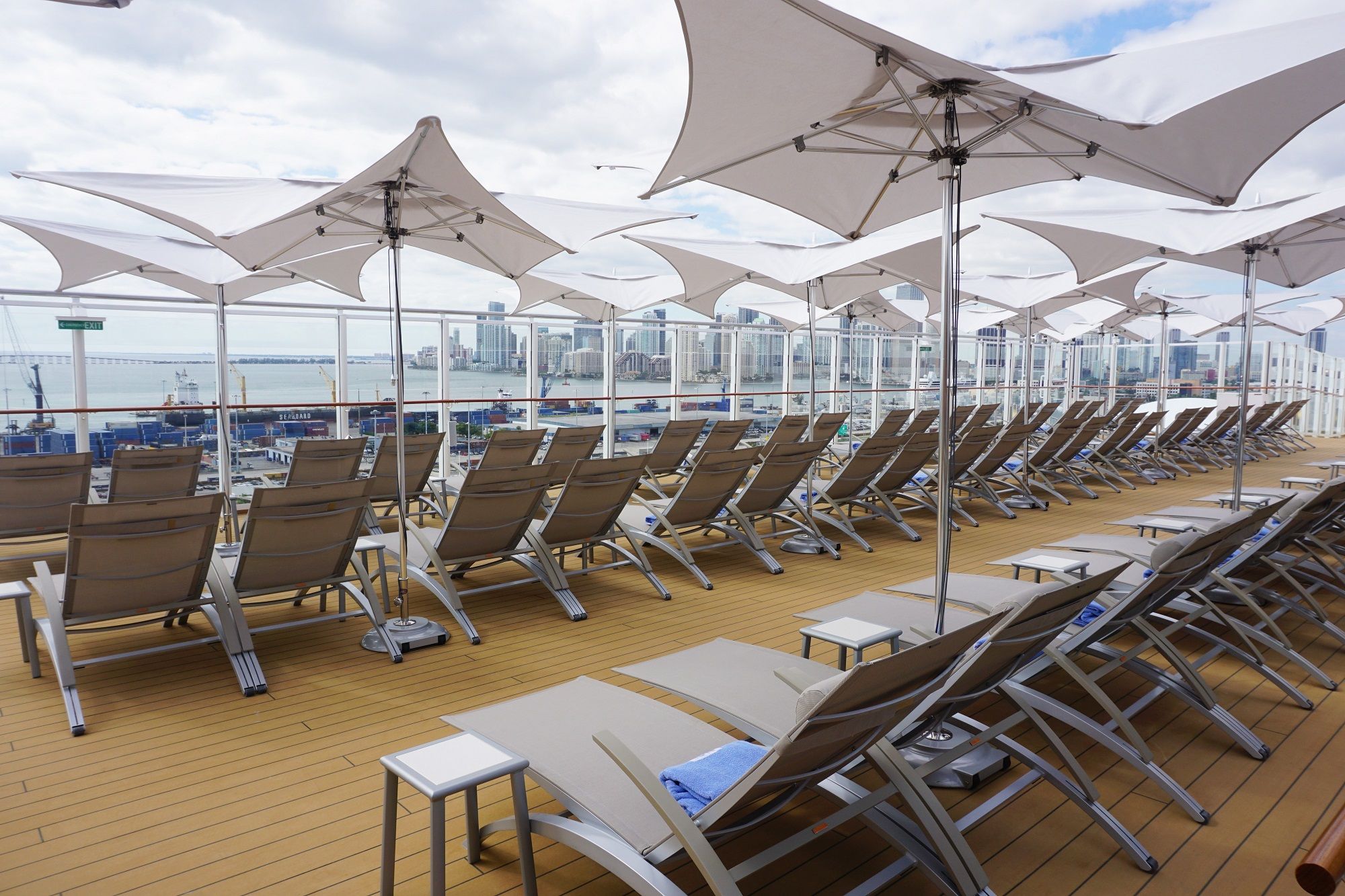 Expanded to two decks, this much larger space has a bar, additional hot tubs, lots of lounge chairs, and a water feature on the top deck. We continued our tour of the upper decks including the pool deck, Galaxy Pavilion, Speedway, laser tag, and other adjacent areas for the next hour or so.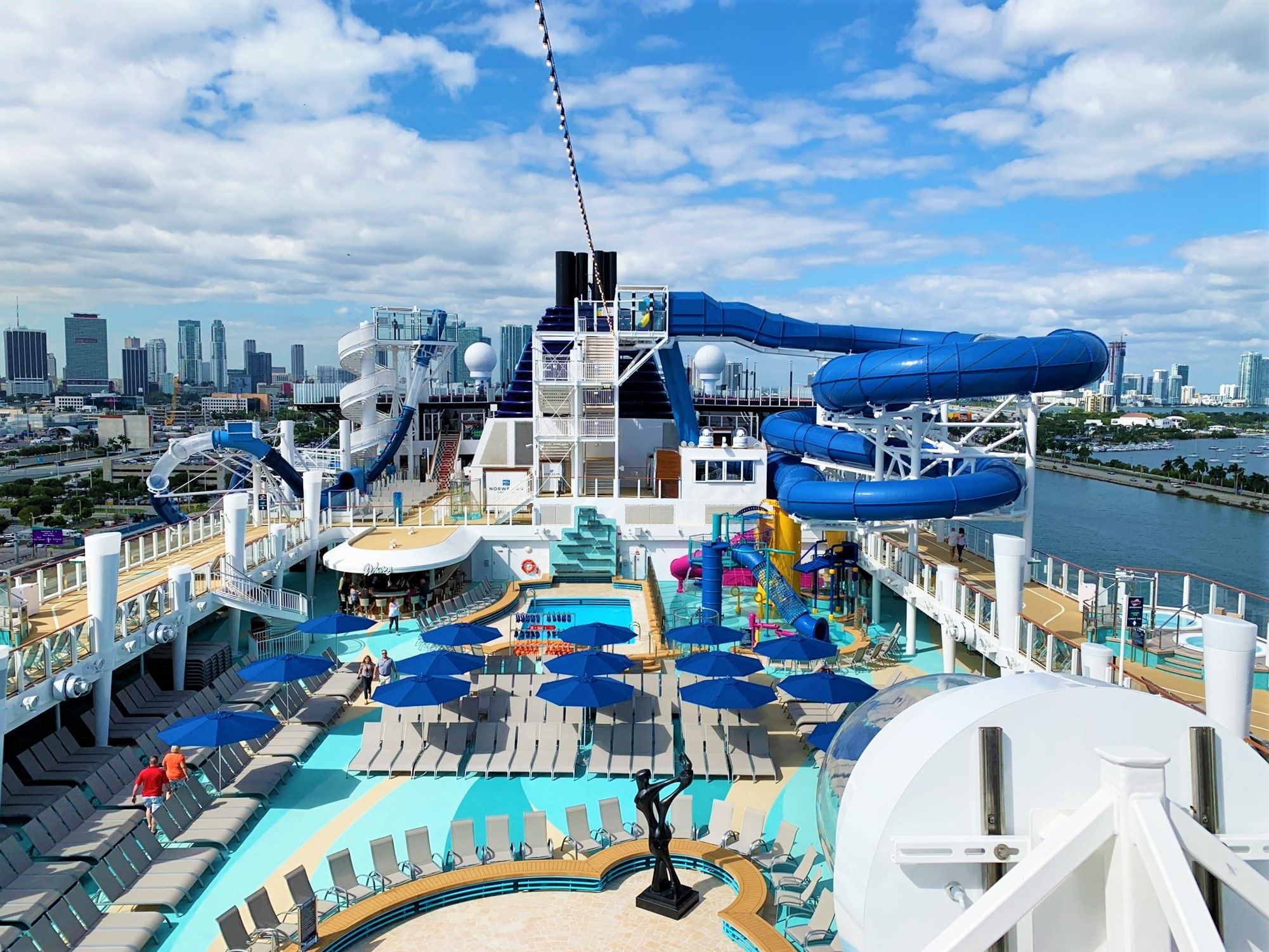 All guests were to be ushered off the ship for the christening ceremony starting around 3:30 pm. Given this shortened time frame, muster was scheduled for 2 pm today. Knowing that our remaining two days were already booked, we decided to squeeze in lunch at the new American Diner to test out the food options. We were not alone as there was about a 15 minute wait to be seated at the venue.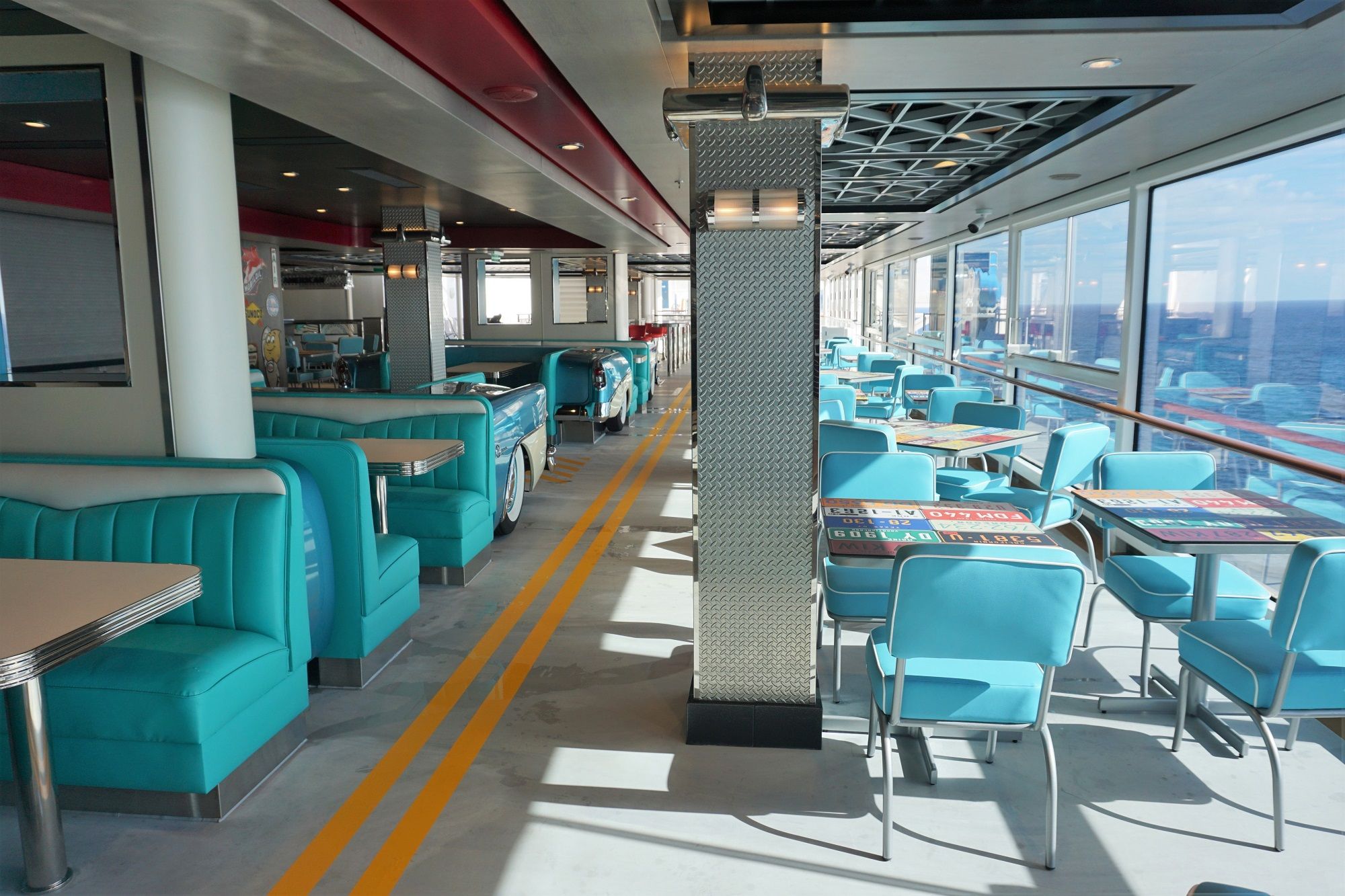 Given the wait time, we ended up rushing through our lunch before muster. We did get to sample a few of the starters, as well as the chicken sandwich. I enjoyed the lobster roll sliders the most and found the carrot cake to be sweet perfection. Overall, we thought the food was average for a casual specialty dining venue. Part of us missed the Margaritaville at Sea that is found on other ships in this class, including Escape and Bliss.
The muster alarm was sounding already as we were walking through the casino on our way to the station (the Local). Luckily, we were not the last ones to arrive.
Muster felt drawn out with some additional detailed explanations that are not typically included in this safety drill. The cruise director wrapped up the drill a bit after 2:30 pm. It was then back to our room to unpack and make a quick costume change for the evening's festivities.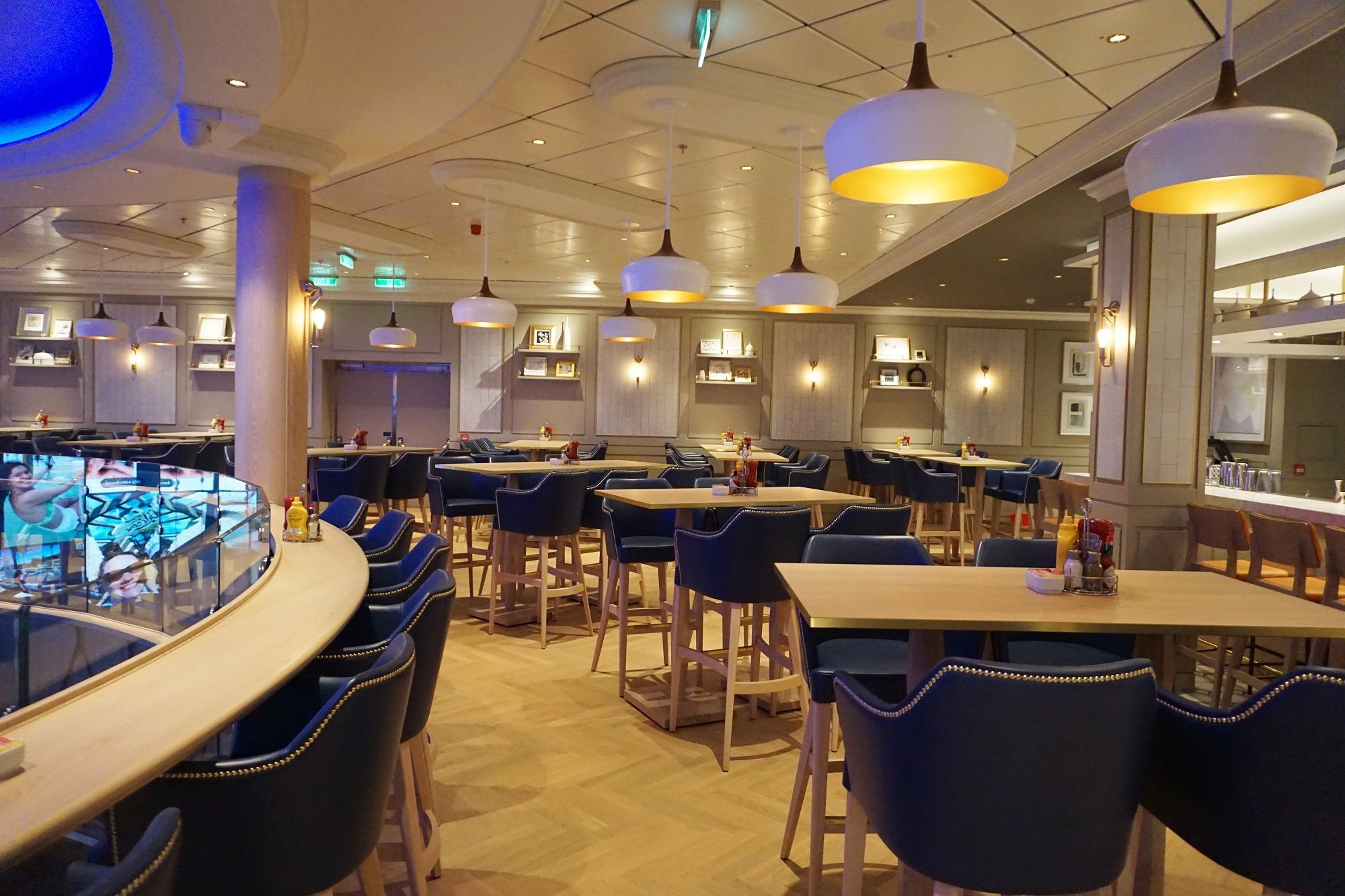 Walking the Blue Carpet for Norwegian Encore's Christening
Our paperwork indicated that we would be called to exit the ship starting around 3:30 pm. Not one to miss a party, the Princess and I were changed and ready just in time.
Set up outside the ship were a number of bars, light snacks, performers, and plenty of selfie-stations. We strolled some of this area for about 20 minutes popping into a few of the spots for a quick photo-op.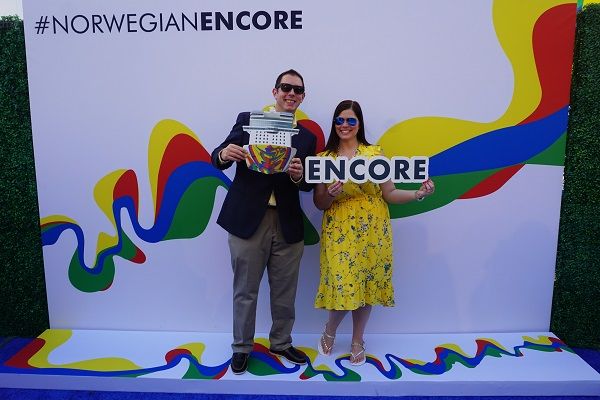 The area was a bit crowded, so we went inside to claim some seats for the main celebration. Given the set up of seating, we opted to stake claim in the balcony. I made a few runs out for water and snacks as we still had about 45 minutes until the ceremony began.
Oh, and what a show it was from beginning to end!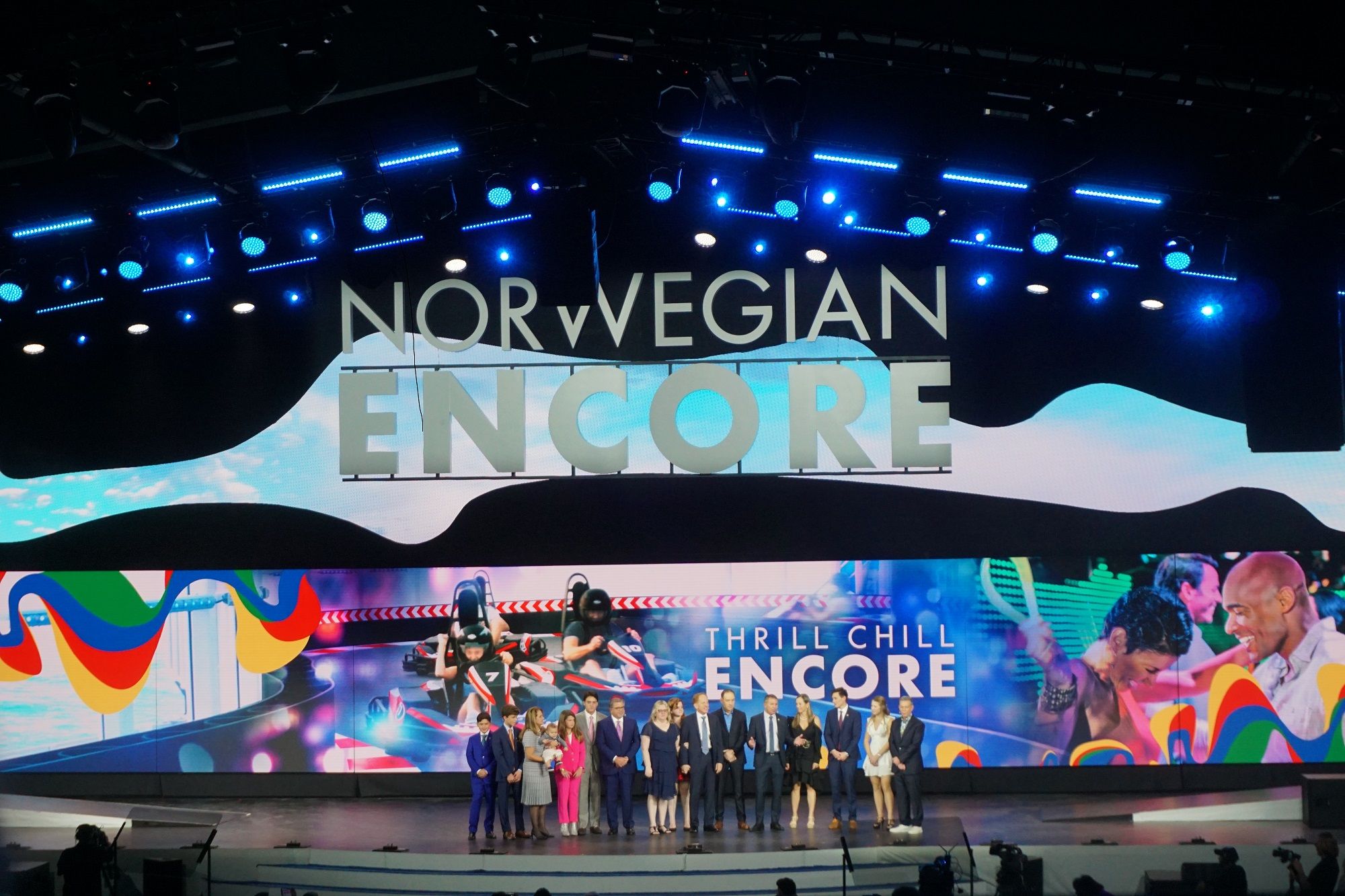 It started with pieces from the ship's signature productions Choir of Man and Kinky Boots. There was also a changing of the guard between outgoing president Andy Stuart and incoming head Harry Sommer.
Of course, the show kicked into high gear with a performance by the ship's Godmother, Kelly Clarkson. She had the entire audience on their feet while she played some of her top hits for about 30 minutes. The Princess was in heaven!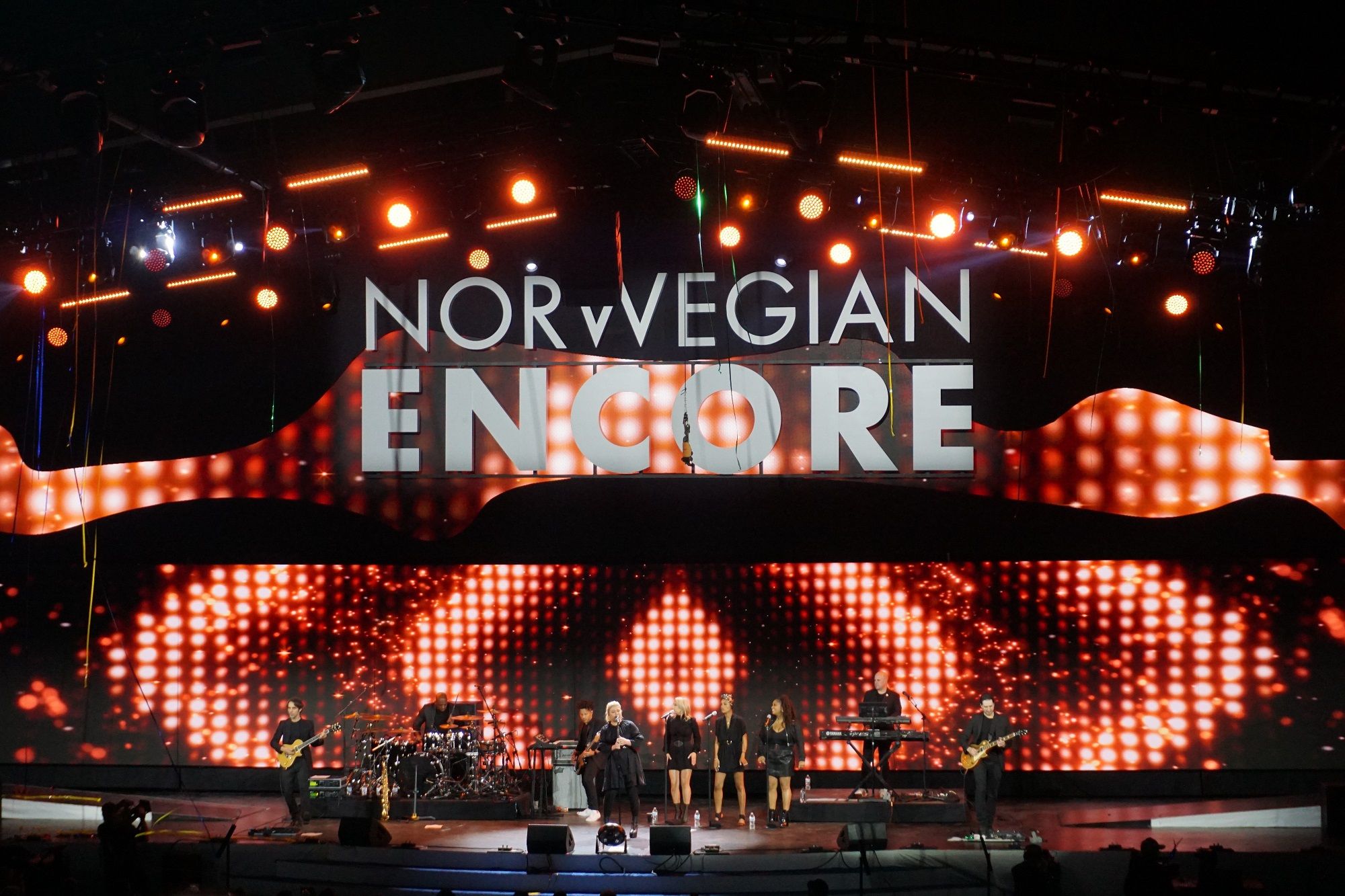 Running into some of our friends from Porthole Cruise after the performance, we grabbed a round of drinks outside before heading back onboard the ship for dinner.
A Long Night Back Onboard
Our dinner reservation was for 8 pm at Cagney's tonight. Although, all restaurants were serving a set inaugural menu which consisted of a surf and turf or fish as the main entree. For the most part, the food quality was on point for NCL, with the filet well prepared and the grilled lobster tail lightly seasoned. Unfortunately, they were not able to accommodate an alternate selection for the Princess so she ended up with just a salad and dessert.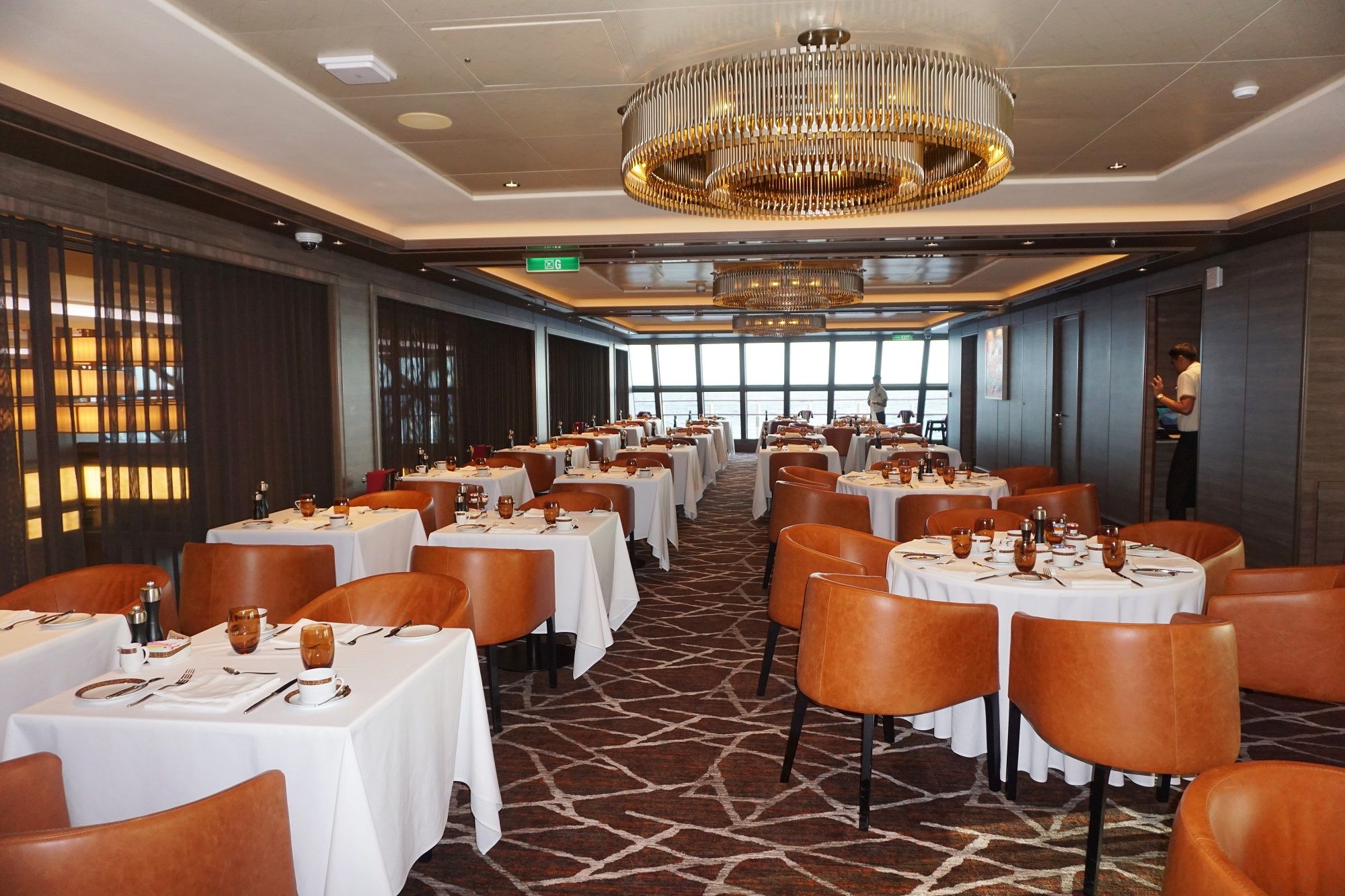 Dinner lasted a solid 90+ minutes, and we were outside just as the ship began to sail away to an impressive fireworks display.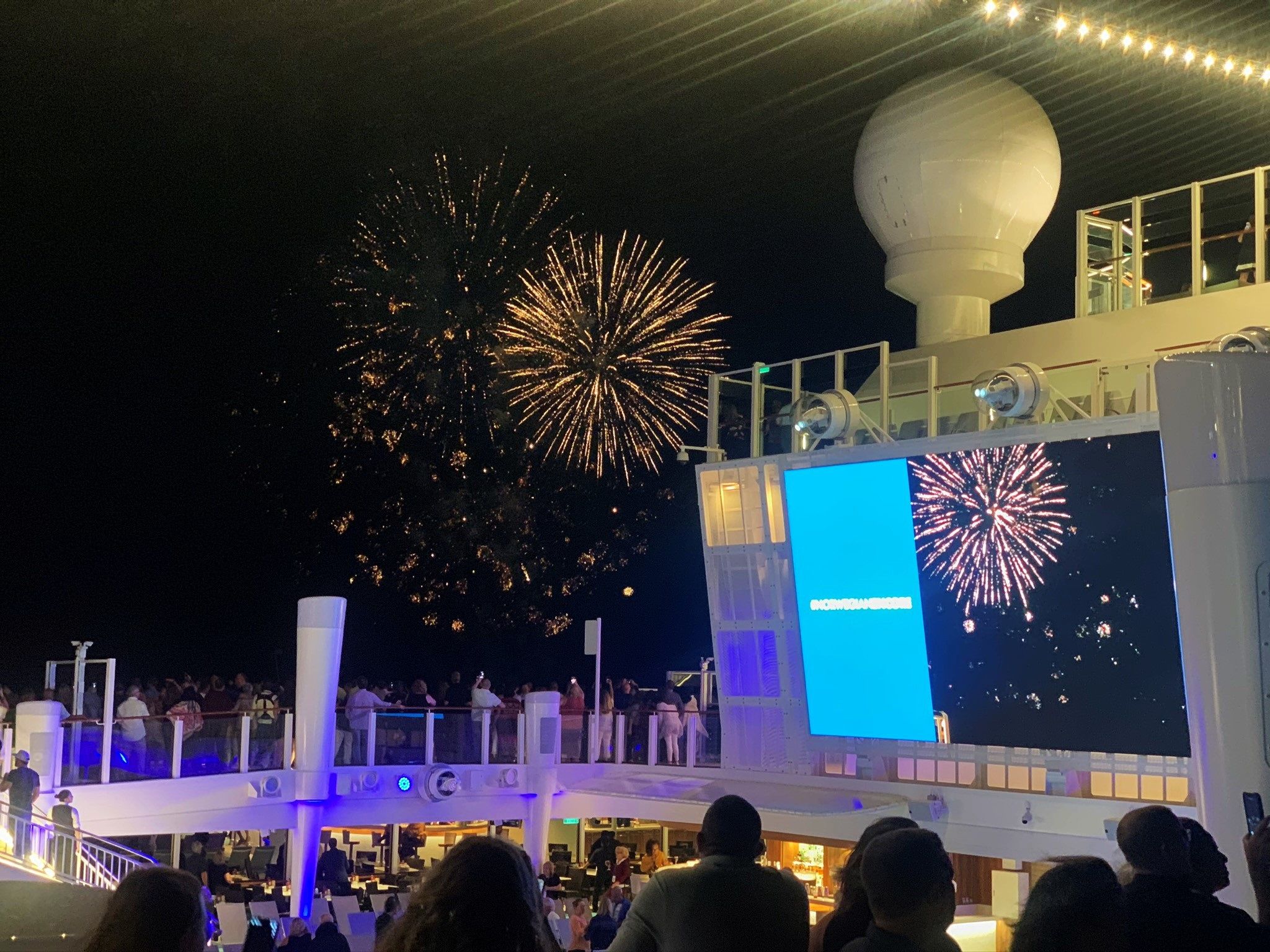 The whirlwind of a day was getting to us, and while we debated going to bed, we opted for a drink at the Sugarcane Mojito bar. As we were enjoying our drinks, some of the media team and other influencers came by and convinced us to head over to the Cellars wine bar. We chatted it up until about midnight when we decided it was time to call it a night. Tomorrow was bound to be an equally long day.
Norwegian Encore Cruise Review – Day 2
A Jam-Packed Morning on the Ship
The Princess set the alarm for 6:30 am, and it hit me like a ton of bricks. Perhaps, I cannot eat and drink all night like I used to when I was younger. Still, we had work to do this morning. So, I headed out to grab photos and videos.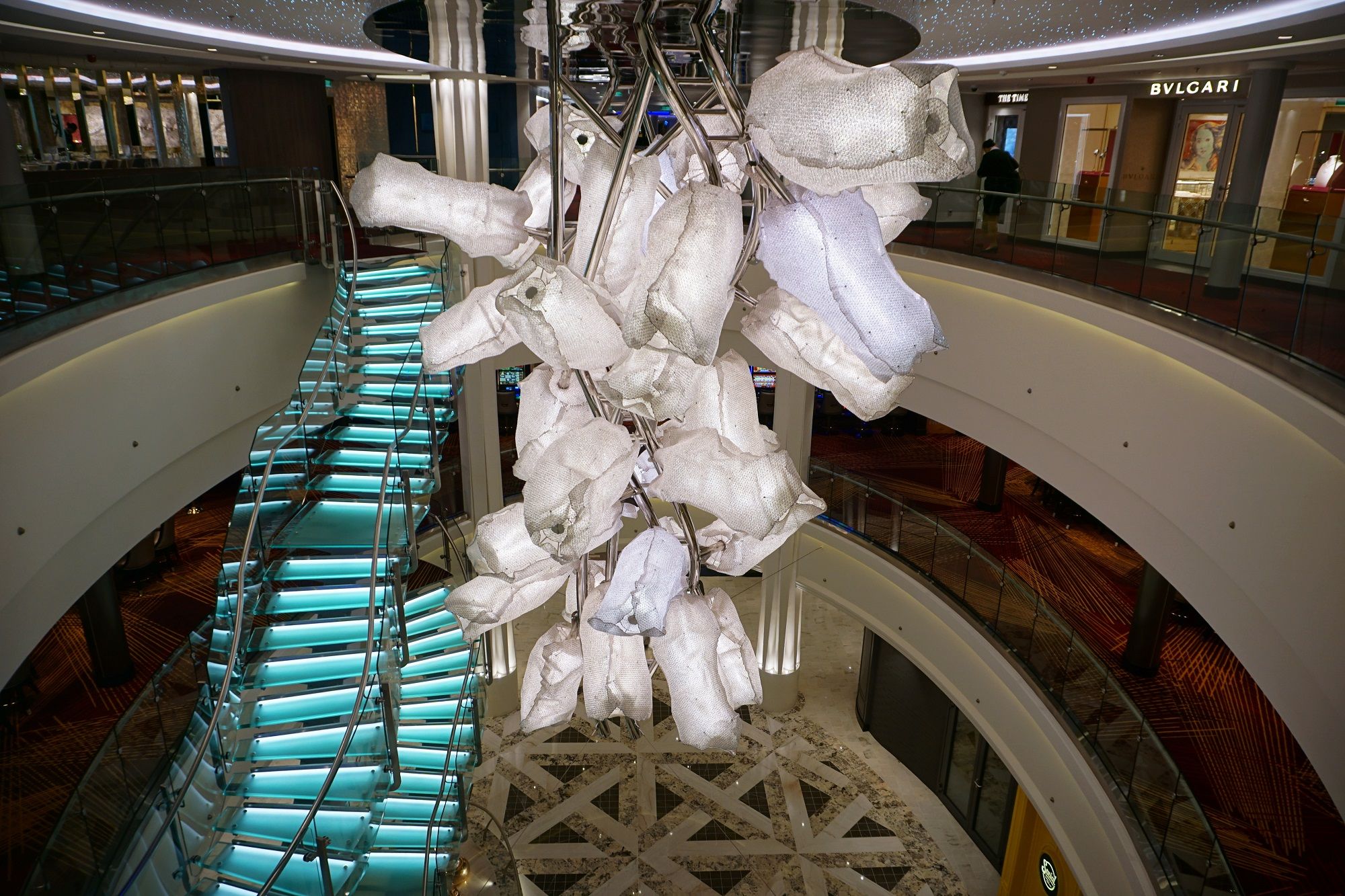 While the Princess got ready, I spent about two hours on decks 6-8 grabbing plenty of photos and videos of these normally busy areas.
Grabbing two coffees at Starbucks, I was back to the room later than expected. Hopping into the shower and changing up for the day, we opted to skip the Haven tour scheduled for 9 am to allow for more time to acquire necessary photos and videos. There was no time for breakfast either.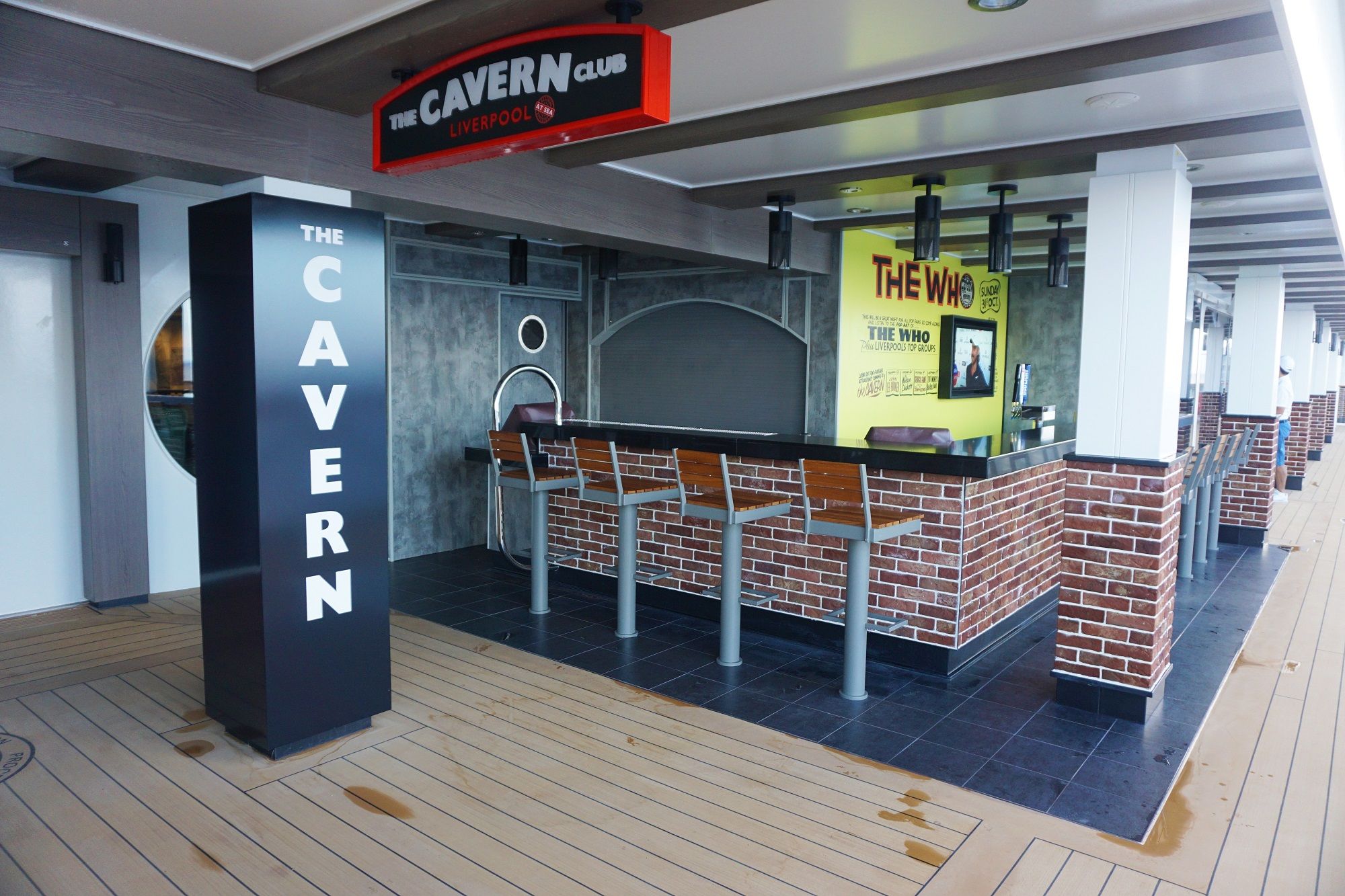 Our group of travelers had a reserved spot for the race track at 10 am. We arrived a few minutes late and were assigned to the second group of racers.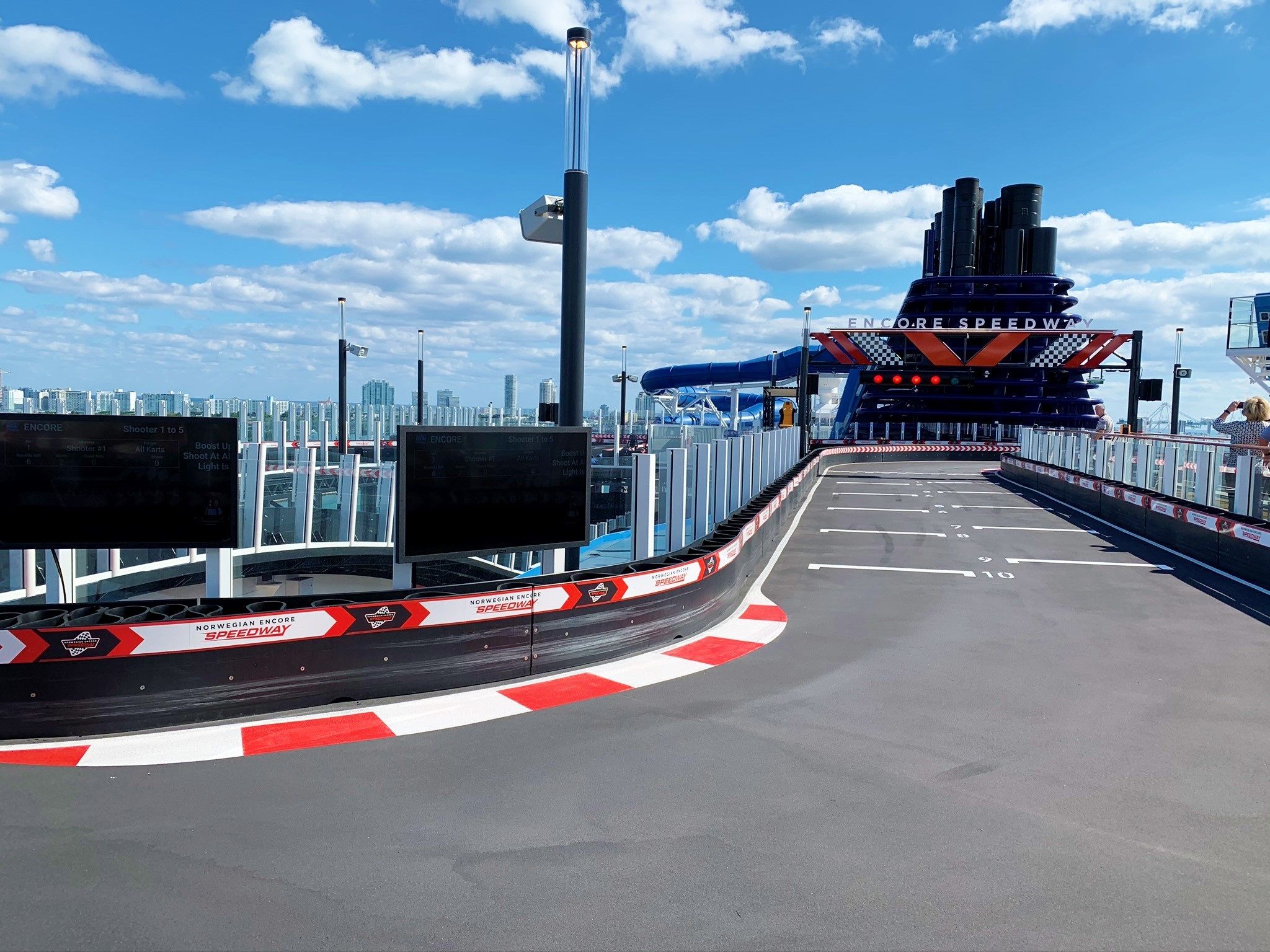 The entire preparatory process, from the orientation, to safety briefing, and getting suited up in the car takes about 15-20 minutes. The race itself lasts about 8 minutes.
While this new course features 10 turns with some points even extending over the side of the ship, we both found this track more manageable than the one on Bliss. Perhaps we were all too busy capturing the experience, or were too nice, but no one passed anybody. So, it was a rather uneventful race.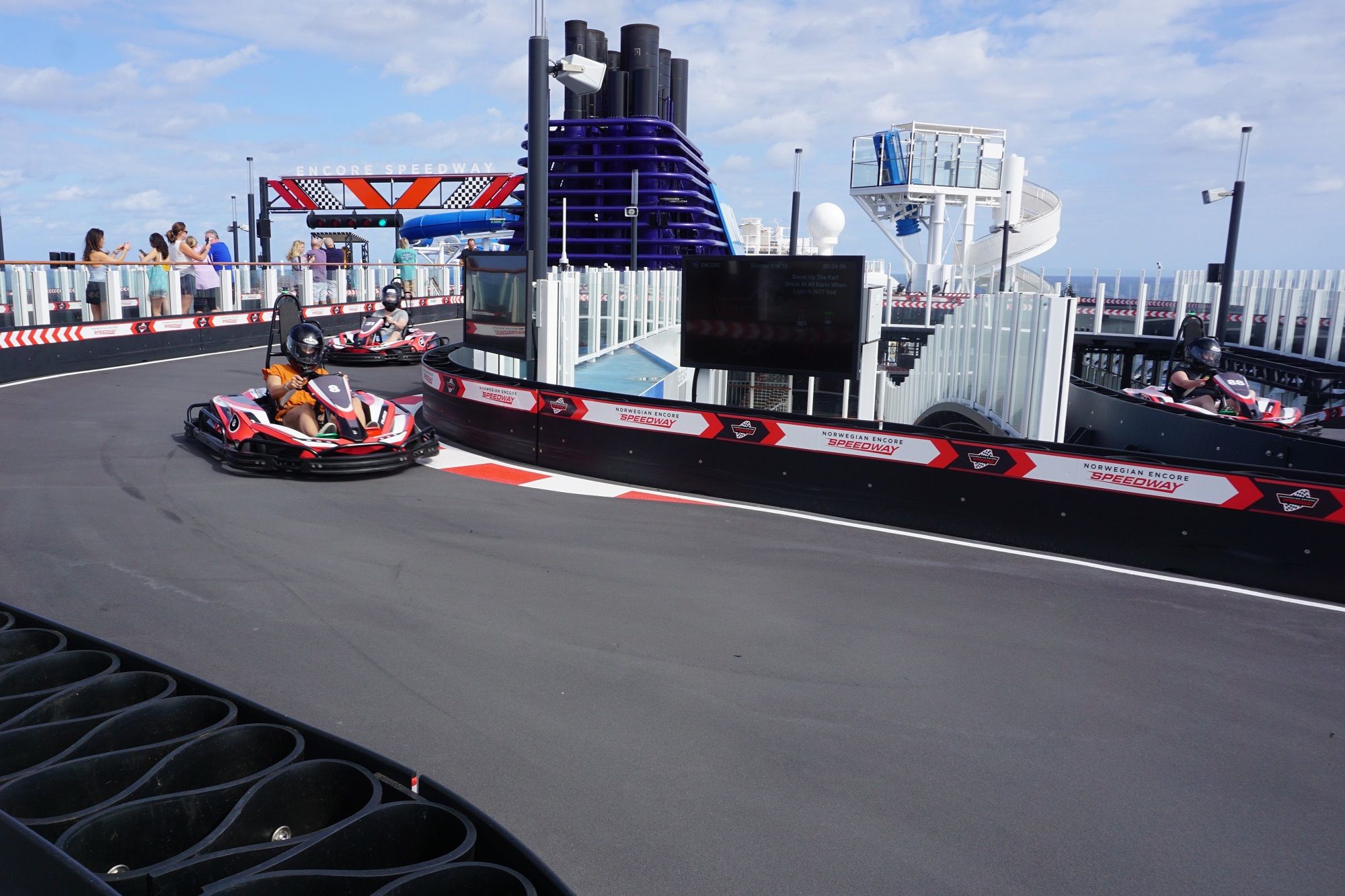 We feel the go karts are a great addition to cruise ships. For $15 a person, we could justify paying for a ride or two on a regular cruise.
Next up was laser tag at 11 am, which is located behind the race track. This new course is themed after the Lost City of Atlantis.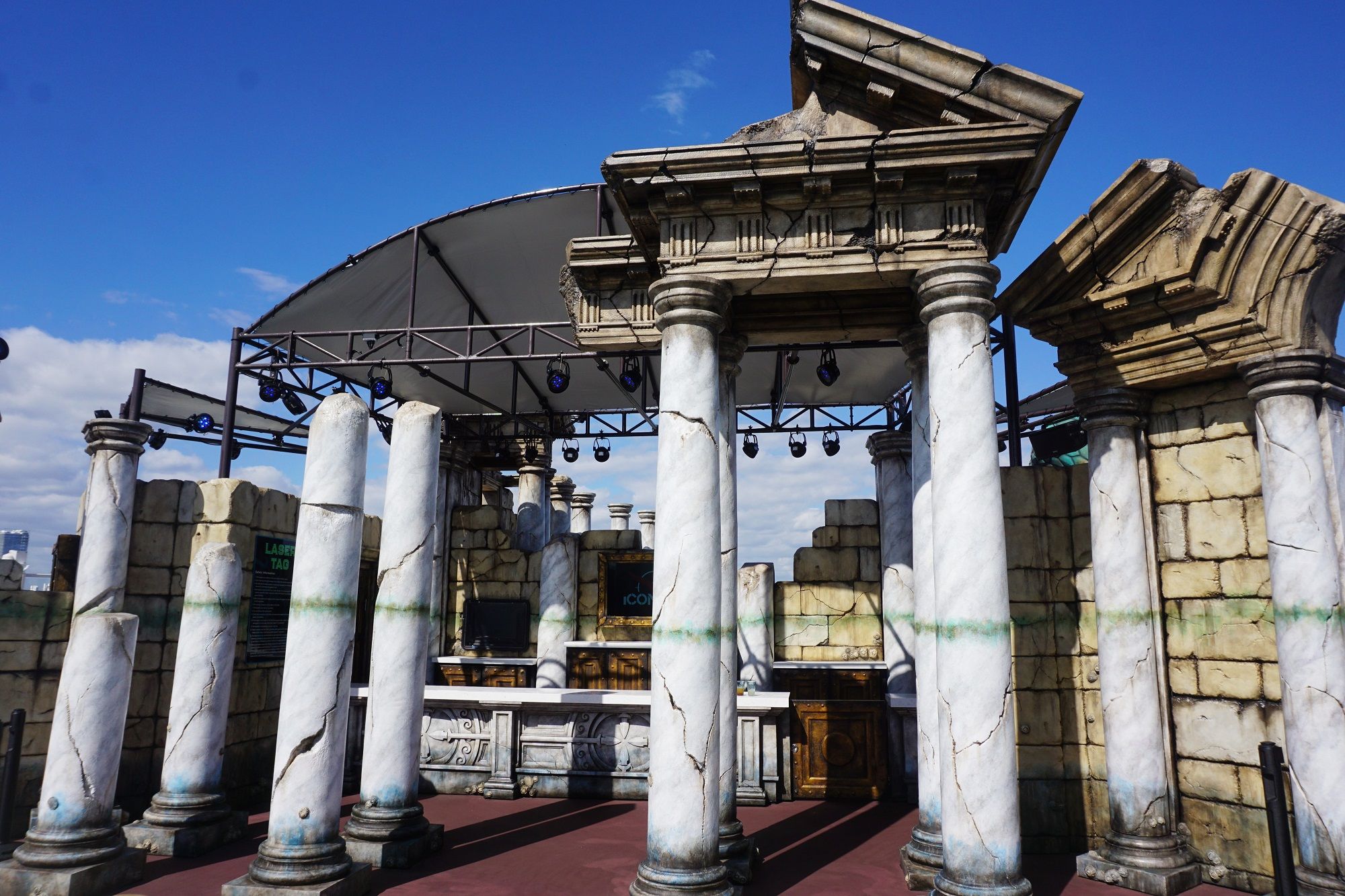 For $9.95, you can play one 10-minute game. When we sailed on Bliss, the entrance fee included two shorter games. We liked that setup a bit better. The 10 minutes seemed too long, and everyone was getting tired by the end. Still, our team remained victorious with 8 kills!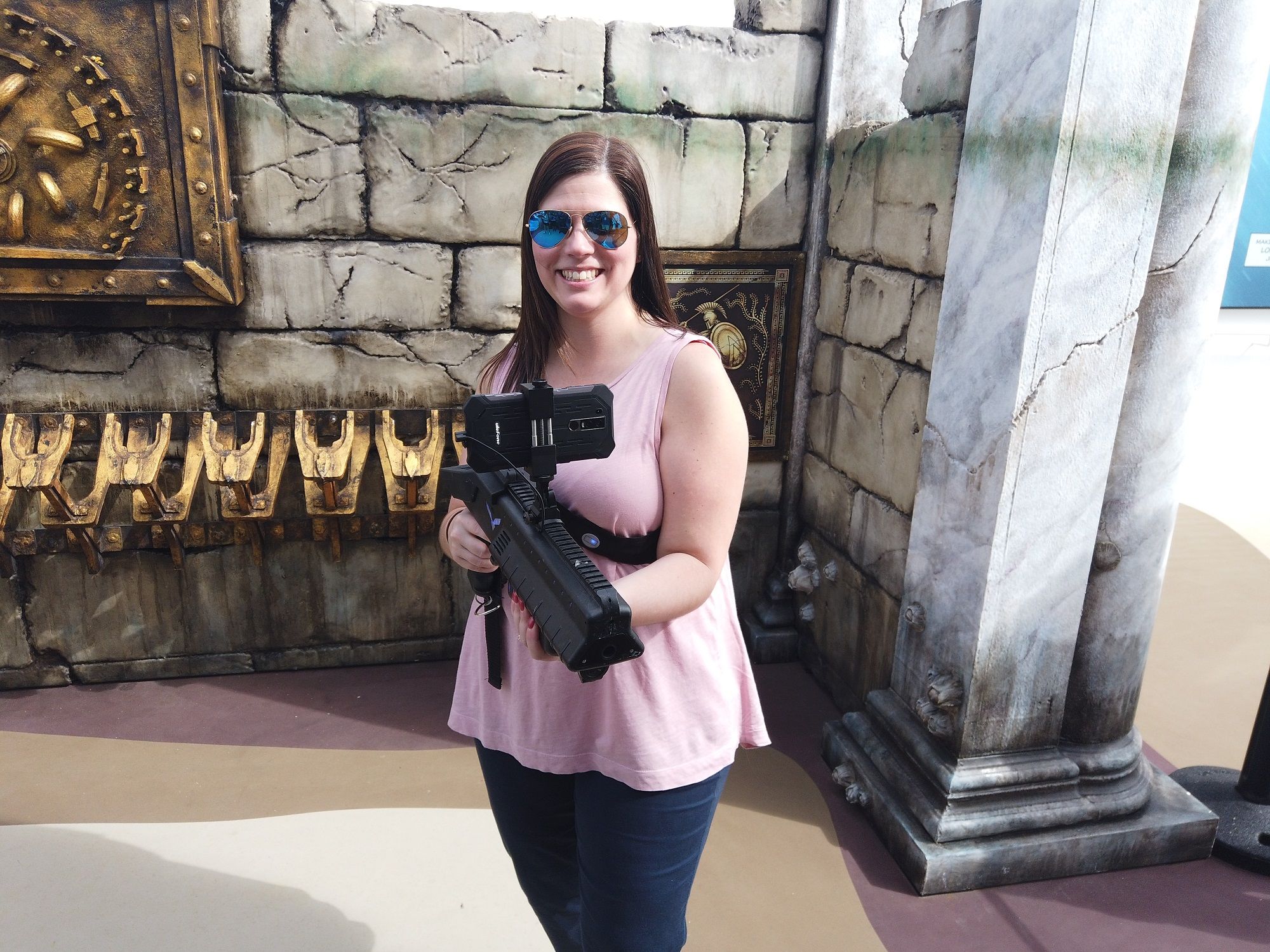 Wait, Is it Only Noon?
Next up on the checklist was lunch. Our group was hosted for the Taste of Encore in the Manhattan Room. This 6 course tasting menu featured items from several specialty restaurants found on the ship. It is customary to eat six courses for lunch, right?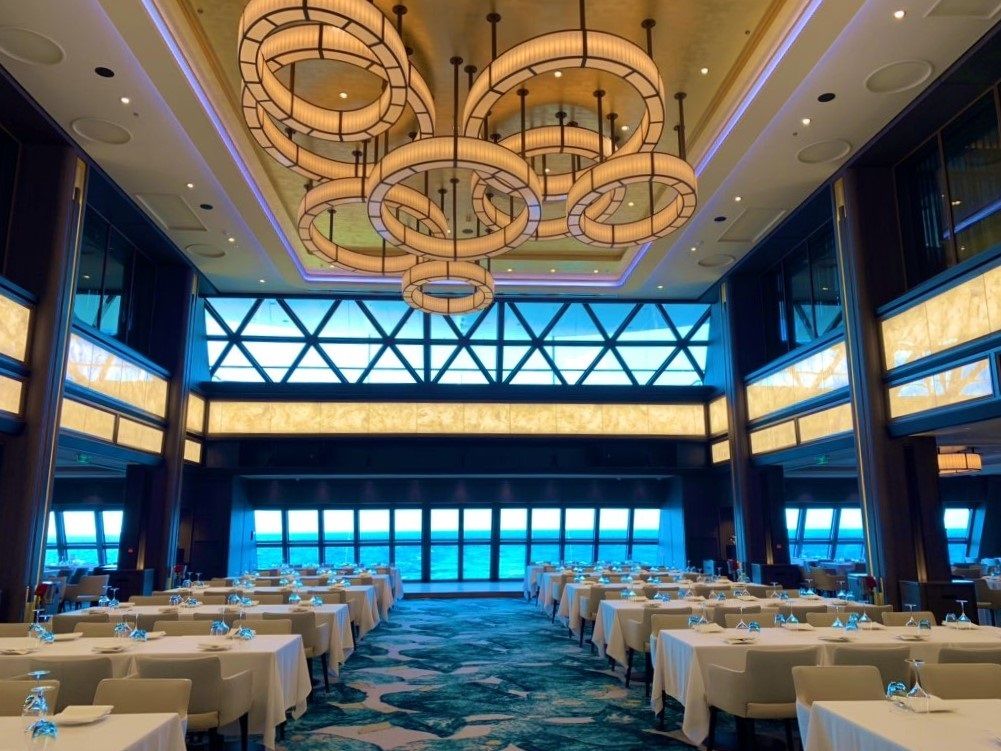 We were fortunate to dine with the company's CMO, as well as make some new friends in the process. Not to mention, the food was phenomenal.
While all the specialty restaurants are great, most of them are priced a la carte, so the costs can add up quickly if you want to try everything. We always recommend a Norwegian Cruise Line specialty dining package. Depending on the length of your cruise, this package costs $22-25 per person, per dinner. That is well worth it!
Related Post: Complete Review of Norwegian Cruise Line's Specialty Dining Package
Among the standout dishes at lunch were the dumplings from Food Republic and both the tuna and ravioli from Onda. Of course, you can never go wrong with the Pit Master from Q Texas Smokehouse as an entree and desserts from the Bake Shop.
This extended lunch lasted a full two hours. With some free time now, our hope was to test out some attractions in the Galaxy Pavilion. As our luck would have it, the venue was closed for a private event.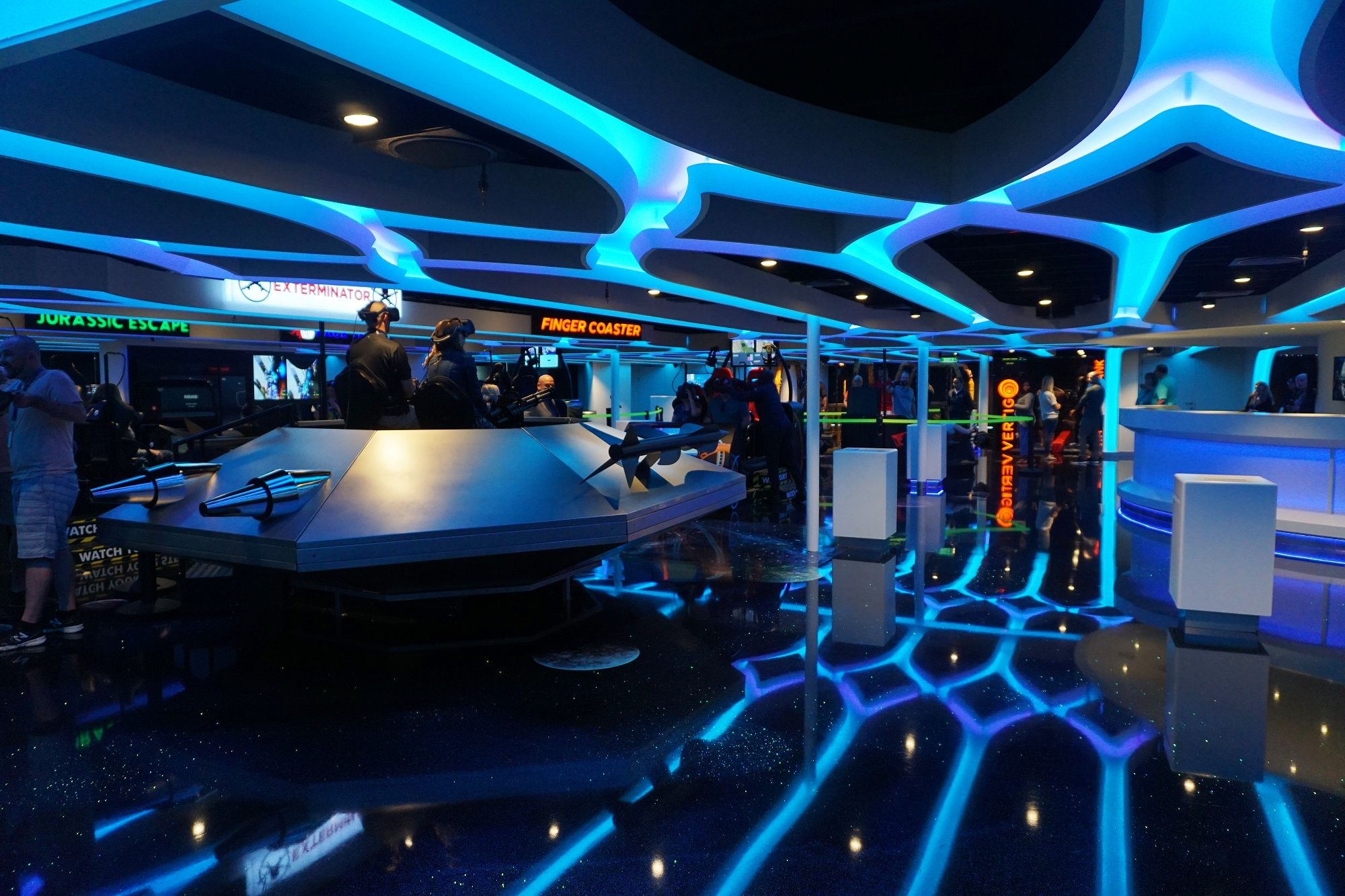 Packing in More of Norwegian Encore
Well, back to exploring more of the ship. First, we scooted into the Garden Café to peek at the Seafood Extravaganza lunch.
There was a wide selection of items, from broiled and grilled lobster tail, crab legs, stone crab claws, and seafood inspired entrees. Too bad I was already so full as there was plenty I wanted to sample.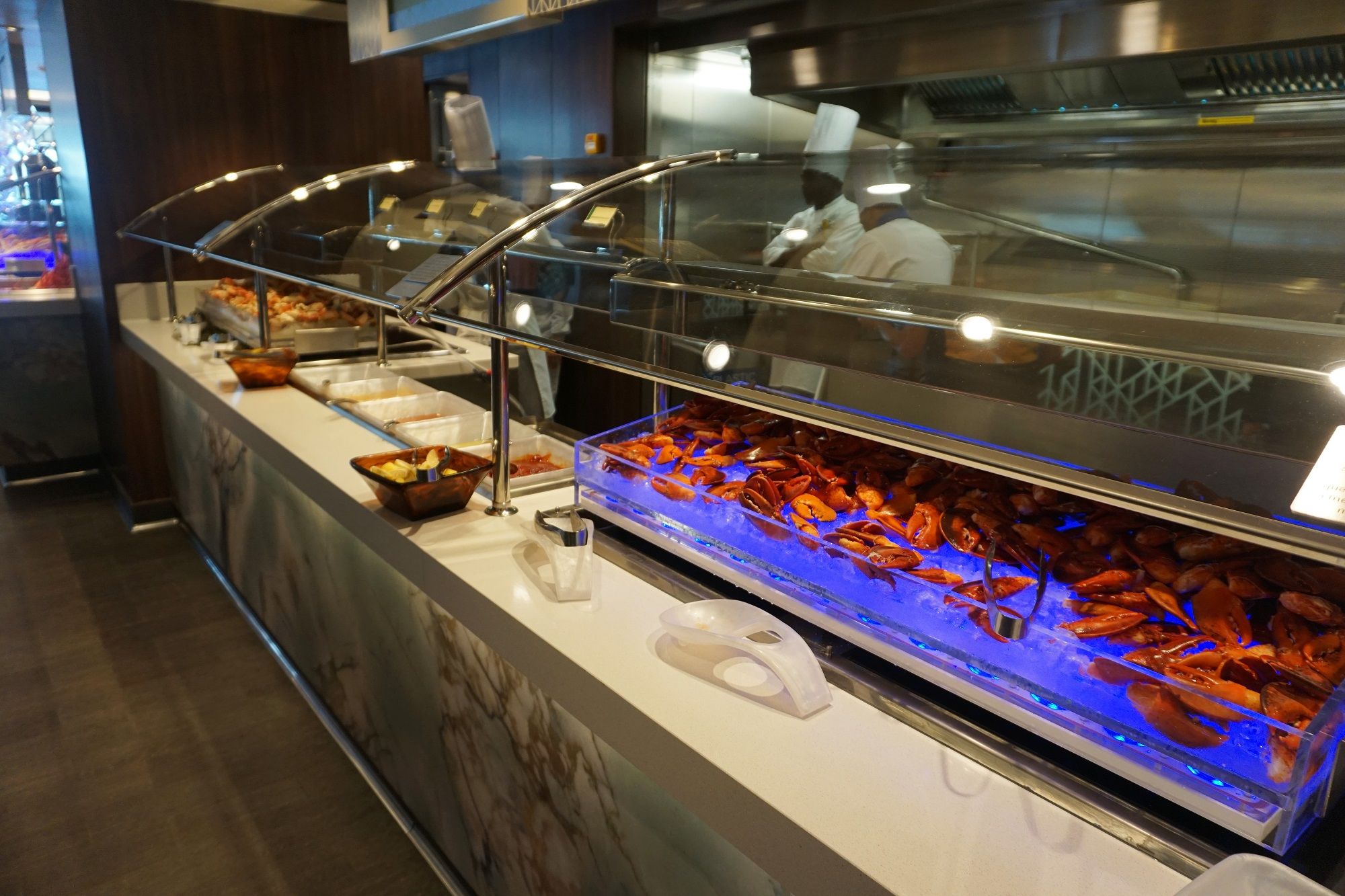 During our travels, we made a pit stop at the onboard store to purchase our customary cruise ship ornament and t-shirt. Luckily, both were in stock and easy to find. With our purchases in tow, we made a loop around the Waterfront which put us right at the Malting's Whiskey Bar around 3:30 pm for our next scheduled activity.
This special cocktail class was hosted by the team at Broken Shaker in Miami. Part of NCL's commitment to sustainability is a partnership with this innovative bar brand. This company looks for ways to re-purpose food items that would typically be discarded, such as fruit rinds, skins, and even day old croissants.
While it sounds a bit questionable, the cocktail they crafted with a watermelon rind was crisp, clean, and something I could drink all day long. Later in the cruise, we sampled another two of these sustainable drinks.
Our dinner this evening was 6:30 pm, giving us just enough time to squeeze in an hour at the Galaxy Pavilion following the cocktail class.
Not all of the attractions were open, but we were able to sample two of the dark ride simulators, the hand gliding, the Descendant game, and the Jurassic Escape ride. We particular enjoyed the dark ride simulators.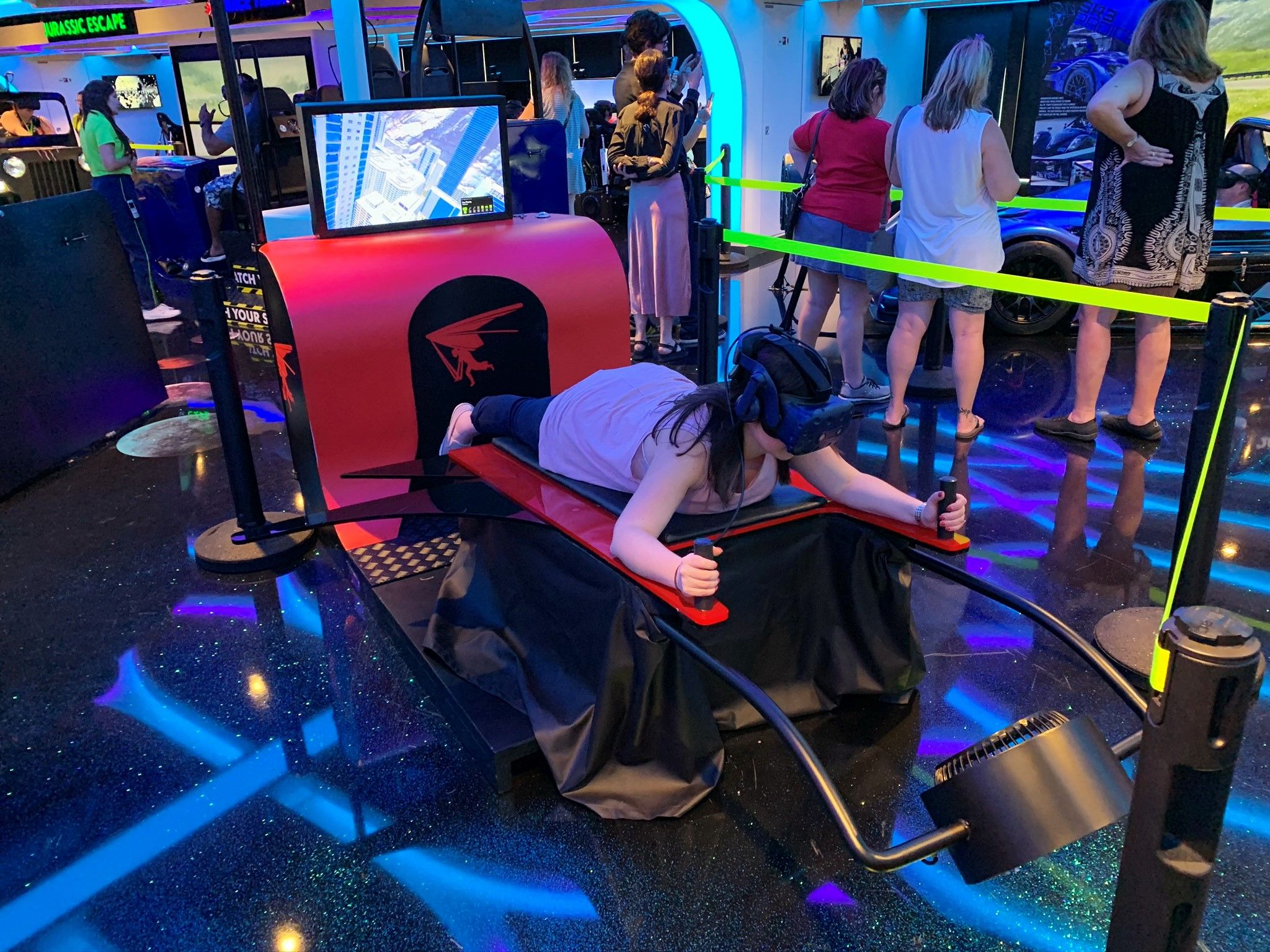 These attractions in the Galaxy Pavilion start at $8 an experience with several packages available.There is also an escape room that is set to open in this location.
Finishing up a little after 5 pm, we headed down for our second round of lattes from Starbucks. We were going to need the caffeine if we planned to make it through the night.
Dinner and a Show with Friends
Sipping coffee and doing some social media, we both fought off the drowsiness to change up for dinner. Our reservation was for 6:30 pm at the new Italian restaurant, Onda. We were one of only a few of the content creators who were able to test out this restaurant.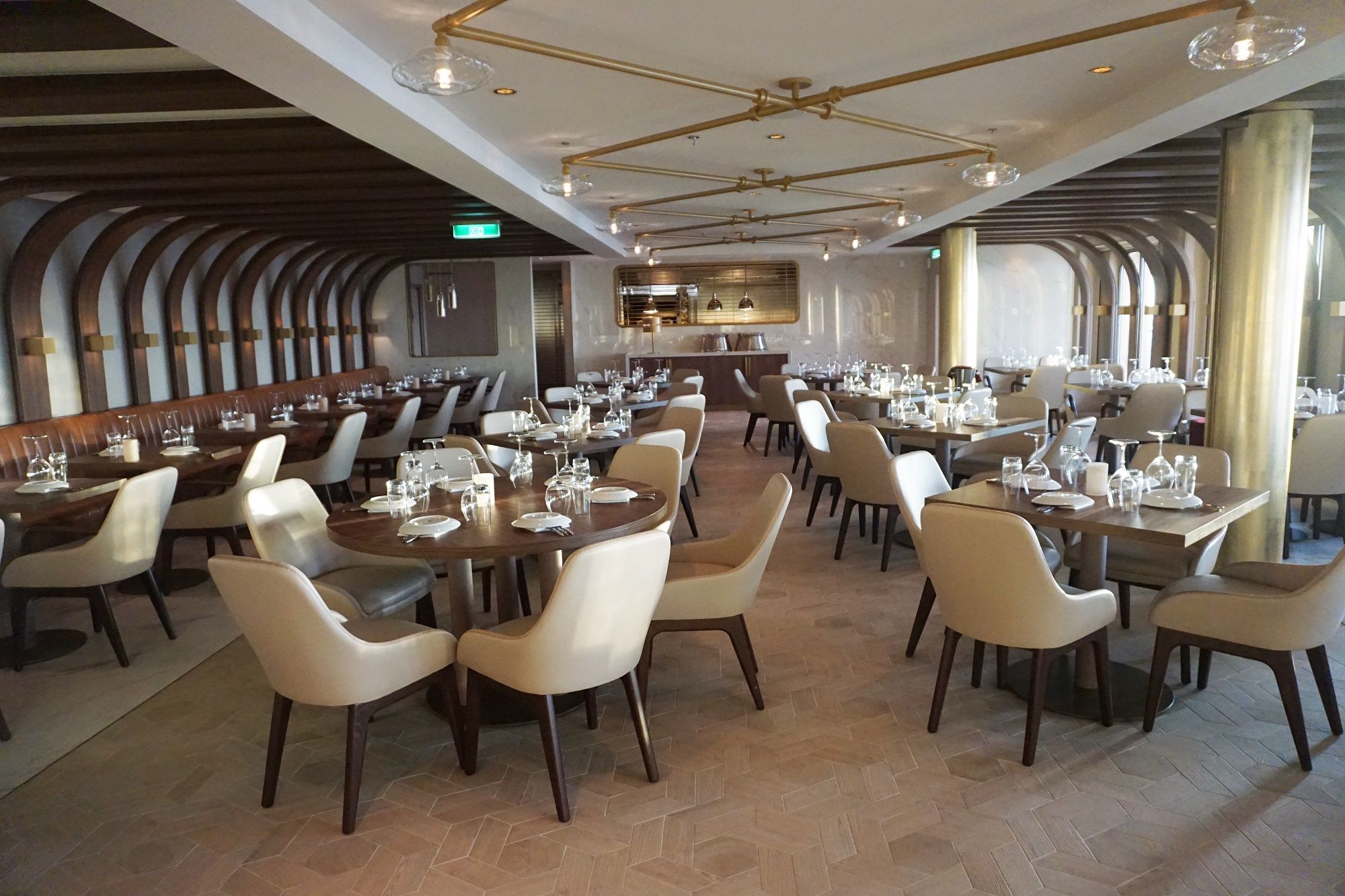 Another nice benefit was the ability to dine with friends Steve and Angela, the amazing team behind FoodieChats. As they were the true experts, we decided to split a bunch of the starters and desserts to give everyone the opportunity to try different items.
Dinner was phenomenal. Perhaps the best Norwegian Cruise Line dinner to date!
Among the standout dishes that our table ordered were the burrata and grilled octopus appetizers, the homemade pasta, and the veal Milanese entree. Oh, and you can not pass on dessert either.
Finishing dinner by about 8:30 pm, we had show reservations for Kinky Boots at 10 pm. With some time to kill, we stepped into the District Brew House for a drink. We ran into a few other influencer friends and chatted for the next 45 minutes or so before heading to the show.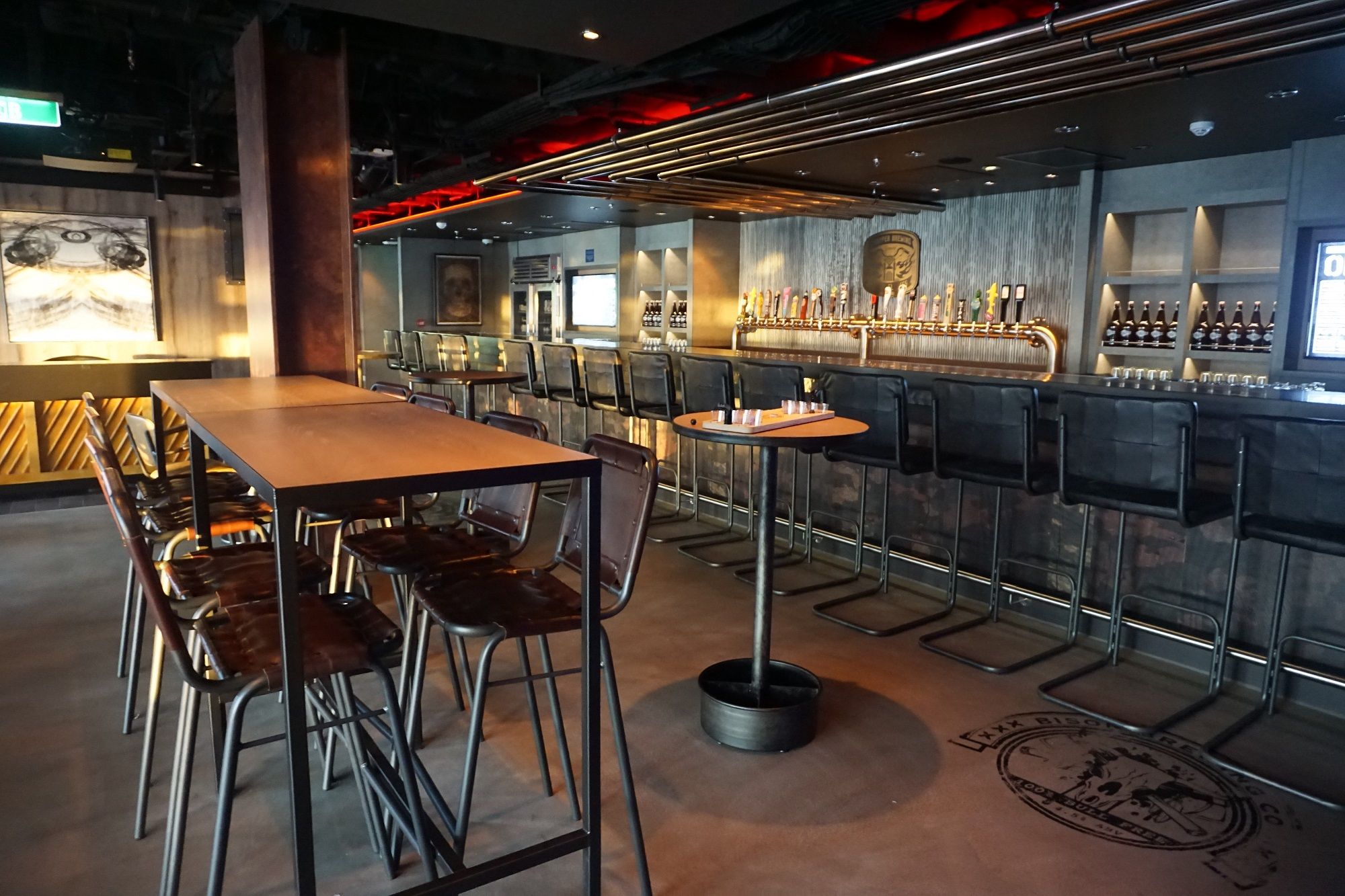 Several sections of the theater were reserved for different groups, so we had to sit closer than we normally do for a cruise production show.
We both really enjoyed the close to 2 hour performance. The cast was great, and the audience was certainly game for the story which touches on inclusion and being true to yourself.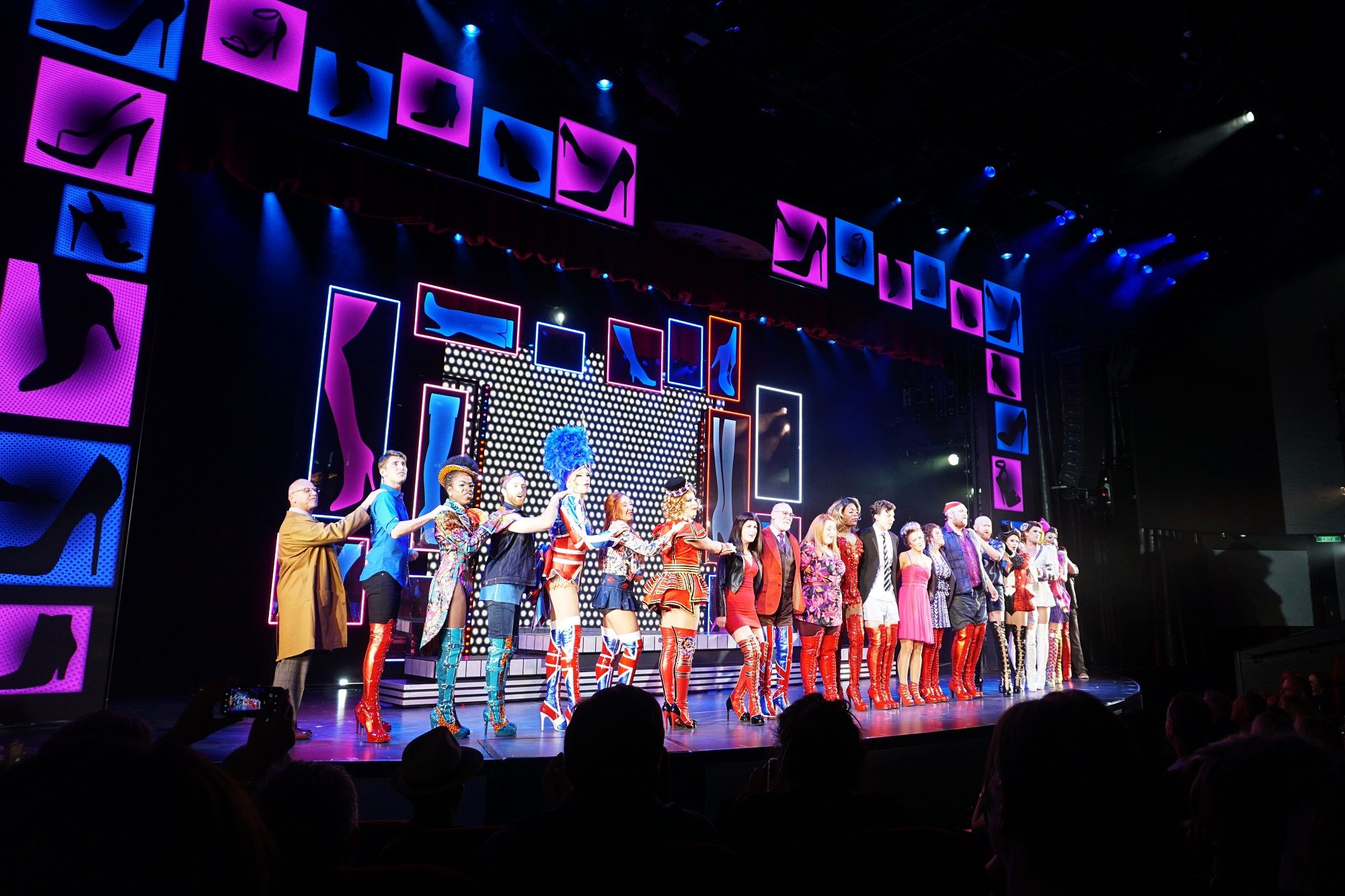 With the show ending around midnight, and another 6:30 am alarm set, we retired to our cabin for evening.
Norwegian Encore Cruise Review – Day 3
A Successful Tendering Experience
Similar to the previous day, I was up and out the door slightly after 6:30 am. Today's photo and video tour included some of the outdoor decks, the Observation Lounge, and a few restaurants. The ship was scheduled to begin tender service to Great Stirrup Cay at 8 am, so these venues were again mostly empty.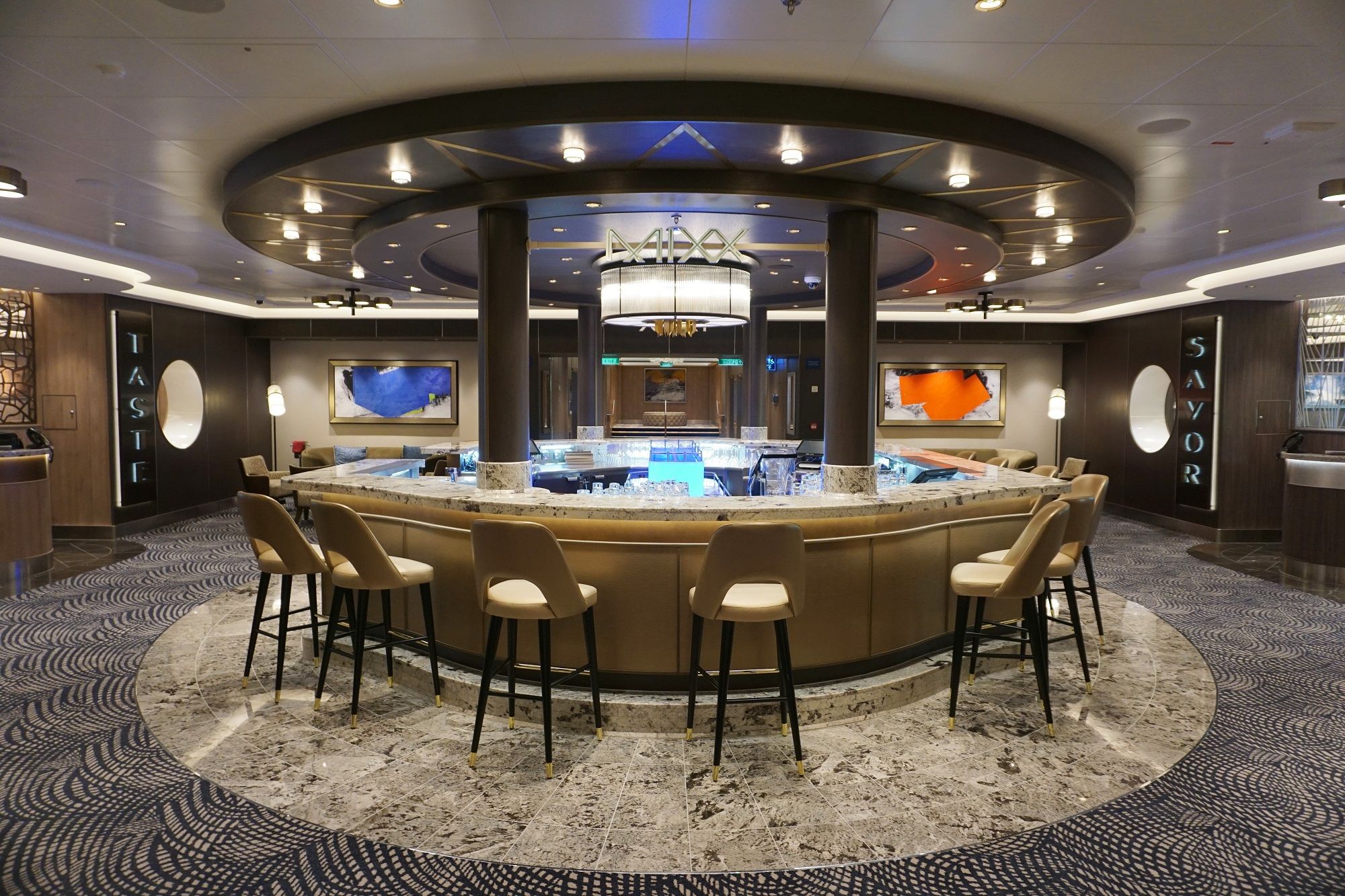 We found out late the night before that we had to make tender ticket reservations in advance. Luckily, I was able to get us on Group 2 when I inquired at Guest Services this morning.
Of course, we were not ready when they called the Group 2 tender (early) at 7:50 am. I had just returned to the cabin with coffees and gigabytes of photos and videos.
We made it down to the theater closer to 8:30 am. Our timing was impeccable though, as we walked right on a tender and were over to the island just before 9 am. The only good thing about tendering is being able to snag some great photos of the ship on your way to the island.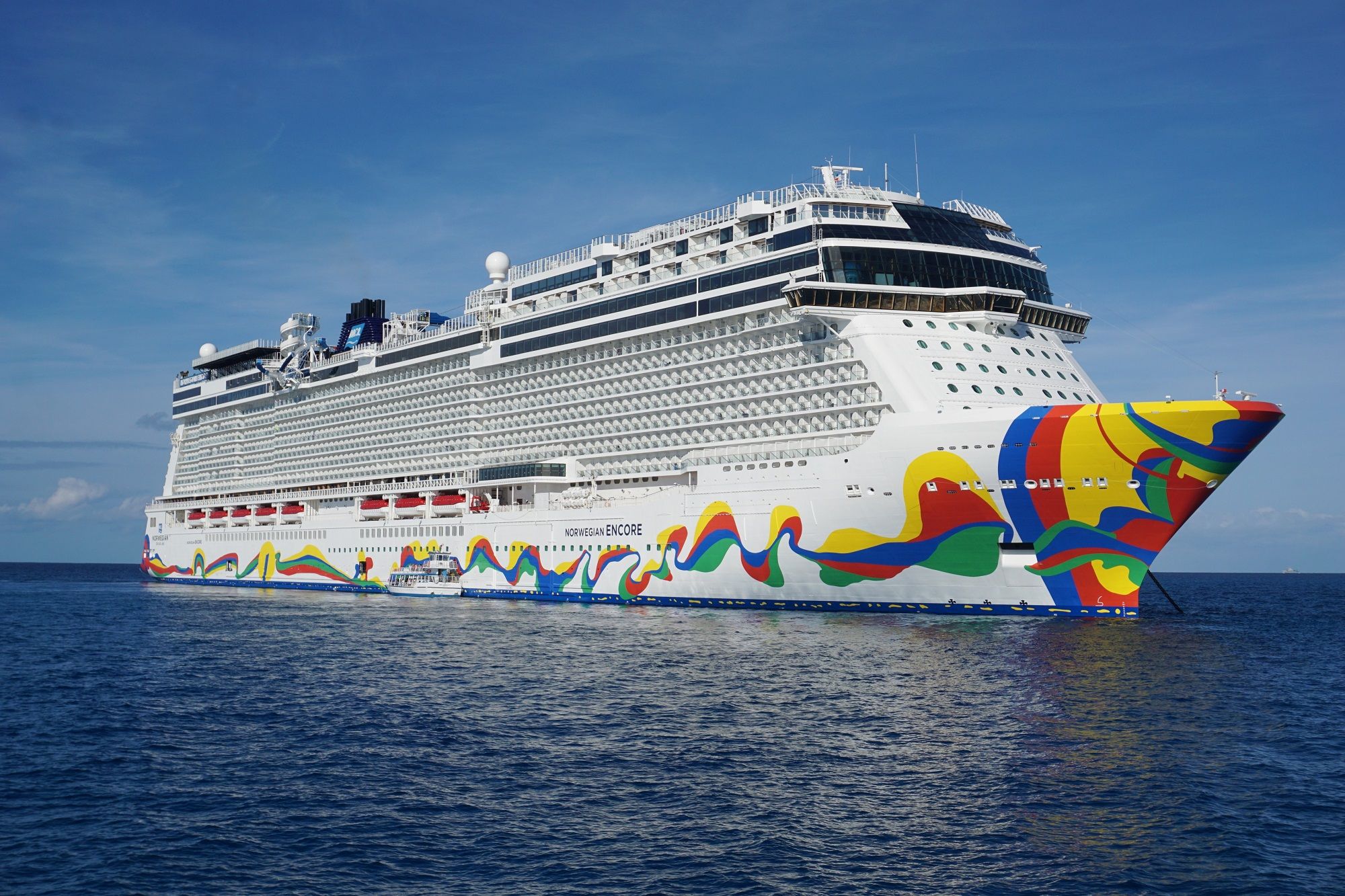 Touring the Updated Private Island
It had been over 2 years since we last visited Great Stirrup Cay, so it was time to explore.
To begin, we headed all the way east along the coastline and eventually worked our way back toward the new Villa area. Along the way, we stopped for plenty of photos and videos. Most of the main island looked the same to us with a few new additions.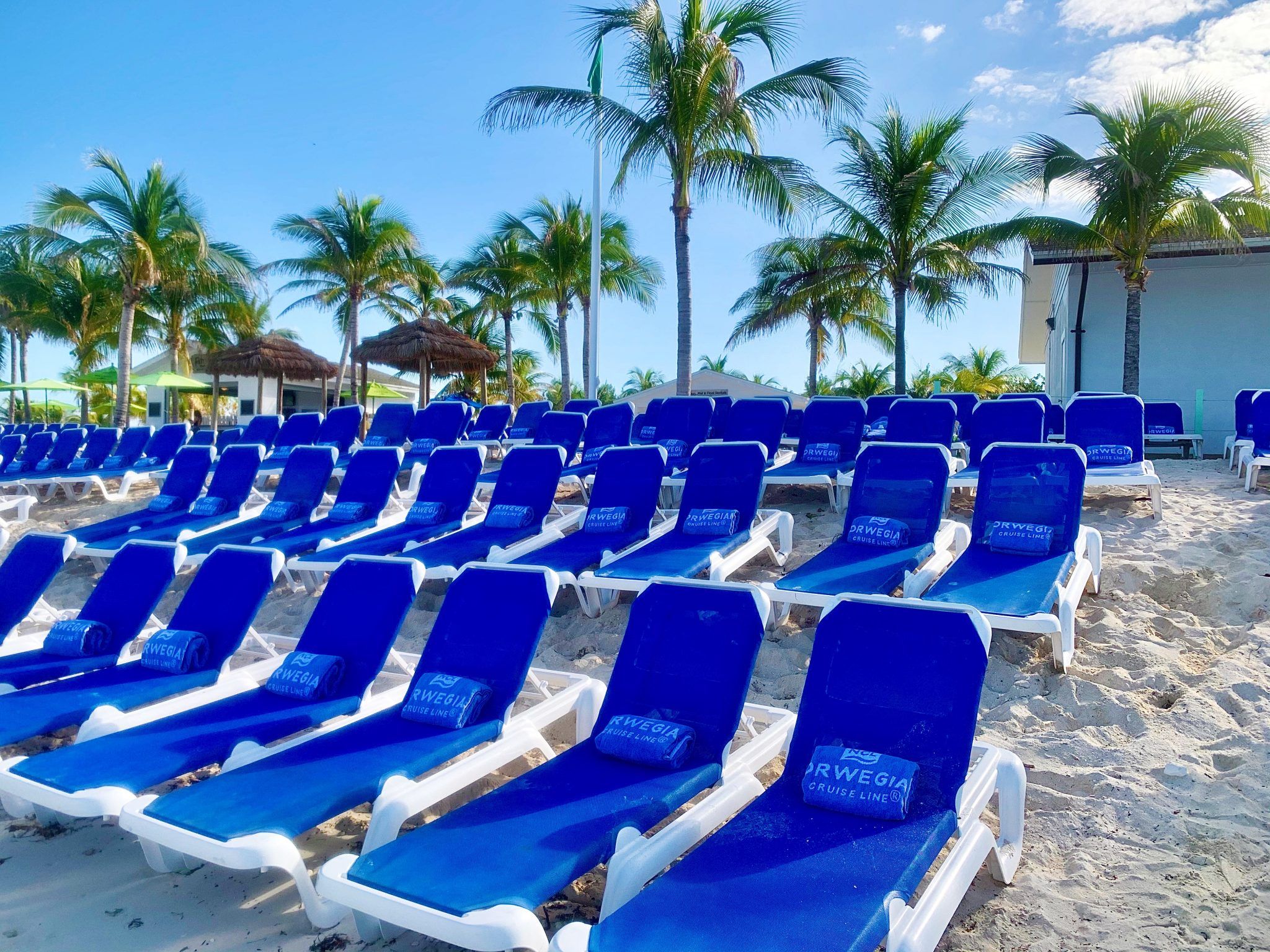 Among the additions was a sizable zip line and ropes course that recently opened. We had booked a 1:30 pm time slot to check out the course, but we ended up canceling for a bit of relaxation instead.
Also brand new to the island is Silver Cove. This exclusive retreat area is reserved for those staying in the Haven or for guests who purchase one of the villas. Our media team had an oceanfront studio villa reserved that we could use as our home base throughout the day.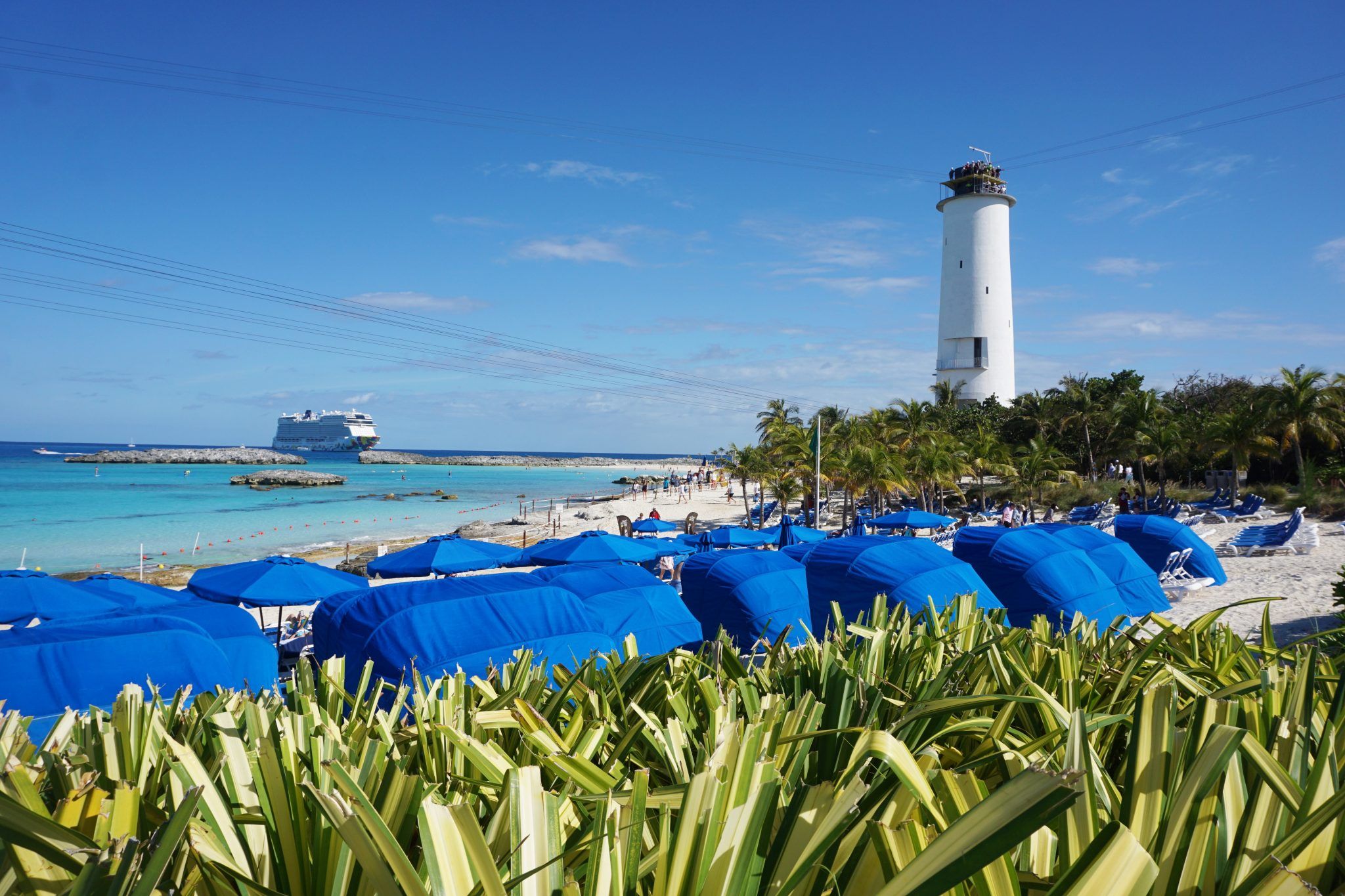 It took us about 90 minutes to walk our way across the entire island exploring every inch along the way. Once at Silver Cove, we were able to take a tour of a one bedroom villa, as well as the the private lagoon beach and restaurant area.
Some Time to Actually Relax on the Trip
While the cruise line is still working out all of the details, such as adding a new entrance, these luxury facilities are certainly an upgrade to the typical cabanas or day beds you find on other private islands. Dynamic prices start at $299 for villas that hold up to 6 people. The best part is that these villas come with A/C and a private bathroom.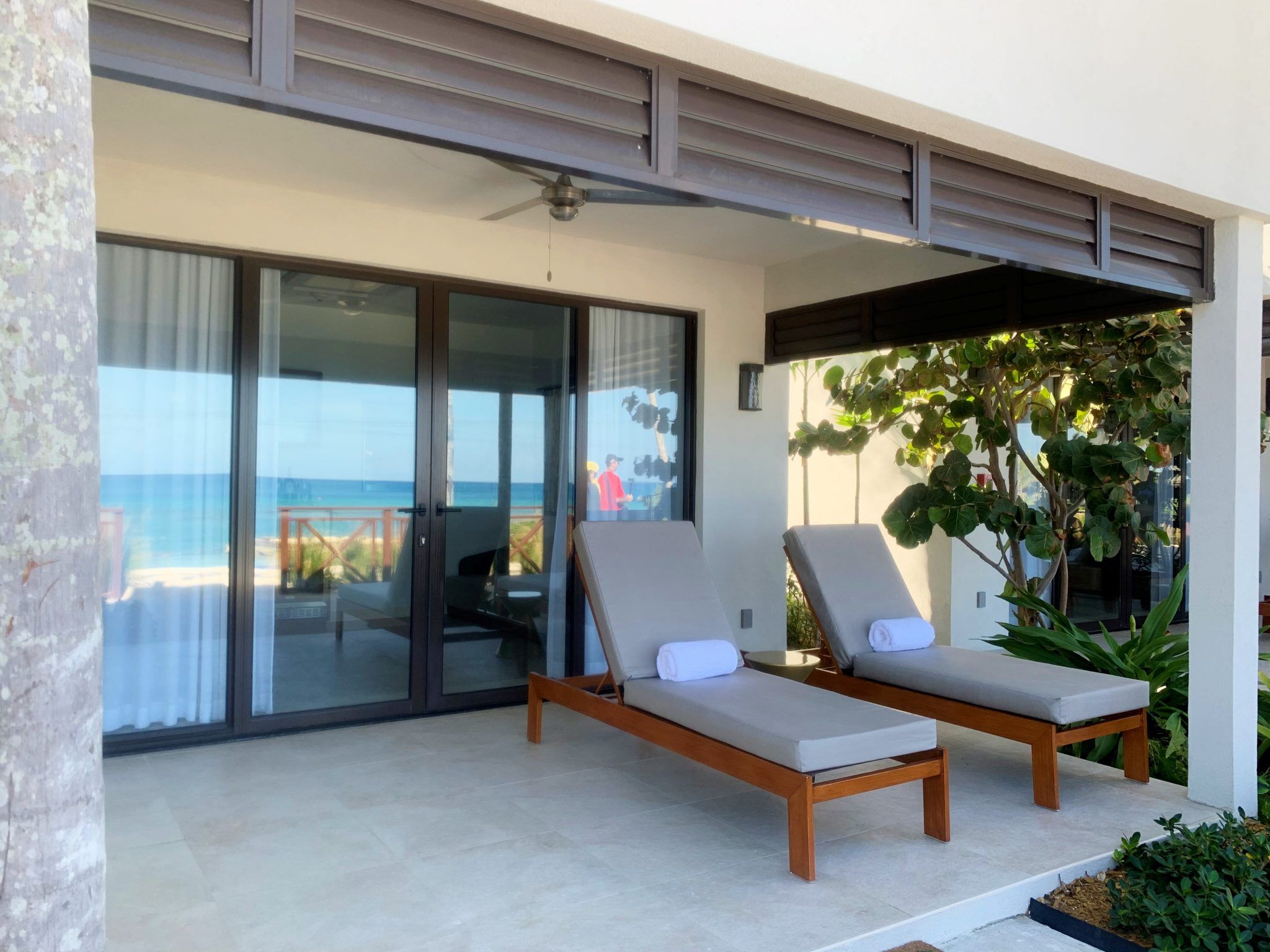 Between touring the area and enjoying some of the amenities, we stayed at Silver Cove for about an hour.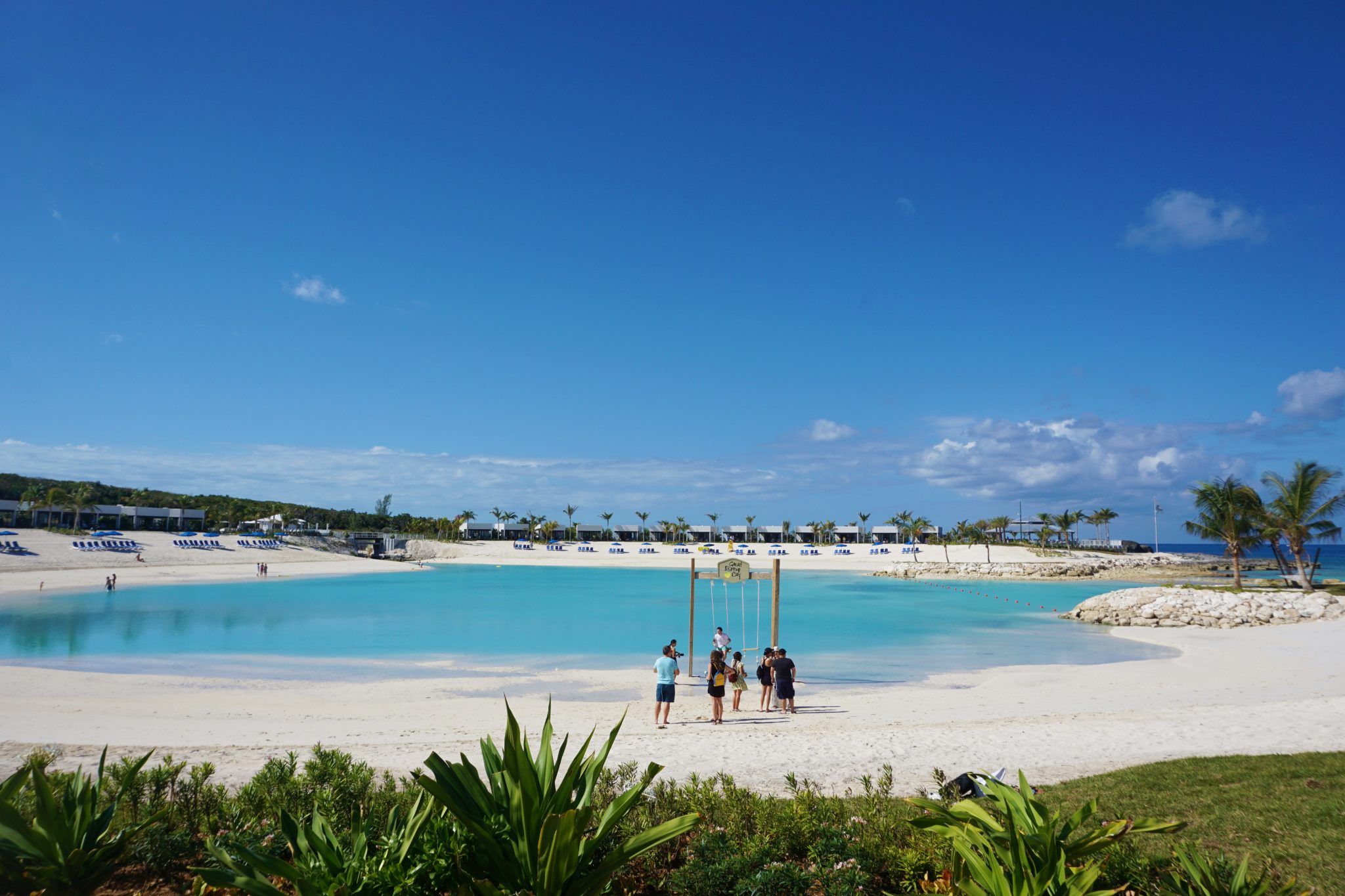 Next on our agenda was testing out some of the new food options.
Along with the buffet and Abaco Taco, Great Stirrup Cay now has a food truck. So, we ended up doing a mini food tour of the island, stopping to sample a few small items from each of these locations. For the most part, the island's food was certainly an improvement from our last visit.
We were back all the way near the beginning of the island by 1 pm. Finally, a chance to relax.
We did just that, with a frozen drink in hand. Instead of lounging beach-side, we found a table with an umbrella and some shade for the Princess.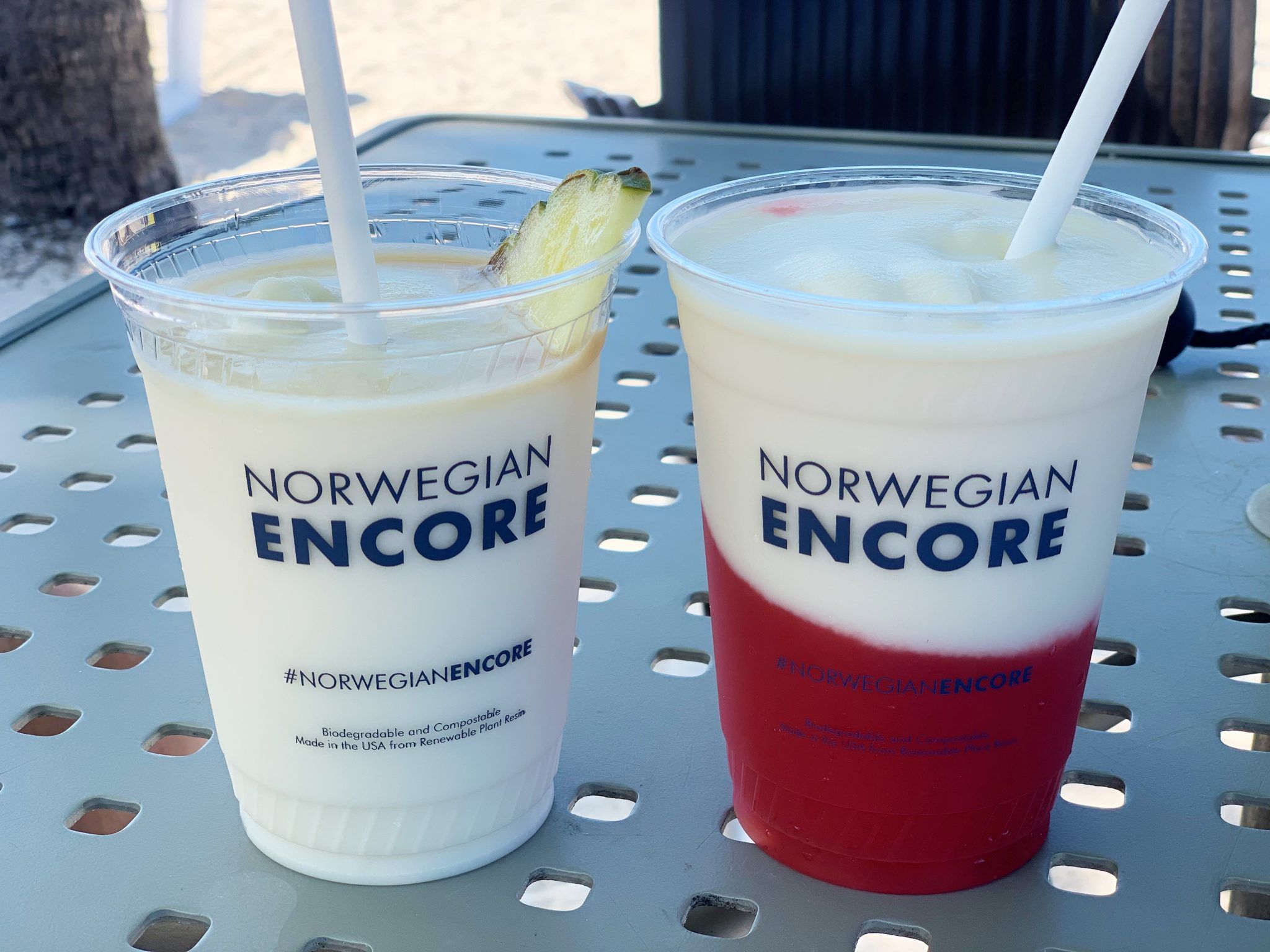 One Last Night Onboard Norwegian Encore
After a conversation with a fellow New Englander went longer than expected, we caught a tender back to the ship around 2:45 pm. It was relatively empty which allowed us to score more photos of the ship from varying angles.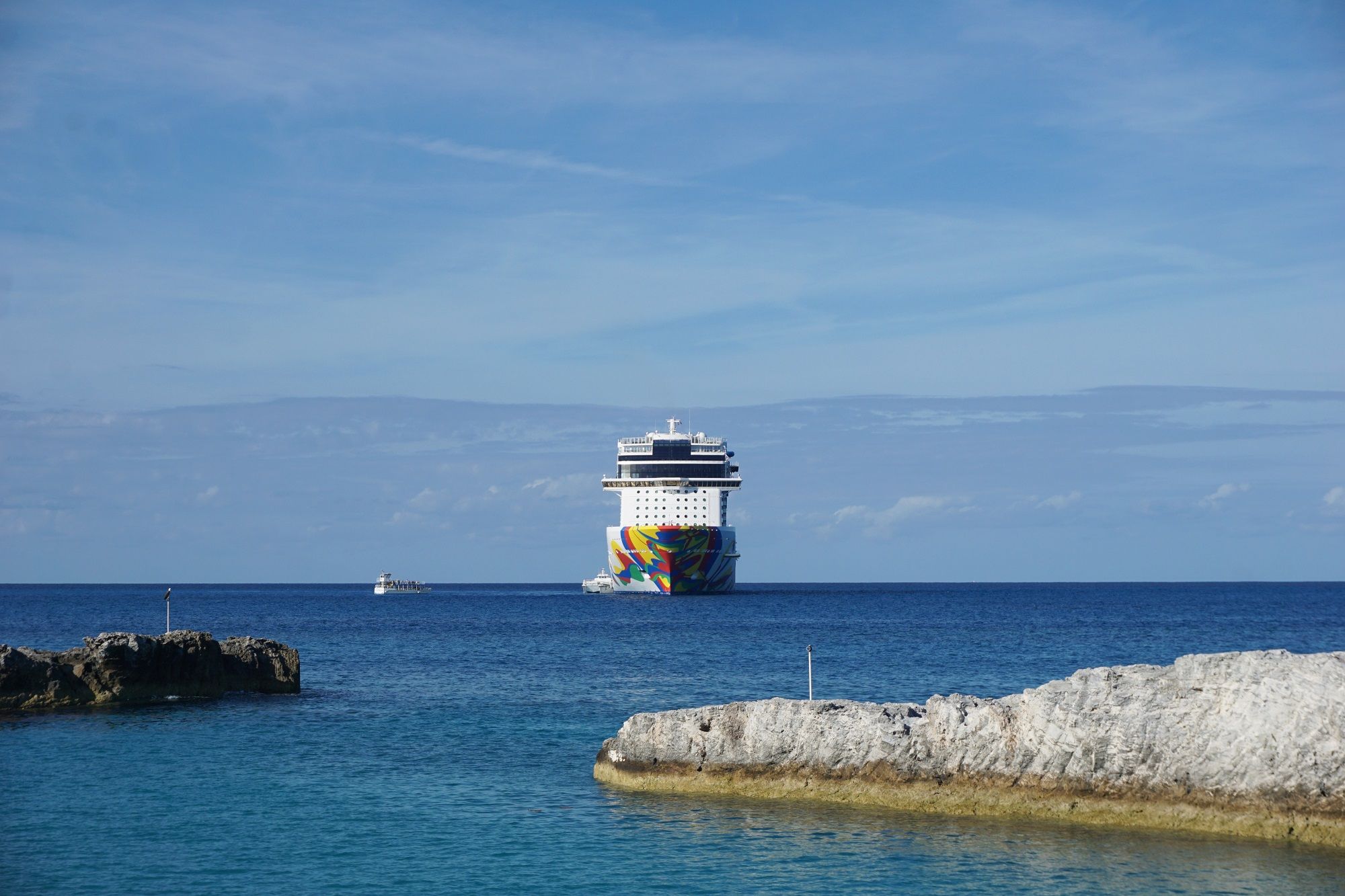 Back onboard, we had a few more venues to checkout. Among them were the kids area on deck 5, some of the remaining restaurants, and the Thermal Suite.
However, by the time we got to the Thermal Suite, it was packed. So, we did the next best thing…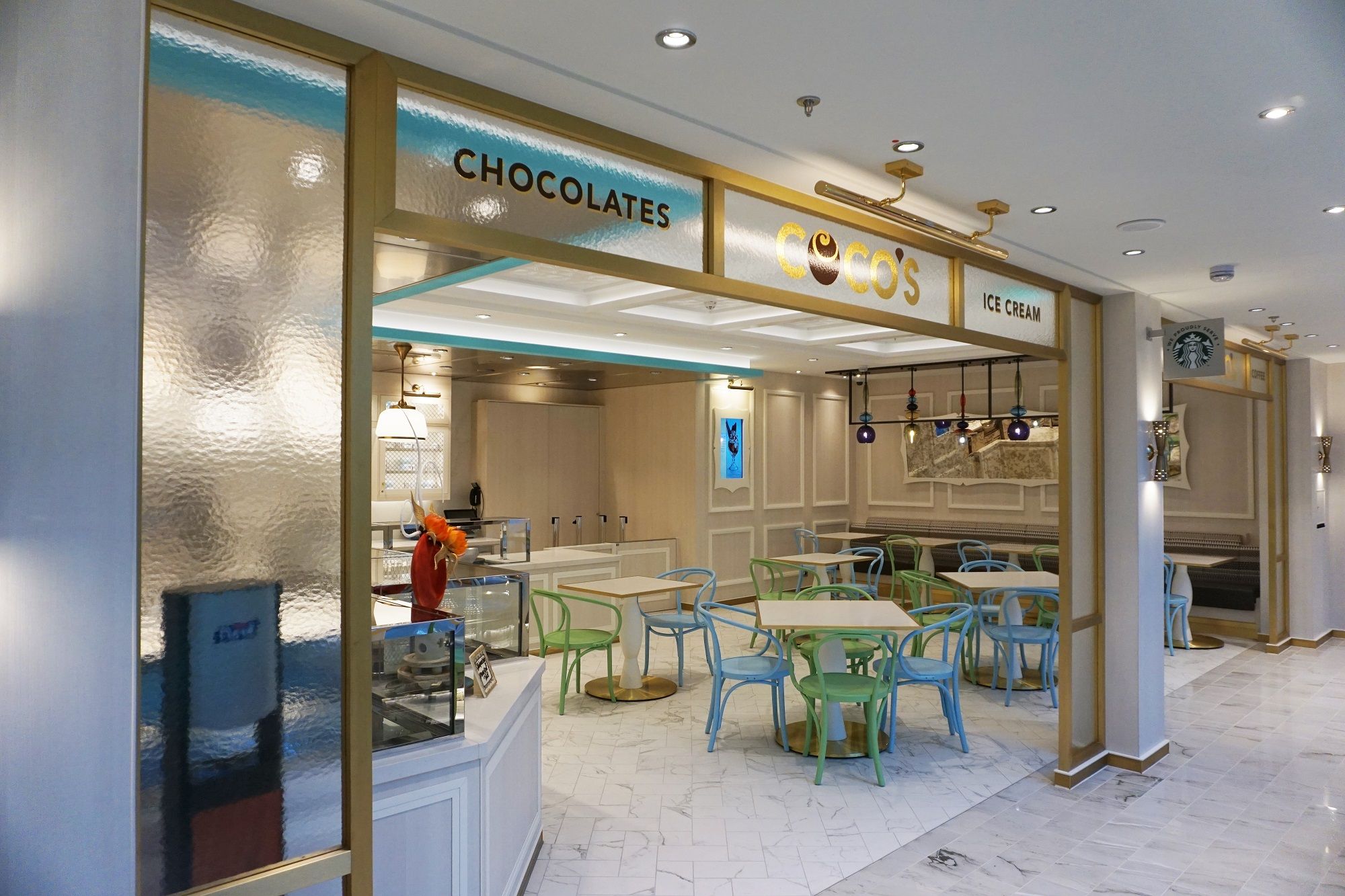 As if we did not eat enough on the island, the Princess insisted on something from Coco's. This indulgent venue is as Instagrammable as it is delicious! We suggest you reserve some space in your tummy for a treat (or two) during your cruise.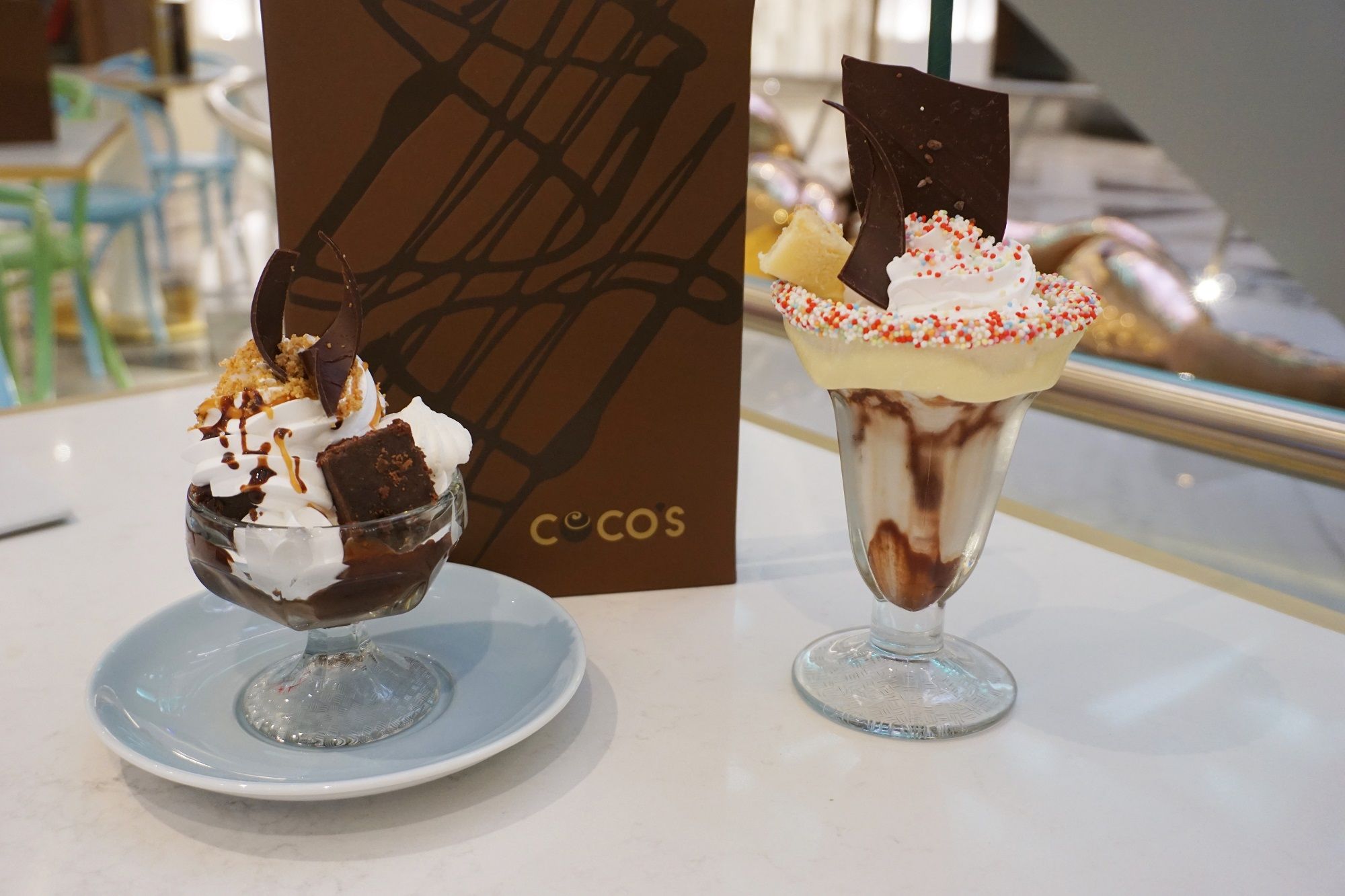 Our dinner was not until 8 pm tonight, so we used the rest of the afternoon to begin organizing content and packing. Changing up for dinner, we met another cruise colleague and his wife for drinks at 7:15 pm. Time flew by as we sipped sustainable cocktails on the Waterfront.
We arrived to Q Texas Smokehouse for dinner right at 8 pm. We sat with another content creator who we met this trip and had an enjoyable time conversing about travel. With another 10 pm show time tonight, we wanted to ensure we had enough time to get to the theater for Choir of Man.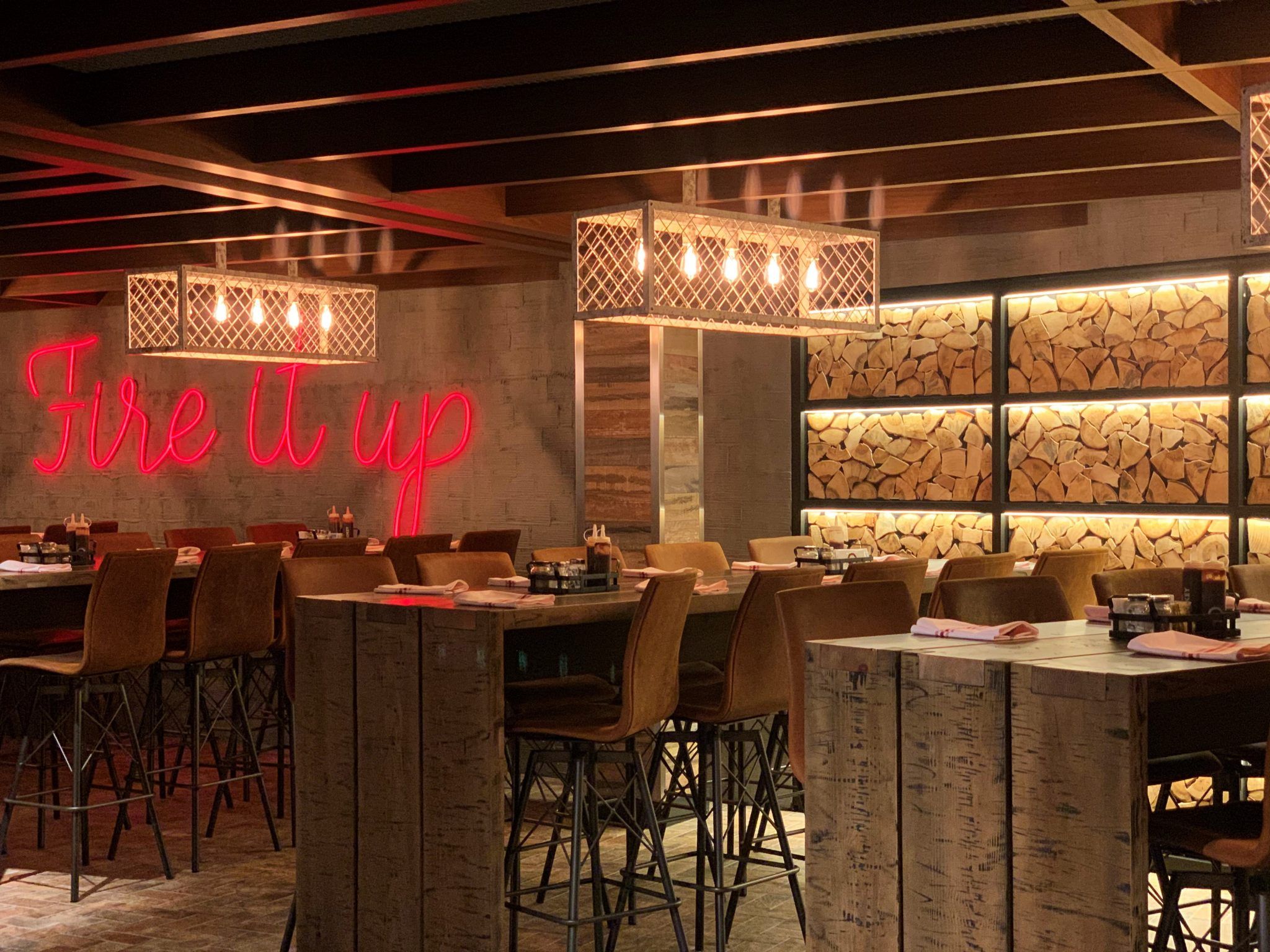 This was our third time dining at Q, and it did not disappoint. We ordered some of our favorites including the Deviled Eggs, Chili, Smoked Sausage, and of course the Banana Mason Jar.
As dinner was wrapping up around 9 pm, the venue's resident performer, Camille Rae, began singing. We stayed for a few songs, and dessert, before heading to the theater around 9:30 pm.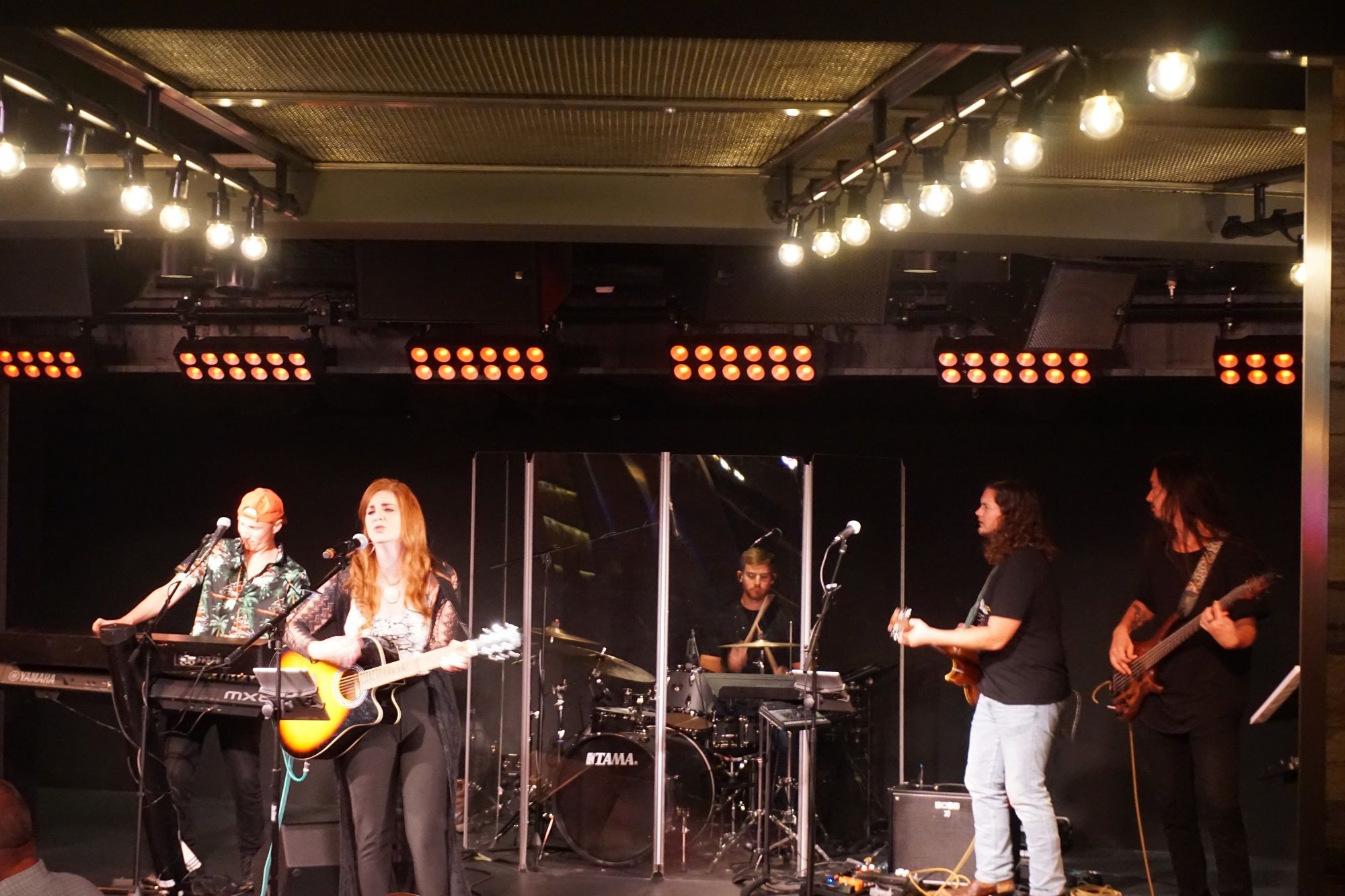 This was our first time watching Choir of Man, but we had heard great things about the show. Part of the pre-show entertainment is heading on stage to grab a beer and mingle with the choir. I thought this was a nice touch and made the show feel more authentic and interactive.
We both enjoyed the performance; perhaps, I liked it more than the Princess though. Overall, it is a fun and energetic show, and has found the perfect second home on Norwegian Encore.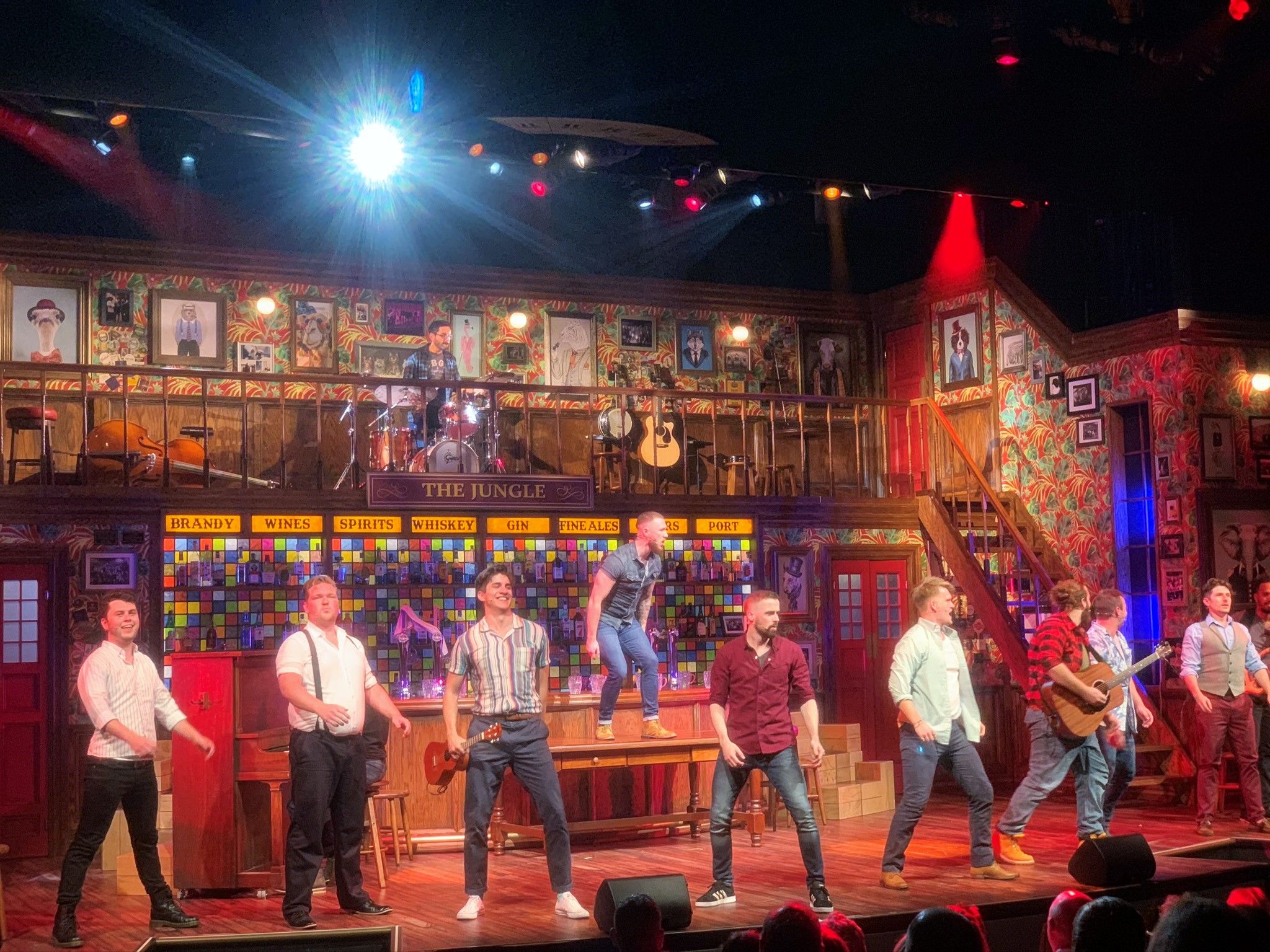 The show ended just after 11 pm. This gave us time to poke our heads into the Cavern Club to see the Beatles tribute band playing in the venue. This set was based on the "later years" from the Beatles.
After a few songs, we were on to Malting's Whiskey bar to meet up with some of the social media group.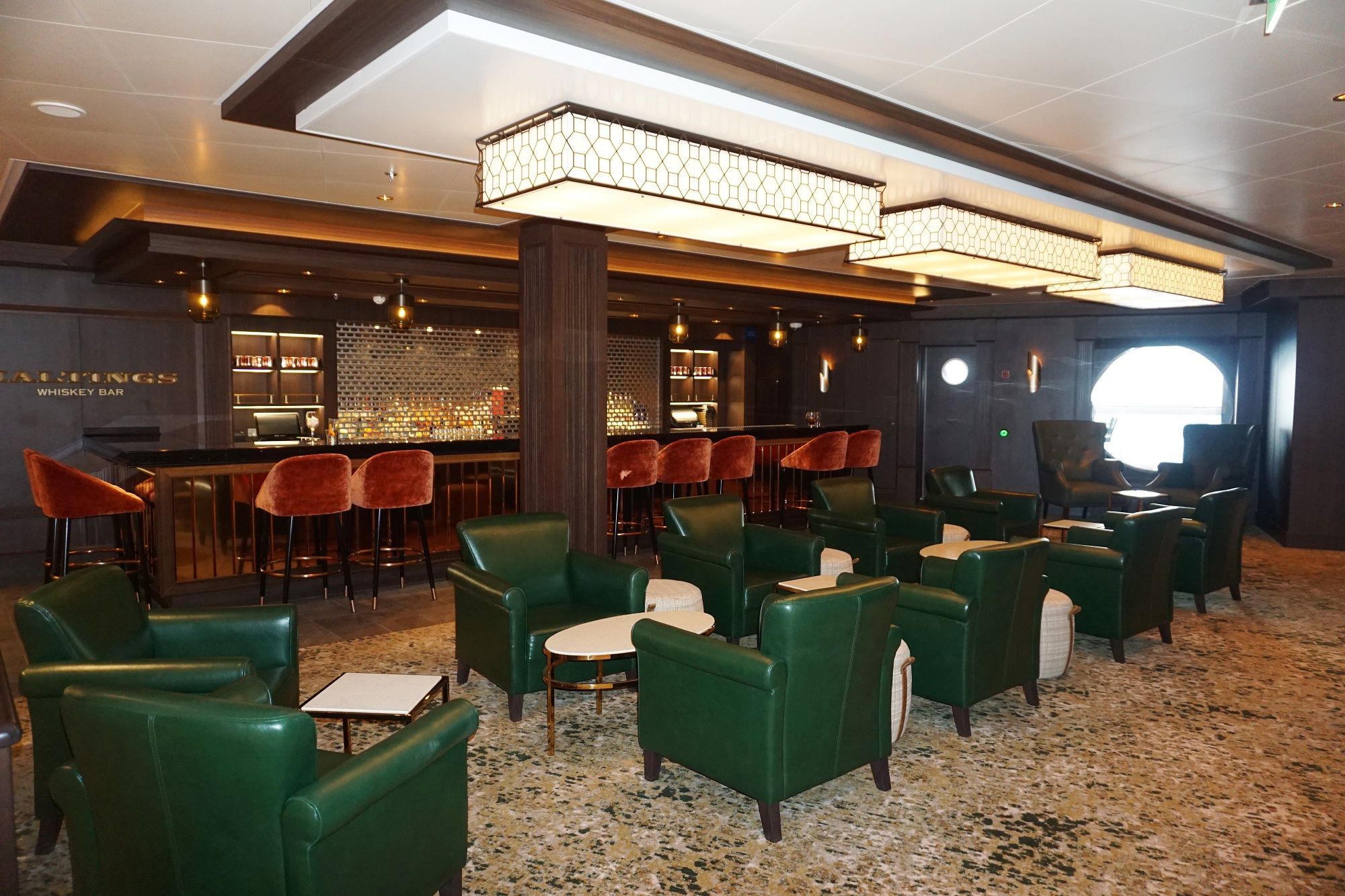 A few rounds of drinks and conversations later, we didn't retire until after 1 am. In 5 short hours, we had to be up again.
Recap of Our Cruise Review of Norwegian Encore
Norwegian Cruise Line certainly saved the best for last. Tying up some loose ends from other vessels in the class, Norwegian Encore will appeal to all types of cruisers.
For those who have sailed on ships of similar size from NCL or competitor brands, you might feel that the décor and ambiance of the indoor spaces are a bit more sophisticated on Norwegian Encore.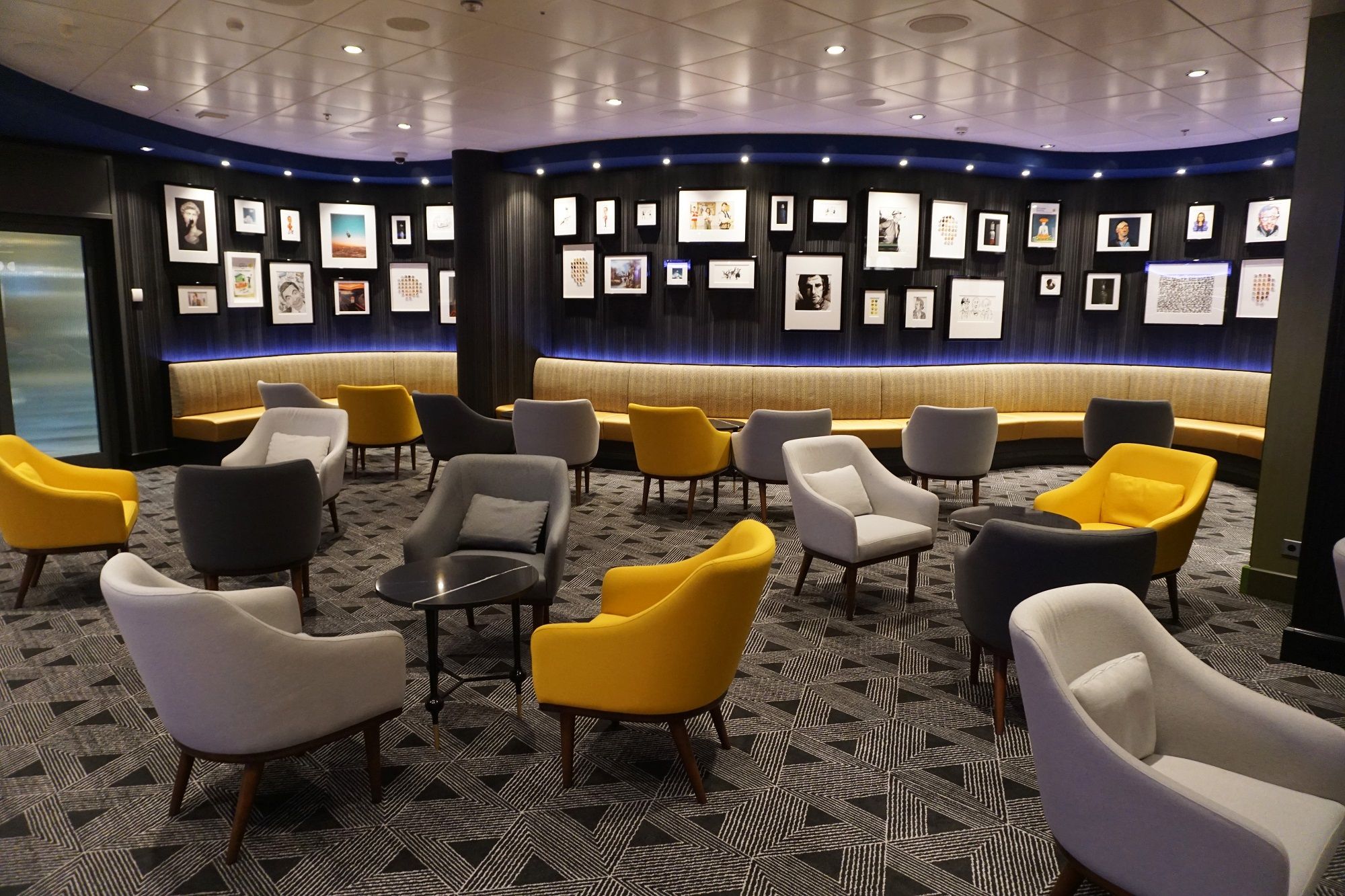 For families, there are a plethora of activities on the ship. Admittedly, many of the new additions are up-charges, such as laser tag, the Speedway, and the Galaxy Pavilion. We do recommend budgeting for these add-ons when planning your cruise as they are certainly fun for all ages.
If you time your cruise purchase correctly, you can probably score some nice perks like a free premium beverage package and a specialty dining package. That way, you can use the savings to splurge on some of the onboard activities.
The pool deck on Norwegian Encore is similar to Norwegian Bliss. Thankfully, it is spacious and open with plenty of seating unlike some of its other predecessors.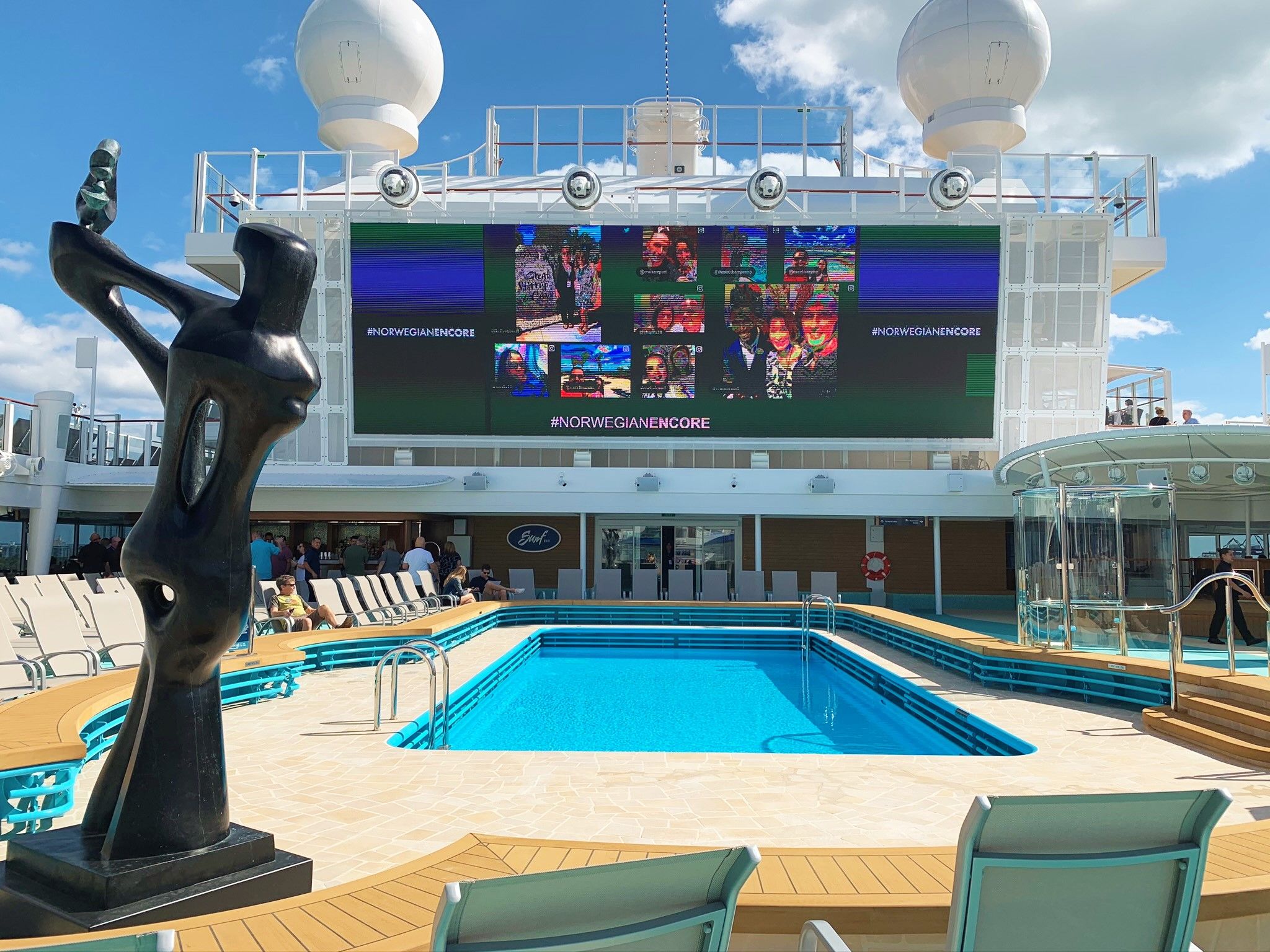 Unfortunately though, the Spice H2O adults only area has been removed on Norwegian Encore. This has been replaced with the Galaxy Pavilion and Laser Tag course above it. For those seeking some adult-only space, the up-charge Vibe Beach Club might be your only option. While it is nice, and now 2 levels, we can see how this might be upsetting to some cruisers. We also wonder how the omission of Spice H2O will affect the crowds in the outdoor public areas on those sunny, Caribbean sea days.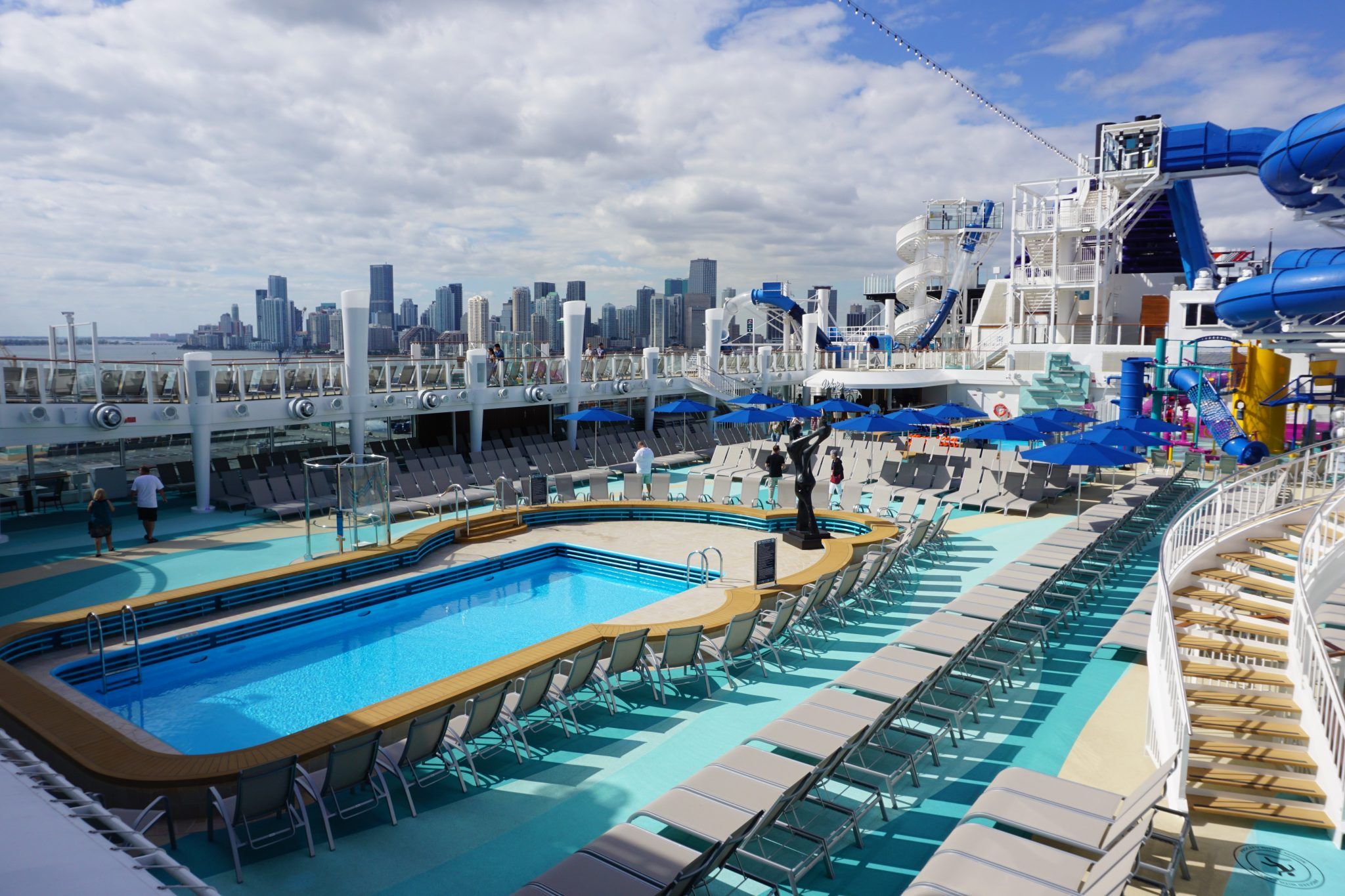 We have to say that dining was fabulous on Norwegian Encore and wish we could have dined at more of the specialty venues. Along with sampling the new Onda, we enjoyed our third round at Q Texas Smokehouse, as well as a sampling of bites from venues including the Food Republic and Le Bistro with the Taste of Encore lunch. Onda is a worthy addition to the ship, and a venue we would certainly return to on a future sailing on Norwegian Encore.
The only negative was that our cruise was too short to do everything. It looks like we will need to book another trip to really test out ALL that Norwegian Encore offers.


Comments
Do you have a cruise booked on Norwegian Encore? What features on the ship are you looking forward to the most? Drop us an anchor below with your feedback on the newest vessel in the Norwegian Cruise Line fleet.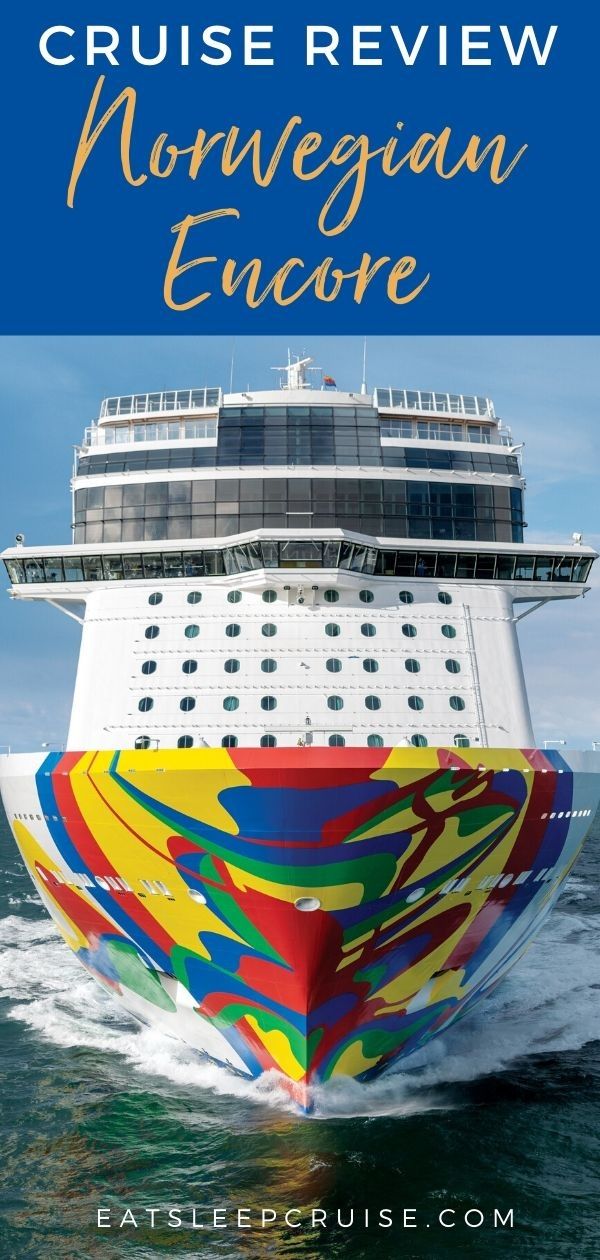 Disclaimer: We were guests of Norwegian Cruise Line on this three day inaugural cruise. However, all of the opinions expressed here are our own, and we were not compensated for this review.